Back in June – when most of us were still in lockdown – British Airways Executive Club extended everybody's elite status by 12 months. Michele wrote a useful FAQ post, which you might want to review by clicking here.
Depending on the dates of your personal Tier Point collection year, you might therefore be free to enjoy your current level of elite status until 31 July 2022. (or even later if you upgraded your status before the extension was announced) Moreover, even the unluckiest of readers doesn't need to THINK about collecting Tier Points until 8 July 2021 at the earliest!
With the pressure off, what should a British Airways Executive Club Silver, Gold or Gold Guest List member be considering?

1. Spend Those Avios!
As most readers are surely aware, you must book a paid flight on a Oneworld airline (and credit that flight to British Airways Executive Club) in order to earn Tier Points. This means that you will earn Avios, often quite a few… if you regularly combine: First Class / Club World cabin bonuses, elite status bonuses, double Avios promotion bonuses, etc. Reward flights do NOT earn you Tier Points, however. So, what better time to SPEND those Avios than now, when you have very little use for Tier Points?
Another common complaint pre-COVID was the difficulty of finding award space on popular British Airways flights, especially in Club World and First Class. Half-empty flights might be good for social distancing, but they also ensure that award space is wide open in many cases.
In addition, reward flights booked using Avios are quite possibly the BEST possible way to book travel during COVID-19. Buy an inflexible paid ticket and subsequently change your mind? With British Airways, you'd be stuck with a voucher that is inconvenient to use. Other airlines might have even worse policies. The UK government adds your chosen destination country to the list of those requiring a "14-day quarantine" upon your return? Again, you're stuck with a voucher (at best) and/or hoping that your flights are cancelled, entitling you to a refund…
With an Avios reward ticket, you simply cancel for a refund up to 24 hours in advance of your first flight. You might need to pay a cancellation fee of up to £35 per person, but you should receive your Avios back immediately.
Even if you are starting to feel like travel will NEVER return to normal, it can be quite therapeutic to plan a Summer 2021 holiday using your Avios. Worst case scenario? You've entertained yourself with travel dreams for a mere £35, instead of tying up £1,000+ in vouchers.
2. Consider a Status Match
When the travel economy was booming, relatively few frequent flyer programmes offered a status match or challenge. I did write about the challenge offered by Turkish Airlines Miles & Smiles – click here for details – but I understand that it has been paused due to COVID-19. (sensible, since it requires a flight on Turkish Airlines within 4 months)
The most interesting status match currently available is being offered by TAP Air Portugal. Michele wrote about it briefly back in July.
TAP Miles & Go are still matching both BA Silver and Gold members to its Gold status. This gives you all of the benefits of Star Alliance Gold status, something I have also discussed previously – click here.
You can find details on the Miles & Go website by clicking here. The cheapest way to meet the requirements is to pay 99 euros (£90) for one year of Club TAP Miles&Go Basic.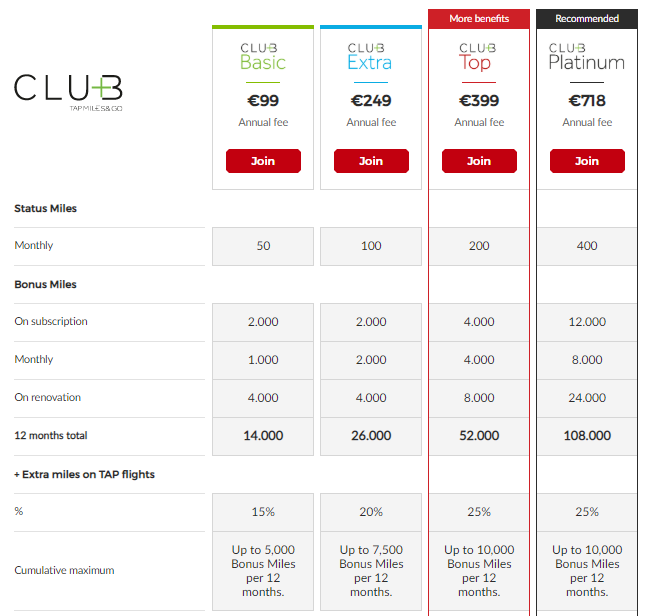 Of course, between now and 2022 other airlines might choose to match your British Airways Silver or Gold status. I would not be surprised to see something from Virgin Atlantic Flying Club.

Or, you might get really lucky and be able to use that TAP Miles & Go Gold status to match BACK to a Oneworld airline. It would not have worked for the Qatar Privilege Club match, but you never know what else might come along…
3. Plan to Upgrade Your BA Status
It might seem counter-intuitive at a time when travel is limited, but you might want to aim for an UPGRADE of your status with British Airways Executive Club.
For all membership years which expire up to and including 8 July, 2022, you can upgrade your level of elite status with:
450 Tier Points for Silver (instead of 600)
1,125 Tier Points for Gold (instead of 1,500)
Besides the obvious benefits of Gold status, most notably the excellent champagnes at First Class lounges worldwide, the most attractive benefit of Gold (for the habitual Silver member) might just be the soft landing. Upgrade yourself to Gold status, and you'll be a Gold member for the rest of your Tier Point year and all of the following. Thereafter, you would soft land to Silver status for yet another year of lounge access and other benefits, even if you don't meet the standard requirements for Silver status!
The Bright Side… Some unlucky BA members, such as yours truly, have already started their one-and-only discounted Tier Point collection year. I have until 8 August, 2021 to earn those 1,125 Tier Points for Gold. Unless I manage to get myself vaccinated (along with millions of others) in early 2021, that simply isn't going to happen!


If my membership year had ended one month earlier – i.e. in July instead of August – I could be leisurely sketching out a plan to earn 1,125 Tier Points between 9 July 2021 and 8 July 2022… 🙁
4. Become a Free Agent (at Least for Awhile)
If your Executive Club status has made you excessively loyal to British Airways and other Oneworld alliance partners, now might be the time to see whether the grass is indeed greener elsewhere.
Instead of instinctively booking Qatar Airways, you might want to try Etihad or Emirates. Instead of booking a more expensive British Airways flight because you need the Tier Points, you can book a cheaper option on Lufthansa, Air France or even Easyjet or Ryanair.
Your free agency status doesn't only apply to airlines. It also applies to frequent flyer programmes. A discounted First Class ticket on British Airways could earn you 350% of miles flown as a BA Gold member earning Avios. If you were to credit that flight to Alaska Airlines Mileage Plan, for example, you would earn 450% of miles flown, and Alaska miles are substantially more valuable than Avios. Freed of the need to pick up 210 Tier Points each way, you could get substantially closer to your next reward flight by crediting your BA flights to a more lucrative airline programme.
How does it feel to not have to worry about elite status for awhile? A weight off your shoulders? Or an empty feeling as you look outside at your garden instead of out an airplane window at Sofia, Inverness, Heathrow, Phoenix, Honolulu, etc. airports? Share your situation in the comments section…