awardnexus
If you are just searching for a simple British Airways reward on 1 specific date, you may be better off using britishairways.com. If, however, you are looking for something more complex involving other airlines or a range of dates, you may be better off using something like ExpertFlyer (which I talked about here) or awardnexus.
awardnexus is a search engine for finding award flight availability. You can search across multiple airline sites, destinations, or periods of travel dates. You can also select specific airlines or routings. awardnexus has a better range of airlines than ExpertFlyer, including Cathay Pacific. It covers all the oneworld and Star Alliance airlines as well as most of Skyteam too. It is better for searching a range of dates as it would show you all the oneworld flights and routing available, not just the BA ones for example.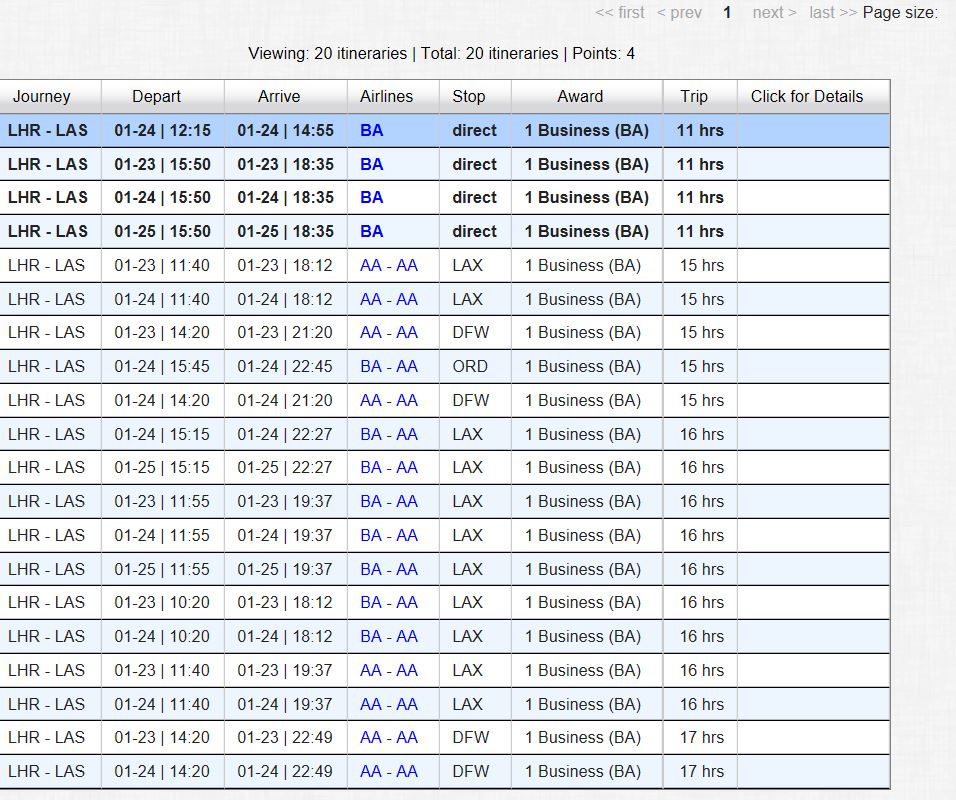 If you are after a specific award flight which is not available, you can set up an alert if one becomes available. This will cost you $59 to use this function as a Premium Basic member versus Expert Flyer at $9.99 per month (although you can get a free 5 day trial).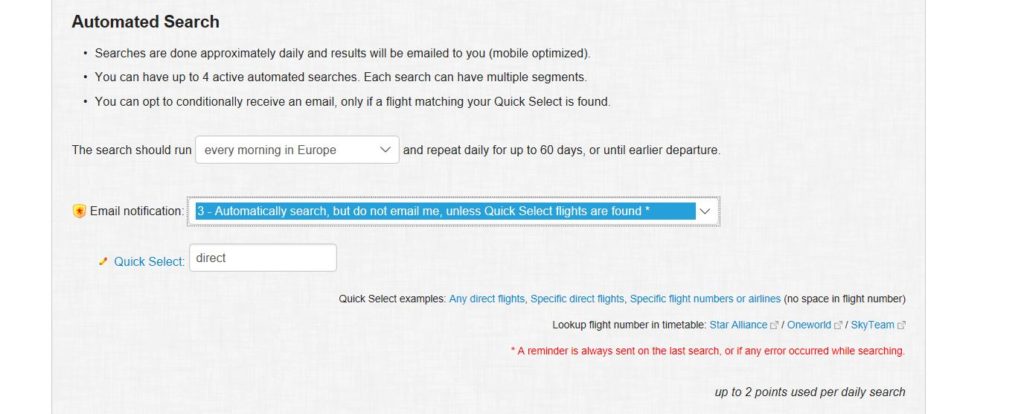 Each search costs 1 point for 1 search, on 1 airline website, for 1 day, and in 1 class of service. The basic membership is free but you must be a FlyerTalk or Inside Flyer member. With this you get 200 points (free 100 point refill every 90 days). Premium basic members get 500 points.
There are lots of different tools on the site such as:
Search Builder – itineraries which involve several flights.
Route Explorer – different routings between 2 cities
Distance Pricer – number of miles required needed between 2 cities. It also gives options for transferring points from programs like American Express Membership Rewards and Starwood Preferred Guest which is really handy
Automated Search – an automatic search for available award seats and receive an email when seats are found
You can find out more here.
routehappy
Route happy is primarily for on-line travel agents but it has a useful demo mode which anyone can use. You can't book flights through it but it will give pricing in dollars as a guide. The genius of this site is the details that it has on each flight. If you are looking for flights, I would suggest narrowing down your options using routehappy.
For example, flights from Dublin in business class to the US are normally much cheaper. However, some of the AA aircraft on these routes still have sloping seats. Routehappy shows you the details of each flight with things such as type of seat, Wi-Fi, aisle access, power sockets etc. It will also sort flights by the duration including connections. You can filter your search so it only shows you flat-bed flights, for example. There are even features such as better cabin pressure, if you want to fly on one of the more modern aircraft. Leg room is shown where appropriate too. You can find more details here.
where to credit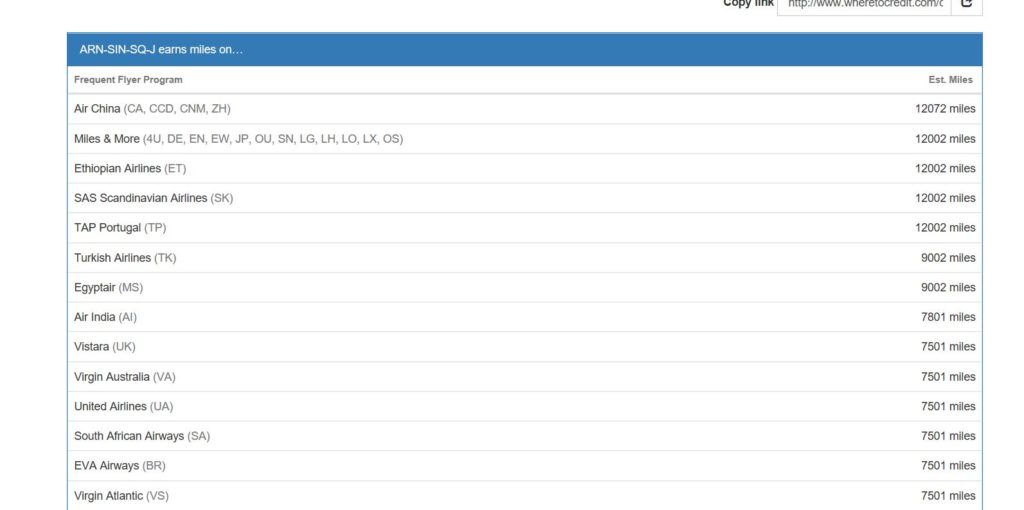 If you see a good deal on some business or first class flights but don't know whether you can credit the flight to your frequent flyer program, this is the site you need. Where to credit allows you to type in any flights with most airlines and find out how many miles you will earn and which airlines you can credit the miles to. I found this much quicker than trying to search the Singapore Airline website to see if I could still credit my Singapore flights to Virgin Atlantic. It would also be useful if you were a member of several FF programs to see which you would get the most miles with.
Where to credit also do a chrome plug-in similar to 30k (below) which works with Expedia (and some of the US sites). The plug-in will show you the airline miles for an Expedia flight search. It is different to 30k, in that it will show you all the different programs you could credit to and how many miles for each flight. You can find out more here.
30k
I reviewed 30k in an earlier article but there has been a positive change since then. It is now completely free to use.
30k is a google chrome plug in. The plug-in is designed to show you the miles and tier points that you will earn on each flight with various on-line websites such as Expedia. It works with 65 airline programs including British Airways. You simply create an account and enter your frequent flyer program(s) and status. It will then show which flights you could earn miles and tier points on and how many for each. It can also show which fares are upgradeable and how many miles you would need (it doesn't show availability though).
Another useful feature is that you can connect your frequent flier memberships to start tracking your status levels, miles, balances and expiry dates. This is a cheaper way than using award wallet which charges for some features, although 30k is more limited for this purpose.
When you visit Expedia and do a flight search, you will be shown the mileage that you can earn next to each flight. If you expand for further details it will also show the tier points and eligible flights earned for each option. Although you can do this using a tool on BA, this is a much quicker way as it shows you all the flights at once, rather than having to enter each one individually like BA.com. You can find more information here.
web flyer
Webflyer is a resource for frequent travellers run by Randy Peterson, one of the world's best known frequent flyers, who started Flyertalk. It has a huge database of hotel and airline program guides. It also has details on promotions for each program and a handy comparison tool if you are deciding which program to join. You can find the website here.