I have often written on the blog about the good value Avios redemptions you can get on Aer Lingus flights in business class. I have had a few requests from readers to do a review on it so I decided to do a one way back from New York on Aer Lingus after my Iberia A350 flight out there. I flew from Newark to Dublin for 50,000 Avios and £93. To book it on BA would have cost the same Avios but £453 in taxes and charges.
To be honest I had fairly low expectations as Aer Lingus are not known for providing a particularly luxurious business class service but the seats looked good and I was expecting some warm Irish service if nothing else. However, I should have set them much much lower…..
Check-in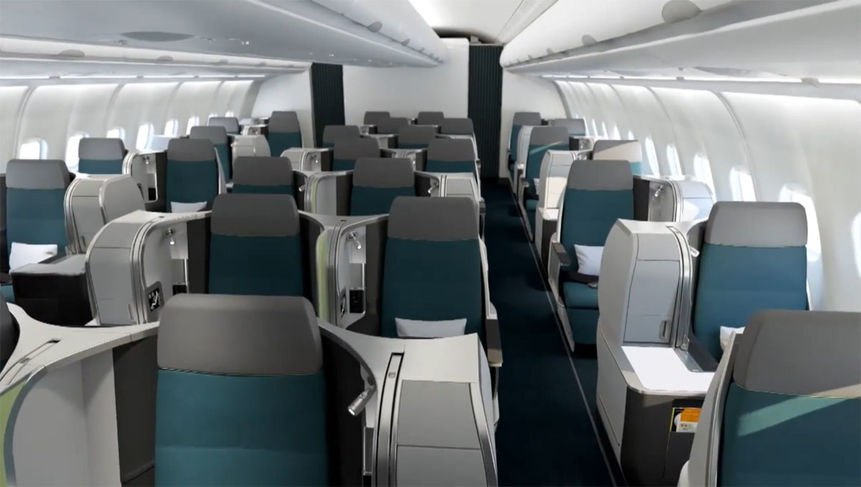 Things started to go wrong at the on-line check-in stage. I had checked my seat fairly regularly and had booked one of the single window seats on the A330. Here is what I was expecting with a  mainly 1-2-1 layout (90% of seats have aisle access).
When I checked in it was showing me in seat 3C. This seat does not exist on any online maps that I can find which left me feeling rather confused. I could not change my seat in the check-in process or look at a seat map for some reason. I decided to get to the airport fairly early to see what was going on.
The business class check-in was quiet when I arrived and the agent friendly but not particularly clued up. I asked him what was going on with the aircraft and what type it was but he didn't seem to know. From what he said I was now in an aisle seat on a 2-2-2 aircraft on the window side.
Here is the description from the Aer Lingus website of their A330 business class "High comfort seats – The A330 Business Cabin is furnished with a fully lie-flat 6.5ft long bed. And with a width of 22 inches, you'll have plenty of room to stretch out as you dream your way across the Atlantic."
The lounge – cold sprouts anyone?
Aer Lingus use the British Airways lounge at Newark. I quite like the lounge but if you wanted to eat before your flight on Aer Lingus there were slim pickings. This is because BA offer a pre-flight dining for their Club and First customers which I have had before and is normally pretty good. For everyone else, there were just a few sandwiches and very bizarrely – cold Brussel sprouts!! I know its nearly Christmas but there's no need to use the leftovers from the Christmas party on the buffet!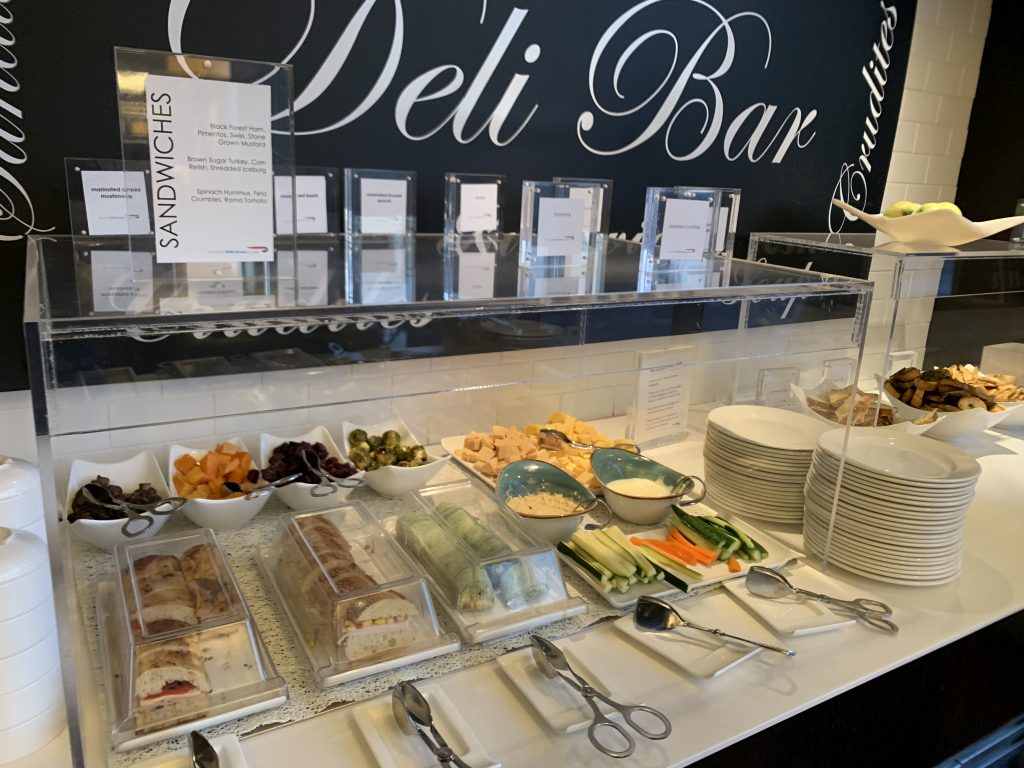 The drinks selection wasn't bad though with a fairly typical selection of spirits and wines for a BA lounge. There was no champagne but there were Prosecco plus Hess Chardonnay and Matua Sauvignon Blanc white wines. There was a choice of Pinot Noir, Cabernet Sauvignon or Zinfandel for the reds.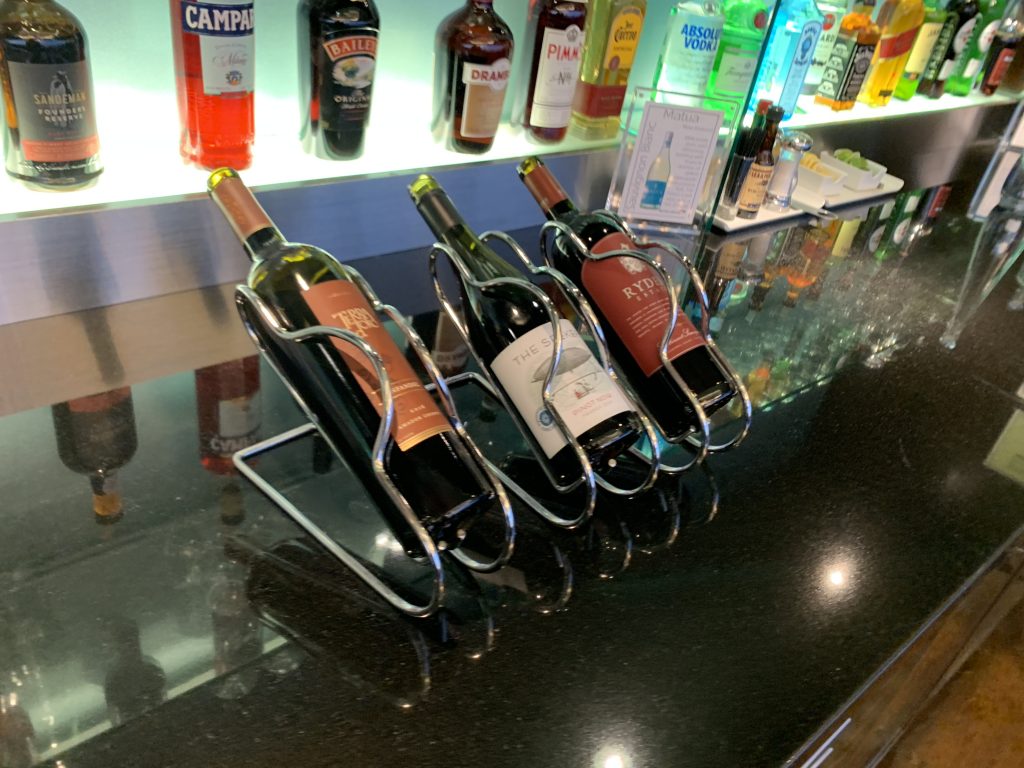 For beer drinkers, there were 5 to choose from including Newcastle brown ale and Brooklyn lager.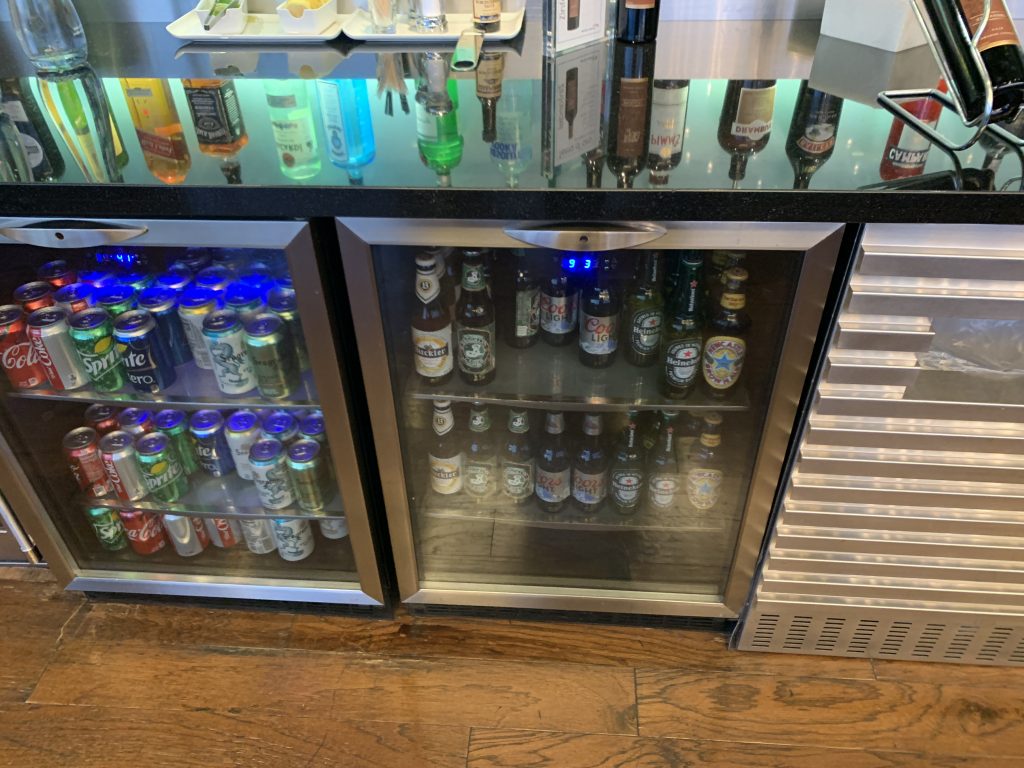 The spirit selection was pretty good: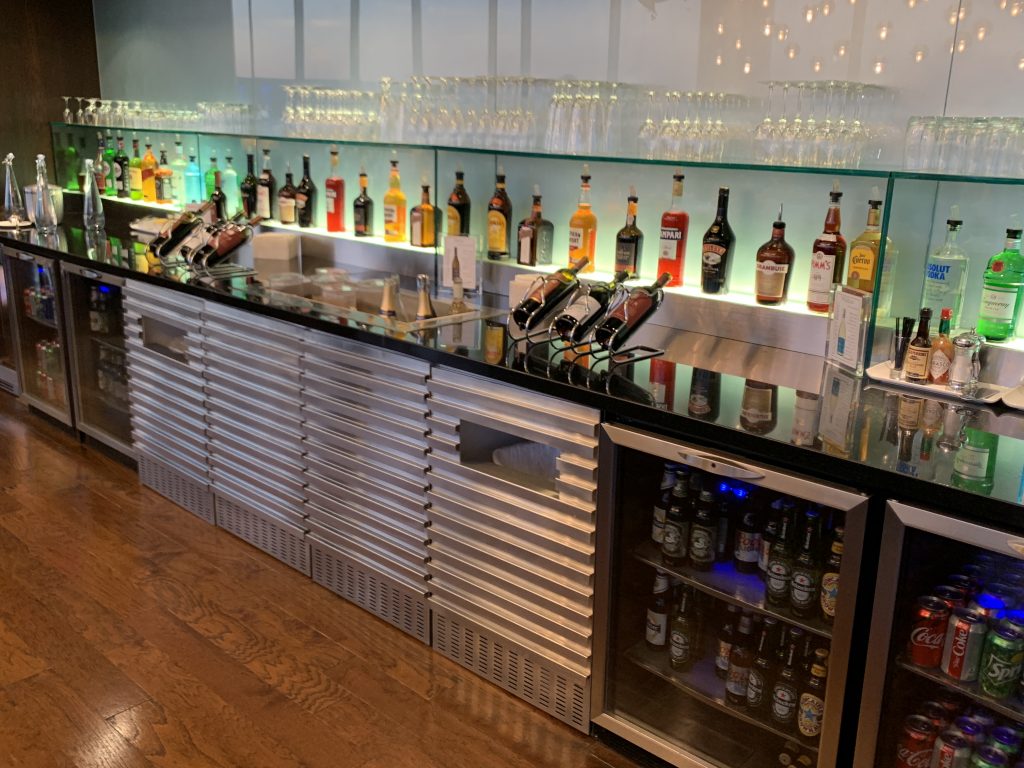 Boarding
Boarding started pretty early – over an hour before departure which seemed odd given that the flight was quiet. Once on board, I could see that I was sitting next to someone with virtually no divide between the seats. I was not very happy about it on a night flight given that he would also have to climb over me to get out. I popped into the galley to ask if there were any other seats available. The cabin crew member was very helpful and found me a seat in the mini cabin in the middle two with no one next to me.
At the seat was an amenity kit and the menu plus an invitation for the arrival lounge at Dublin. The amenity kit looked a bit cheap but it had the essentials you would need: socks, eyeshades, earplugs, toothbrush and toothpaste plus some Voya hand cream and lip balm. Voya is a reasonably upmarket organic brand and I quite liked the products.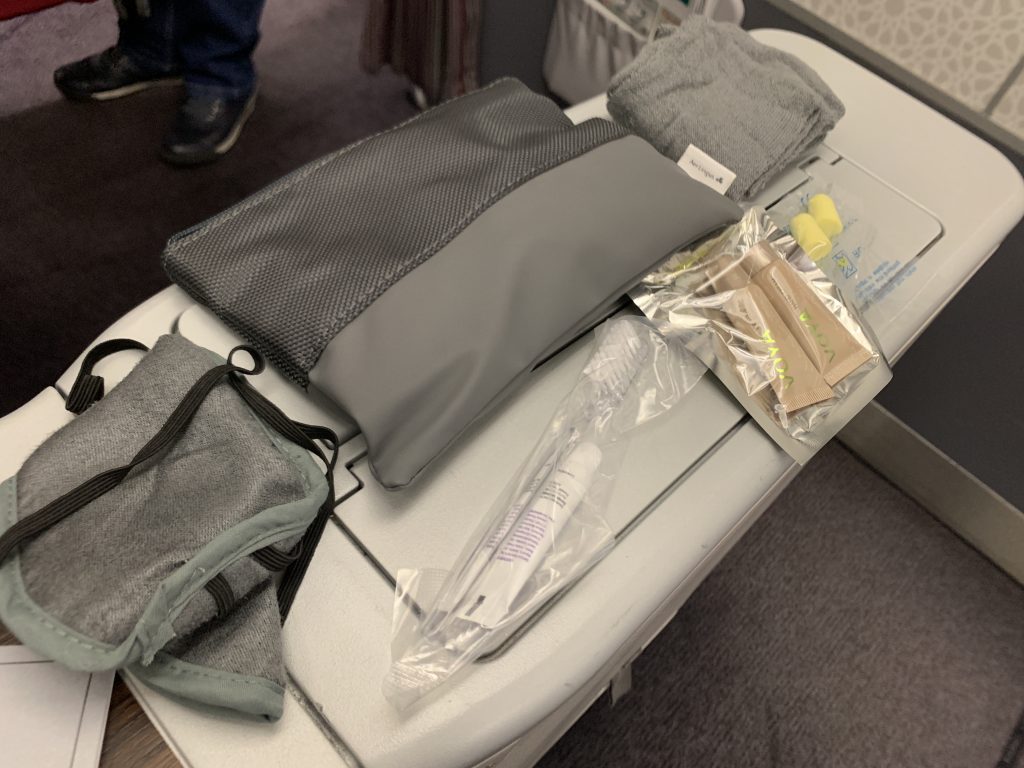 This was where it all started to go wrong. They came round with pre-departure drinks pretty quickly with a choice of water, juice or I'm guessing what was Champagne. As you can imagine I take photos of everything, mainly as an aide memoir rather than taking notes. Obviously, sometimes people are in the picture but I always obscure or cut out people if they are identifiable if I haven't asked their permission. I have been on hundreds of flights and never once had an issue.
On this flight, I took a picture of the pre-departure drinks which obviously the cabin crew was holding. She immediately came over and asked if I had taken a picture of her and demanded to see my phone. I showed her but explained that I was just trying to take the drinks. She told me quite rudely that I must not take pictures of people without their permission. She then stood over me and made me not only delete it but then go into the deleted items and delete it from there too. At this point, she did not know that I was a blogger.
I have no issue if people don't want to be photographed but the reaction was totally uncalled for. There are ways to approach this and she could have not been confrontational about it. To be honest her attitude was like this for much of the flight as you will see (and not just with me). I am assuming she also told the rest of the crew about it too….
Getting back to boarding I drunk my champagne(?) and it was removed with 45 minutes to go to take off. And then we all sat and waited and waited……Eventually, just about on time we took off.
Cabin and seats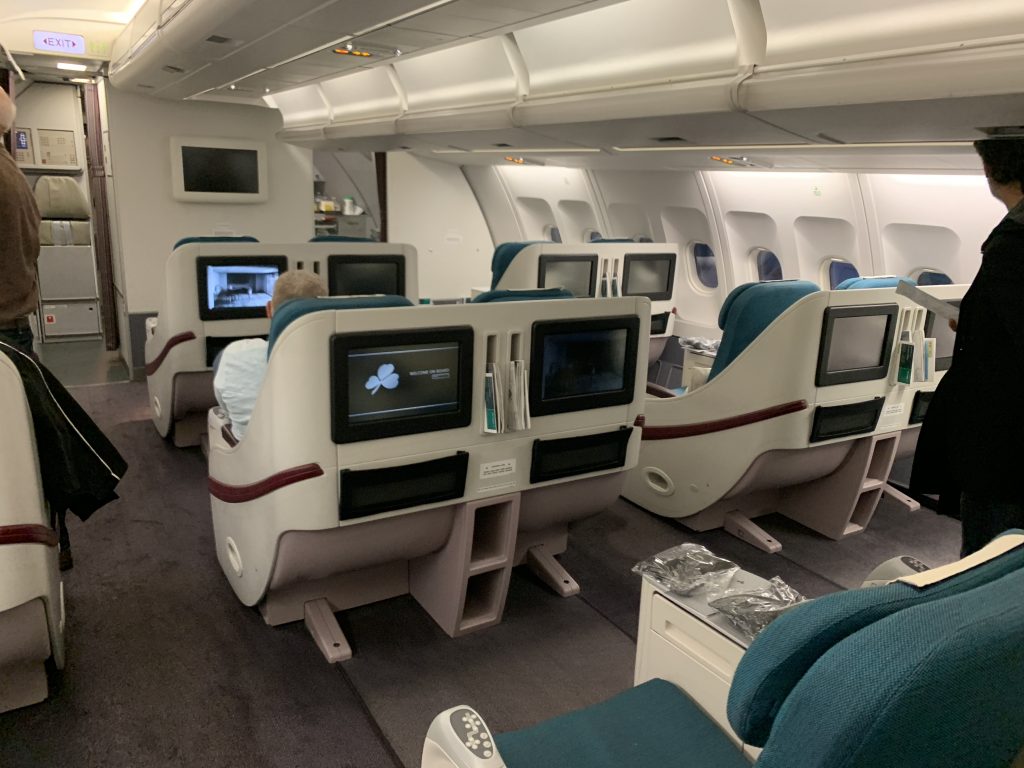 It turns out this was a 16 year old A330-200 which Aer Lingus acquired earlier this year from Qatar. There were two cabins with the front one having 3 rows of 2-2-2 and the mini cabin with just one row in the same configuration.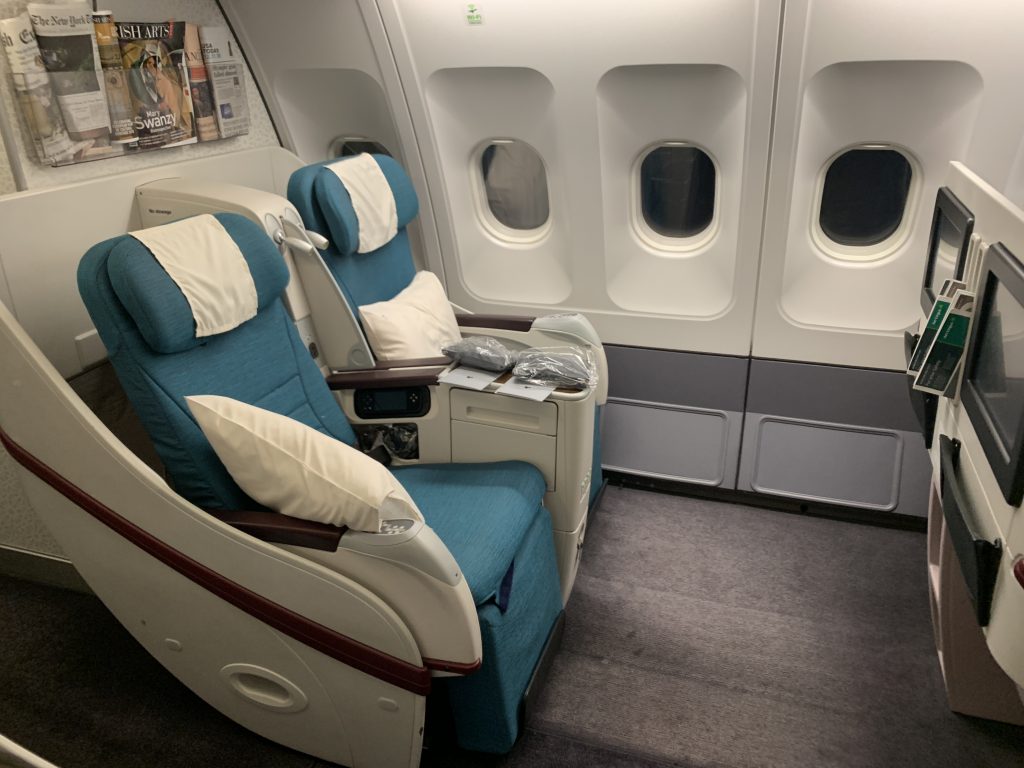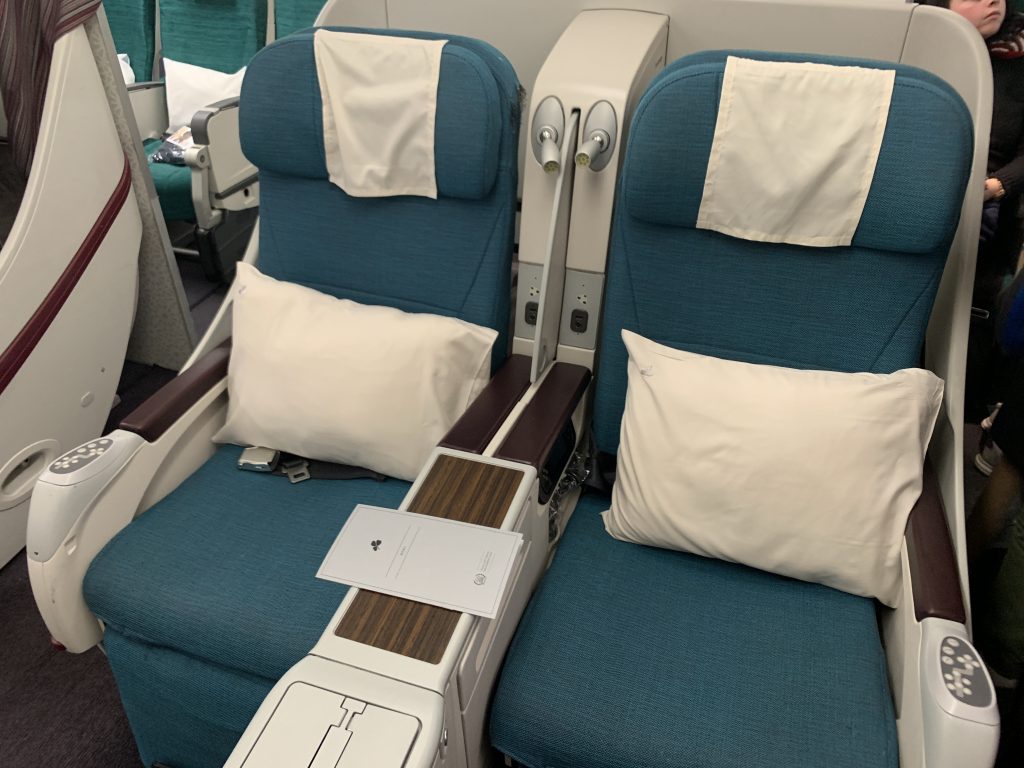 The forward cabin seats had very little space between them so as a solo traveller there was no privacy really apart from a small head height divider. They did at least have some storage space though with a cubby hole and a net pocket.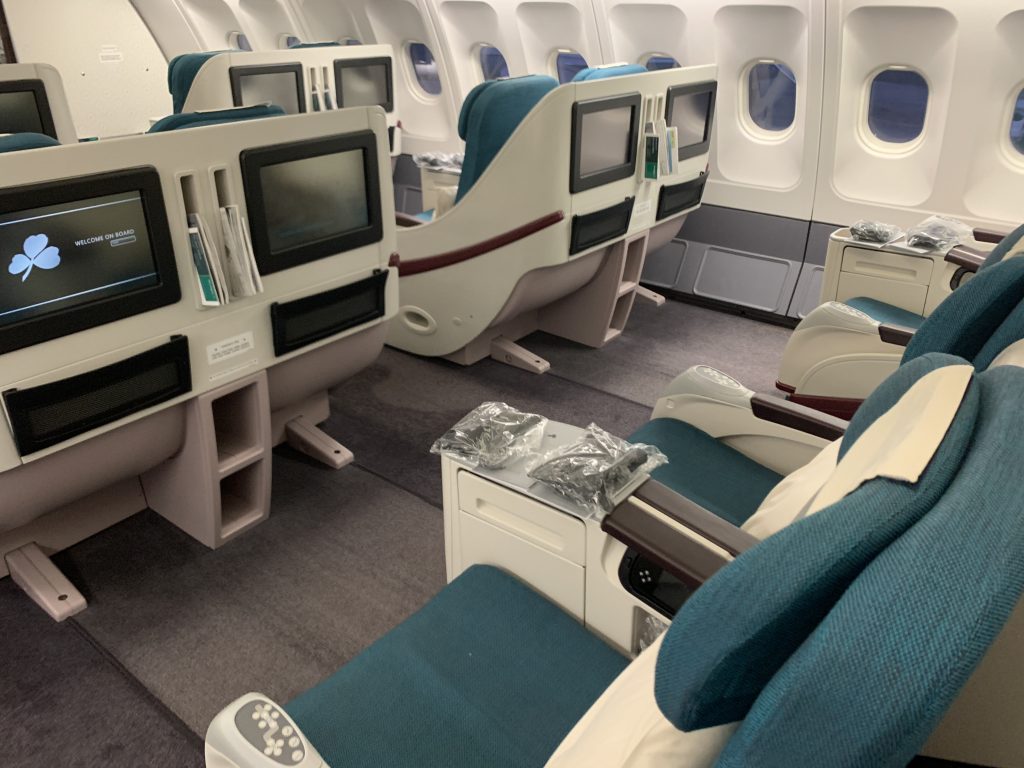 The seat had pretty much no storage whatsoever apart from a small side pocket which housed the headphones. Even after take off there was nowhere to put anything like a laptop but fortunately as the seat next to me was free, I put everything on there. In the mini cabin one advantage was that there was more of a divider between you and the next seat due to the housing for the fold out TV screens.
The seat had a pillow on it already and then very thin duvet/quilts were handed out by the crew. These actually were OK in terms of comfort and warmth as often I find many too warm.
There were simple seat controls but I found it hard to get comfortable as the seat had one of those annoying fold-out hard footrests which if you don't fold it out is really uncomfortable and I personally don't find it comfortable when folded out either. The seat was not a flatbed but a sloping bed the likes of which I last flew on at least 6 or 7 years or longer ago. I really hate sloping seats and would never have chosen Aer Lingus if I had realised there was a chance of getting this aircraft. I accept that aircraft substitutions happen but when there is no mention of this aircraft type even existing I get annoyed! At least if I fly someone like Qatar I know all the aircraft types I could get if there was a substitution.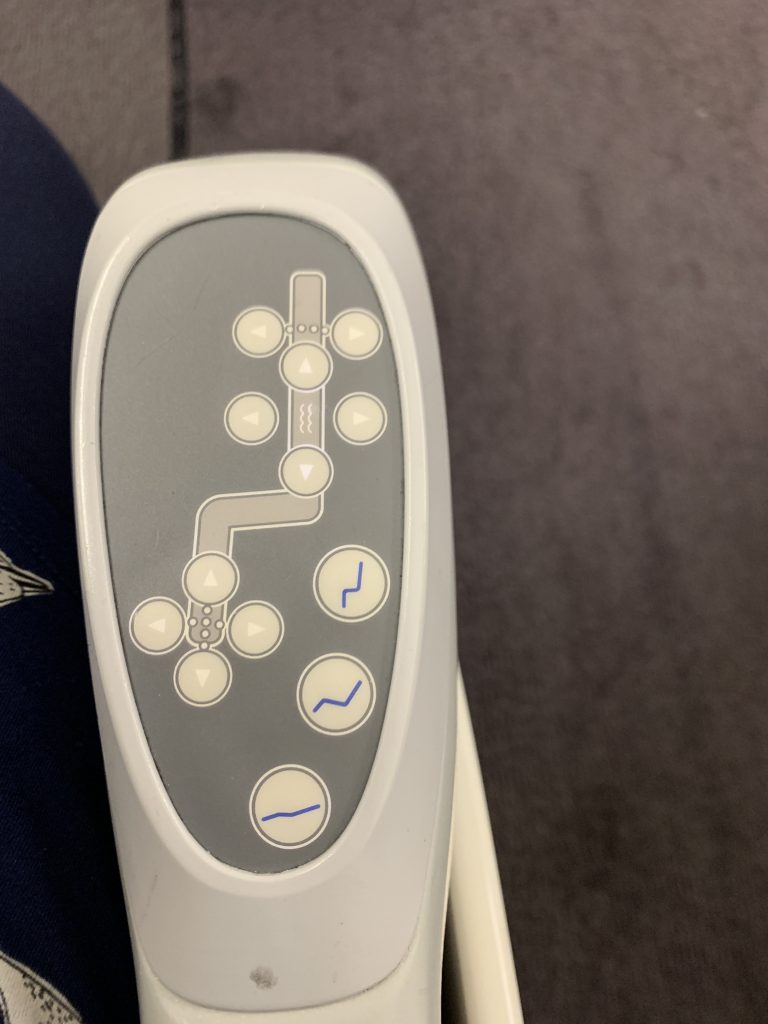 Once in bed mode the angle wasn't too extreme so I at least feel that I was sliding to the floor. However, I found the seat very uncomfortable for sleeping due to all the various breaks in the seat cushions. I managed about 2 hours of broken sleep and got off feeling pretty exhausted with a short haul flight to London left to go.
Food and drink
This is how the Aer Lingus website describes business class dining "Our attentive cabin crew prepare your food individually and serve each guest with particular care and attention. They are on call to top up your wine glass if you so wish. We want you to be able to close your eyes and imagine that you're in a top restaurant in Ireland ". So now let's look at the reality and those "attentive" cabin crew.
The menu looked OK apart from the small amount of food you get. I was aware of this and had eaten a decent lunch plus on a night flight it would be fine but on a day time flight, you may find it a little stingy.
My main course order was taken and then the drinks trolley appeared. The drinks selection wasn't bad and it was nice to see Hendricks on there. They did not have light or slimline tonic though which I found unusual. Here is the drinks and wine list:
The one good thing I can say is that the crew did consistently offer you an extra miniature when you had a drink. Which was just as well as this was the one and only drink apart from water I was offered in the entire flight!! Still water was given automatically and topped up once before the meal. I was also given a bottle of water afterwards.
The drink was accompanied by a nice selection of canapés. However, this is also your starter – unless you count the side salad.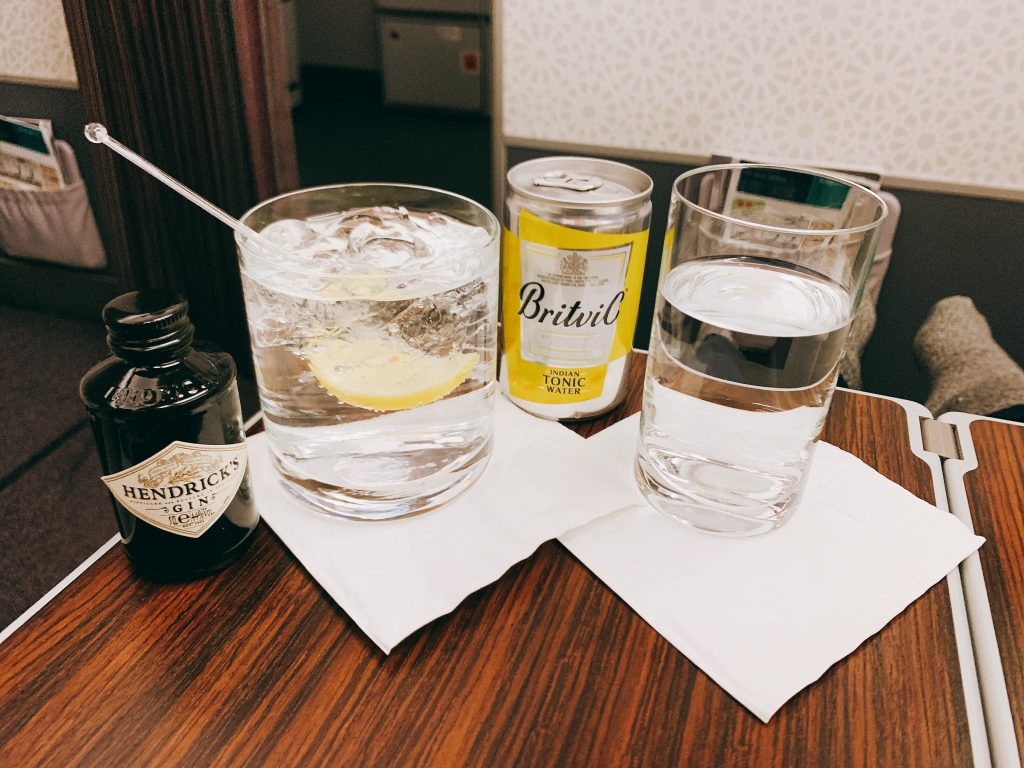 The canapés were roast beef with a dressing, a delicious light pastry case filled with ratatouille and a huge mound of smoked salmon on a slice of cucumber which I found tricky to eat. Fortunately, they came round afterwards with a hot towel.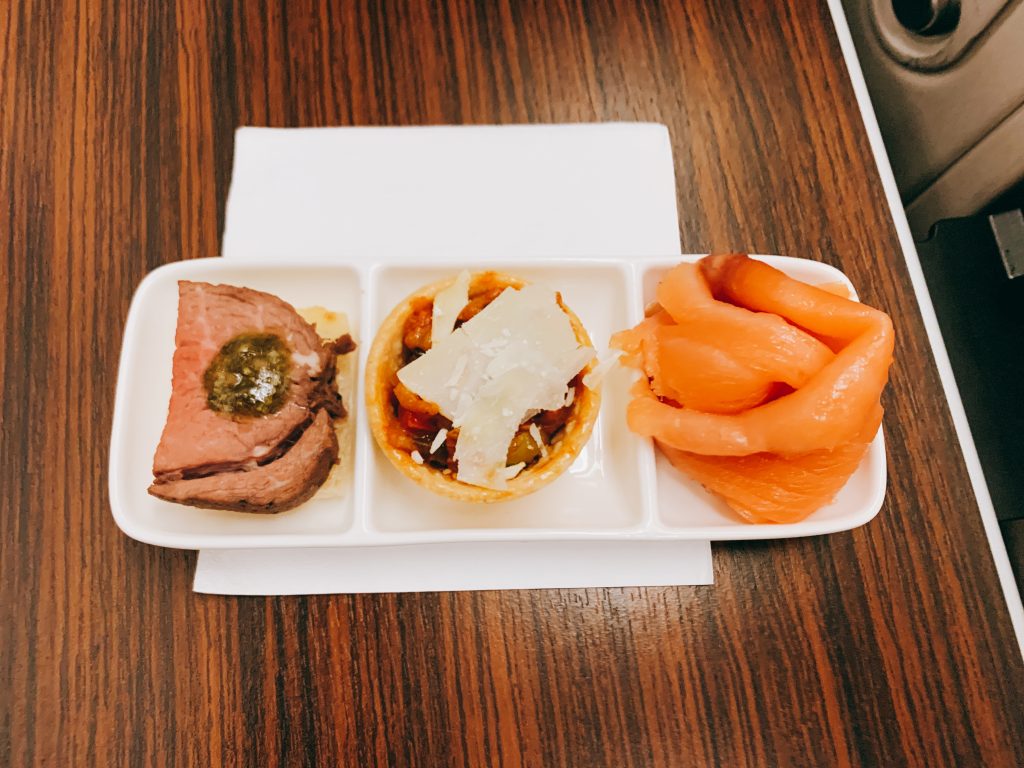 This was where the trouble began again! The CSM had popped round to chat to everyone. I had commented on the aircraft swap and she tried to persuade me that this was just like the normal Aer Lingus business which obviously it isn't. She was perfectly friendly and I explained that I was a bit annoyed having booked the flight specifically to do a review. I don't whether she then told the rest of the crew this or whether they are just incredibly paranoid about photos being taken.
At the time of the towels being collected, I was taking a photo of the seat divider. At no point was it being pointed at any member of the crew or passenger. Here is the offending photo: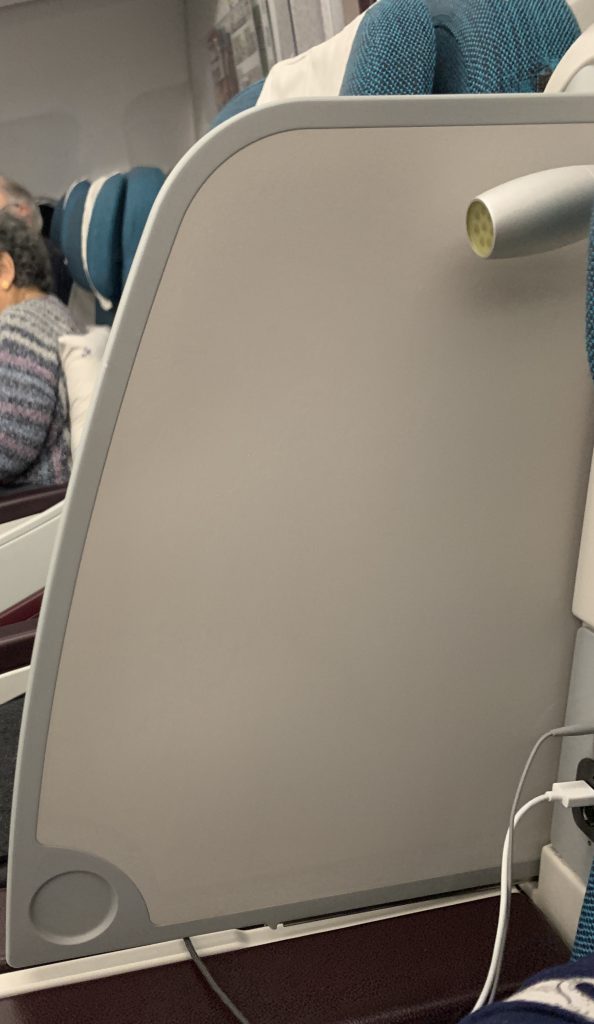 The cabin crew member had reported me to the CSM for taking her photo! Which at no point had I done even inadvertently. I then got told off again although much more politely this time until I showed her all my photos again and she could see there was no photo of a crew member. She said it was allowable to take pictures of the equipment and food and drink etc. No apology was forthcoming though. At this point, I was feeling very uncomfortable and beginning to get quite upset. I really just wanted to get off the flight as quickly as possible!
Next was the main course and I had chosen the cod with puttanesca sauce. The main course was delivered on a tray along with a side salad, dressing and a bread roll. The original cabin crew member who had told me off delivered my tray. It was literally plonked in front of me and nothing was else was offered – I would expect to be offered wine or a drink as on every other airline.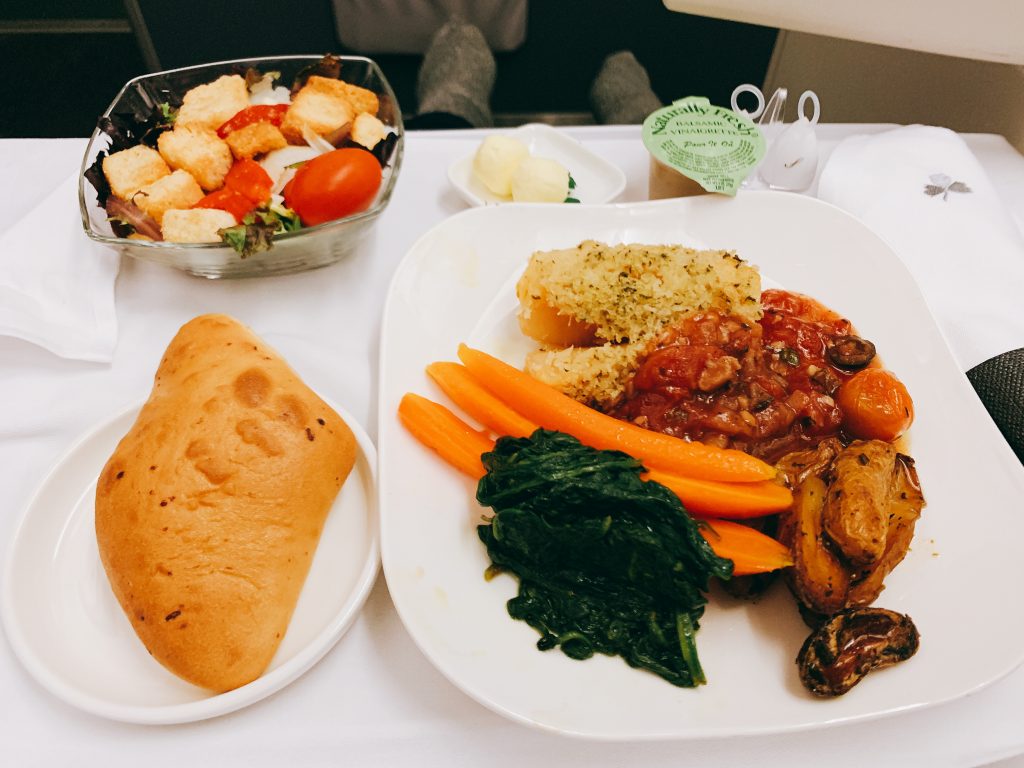 I tried to stop her saying "excuse me, could I have….." but she just walked off. However, it was the same for everyone. I did not see anyone in my cabin get another drink. I thought the food was nicely presented and the vegetables were tasty and not too overcooked. The sauce on the cod was also nice but the cod was horribly overcooked and dry. Cod should not look this colour: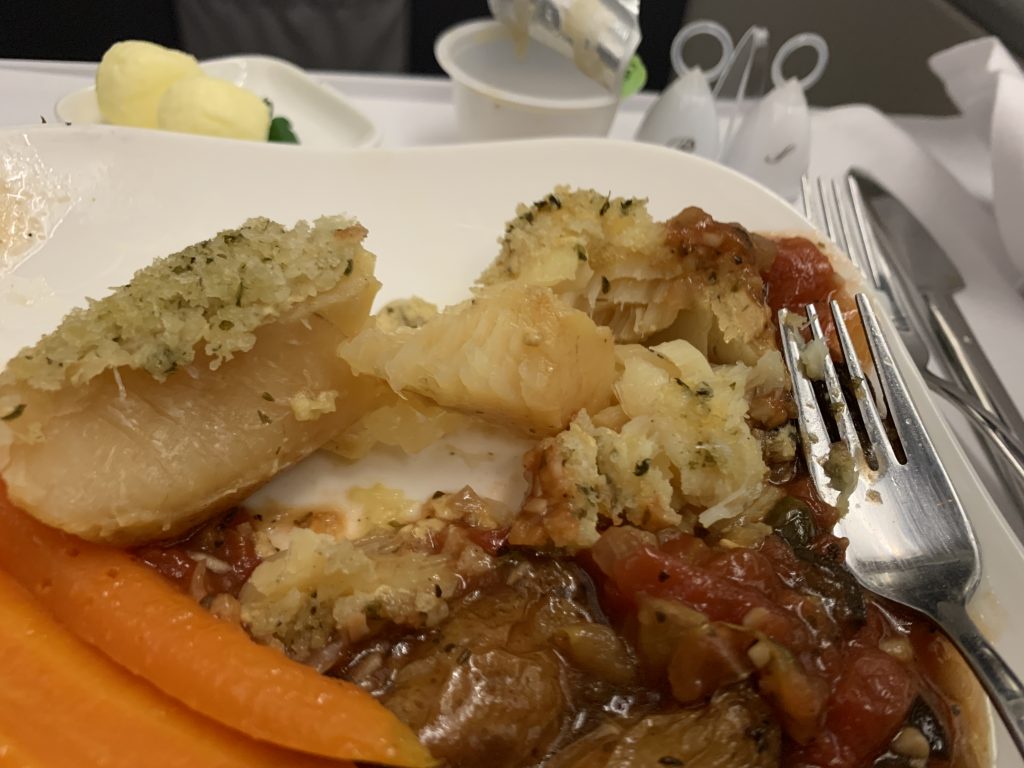 After the main course, I didn't really want anything else but I did feel like I could do with a drink. I was offered dessert or cheese so I asked for a Baileys and was given one with a miniature on the side (which was good as by this point I felt like I needed it!)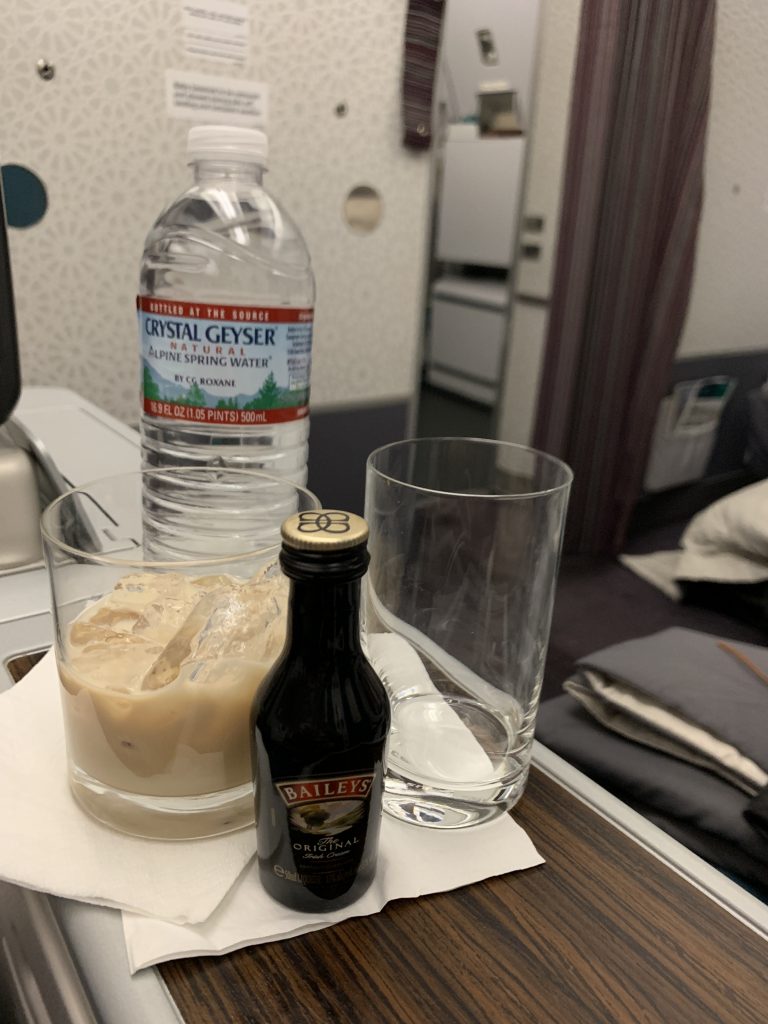 In the morning a light breakfast was served about an hour before landing: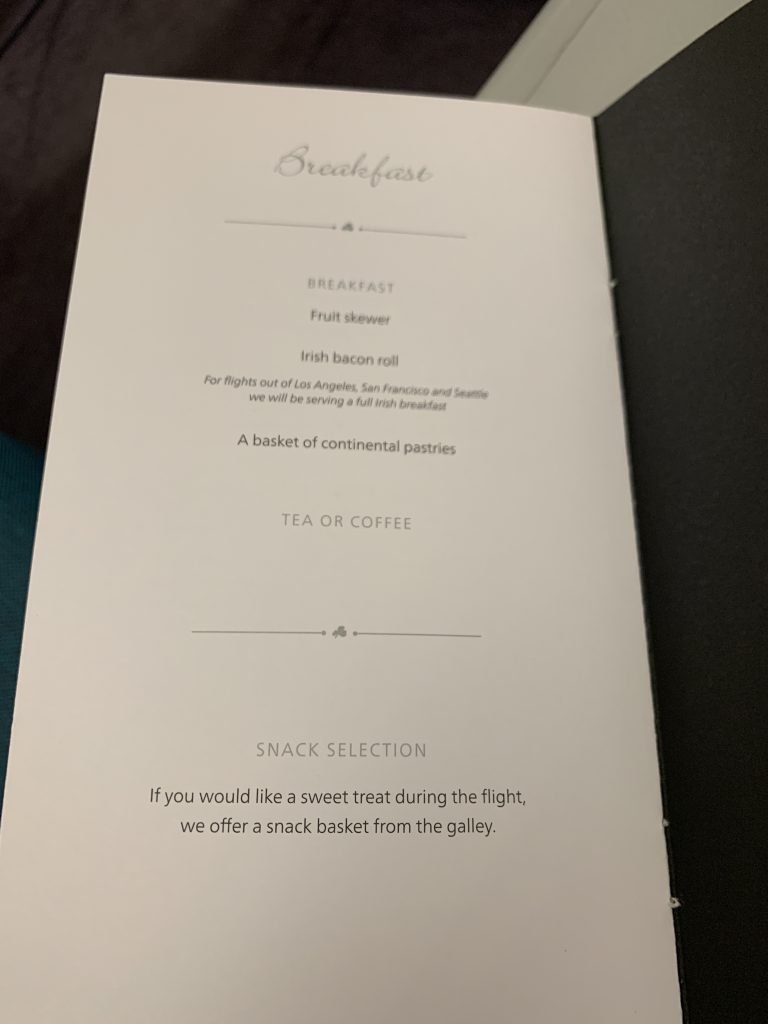 I did not really want anything. I missed the initial offering of breakfast as I was still trying to sleep but even when I did get up about 10 minutes after it had started I was completely ignored by the crew. It was only when I went through the galley on my way to the toilet that the CSD asked if I wanted anything.
Entertainment

The seat had an average size fold out screen with touchscreen controls and a hand-held remote with a screen as well. It appeared to be reasonably modern and the definition was OK too. I found the hand-held remote tricky as it kept freezing so it was easier to use the screen itself.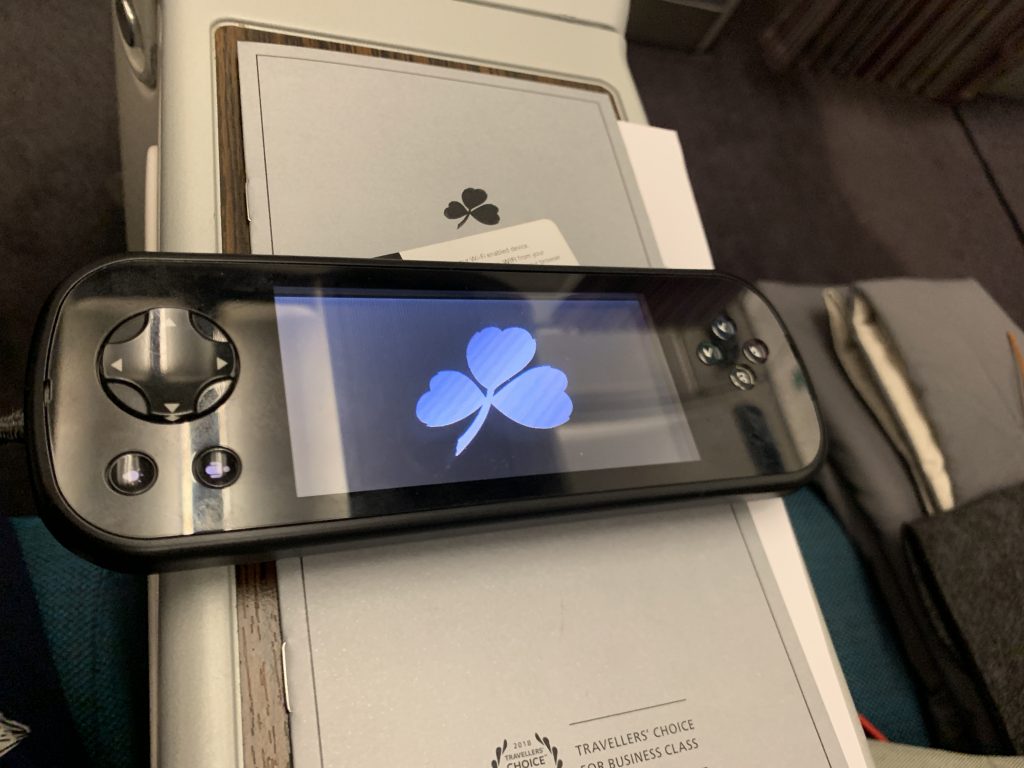 The selection of films and TV programs was actually pretty good and there were quite a few new films I hadn't seen so I started to watch Christopher Robin which from the bits I saw was quite a charming film but as things progressed on the flight I didn't really feel like finishing it.
Noise cancelling headphones were provided which were a bit flimsy and uncomfortable but they did the job. There was a USB for charging but it was not very obvious where the multi-country socket was. The couple next to me asked the cabin crew and she didn't know either which I found worrying. Eventually, I found it on the end of the middle divider.
One positive about the flight was the WiFi. A voucher for 400mb was provided in business class which I thought was a very generous amount. I had trouble logging onto it as my iPhone would not bring up the sign in page but the CSM helped me with this which was good. Once it was working I found a reasonable speed for basic tasks such as messaging, browsing, emails and social media.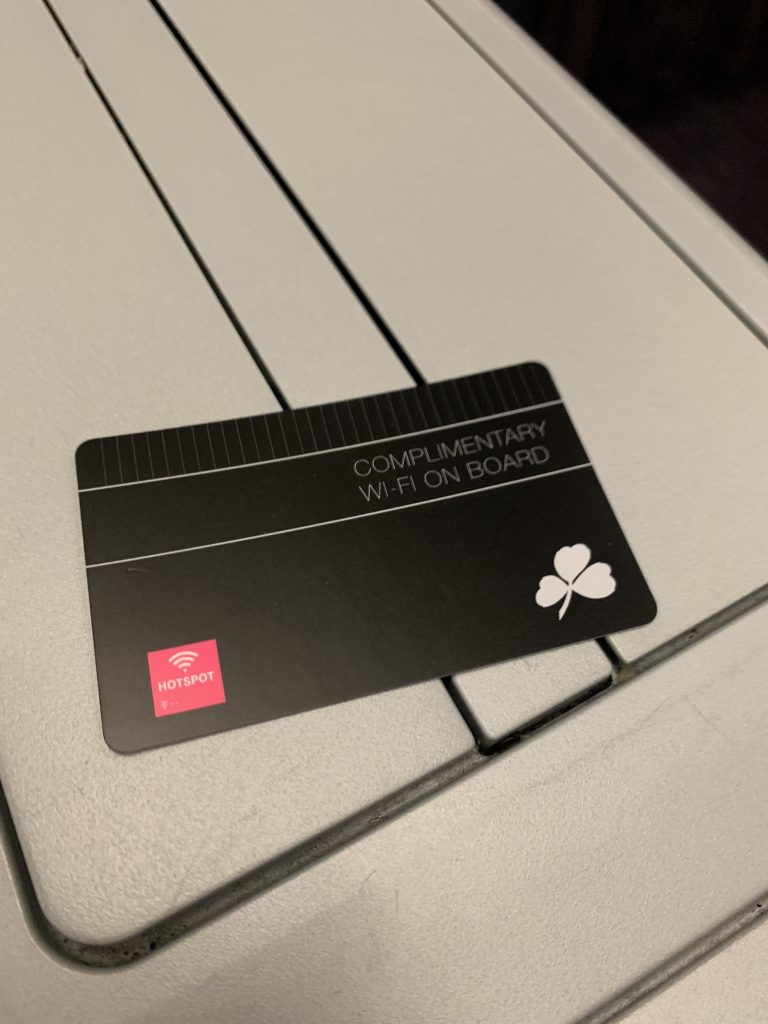 Conclusion
As you can imagine I have flown a lot of business class in my time but this was probably the worst flight I have had. I have had equipment swaps before but it has been made up for by the food or drink and lovely cabin crew. To have an equipment swap and such an unpleasant on board experience is a first. I am sure this is probably not everyone's experience of Aer Lingus but I can only report on what happened to me. If I could be guaranteed one of the usual regular business class seats I would consider trying it again just to see if I was really unlucky as surely if they were all this bad no one would ever fly them?
I realise that airlines don't have to allow you to take photos on board but obviously as a blogger if you ask for prior permission then it kind of defeats the object of a review and I have never had an issue before. I really don't understand the paranoia about being photographed before they even knew I was a blogger. If someone just wanted to record their flight for personal memories I find it odd that anyone would care so much?
In summary, they may be cheap but personally, I would rather pay a bit more and use BA, Iberia (also cheap) or American to fly across the Atlantic as the experience was so bad compared to the other airlines.
Have you flown on Aer Lingus in long haul business class? What was your experience? Was I just very unlucky? Let me know in the comments below or on social media.