GEGO luggage tracker
If you have been reading the blog for a while you will know that I have been using the Lugloc tracker for about a year now. I bought the tracker mainly because of the large number of connecting flights that I do which can often lead to bags going missing. With a luggage locator, you know almost immediately if your luggage is missing and exactly where it is. Recently the makers of Lugloc launched a new updated product which they offered me one of to test out for a review. The review of the old Lugloc is here.
What is a GEGO luggage tracker?
The GEGO tracker now has 3G technology which allows it to be used in more countries – GEGO has coverage in 190 countries including Japan, Singapore, Australia and South Korea.
So what do you get with the GEGO to start off with?
Worldwide 3G Coverage (TSA approved)
Bluetooth & Wi-Fi Enhanced Location Tracking (5x Better Accuracy than LugLoc)
Smaller Size and Weight
Set Safe Zones
Get notified when an object is moving
3 usage modes to maximize GEGO's performance and battery life

Flight Optimized: GEGO reports its location when it moves inside an airport. GEGO stays OFF while flying for aviation regulations compliance.
Standard: GEGO reports its location and notifies when it moves in or out of safe locations.
Battery Saver: GEGO reports its location less frequently and notifies when it reaches a new city, saving battery for long usage.

Works with Alexa (Amazon Echo)
The applications are a lot wider for this one due to its small size such as using to track your children and even setting safe zones where you can be notified if your child or an object moves outside the safe zone. You could also use it to locate your car for example if like me you forget where you parked at the airport occasionally!
How does it work in reality?
On my last multi-sector trip to New York via Madrid and Dublin, I gave the GEGO a good work out.
The first thing I noticed was that it was smaller and more lightweight than the original Lugloc. It is about the size of a credit card and very light. It still works through an app that is available for iOS & Android. The device was very simple to set up although like last time my phone would not locate it automatically so I had to add manually but it's pretty easy to do. Within a couple of minutes I was set up and ready to go.
I found the app much improved compared to the old version. The map was incredibly accurate and at Dublin airport I could see my luggage still sitting on the plane for quite a while which was useful.
I found the notifications similar to the old Lugloc in that sometimes there was sometimes a delay to it sending me a notification as to where the bag was, though it worked very quickly on the first leg to Madrid. However, I did find the app much quicker to locate the bag than before so the notifications weren't really that important to be honest. You simply go into the app and can see where it is at any time. This was always available by the time I got through immigration at all 4 airports I went through.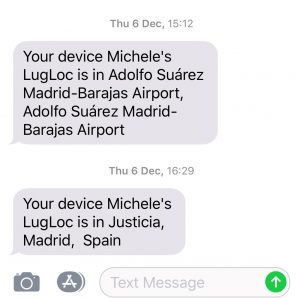 Here you can see how accurate it was.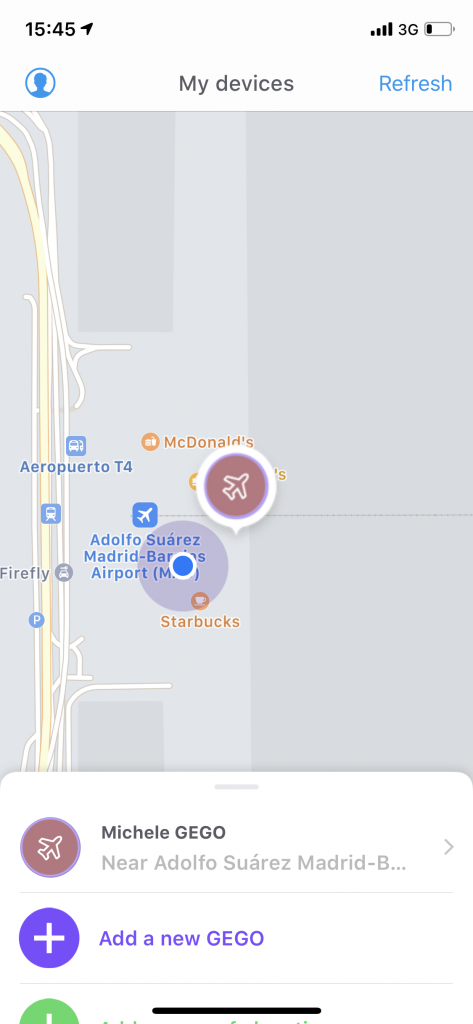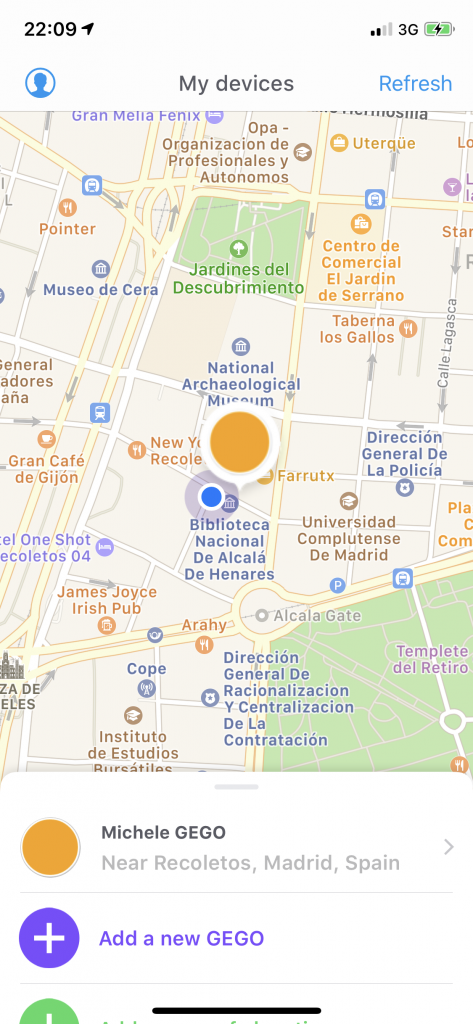 Like the Lugloc it did take a long time to charge – about 12 hours. The battery performance is variable. If you only moved it once a day it would last 15 days but when like me you are constantly moving around it needed recharging by day 5 of my trip but it does alert you when this needs to happen. This is because every time that GEGO moves it looks for cell tower and Wi-Fi signals to determine its location. If it's in a populated area, it will read a signal very quickly, using minimal battery while if it's in a less dense area it will make a bigger effort to connect to a signal, draining more battery.
You do have to pay for a subscription with the GEGO if you want to use it to its full potential though but you can just opt for the monthly version and just subscribe when you are using it if you don't travel every month. You can cancel the plan at any time and it will end at the end of the month or year depending on what you have signed up for.
Every GEGO includes a 30 days free service period. After the trial period ends GEGO requires a subscription for the 3G worldwide tracking. You can choose between a monthly $7.95 plan or save $20 on a yearly subscription at $76/year. Without a subscription, GEGO still works with Bluetooth technology, like a Tile or Trackr device but with a limited range of 200 ft or less.
Conclusion
I always loved my Lugloc but I have to say that I found the new version much improved. Being able to see the location that accurately on a map so quickly was really useful as I knew immediately my luggage had made it onto the plane and also when to bother standing by the baggage carousel!