A few years ago I used to be annoyed if I was flying from Terminal 3 on BA, particularly in First due to the lack of the Concorde Room. Now, having discovered the fantastic Cathay Pacific First and business lounges, I prefer flying from T3. On my last visit, I decided to try the American Airlines lounge as I had been hearing some good things about the First class lounge. I hadn't visited for a few years and remember being distinctly underwhelmed on my last visit – so had it changed?
American Airlines First Lounge
You can access the First lounge if you are flying on a oneworld carrier in any class and are BA Gold or oneworld Emerald. I visited fairly early in the morning at a weekend and the First class area was almost deserted. I was impressed with the fantastic service from the minute I arrived. For me, the service was far better than both BA Concorde room and the Cathay First Lounge.
At main lounge reception, the lounge agent had been very helpful and friendly as she sorted out the US formalities not completed at Dublin. Once we entered the lounge we were greeted again and had the various areas of the lounge explained. We were escorted to a seat in the seating area nearest the buffet and immediately offered champagne or a drink from a very charming young man who continued to wait on us hand and foot for the time we were there.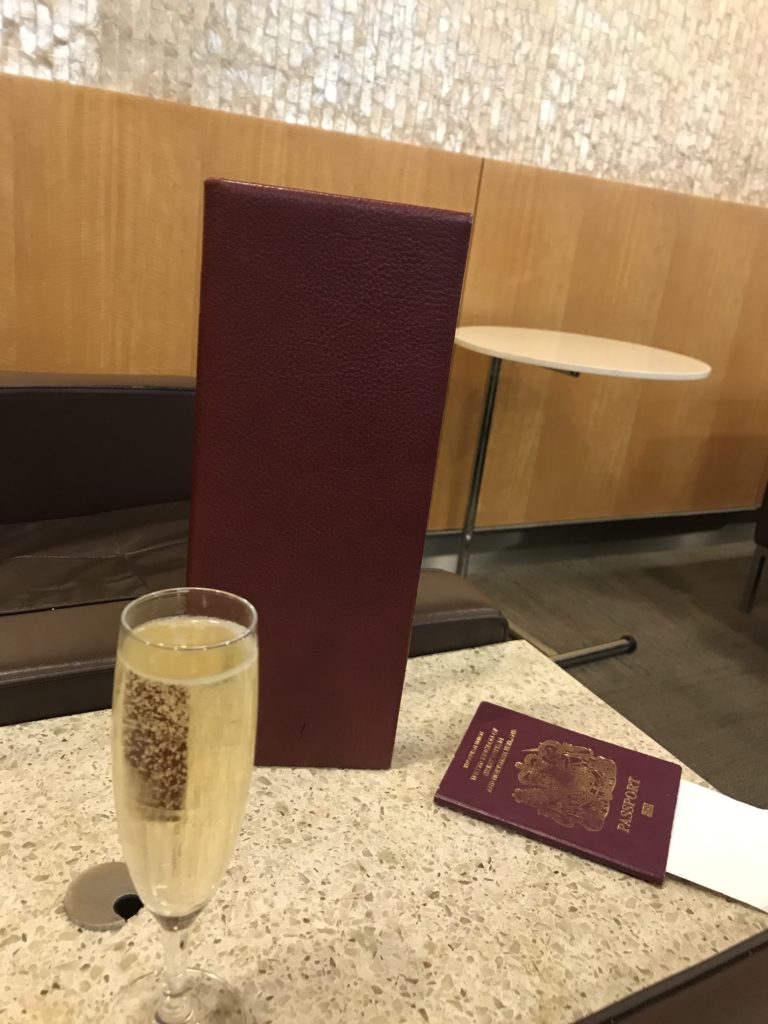 Unfortunately, the champagne is only Moet and Chandon. I have to admit to being something of a wine snob, and I must admit I hadn't drunk it in years thinking of it as a bit mass market. I was pleasantly surprised with it though, it was no Krug but actually quite drinkable. This was lucky since I was offered a top up every time my glass got even half full!
The lounge was divided into 2 areas with the lower level having a formal dining area, buffet and comfortable seating areas.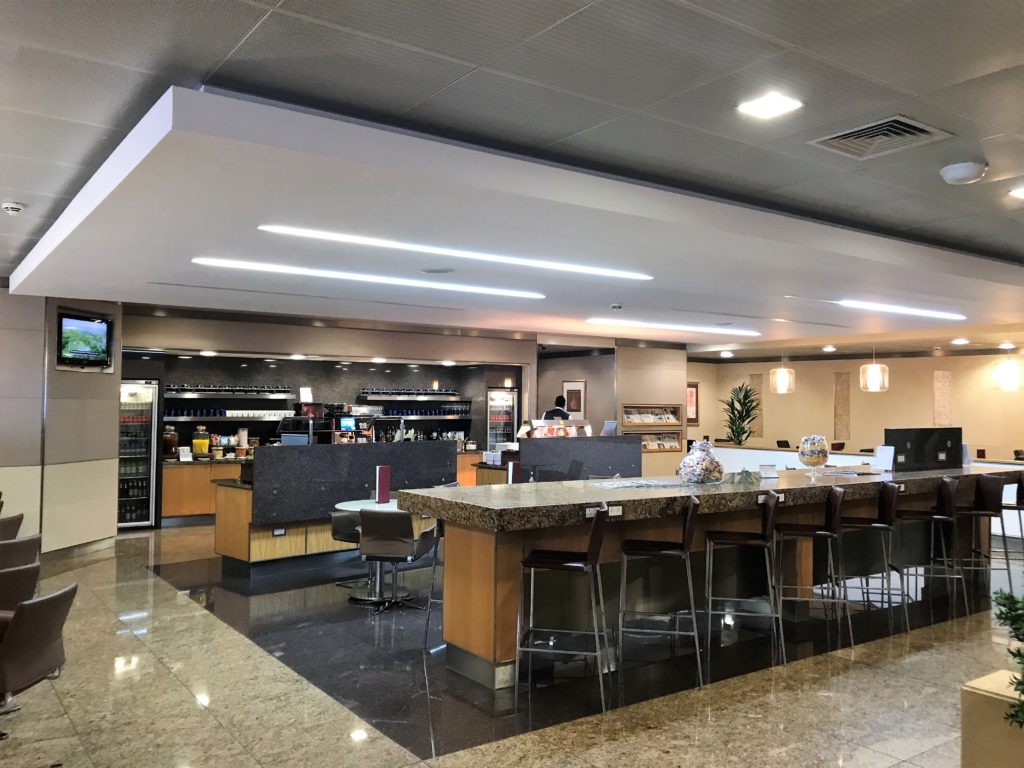 There was also an upper level which was just chairs but at least there was no shortage of power points at each seat. There was a small business area too. Whilst this area of the lounge had plenty of daylight with lots of windows, it didn't have views of the airfield. The decor is definitely very dull and rather dated in the majority of the lounge. It did not feel particularly First class either. However, it is earmarked for a complete refurbishment to bring it up to the AA Flagship Lounge quality. I suspect it won't happen until the Qantas one opens later this year, to ensure there is enough capacity.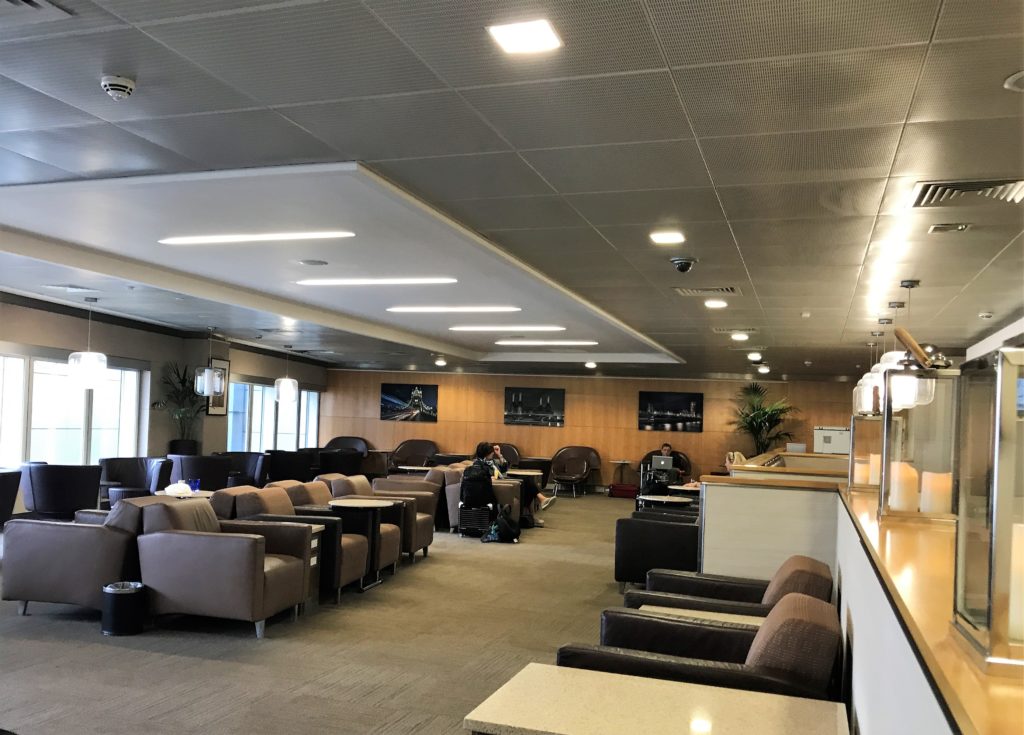 Food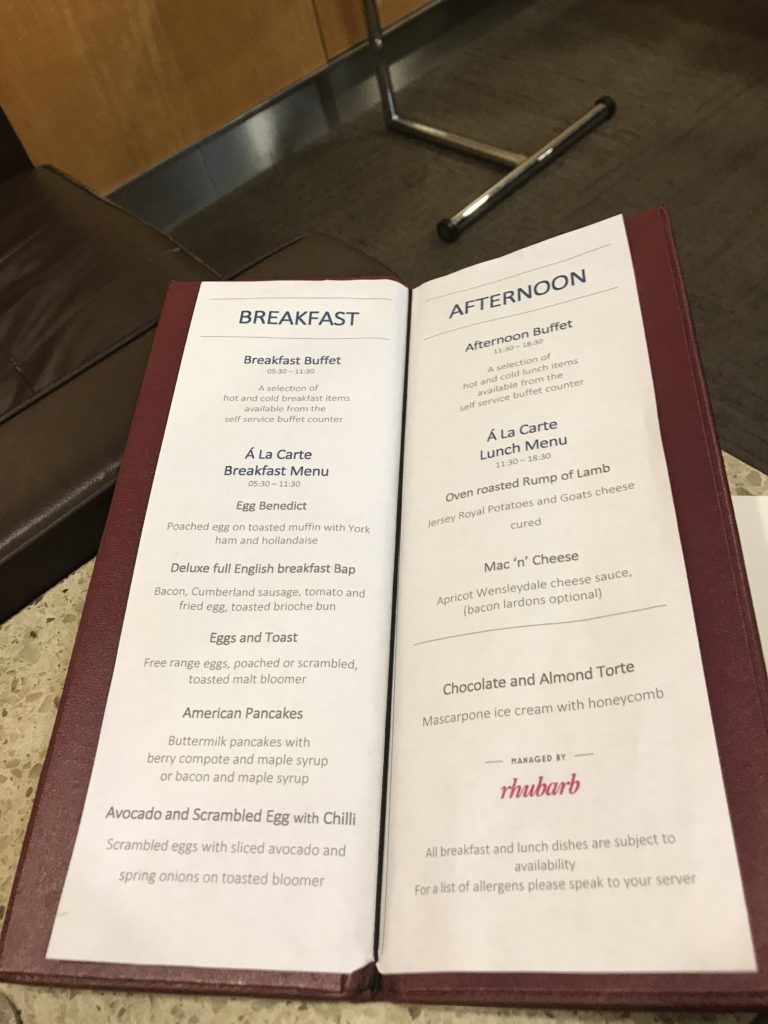 The food is managed by rhubarb, a well respected high-end catering company that works with the Royal Albert Hall and Goodwood amongst others. There was a full buffet as well as the dining area where you could order a small selection of dishes to order. Breakfast is served from 0530-1130 and then the main menu from 1130 until 1830. The buffet was definitely a step up from the BA First lounge, although overall the food was not at the standard of the Concorde room due to the small choice of dishes to order, although the quality is high.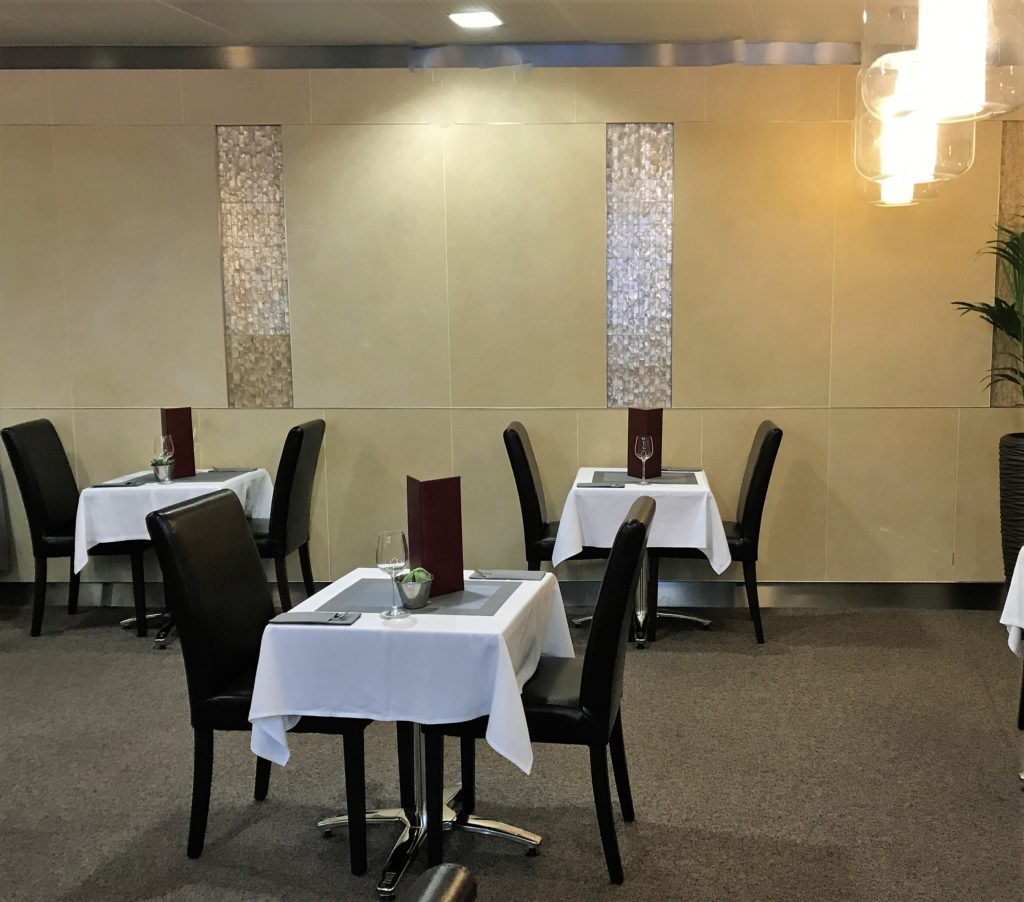 On the breakfast buffet, there was a good range of interesting and more standard items. One thing that was obvious was the care taken with the presentation. On the hot section was a full English breakfast and then for cold food you could have premium yoghurts, bircher muesli, muffins, cheese and pastries. To drink there was a very average Douwe Egberts coffee machine, freshly squeezed orange juice and a range of smoothies including one very dark green one which I couldn't bring myself to try no matter how healthy!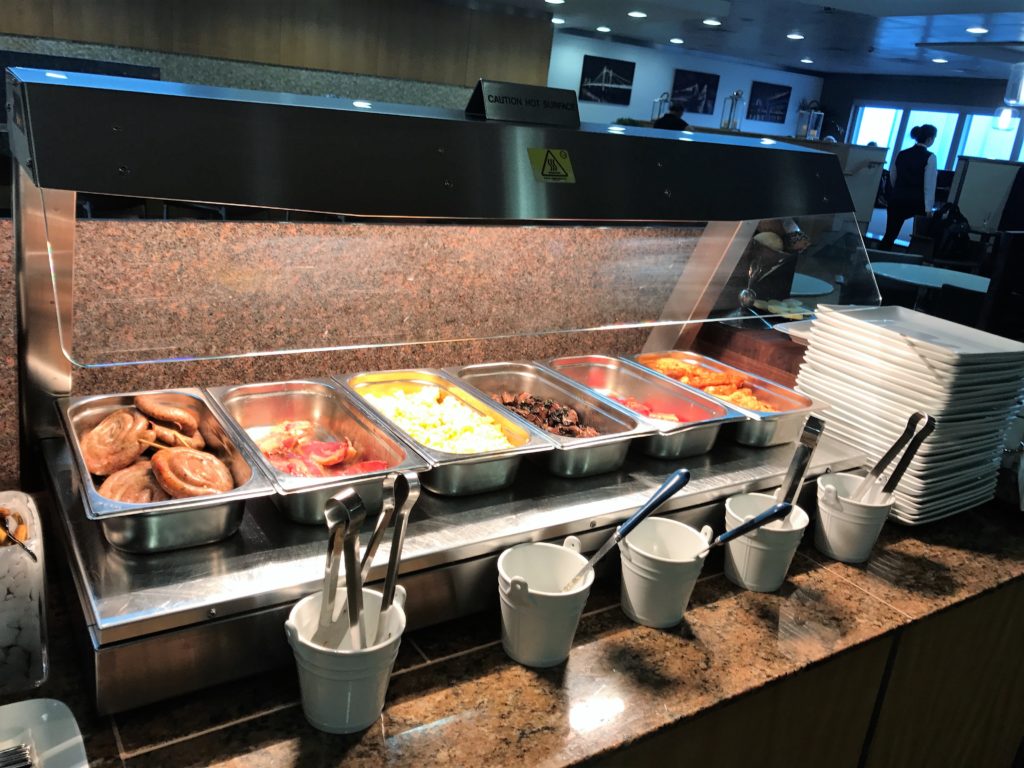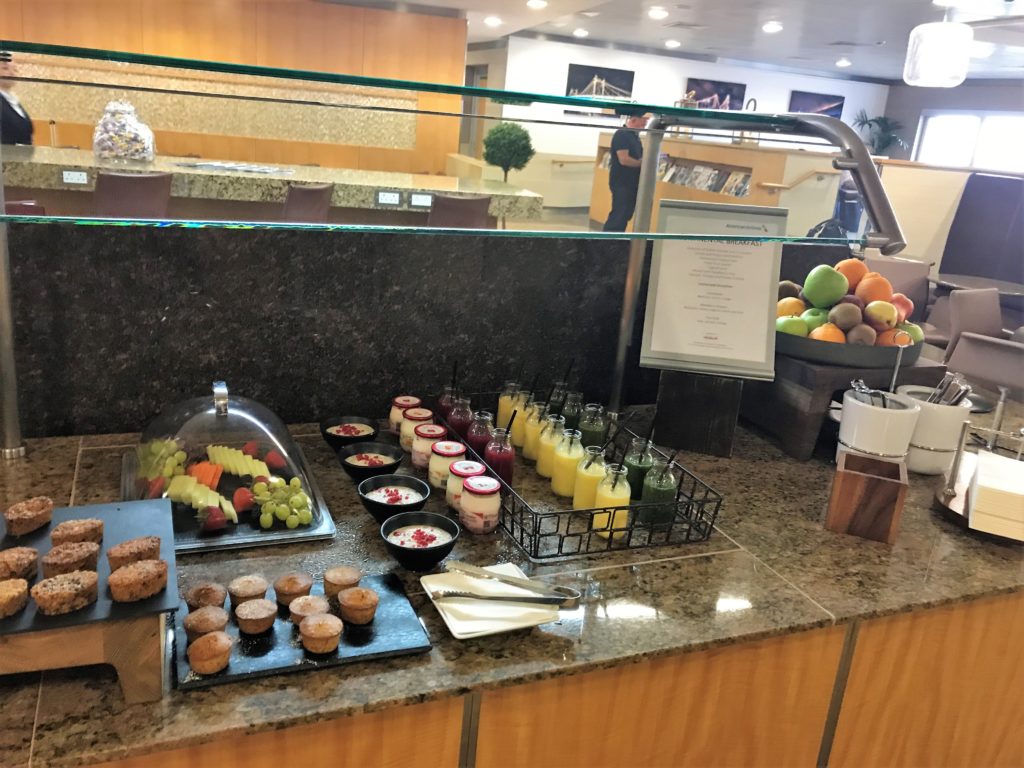 As I was there at the change over to lunch,  I took a look at the lunch buffet and was impressed with what I saw. Again it was presented very nicely and there was a high-quality selection. You could choose hot food to order which is what I would recommend, particularly the lamb.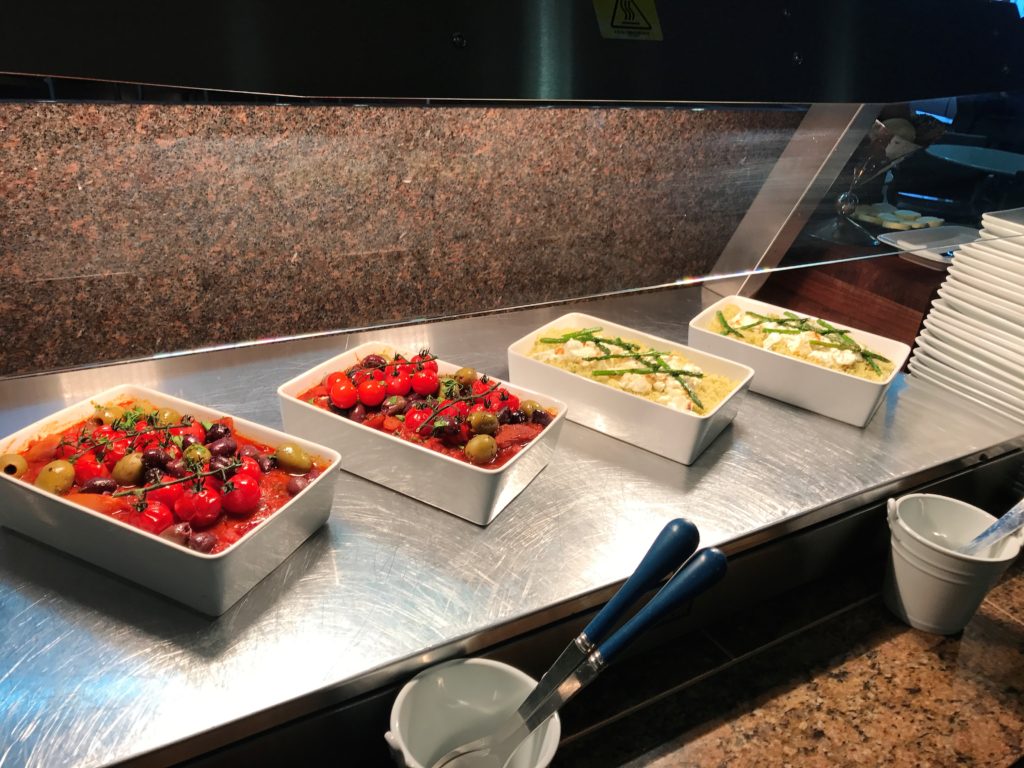 If you wanted more of snack there was an attractive looking display of small dishes including desserts and a platter of cheese. The desserts even had little flowers on them and I appreciated the attention to detail. Finally, there were glass serving domes with various sandwich wraps and rolls.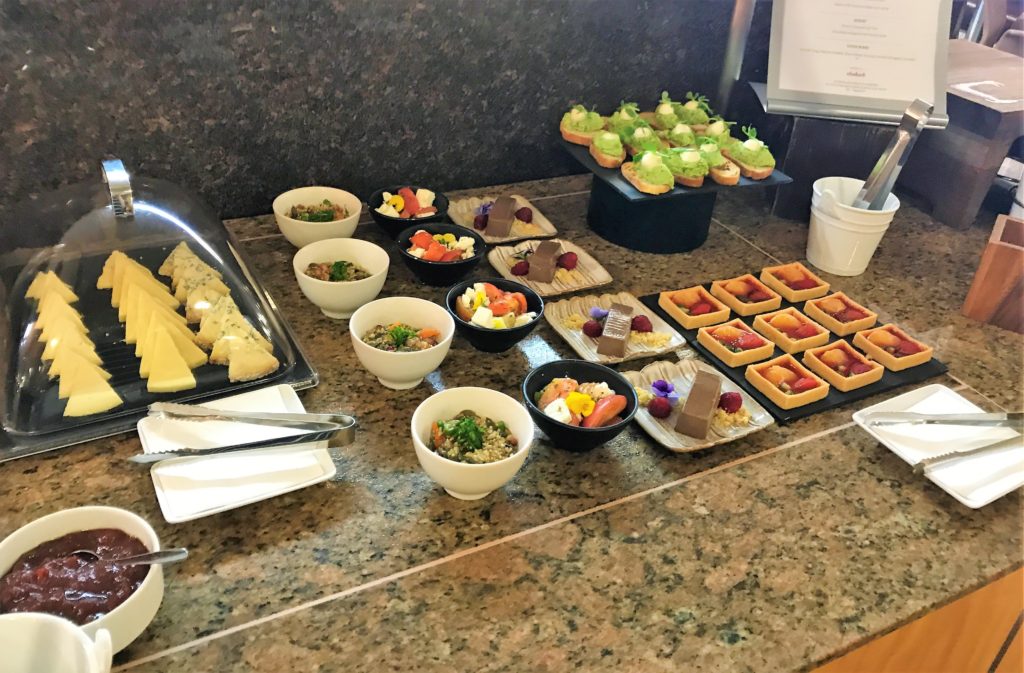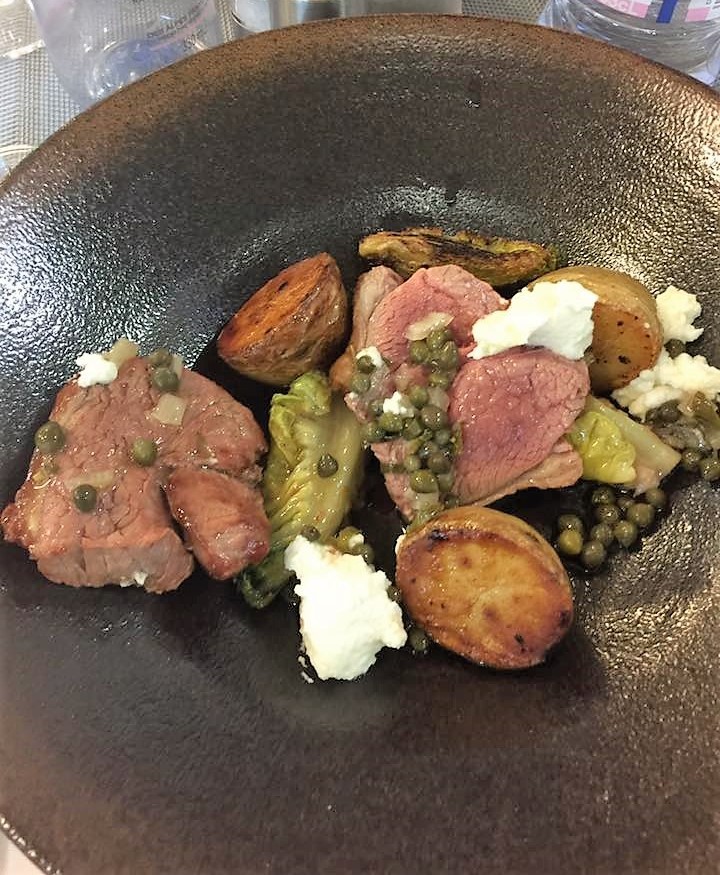 Drinks
This was the area which let the lounge down. Apart from the Moet and Chandon, the spirits were a bit downmarket for a First class lounge, though there was a least plenty of choice:
Greenhalls Gin
Tanqueray Gin
Gordons Gin
Johnny Walker Black Label
Jameson Whisky
Bells Whisky
Canadian Club Whiskey
Russian Standard Vodka
Southern Comfort
Baileys
Martini
Campari
Martell VSOP Cognac
Captain Morgans Spiced Rum
Captain Morgans Rum
There was also a range of 3 white and 3 red wines which were nowhere near the standard of the BA First lounge,  so I stuck with the champagne.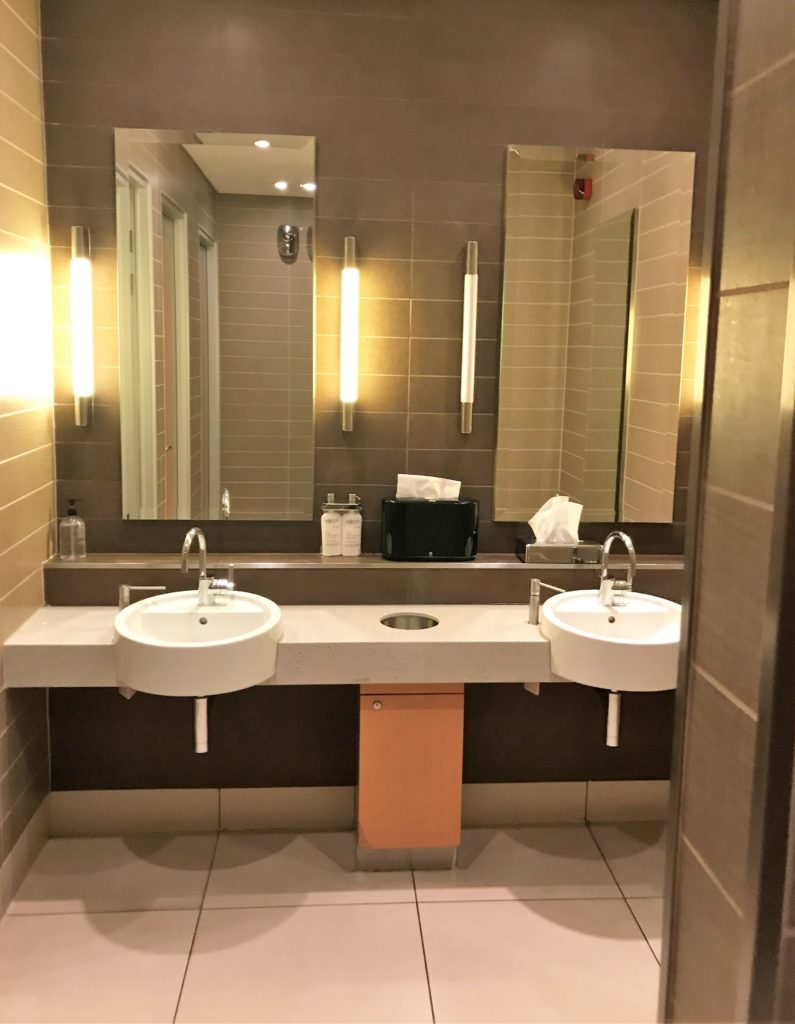 I checked out the toilets on the way out which were something of a disappointment after the very stylish Cathay ones with their Aesop toiletries. These at least were clean and in good condition with the same CE Bigelow toiletries you get onboard.
American Airlines Business Class lounge
The business class lounge was also a bit dated but not as bad as the First Class lounge. I did like the circular area in the middle which looked quite stylish. There was a large buffet and drinks area plus some tables for eating at. The rest of the lounge was very spacious with plenty of seating areas as well as a business centre with PCs and a printer. With several power points in between each set of chairs, you definitely would not run out of power in here! There was also a nice cinema area for watching TV.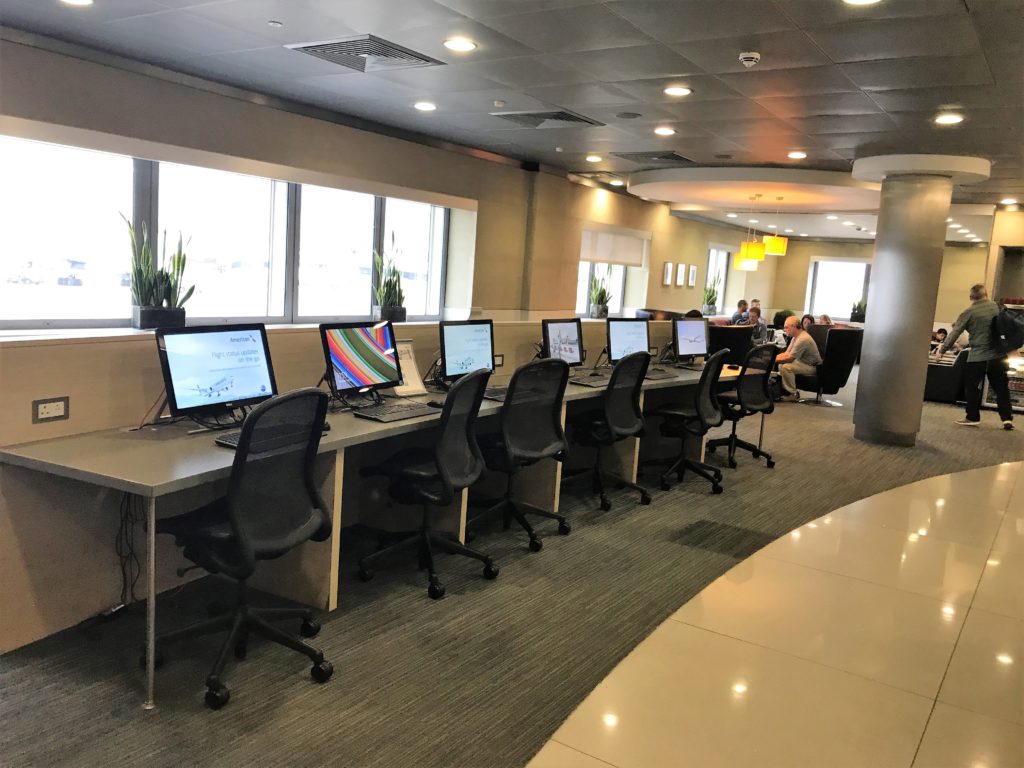 Drinks
The spirits were similar to the First lounge with a few exceptions:
Gordons Gin
Johnny Walker Red Label
Bells Whisky
Bacardi
Smirnoff Vodka
Baileys
Martini
Campari
Lambs Navy rum
Jack Daniels
I did notice they had a Bloody Mary area set up which is one of AA's signature lounge drinks. It did not seem quite as good as the Bloody Marys at the AA T3 Arrivals lounge though. Again they had 3 whites and 3 reds which were average quality but all quite drinkable. There was a Waipara Hills Sauvignon Blanc as well as a Louis Jadot White Burgundy for example. Amongst the reds was a Branscott Estate Pinot Noir and a Montepulciano. There was no Champagne but they did have Prosecco.
Food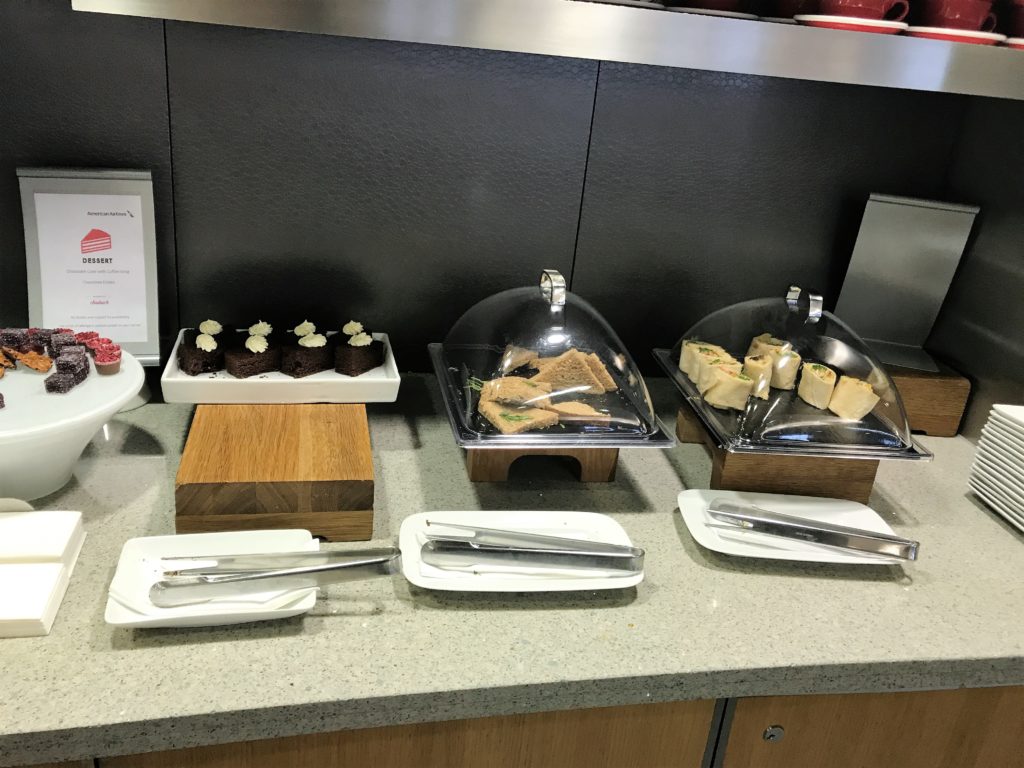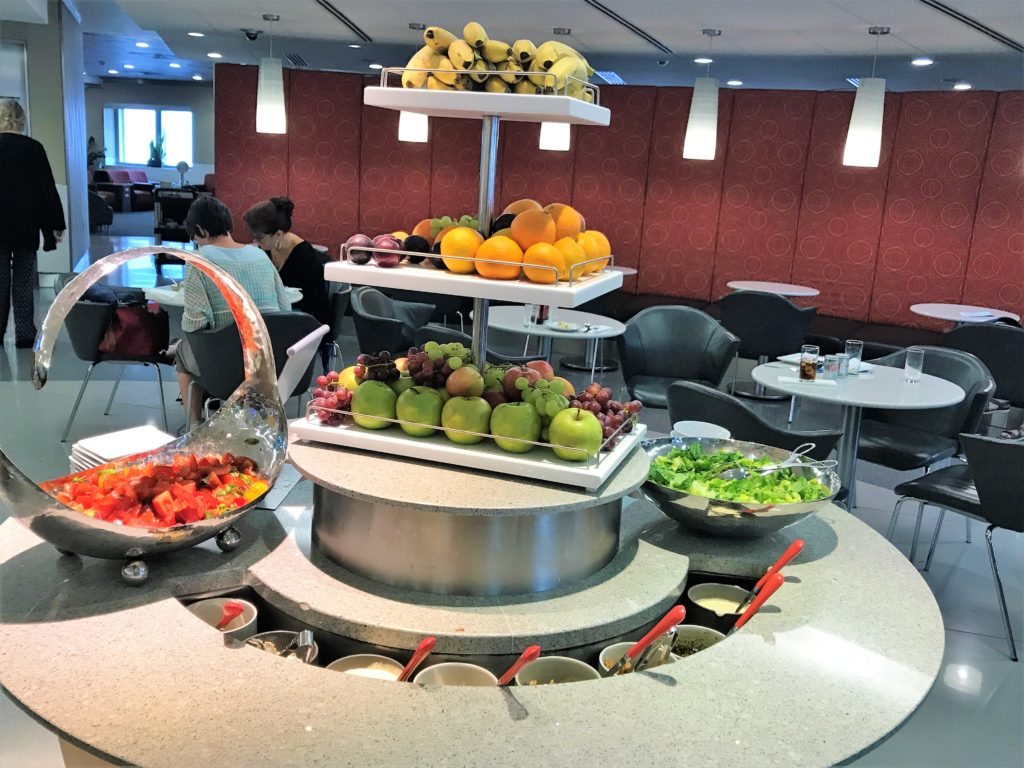 At lunch time the hot food was pretty limited and I think BA have a better selection in this area. The food was:
Butterfly chicken breast
Creamy Parmesan Polenta
Roasted tomatoes
Vegetarian Bolognese
Pasta
However, if you wanted something healthy the salad bar looked great was lots of topping for a fresh looking bowl of salad and plenty of fruit to choose from on an attractive display. There was also a small selection of rather sad looking sandwiches as well as cheap looking cheese and ham slices, although the cakes next to them actually looked pretty tempting.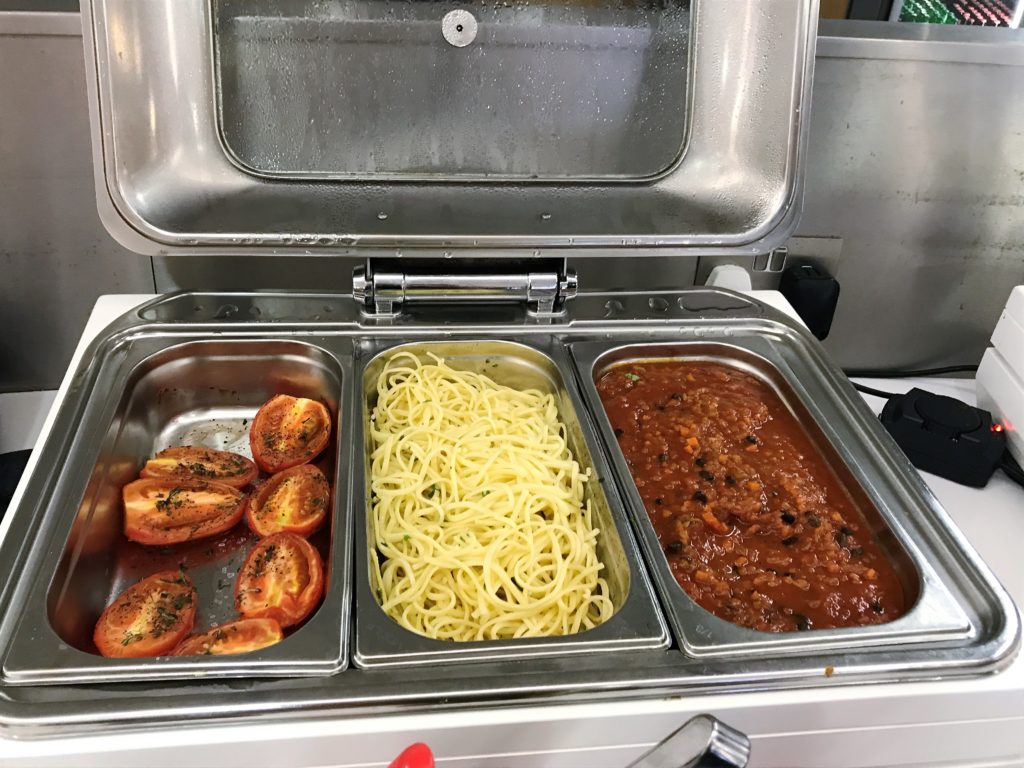 Conclusion
The decor in the First lounge is definitely a bit dated and underwhelming as was the wine selection. However, the service was top notch and if you just wanted some quick food, it's worth considering as an alternative to the Cathay Pacific lounge. In terms of business lounges, you may want to come in here for breakfast if you were tired of the Cathay lounge, as the BA breakfast is generally very limited. Otherwise, I would put the BA lounge just ahead of it in terms of wines and food the rest of the day.
AA is due to be refurbishing the lounges shortly in line with the rather lovely JFK Flagship lounge, which both International Business and First class passengers have access to. I will, of course, review the new lounges when they open.