I have previously stayed at the Aria hotel but was lucky enough to get upgraded to a SkySuite (review here) so I never actually got to experience the normal part of the Aria hotel until recently. I thought it was worth a second look at what you get in one of the more standard rooms at the Aria.
Booking and check-in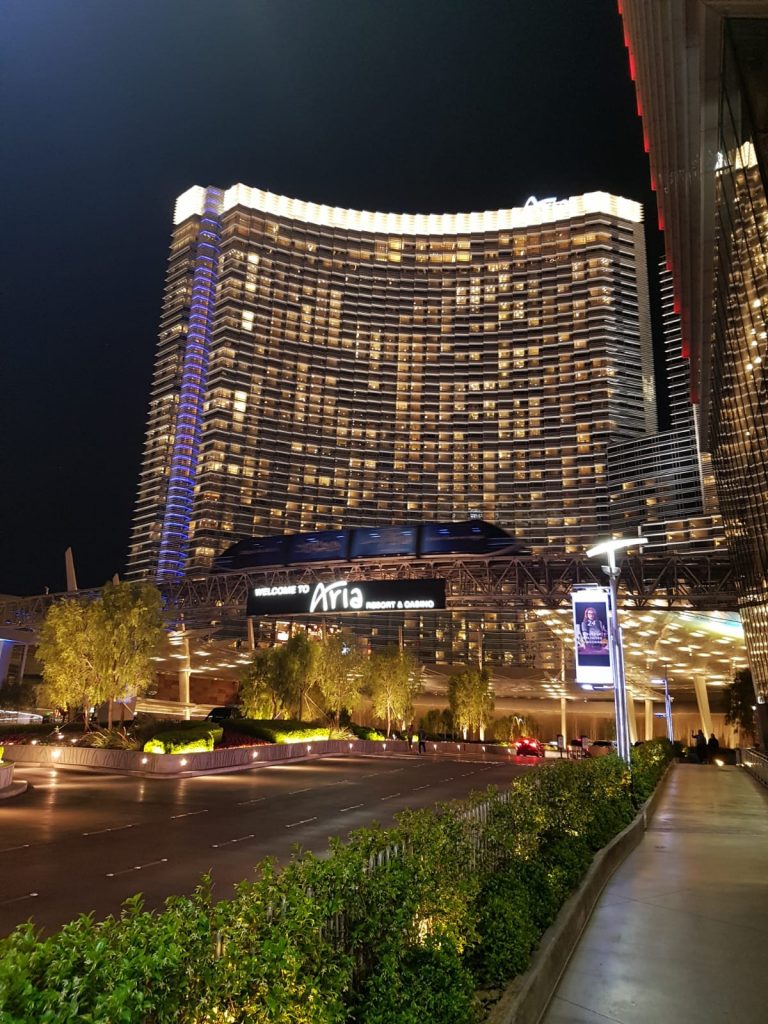 I had booked my room through Virtuoso. If you are not familiar, Virtuoso are travel agents that you can book high-end hotels through and get a number of perks for free. These include things such as free breakfast, a $100 credit and an upgrade. You can read more about Virtuoso and similar schemes in this article
The benefits for the Aria hotel were:
A complimentary (1) category upgrade, based on availability at time of check-in and for full stay; Deluxe to Deluxe City View; Deluxe City View to Corner Suite; no upgrade from Corner suite and above categories
Two $30 breakfast credits per room, per day, redeemable at ARIA Buffet, Cafe Vettro, and In-Room Dining. Charge must be posted to room folio and will be deducted upon check-out.
$100 USD equivalent Food & Beverage credit to be utilized during stay (not combinable, not valid on room rate, no cash value if not redeemed in full)
12:00 Noon Early check-in/4:00pm late check out, subject to availability
Mlife Priority Check-In line
You can check the latest benefits and prices our partners Debonair who are part of Pro-Travel, one of the largest collections of independent luxury travel agents in the world.
I arrived at the Uber drop off at the back of the Aria and there were no bellmen to be seen. I, therefore, had to drag my bags through most of the casino through all the people. I had not realised that I could use the premium check-in area with my Virtuoso booking so I did end up queuing slightly. That may also explain why the agent appeared to understand nothing about my Virtuoso benefits and I did not get the usual letter explaining what they were.
As I was slightly early there were not many rooms available but he assured me that the room he was giving was a quiet corner room which was larger than average. He did say it only had one window but since I was keen to get into the room immediately, I accepted the room.
The room

Well, it may have been larger than average but with an interconnecting door, quiet it wasn't. Unfortunately, I was there for a conference over Memorial Day weekend, one of the biggest bank holiday events for Vegas. From the sounds through the interconnecting door most of the time, there were four girls in there who were ready to PAARTY! 24/7 with a lot of door slamming to boot.
The room itself was fairly large but pretty dark due to the one tiny window, but I guess I had been warned. The bed was comfortable and I like the fact that you can control everything from the iPad-like device next to the bed including temperature, curtains and lights. As you came into the room there was a hall/dressing area with plenty of space which was also useful.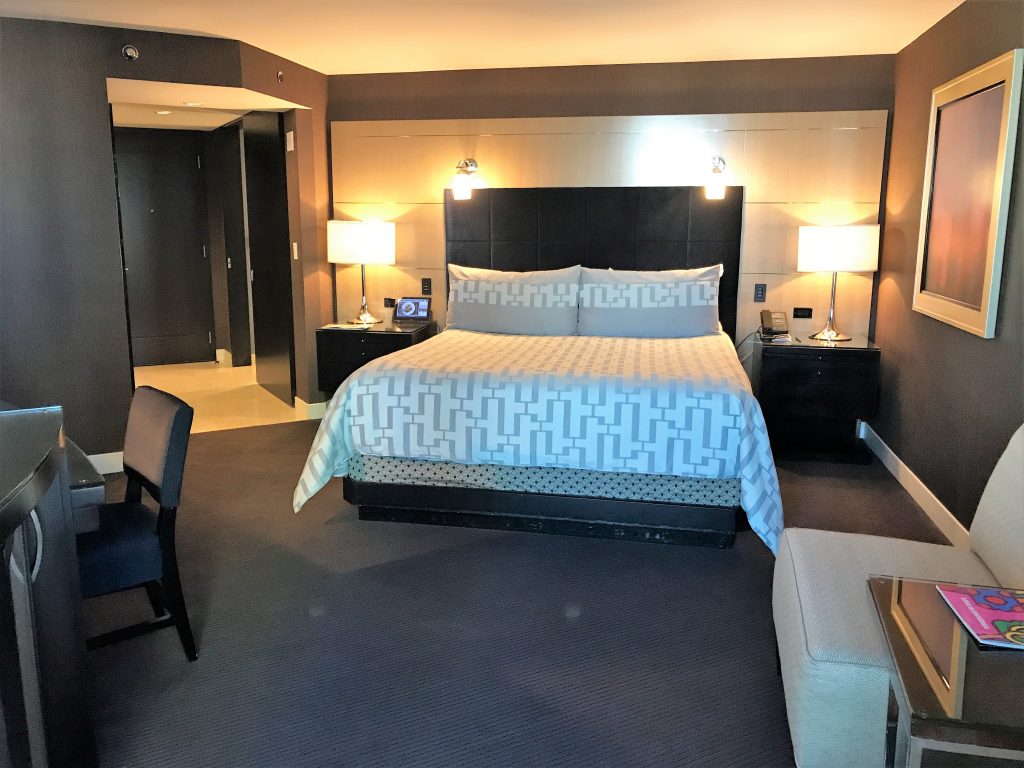 As usual for Vegas, there was no tea or coffee in the room as they want you out spending money as soon as possible.
Bathroom
This was the highlight of the room for me. It was large with a separate bath and shower. I liked the vanity area with the twin sinks and magnifying mirror but I was not really sure about why you would have the bath and shower together in a separate area. However, the bath was large and comfortable for a nice soak.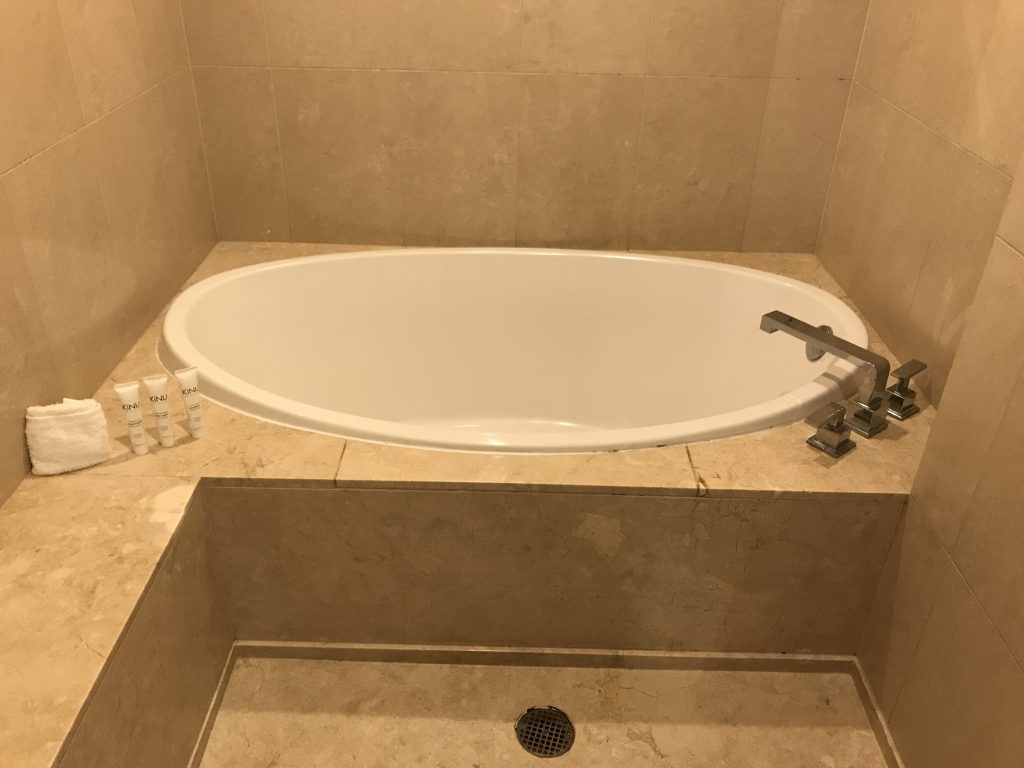 Pool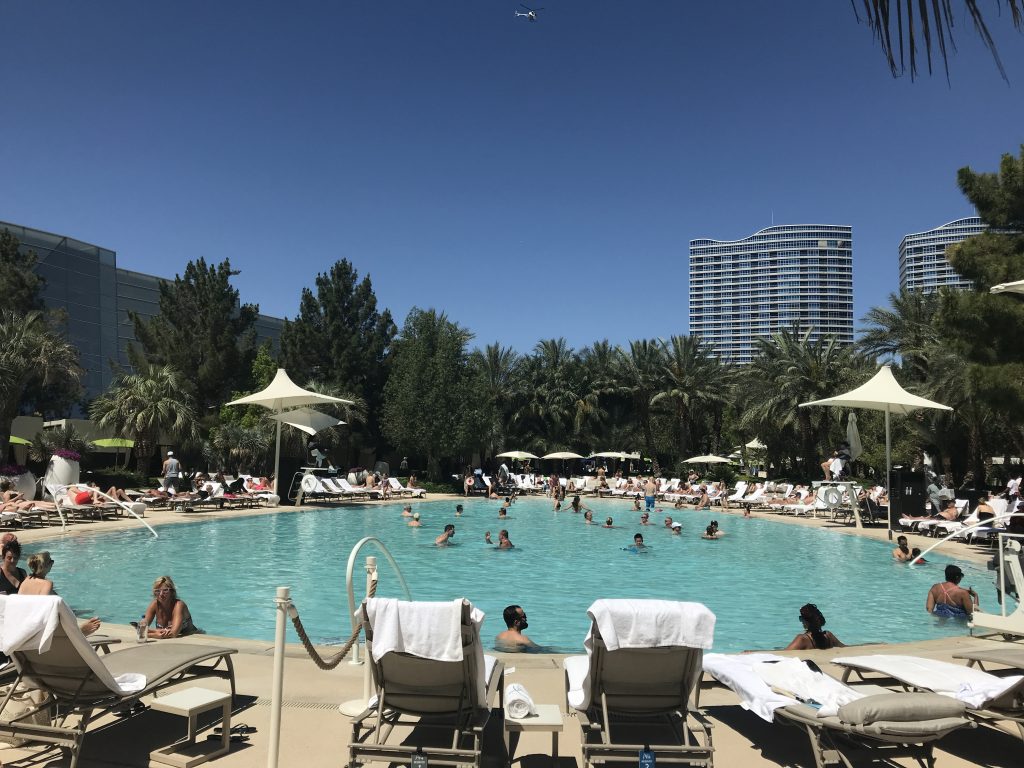 I often find pools in Vegas a bit of a letdown, even at some of the more luxurious casino resorts. Often the loungers aren't that comfortable and very tightly packed together. The Aria resort for me has one of the nicest pool areas on the strip with large oval pools, comfortable loungers that aren't too close together and plenty of greenery to make it a pleasant area to sit in.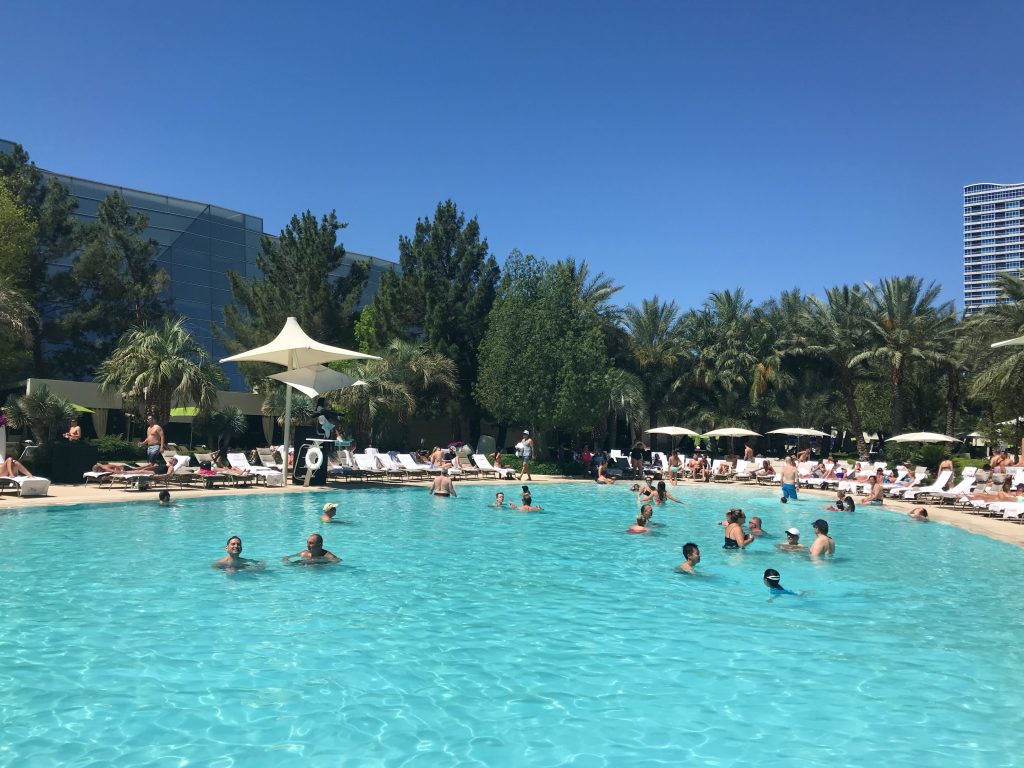 Spa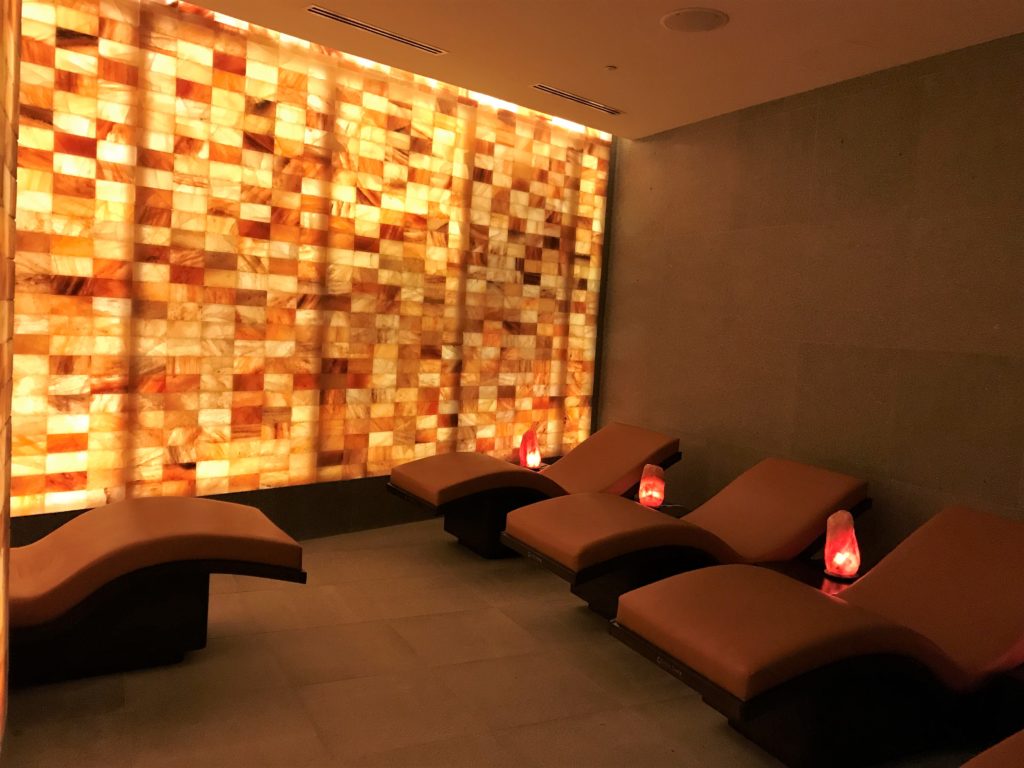 The great thing about the Aria spa is that it has quite a few unisex areas, unlike most spas. This means if you are with a partner or friend of the opposite sex you can actually enjoy more of your spa experience together. The separate men's and women's sides have the usual spa pools, sauna and steam rooms along with a great dressing area with all the toiletries you could need. In the communal areas, there is a salt room, Ganbanyoku heated stone beds (which are flat Japanese style and take some getting used to) and the fantastic outdoor spa pool.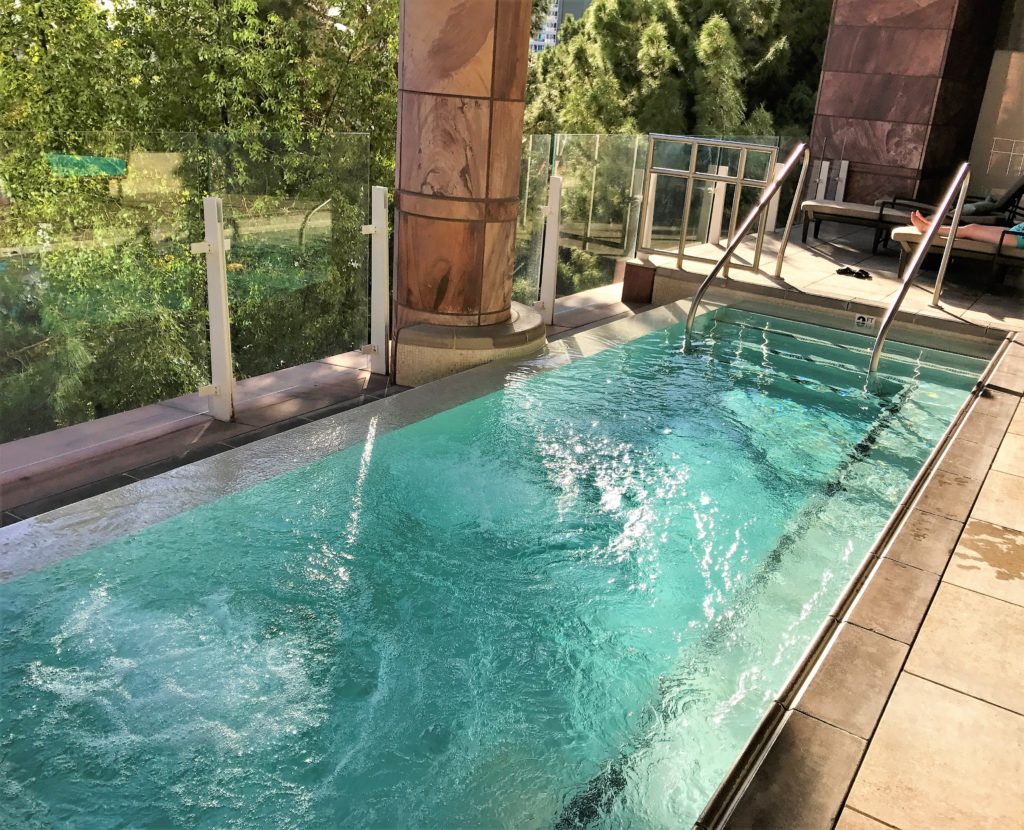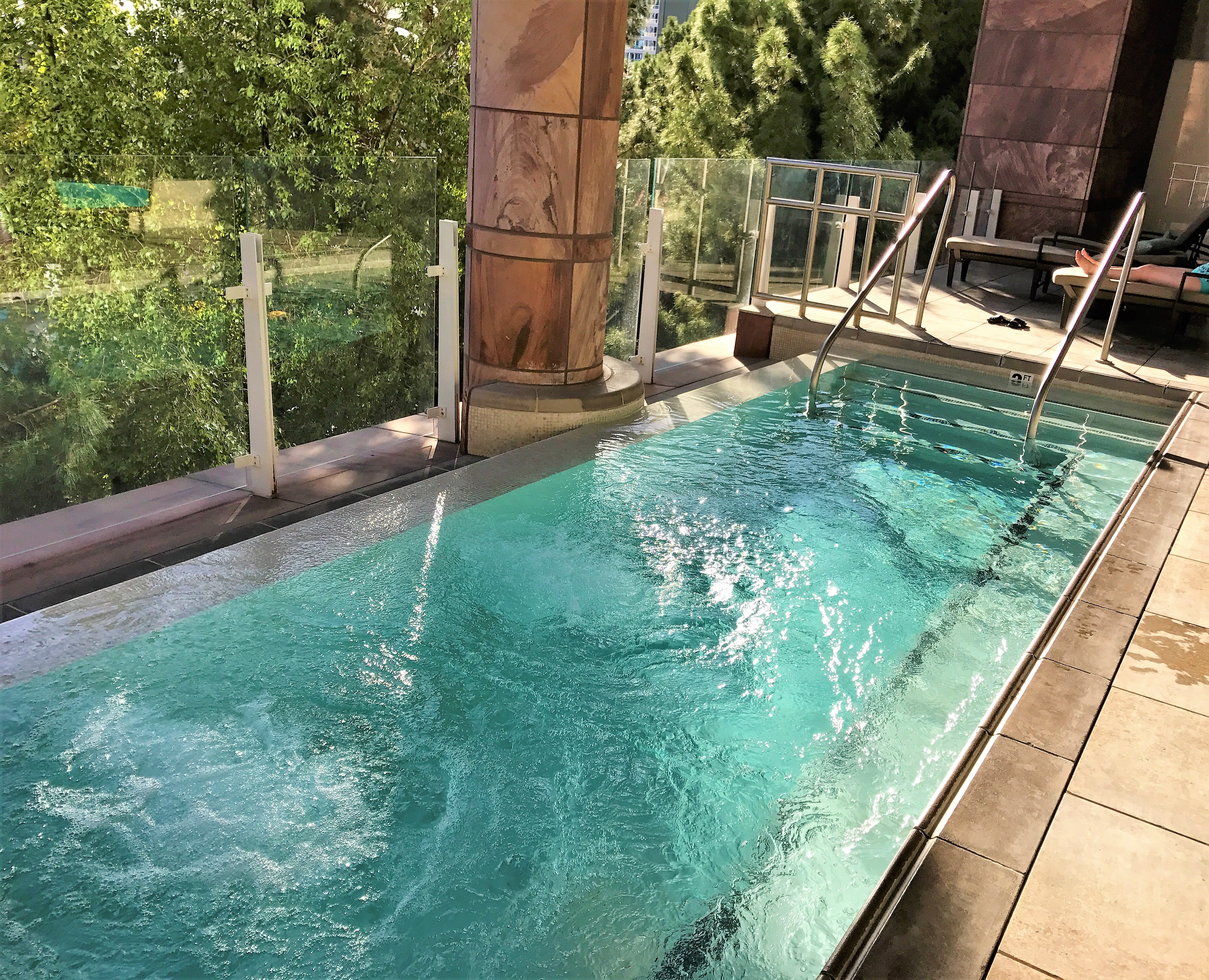 Food and drink
As with all the casinos, there are multiple food and drink options. Even if I am not staying at Aria I often pop in there for a few of the restaurants. The ones I have personally tried are:
The Buffet. This may not have the bling of some of the more well known high-end buffets such as Caesar's, Wynn or Bellagio but in terms of food and experience, it is one of my favourites. There is rarely much of a queue and they offer an inclusive drinks package for around $14 with beer, wone or certain cocktails which makes good value. The buffet itself has a wide choice of cuisine including Indian with an on-site Tandoor oven, Middle Eastern and Chinese. Alongside these are all the usual staples such as crab legs, seafood and prime rib.
I also like Julian Serrano for tapas although I think if you want a lively atmosphere Jaleo at Cosmopolitan has the edge.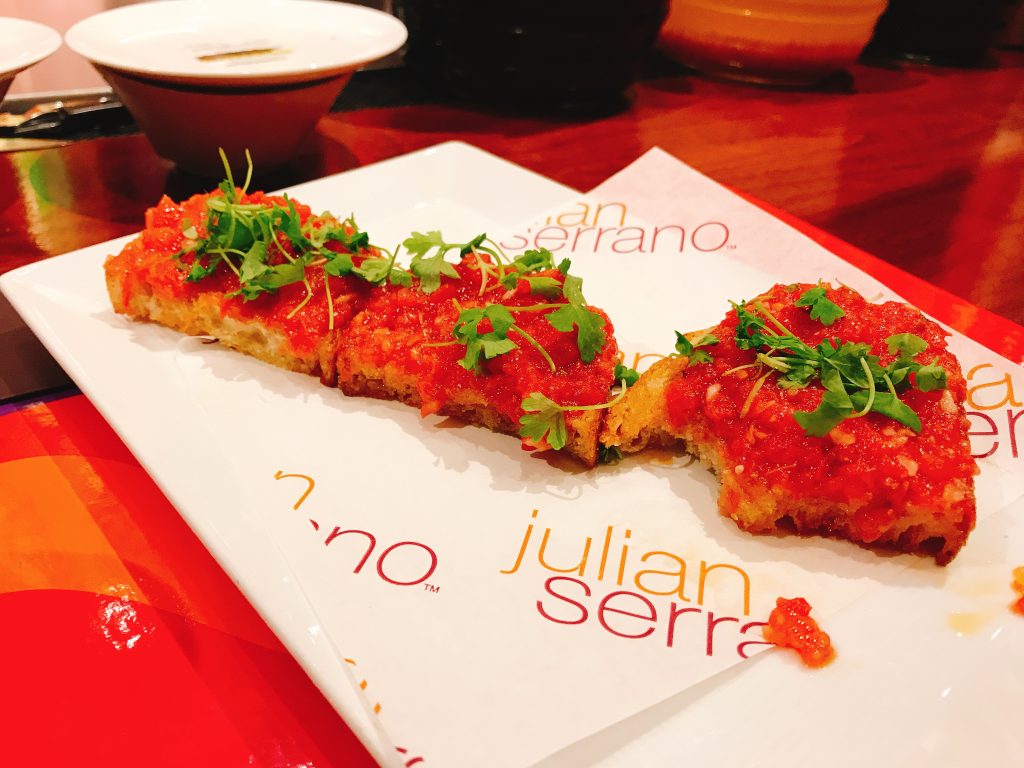 Lemongrass is the Asian restaurant which offers a mix of Asian cuisines such as Thai and Chinese. To match your meal they specialise in Riesling wines with a wine flight of 3 different style Rieslings available. If you like your Thai food spicy then be bold in your choice of spice level as they are pretty conservative with it. I asked for spice level 7 and did not find it overly hot. Apparently, 3 is classed as medium!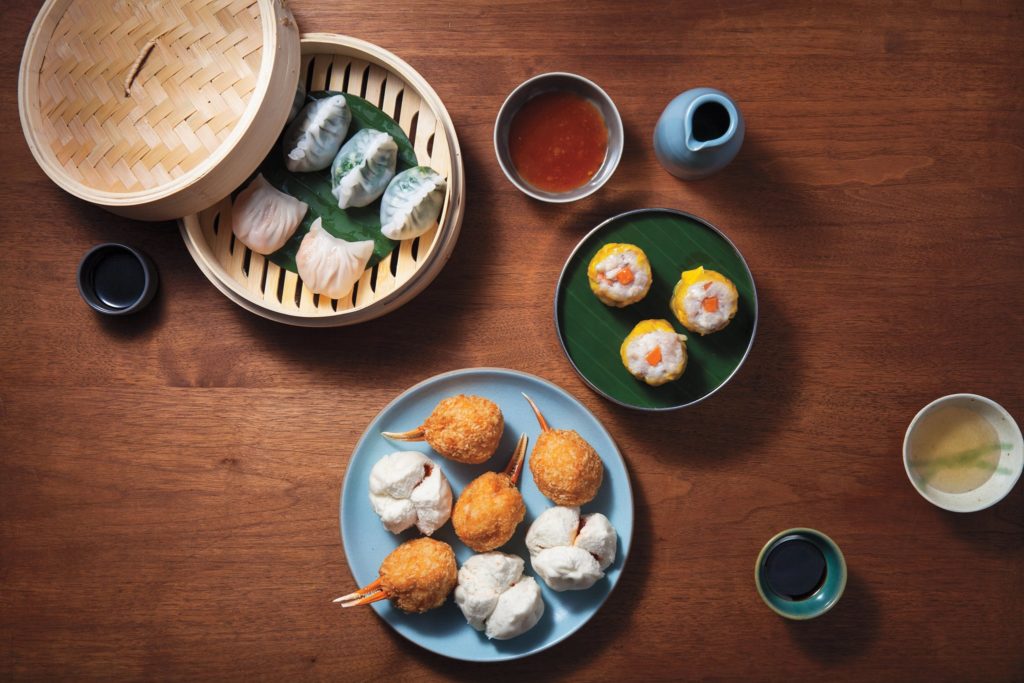 Conclusion
I was probably unfortunate in a few ways with this trip. Firstly, I didn't go to the premium check-in area so the agent was not apparently familiar with Virtuoso. Secondly, as I didn't want to wait for a room I probably got a worse room than I needed to, although it was large. Aria has a lot of things going for it – the prices of rooms are generally reasonable, it is modern, the hotel is not as busy as many of the strip hotels and the on-site facilities are great. So would I stay again? To be honest I wouldn't rush back but as strip hotels go in this prices bracket it is pretty good. I generally prefer to pay a little more to stay at the Four Seasons or Encore.
You can check the latest benefits and prices with our partners Debonair who are part of Pro-Travel, one of the largest collections of independent luxury travel agents in the world.
On my next visit, I will be trying the Waldorf Astoria which was previously one of my favourites next to the Aria when it was the Mandarin Oriental.