This Avios Booking for British Airways First Class is a reader review from Dave.
Booking on Avios fun
It was during a trip to Montana and the surrounding areas on a USA trip (just after COVID had calmed down in April 2022) that I realised I needed to try and sort out something special for my mum's 70th birthday. I knew she had always loved Barbados from visiting on a cruise and also a previous holiday.
I decided that if the dates appeared and it worked, I would book Mum, Dad and myself business class with 250k Avios and an Amex voucher plus circa £700 for each business from MAN to BGI (old reward costs). As luck would have it, and being in the USA, therefore skipping the 12-midnight telephone booking woes – the return seats appeared on the side of the Teton mountains in 2ft of snow – I managed to book return tickets 11-20th April in business. I was rather pleased (especially being Easter holidays dates). There were no other dates available once I'd booked for April.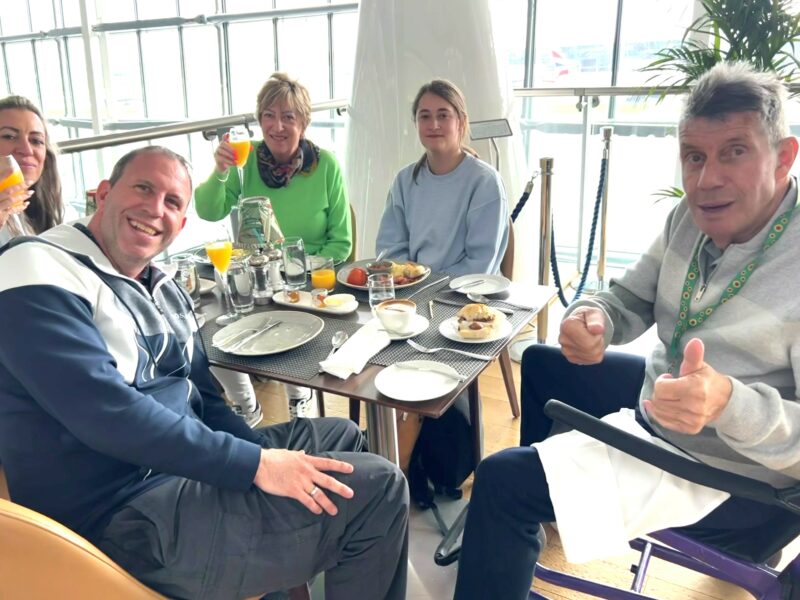 A good few months later, my sister and niece decided they wanted to come. As the booking was around Easter '23, the best I could find was BA economy going out on the same flights (gold status unlocked economy seats), and Aer Lingus was available again in economy home a day earlier than our booking but direct to Manchester – these were booked as two one way bookings. Not the best redemption, in my opinion, but it worked for the family trip (66k Avios + £700 taxes for 2 people's return)
That was everything finished, or so I thought ….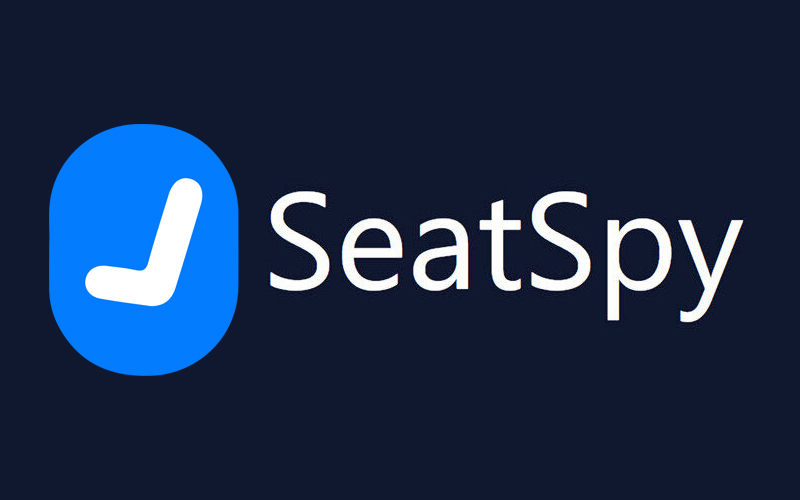 Subscribing to SeatSpy was one of the best investments I feel I have ever made while collecting miles…. I was driving to work on a normal Friday 2 weeks before we were due to travel when I got a WhatsApp alert…. Seats available … oooh, here we go….
On further investigation (and after a disappointing aircraft swap to old club world – to make it the 3rd time in my last 4 flights, including LAX and NAS…), 5 FIRST CLASS seats were available !!!! Maybe not so disappointing as I'm sure five seats wouldn't have appeared in the 8-seat cabin!
2 seconds later, I was onto the gold line and answered in approximately 5 minutes…
"Hi, can you upgrade 5 people to first …"

"Yes let's look at the bookings – we can upgrade your 3 biz seats on the way out for 2500 Avios and £134 …." Wowzer, done … still not sure how that worked but a no-brainer as that was the total for 3 of us.
I had to reset on that amazing upgrade and then rang back to sort the 2 economy seats – one way to use the remaining 2 x 1st seats (hoping they hadn't gone) …. "Hi, sir yes, we will need to make a new booking, 170k Avios and £880, but you get 33k Avios back from the economy and £350 so £530 and 137k Avios additional" … at this point I can't think of any reviews apart from one on TLFL where anyone has managed to book their entire family into FIRST on the same flight …
The flights
So the day arrived, and we were departing Manchester at 7.50 to London. Just before check-in, I was surprised everyone that they were in first class. Faces were priceless and a memory that would last a long time. I won't go into reviewing the hop to London too much, but it definitely tarnishes the experience compared to travel starting from London – but to be fair, it does what it says on the tin, and you don't pay any extra Avios for the flight down. With BA sharing Ryanair's T3, it's nothing to get excited about, but it does the job fine. Fast track and lounge (Aspire) in Manchester is adequate, but I don't understand why BA doesn't relocate to T2 with a oneworld lounge for Qatar Cathay Finnair etc. last time I flew Finnair on a Saturday evening, the lounge was shut – but that's another story.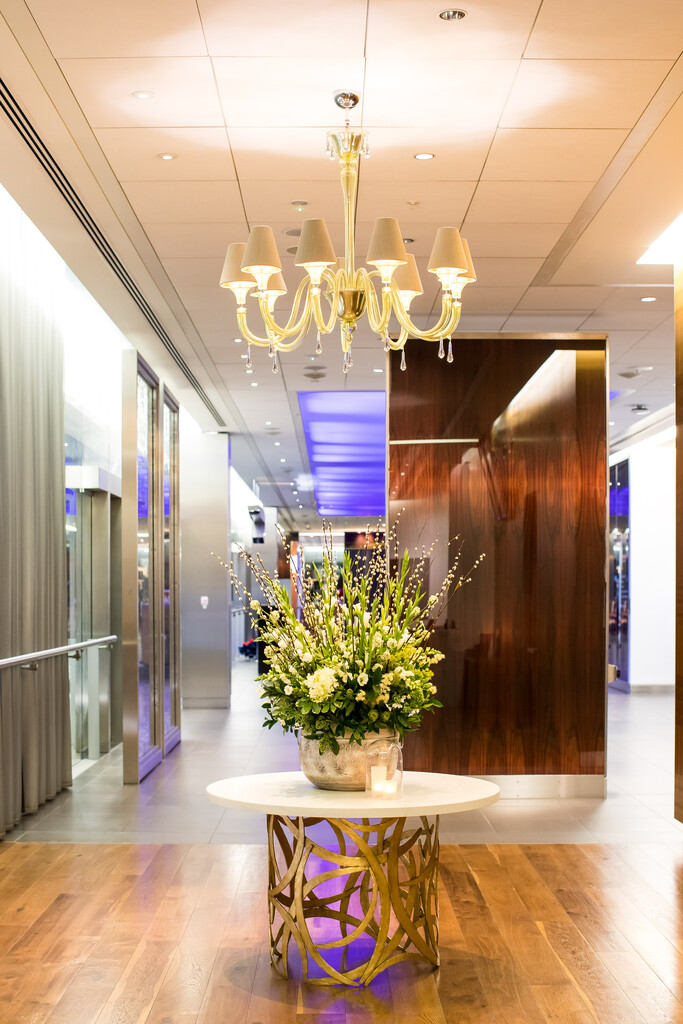 Once we arrived in London, we waited for a wheelchair for my dad. Assistance was fine, and I opted to push him myself. After a quick stop in duty-free, we made our way to the south lounges and into the Concorde room. All I can say is what a lovely place! We were set up as a table of 5 right next to the Concorde nose! (See pic), menus were distributed, and we all had a lovely breakfast with free-flowing mimosas. I did have to ask for a coffee twice, but it eventually came and no real cause for complaint. The staff were attentive and lovely. I had poached egg and avocado on toast, which was presented and cooked perfectly. Everyone was delighted with their food.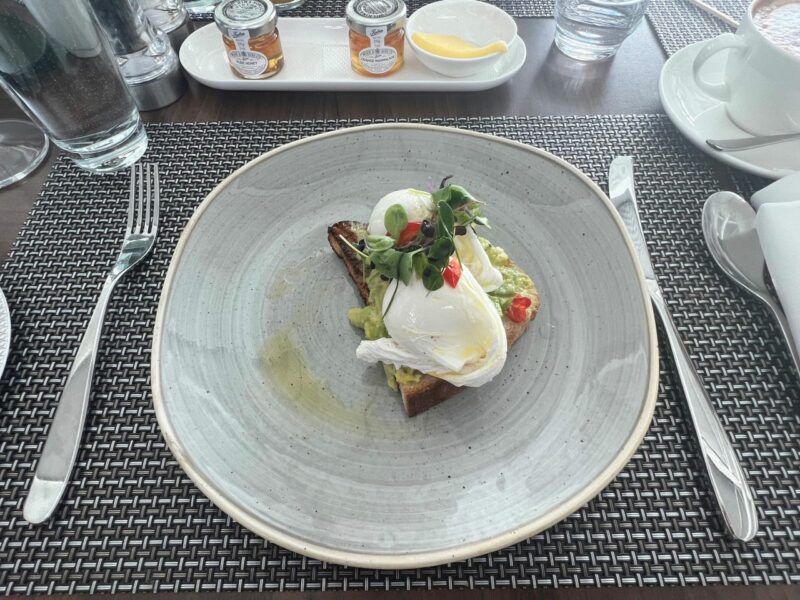 Next thing our boarding was called, after an anxious dash to the transit train pushing dad in the wheelchair and through to the B gates, we were the last stragglers on board (my fault for leaving the lounge late!), and as soon as we sat down pre-departure drinks were served. I went for the champagne without spoiling it with OJ this time.
Ten minutes later, we departed, and once the seatbelt signs went off, we were greeted warmly by Ben, the cabin manager. His team were more than happy to chat about the trip and were attentive without being too in your face. They seemed keen to know about the birthday trip and recommended a few places in Barbados to visit.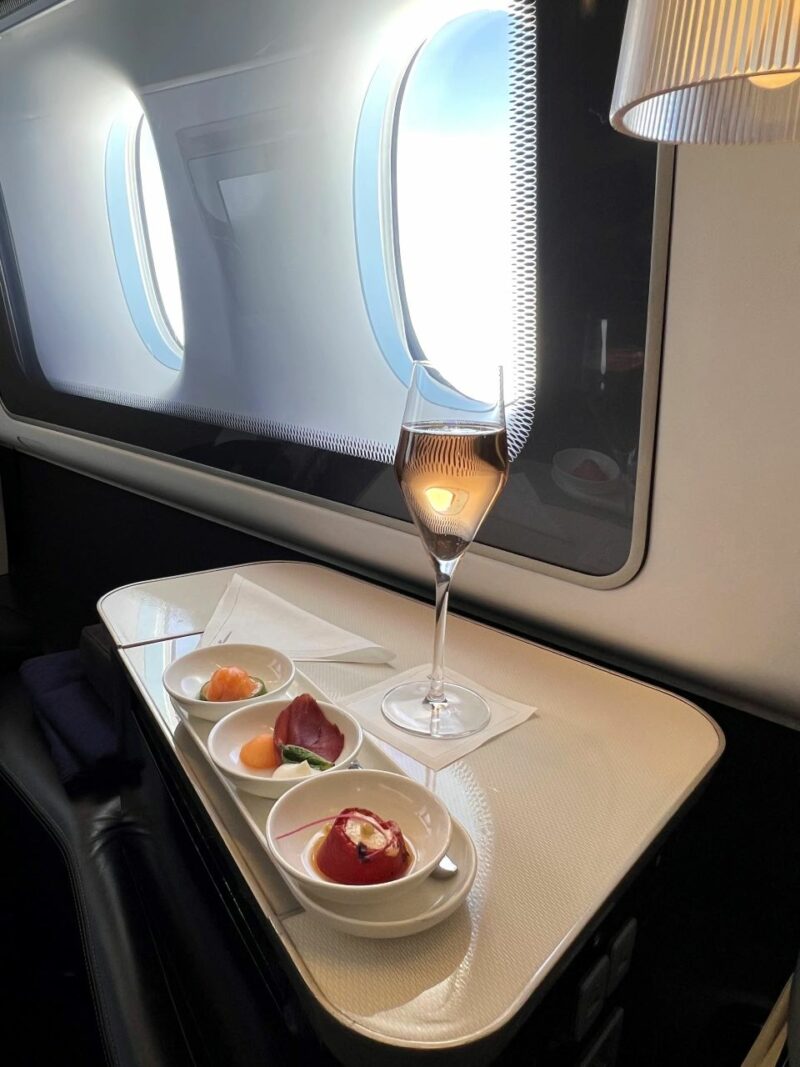 About an hour into the flight, and after plenty of proactive drinks top-ups, dinner was served. I started with canapés, followed by beef starter and then a rack of lamb for the Main. I have to say the presentation was fabulous and far superior to any club world meals I have experienced. All were restaurant quality and full of flavour. The lamb was ever so slightly overdone compared to how I would have it – but at 33,000ft, it was excellent. 9/10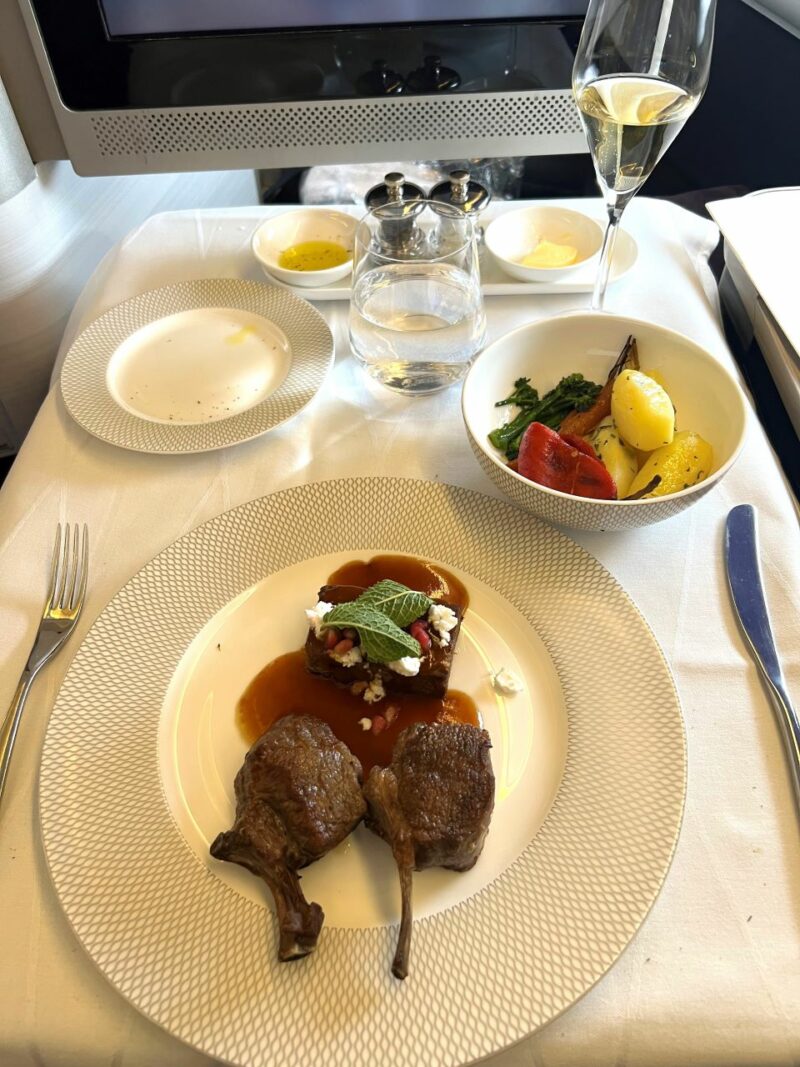 I decided on a time-out at this point, and the entertainment system had just been reset, so I proceeded to check out my new Airfly Bluetooth sender and Bose headphones with a film, which I have to say are worth every penny!
…..Next thing, I woke up 2 hours later, having missed the entire film. I'll blame the numerous top-ups on the champagne and a couple of bloody Mary's! – I proceeded to try and do some work on my laptop, but I wasn't very productive!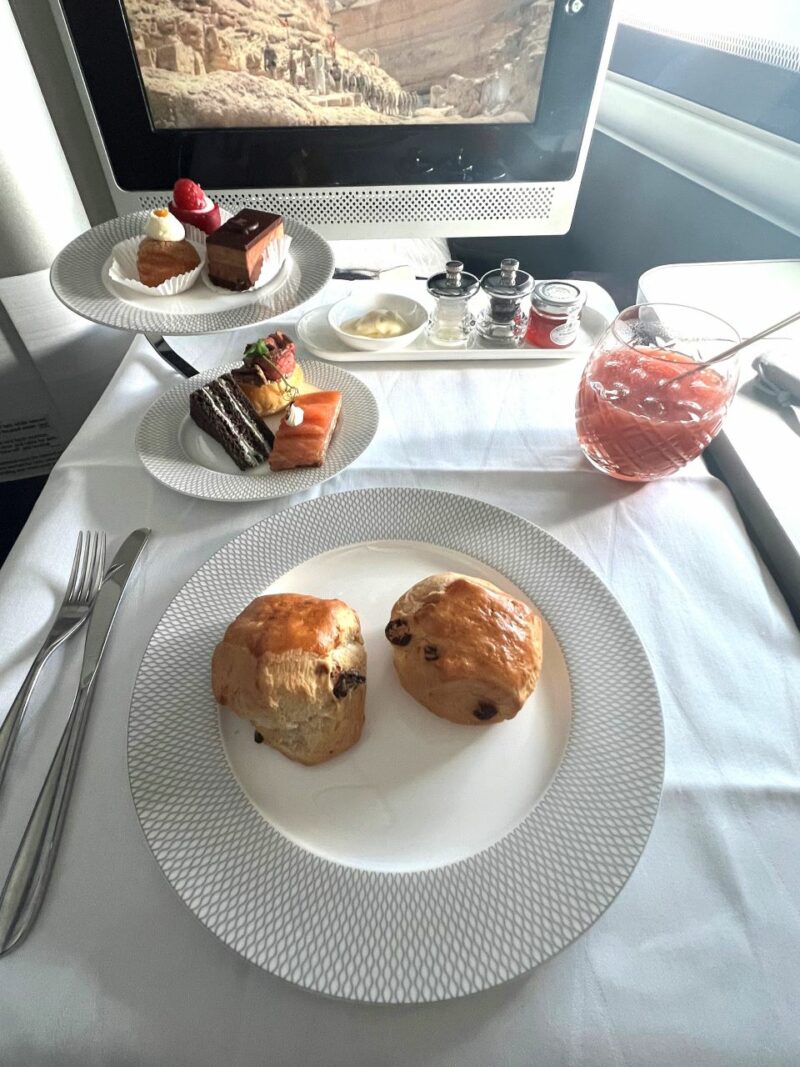 With about 1hr 45 left to run, the crew offered afternoon tea. I opted for a fruit scone with clotted cream and a selection of sandwiches. Tea was the go-to choice of drink. Again, it was presented very nicely, and the sandwiches were okay (beef one was the best), but I really enjoyed the scone, still warm, soft and crumbly. Once cleared, I watched the end of a film, and the cabin crew went about tidying the cabin on the descent into BGI. It was at this point one of the staff presented my mum with a card and a bottle of wine with a handwritten message wishing her a happy birthday and best wishes from the 1st crew, a lovely gesture and a nice personal touch.
Overall, I could not fault the experience. The staff were friendly and more interactive than, say, Qatar staff (personal preference on this as both works), and the presentation of all food was superb and on point. We ended up flying a club suite plane on the way home, but for me, 1st is definitely worth the upgrade if you're paying with Avios – more so on a day flight, though. I'm not sure I'd pay the cash fare for 1st, which was eye-watering at 11k round trip each when I checked, the cheapest business cash fare I found through the entire 10 months from booking was £3.5K Aer Lingus direct from Man with BA topping £5k – therefore I feel it was one of the best redemptions I have done so far: 250k Avios and companion voucher equating to a £13,000 saving or 5.2p / Avios redemption compared to The BA prices.
Top marks, BA!
Like our Avios Booking for British Airways First Class review? You can read more flight reviews here.