Reader  #yossie wrote to Turning Left for Less about a tier point run, but the advice below can also be a good way to get cheap flights as well!
I am planning a trip to get to BA Gold Status this coming October as I have a ton of travel planned for 2018/2019. I have a week to rack up 545 tier points. I will be travelling solo business class and would like to ensure I try BA1 outbound with enough time in cities where possible to do some rare site seeing (which for me means a city centre bar and high quality meal) USA is better than going East but I can be flexible, so happy to read suggestions. 
Can you recommend some routes that let me sample the best planes in the market currently (Dreamliner, A380 etc.) and give me some spare time to explore whilst racking up the tier points? I will travel ex-Dublin to help…
East versus West
Unfortunately, timing is not on your side for going to the USA. All the good AA advance fares, such as the one I did to get my BA1 New York trip cheap, do not cover October for some reason. If you able to change when you go, this could lower the price considerably. The cheaper prices kick in again from 22 November or if you go sooner they are available during the summer. Most of these advance fares are usually AA so must be booked through AA, but you can still travel on BA if you wish. Just remember you can't upgrade an AA booking with Avios even on BA metal if you booked through AA. If you can wait, you should be able to get something for around £1500 to the West Coast of USA, or even Hawaii during an AA Dublin sale.
If you can't wait, your best bet would be to go east with the current Qatar sale which ends on 19 July. However, fares come and go very quickly. I would recommend subscribing to the Flyertalk BA tier point run thread as the odd gem surfaces quick regularly. There is also a good guide to which flights score high tier points.
East with Qatar
You could easily achieve 560 tier points with Qatar for around £1200 and experience some modern aircraft with great seats and service. Obviously you will need to make sure you get your 4 flights on BA as well, if you haven't already. You need to check your departure point carefully though as some Eastern European departure points would not get you the full tier points of 140 for most European routes.
Bangkok is usually the best bet for cheap Qatar tier points runs at the moment, since most of the Middle East ones are not operating. The cheapest way to go would be via Helsinki. It looks like you would only get the cheaper price is you flew on the B777 from Doha to Bangkok but you would get the B787 from Helsinki. You can read a review here. Bangkok is a great city to visit with great restaurants and bars. You could do a night stop in Helsinki on the way out on your positioning flight and include some time there for contingency. You could then fly straight through to Bangkok for a few nights before you come back in one go.
A better bet for more modern aircraft would be Singapore. If you fly from Stockholm you can get it priced for around £1200 and this includes both the A350 and B787. Both my Roving Reporter and I have done this trip and would recommend it. Singapore has lots of eclectic dining options and some great bars. There is also plenty to do for a few days. Prices in the city tend to much higher for eating and drinking than Bangkok so you would need to factor that in.
Going west to the USA

If you decide to stick to your original idea, the cheapest option at the moment is Dublin to Orlando via Charlotte for around £1650 in October. This would give you 560 tier points back to Dublin, providing you bought a Club Europe positioning flight and completed it. Alternatively you could look at adding in an extra stop on the fare. Obviously other than JFK, this is not going to get you much fine dining! You could potentially break your trip in Charlotte as well, if you can get the stop under 24 hours.
Otherwise you are looking at £2000+ for US West coast, which is the simplest and least painful way to get your tier points. Prague to San Francisco is slightly cheaper than Dublin at just over £2000.
When considering options for a US tier point run, you need to do a >2000 mile flight in the US to get 140 tier points, which from New York means the West Coast where prices are high. This would be the simplest way without doing lots of stops and in the most comfort. You could fly from JFK on the AA A320 transcontinental service with flat beds. I will be reviewing this flight towards the end of this month. Alternatively, you would need to do 3 smaller US segments from JFK to get you to 545 as they are now only worth 40 tier points each for First class as it books into the business class fare bucket. This would include doing the positioning flights in Club as well.
If you decided to wait for a better price or were happy to with the current pricing, here are some sample itineraries after the BA 1 flight to JFK
JFK-SFO-LON-DUB – BA A380 is on the SFO route one flight a day
JFK-LAX-LON-DUB – This route offers both the BA A380 and B787 for winter 17 from LA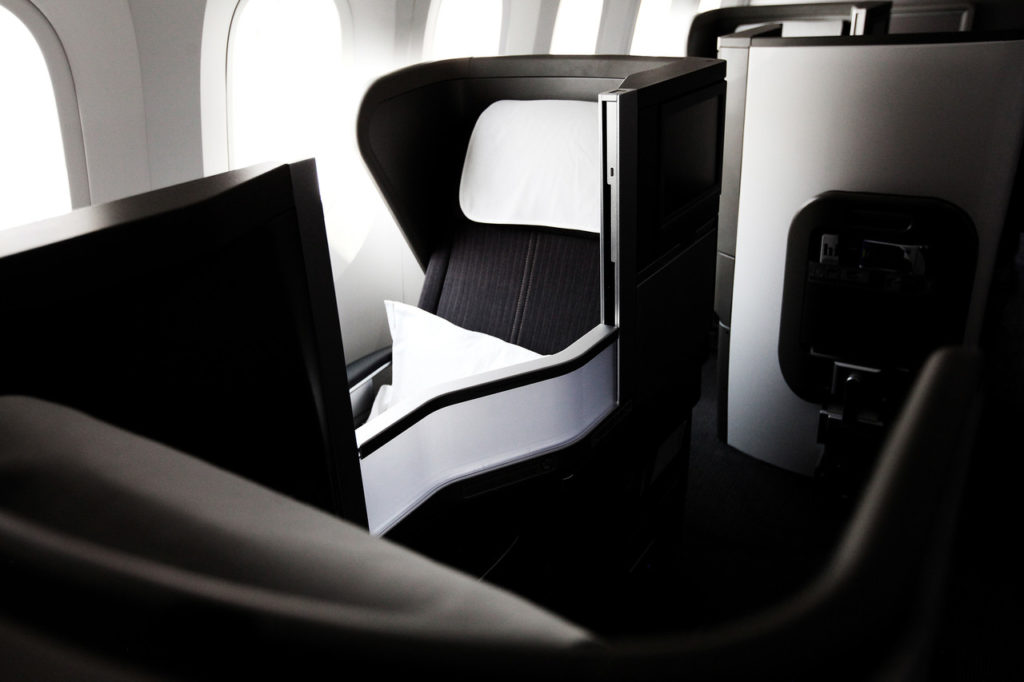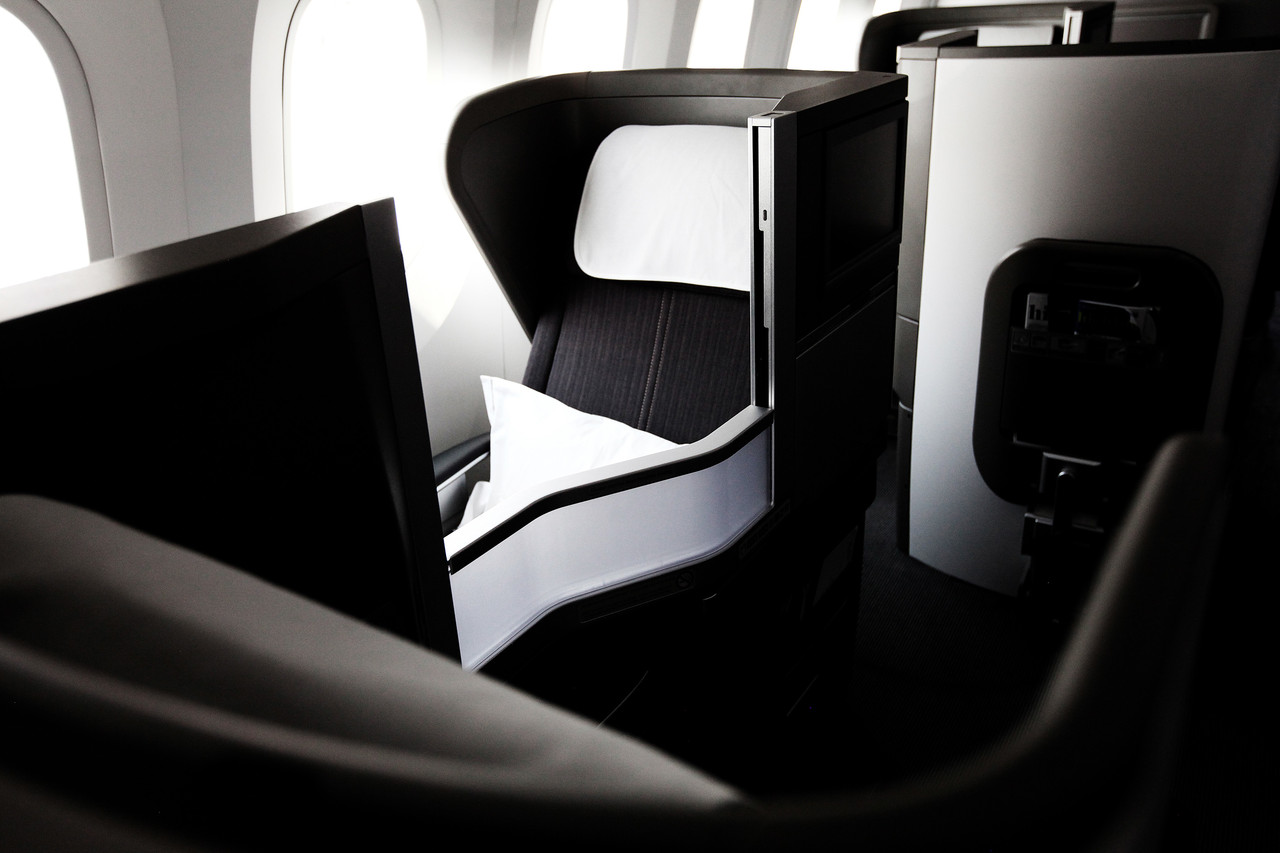 BA B787 Club World
Both LA and San Francisco have the AA transcontinental service on the A320. Most other domestic AA flights do not have flat beds, but a slightly bigger version of the Club Europe seats with a bit more legroom. On some services you will not get much more than a packet of crisps even in First, but drinks are normally free flowing.
I myself am doing a tier point run to Honolulu, for which I will get 860 tier points, when I complete all the legs. This is a great itinerary if you can get a similar price (£1500) in the next AA sale. You could do DUB-LCY-JFK-LAX-HNL-LAX-LON-DUB. I have built-in overnight stops of less than 24 hours in JFK outbound and LAX inbound to break up the journey. You can then build in some time in Honolulu to see a bit of Oahu. I would actually recommend that you consider flying AA on the way back on their B777-300ER. It may not be as exciting as an A380 but the seats and sleeping amenities are far superior to BA, particularly for a solo traveller with seats in a 1-2-1 layout.
How to plan a trip to maximise tier points
When planning itineraries, I normally start with Google flights as a quick way to find the cheapest prices by just putting in a simple return flight. Then I move over to ITA Matrix where you can find out the rules of that fare such as stopovers, carriers etc. A stopover is defined as more than 24 hours, so if you plan carefully you can get free stopovers along the way such as New York by keeping them under 24 hours. You can find out more about searching for flights with this article. You then use ITA to create a more complex itinerary if necessary.
You can't book through ITA but there is book with matrix or Propeller Travel that can book from an ITA itinerary for you. You can try booking direct with the airline, but remember if you are travelling from Dublin you need to book through the Irish office or website. This can get expensive if you have to call. Simpler itineraries can just be booked through the airlines website.
An easy way to find out how many tier points you will get is by using Expedia and the 30k plug in that I talked about here.