On the way to pick up our ex EU flights to Auckland from Stockholm, I had a fantastic flight in Club Europe which I thought I would share with you. Stockholm is classed as a long route so gets the full 3-course meal service which is an improvement from the previous Club Europe food. The medium and short routes don't get anything like this, unfortunately. You can work out what you will receive in Club Europe using my Guide to new Club Europe Catering.
Roving Reporter travelled on the same flight in economy so I was also mention some of his experience as comparison.
Check-in and lounge
As usual, I used the First Wing check in and was in the First lounge in just a few minutes.
The First lounge is for Gold card holders and those travelling in Forst but if you are actually travelling in First you would be better off in the Concorde Room. On this day the lounge was very crowded and a complete mess. Every table and even one chair was piled up with used glasses, plates and general rubbish. The staff appeared harrassed and fed up. We eventually managed to find a seat on the terrace to be faced with a dry January display of soft drinks everywhere. Given that I was travelling most of January, dry January was definitely not happening for me or Roving Reporter! Fortunately, we managed to find some Rose Henriot champagne to drink instead!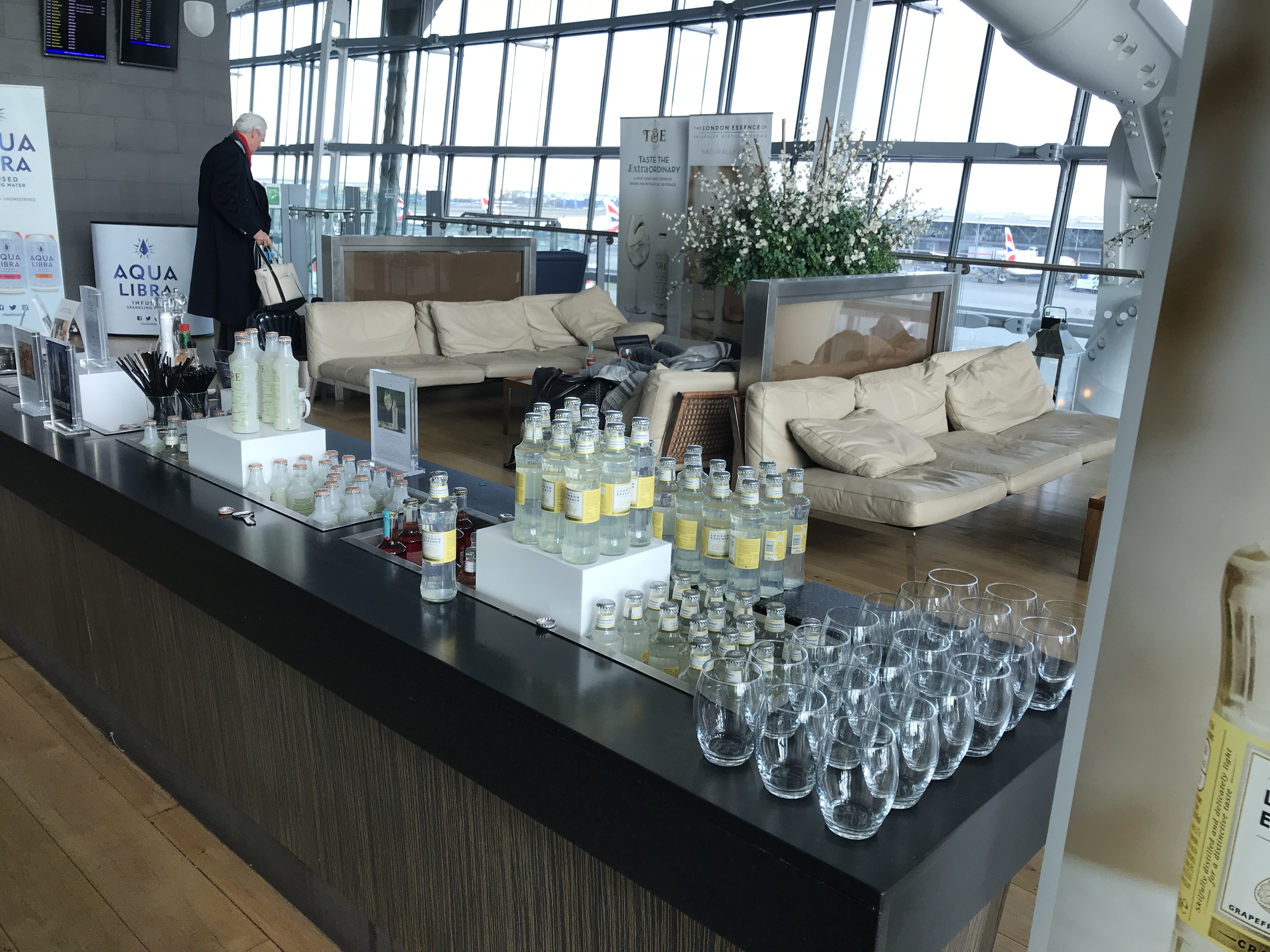 Since Roving Reporter was going to be slumming it in economy, we decided to have something more substantial to eat in the lounge and had a look at the current menu.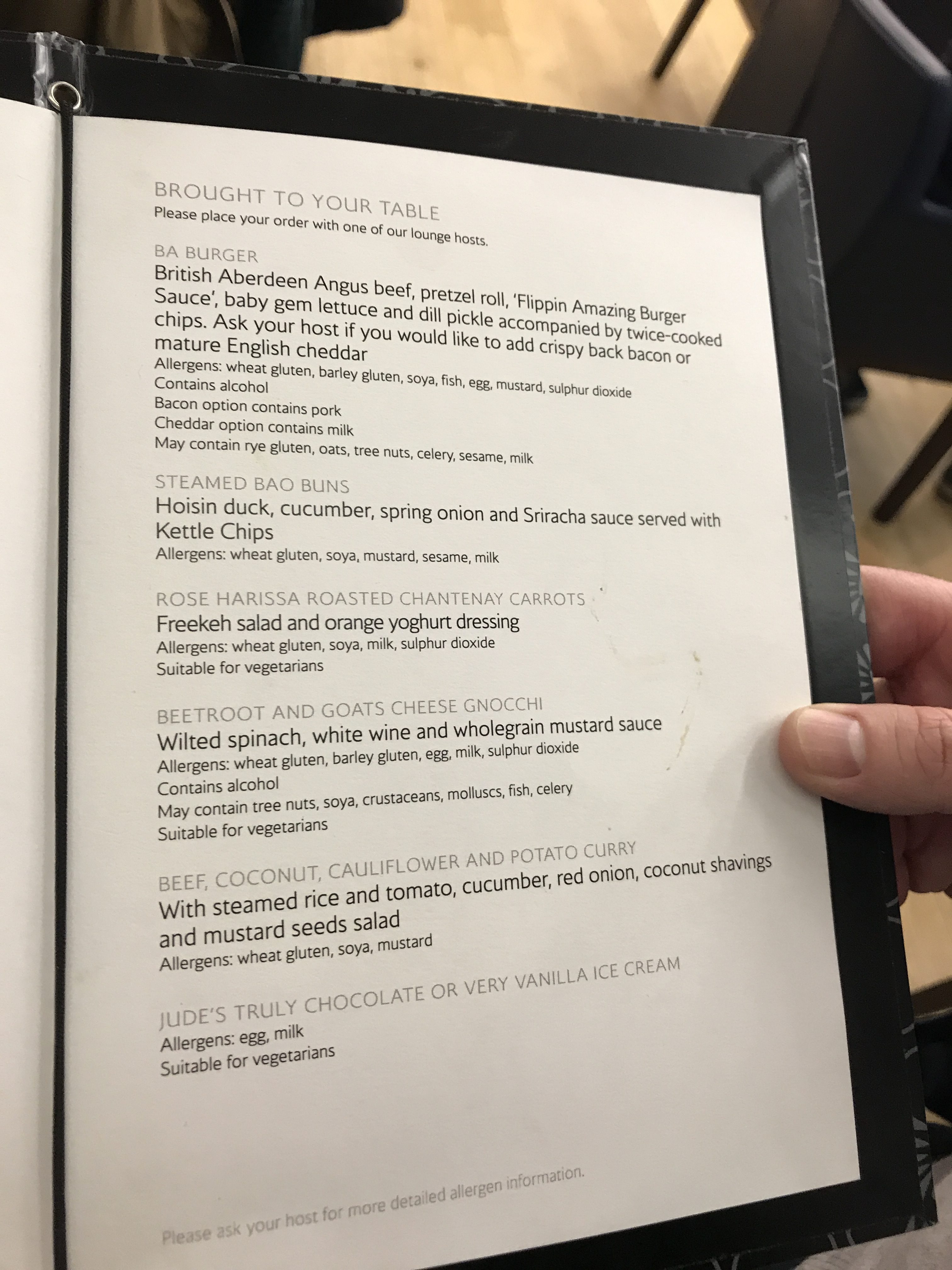 We both decided to try the duck bao buns as they are one of my favourite things to eat. The buns were tasty although not the best I have had (Virgin's clubhouse ones were better). The kettle chips with them was a strange choice though even if they were chilli flavoured!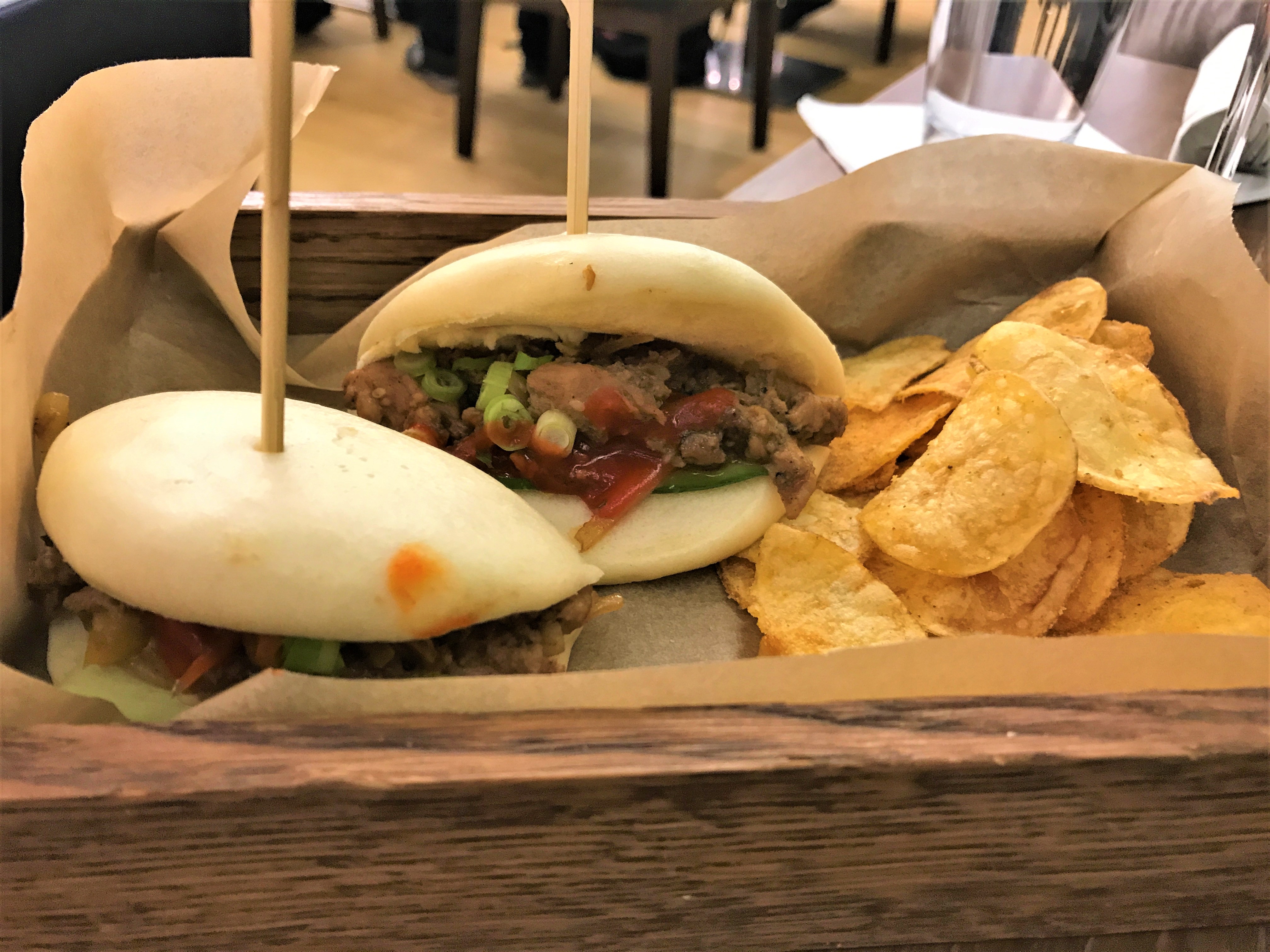 If you have travelled through Heathrow I am sure that you will have had the text survey asking about your lounge experience. I filled this in with my honest reaction to the lounge which was not at its best. I was truly surprised when upon landing in Stockholm I received a call from one of Heathrow's BA Managers to discuss my comments. He was genuinely apologetic and explained they were short staffed due to illness and offered to credit me some Avios without any prompting. Sure enough 2 days later 3000 Avios were credited to my account. Whilst the lounge experience wasn't great, the fact that this service recovery was done makes a huge difference in my eyes.
You can see more in-depth reviews of the BA Heathrow lounges for Club and First here.
Boarding
The new boarding process has started but since we were going to be bussed to the aircraft it was completely pointless getting there too early as we would simply spend even longer standing on a bus waiting for all the other groups. I will report back on the group boarding experience after my flights over the next couple of weeks.
Onboard service
I was in my usual seat, 1F which has loads of leg room unless the rest of Club Europe which has the same legroom as economy. In fact, Roving Reporter had more leg room than most of Club Europe as he was in the exit row!
I was served by a wonderful cabin crew called Gary. Not only did he look after me extremely well he took the time to have a chat and a bit of a laugh. This is why I still enjoy flying BA even with the ups and downs. When you get a good cabin crew member they can't be beaten by many airlines. Whilst a lot of airlines have a more consistently good service, when you get one of the great BA crew, I always enjoy the banter which you don't get elsewhere.
We were given a hot towel and a printed menu to have a look at.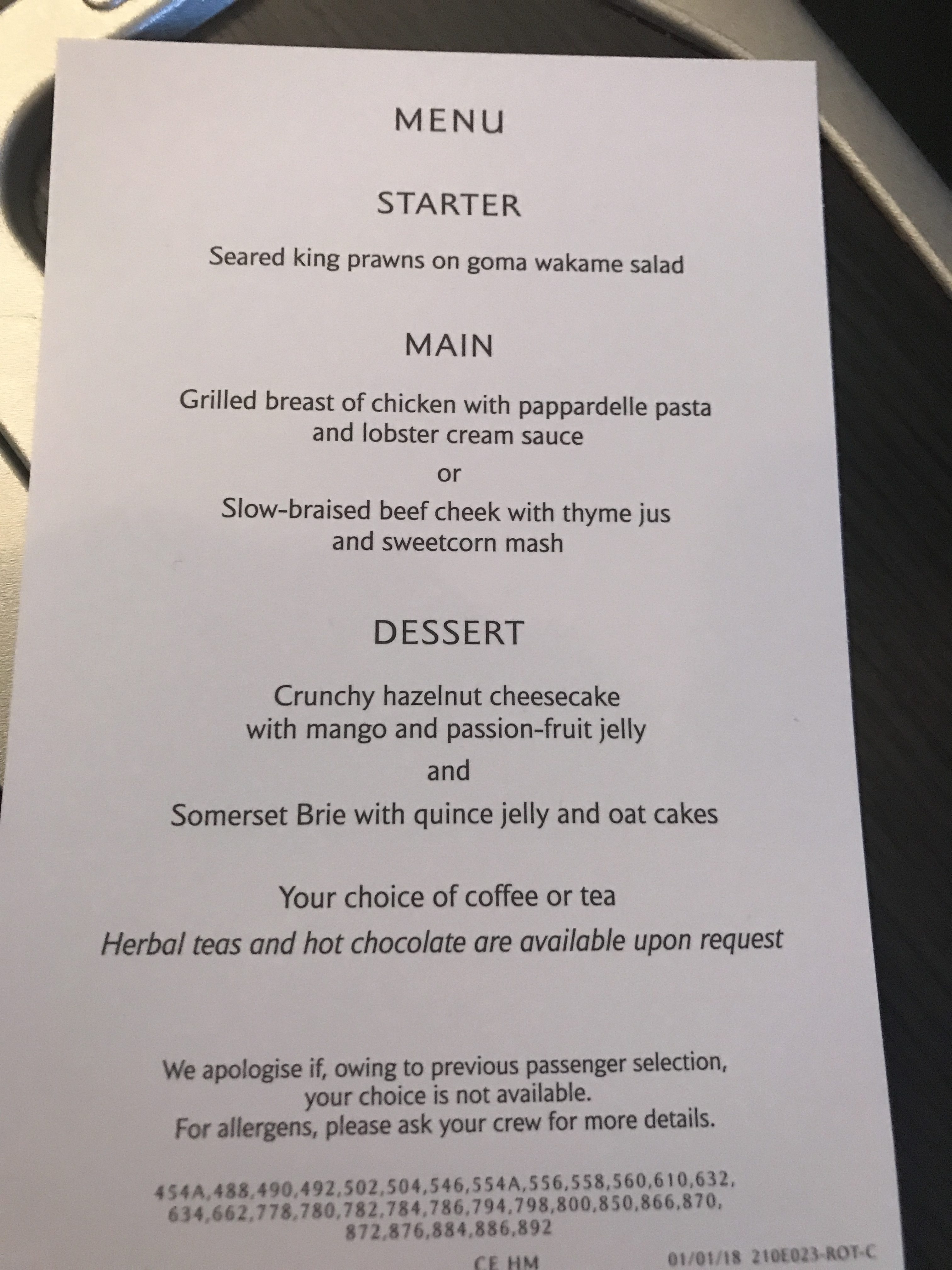 The menu looked pretty good to me and I had trouble choosing which main course I wanted as they both sounded tasty. I decided to give me a bit of challenge and go for the lobster pasta. Pasta on a plane is always tricky as it is usually very overlooked or dried out.
Before dinner I decided to have a G&T for a change as I am a bit fed up with Castel-no champagne now. There was a choice of Gordon's or Tanqueray. Naturally I went for the Tanqueray. Gary, bless him, seemed to be on a mission to get me drunk and kept offering me extra gins! Normally I would have been delighted but on this occasion I was trying to get an article done before RR and I started our journey to New Zealand the following day.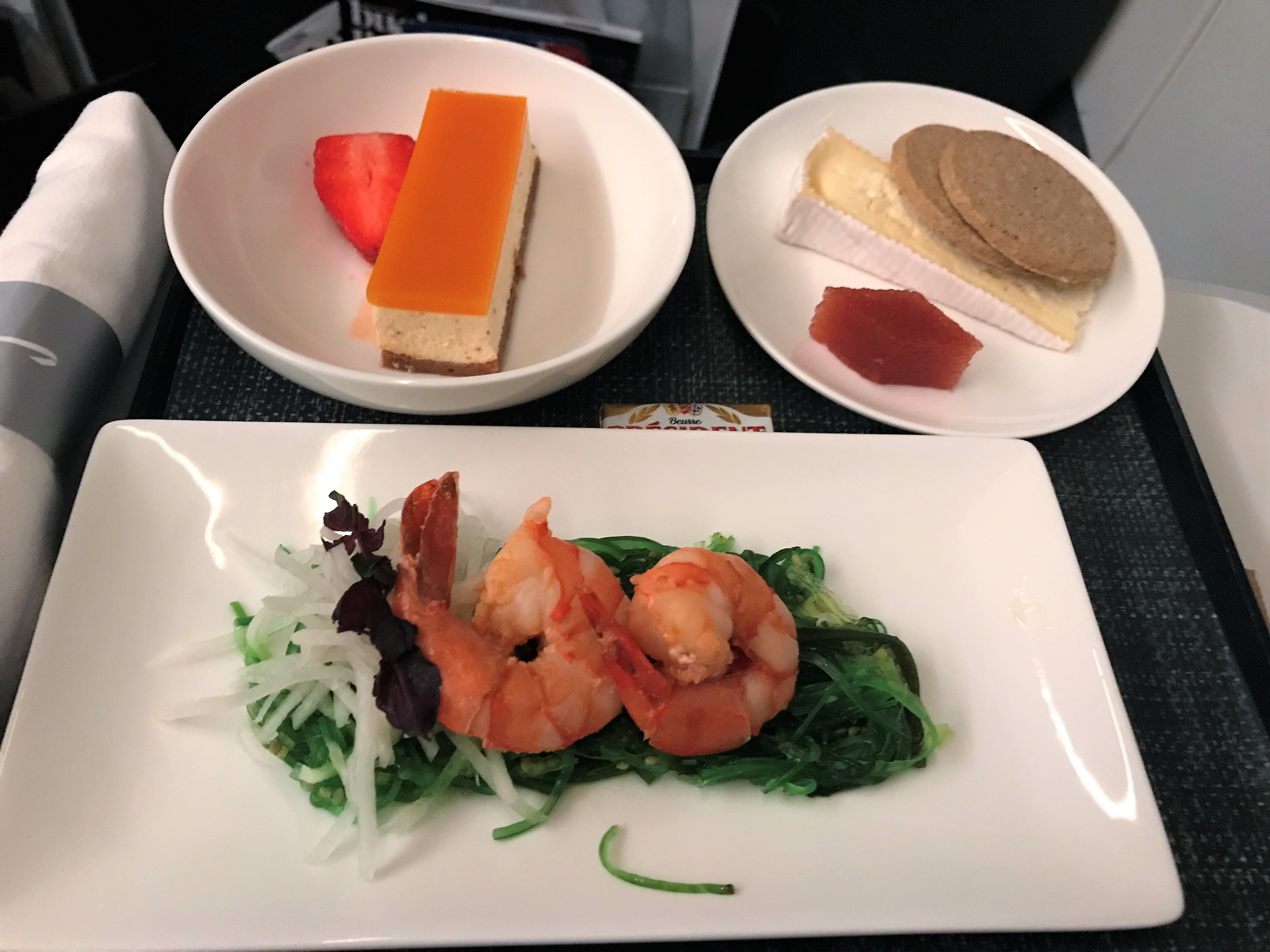 The tray was presented as usual with the starter, cheese and dessert. BA use very small square trays in Club now which I find very irritating. They don't actually fit on the tables properly as it overhangs the end and everything is squeezed in really tightly. The prawn salad was OK though the prawns were a bit dull and I'm not a huge fan of wakame. BA seem to have gone a bit 'wakame' recently as it seems to appear on very menu.
I stuck with my G&T during dinner as I still had some work to do. If I had wanted wine, there was a choice of 2 red and 2 white from large bottles. I have tried the wines a few times and always find them disappointing. They are generally pretty cheap Spanish or Italian wines and the white is rarely at the right temperature, most usually being lukewarm.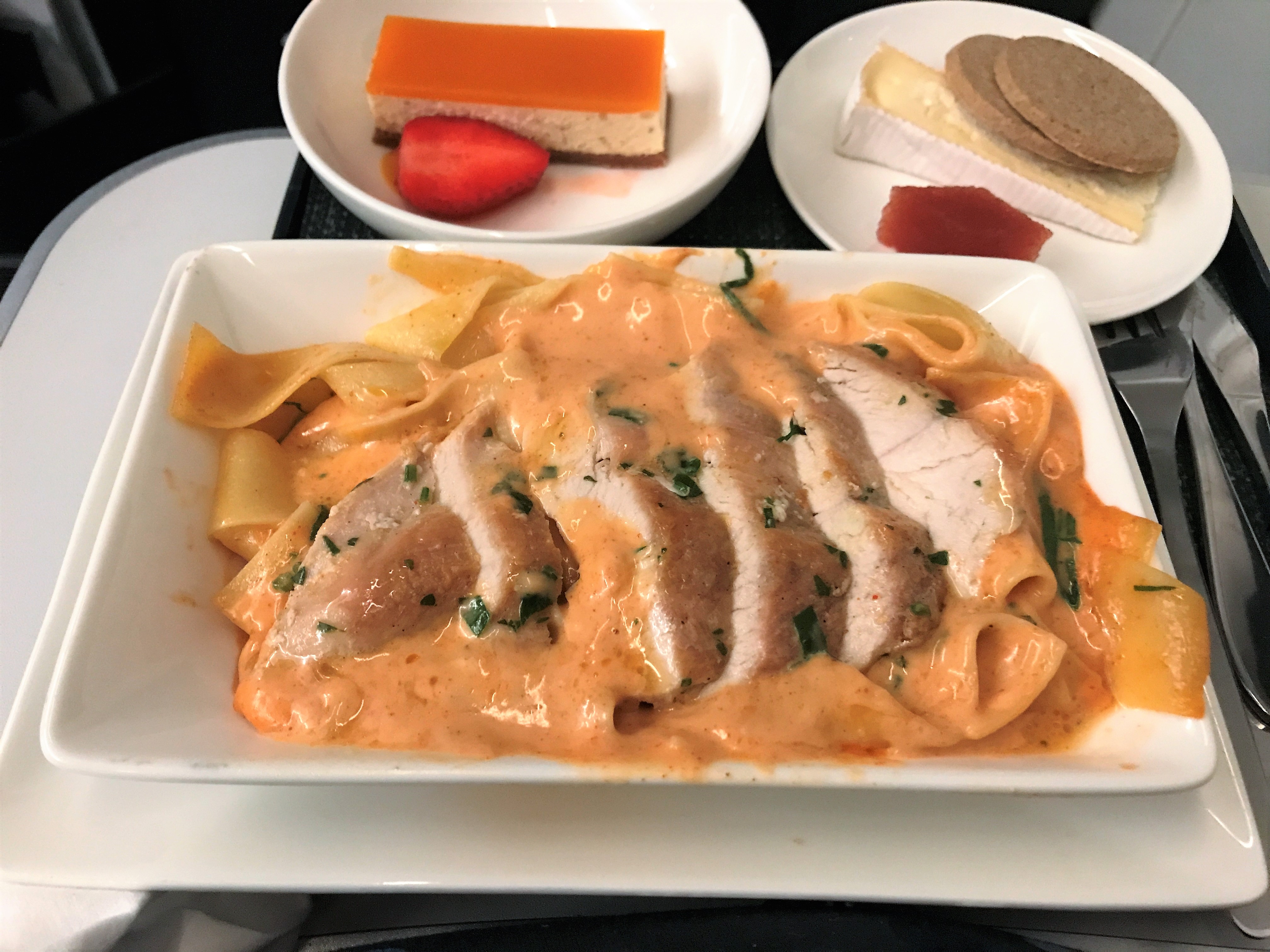 The main course was more successful.  It was a very generous portion and although I am sure a lobster did not go anywhere near the dish unless the chef waved one of the pot, it was still tasty. The sauce tasted more like a creamy tomato sauce than anything. The chicken was moist and flecked with herbs and the pasta was actually not too overdone or mushy. The generous amount of sauce meant that it was not too dry either. Overall a decent dish.
I was glad to see BA had finally changed from cheddar although it didn't really help me as I can't eat Brie! The pudding didn't taste much like hazelnut which is good as I don't really like them. It tasted more like a tropical cheesecake and was not too heavy or cloying.
Roving Reporter, of course, did not get anything in economy. Unsurprisingly he had come well prepared with a Fortnum and Mason hamper from T5. These give you a full meal in a lovely blue Fortnum's cool bag. You can read more about the Hamperlings in this article. Overall RR had saved around £50 on his journey compared to me and ended up with a similar amount of space around him with 2 seats free next to him and a decent meal he bought himself. Obviously he only got 5 tier points versus my 40.
After dinner I finished my article and decided to have a Brandy as they serve the Camus VSOP cognac in Club Europe which I enjoy. All throughout the flight Gary had worked his socks off up and down the aisle making sure everyone was topped up and chatting away with the passengers.  Still worried by lack of alcohol consumption (perhaps I had flown with him before?!) Gary bought me not 1 but 3 cognacs! I was very restrained and just drank one and took the other 2 with me.
Conclusion
Apart from a slightly odd starter this was a great flight and for me worth the extra money. I only ever buy Club Europe in a sale where you can normally get seats around £200-250 which is not ridiculous.
Having the extra middle table allows me to work and have a drink at the same time. It may not be a great seat compared to the US domestic First but for Europe it is fairly standard apart from the legroom beyond row 1.
Gary was a delight and made my flight for me. If only BA could achieve a consistent level of service it would make a huge difference.
For me it was worth the extra money but Roving Reporter was also happy with his exit seat. At the end of the day it's down to personal preference and whether you need the tier points.
You can find more information about British Airways Club Europe here and find more of my Club Europe reviews here.