Now that we have finally seen the green list, I thought it was worth a look at some of the best options for travel after 17 May. Many of the green list countries are not open for tourists or have quarantine requirements. You can see all the details in this article.
Here we will look at some of the easier options and the best choices for staying both in terms of luxury and also gaining or spending points.
It's worth doing some in-depth research on what is open in your planned hotels and destination as many things are still operating at a limited capacity or shut.
Most hotels below are available through our partners Debonair with extras such as
Upgrade on arrival
Most are USD100 credit
Complimentary breakfast
Late check out
Early check-in
Properties can vary so contact Debonair via our booking form to find out what is available for your trip.
All these destinations except the Azores are served by flights with British Airways. Find the cheapest dates to fly on here.
TAP Air Portugal serve the Azores via Heathrow, Gatwick and Manchester. Prices start from £92 in economy.
For mainland Portugal, it is expected to open to UK tourists from 17 May. Currently, you need a PCR test within 72 hours of arrival but the Portuguese government has said that they plan to allow the who are vaccinated with both doses from the UK, not to have to test or quarantine.
Different protocols are used on the islands, so make sure you keep up to date with them.
Porto and Duoro Valley
Most people think of Lisbon as a city break but Porto can make a great alternative. If you are a wine or Port lover, Porto is close to many vineyards and the beach as well as the city itself.
Porto is both medieval and modern, with stunning architecture in its brightly coloured buildings and world-class museums and galleries. Stroll the narrow streets for boutique shops, before heading for a traditional Francesinha sandwich. Venture south across the fear-inducing Dom Luis I bridge to the port wine caves, for a tour. Or visit the beaches of Foz do Douro. In the evening, go to Ribeira for a traditional night out, or hit the bohemian bars near Rua Bombardo.
Hotels
Sheraton Porto Hotel & Spa
Located in the heart of Porto's business district, the hotel has stylish modern rooms and a spa with an indoor pool and whirlpool.
You can find rates and book here.
Boeira Garden Hotel Porto Gaia, Curio Collection by Hilton
If you would rather be somewhere a bit quieter, this could be a great option. The hotel is 20 minutes out of the centre of Porto among the port wine cellars and historic gardens of Quinta da Boeira. It's within 10 minutes of the 16th-century Monastery of Serra do Pilar, and Praia de Lavadores beach is 15 minutes away. The Curio property features a spa, an indoor pool, and a kids' playground and playroom.
You can find more details here or try Debonair to see what extra benefits may be available.
Six Senses Duoro

For the ultimate in luxury in quiet surroundings, the Six Senses Duoro would make an amazing relaxed break that is a bit different from a beach holiday or city break. The town of Porto and charming villages are also close by.
The hotel has an amazing spa which offers:
Nail Bar
Alchemy Bar
Consultation Room
10 treatment rooms
Vitality Suite including a regular sauna, infrared sauna, steam room, laconium and herbal sauna
Fitness Center
Studio
Indoor pool with water jets
Wellness treatments and sleep programs
There is also an outdoor pool.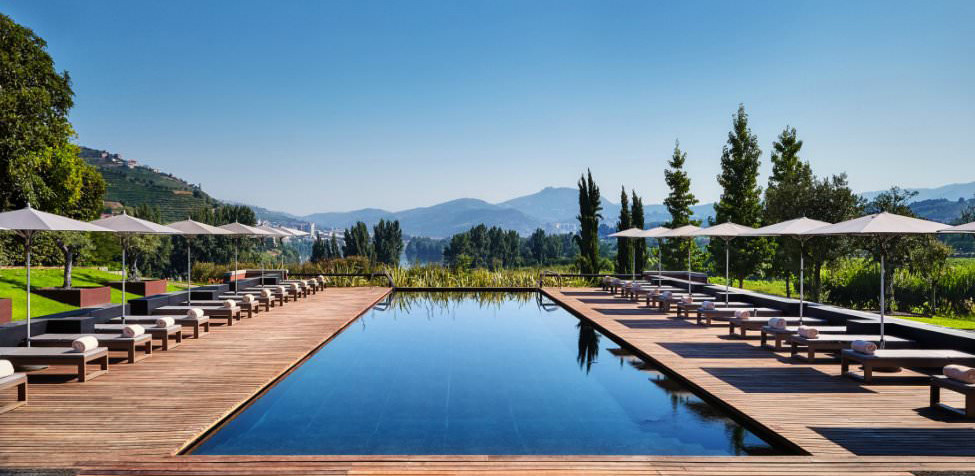 The hotel gets 5/5 on TripAdvisor
With Debonair you also get:
Upgrade on arrival
USD100 credit
Complimentary breakfast
Late check out
Early check in
Find out more about availability and prices here.
Douro 41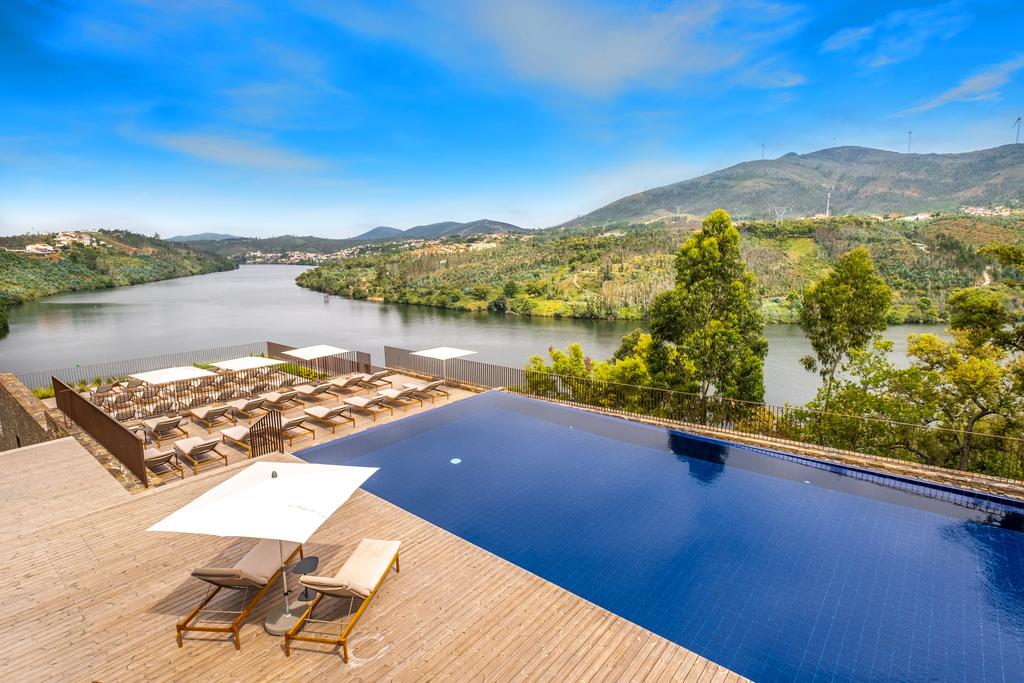 The Douro41 Hotel & Spa is a contemporary Portuguese hotel in beautiful natural surroundings. Inspired by the experiences of the Douro Wine Region, it recreates the terraces that characterize the slopes of the regions. High upon the Duoro river's banks, it is pPositioned halfway between Porto and the Douro Wine Region with panoramic views.
Featuring modern yet minimalist lines, contemporary design, and light, neutral tones, the 56-room, 5-suite property opens guests up to the wonders of the flowing river below. The new spa showcases the heritage of wild-crafted plant alchemy with a wellness offering focusing on physical, mental and emotional wellbeing.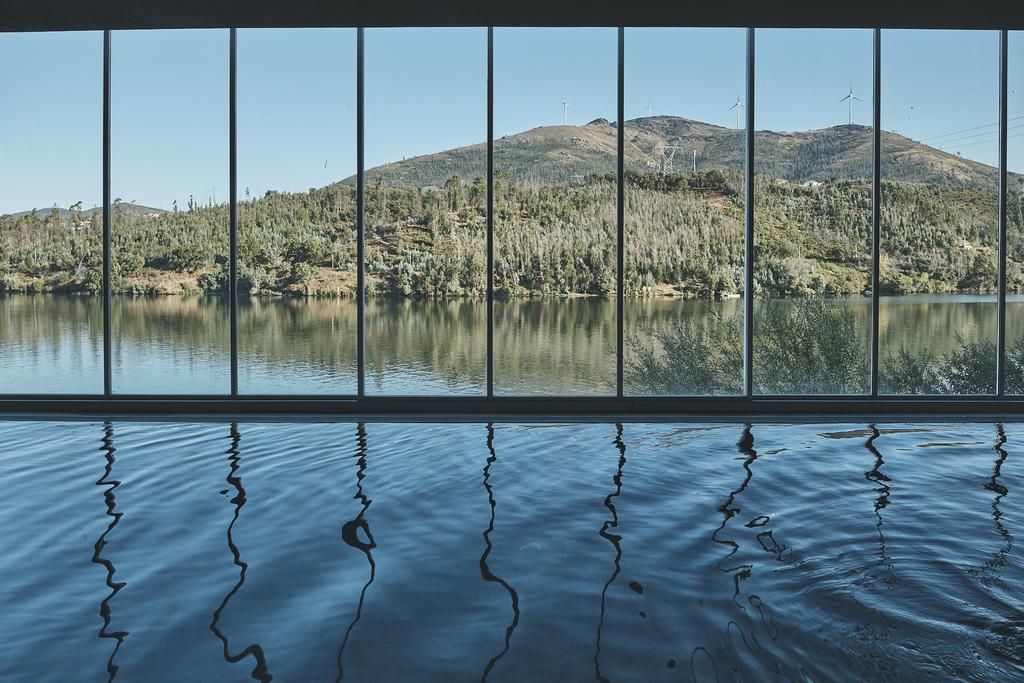 With Debonair the extra benefits are:
100 USD Food & Beverage credit
Complimentary Continental breakfast for two daily
Property will offer early check-in and late checkout upon availability
Property will offer guaranteed upgrade at time of booking – subject to availability
The hotel gets 4.5.5 on TripAdvisor
Find out more about availability and prices here.
Lisbon

Lisbon is a fantastic city with lots to do.
Things to do in and around Lisbon
Take a historic tram ride to explore the city
Find quirky bars in the Bairro Alto,
Traditional shops in Baixa
Explore Alfama's winding streets.
Go boutique shopping in the Chiado district
Spend a day at the beach at Estoril or Sintra
Hotels
Four Seasons Ritz Lisbon

Four Seasons Hotel Ritz Lisbon rises from one of Lisbon's seven hills and is one of the most prominent modern landmarks of the city. It is located in the heart of the city within walking distance from the historic old town. With its 18th-century replica furnishings and museum calibre collection of contemporary Portuguese art, the hotel reflects historic Portugal's charm. Most of the guest rooms and suites have private balconies with views of the Eduardo VII Park and the city.
The Ritz Spa is located on the garden level of the Hotel and offers relaxing views over the garden and the Eduardo VII Park. It features an indoor lap pool and a pool lounge area; multi-functional treatment rooms with private showers; a relaxation room, with reading light and personal music system; and changing areas, that include a sauna, steam room and refreshing crushed ice fountain.
The rooftop of the hotel and offering stunning views over the city and the Tagus River, the Fitness Centre provides ia full Pilates studio, one-to-one training studios, a 400 meter outside running track and state of the art equipment in the exercise room.
The hotel gets 4.5.5 on TripAdvisor
Find out more about availability, free benefits and prices here.
Olissippo Lapa Palace – Leading Hotels of the World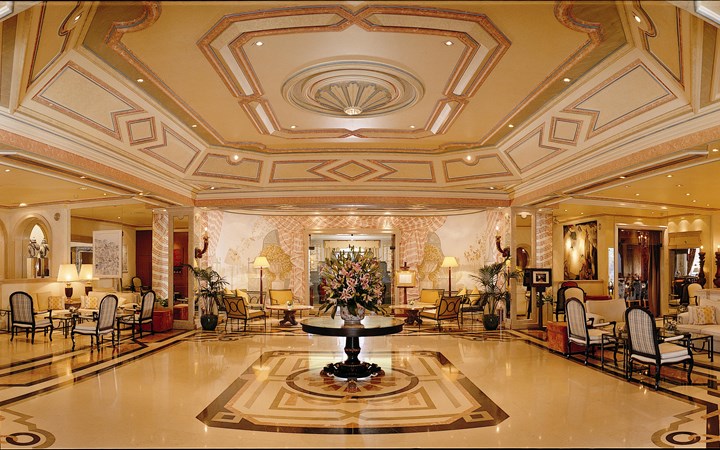 For somewhere more relaxing this luxurious 19th century palace is nestled on a hilltop overlooking the Tagus River and presents guests with the ideal base for a stay in Lisbon. Tucked away in the city's diplomatic quarter, Lapa Palace is set in a beautiful sub-tropical garden. Sunbathe on a lounger in the pool area or pay a visit to the Spa. Rooms have traditional decor and elegant designs with a balcony and marble bathrooms. Central Lisbon is only a short drive away.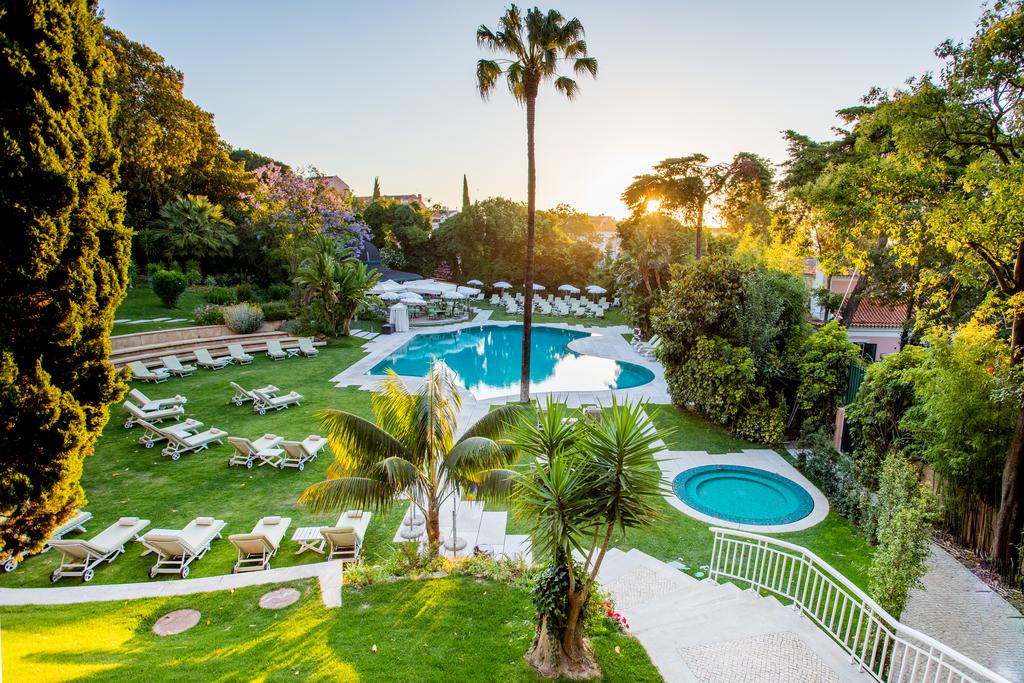 The hotel gets 5/5 on TripAdvisor
Find out more about availability, free benefits and prices here.
Fontecruz Lisboa, Autograph Collection by Marriott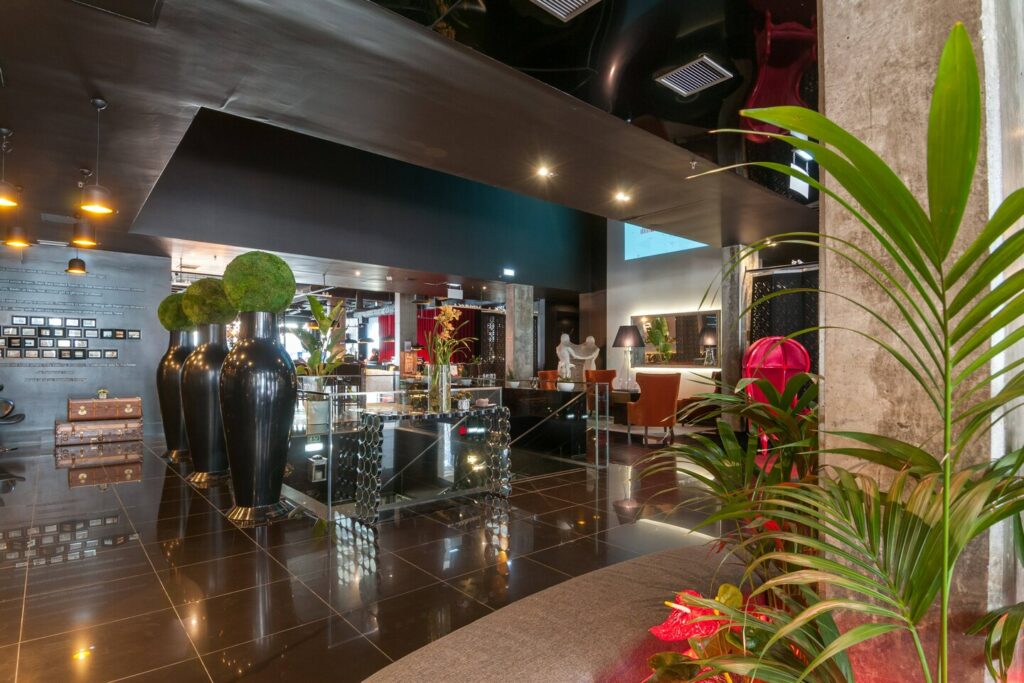 If you enjoy a contemporary luxury feel and don't need a pool, the 5-star hotel in downtown Lisbon at Fontecruz Lisboa, Autograph Collection could be ideal. Situated on Avenida da Liberdade near Rossio Square and the Baixa District, the boutique accommodation has access to the city's transportation options, including a nearby metro station. The sophisticated rooms and suites have soundproof windows, sleek furnishings and complimentary high-speed Wi-Fi. The outdoor terrace at Bistroa, the restaurant is a great way to unwind with a glass or something or dinner in the summer months.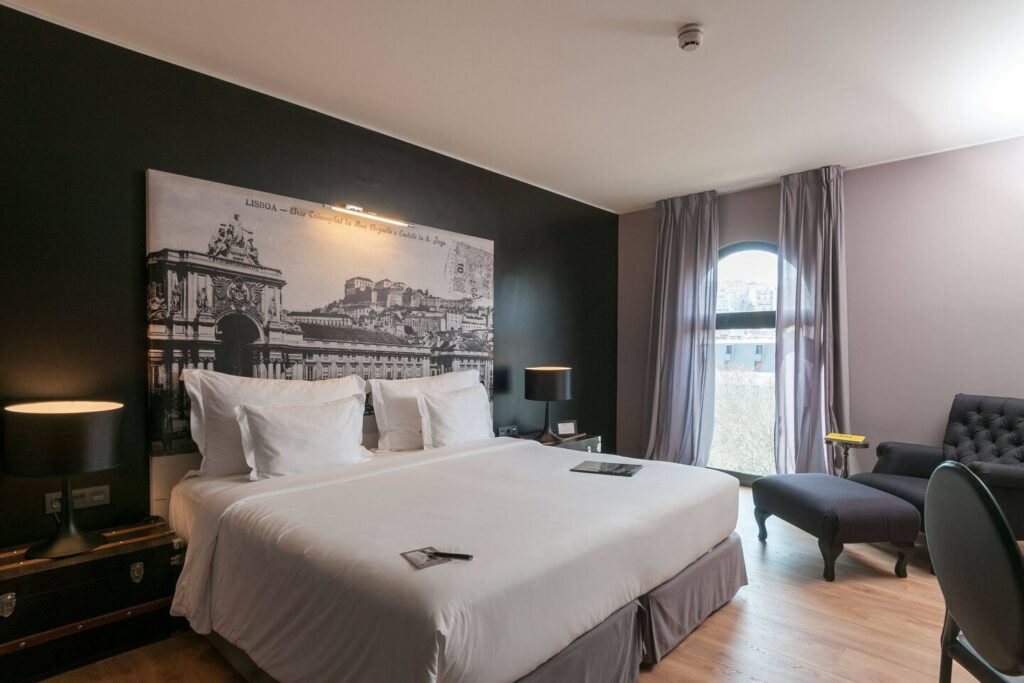 The hotel gets 4/5 on TripAdvisor.
You can find rates and availability with Marriott here.
Memmo Hotels Principe Real – by Design Hotels – get Marriott points and perks!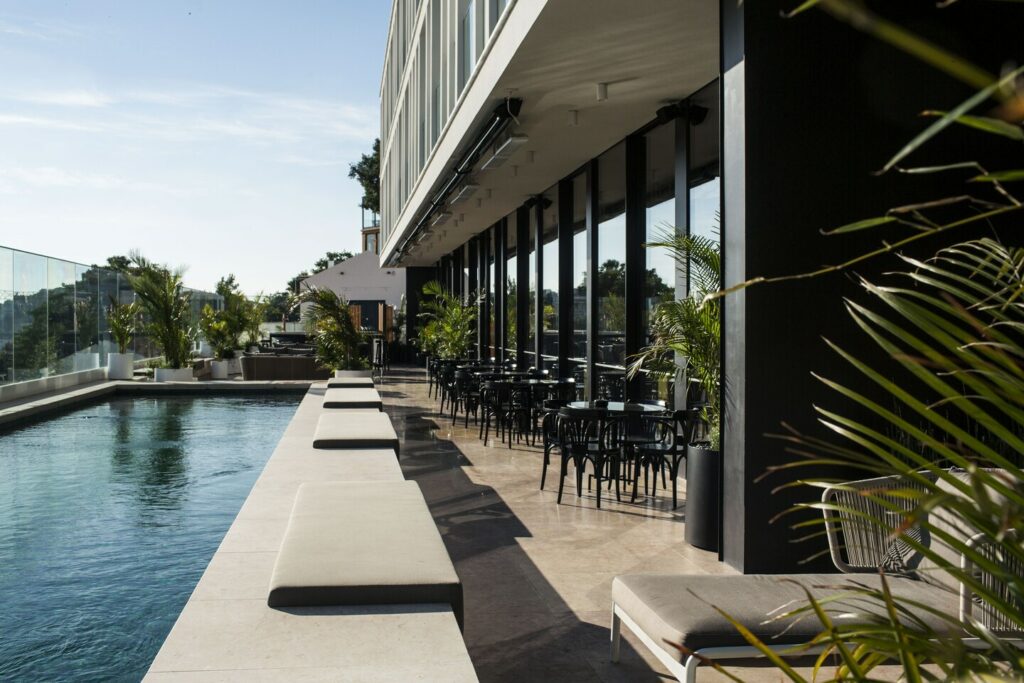 Close to some of Lisbon's most popular landmarks, such as Miradouro da Senhora do Monte (0.2 mi) and Chiado (0.4 mi) memmo Principe Real is a great location for tourists and has a pool to chill out by at the end of a long day of sightseeing.
If you are a seafood fan, it's also near some of Lisbon's popular oyster restaurants such as Cervejaria Ramiro, Solar dos Presuntos, and 100 Maneiras.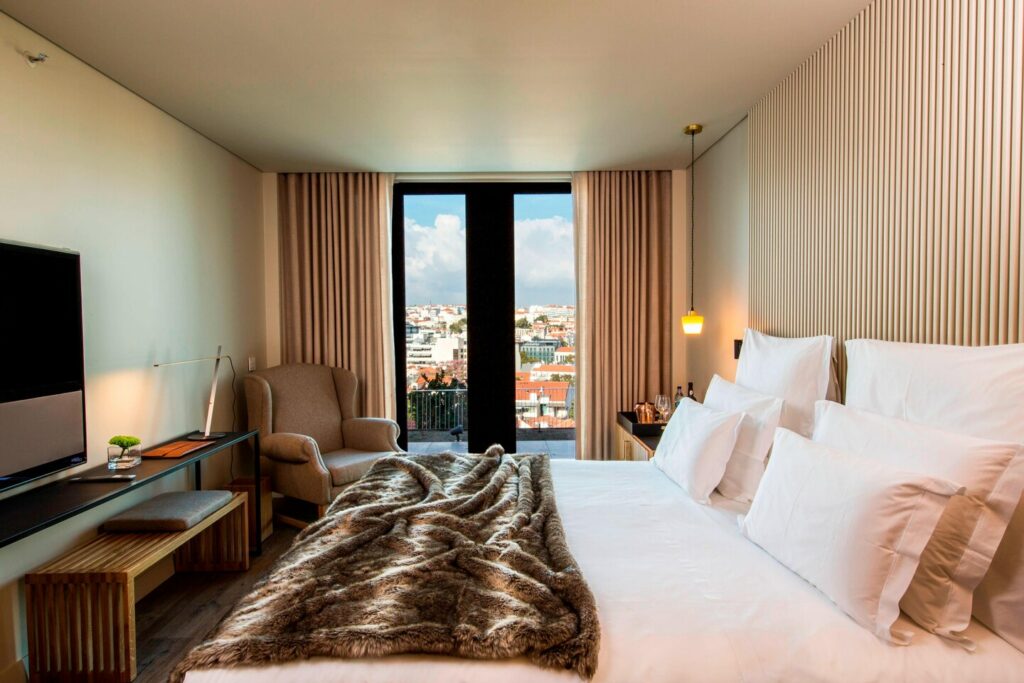 It's part of Design hotels Marrriott program which means that you get:
Points Bonus for Marriott Bonvoy™ Silver Elite, Gold Elite, Platinum Elite, Titanium Elite, and Ambassador Elite
On-property benefits of complimentary in-room Internet access and in-room bottled water
Redemption of Free Night Awards without blackout dates
Welcome Gift of Points for Gold Elite, Platinum Elite, Titanium Elite, and Ambassador Elite
Enhanced Room Upgrades for Gold Elite, Platinum Elite, Titanium Elite and Ambassador Elite (subject to availability at Marriott Bonvoy participating Design Hotels™)
Priority Late Checkout for Silver Elite (based on availability at Marriott Bonvoy participating Design Hotels™)
2pm late check out for Gold Elite (based on availability at Marriott Bonvoy participating Design Hotels™)
4pm Guaranteed late check out for Platinum Elite, Titanium Elite and Ambassador Elite (based on availability at Marriott Bonvoy participating Design Hotels™, convention and resort hotels)
The hotel gets 4.5.5 on TripAdvisor
You can find more details, availability and pricing through Marriott here.
Algarve
I have visited the Algarve many times due to its fantastic climate, fine dining restaurants and golden sand beaches. Luxury hotels are in abundance and it's the perfect short break to recharge the batteries in the sunshine.
Although it is known more for relaxing by the beach or pool, there is still plenty of activities to enjoy on the Algarve.
Surf at Sagres.
Visit vineyards in Portimão
18 holes at a world-class course in Vilamoura.
Enjoy traditional fishing villages and some locally-caught seabass and shellfish, drinking wine from the nearby vineyards
Visit the medieval old town in Faro, its stunning churches and museums
The

Ria Formosa Nature Park by Quinto do Lago is an area of outstanding natural beauty.

More than 60 kilometres long, Ria Formosa Nature Park is one of the few unspoilt coastal areas in Europe and includes salt marshes, islands, channels and lagoons within its boundaries.
Hotels
Conrad Algarve
The Algarve is home to one of my favourite hotels, The Conrad Algrave which also has a stunning Michelin star restaurant by world-renowned chef Heinz Beck and a spa with a lovely warm outdoor infinity pool as well as an indoor hydrotherapy pool.
I have written a number of review of the hotel:
The Conrad currently has four nights for the price of three offer (not valid July and August) and comes with
€85 credit
Complimentary breakfast for 2
Late check out
Early check in
Double Hilton points.
Find out more about availability, free benefits and prices here
Pine Cliffs Hotel, a Luxury Collection Resort, Algarve

If you want a luxury Marriott property, then this is the hotel for you. I will be checking this out in a couple of weeks' time for the first time.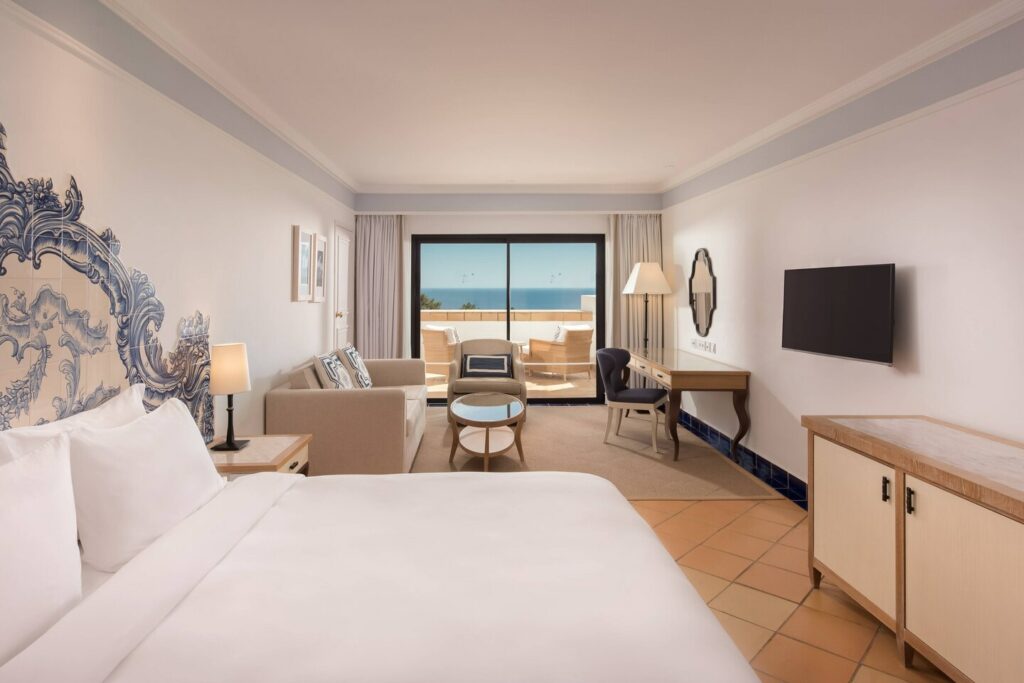 The Pine Cliffs Hotel, a Luxury Collection Resort has been recently renovated to offer a clifftop resort, overlooking the Atlantic Ocean. This authentic home-from-home hotel is situated within the Pine Cliffs Resort, just half an hour from Faro airport.
It's bordered by aromatic pine woods and a sheer cliff formation with striking orange sandstone. The hotel is traditionally styled with Portuguese design. You can choose from five room categories with light and airy rooms with cooling, terracotta-tiled floors and fresh, white walls. Each room commands views across either the ocean or manicured resort grounds from the privacy of a balcony or terrace. Rooms are furnished with a signature The Luxury Collection bed and complemented by state-of-the-art technology.
The hotel has a gorgeous spa with hydrotherapy pool, outdoor pool, kids area, and beachfront dining.
The benefits with Debonair are:
€85 credit
Complimentary breakfast for 2
Late check out
Early check in
Find out more about availability, free benefits and prices here
Anantara Vilamoura

The Anantara is relatively new (part of the Banyan Tree group) and I also plan to check this out when I visit in a few weeks. It's a quiet retreat overlooking lush golf greens. There five beautiful pools both indoor and out plus a great spa. Relax into Mediterranean wellness, while youngsters play at world-class clubs. It's also close to Vilamoura's glamorous marina and nightlife.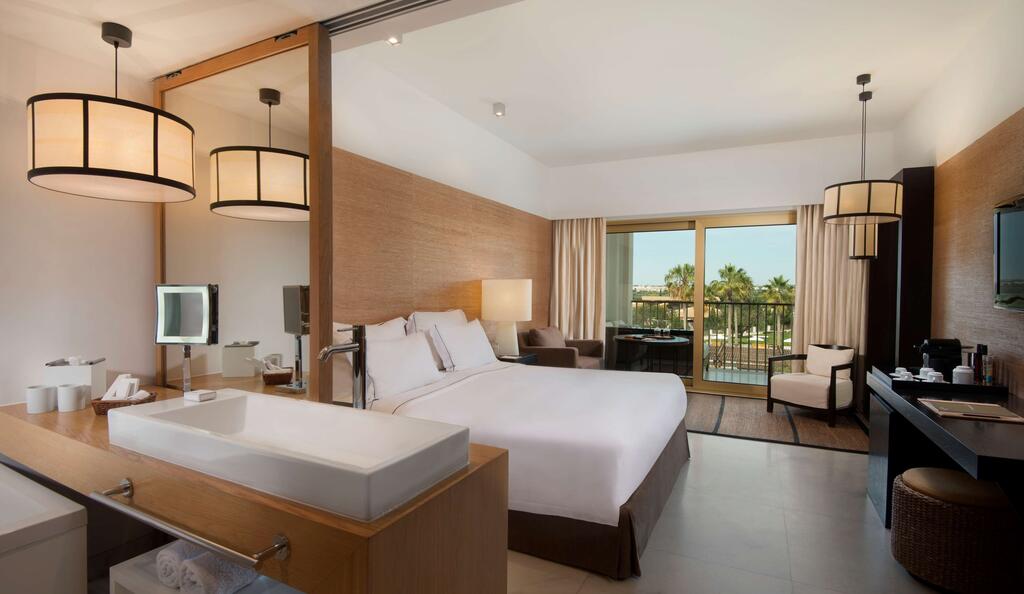 The hotel gets 4.5/5 on TripAdvisor.
There are some amazing deals on it price-wise and you also get:
€85 credit
Complimentary breakfast for 2
Late check out
Early check-in
Upgrade on arrival
Find out more about availability, free benefits and prices here.
Madeira
Only a 3.5 hour direct flight from the UK and giving 160 Tier points return with BA in Club Europe, the tiny volcanic island of Madeira is served by a number of airlines. British Airways, Easyjet, TUI and Wizz air aim to restart already after 17th May. This subtropical and lush Atlantic island has some of Europe's most beautiful scenery and year-round warmth.
There is plenty to do:
Wander through charismatic Funchal, the capital with its Portuguese architecture
Stroll through the botanical gardens high on the hillside,
Take the Cable Car to Monte Palace Madeira.
Hire a car and venture away from the capital and experience the monumental mountain pathways, including Pico do Arieiro, the island's third highest peak.
Walk along Cape Ponta de Sao Lourenco Coastal paths on the eastern edge
Stand on the glass of the Cabo Girao Cliff Skywalk and admire the dramatic cliffs.
Take a break along the palm-tree shaded Pestana promenade,and stop at a café and try a slice of honey cake
Try the wicker toboggan ride down the steep streets
The destination has won numerous awards, such as Europe's Leading Island Destination (World Travel Awards) seven times.
Covid-19 Protocols
The green corridor already existed at Madeira airport for those who arrive with a negative PCR test done within 72 hours. Alternatively, visitors can take a free test at the airport on arrival. One free PCR test per visitor is offered, to be taken on arrival or departure, with results in 24 hours. There are also discounts on offer for any further tests required, with PCR tests from €90 and antigen tests from €18.
Now Madeira is also receiving tourists vaccinated and recovered from Covid-19 (with proof up to 90 days of validity) who want to enjoy the region, with testing for these cohorts no longer required.
Covid-19 cases in Madeira have decreased significantly in recent months, with an average of 32 new cases in the last 7 days. 27.1% of the population has received their first dose of the vaccine and 8.8% have received both doses. Tourism professionals will be vaccinated by the end of May.
Curfew hours in Madeira have now been reduced and are from 11pm until 5am. Restaurants will be open for dinner until 10pm.
You can find the official information here.
Hotels
Belmond Reid's Palace

This has a secluded setting on a private promontory near Funchal and looks stunning. It's the most luxurious hotel on the island and has an old world charm. The cliffside setting is stunning and for foodie's it boosts a Michelin star restaurant. For those looking to relax it has a spa, outdoor pool and beautiful gardens.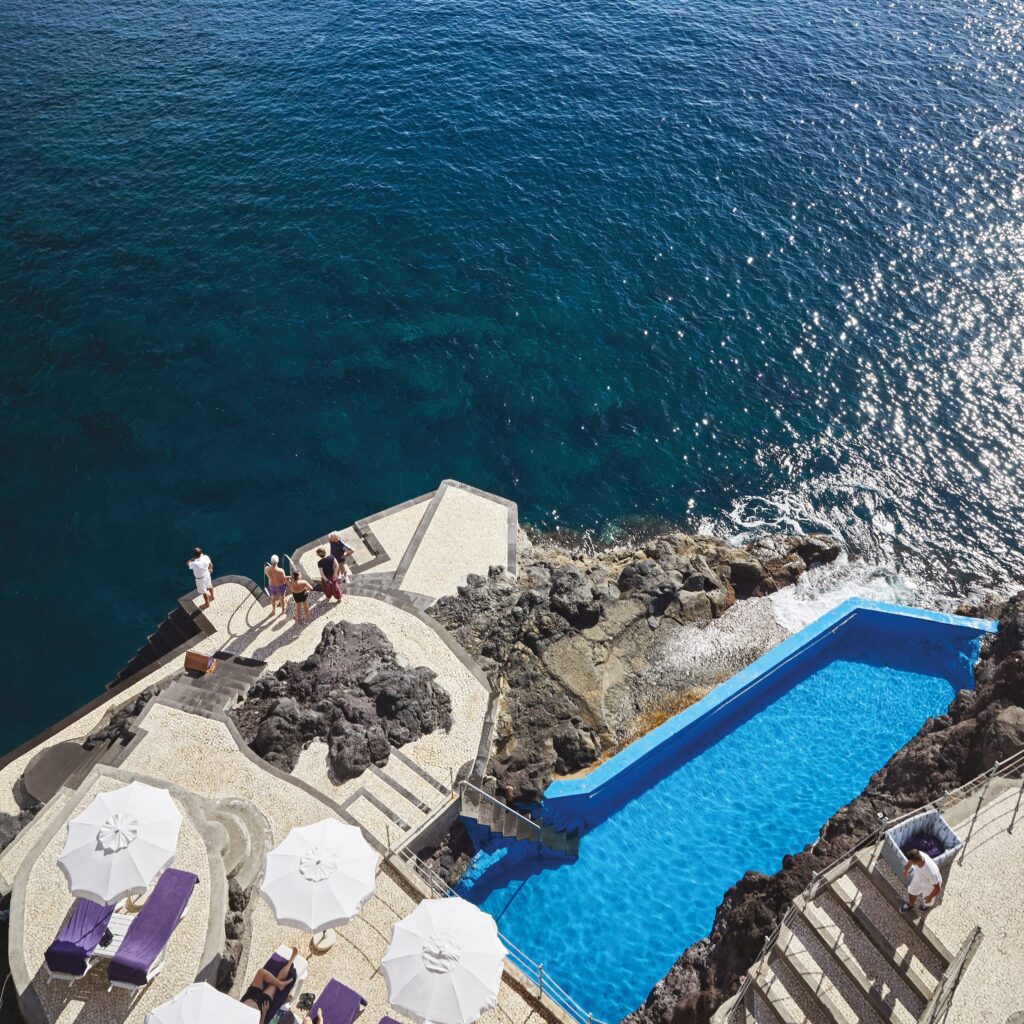 Naturally, it scores 5/5 on TripAdvisor.
You can find prices and more information here.
Melia Madeira Mare
The Melia in Funchal is great value option from £82 a night and Melia has several offers at the moment, such as 30% off for Melia Rewards members. The hotel has a surprising number of health facilities. These include a fully equipped gym with elliptical cross trainer, treadmills, whirlpool tub and swimming pool. The Malo Clinic Spa has a salt water floatation tank ,a hydrothermal circuit and Vichy shower rituals. Dentistry work and cosmetic treatments for the face and body are also available on site. Facing the ocean along the main promenade in Funchal, it is a short walk to the centre of town.
The hotel rates 4.5/5 on TripAdvisor.
You check prices and get more information here.
Azores
The Azores are home to gorgeous flora, dramatic scenery with lakes, waterfalls, and geothermal activity. Ponta Delgada is home to a large bay, wineries, and rocky, mountainous landscape.
Note: Currently there is still an FCDO warning about non-essential travel to the Azores which could invalidate your travel insurance. Sadly the government seems incapable of tying up the two lists.
Travelers should choose one of the following options:
In the 72 hours before your departure, complete the online "Evaluation Questionnaire of Risk and Early Detection – Azores in Security" available here
Upon arrival in the Azores, complete the following declarations: "Declaration on arrival in the Azores" and "Declaration for inter-island travel" available here
You can:
Take climbing tours throughout the region with local tour companies.
Wine tours and tastings are popular with locals and tourists alike, allowing you to try some of the finest wines in the world.
Lagoas Empadadas is home to a large lake and beautiful forests, ideal for exploration and relaxation.
The Portas da Cidade are the traditional gates to the city, and local tour guides are happy to teach you about their history.
Honey route experience
Jardim Jose do Canto and Antonio Borges Garden are also worth visiting.
Ponta Delgada Harbour
Bathe in thermal springs or cook in geo-thermal cooking spots
Hotel Verde Mar & SPA
The newest 5-star hotel on the island, the hotel is modern and situated by the beach 2 minutes walk from Ribeira Grande. It features 2 restaurants, a full-service spa, and an indoor pool. Free WiFi in public areas and free valet parking are also provided. Additionally, it has an outdoor pool, 2 bars/lounges, and a 24-hour fitness centre.
It rates 4/5 on TripAdvisor but this includes reviews before it was properly finished.
You can find rates and availablity here.
Terra Nostra
Located in Povoacao, the unique Terra Nostra Garden Hotel is in a rural area and next to a golf course. Scuba diving and snorkelling are on offer in the surrounding water, or there are hiking/biking trails and ecotours nearby. Its located close to Furnas with its Lake and its geothermal cooking holes.
Terra Nostra Garden Hotel has had extensive renovations and is now classified as a 4-star property. Opened since 1935, it has the Art Deco Wing, built in the 1930's and the Garden Wing, added in the 1990's.
The hotel's interior design is mainly Art Deco style, integrated with the lush Terra Nostra Garden. There's a new Wellness area with large indoor pool and spa area with massage rooms. You also get to access to the vast Terra Nostra Garden and its geothermal pools, open for guests 24-hours a day.
For food, it offers the authentic Furnas Cozido experience (a sustainable meal fully cooked underground with the heat of the volcanic hot springs).
The hotel gets 4.5/5 on TripAdvisor.
You can find rates and availablity here.
Have you booked somewhere on the green list or have recommendations? Let us know in the comments below.