In my continuing quest to review every BA lounge at Heathrow, I recently visited the T5 First Class Lounge. Confusingly this lounge is actually not really the First class passengers lounge, as they have access to the Concorde Room as well. However, when I travel First class I normally pop into both. This is mainly as I will usually eat on the plane but have a snack before boarding. The Concorde Room doesn't really have many snack items, hence my visit to the First Lounge. If you would like to read my T5 Club Lounge reviews, please visit this page.
What's the difference between the First lounge and the Concorde Room?
The majority of people in the Galleries First lounge are normally British Airways Gold Card holders, rather than First Class passengers who can access both. The First Lounge is pretty much self-service, apart from the menu that you can order additional food from. The Concorde Room is entirely staff-served although you can walk up to the bar to order a drink rather than wait for it to be brought to you. In terms of size, the Concorde room is smaller than the First Class lounge and has a restaurant area with table service rather than a buffet. You can also only get the BA175 Cocktail in the Concorde Room along with the British Airways Gin and Laurent Perrier Grand Siecle Champagne. If you are travelling in First, you may wish to try both lounges since they are next to each other and you have to pass through the First lounge from the First Wing.
If you are travelling with children you may also prefer the less formal First Lounge, as it has a kids zone to keep them entertained.
BA Galleries First lounge
You can now access the First lounge through the brand new First Wing area at the south end of the terminal. This allows you to use First class check in, go through a separate security channel and enter directly into the BA lounge.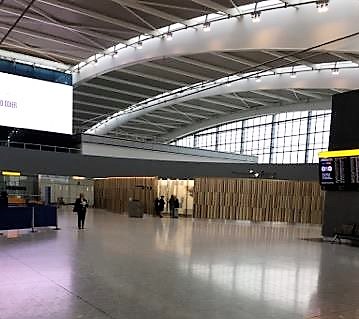 The alternative if you want to hit the shops first, is to go through either North or South security and then enter the lounge complex on the ground floor at the south end of the terminal.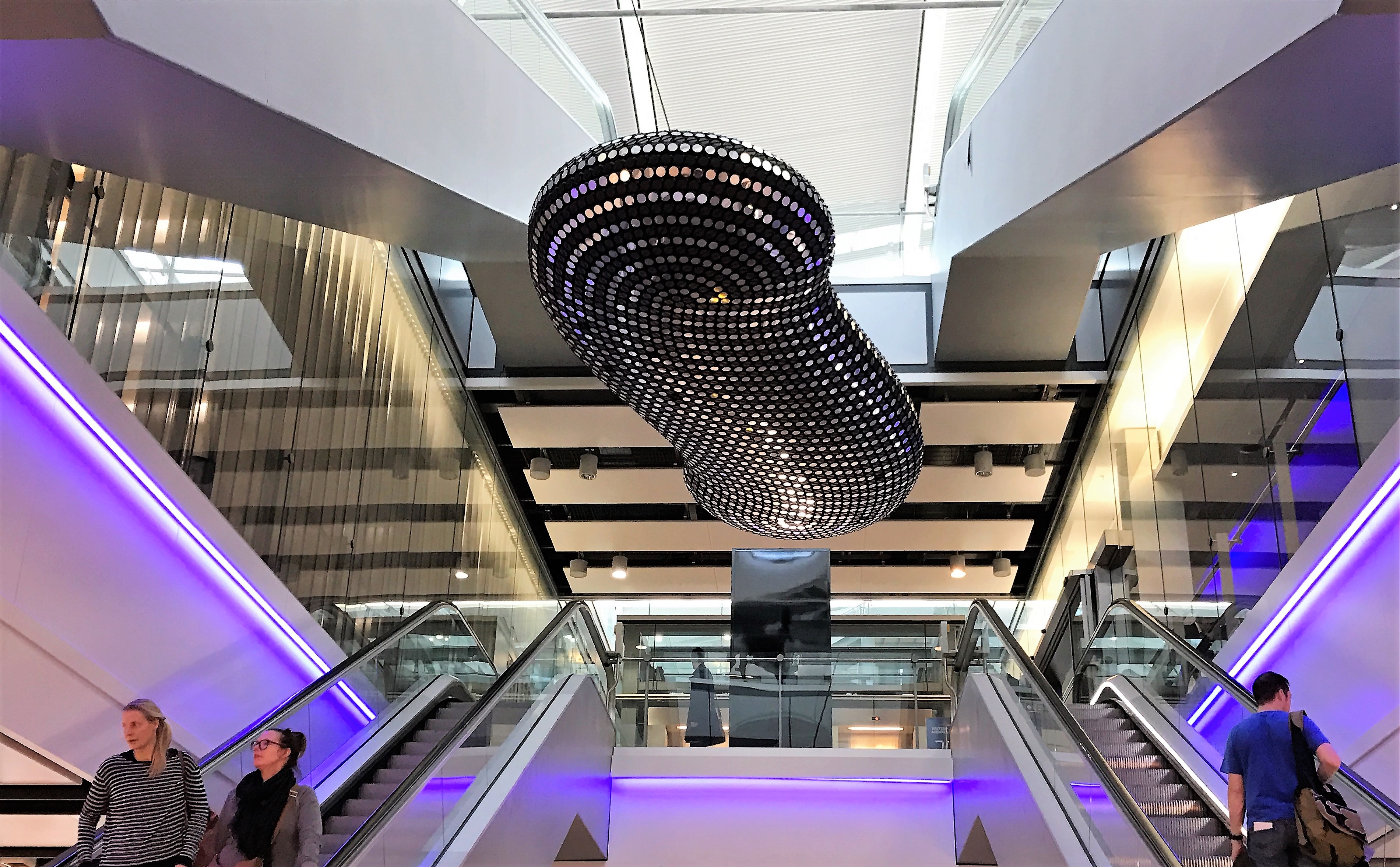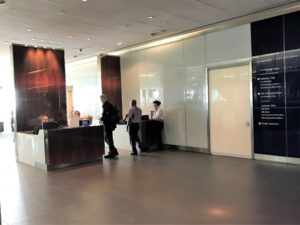 I received the usual perfunctory greeting by the lounge staff on the way in, via the rather uninspiring entrance. As you enter the lounge, there is a luggage storage are on your right which is very handy. If you want a spa treatment you will need to head to the Elemis spa which is before you reach the main lounge entrance. You can only book treatments in person unless you are flying First Class. In First you can book via You First up to 28 days in advance.
Lounge Interior
The lounge itself is large, with various distinct areas. The main seating area of the lounge is light and airy with good views over the airfield. The nicest area for natural light, as well as peace and quiet, is usually the terrace. There are only soft drinks in this area, so you will need to get a drink from the lounge on your way.
Another area that is usually quiet is the Champagne bar next to the business centre. Although it is a bit gloomy with no natural light, there is rarely more than a couple of people in there. Plus you haven't got far to go for a Champagne top up!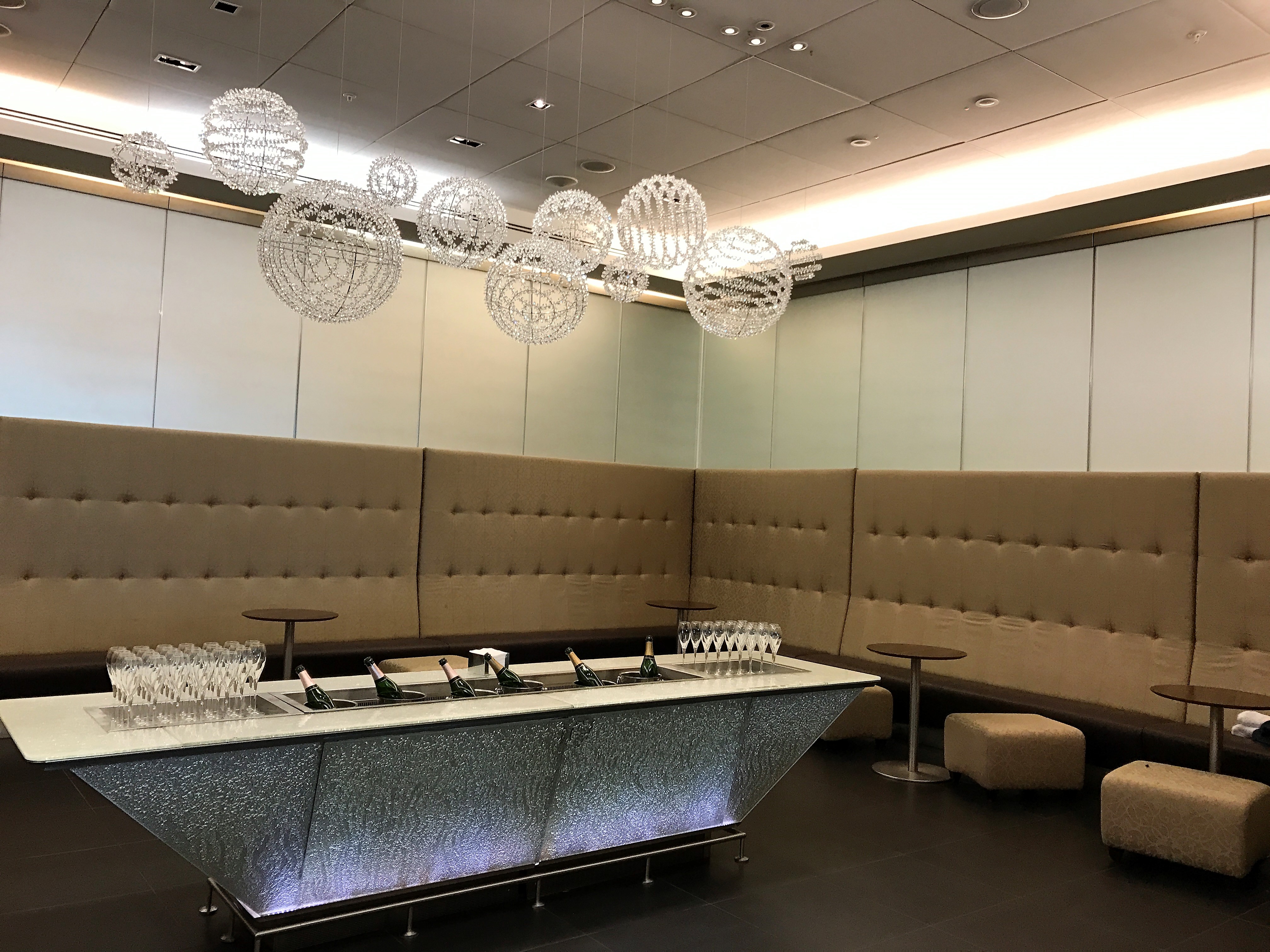 If you need to do some work, there is a well-equipped business centre complete with a multi-function copier/printer as well as PCs.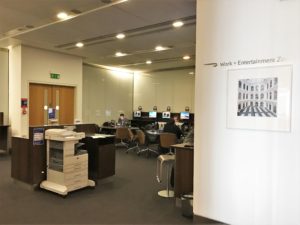 All the food is located in one area, where there are individual tables and chairs as well as more communal spaces. There is no natural light in this area, so it is not somewhere you necessarily want to linger. The other thing I find annoying is that the wine and champagne are quite a walk, so you have to pick up your drink on the way or go back for it.
There is a good selection of newspapers and the magazine selection is fine for me with a mix of business, travel and general magazine usually available.
The toilets are still an area that need improving as they are not exactly high end and have a bit of an NHS bathroom feel to them! However, there is due to be a refurbishment of the Heathrow lounges in the next couple of years, as I reported here.
Food
I was there mid afternoon so there was a combination of both lunch items and afternoon tea.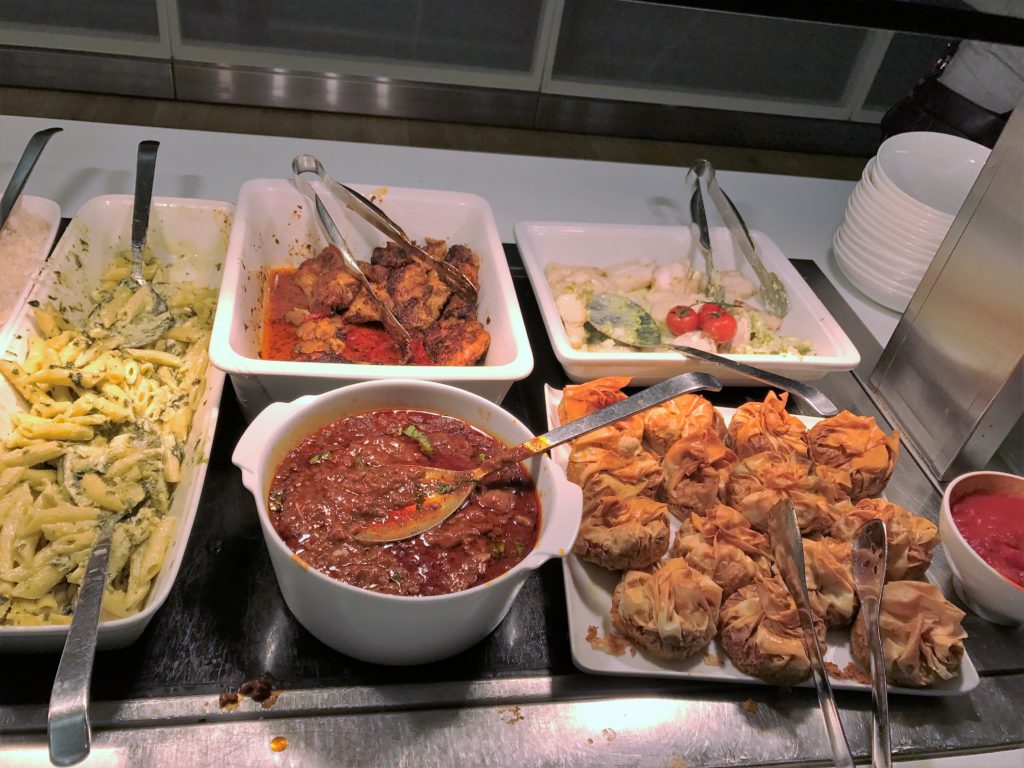 On the buffet was:
Herb roasted Parmentier potatoes
Selection of vegetables
Rice
Piri Piri chicken
Filo pastry with spicy bean and hummus
Spinach and mascarpone penne
Italian Beef
Fish fillets
Mixed leaves
Cucumber
Salad Dressing
Mezze/antipasti selection with olives, tapenade, herrings, pickled onions, pastrami and vegan quiche
Soup And Bread
For afternoon tea: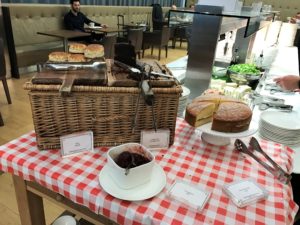 4 types of sandwiches; egg, coronation chicken, cheese & ham and smoked salmon
scones with clotted cream and jam
cakes – Victoria sponge and gluten free chocolate cake
I tried the piri-piri chicken, potatoes and some of the mezze which was all tasty.
If you don't fancy the buffet you can also order (March menu):
BA Burger accompanied by twice-cooked chips.
Club sandwich
Hot Smoked Scottish salmon & lemon cream cheese and watercress in a multi-seeded bagel
Roasted new season cauliflower with mizuna, pomegranate and candied pecan nuts.
Artichoke gnocchi with a Red wine, tomato and olive sauce
Chicken jalfrezi with steamed rice, tomato, cucumber, red onion, coconut shavings and mustard seeds.
Garden salad
Omelettes
Ice cream
Cake
Macaroni cheese
At breakfast there is a different menu with a few interesting options such as a breakfast sandwich and smoked salmon with scrambled eggs. On the buffet is usually a full English breakfast selection with scrambled eggs plus the normal continental items such as fruit, yoghurt and pastries.
Drinks
The drinks are distributed over various areas with the Wine Gallery nearest the entrance. The champagne is available at the Wine Gallery and the Champagne bar. There are 2 types of Champagne, rose and brut, both by Henriot.  It may not be Krug, but is perfectly enjoyable to drink.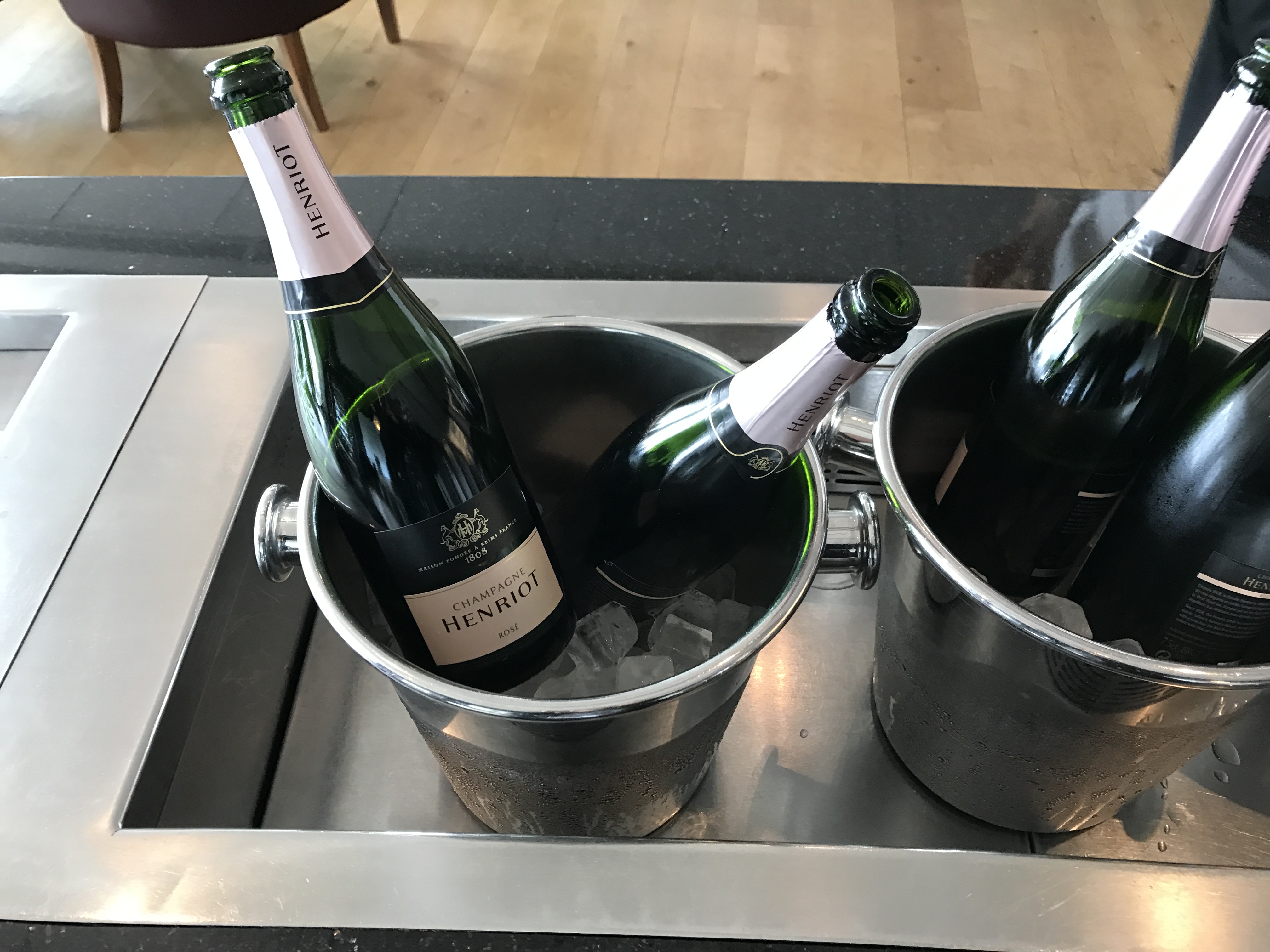 The wine selection had some interesting choices as well as the usual suspects such as Pouilly Fume.
Reds: Chateauneuf du Pape, Pinot noir, Italian Negroamaro from Salento
Whites: Saint Aubin Premier Cru Burgundy White, Domaine Cady Cheninsolite (a Loire Chenin Blanc), Pouilly Fume
There was a wide range of spirits as per the Galleries Club Lounge that I reviewed here. The only difference I could tell was that there was a higher quality Johnnie Walker rather than Red Label. The spirits, beers and mixers are located in the Gold Bar area which is where you enter from the First Wing exit.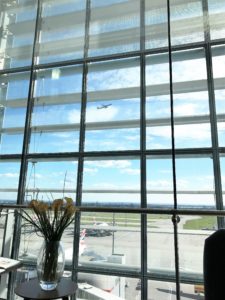 2 types of Gin – Bombay Sapphire and Gordon's
3 vodkas with Grey Goose, Ciroc and Sminoff
Otard VSOP Cognac
Kahlua
Baileys
Warre's 2011 Late Vintage Port
Cointreau
Southern Comfort
Glenlivet whisky
Johnnie Walker
Gentleman Jack Bourbon
Jameson's whiskey
Martini
Pimms
Barcadi 8 year old rum
Barcadi white rum
Tequila
There is a decent range of beers and BA often do features of drinks such as gin or beer for a week with a wider selection than normal. Whilst it is a nice touch for regular visitors to have something different, it would be nice to see a more exciting range of gins on a permanent basis.
By the eating area, the Refectory, there are soft drinks and beer but no wine or champagne. There is also a bank of good quality coffee machines with biscuits to accompany your drink.
Conclusion
This is a less premium option than the Concorde Room in my opinion, as it is similar to Galleries Club but with better food and drink. However, it all depends on what you want. If you are in a hurry, the First Lounge is better for food as you can help yourself. Drinks wise, I would still go to the Concorde Room as ordering from the bar directly is usually very quick. If you have children with you, you may prefer the more relaxed ambiance of the First Lounge, even if you don't use the Kids zone. As a perk for Gold Card holders, it is a great benefit and definitely a more relaxing and upmarket experience than Galleries Club.