This is the return journey of flying British Airways new first class suite from Los Angeles to London back from my Hawaii trip which got me 1120 tier points by doing a British Airways Holiday. As a data point the issues with double tier points from holidays appear to be fixed. Mine credited in less than 7 days. Previously it was taking a minimum of 60 days, often not crediting at all.
In part one, I looked at check-in and the wonderful Qantas first class lounge at Los Angeles.
Boarding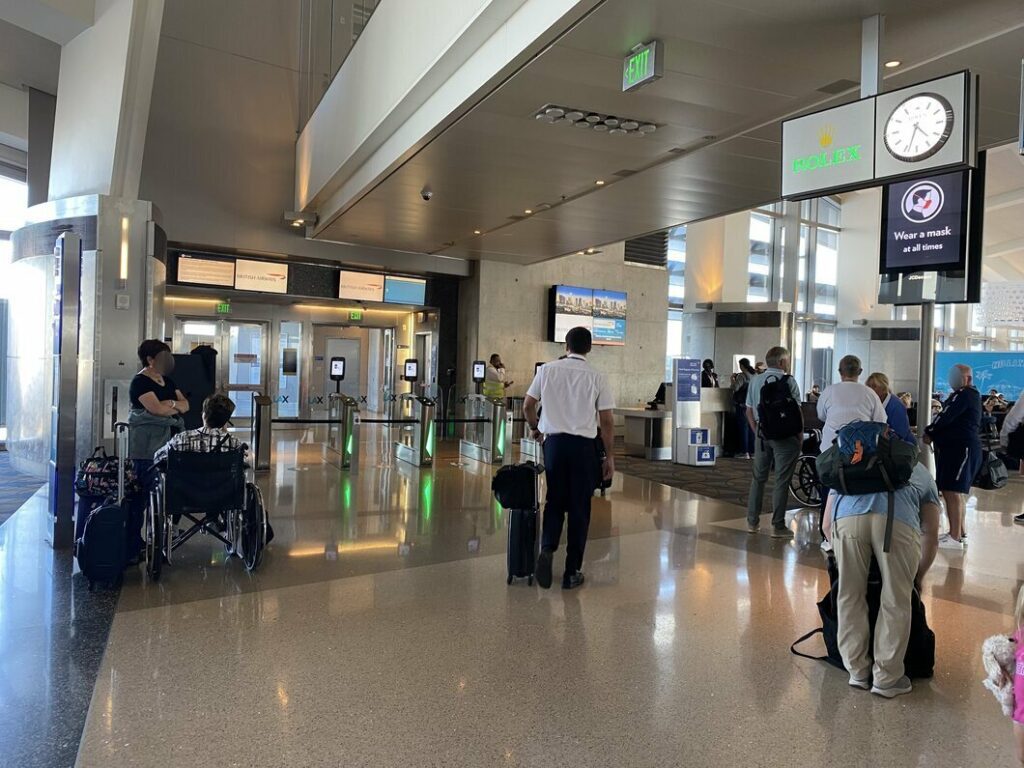 The gate was the second furthest from the lounge, so I set off in good time, ever hopeful that we would board on time. The Qantas lounge does actually call departures, but I decided to head off before that as I wanted to pop into a shop along the way.
Needless to say, of course, we didn't board on time! They called group one first, as usual, and a surprisingly high number of people came forward. I do wish that they would go back to calling first class, first. It really doesn't scream first class if you are at the back of a queue of 50 gold cardholders! Again I was not accompanied to my seat for those that care about it. Personally, I don't, as I'm pretty sure out of eight seats I know where 1A is and when they are short of crew, it's not necessary.
I was reasonably early in the queue, but unfortunately, someone blocked my path to my seat for some considerable amount of time with her suitcases.
I do wish BA would be a little more strict on hand baggage, even in first. Nobody wants a complete jobsworth on the gate checking first class bags in the size checker, but this person has two huge suitcases that were nowhere near the limits. They are what I call a medium suitcase that would do you for a week! So I apologise if there are not many photos of the cabin, as by the time she had finished faffing about with suitcases she could barely lift, the cabin had filled up so I couldn't get any good cabin shots.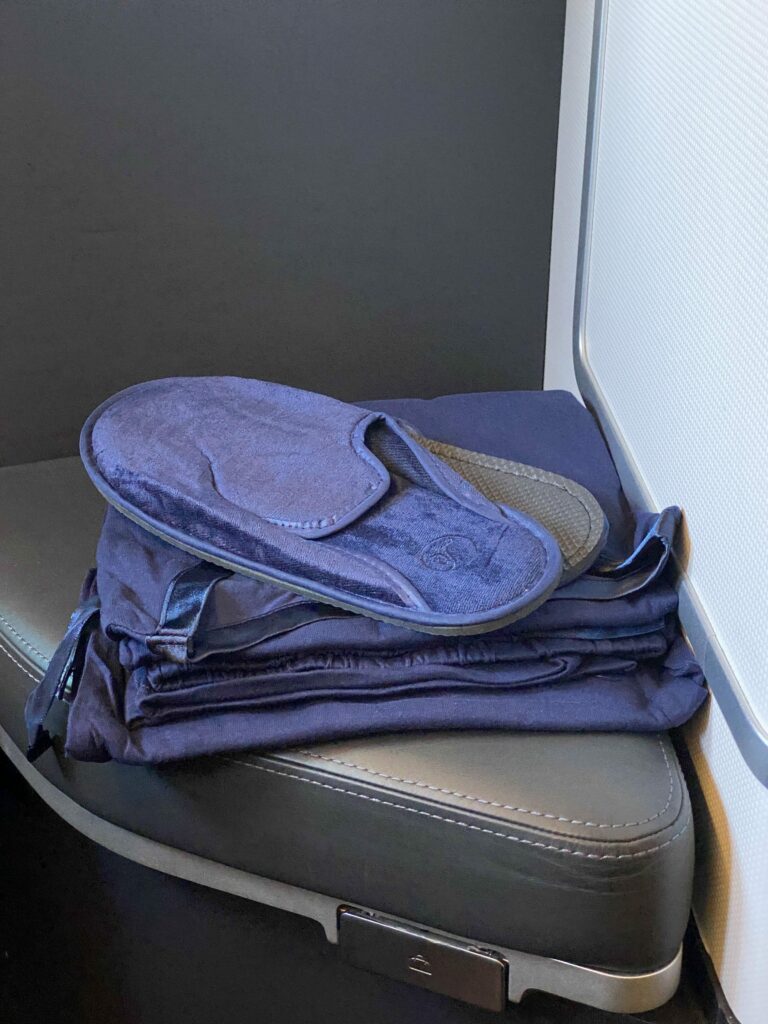 Once at my seat the cabin crew member looking after me came to introduce herself and offer me a glass of champagne and pyjamas. She was happy to get a male pair for me, so look out for them in the next giveaway! These were presented with a pair of slippers too. There was already a female washbag at the seat. You can see the full rundown of contents in my outbound flight review here.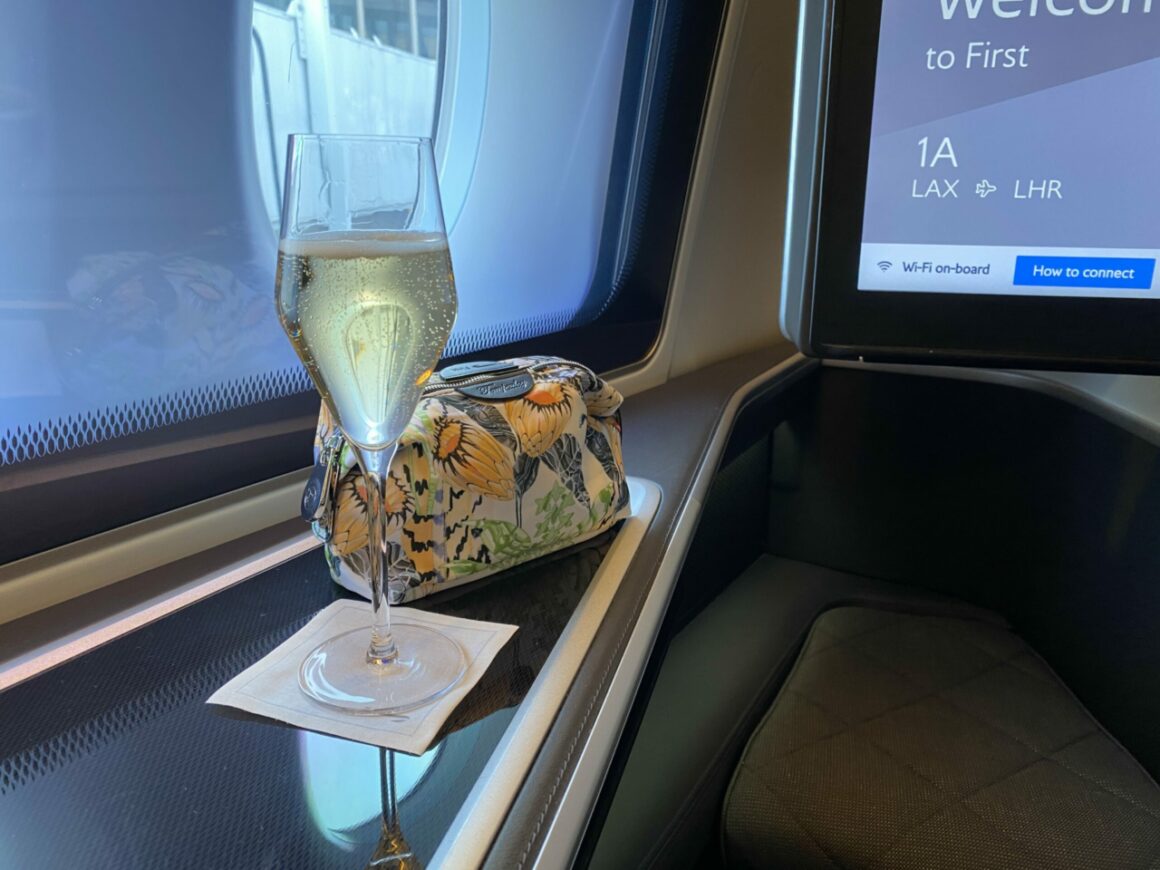 I was also given the menu with my champagne. No nuts were offered, although seeing as they are now the Club Europe ones which I don't like, I wasn't bothered.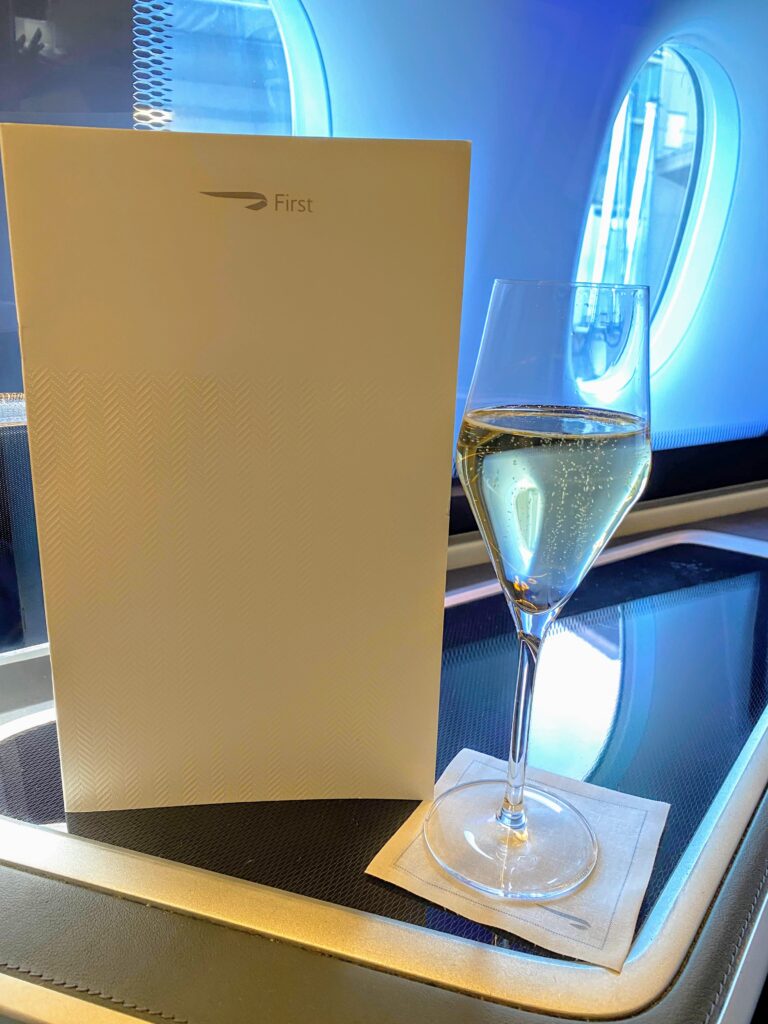 It's worth noting that the British Airways new first class suite seats now have the three-point seat belt, where you have to wear a shoulder strap for take-off and landing.
Sadly there was something wrong with the sound/microphone so for most of the announcements we were treated to excruciating squealing noises louder than being at a BTS concert full of teenage girls!
The seat and cabin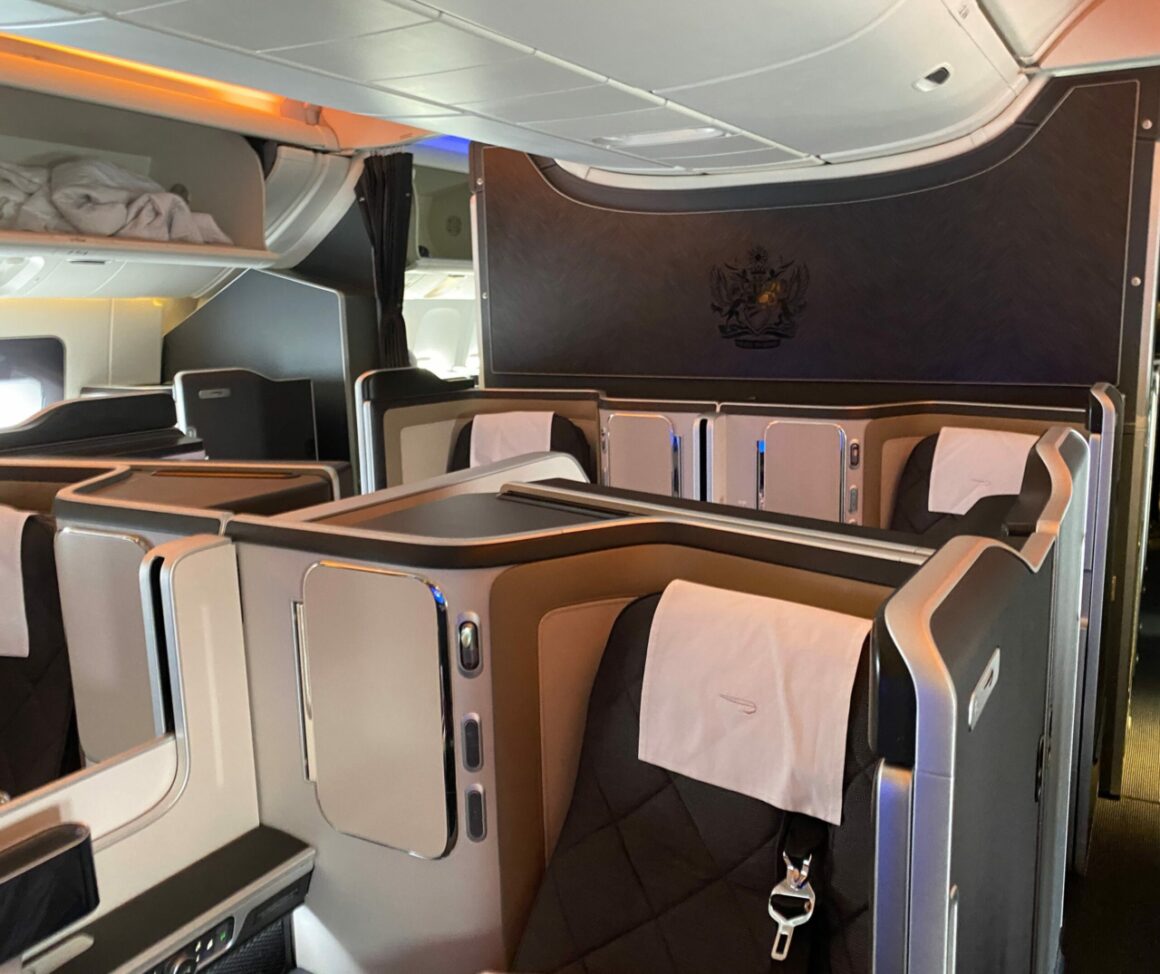 This was a refurbished B777-300 which meant that it had the new British Airways First Suite which comes with doors. There are also only eight seats, but this means there are only two crew instead of three. These are laid out 1-2-1 in two rows. At last count, there were four new B777-300s with this and four refurbished ones. The middle seats have a divider that you can have up or down like all the other BA First seats.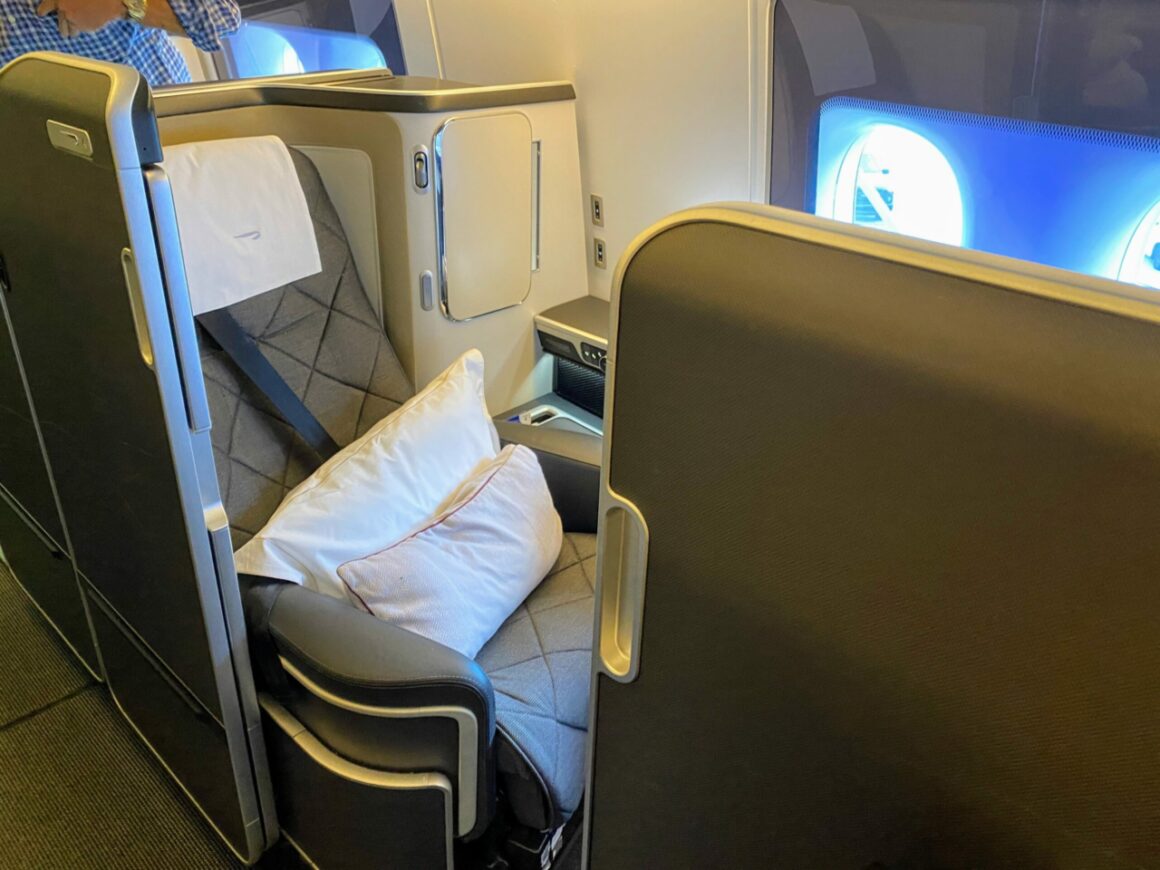 The new seat is based on the B787 first seats but with a few tweaks. I thought they looked extremely smart and worthy of first class. They may not have the wow factor of something like the Emirates game changer, but they did look classy. I was in 1A in the full cabin. I probably would usually choose 2F as it's further from the galley and I prefer the right side. But as I had moved flights not long before due to a cancellation, there was no choice.
The British Airways new first class suite seat itself works in the same way as all the other seats in that it only has one main control plus lumbar and head support controls. This means unless you are reasonably tall, (I'm 5ft 6 and can only just reach the footstool), it's hard to get a comfortable position with your feet up and a slight recline such as when you are eating. I really hope BA change this when they introduce the next new first, which is likely with the B777X. I much prefer when you have a separate leg rest you can control individually.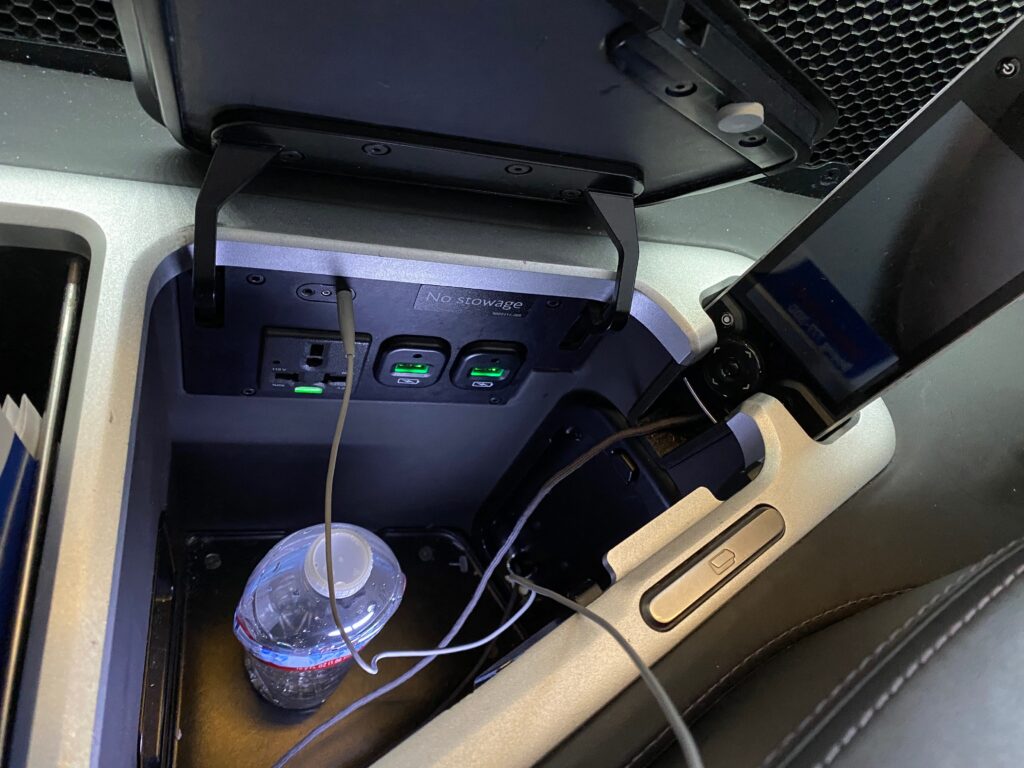 Other than the lack of leg rest, the British Airways new first class suite seat was comfortable with plenty of padding. It does not have the wardrobe storage like the A380 suites, so you have to put your luggage in the overhead bins. But it does have a decent amount of storage in the suite. Like other versions of first there is a medium size bin directly next to you where the power and controls for the TV are. This states no stowage which seemed odd as otherwise why have a bin that size there?
There is also a nice cupboard at head height which opens out into a mirror and then has a cute little divided area for keeping everything organised.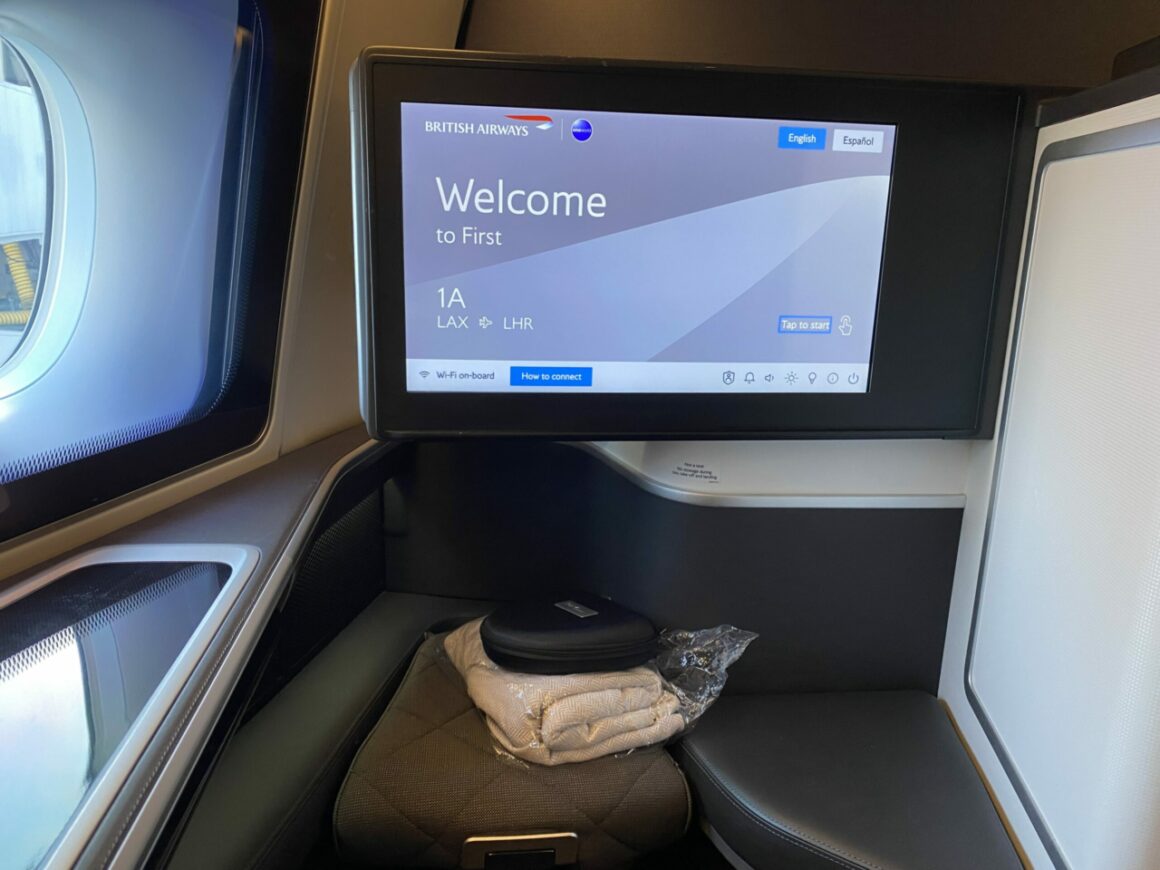 There was also an ottoman next to the footstool which opened up into a large bin big enough to store your smaller hand luggage in most cases.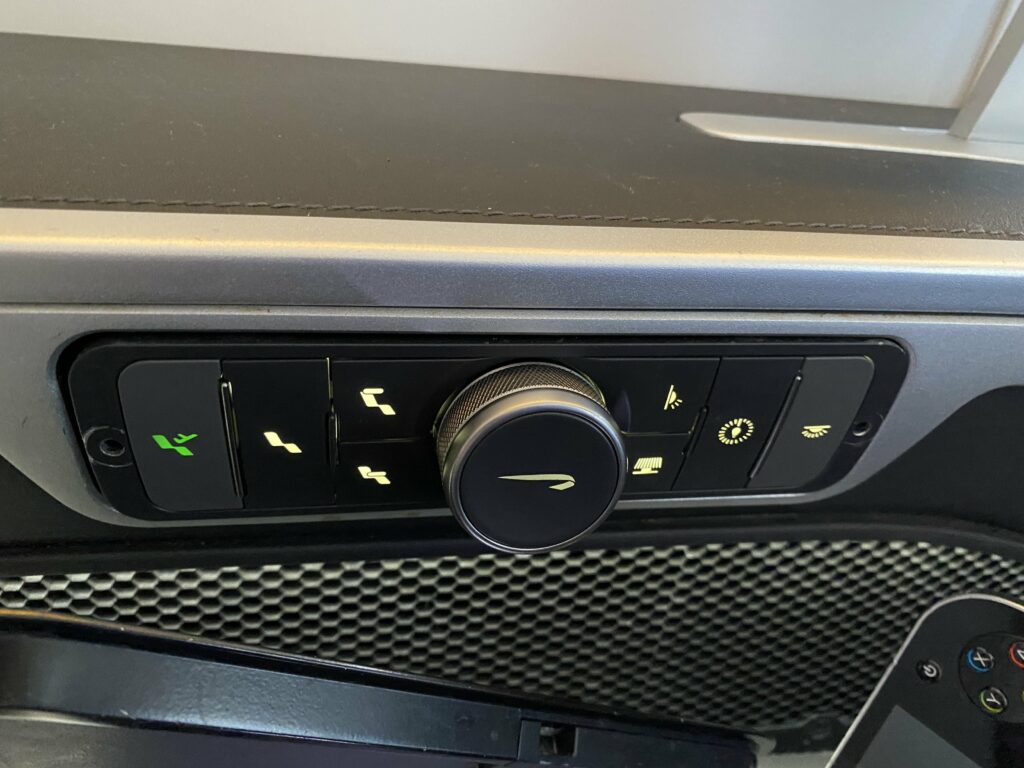 I wasn't keen on the way you controlled everything which seemed very much style over substance. It was pretty confusing as some things had switches, and other lights had to be controlled with a dial. You basically had to press and release the button for the thing you wanted to turn on and then turn the dial. I actually had to ask someone, as even by doing that I was not getting anywhere. What I didn't realise as well as being not particularly intuitive there were issues with my seat controls.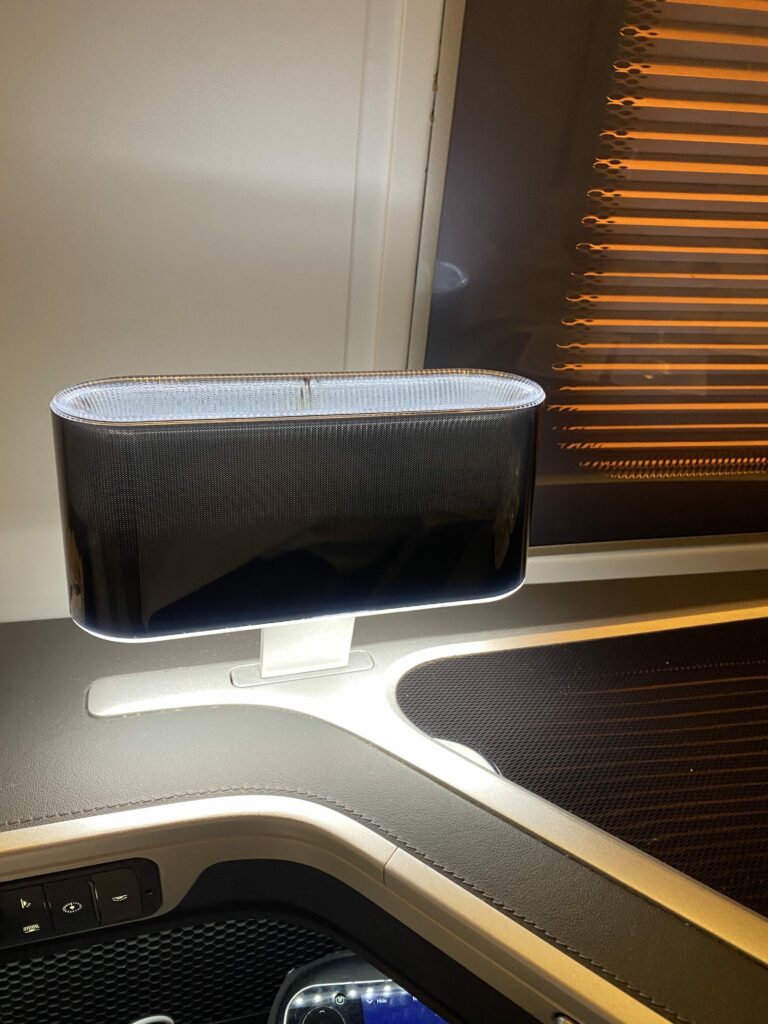 I did love the table lamp of the British Airways new first class suite which looks very elegant, and I was pleased to see that they had the electric blinds too, which I always think look very smart. You also have a light by your shoulder, overhead lights and under-console lighting.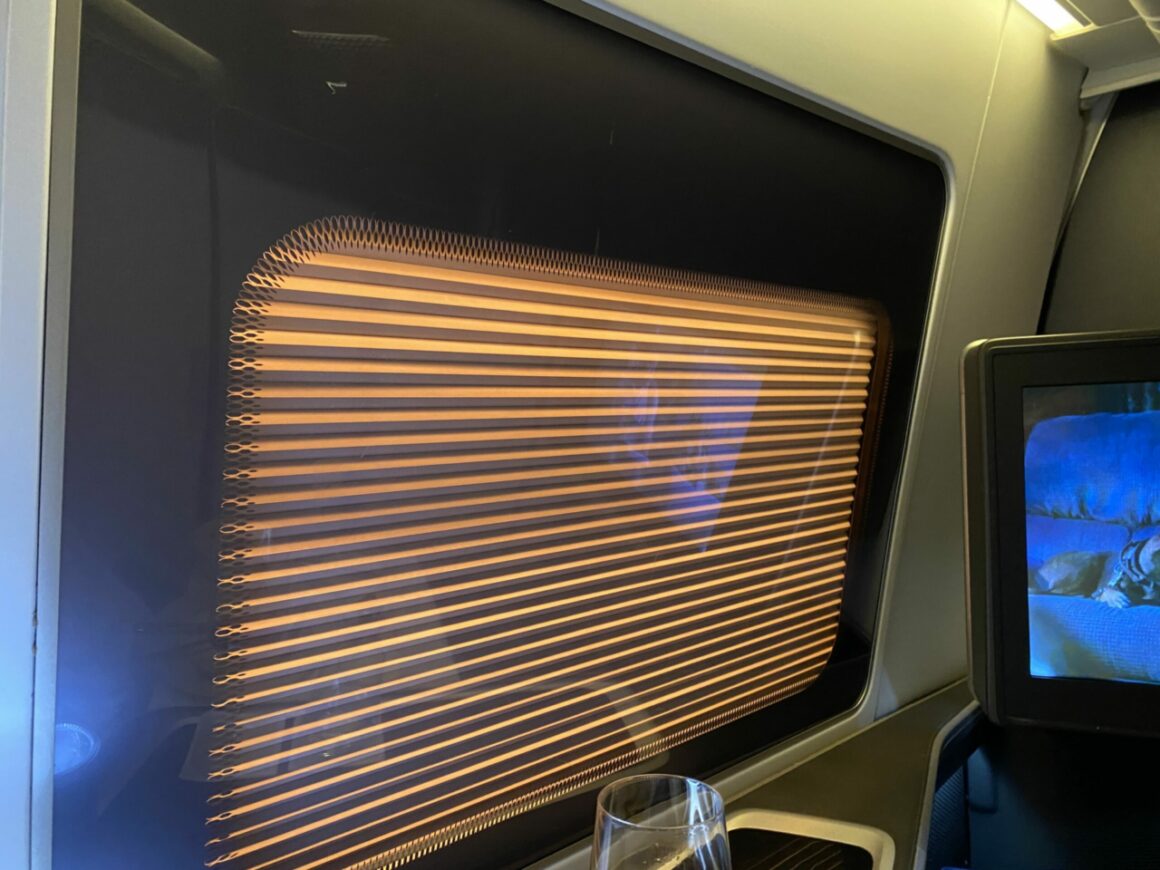 Unfortunately, when it came to sleeping later on, things started to go wrong. It was a 5pm take-off, and having flown in from Hawaii the night before, I wasn't really tired until over 4 hours into the flight. The crew offered to make up my bed but then realised that the curse of 1A had struck. There is an ongoing issue with the British Airways new first class suite first seats (as well as the normal rate of failure of the old seats), according to the frequent flyer forum Flyertalk and 1A seems to be particularly notorious. They tried to reset it but this failed.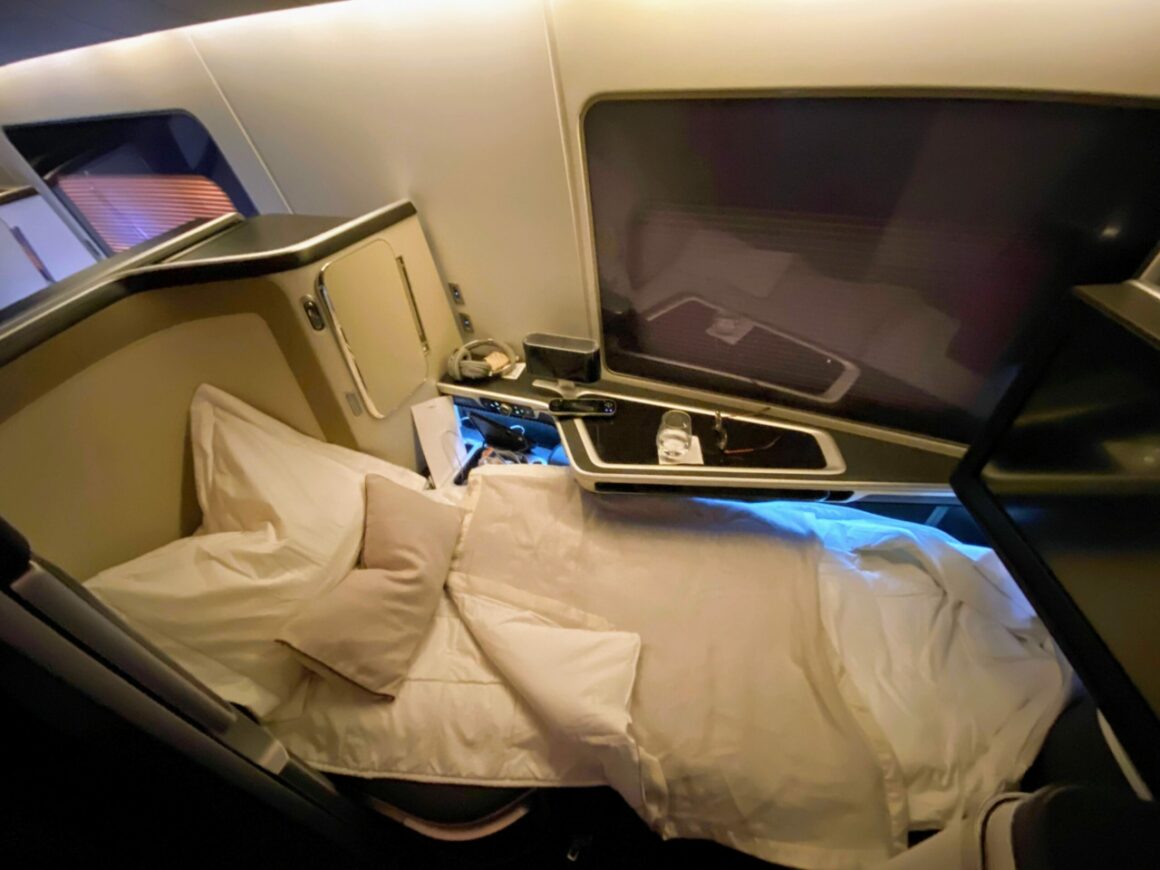 The cabin crew managed after a considerable amount of effort and time with two of them to get the seat to go flat. She then did a beautiful job of making it up to look very inviting. You get a soft mattress topper, duvet, day blanket, day pillow and a large fluffy pillow covered in crisp white linens. The bedding is just as good as it was before, so no complaints here. The crew were also good about closing the doors whenever they brought or collected anything. It felt very private with the doors shut but not at all claustrophobic.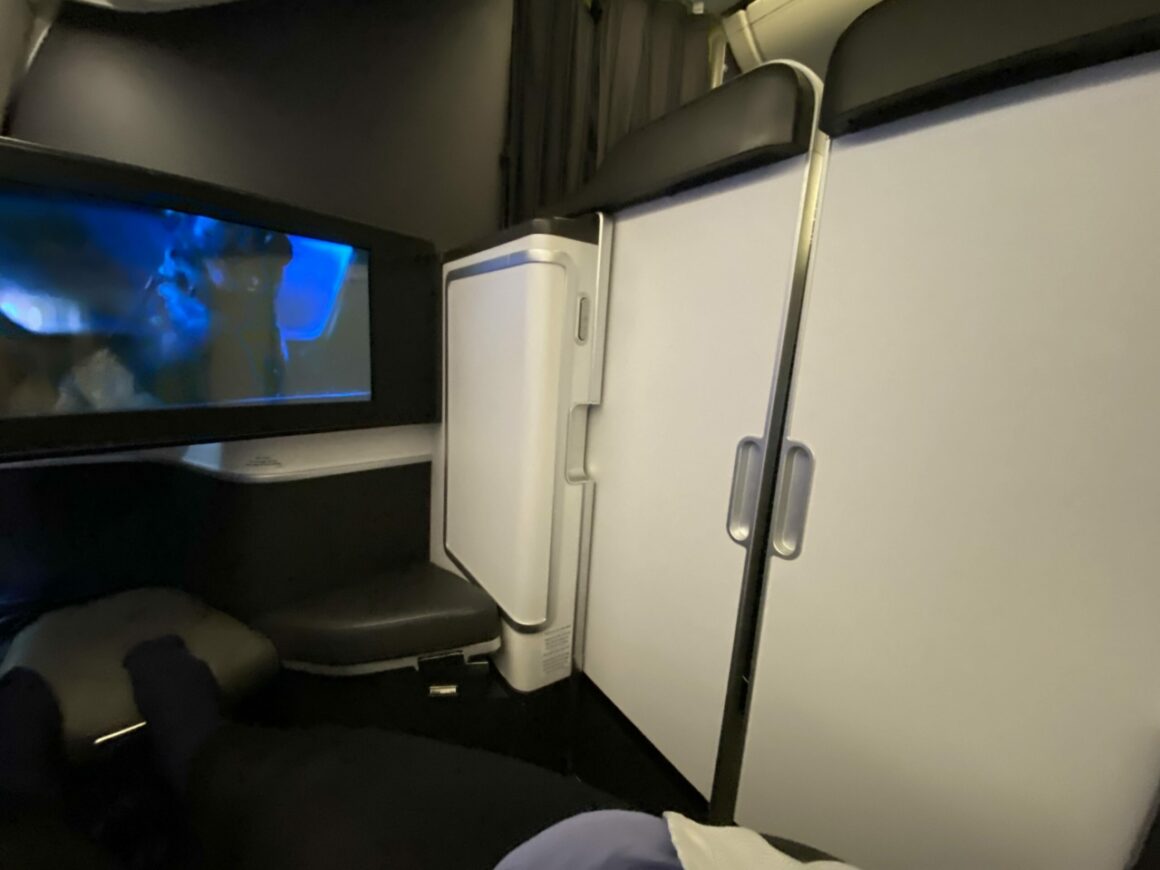 I then got into bed. Unfortunately, when I tried to turn over the seat moved into a "semi-sun lounger position" and would not go back down again. The seat was now halfway between up and down. Now I could have asked the crew to try again, but by this point there was not that much sleeping time left so I decided to see if I could make do with it as it was. If the cabin had not been full, I would have moved to another seat.
If there had been a leg rest it would not be an issue as with the size of bed I could have still just about had room to lie down being slightly high at the head end. However, with the lack of a leg rest it was very uncomfortable. There was also a light stuck on which is underneath the console, and while it looks lovely I don't want it shining in my eyes when I am lying down. I battled for a while to turn it off before I eventually realised that none of the controls were working in the panel!
I could have summoned the cabin crew again, but I suspected that the fact it would not lock in position was not going to be resolved, given the battle they had to get it flat in the first place. Plus, at this point, I was in such a bad mood the chances of sleeping were slim anyway.
To finish the story, when it came to the morning, the crew again struggled to get the seat to lock in the upright position and only after a number of attempts did they eventually manage it. Unfortunately none of the lights would work apart from the one that was stuck on and the very bright overhead light which was annoying.
See below for the response from BA.
Food and drink
As I mentioned before, BA recently reinstated their pre-Covid first service (minus the warm nuts). On the way out, the food had been fantastic. Often outstation food is not quiet as good on long haul, so I was interested to see how the return fared.
Here is the menu:
It started as usual with the canapes but for some reason there were no hot towels on this service. I really enjoyed all the canapes but particular the beef with the truffle ponzu.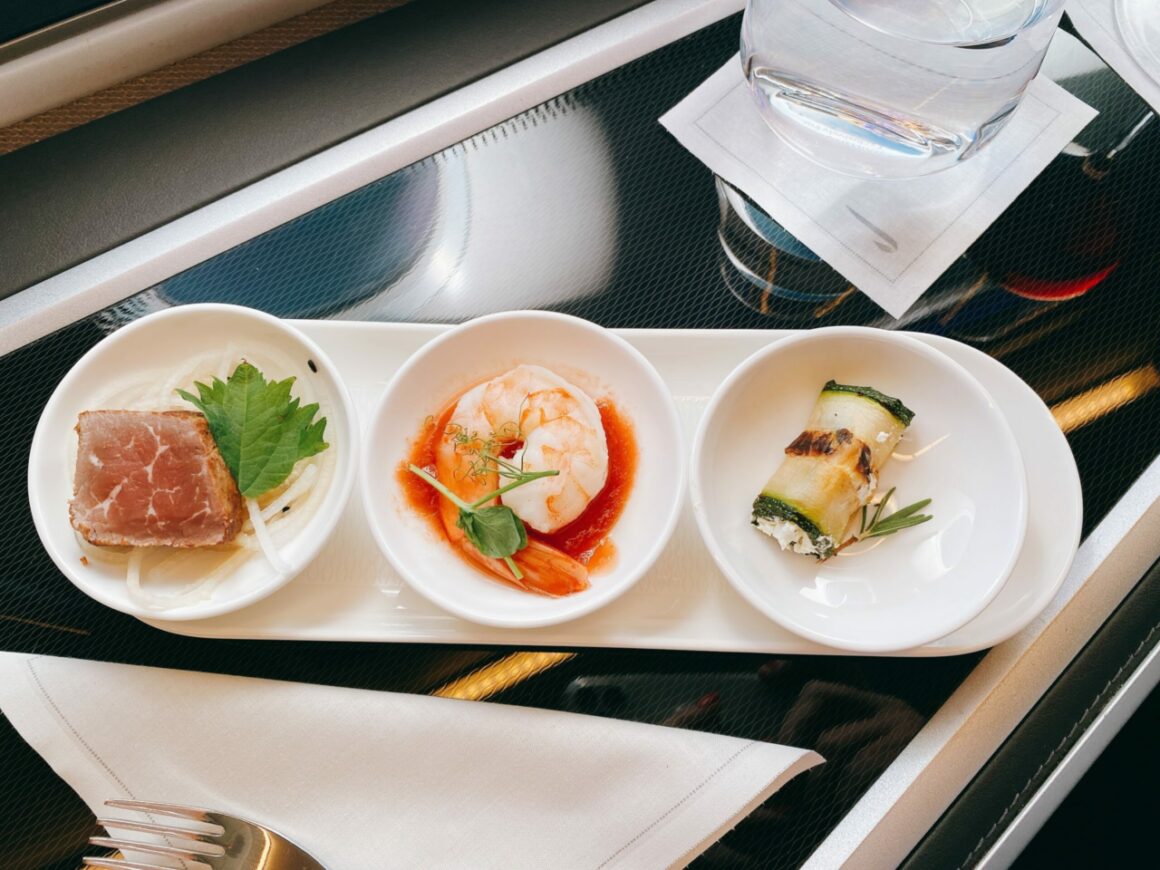 I had already had a glass or two of champagne so I decided to head straight into the red wine and try the Bordeaux with the canapes. Like most of the Bordeaux's I have had on BA I found it a bit underwhelming and flat. It was medium bodied but even at 2011 vintage felt like it was too young and a bit acidic on the finish. It would probably be a lot better with something like a slow cooked beef dish to pair it with, it definitely is a food wine. I then swicthed to the Willamette Valley Pinot Noir which I had had outbound and really enjoyed.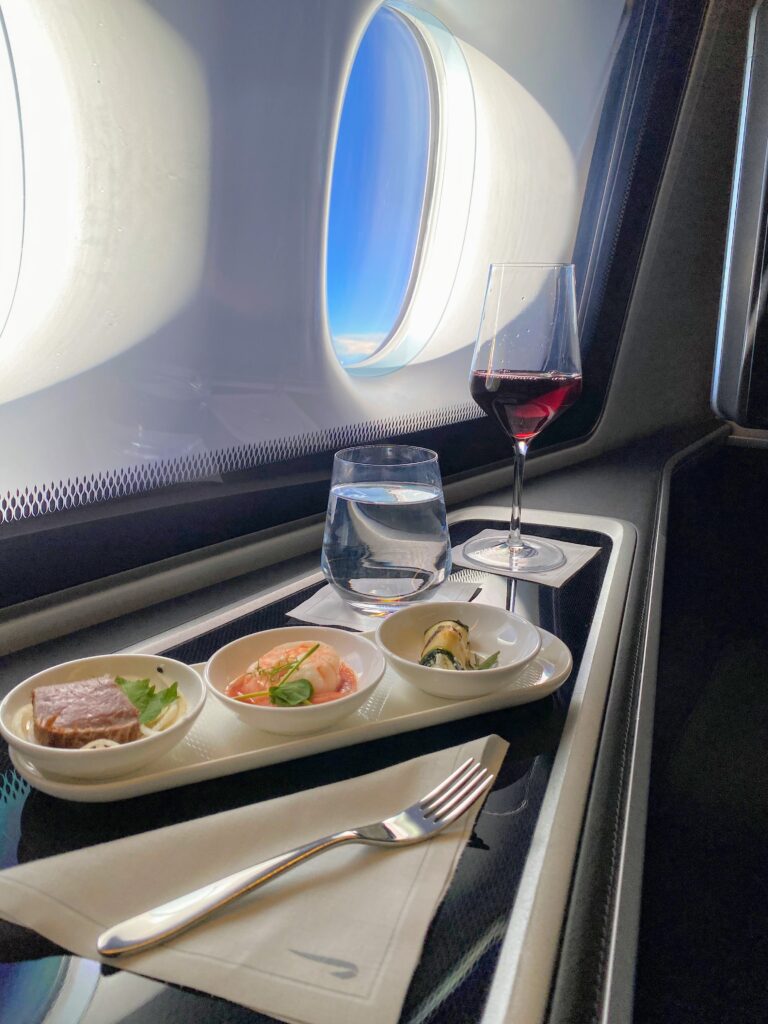 I wasn't overly enamoured with any of the starters, but I decided to go with antipasti as you can't really go wrong with that.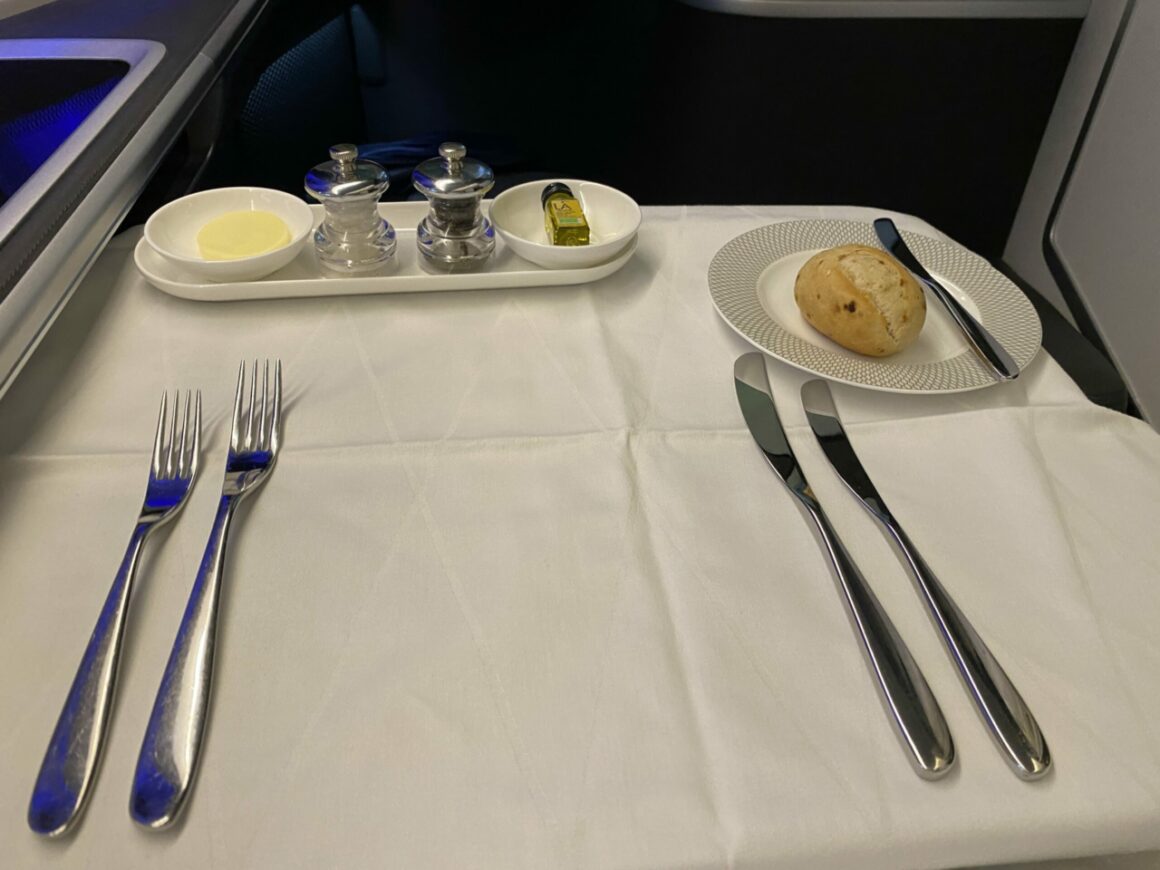 As usual, a good selection of bread was offered with olive oil or butter after my table was nicely laid up.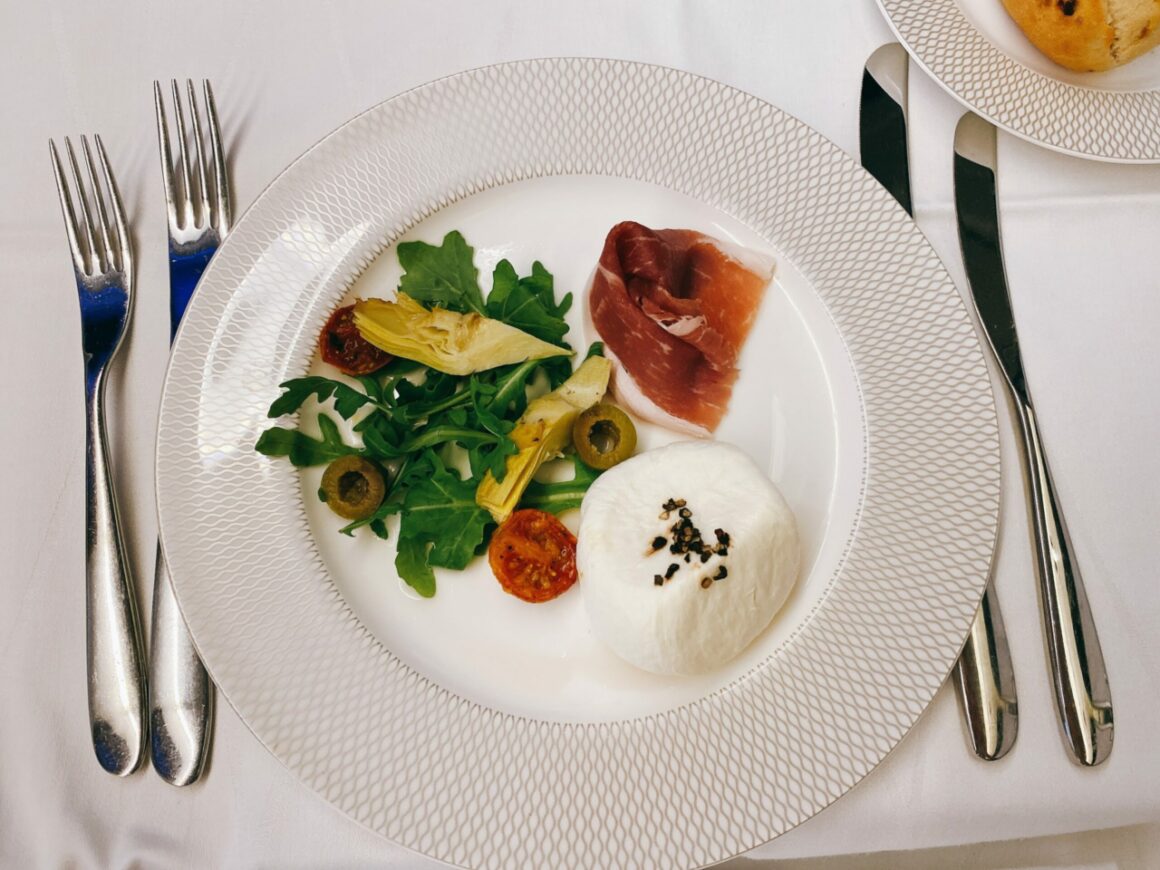 The dish was nicely presented, and the quality of the ingredients good. However, it felt unbalanced with too much cheese and not enough of the other ingredients to complement it properly. I added some of the olive oil which jazzed it up a little and made it less dry.
The main course selection was a lot better, and I struggled to decide between the chicken and the salmon. On dry land, I would have had the beef, but I generally avoid it unless it is slow-cooked for obvious reasons. You can ask for the crew to cook the steak a bit less (instructions on what to say on Flyertalk) but I'd rather have a really good steak or not at all.
The chicken intrigued me as it sounded a bit like the whole pineapple on pizza debate, but I decided to see how it was. When taking my order I was asked if I wanted any particular side or just a selection. Often now, they just bring a selection, so it was nice to be asked.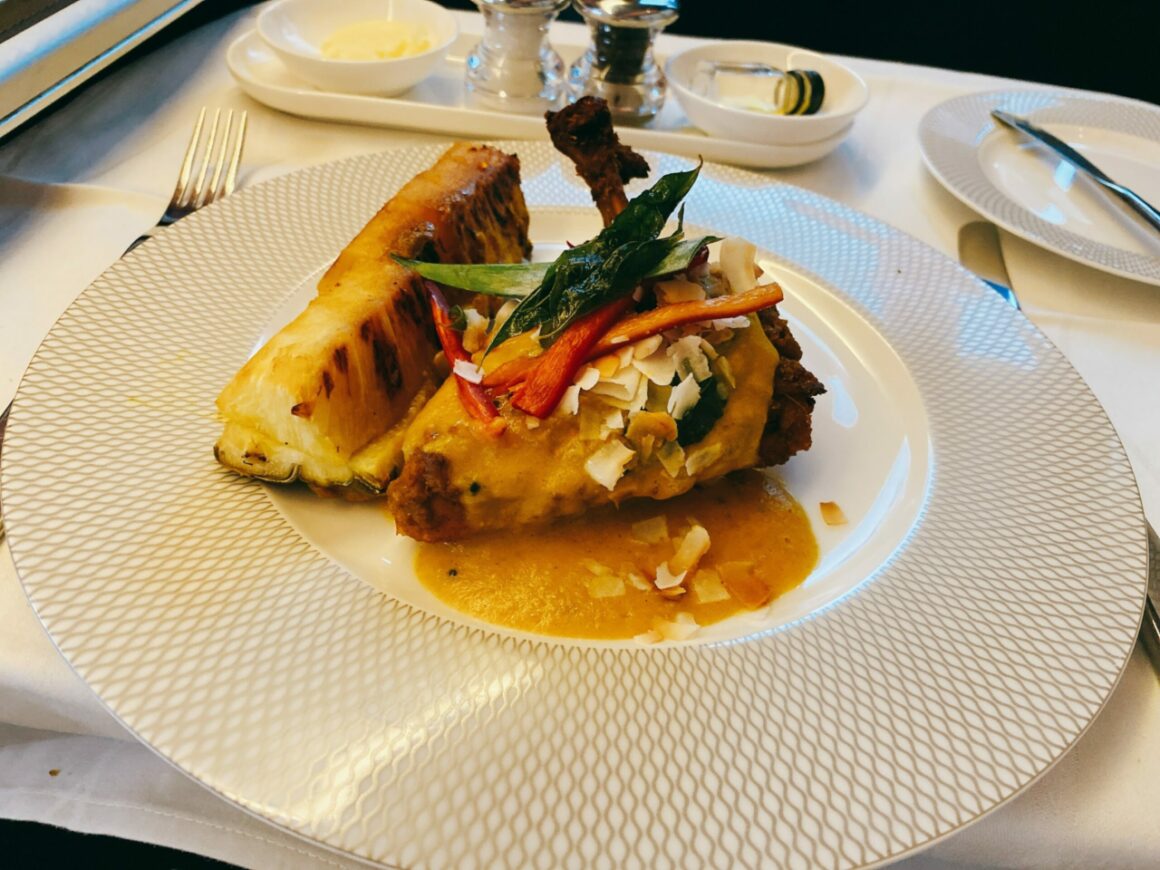 Well, I can say it was actually a rather fabulous taste sensation. The roasted pineapple was really delicious with a proper roasted caramelised taste that offset the curry sauce perfectly. Again it was presented really well, which is not easy to do with curry dishes. The curry sauce had a real kick to it, but I would have liked more for the size of the chicken. The chicken was very slightly overdone, but that's kind of par for the course and better than underdone.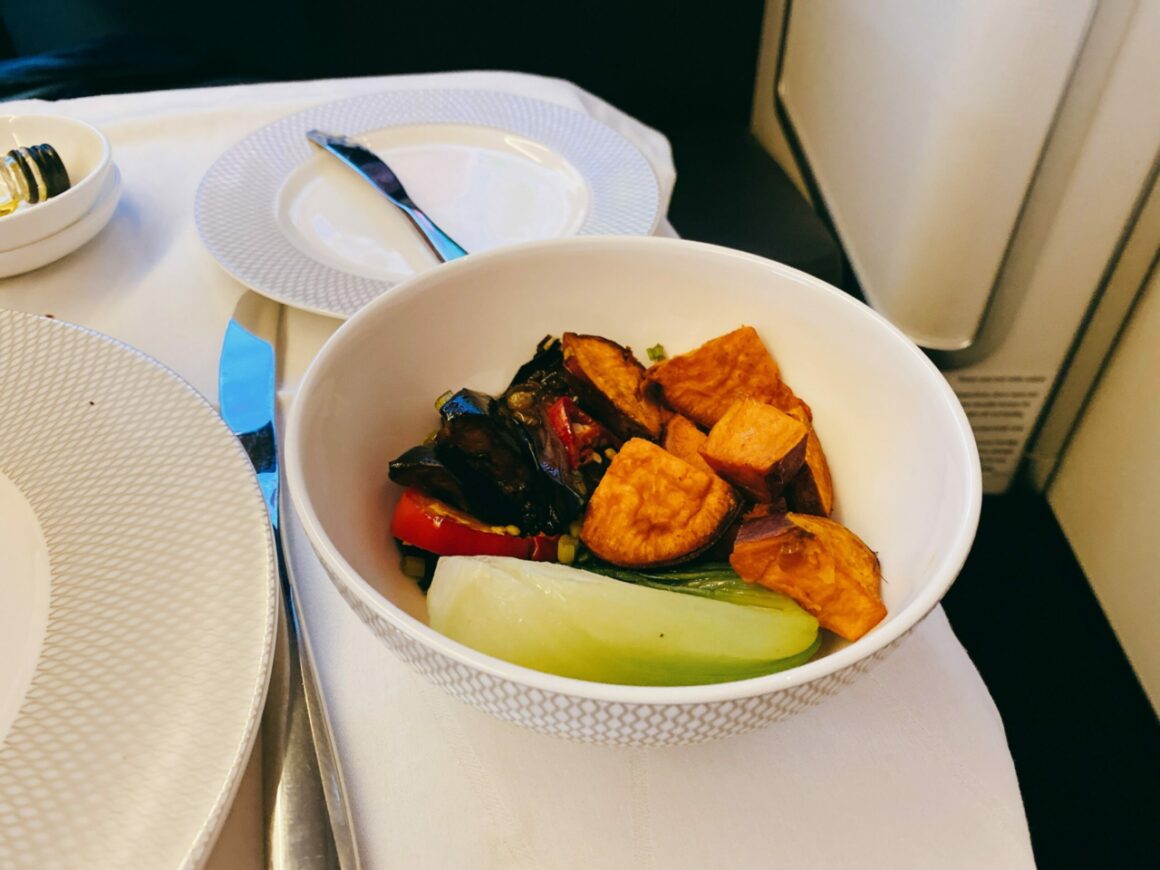 I was also really impressed with the sides, which can often be rather dull. The pak choi was a little watery, but the miso aubergine was absolutely sublime, and I could have eaten a whole bowl just of that! I also loved the sweet potato, and it was good to see BA using their imagination.
I'm not a fan of chocolate desserts, so it had to be the warm dessert which was a crepe souffle. Sadly I can't say anything good about the presentation on this course as it appeared looking like someone had sat on it! Fortunately, again it was very tasty, with the vanilla sauce adding moistness and the sharp berries stopping it from being too sweet. It was a bit like a light version of a bread and butter pudding.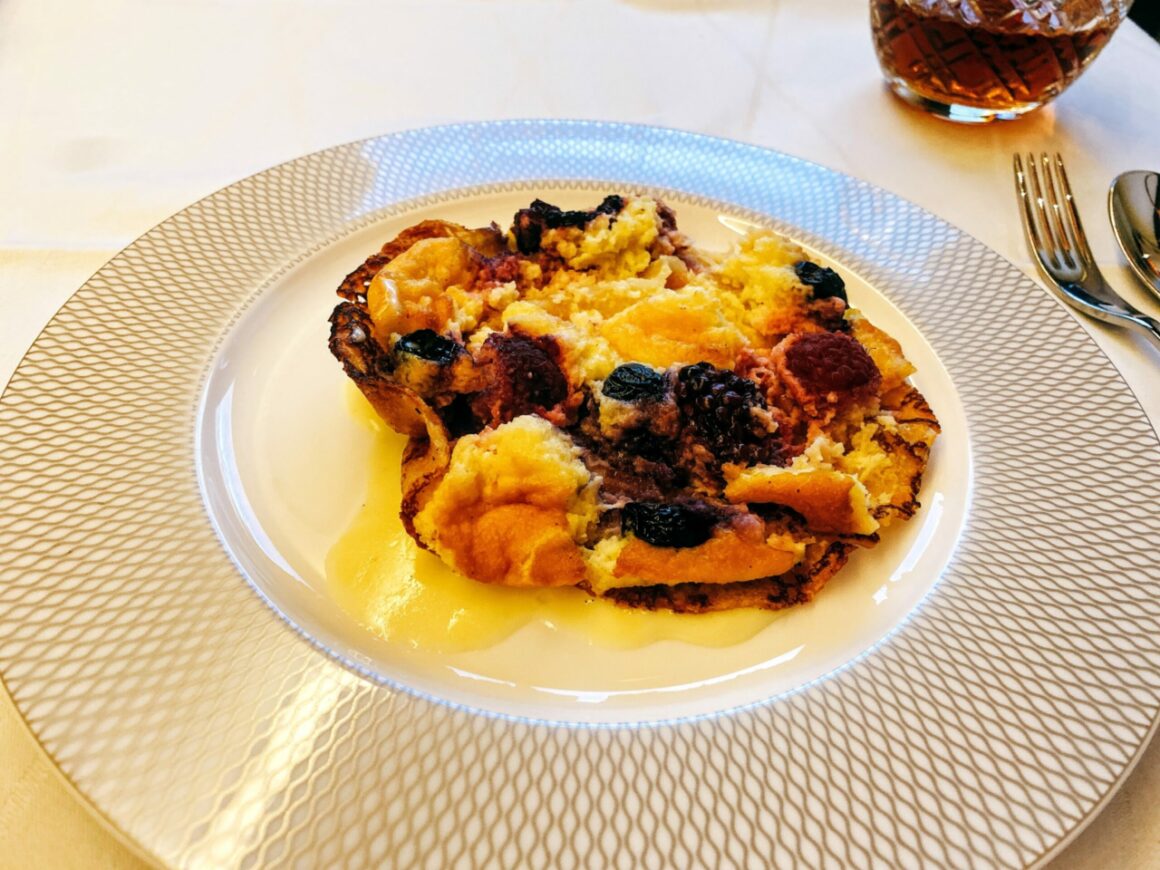 I finished with a brandy since it's back on board and was brought another enormous measure.
It was good to see an expanded range of snacks on this flight (see menu above) as the Dallas flight did not have much to offer in that respect, being that bit shorter. On a later flight, I probably would have eaten in the lounge and just had something like soup on board so I could sleep. So it is good if you wake up hungry and there is something to eat.
Breakfast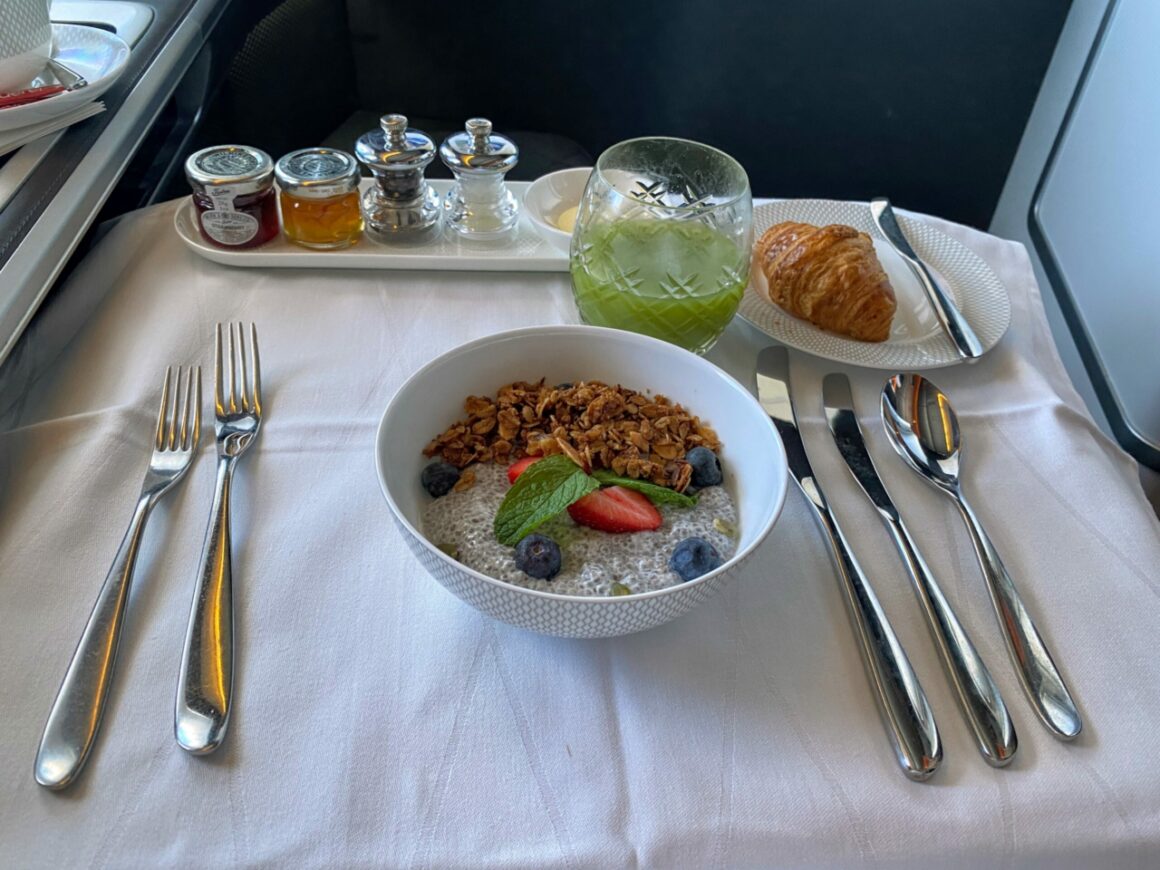 Around one hour and 20 minutes before landing, I was offered breakfast. I decided to try the chia seed as I love coconut. It was rather firm for my liking, but it had a good flavour, and I liked the crunch of the muesli on top. I also enjoyed the green juice, which tasted rather like the lemon mint drink on Qatar. A basket of pastries was offered, so I tried a croissant. This was nicely warm and flaky, unlike some airline's flabby offerings!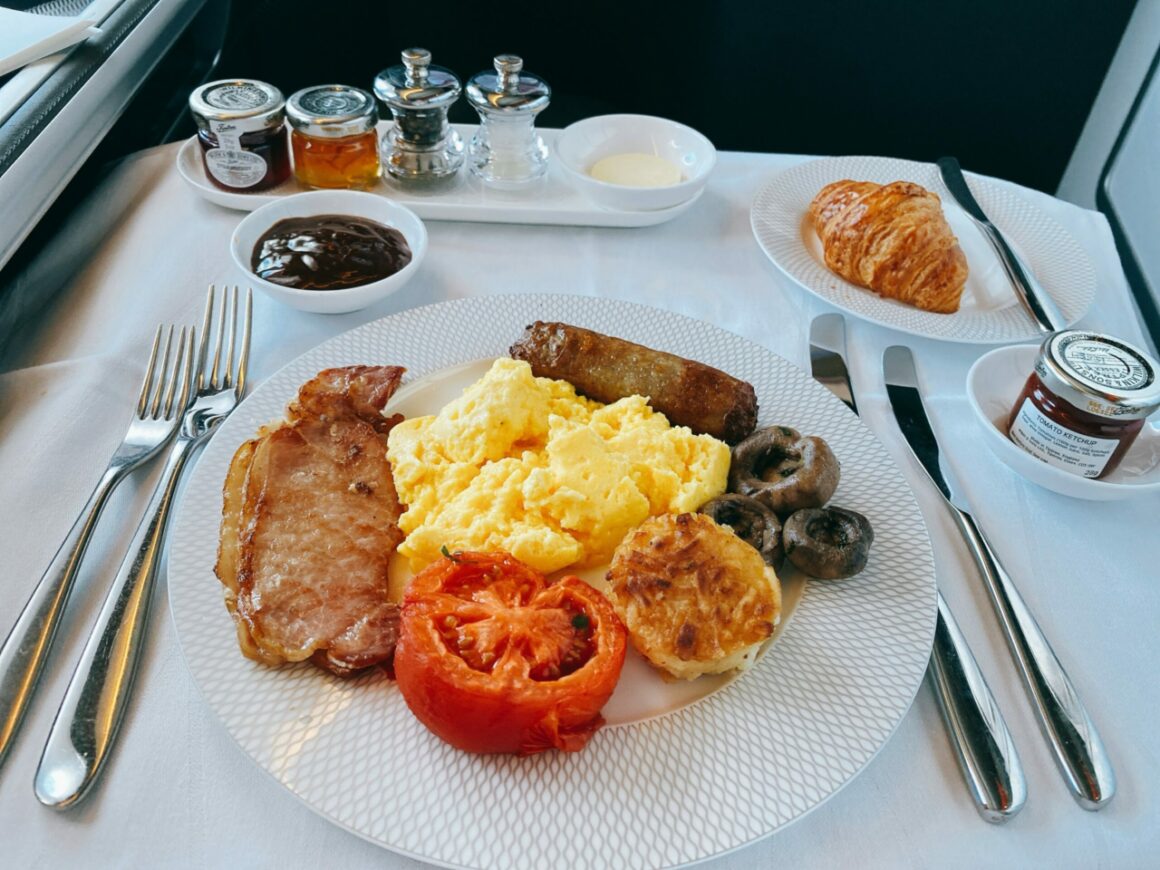 I thought I would try the full English as a good test of the onboard cooking. Unless it's changed, the scrambled eggs are made fresh on board in the ovens. It would be good if they could offer a choice of items like they do on Virgin Upper Class, but overall it was impressive. The eggs were soft and creamy, and the bacon and sausage tasted of good quality. I was offered a choice of sauces and went for both ketchup and brown sauce for the full experience.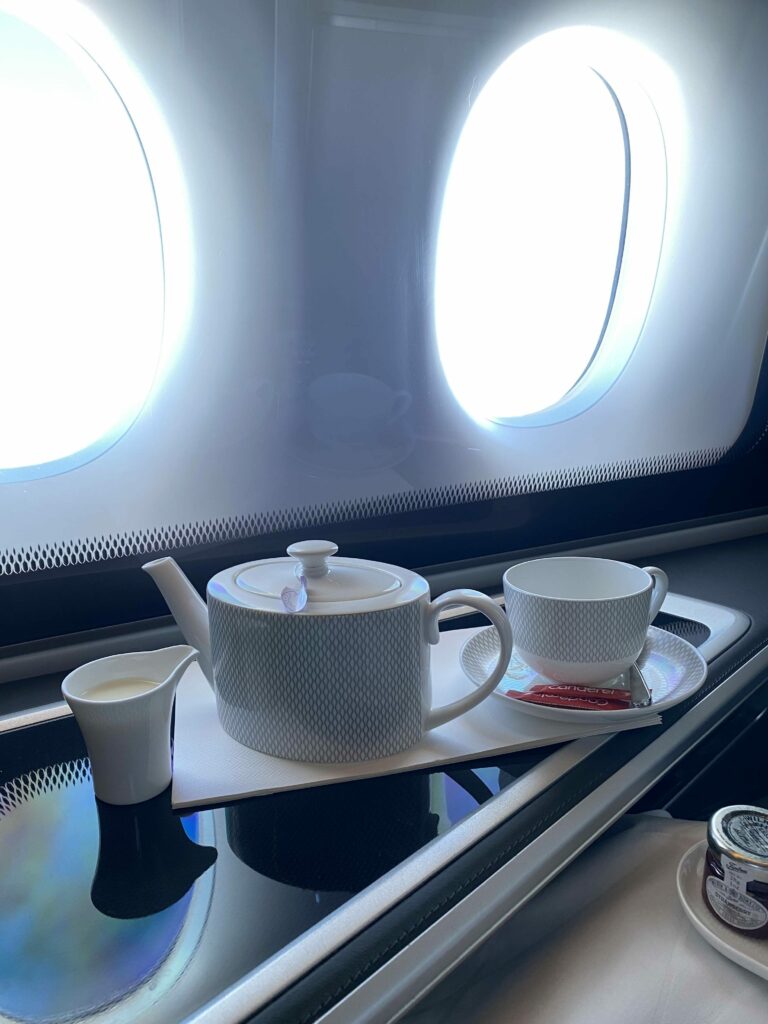 The only disappointment was the hashbrown which tasted very dry. I also enjoyed a lovely pot of earl grey tea. Is there anything better than a proper cup of tea after returning from the US where it is often a trial to get a decent brew?
Entertainment, charging and Wifi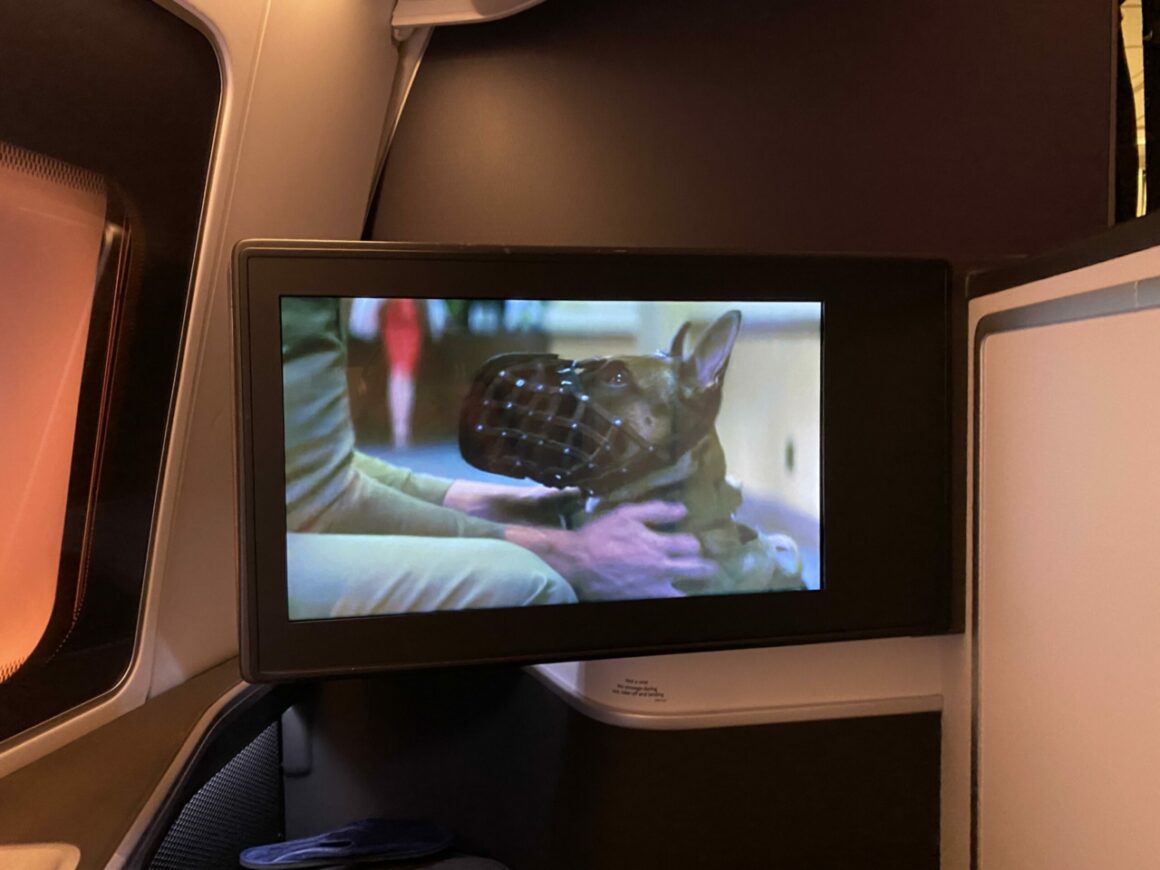 I was impressed with the large high-definition screen in the suite, which was much better than the A380. The films etc were the same as the way out, however, there was such a wide choice of recent films that there was still one I wanted to watch. If you are a dog lover, I really recommend watching Dog which was so lovely I may have had something in my eye and had to stop the film for a few moments to recover!
I also watched an episode of Good Girls, which I enjoyed about a bunch of everyday women who decide to commit a robbery. It's available on Netflix if you want to check it out.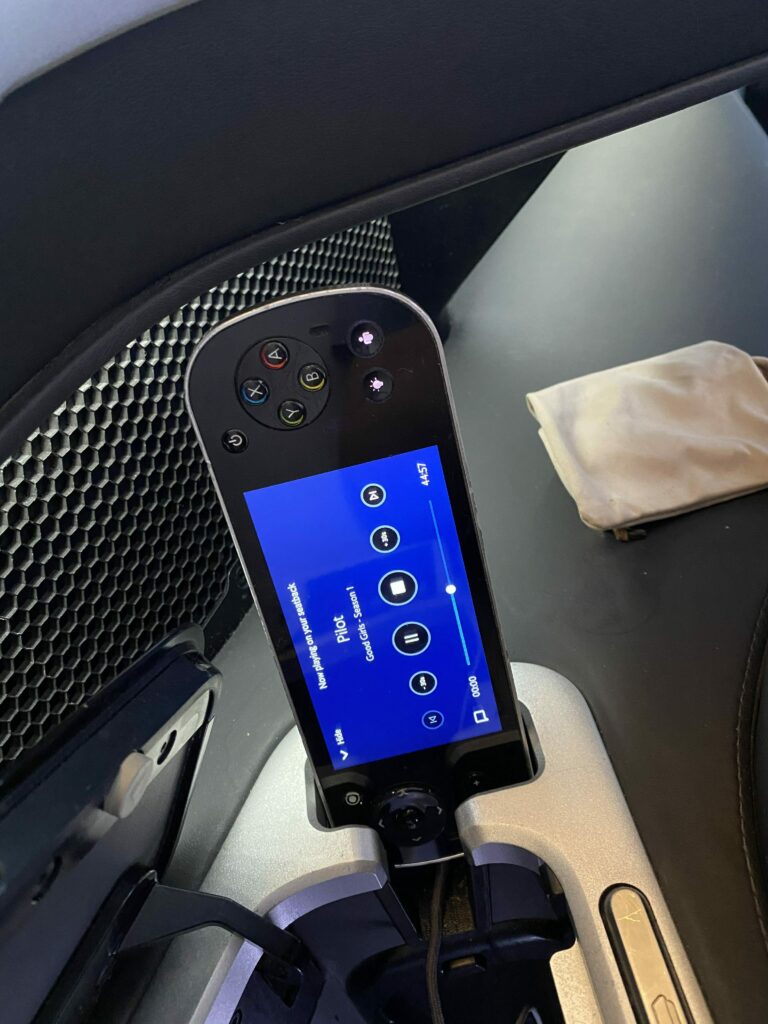 I wasn't a fan of the remote, which while being simple to use and clear, lagged substantially. I often find this the case with touchscreen remotes on aircraft. Noise-cancelling headphones by Meridian are also provided.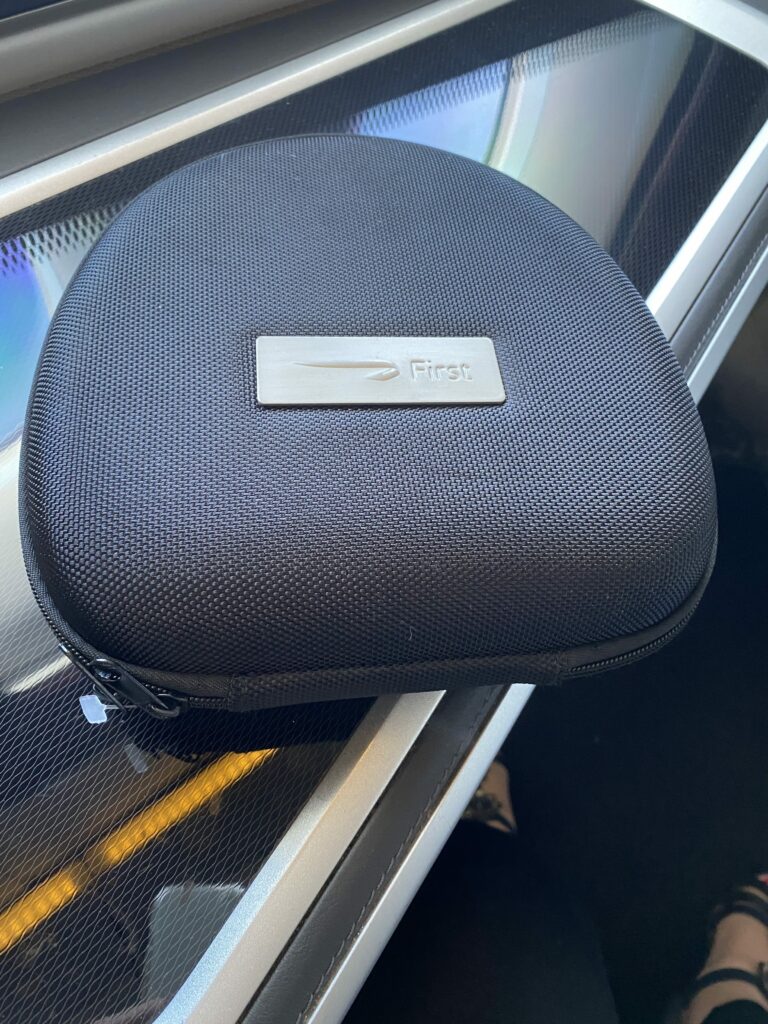 You get free wifi in First but it does not say which one you are getting since BA does a slow and fast version. I'd bet good money on it being the slow version, as it was virtually unusable except for messaging and text social media. If they don't want to offer the faster version, it would be good if you got a discount on the fast version in first.
There were plenty of charging facilities with 2 USB points and a multi-country socket being right at hand.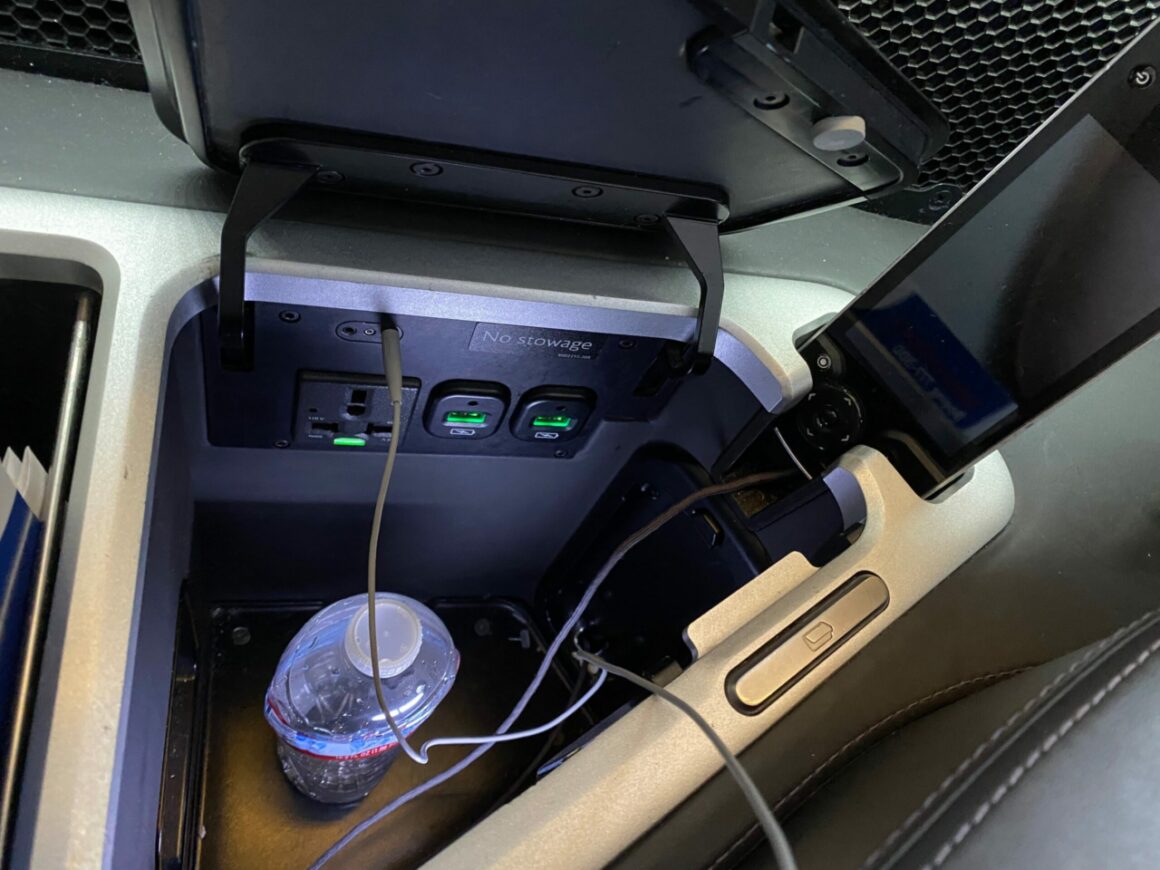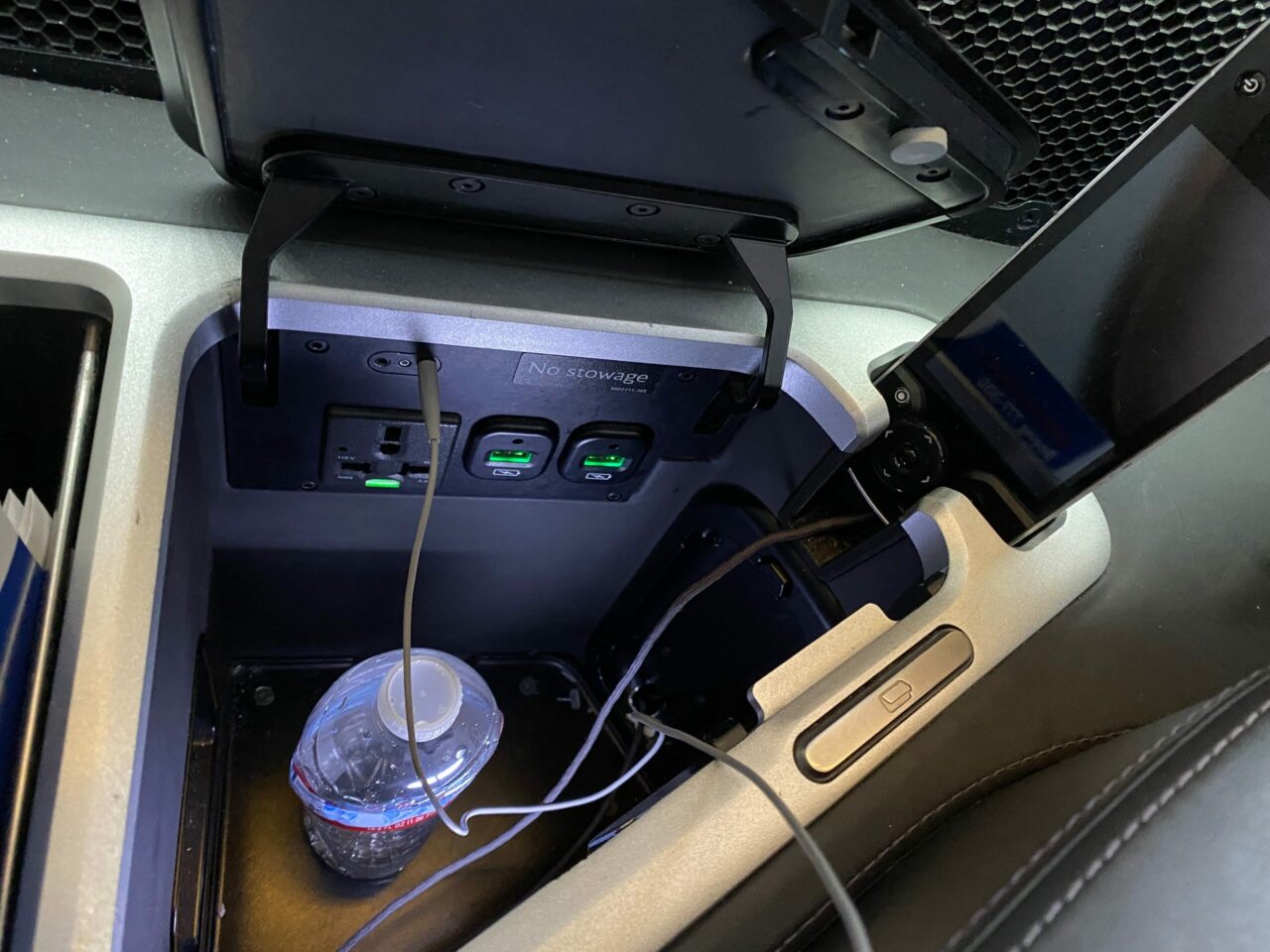 Compensation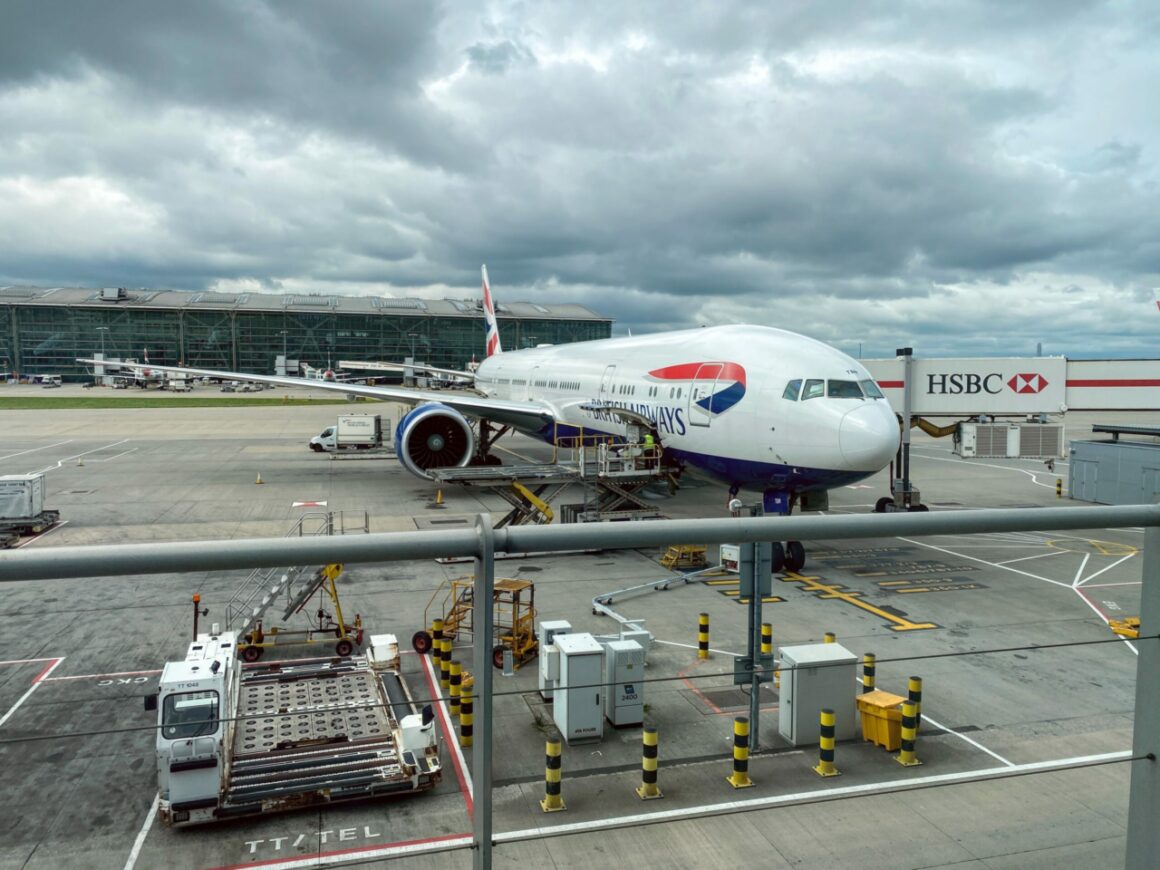 BA's compensation policy varies wildly depending on the climate at the time. At the moment, they are going through a period of giving decent amount of Avios, but it is very variable. I have heard of people being given up to 200,000 Avios for having a broken seat and broken IFE, with 100-140k Avios seeming to be the usual compensation for a broken seat in First.
The IFM (In flight Manager) had obviously apologised for the issue and assured me she would file a claim for me on the ground. I received an email later that day to say the claim had been submitted. I then got a reply 4 days later offering 85k Avios which is the price of a oneway Avios seat from Los Angeles. While I think this is very good compensation, most people said that this was below the current going rate, so I decided to point out that my lights also were not working since there was no mention of that in the correspondence. This got me another 15k as an exception.
So although British Airways new first class suite made an uncomfortable flight, I think the compensation was adequate, and it was great that they dealt with it all so quickly. This appears to be normal for first class complaints, as far as I can tell.
Conclusion
The service and food on the flight was pretty good with food, on the whole, being presented well and tasting great. I loved the look of the new cabin of the British Airways new first class suite as it was very classy and if it had all been working, a comfortable way to travel. I still would have liked BA to include a leg rest but hopefully, that may come in the future. The whole experience felt pretty much like pre-pandemic which is great.
However, given that the seats are an ongoing issue, BA should make it a priority to work out what the issue causing it is, and fix it. They are not short of aircraft so there is no reason why they can't fix these seats properly. There will always be things that break but this seems to be happening far more regularly than you would expect. Personally, I'd much rather not have the Avios even if it was 200k and get a decent night's sleep; since for me, that is a big part of why I pay for premium cabins.
If you'd like to see a video of the suite you can take a look at it here.