A review about BA First Class from Los Angeles Part1 -The Qantas First Class Lounge Los Angeles. This was the return from my trip to Hawaii which netted me 1160 tier points by adding 5 nights accommodation to make it a BA Holiday. You can read my review of my first class flight outbound here. The AA flight reviews to and from Hawaii will be coming soon.
I flew outbound via Dallas, as you get a flatbed to Hawaii from there. Coming back I flew from Los Angeles. The review of the actual flight will be published on Sunday so make sure you check back then to find out why this flight was something of a disaster….
Check -in at Los Angeles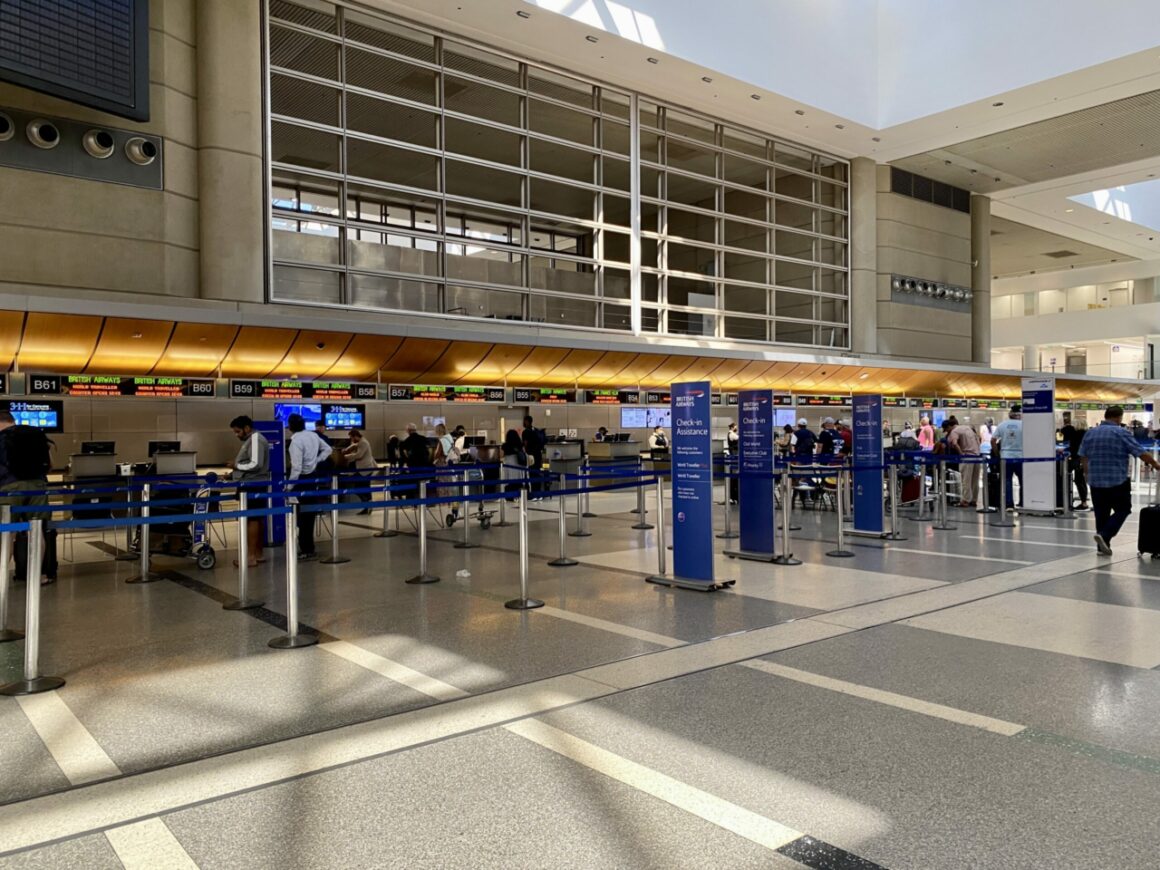 The BA check-in is somewhat mundane compared to the likes of the First Class areas in New York and London or even some of the American Airlines Flagship check-in areas.
I arrived around 3 hours prior to take off, and although there was a first counter it was closed. It wasn't an issue as there was no queue for business class, and an agent was soon free to help. She asked if I knew the way to the lounge, which I asked her to remind me of as it has been over three years since I last went.
I used TSA Pre-check security as it comes with my Global Entry. This means you don't have to take anything out of your bag or take your shoes or coat off. There was no queue at all, unlike when I left from Dallas airport on a domestic flight.
Oneworld lounges at Los Angeles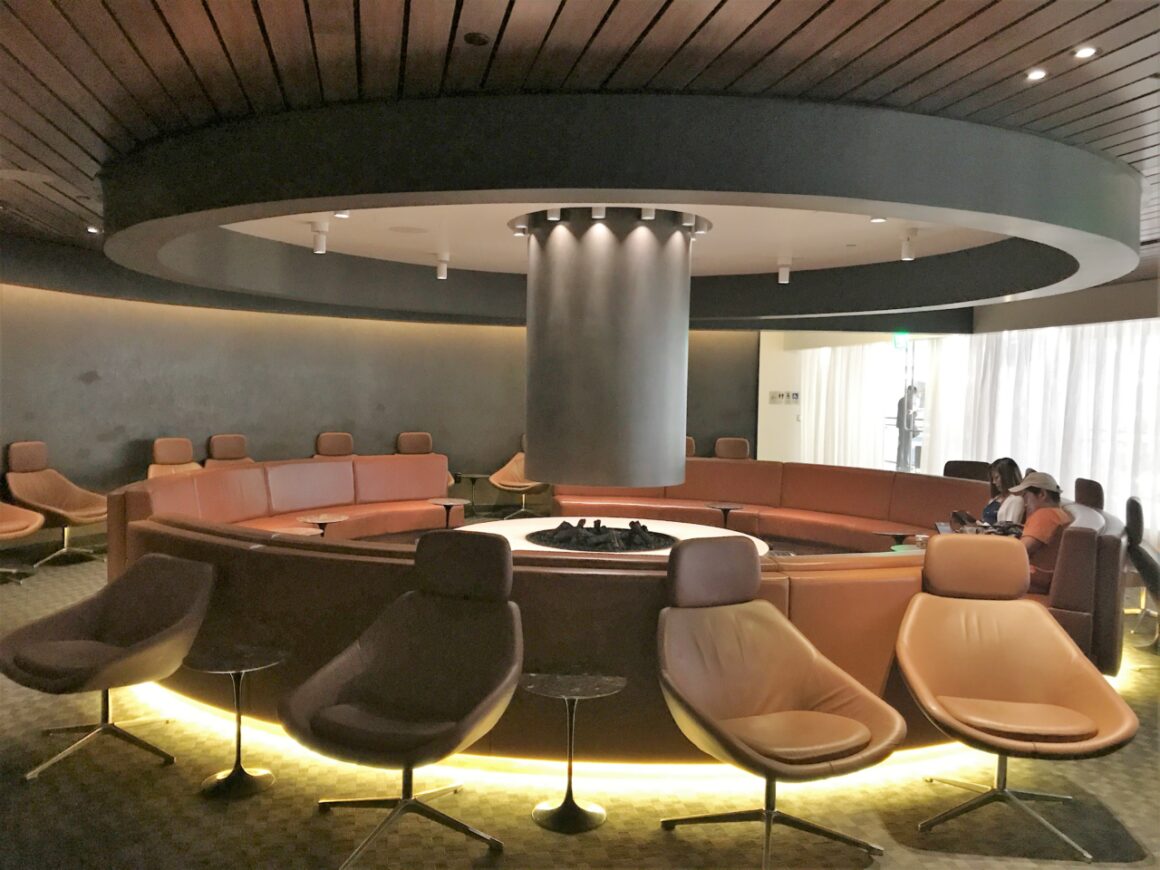 BA fly from the International Terminal (TB) at Los Angeles, where there are two oneworld lounges. A generic oneworld lounge for business class which is decent and the Qantas first lounge. The terminal is also connected to Terminal 4 airside which is where American Airlines fly from. In terminal 4 which is around 5-10 minutes walk between lounges, there is an Admirals Club and a Flagship Lounge near gate 40).
The Flagship lounge is decent, so if you had a long layover in business class it may be worth trying. Otherwise, I don't think it is worth the trek versus Qantas's offer.
Location
The Qantas First Class lounge is in the corner, one level above the main concourse. You can go up the escalator in the main atrium toward Lamill coffee. Then turn right at the top of the escalator and follow the hallway along to the lounge. Otherwise, turn left after security and then take the lift to Level 5 and then turn right.
Who can access the lounge?
It's accessible as BA Gold/Oneworld Emerald flying oneworld or if flying British Airways or oneworld first class. Note: The oneworld lounge finder says that it is temporarily closed, but unless that's happened in the last week, it's incorrect.
What facilities does it have?
The Qantas First Class lounge has seating areas, a restaurant and showers. There is also a printer and shredder.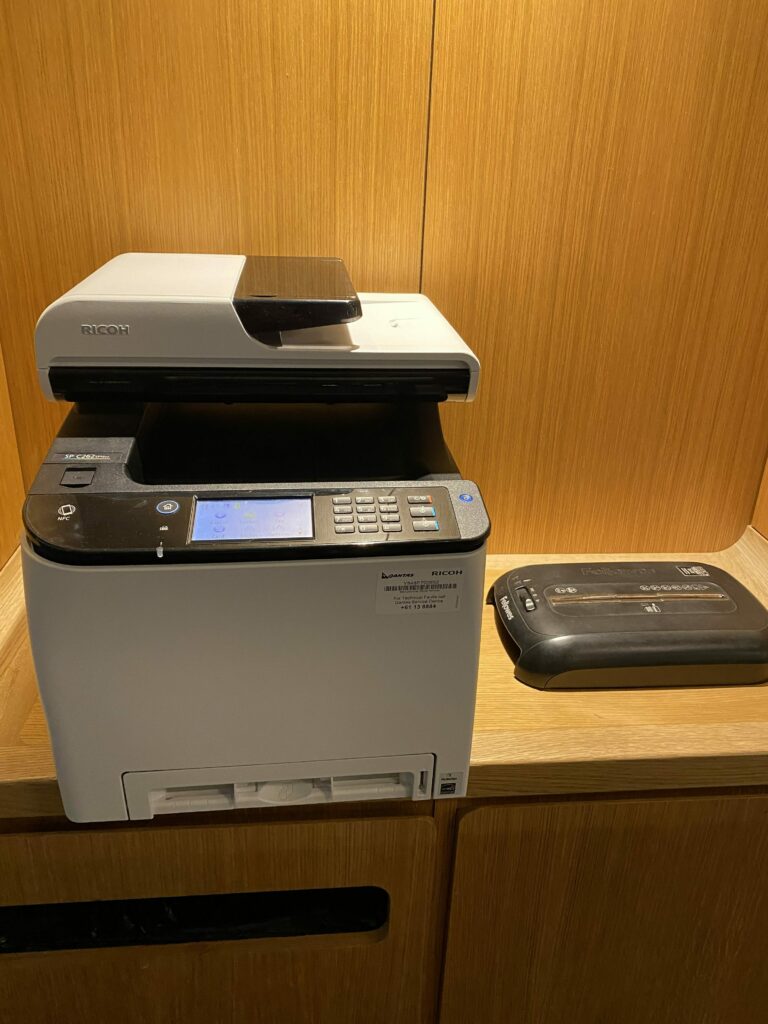 The bathrooms and showers feature LaGaia UNEDITED products featured exclusively for Qantas First Lounge bathrooms. Strangely in the toilet I visited, there was only a handwash and no hand cream, although usually, it would have both. However, it smelt absolutely divine with lemon myrtle and germanium.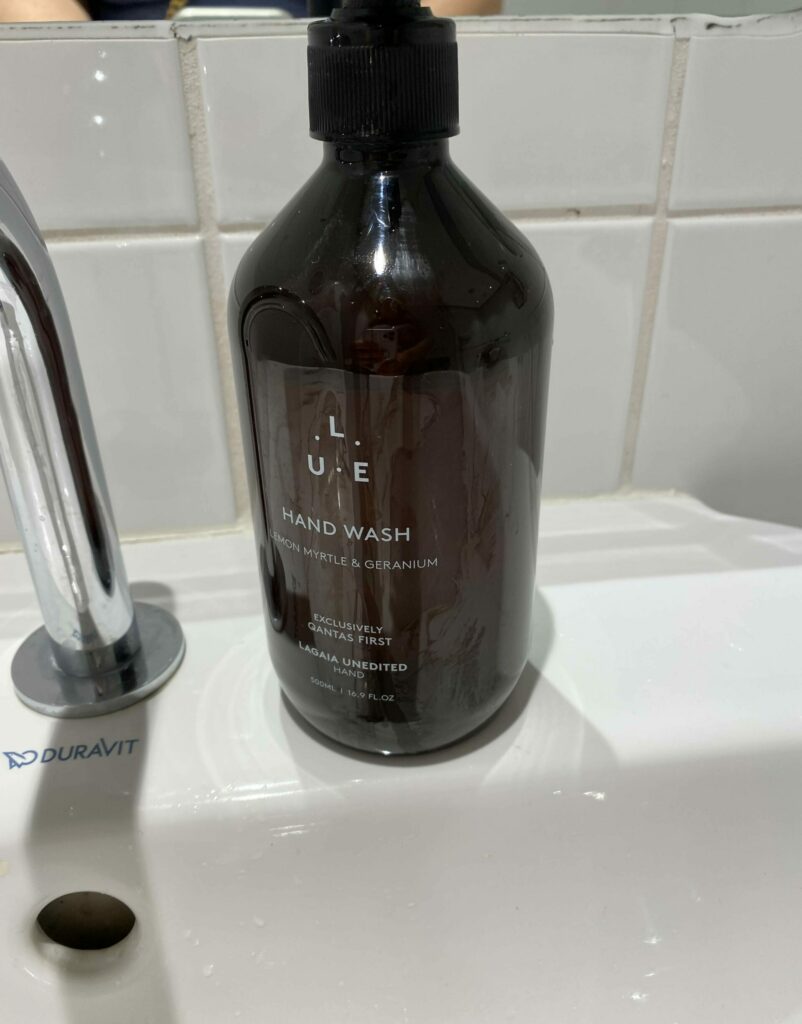 In the showers, you get towels, bath mat, shampoo, conditioner and body wash and a hair dryer. Some other items are available on request.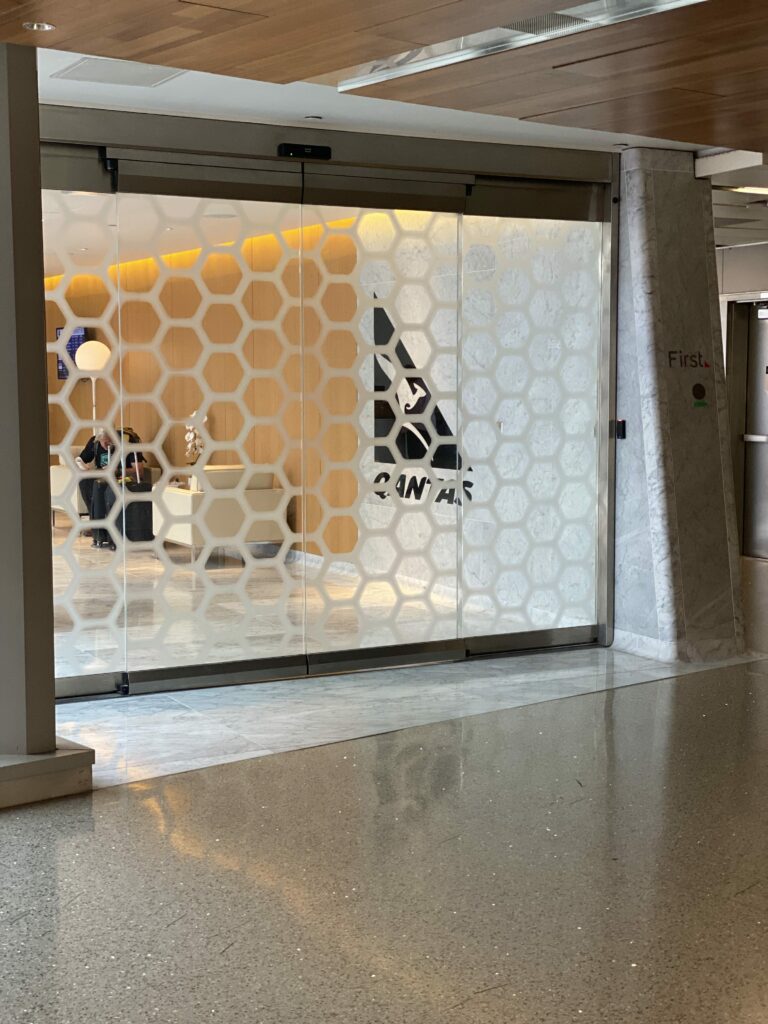 As you walk in there is a large seating area divided up into zones. Along the floor-to-ceiling windows are a row of quite private chairs that have footstools if you feel like lounging. Sadly the lounge doesn't really have views; this view is an internal one of the airport below and the lounge opposite.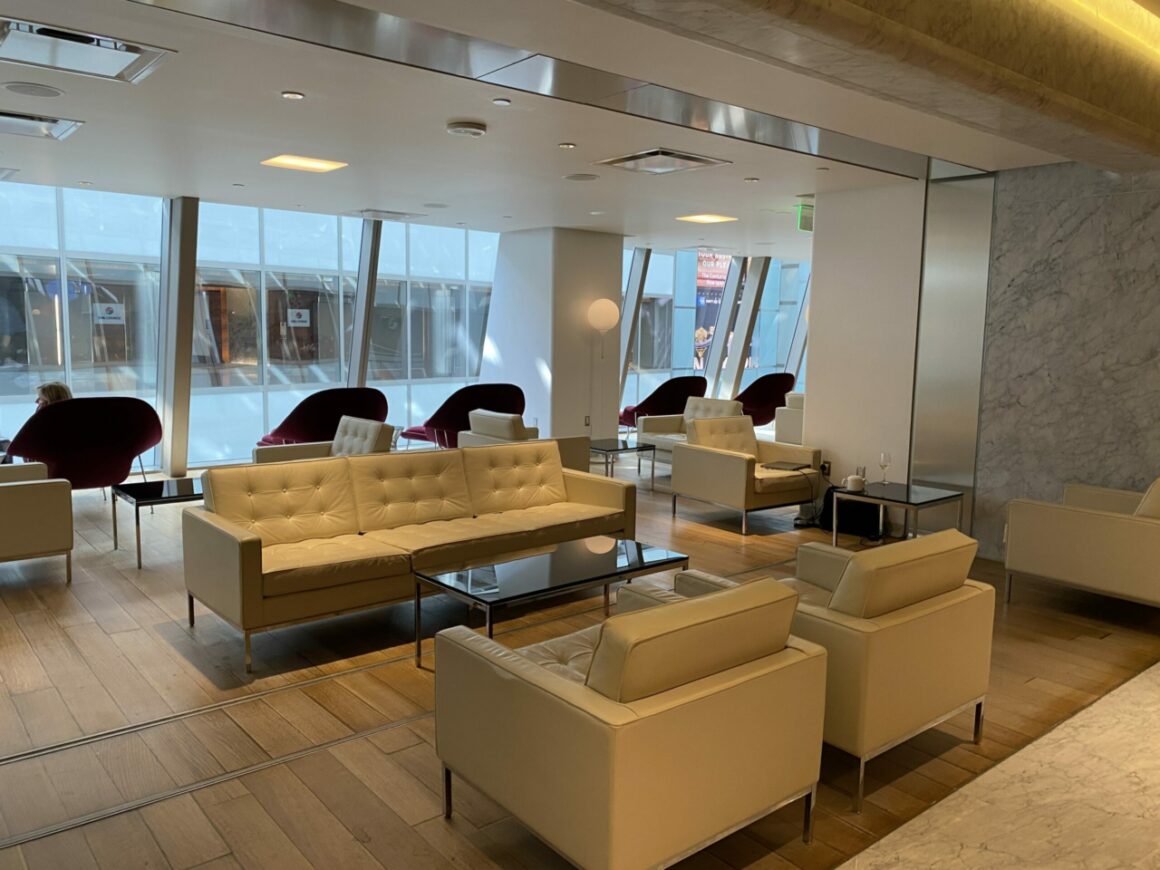 The rest of the lounge consists of comfortable-type individual armchairs with a few sofas and the restaurant/bar.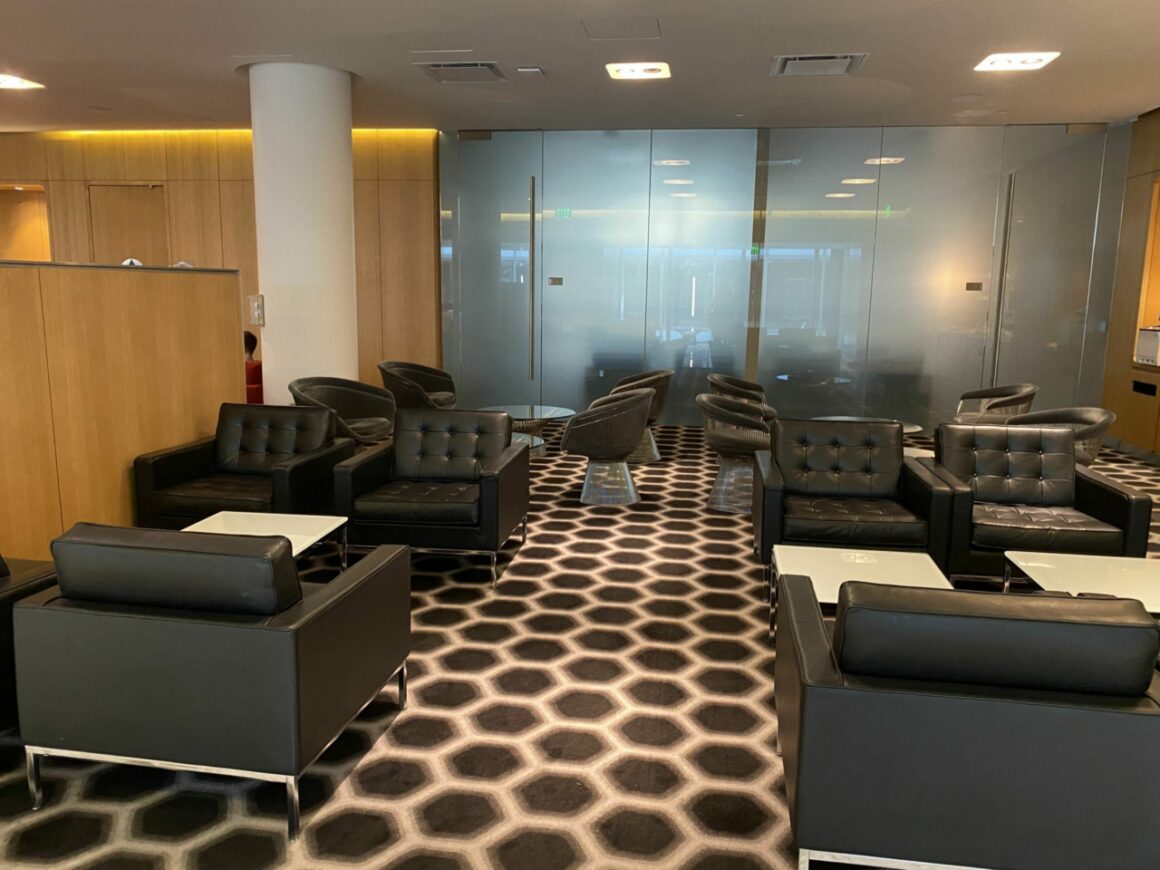 There are no work areas sadly, so you have to sit in the restaurant to work if you want a proper table. However, the wi-fi was a decent speed.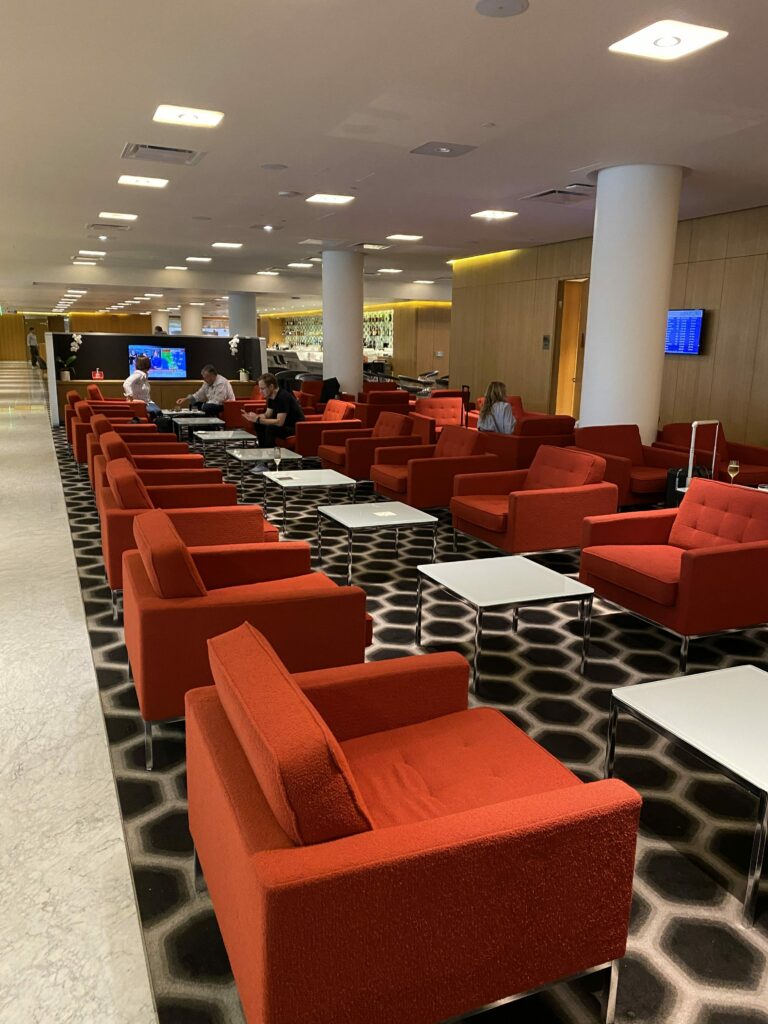 Just don't stare at the carpet too long as it will make your eyes go funny!
Food and drink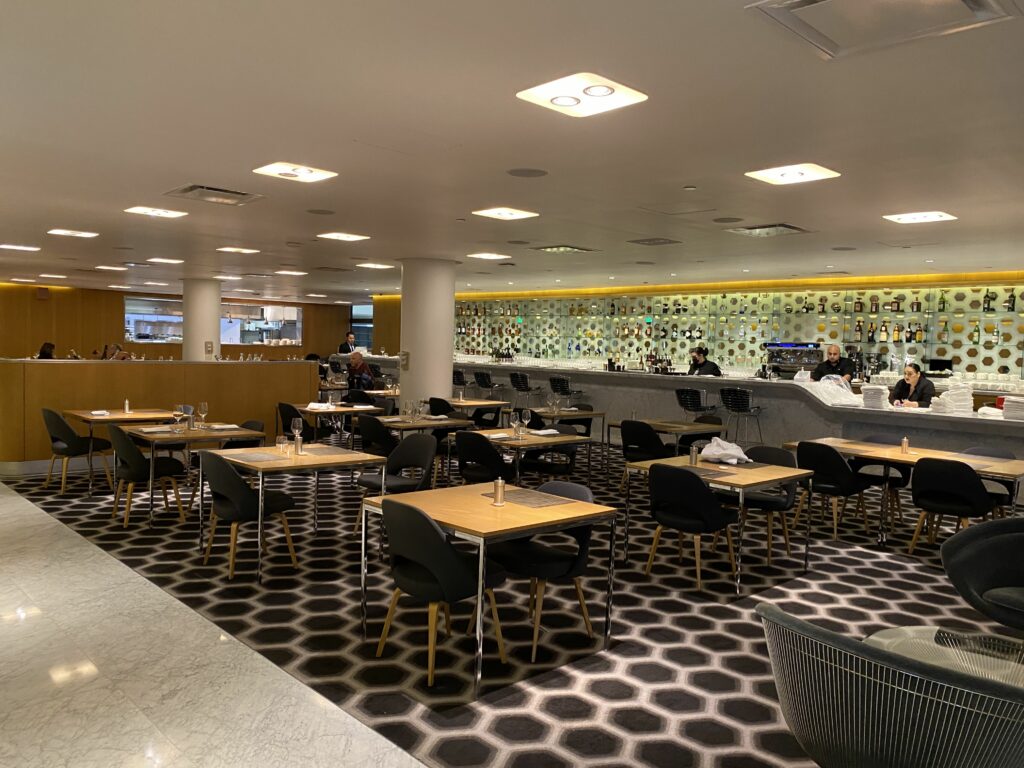 I'll admit I got very little work done as the bar and lounge were far too tempting. From a food and drink point of view, the Qantas lounge is one of the best oneworld lounges I have visited (I'm sure the Qantas lounges in Australia are also on a par).
If you don't want to walk up to the bar, there are large ice buckets in several areas of the lounge with all the white wine and champagne with the red wines to the side. There is also water in the ice bucket.
There is no buffet, and the whole restaurant is table service. I found the staff very friendly and attentive.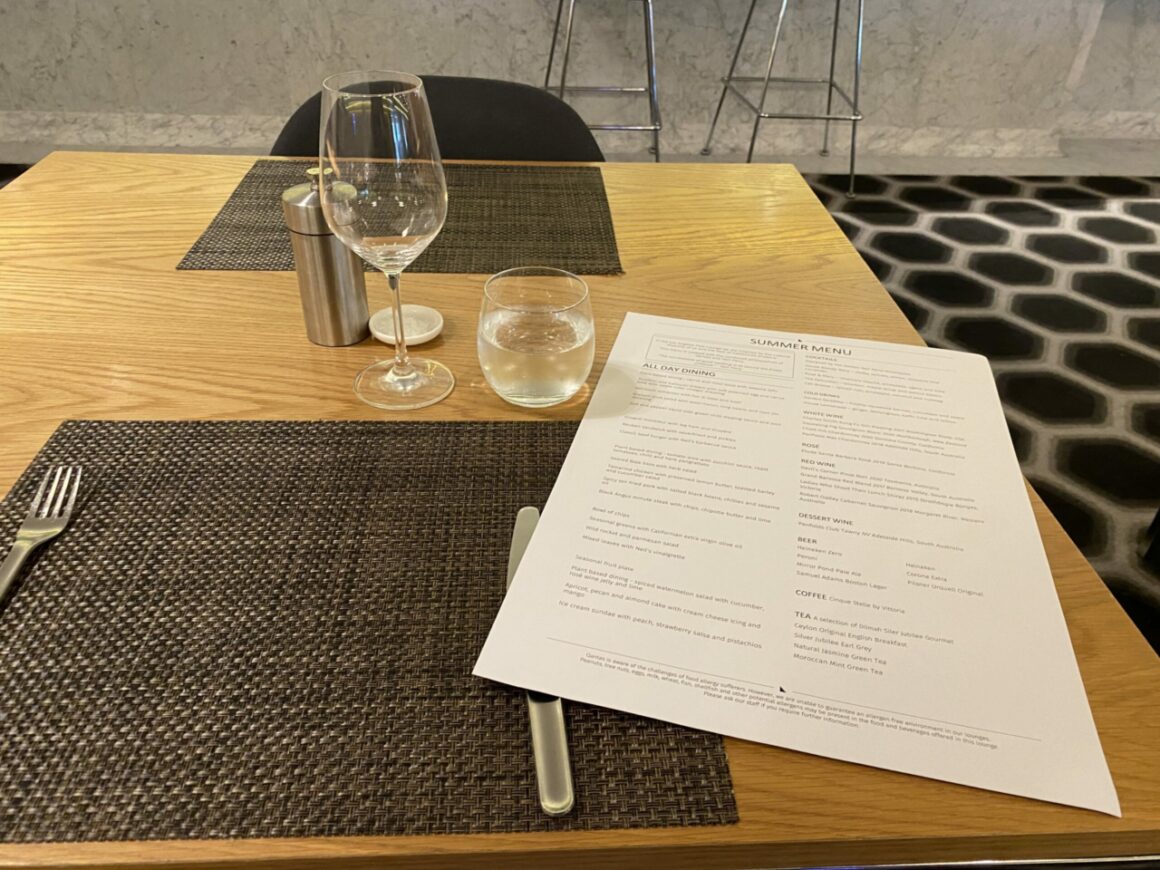 I was given the menu and offered still or sparkling water as soon as I sat down.
Here is the menu and drinks list.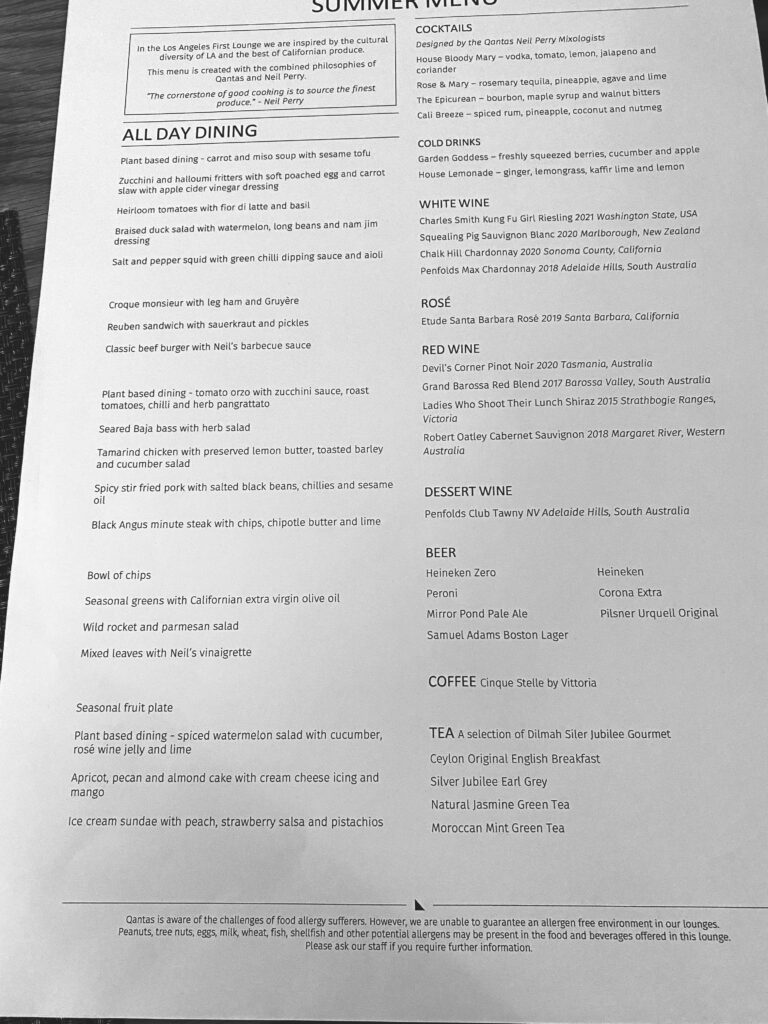 The champagnes were not listed unlike before and were a little disappointing as the Perrier Jouet had gone. The choices were:
Mumm
Laurent Perrier
Nicholas Feuilatte Brut
Nicholas Feuilatte Rosé
I spent quite a while deciding what to have as there were so many great choices of food and drink! If only BA could do something close to this standard in the Concorde Room. However, they do have full cooking facilities here, which they don't have at Heathrow.
To drink I went with the Laurent Perrier, which I am sure we are all familiar with and one of my favourite "everyday drinking champagnes" as some of my friends would call it. I also tried a sample of the Etude Rose, which was the opposite of a Provence Rose, a beautiful rose gold colour with punchy strawberry flavours. The Chalk Hill chardonnay was enjoyable but a little more subdued than I would expect from a Sonoma chardonnay. The cocktails also looked good but I didn't want to stagger onto the plane!
I finally went with a slightly strange combination of the salt and pepper quid which is their signature dish and the Reuben sandwich since you don't usually see that in the UK. If I hadn't had to eat on the plane form the review I probably would have gone for something less "snacky".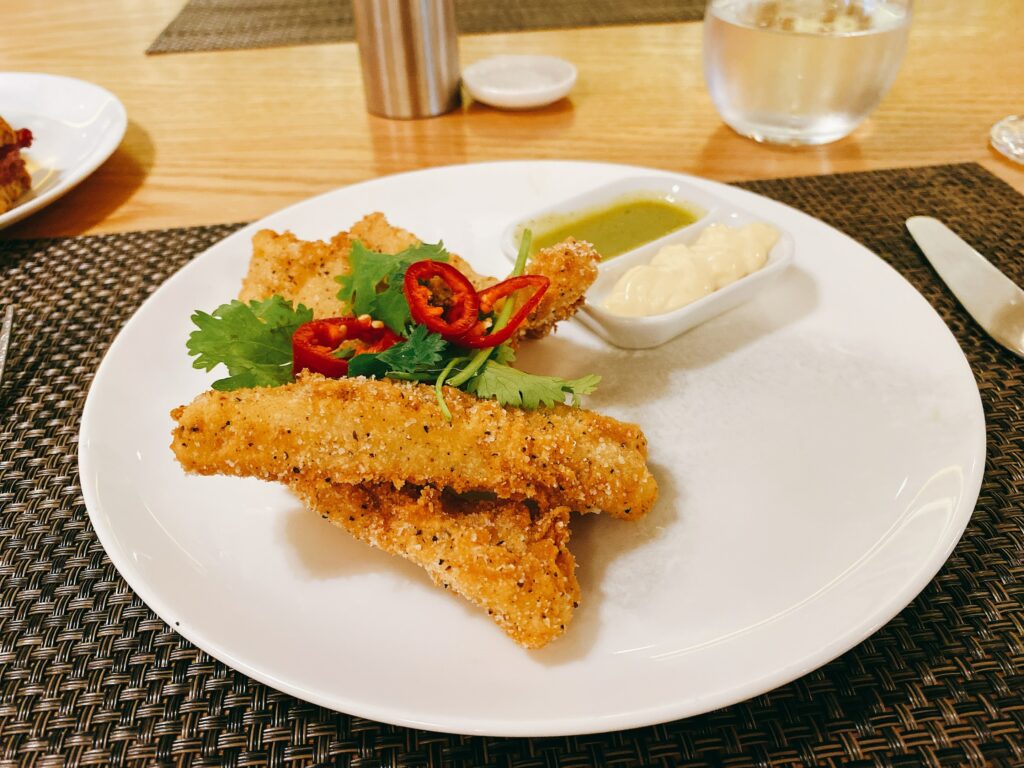 I last had the salt and pepper squid at the Heathrow Qantas lounge and was quite disappointed as it seemed like it was cooked from frozen as it was quite chewy. This was a world apart from that and exactly how it should be. The squid was so tender it virtually melted in the mouth and the salt and pepper seasoning was crispy and delicious. It comes with two dips, one a garlic mayonnaise (aioli) and the other a mild chilli dipping sauce – both equally packed with flavour.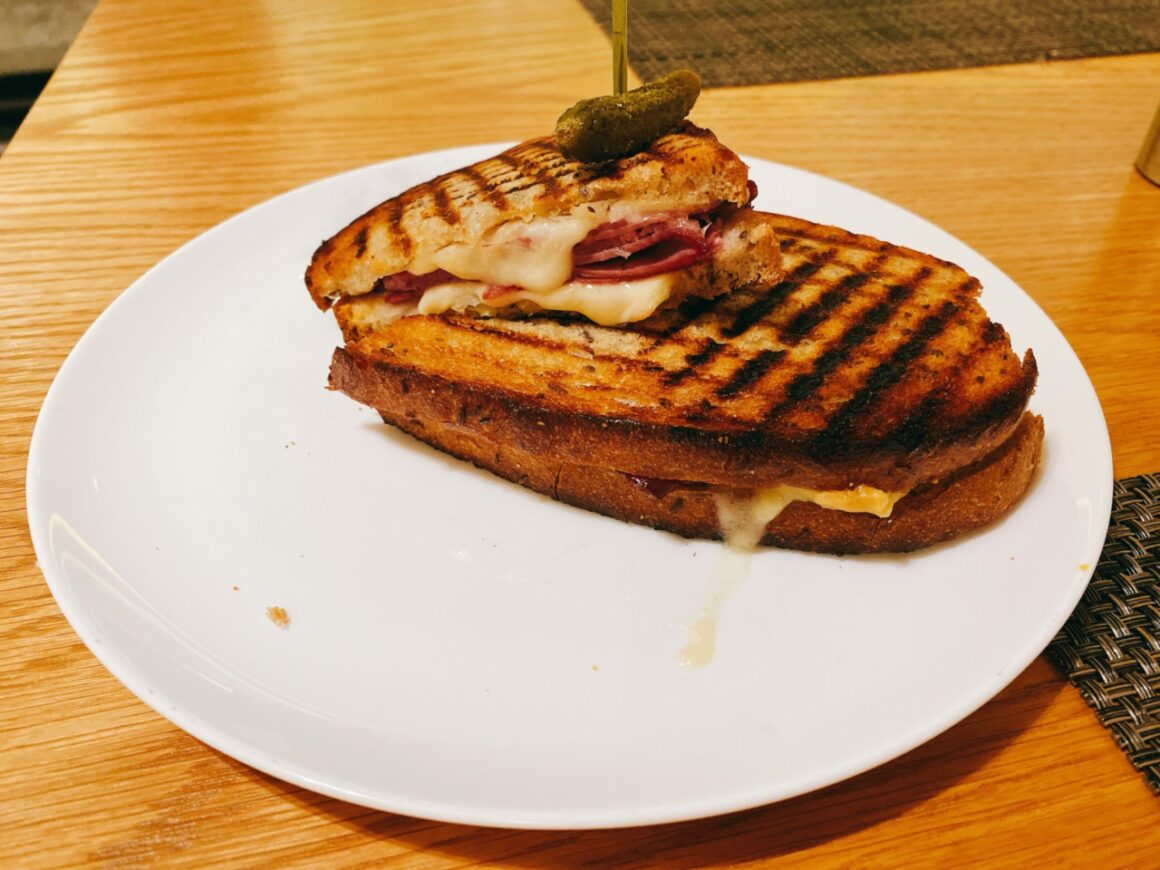 I was also impressed with the Reuben sandwich which can be quite greasy if in the wrong hands. It's usually toasted rye bread, corned beef, Swiss cheese, sauerkraut, and Russian or Thousand Island dressing. This was perfect with not too much filling and not too greasy. I would have liked an extra pickle or two to cut through the richness, but that's my only complaint.
Here is the spicy pork which my friend had on another visit. He said he enjoyed it and it definitely had a bit of a kick. Staff ask if you are OK with spicy.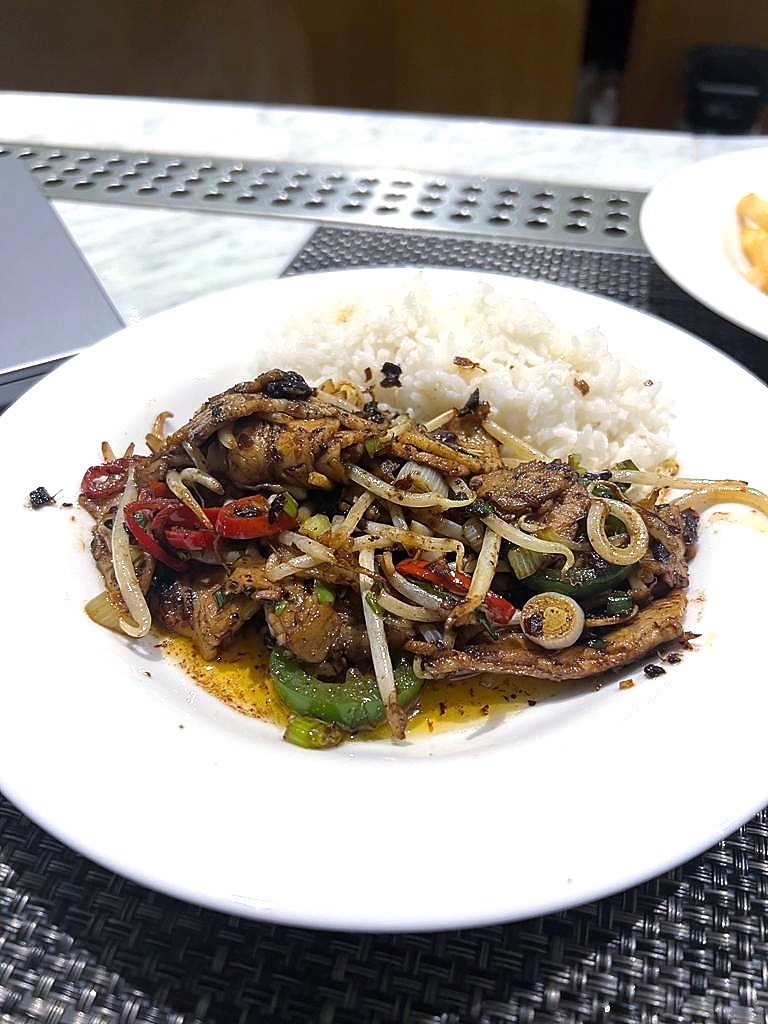 Conclusion
Although I was sad not to see the Perrier Jouet champagne I used to enjoy, overall the Qantas First lounge has not lost its sparkle and is up there with the best of oneworld lounges across the world.
You can see my video of the lounge here.
Like BA First Class from Los Angeles Part1 and The Qantas First Class Lounge Los Angeles review? You can read more flight reviews and air lounge reviews here.