A review of Waves Hotel Barbados by Marriott. Barbados is one of the safest countries to visit due to strict protocols in place, but make sure you understand what they are before booking. It is interesting a lot of people are very anti all-inclusive when it comes to Barbados. I am in Europe where generally things are cheap, but in the Caribbean, I will often do all-inclusive but still eat out some of the time too. That means most of my food and drink is budgeted for and I can enjoy all those around the pool cocktails! Generally, I found alcohol similar to UK prices but the food was definitely pricey.
I stayed for 4 nights at Waves, during most of which it rained! This may have affected my mood slightly, although from all the readers comments about Waves it appears to be a very polarising hotel. So which side was I on?
You can read my other Barbados hotel reviews here.
Location of Waves Hotel Barbados Marriott
Waves is situated on the west coast of Barbados where the seas are known for being calm for swimming. One of the main issues with the hotel is that it is literally on the main road and one half is on one side and the adults-only side is on the other side of the road.
Check-in at Waves Hotel Barbados Marriott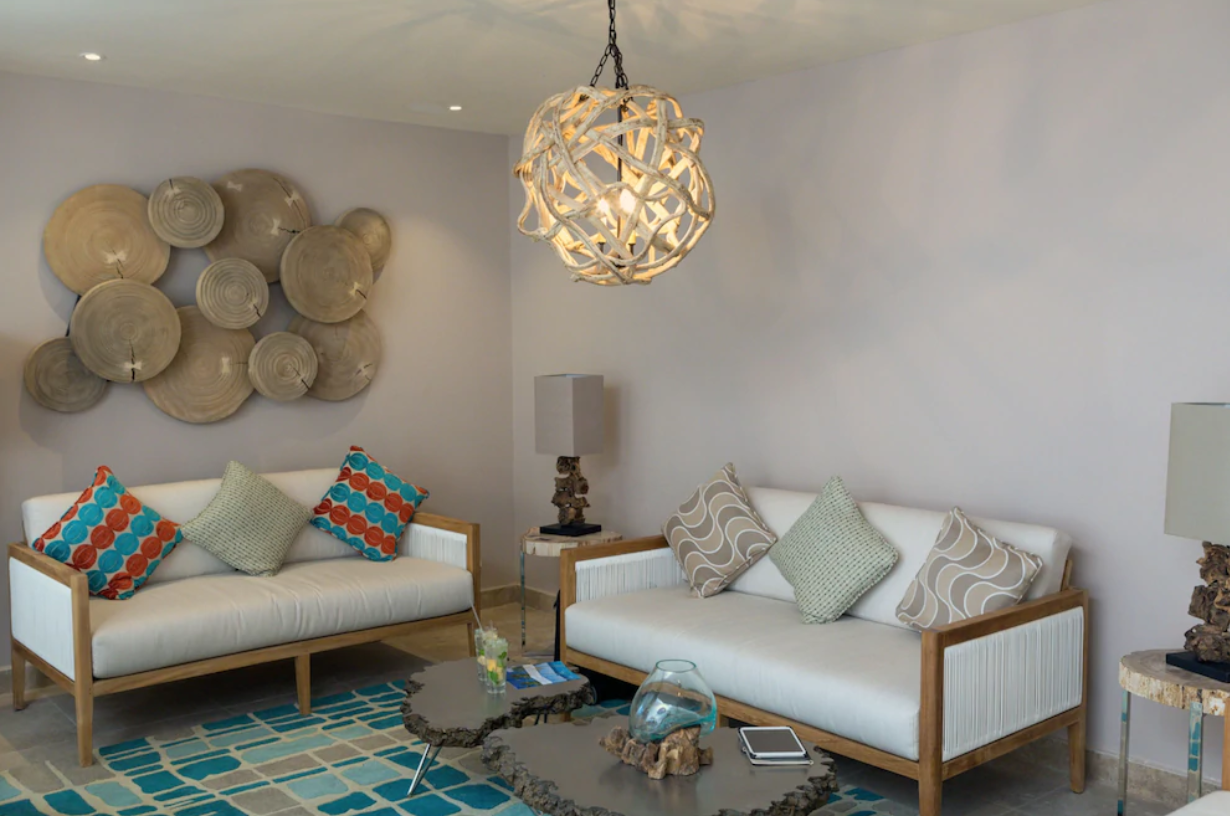 Like many of my hotel experiences in Barbados, the visit started with a grumpy security guard taking my temperature and watching with his colleague sitting on a chair as I unloaded my own luggage! Fortunately, one of the staff noticed and came to take them as I didn't really fancy carrying them down the steep flight of stairs at the entrance (if you don't like stairs this is not the hotel for you – they are everywhere). I then had to drive my car across the main road to the car park and then cross back over the road by foot.
The receptionist was fairly friendly and I was offered a welcome drink. Most questions were met with, the information is in your room – and boy, was she right!! I was also asked what type of housekeeping I wanted.
I was then helped to my room with my luggage by a friendly member of staff.
Waves Hotel Barbados Marriott Room
I had a seaview room. The adults-only rooms do not seem to be open at the moment which is what I had originally decided on. However, having now seen them, I think the ocean view is much nicer.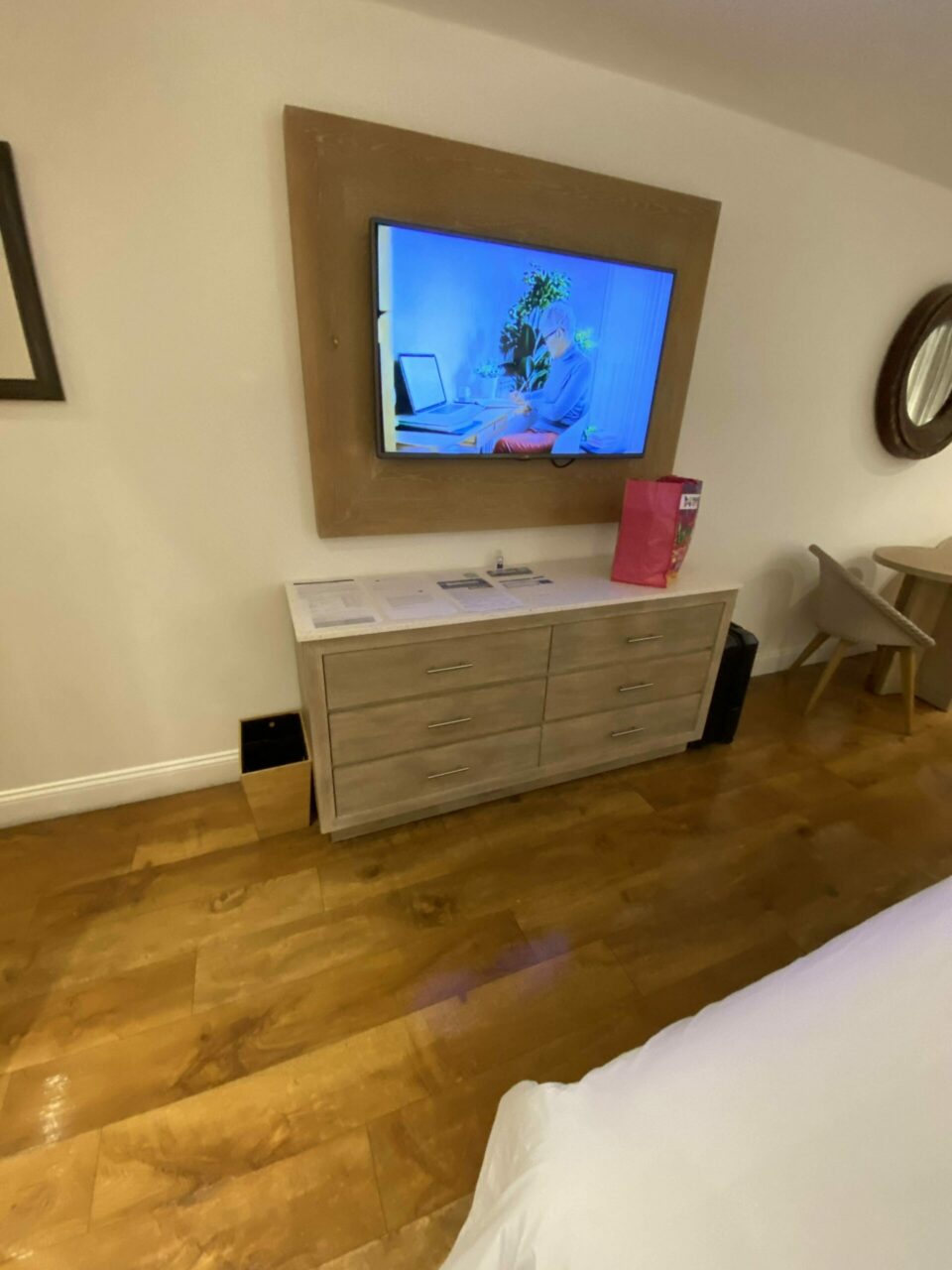 At first glance, the room looked nice. Modern and similar to the Sea Breeze. However, there were lots of little things that looked worn on closer inspection. Or other things that looked like they had been bodged a bit. The wooden table was very worn for a start.
There was also half a rain forest of paper with information which seemed a bit excessive!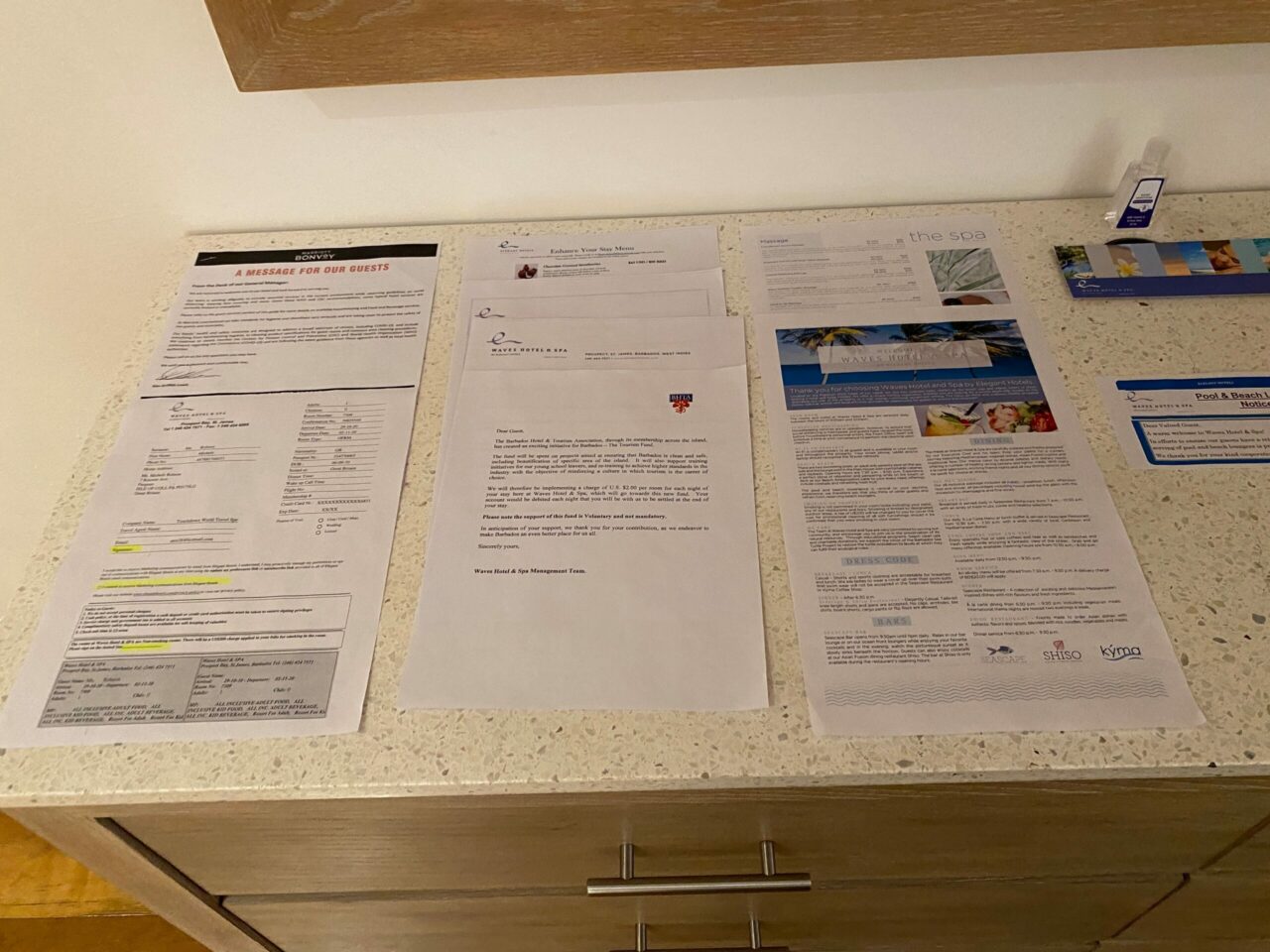 There were some special touches like eye masks on the pillows and a bottle of santizer.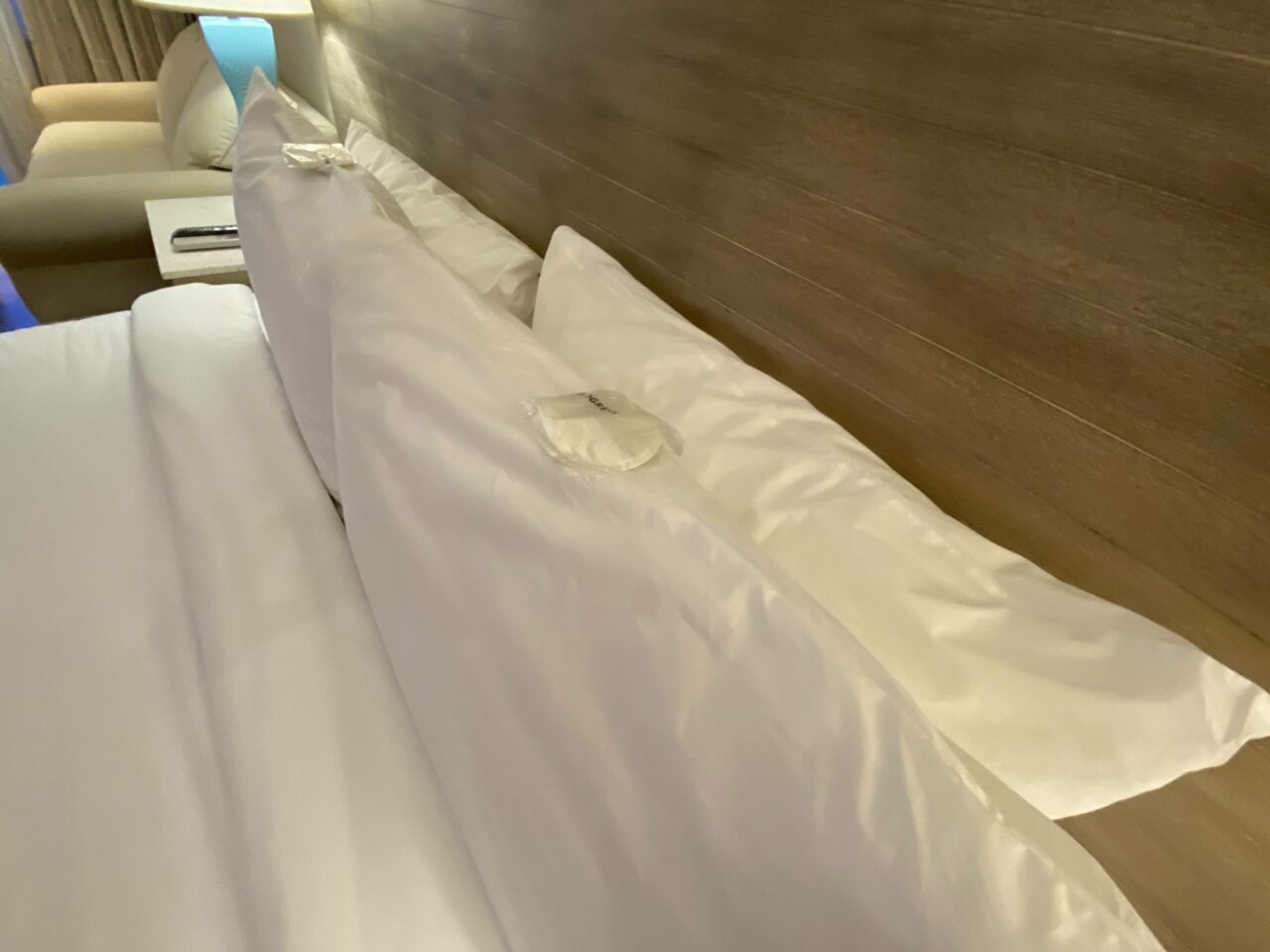 I found the bed very very hard and the pillows felt like cheap foam.
Unlike the Sea Breeze Beach House, the minibar was empty but I did get two small bottles of water a day. The usual robes, iron, ironing board were all there as you'd expect for a 4-star hotel. There was a yoga mat too which was a nice touch.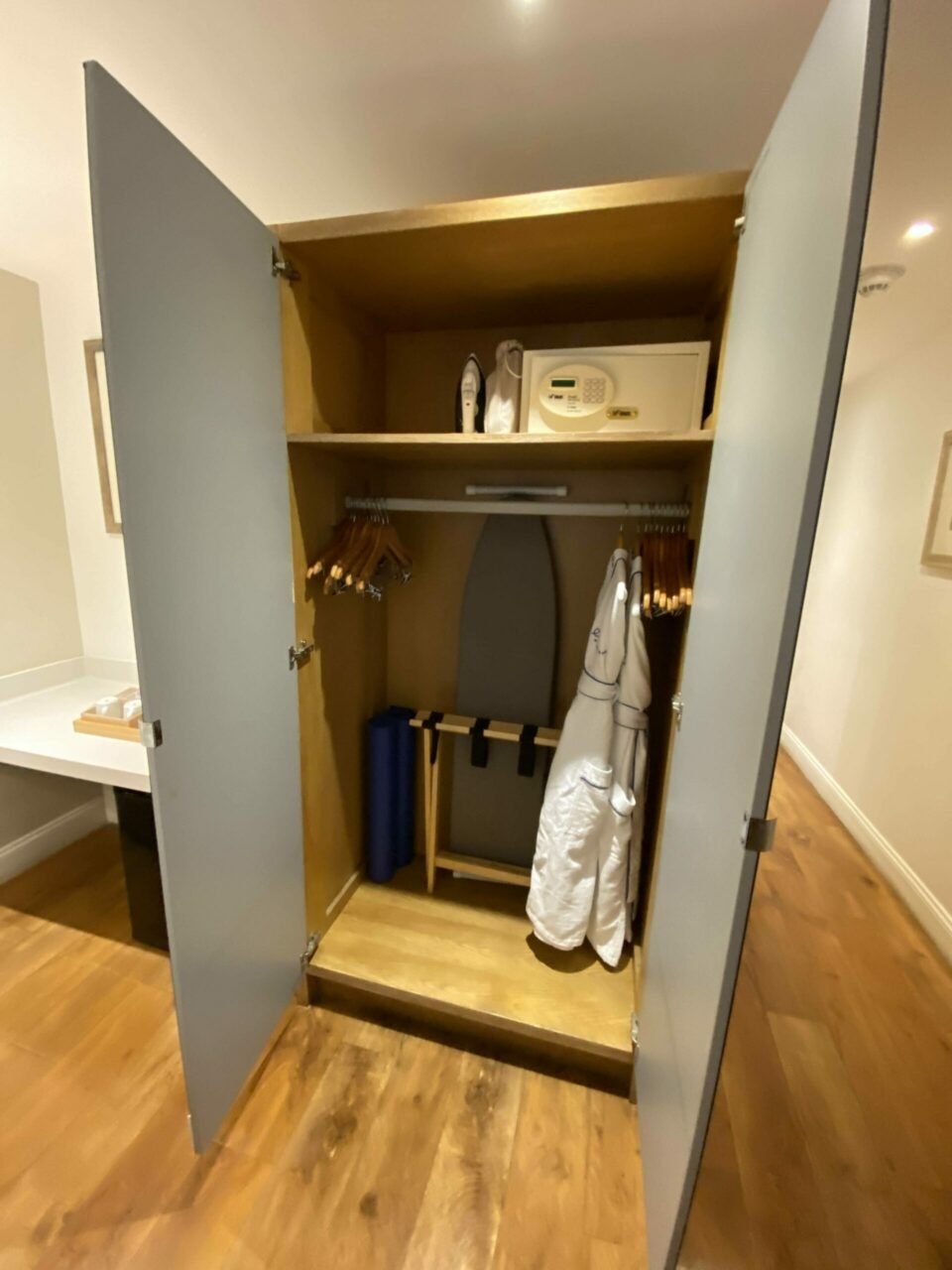 If you wanted tea, there was only non-dairy creamer but you could get anything you wanted from the bar and bring it back to your room I guess.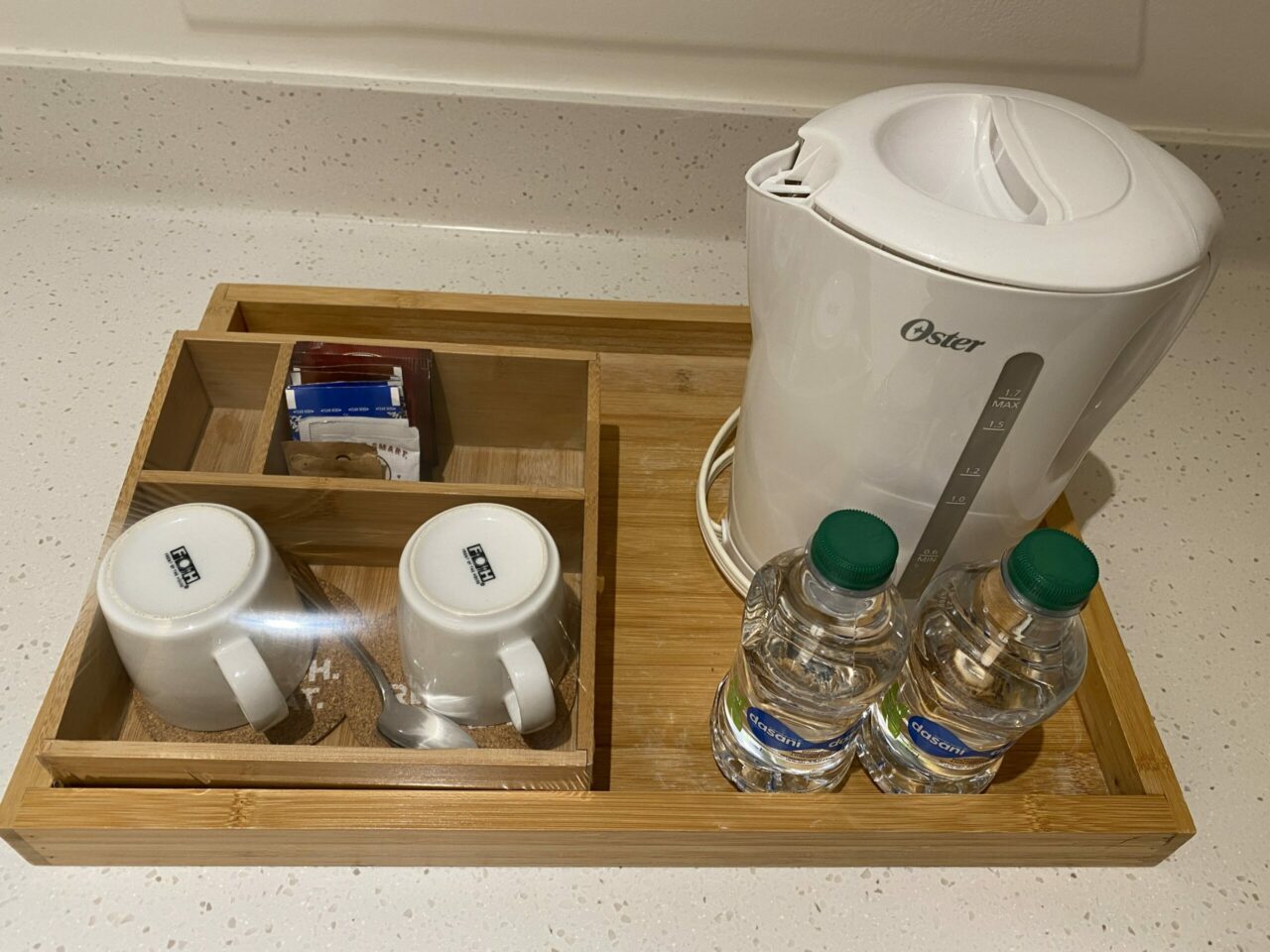 You could have room service delivered which is handy option, but they wanted a rather cheeky BDS$20 for delivery which I thought excessive.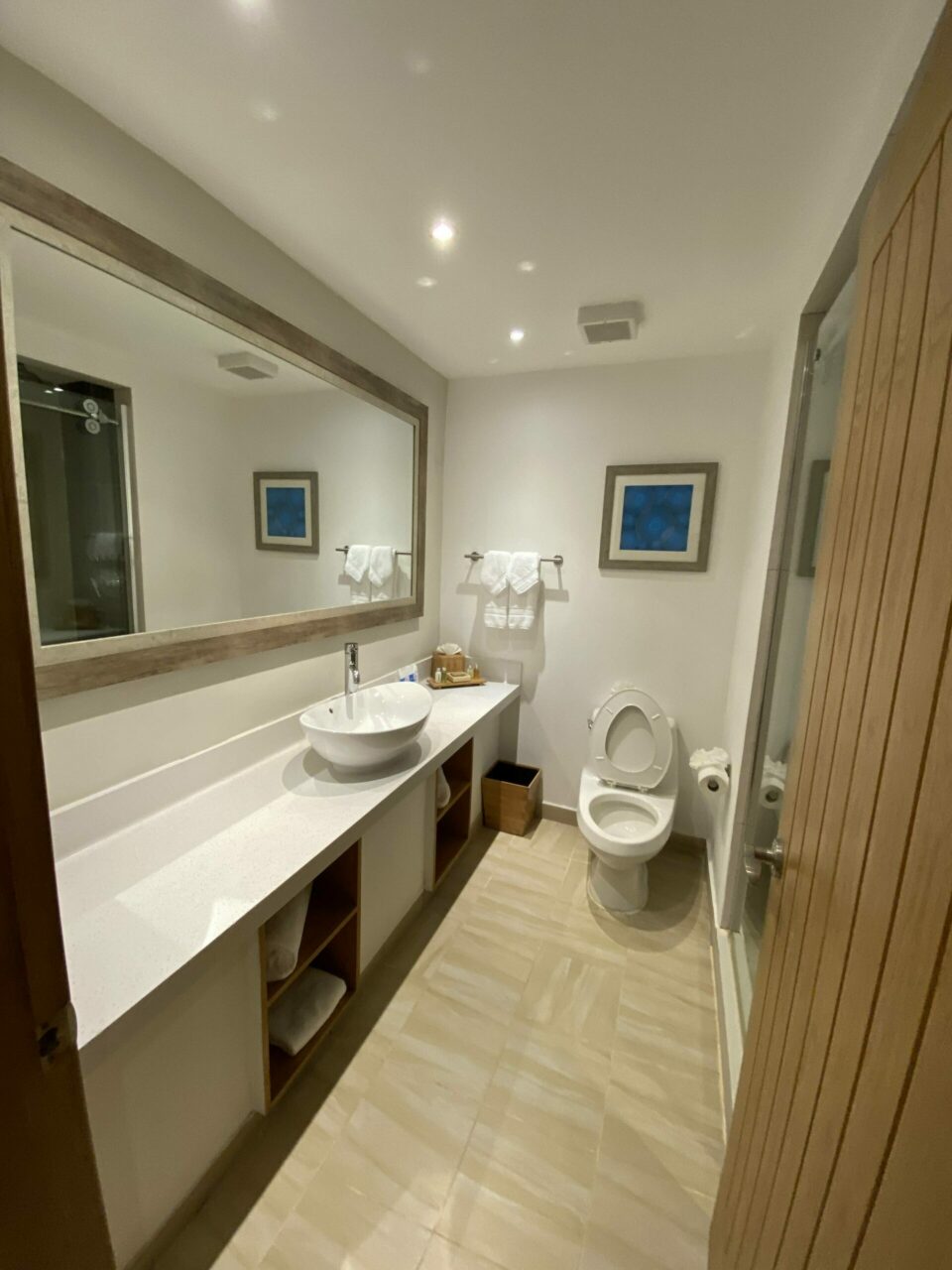 The bathroom again looked OK initially but when you delved deeper there were a few issues. It would appear that a five-year-old had done my grouting!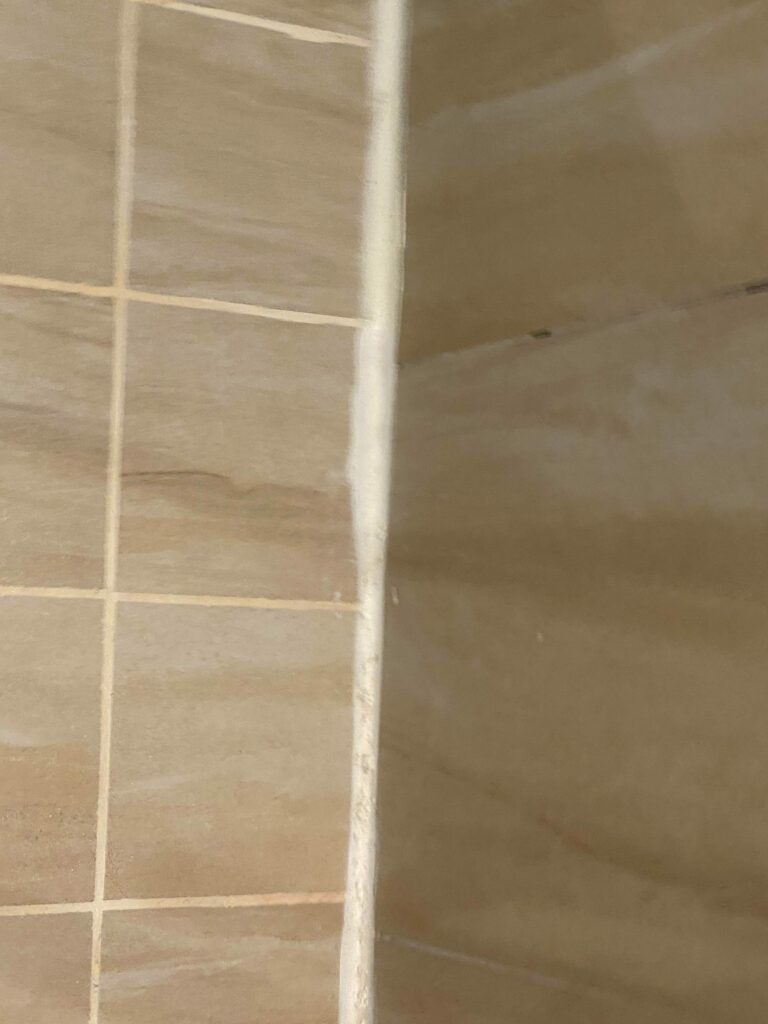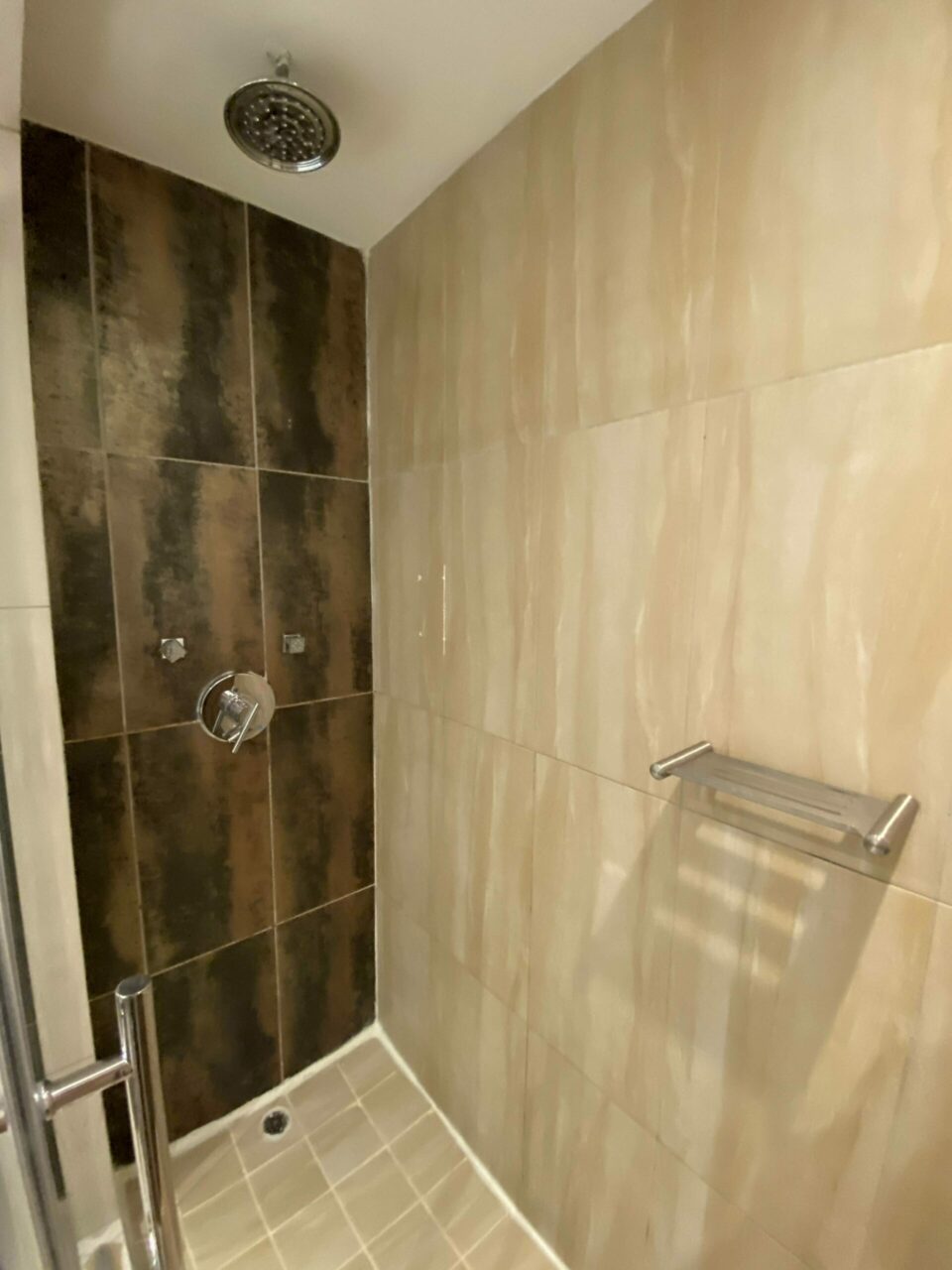 Toiletries were not a brand I had heard of and smelt a bit cheap.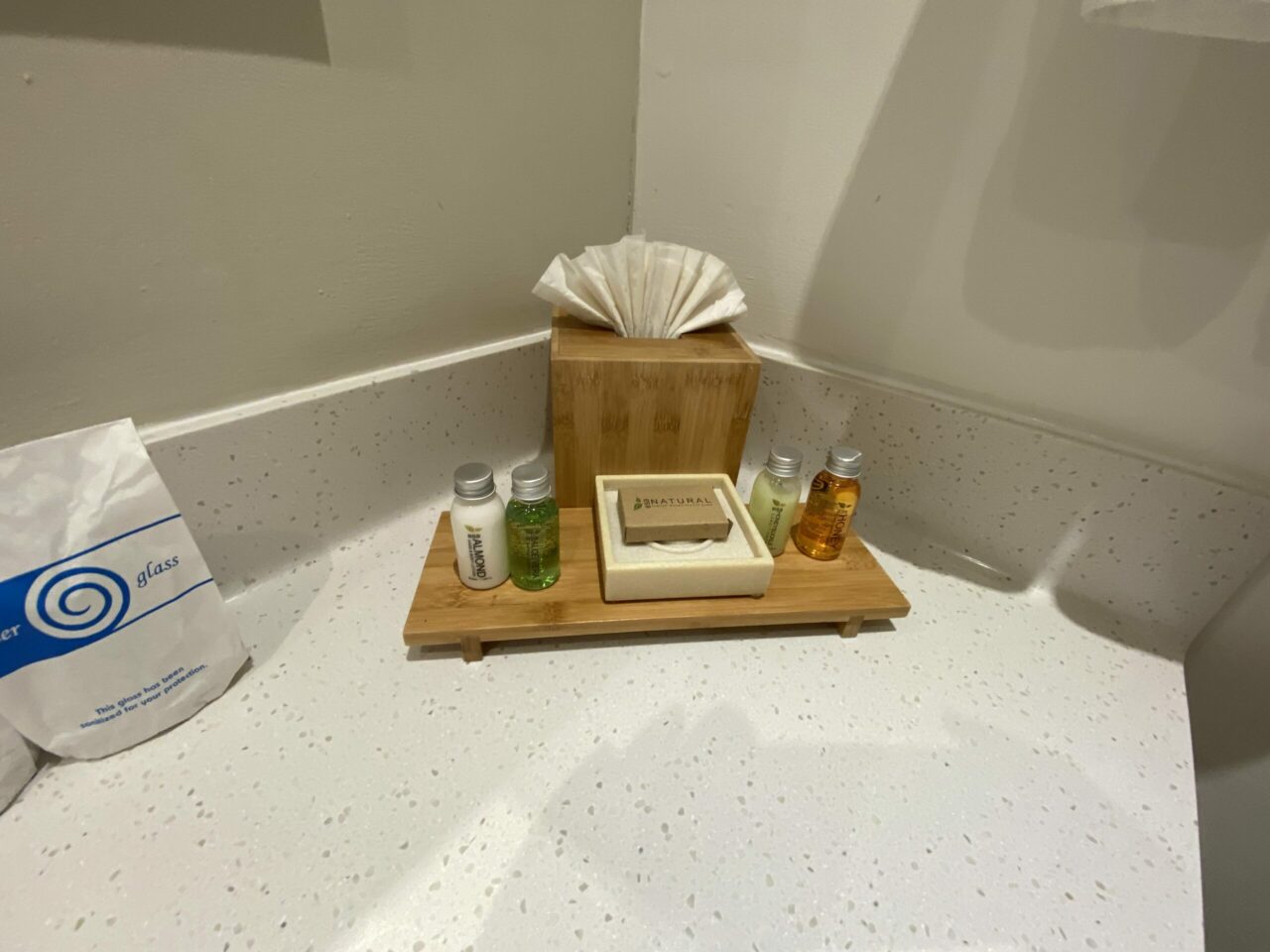 I had a lovely view of the beach from my balcony and a comfortable sofa to sit on which was undercover on the balcony.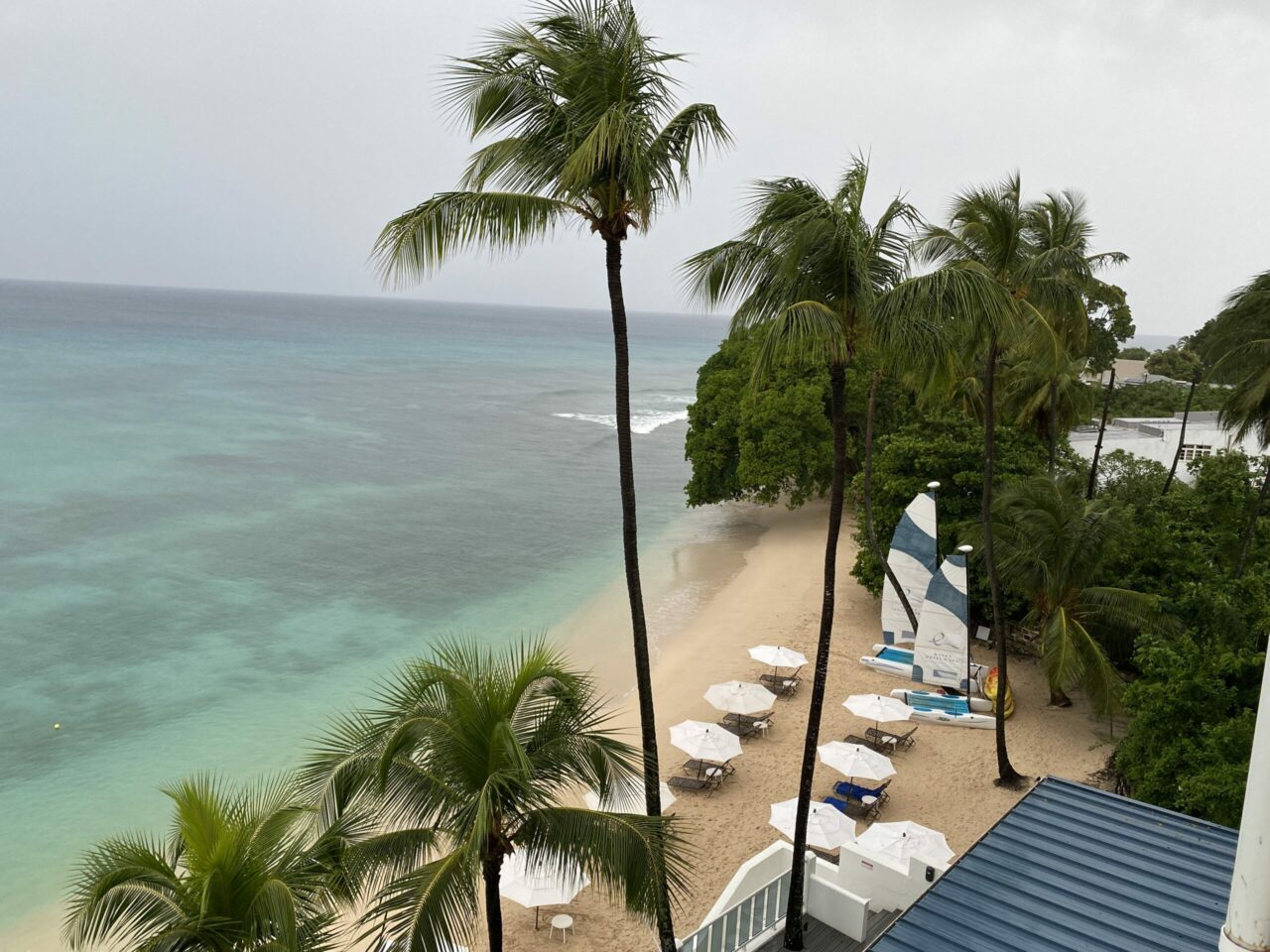 However, I didn't really like having the air conditioning outlet blowing hot air out on the balcony and it looks quite ugly.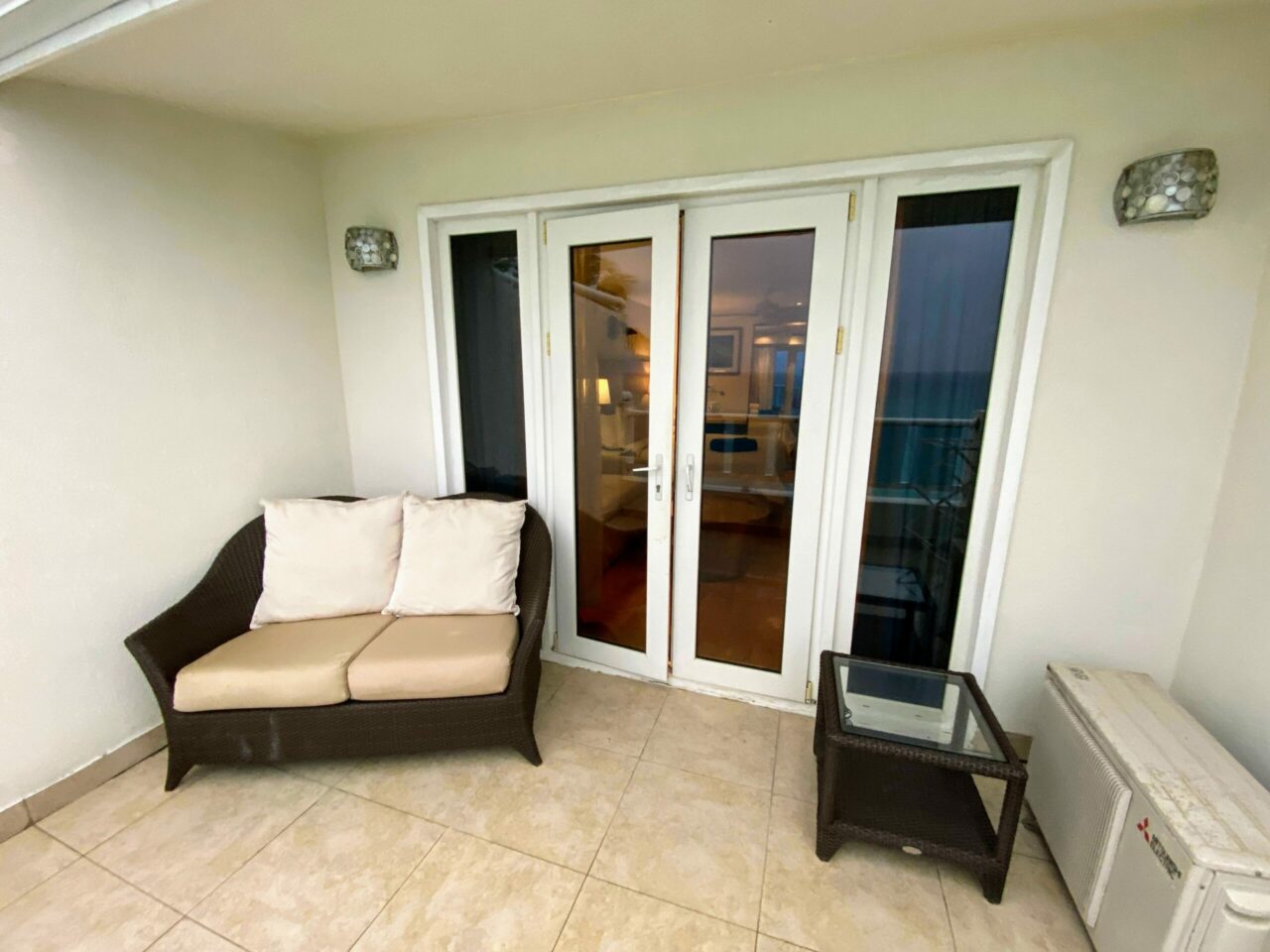 Due to the rain, there was a bucket outside my door in the corridor to catch the leak in the roof! The doors to the rooms had obviously swollen due to the rain and it was hard to open and close them so you continually heard loud slamming of doors.
Waves Hotel Barbados Marriott Food and drink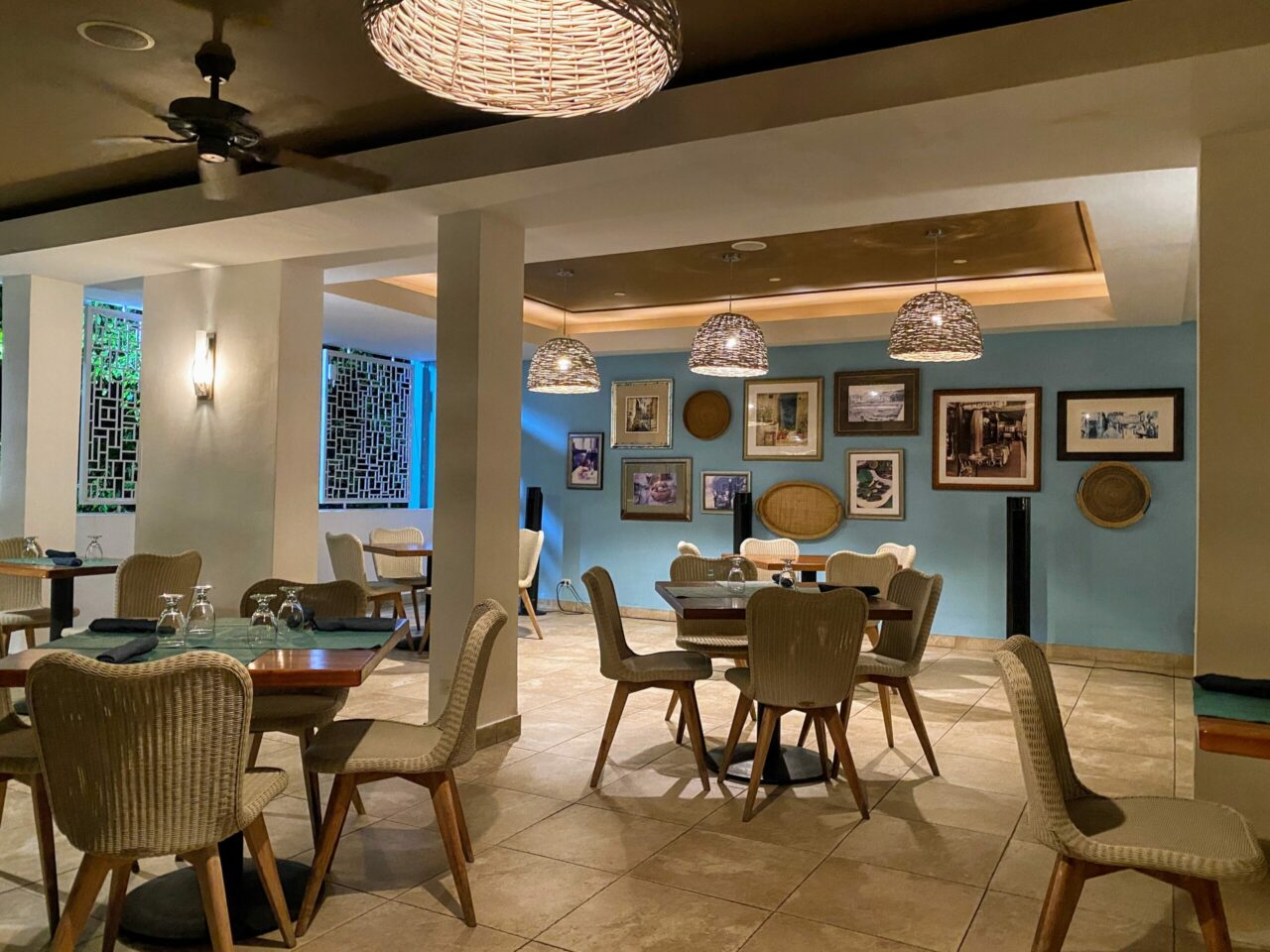 The food and drink were pretty good overall, and I think marginally better than Sea Breeze due to the breakfast and lunch offerings. Dinner was probably slightly better at Sea Breeze and I much preferred the restaurant there. There are usually two restaurants at Waves – the main restaurant Seascape and the Sisho sushi restaurant/Asian restaurant.
The thing that stood out was the serving staff who were all super friendly and efficient. For Barbados, the service was generally very good. (It is always quite relaxed so if you are an impatient person it may not be the place for you!).
The Seascape restaurant did feel a little bit "cafe/canteen" and the chairs were uncomfortable if you were wearing anything where your skin came into contact with the hard wicker seat. During the day there was a lovely seaview.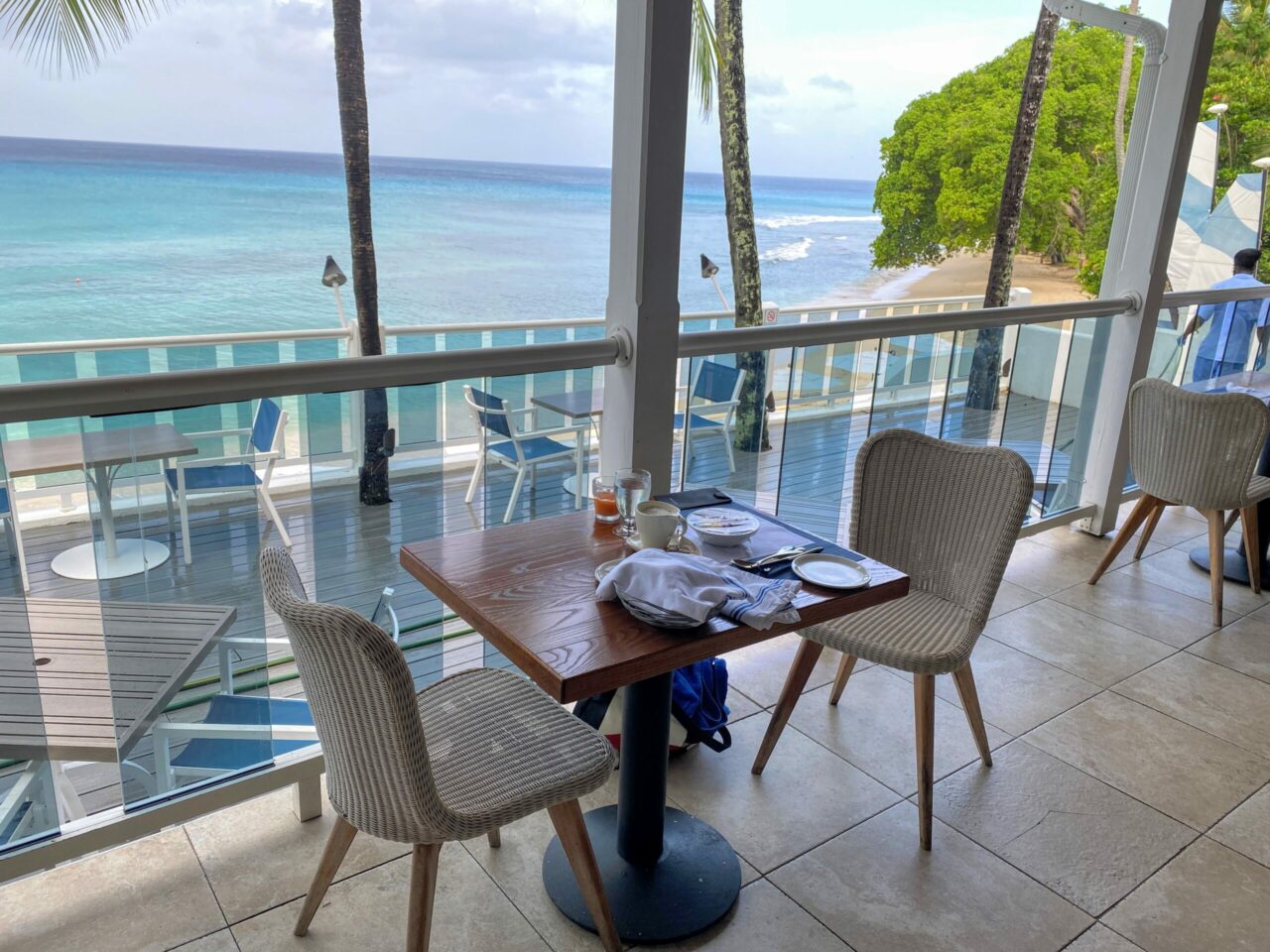 Waves Hotel Barbados Marriott Breakfast
This was mainly a la carte and a small buffet of cold items. Every day they had a freshly squeezed health juice as well. The fruit selection was a little dull!
Here is a sample menu. It changed every day slightly which was good. But like the Sea Breeze, if you wanted to eat a non-cooked breakfast, there was limited choice. The cooked food was generally tasty.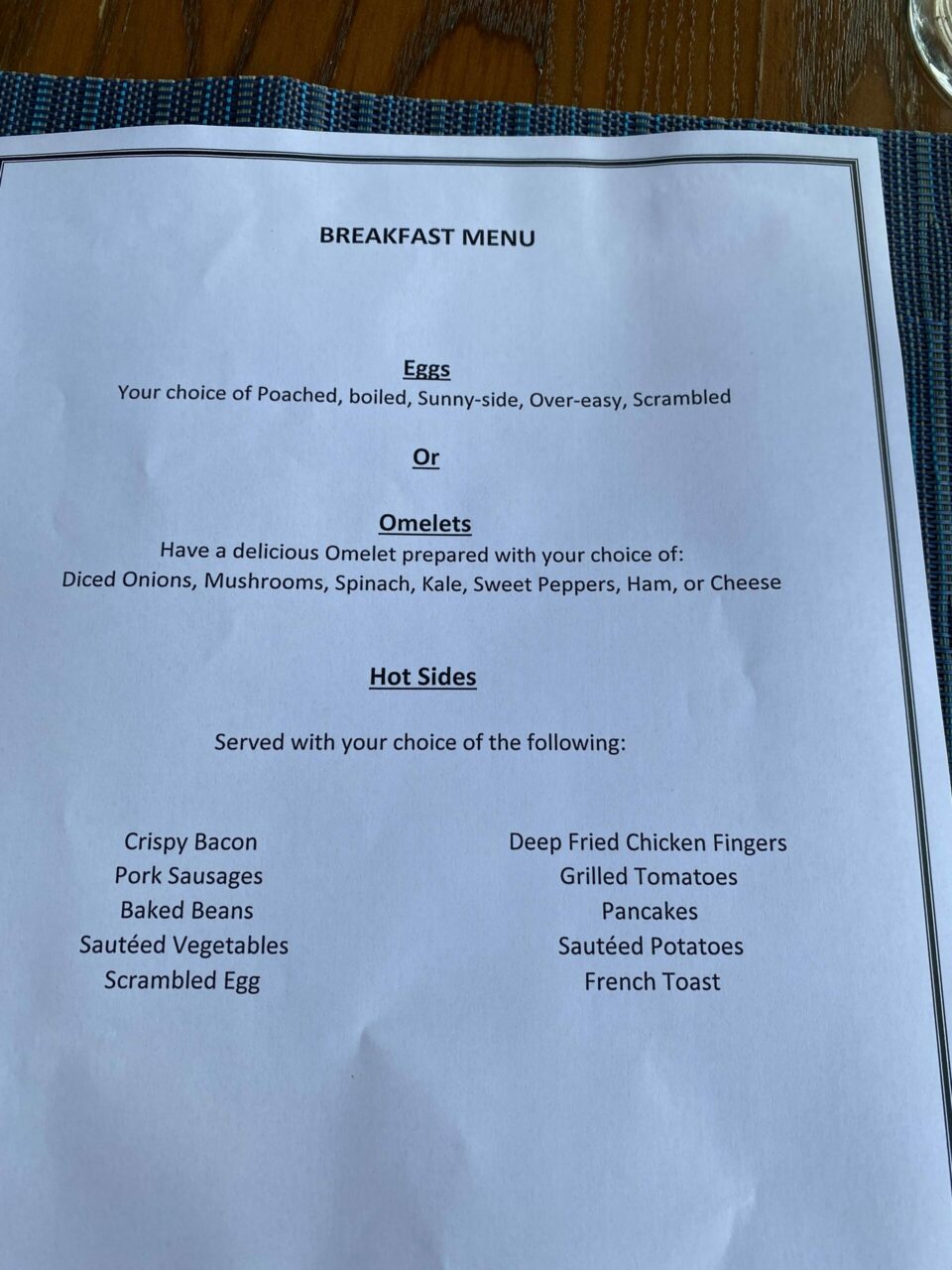 Once you sat down you were brought tea or a coffee and a bread basket with some tasty pastries.
Portions were also very large. The area where they excelled was during the day as they had a coffee shop open 10.30am-6pm. On top of that, there was an a la carte lunch with plenty of lighter or more substantial options. This is just what I want on a holiday to give me the freedom of choice. The coffee shop did some great hummus and wraps and had some tempting looking cakes too. The coffees were excellent and you could eat the snacks in the coffee shop or bar area with a glass of wine or cocktail too!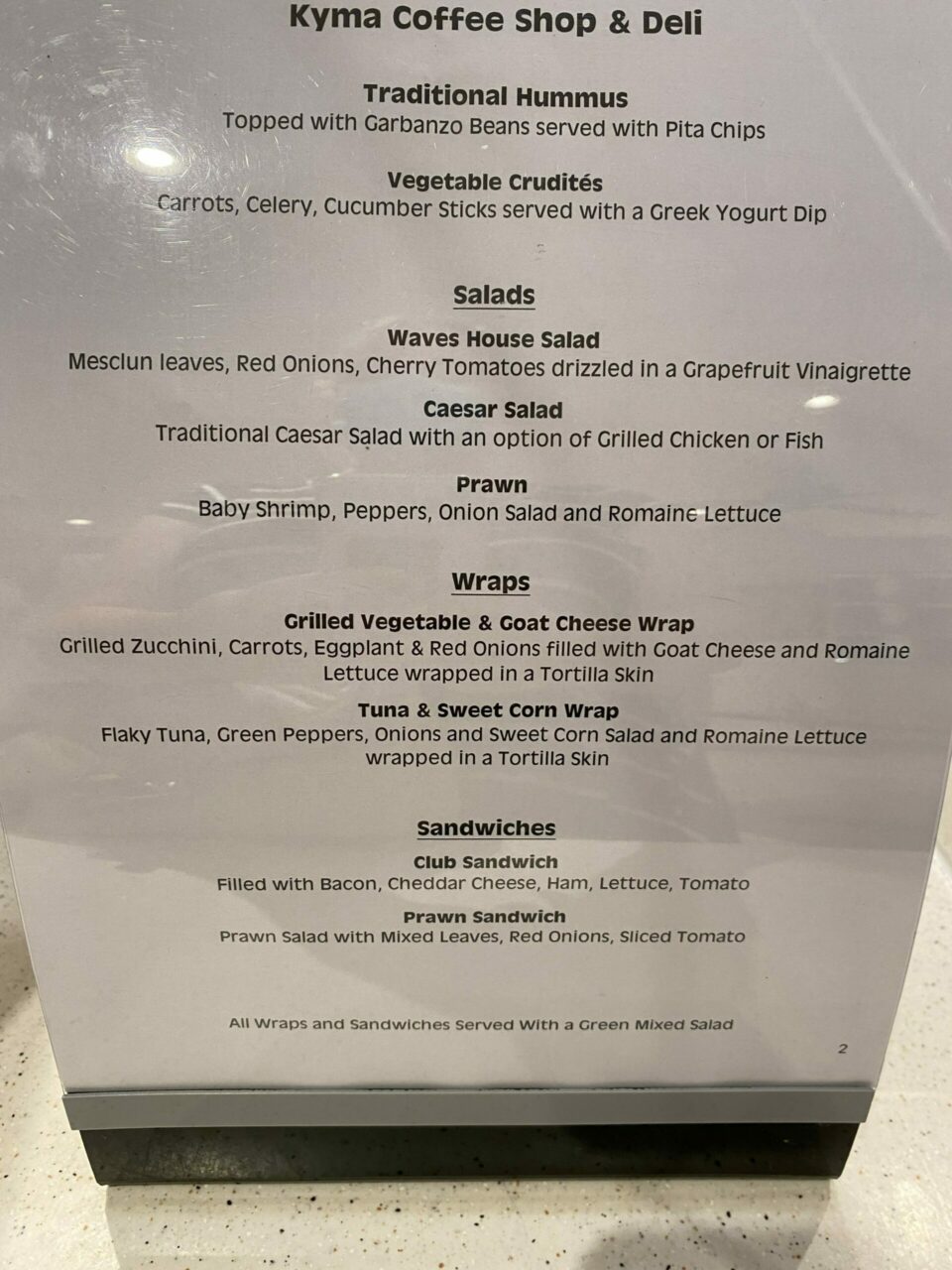 In the restaurant, I tried the a la carte lunch and enjoyed a light Greek salad.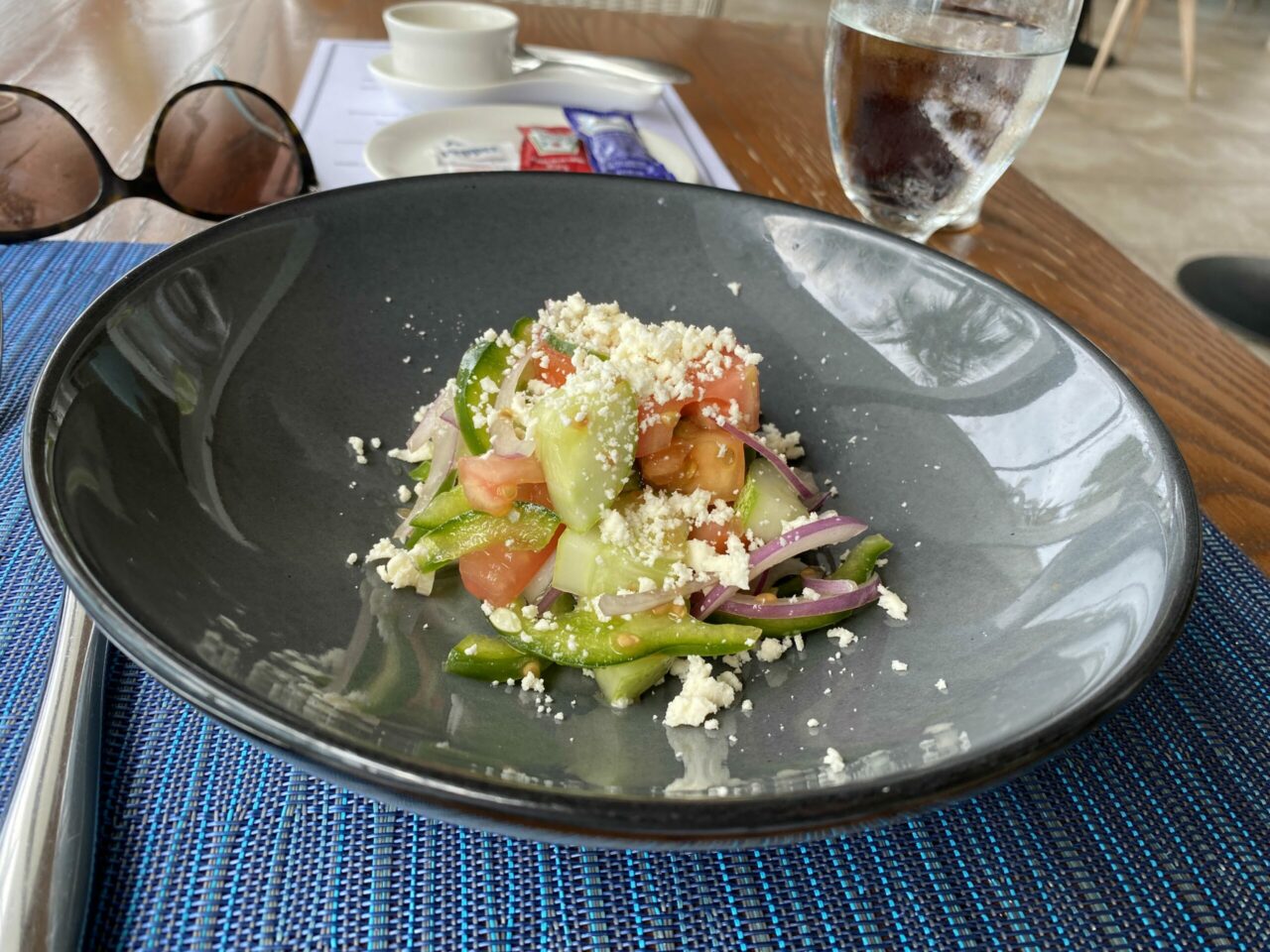 Dinner was definitely family orientated with some of the choices. Although Shiso oriental restaurant was shut, at least you could still try some of the food.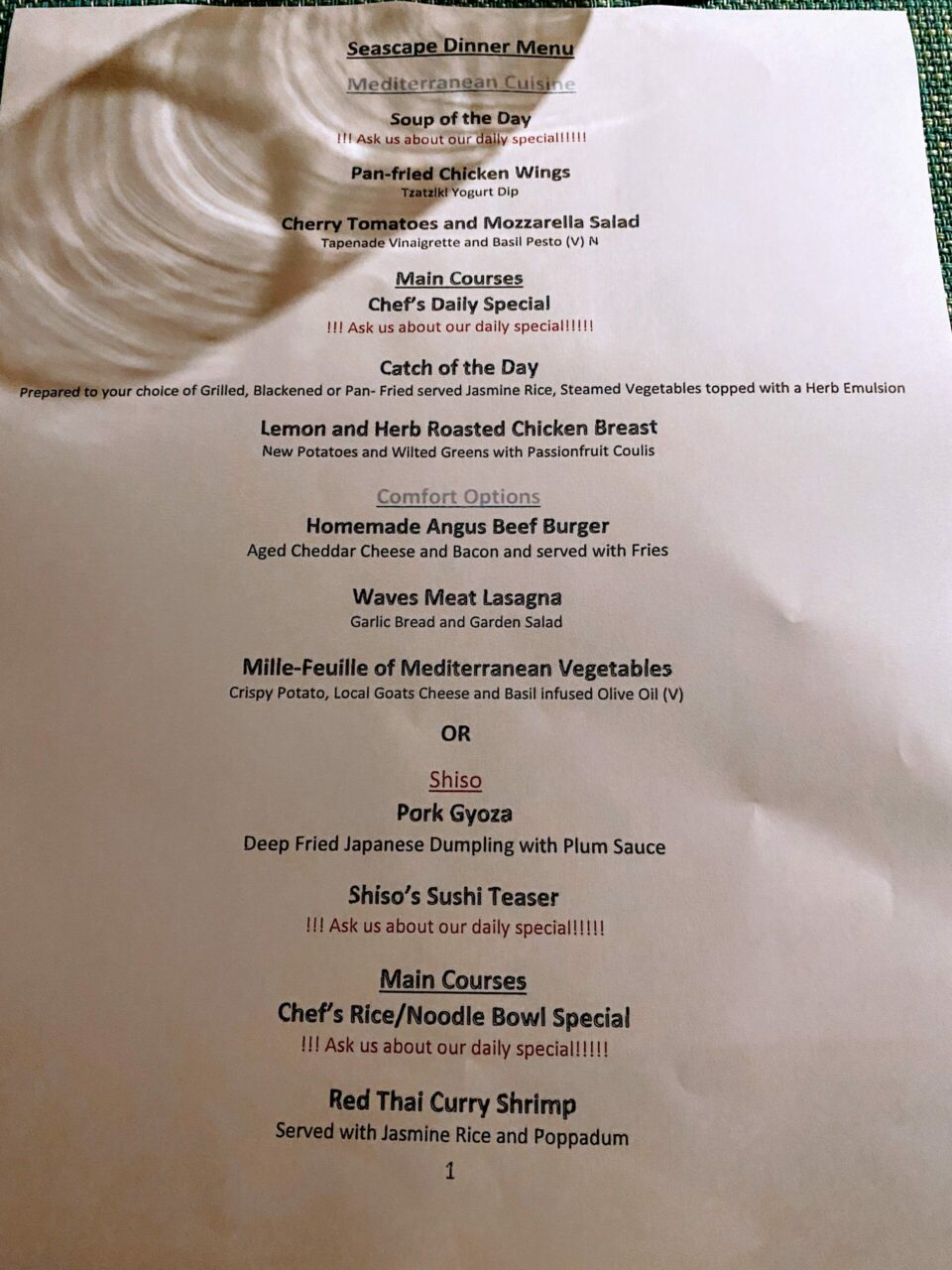 Everything I ordered was very tasty and well presented. There was a choice of 2 white, 2 red and a rose wine which were all perfectly drinkable (especially by the third glass!) and top-ups were extremely good – much better than Sea Breeze.
I wouldn't say the Asian-inspired food was overly authentic but it was enjoyable nonetheless. If you wanted to have a drink, there was an attractive bar area as well as tables outside. Sadly for me, there was entertainment most nights and I missed the more local bands which maybe I would have enjoyed. Instead, I got the ubiquitous hotel band playing cover songs which is not my cup of tea.
The bar staff were very professional and even warmed a glass when I ordered brandy. It was suprisingly drinkable with some generous measures! There was also a cocktail list but they would make you any classic cocktail. The drinks I ordered were all good quality although I did not do the acid test – a gin and tonic! I did not see many premium brands apart from rum.
Here is the cocktail menu: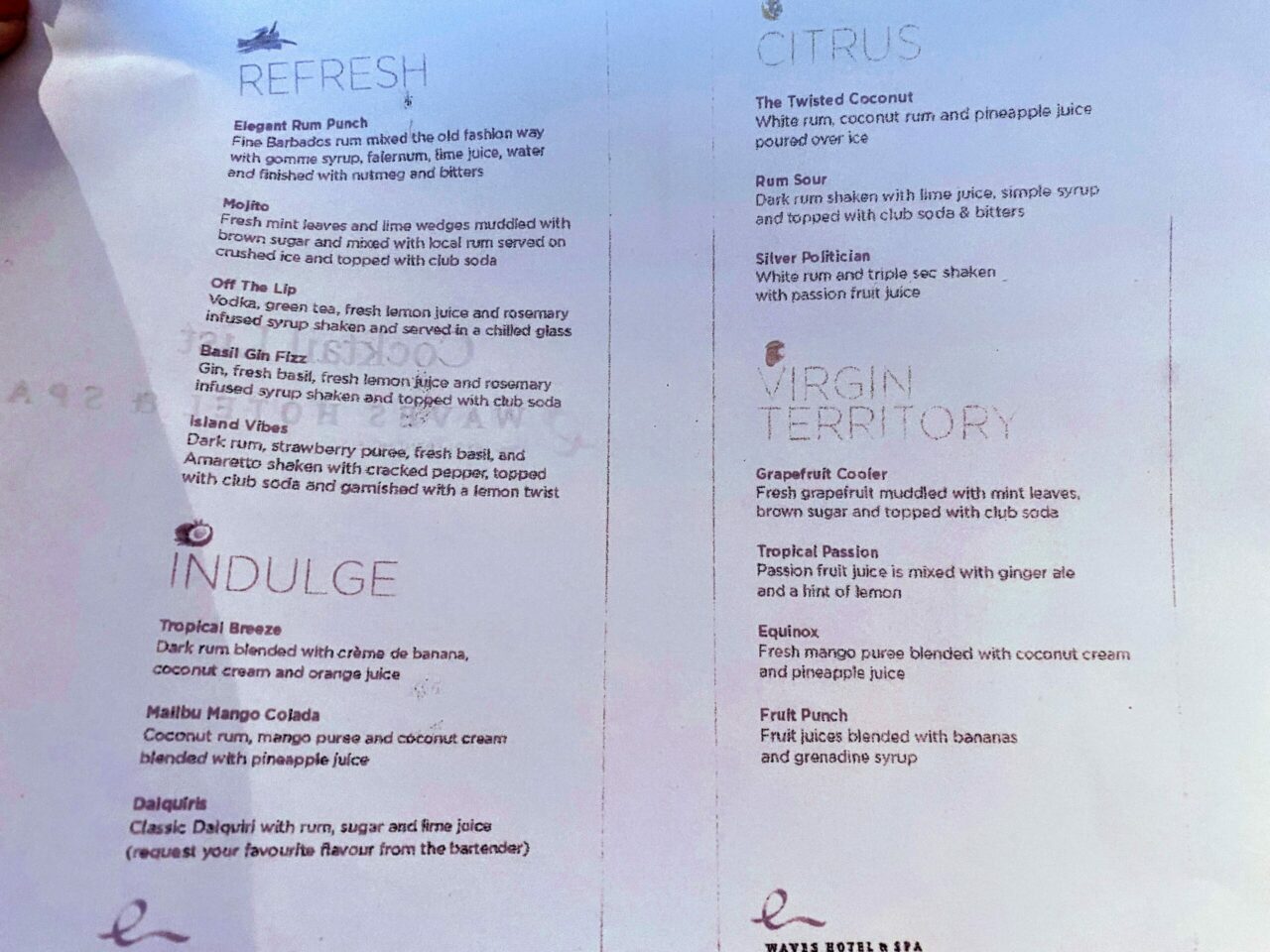 Waves Hotel Marriott Facilities
This was probably my main area of disappointment even though there are two pools and a spa. There were plenty of facilities but the layout of the hotel is less than optimal. Whoever designed it needs a word!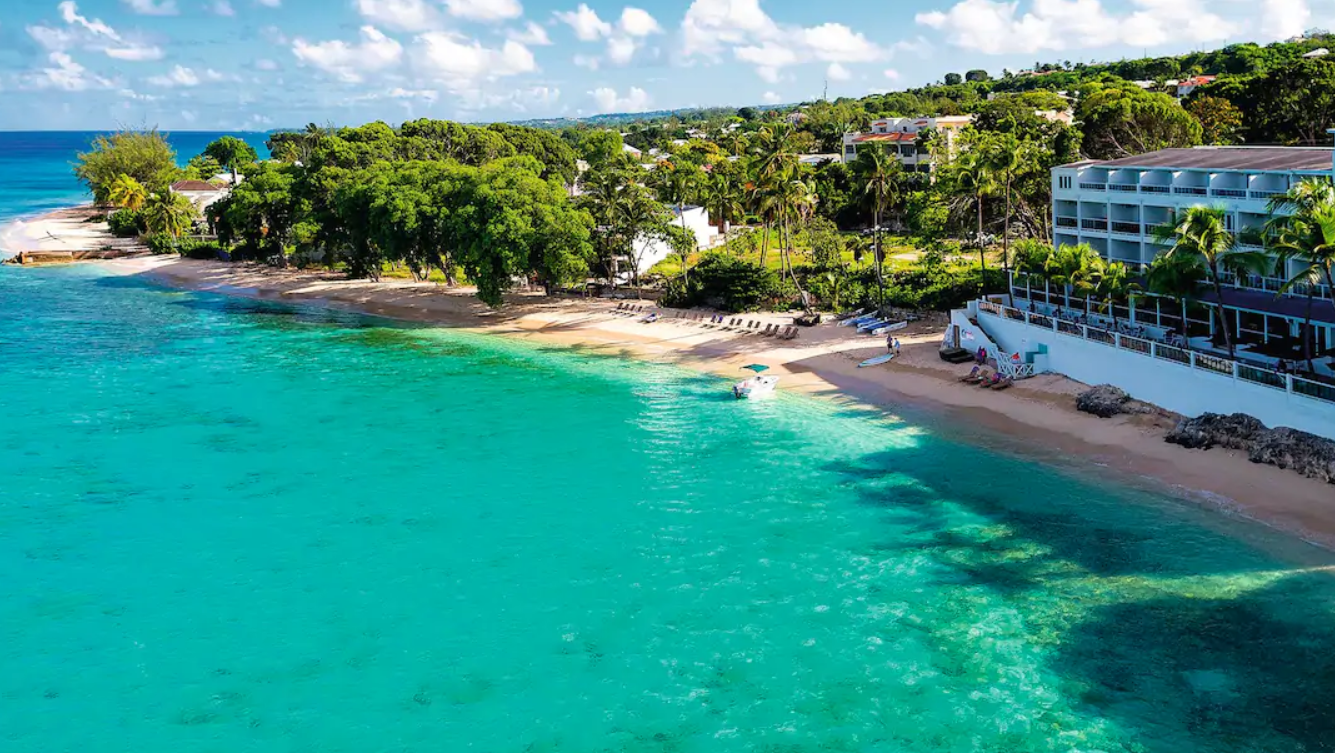 Beach
I will start with the beach. It is a bit of a trek as you have to go in the lift, then across the bar, along the terrace and then down a flight of steps, so this hotel is not suitable for anyone with a walking disability. If you then wanted to go to the pool you have to walk through the hotel and if you want the decent pool, also cross the main road so I found it all a bit of a faff when you are damp and a bit sandy!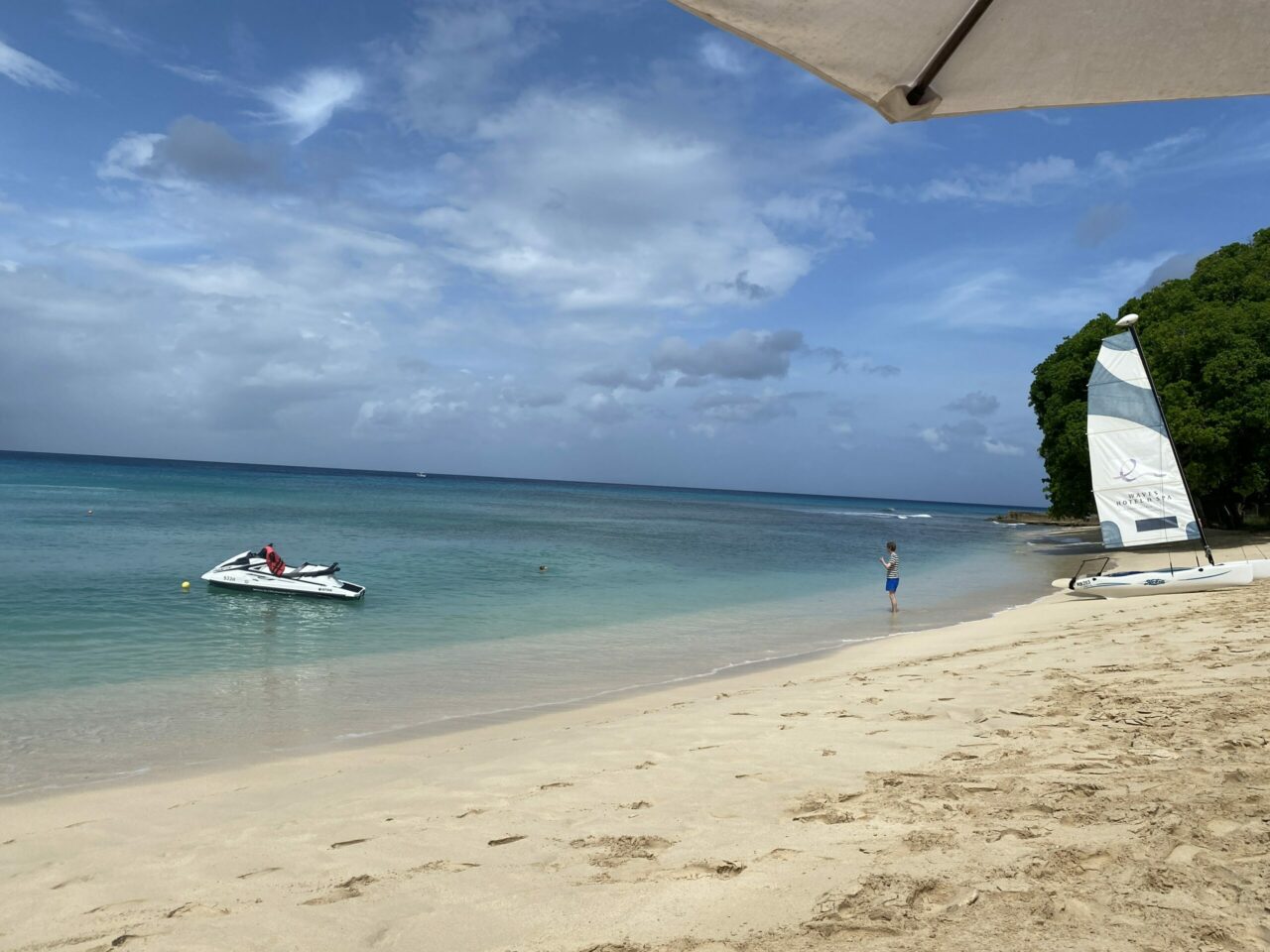 The beach is a bit narrow and it shelves down into the sea quite sharply. If you like snorkelling there is a small reef just offshore and I saw a wide variety of fish. You will need to take your own mask but you can get flippers and lifevests from the hotel.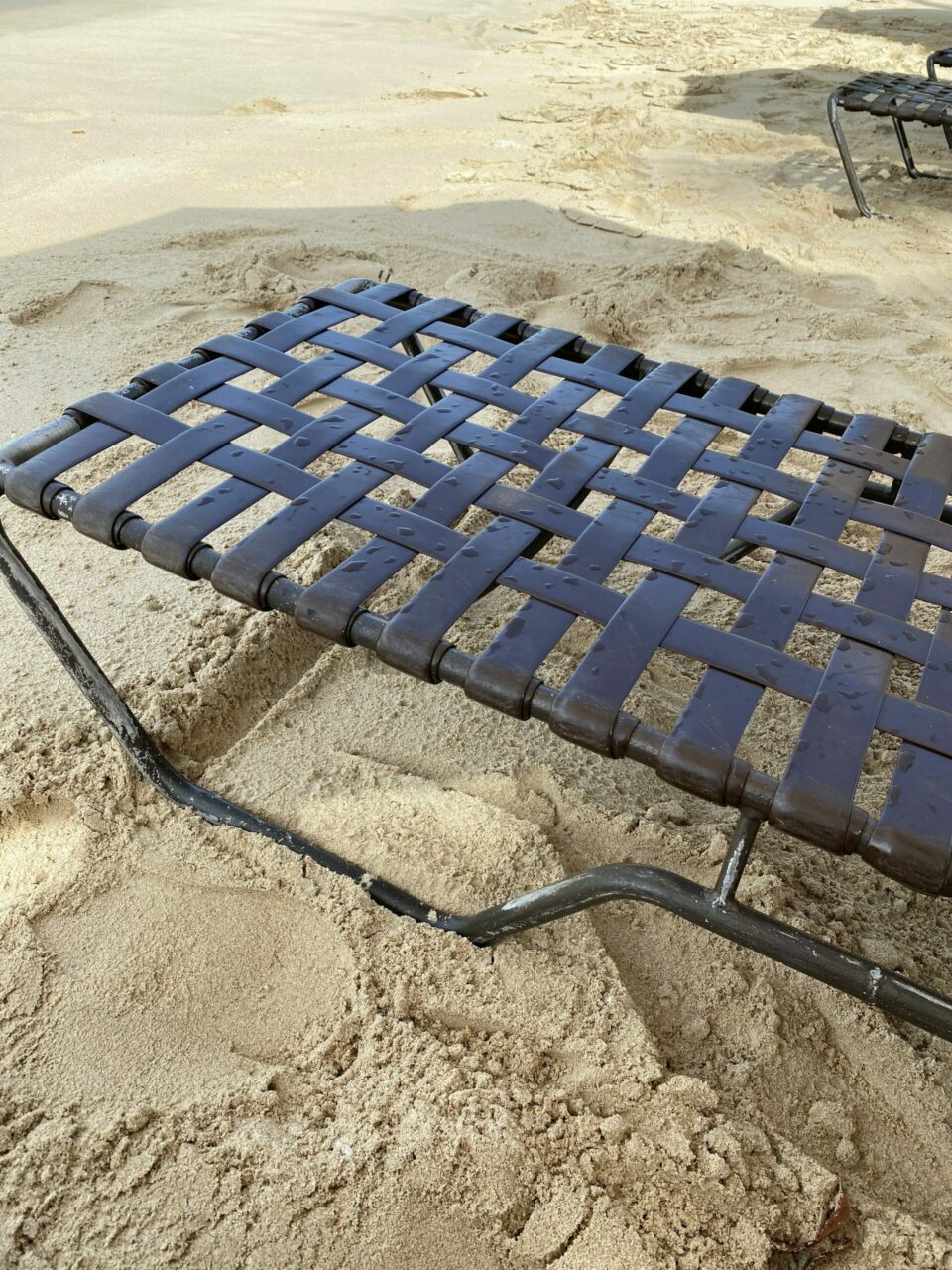 Service on the beach was good as they came round to take drink orders quite regularly and also handed out ice lollies too. My main issue was the loungers. All the nice cushions had been removed and you had to sit on bare plastic strips which were very uncomfortable. Apparently, this was due to COVID but yet other hotels in the same group and every other hotel I went to had cushions!
The watersports team were excellent and there is a wide variety of activities included such as waterskiing, tube rides, snorkeling, kayaking and stand-up paddleboarding including tuition.
Pools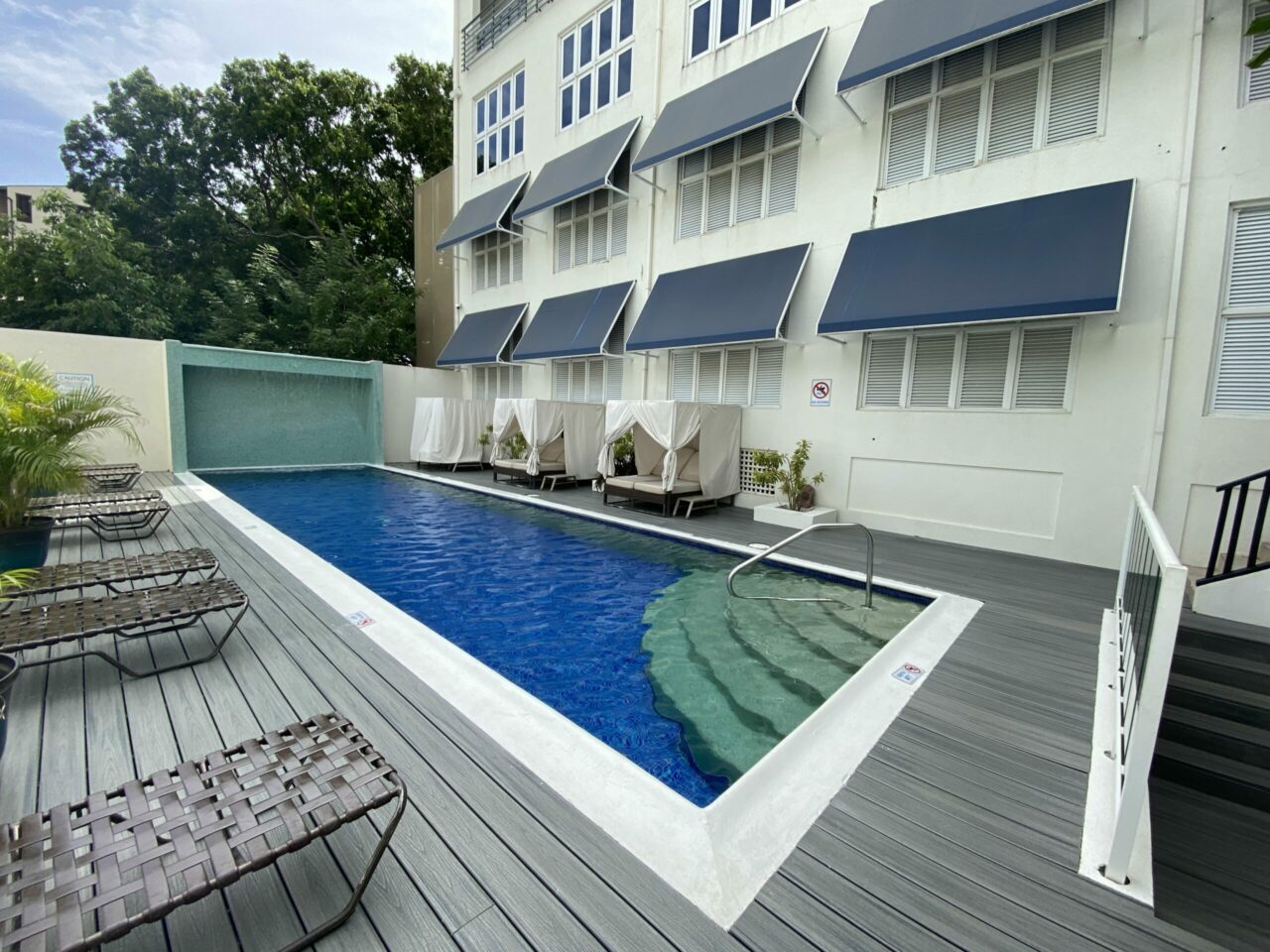 In terms of the pools, usually one is adults only but they had abandoned that. Presumably for social distancing. The pool on the main side is small, in the shade a lot of the time so quite chilly and also right by the road so not exactly peaceful. The day beds were comfortable though.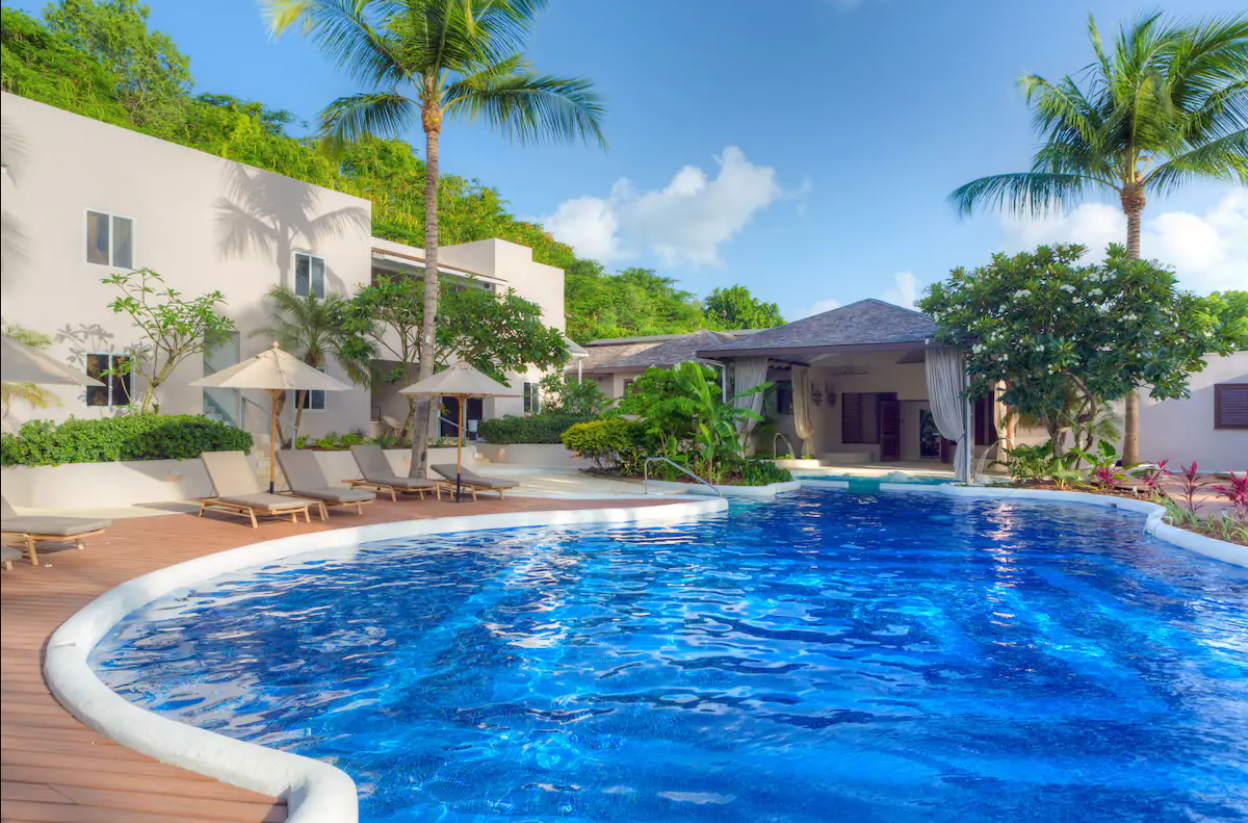 The other pool is much nicer and has a jacuzzi end undercover so you can shelter when it rains! (and it did, a lot!). This is also right next to the spa, so it's a nice place to relax after a treatment. Being more set back from the road, it was much more peaceful. And they had proper loungers!
Waves Hotel Barbados Marriott Spa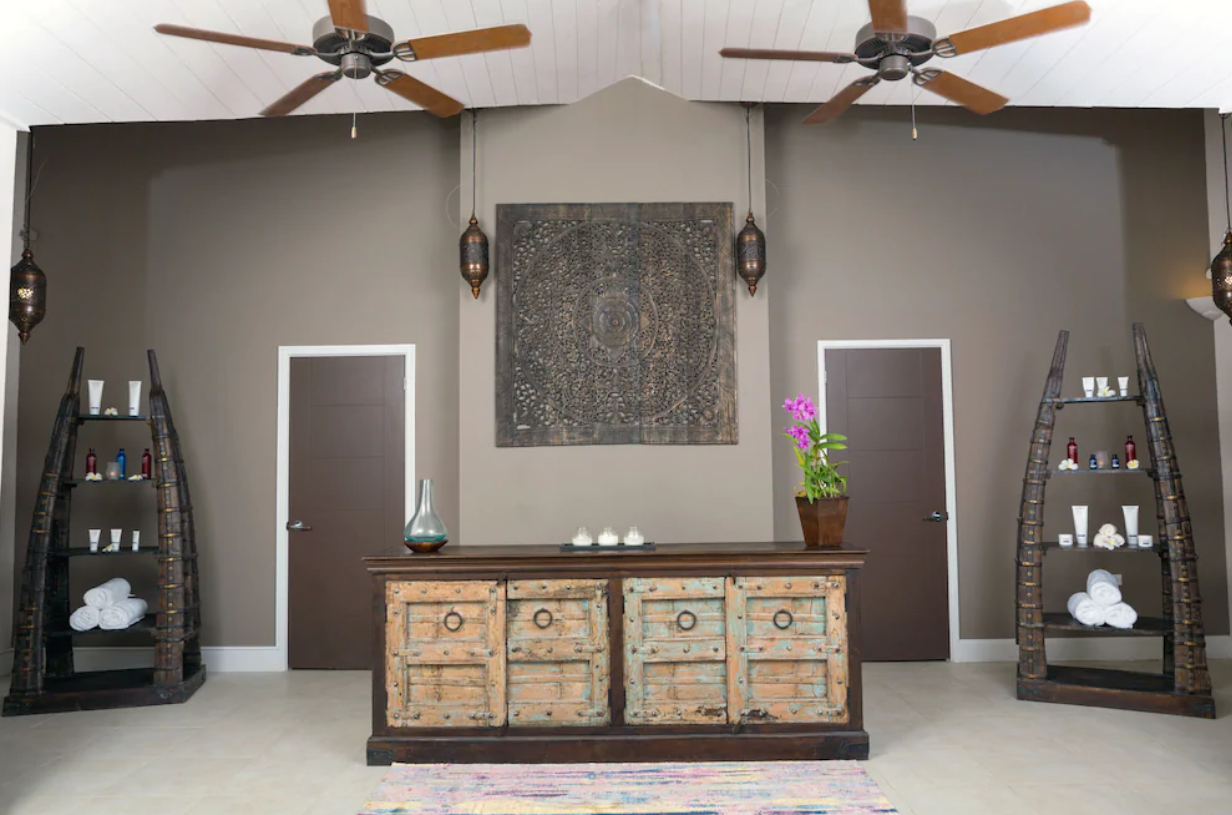 I found the desk staff here less welcoming than the Coral Reef Club, though my therapists were friendly. If you book for 7 nights you get some treatments included but I got nothing with 4 nights. I paid for a Waves Signature Bespoke Ritual which is two hours long and costs around £110 which I think is great value. It also had two therapists which is usually very expensive. It involved a scrub, massage, and foot massage which were all executed well. The only thing I wasn't keen on was lying face down with a mask on which is not very comfortable. Usually, most spas only require you to wear it face up.
Other facilities
If you want to keep fit or relax there are plenty of options:
Sunrise Walks On The Beach
Yoga
Meditation Garden
Pilates
Zumba
Fitness centre
Personal trainers
If you would like to just chill out there are normally a lot of activities such as managers cocktails party, art classes, mixology, and more. Some of these were not operating when I was there.
Conclusion for Waves Hotel Barbados Marriott
There are some hotels that you aren't keen on from the second you arrive. Often I change my mind when I settle in, but I never really warmed to Waves. It is difficult if you have a lot of hotels to compare it to as well. My parting experience summed it up. The hotel had carried my cases up the stairs and left them with the two security guards at the entrance. I went to get my car and came back to load it up. As I struggled to lift my case, which was a bit on the heavy side after some XO rum purchases, the two security guards just sat there a couple of feet away staring at me struggling on my own. This does not really leave the best lasting impression.
The staff in the restaurant were some of the nicest out of all the hotels and most efficient (although I did wonder whether I had been transported back in time when I went to dinner and got asked where my husband was!). The food and drinks were good quality with plenty of variety. However, for a fairly new hotel, the room already felt a bit tired and I hated the layout across the main road. Sea Breeze cost roughly the same, but I felt I got a lot better value for money there in terms of the room. Plus Sea Breeze feels like a much prettier and quieter resort.
This feels more family-friendly than Sea Breeze, but with very young children the steps would be a pain. For older children, the snack bar, children's menu, and activities would probably be very well received.
The hotel is now part of Marriott hotels meaning you can earn and redeem points with Waves. You can find more information and the latest prices for Waves here.
If you want to read more about my Caribbean trip:
Planning a trip – entry requirements, arrival and quarantine/2nd test at The Crane
Fairmont Royal Pavillion review
Sea Breeze Beach House all-inclusive hotel review