I had wanted to go to the Colony Club for many years. I remember seeing it in a holiday brochure a long time ago and being enticed by the swim up rooms and lagoon-like pools. The hotel was formerly part of Elegant hotels and is now part of Marriott so you can earn or redeem Marriott points. The hotel is category 8 and so costs 70,000, 85,000 or 100,000 points depending on the season.
Note: prices shown for food and drink are in Barbados dollars which is work out to be 2 Barbados dollar = 1 USD.
Location of Colony Club Barbados by Marriott
The Colony Club is situated a few minutes from Holetown on the Platinum West Coast and right next door to the Coral Reef Club. There are a few local restaurants in walking distance as well as the Coral Reef Club and The Sandpiper. Tides and Lone Star restaurants are also not far away.
Check-in at Colony Club Barbados by Marriott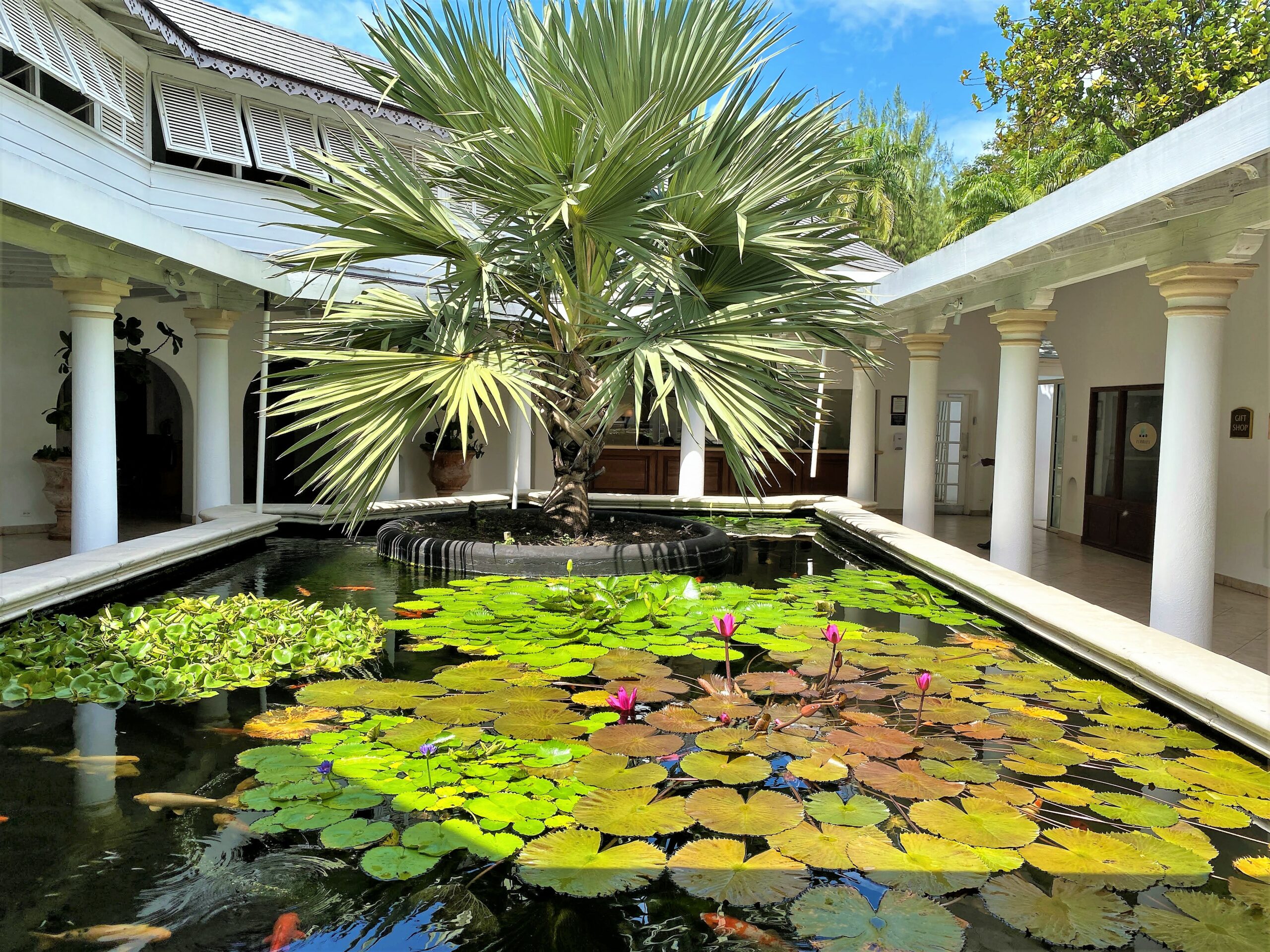 My stay did not start well. Most hotels now have their security guards checking your temperature as you enter. Usually, you would not really interact with security guards and their demeanor as your first point of contact needs some work. If you are driving you end up having to go through 3 separate security points! I was gruffly allowed into the hotel grounds and drove to the main entrance to drop my bags off. The porter was also no exactly welcoming either initially. I dropped my bags off and then went to the car park which is quite a long walk down the drive away from the main entrance.
Once in reception, the staff were very welcoming. I was offered a welcome drink and I had everything explained about my stay. I loved the open-air reception area centred around a large pond filled with water lilies. Throughout my stay, the reception staff were very friendly and helpful. Unlike at the Sea Breeze hotel, I was offered a choice of housekeeping – full which I went for, partial which is just changing towels, extra amenities, and emptying rubbish or no housekeeping. I thought this was a good idea.
I was then taken to my room with my luggage and showed where a few things in the room were.
Colony Club Barbados by Marriott Room
I had booked one of the swim-up rooms which is what I had seen so many years ago. Sadly it rained most of the time so I didn't get as much use out of it as I thought!
I will admit that I had low expectations of the room as the Elegant hotels are mainly known for needing a bit of a freshen up. Apart from the entrance area, it was actually very nicely done. It was spacious and clean.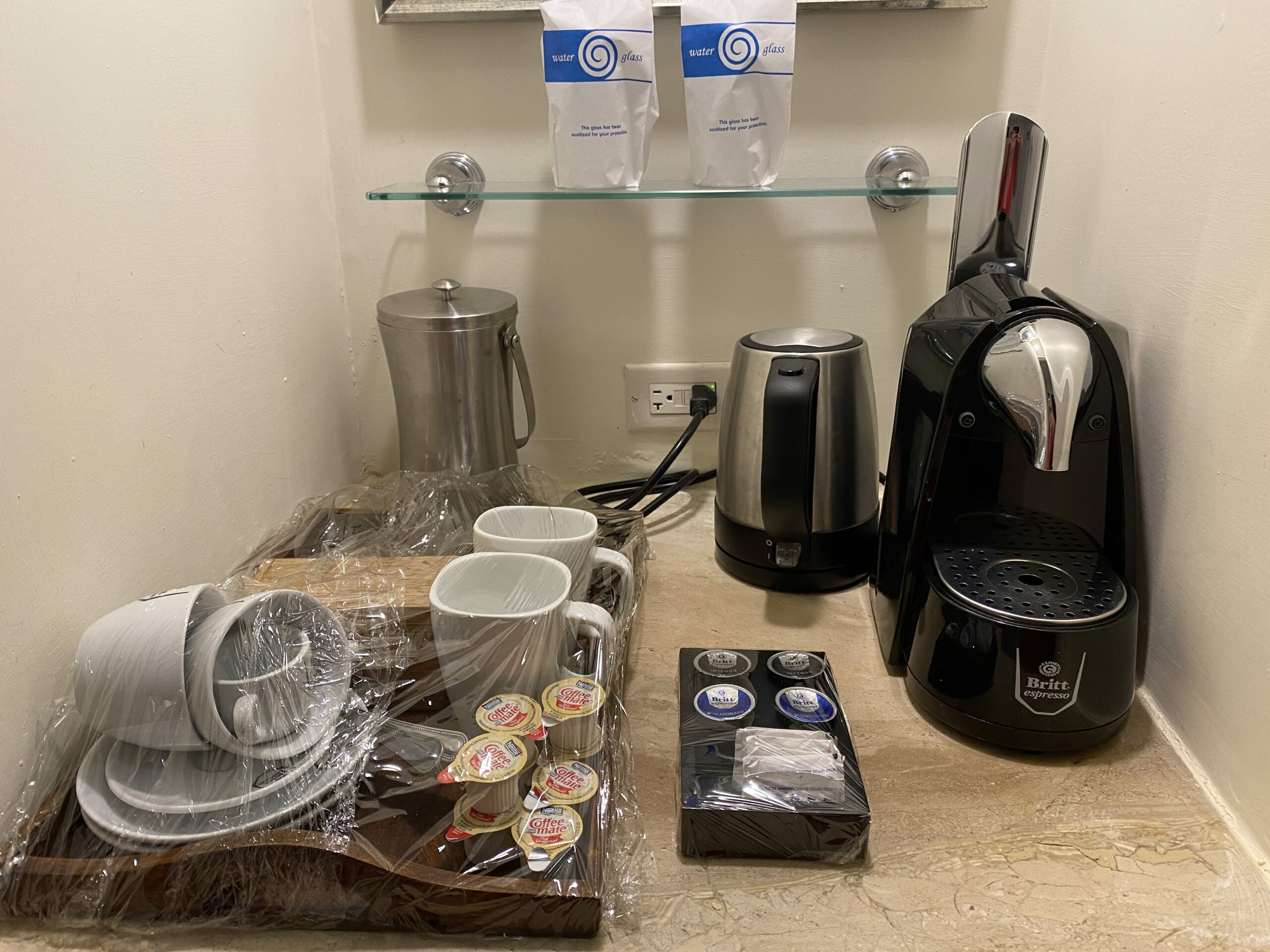 Everything was super COVID safe as it was all wrapped in cling film – even the hairdryer! As well as a kettle there was a proper coffee maker although there was only coffee mate creamer if you wanted tea with milk. Yuck! There was a good size fridge that was a stocked minibar but they didn't mind me taking a few things out to store my own.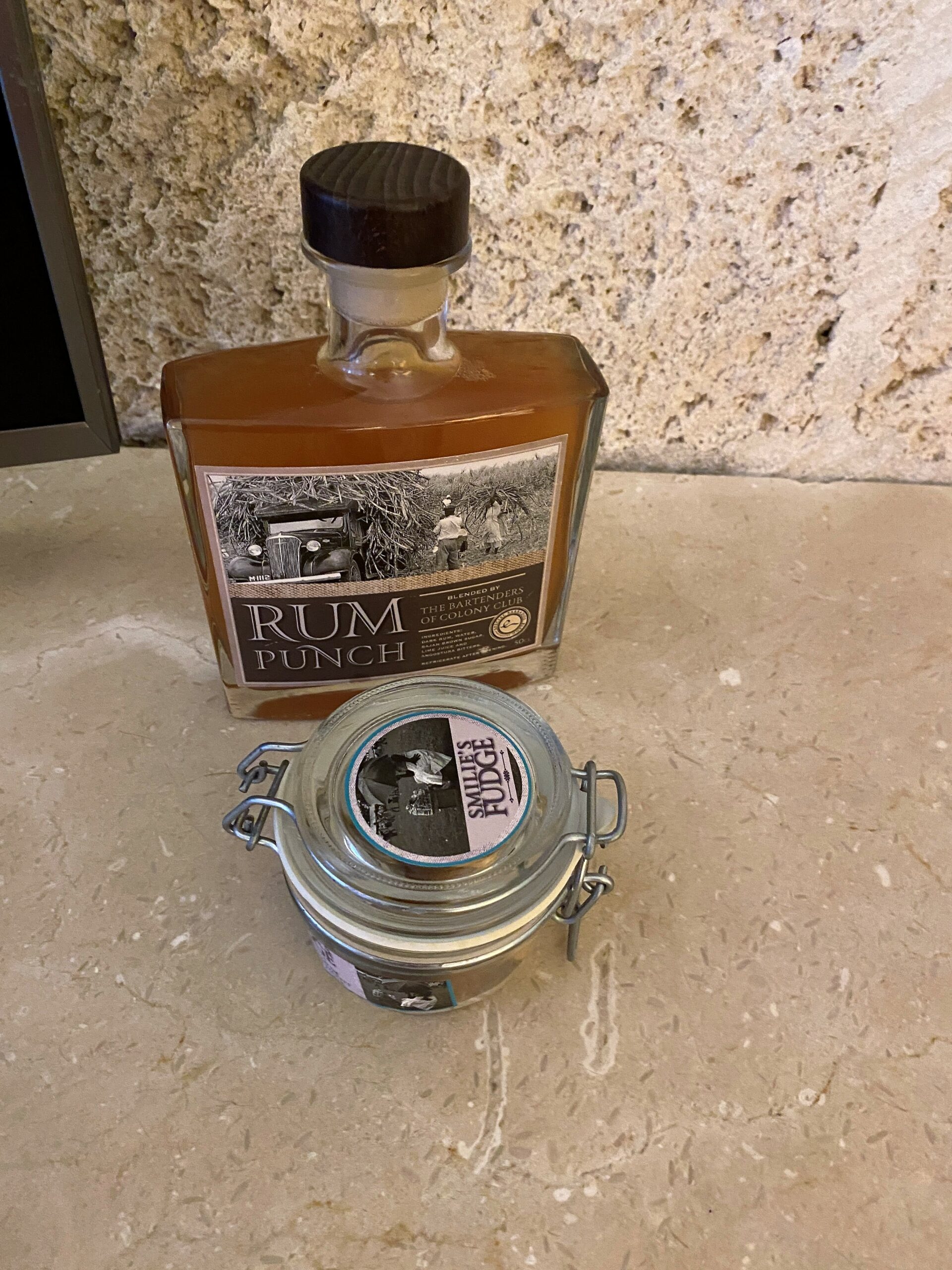 I certainly couldn't complain about the welcome gifts since they were plentiful. A bottle of rum punch and some delicious homemade fudge. There was also a bag that looked like it came from the spa. Sadly the gifts inside were not very spa-like! COVID stuff and some mosquito repellent……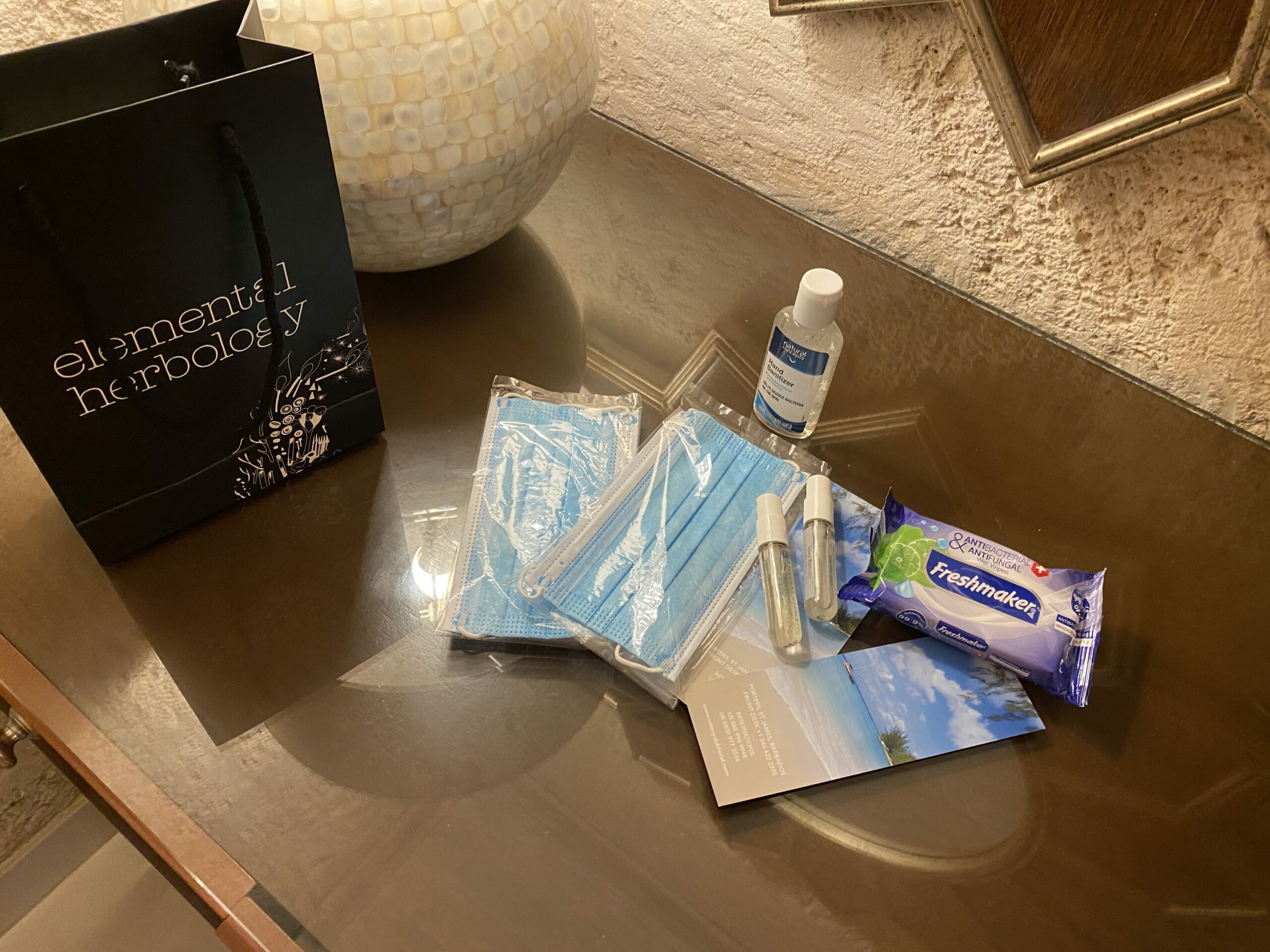 The area where the room needed attention was by the door. It all looked a bit worn out and there was a big gap under the door. Bearing in mind that Dengue fever which is spread by mosquitos is on the rise and the room was by a river running through the property, having a gap under the door was not ideal. There was a mosquito plugin, hidden in the room and I had brought my own spray luckily. The gap was so big I found a small frog in the room one day!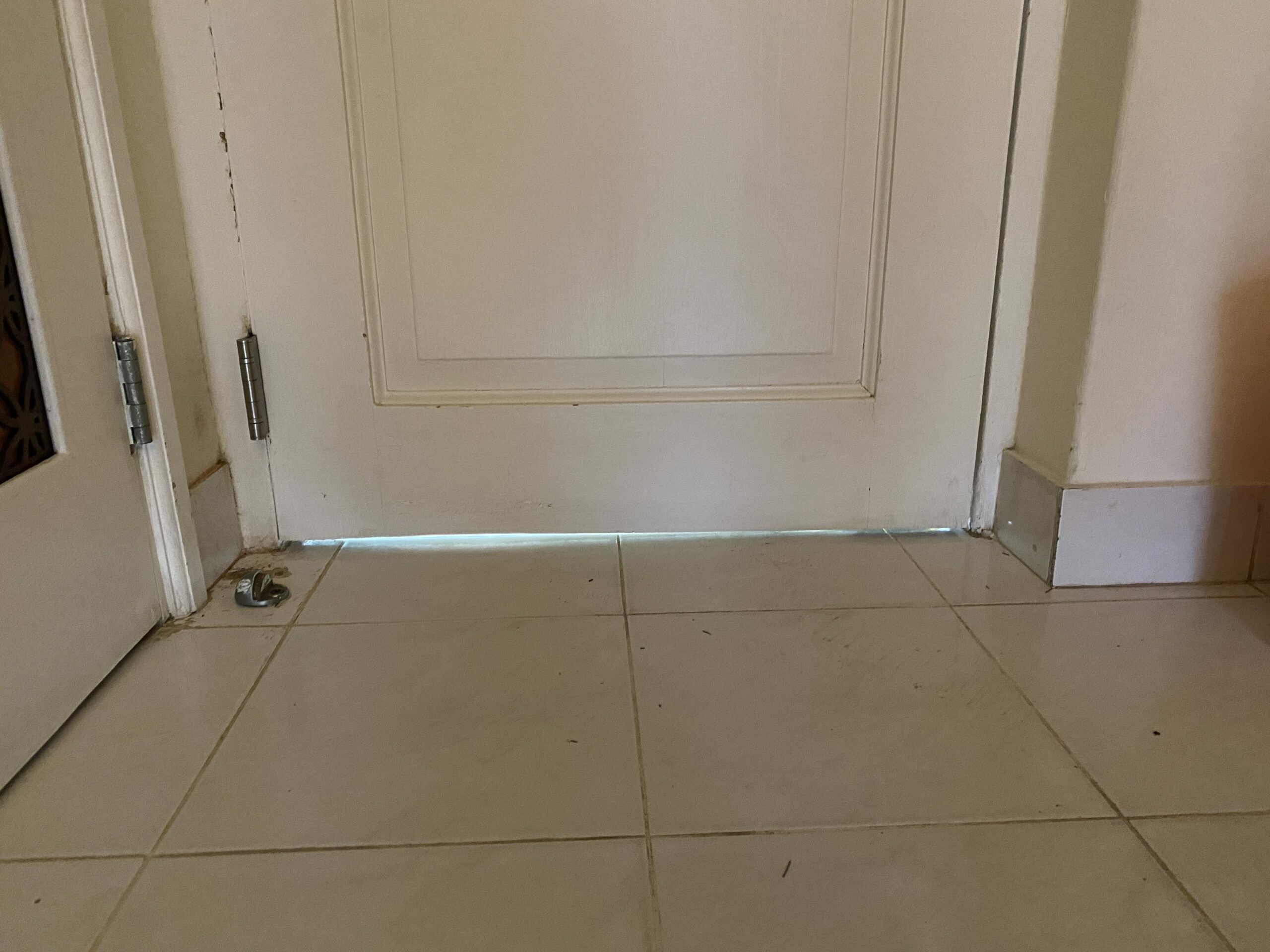 The wardrobes also looked very old and the inside was like a Swedish sauna. I believe Marriott plans to refurbish some of the hotels so it will be interesting to see what they do.
Normally the room would not be a massive issue as you are rarely inside but unfortunately, it rained a lot during my time at the Colony Club.
The bathroom was large and well lit.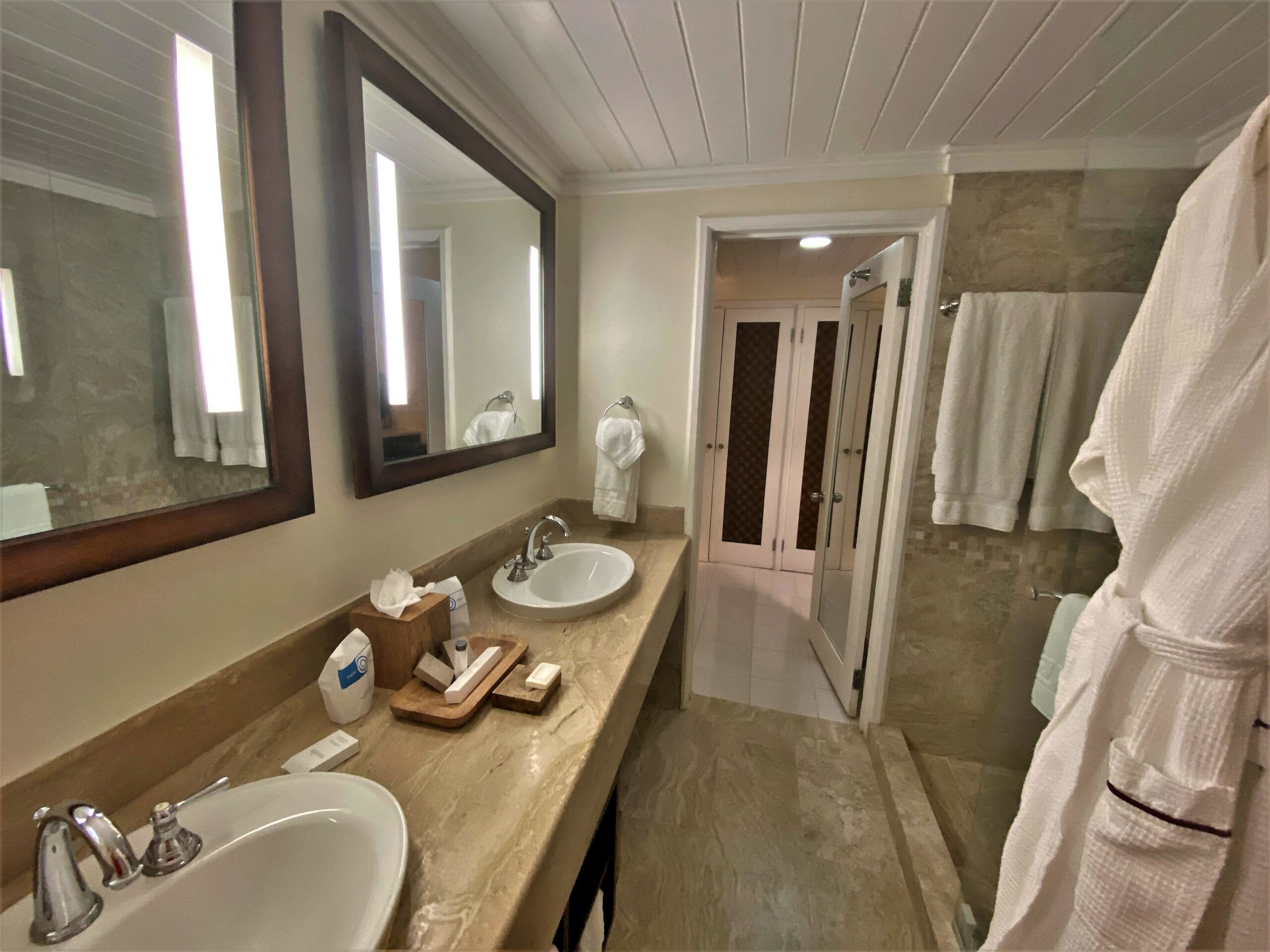 The only issue with the bathroom was the walk-in shower which only had a very small glassed-in area and a very large shower head which led to an issue with water ending up over the floor.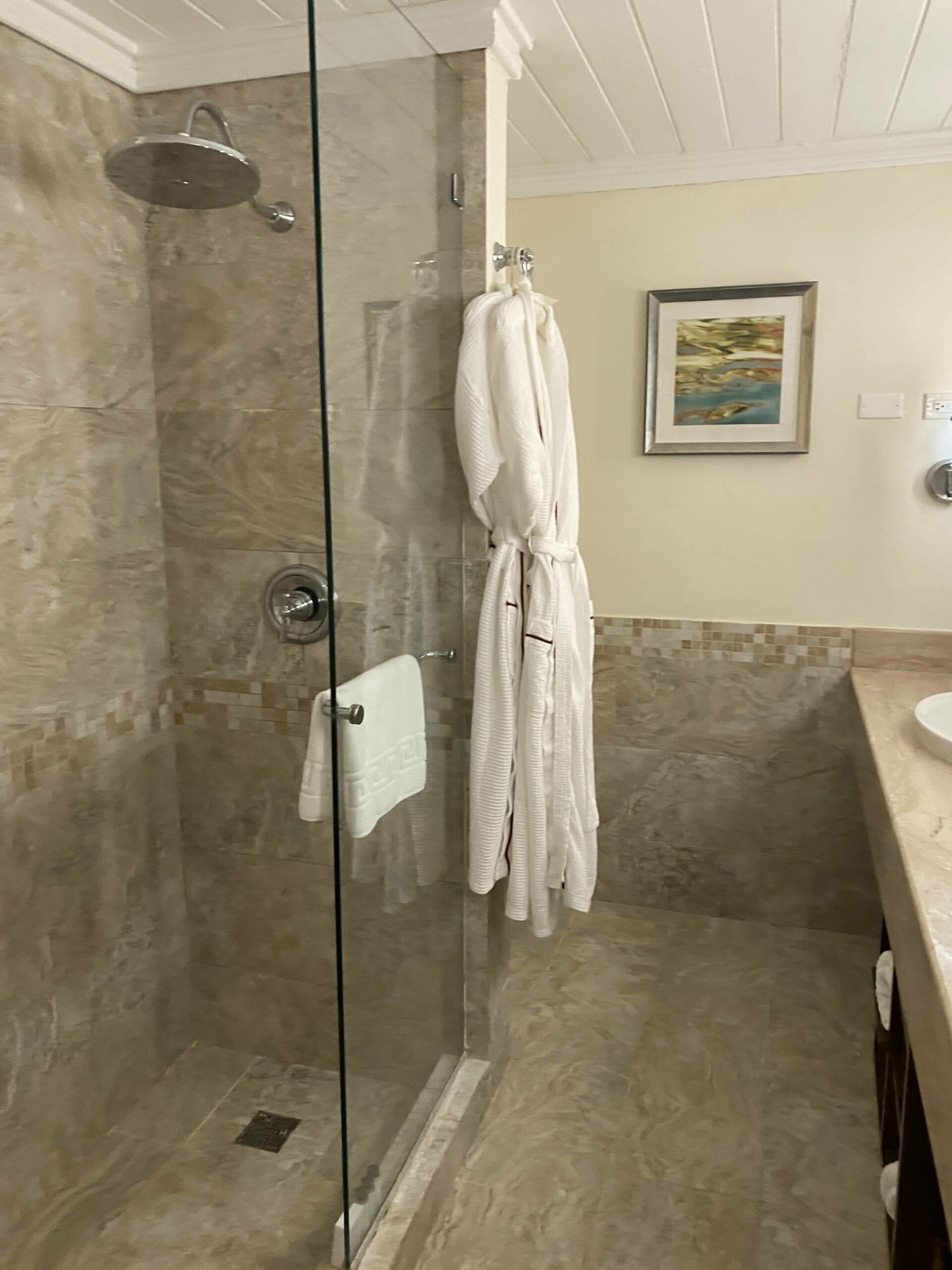 The toiletries are advertised as being by Ren but in fact, they were Babor which is also a good brand used in spas. The energizing lime and green tea scent was a lovely light refreshing scent. It was a bit annoying that there was nowhere to put anything in the shower except on the ground.
The bed was a bit hard for me as I do prefer a softer bed but it was OK to sleep in. The bedroom was well equipped overall with a large flatscreen TV with US cable, iron and ironing board, safe and robe and slippers.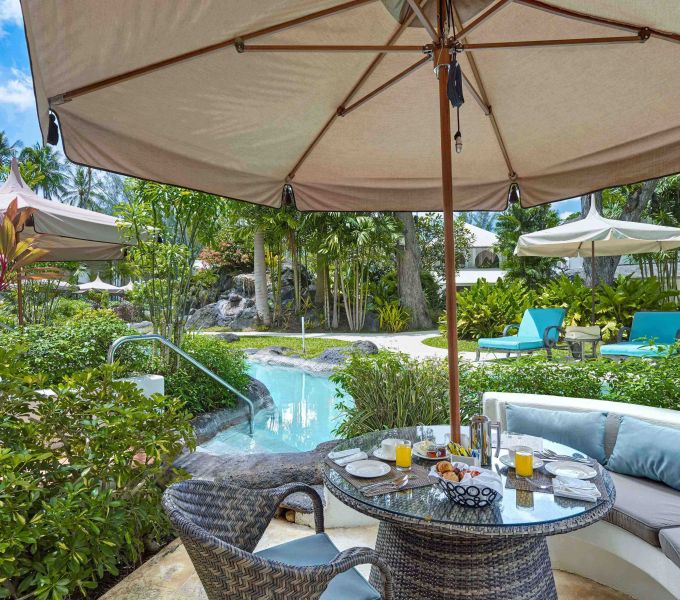 Outside was a large terrace with two sun loungers that were undercover in case it rained. There was also a drying rack. To access the water there were some small steps straight into the pool. I had always envisioned that all the pools are joined together but there are two sections of swim-up rooms with their own shared pool between 10 rooms (upstairs and downstairs). The shrubs around my patio had seem=n better days and it seemed a bit odd they would put me in the furthest block from the beach when the rest of the rooms were unoccupied and some had better foliage.. Mien was pretty bare.
By the water was a table and chairs which were pretty large and had a good-sized parasol – again handy for the odd rain brief rain shower.
Colony Club Barbados by Marriott Food and drink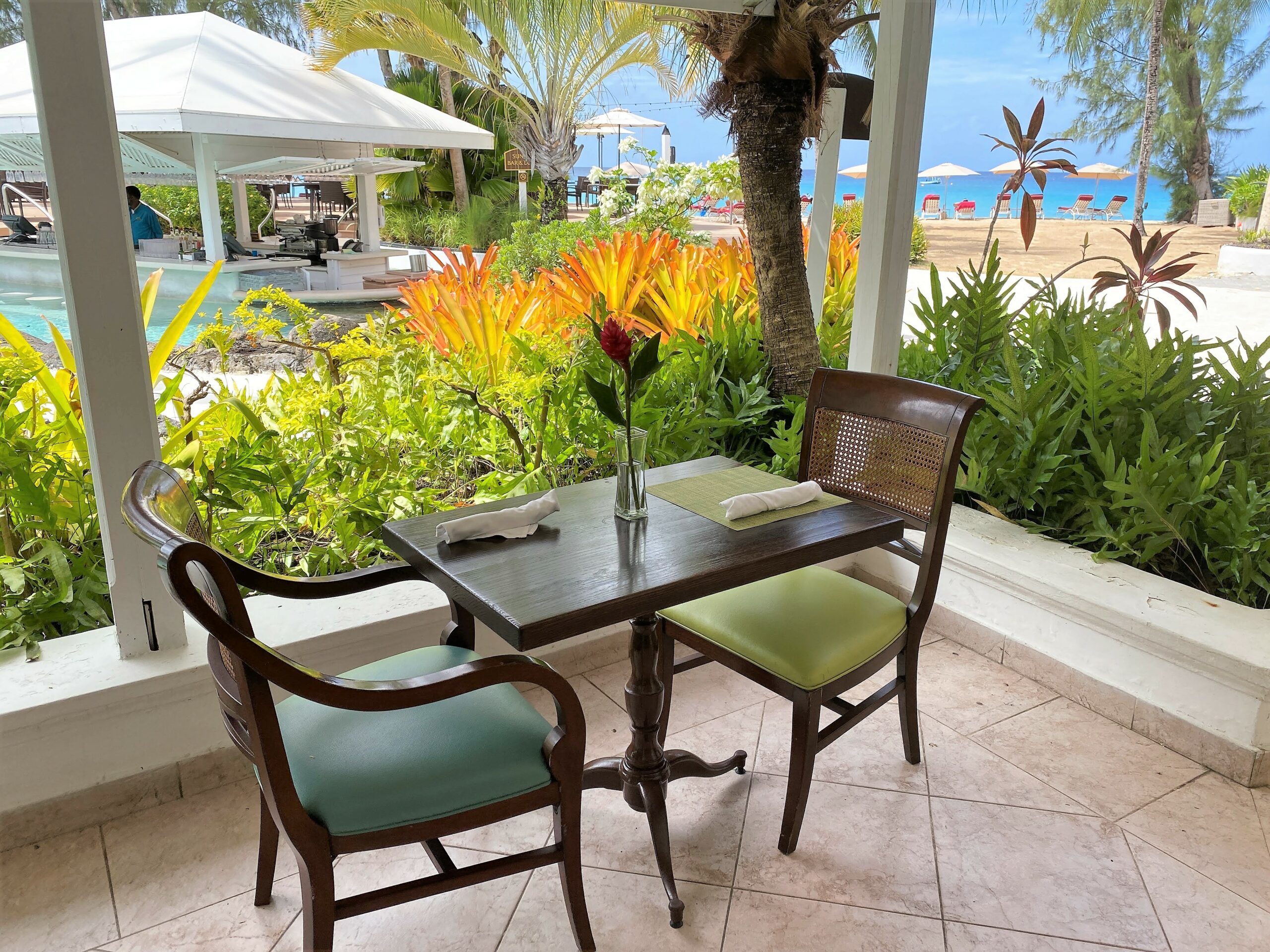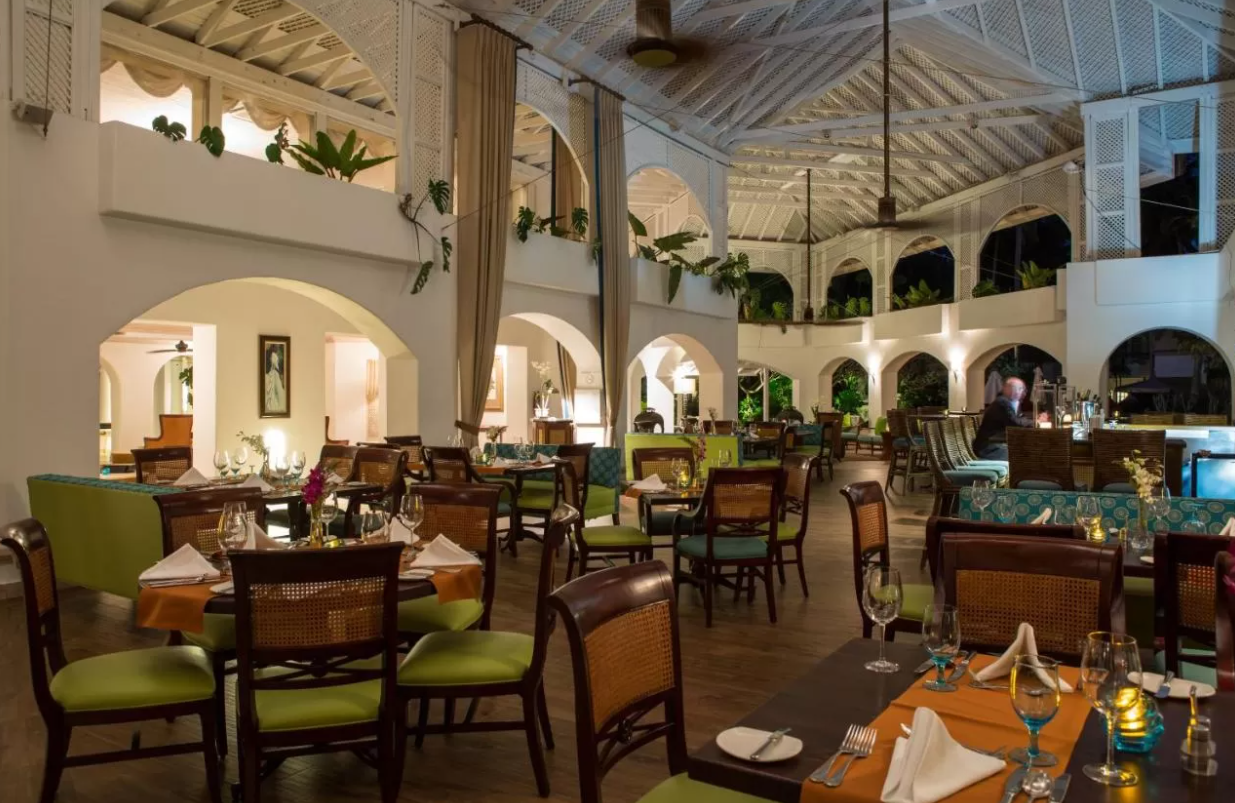 Overall the food and drink were very good. I ate in the restaurant for dinner and had lunch by the pool a couple of times. Prices were standard for Barbados but I thought the drinks prices were reasonable. Breakfast was served in the Laguna restaurant and then the Sunset deck did lunch and dinner unless it was raining. There was a happy hour every evening between 4-6pm.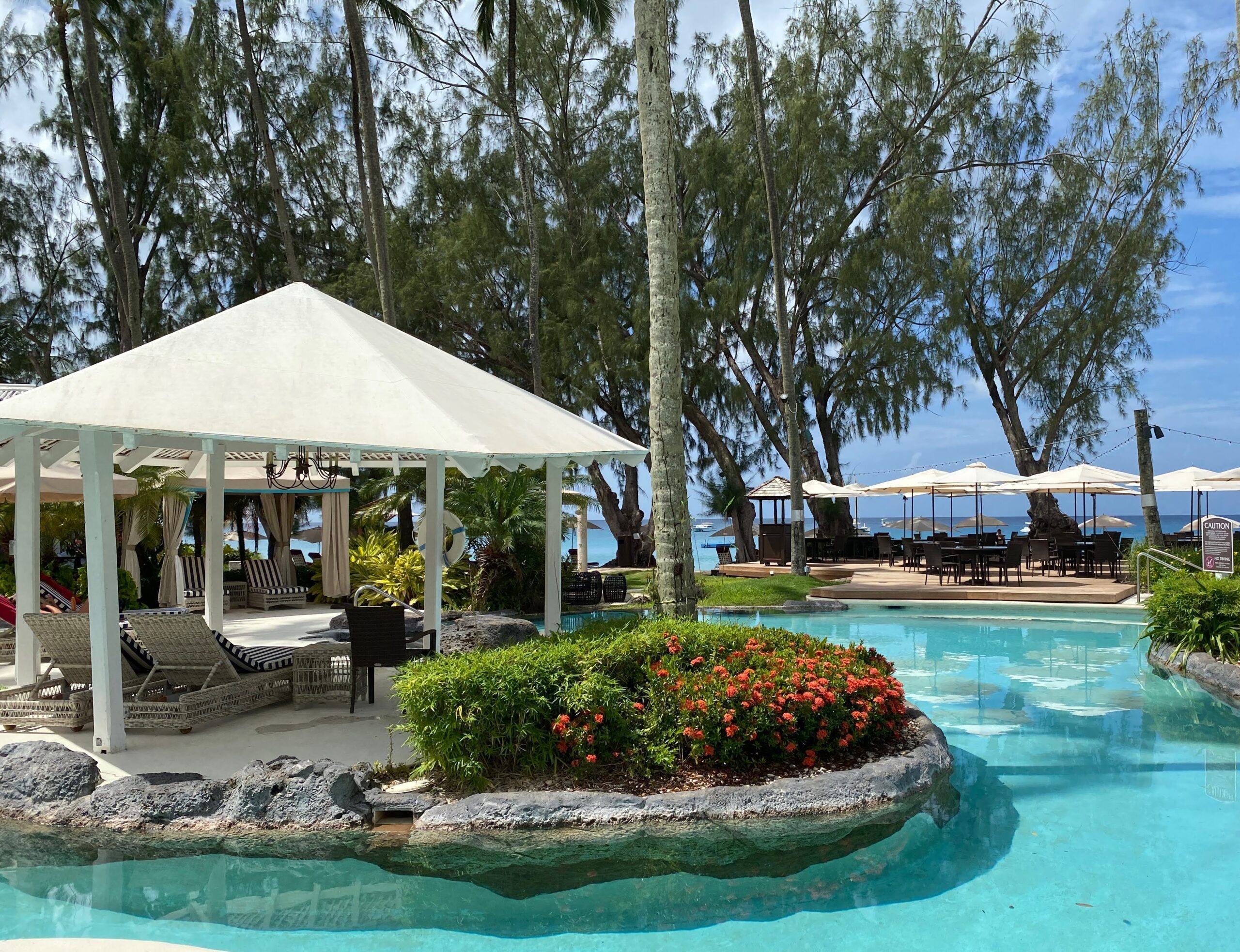 Breakfast
Breakfast was included and was the weak link. It was very disorganised and some staff were friendlier than others. It was pretty slow and the first morning there were only two tables being served when I was there but I still waited about 30 minutes to get my breakfast. Other guests told me it had been worse before with people taking 90 minutes to have breakfast.
Breakfast was all a la carte and was included in my room rate. You were handed a disposable menu every morning, although it seemed the same every day.
There was a lot of choice and if you wanted you could gorge yourself. The portions were enormous. Here was my fruit plate: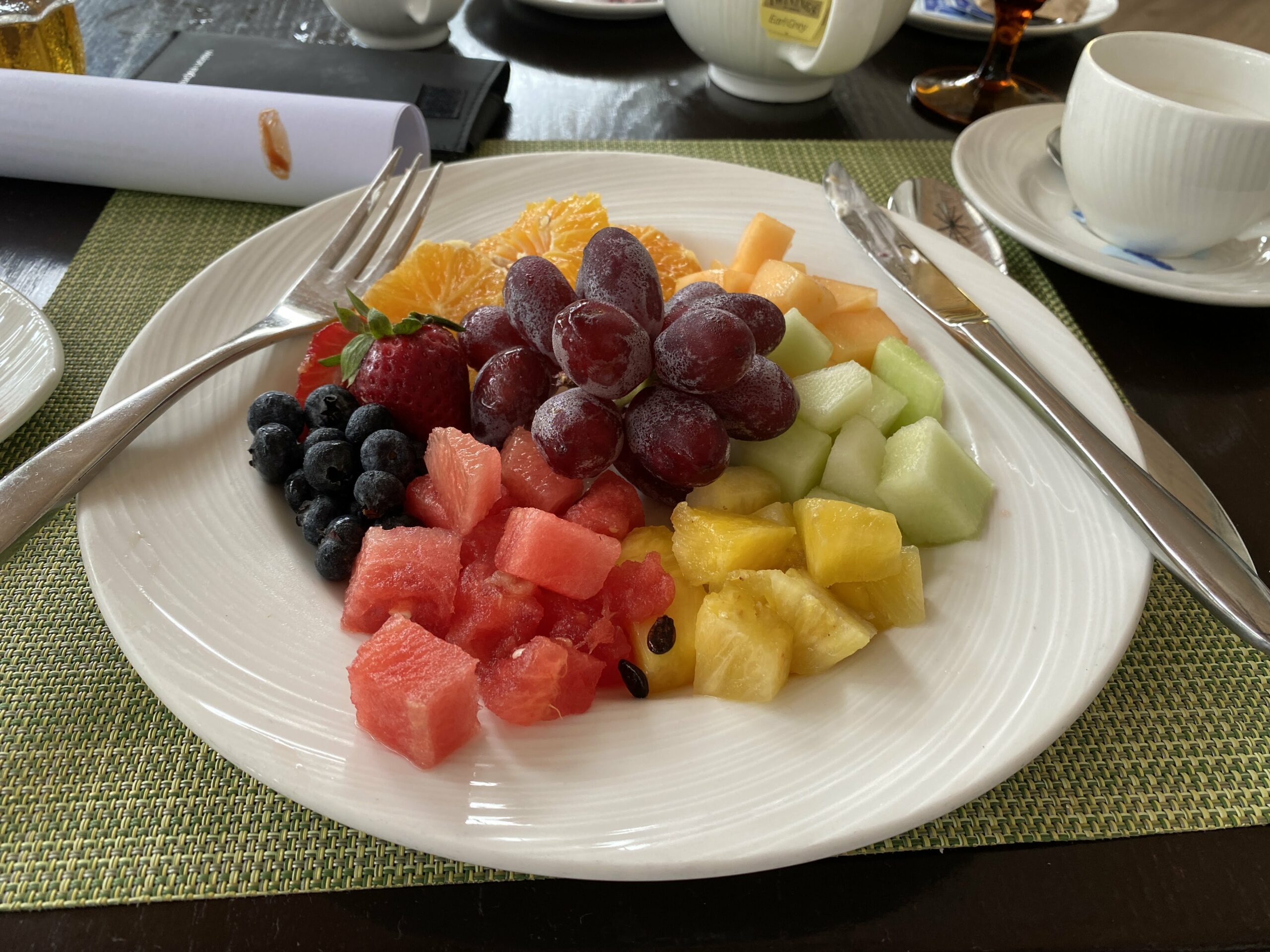 I also tried the eggs benedict (very average), the yoghurt parfait (delicious) and the pancakes (good).
To be fair to the Colony Club breakfast seemed to be an issue at all the hotels. It had only reopened the week before my visit and staff were getting used to the protocols. Having said that things were not set up for convenience. For example, I ordered an Irish coffee one evening which comes from the outside swim up bar. Because it was torrential rain they could not get anything from the outside bar – given that Barnados has a whole rainy season, this seems something of an oversight!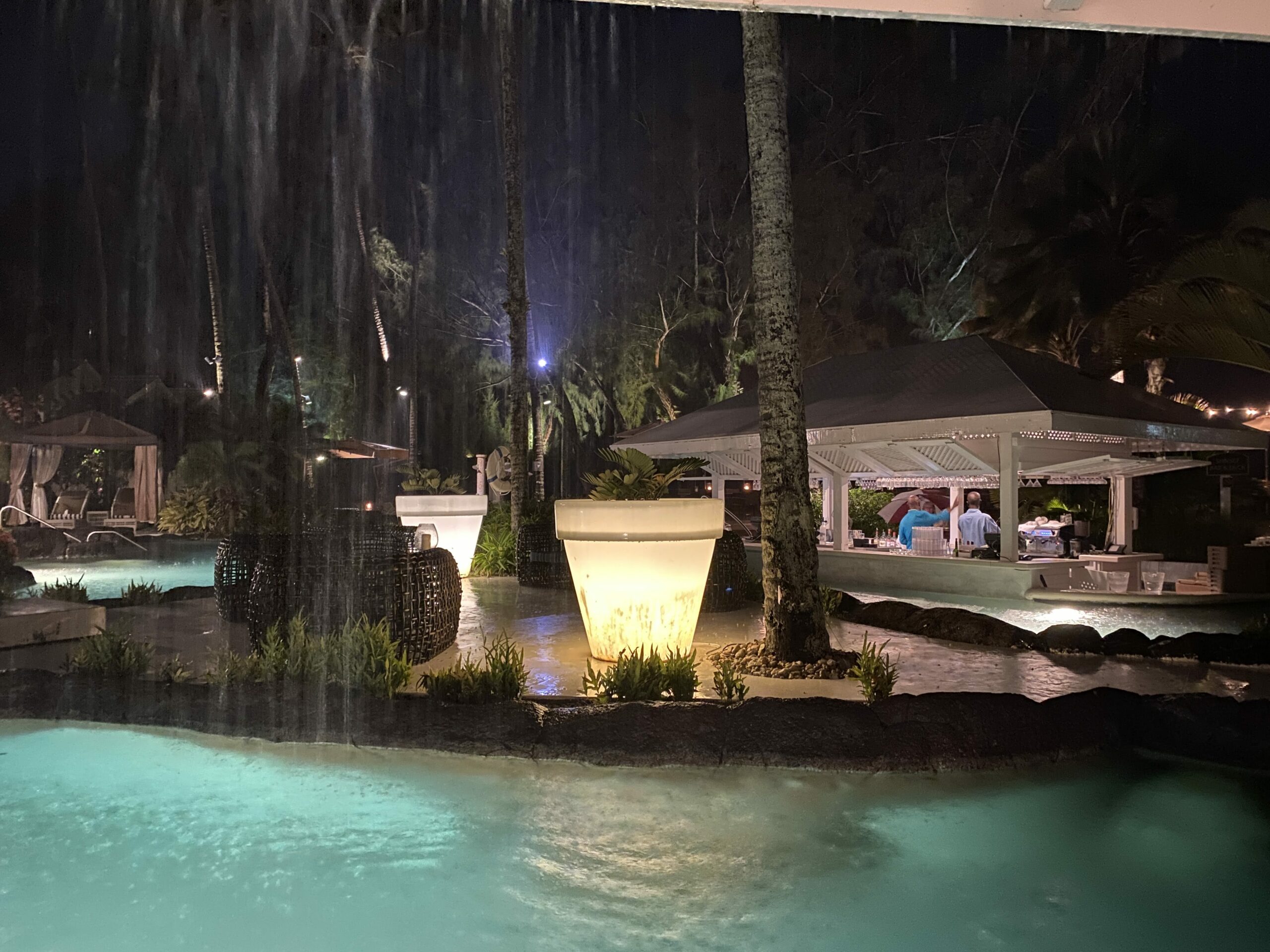 The snacks during the day were tasty and there were some smaller things if you just wanted a nibble.
Again they were huge portions so you could keep the costs down by sharing.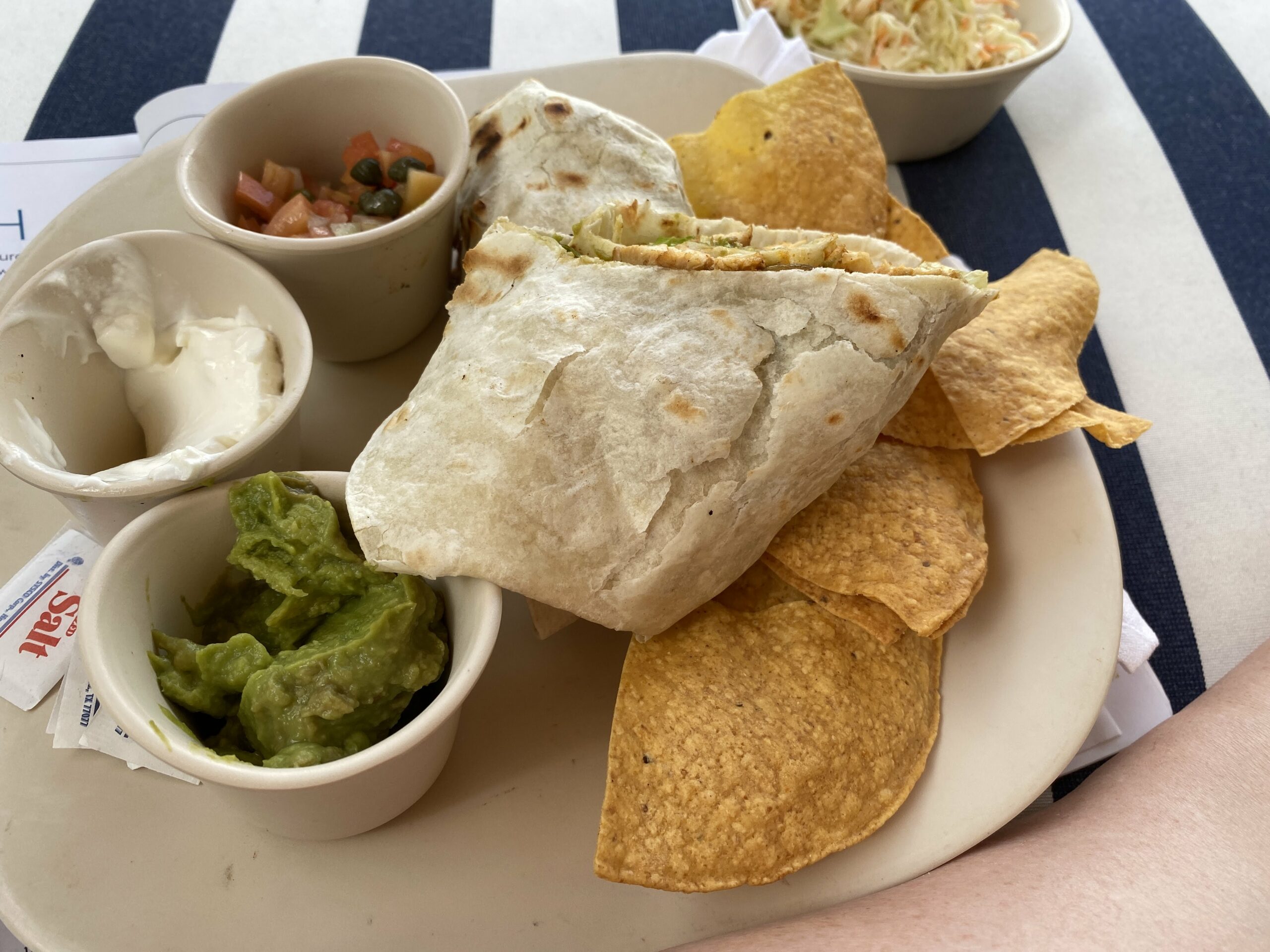 Dinner
I dined in the Laguna restaurant as the weather was bad. There was an exhaustive choice of dishes on the menu. Fortunately, the service at dinner was much better than breakfast and pretty much spot on. But then given the prices, I would expect it to be perfect!
I started with the crab salad which was very good and then went on to a tea-smoked duck dish. This was definitely high end cooking and I had no really complaints about the food.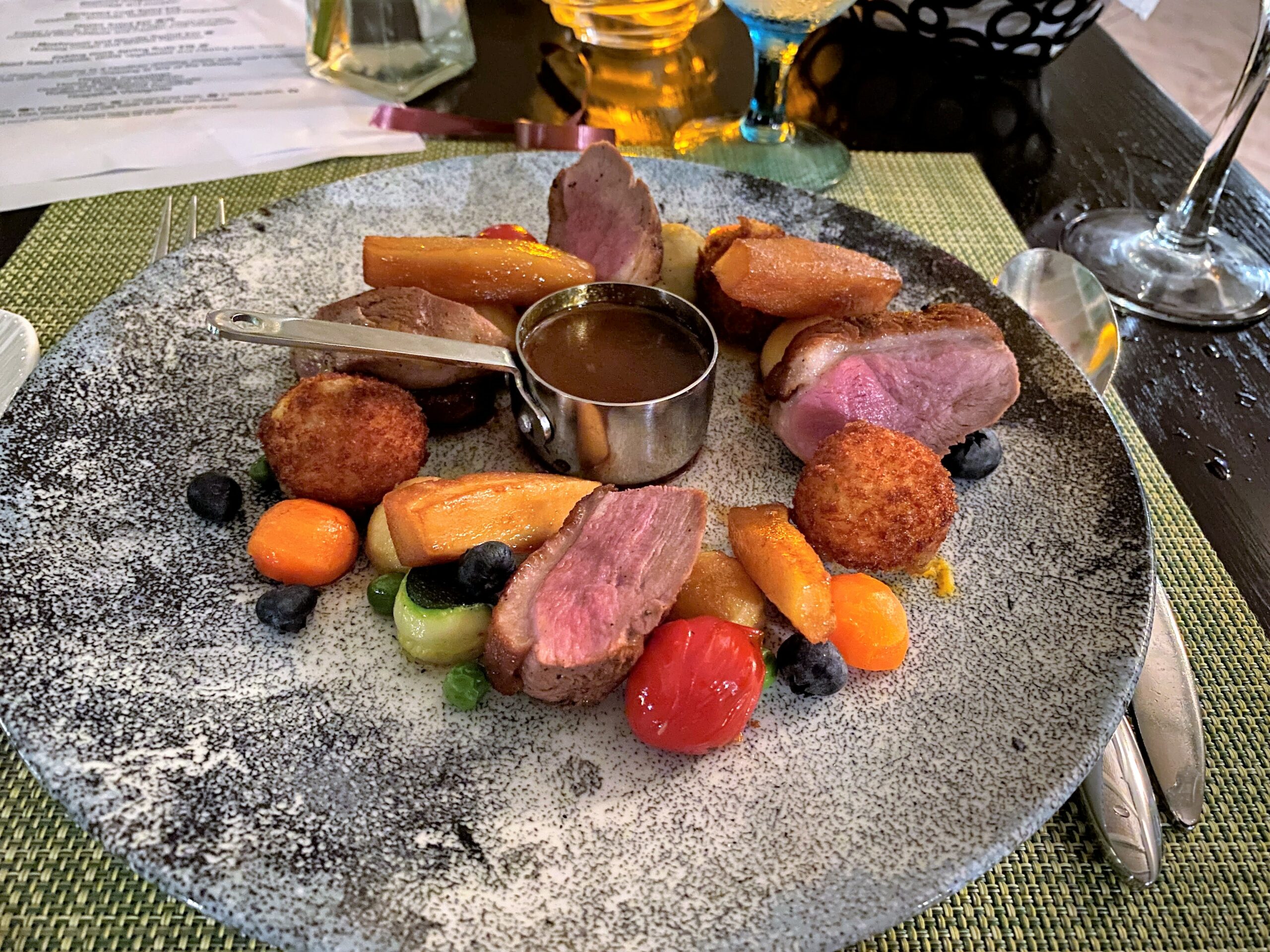 Apparently, my dining companion was not a fan of the crab salad….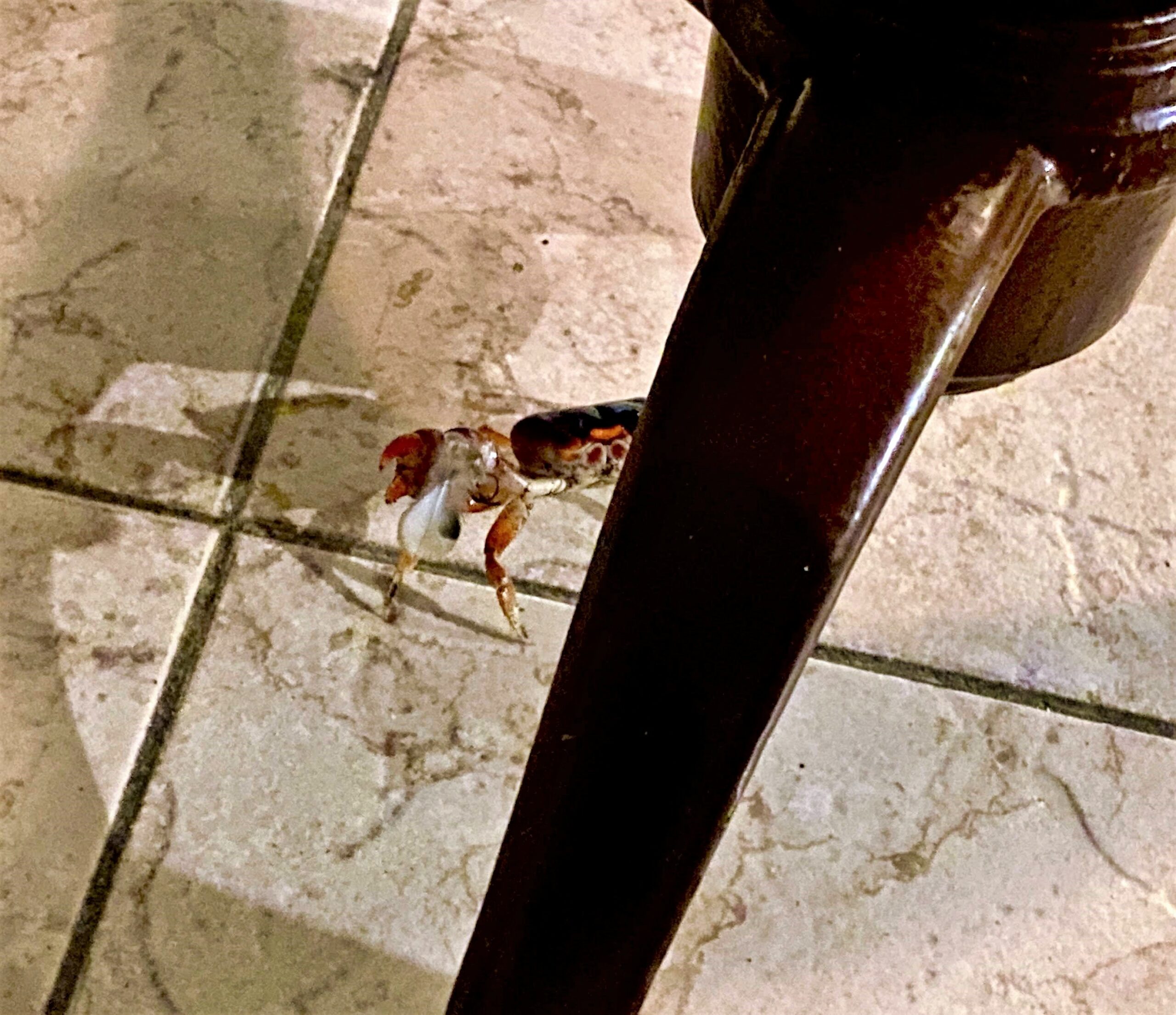 Pool and beach at Colony Club Barbados by Marriott
If you love a pool, you probably won't get better than the Colony Club. There are at least 4 or 5 freeform pools that I spotted, possibly more! As being plentiful the gardens and surroundings are all beautifully tropical. There were plenty of loungers that were plush and comfortable with lots of shade available if you wanted it.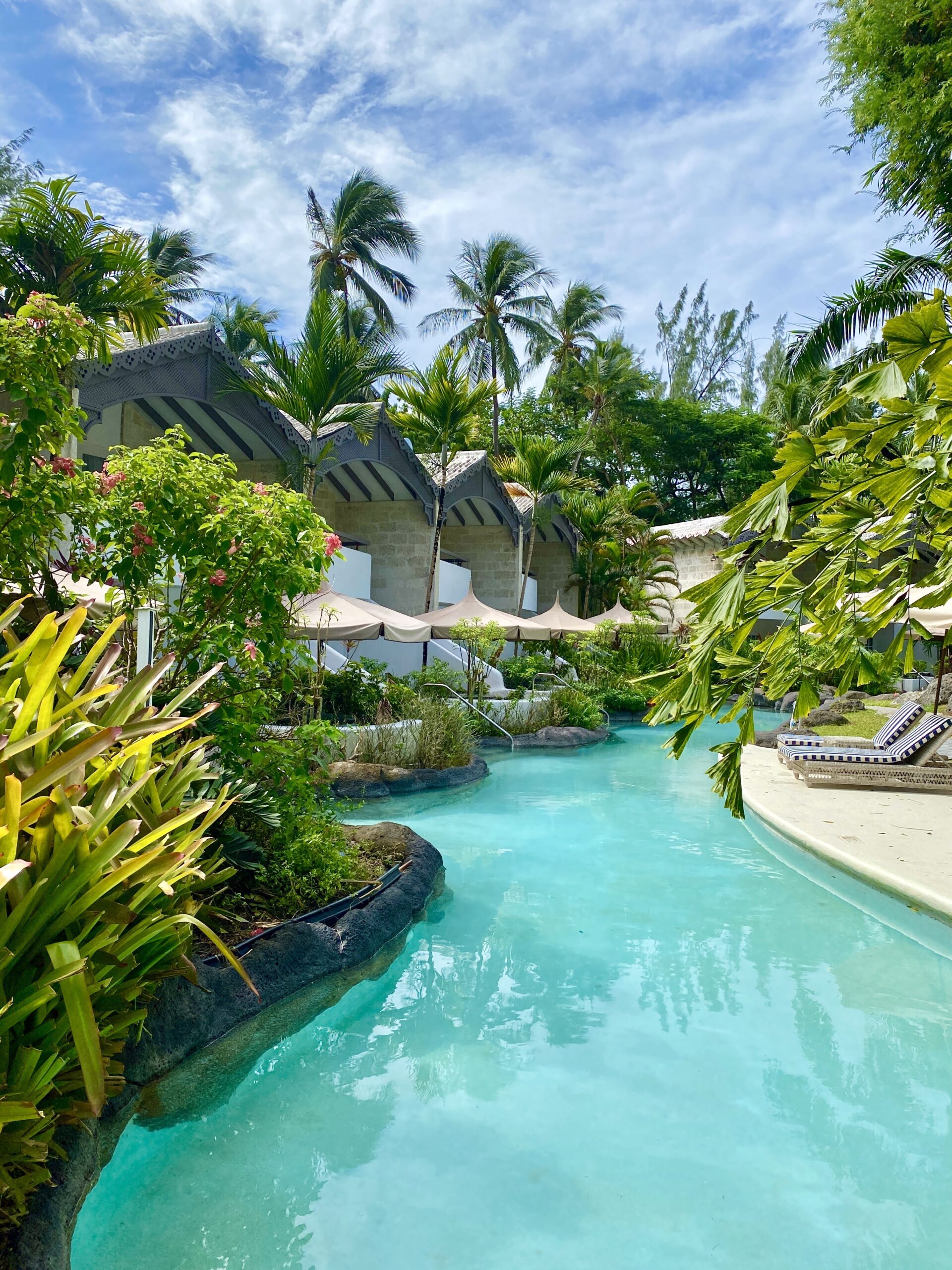 There are pool and beach ambassadors that bring you your drinks and also some delicious treats at regular intervals. I was impressed with the standard of the free snacks compared to the usual frozen sip or two of a smoothie you get at some places.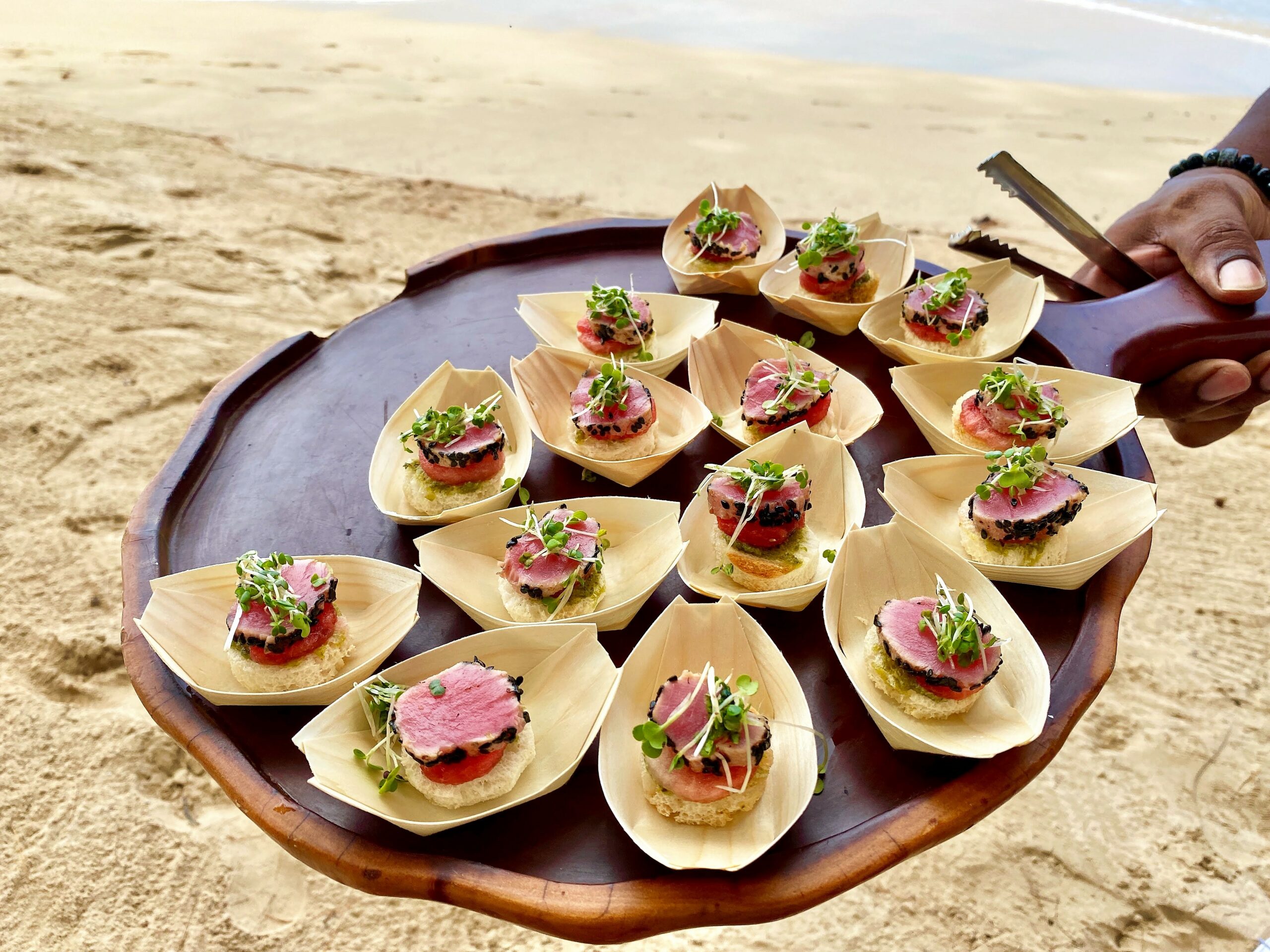 Here are some of the pools – getting a lounger was never an issue!
The beach was pretty average. Like all the West coast beaches, the water is very calm here. However, the beach is quite small, a little stony and there is a steep slope down to the sea. It is a good place for snorkelling though with a reef just offshore. The red flag was up for most of my visit sadly.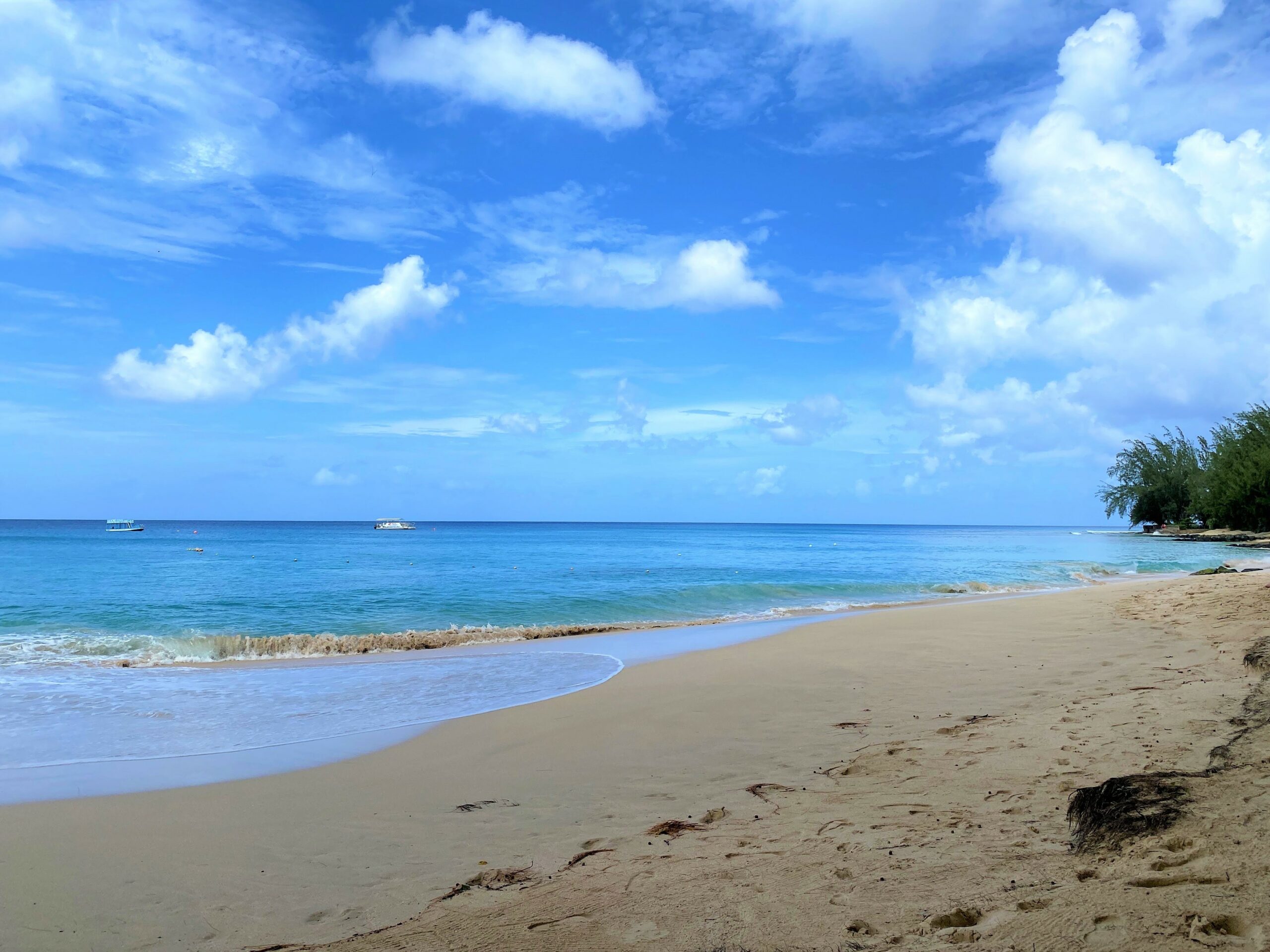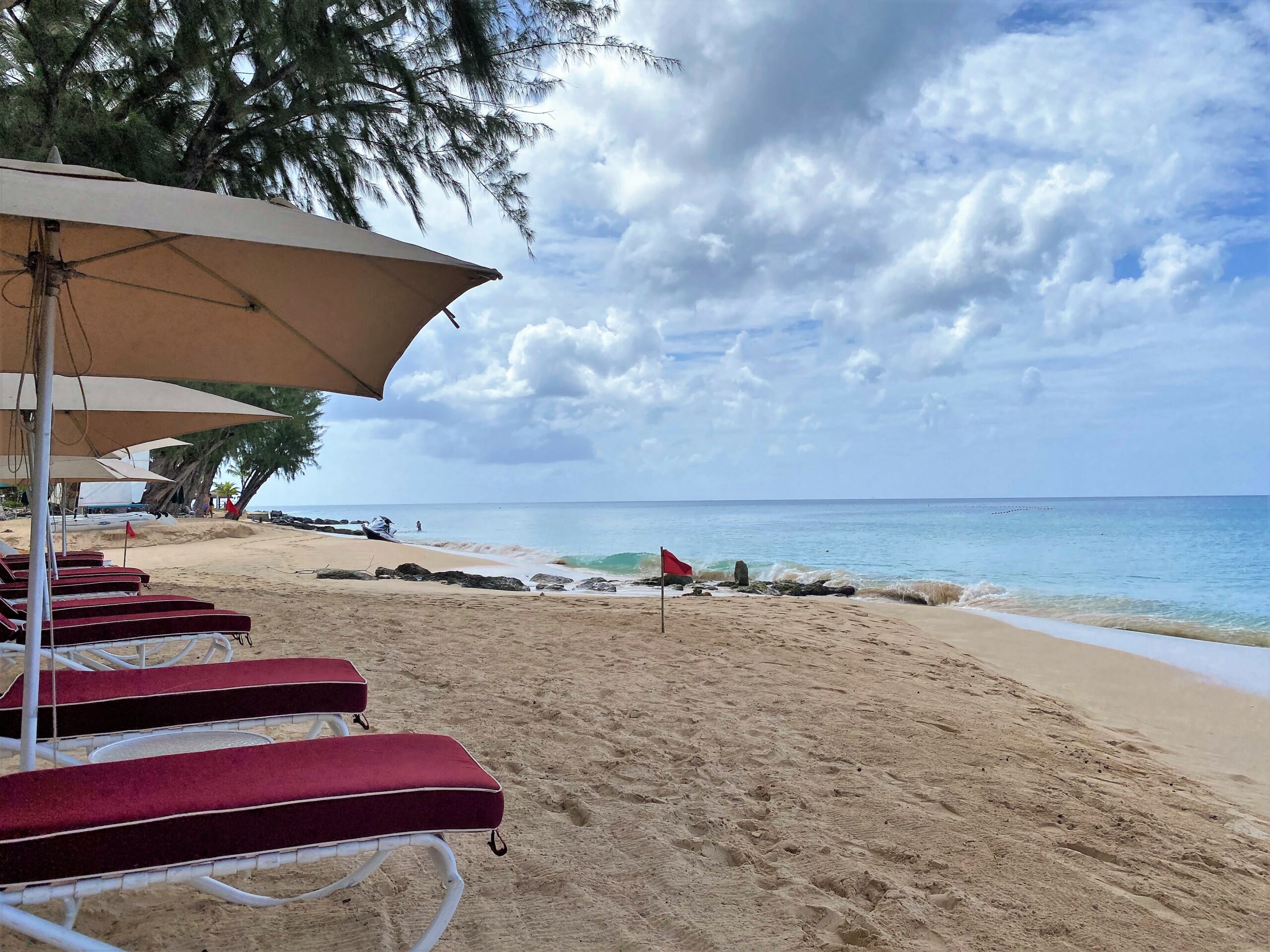 There are some lovely beaches a few minutes stroll away along the coastal path which are more sandy. If the beach is the most important thing then I think the Fairmont is by far the best beach on the West Coast.
You get complimentary motorised water sports such as waterskiing, tubing, and banana boat rides, as well as complimentary non-motorised water sports like sailing, snorkeling and Stand Up Paddling. Lessons for these are also free. I think that makes the Colony Club good value if you will use all the watersports.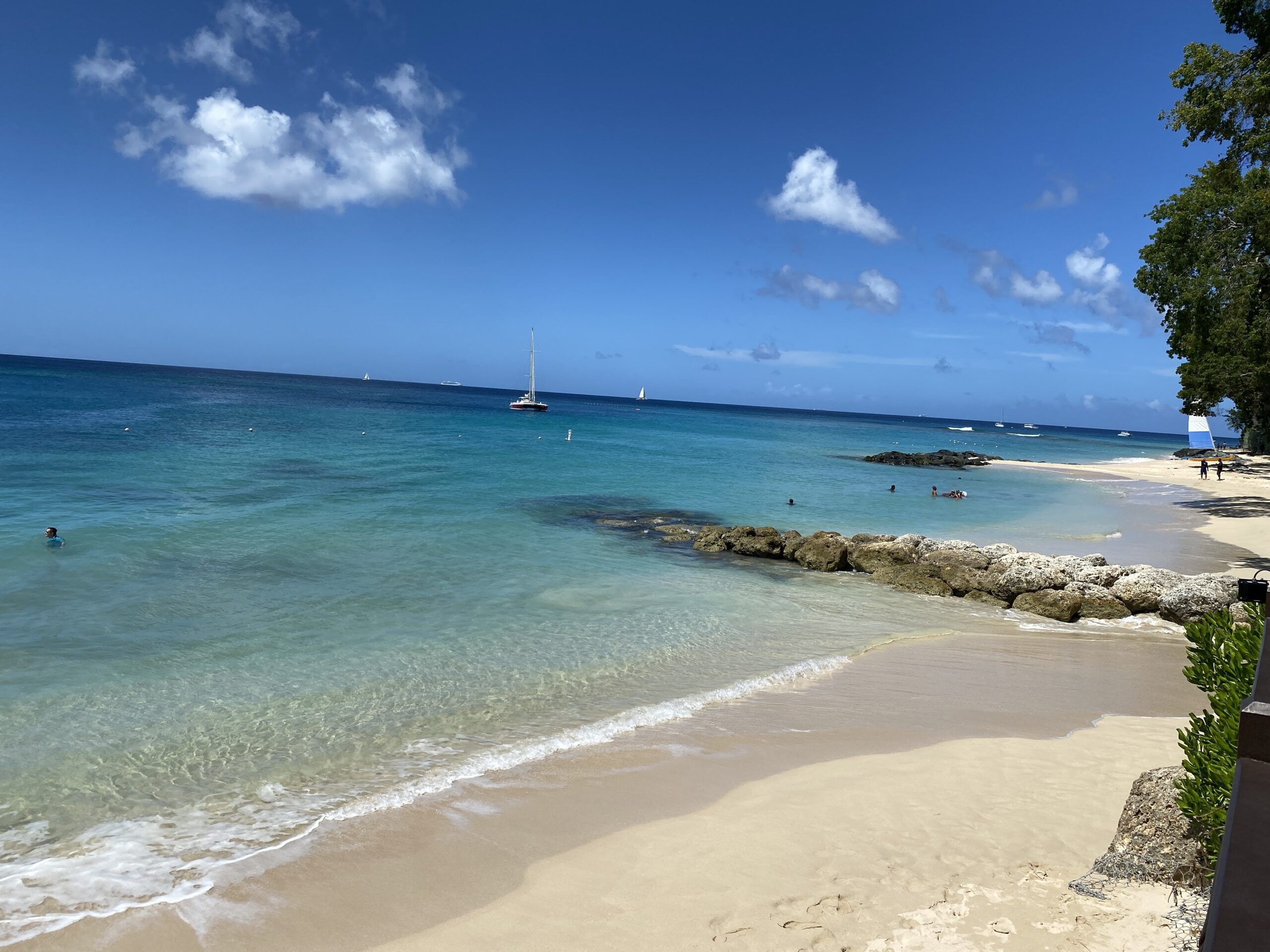 Facilities and activities
There is a complimentary on-site fitness centre and weekly Pilates, yoga, Zumba, and aqua aerobics classes as well as floodlit tennis courts. There is a spa but it was not open when I was there. However, the Coral Reef club spa just next door is open and that was lovely.
In normal time there is also the dine-around program. This lets you enjoy the variety of restaurants, bars and amenities at select Elegant Hotels. There's a complimentary water taxi to transport you to explore the offerings of select sister properties.
The lobby has a couple of shops as well include the ubiquitous diamond shop but it was shut when I was there.
Conclusion
Overall I enjoyed my stay at the Colony Club. Given that at the moment there are rooms starting at $178 per night I think you get good value for money. The room definitely could do with a bit of a tidy up in places but overall it was comfortable and nicely decorated. The staff were friendlier than some other places I stayed although a few were a little reserved.
This hotel felt quite unique and the outdoor areas were delightful, for a pool lover like me it was heaven. The beach was OK but there are nicer west coast beaches. The food and drink were expensive but with such huge portions, you could share stuff or just go crazy on the inclusive breakfast and skip lunch!
I stayed in a swim-up room but I think these are a bit of a novelty factor and not worth the price difference since all the rooms are only a few steps from a pool! The basic toom starts at $178 but a swim-up room starts at $345. I would definitely consider staying here again once I could redeem or earn points here. I think next time I would go for a sea view room which currently starts at $245.
You can check prices and find more information here.
If you want to read more about my Caribbean trip:
Planning a trip – entry requirements, arrival and quarantine/2nd test at The Crane
Fairmont Royal Pavillion review
Sea Breeze Beach House all-inclusive hotel review
Coral Reef Club and the Sandpiper
Villas to rent that all are quarantine-approved