A few months ago I flew with FlyBMI to Germany to visit Munich. I was impressed with the flights and had a wonderful break in Munich which I was really pleasantly surprised by. You can read my FlyBMI flight review here and what Munich offers for a short break here. FlyBMI kindly offered TLFL the chance to try out another of their destinations and this time Mrs B went to Ghent. Over to you Mrs B….
I've just returned from a short break in Ghent flying from Bristol Airport to Brussels with flyBMI.
Bristol airport and check-in
The airport is well signposted from the M4 and on arrival I found long term, short term and Silver parking all in a row in front of the departure building with long-term customers having a slightly longer stroll to the terminal than the other car parks, but still only a couple of minutes. Once inside the airport my first impression was how light and airy the departure area was with its ceiling to floor windows all along one side. The airport was relatively quiet and calm which is not something I normally experience and it made a welcome change from my usual stressful transit through airports.
The FlyBMI check-in desks were easy to locate. Two desks were open and as we arrived the ground staff were both checking in other passengers but we had virtually no wait at all to be checked in too. The agent at the desk was efficient and friendly and we were quickly on our way to security. We had security fast passes which cost £5 each but on the day we were there the whole airport was quiet so there was no queue at security even without the fast pass.
Once through security there were eateries to cater for pretty much every taste and budget. We were booked into the Aspire lounge which was easy to find.p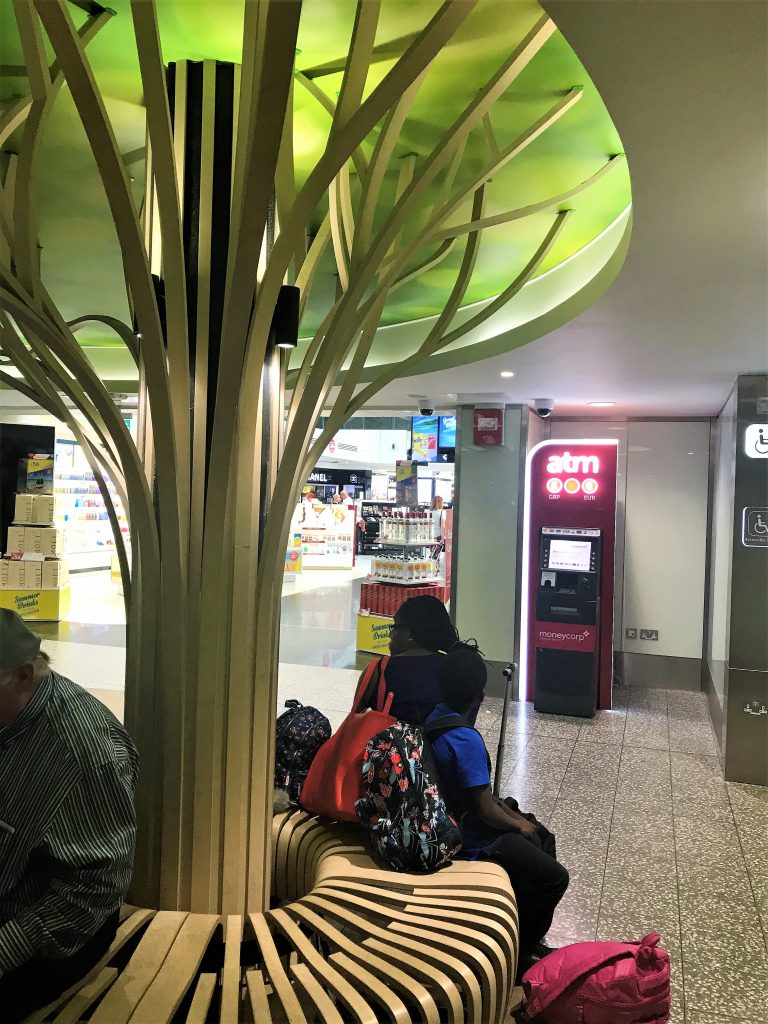 The lounge looked very fresh and new and was extremely quiet. When we visited it was breakfast service with scrambled eggs, sausage, bacon and beans. Yoghurt, fruit, granola along with croissants and Danish pastries were also available.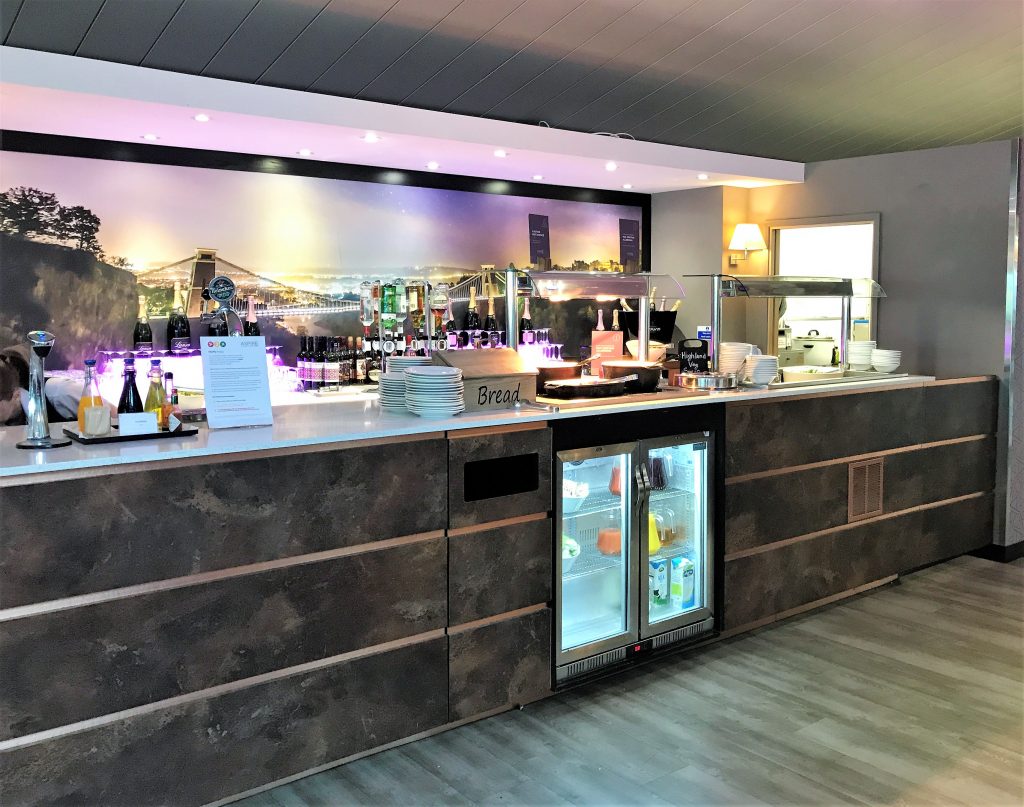 There was a standard bar service (no champagne or prosecco) but in the interests of quality control, I felt obliged to try a small glass of white wine which was very pleasant!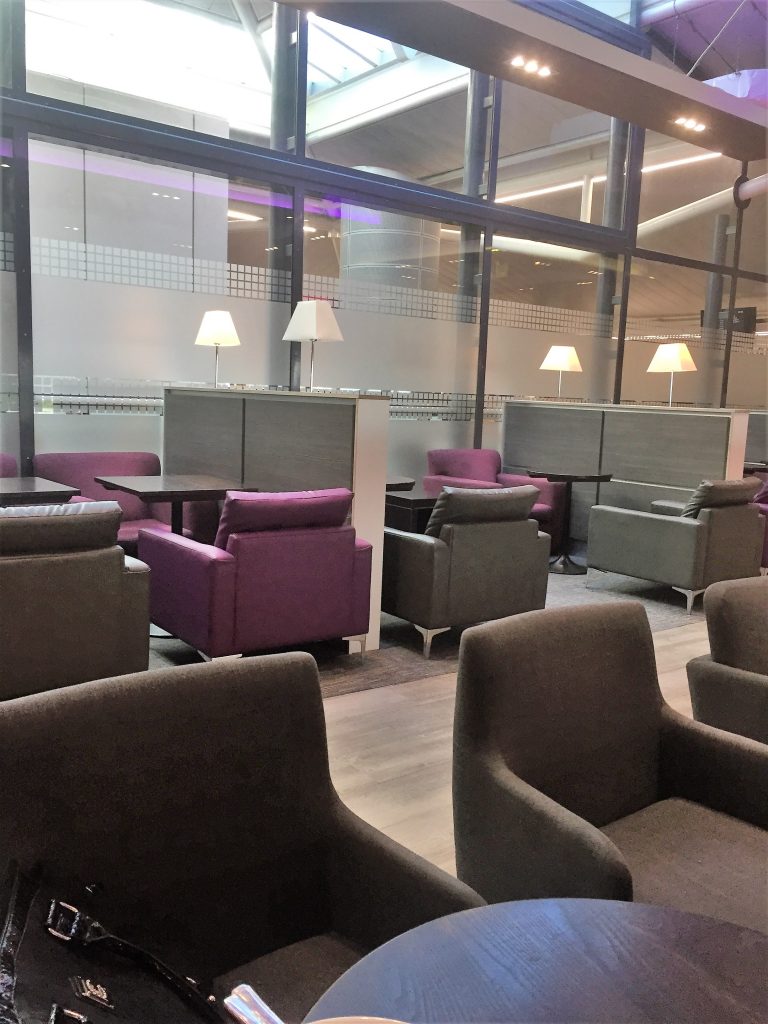 We made our way to our departure gate having been told that even the furthest gate would be less than 10 minutes away at strolling pace.
I was surprised but in a nice way on arriving at the departure gate. I have never seen such a comfortable and inviting gate area! There were comfy seats all around and a high bar style table and stools with power points just in case you needed a last minute recharge for your electronic devices! I think any repeat traveller would have no issue with going straight from security to the gate and waiting there knowing how pleasant it was. Maybe this is a clever plan to have everyone at the gate on time!
Once through the gate we were taken on a bus for the short transfer to the aircraft, an Embraer – 145. This particular aircraft was 'unliveried' although the two others on the apron looked very smart in their flyBMI colours.
The flight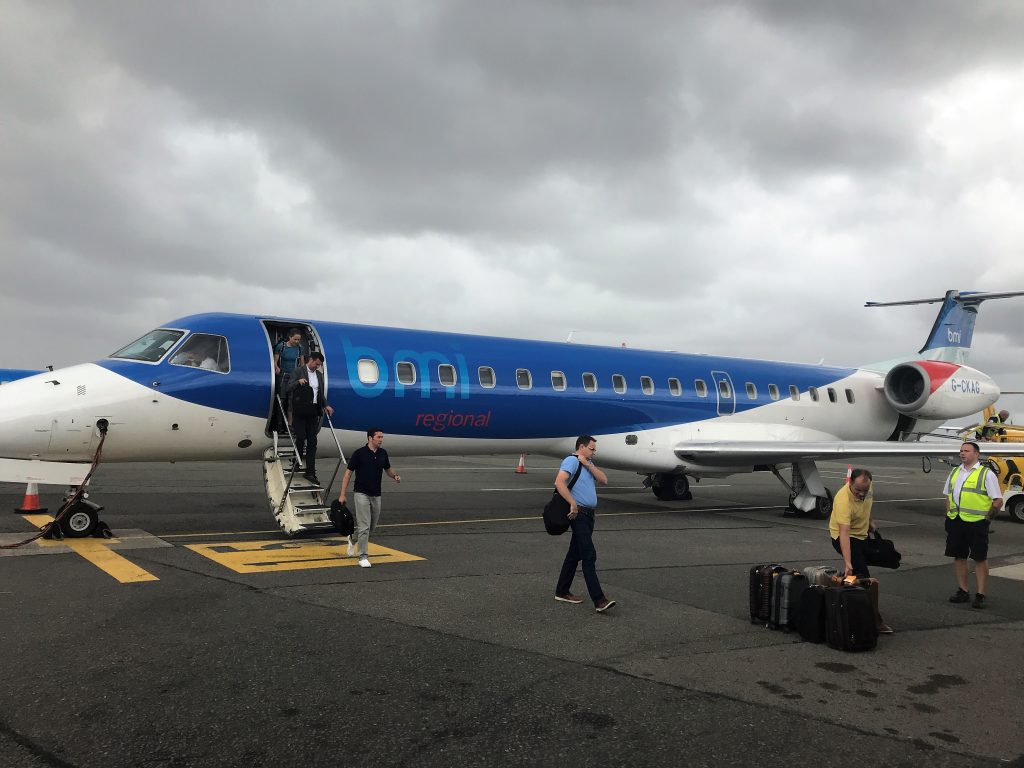 My mum has never travelled on a 'wee plane' and was slightly taken aback that the steps folded down from the fuselage and it was recommended that only one person at a time should use them! Charlotte, one of the two cabin crew on the flight, was friendly and genuinely welcoming which was a great first impression. The aircraft layout was 1 – 2 and felt quite roomy.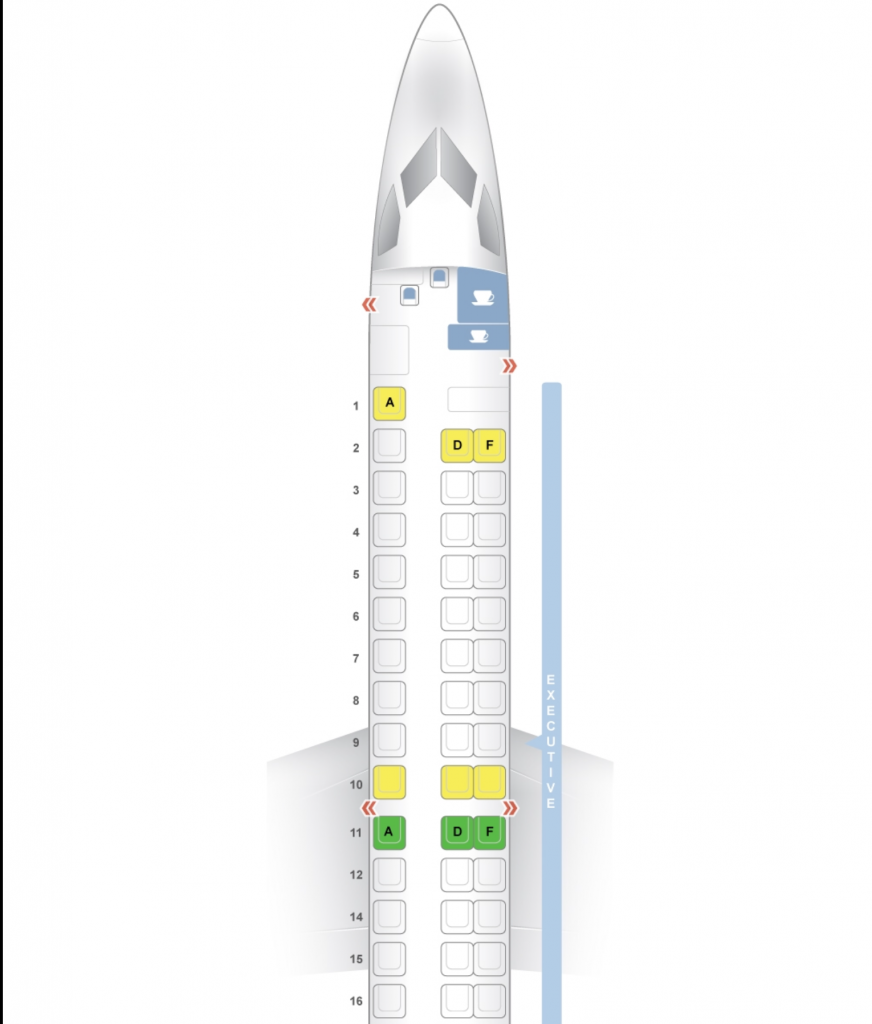 There were overhead bins above the 2 seat side of the aircraft which were more than adequate for everyone's hand luggage.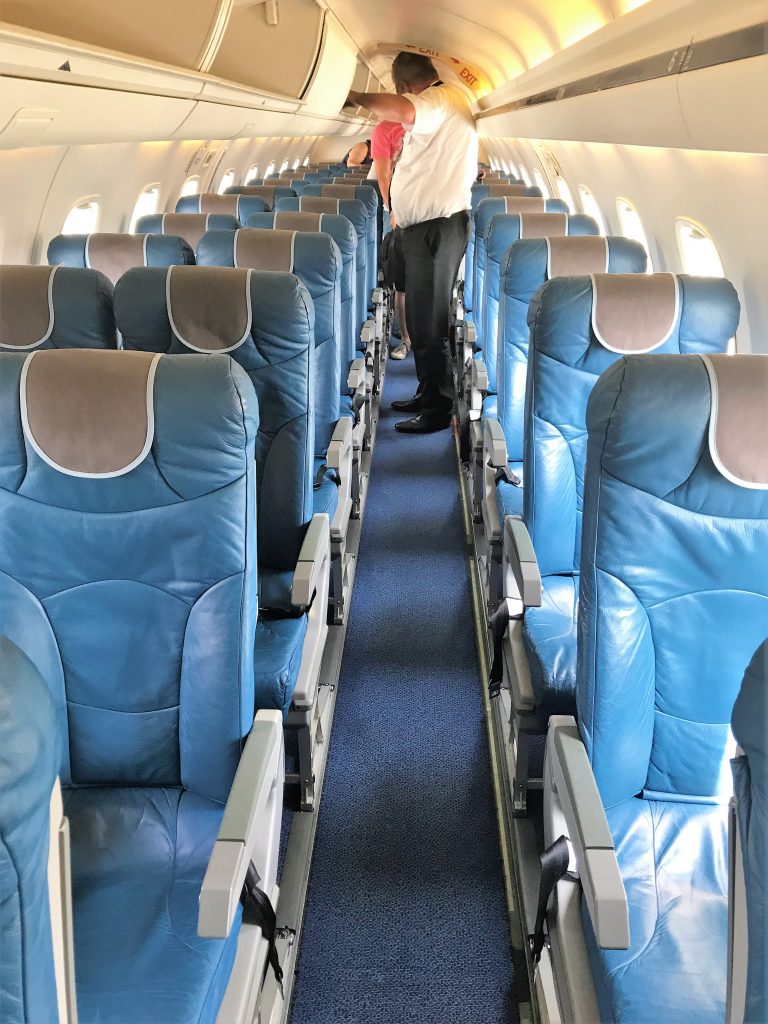 Charlotte and Gwyn (the other cabin crew member) gave the safety briefing and off we went on time.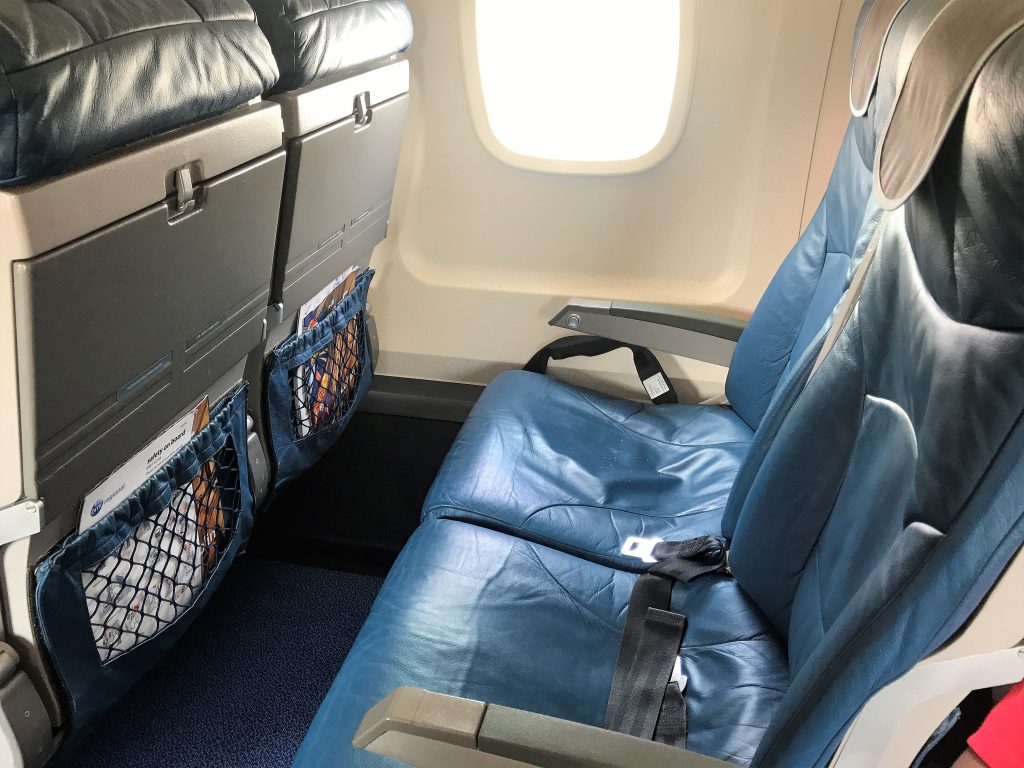 Once airborne Charlotte and Gywn began the onboard service. It was a nice surprise that this was complimentary. As it was an early flight we were offered tea, coffee, juice with a Belvita breakfast bar. It was then pointed out that there was also a complimentary bar service with wine, beer, spirits and soft drinks. I felt it would be rude to refuse so found myself having a G&T with my breakfast bar (I don't usually have spirits with breakfast!)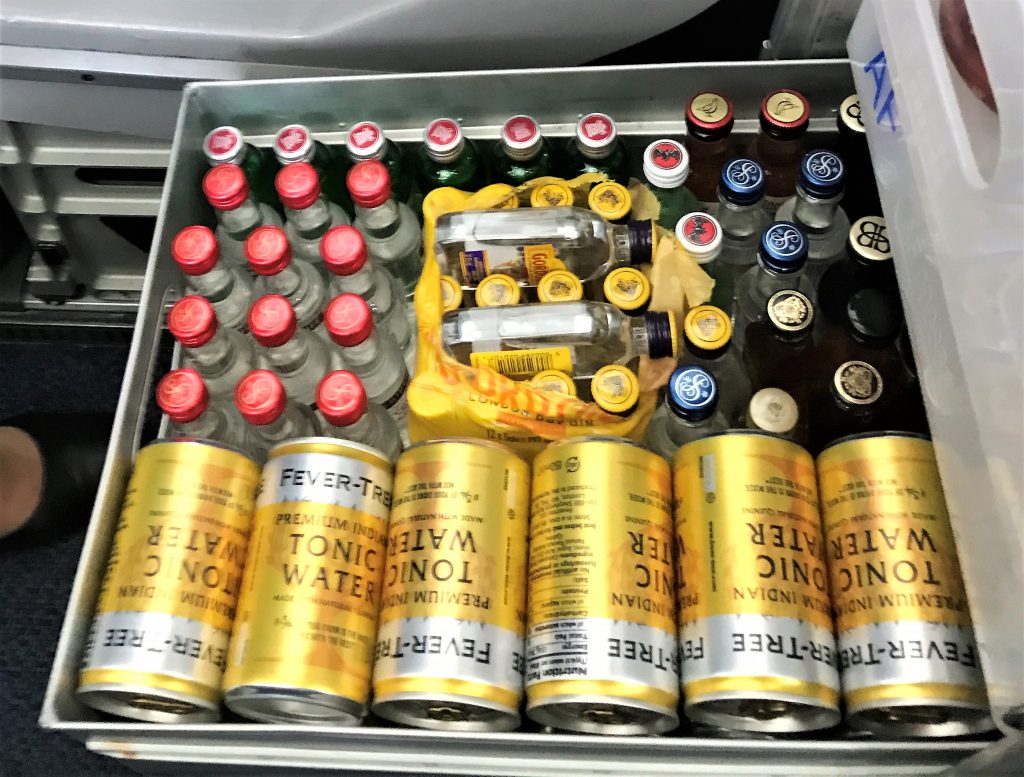 The flight was smooth and comfortable, arriving in Brussels slightly ahead of time. My mum said it was almost like flying on a private jet and if she could she would fly everywhere on an Embraer!
Our luggage was in the baggage hall before we were so having collected that we made our way to the train station on the lower level and set of for Ghent (I will cover Ghent in a separate review).
Unfortunately, our return journey was not quite the same experience due in no part whatsoever to flyBMI.
Arriving at Brussels Airport Departures we noticed a distinct lack of 'active' check-in desks. On investigation we discovered that one of the ground handling agencies had been on strike the day before but had been expected to return at 06:00 that morning. It was then assumed that there were unlikely to return to work before Monday. As it was still very early we couldn't contact flyBMI customer services in UK or Belgium so began formulating a plan to get home. The same ground handling agents worked for all of the carriers flying into the UK (and several other destinations) so just changing airline wasn't an option!
We eventually made it home about 7 hours later than expected after an unexpected adventure but even so we thoroughly loved our visit to Ghent from Bristol.
I will certainly visit again and having enjoyed the stress-free experience of getting there I would most definitely fly with flyBMI. Of course, I will have to do it so that I can sample the service from the other direction. Yes, that's the best excuse I can come up with…….
You can find more information about FlyBMI and their destinations here.