This is the return journey from my recent trip to Las Vegas for Travelzork's Zorkfest via Los Angeles with Virgin Atlantic. You can read the outbound review in Upper Class here. You read my Las Vegas trip report here.
Check-in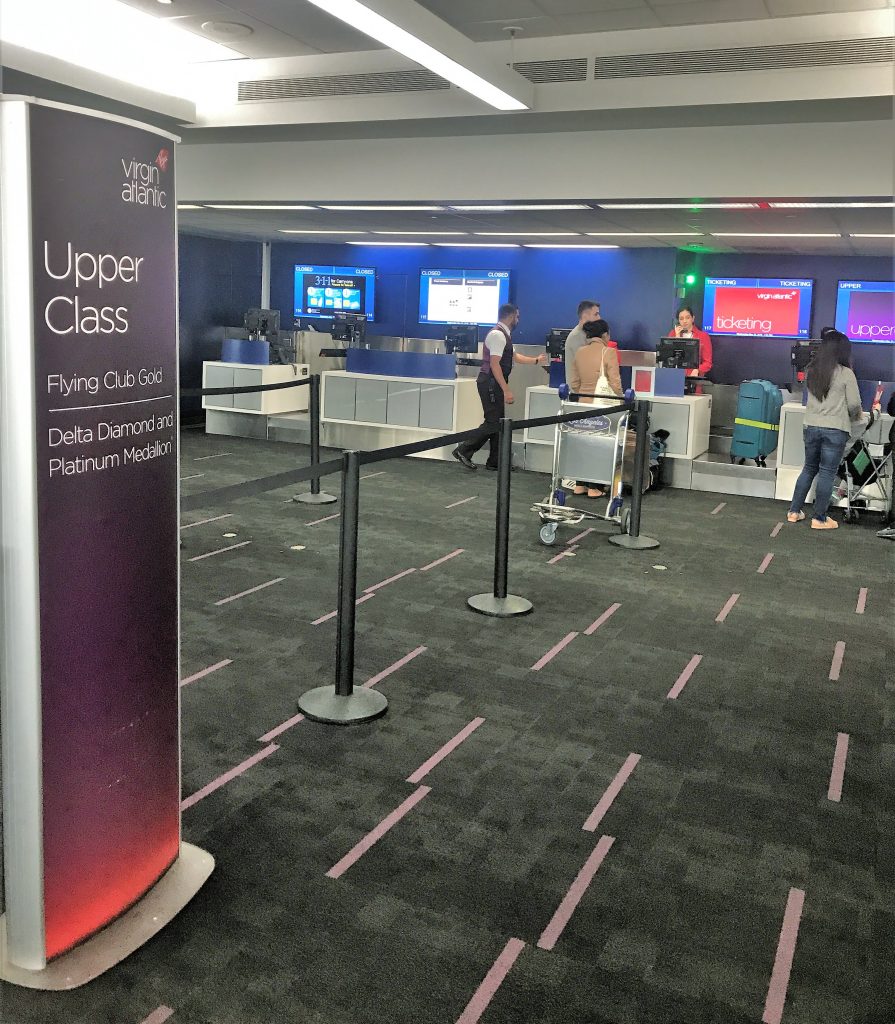 The Los Angeles check-in area is nothing like the Upper-Class wing at Heathrow. It is just a normal check-in area with a bit of carpet but the staff were friendly enough and there was no queue. I used the TSA pre-check security courtesy of my fairly recent Global Entry status which means you don't have to take liquids or electronics out of your bag which is a blessing.
The Clubhouse

This was my second visit to the LAX Clubhouse and although it is not a patch on the Heathrow one it is still a great lounge for food and drink. You may not know but you can actually access this lounge with Priority Pass and Lounge Club between the hours of 05.00 and 10.45.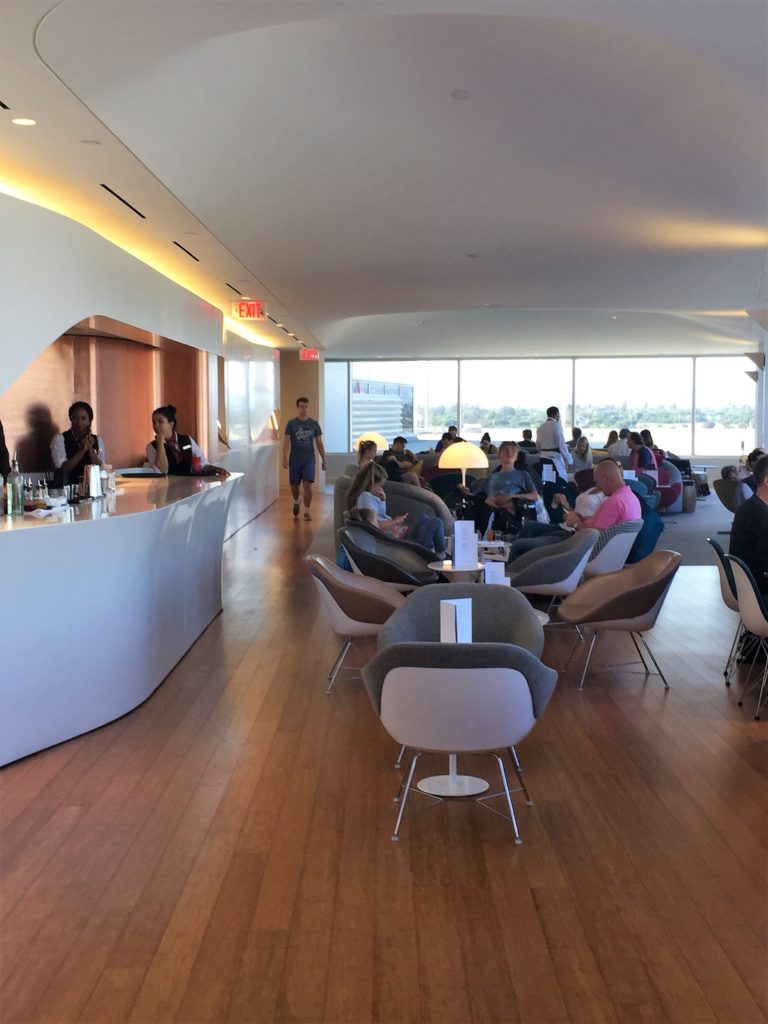 The lounge is located after the security checkpoint: head straight until you reach the staircase, the entrance is at the top of the stairs immediately on your left-hand side. There's also a lift available, to the right of the staircase. The Clubhouse is open from around three and a half hours before the departure time of Virgin Atlantic flights.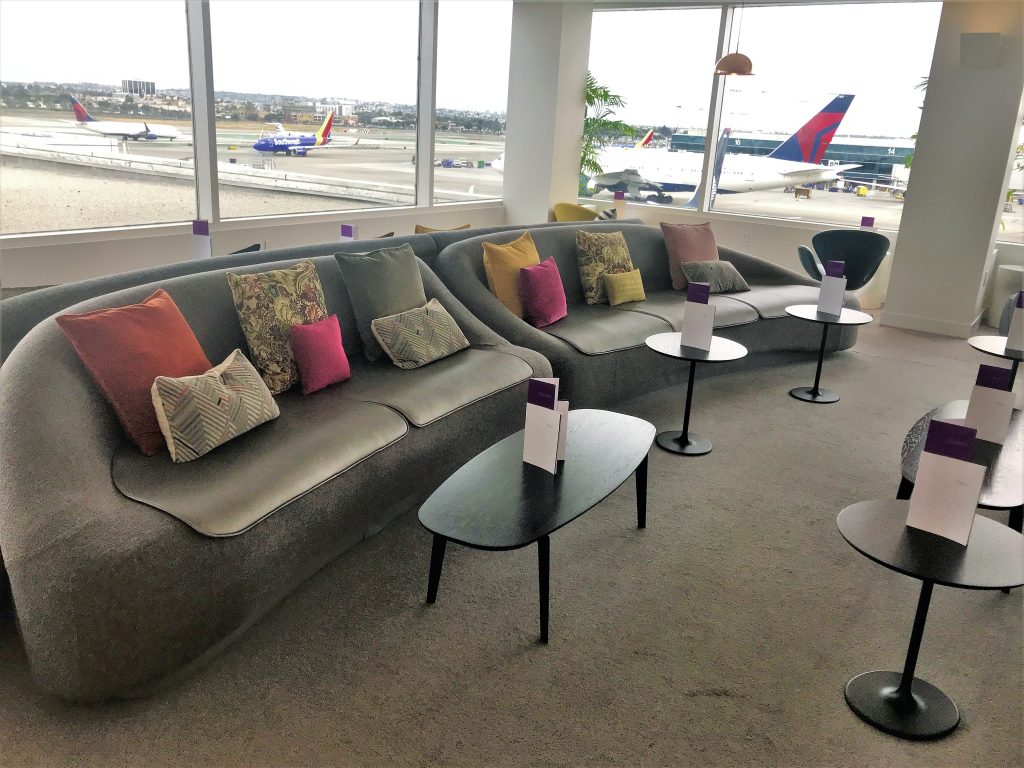 The lounge is quite small and doesn't have a spa but it does have lots of natural light, a bar and a dining area. The lounge has good views of the airfield and the infamous Old Control Tower building.  I decided to sit in the restaurant area and do some work whilst sampling a couple of things. The lounge is all table service, although you can go up to the bar to order as well.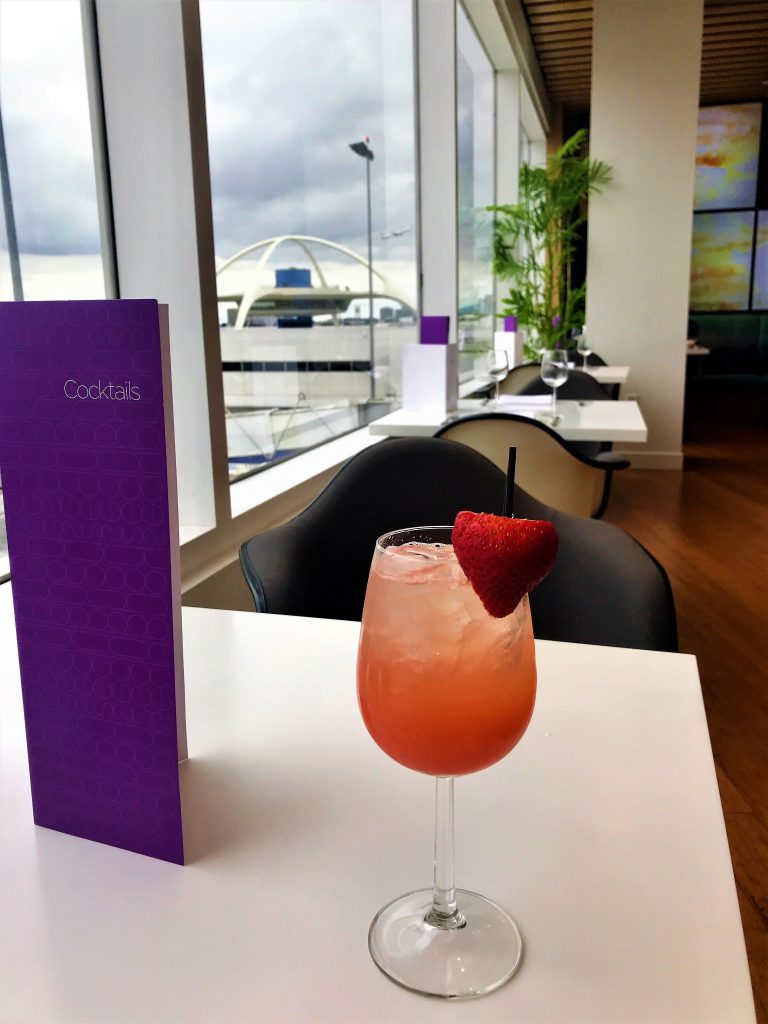 As the London Clubhouse does, the Clubhouse had a good range of cocktails – some were the Virgin standards such as a Redhead and there were also some local specials by LA's The Walker Inn which was on the World's Best 50 bars 2016 list. I went for a Mediterranean cocktail which despite being strawberry flavoured had a good balance of sweet and sour. Here is the full cocktail list:
There were also plenty of wines to choose from. The menu is similar to London in that it has smaller plates or enough for a full meal. The menu is developed with LA restaurant Hinoki and the Bird. I had a long time to wait for my flight as I had flown in from Las Vegas so I decided to have some lunch.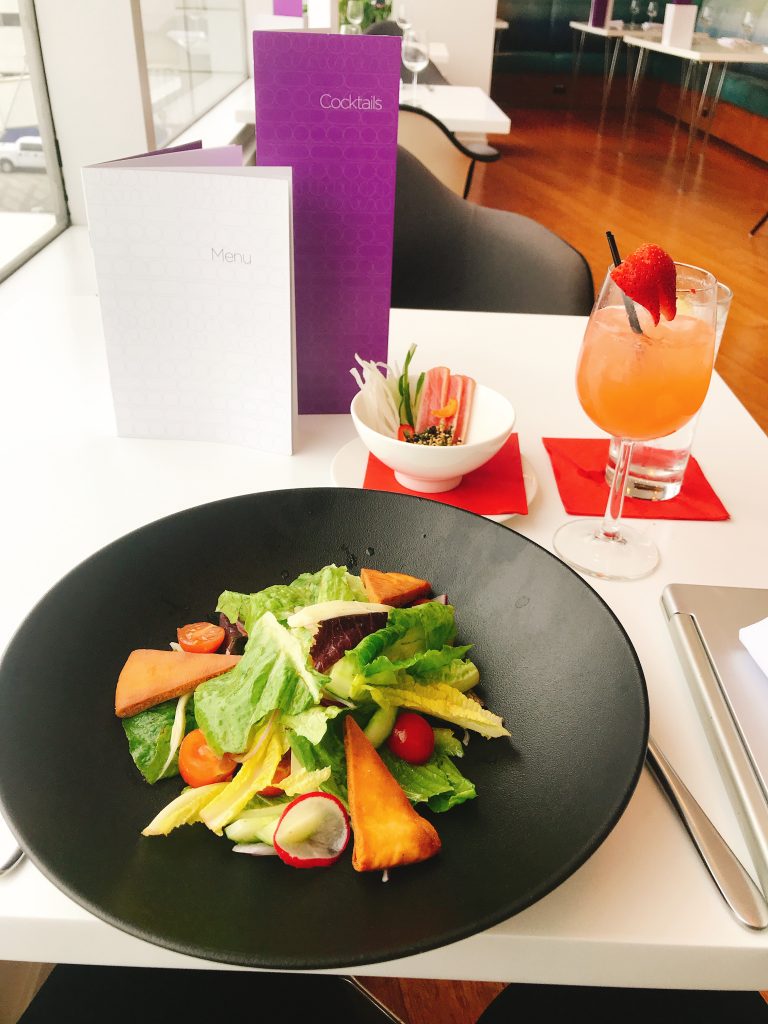 The salad was tasty although not particularly authentic to the Lebanese original. The tuna tataki was very good though and tasted fresh. I decided to try an unusual dessert of shaved ice with melon, coconut and yoghurt. It was a refreshingly light dessert but I think it would have been better without the yoghurt.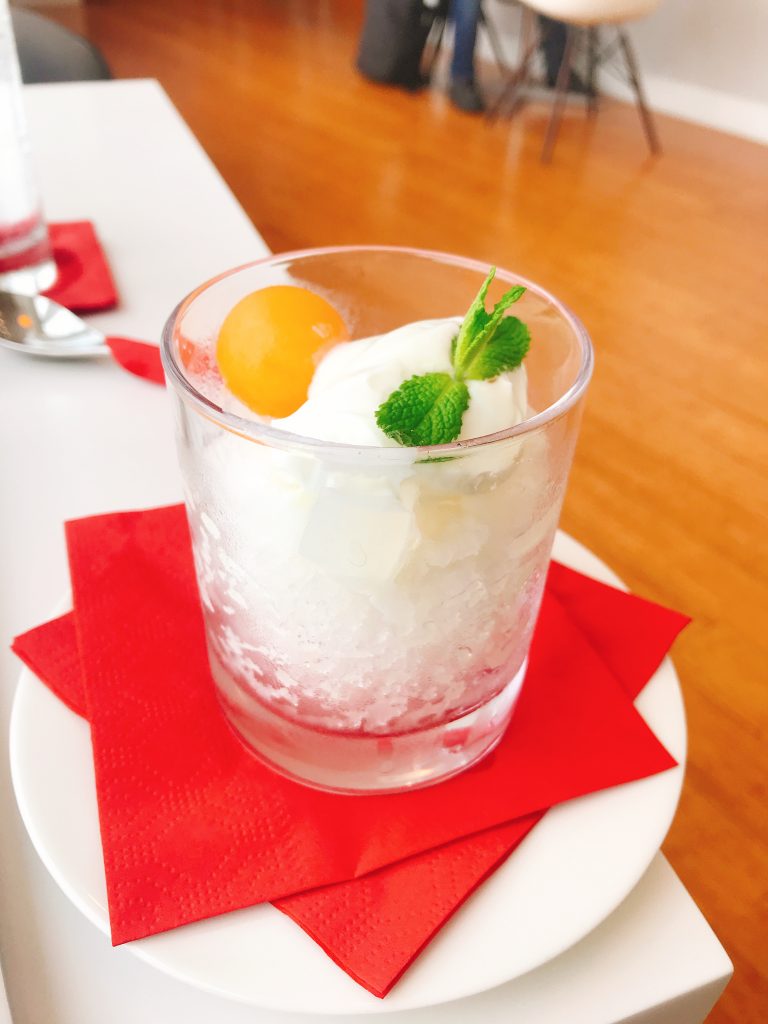 Boarding
Boarding is called from the lounge fairly early. There was a separate queue for Upper Class and I was one of the first on board. As usual, I was offered a welcome drink and chose the Champagne. Like the outbound flight, I was not acknowledged as a Gold Flying Club member on this flight either.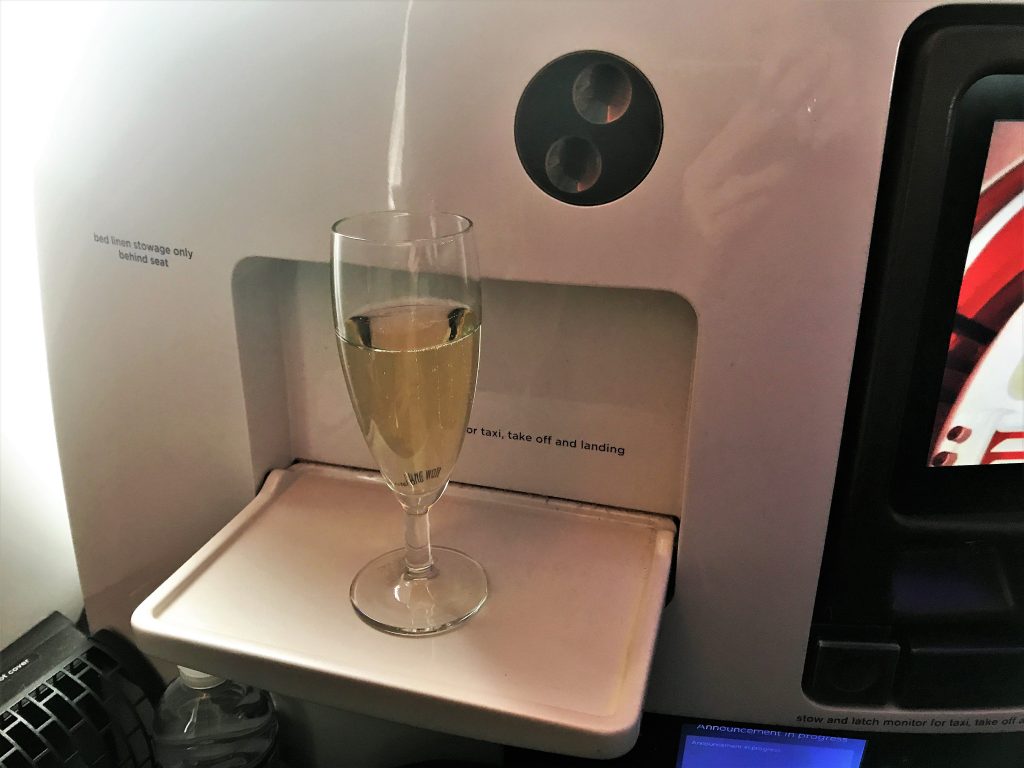 There was already a washbag on the seat and some water. The washbag was the same as the way out with Rituals toiletries.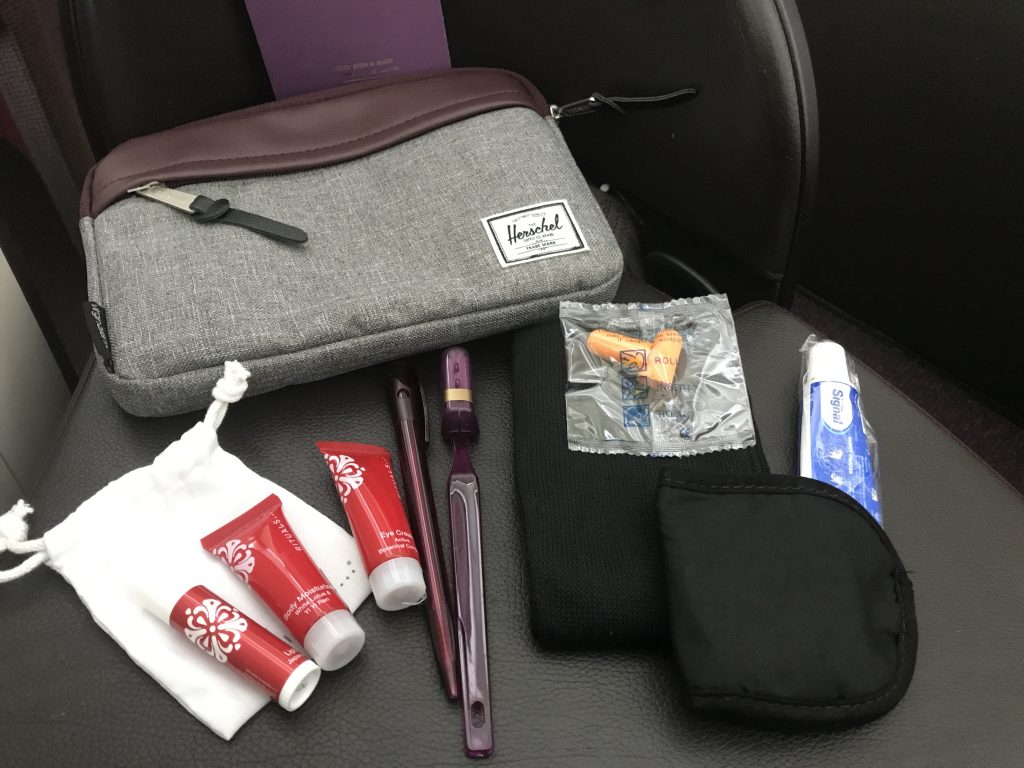 Seat and cabin
The Virgin seats are a bit dated now but they are expected to introduce a new seat when they take delivery of their A350-1000s next year. They are arranged in three rows with the best being A as it is more private than the other two. The flight was very full and even though I booked my seat several months in advance the only seat left on the A side that wasn't right by the bar was 7A.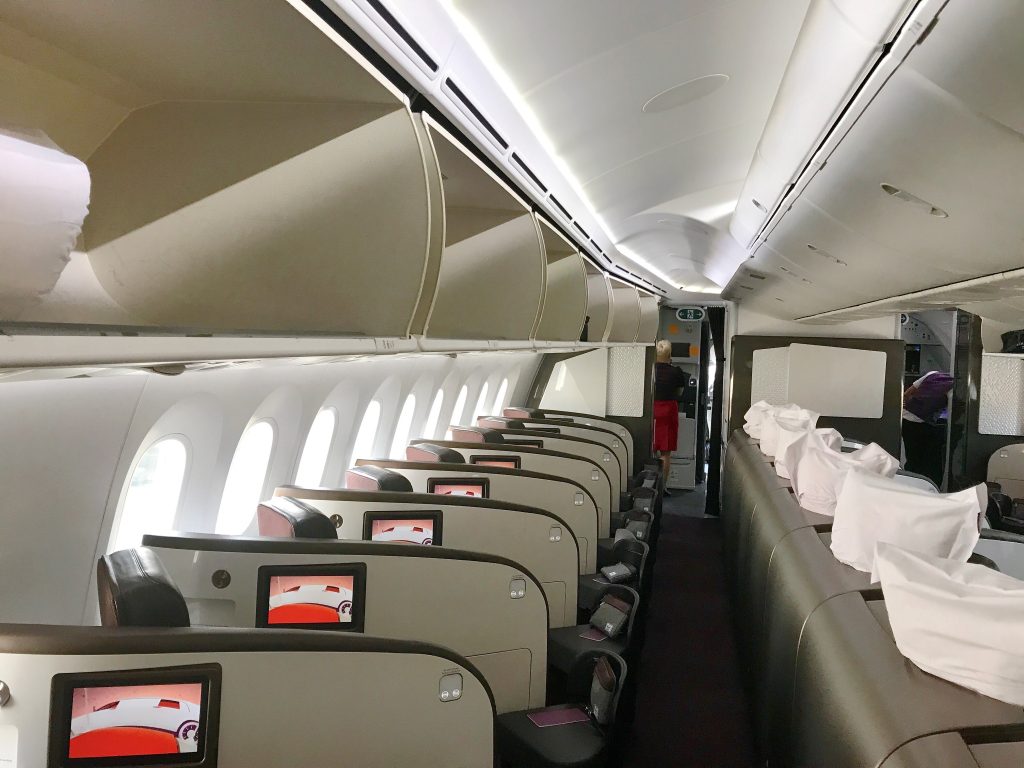 On night flights I would always advise trying to get a seat around row number 4 or 5 to be away from both the bar and galley.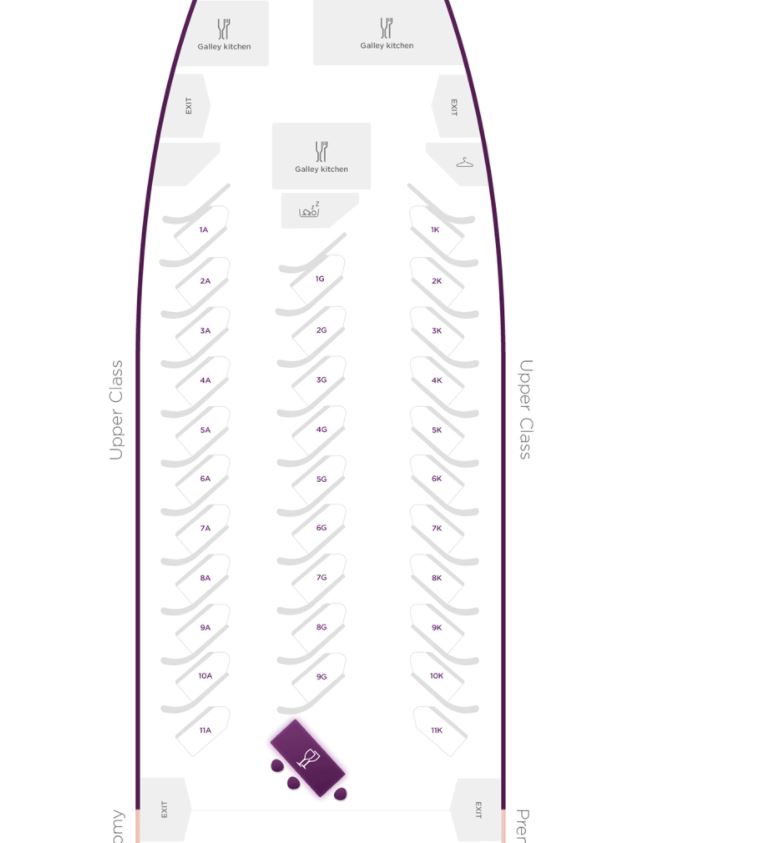 The problem with row 7 is that there is no window in this row. Given that we would be in daylight for quite a bit of the flight it didn't really bother me as I wanted to sleep. I never find the B787 window dimming that effective if there is bright sun outside. There are no blinds on a B787, just varying degrees of tint for the window.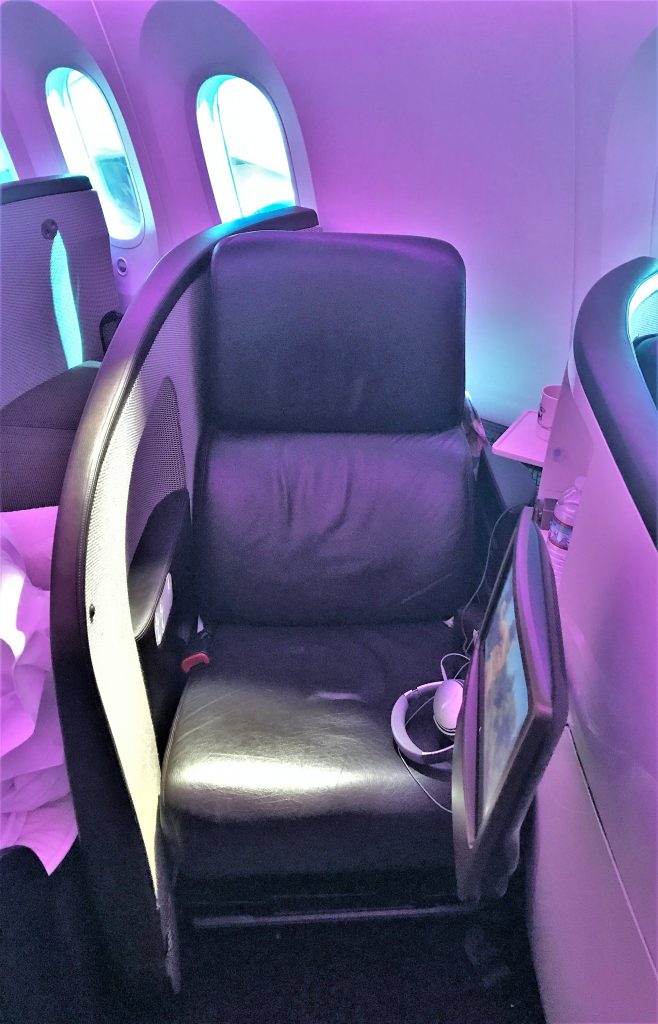 I like that the seats are quite private and that I can put my feet on the ottoman without having to recline the seat. These seats flip over rather than recline into a bed which means their actual recline is slightly limited but it was enough for me to relax. I find the seat comfortable for sitting or working although it could do with more storage space for take-off and to put things on if you don't want to use the table. There is a cocktail tray and a small cubbyhole but neither can hold much.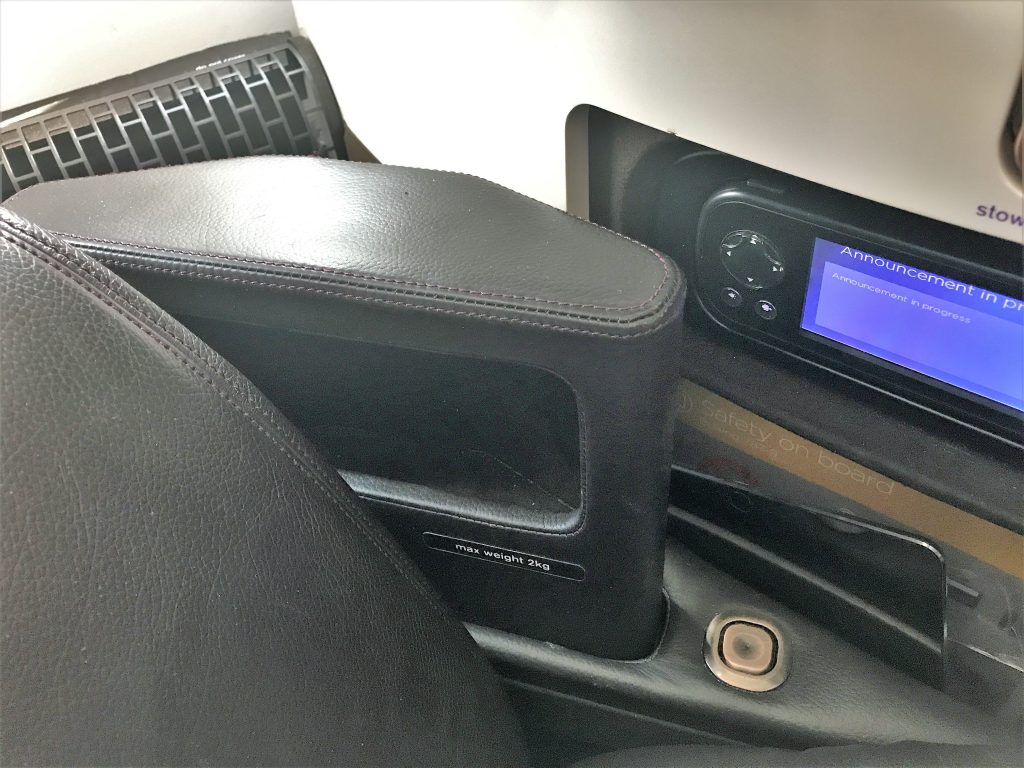 I prefer the herringbone style seating on Qatar where you have a big shelf area to put stuff. The Virgin TV screen can also be a bit cumbersome if you have stuff on the table and want to manoeuvre it.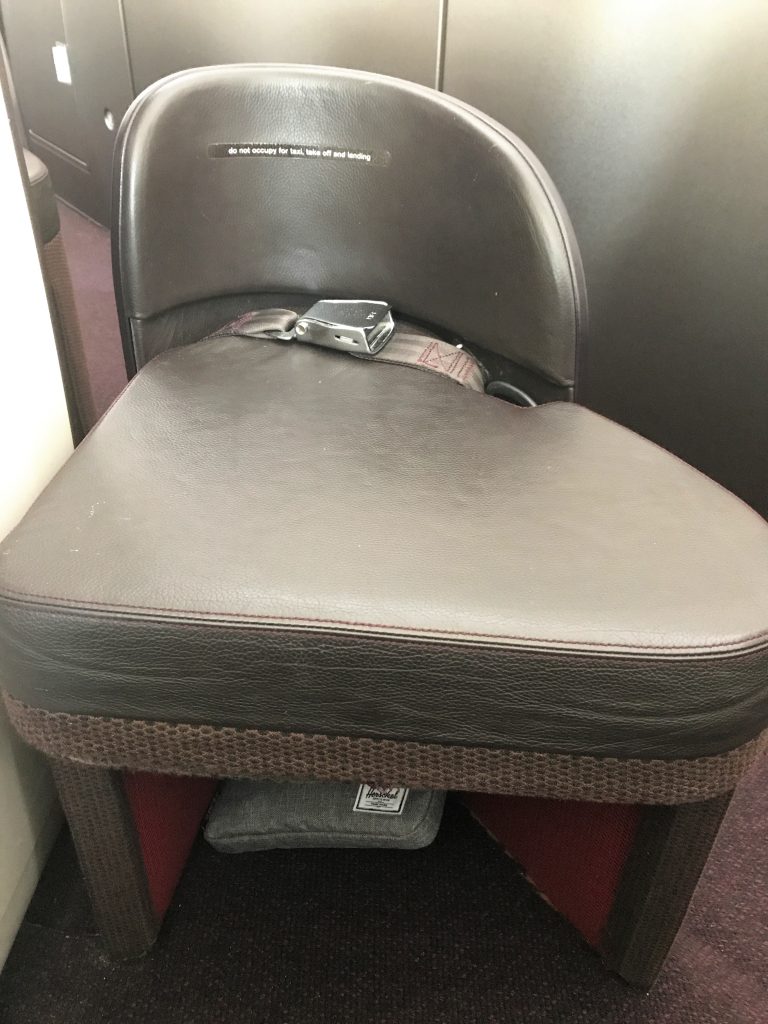 The crew always offer to make your bed up but I am quite happy doing it myself as it is fairly simple with the touch of a button. You are given a bag with a mattress topper and duvet plus a big square pillow with crisp cotton linens.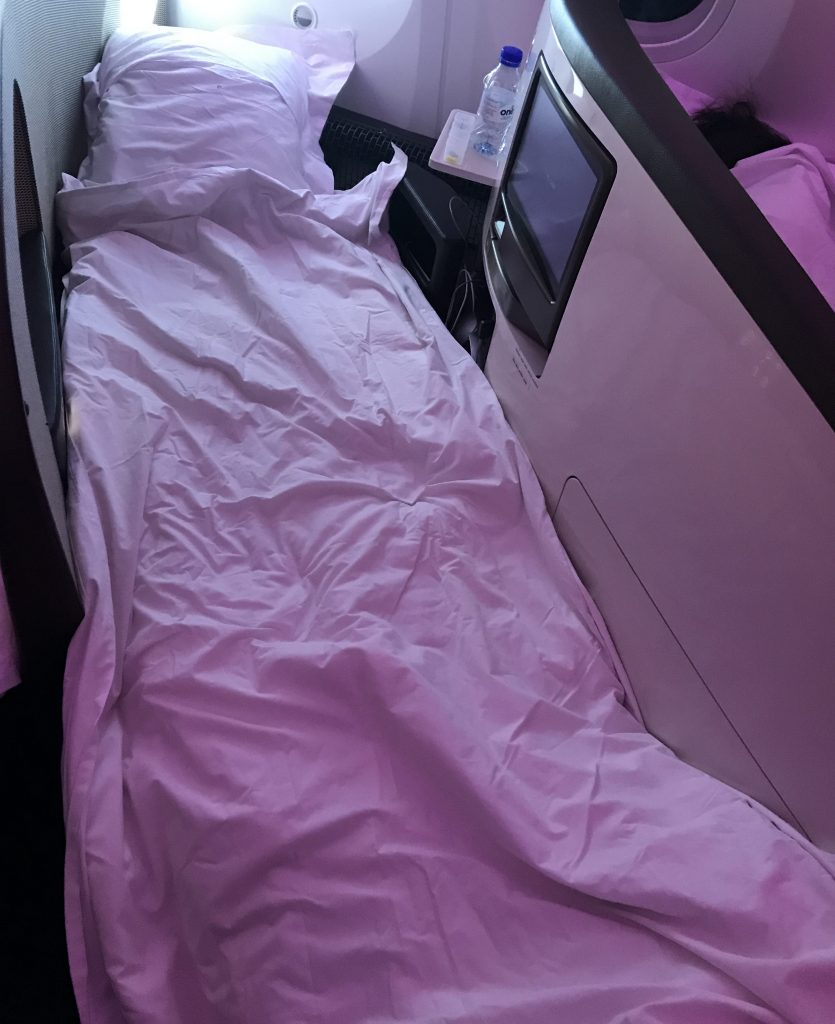 The bed is a little hard, as most flip over airline seats are, but not enough to affect my quality of sleep. I can be quite sensitive to the softness of beds since my own bed at home is a bit like the one from the Princess and the Pea with various toppers and memory foam! I find that there is quite a bit of width to the Virgin beds which means I can comfortably sleep on my side. Though to be honest, after at least one too many late nights in Vegas, not much would have stopped me from sleeping on that flight!
Food and drink
Along with the menu, there was also a breakfast card. The cabin crew member looking after me came along and introduced themselves, asked if I was familiar with the seat and also reminded me to fill in the breakfast card which was collected when they took the dinner order. Again, the crew were excellent throughout the flight apart from the lack of a Gold acknowledgement (I don't really care but they are meant to do it). There was one other thing missing – according to the menu they are supposed to come round with a "plant-oil pep-up" but I missed that on both legs although I could have been asleep. The service style is less formal than some other airlines but I like it and you can tell the crew are encouraged to bring their personalities to work.
The wines and drinks were also the same as the way out. Here is the full menu:
This time I decided to try an Elderflower Collins as my initial drink. I also like the Canard-Duchene Champagne they serve onboard but I can never resist a cocktail! I did find the cocktail a little sweet and it probably could have done with a bit more ice too.
I liked the sound of all the starters but decided to go with the lightest sounding option of the salmon Nicoise salad.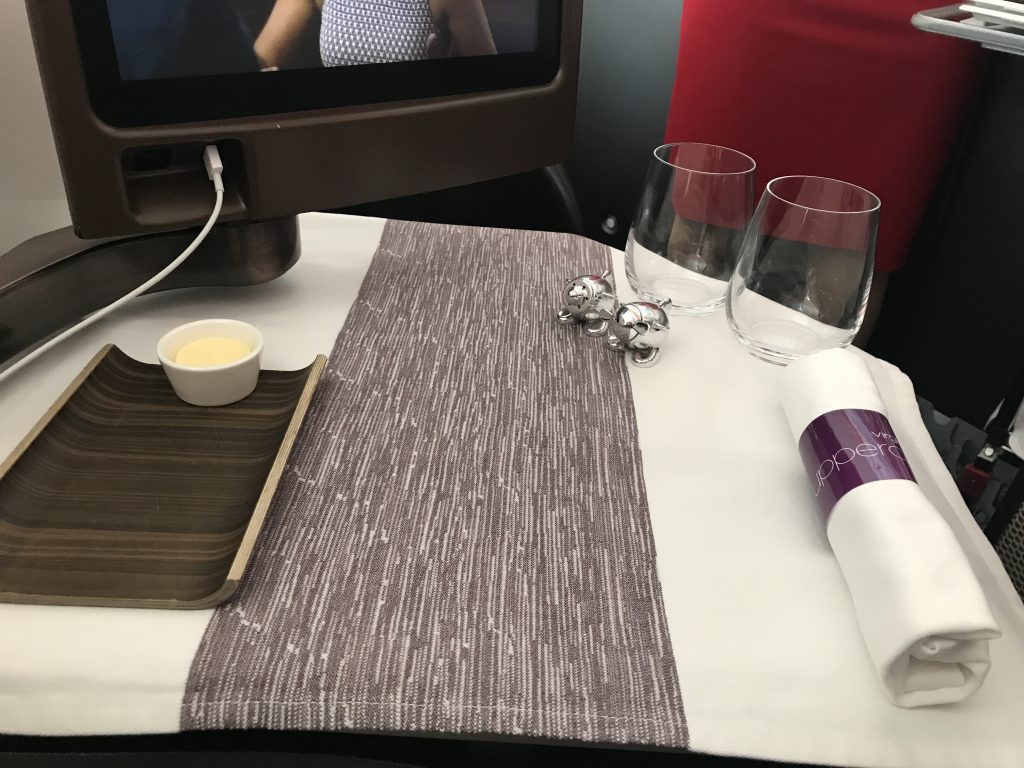 The table was laid with a tablecloth and the cute little salt and pepper shakers that say 'pinched from Virgin' on the bottom. If you ask the crew they will empty them out for you to take home which is a lovely touch. On this flight, they offered to do it for me without being asked. I was offered a selection of bread from a basket before my starter was presented.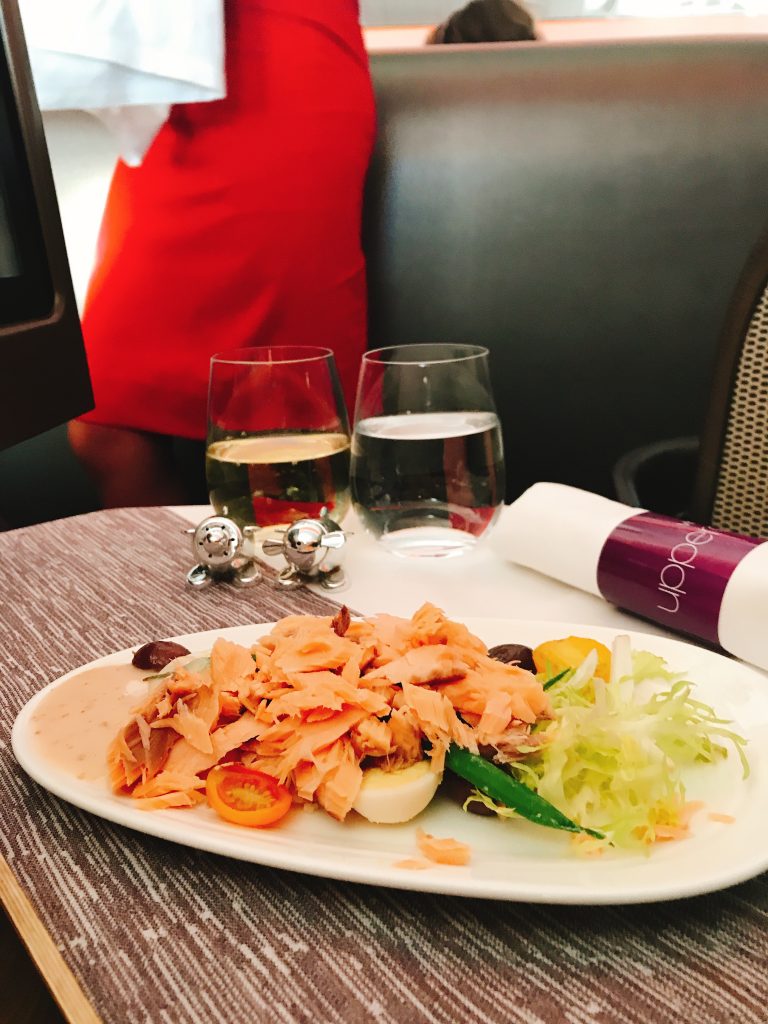 The starter looked like somebody had literally thrown it onto the plate and it was odd to have the dressing on the side in a puddle. Fortunately, it tasted better than it looked with the salmon being lovely and moist and a tasty dressing. I was also offered wine and still or sparkling water to go with my meal. All drinks are served in stemless wine glasses which is a sensible option with me around since I have a tendency to knock the odd glass wine over on planes!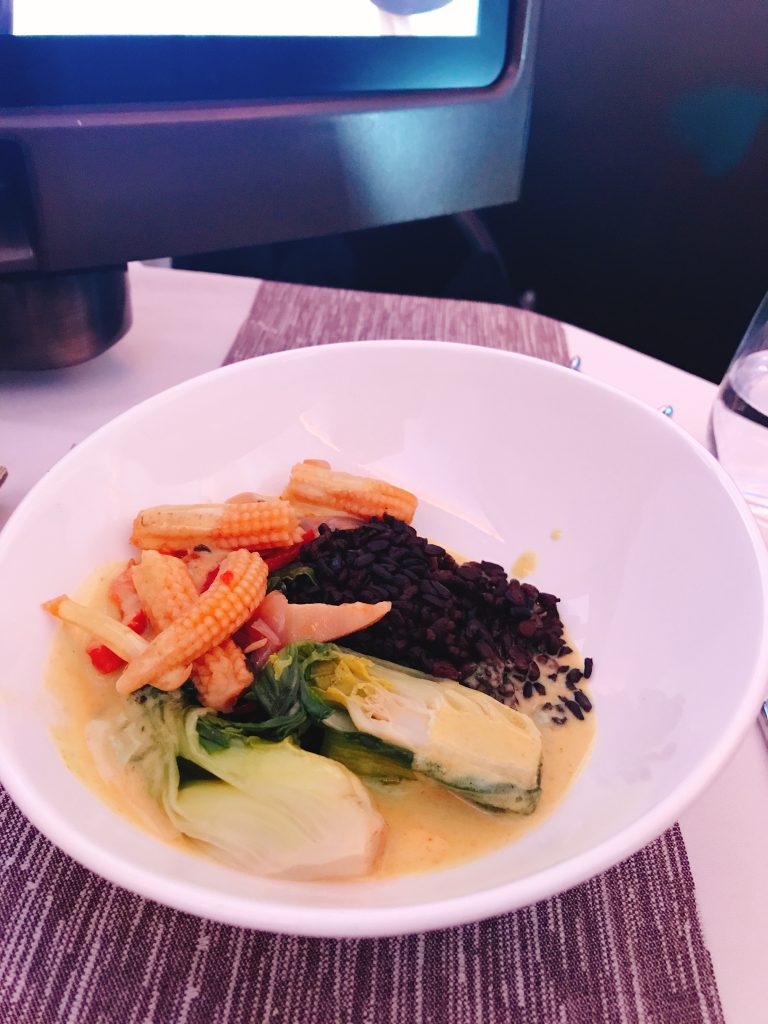 For the main course I liked the sound of the beef but since I had decided to risk some cheese despite my dodgy gallbladder, I thought I would be better with the vegetarian option. This was a strange dish as it tasted nothing like a Thai curry but more similar to a Sri Lankan or Goan curry with the coconut milk and spices. Still, it was very enjoyable and I liked the black rice which had a little bite to it and more flavour than the rather boring white version. To drink I went for the El Quintanal white from Rueda, Spain. The aromatic fruitiness went perfectly with the curry and I will be looking for this wine to buy at home I enjoyed it so much.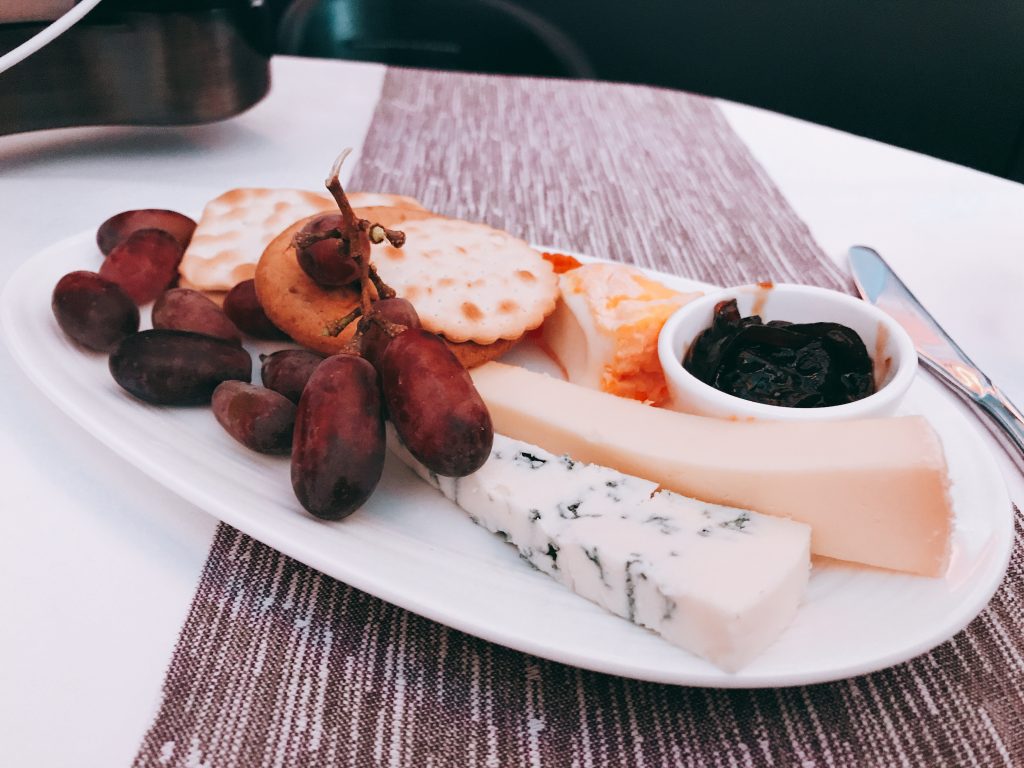 I chose to forgo dessert despite the yummy sounding apple crisp and go for the cheese. They usually come round with a trolley but this time they just brought it by hand. Naturally, I had to sample the port too to get the full experience! I enjoyed the port but not as much as the latest British Airways one.
Breakfast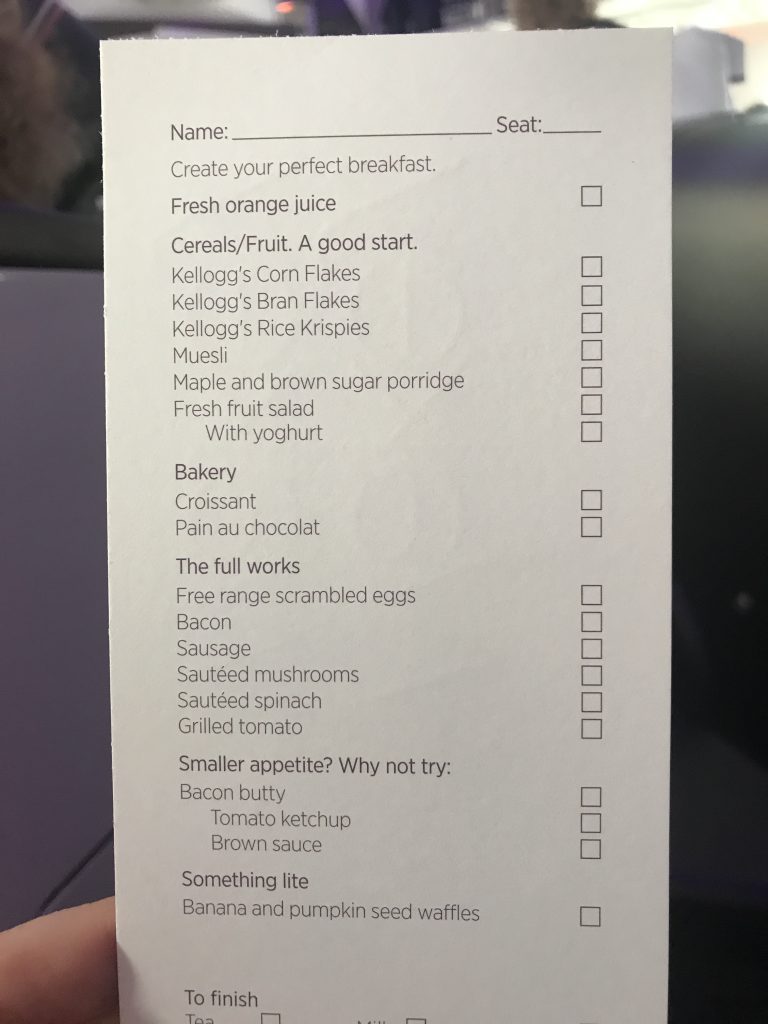 About an hour and a half before landing breakfast was served. I thought it was a really good selection and I like the way you can choose your own elements to make up the English breakfast. I went for the English breakfast and some fruit accompanied by an earl grey tea. The Virgin mugs are also quite cute and apparently are known to go missing quite frequently but I stuck with my salt and pepper shakers!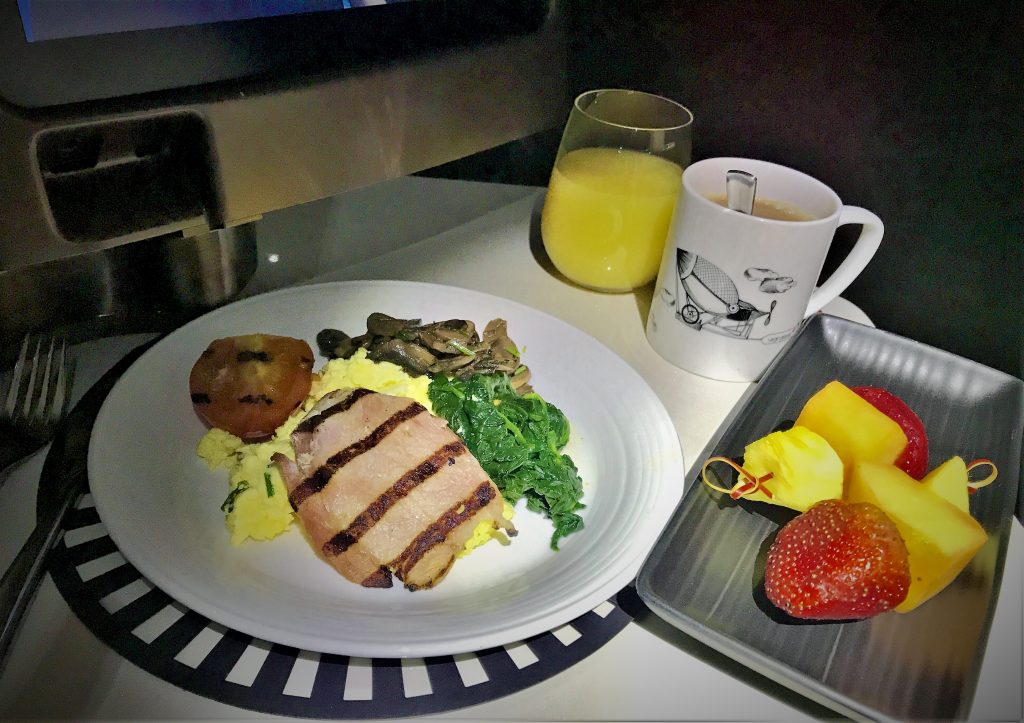 For me, Virgin do one of the best breakfasts on a plane whether in business or first. I particularly love the scrambled eggs which I wonder if they cook fresh on the plane? The eggs are always soft and creamy with the fresh chives making them especially delicious. I always go for the spinach too as it is always perfectly cooked and a nice change with a cooked breakfast. The fruit kebabs were a little small but that was the only complaint that I had.
Entertainment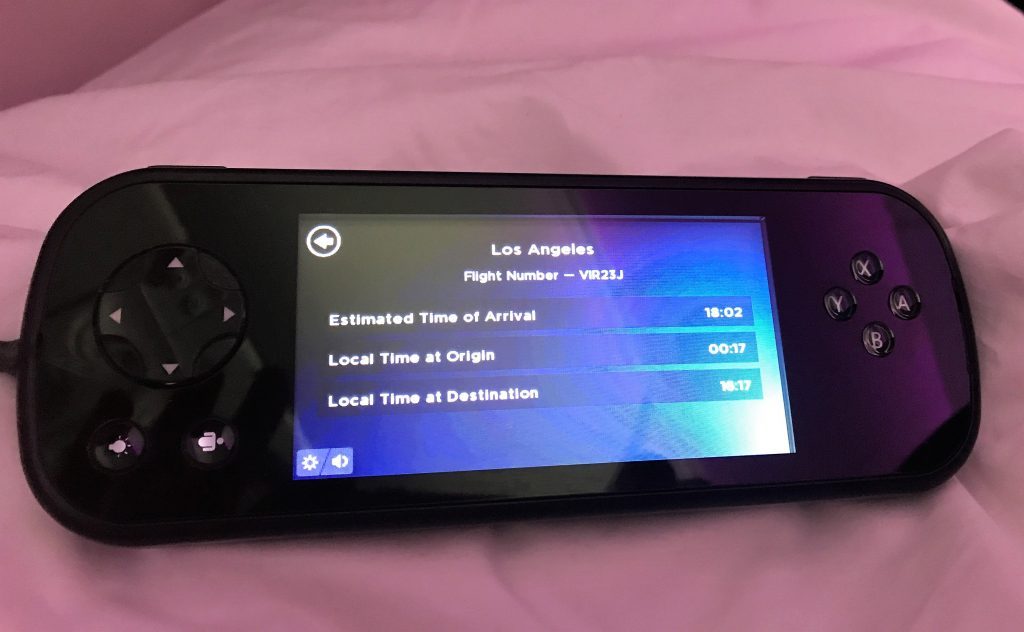 The entertainment system Vera was great for me. The screen was a decent size, although not huge, but had good definition and was adjustable for how you wanted to position it. The touchscreen handheld remote could be used independently if you wanted to have a film on the main screen and the flight map on the handheld remote. I found the system responsive although occasionally I had trouble scrolling through the programmes. There was a wide selection of films and TV programs as well as games and music.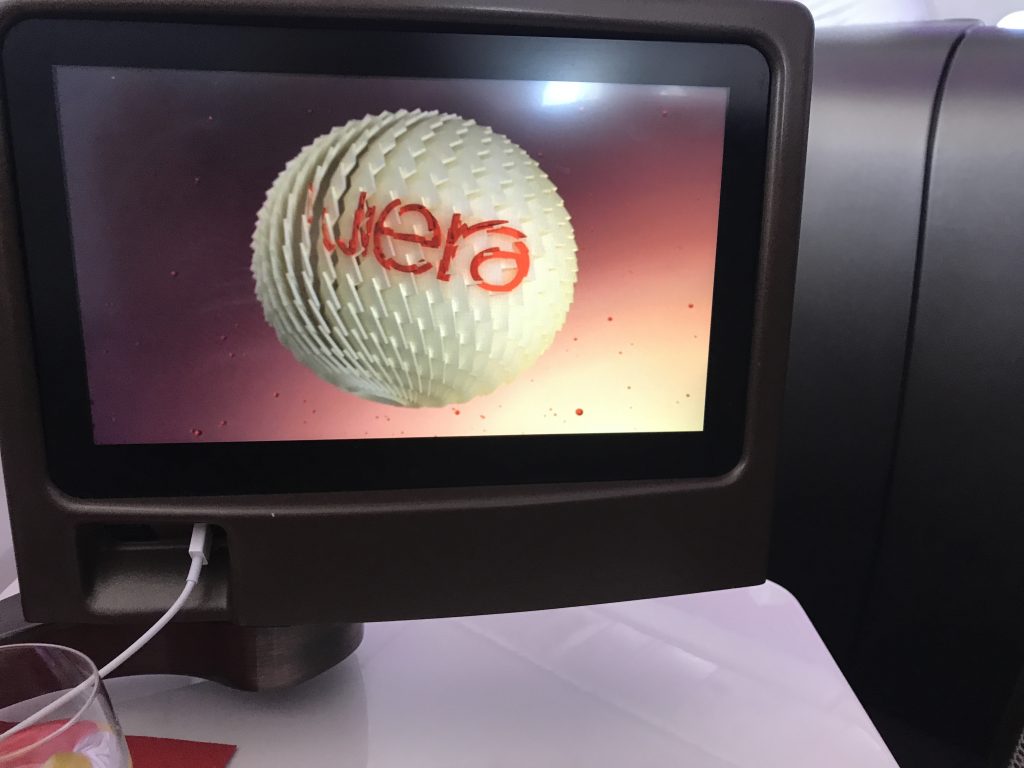 For TV programmes there were some box sets of entire series and a good selection of standalone episodes from lots of different genres. Since I was planning on sleeping I didn't really watch much apart from a few TV episodes.
If you wanted to charge your devices there was a multi-region socket as well as a USB port which was well hidden at an angle under the TV screen. Both worked fine. There was also Wi-Fi available on board starting at £4.99 which I didn't try.
Virgin Revivals lounge at Terminal 3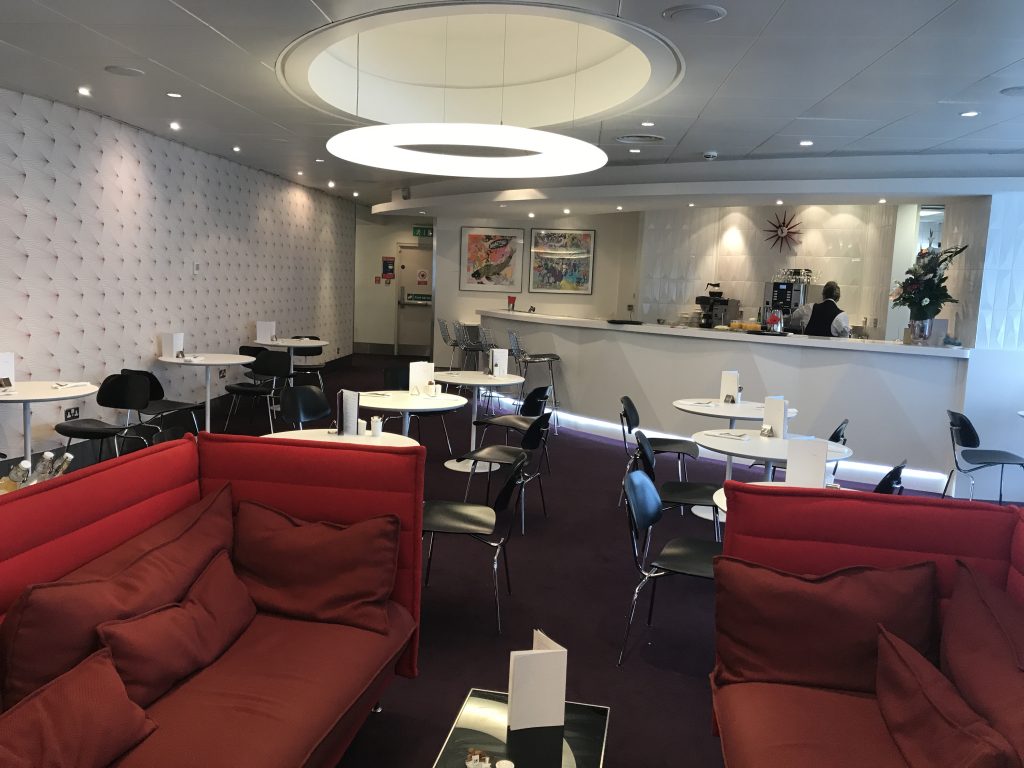 LIke BA, Virgin have an arrivals lounge for Upper Class passengers at Heathrow. This can be accessed by Upper Class passengers and Flying Club Gold members arriving in the morning after an overnight flight. To get to it you come out of arrivals and then head towards the lifts for car park and then go up a floor.
On arrival, I was asked if I wanted a spa treatment or shower. As there was a spa appointment in around 20 minutes I decided to take that and have a quick shower first. Here is the spa menu:
The showers aren't particularly glamorous but they are clean and have a good range of amenities. There is a choice of two different Cowshed shower gels and Bumble and Bumble shampoo and conditioner, all of which are good quality brands. Towels and a hairdryer was also provided. Hand wash and hand cream were by the sink. They will also press your clothes and carry out minor repairs if you need them.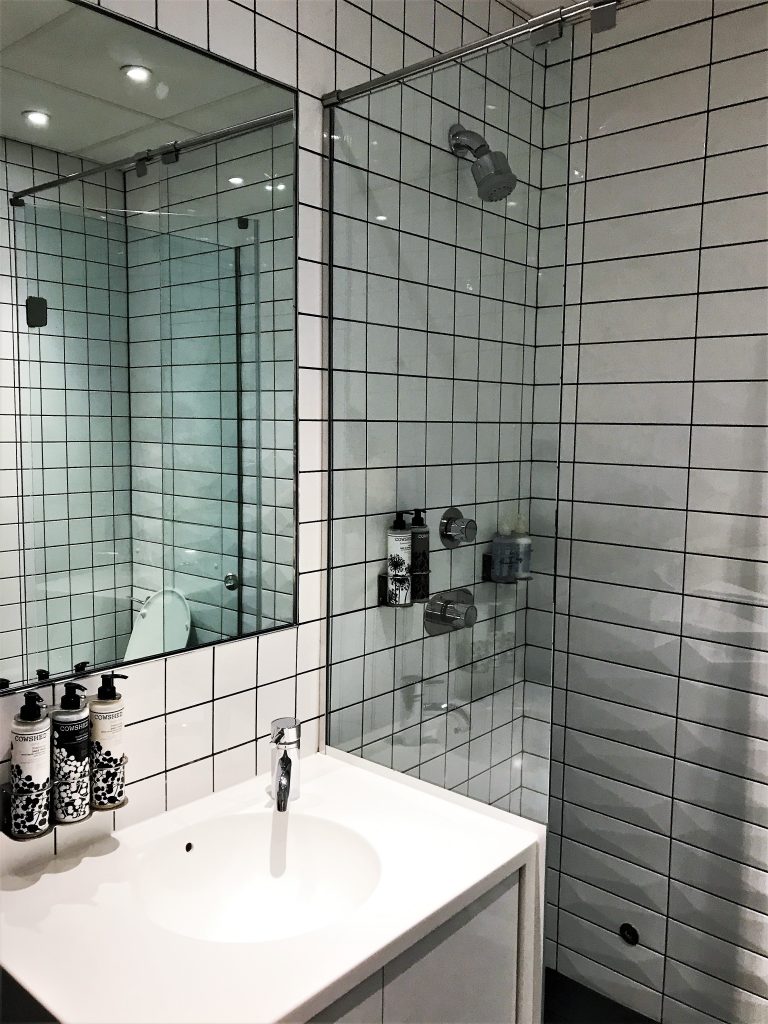 You get one free spa treatment of 15 minutes and I went for the Express facial. I like that you can pay for additional treatments if you want another one or a longer treatment. The facial was good and perfect for rehydrating your skin after a long haul flight. The therapist actually remembered me from my last flight which I found amazing since it had been a long time since I had been in the Revivals lounge. I'm not sure if being remembered for that long is a good or bad thing?!
There is a nice range of food to order if you fancy some breakfast/brunch but there is no alcohol. I thought the menu was well up to the American Airlines lounge at T3 which is my other favourite arrivals lounge. Here is the menu:
I had a quick sausage sandwich and a latte as I was waiting to be picked up. These came quickly, were nicely presented and were delicious.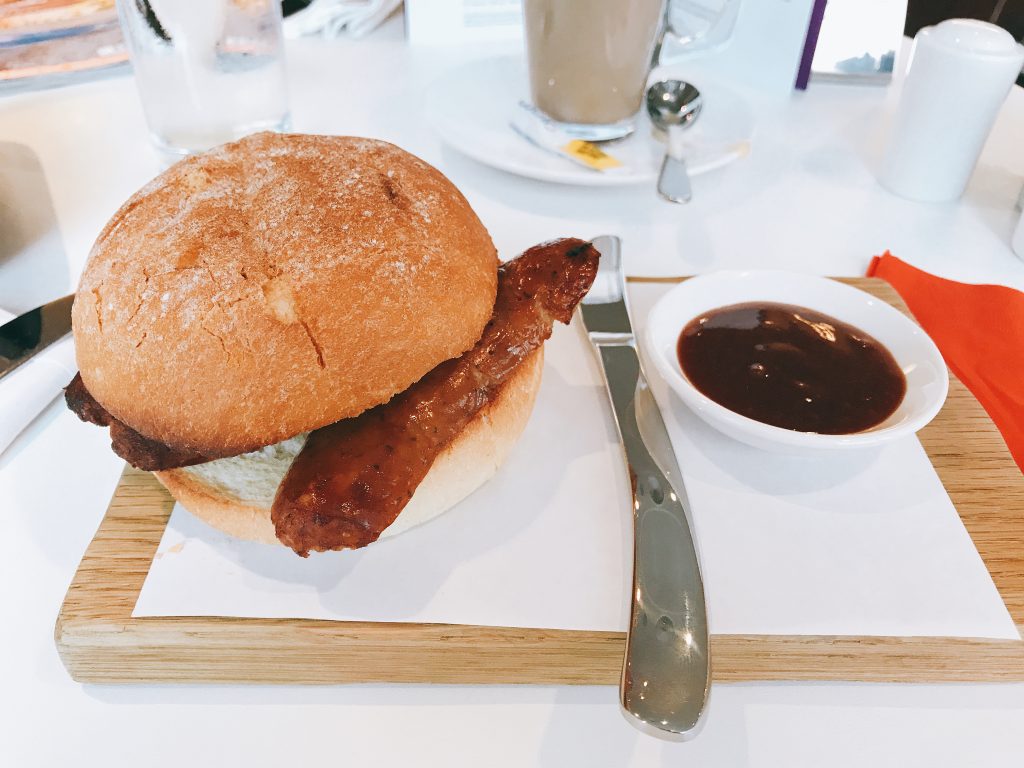 Conclusion
Although the seats may not be to everyone's taste I don't mind them at all. I find them comfortable for relaxing or sleeping although they are a bit firmer in bed mode than I would ideally like. The things that make me a repeat Virgin customer are the feeling that you are actually valued as a customer and treated as an individual, which is rare in the airline world, especially in business class. I like the modern feel of the airline from the mixologist led cocktails to the current music played on board. Virgin clearly pay attention to small details which don't go unnoticed. If you can get a deal like I did of around £1200 from Dublin it is astonishing value for money. I will, of course, keep you posted should any more deals like this come up.