Today's review is from Roving Reporter looking at four segments on Cathay. I have flown Cathay a lot in the last year and found them to be one of the most consistent airlines for service. However, all mine have been short flights intra Asia.
I had a few days off work so decided to treat myself to a very short trip to Australia on Cathay Pacific. The trip started and finished in Stockholm (the Stockholm/London/Stockholm legs were in Club Europe on BA) but this review will focus on the Cathay Pacific elements only. I flew on 3 different aircraft types. Which one was best?
London To Hong Kong B777-300ER
On landing from Stockholm I transferred from Heathrow T5 to T3 using the airside bus route. It was really pretty efficient. I was in the Cathay Pacific lounge within about 20 minutes. I had time for a very quick glass of fizz before I headed down to the gate. Boarding by Cathay usually runs like clockwork and this was no different. I was one of the first onboard.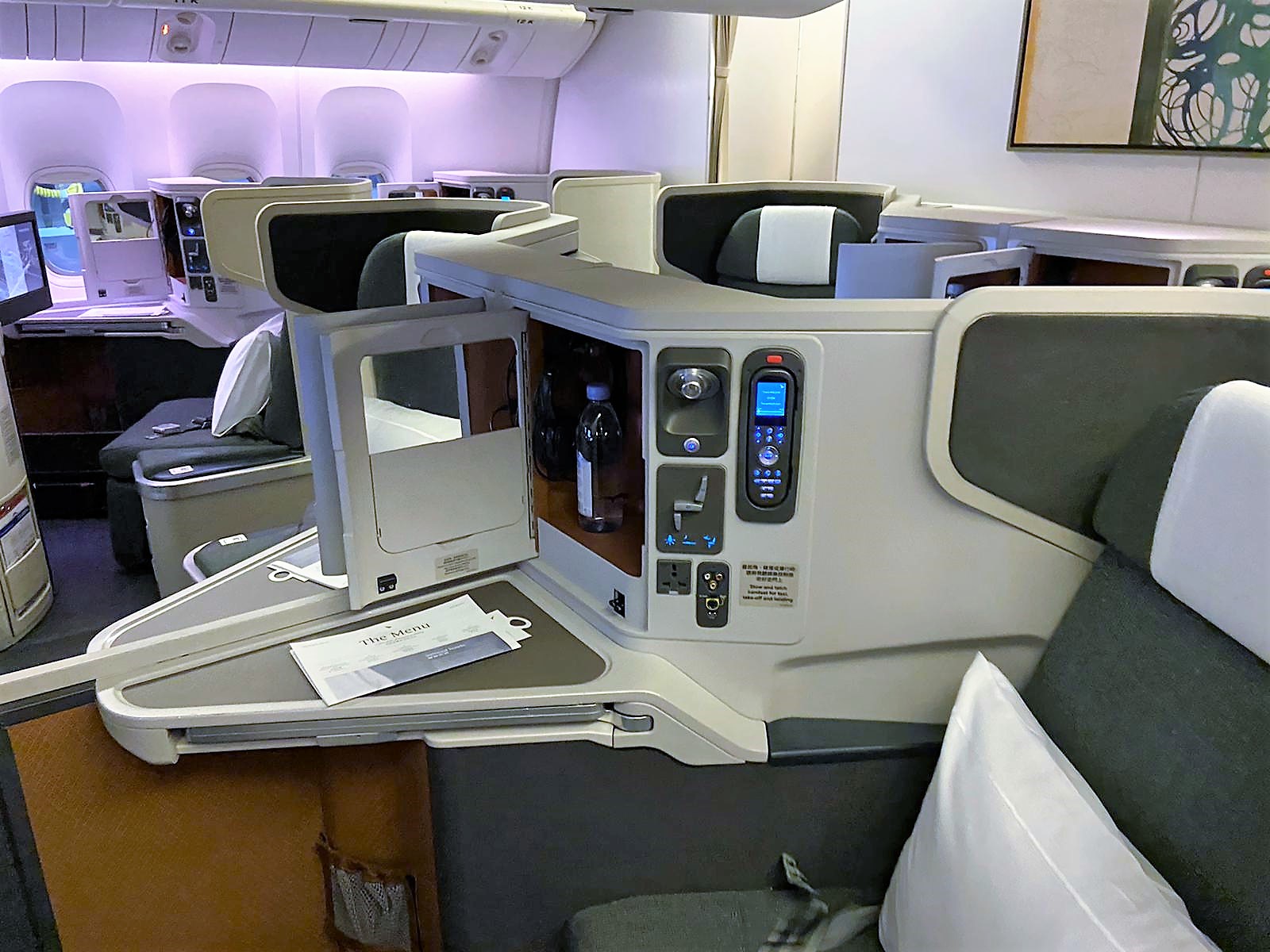 The Business Class Cabin is split into a mini-cabin of 2 rows just behind First Class and a larger main cabin behind.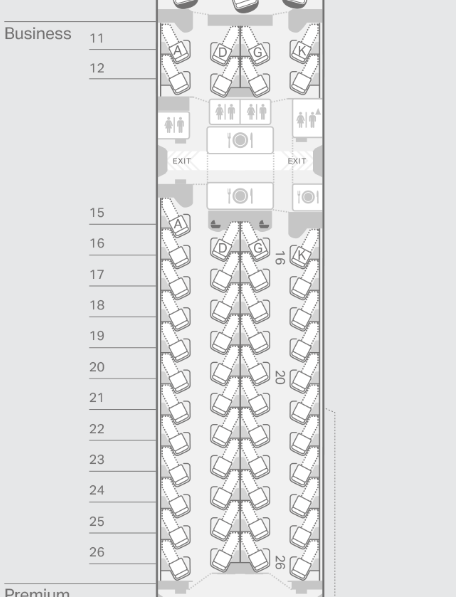 I was in Seat 11A and the small cosy cabin was perfect for a quiet night flight. I was immediately struck by how spacious the seat area was.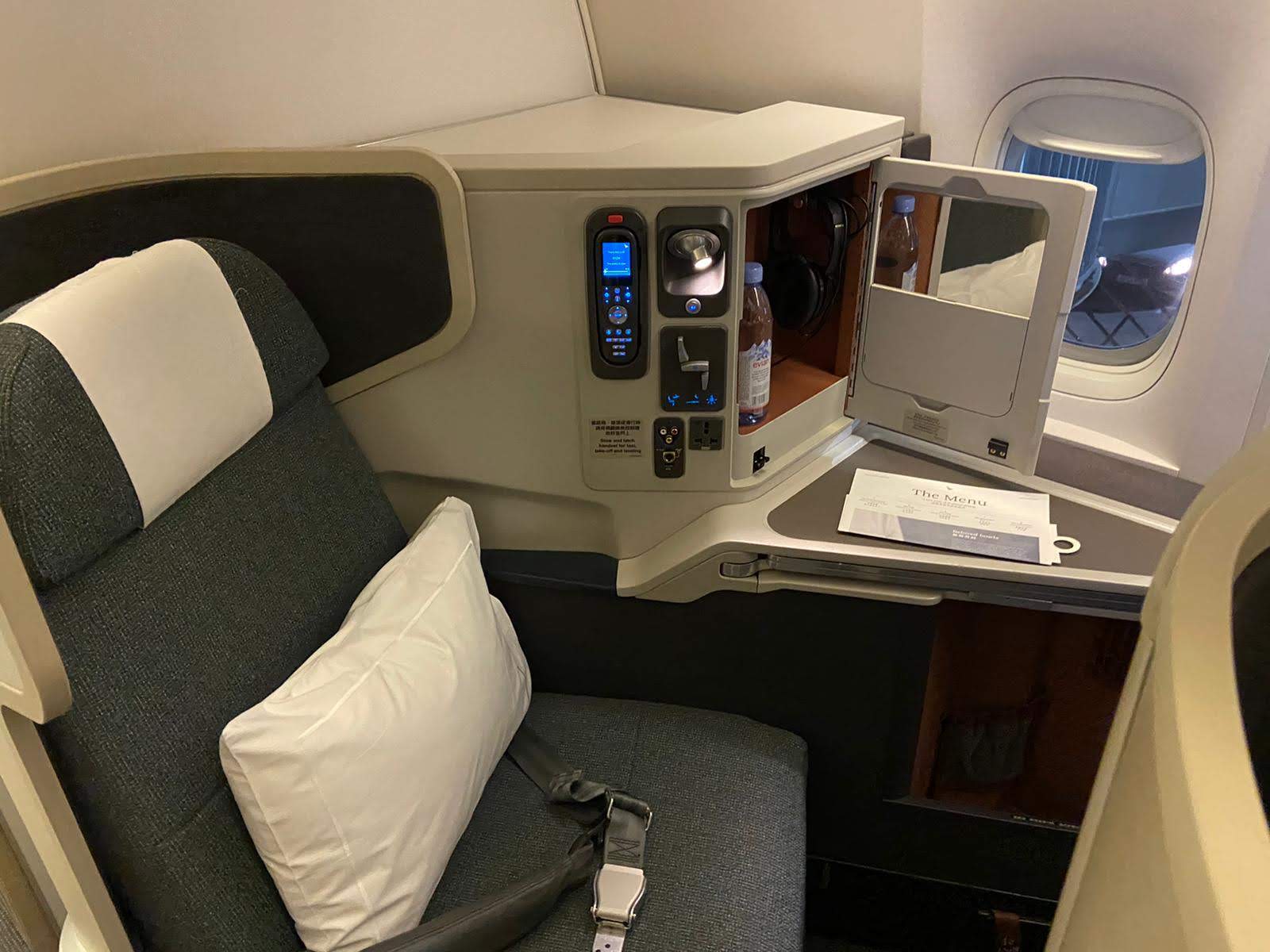 I had a quick peek into the First Class Cabin and was surprised how underwhelming it looked. (It may not look exciting but I loved it. Read my review here– Michele)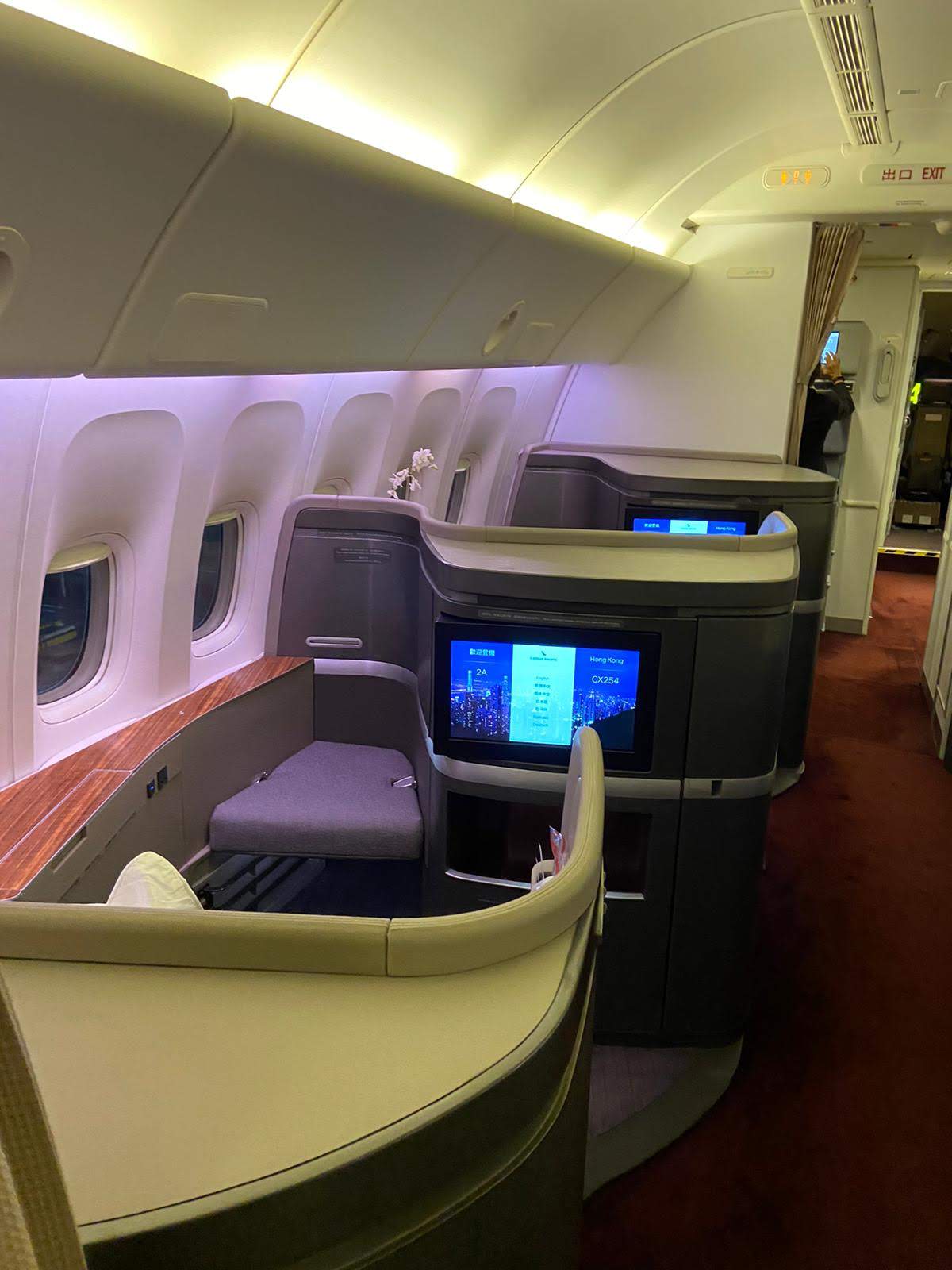 The welcome was warm, gracious and felt very personal. The seat had seen some use, but it felt comfortable. I think the ivory colour of the cabin fixtures ages quite badly and quickly can look a bit grubby.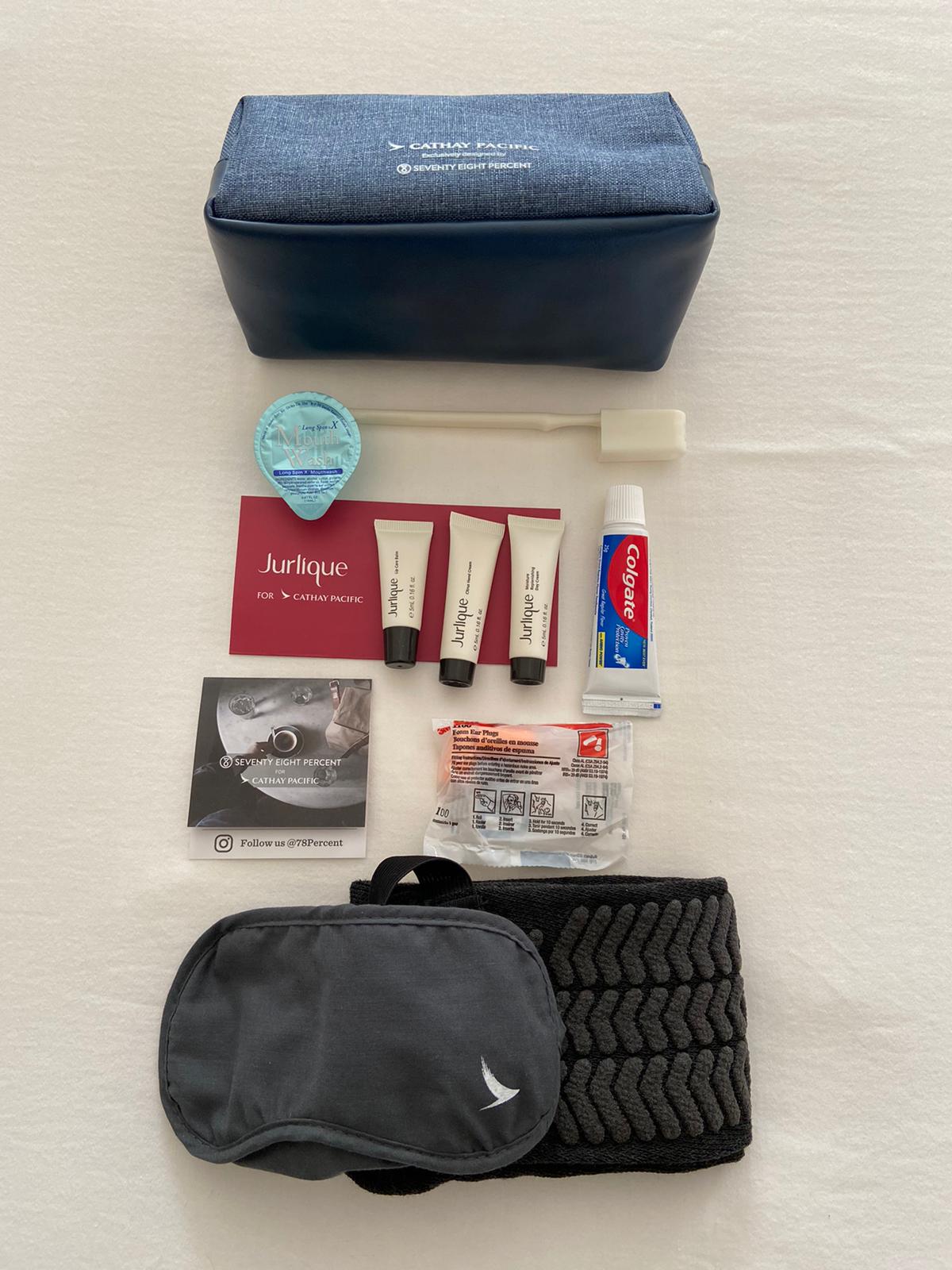 There was an older Cathay Amenity kit containing mini Jurlique products on the side. I was disappointed not to find the new Bamford kits. I can only assume they were using up old supplies first. There was also a bag with a Bamford branded duvet, mattress pad and slippers. I was impressed by the decent-sized pillow. Cathay have made a fanfare over their new Business Class bedding but hey, it was pretty standard. Just embroidering Bamford on the duvet cover doesn't make it special in any way! They are still not a patch on the super-soft American Airlines comforters.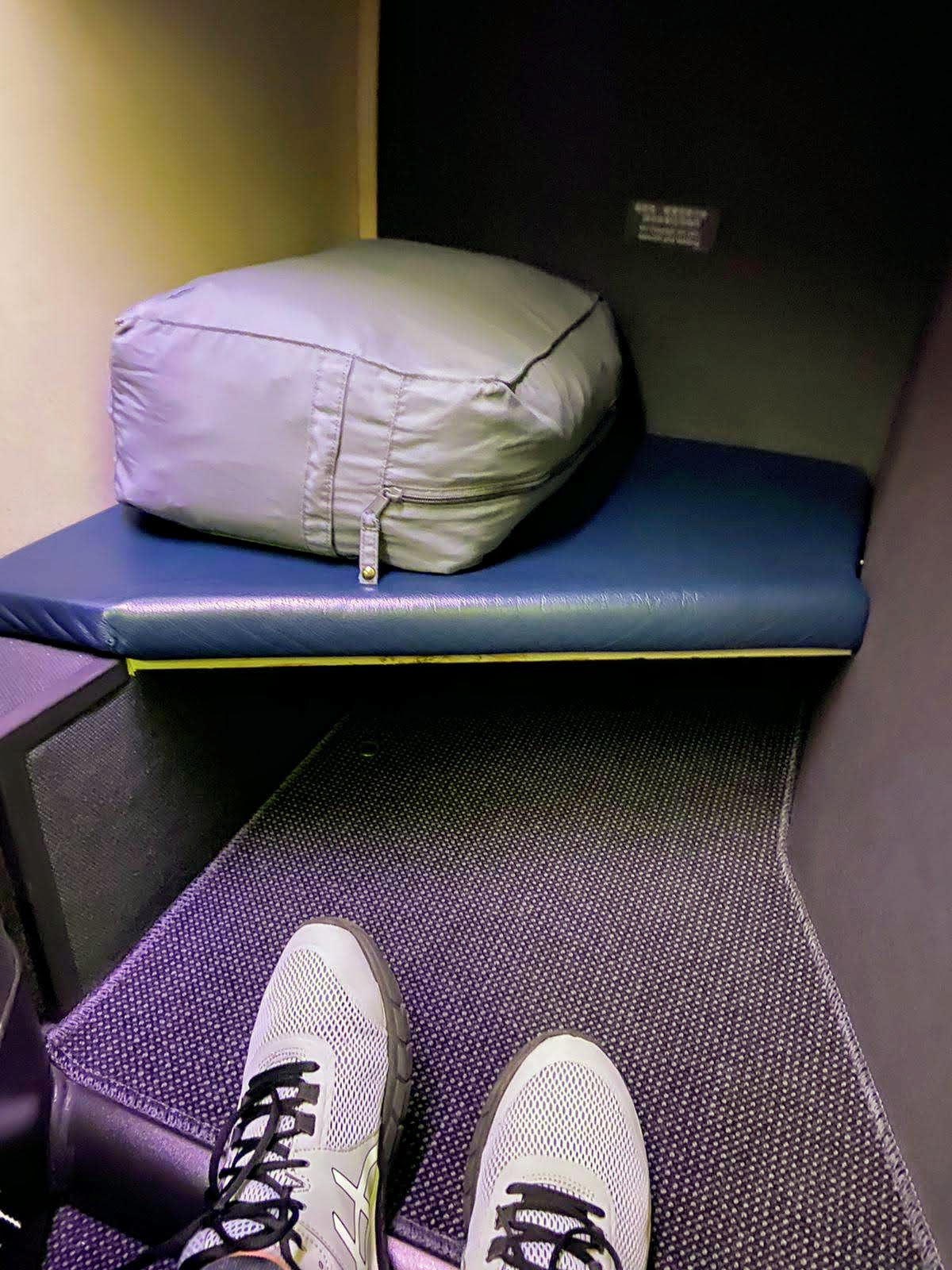 A newspaper-style menu was also at the seat. I liked the unusual design of this. It also contained a breakfast pre-order card.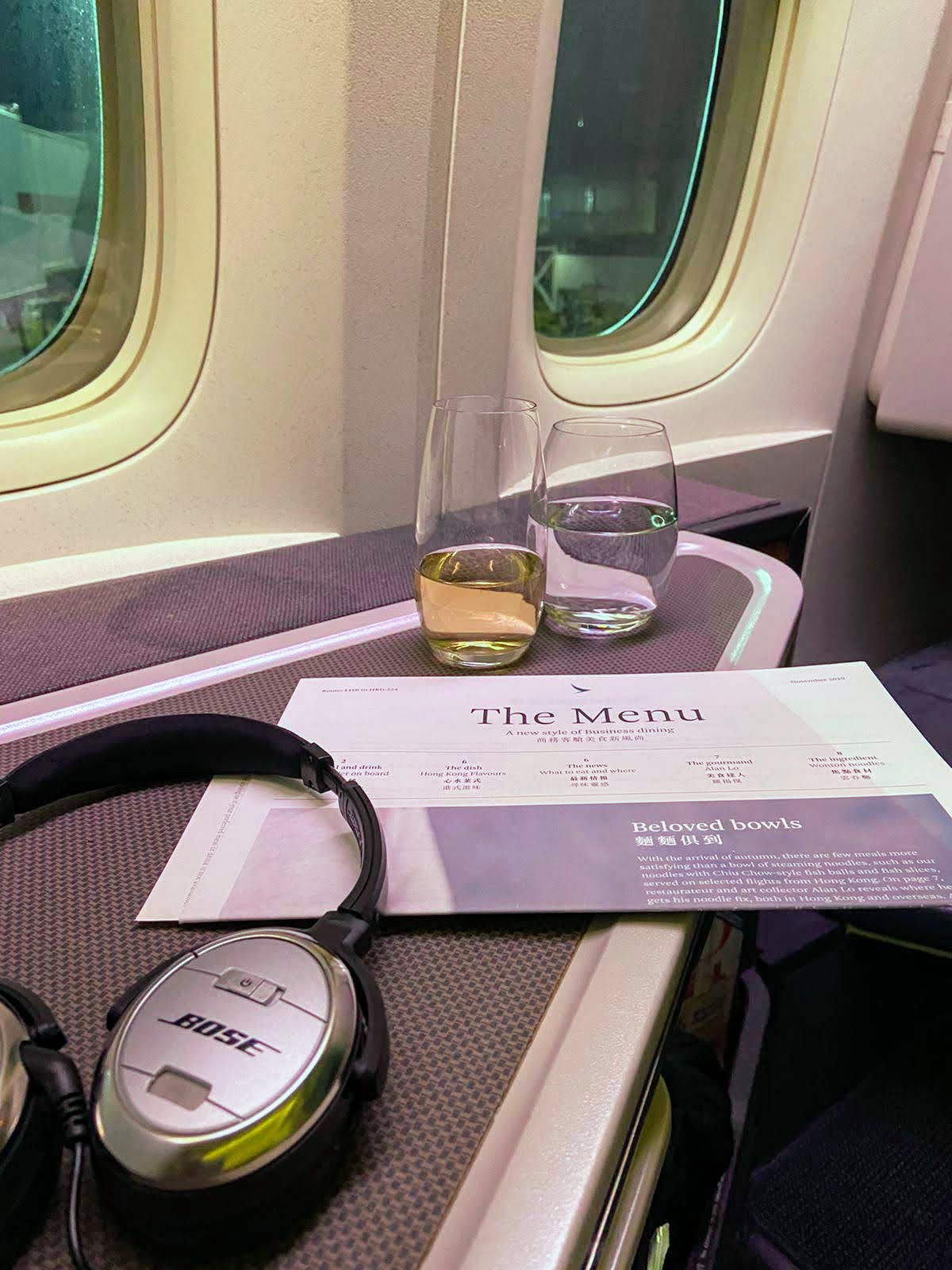 The toilet had definitely seen better days. It really needed a deep steam clean and wasn't particularly spruced up during the flight. There were full-sized Jurlique products though.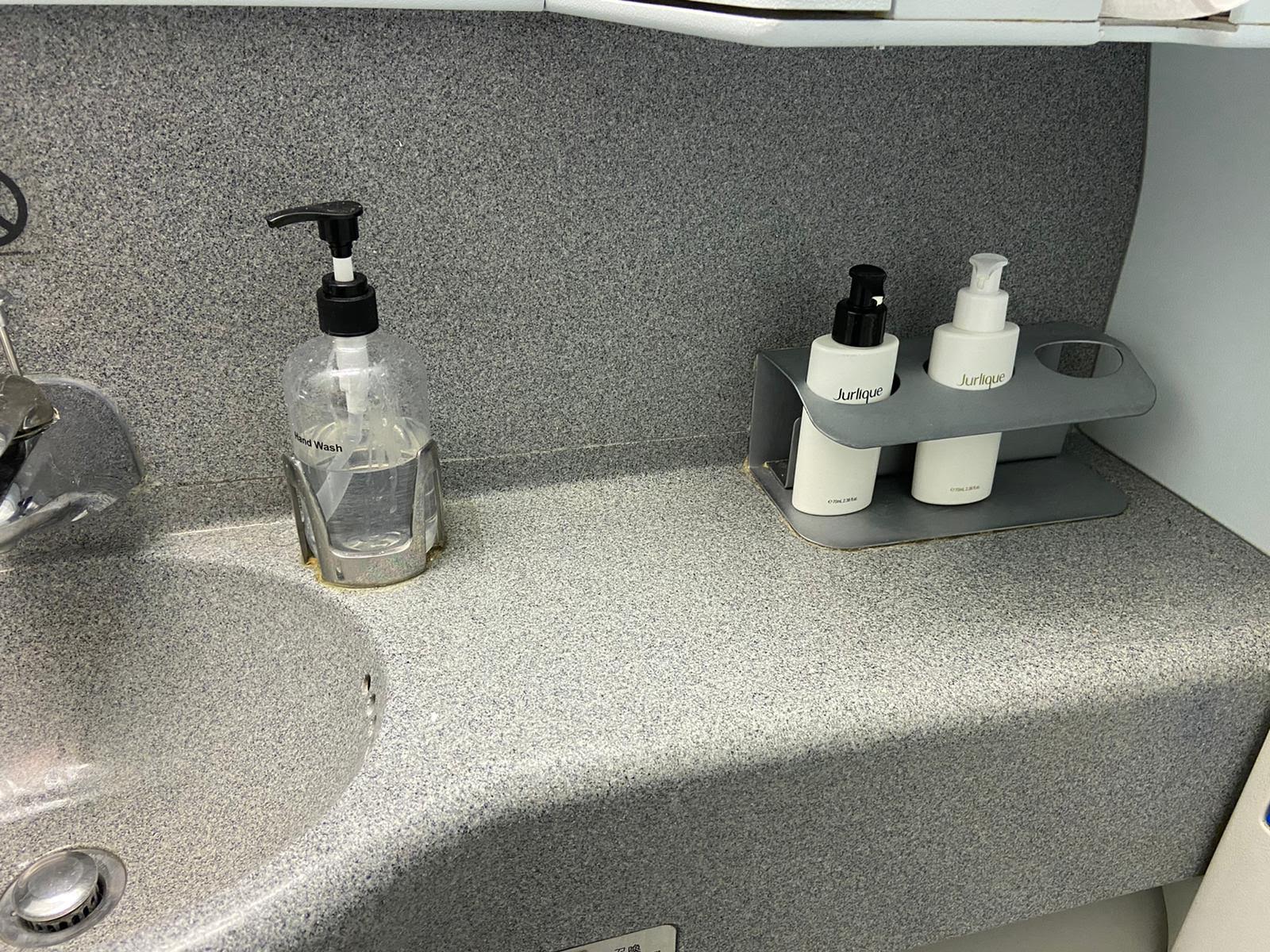 A 'thimble' of fizz was offered during boarding (see menu picture above). After departure meal orders were taken. In addition to the main meal and breakfast, there was an anytime snack menu which mostly consisted of the mains from the dinner menu. I was presented with a decent sized glass of fizz this time with some warm nuts.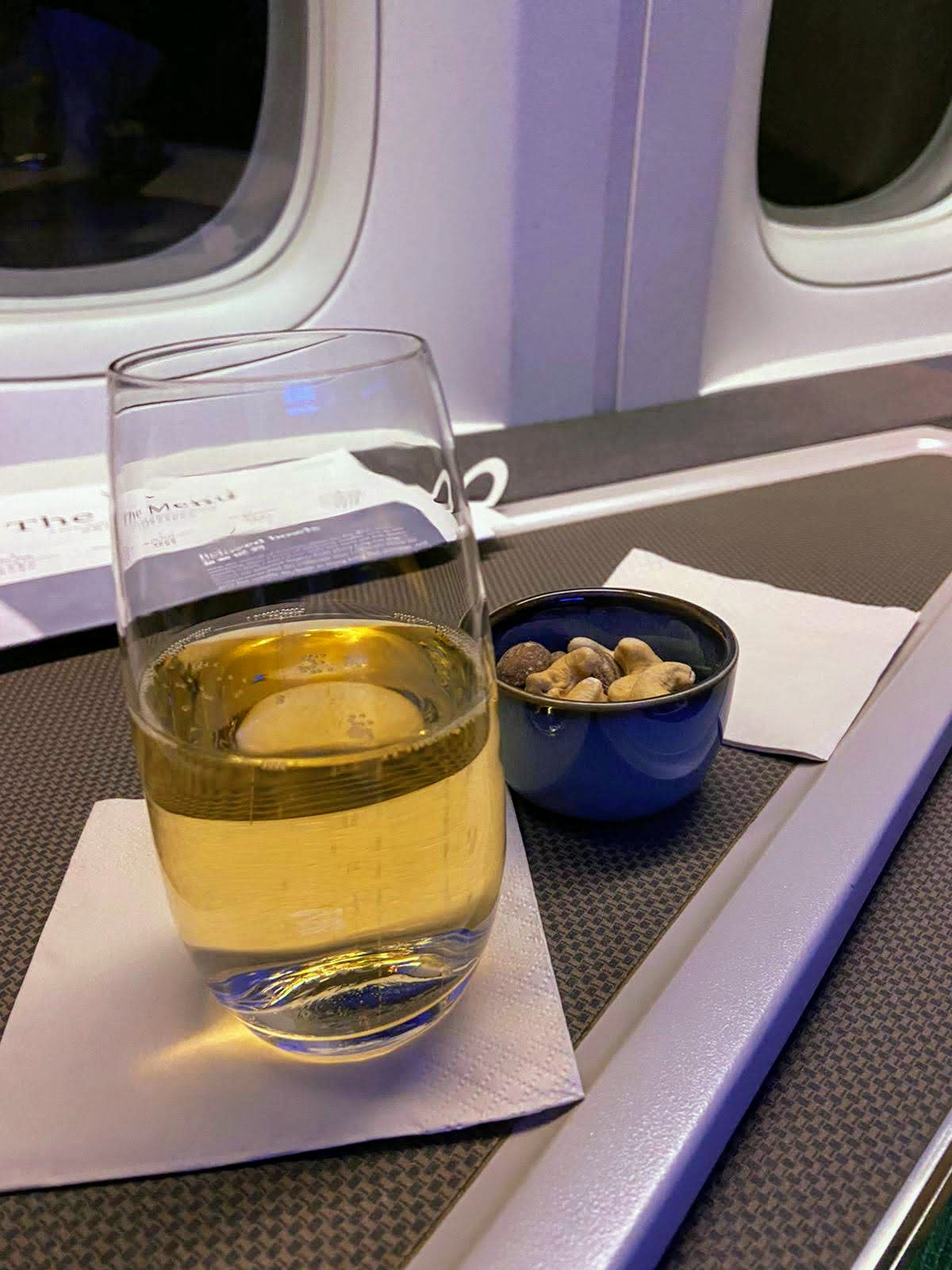 I ordered a salad to start followed by the beef. Both were pretty good (the Beef particularly so). I finished with a small Sundae which was really lovely. I skipped the cheese. The service was just OK. Perfectly fine but nothing exciting. Drink refills were not proactive.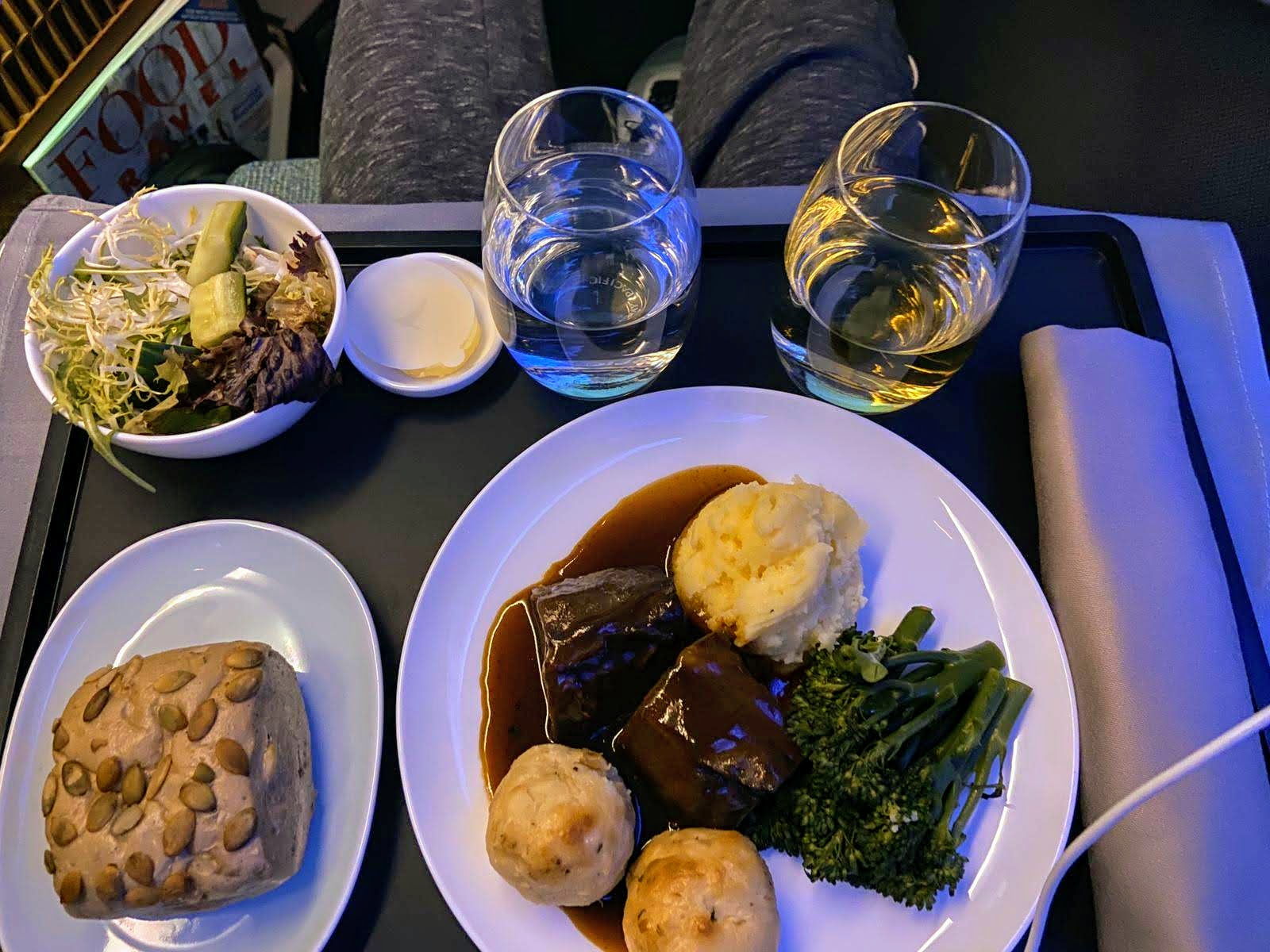 I tried to get some sleep but was interrupted by a constant clatter in the galley all night long. Maybe they were doing a deep clean? Thank goodness for silicon earplugs!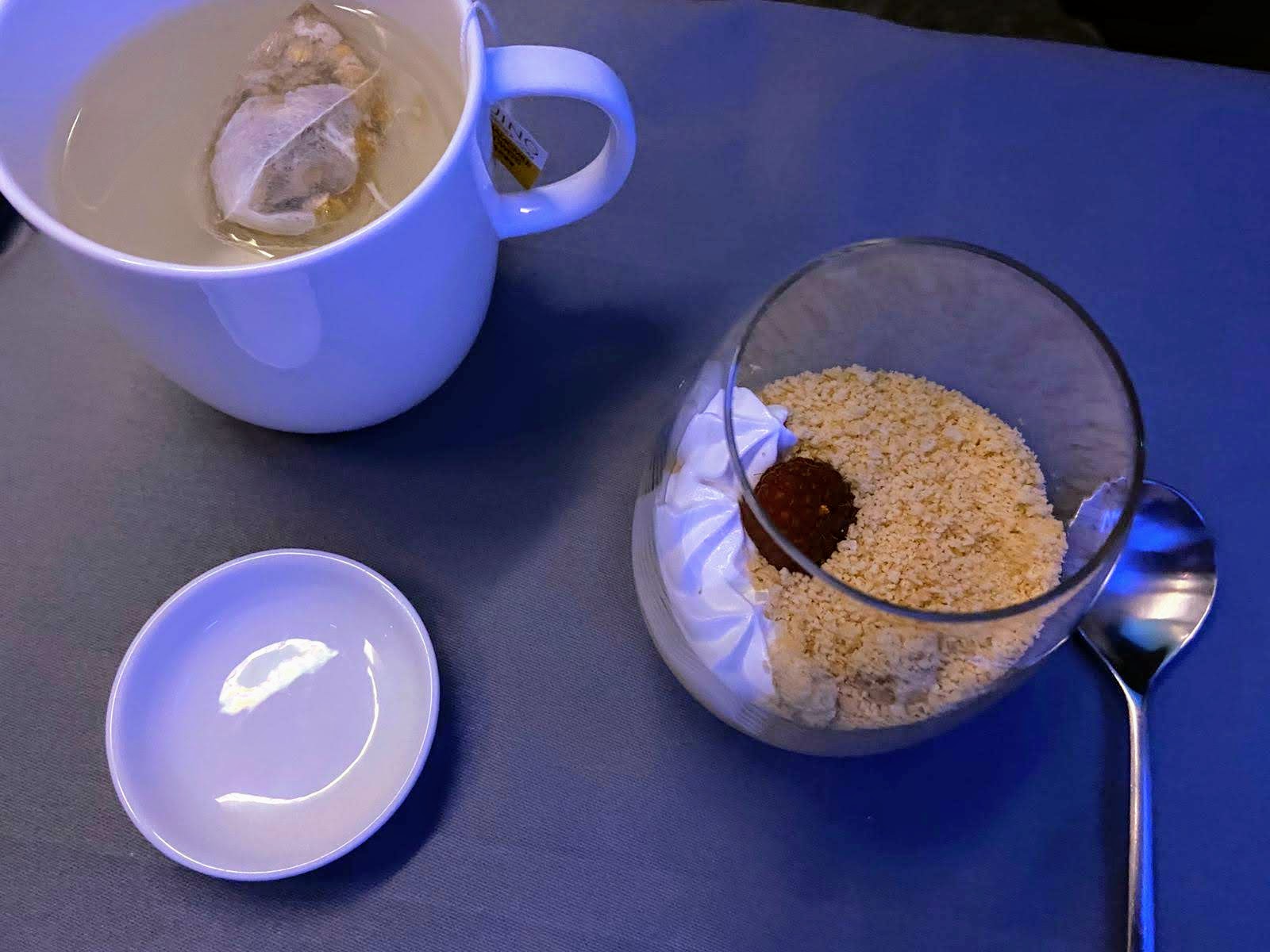 I had an avocado and tomato omelette with smoked salmon for breakfast which was tasty. The smoothie was particularly good. I also enjoyed a mimosa or two.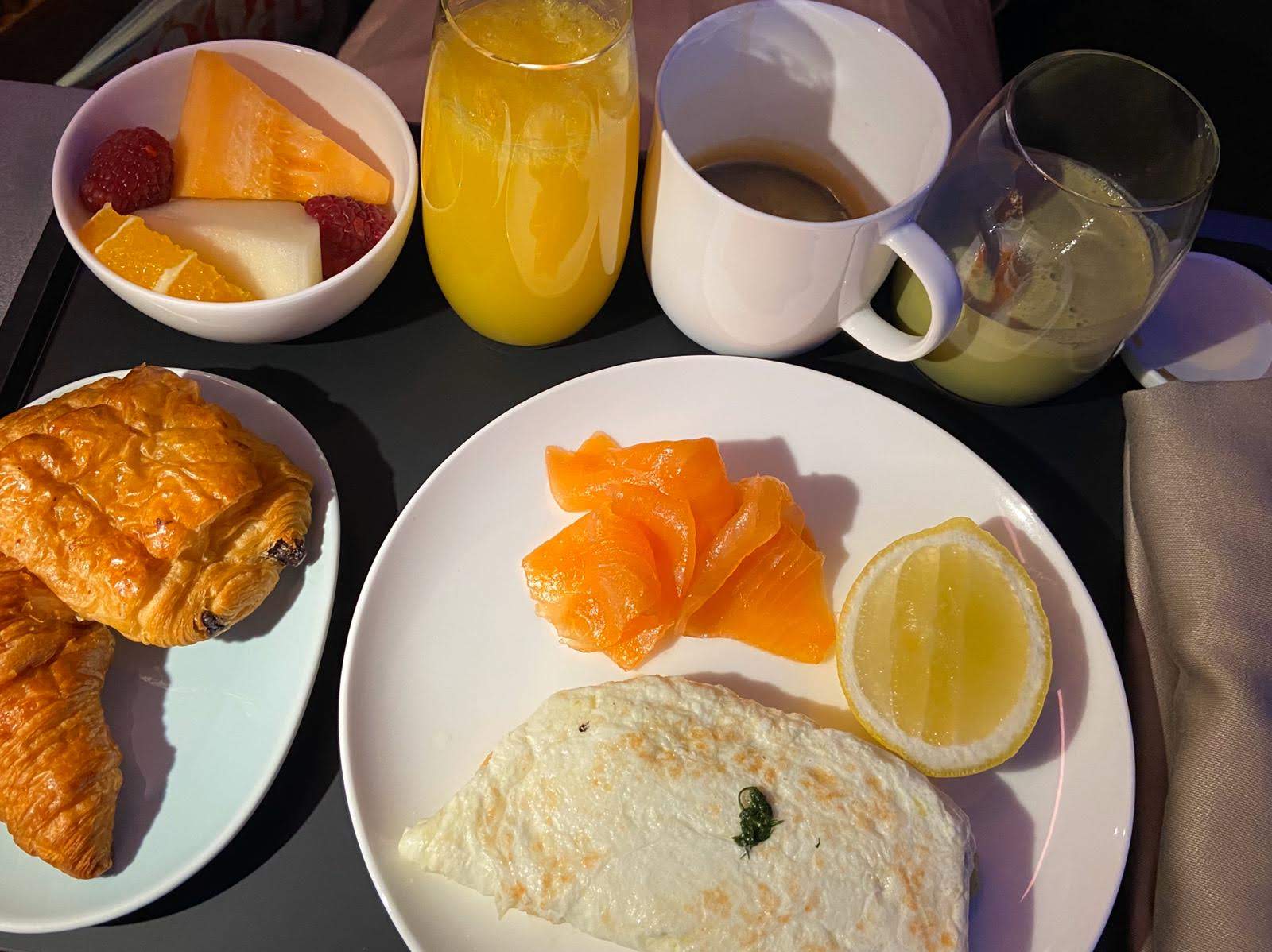 I had another pleasant chat with the In-Flight Manager before leaving at Hong Kong.
Conclusion
A perfectly normal Business Class experience. A spacious seat, pleasant (if noisy), friendly, though robotic crew.
Layover in Hong Kong
I usually head straight for the Pier First Class Lounge (access gained by my BA Gold Card), but I have been there a lot over the last two years so I decided to head for the Wing First Class Lounge instead. I had some coffee and a shower. The Shower Suites by Cathay are probably the most consistent and best there are. I love the Aesop products too. You can read reviews of the all the Cathay lounges at Hong Kong airport here.
I was struck by how many people were sprawled fast asleep in the lounge area. It was about 6pm at this time. After a reviving glass of Rosé Fizz I headed to the gate to board my flight to Brisbane.
Hong Kong To Brisbane On A330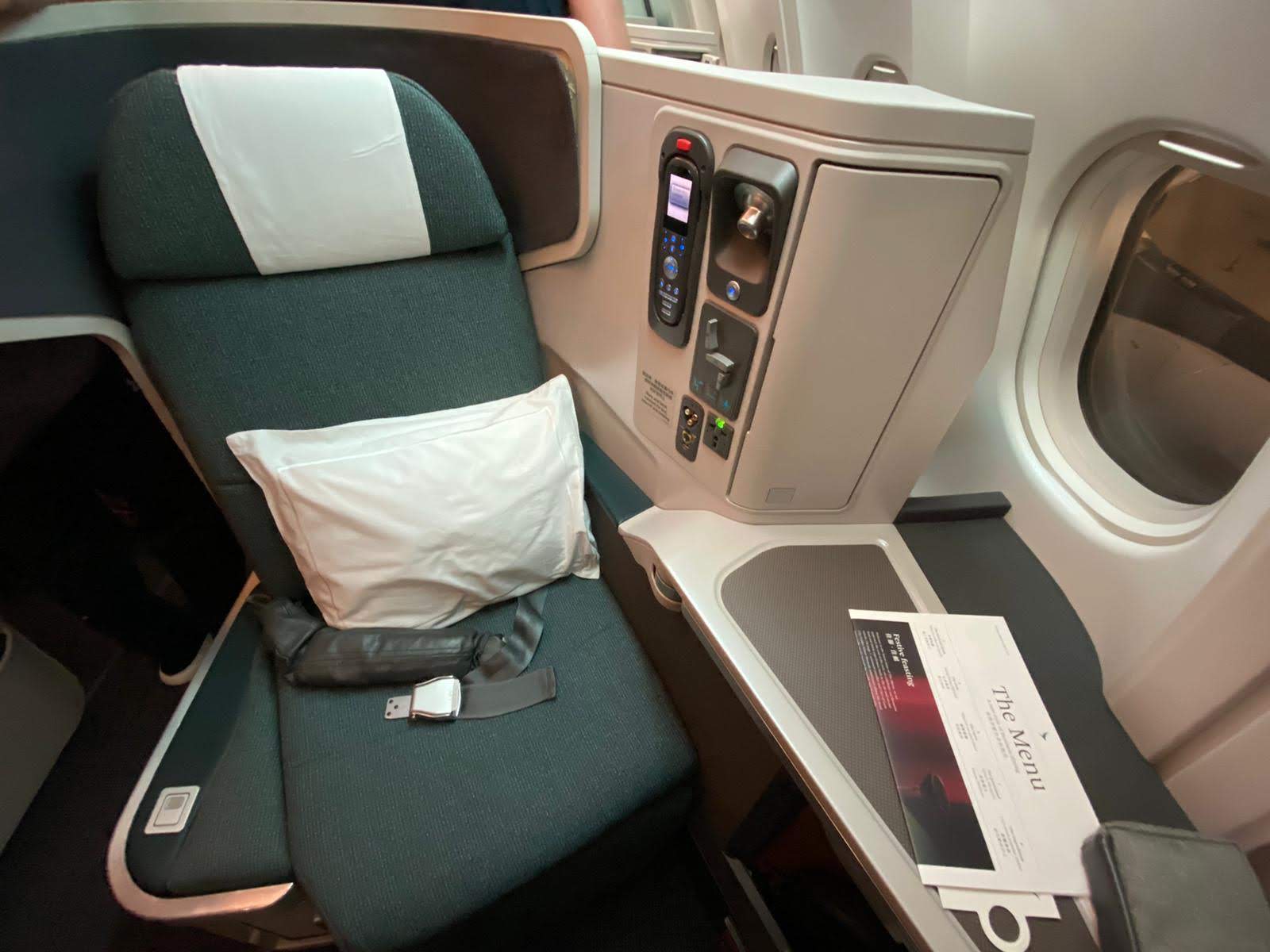 The boarding process was frantic! On boarding, I was immediately struck by how cramped the seat was. It felt like the B777 seat had been shrunk by 25%. I felt so close to my neighbour. I was in the bulkhead window seat and definitely had less legroom than the previous flight.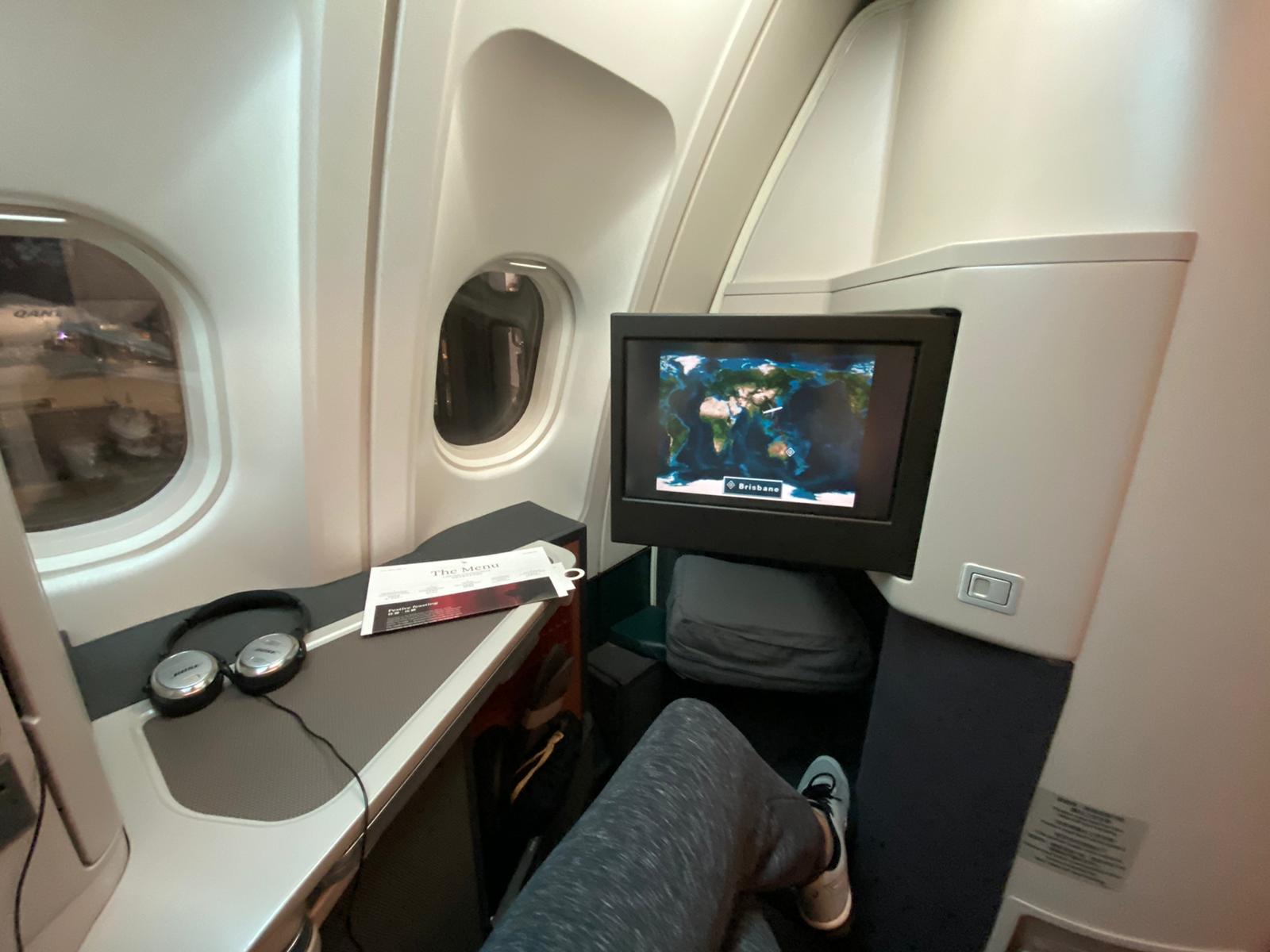 All amenities were provided as per the previous flight, though I had to ask for slippers. Again no Bamford Kit. (you can read about the new Cathay amenities here)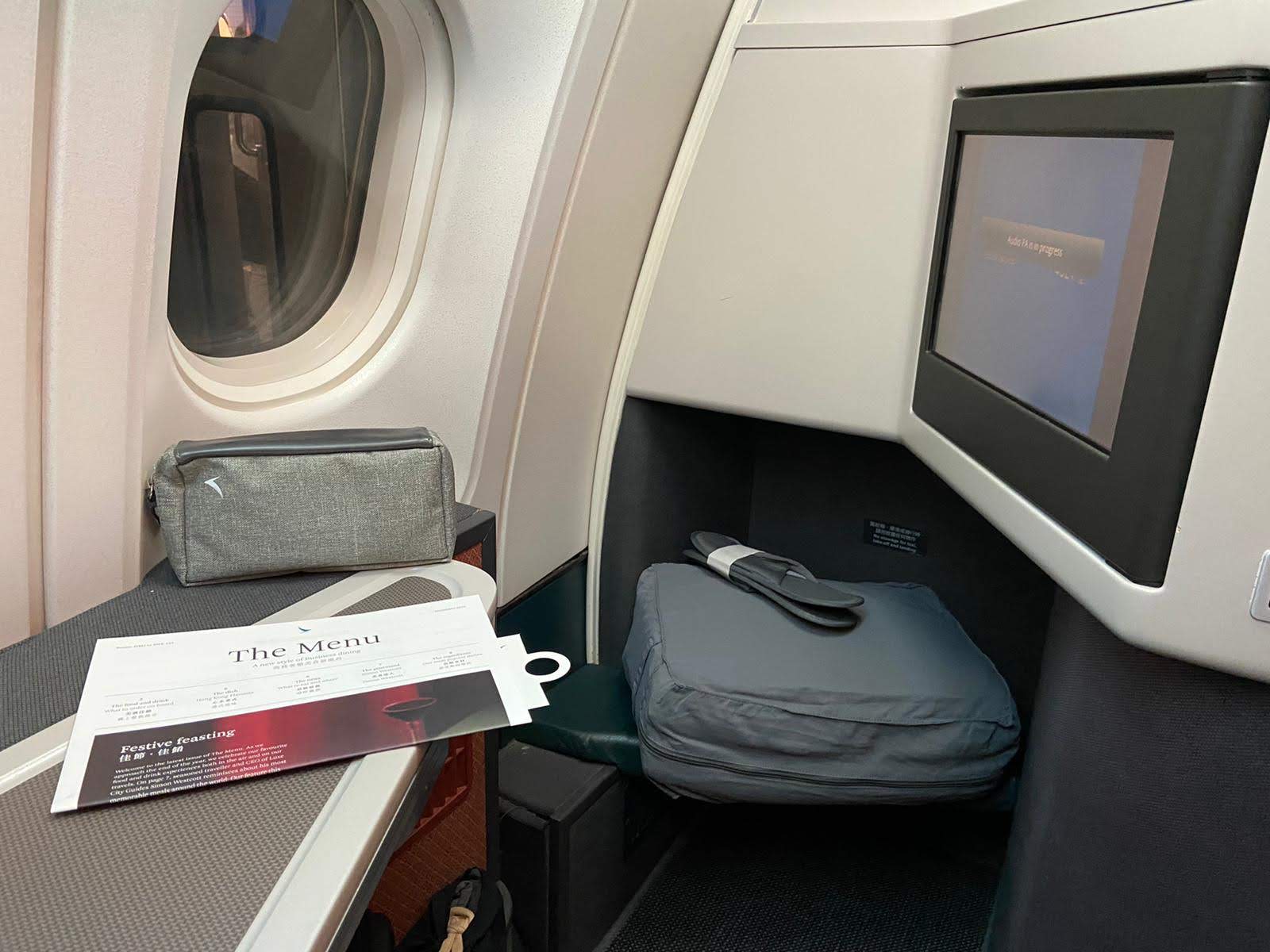 Again I received a lovely personal welcome from the In Flight Manager. My meal order was taken first due to my OneWorld Emerald status. Service was much more proactive on this journey. Free departure fizz was of a decent size this time though my warm towel was stone cold.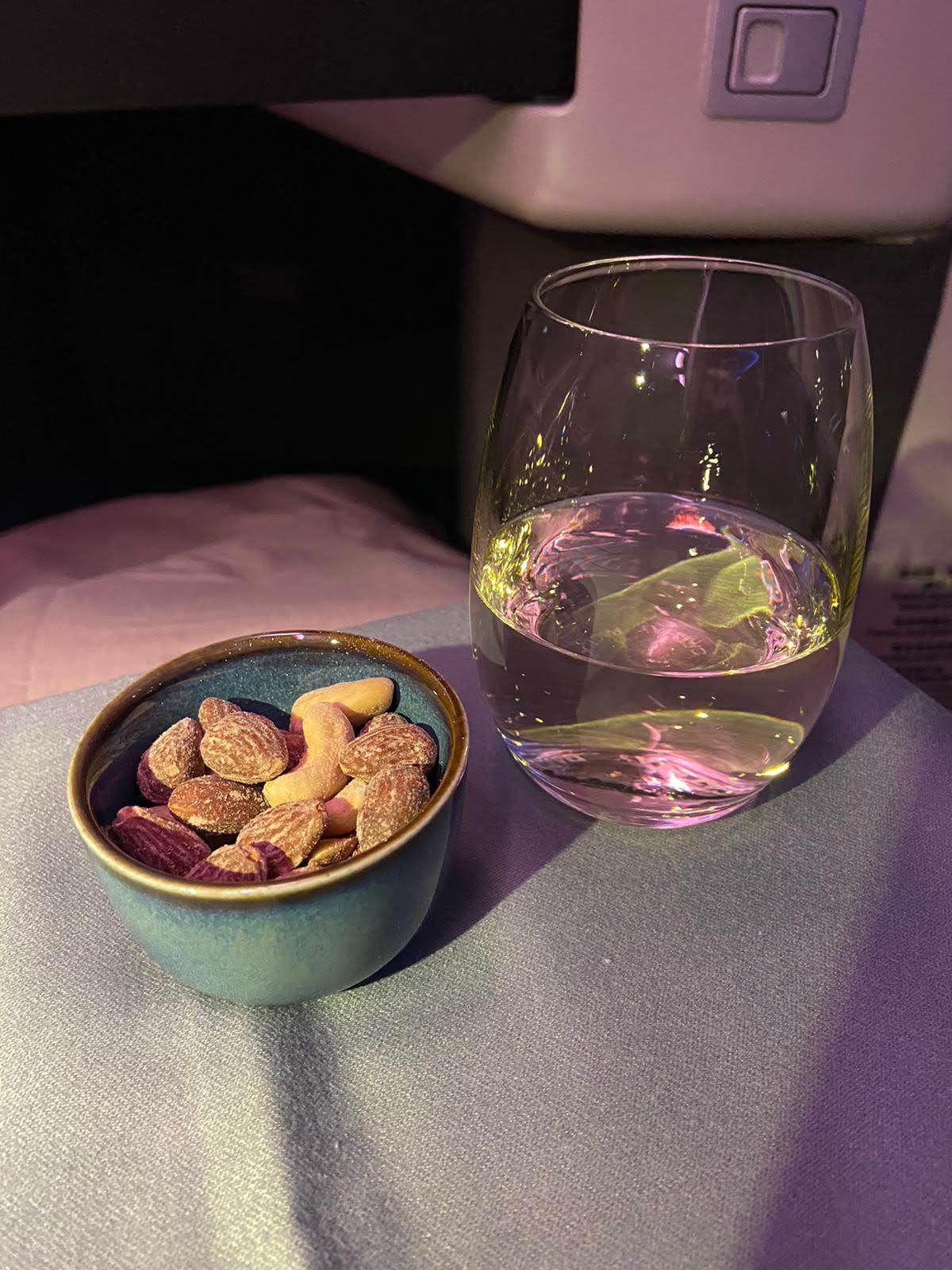 I ordered a noodle salad and then (for comparison purposes only) again the beef. Both were delicious.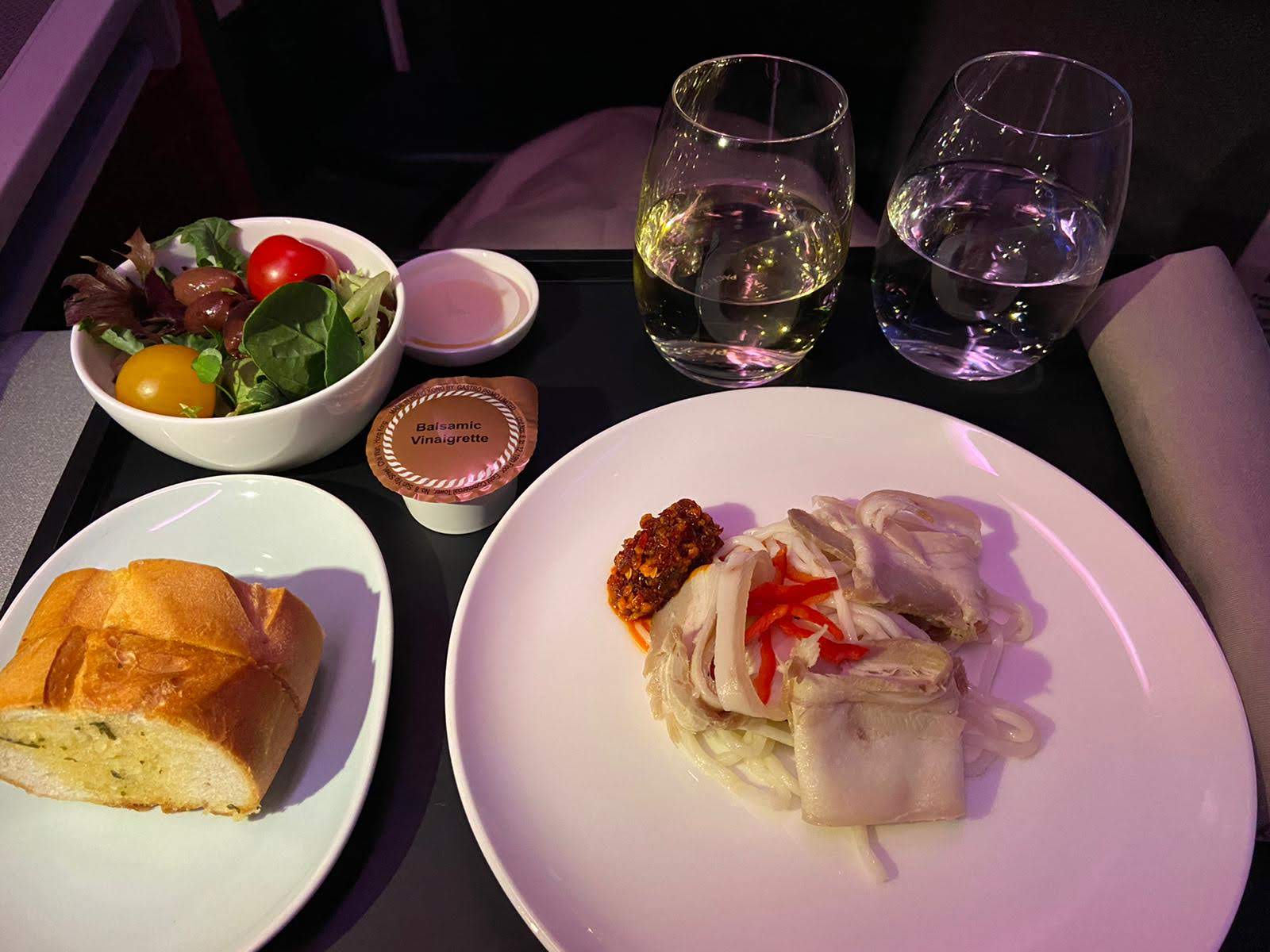 Possibly catering out of their home base is superior? I finished with some cheese and an ice cream. Interestingly there was no anytime snack menu on this flight. Service was much improved on this flight. Nothing was too much trouble and the crew were warm and engaging. It really does make the difference.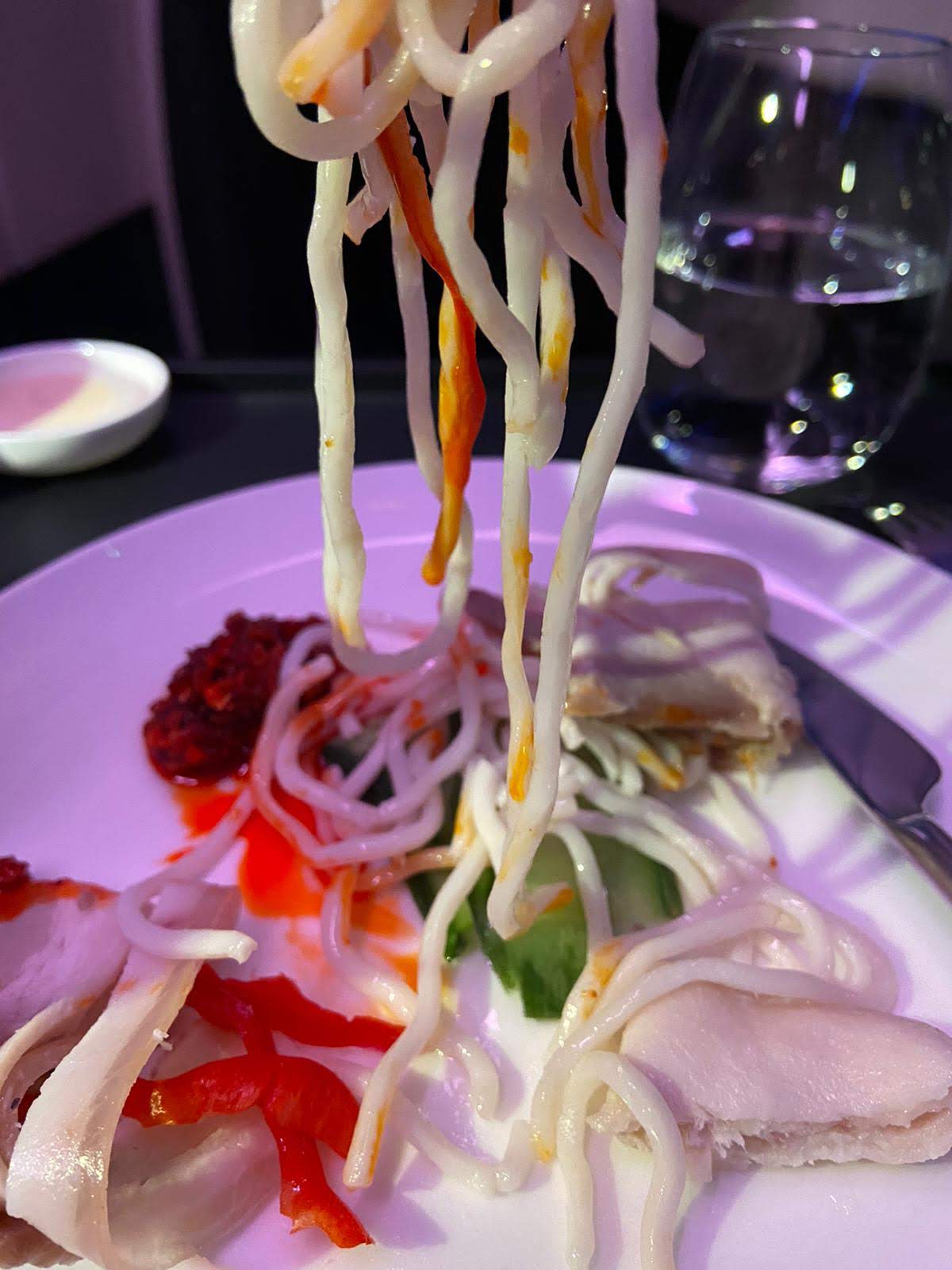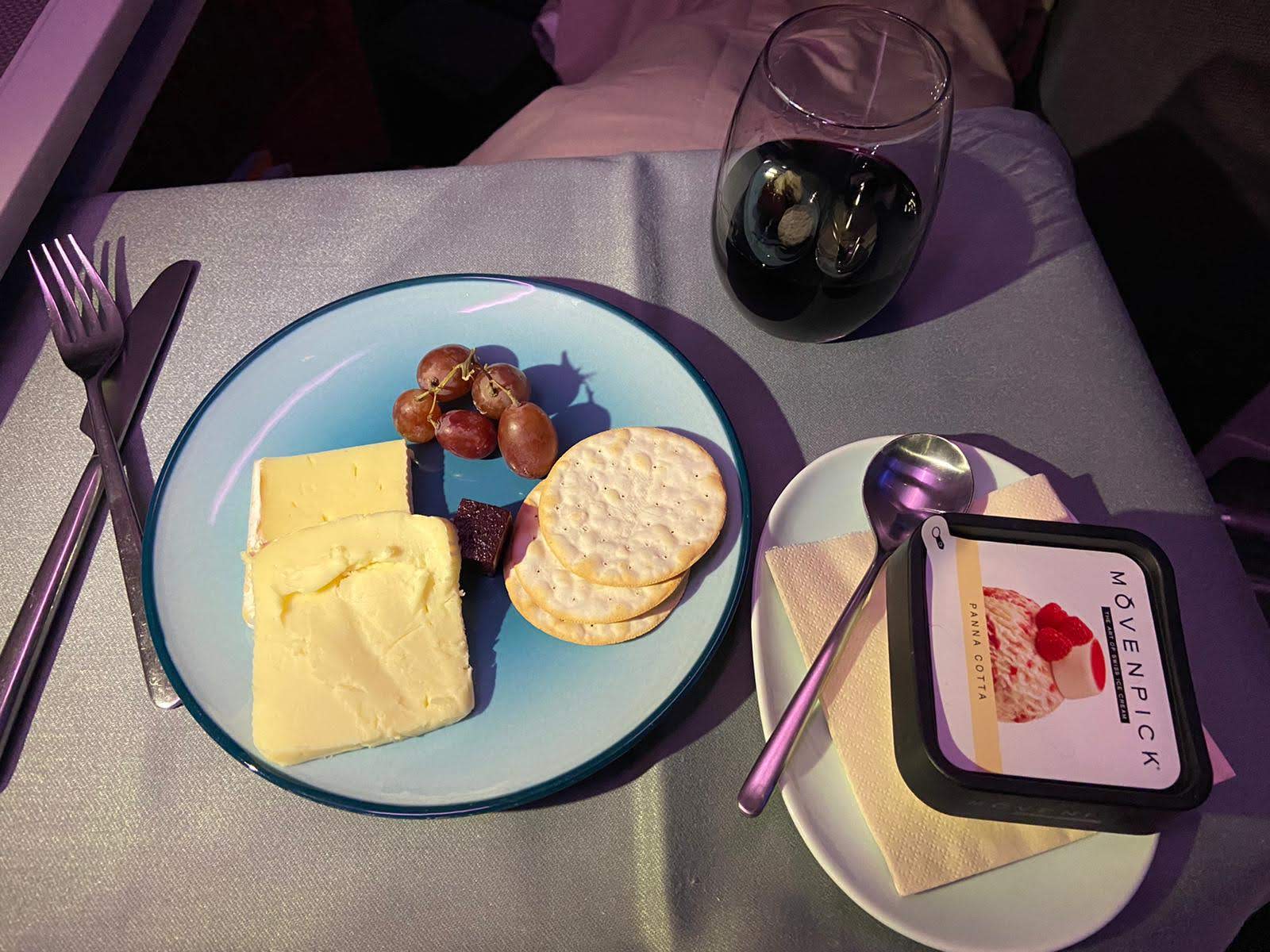 I actually managed to sleep reasonably well on this segment. The sleeping area was definitely smaller, but it was sufficient. There was a fair amount of ambient light from other seats but I managed to barricade myself in with a spare pillow.
For breakfast, I had some ridiculously unripe and hard fruit, Bircher muesli, an apple juice and a mimosa.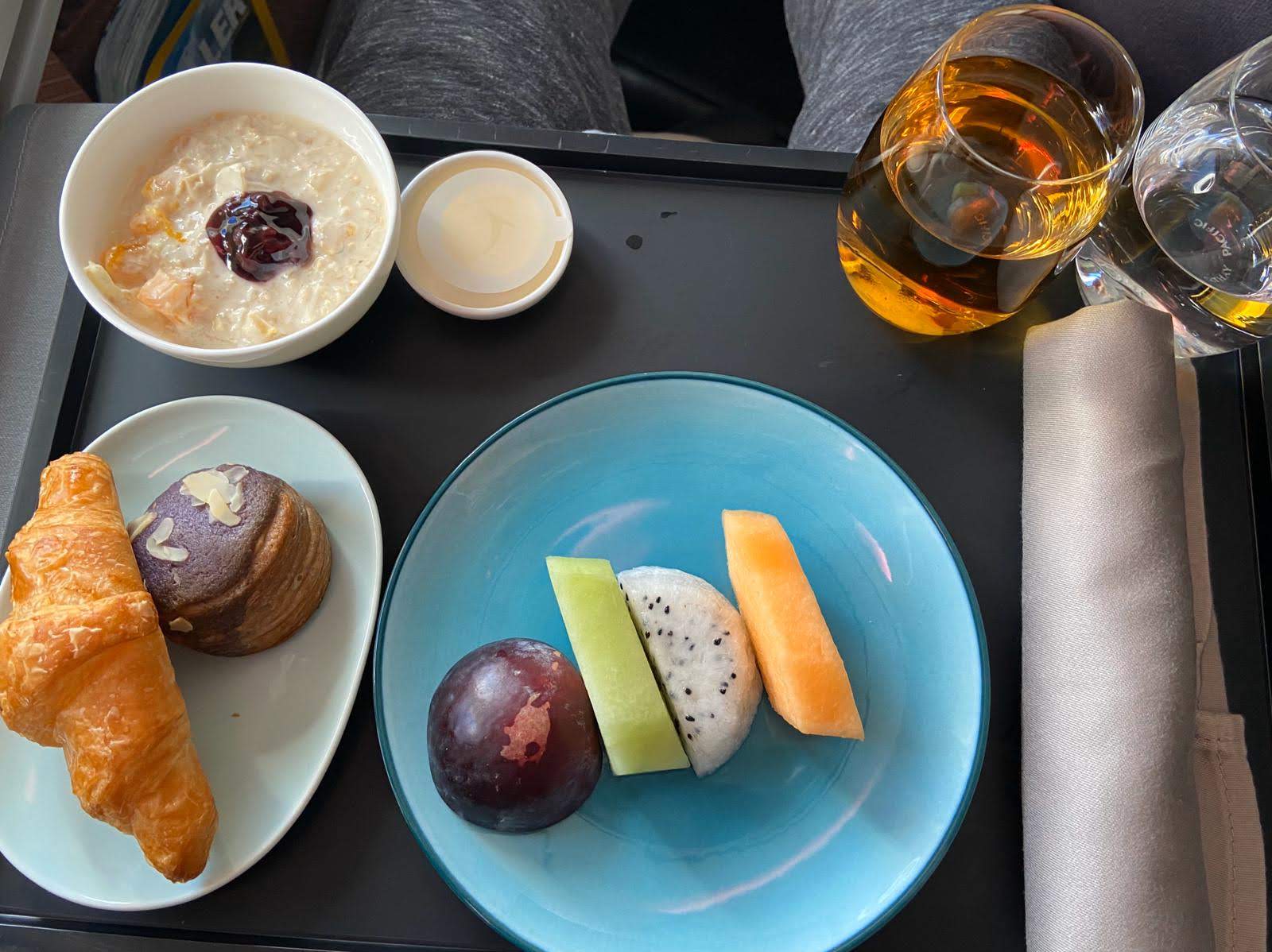 Before landing, I had a long chat with the In Flight Manager about my plans for my 60 hour stay in Australia. I think she thought I was bonkers!
Conclusion
An inferior seat but much better experience due to the fantastic crew.
Brisbane To Hong Kong on A350-900

Boarding was the usual prompt affair. The flight was at 00.40 so people were restless at the gate, eager to get some sleep.
I decided to choose seat 20A in the Mini Cabin, this time at the rear of the main business cabin.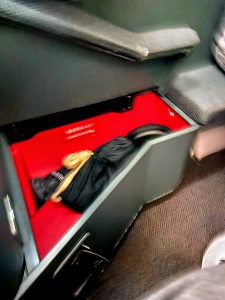 The seat area had more storage and more surface area to put stuff.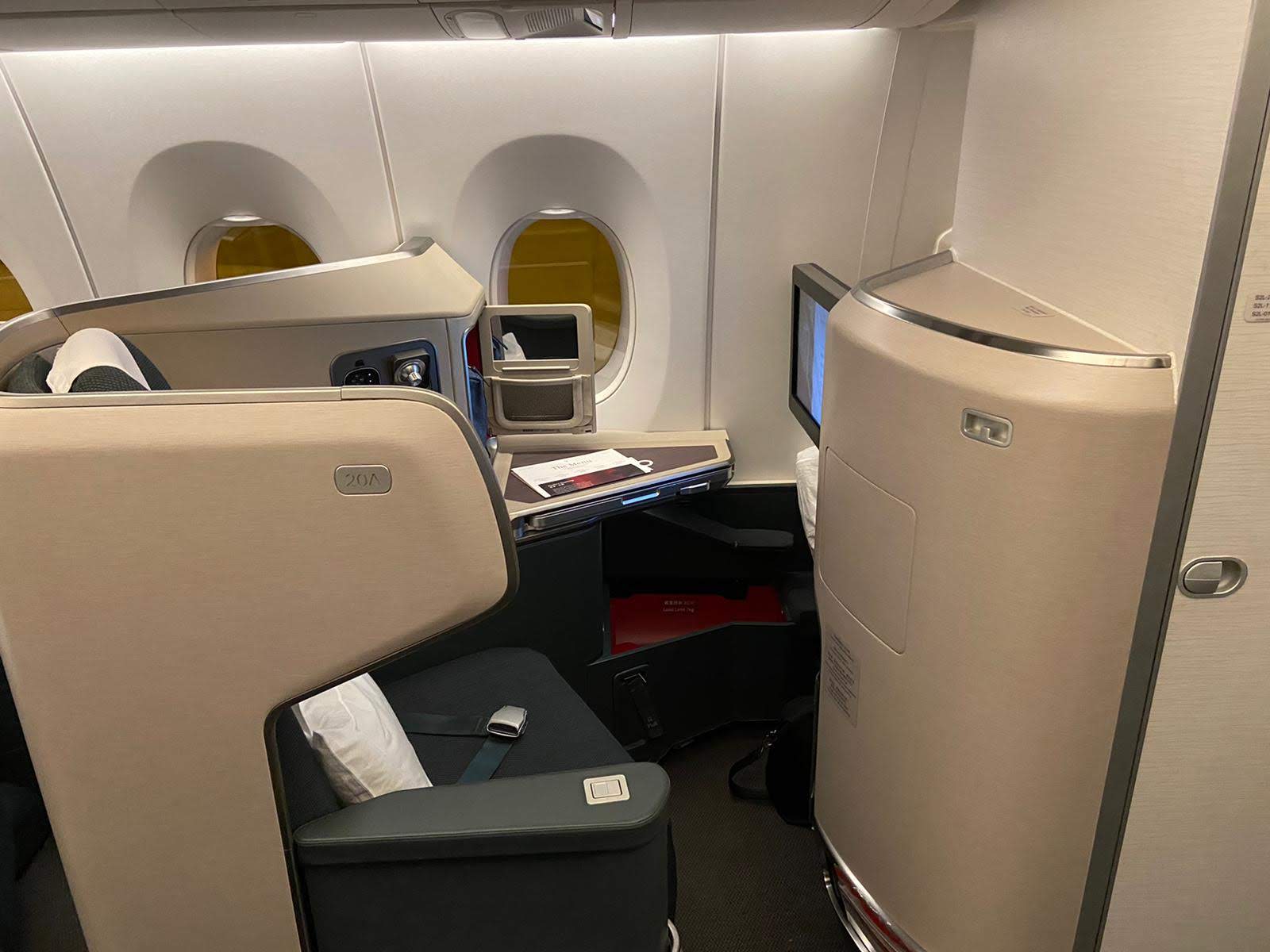 I was generally surprised as to how badly wearing this newish aircraft was. It did feel quite wide though (especially when compared to the A330 seat).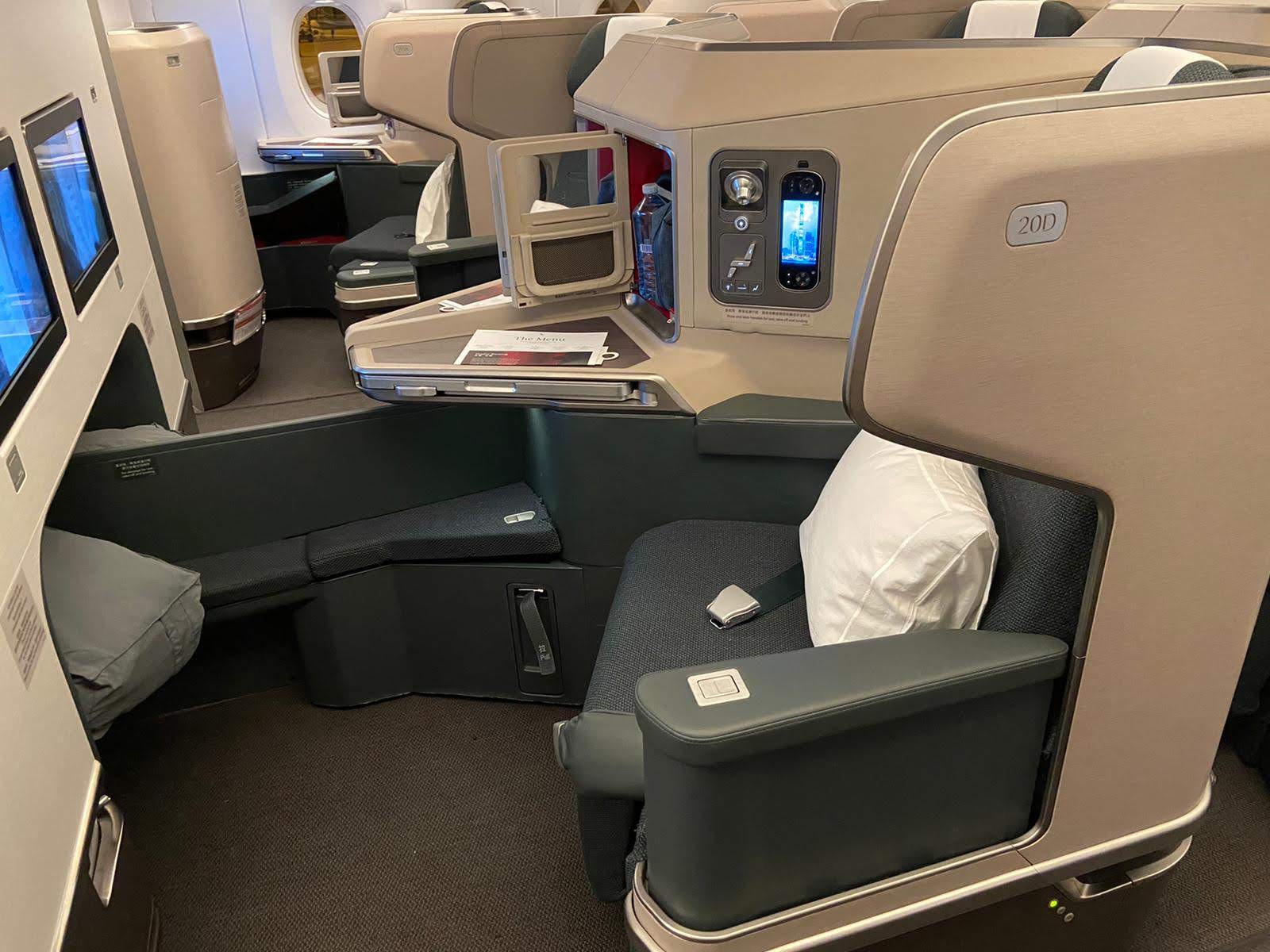 The soft furnishing and leather was worn and felt a bit grubby. This an issue Cathay has been having with seats from the manufacturers.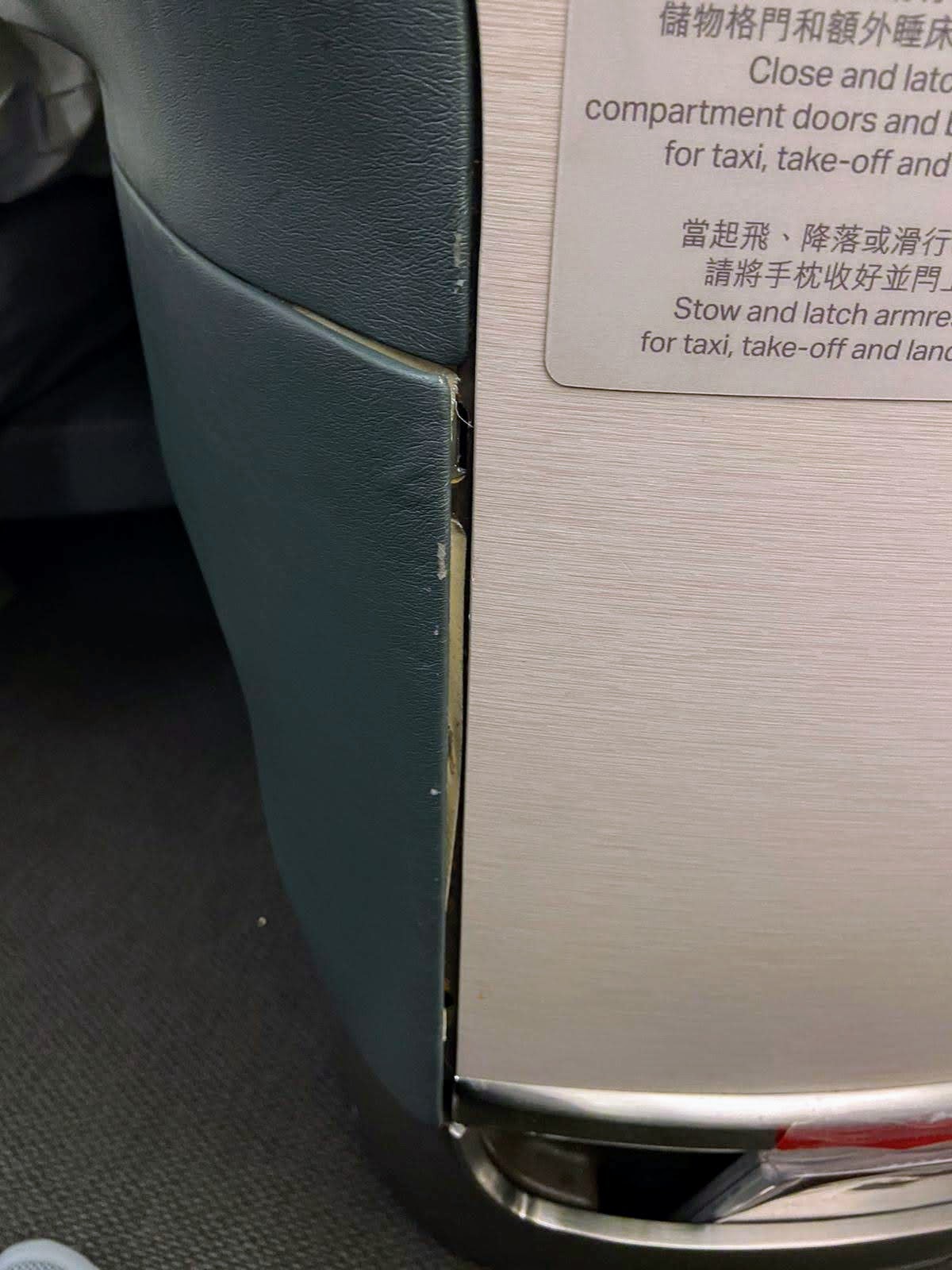 Cabin service was very friendly, again starting with a warm reception from the In Flight Manager. The crew were quick to get the service completed ASAP and I enjoyed the burger, albeit washed down with an unremarkable Bloody Mary and some fizz.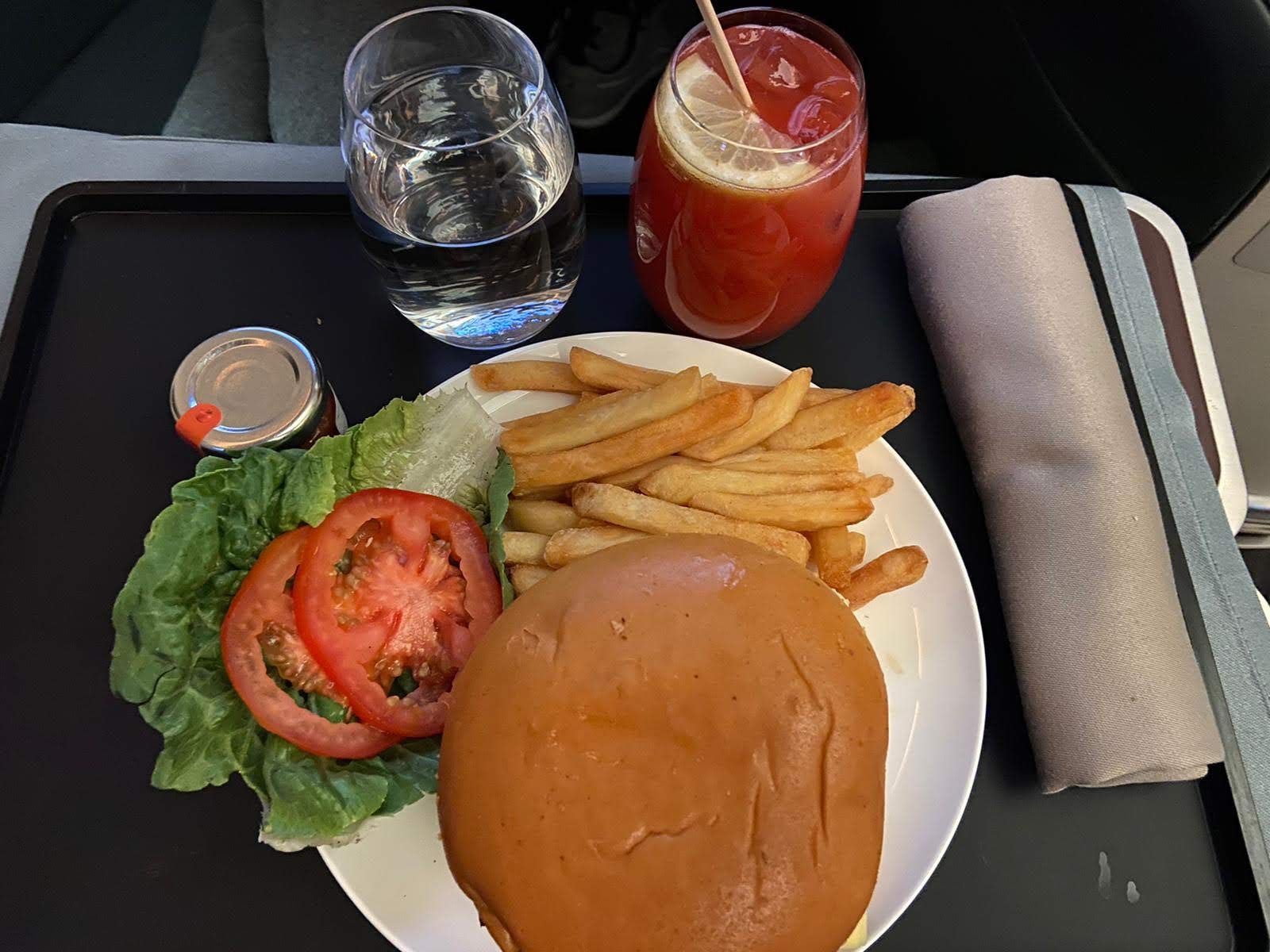 I had another Black Forrest Sundae.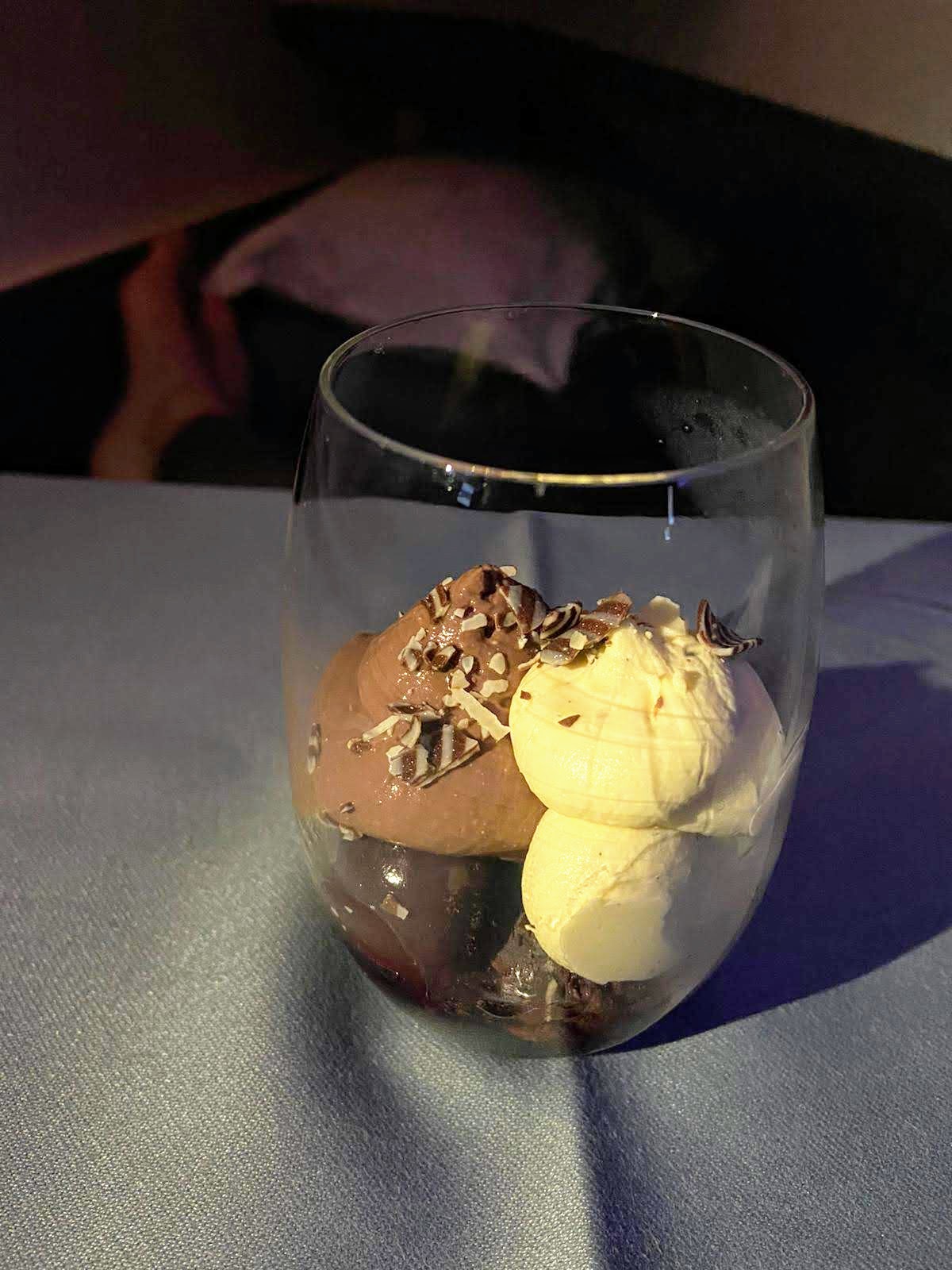 Lights were turned off after 90 minutes. In bed mode, I felt the length was cramped. I was definitely touching the end of the foot cubby. Again the amount of light pollution from other monitors was annoying. The crew were very quiet in the galley throughout the flight. I did go for a wander to the back of the aircraft during the flight and the crew were enjoying a feast in the rear galley!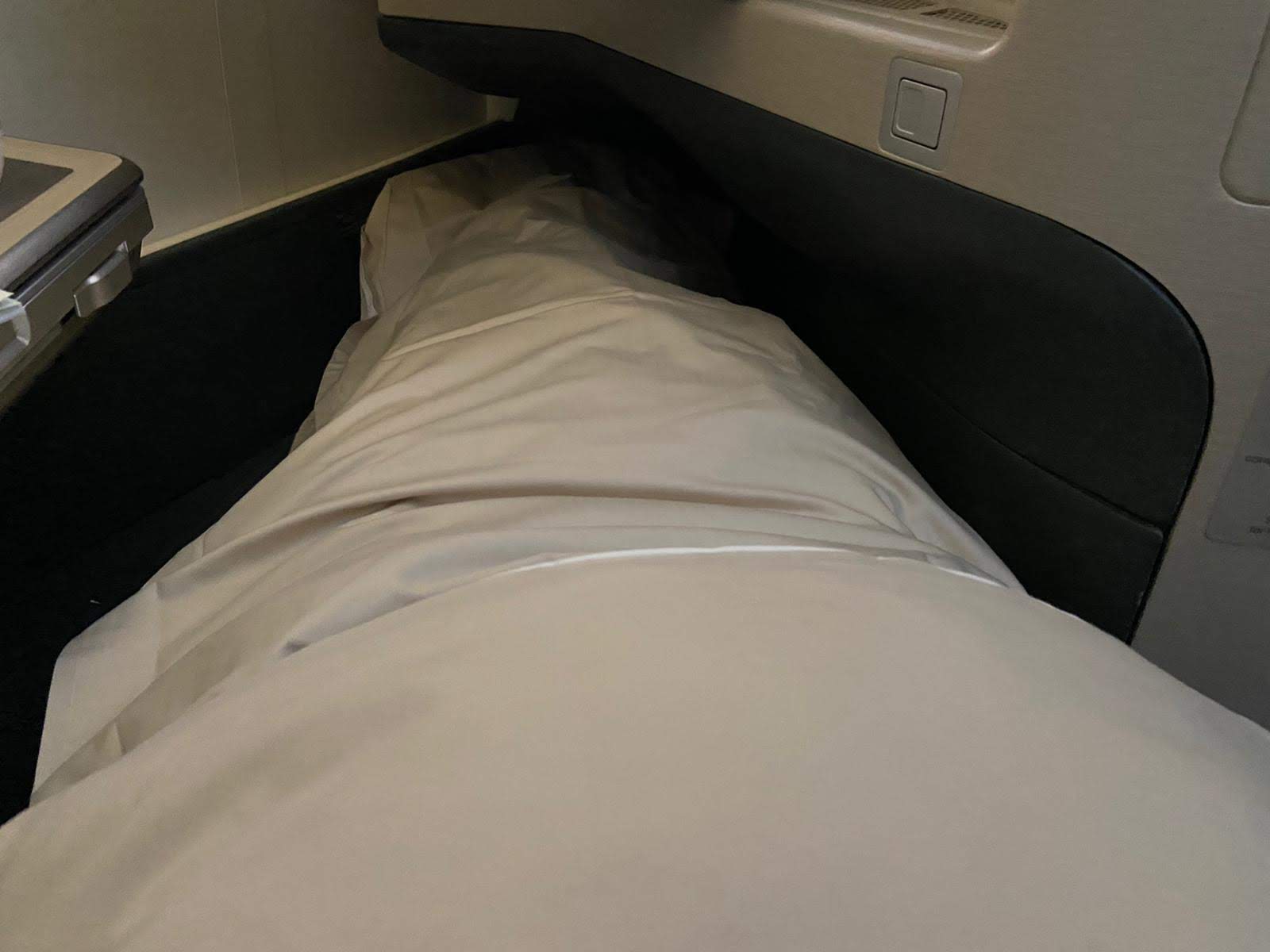 At one point I woke with a fright as a crew member covered me with an extra blanket! (a thoughtful touch though) Other than that I did sleep very well. I declined breakfast opting to sleep for as long as possible and knowing I would enjoy my 5 hour layover in the Wing and Pier First Class Lounges.
Conclusion
A standard Business Class flight where I was generally able to maximise rest. The crew were friendly and accommodating.
Layover in Hong Kong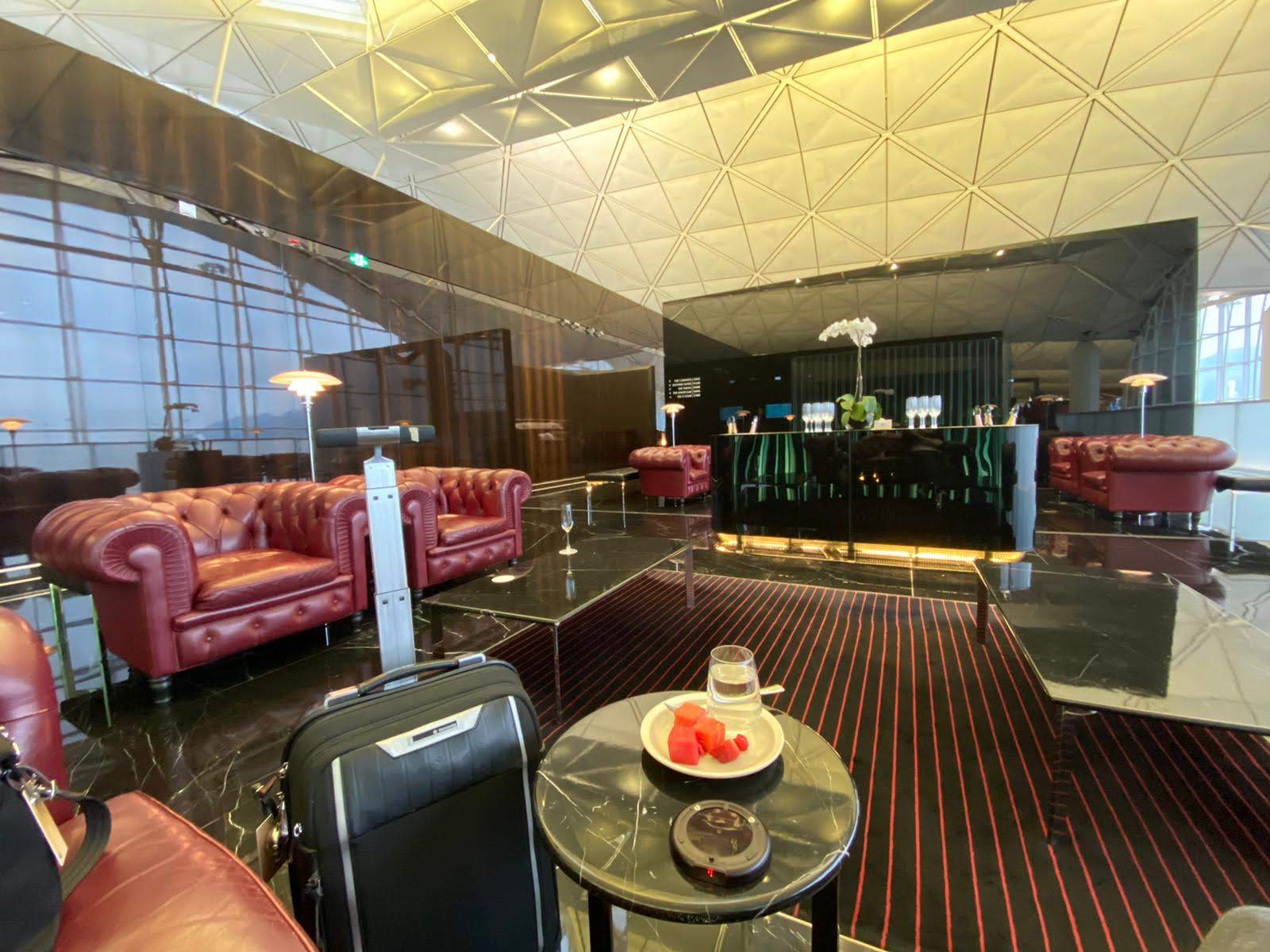 I have transited through Hong Kong a lot but never had the opportunity to spend time in one of the Wing First Class Lounge Cabanas…………Until Now! As a BA Executive Club Gold member, I get access to the First lounges luckily.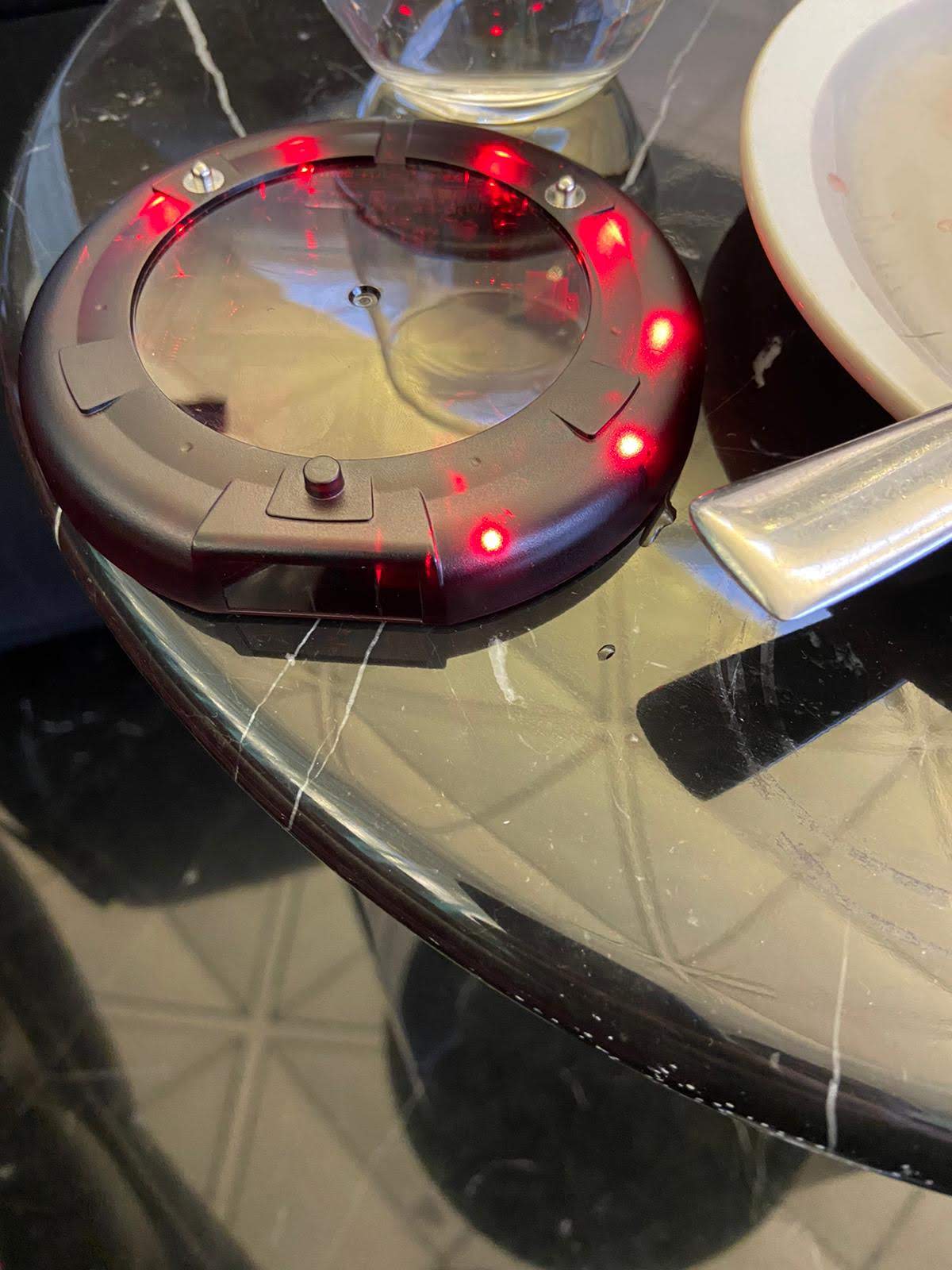 I went straight to the Shower and Cabana reception to be told that one would be free in less than 30 minutes. Having 5 hours to kill, this was perfect. I grabbed some Rosé Fizz and was given a pager. 15 minutes later it was buzzing.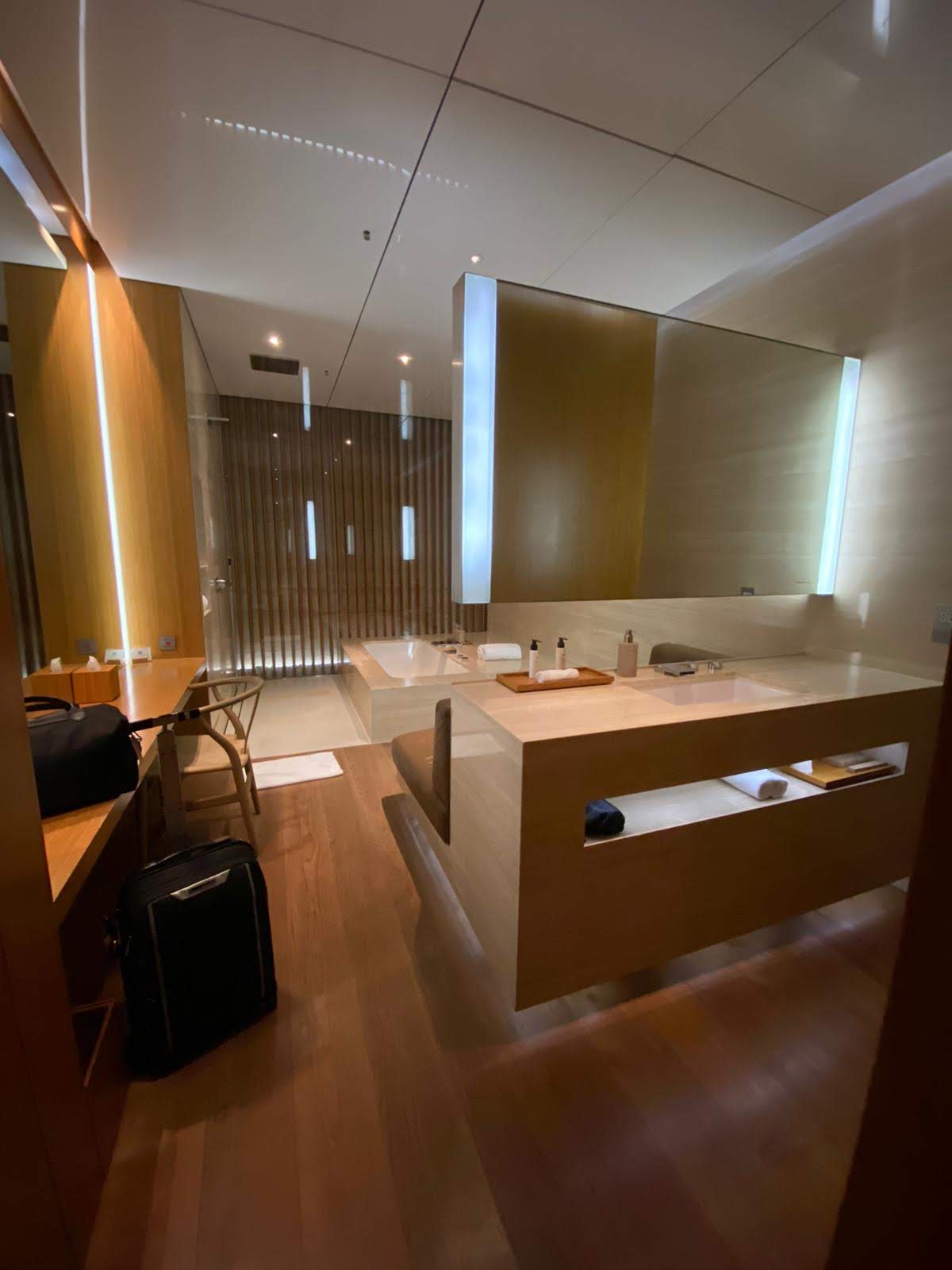 I was escorted int the Cabana and was wowed. I was allowed to take in drinks so I enjoyed a long soak in a massive tub before chilling on the day bed. You can spend 90 minutes here. It was really relaxing and I enjoyed the dim light setting.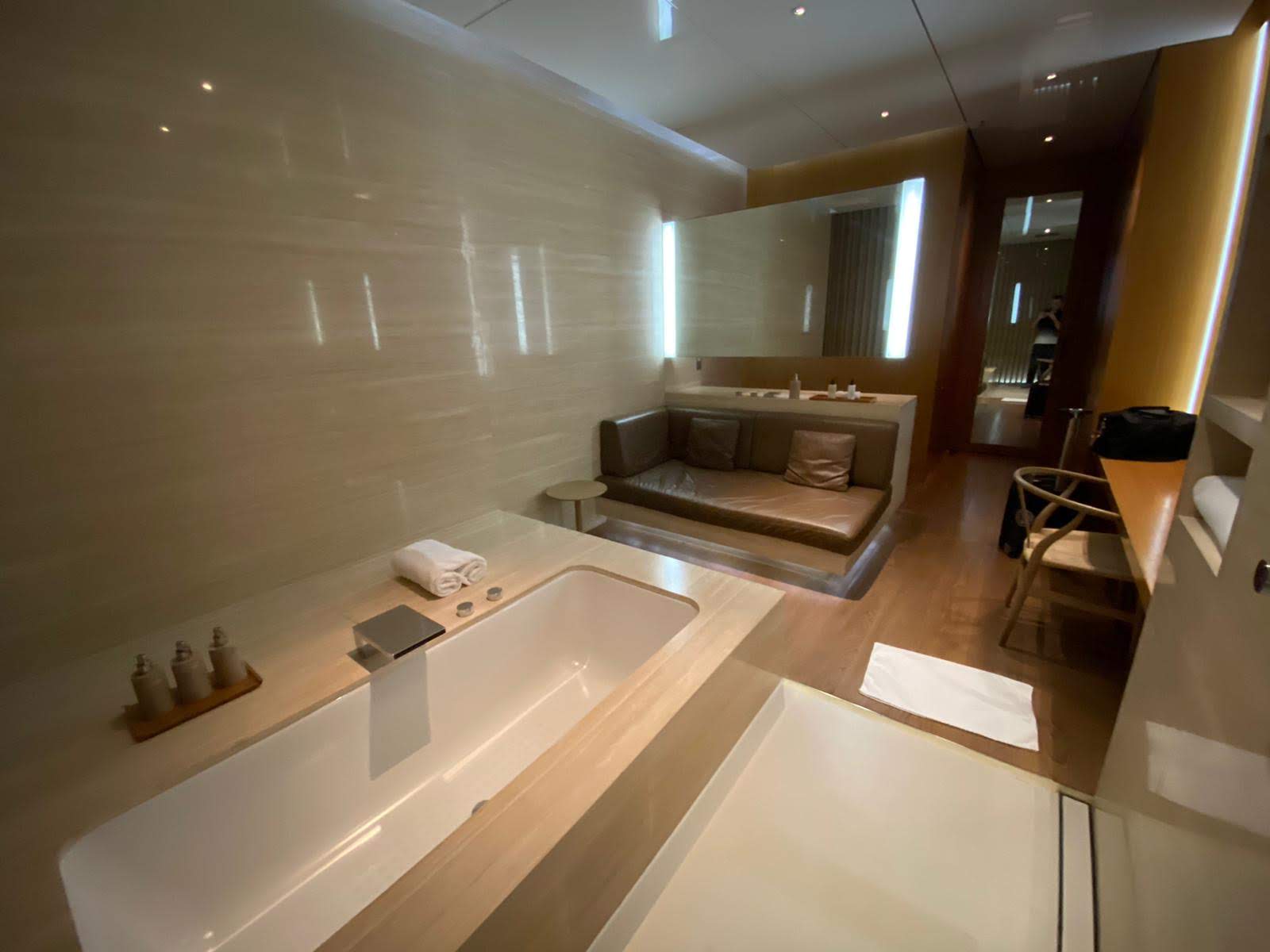 Feeling very chilled I then walked to the Pier First Class Lounge to have some breakfast.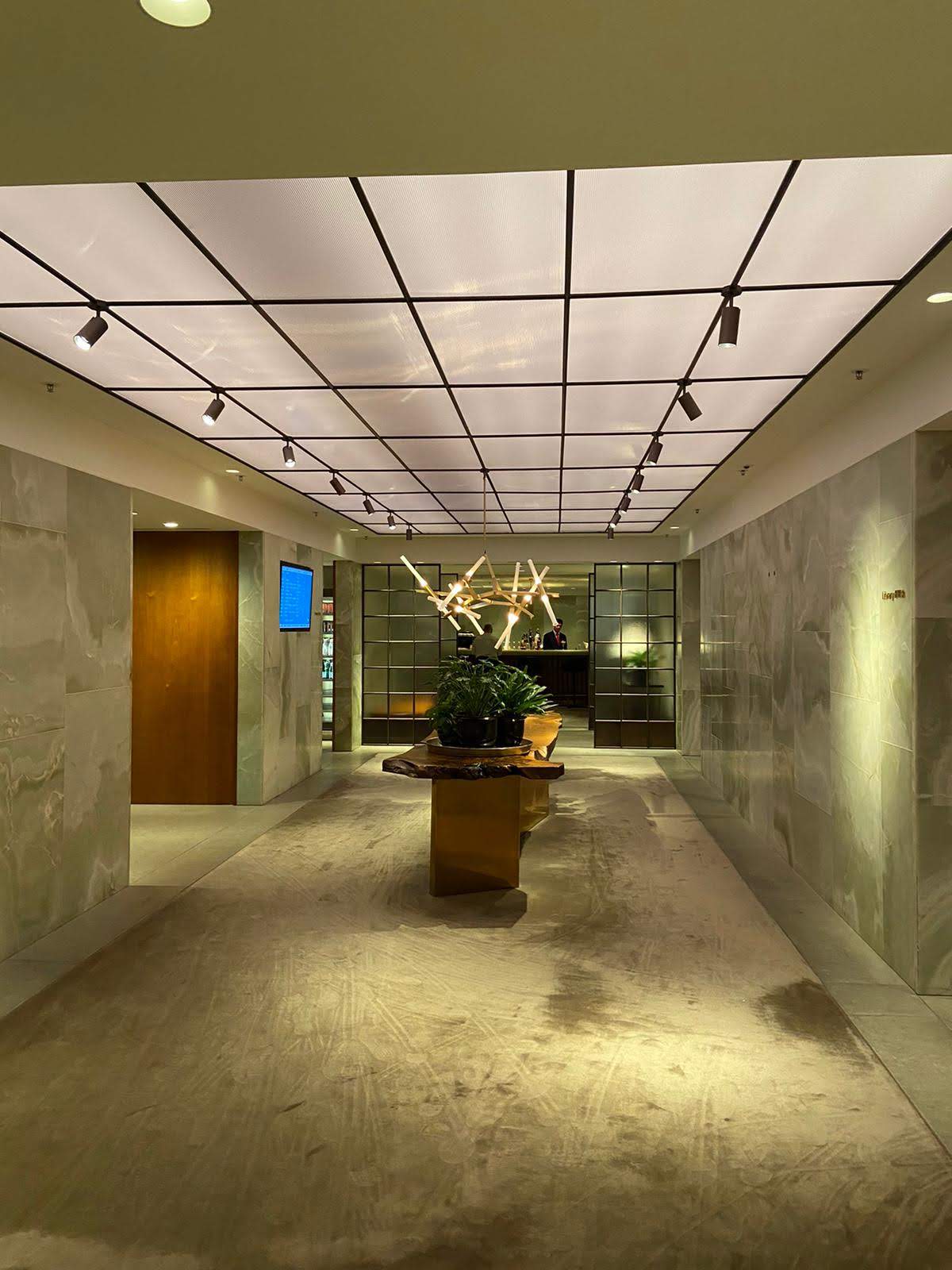 This is a very smart lounge and definitely in my top 3.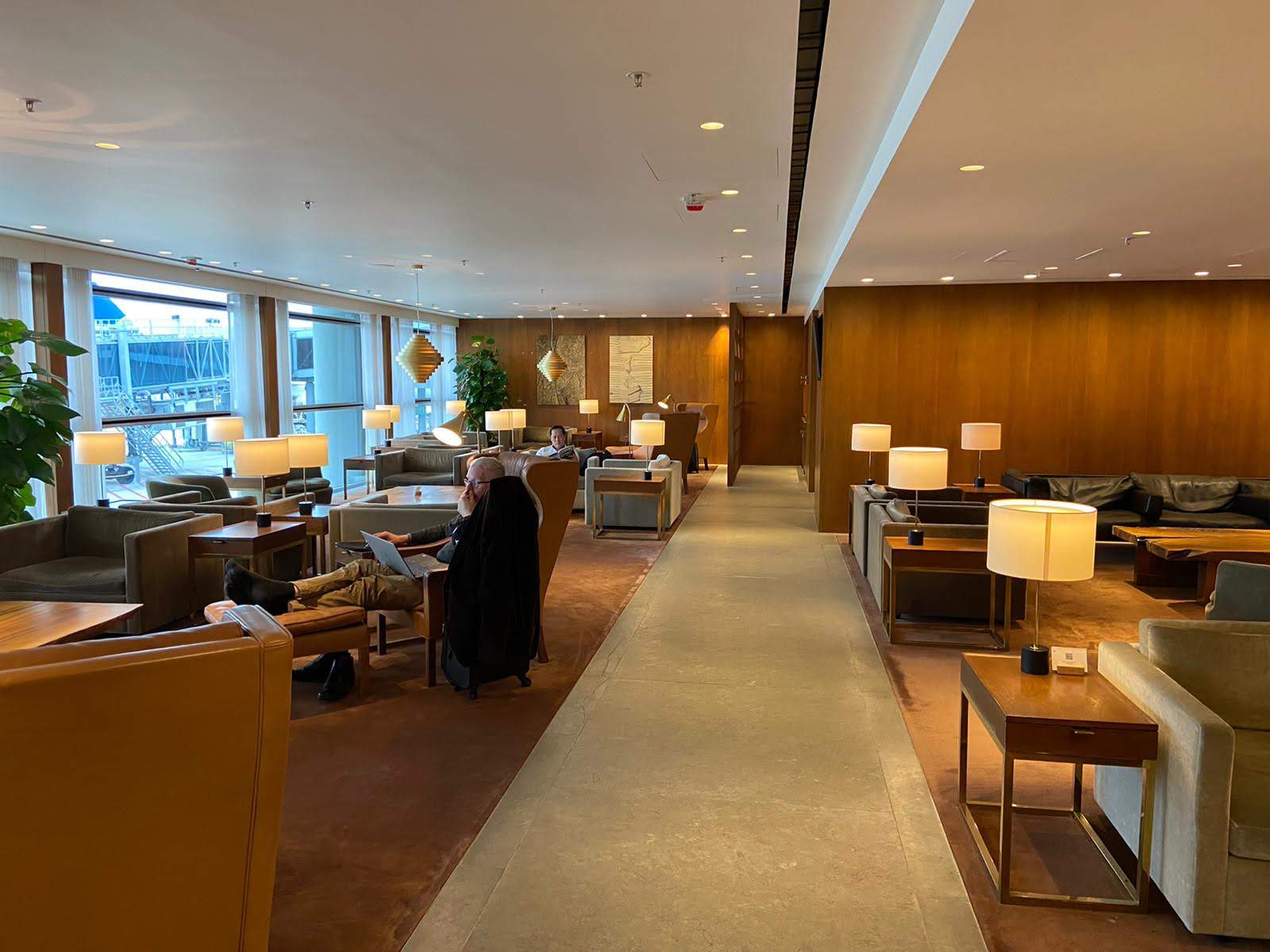 I had some dan dan noodles and a Mimosa before I headed to one of the quiet rooms in the Retreat, where I had an Espresso Martini and Aperol Spritz to wake me up.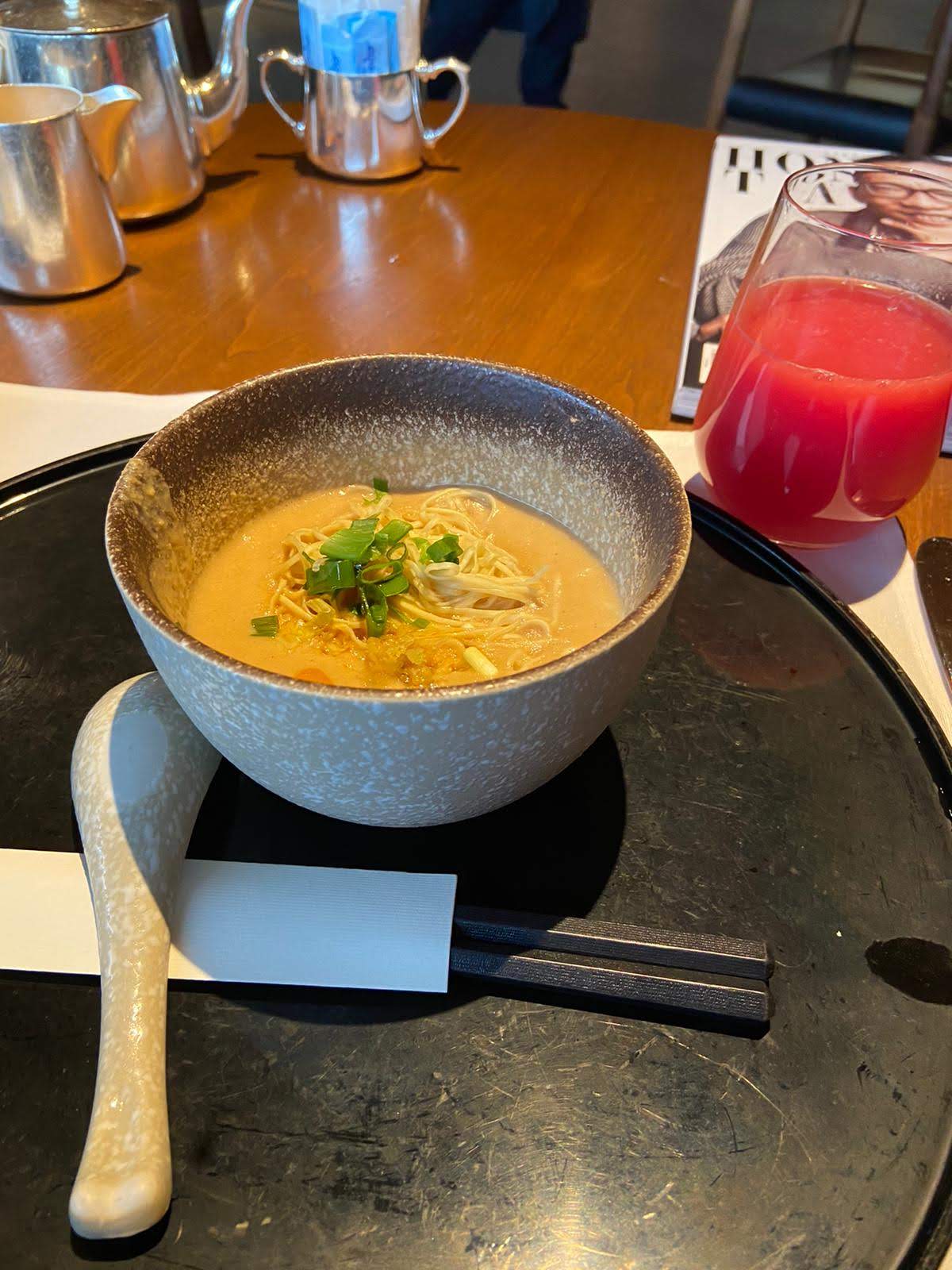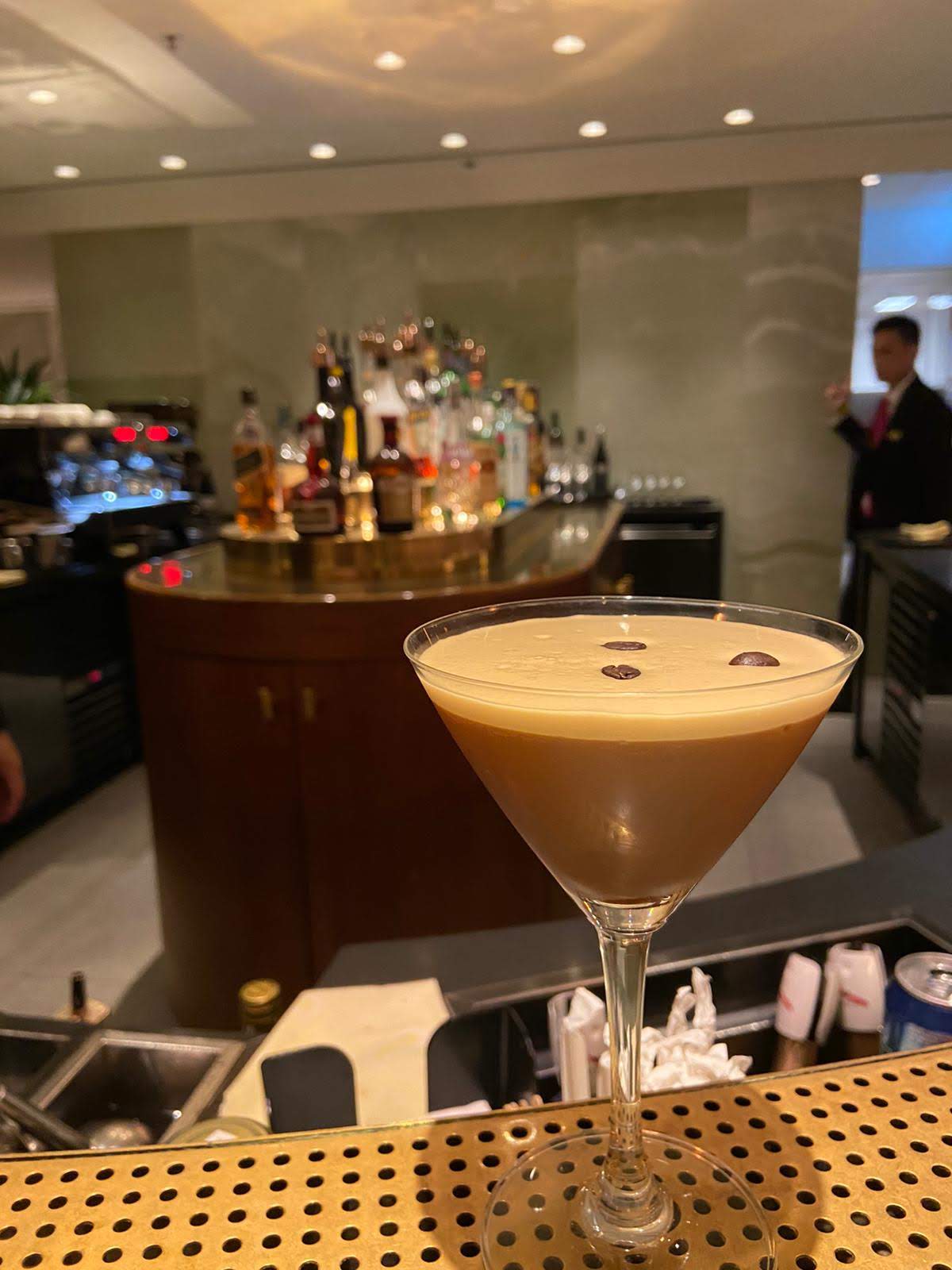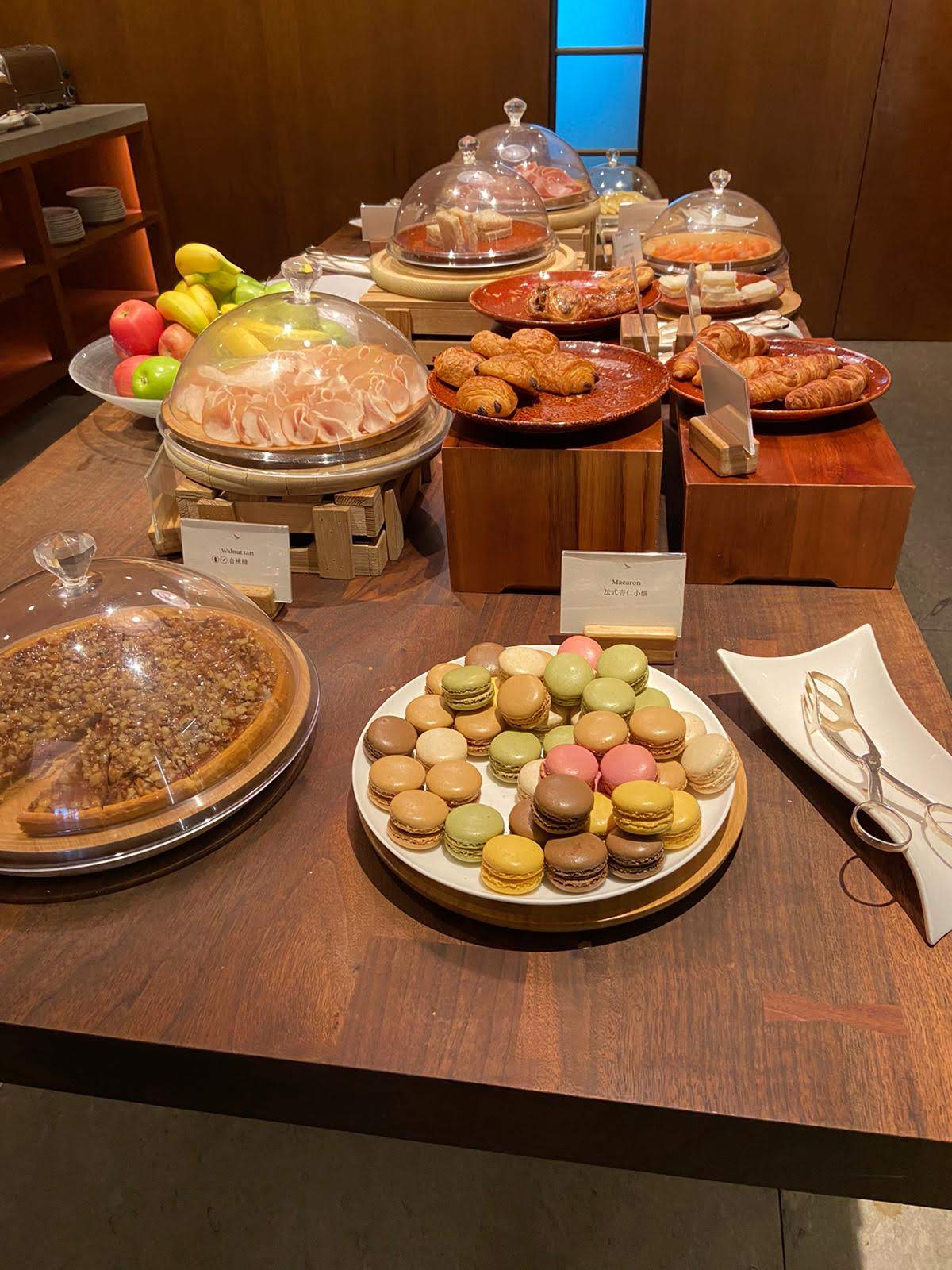 I then popped into the Pier Business Class Lounge and did some gentle stretching in their yoga studio which was fun. I was very contented by this point.
Hong Kong To London On B777
Boarding was standard. I was first onboard the aircraft as this flight had no First Class and being a BA Gold Card Holder allowed me to be in Group 1. I was in the first row window seat of an older B777.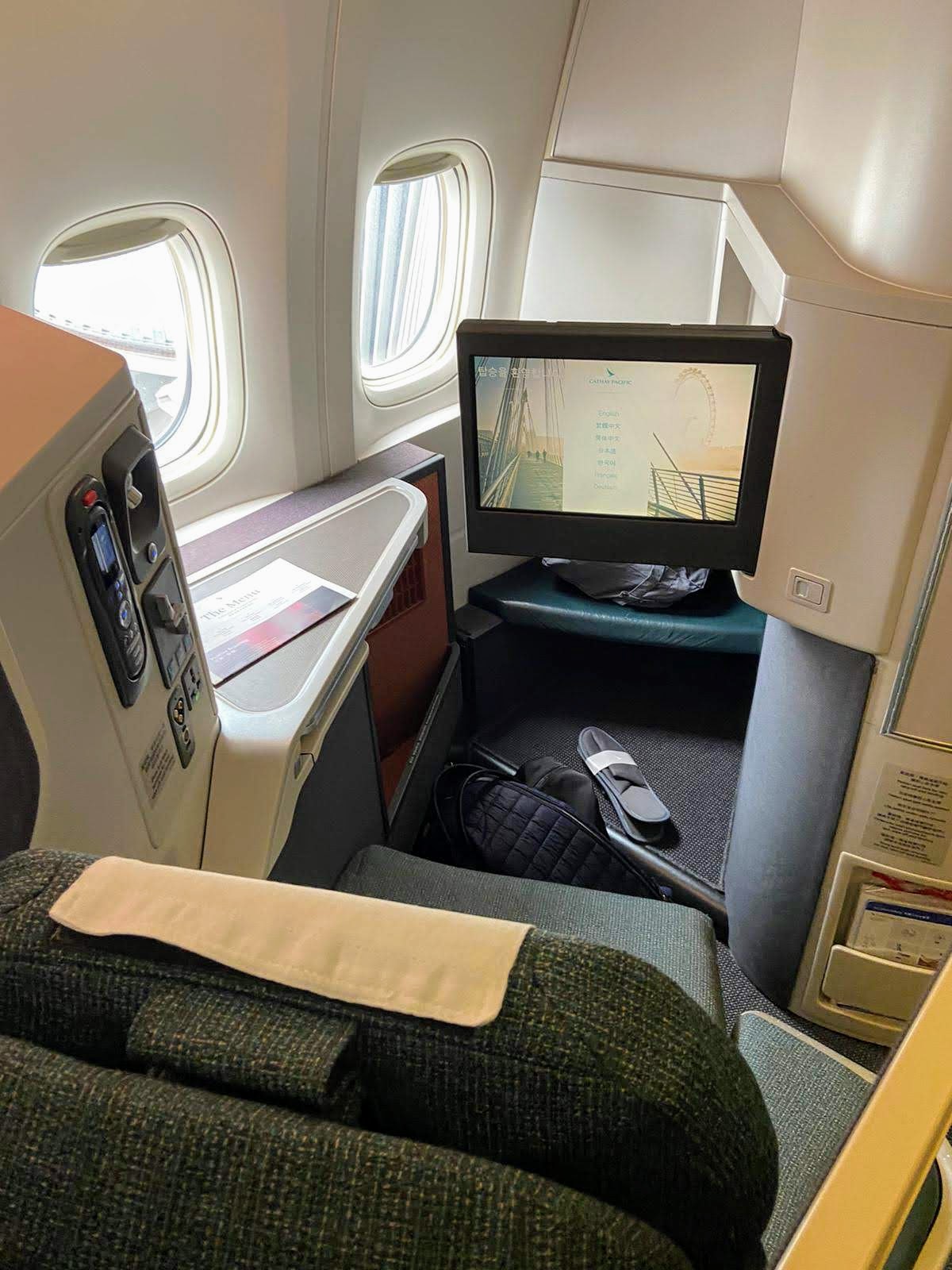 From entering I knew immediately that this flight would be the worst of the four from a service point of view. The crew were made up of mainly European staff. The cabin crew member serving me was unintelligible for the most part, and looked like he had slept in a hedge! His uniform was badly stained and dirty. This was the only flight where there was no In Flight Manager contact at all.
The seat did feel roomier though and for the first time, there was the New Bamford Amenity Kit.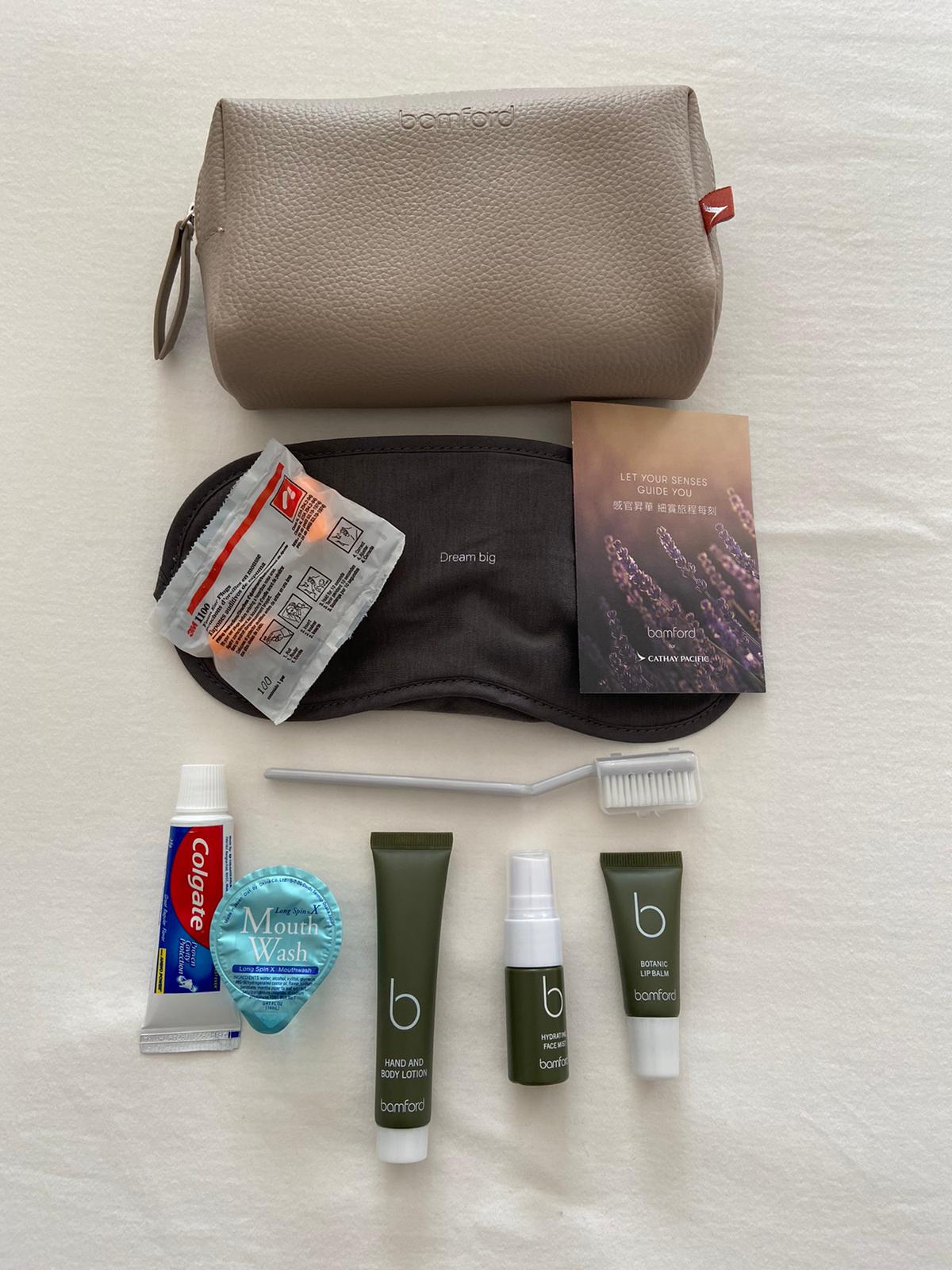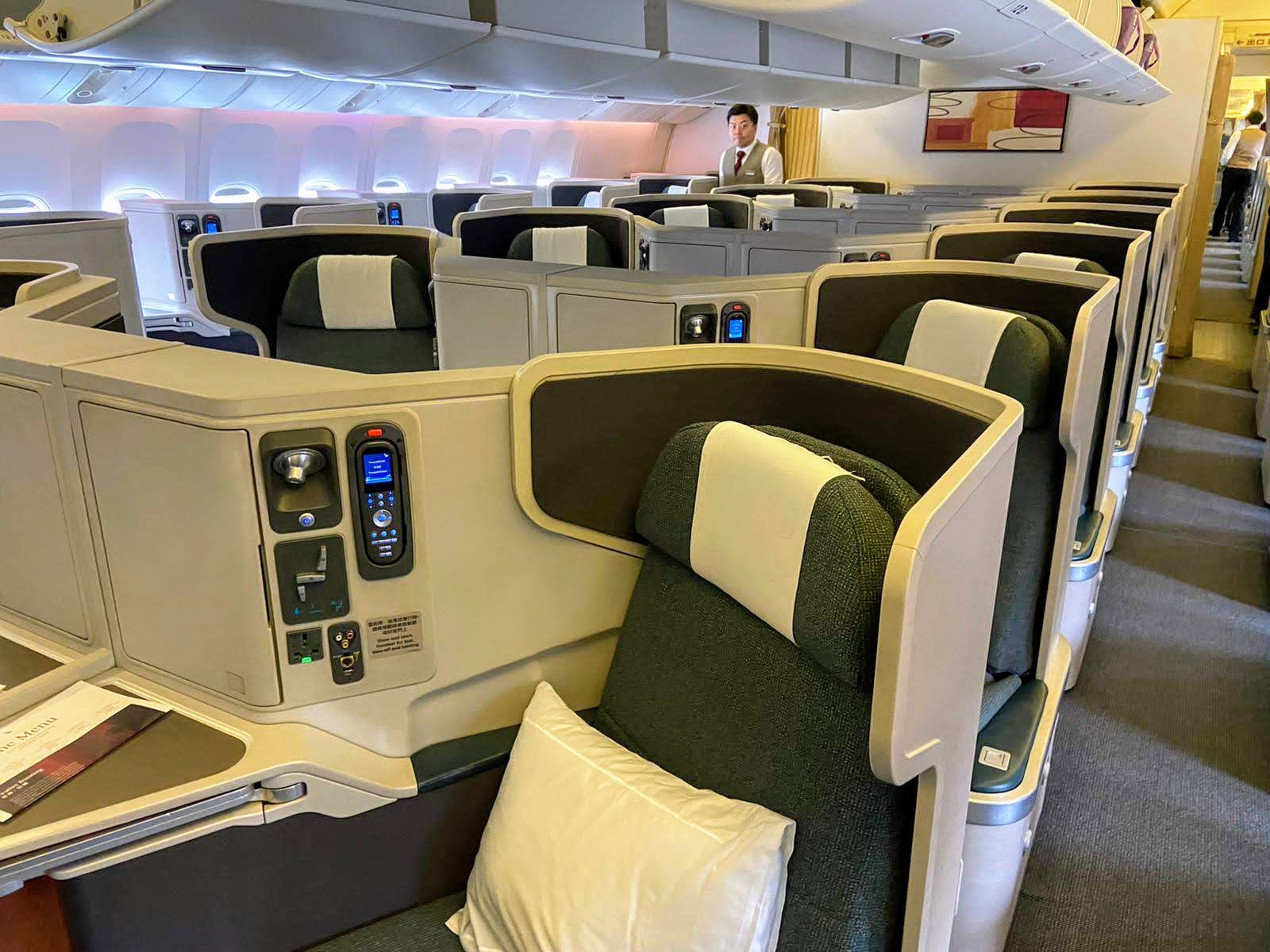 The food was also pretty poor on this flight.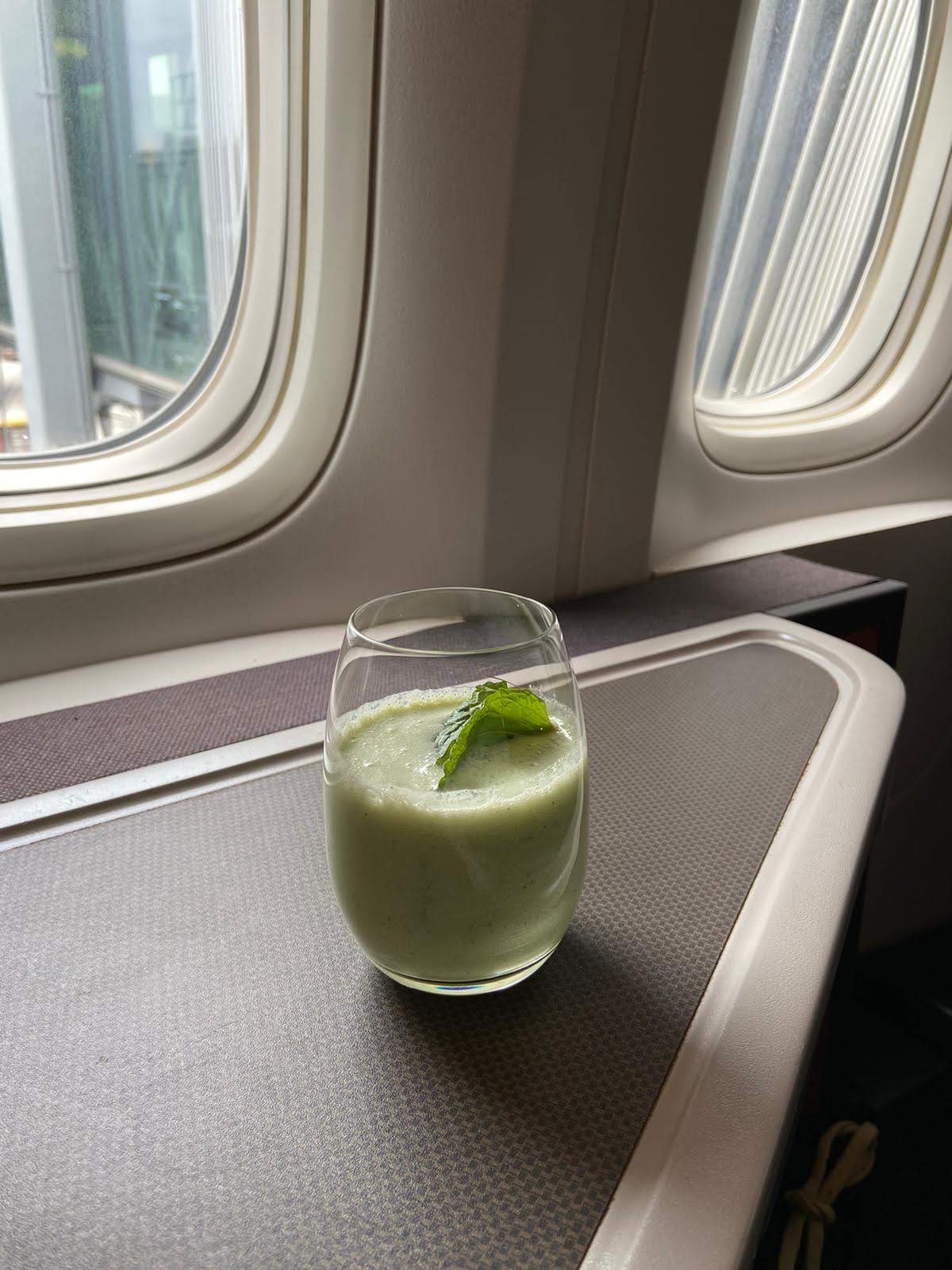 My soup was cold and bland. The arrabbiata pasta reminded me of student food. I left it.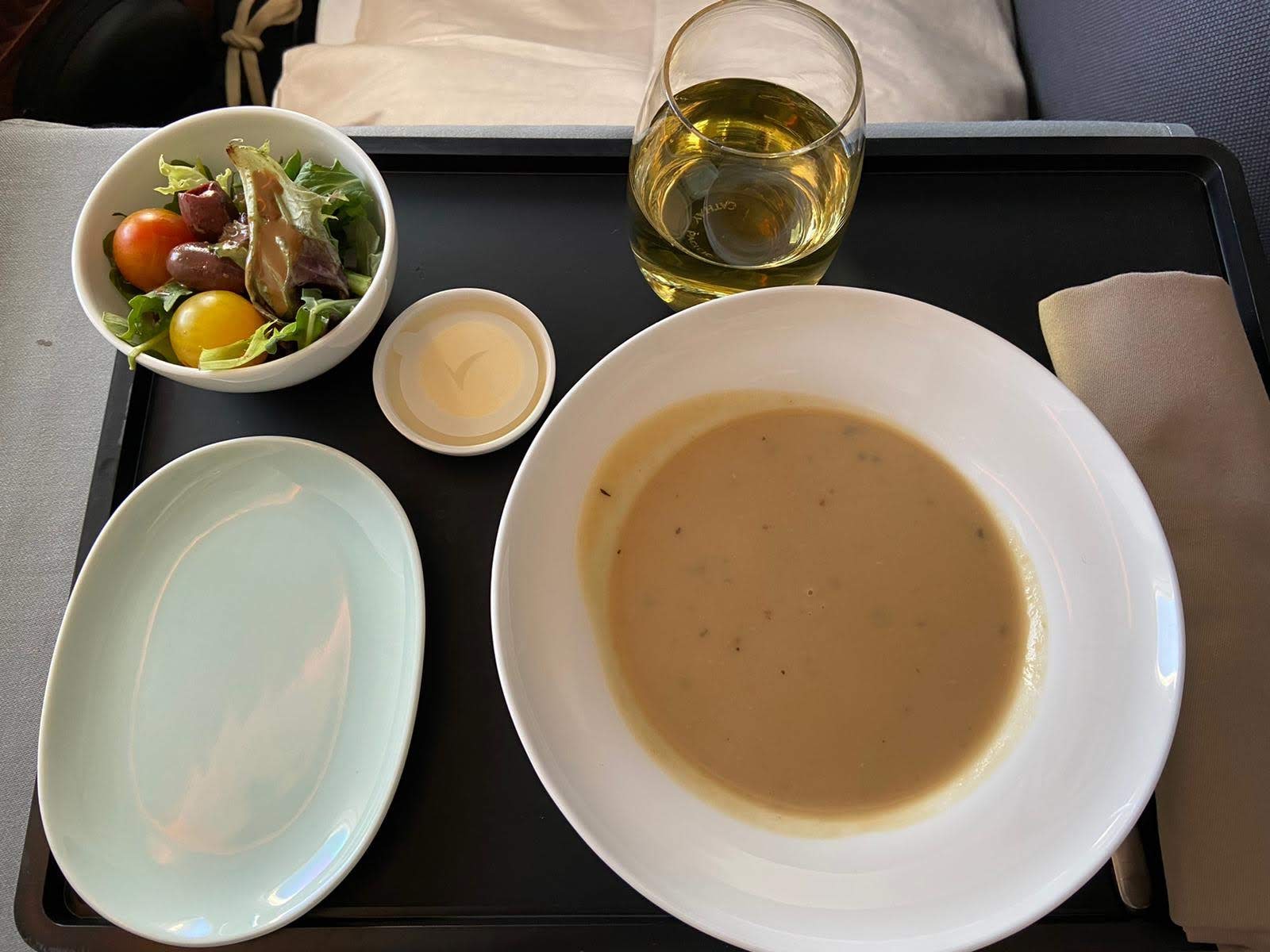 I was offered some garlic bread and was then given the whole lot so all wasn't lost! I decided to give up and try and sleep for as long as possible.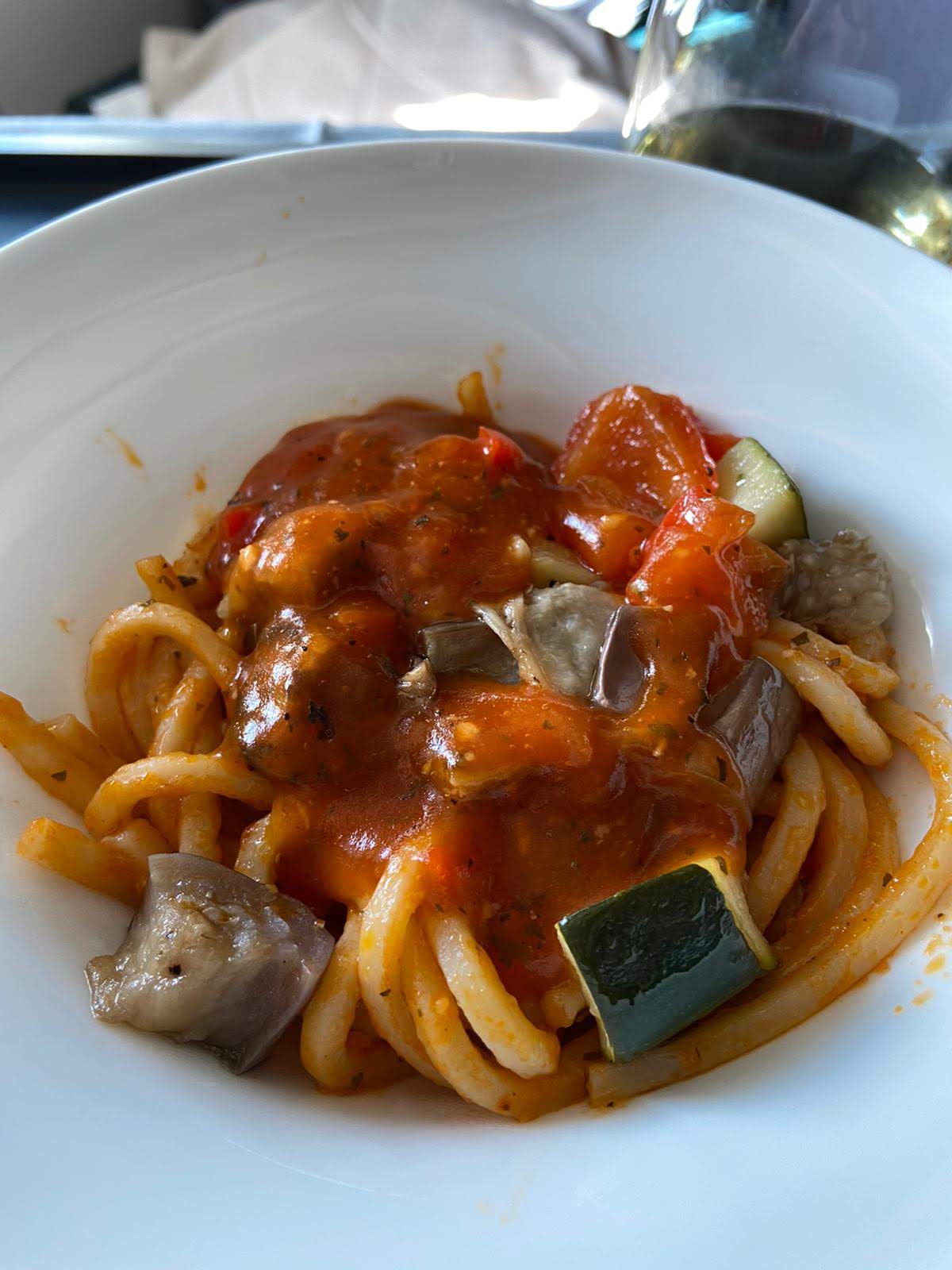 Six hours into the flight the lights were put on and the second meal service began. I had some fruit and then the burger which was pretty tasty. Then the lights went out again for another 5 hours!
One thing that annoyed me a lot was the linen location of the used linen cupboard which was just across from my seat which was used a lot.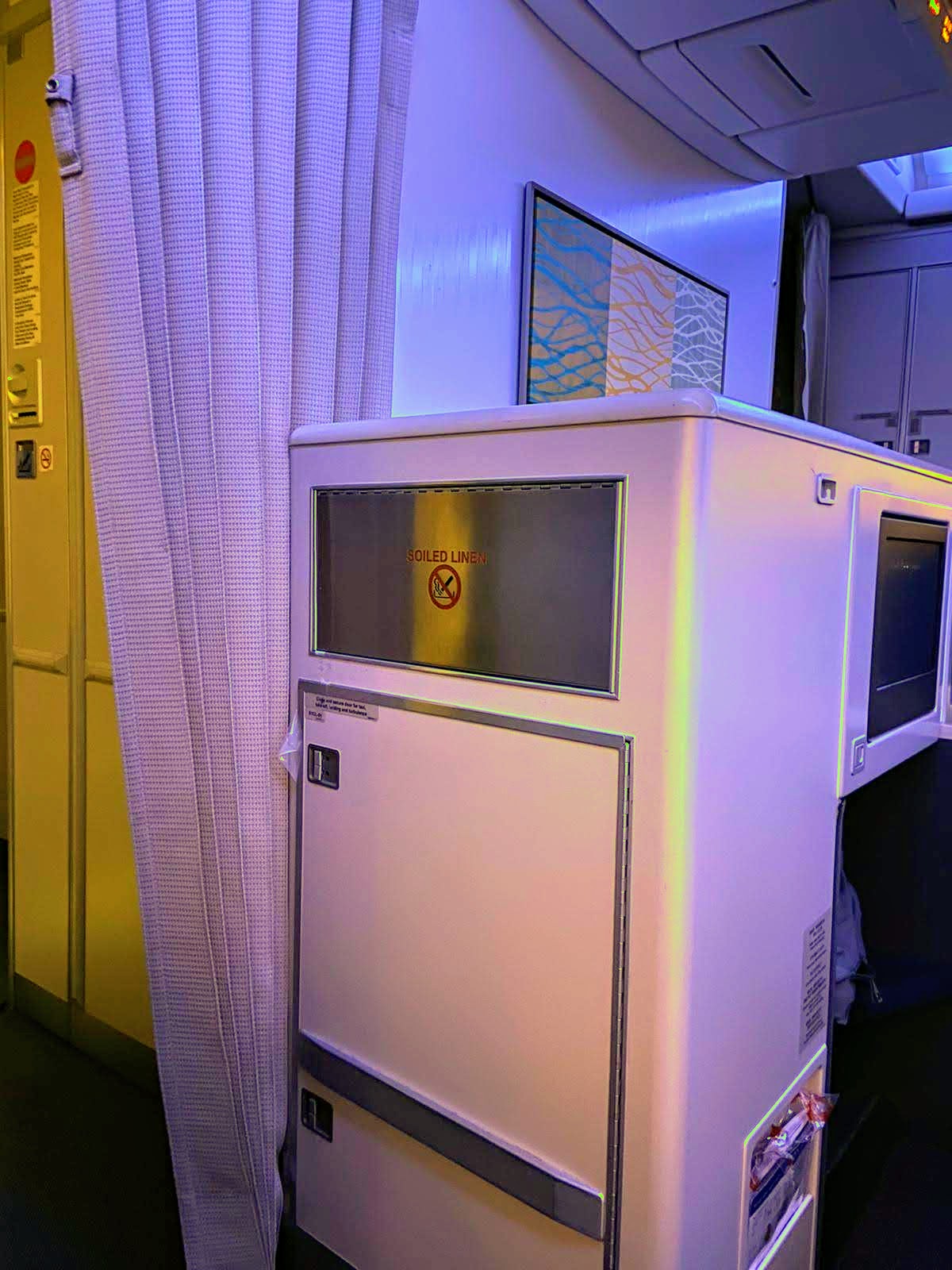 I tried to go back to sleep as I had a long day with a connection at Heathrow then a late flight to Stockholm. I couldn't so I just looked it of the window and listened to some music.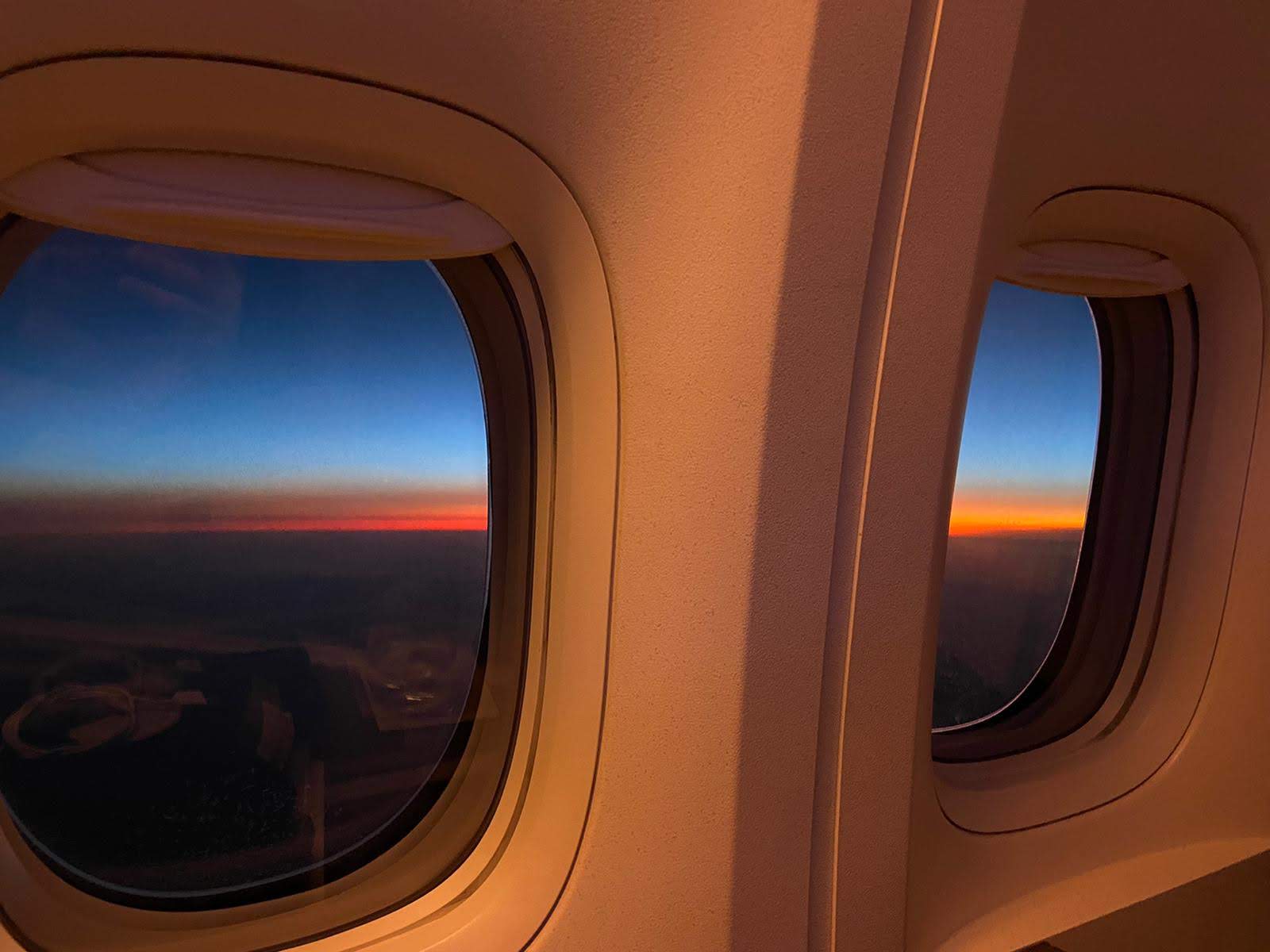 We landed at Heathrow and then I connected back to T5 for my onward flight to Stockholm.
Conclusion
Disinterested crew and not great food for the most part.
Thoughts on Cathay Pacific
Ultimately, you have good flights and bad flights. Within Asia I have always found the Cathay staff to be consistently excellent, it wasn't quite as consistent for these long haul flights. When they are on form they are excellent and I would absolutely use them as first choice intra Asia.
The seat experience did vary a lot. I would have expected the A350 to have the best seat, but I think the first B777 was better for me. I still adore their lounges and the pre-flight experience is good.