Jet Blue add more Heathrow flights
Jet Blue today announced a new daytime flight option for customers travelling from New York to London. Starting March 25, 2023, they will introduce a new morning departure from John F. Kennedy International Airport (JFK) to London Heathrow Airport (LHR), giving travellers the all-new option to arrive in the United Kingdom the same day they depart the United States. Personally I much prefer a daytime flight although it is not necessarily the most effective use of time for those that have a limited schedule. However, I find you rarely get much sleep on the short East Coast flights so you never really function properly on the day you land. With a daytime flight you arrive home at around bedtime and get back onto UK time quicker. It does mean an early start in New York though!
The new flight is made possible through an additional pair of slots obtained by JetBlue. Seats for JetBlue's new Heathrow flights are on sale starting today.
Daily Schedule between New York (JFK) and London Heathrow (LHR)
Beginning March 25, 2023 (Eastbound) & March 26, 2023 (Westbound)
| | |
| --- | --- |
| JFK – LHR Flight #1107 | LHR – JFK Flight #2220 |
| 8:30 a.m. – 8:45 p.m. | 8:25 a.m. – 11:40 a.m. |
| | |
| --- | --- |
| JFK – LHR Flight #007 | LHR – JFK Flight #20 |
| 9:00 p.m. – 9:30 a.m. (+1) | 11:55 a.m. – 3:15 p.m. |
As part of JetBlue's refined London flying schedule, it will adjust service between New York-JFK and London Gatwick Airport (LGW), offering travellers one daily flight instead of two. In total, JetBlue will maintain three daily flights between New York and London.
Daily Schedule between New York (JFK) and London Gatwick (LGW)
Beginning March 25, 2023 (Eastbound) & March 26, 2023 (Westbound)
| | |
| --- | --- |
| JFK – LGW Flight #43 | LGW – JFK Flight #44 |
| 7:30 p.m. – 7:55 a.m. (+1) | 12:00 p.m. – 3:15 p.m. |
JetBlue's new transatlantic schedule in New York is complemented by the airline's London flying elsewhere in the Northeast where JetBlue offers daily service between Boston Logan International Airport (BOS) and both London Heathrow and London Gatwick. JetBlue is the only airline to offer service between New England and two of London's busiest airports.
Daily Schedule between Boston (BOS) and London Heathrow (LHR)
| | |
| --- | --- |
| BOS – LHR Flight #1620 | LHR – BOS Flight #1621 |
| 6:45 p.m. – 6:30 a.m. (+1) | 8:25 a.m. – 11:21 a.m. |
Daily Schedule between Boston (BOS) and London Gatwick (LGW)
| | |
| --- | --- |
| BOS – LGW Flight #2104 | LGW – BOS Flight #1926 |
| 6:37 p.m. – 6:35 a.m. (+1) | 12:15 p.m. – 3:02 p.m. |
JetBlue is currently the only U.S. carrier to serve both Gatwick and Heathrow, offering customers on both sides of the Atlantic greater choice and convenience.
JetBlue flights between the U.S. and London feature premium Mint suites which I think are very impressive, particularly the two studio suites at the front of the cabin. They often have some good deals on price too.
Prices start from £1845 to New York and £1666 to Boston.
Delta to offer free Wifi on domestic flights
I have often predicted that airlines will offer free WiFi to at least all premium passengers and eventually all cabins in the next few years. Some airlines like JetBlue and La Compagnie already have complimentary wifi.
Delta will offer fast, free Wi-Fi in partnership with T-Mobile to all customers on board most domestic mainline flights beginning 1 February – the first major U.S. airline to offer free Wi-Fi.
The airline will offer the service on more than 700 Viasat-equipped aircraft by the end of 2023. Delta also announced plans to bring free Wi-Fi on international and regional aircraft by the end of 2024.
"At work, at home and everywhere in between, connectivity is essential to daily life, and your journey on Delta should be no different," said Delta CEO Ed Bastian at CES 2023 in Las Vegas. "Our vision has long been to deliver an experience at 30,000 feet that feels similar to what our customers have available on the ground."
Customers will log in using their Delta SkyMiles® account or join SkyMiles on the ground or in the air for free to connect.
Delta also announced its plans for Delta Sync Exclusives hub — a new SkyMiles mobile platform coming this spring aimed at elevating the in-flight connectivity experience with exclusive offers, access and entertainment.
Iberia's new A350 business class suites take flight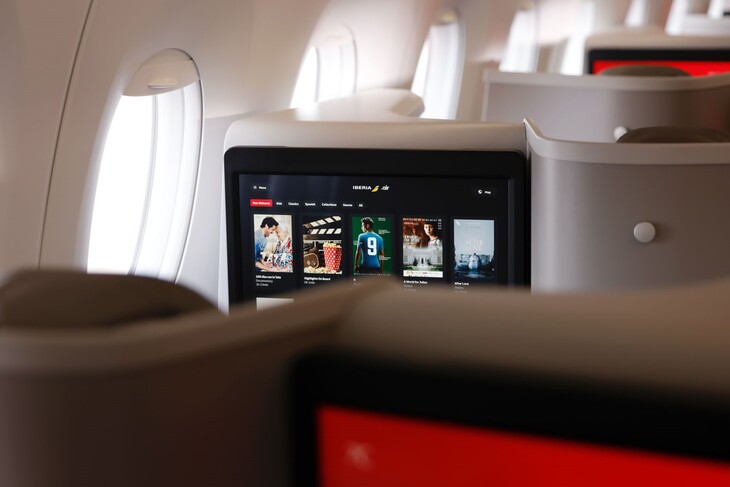 Iberia was the first airline to take delivery of the latest A350 aircraft with a new Airbus standard which incorporates improvements that increase its operational efficiency and customer comfort, with wider cabins. The inaugural flight to Buenos Aires took place this week on 3 January.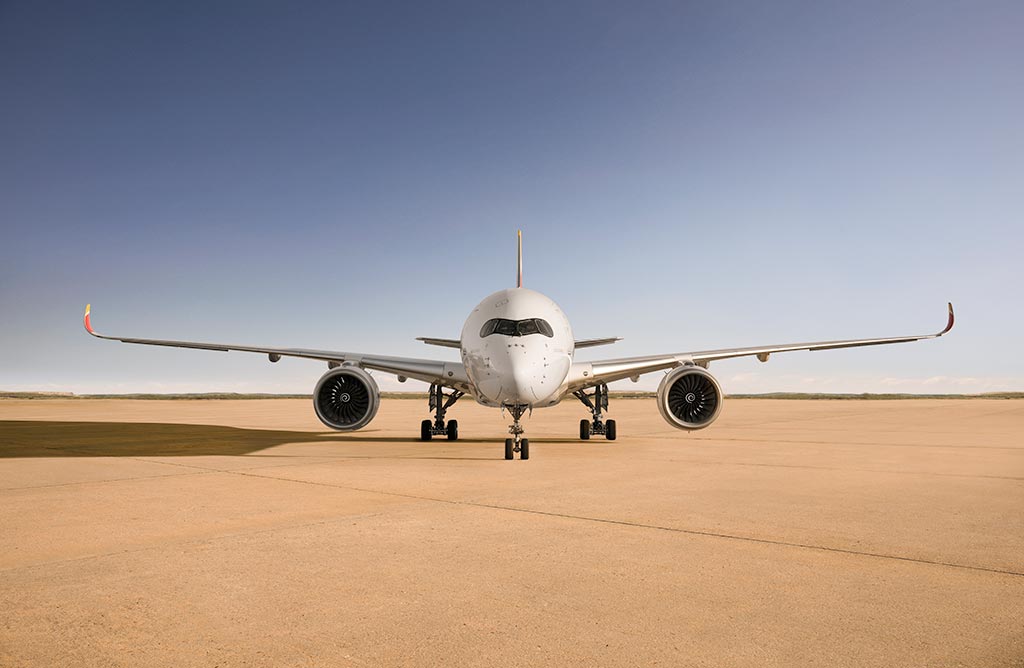 This new-generation aircraft, equipped with the latest technology and designed to fly with maximum efficiency, is built with the most sustainable materials on the market. The weight of the aircraft has also been reduced by one ton which helps contribute to efficiency.
The cabins
The new aircraft also unveiled a wider cabin, greater comfort and better features in all cabins -Economy, Economy Premium and Business.
Business Class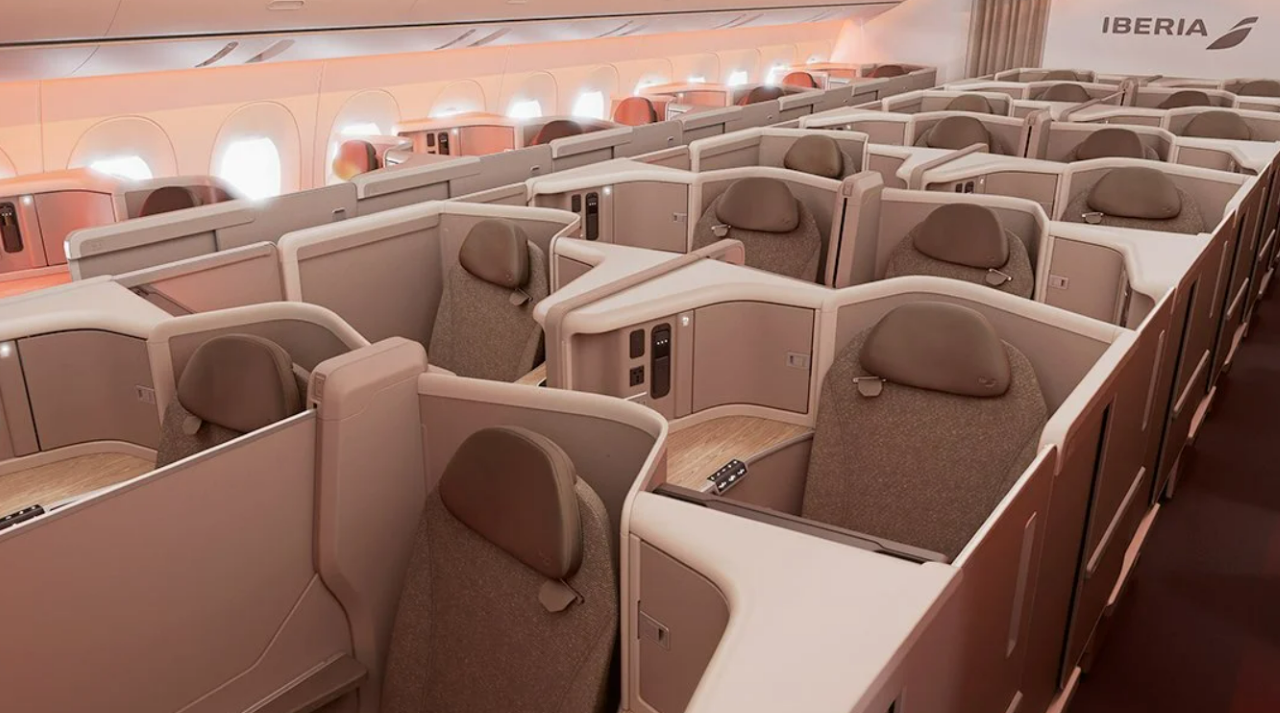 The previous A350 seats on Iberia were pretty good with a 1-2-1 configuration, but the latest seats are definitely a big step up. All seats in this cabin have direct access to the aisle and in the central ones -known as honeymoon seats- there is an automatic divider. Each suite also has a closeable door.
The seat has more storage for personal items, and converts to a fully flat bed, which is 5 cm longer than the current seat. The number of each seat is projected on the aisle floor, to make them easier to find in the dark which I think is a really clever feature.
Premium Economy
This class also now offers more privacy, thanks to the addition of 'wings' to the headrest, which folds and adjusts on both sides for greater customer comfort, and the seat includes a remote control for in-flight entertainment with a touchable navigation panel.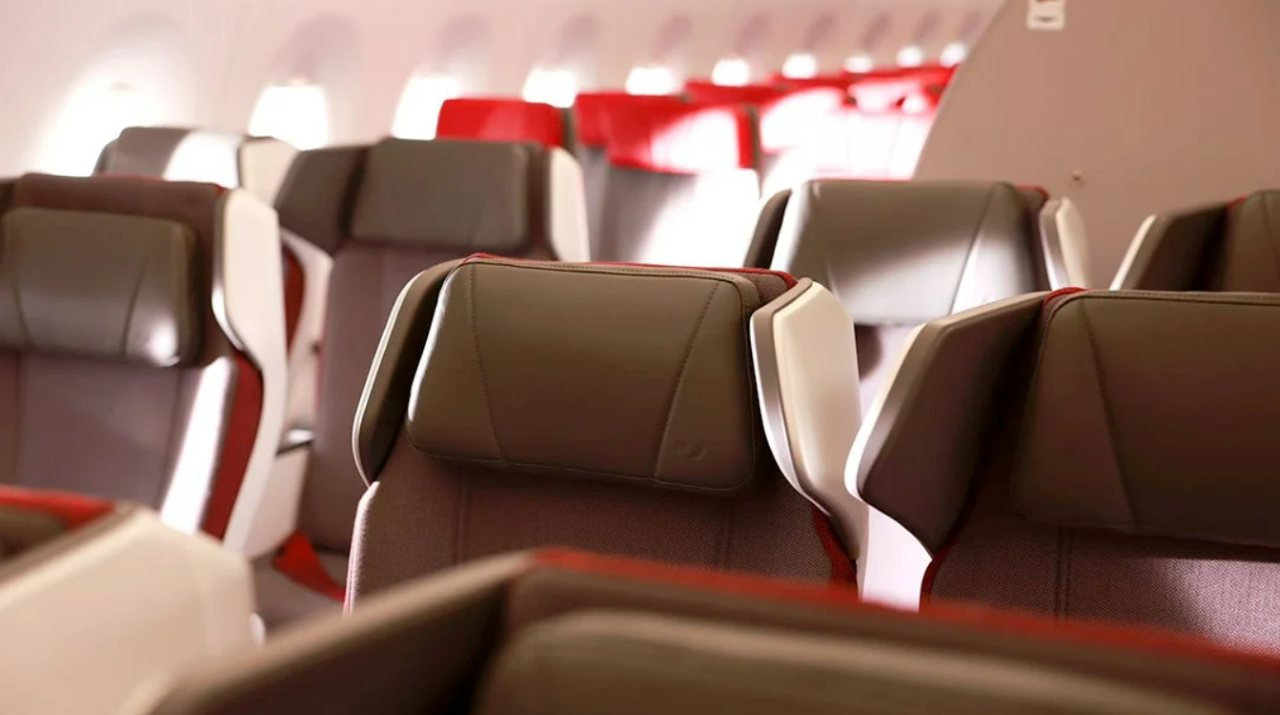 IFE improvements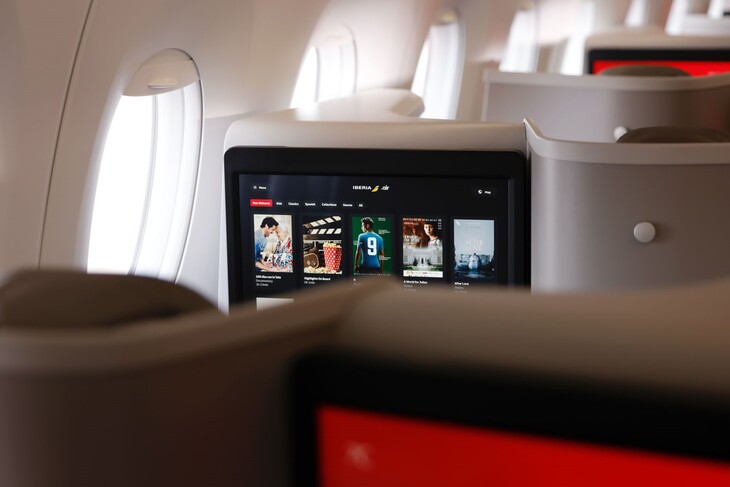 The other big change on these aircraft comes from a new generation in-flight entertainment system that Iberia developed in collaboration with Panasonic, known as IFE Next.
It incorporates a more modern, interactive, and intuitive design. Its platform uses the most advanced technological system in the industry, and the screens offer 4K resolution that protects users' eyes and incorporates night lighting to avoid disturbing nearby customers. This is also very welcome as I do find it annoying when someone has their IFE on all night, as I hate having to wear an eye mask.
In addition, the new A350s boast larger screens in both Premium Economy (12 to 13 inches) and Economy (10 to 12 inches).
The new entertainment system also allows connection to your personal headset via bluetooth in all the seats and cabins, like Virgin's new A330neo.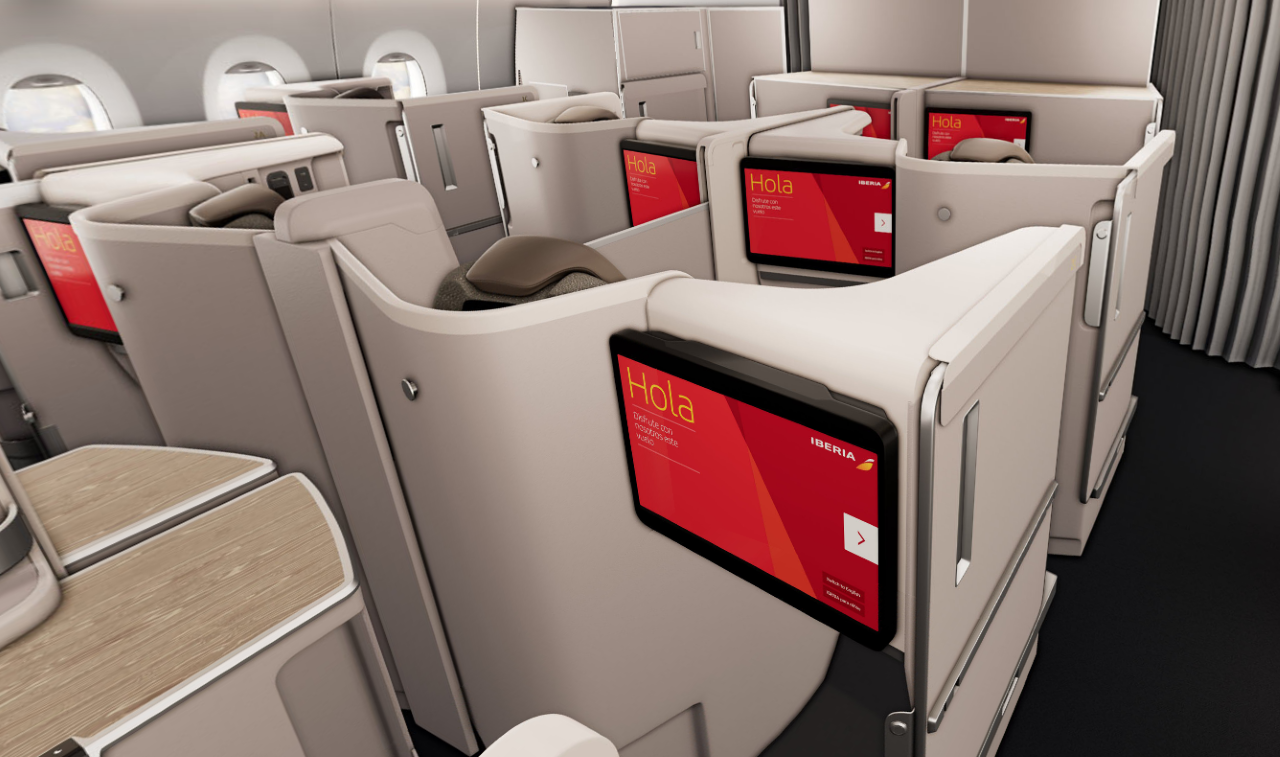 This new generation of A350 has six different lighting environments – wake up, meal, relax, sleep, boarding, take-off and landing
The bathrooms feature contactless taps and surfaces made with antibacterial materials that improve hygiene.
The routes
Iberia chose Argentina as the first country in Latin America to launch these aircraft, with its scheduled flights between Madrid and Buenos Aires, and, over the coming weeks, they will gradually be added to some of the airline's other routes to Latin America.
Don't forget you can now use your British Airways companion vouchers on Iberia and I think Buenos Aires on the A350 would be a great use of the Avios with Iberia's low taxes. I actually did this exact trip a few years ago on Iberia using Avios from their ill fated bonus promotion.