This is a review about Le Meridien Hotel & Conference Centre Dubai. Dubai can be a very expensive place to stay, but there are cheaper alternatives if you don't need to be by the beach. I recommend the Jumeirah Emirates Tower hotel which offers access to their sister hotel beach and is centrally located.
I also often will spend a night near the airport if I have an early departure or late arrival as I don't like paying £300+ for a night in a hotel where all I will do is go straight to bed and not get up until late in the morning. If you want super cheap, I have stayed at the Premier Inn near the airport a couple of times when I have arrived at 3am or later. That only costs around £65 a night in high season.
I also stay at Le Meridien when I have an early departure as it is so close to the airport. However, it does not feel like an airport hotel as it has multiple pools, a spa and a huge selection of restaurants. So you don't feel you are missing anything.
Location
Le Meridien is only around 5-15 minutes from the airport depending on which terminal you fly from. For most people flying oneworld or Skyteam, it will be 5 minutes from the airport terminal. It is fairly close to the old part of Dubai around the creek, so there is plenty to see and do nearby. It is easy to get a taxi or Uber from here.
Check-in at Le Meridien Hotel & Conference Centre Dubai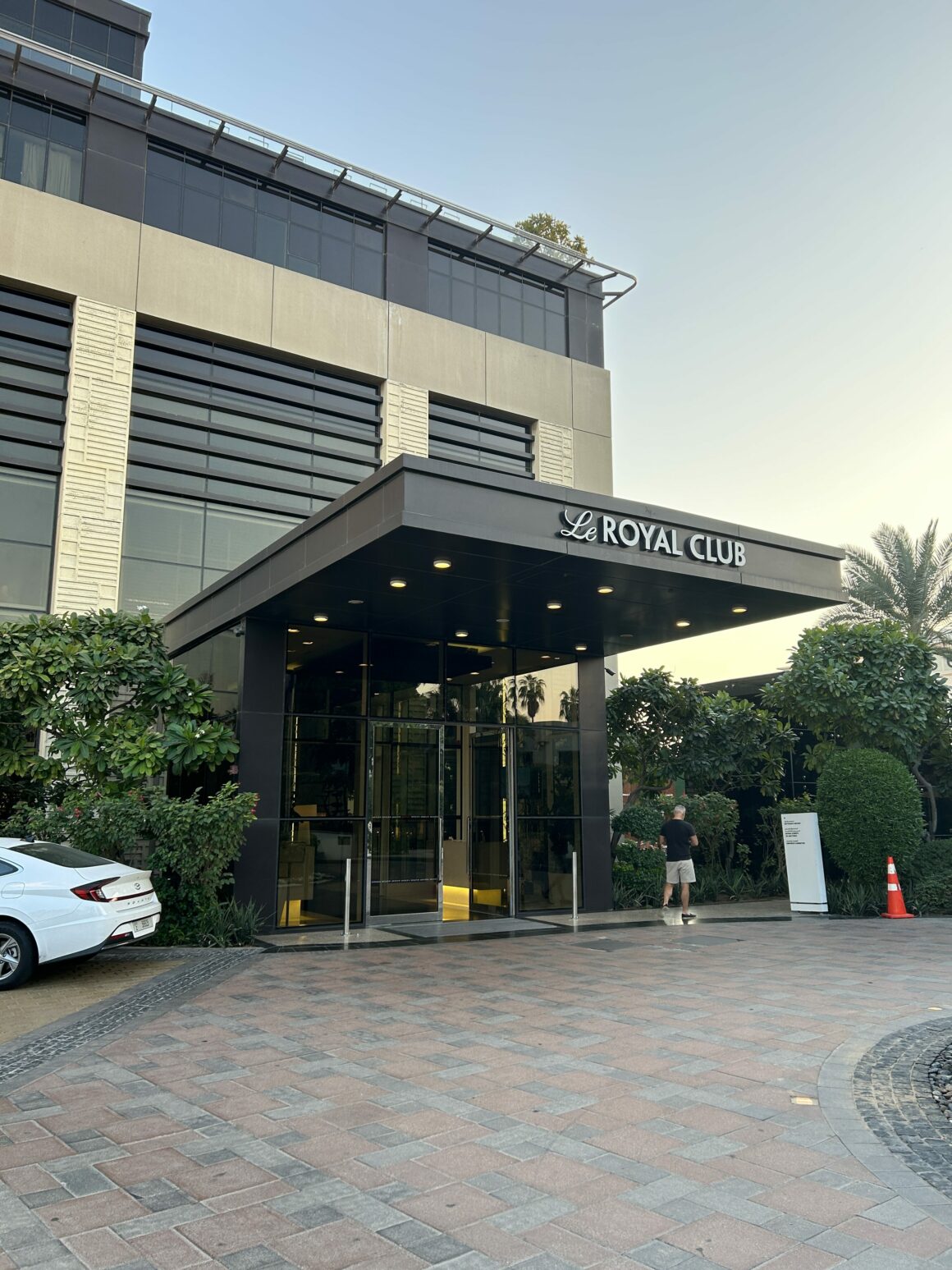 If you have Platinum or higher status, you are pretty much guaranteed to get an upgrade to the Le Royal Club. This is a separate building which has it's own entrance so check in the app if that is where you are staying. That way the Uber or taxi can drop you at the entrance. Also, when being picked up by Uber, make sure you select that entrance.
I have found the staff at check-in very variable. On my last check-in, they were very abrupt, and it took ages for some reason even though I had checked in online. Previously I have found them very charming.
The lobby area is also the lounge where afternoon tea, evening drinks and canapes plus breakfast are served.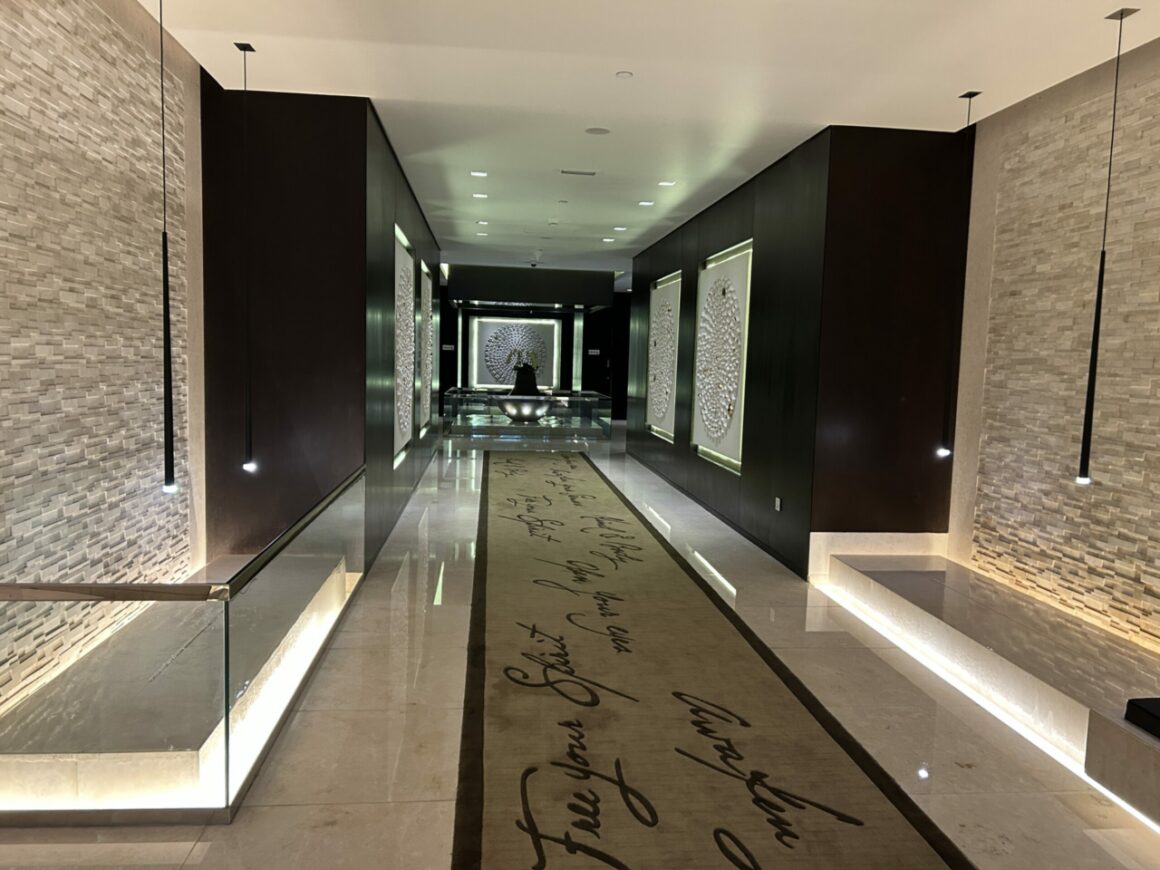 The building and walkways feel very tranquil and empty compared to the main hotel buildings. It has a spa-like vibe.
Le Meridien Hotel & Conference Centre Dubai Room
As well as Le Royal Club, there is also a Club Meridien area with a separate lounge which I have not stayed in but does not look as nice. The main building rooms have been renovated recently, and some come with a terrace.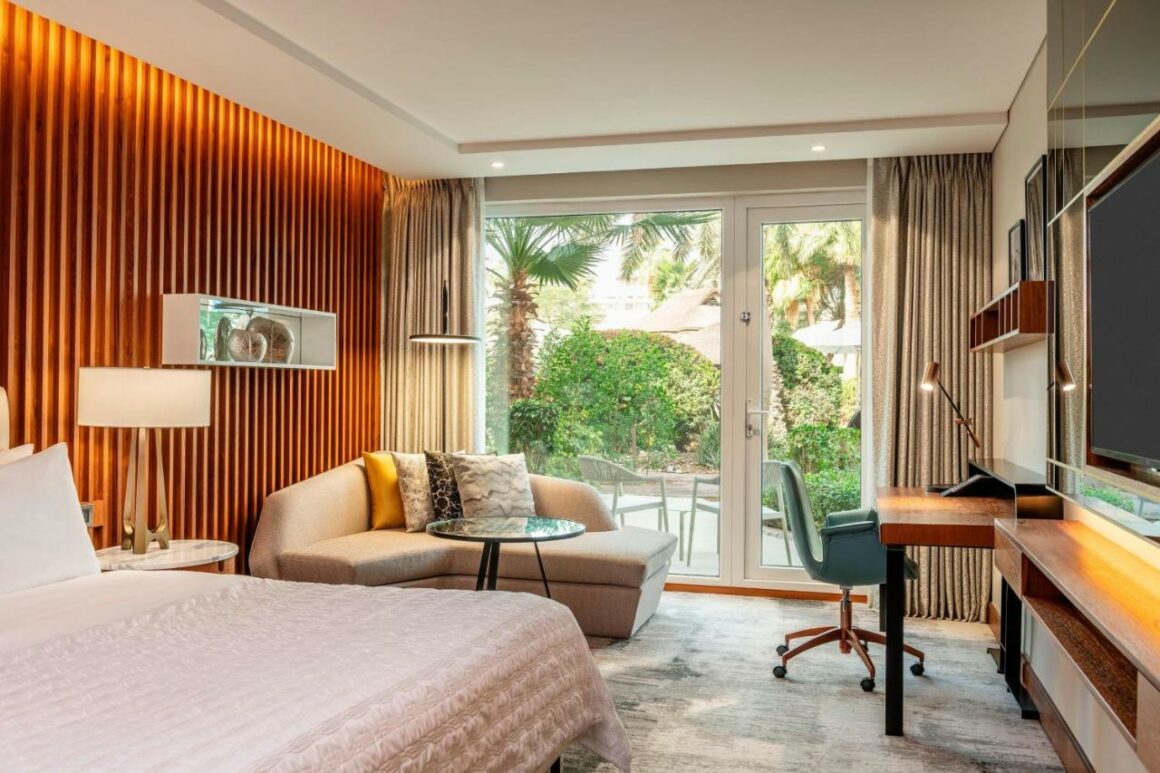 The rooms in the Royal Club are very large and well equipped – it's by far the best airport hotel room that I have had anywhere if you get this wing.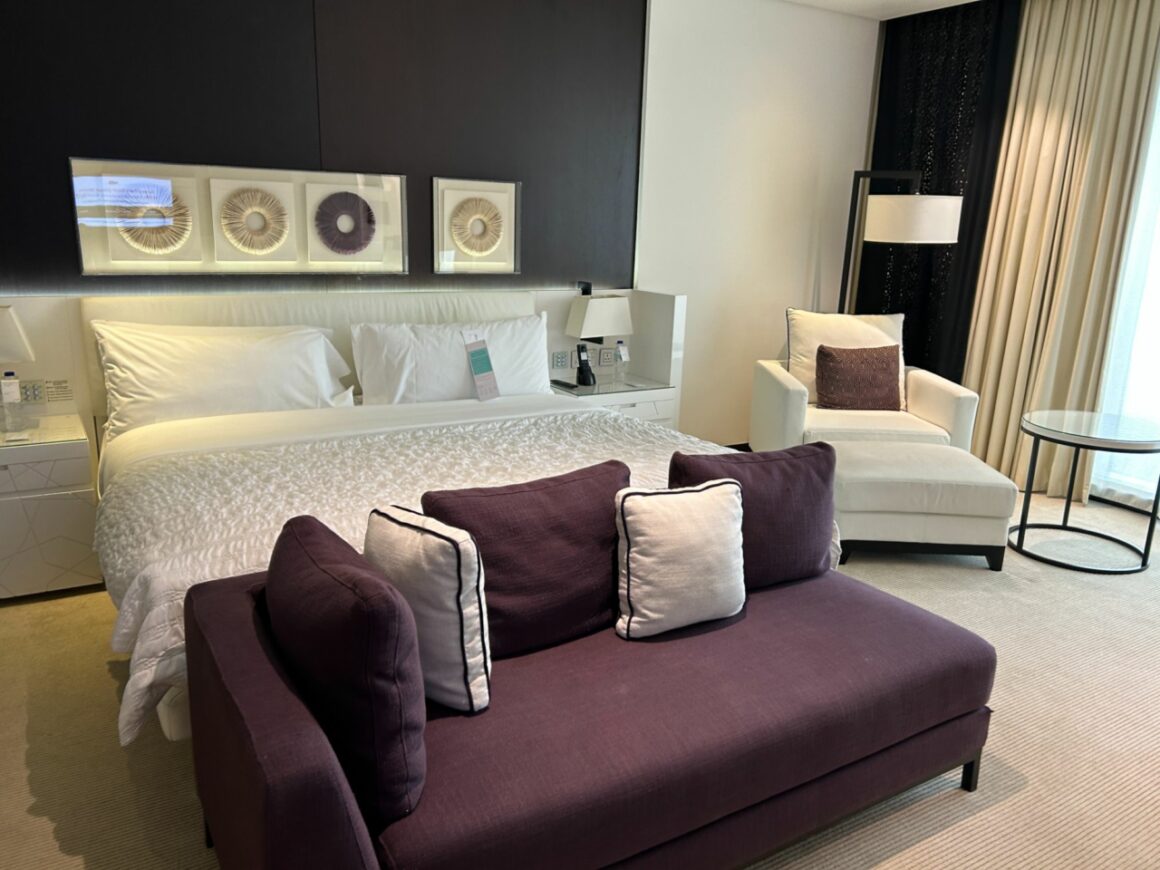 As you walk in, there is a dressing area with a large mirror and dressing table, plus a socket for plugging a hairdryer in and plenty of space for make-up bags and toiletries. It is handy that there is a large space for a couple of suitcases so you can just keep them here without having to unpack without them cluttering up the main room.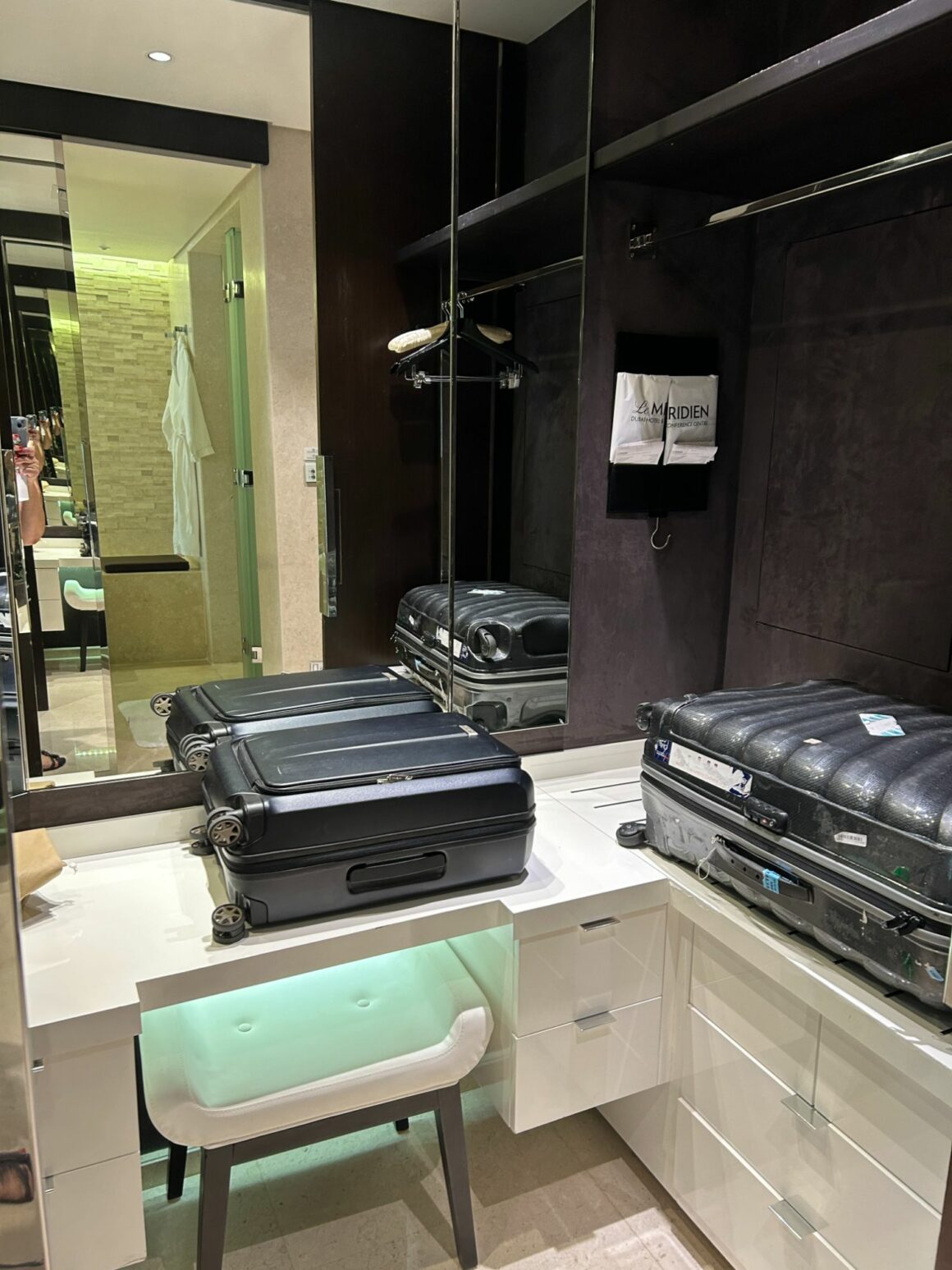 In the main room, there is also a good-sized desk which is perfect for working with a comfy chair. The bed is large and very comfortable.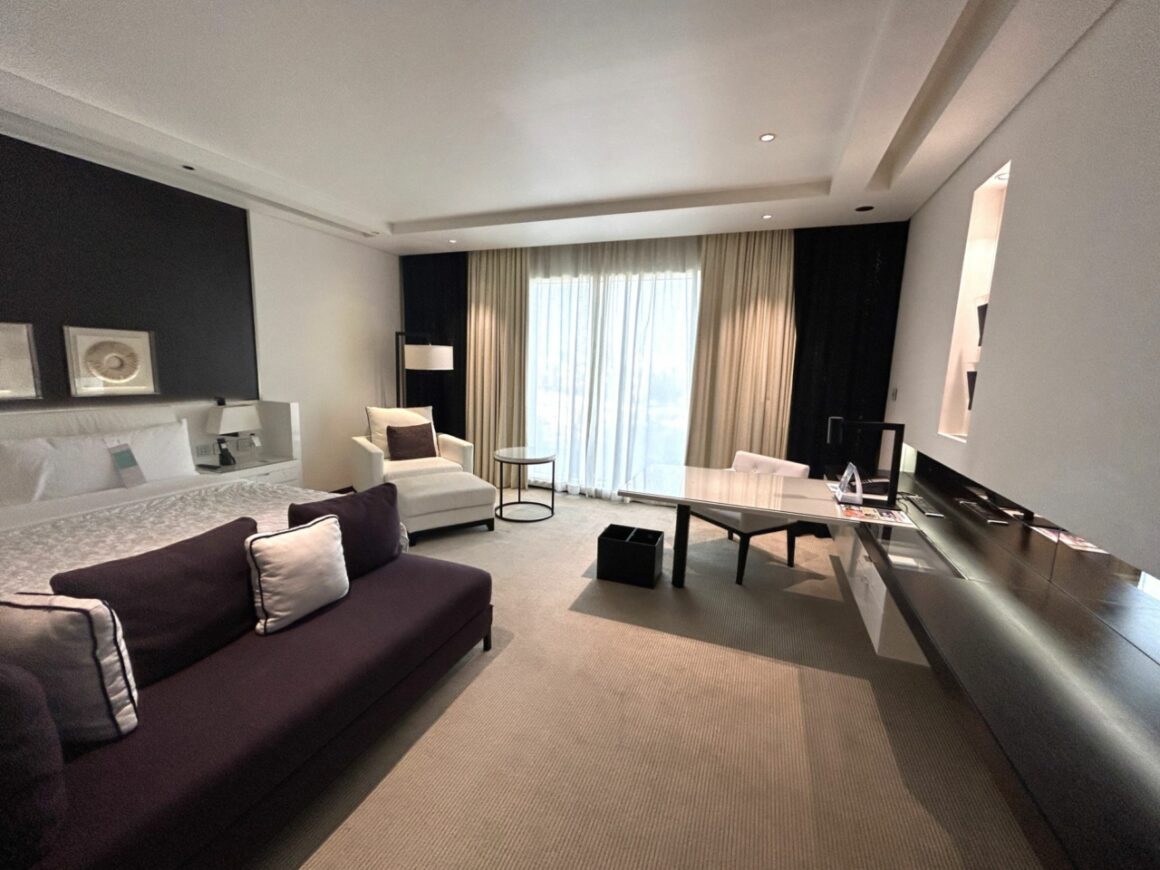 I found these rooms very quiet in general, although some face the airport and metro, but there was good soundproofing.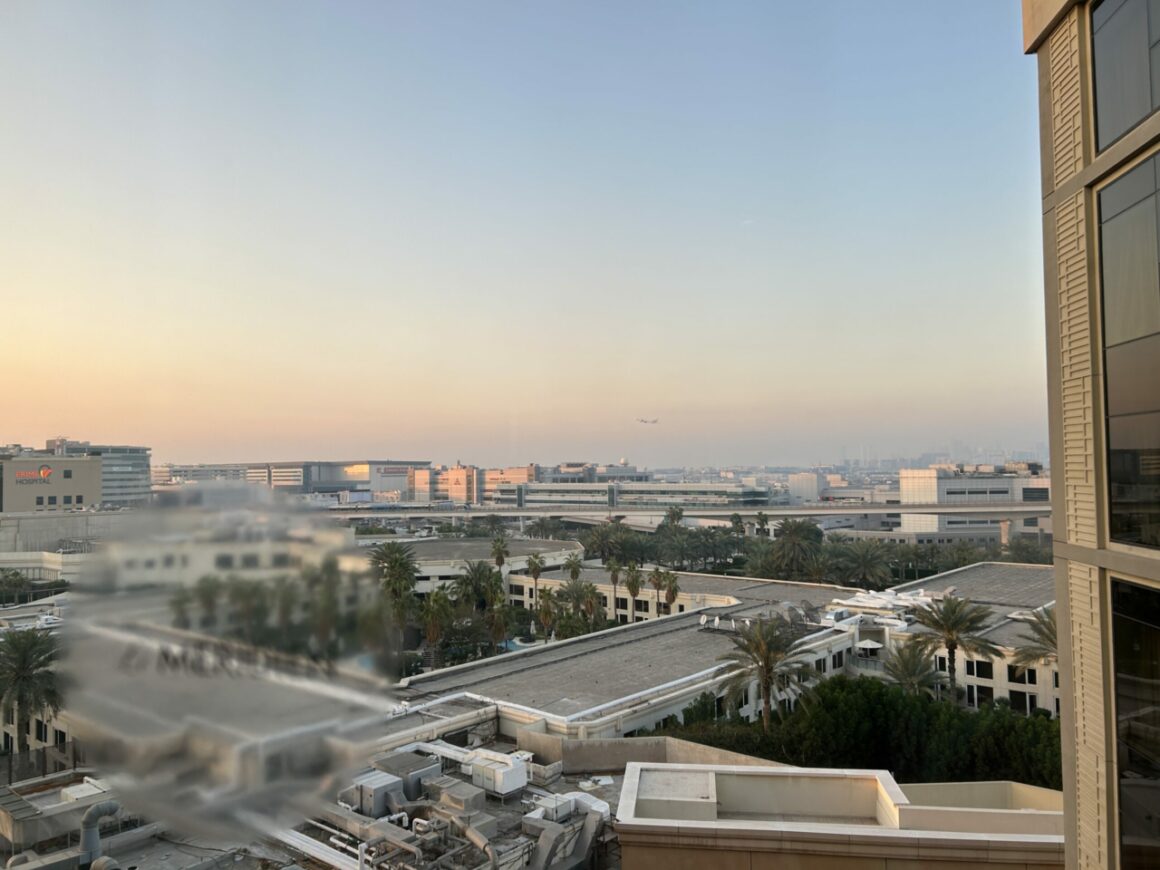 The bathroom was a highlight for me as it felt very luxurious with a large whirlpool bath, walk-in shower and a large vanity with plenty of room for two people's personal effects.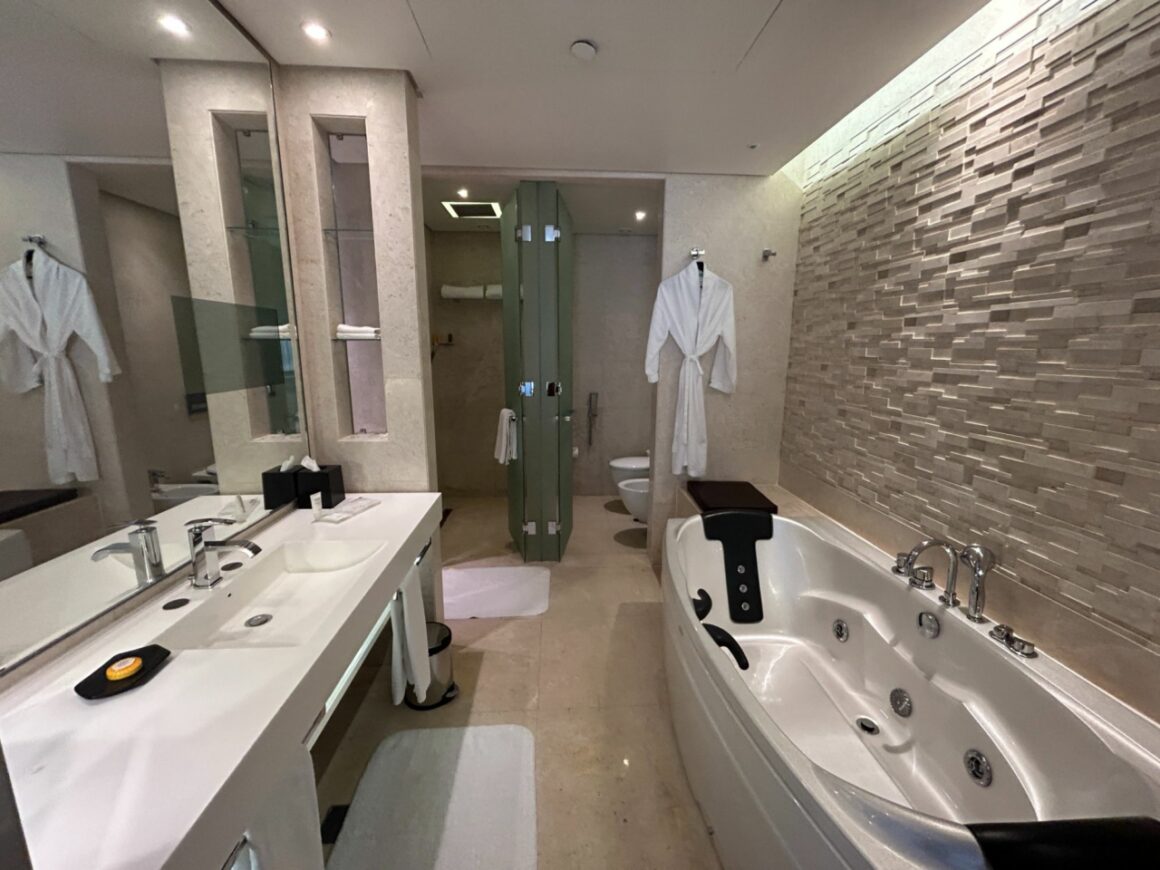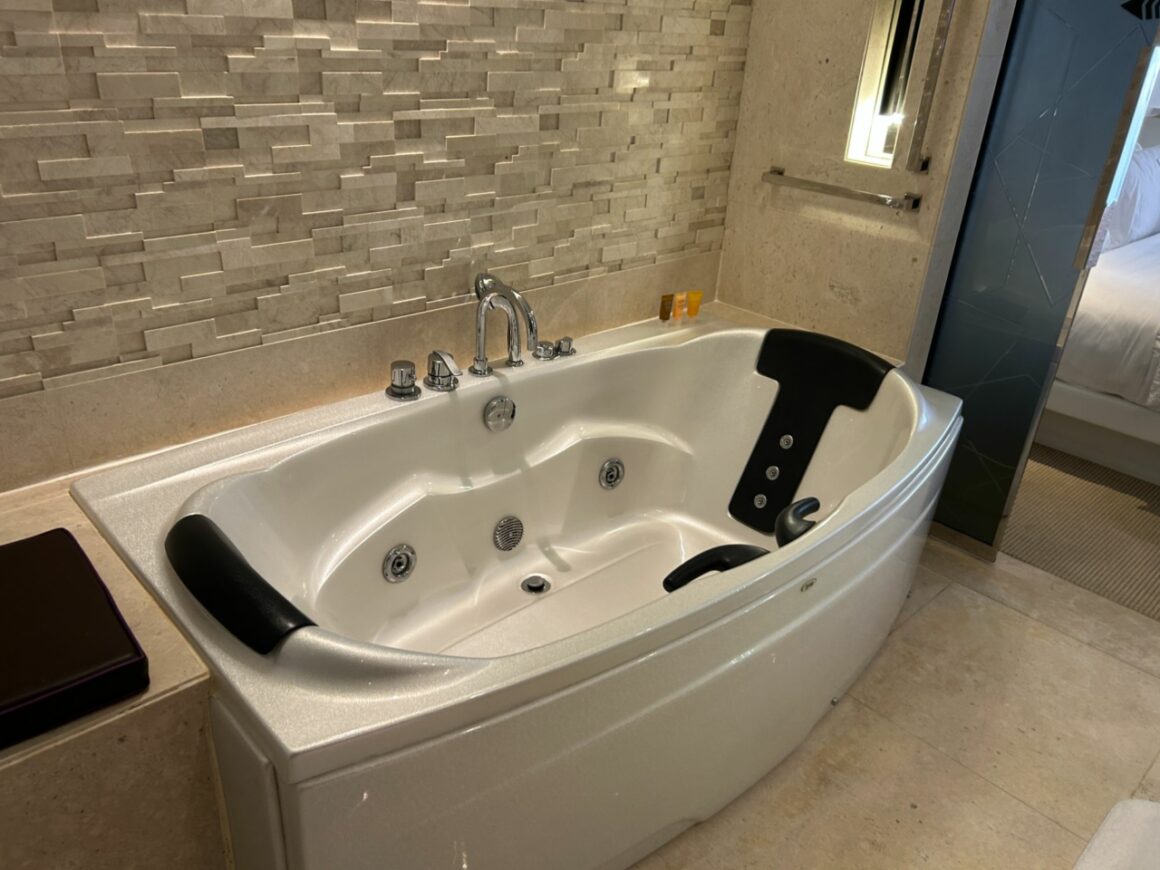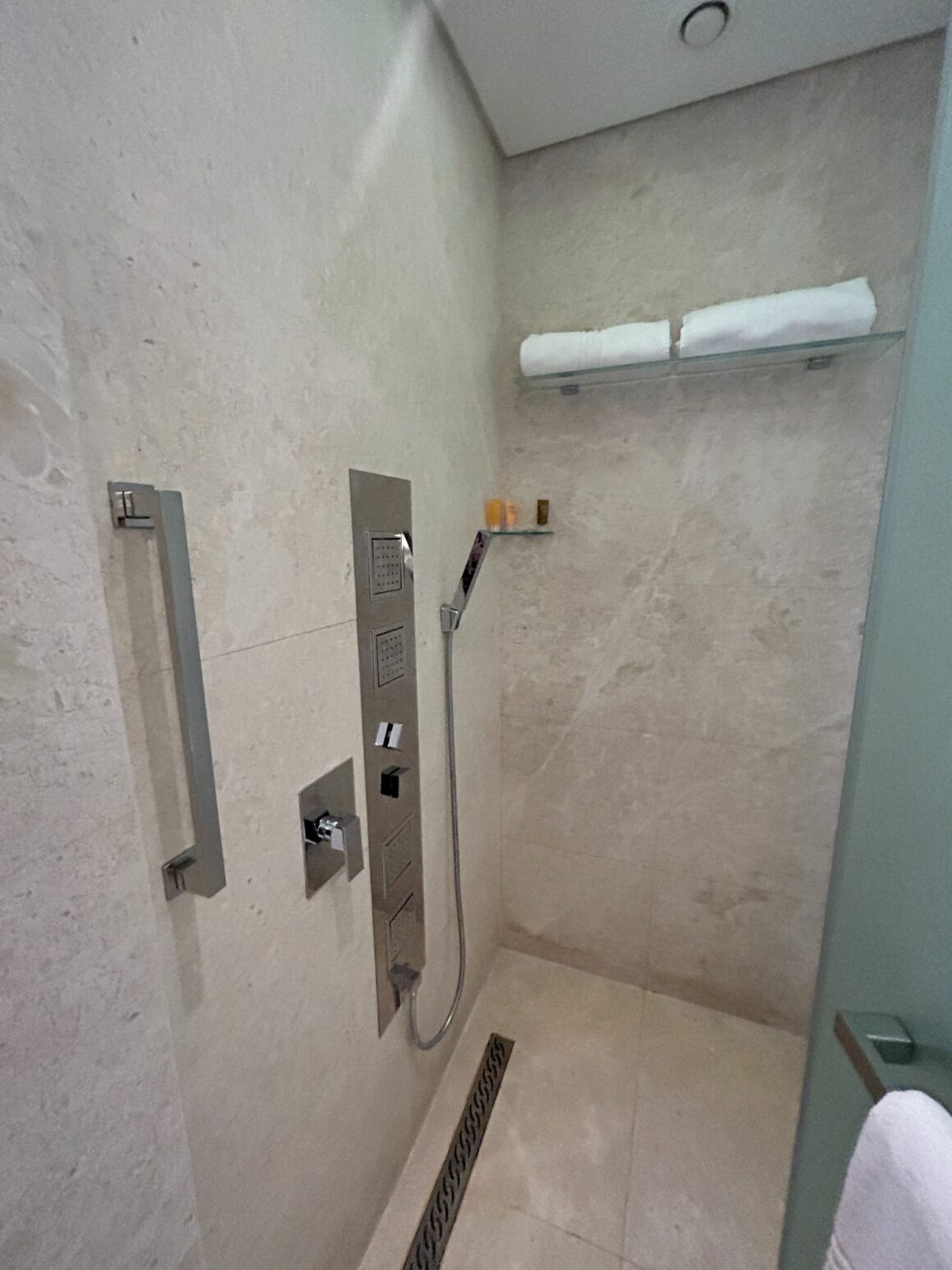 Toiletries were a brand I had never heard of but were OK. It's a shame they don't use the standard Le Meridien brand toiletries by Malin + Goetz as they are great quality. They also do an amazing-smelling rum body wash that I loved some much in a hotel I had to go and buy some!
As well as a mini bar, there was tea and coffee making with a Nespresso-type machine, and there were multiple bottles of water supplied too.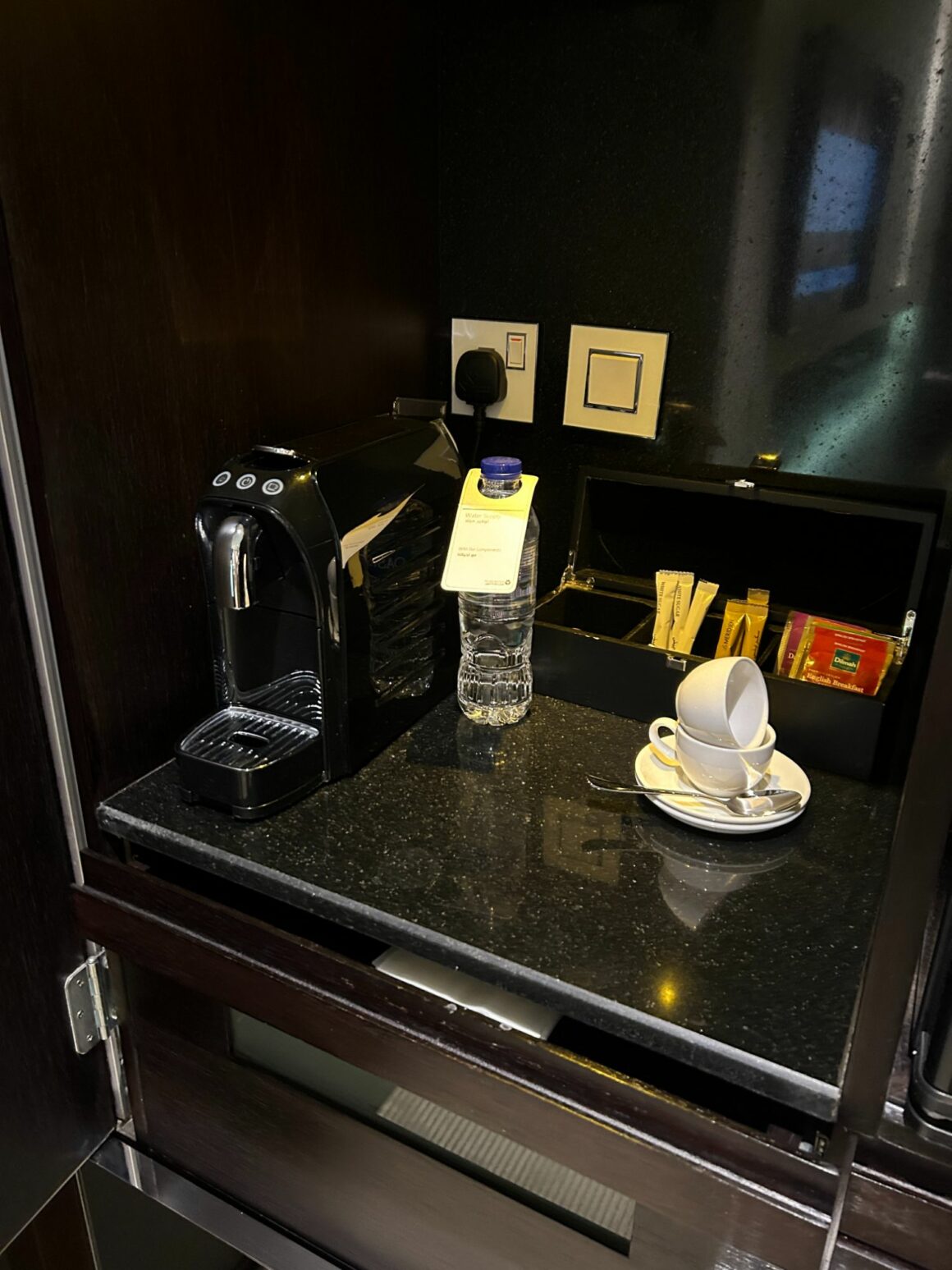 The TV was high tech and you could easily pair your own devices to watch a bit of Netflix.
The lounge at Le Meridien Hotel & Conference Centre Dubai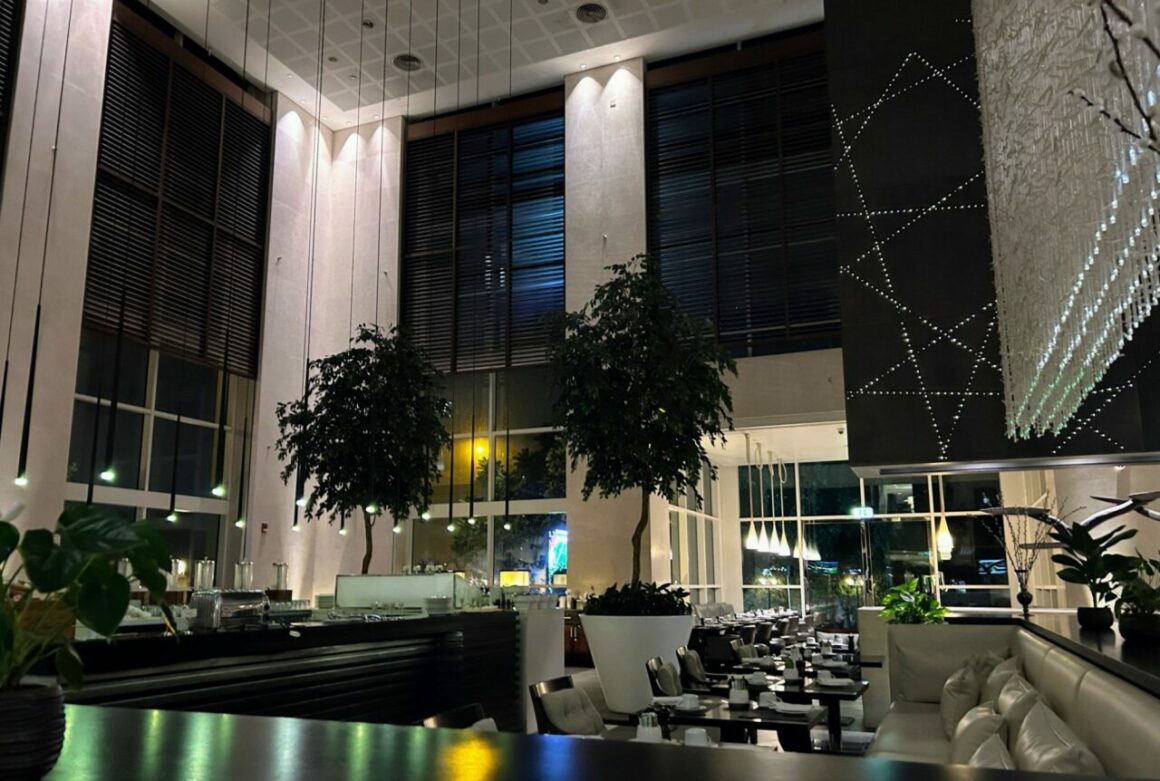 I only experienced the evening drinks and canapes due to the times I was there but they do also service afternoon tea and breakfast. I thought the evening selection was very good with a good range of drinks and cocktails.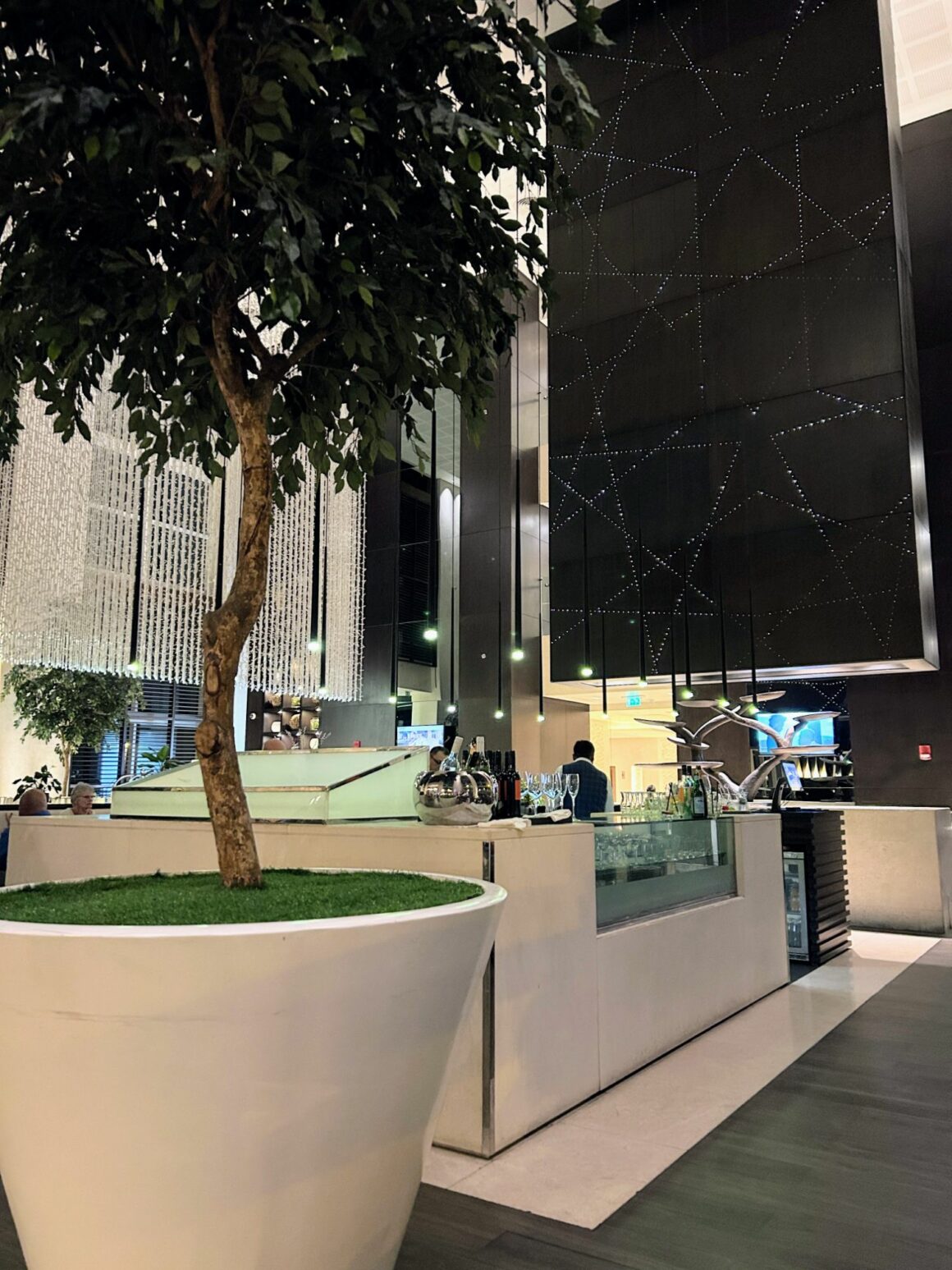 The first time I stayed, I enjoyed a couple of margaritas which tasted authentic.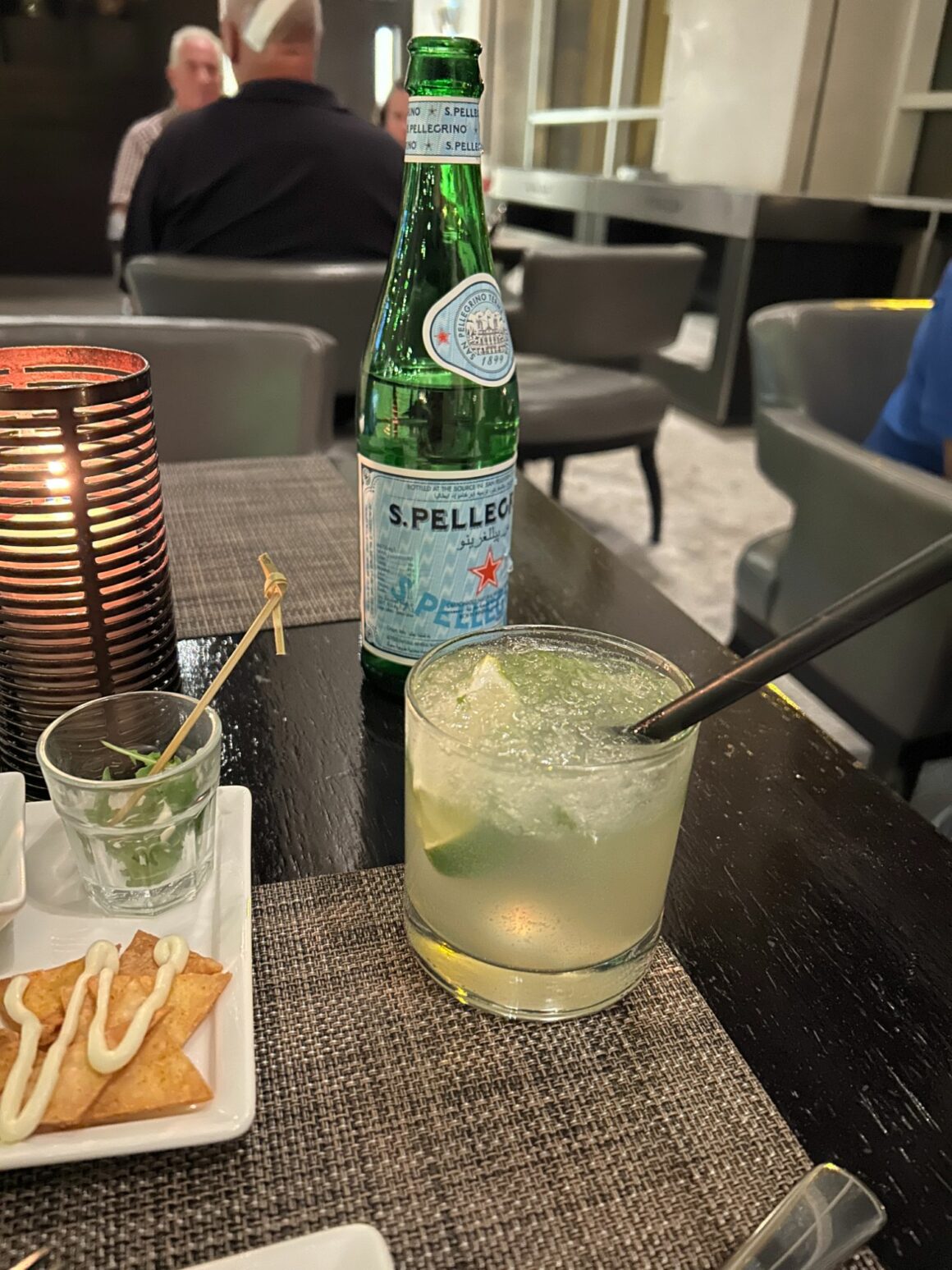 The following time I opted for a G&T and was surprised to be given a carafe with tonic to add to the gin. I thought this was a good idea as you could adjust it how you wanted. I also like that if you want to stay on afterwards, you can buy drinks at 50% off for the following hour.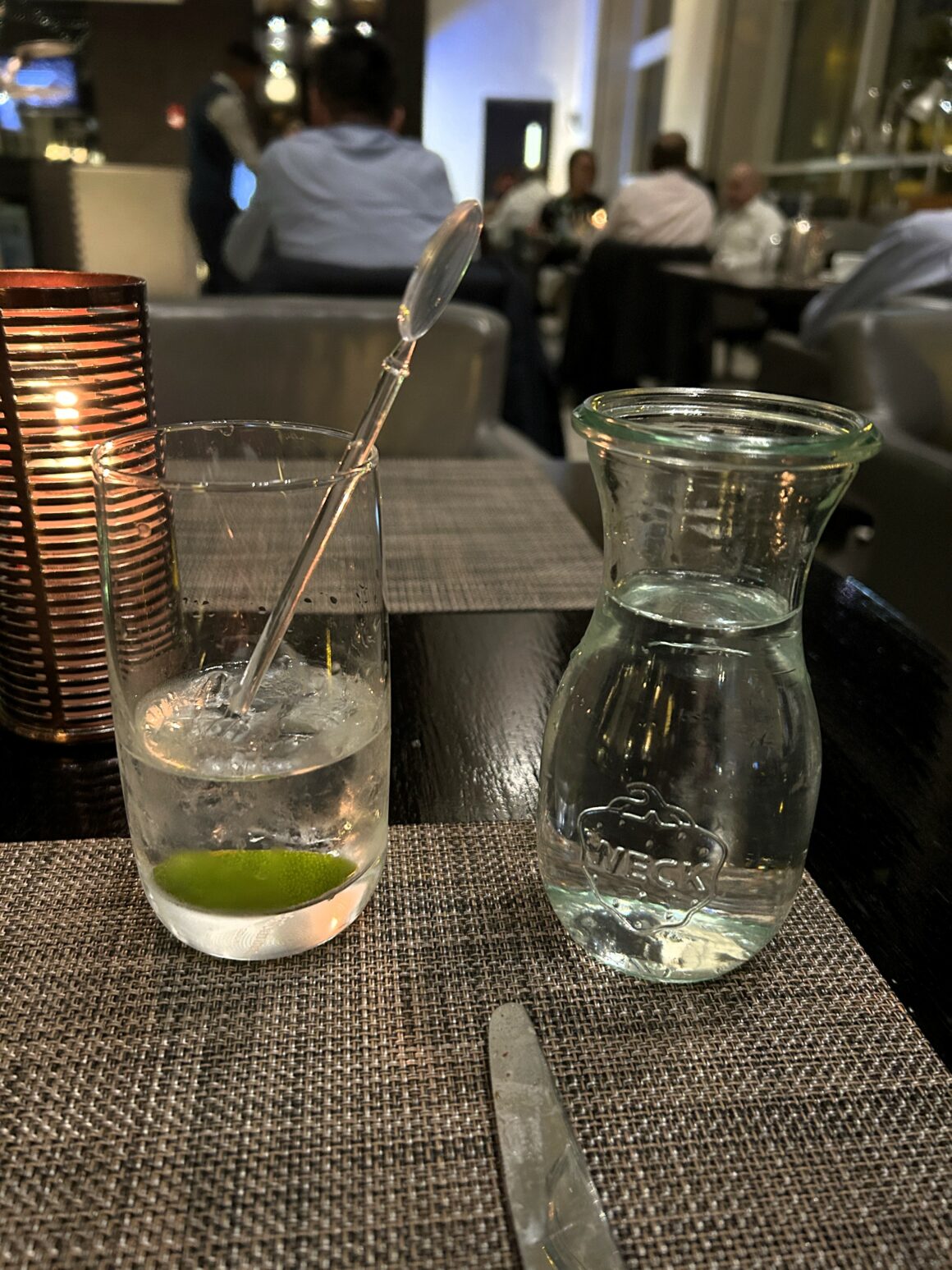 Here is the full drinks list: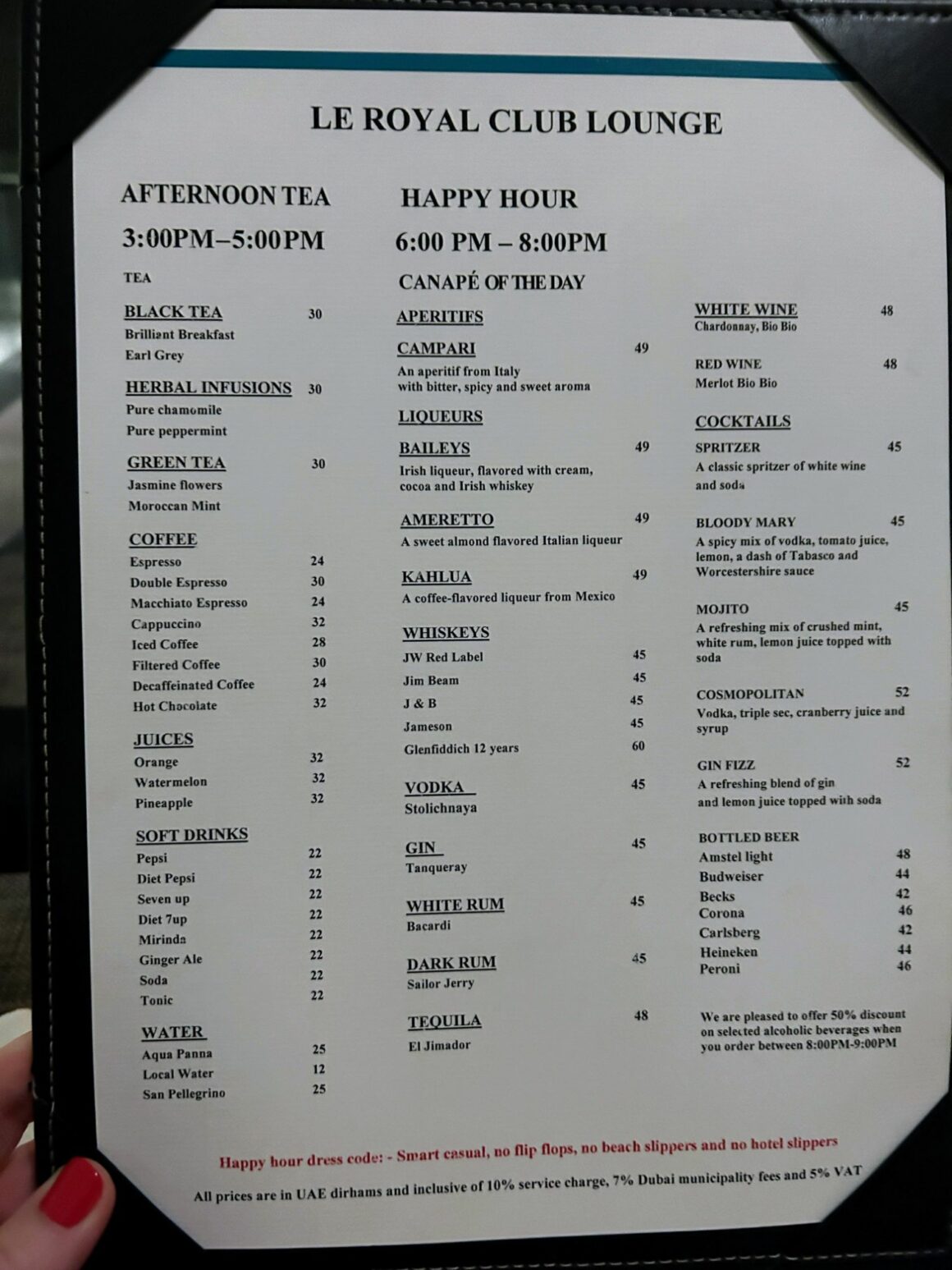 There was no choice of canapes, they just had a selection although they would ask if you wanted each individual component. They were definitely generous in size! I particularly liked the seared tuna.
The pools and facilities at Le Meridien Hotel & Conference Centre Dubai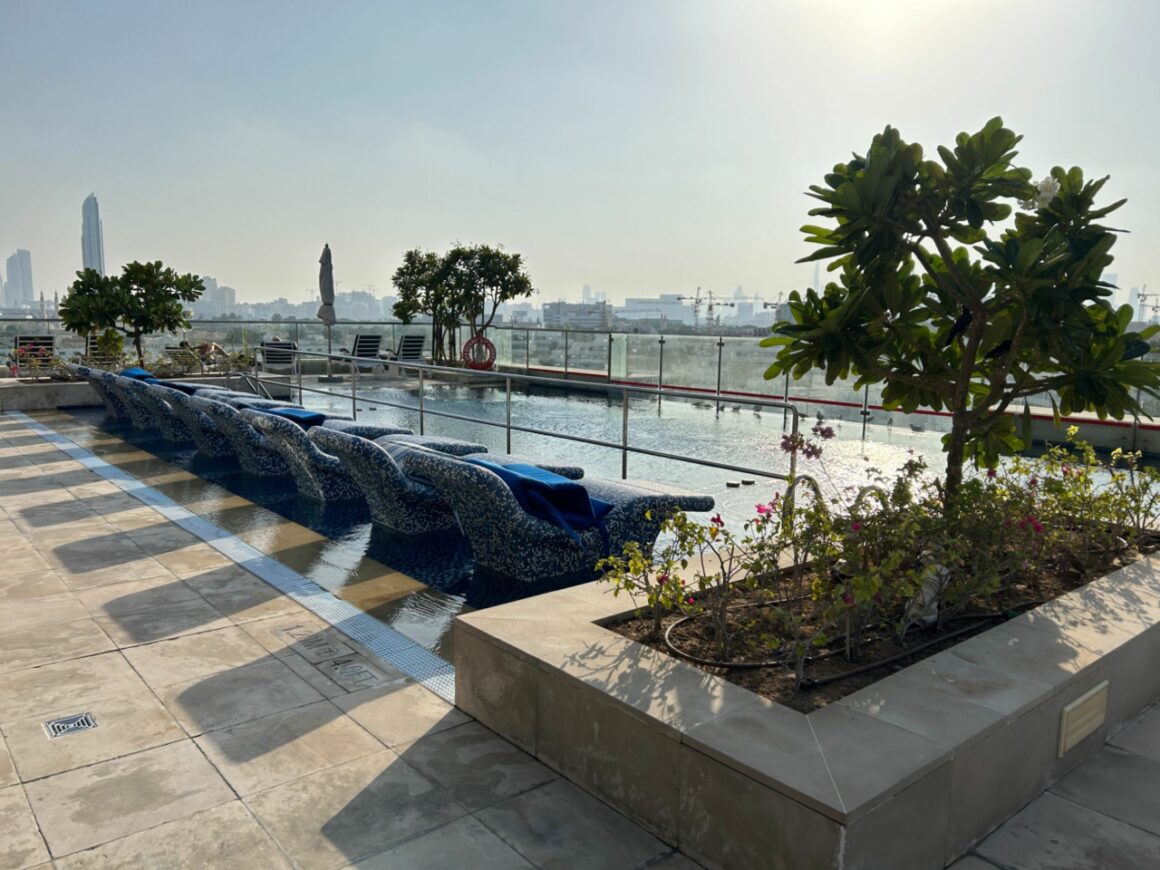 There is no shortage of pools at Le Meridien. The Royal wing has its own rooftop pool which was very quiet when I was there, but there was no drinks service, although if you just wanted a quick sunbathe or dip, it's ideal.
My favourite pool is the courtyard pool with its swim-up bar which is pretty close to Le Royal Club. Here there is full pool service including food.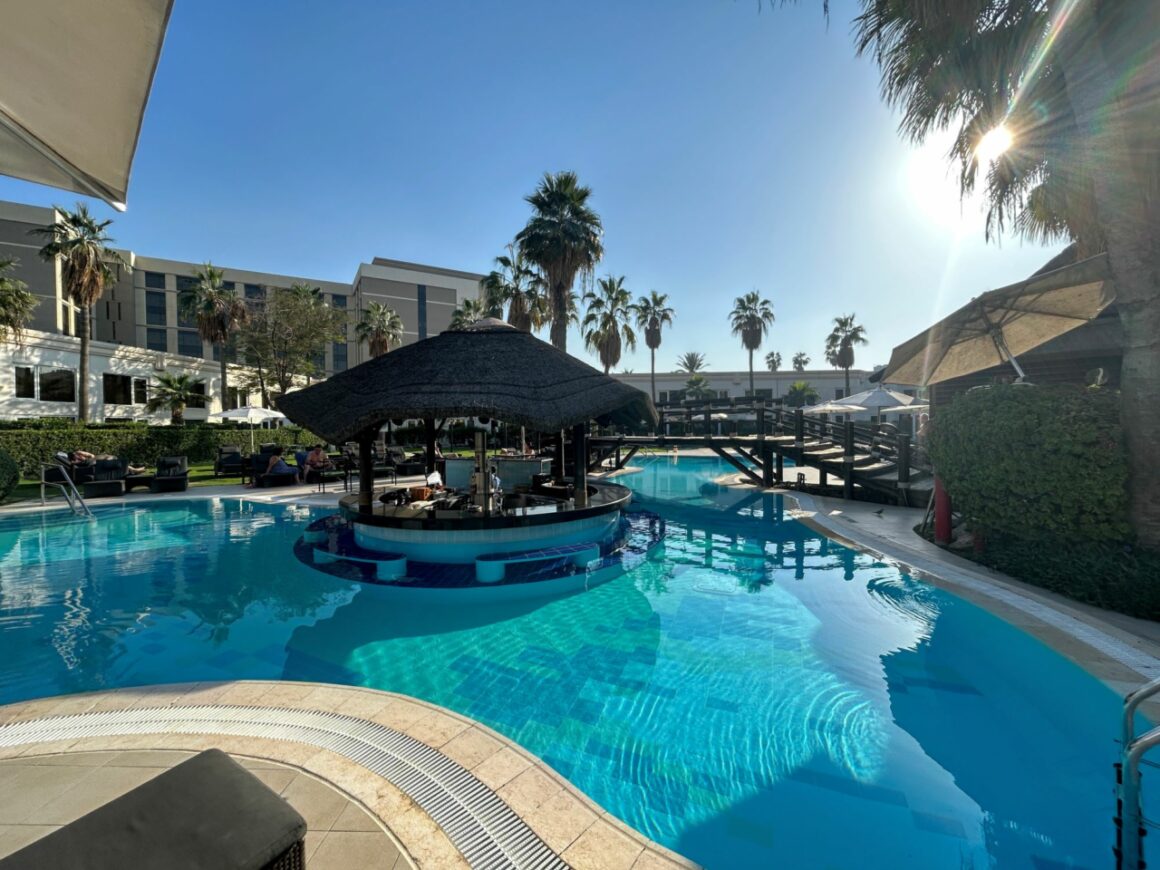 There is also a spa pool and a fitness pool for lane swimming. There is also a whirlpool by the courtyard pool.
Naturally, there is a fitness centre, but it also has sauna and steam rooms. The spa offers a full range of treatments from manicures to massages at the Natural Elements Spa.
If you want to venture out, there are complimentary transfers to Dubai Mall / Burj Khalifa & a DXB Airport Shuttle (drop-off only).
Dining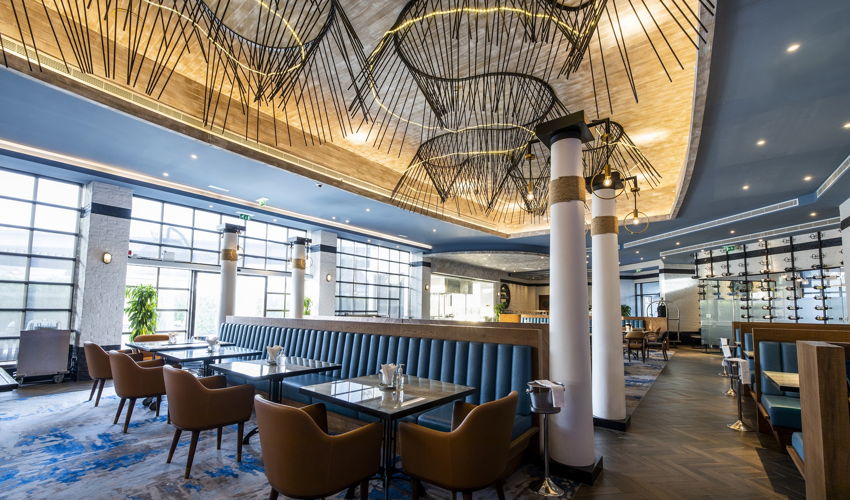 The other thing I like about the hotel is the selection of restaurants there, most with outdoor seating for the cooler months. Many of the restaurants are popular with locals and not what you would think of a as hotel restaurants. There are 19 different restaurants on the site! The restaurants are grouped in two areas, one at the front of the main hotel and the other in the Le Meridien Village which has a traditional Arabic style with each restaurant having a large terrace.
My favourite is the Seafood Market, and I recommend booking as it can be busy. This serves fresh fish and seafood that you choose from a fish counter and then have a choice of styles of cooking and different sauces. It is good value compared to some of these types of places.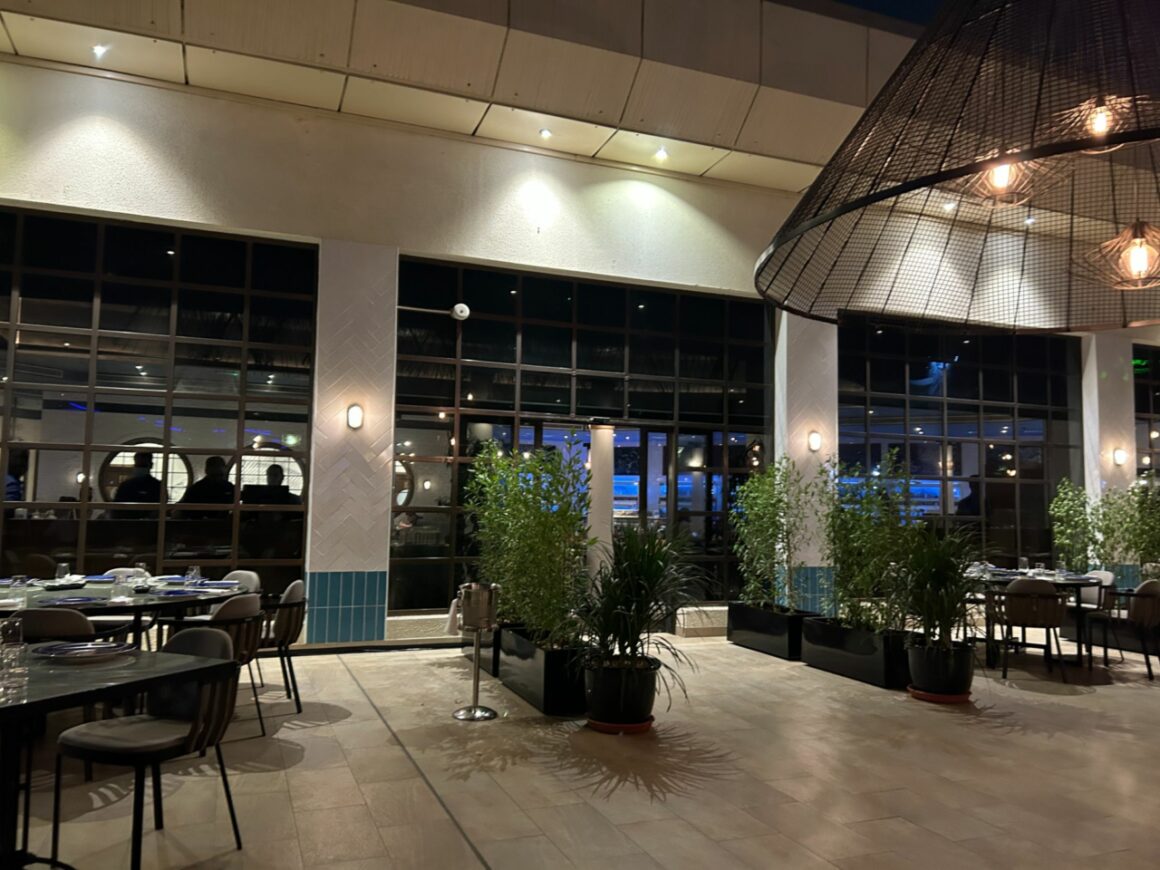 The food style is Chinese, but they do have some non-Asian sauces too. The staff are always very friendly, and when you sit down, you get a free starter of spring rolls and prawn toast. If you haven't been before, they will accompany you to the displays to choose what you want.
Booking and pricing
If you book Le Meridien in the summer months, it can be as low as £85 a night which is amazing value. Even in the peak winter months from January onwards, prices are around £185, although they can rise to over £350 during busy periods. If you want to use points, it costs from 22,000 a night.
You can check prices and availability on the official hotel website here.
Conclusion for Le Meridien Hotel & Conference Centre Dubai
If you want to stay near the airport but not lose out on a resort-style hotel for your final night, this is the place to stay. It couldn't be much closer to the airport, and with transport easily available, it makes a hassle-free option for getting to the airport. They treat Marriott status members very well with a separate wing and a generous lounge. I love the restaurants here too and would recommend the Seafood Market even if you don't stay here.
Like our Le Meridien Hotel & Conference Centre Dubai review? You can read other Dubai hotel reviews here such as Shangri-la Qaryat Al Beri, Abu Dhabi Review and Park Hyatt Dubai.