A luxury guide to Luxury guide to Jersey and Longueville Manor. If you want a relatively hassle-free trip this year, Jersey could be a good option particularly if you are vaccinated. Flying there does feel like you are going somewhere a bit more exotic and with its golden sand beaches, it can feel more like parts of Southern France than the UK. It is also the sunniest place within the Common Travel Area, ie places where you can travel without going through immigration or needing a Covid test to return. The island plans to allow those who have been vaccinated to only test on arrival for free, but not to have to isolate until they receive their results. This is due to happen sometime around late May, early June.
You can read my full guide on visiting Jersey using the link below.
Many U.K. residents are looking for a more local holiday this year, with some countries still struggling with the pandemic and harsh travel restrictions from the U.K. Although overseas travel will be allowed for leisure travel from England from Monday 17 May, it is still fraught with stress and expense.
Longueville Manor, St Helier, Jersey (Relais and Chateau) review
The Jersey hotel scene is a bit like Hawaii for me. There are a lot of quite expensive hotels, many of which we would regard as a bit dated! A lot of the hotels feel very similar to the "typical 4* English hotel" that's a bit behind the times. However, there are quite a few gems to find too.
Longueville Manor is the fanciest and most expensive hotel on the island, so is it worth the money? I got a special staycation deal at £225 which also included a 30-minute spa treatment but that has since gone. The cheapest rooms now are around £250 per night with breakfast and free cancellation up to 7 days before.
Location of Longueville Manor
If you prefer to have things within walking distance, this is probably not the best choice given that it's a good 25 minutes walk before you begin to get to the main part of St Helier. However, it is only 7 minutes by car and just over 10 minutes by bus which has a stop 3 minutes away. I'm not usually one for getting around by bus but in Jersey, I often use the service which costs £2 via contactless credit or debit card. Taxis are super friendly and helpful but they can mount up if you go any distance outside St Helier.
Check-in at Longueville Manor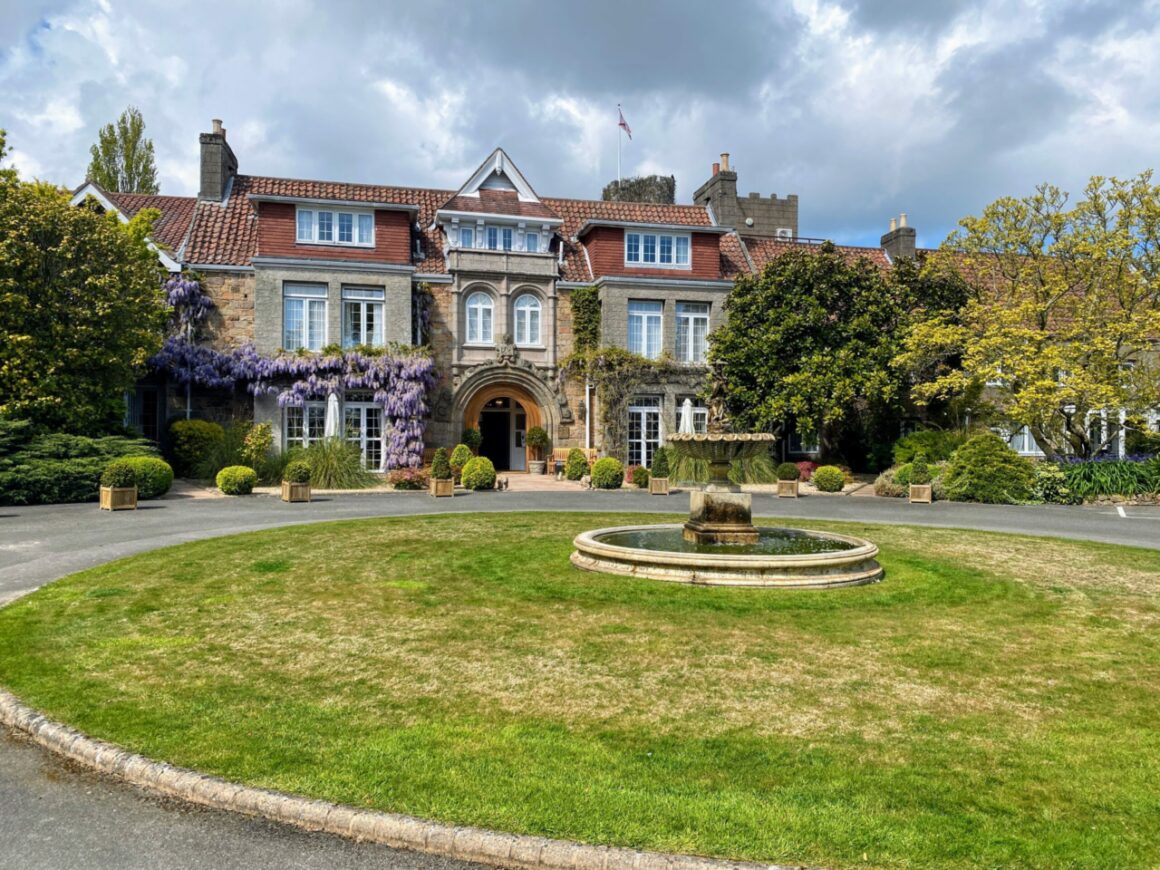 I have stayed at quite a number of hotels since Covid and although I have heard of some places not being allowed to touch luggage, I have not come across many at the luxury level. Normally, I don't really care as I can manage myself unless there are lots of steps or I have a large bag. Sadly on this trip, I had a large heavy bag (yes, I am a terrible over-packer when I can get away with it) and there was no lift and a very grand and large staircase. I honestly don't understand why they can't touch your suitcase if they can clear away empty plates and glasses plus clean your room. Surely they could just wipe the handle?
So when I was told that they could not help with luggage, my first thought was that I really did not want to lug my suitcase up that imposing staircase, and secondly, how would someone less physically able cope? When I got the room it did say that you could contact them in advance and they may be able to arrange help but obviously, that wasn't of any use here. I did wonder if it was a Jersey regulation but The Club were more than happy to help with luggage.
I asked where my room was and of course, I was told it was on the upper floor. I asked if they had something on the lower floor as I was only staying one night. Fortunately, they did and I actually think this was a better room anyway as you will see.
The receptionist was polite and fairly friendly. As she walked me to my room she explained what I needed to know about the hotel. However, since leaving I have phoned the hotel twice and left a message at reception but no one has bothered to call me back, which does make me question the hotel somewhat.
Longueville Manor Room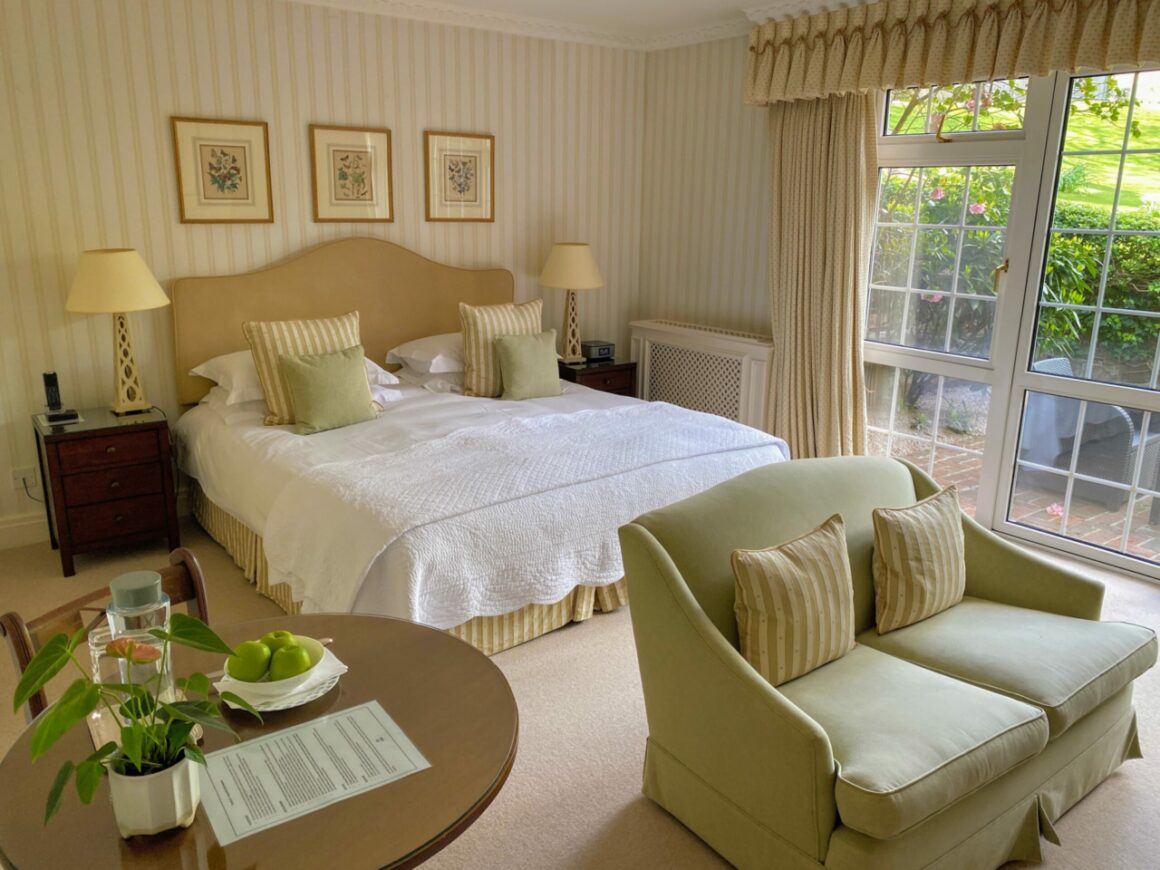 I had booked a Deluxe Double with a garden view. It says these overlook the gardens or the pool but it doesn't mention that some have a terrace overlooking the gardens. I find it surprising as this is a bit of a selling point in my opinion.
The room is definitely a classic style but I think that goes with the building which is a restored manor house. The decor is neutral but each room is different. Some look a little more modern than this one but still in keeping with the overall feel.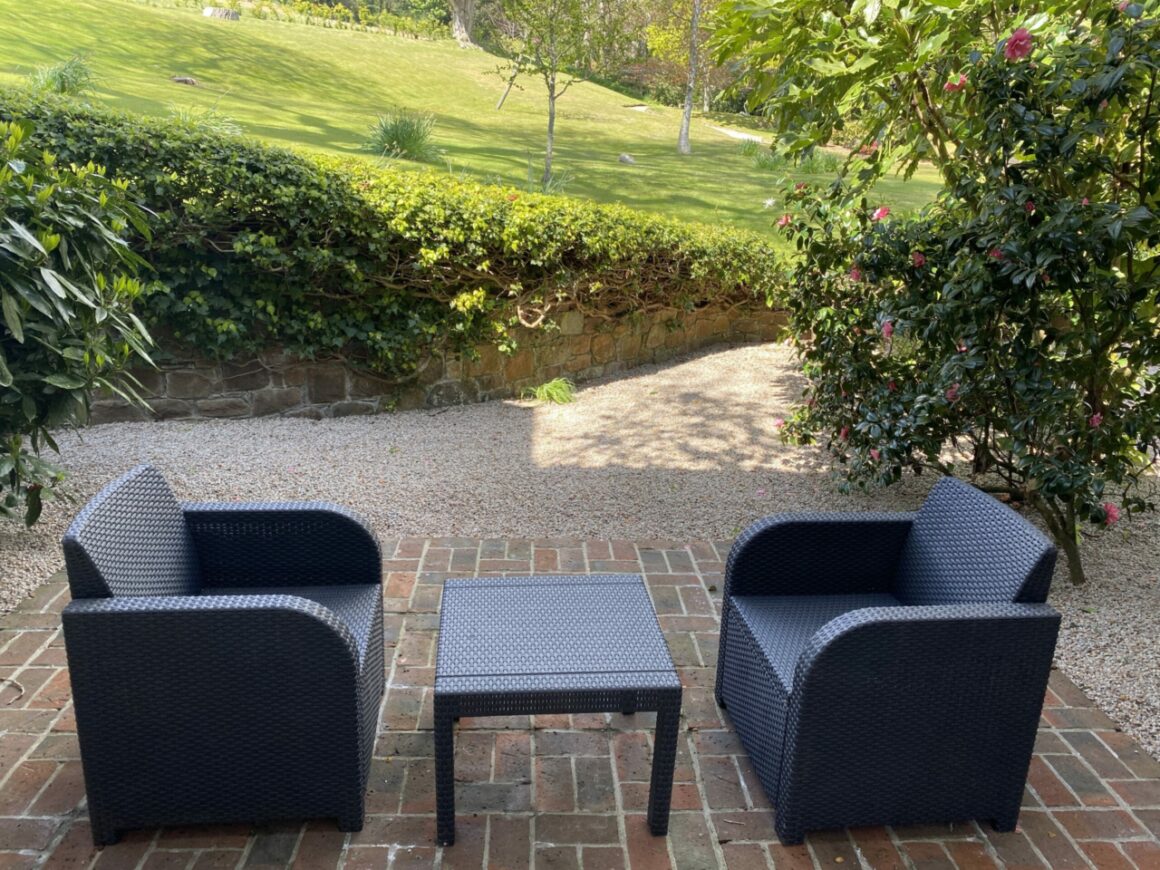 I liked the patio, even though it was a little chilly to sit outside when I was there. The room did not have air conditioning or any central temperature control. As I found out at about 2 am when I woke up feeling like I had fallen asleep in a sauna, there were two different radiator dials you had to adjust to get the temperature right. The windows were large if you wanted fresh air, but they were so large it felt a bit of a security risk leaving them open overnight, although it is Jersey so not exactly a crime hot spot!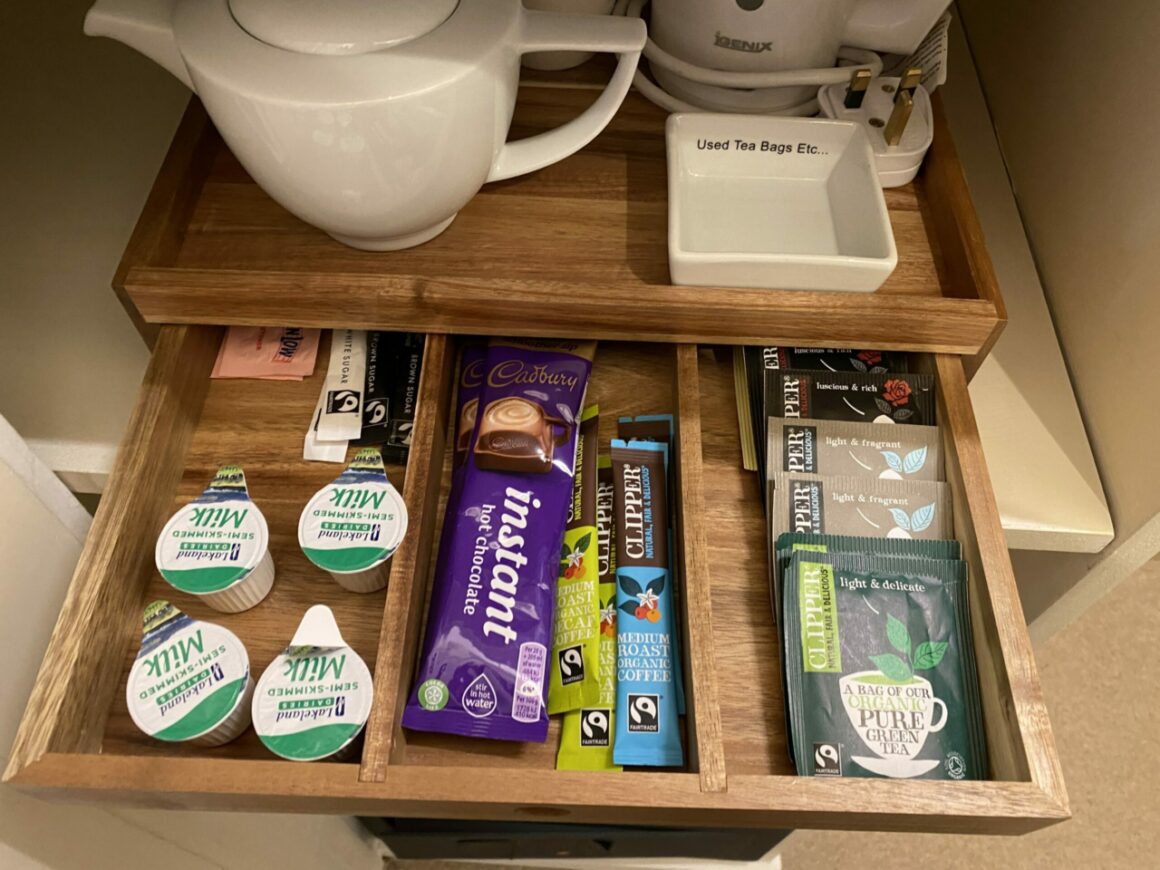 The room came with water, apples, and the usual 5* hotel facilities.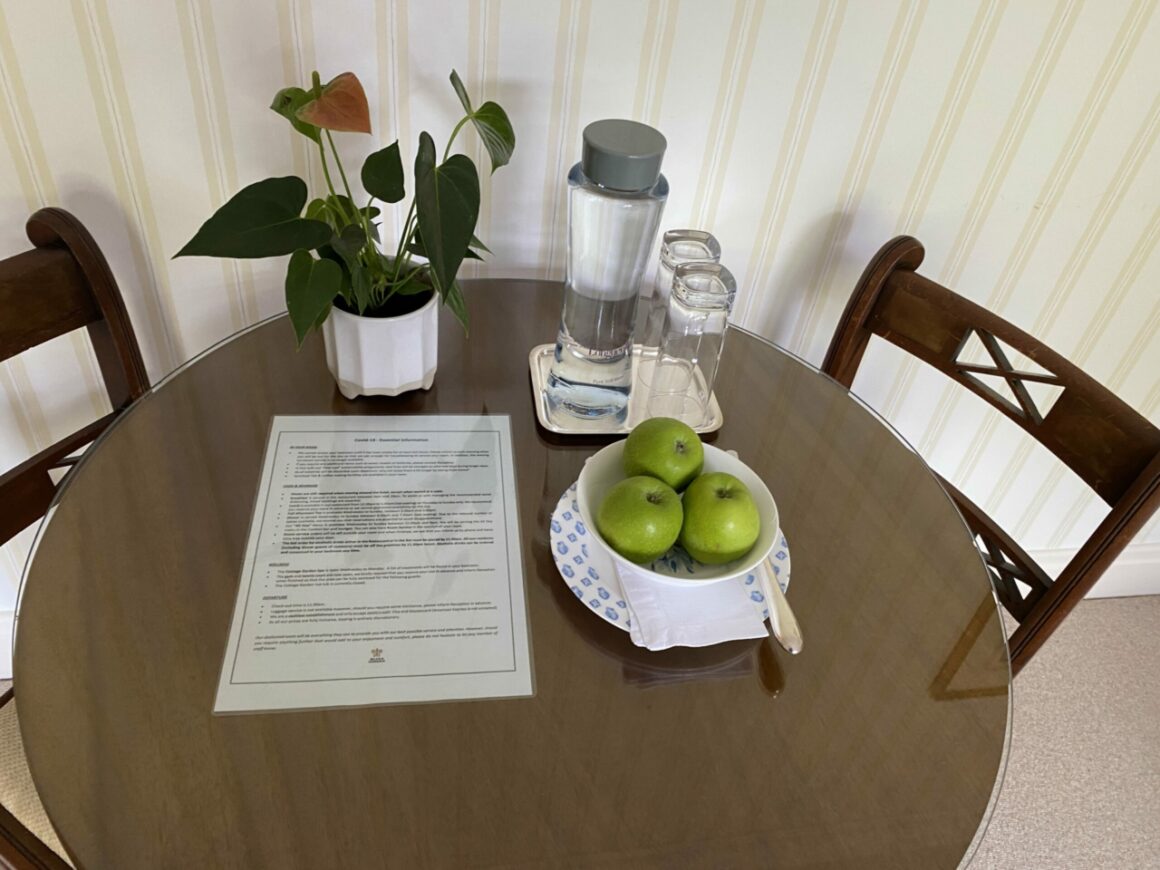 There was no coffee machine, just a kettle, and teapot. Although there was hot chocolate as well as the usual tea and coffee. There was no fridge in the room either but it did have a fan, iron, and ironing board.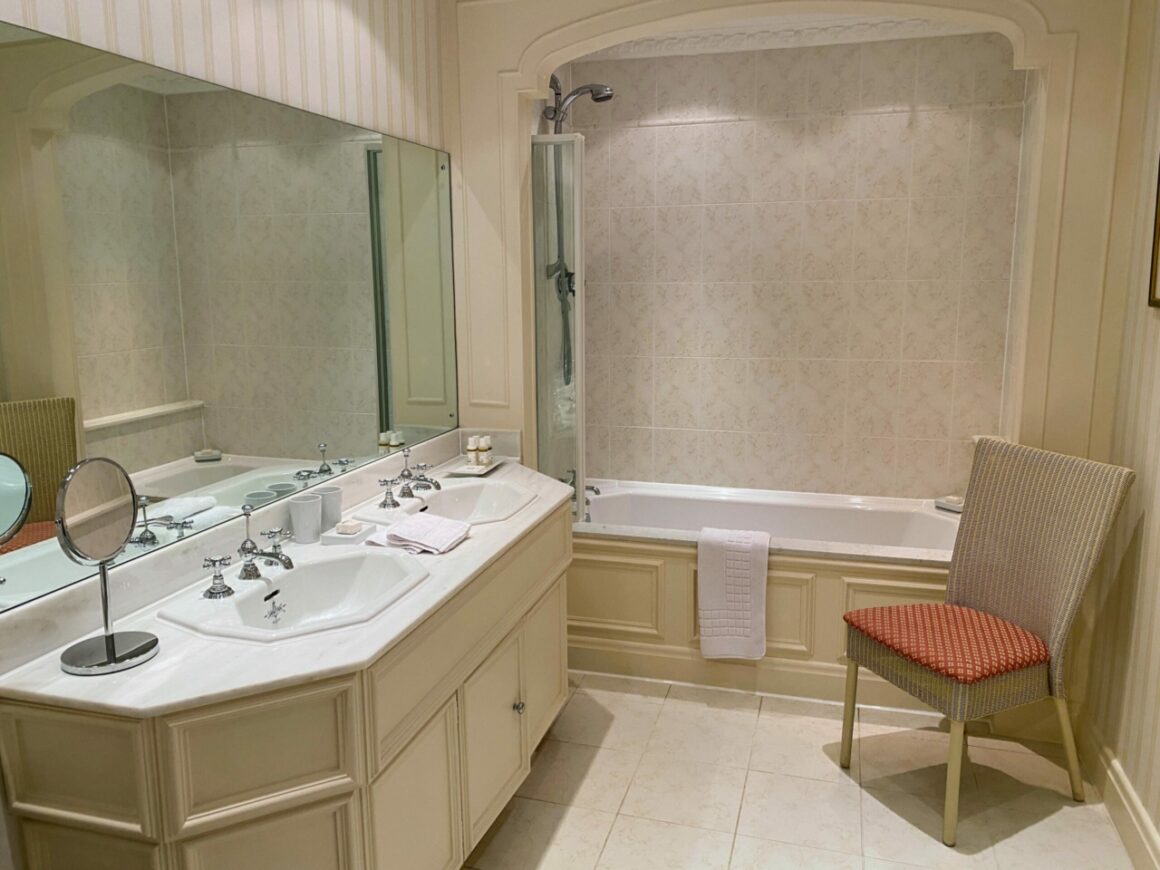 In the bathroom, there was also a robe and slippers. I did like the bathroom which had a decent size bath for a proper soak and Ren toiletries which I am a fan of. Having a chair was handy if you wanted to do make-up in the magnifying mirror without peering down into it.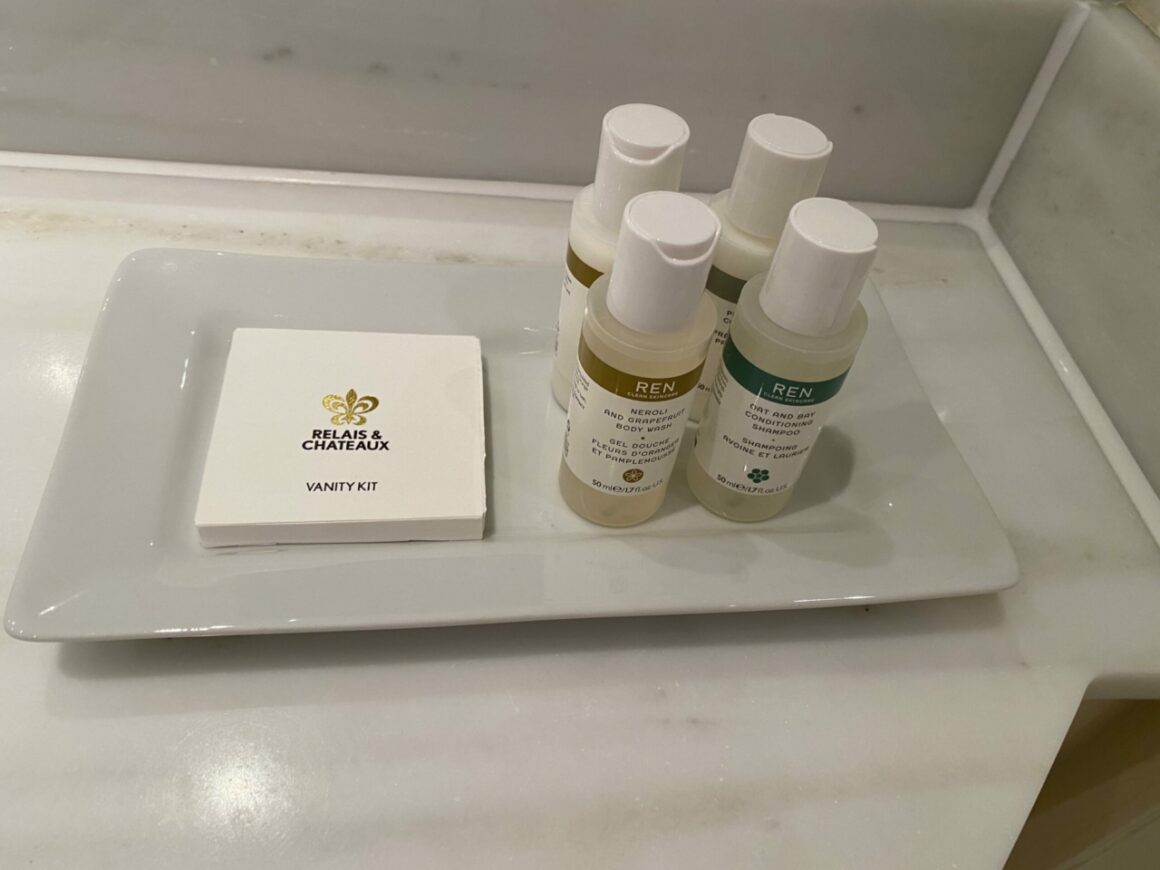 The bed was very comfortable and it was a very quiet hotel, although when I was there it was not even half full I reckon.
Longueville Manor Food and drink
Part of the draw for me was the restaurant which used to have a Michelin star but is still well-regarded. The focus is on local produce with their own beautiful Victorian kitchen garden and a forager. It is definitely not cheap, but for me, this was a better experience overall than the Michelin restaurant at The Club Hotel, Bohemia.
Here is the menu: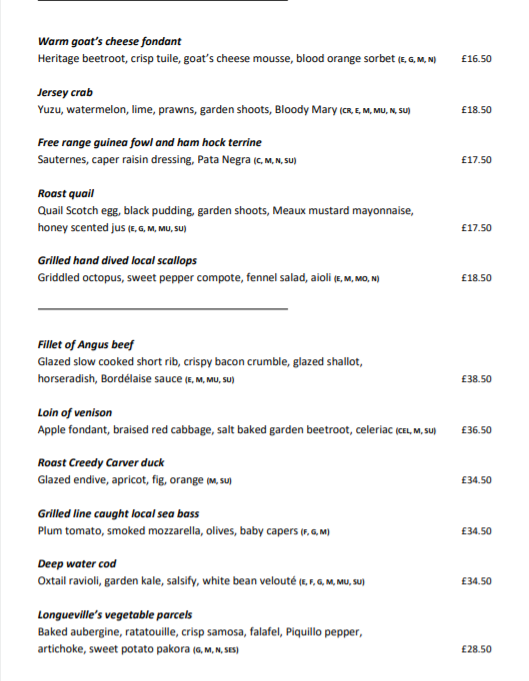 I was offered some bread and an amuse-bouche to start. Normally Roving Reporter is the bread fiend, but this was so delicious I had to try it all! The simple light and fluffy crusty rolls with some jersey butter was divine!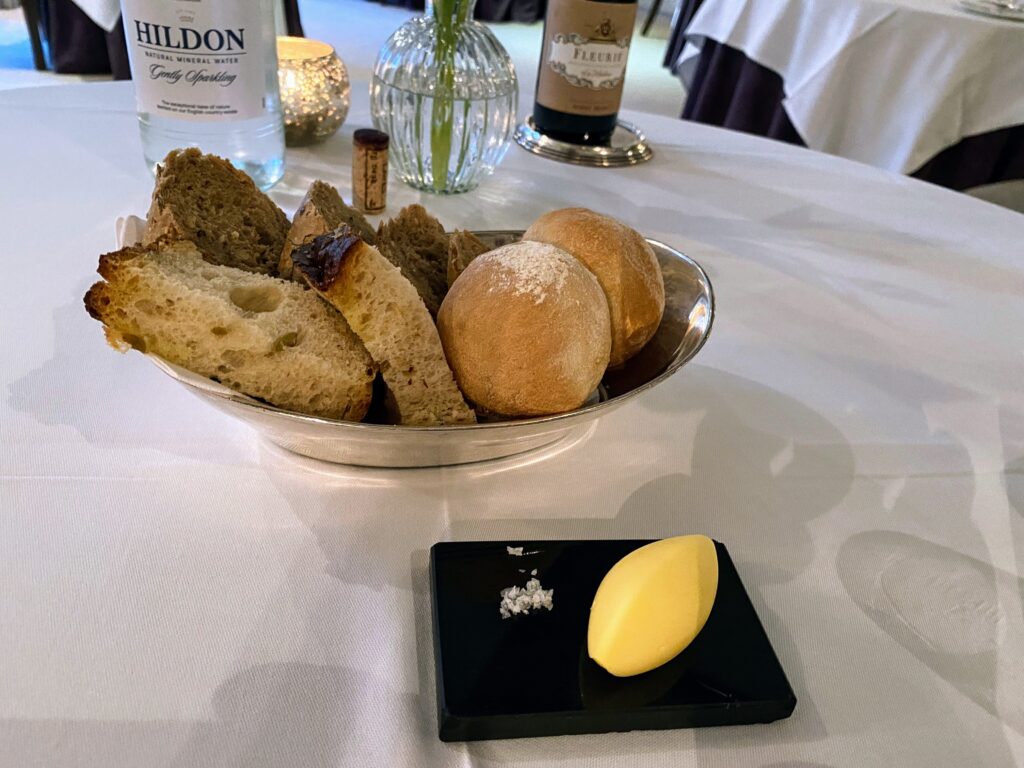 I asked the sommelier for a recommendation to go with the starter. He gave me a taste before even though I was only buying a glass. He suggested a rather unusual choice, a wine from Nemea in the Peloponnese in Greece. It was a lovely light white with citrus flavours and a sherbet finish. A great match for my crab starter. If you are a bit of a wine buff, the hotel has an amazing state-of-the-art wine cellar with a small museum section.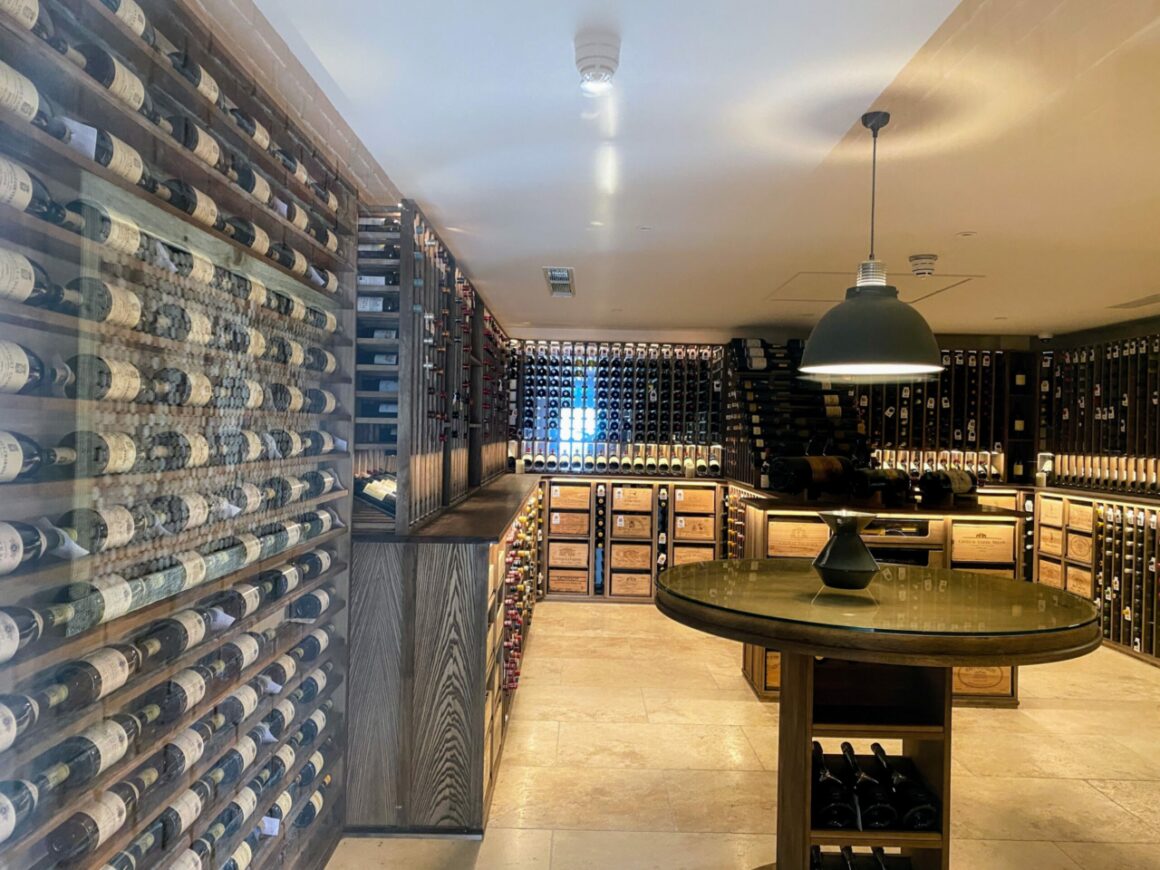 The food was less innovative than at Bohemia, but for me equally enjoyable.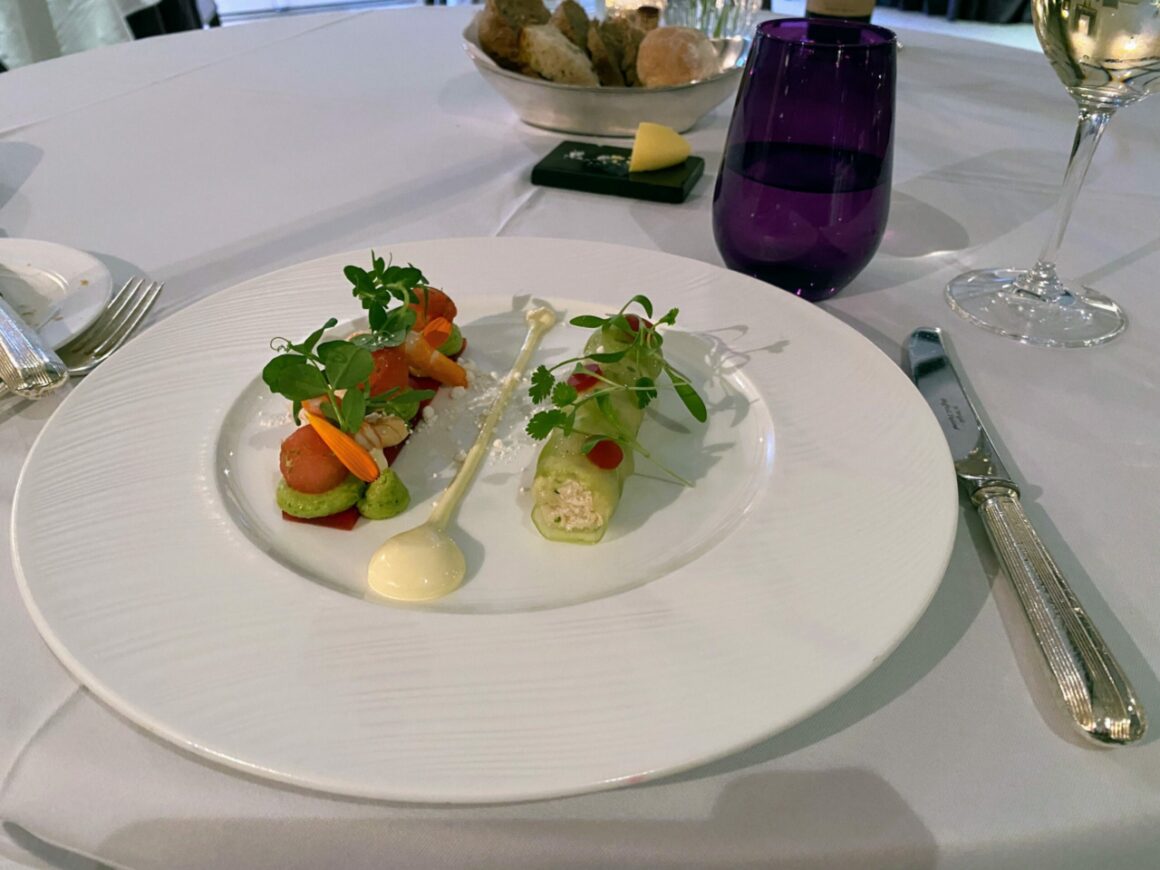 It was a wonderfully light starter with the watermelon and mint versus the cucumber-wrapped crab, although the bloody mary jelly was lacking in flavour.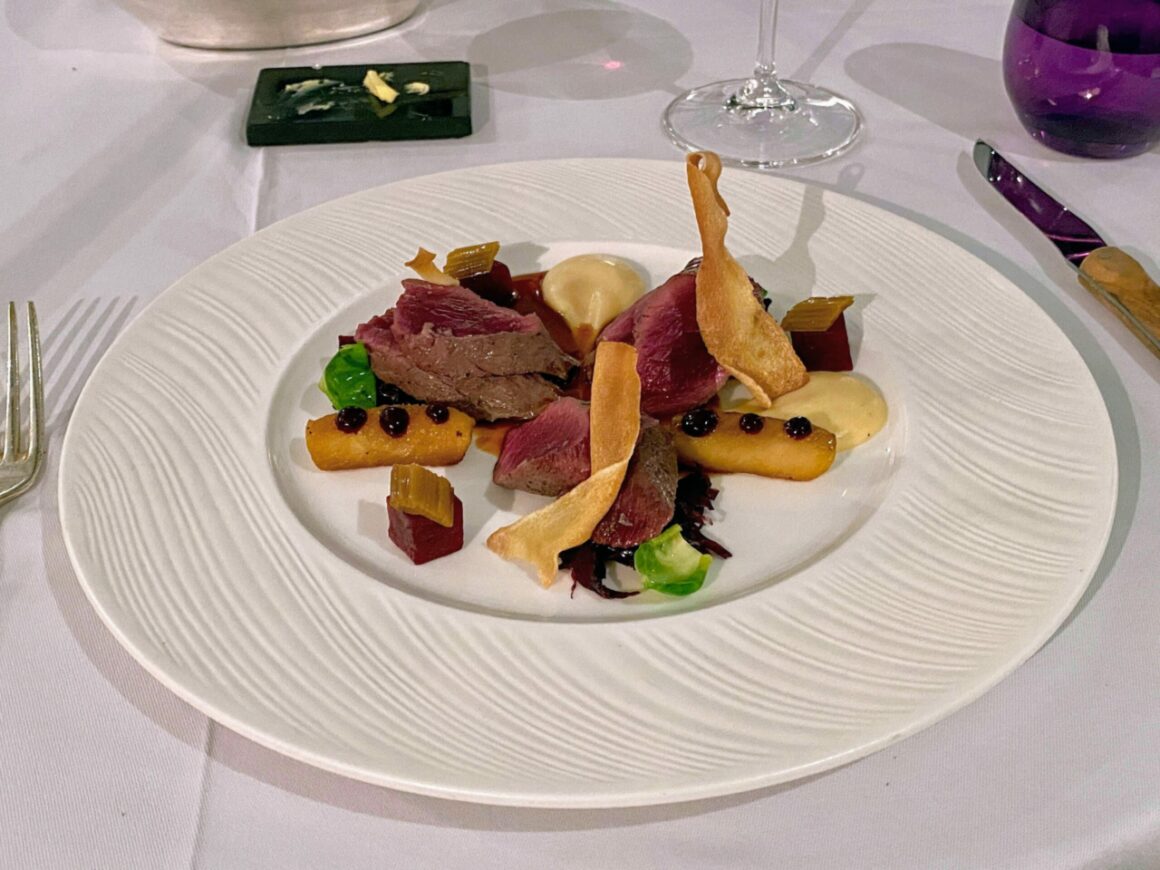 The venison was some of the best I have had, perfectly cooked and melt in the mouth tender with earthy beetroot and celeriac.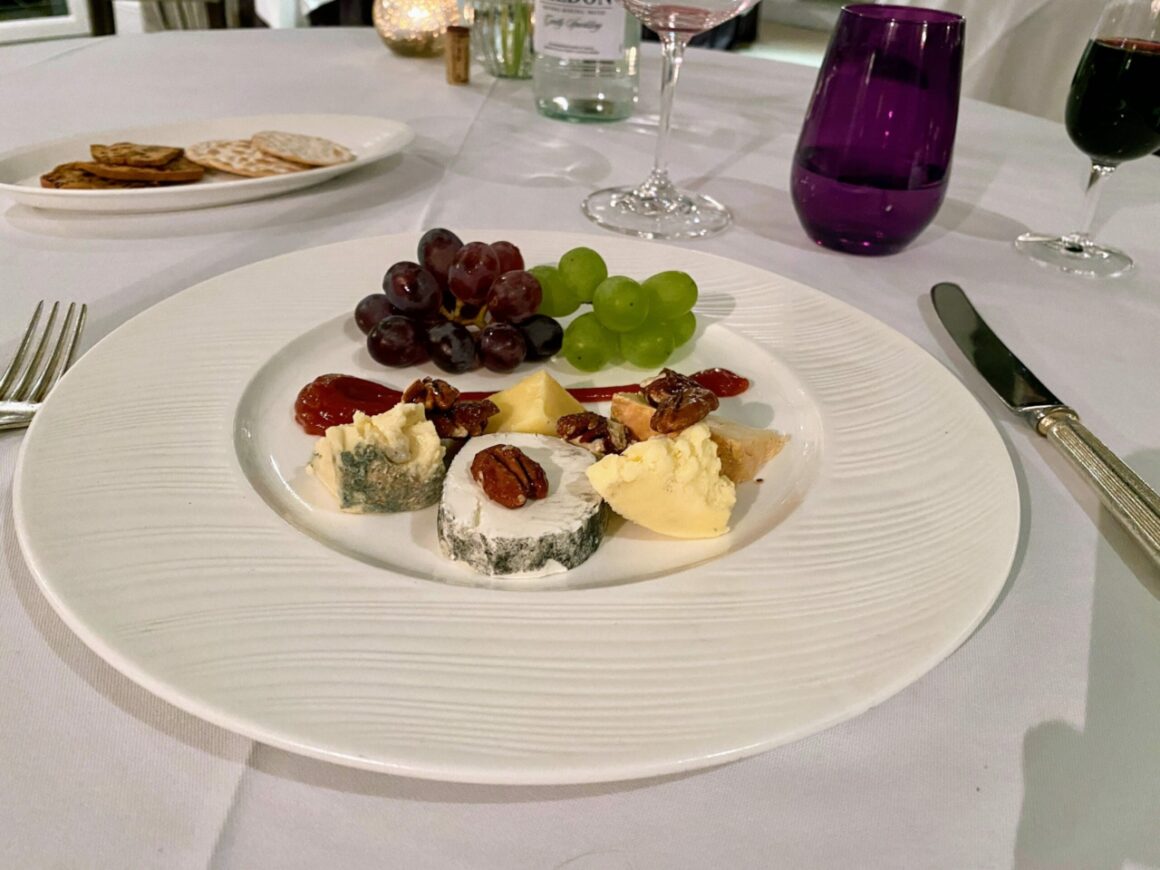 The restaurant is known for its cheese trolley which sadly they were not using due to Covid, but they were expecting to have it back shortly. Instead, they chose a selection for me.
The service throughout was excellent but friendly and they even noticed that I had run out of crackers for the cheese and offered some more.
Longueville Manor Breakfast
There was an extensive menu to chose from but you do need to book for breakfast so they can space people out.
Here is the menu: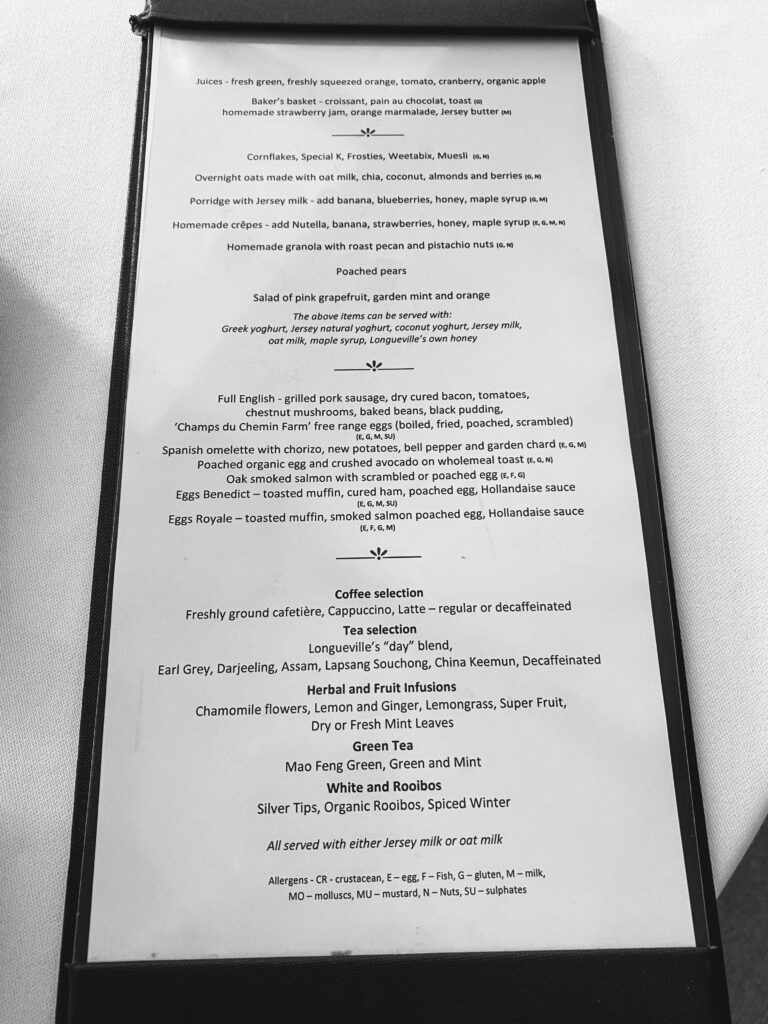 The service was friendly at breakfast, but a little slow. I went for the pancakes with fresh strawberries. I did think it slightly odd that if you wanted fruit, the only fresh thing was grapefruit which a lot of people either don't like or like me aren't allowed.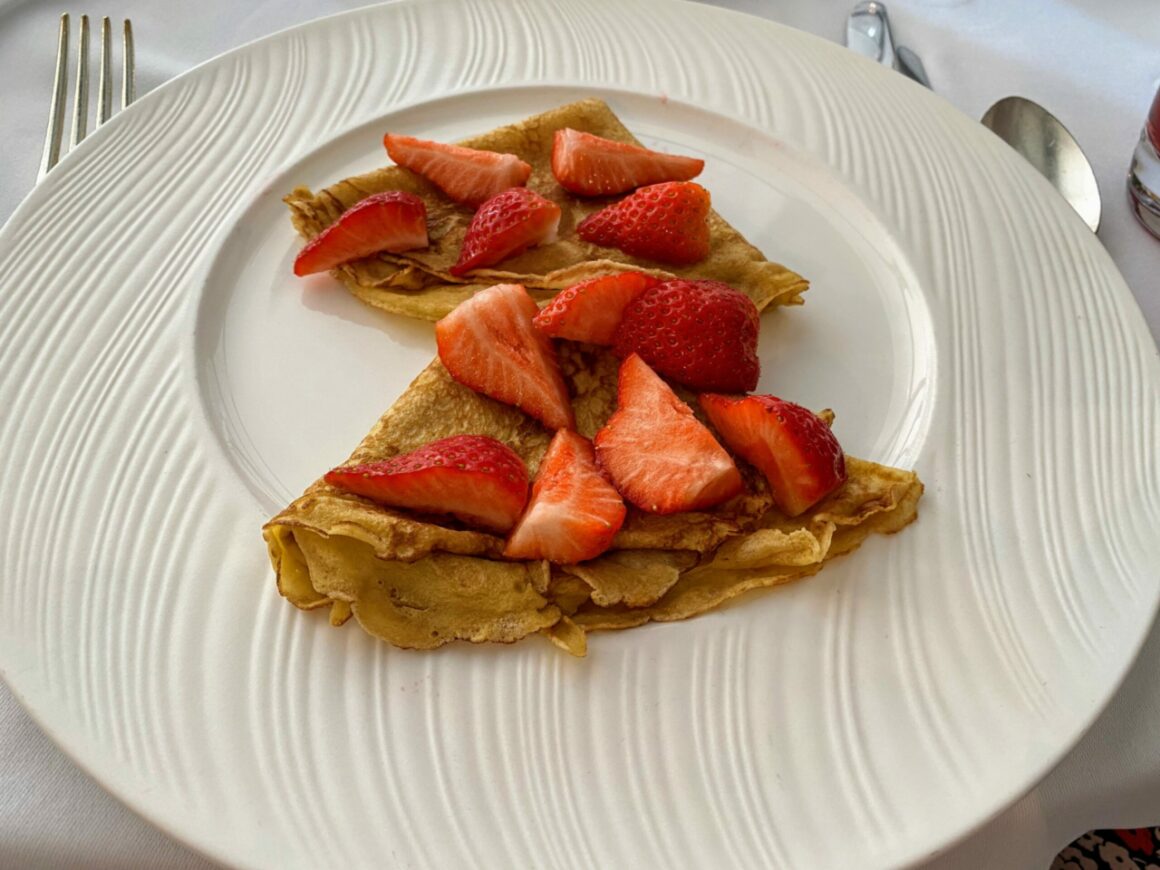 The pancakes were fine but a little dry without some syrup.
The hotel also has plenty of pretty outdoor areas for lunch or afternoon tea in warm weather.
The bar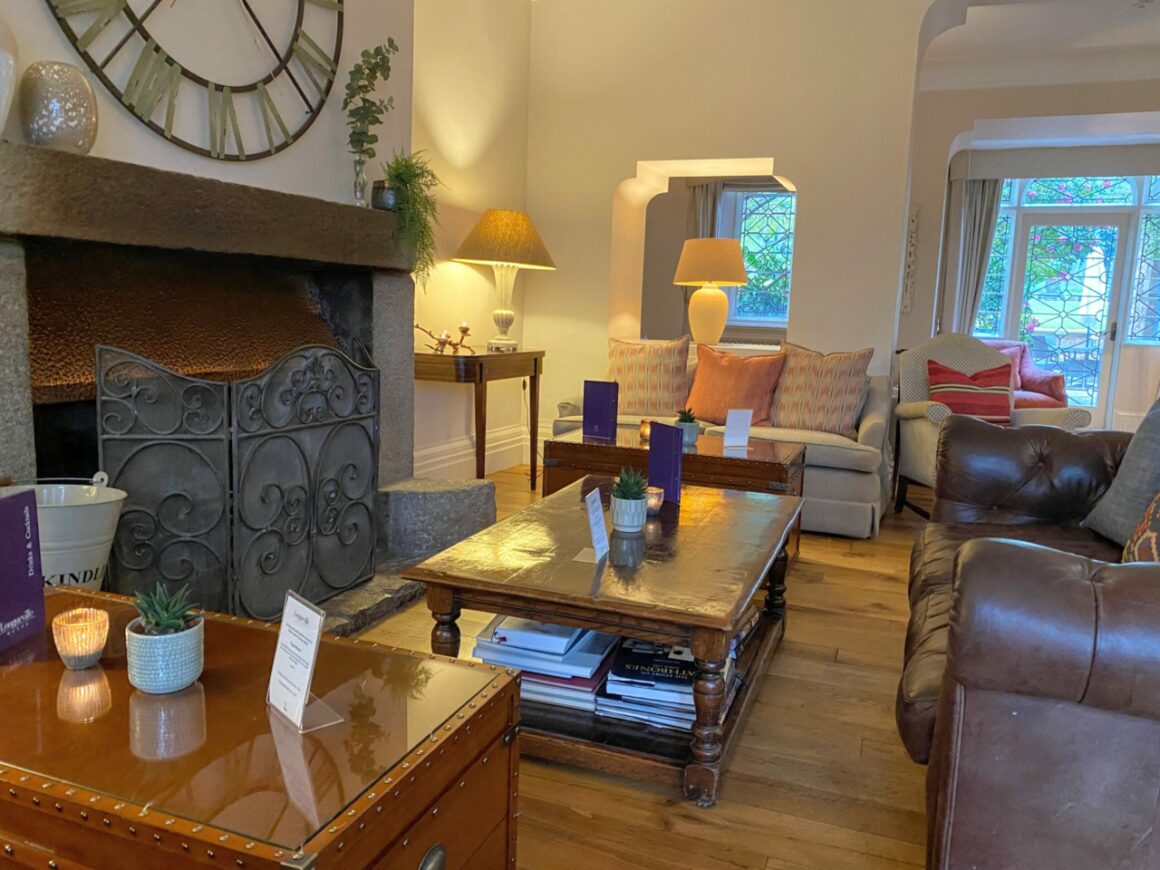 The bar is cosy and inviting with a fantastic friendly barman who will make whatever cocktail you would like or one of their signature offerings. I tried their signature Royal Monty with Royal Mash Vodka, Apple, Lemon, Honey and Thyme Infusion, Lemon Juice, Egg White, Champagne which was delicious.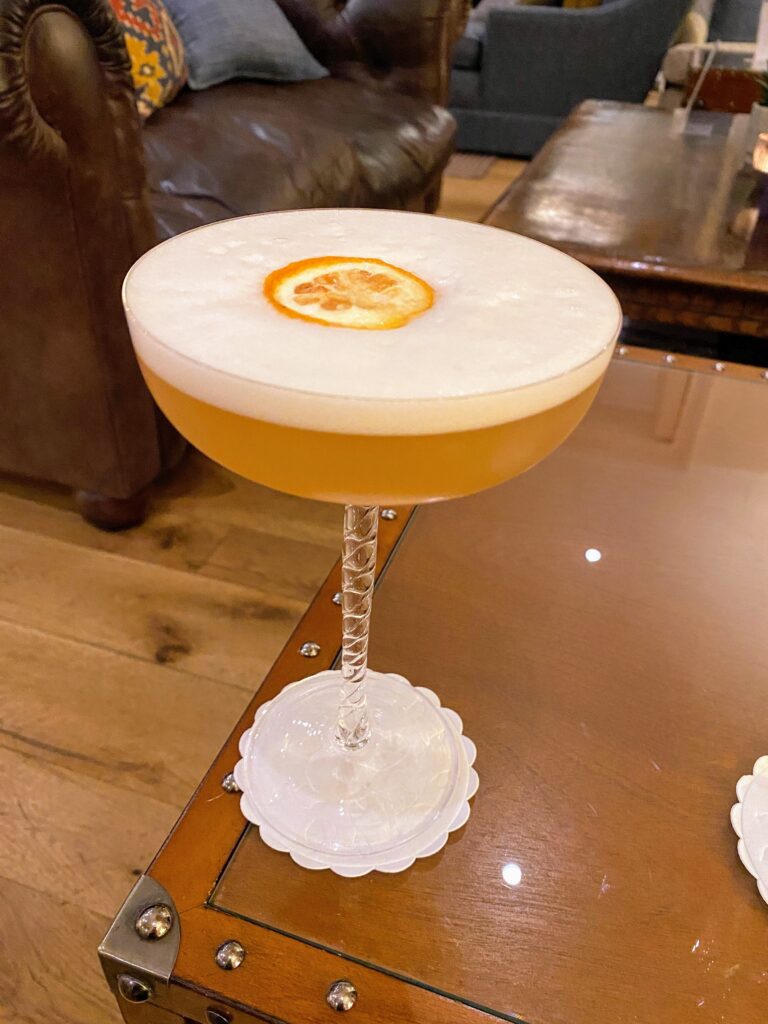 Longueville Manor Facilities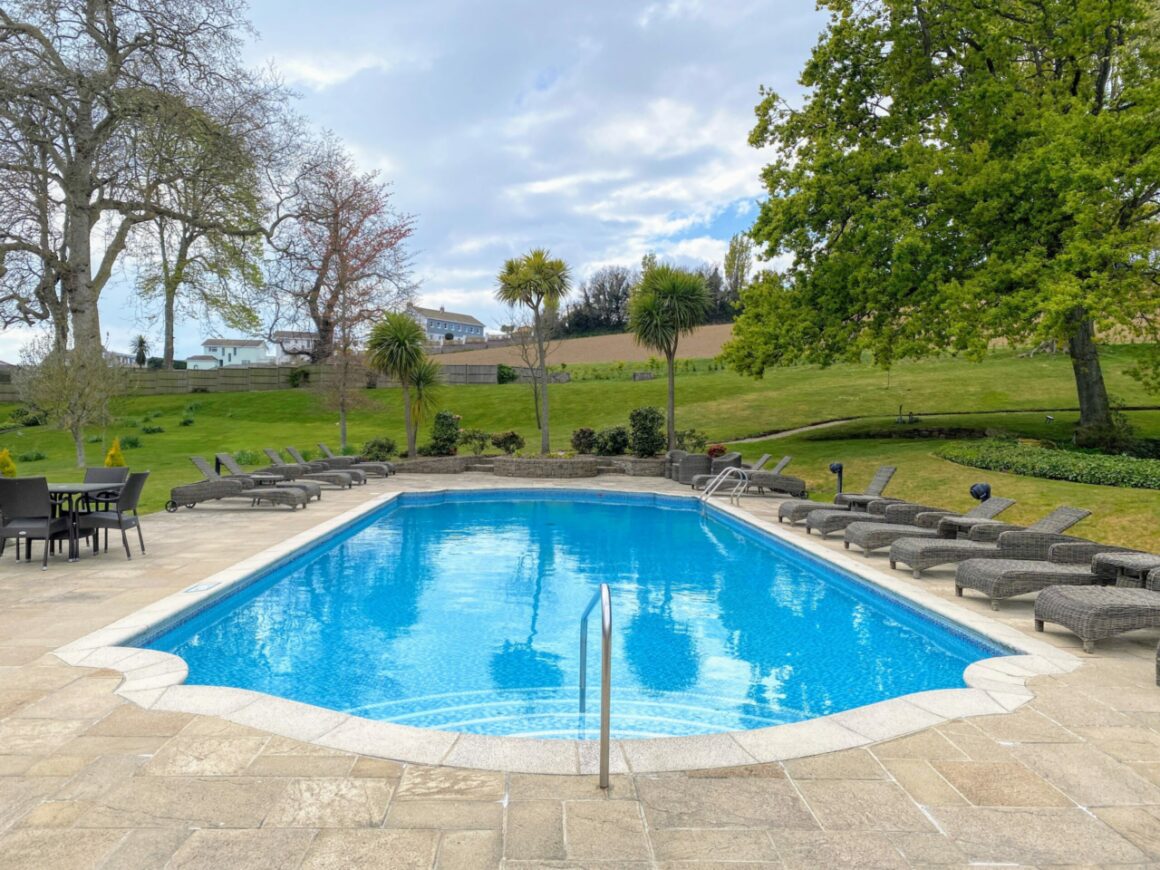 One of the attractions of Longueville is the colourful gardens and variety of things to do. The hotel has a large attractive outdoor pool which is heated from mid-May to the end of September.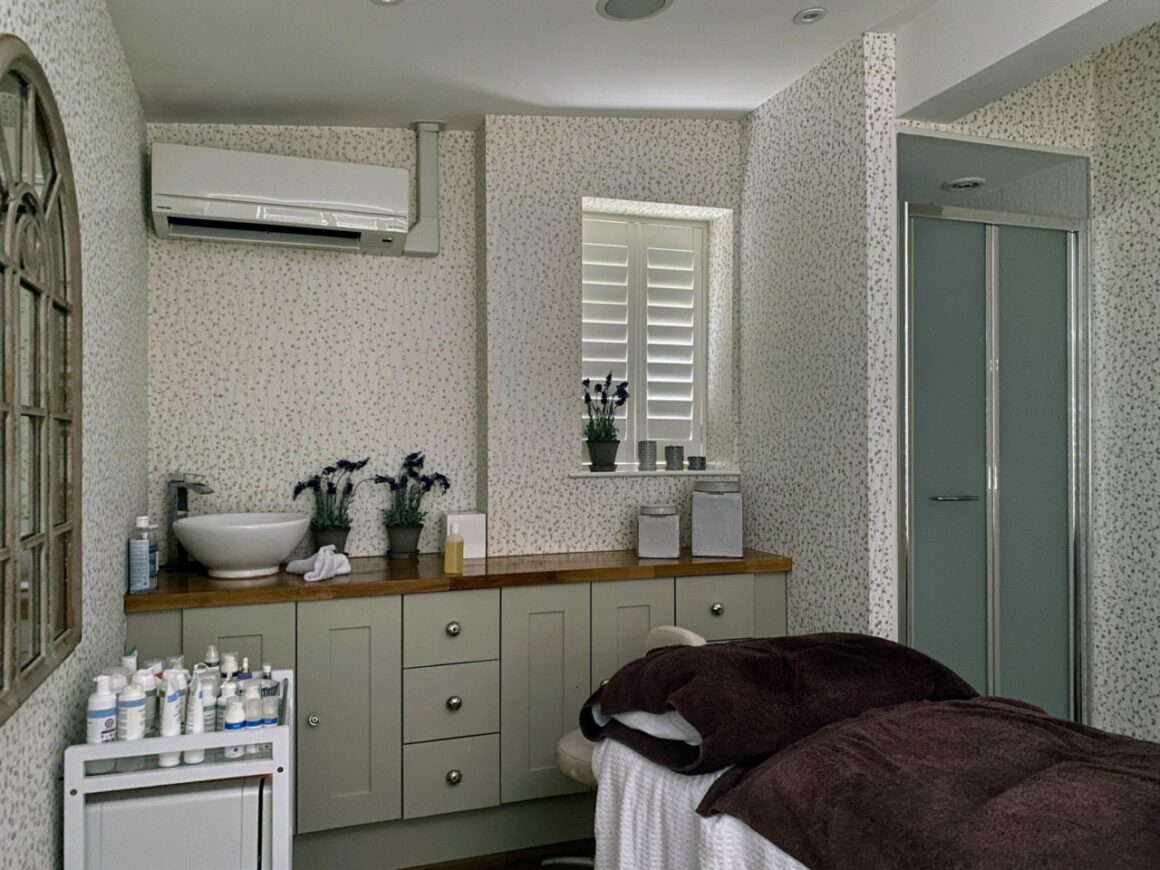 I went to the spa for a head massage treatment. The spa has a country feel and is very small. I did like the outdoor hot tub with loungers next to it though. I was left to wait rather a while before the treatment actually started but the therapist was friendly and professional.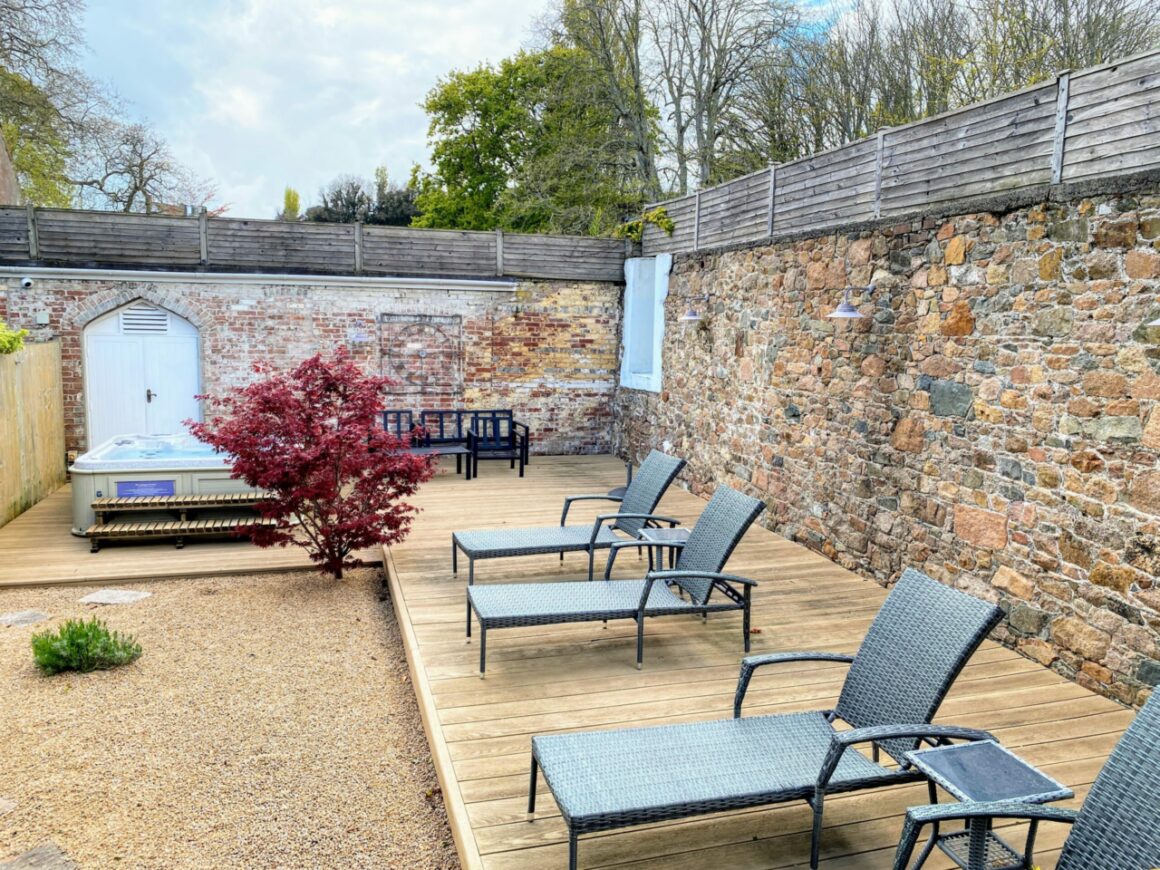 For the more active there is a tennis court on-site plus golf nearby. There are 18 acres of grounds on the estate including woodland and 24 beehives to stroll around.
Conclusion for Longueville Manor
If you wanted a hotel to just chill out for a summer's weekend, this would be perfect. The rooms are luxurious and spacious if a little old-fashioned in some ways. Apart from the whole luggage handling thing, I found the service to be excellent with friendly staff. The restaurant is definitely worth a visit even if you aren't staying here.
Would I stay again? I must admit I do like staying by the sea, but if that wasn't the case then this would probably be my first choice if I wanted peace and quiet.
Longueville Manor gets 5/5 on TripAdvisor which is pretty rare.
You can check prices and book for Longueville Manor here.
Like our Longueville Manor review? You can read other Manor reviews such as Lympstone Manor Hotel & Restaurant and The Manor House Hotel In The Cotswolds