With travel being like a whole new experience at the moment (and not in a good way), I thought I would discuss my flight home in case you are considering Italy. You can read about my outbound flight here. Italy has crept into the red zone for travel corridors, but escaped the cut this week. What happens now is not certain either way.
Check-in and Milan airport

We used a car service to the airport from the Hilton Lake Como. Half of the entrances into the terminal are closed off as a one-way system and we got dropped at the wrong one which meant a long walk to find the BA check-in. If you are going to Milan Malpensa you need the furthest entrance into the terminal. You get your temperature check as you enter.
Having only transited through Milan I had no idea how big it was. Like all other airports, you had to wear a mask all the time. The check-in was quiet and after a minute or two we went up to the Club Europe desk to drop our bags off, The check-in agent was friendly and apologetic that there was no lounge open. I personally don't have an issue with BA not offering a voucher instead of a lounge if their normal lounge is shut. The lounge in Milan is actually pretty good when it is open. We were also given forms to fill in and hand in at the gate. The Italians love their paper forms!
We were allowed to use the fast track security though which was very quick. The majority of shops were open and there was a huge duty-free area with everything from food items to the more usual cosmetics and alcohol.
I had a look around the shops and then decided not to bother with a cafe and go straight to the gate. If you had time to kill there were a couple of cafes open where you can take your mask off for a coffee or some food.
Boarding

The airport was unsurprisingly quiet although our gate was fairly busy. We sat in some empty seats away from the gate but we did struggle to hear tt announcements. The airport makes COVID announcements about every 3 minutes which in effect drowns out the BA boarding announcements unless you are right by the gate. Fortunately, we were in the same seats as the flight out, 1D and F, so we just waited until there was almost no one left! There is no priority boarding now except for those with disability, children etc. Boarding is done in small groups by row number starting from the back.
Well, you will be pleased to know that some things never change and BA were as inconsistent as ever! On the way out you were given the hygiene pack in a resealable plastic bag to put your rubbish in. This time we were just handed the hygiene pack.
Perhaps if they had been giving out the plastic rubbish bags I would not have found a half-used sachet of hand gel in my seat pocket. ?
The flight
The crew were nowhere near as good as the crew out and seemed to be trying to do as little as possible. On the way out despite it being around 3pm, we were offered a drink and some nuts. This time with a 1.15pm departure we just had the food given to us with one offer of a drink. At no point after that did they offer anything else including tea or coffee afterward. The boxes also sat a very long time before they bothered to pick them up. So it's just like before COVID with the luck of the draw what type of service you get. And yes, I know that BA crew have been going through a hard time recently, but I would think at this point they would be happy to see customers flying so that hopefully BA don't need to cut any more jobs etc.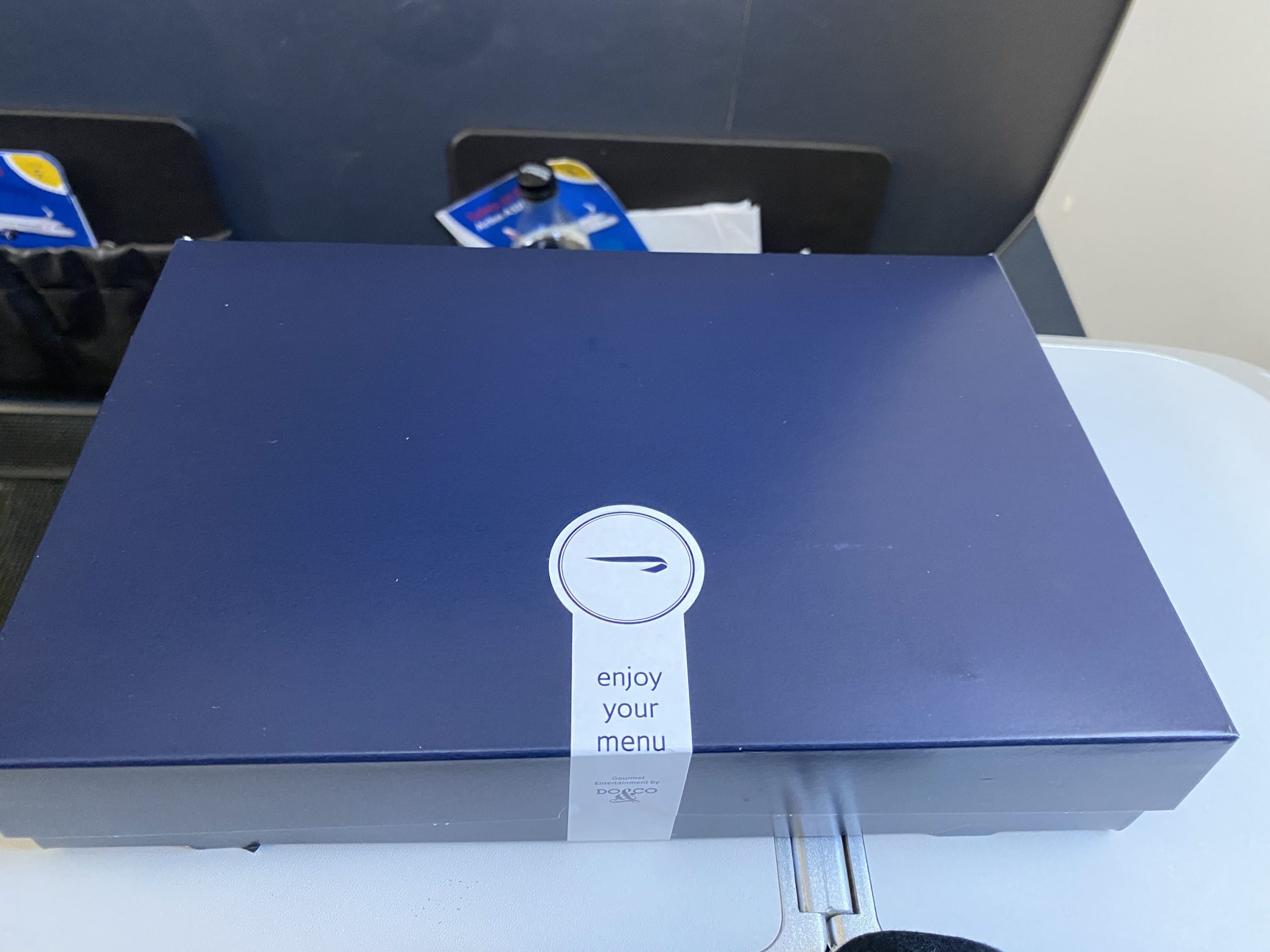 The catering is done round trip and you get the same both ways. Again I understand government guidelines but there is nothing to stop a meal in a box having some variety and better quality ingredients.
The sandwiches were the mostly coleslaw with chicken which is very "wet" but tastes ok-ish or the beetroot and hummus which was a bit flavourless. This time we did get it in a box and with a starter. The couscous salad looked a bit odd with a strange-looking white sauce at the bottom, but it was actually quite tasty with a sort of feta flavour. Shame about the bloody chocolate mousse for the millionth time! Bring back the Tiramisu!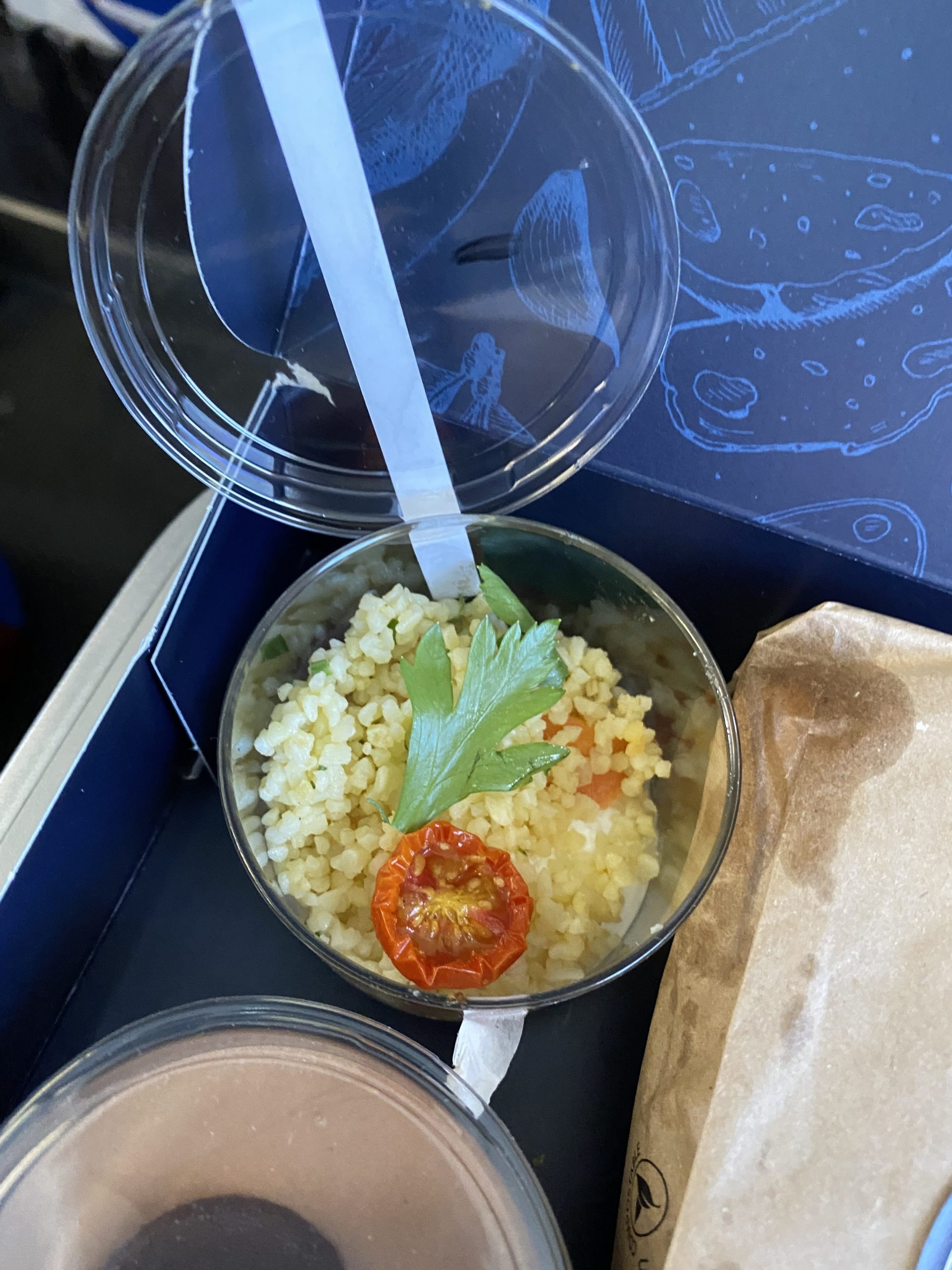 I was driving so stuck to soft drinks but there was the Nicholas Feuillatte champagne and red and white wine in quarter bottles. The usual spirits and beers were also available. The only real change with drinks is the horrible cheap plastic glasses, but at least ice and lemon is back!
Unlike the way out there was Wifi available. I didn't bother buying it as it was being a bit flaky – going on and off again.
Arrival

For some unknown reason we arrived at the C gates so had to take this train. This takes a bit longer than usual so don't hang around when you get off as you will end up at the back of a big queue. It was initially well managed but then as it got busier people were just jumping the queue since the barriers were not very well set up.
They did limit the numbers on board the trains and I felt perfectly safe on board the train at the level it was occupied at.

Once we were back in the main terminal there was not much queue for immigration. Many of my friends have been faced with massive queues which in the current situation is not acceptable. The E gates were functioning and despite having filled in the required UK arrival form, nobody asked to look at it.
Arrivals duty-free is closed but the M&S in arrivals was open which is handy if you want to pick up a few essentials.
Conclusion
Overall safety was managed well apart from finding leftover rubbish on the aircraft. The catering just felt lazy to me. To not even have a different sandwich from the way out and the same dessert on flights for the last few months just feels like they are taking the easy route. There is no way you can blame that on COVID! The sandwiches and salads also do not feel very premium. To be honest, I could have got better from M&S myself. The previous BOB M&S sandwiches were definitely better quality than these ones.
For Club Europe, it is just about acceptable given the current low cost of flights which can be as low as £107 in the sale. I travel in Club currently for the extra space, definitely not the catering!