BA Heathrow lounges update
There's good news and bad news on BA lounges at Heathrow's T5. Let's start with the good news:
The "Millionaire's Door" to the Concorde Room by South security is now open which makes popping out to Boots much easier!
The Concorde Room will now be open until 10pm
The Terminal 5 B Galleries Club lounge is now open – this is the best Club lounge at Heathrow in my opinion, although it's only meant for those flying from the B and C gates. 07:00 – 19:00 except Tuesday and Wednesday
Help yourself alcohol and drinks are back in the Club lounges
North Galleries Club lounge is open 05:00 – 19:00
The bad news:
BA, like everyone else, are having supply issues so the onboard and lounge champagne is in short supply. They have been substituting a very good English wine in the First lounge (Hattingley Valley – one of the best next to Nyetimber in my opinion and much better tan Canard Duchene the usual champagne). In Galleries Club they have prosecco. Hopefully, this will only be a short-term issue, but it's not as some people thought, cost-cutting, just the same issue the supermarkets are having with supplies.
Aer Lingus partners with British Airways Holidays on transatlantic routes from Manchester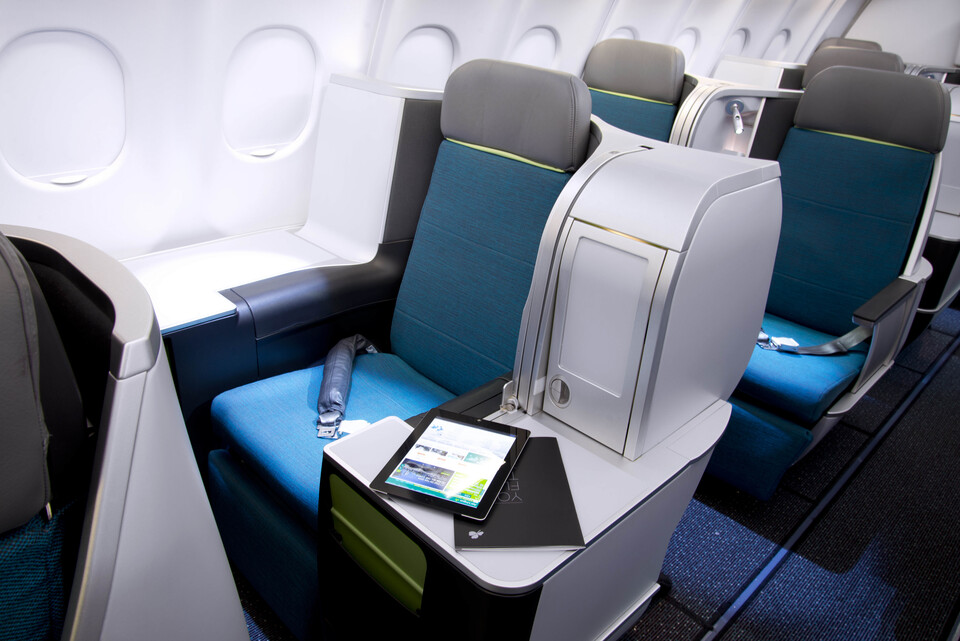 For those that live in Manchester and find flying down to Heathrow a pain when travelling west, the latest news should be welcome. Aer Lingus has partnered with British Airways Holidays to enable UK customers to book a complete package holiday with the Irish flag carrier. Customers will be able to book great holiday packages in Barbados, Orlando, or New York and fly direct from Manchester Airport with Aer Lingus.
Aer Lingus' new routes from Manchester Airport, include services to Barbados from 20th October 2021, New York JFK from 1st December 2021 and Orlando from 11th December 2021. The new packages will enable holidaymakers to search and book their entire holiday – flights, accommodation, and car hire – all via www.ba.com/aerlingus.
The usual BA Holidays terms and conditions apply such as just paying a deposit until 3 weeks before and also the offer for refunds and vouchers. Although nothing has been said officially, I would assume these Aer Lingus flights are operating on a BA codeshare so you would get your usual tier points and Avios plus the BA Holidays 1 Avios per £1 spent bonus.
Susanne Carberry, Chief Customer Officer at Aer Lingus, said: "We are delighted to announce a partnership between Aer Lingus and British Airways Holidays, offering holidaymakers across the North of England convenience when booking trips to our new non-stop routes to the US and Caribbean from Manchester airport.

"British Airways holidays offers choice all in one place, making sure customers can plan their holidays with ease. We believe our transatlantic offering is the best in the marketplace comprising both business and economy cabins and we look forward to welcoming customers on board this summer!"
Aer Lingus Manchester Transatlantic Services:
Manchester-Barbados is a seasonal starting commencing on 20 October 2021 and operating up to three times weekly (Wednesday, Friday, Saturday); the service will operate twice-weekly (Wednesday, Sunday) during school holidays;
Manchester-New York JFK is a year-round, daily service starting 01 December 2021;
Manchester-Orlando will operate up to five times weekly (Monday, Thursday, Friday, Saturday, Sunday) starting 11 December 2021 and will operate four times weekly for rest of winter, following October school holidays (Monday, Tuesday, Thursday, Saturday);
New app for day 2 testing from Randox
Randox, the UK's largest diagnostics company, today announces that it is launching the Randox CertiFly App, a mobile application designed to securely process and certify results for both pre-departure and Day 2 lateral flow tests which start as an alternative to PCR tests on 24th October.
The app, which applies ID verification technology, is designed to simplify foreign travel and easily verify information securely through three simple steps:
Step 1 – Download the Randox CertiFly App and scan your passport to register
Step 2 – Collect your sample using a Randox CertiFly lateral flow testing kit
Step 3 – Scan your result using the app and receive certificate in-app and by email
The app, which is solely for use with Randox Certifly lateral flow tests, is free to download. The lateral flow tests, which are ordered from Randox and cost as little as £20, are then used in combination with the app to capture the individual's ID and securely upload the test result. The identity of users will be validated by scanning passports into the system, with future versions of the app featuring facial recognition software to further increase security.
Available in just 15 minutes, test results are processed using Randox CertiFly's AI software, before being confirmed manually by a healthcare professional. As applicable, a Day 2 or fit-to-fly certificate will then be issued to the user and stored in the app for easy access.
Each Randox CertiFly lateral flow testing kit has a unique single-use QR code that can be registered with the app. Testing kits, which can be purchased from the Randox Health website, include swab, extraction buffer tube, waste bag, tube holder, package insert and test cassette.
The Randox Certifly App is available to download for iOS and Android devices following the purchase of a lateral flow test at covid.randox.com
I have used Randox twice now with no issues, even when we stuck it in a Priority post box rather than a Randox drop box! With tests from £20 and an app to make it easier, this will be my first day 2 lateral flow tests review on my next trip!