Collinson has opened a new drive-through test site at Gatwick's APH car park
Airport Parking and Hotels (APH) has partnered with Collinson to open up a new, drive-through Covid-19 test site, situated right near Gatwick airport.
Only 12 minutes from the airport (by bus transfer), prices start from only £40 for a pre-departure antibody test and go up to £198 for the two tests required under the mandatory testing for international arrivals.
APH has also announced the launch of a 'Super Flex' cancellation policy, allowing customers the option to cancel bookings for a full refund up until their arrival time at the car park testing site. This policy applies to both their Gatwick and Manchester Airport facilities.
Nick Caunter, Managing Director of APH, said that it looks like testing for travel will be around for a while.
"Many people in the UK are eagerly looking forward to a holiday this year and testing looks certain to be a vital enabler for many months to come.

"The Covid testing facility at our APH Gatwick site provides travellers with the option to have their Covid test done at the same location as parking their car, ensuring the start and finish of their holiday is as simple and easy as possible."
In November, the airport opened its first COVID testing site in the Long Stay Car Park at the airport's South Terminal, which is run by Express Test.
London Heathrow also has Collison testing facilities on site, as well as a drive-through Express Test facility. For more info on where to get tested and how much it costs, check out our full airport Covid-19 testing article here.
See prices, testing types and results time below.
| | | |
| --- | --- | --- |
| TYPE OF TEST | RESULTS AVAILABLE | COST |
| Pre-Departure RT-PCR Test | Within 48 hours | £99 |
| Pre-Departure RT-LAMP Test | Within 90-120 minutes | £85 |
| Pre-Departure Antigen Test | Within 45-60 minutes | £59 |
| Pre-Departure Antibody Test | Within 45-60 minutes | £40 |
| Mandatory Testing for International Arrivals | Within 48 hours | £198 (includes both tests) |
| Test to Release for International Travel | Same day (before midnight) for test appointments up until 4pm | £99 |
Marriott International plans to debut the JW Marriott Brand in Spain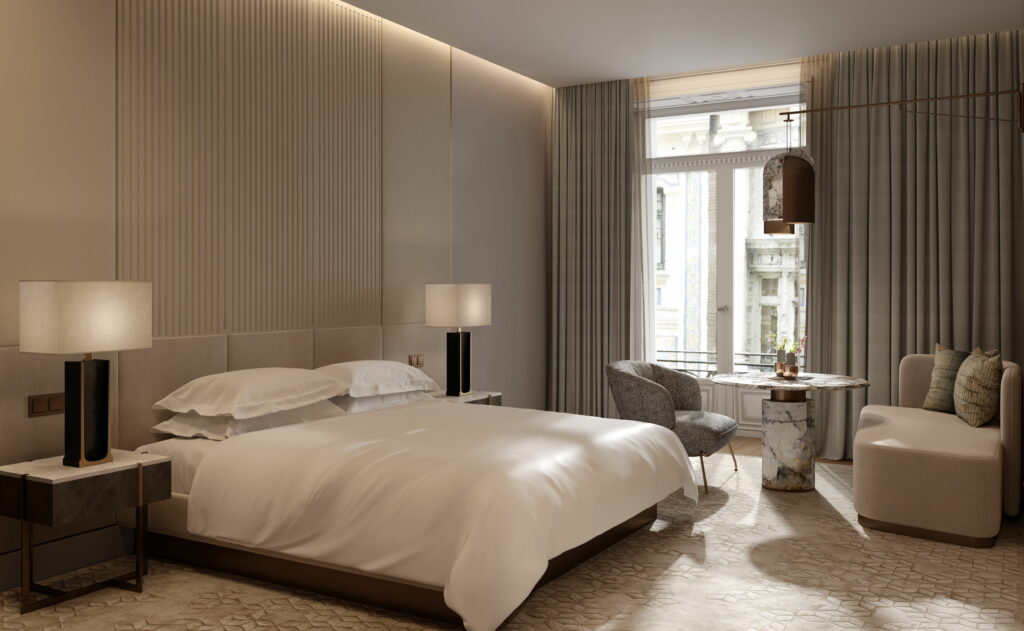 Marriot International revealed in a recent announcement that the company has officially signed an agreement to bring the JW Marriot brand to Madrid, which will provide 'discerning guests a new destination to rediscover a balance in mind, body and spirit, in the heart of the city'.
The JW Marriot Madrid is expected to feature 139 rooms and suites, and a 'fresh perspective on luxury hospitality' in Spain's lively capital.
The property will be located in the central Plaza de Canalejas.
According to Jenni Benzaquen, Senior Vice President and Managing Director, Design Hotels & Europe, Middle East and Africa Brand portfolio, Marriott International:
"Having recently opened our 100th JW Marriott hotel worldwide, we are excited to debut the JW Marriott brand in Madrid. This incredible city is home to iconic architecture, an enviable culinary scene as well as stunning parks and botanical gardens, and the new JW Marriott Madrid is located in the heart of it all."
"JW Marriott encourages guests to be mindful and present, and we believe the brand is particularly suited to today's luxury traveller who seeks enriching, rejuvenating escapes paired with rich culture and exceptional service."
JW Marriott Madrid's central location will provide guests with a perfect base to explore the many surrounding attractions and maximise their stay in this vibrant city. Nearby museums include the Prado, the Thyssen-Bornemisza and the Museo Nacional Centro de Arte Reina Sofia, and the Galeria Canalejas is located directly next door, featuring over 40 boutiques amidst a luxurious setting.
The hotel will be only 20 minutes by car from Madrid-Barajas International Airport.
The hotel will be developed by Millenium Hotels Real Estate as part of their lease agreement with a wholly owned subsidiary of Belagua, and is planning to open sometime in 2022.
Javier Illán, President of Millenium Hotels Real Estate, said that the location is set to be a big drawcard for tourists.
"We are delighted with the acquisition of this spectacular, historical asset and to announce that it will become part of the iconic JW Marriott brand and the first JW Marriott hotel in Spain" he said in a recent statement.

"This property will perfectly demonstrate Millenium Hotels' investment focus to acquire incredible properties to become the very best luxury hotels in prime areas of major cities, operated by the finest brands. In this case, the hotel is in an extraordinary location in Plaza de Canalejas, one of the most exclusive areas of Madrid, with an even brighter future ahead as one of the capital's leisure, cultural, and culinary centers."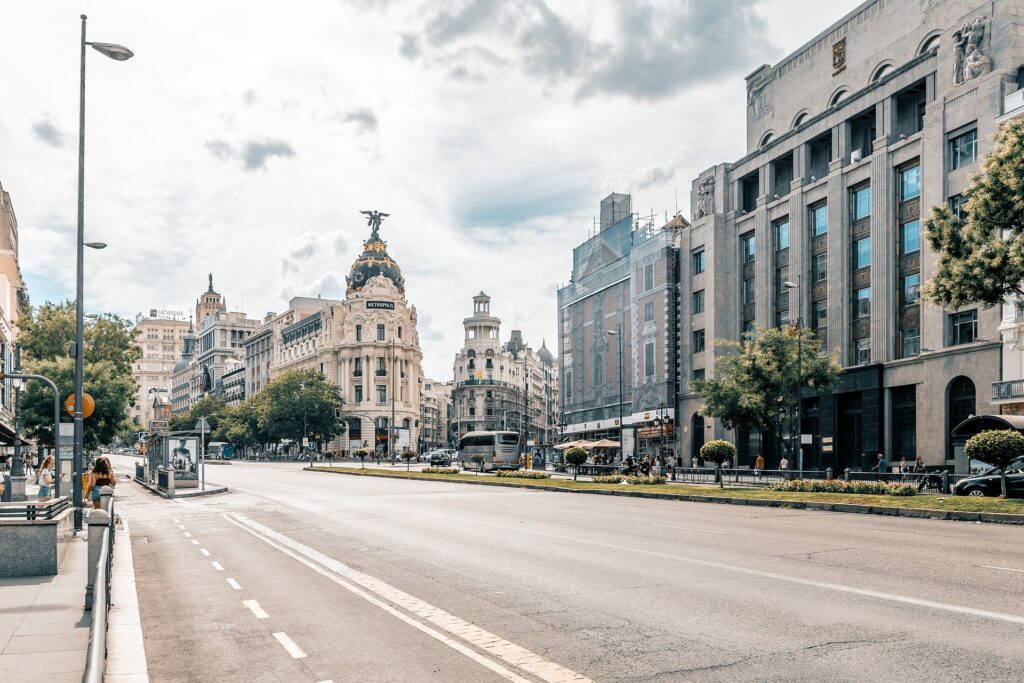 The hotel's design will be orchestrated by local architects Arvo Arquitectura de Juan, with interiors by the Madrid team at Rockwell Group.
The design plans have been inspired by 'the principles of mindfulness', using a combination of natural elements, interesting textures and tactile spaces.
The restored, historical property will offer 139 guestrooms, including two floors for suites; all of which will feature their own outdoor terrace.
There will also be a restaurant, lobby bar and several 'wellbeing spaces'.
Marriott International currently operates 93 properties in Spain across its portfolio. JW Marriott Madrid will join Marriott Bonvoy's growing portfolio of over 7,600 hotels globally.
PaperClip Design's 'Peacock' concept could change aircraft cabins forever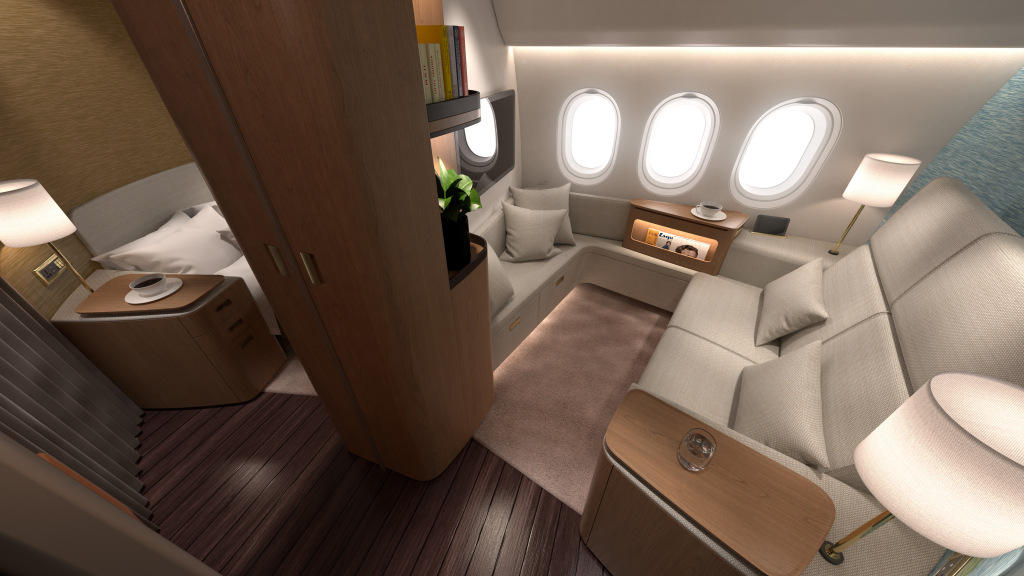 First Class has been a dream of many, and the realm of a few, for decades. As new aircraft and technology have entered the market, the different cabin classes have adjusted accordingly; as first became more luxurious, private and spacious, so too did business, making the benefits of first less enticing for the price tag.
As many airlines outfitted their aircraft with all-aisle business class (many with doors or barriers to increase privacy), the lure of first class changed.
PaperClip Design have recognised the need for a more flexible cabin option as airlines are propelled into the 21st century and (pre-COVID) globalisation steadily rises. The urge to fit as many customers as possible on a flight clashes with the offerings of spacious, yet often unoccupied, first class.
What if the needs of passengers looking for exclusivity, space or privacy could benefit from a space onboard that suits their needs, without the label of it being First Class? That is the underpinning question that inspired Paperclip Design in Hong Kong to, under the banner of their recent concept 'Butterfly Flexible Seating Solutions', create the 'Peacock' layout.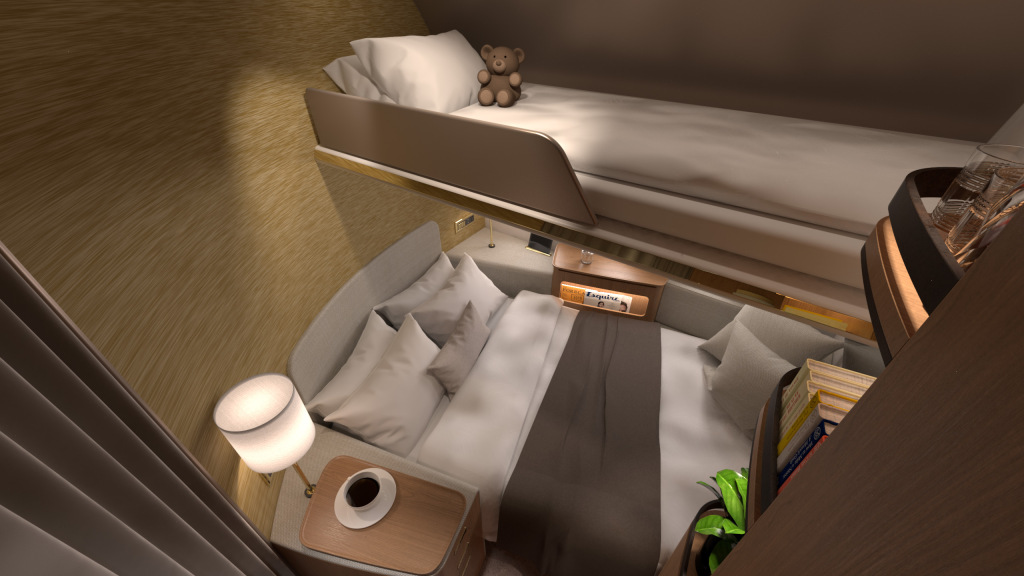 Peacock is a 'fluid and space-efficient layout that allows instant transformation among a variety of configurations to create unique products that suit a wide spectrum of market'.
Not adhering to any traditional cabin class characteristics, the Peacock concept allows the airline the flexibility of instant transformations, comprised of a variety of configurations, to create unique products that suit a wide spectrum of market. This could potentially open up a wider range of revenue options for the airline, as well as pricing and occupancy options for the passenger.
Essentially, the area usually designated for First class will instead be turned into a customisable suite, with adjustable doors being used to change the space on the fly. The design consists of a single aisle configuration (that fits wide-bodied aircraft such as the Boeing 777 or the Airbus A350) comprising of a semi-circular space on each side of the cabin, Y-shaped converging aisles, and a diamond-shaped twin lavatory.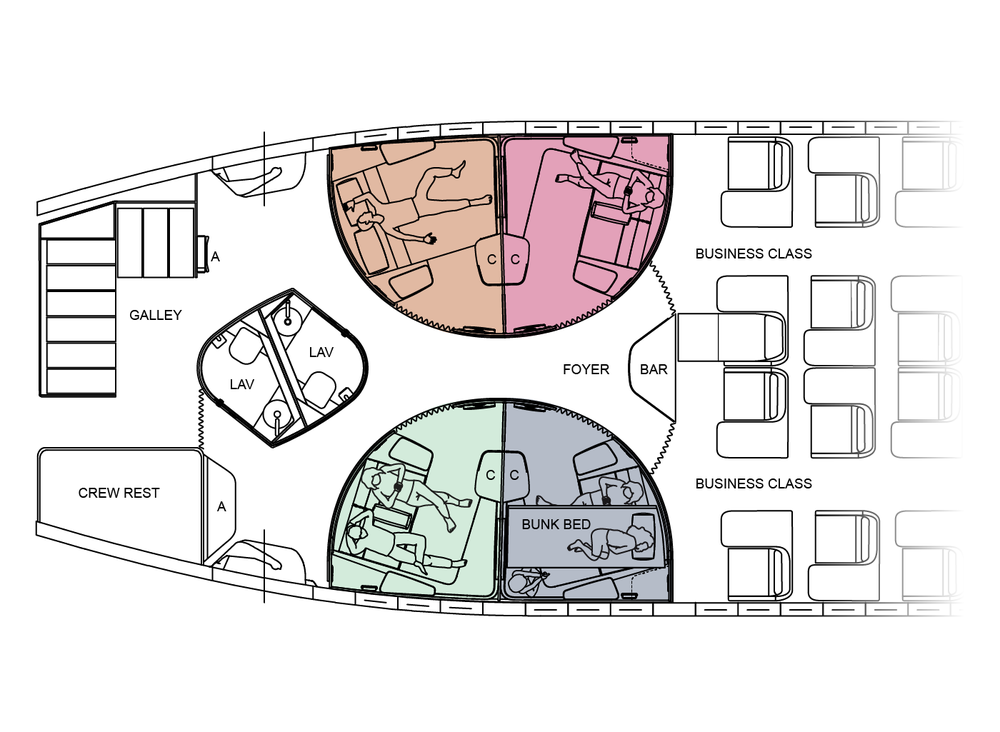 The space can be turned into a range of suite options, including:
Private individual suites
'Honeymoon' suites: similar to the size of the private suite, but for two
Family suites: room for up to four passengers
Co-joined suites, which combine two suites and give travellers extra space
Private, three-room apartments, including private bathrooms
These flexible options mean that the space can accommodate just two passengers in private suites, right up to sixteen passengers if the space is comprised of four family suites. To see how all the options will look, and the concept in general, head here.
It is unclear how airlines would advertise or price these options, though it is likely that they may follow Etihad's example of 'the Residence' and charge per suite rather than per person, meaning it could be a more cost-effective way to have privacy for a family or couple, and a way to truly maximise the benefits of first class for those willing to splurge.
The design in general is minimalist and luxe, though obviously airlines could choose their own colour schemes and materials to match their branding and standards.
The use of curtains over doors, however, will be a non-negotiable feature as it aligns with the FAA standards for multiple occupants, and as doors are required to be clear if they are used, curtains end up being a more favourable option in terms of blocking light and ensuring privacy.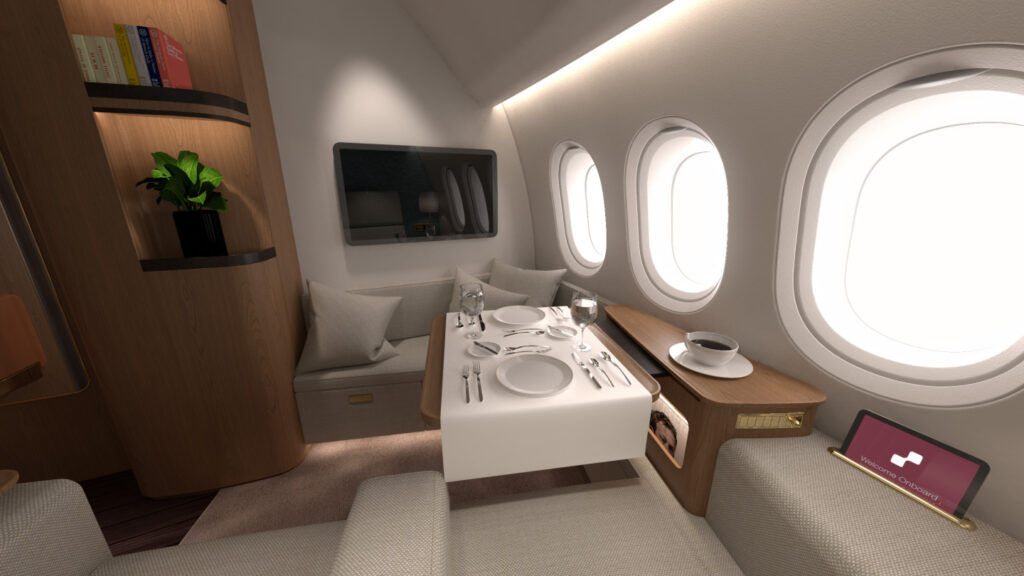 What do you think – does this option represent better value for the consumer? It's no secret that travel will change massively over the next few years. I, for one, am really excited to how the current challenges, combined with new tech and creative thinking, push the industry to evolve.