U.K. to finally introduce testing for international flights
In yet another bid to be ahead of the curve and have world-beating travel safety, the UK government has said that they are planning to announce testing for entry to the UK. It also could apply to departures as the details are far from clear. So about 8 months after other countries started it, and after every major airline and Heathrow's CEO has been pleading for testing, we finally get an attempt by the UK government. It appears at the time of writing this that it may only be "foreigners" that may have to take the test. As we all know of course that only "foreigners" have COVID?! Hopefully, when they eventually announce it officially in detail it will include everyone.
I understand that they don't want to disrupt UK people returning but, given most people entering the country are more likely to be British at the moment, I fail to see what only testing non-British residents would achieve if they have all arrived on the same plane from the same place? And what constitutes a "foreigner"? And either way even if they test everyone, what is the point in testing someone arriving from New Zealand for example? Why they would not go with the system used by most other countries where all arrivals from countries are graded by risk and tested accordingly, I have no idea.
It sounds like you will need a PCR test taken no more than 72 hours before departure to the UK whether arriving by trains, ferries, or planes to the UK. Michael Give told Good Morning Britain "We'll be making announcements later today and in the days ahead about how our ports and airports are safe."
There are also rumours of closing the border completely, but I think this is highly unlikely and it would certainly not be closed to those Brits already abroad.
Qatar blockade over
In 2017 a blockade of Qatar by its Middle East neighbours led by Saudi Arabia, Bahrain, Egypt, and the United Arab Emirates began. The other Gulf states accused Qatar of supporting terrorist groups and criticized its relationship with Iran. Qatar denied all the accusations and refused to acquiesce to their demands. Flights between Qatar were banned from the other countries and Qatar Airways was not allowed to overfly their airspace either.
This had a huge impact on Qatar Airways as it meant longer routes and extra fuel plus the loss of almost all of its short-haul market. It was bad news for frequent flyers who wanted extra tier points or to use Qatar's cheap business class deals to fly to Gulf countries. One of the biggest perks was that the short-haul business class was treated as first class with access to the very luxurious Al Safwa lounge in Doha.
In July 2020 the International Court of Justice, ruled on 14 July in favour of Qatar, essentially confirming that the blockade imposed by the other Gulf nations contradicts the ICAO (International Civil Aviation Organisation, for those playing at home) statutes which give aircraft the right to utilize all available Gulf airspace.
A formal agreement ending the blockade was signed at the Gulf Cooperation Council meeting in Saudi Arabia on Tuesday. This includes allowing the resumptions of flights between the countries and access to their airspace.
BA forcing refunds & Virgin's refund policy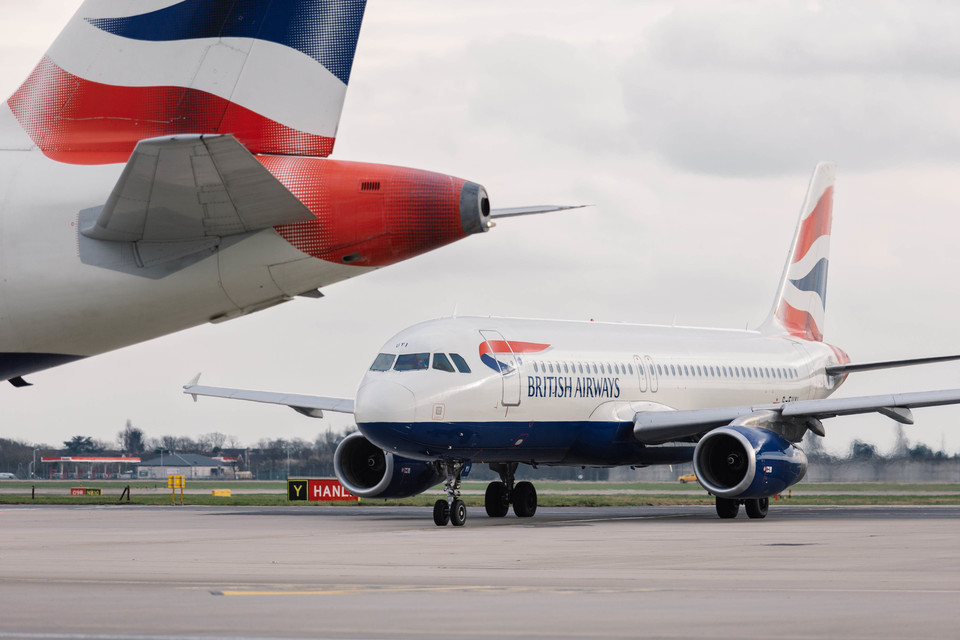 Yesterday I looked at BA's policy of refusing to waive differences in fares for customers who wanted to still fly with BA at a later date. This crazy policy means that BA are actually encouraging customers to take a refund, which is not how I would choose to run a business! To make matters worse, they are now automatically refunding BA Holidays customers even if their flight is still going. If you want to rebook you are then instructed to make a new booking via ba.com.
While I am sure someone thought that this was a great idea as it saves phone calls and means people will have to pay more to rebook, I really think they are losing the plot. In the current situation with low consumer confidence, people probably won't rebook any time soon, especially not it it costs considerably more. Whereas, if you offer someone a chance to rebook the good deal they got, you will keep them as a customer and keep their money!
Here is the generic letter they are sending to BA Holidays customers: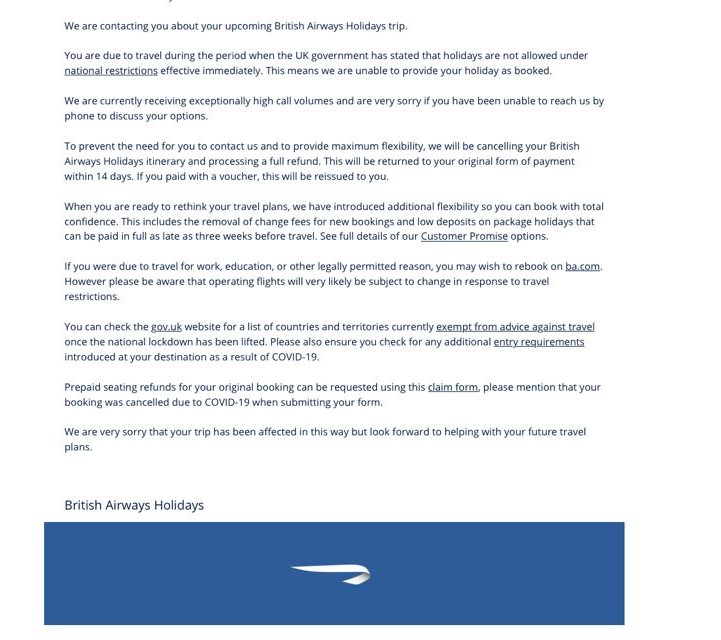 If you call them to try to change the dates, you can only change them completely free of charge within the contract of carriage terms which is 3 days before or 14 days afterward which is obviously of zero use to any leisure travellers. Yet some travellers with exactly the same bookings are being sent a text rather than the email above offering a choice of whether to keep the booking or get a refund. There seems to be no rhyme or reason as to who gets what.
Note these issues only apply so far to flight with hotel bookings or BA Holidays packages. For flight only, you can currently only get a refund if your flight is cancelled. Otherwise, it's a voucher or a fee-free change but you will have to pay any difference in fare. A good way to find the lowest fares on BA is to use the low fare finder.
You can find BA's information page here.
Virgin's refund and change policy

Virgin have announced that they are currently amending their flight policy and will contact passengers if there are any changes. For the Caribbean, Virgin plan to operate 3-4 flights per week to Antigua and Barbados from Heathrow and Manchester for Barbados only. Virgin's policy is not really any better than BA's if I am honest. Unlike BA Holidays, Virgin Holidays do not appear to be offering either refunds for those affected by the lockdown, although it could be because they plan to cancel all holidays. However, even then it states that if they cancel your holiday, you will be automatically sent a voucher even though by law you are entitled to a refund. You can then contact Virgin Atlantic to request a refund, but obviously, they are hoping that people won't since it is difficult to get through. I advise using the text service or what's app. It may take a long time to get a reply but unless it is time-critical, it gets sorted out eventually with a lot less frustration than phoning.
Here is Virgin's flight only policy
If we need to cancel a customer's flight, customers will have the option to rebook or request a refund. To simplify the options for Virgin Atlantic customers, and to provide immediate peace of mind, where a flight is cancelled, we're automatically providing a customer credit equal to the value of the trip. This credit can be used to rebook on alternative dates, allowing for two date changes, a destination change and name change, for travel all the way until 31 December 2022. If the flight is still scheduled to operate, customers have the option to rebook, with a name change and two date change fees waived, for a new travel date up until 31 December 2022.
You can find the relevant Virgin Holidays page here and the Virgin Atlantic flights here.
If you get stranded abroad, you can request to be rerouted on another airline to get you home if there are no flights with your booked airline. Until they do, the airline is responsible for paying for accommodation and food.