Qatar status match reopened – get a year of oneworld status with lounge access
Earlier in the week, I wrote about a very generous status match from Qatar, but everyone was very surprised when it was withdrawn 24 hours earlier than the stated time on the website. It seems that Qatar has realised it confused everyone and reinstated until 21.59 tonight, Saturday 23 May Qatar time or 22.59 here.
You will need to have status with Emirates, Etihad, Singapore Airlines, South African Airways, Turkish Airlines or Virgin Australia. You must send the documents by 23.59 23 May 2020 Doha time which is 21.59 in the UK. This will then give you 12 months of status with Qatar and the chance to renew for another 2 months for much less tier points than usual.
You can find the full details in my previous article:
Qatar status match – ends 20 May If you are worried about losing your BA status with their current lack of a blanket renewal, this could be a solution if you have status elsewhere. Depending on your level of status elsewhere it could allow you to keep getting perks such…
HT: HfP
British Airways drops Charleston

One of BA's most successful new routes has been Charleston in the US. Loads on the route have been extremely high until the recent crisis. Trying to get an Avios redemption on it was also tricky due to the high loads. Sadly BA will not be reinstating the seasonal route this year. It may seem a strange decision given the popularity of the route but given that they don't know when and if the US policy banning European travellers will be lifted, it is understandable. Even if they lifted it in the next month per so, it would make sense for BA to concentrate on major airports as then passengers could simply connect on to other airports using AA.
Charleston Airport officials announced on Thursday that BA will not return this calendar year, after continually cancelling its twice-weekly service that was scheduled to run from March through October. American Airlines is due to restart services to Charleston in the next couple of months along with Delta.
Heathrow thermal imaging trial starts

Sadly today we are due to hear about the government's plans for quarantine in the daily briefing. This seems to be far too late and unless there is a substantial change from what has already been discussed, ill thought out. In the meantime, Heathrow continues to try different ways to ensure passenger safety.
Yesterday thermal screening technology started to be trialled in Terminal 2's immigration hall to detect elevated temperatures of arriving passengers. Learnings from these trials will be shared with the UK Government, to aid the rapid creation of a Common International Standard for health screening, needed to unlock global trade and travel.
The technology under trial uses camera detection systems capable of monitoring the temperatures of multiple people moving through the airport. Passengers will be alerted to the trials through signage placed at the immigration hall, but will otherwise see no visible change to their arrivals journey as no other screening methods will be needed. No personal data will be stored or shared through these trials.
If successful, the equipment may be rolled out across the airport into departures, connections and colleague search areas to further stress-test its capabilities. Heathrow is clear any measures or technology must satisfy certain tests if it is introduced as mandatory in the future, including satisfy medically grounded science; able to build confidence amongst passengers; and be practical for airports to deliver.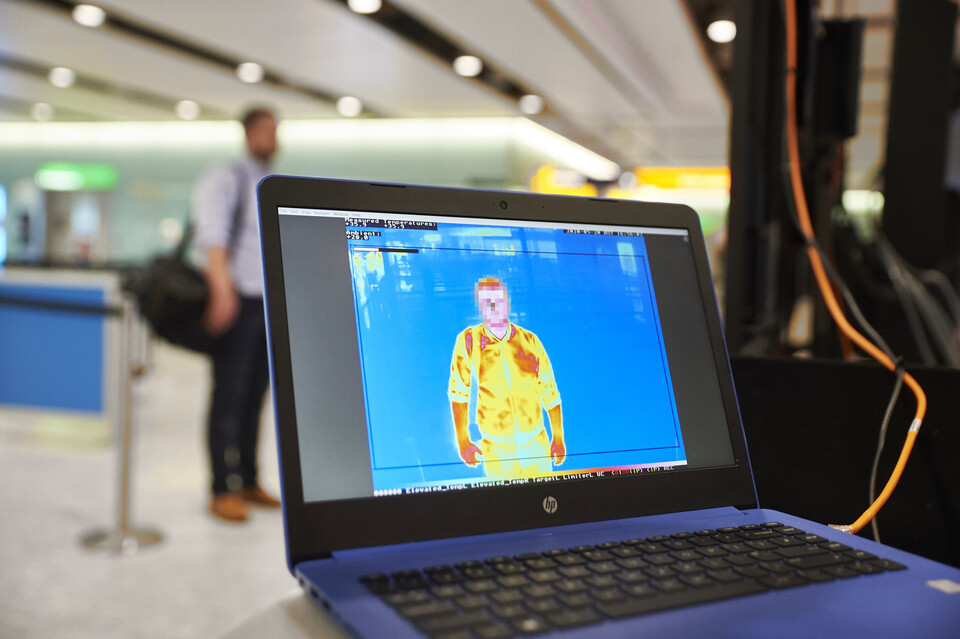 Temperature screening is part of a wider set of processes and technology set to be trialled at Heathrow that are looking at how the risk of contracting or transmitting COVID-19 while travelling can be reduced. From this week, all operational Heathrow colleagues will be wearing face coverings and will be handing out face coverings to any arriving and departing passengers who do not have their own. This is in addition to the provision of over 600 hand sanitiser stations, enhanced cleaning regimes, prominent signage featuring government health advice, perspex barriers for frontline contact points and social distancing reminders.
Heathrow will also explore the use of UV sanitation to quickly and efficiently sanitise security trays and contact-free security screening equipment to reduce person-to-person contact.
The launch of the trials comes as the UK Government considers the implementation of "air bridges" across destinations with low COVID-19 risk, to protect public health while enabling the travel of goods and services that is needed to kick-start the economy. Current expert advice suggests that temperature checks at UK airports are not required, however, it is hoped learnings from this trial will help governments introduce the policy framework leading to a global Common International Standard for health screening.
Heathrow CEO John Holland-Kaye said:

"We welcome the Secretary of State for Transport's 'air bridge' proposals to allow trade to continue between destinations with low COVID-19 risks.

To unlock the full benefits of aviation for the economy, a Common International Standard for health screening must be agreed by the global authorities – and the technology we are trialling now could be a part of this solution.

As one of the world's great trading nations, the UK should take a lead in setting a global plan to reopen borders, when it is safe to do so. This will help protect millions of British jobs that rely on aviation, but are currently at risk."
British Airways PayPal refund issues
If you are waiting for a refund from BA and used PayPal, you could be in for a long wait. BA are currently experiencing disruption between BA and PayPal systems to process a number of refunds. This means that some customers are seeing only a partial refund for cases processed since March 2020. BA are aware and are working with PayPal to fix this as soon as possible, but you can expect quite a delay in getting your refund through.