I am generally a fan of A380s on the upper deck. It is about as close as we will get for the moment to the upper deck of a B747 which is one of my favourite ways to fly. Add that to Qatar's great onboard bar and a fantastic ticket price and I was on to a winner!
Qatar A380 business class review – Check-in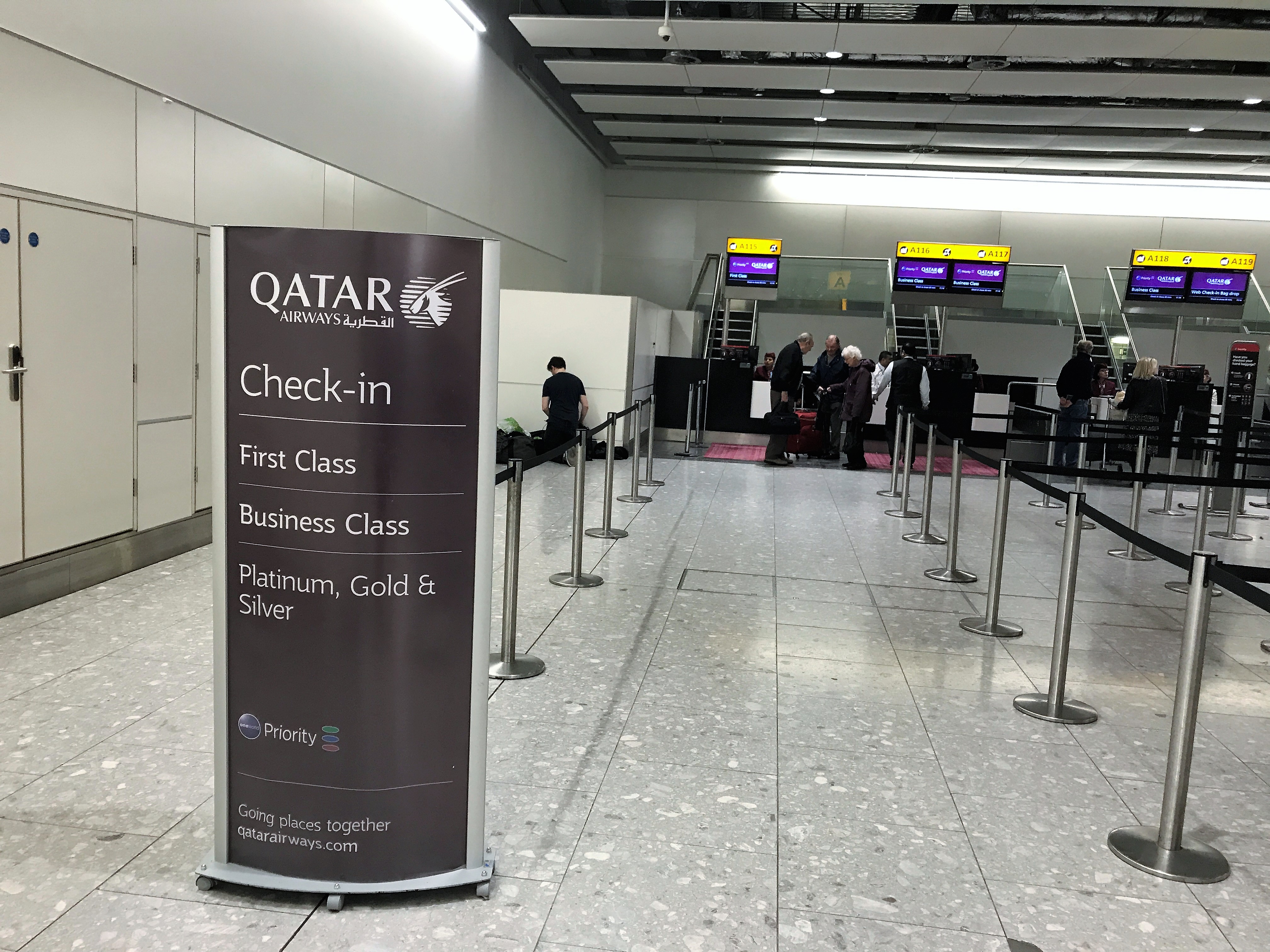 Check-in at Heathrow's Terminal 4 was swift and polite. There was virtually no one in the queue as we arrived very early to make the most of the lounge.
Lounge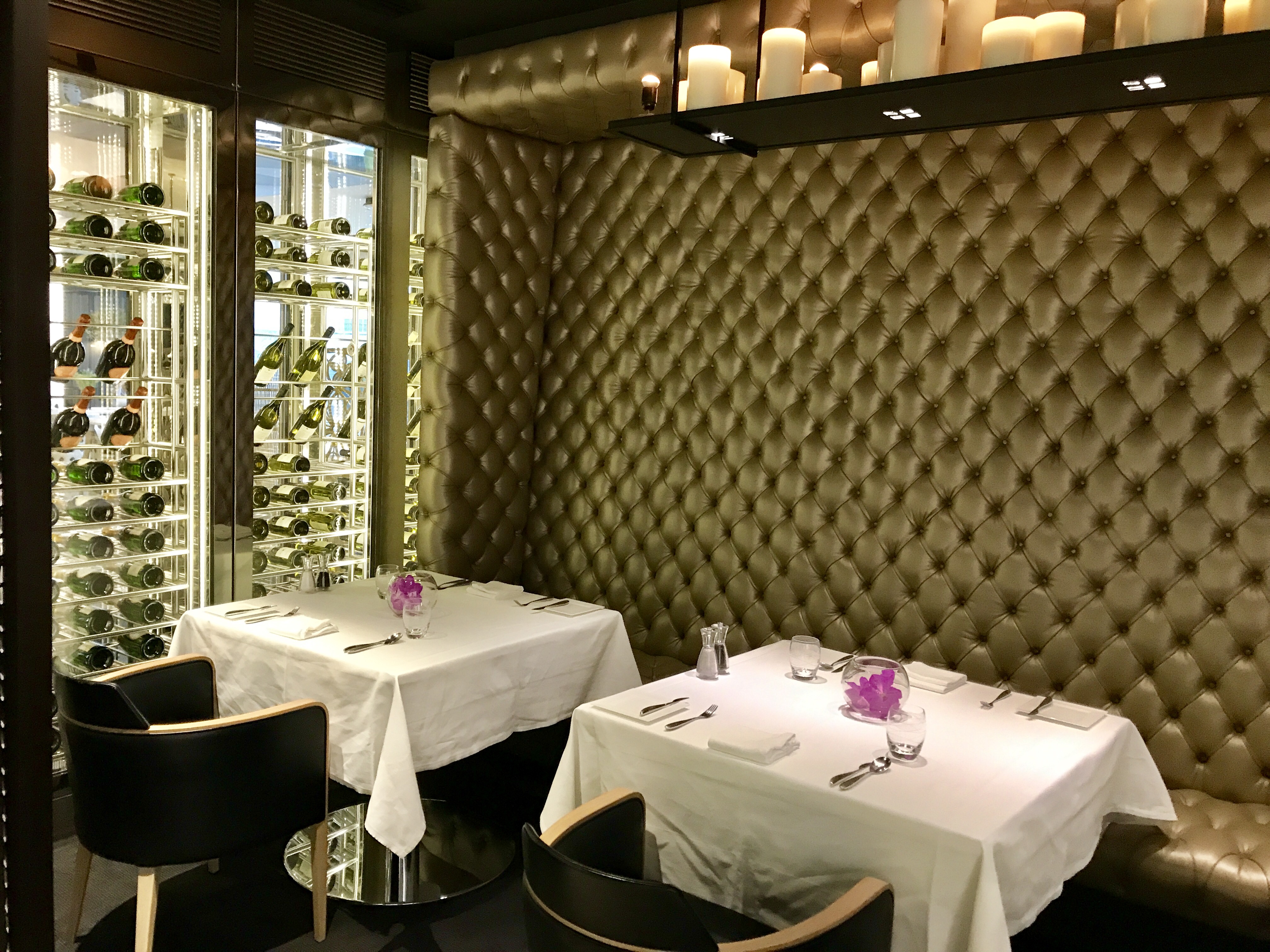 I used Qatar's London lounge which you can read about in my review of  Qatar's First & Business London lounge here. In summary, it is a great lounge with excellent food, wines and cocktails but the service wasn't quite as good as Etihad's lounge at Heathrow.
Boarding
I had asked to get on early to be able to take my 360 photos and I was impressed by how accommodating the lounge staff were. One of the duty managers personally escorted me onto the plane apologising as it was only a few minutes before the rest of the passengers due to the late arrival of the incoming aircraft.
At the seat was already a wash bag, blanket and a bottle of water. Once I finished with my photos I was offered a hot towel and a drink of my choice, I went for the Lanson Rose Champagne. I really like the long-stemmed elegant glasses it was served in but I am not a fan of either Lanson champagne. I wish they would have the Laurent Perrier they had in the lounge. The menu was presented to me and the cabin crew member and CSM both introduced themselves to me. The cabin crew member also pointed out where the headphones were and that I had a bottle of water.
The seat
Post from RICOH THETA. #theta360 #theta360uk – Spherical Image – RICOH THETA

The 48 seats on the A380 are very similar to Qatar's B787 and A350 seats and are arranged in a 1-2-1 configuration. Business class is all in one cabin, so I went for a window seat in the middle of the cabin that wasn't too close to the galley or toilets.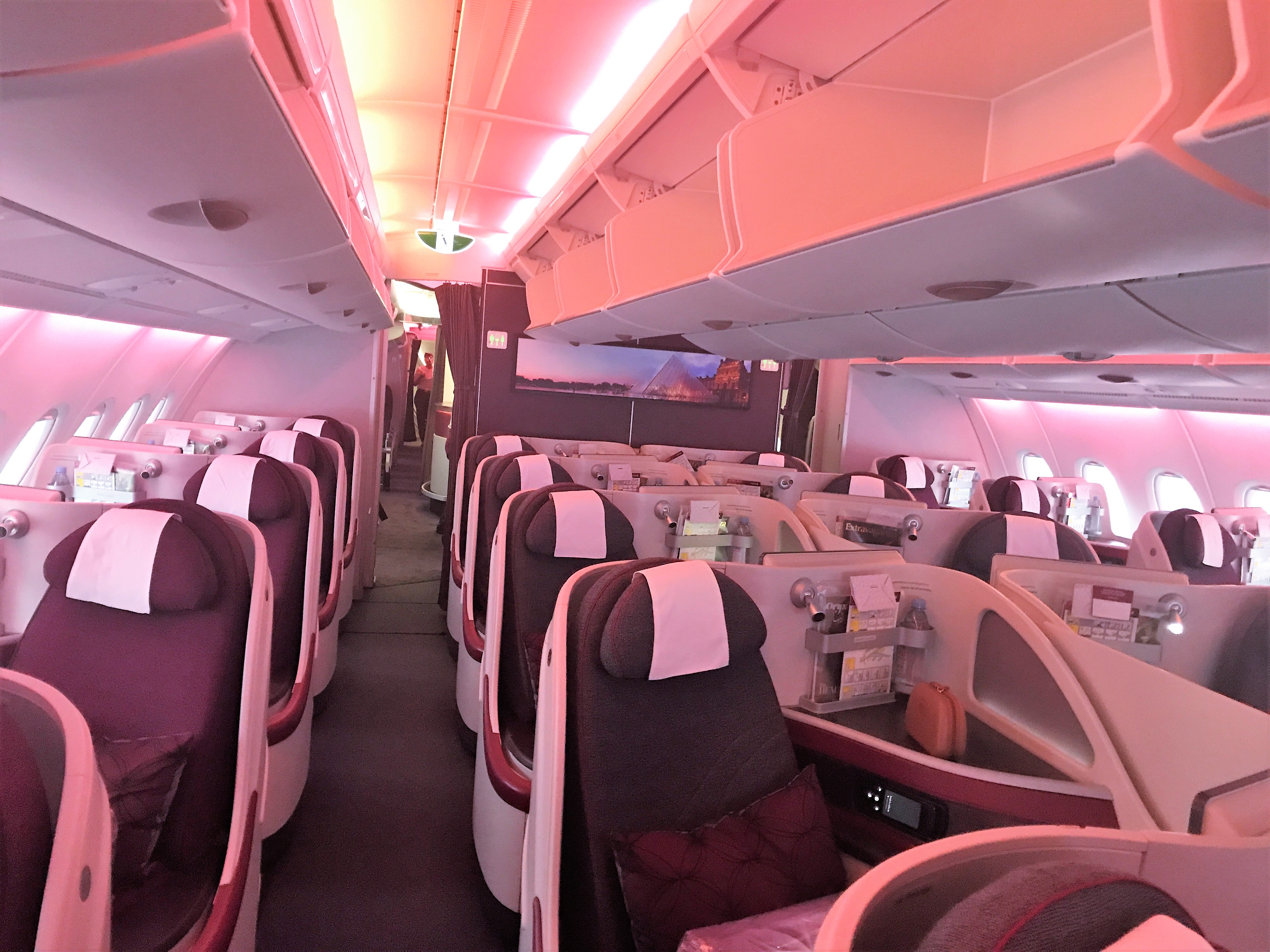 Business class is on the upper deck which means the window seats get the extra side bins for extra storage. Due to the seat configuration, they were not that easy to reach and if you had short arms you may struggle to reach things at the bottom. It was useful for larger items such as bags, blankets and pillows though. The overhead bins were quite small at the window seats but there was more room in the centre bins if you needed it.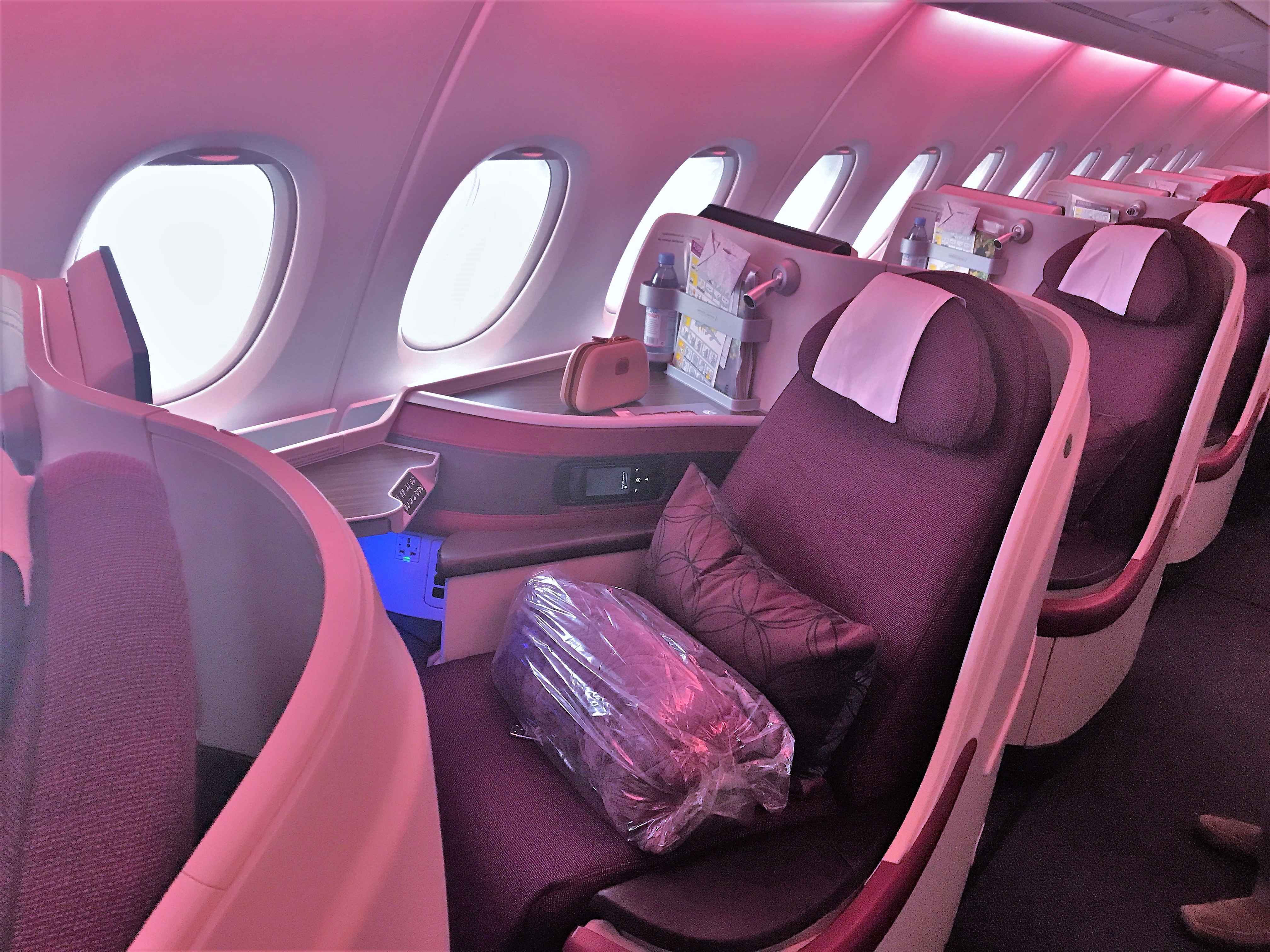 I find these seats very comfortable both for sitting and sleeping. Although other airlines have similar versions to the Qatar ones, I find these the best.
There was plenty of storage solutions for everything with lots of attention to detail. There was a water bottle holder, headset storage, side bins and under the table was a large flip top storage area big enough for a small bag.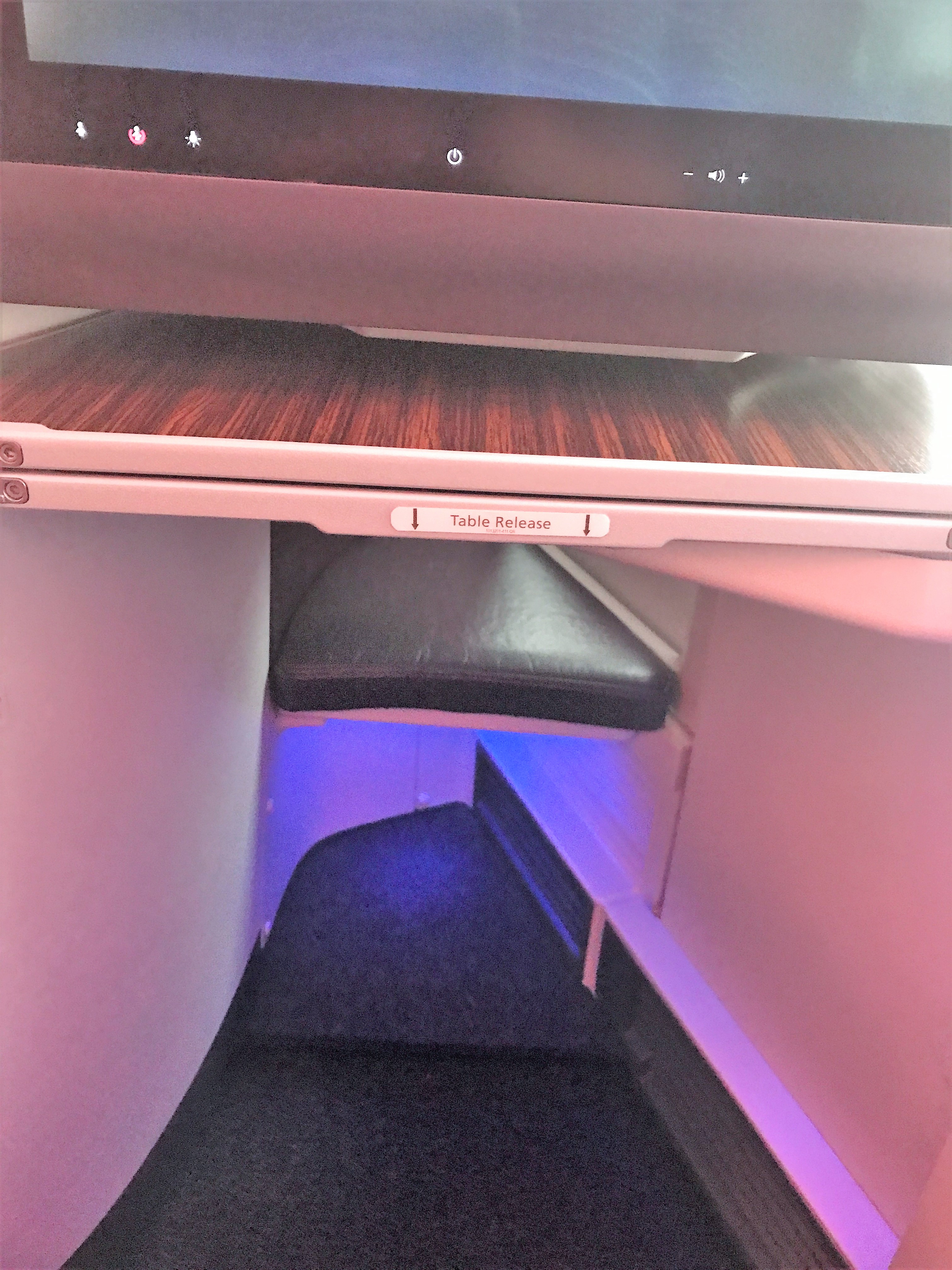 The seat could be adjusted either with the physical controls at the side or using the handset controller. The seat had plenty of options to find a reclined position to eat, work or relax. The foot ottoman was not too far away and well padded. Although it was tucked under the TV and looked a bit narrow I didn't find it an issue even when lying down. When fully reclined the seat was comfortable for sleeping too. The bed is 30″ wide and 80″ long plus the seat is a decent 22″ wide.
The table was large and steady so it was fine for typing if you wanted to work. I could also fit my iPad on the table during dinner which is always a bonus.
Amenities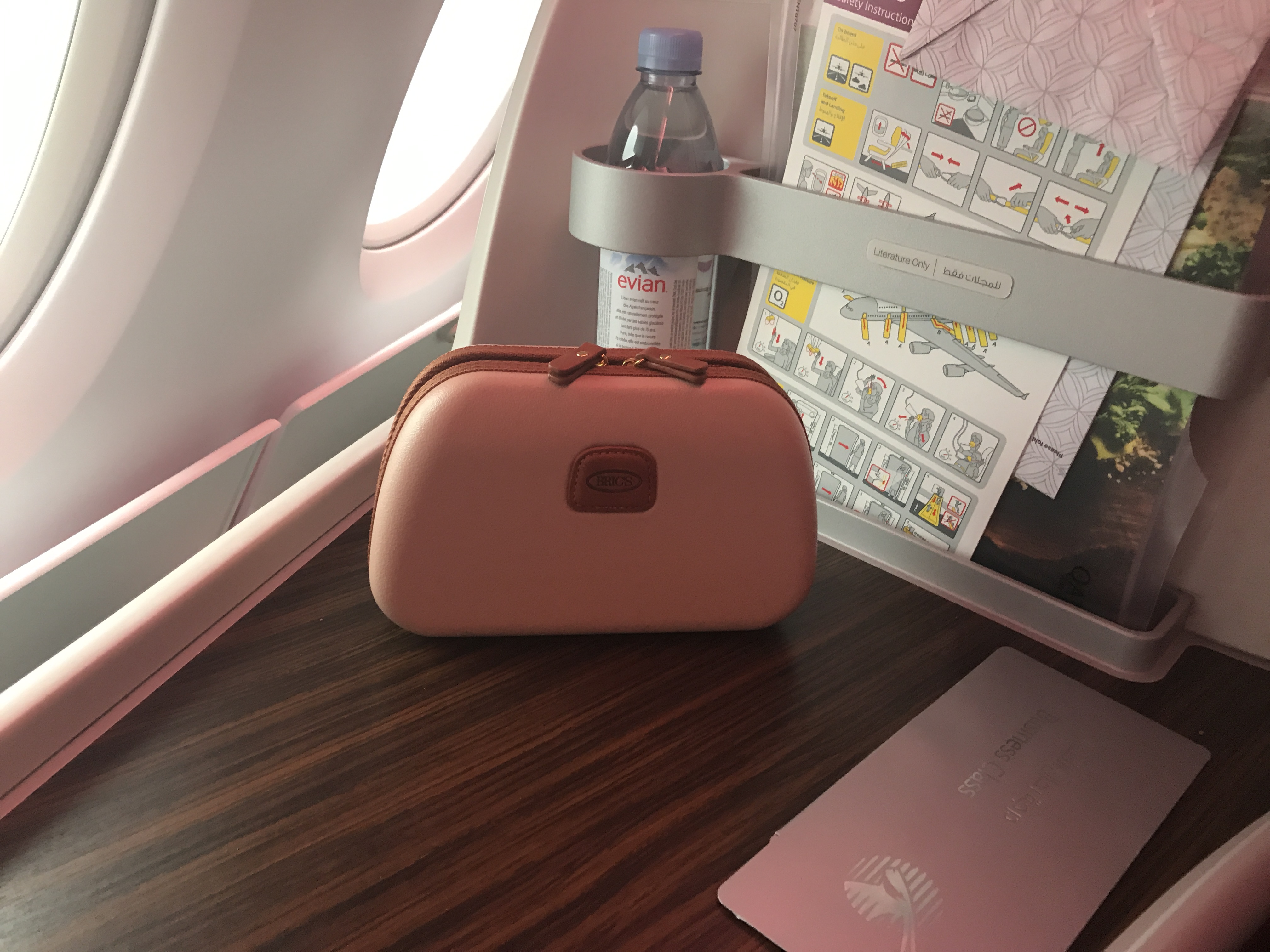 As this was not a night flight there were no pyjamas. On the seat was a day pillow and a quilt so you could still have a doze. You only get a proper pillow on night flights.
The amenity kit was the new BRIC'S one which I much prefer to the old ones. The new ones have products I actually use rather than just perfume. The kits come in several different colours and they seemed to try to give the blue ones to the men and I got more neutral ones. The kits contained earplugs, eyemask, socks in a colour to match the bag, hydrating face spray, anti-ageing moisturiser and lip balm. The facial products had a lovely fragrance and were good quality as well as a decent size. I particularly liked the facial mist which was very refreshing.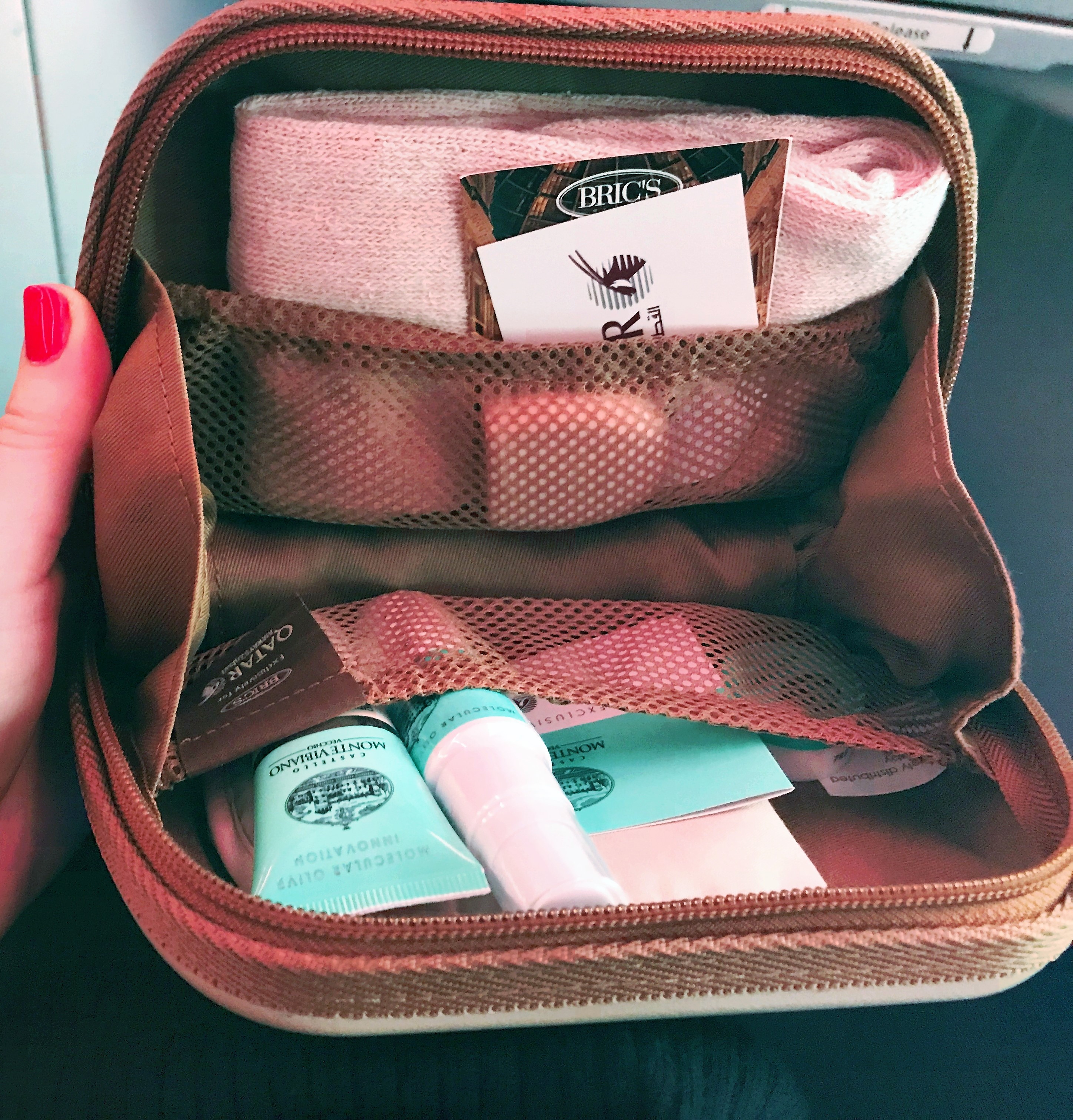 Food and drink
Qatar offer a dine one demand service so you can eat at any time. We had eaten in the lounge so opted to wait very slightly before having our food, which was no problem. We were offered a drink and warm nuts before the meal. Naturally I opted for Chmpagne but had the brut this time which I liked less than the Rosé. Here is the menu and wine list:
The table was laid up with a stylish white tablecloth, cutlery and ceramic salt and pepper shakers. The whole thing felt more like first class than business. There was a selection of warm bread in your own bowl and you were offered a choice of different olive oils to accompany it. I opted for the garlic one which was delicious but quite subtle. The cabin crew member serving me was excellent. She noticed that I had eaten one of my bread rolls and brought me another the same without being asked. The bread was lovely, not too doughy and quite fluffy in texture.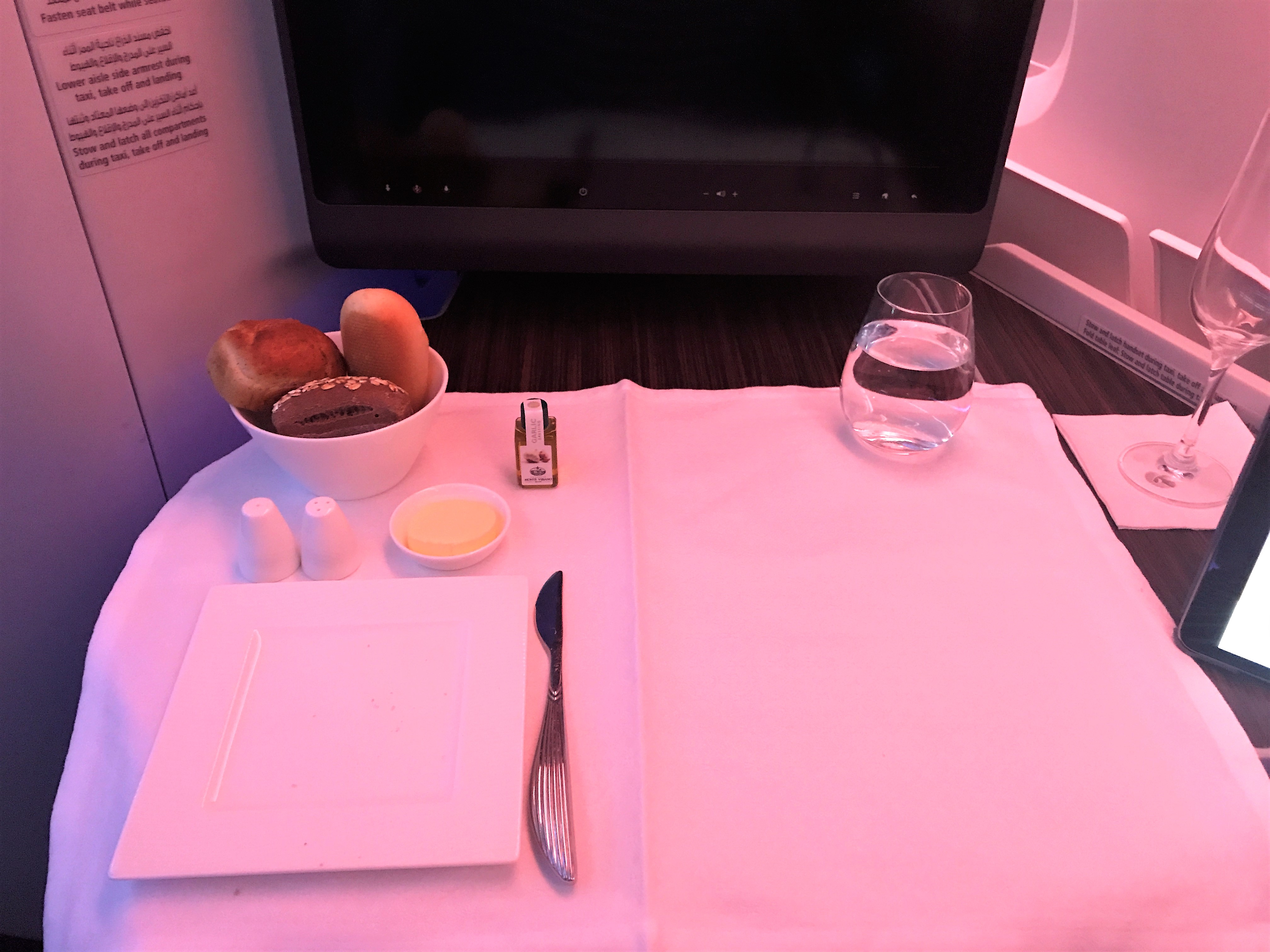 Prior to the starter, we were served an amuse bouche which was prawn with a garlic sauce and was very tasty. I loved the elegant little appetiser forks they serve it with. Very classy!
For the starter, I went with my usual Qatar choice, the mezze. This is quite a filling starter with the warm Arabic bread but I managed to soldier on! The selection had hummus, tabbouleh and another vegetable dip which I think was aubergine based. The portions on Qatar are pretty big in general.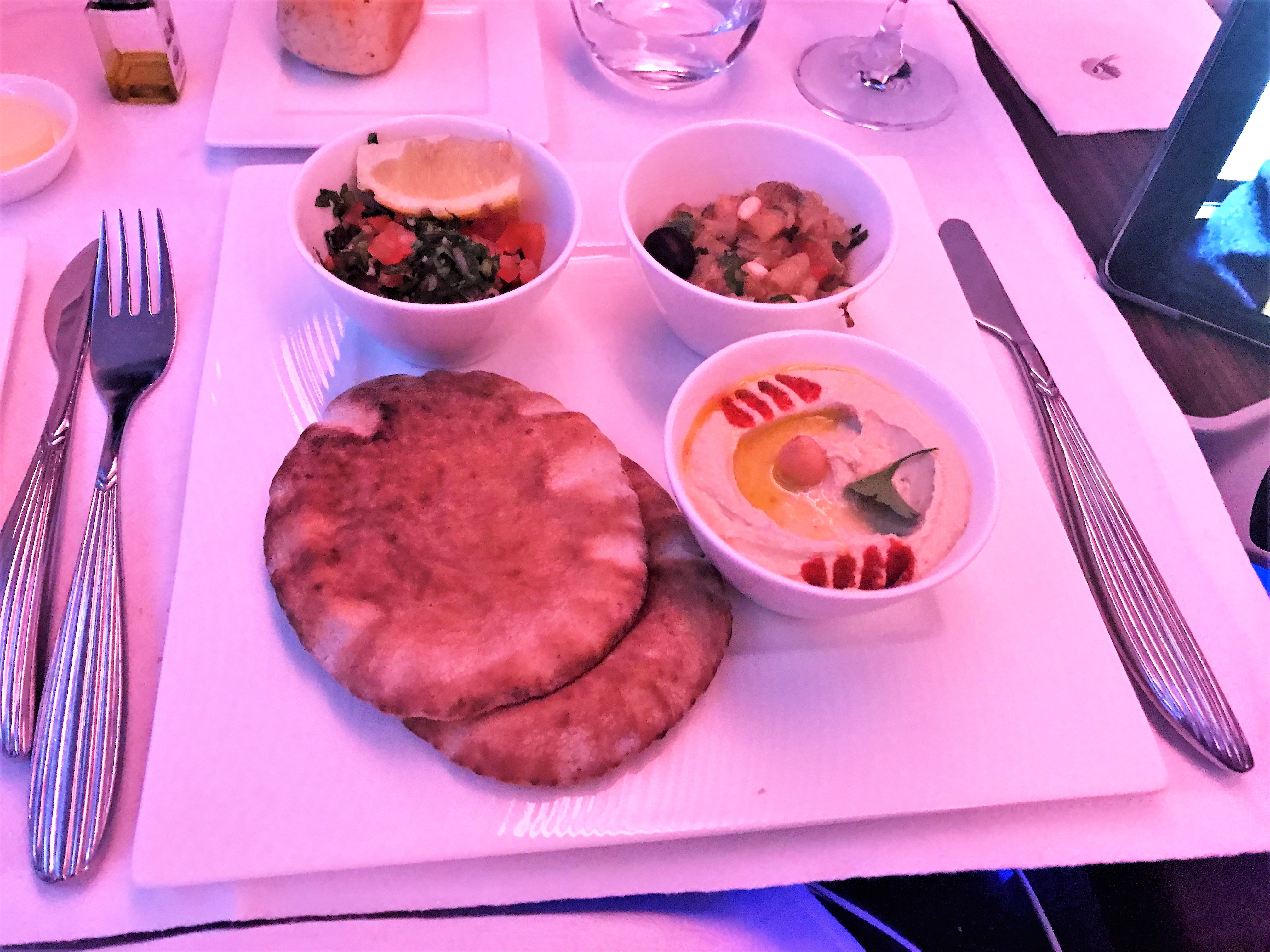 There was a great selection of wines with 2 white, 3 red and dessert wine too. I started with a glass of the Chablis which was fine but a bit dull and nothing special.
For my main course, I had I seared fillet of fish with red pepper sauce. The fish was quite chunky but not too overcooked and I liked the sauce with it which added a bit of moisture and a hint of sweetness. I like the fact that you get fresh herbs on top of your main course that enhances the dish. The saffron mash underneath was delicious, well balanced and silky smooth.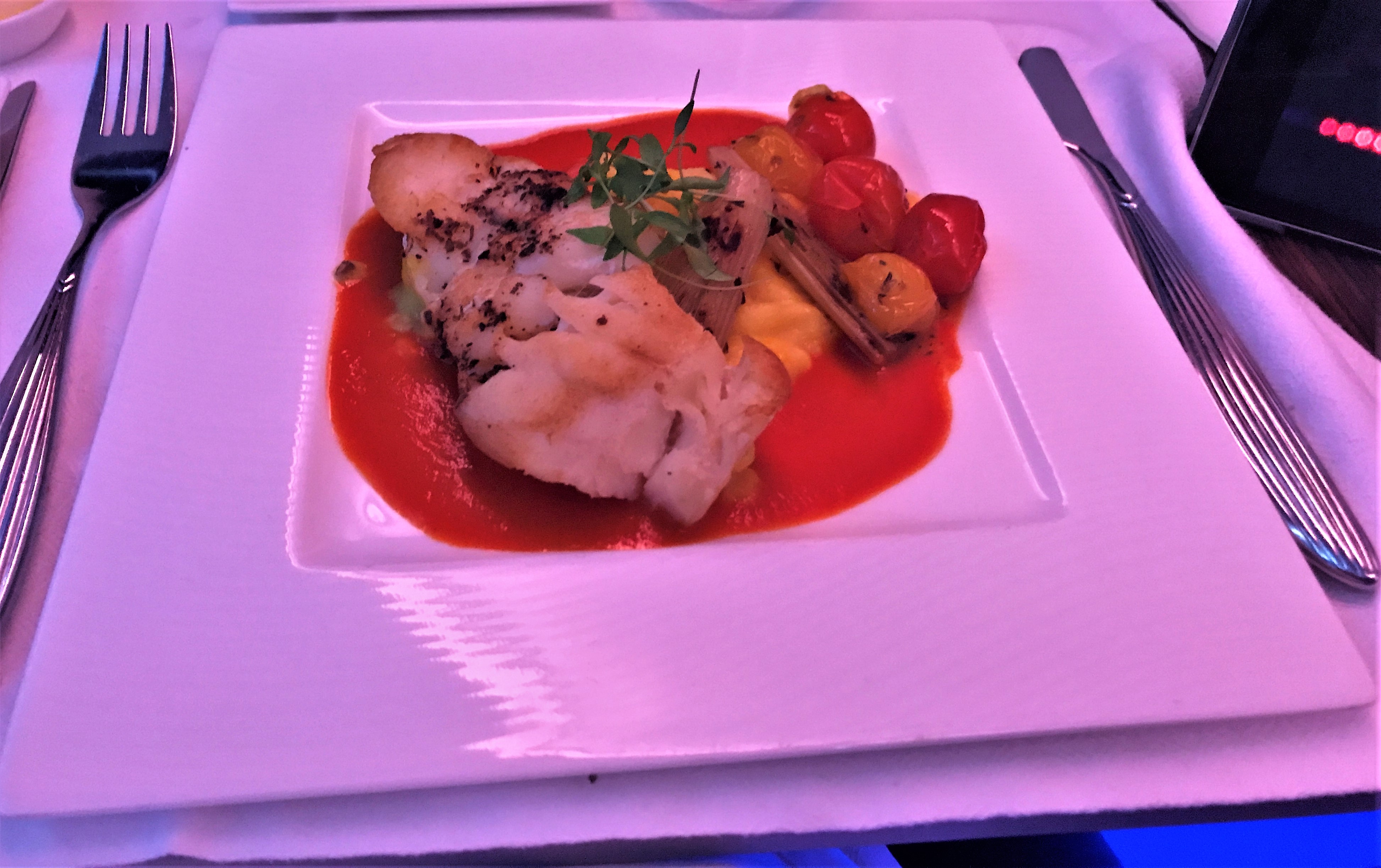 As the main course was also quite large I decided not to have cheese or a large dessert. I sampled a glass of Conundrum Red By Caymus who make some great wines in California. I enjoyed this blend more than the white wine as it was rich, fruity and very smooth.
I finished with some ice cream which was OK if a bit grainy but well presented with fresh mint and raspberries. I also had a delicious glass of Tokaji dessert wine which they had to hunt for, as someone had drunk most of it already!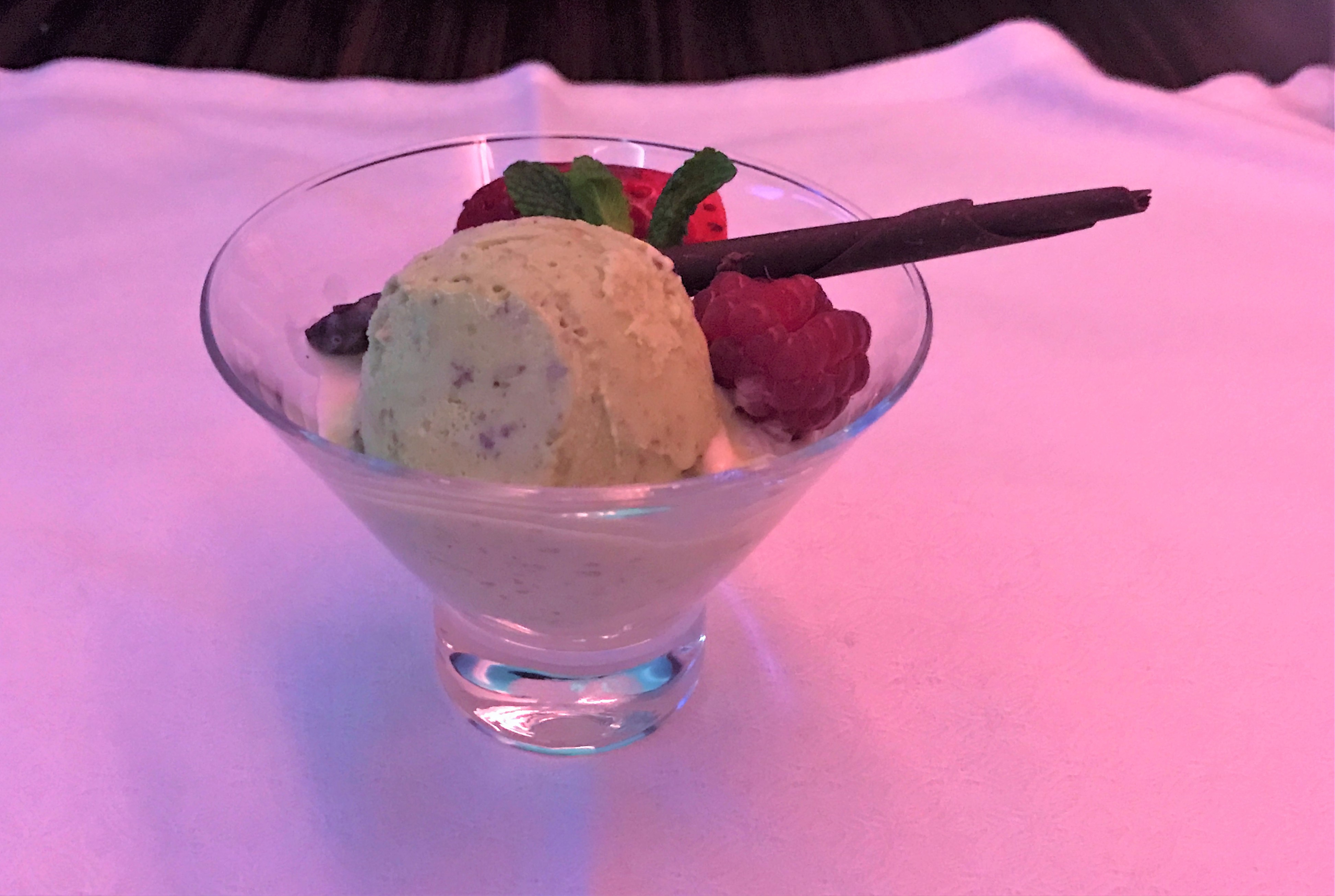 The bar
Post from RICOH THETA. #theta360 #theta360uk – Spherical Image – RICOH THETA

The bar is one of the best features on board the A380. I have sampled the bars on Etihad and Virgin but this is by far and away the best. It feels enormous as it spans across the upper deck and serves first and business class passengers. It is situated just behind business class.  If you are lucky the barman may serve you some of the first class wine and champagne. This includes Louise champagne by Pommery which retails at over £100 a bottle.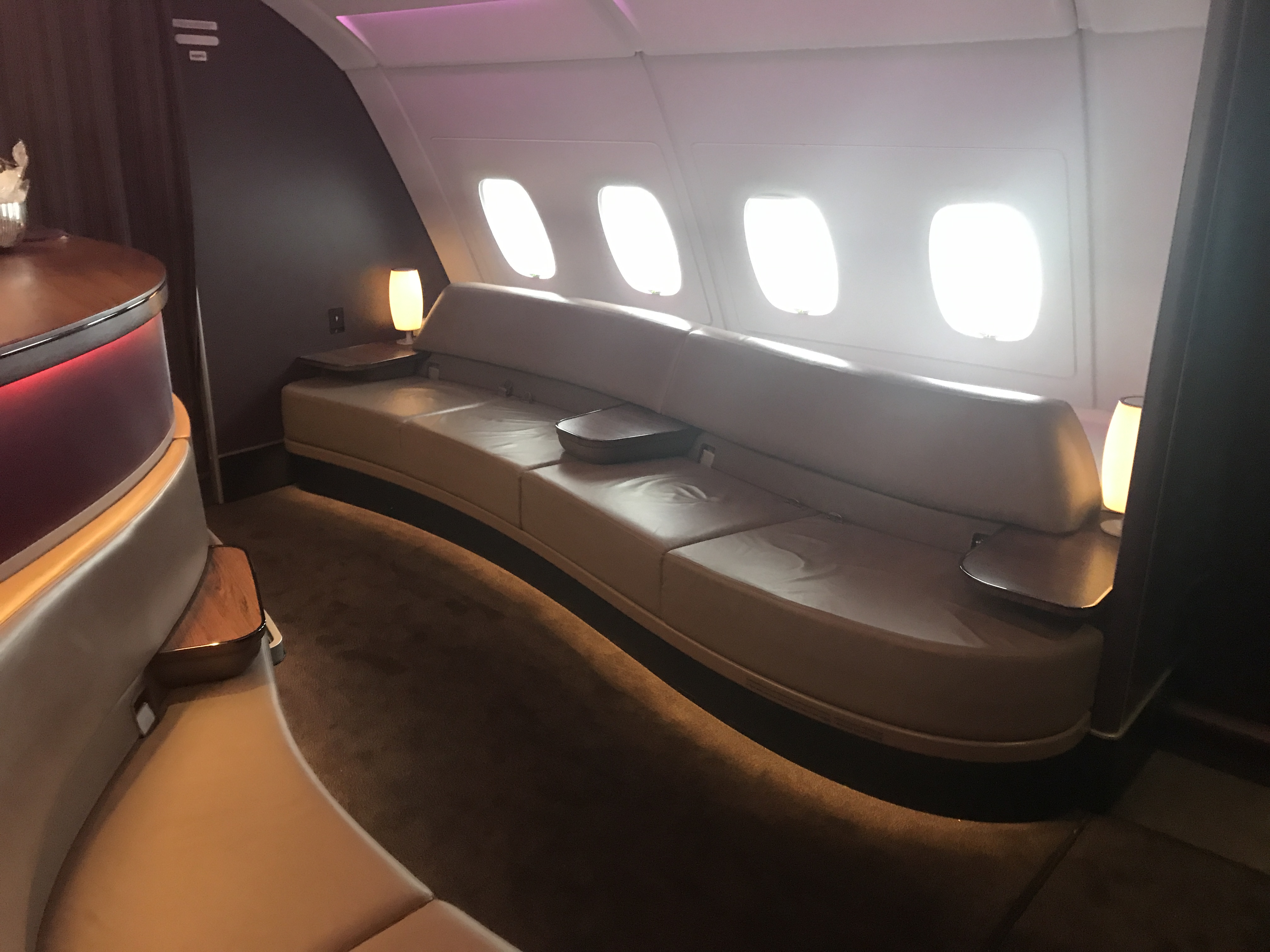 The bar has a large seating area both sides of the bar with seat belts. The bar is set up shortly after takeoff and has a selection of small savoury and sweet snacks should you get peckish. We opted for a Cognac to start off with and really enjoyed the Camus XO and the dinky little miniature bottles.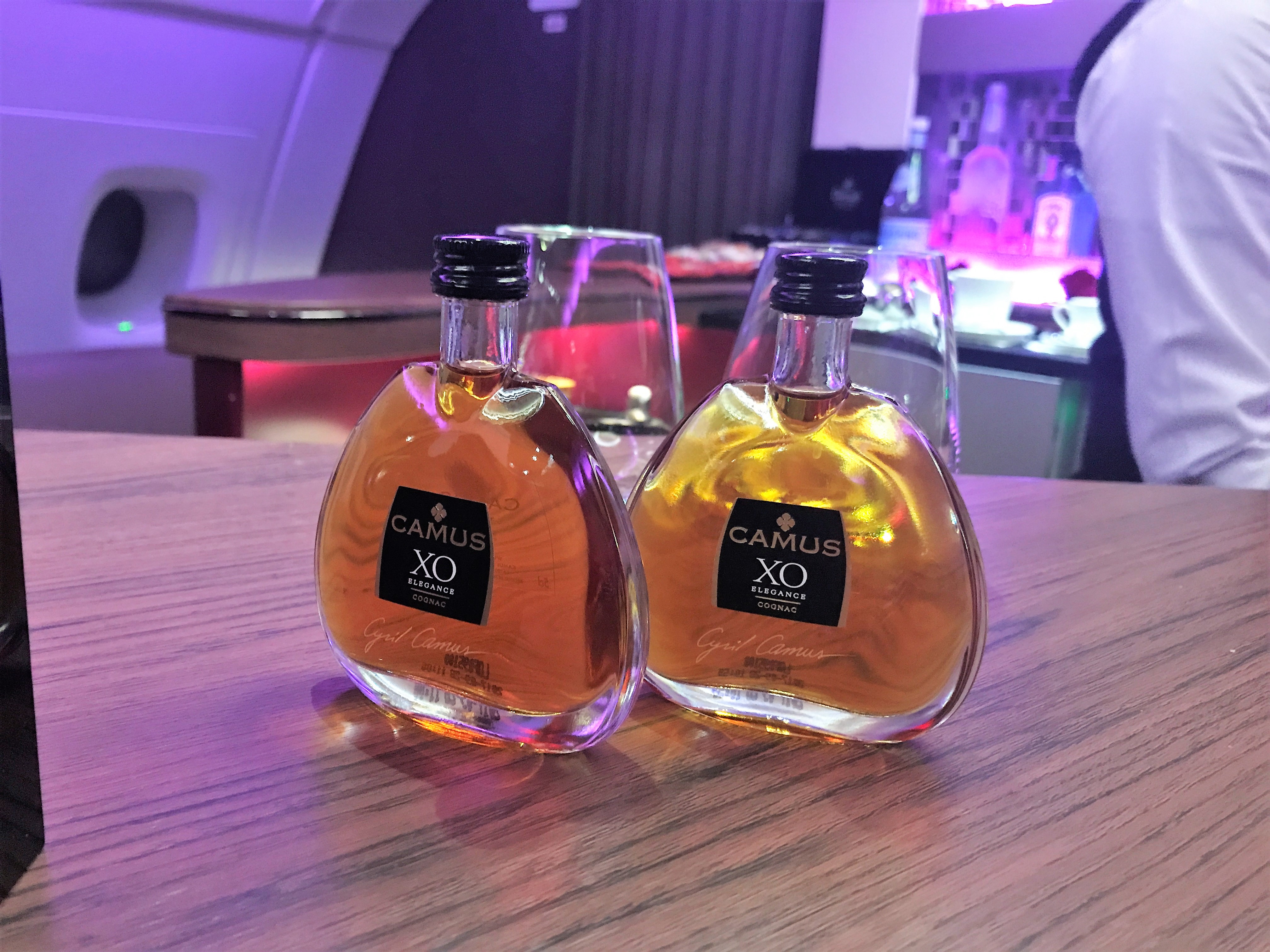 We were then offered a glass of the first class Fox Creek Shiraz from McClaren Vale in Australia which was excellent. The barman was very friendly and seemed hell-bent on ensuring we left the bar more than a bit tipsy. My husband was more than happy to oblige and I almost had to carry him off in Doha, leaving him firmly in the dog house!
The barman was quite candid when we chatted with him and said that he was very happy working for Qatar and he felt they treated him well. He felt he had a far better life than when he was working in Egypt, which is where he was from.
Entertainment and connectivity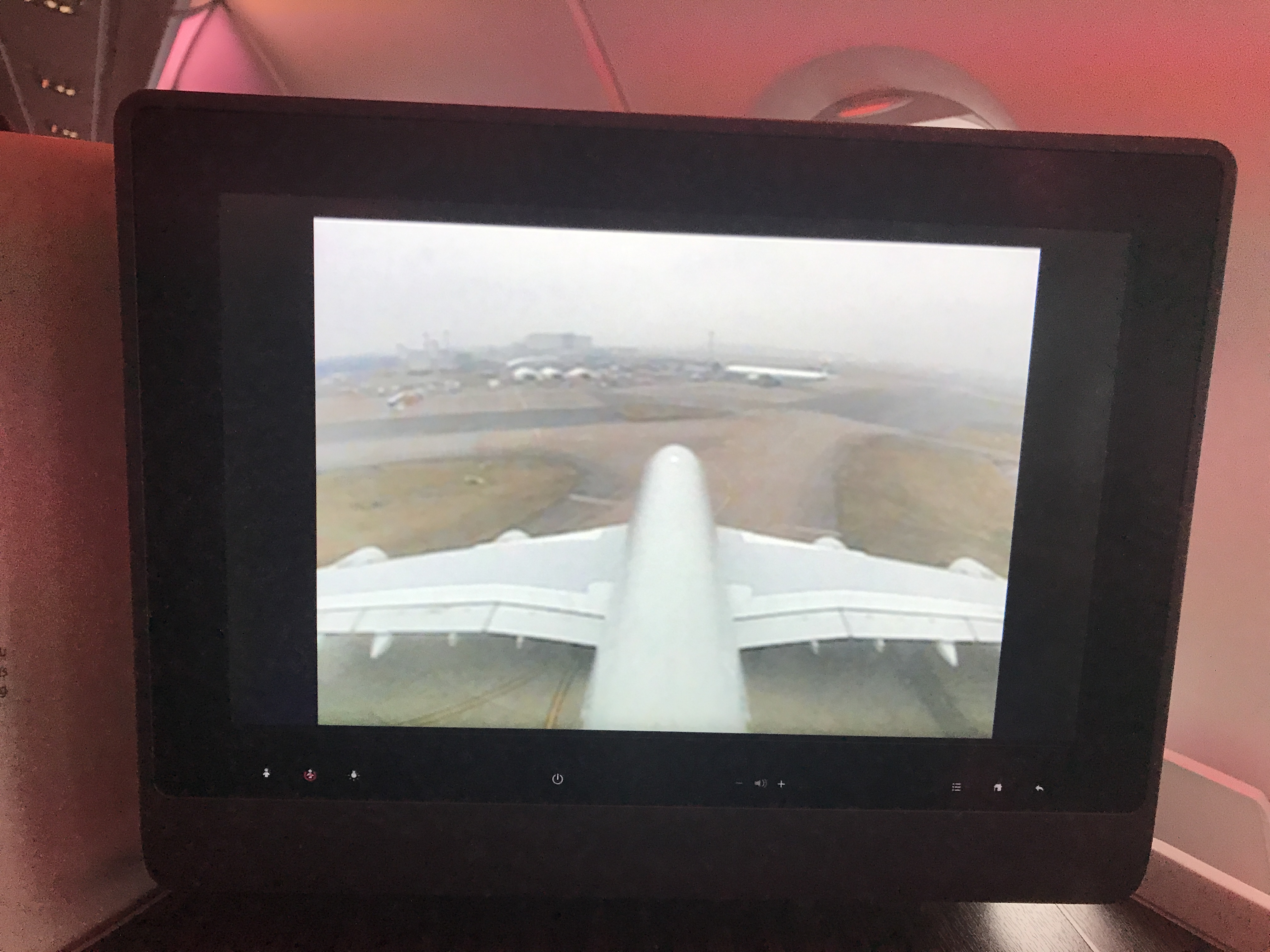 The TVs have 17″ screens with great definition. You can control them either with the touchscreen or the touchscreen remote. The system had a wide selection of recent films, older films, TV series and music. You could also see outside the aircraft with various camera views. I found the TV and remote easy to operate. If you need to charge anything there were a USB, Apple iPort and a multi-socket. Noise cancelling headphones were supplied which were effective and comfortable although not as good as my own Bose ones.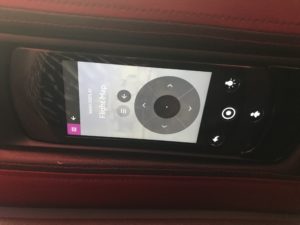 Conclusion
Overall this was a superb flight with comfortable seats, great crew, large portions of tasty food and some decent quality wines. The bar was the icing on the cake. This is definitely my favourite aircraft to travel on with Qatar, putting aside the A350 and B787's higher humidity and better cabin pressure. We got a great deal in a Qatar sale by adding in 1 night's accommodation which we were planning to buy anyway. Once we had taken off the cashback it worked out around £1575 per person from London to Ho Chi Minh City.
It is always worth looking at hotel + flights to see if it lowers the price. Both Expedia and eBookers offer good deals for this and you only have to book one night to lower the price.
You find more information about Qatar's A380 here.