This Qatar Airways QSuite B777 won't be a full review as I plan to do a comprehensive QSuite review of Qatar's newest aircraft type – A350-1000 – next week when I fly to Johannesburg from Heathrow. This article will be a quick one about the differences we observed on our trip in service with a little about the seats and food too. I mentioned my outbound journey with the new "tasting menu" in this article. Rather than describe the seats in great detail I will just be including lots of pictures!
Bangkok to Doha – QSuites B777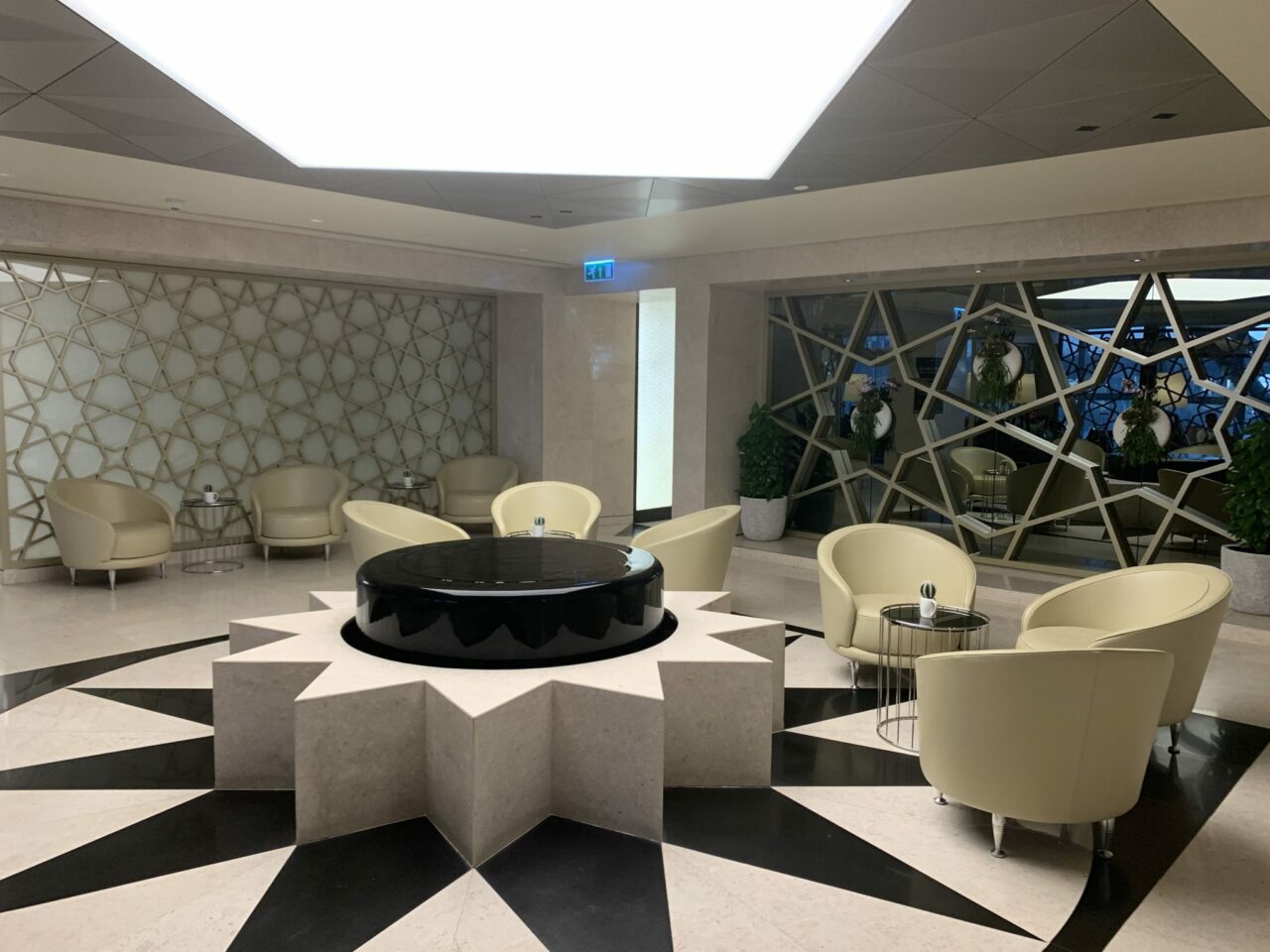 We checked in without any issues and headed to the Qatar Bangkok lounge. This was an early morning flight and the first time I had been in the lounge at that time of day. If you have been to the lounge at Heathrow it may look very familiar!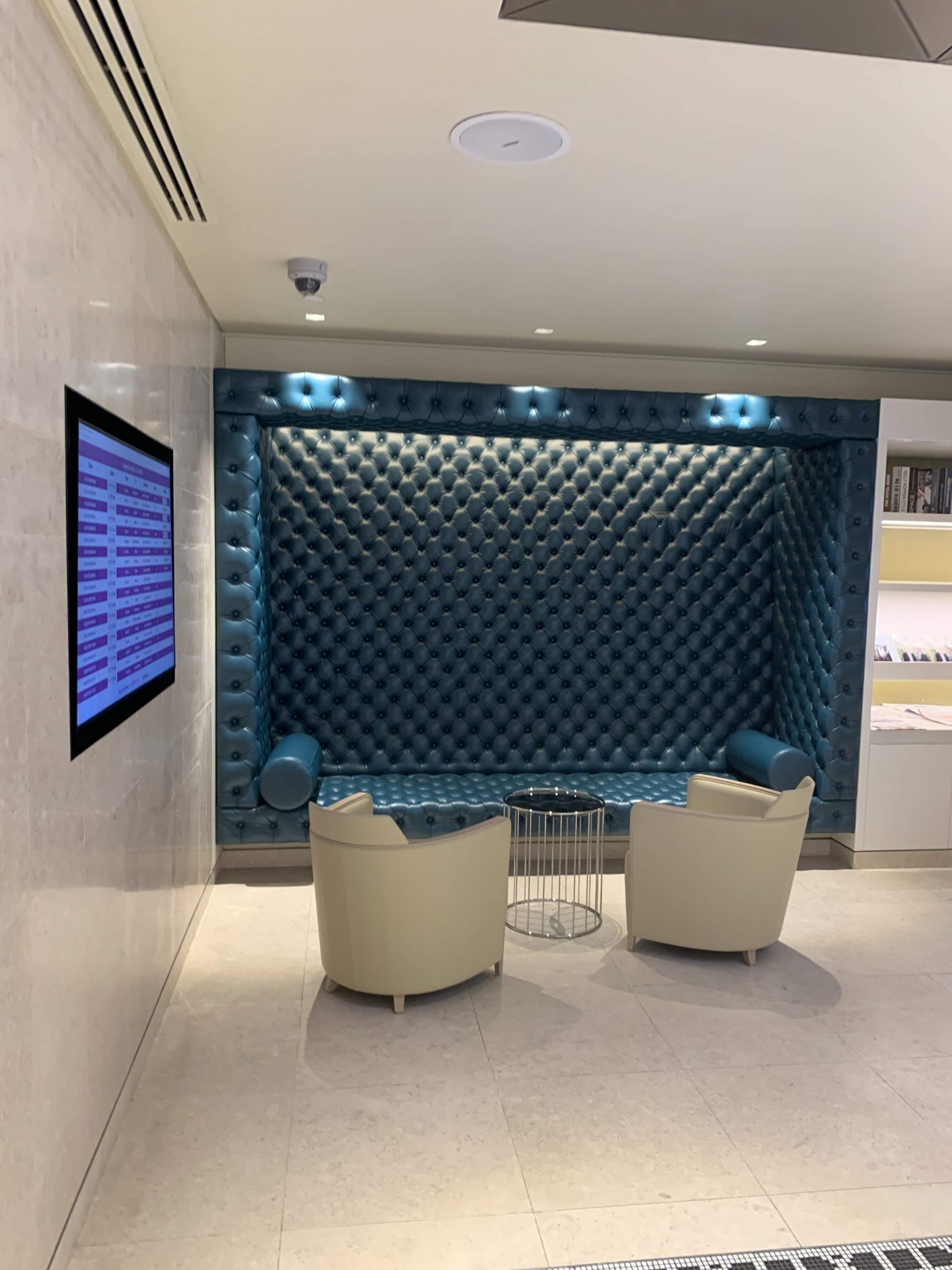 It was self-service only but there was a reasonable choice of western, Asian and Middle Eastern options. Drinks were table service but they were a little slow which is not unusual for that lounge. Be aware that they have a strict dress code for the lounge but we did not have any issues.
I was pleased to see a decent champagne in the lounge – Bollinger. I have been finding Qatar very hit and miss with their champagne both onboard and in the lounges recently.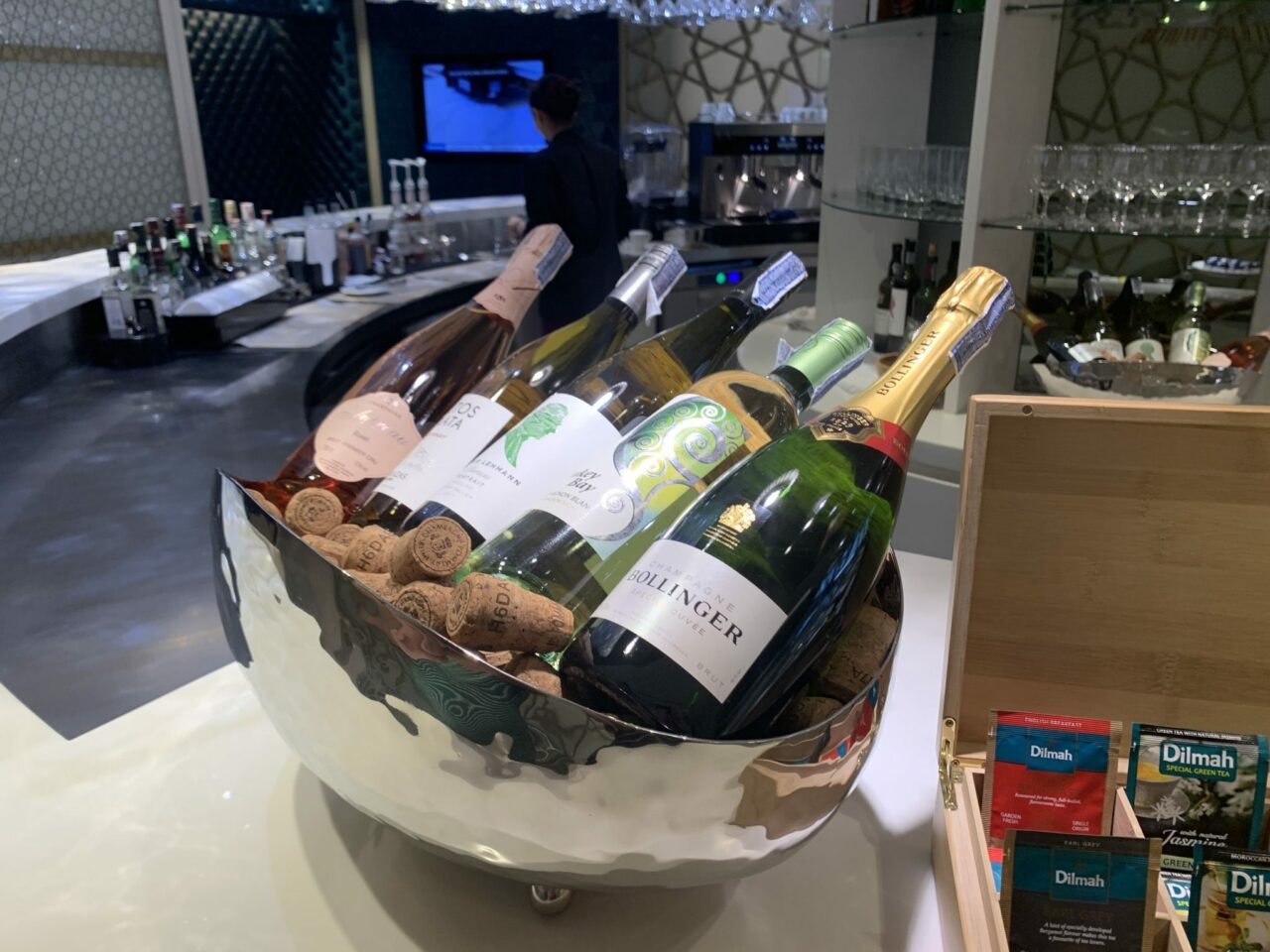 Despite the early hour it seemed rude not to have one… plus I knew what the onboard champagne was going to be like ?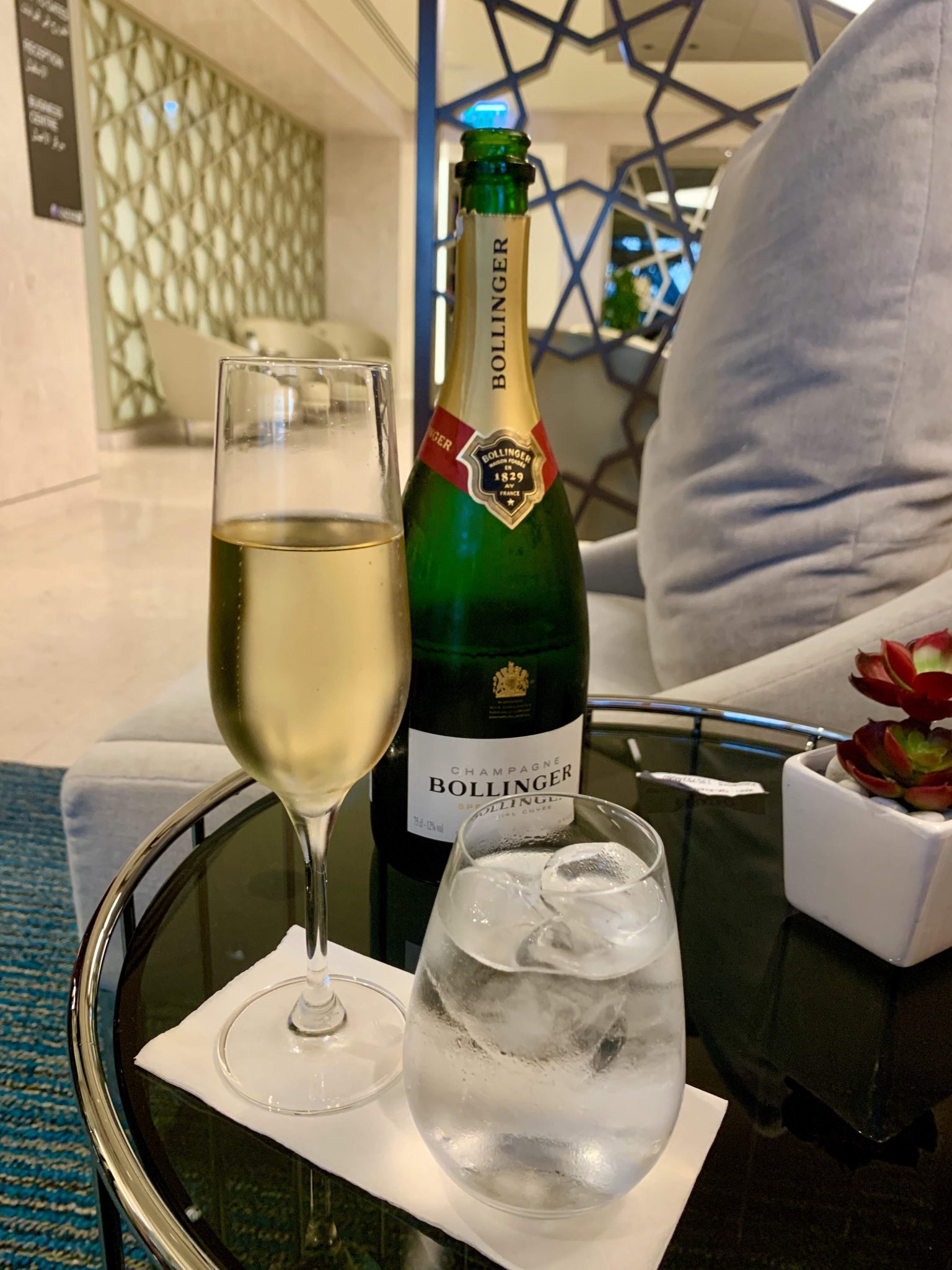 Boarding Qatar Airways QSuite B777
We left for the gate in plenty of time as Bangkok has some horrendously long walks to the gates. Once at the gate, we sat in the priority area and pretty soon they started calling boarding. This was where the fun began. We walked on board and there were no staff at the door – this is definitely not allowed for security reasons. I'm not quite sure what happened but there had been a major screw up. After a short pause, a harrassed cabin crew member came up to us and asked for our passports?! She then told us to wait at the door. I have been asked for my passport before at the door. She did not really seem to know what she was doing and just disappeared with them. At this point, I said to Marek that I reckoned she was new and I hoped she was not serving us…. guess what?
Once our passports had been returned she remembered to greet us and allowed us to sit down. I was in 3K, a backwards-facing QSuite. I prefer these at the window since you are closer to the window.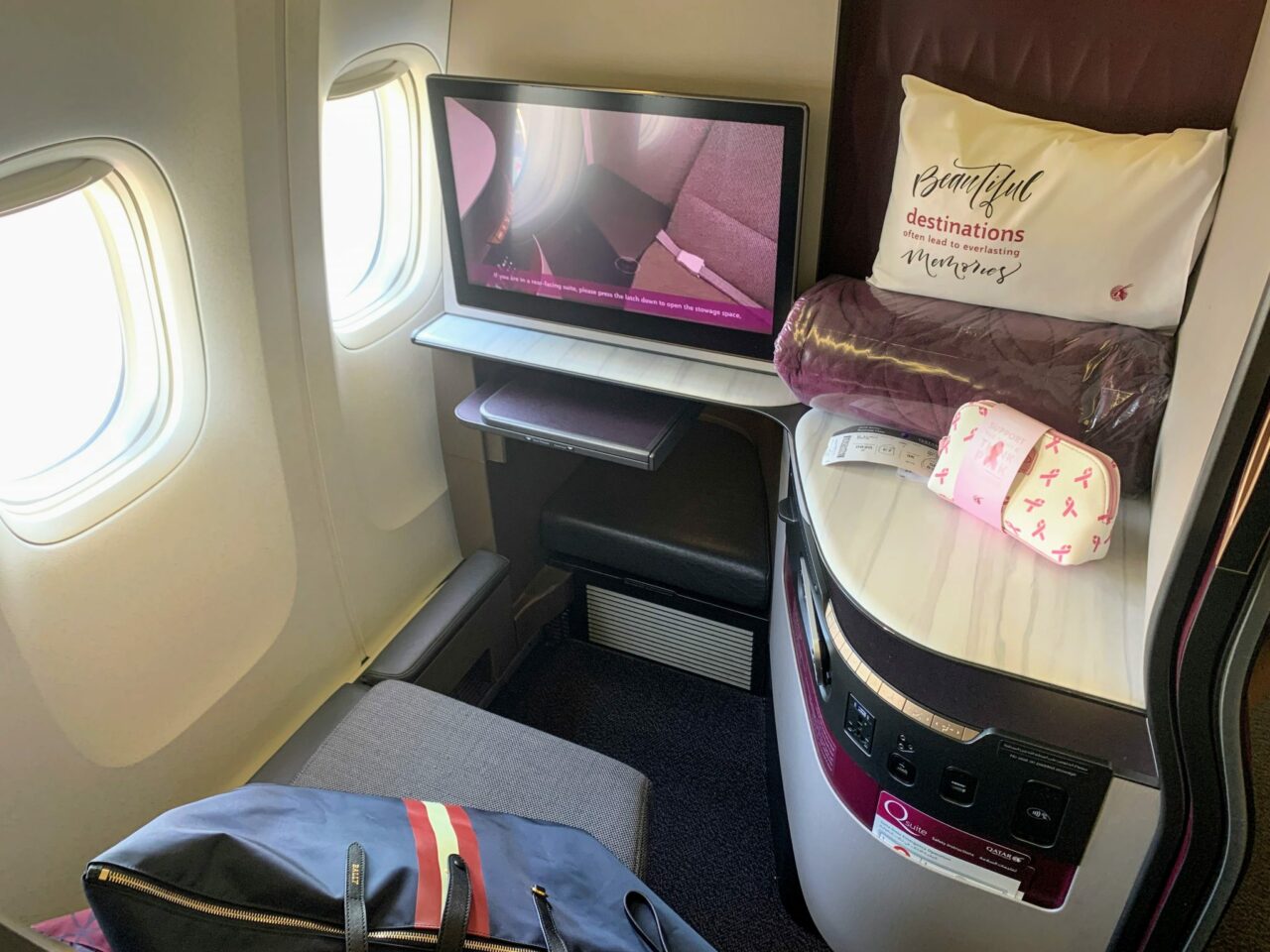 We went through the usual pre-flight routine. My cabin crew member seemed very, very nervous and unsure. I'm guessing it was her first flight. Whilst I am sympathetic, I am not sure that they are getting enough training or support as Paul, Marek and I have all experienced this issue with Qatar staff recently. New staff seem very unsure of the service routine and overly nervous with passengers.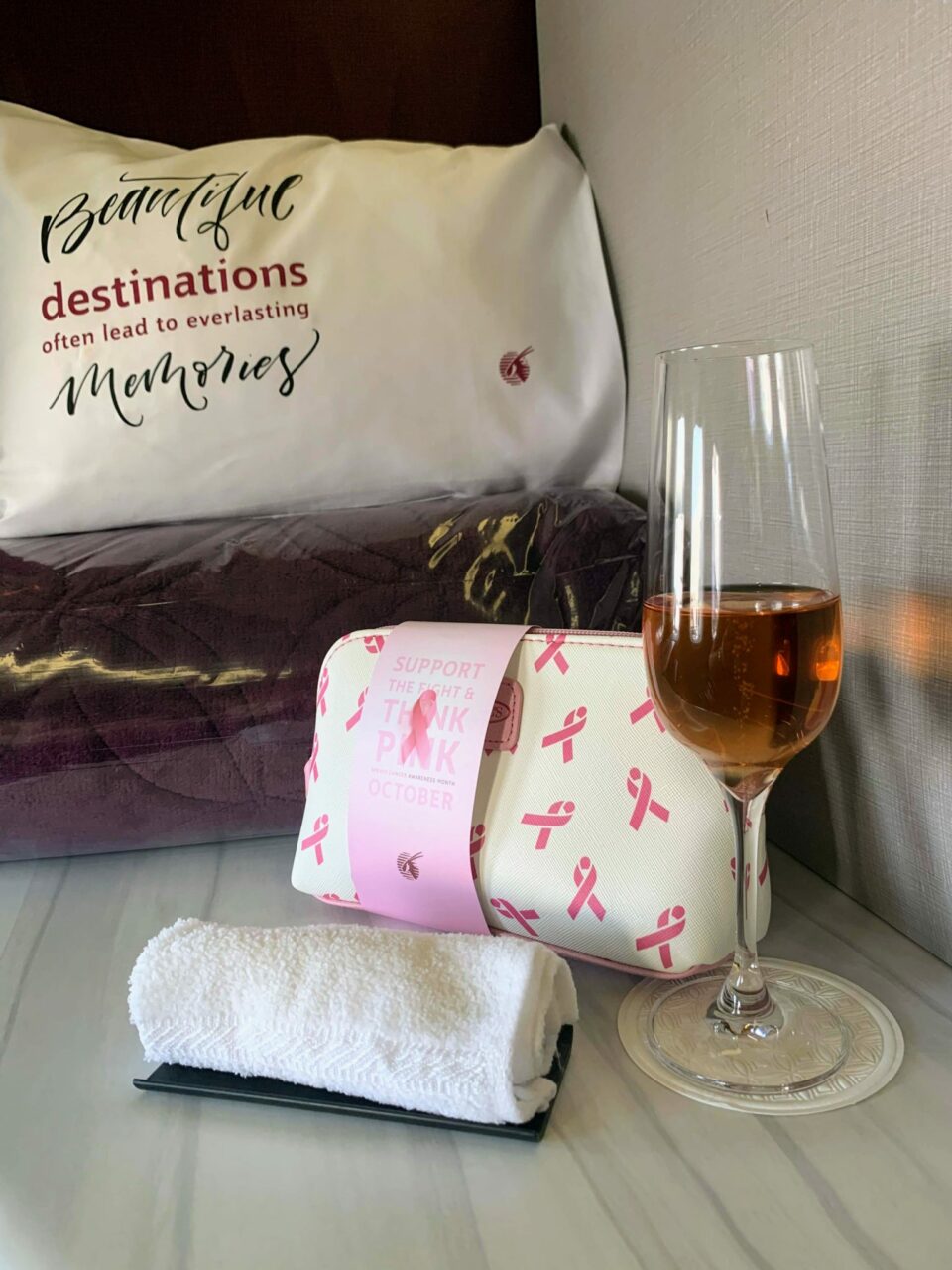 I was offered a welcome drink and there was already an amenity kit at the seat. It was a rather nice Breast Cancer Awareness bag by BRICS with the usual amenities in pink. I had a glass of the Joseph Perrier rose champagne and it was so bad it was almost undrinkable! It wasn't just me – Marek hated it too. It's shame as their standard champagne is actually OK.
A hot or cold towel was also offered.
Qatar Airways QSuite B777 Seat and cabin
The seats in the middle are either two close together that can be made into a double cabin or two with the console between them. They can be made into a single suite with a privacy screen as well.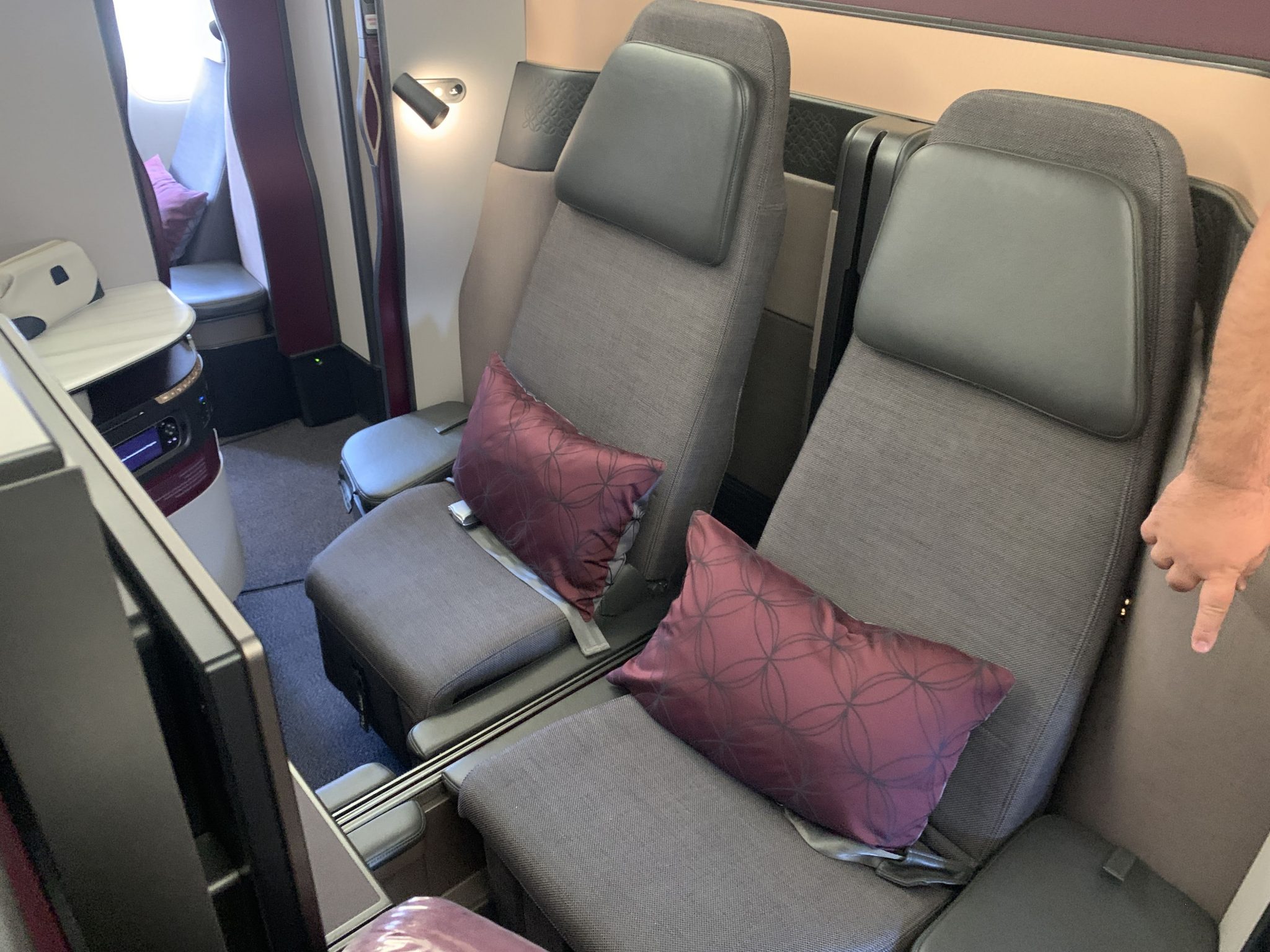 There was plenty of storage space at the seat under the ottoman. A bottle of water was already in place.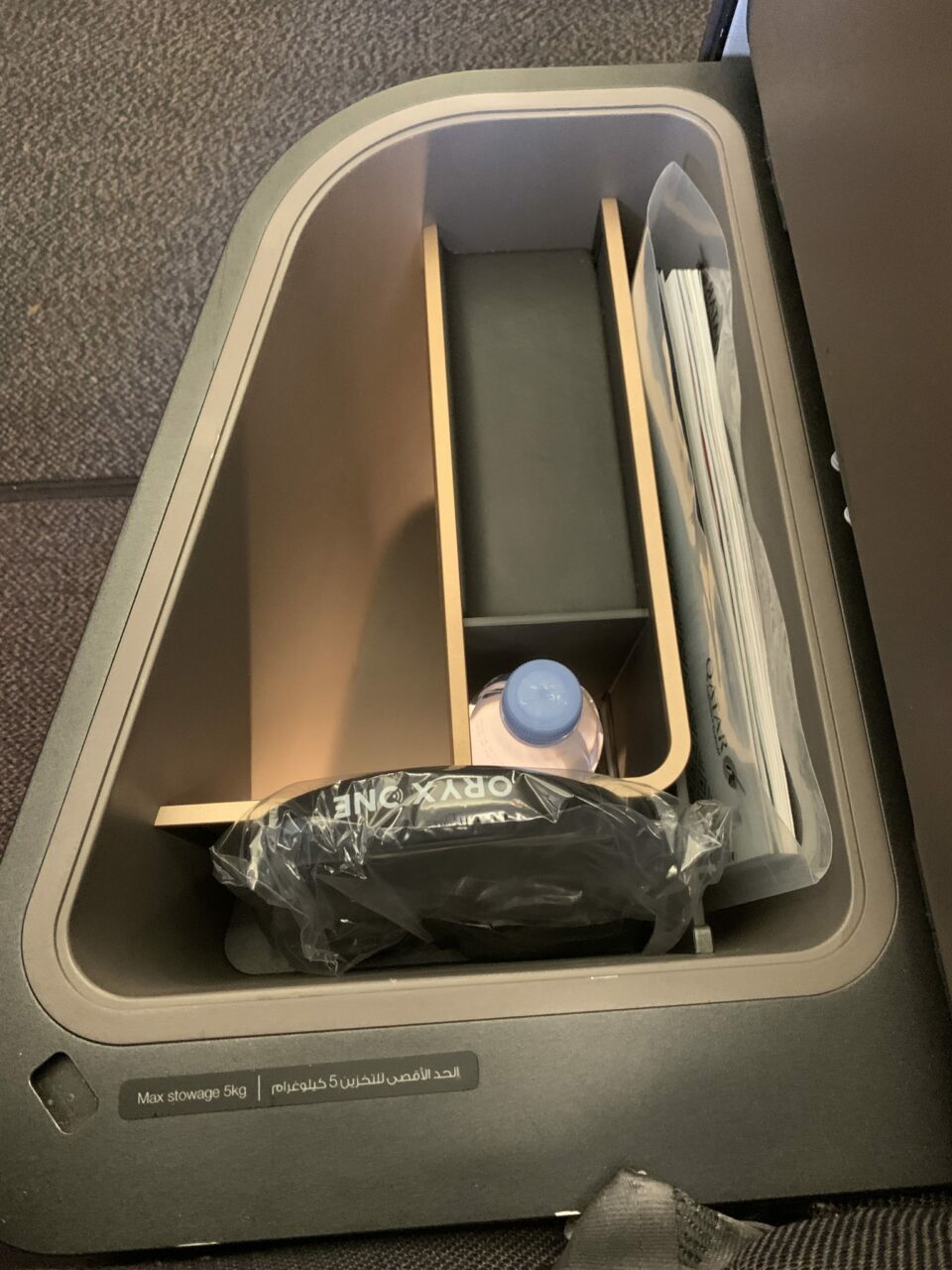 The seat also has a footrest which joins up with the seat when flat. I find I can't reach this when sitting upright.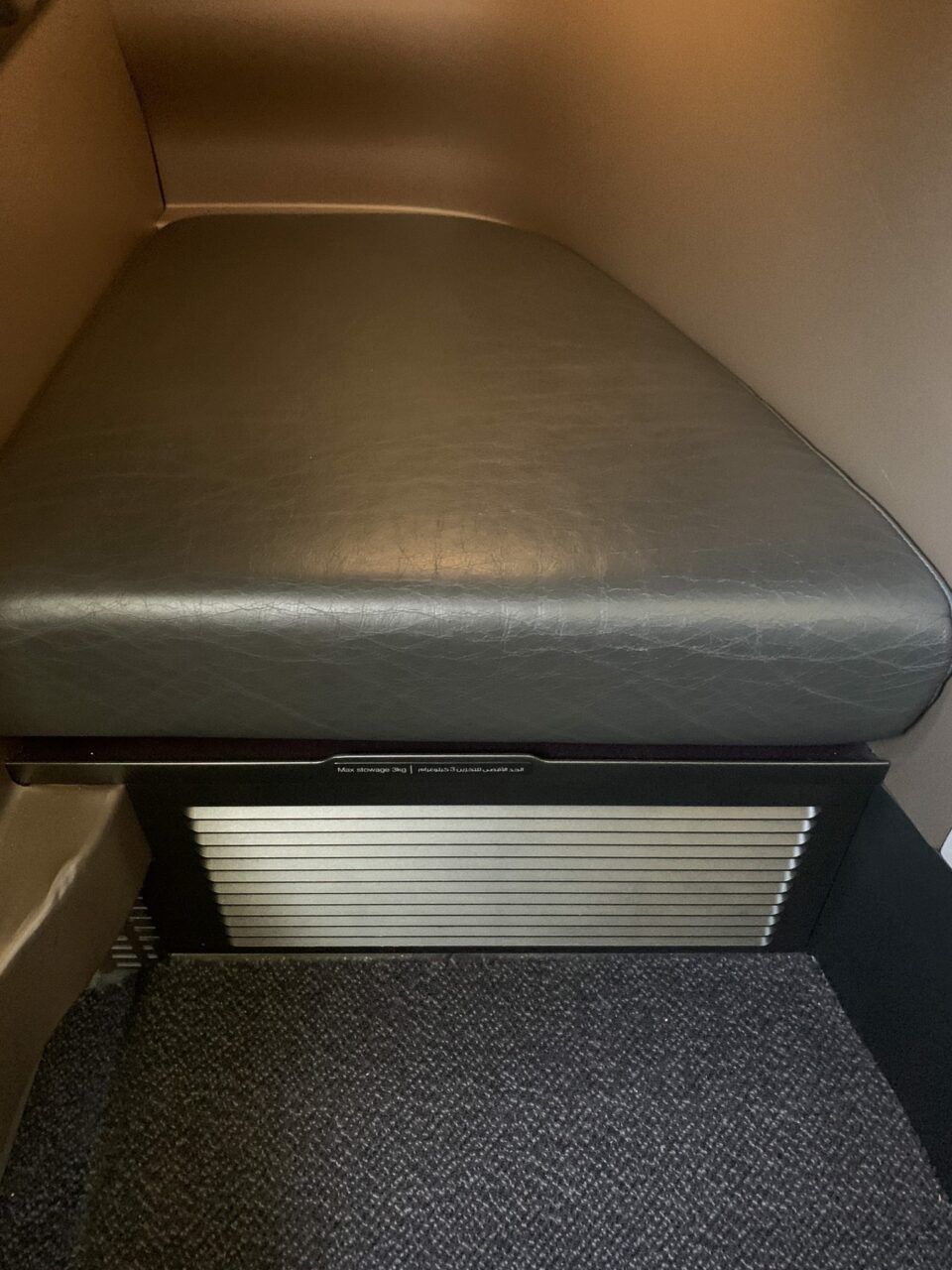 I love the QSuites but I do find them a bit hard for sleeping. The crew will make up your bed with a special mattress pad but it was too thin to make much difference. Again I had issues with the cabin crew who looked like a deer in the headlights most of the flight. She was very sweet and eager to please but just did not seem to know what she was doing. It was incredibly frustrating watching her try to do the bed when it was clear she really did not know what she was doing. It seemed to take forever!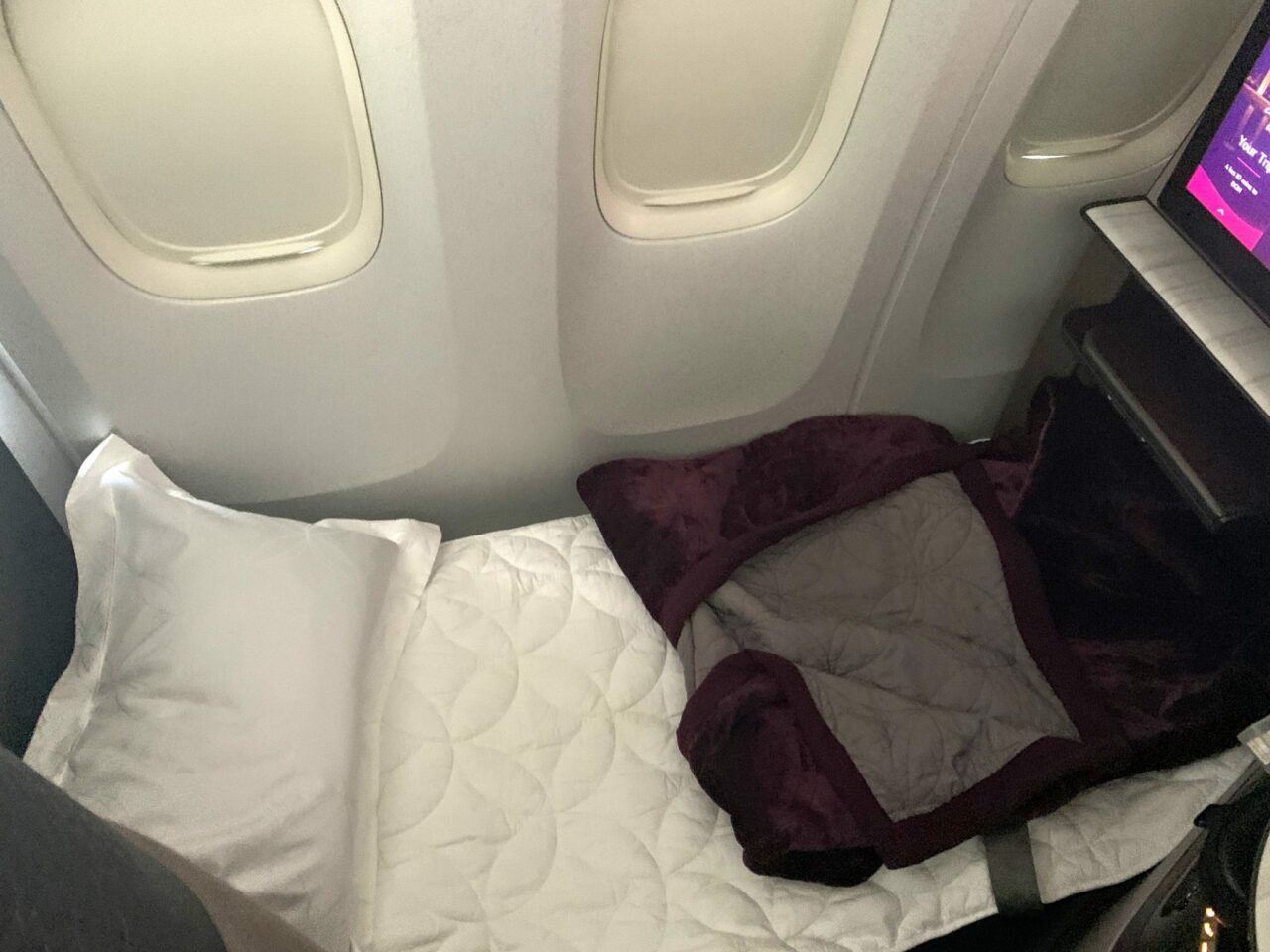 Qatar Airways QSuite B777 Food and drink
The service on this flight was sloooooow! And a bit haphazard. It was probably some of the worst I have had on a Qatar flight and I did mention it to the CSM at the end when she asked for feedback.
I was given a food menu and a separate winelist prior to take off:
And the wine list:
The table was laid up with the usual lovely candle. I was not given bread but then my starter came with Arabic bread and I was offered a pastry at some point, As I mentioned this was a painful experience in terms of service with long waits for everything and forgotten items. For the starter I went for the cold cuts which is usually one of my favourites on Qatar. I was not keen on this at all from the very strange curly salty cheese to the smoked fish it was not very pleasant.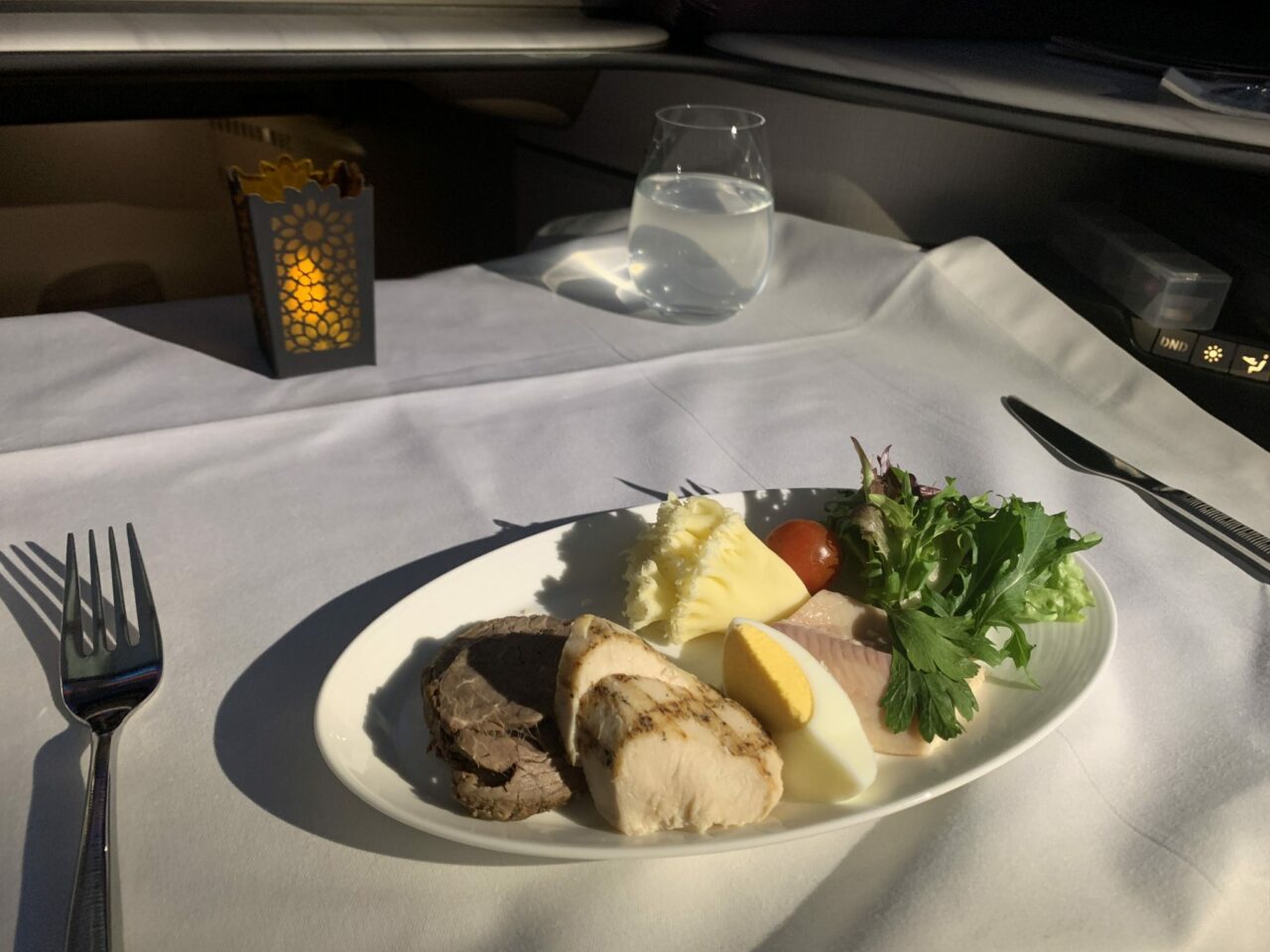 I went for the Arabic breakfast which I really enjoy. The Ful Medames came with all the accompaniments and it was very good. The salad was lovely and fresh with the feta.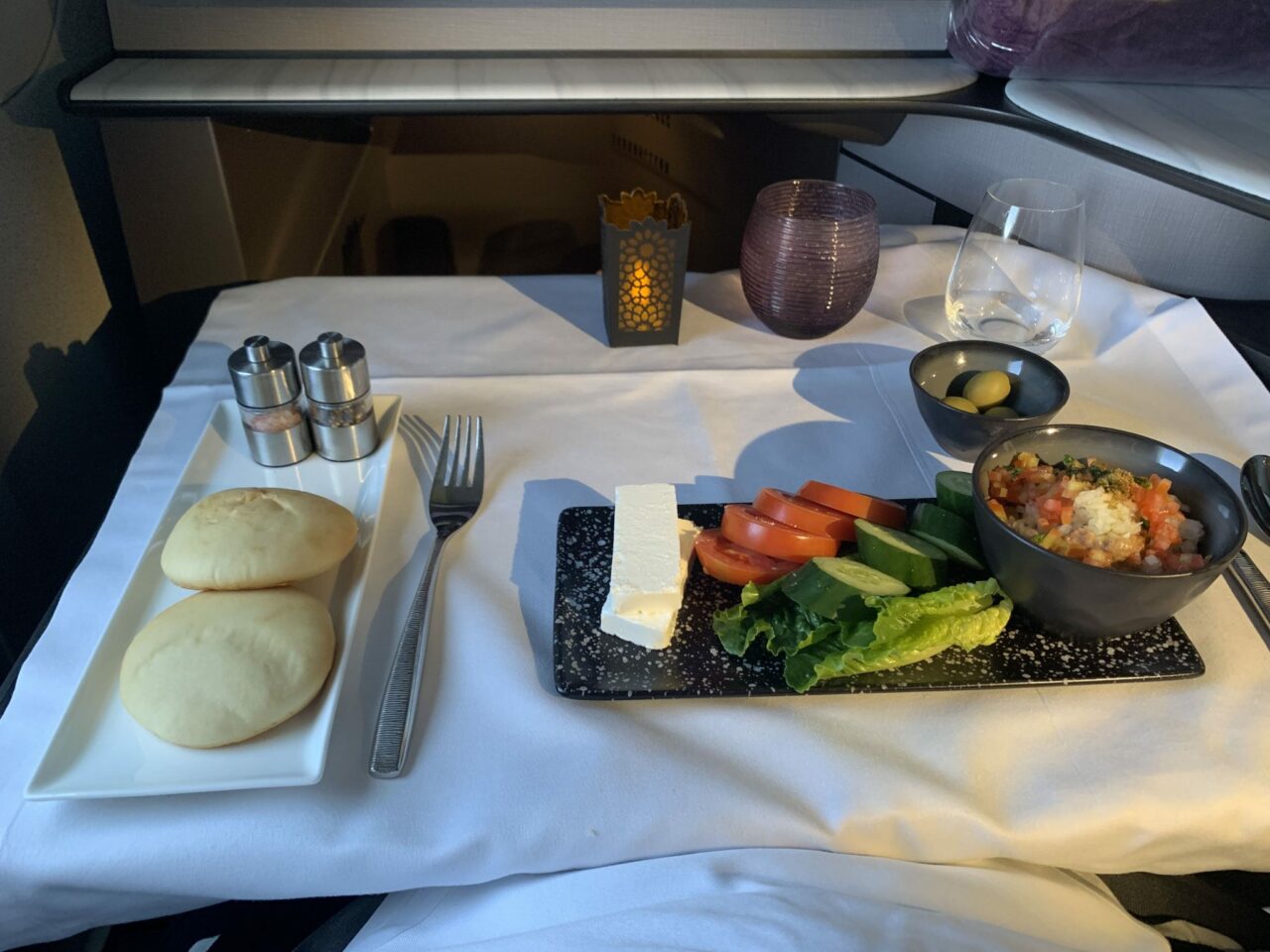 As this was a daytime I had a small snack before landing. Usually, I would have been given the platter menu but when I asked for it, it seemed to cause some confusion and took ages for her to find one. I must admit I was beginning to get a bit exasperated at this point.
Here is the menu: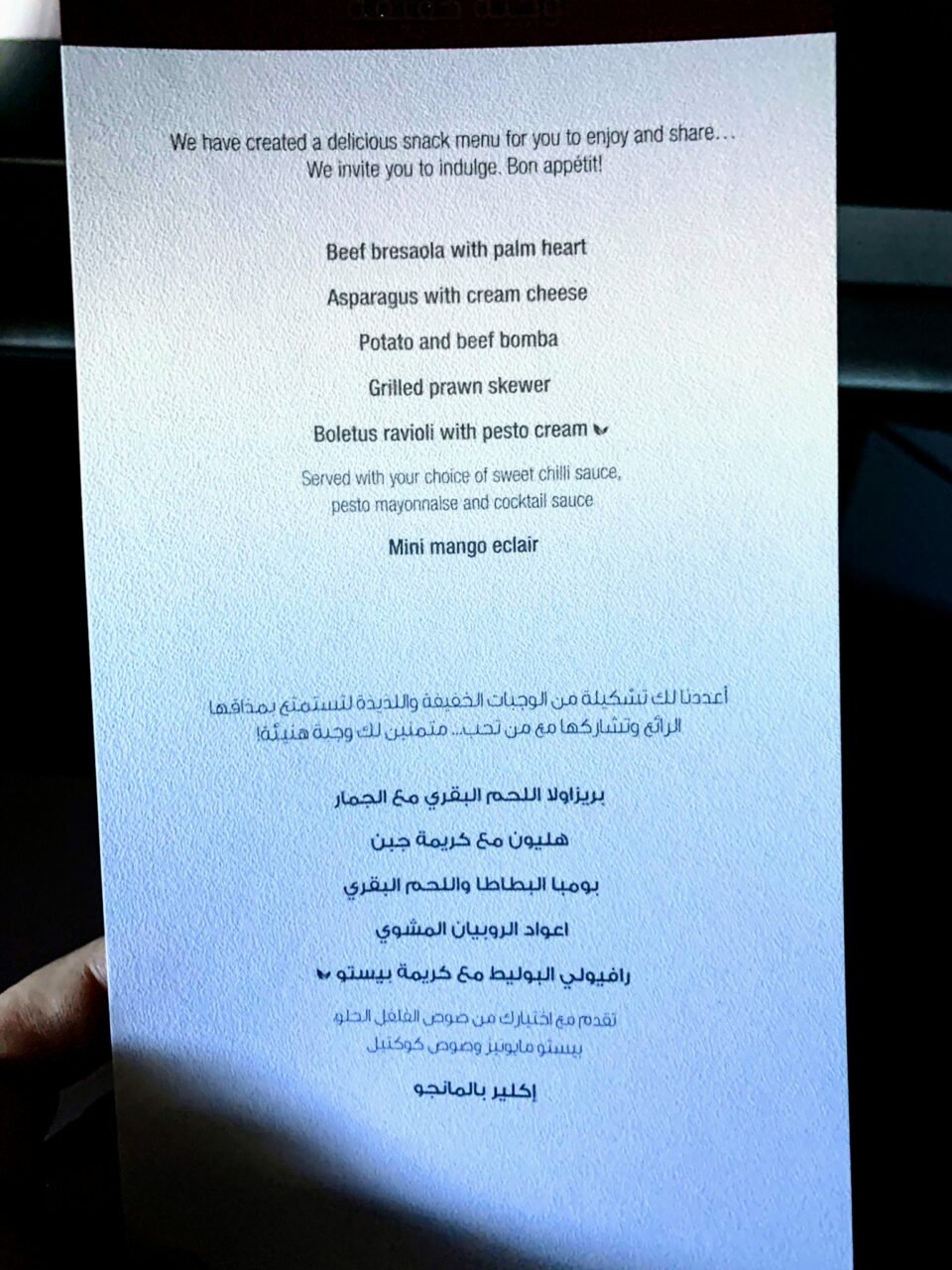 Normally you get one of each but when it eventually arrived there were two of each. It was a bit too filling: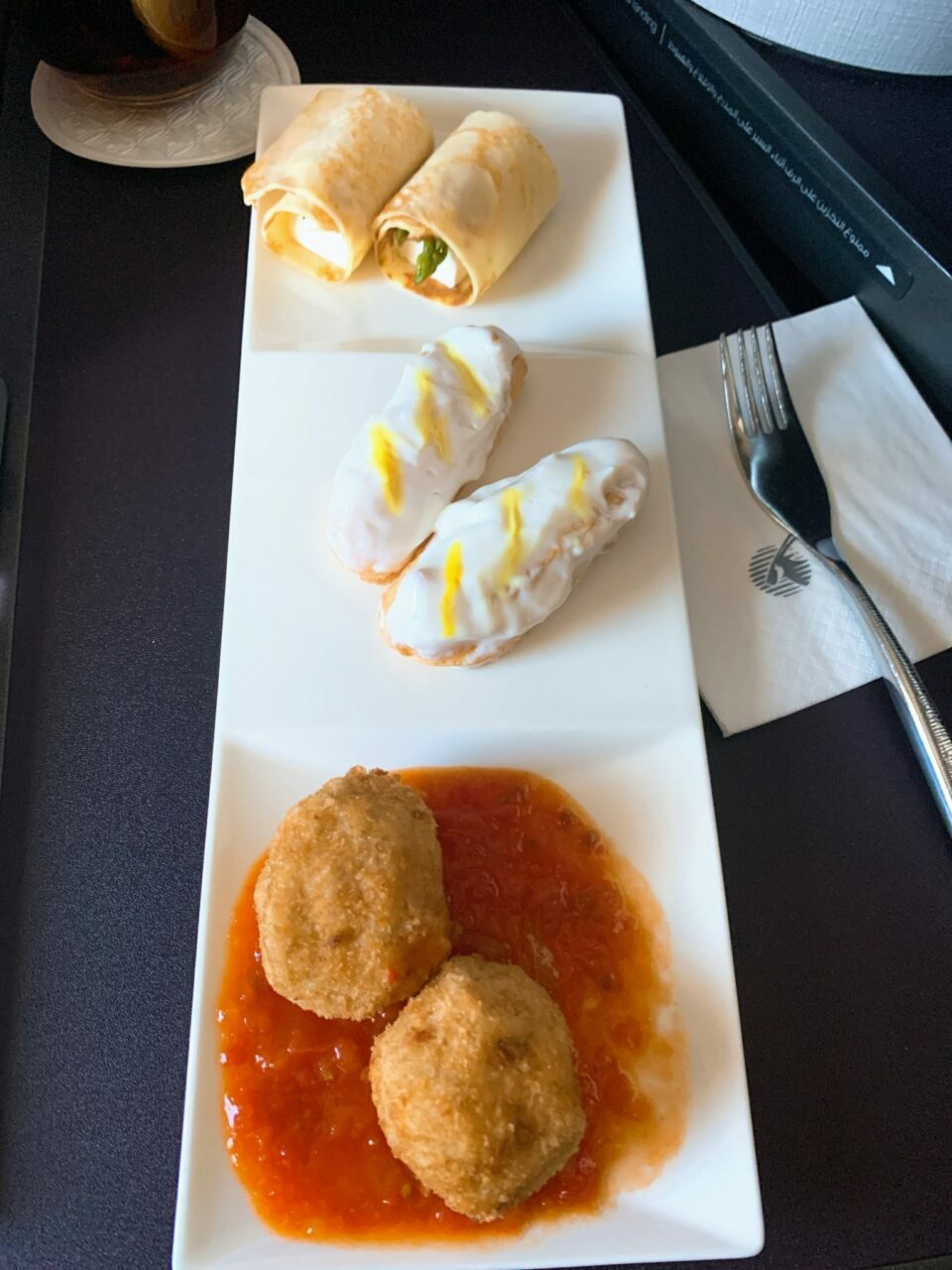 The wraps were a bit of a disaster – very dry. It was basically a lump of very solid cream cheese and a piece of asparagus in a lot of wrap! The rest was tasty though.
Overall the food was pretty disappointing on this flight.
Qatar Airways QSuite B777 Entertainment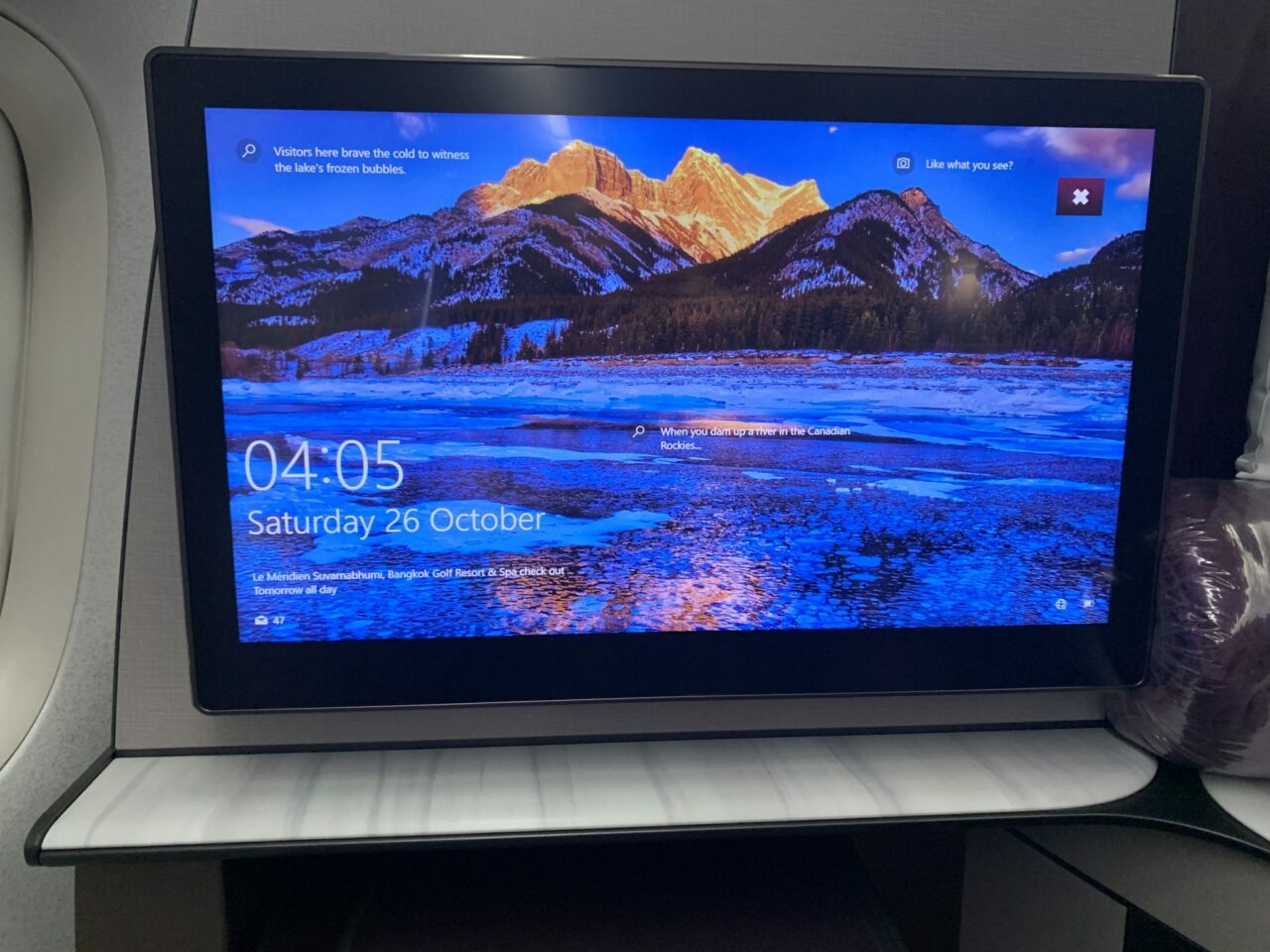 As you would expect the QSuite has a great TV screen – large and with great definition. Noise-cancelling headphones are supplied but I tend to use my own even though the Qatar ones are decent enough. There was a good selection of films and TV programs, although annoyingly not the same as the previous flight so I couldn't finish the film I had been watching!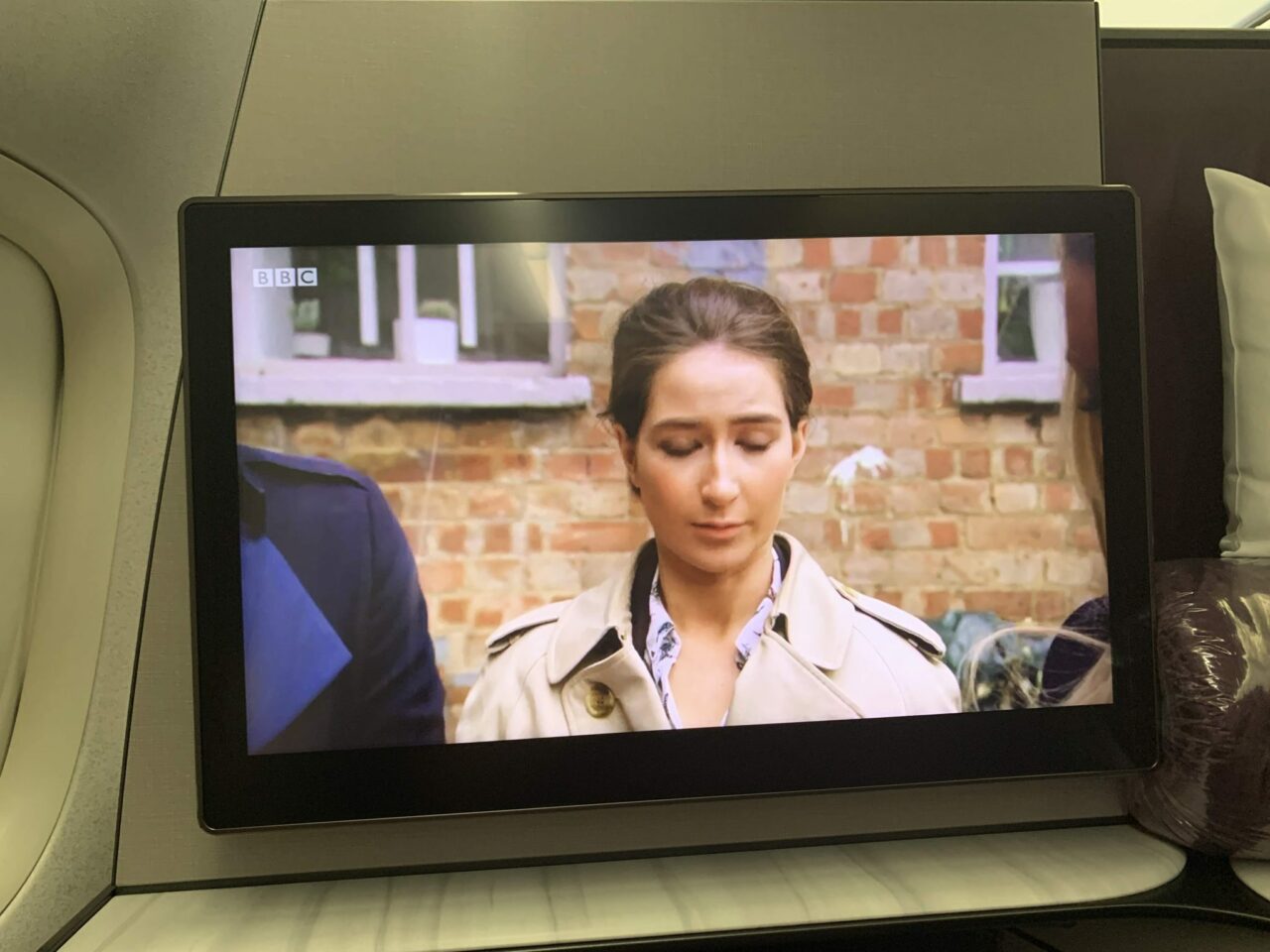 You could control the TV with a separate handheld remote which could be used independently as a small screen.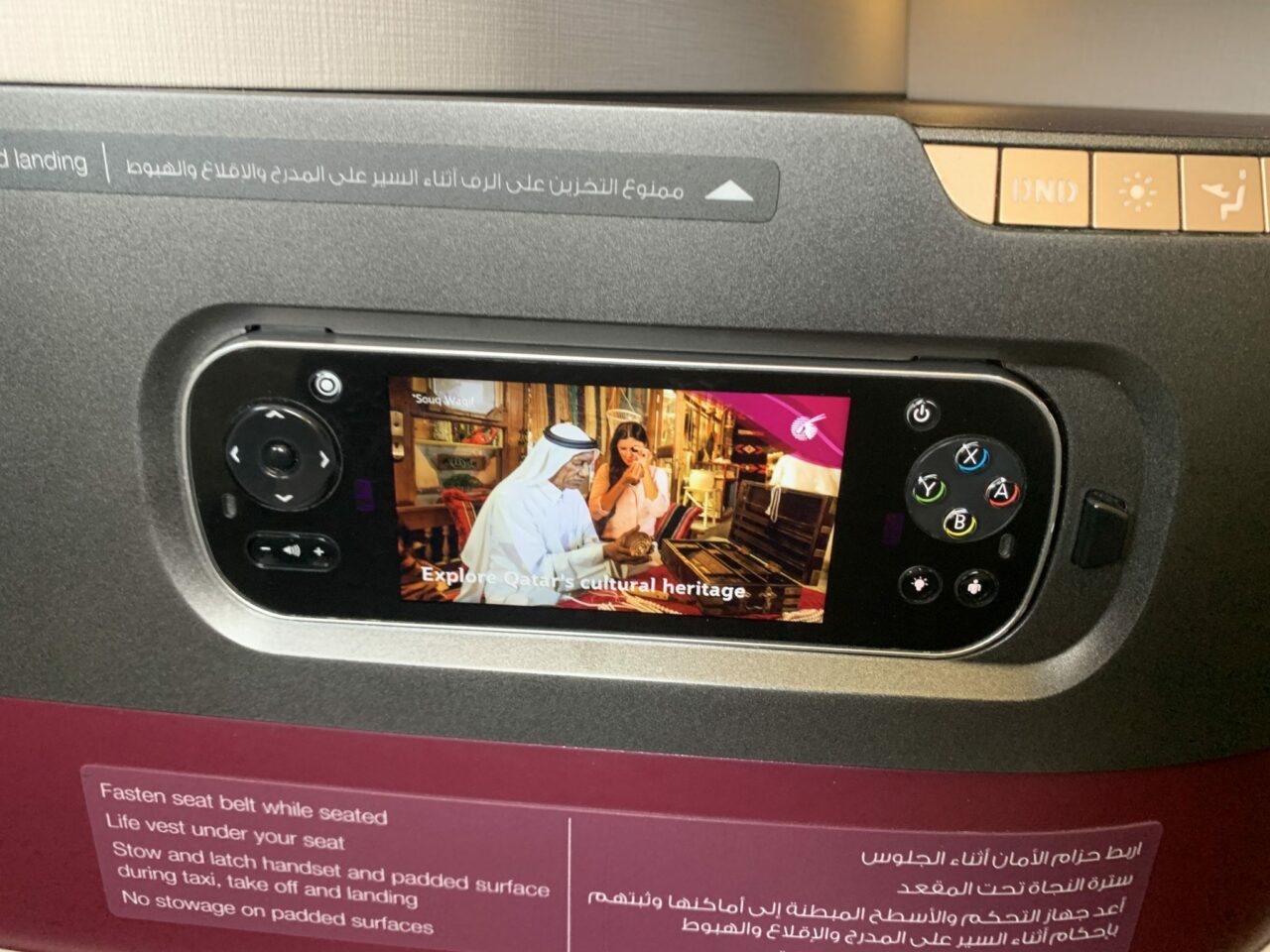 The Wifi is well worth a mention for this flight. It had Qatar's new Super WiFi and super it definitely was. Other than La Compagnie this was the best Wifi I have experienced onboard a plane. It was also super cheap at $10 for the whole flight. You could also get a small amount free.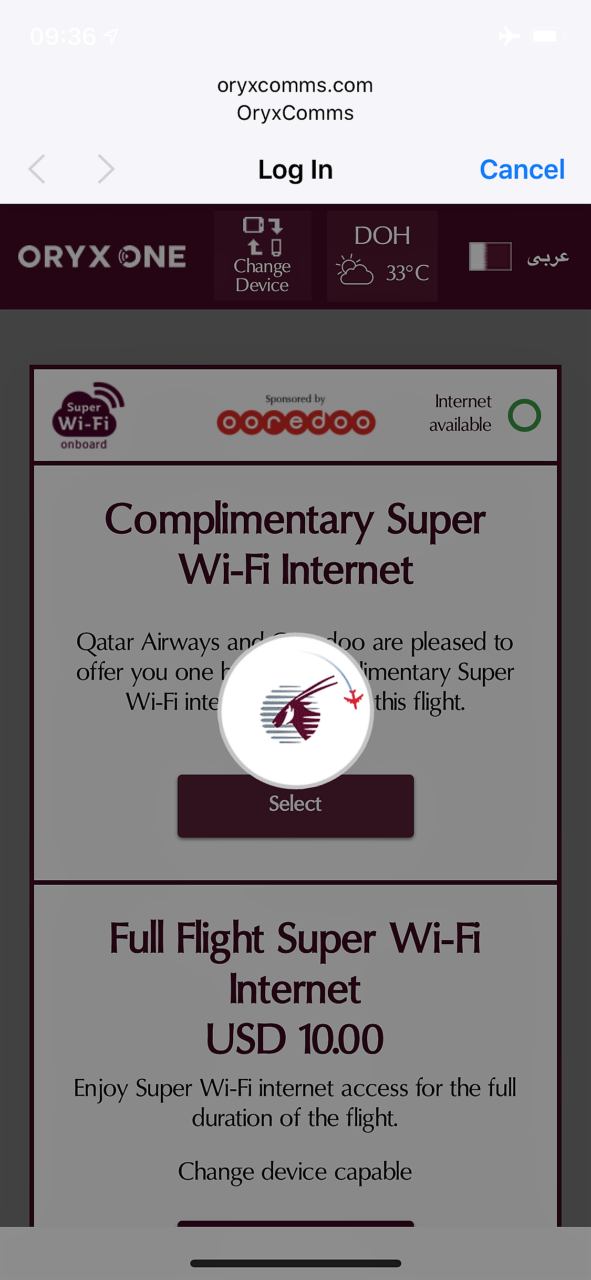 There was charging via a USB port and a multi-country socket. Sadly no HDMI socket, which I expect to get on my A350-1000 flight next week.
Conclusion
I love the QSuites but the service on this flight was friendly but pretty poor. Qatar needs to make sure their staff are sufficiently trained or helped to provide a reasonable level of service on board. However, I still love Qatar in general and there are some great prices around at the moment!