A review of Conrad New York Midtown hotel. I have almost given up on Hilton's in New York. Although the Conrad New York Downtown is OK (read my review here), it's often super expensive and the service is variable. I have actually been staying in a couple of Marriott's cheaper properties at the Residence Inn right by Century 21 and the World Trade Centre are or the Fairfield Inn & Suites by Marriott New York Manhattan/Central Park. Neither are fancy but both are new and have great staff and locations. Plus in New York, I'm rarely in the hotel much.
As this trip was more of a celebratory holiday, I decided to try out a couple of fancier hotels with the brand new Conrad New York Midtown and The Edition Times Square .
If you want to pay cash, your best bet is to book through a Hilton Impressario agent. These are luxury travel agents who are able to give extra Hilton benefits and you still get all the points and perks as a Hilton member the same as booking direct which is not the case with most travel agents. See below for more detail.
Location
What attracted me to this hotel was definitely the location as well as the promise of an all-suite hotel. It took just over 5 minutes to walk to the edge of Central Park from here. It was also walking distance to Times Square, Rockerfella Centre, 5th Avenue and most of the major stores such as Bloomingdales, Saks and Tiffanys.
Check-in at Conrad New York Midtown hotel

Things did not start well and that was putting it mildly. I think the main issue was that the hotel had only been open a few weeks and it did not appear to be going for a soft opening with the number of guests I saw. The doorman offered to take our bags when we arrived but we declined as we had around 30 minutes before we had a tour in Central Park. Our plan was to hopefully get our room quickly or if it wasn't ready ( we were around 20 minutes ahead of check-in time) then store our bags and come back later. What greeted us in the small lobby was pretty much chaos. There was a long line for the solitary person on check-in and there were people and bags everywhere.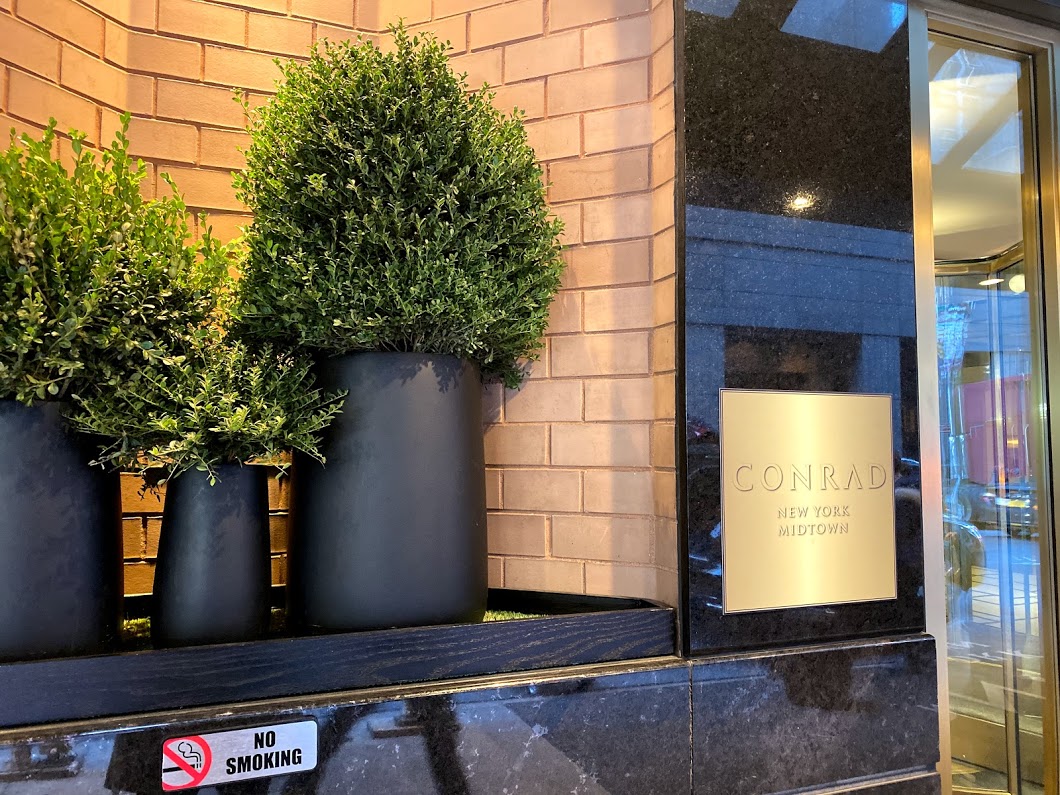 We stood in the queue for around 10-15 minutes but as we were now reaching the point we needed to leave, I decided we should just leave our bags and come back later. This should be simple, right? Er no. As there was no one else to be seen in the lobby apart from a concierge on the phone I went back outside to the doorman. Who refused to take our bags! I was quite taken aback at this point. Apparently, he can only take your bags outside the door and wheel them a couple of steps to the lobby! I explained our situation and he begrudgingly walked me to the concierge desk and left me there to wait another 5 minutes whilst he finished his phone call.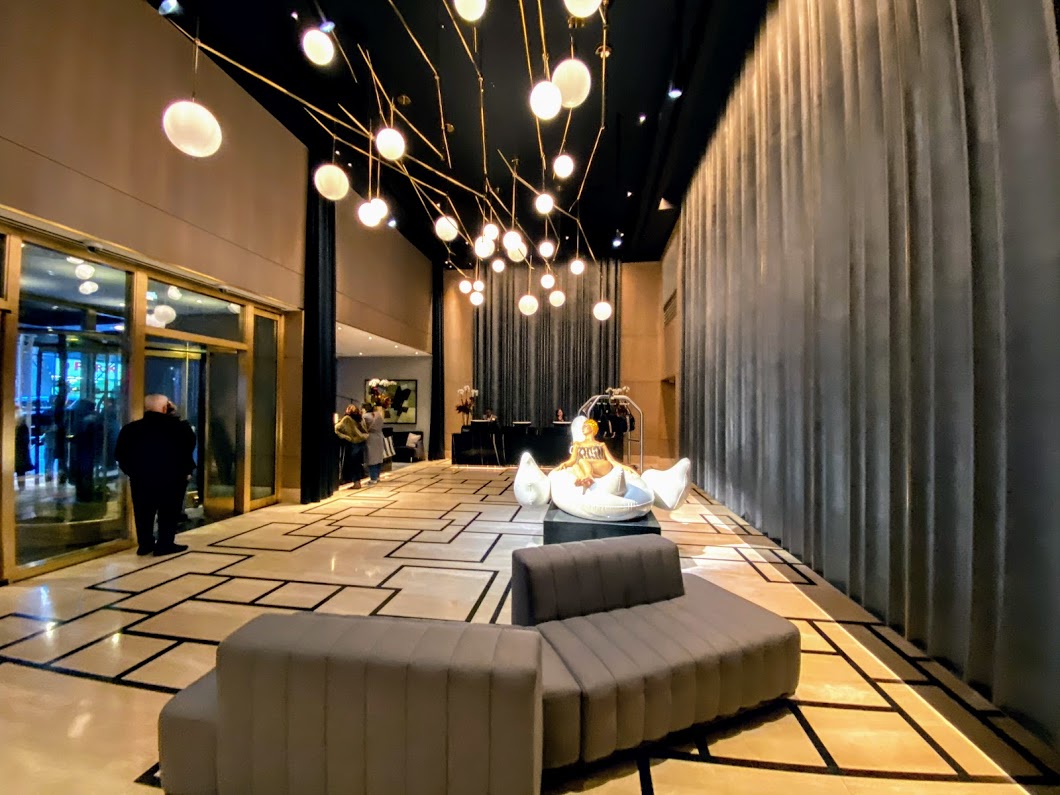 By this point, I was not amused. My partner was still in the queue and not at the desk yet either. Eventually, the concierge got off the phone and pointed us the direction of the solitary bellboy who had just appeared. Of course, everyone swarmed around him so it still took some time to get the luggage stored. We were late for our tour so when we came back I asked for the manager to call me. He apologised profusely and I was offered compensation in points and he recognised my Diamond status. Although this was not an ideal check-in I am willing to cut them some slack as they had only just opened and I received more than adequate compensation. I think the doorman could do with some customer service training though!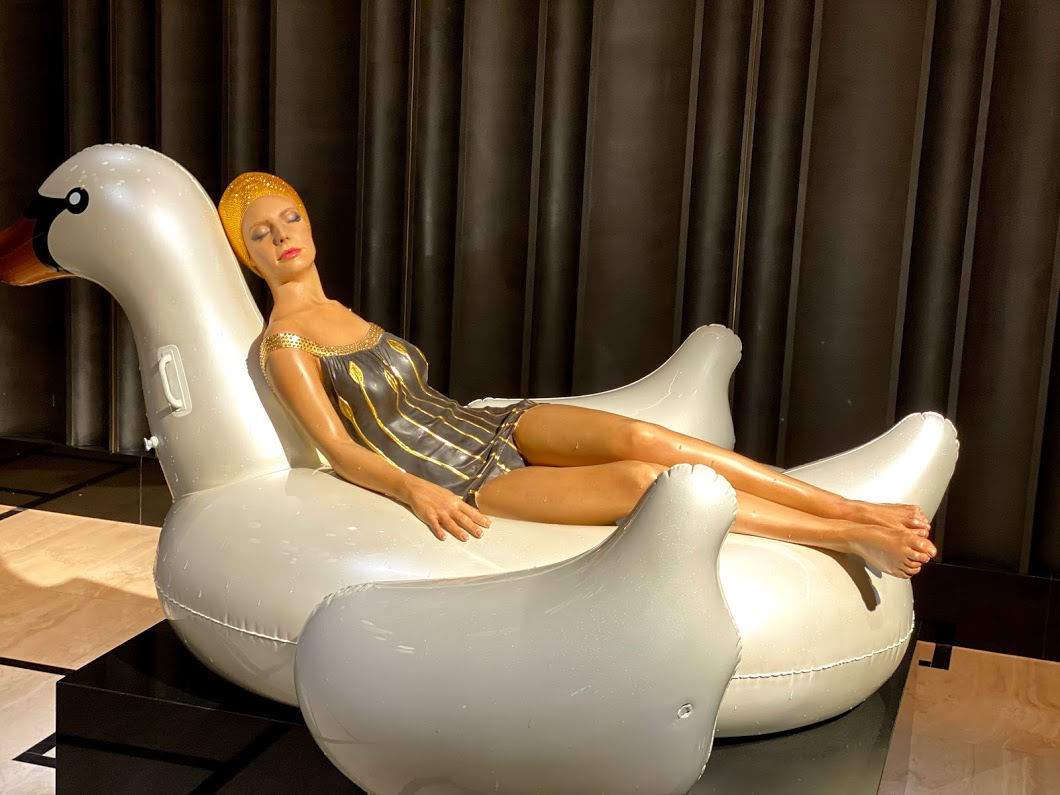 The Lobby was very glamourous though – we particularly liked the very lifelike bathing lady sculpture.
Conrad New York Midtown hotel Room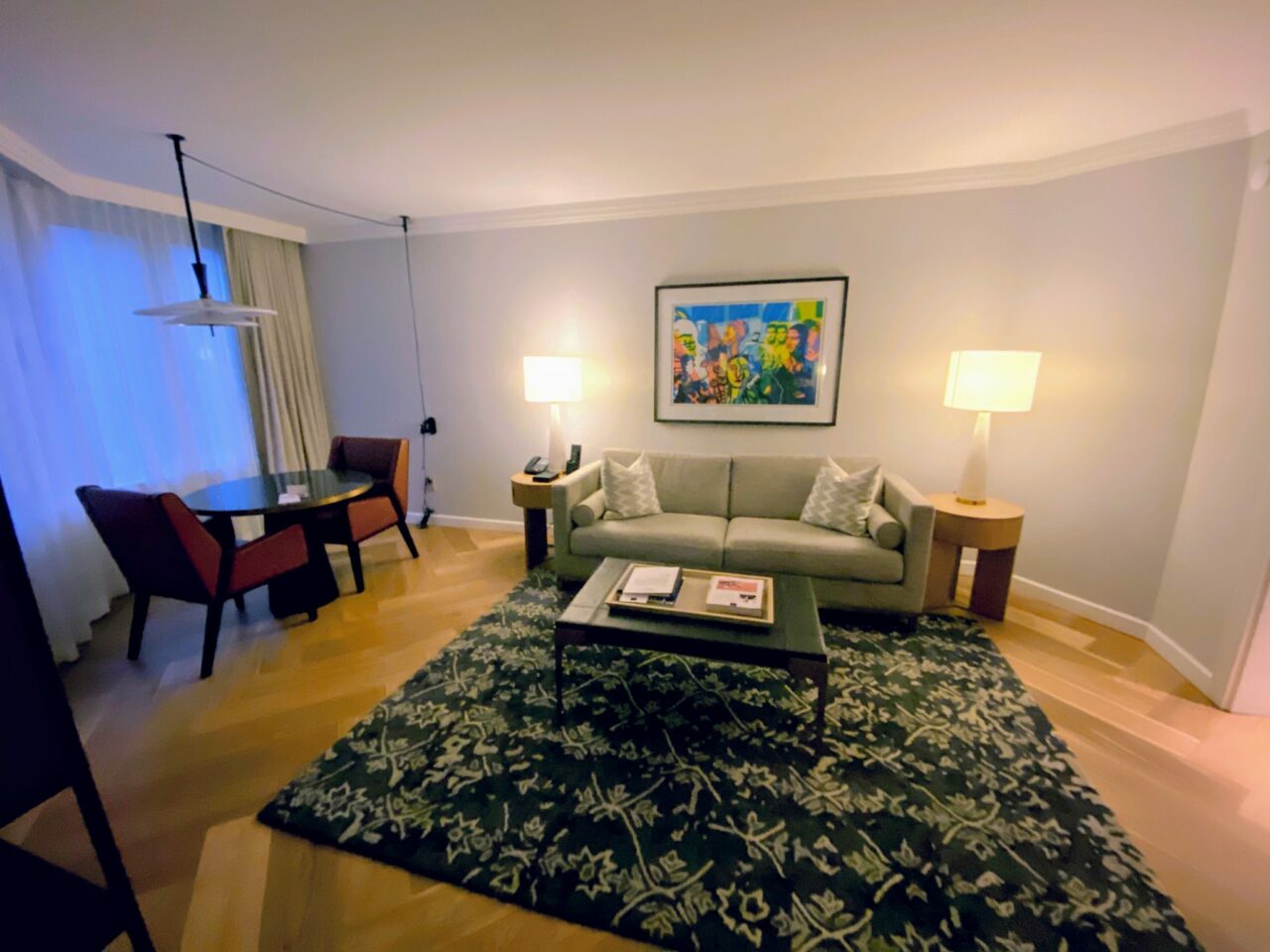 In New York hotels you can generally guarantee two things, they will be expensive and they will be roughly the size of a broom closet. This did not disappoint on being expensive but I have to say when I walked into the room I was wowed by the size. We did not receive an upgrade although we were on a high-ish floor. Though to be honest with rooms like this who needs an upgrade? All the rooms are suites and the room one up from the basic junior suite did not disappoint on size. One thing we did notice is that there was a bit of a lack of attention to detail with things like a handle missing for the sliding door. Hopefully, these will be rectified as people report teething troubles.
As you walked in there was a small hallway area with a bench.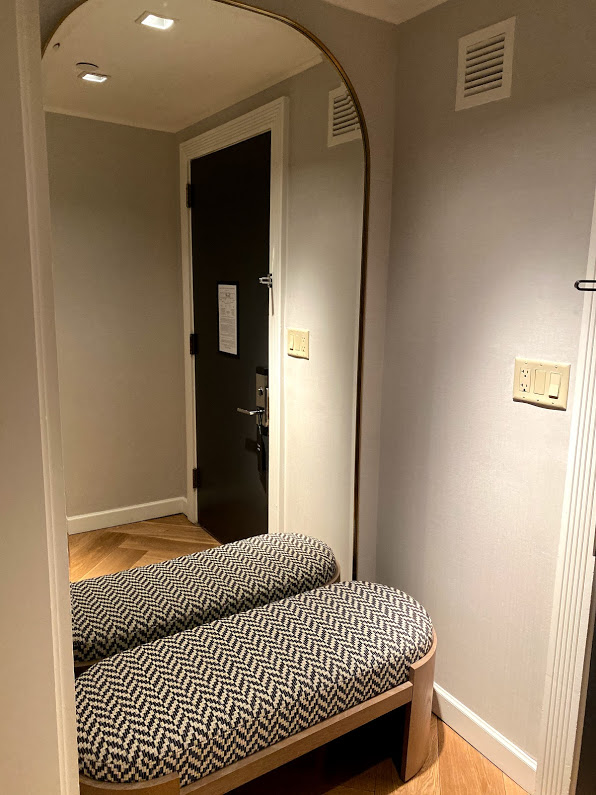 Then you entered the very generous living room that had a proper dining table as well as a sofa and large TV.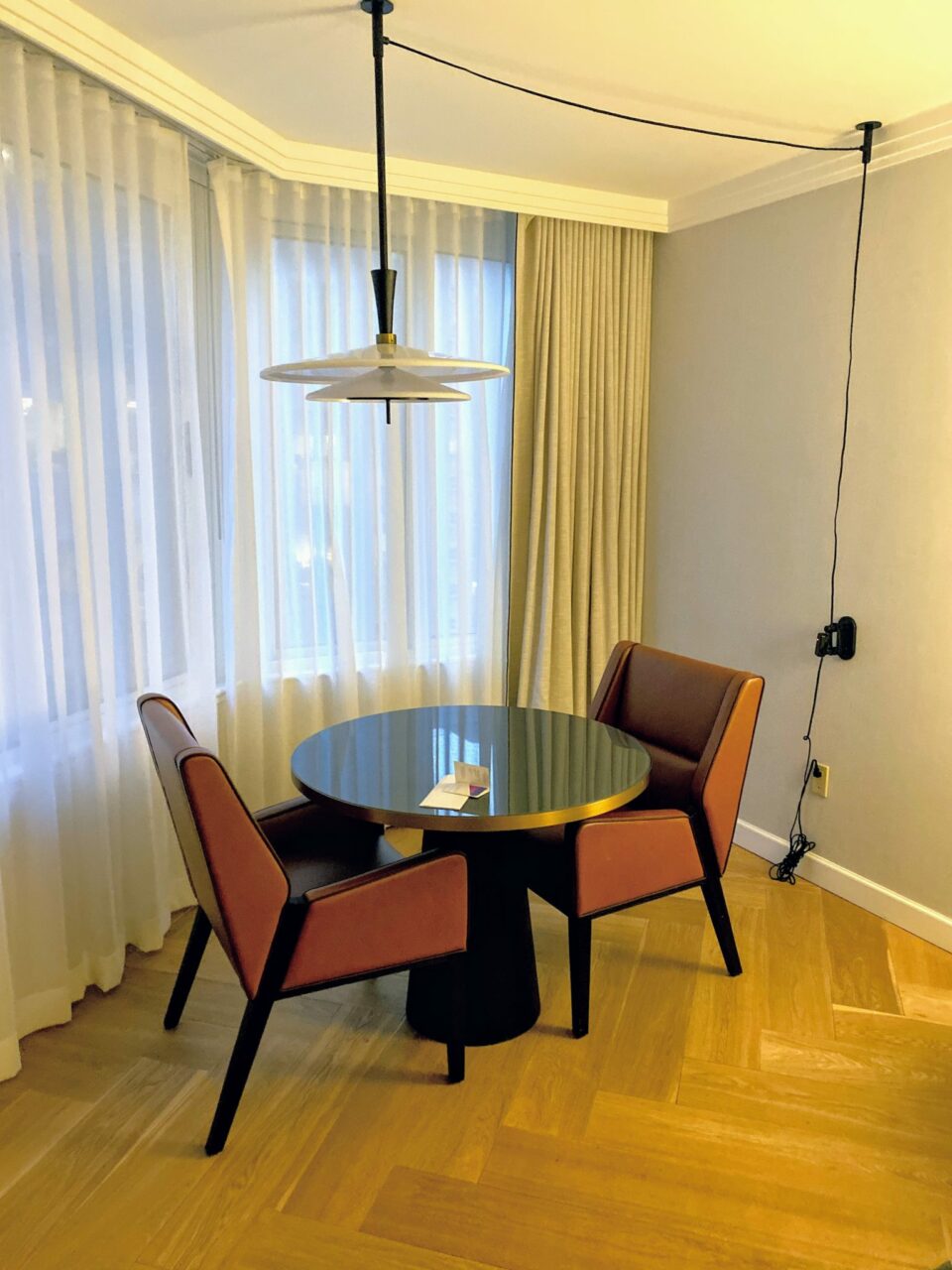 I liked the style of the room which I would describe as classic/modern but it also felt more like an apartment than a hotel room.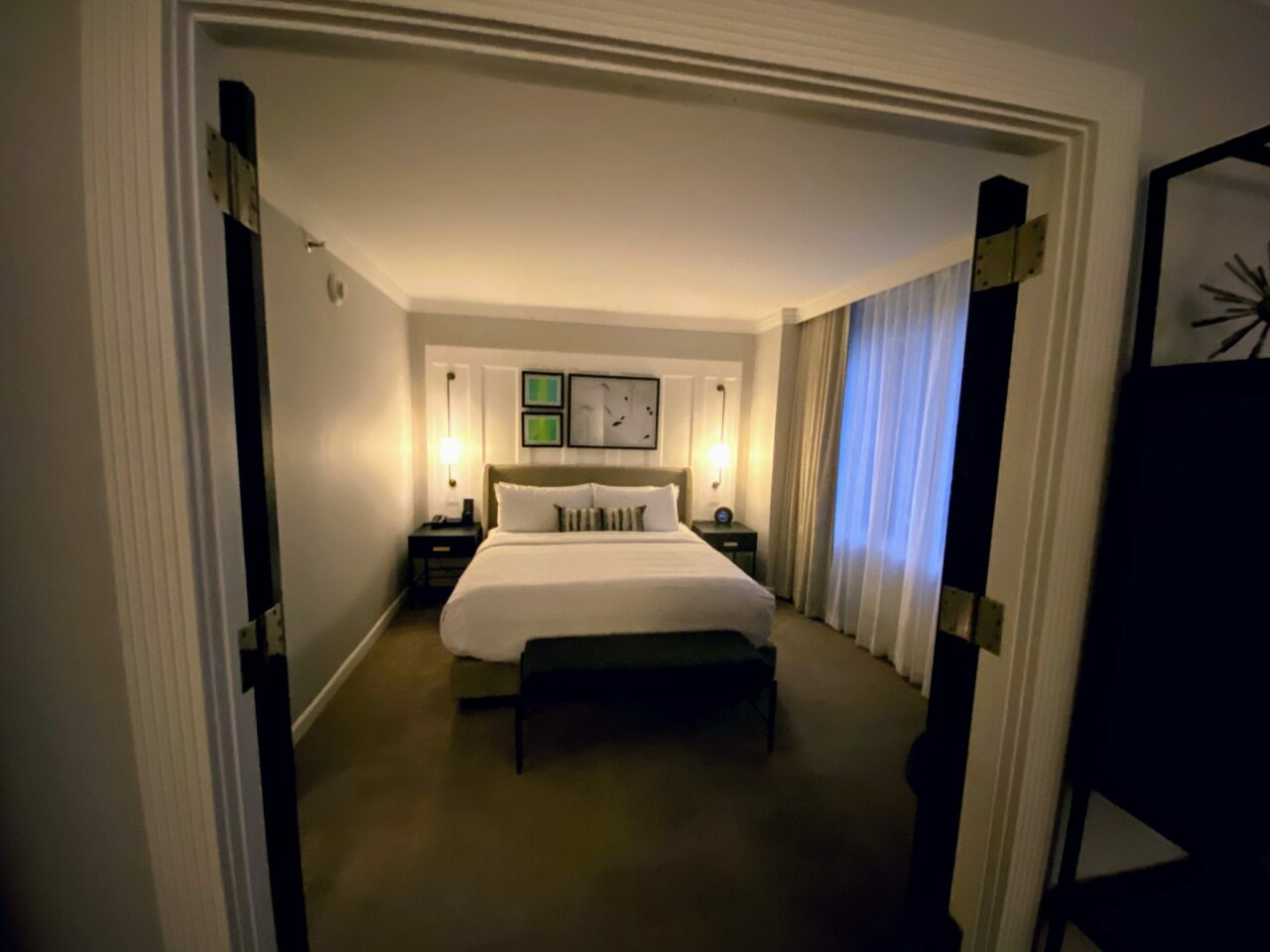 There was a separate smallish bedroom with double door leading to it.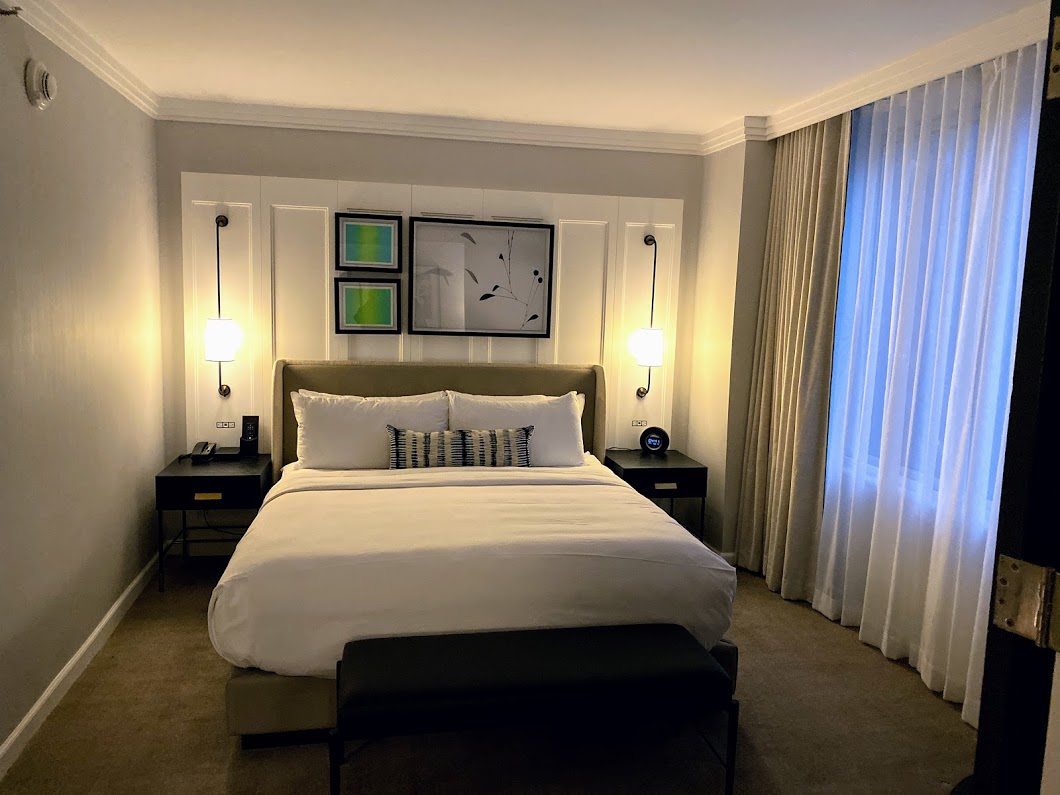 The bed was very comfortable with lovely quality 300 thread count sheets and the room was pretty quiet as well, again unusual for New York. There were all the usual amenities you would expect from a 5* hotel – slippers, iron & ironing board and some lovely robes that were silky outside but cosy inside. Next to the bed were two sockets each side, as well as USBs. The light switches were all very simple to operate, so more ticks in the box from me. We got two bottles of water for being Hilton Diamond but they were absolutely tiny!
Leading from the bedroom was a good-sized walk-in wardrobe.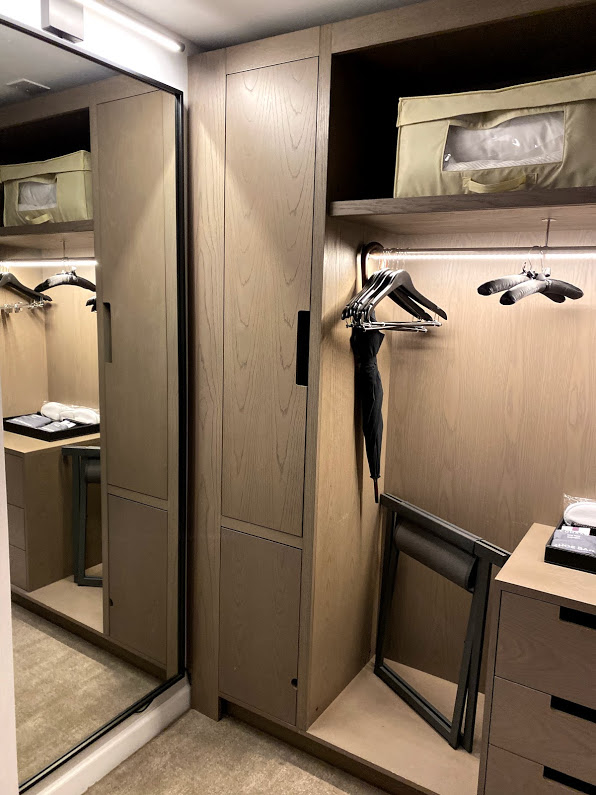 This then led into a long narrow bathroom via a sliding door.
Conrad New York Midtown hotel Bathroom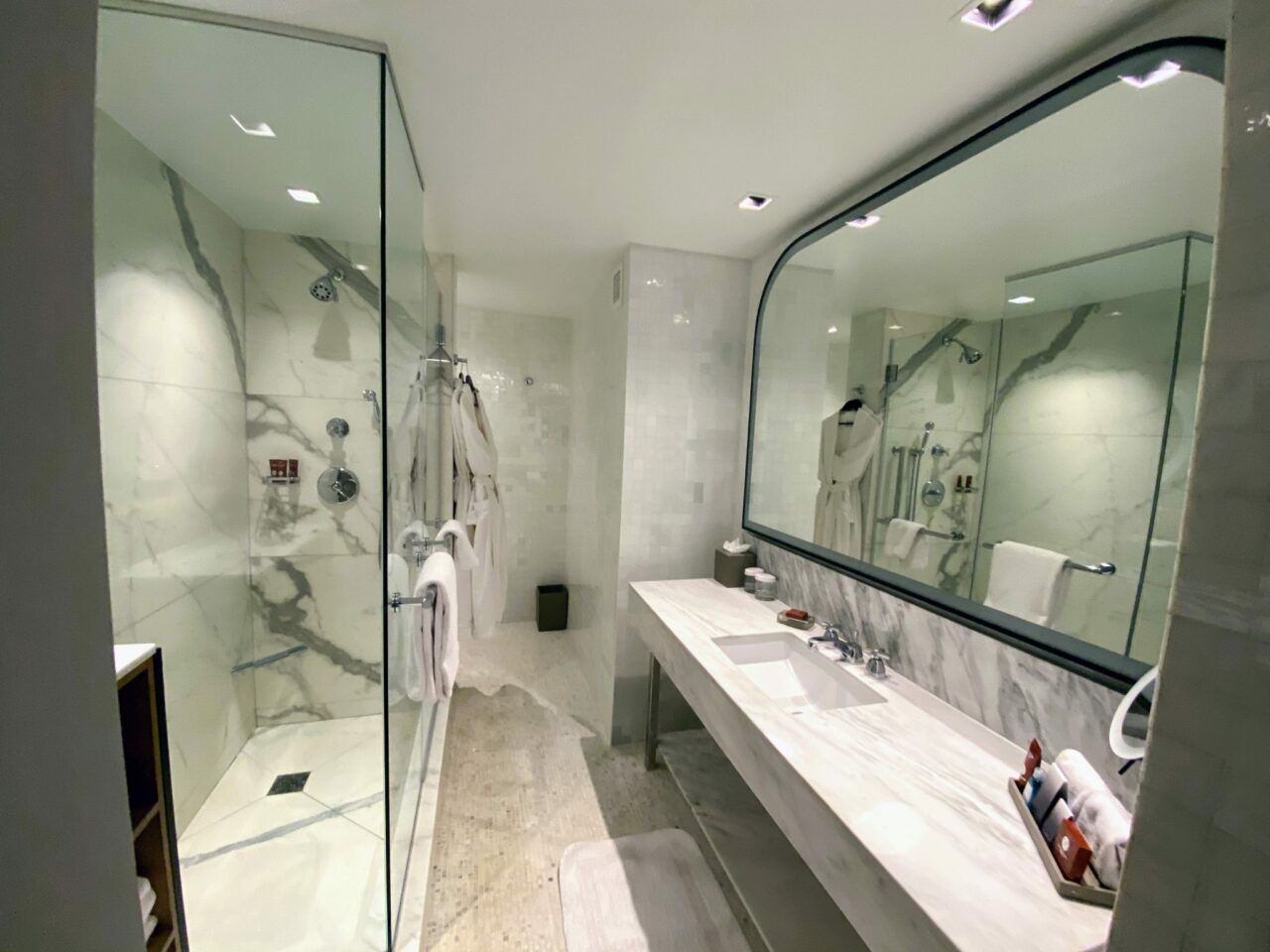 The bathroom looked beautiful but I was disappointed that a suite of this size did not have a bath. New York is the perfect place to have a long soak in the bath after a day in the freezing cold pounding the pavements! And yet due to size, it's rare to find a new hotel with baths. There was a least a large shower that had decent pressure but I was surprised to see the bog-standard US showerhead rather than a rain shower.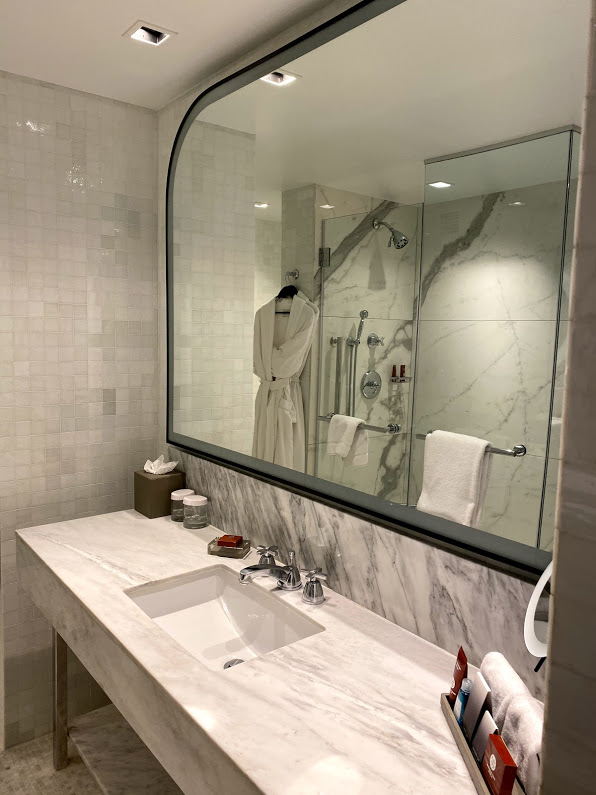 I loved the enormous vanity area with enough room for even all my toiletries and makeup. The complimentary toiletries were one of Conrad's standard brands – Shanghai Tang Mandarin Tea which I really like for its subtle and refreshing fruity fragrance. As well as the standard items there were a few extras such as mouthwash and a vanity kit. There was also a well lit magnifying mirror and the lighting was excellent which is often not the case in hotel bathrooms.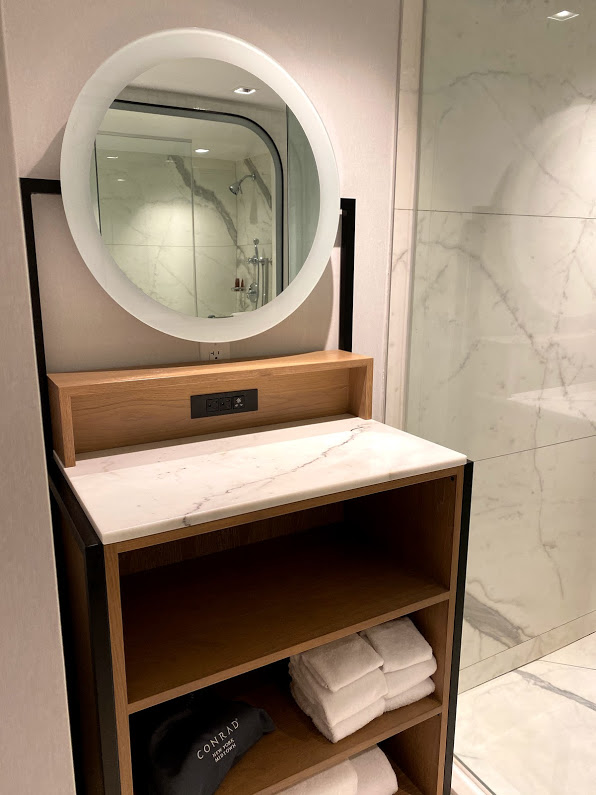 Opposite the vanity unit was another mirrored unit with sockets which was handy for drying your hair. There were plenty of spare towels there too.
Conrad New York Midtown hotel Breakfast and dining
The hotel has a bar and restaurant called Dabble for all day dining. Breakfast was served until 11am which is always a plus point if you have had a late night.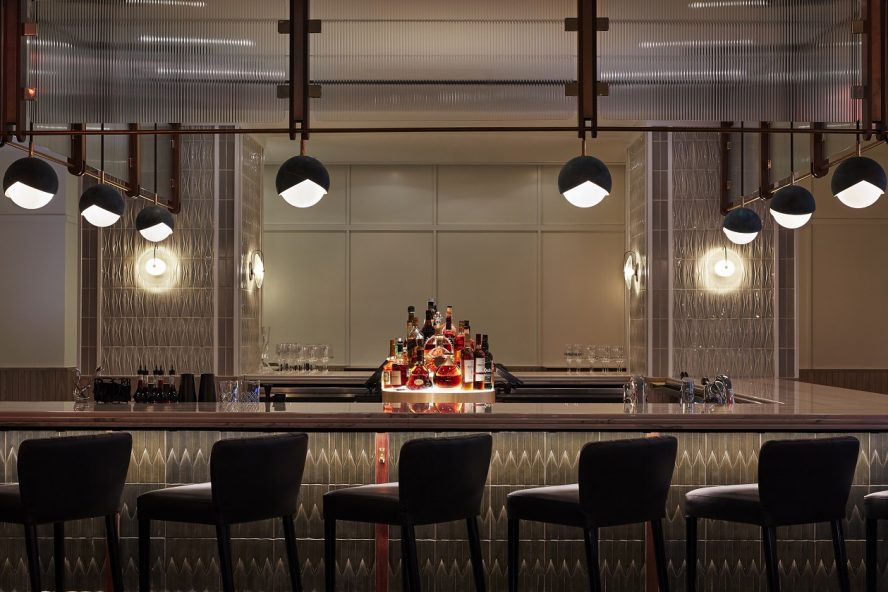 Dabble was smart and modern but again they seemed to be going through a few teething troubles in terms of staff training.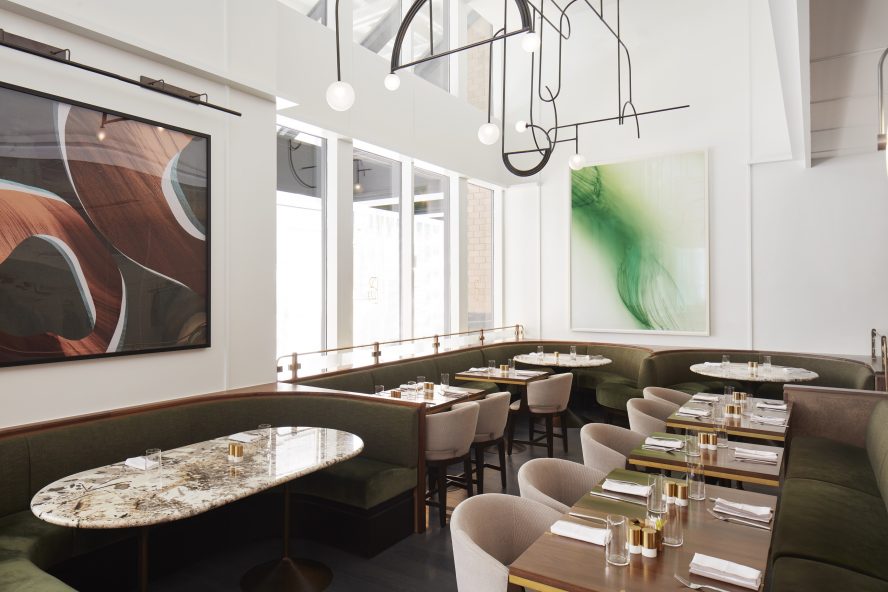 When we sat down the table was missing a few basics…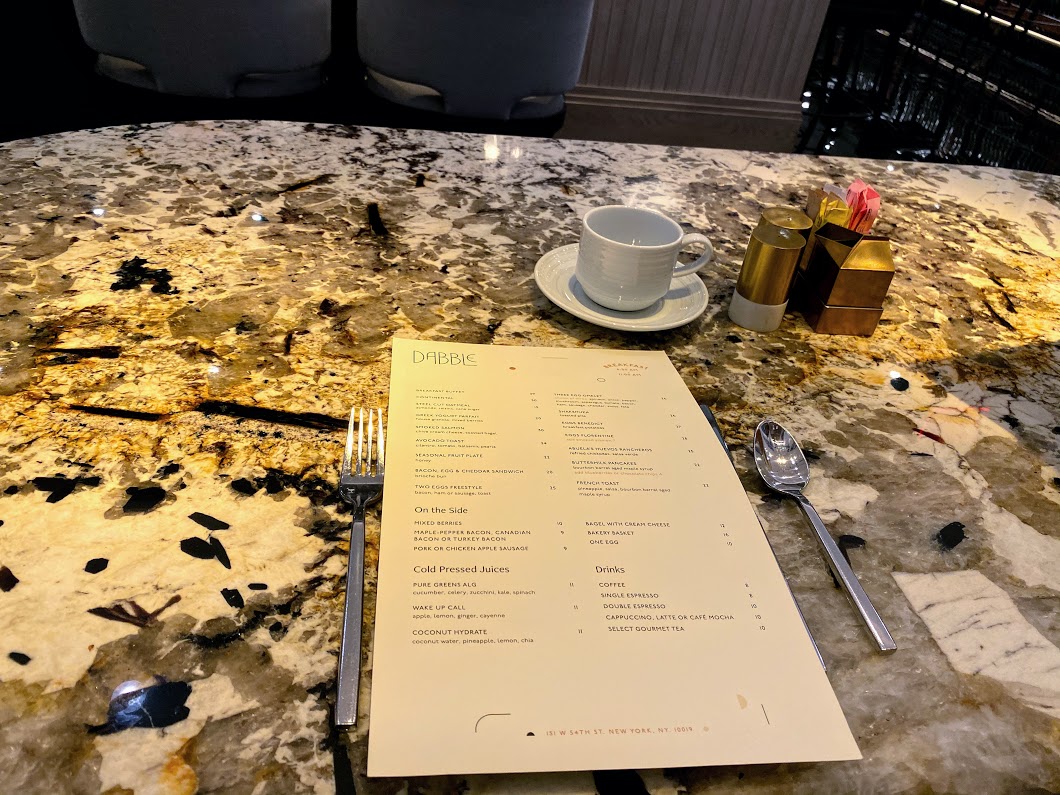 Things like teaspoons, butter and jam/marmalade all seemed to take them by surprise. Finding the milk was also a challenge. See if you can post it in the photo above!
As a Hilton Diamond, I got $30 breakfast credit per person per day for breakfast which I thought was reasonable. There was a choice of a la carte or buffet. The buffet looked OK if limited but the menu had some unusual choices so we went for that.
Here is the menu: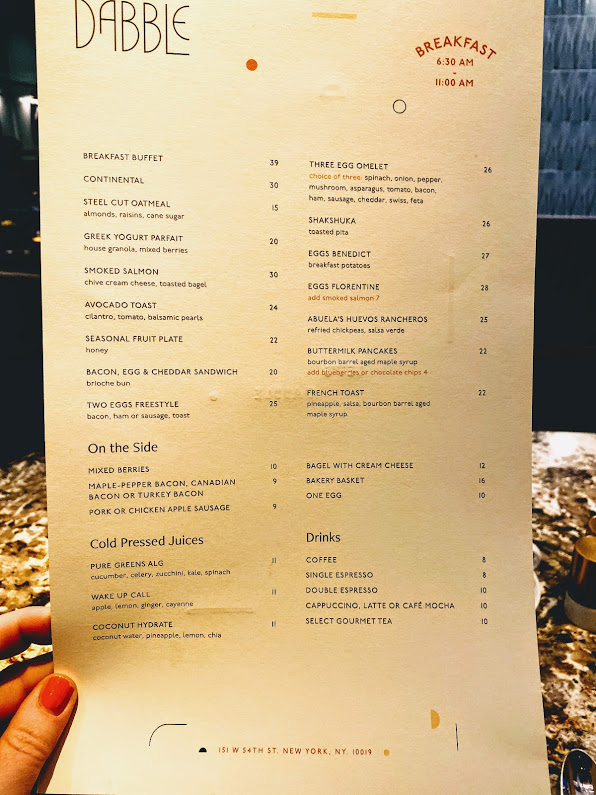 The food was a little disappointing at this level but still tasty: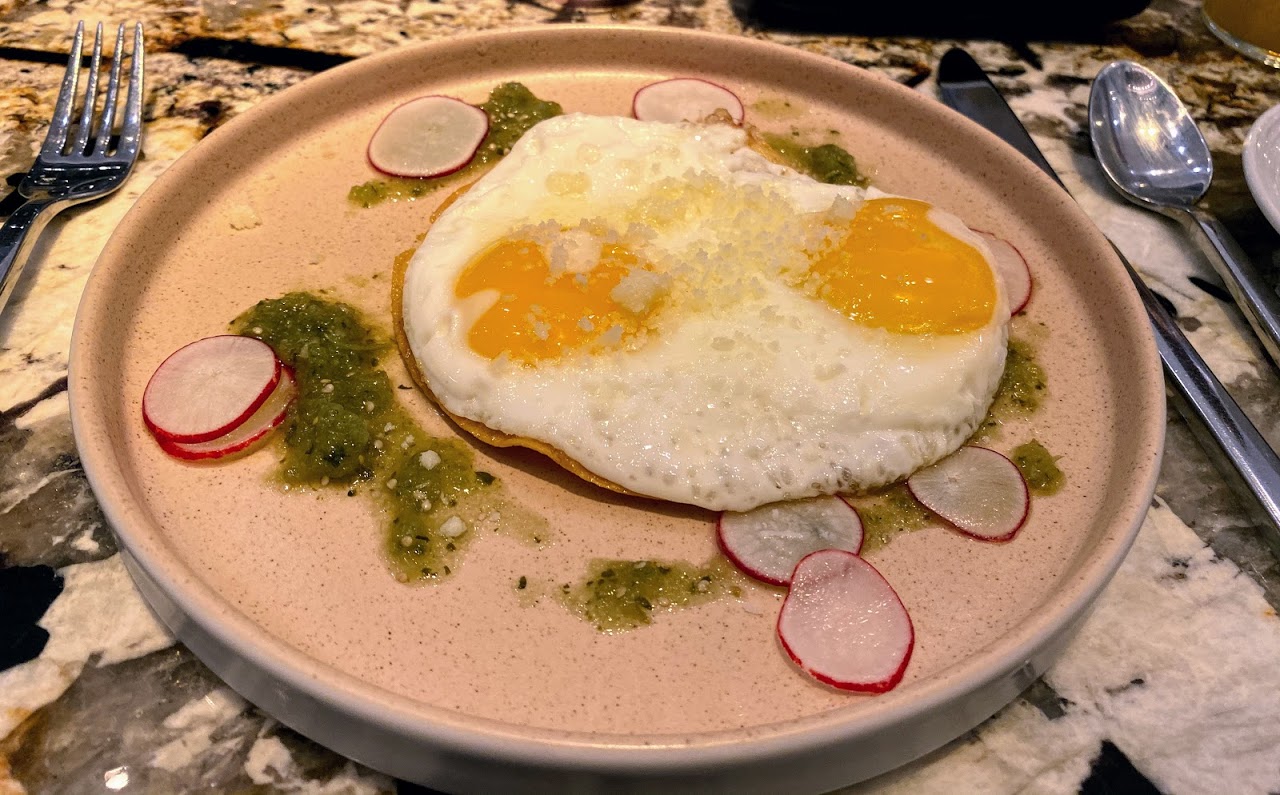 I had the Huevos Rancheros which I order a lot in the US. It was well cooked but a little minimalist compared to what I would normally get. It was pretty much a tiny tortilla with two eggs on top and a small amount of salsa verde. My partner's Shakshuka was again not really authentic with pached eggs swimming in sauce. It was also a bit overconcentrated with the tomato in the sauce: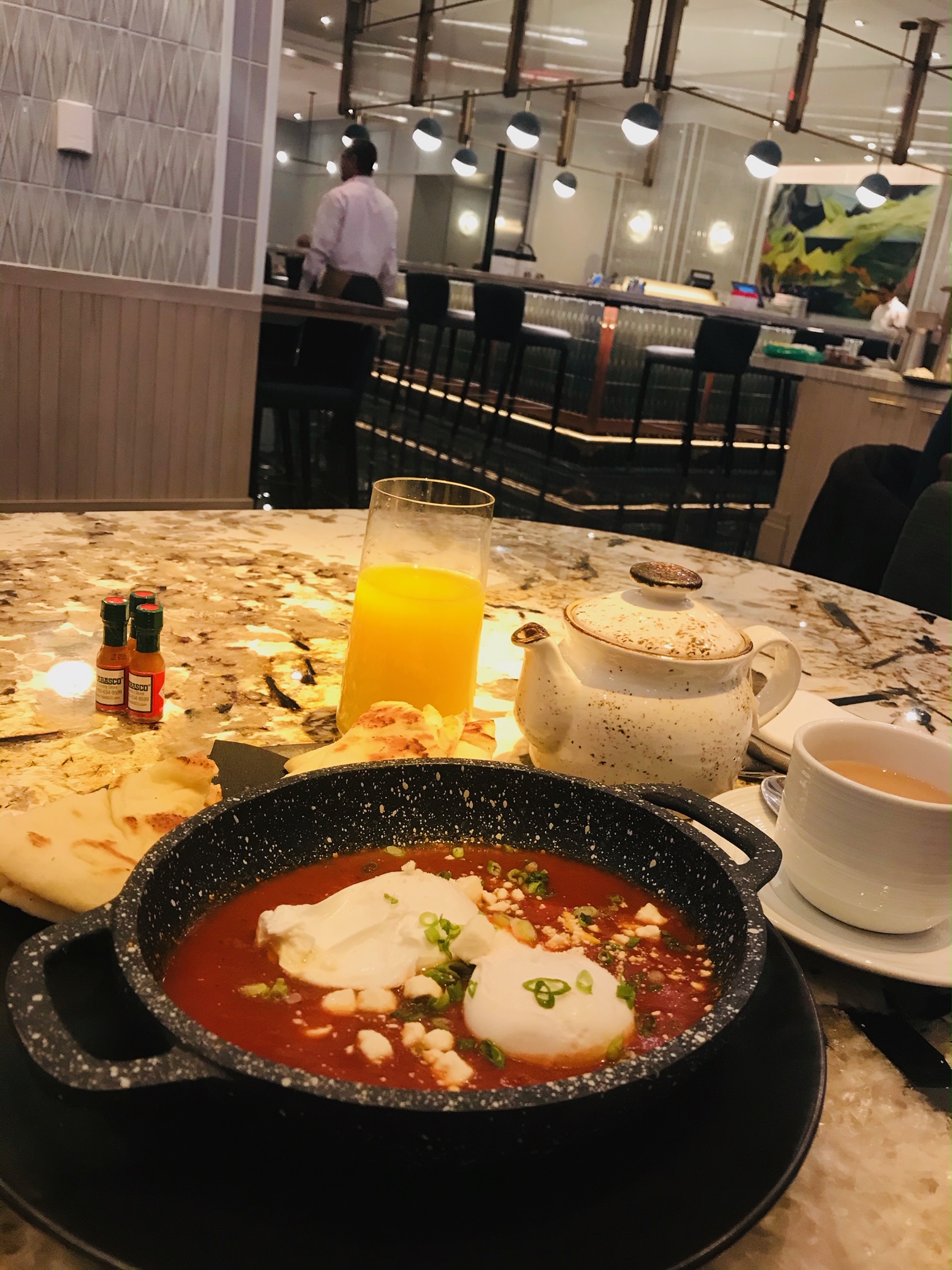 Conrad New York Midtown Facilities
The hotel doesn't have a lot of facilities but it does a great gym which is large, well equipped and open 24-7. It is also a good place to score come free bottles of water!
Price and how to get $100 free credit & an upgrade
Having just blown most of my points on a trip to French Polynesia, I paid cash for this stay. I paid £290 a night which I think is good value for the time of year (pre-Christmas is always pricey). You can usually get rooms between $250-700 which at the lower end is very reasonable for the amount of space somewhere like New York.
Rooms start at 88,000 Hilton Honors points for the one-bedroom king suite like this. I think that is a good deal for the amount of space you get.
If you book with a Hilton Impressario agent you get a number of extra benefits on your rate:
Complimentary Breakfast for 2 people
$100 USD hotel credit per stay, or local currency equivalent
Next category upgrade, subject to availability
Double Hilton Honors points
You can also still collect Hilton points and use your benefits of Hilton status.
Conclusion
The hotel have obviously been having a few teething issues and not all the staff seemed well trained/helpful. I actually can forgive this as I could say the same about many New York hotels, new or otherwise! For me the location and sheer size and quality of the rooms makes this my favourite hotel to stay in New York so far. Having a room that felt more like an apartment was a welcome break from the hectic buzz of New York. The comfortable bed and the quiet room also would make me recommend this hotel.
I would definitely return again and hope for an upgrade to a suite with a bath for my weary feet!
You can find more information and the latest prices for Conrad New York midtown here.