A review of the Radisson Collection hotel Tallinn. As you may notice, we still have not managed to switch to our new design due to some unforeseen issues.
This will mean there may be further periods where the site is in maintenance mode but generally, first thing in the morning and in the evening it should be working OK.
Most of the Radisson I have stayed in have been 4* good quality modern hotels but not what you would describe as a luxury hotel. So I was pleased to be given the chance to try the very glamorous Radisson Collection hotel in Tallin while on a press trip with Finnair.
Radisson describes their Collection hotels as "Experience the extraordinary in our iconic collection of high-end hotels. Be connected to the locale in these contemporary and original hotels that offer remarkable service. At Radisson Collection, we design our spaces to be welcoming hubs for modern living, with a vibrant social scene and notable amenities that go beyond the usual, to leave an indelible impression on our guests."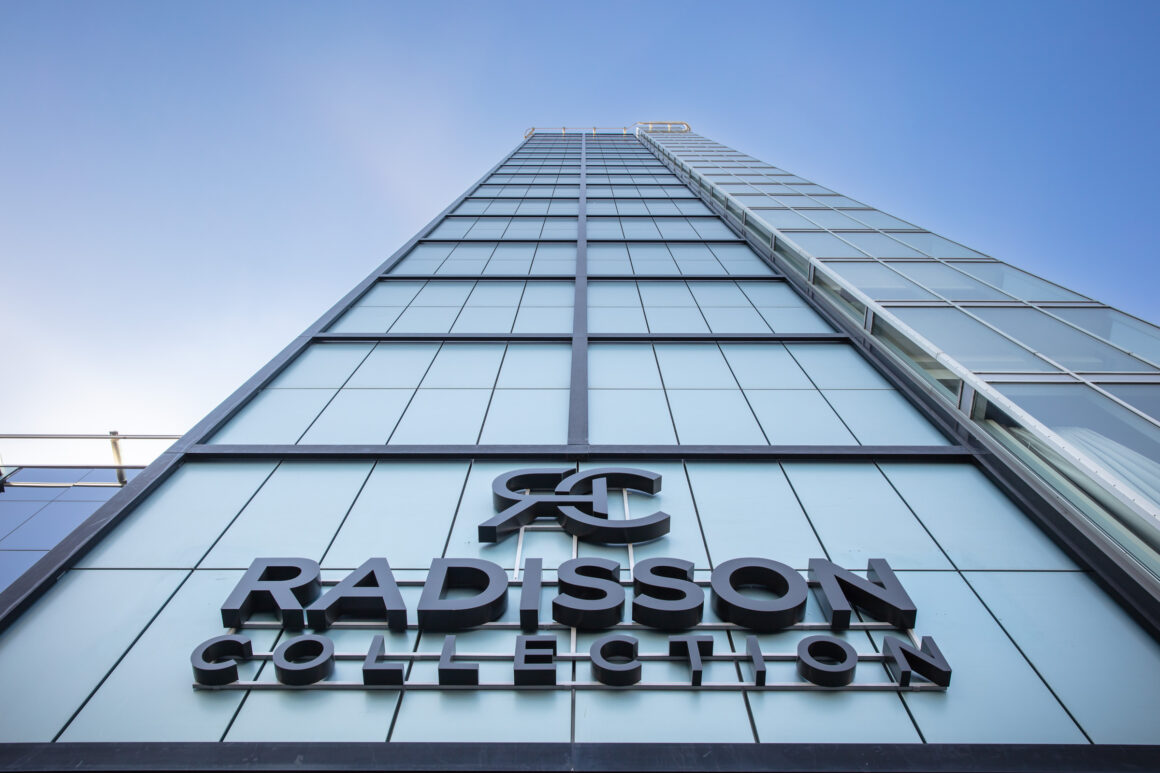 This Radisson Collection only opened in May 2022 after a €25 million renovation. Radisson Collection Hotel, Tallinn, features 287 rooms and suites, including Family Rooms, Suites and Junior Suites with access to fitness and sauna facilities, and Premium Suites overlooking the old town. All rooms overlook the city.
Location
In Tallin, there are two main areas you will want to visit, the Old town and the Telliskivi Arts district with its street art, galleries, restaurants bars and food market.
The Radisson is situated less than 10 minutes walk to the old town. Nearby there is a park and plenty of shops. There are plenty of bus stops near the hotel, too and the tram is around a 7-minute walk.
The Telliskivi area is around 10 minutes by Uber or Bolt (which are very cheap) or 20 minutes by bus.
Check-in at Radisson Collection hotel Tallinn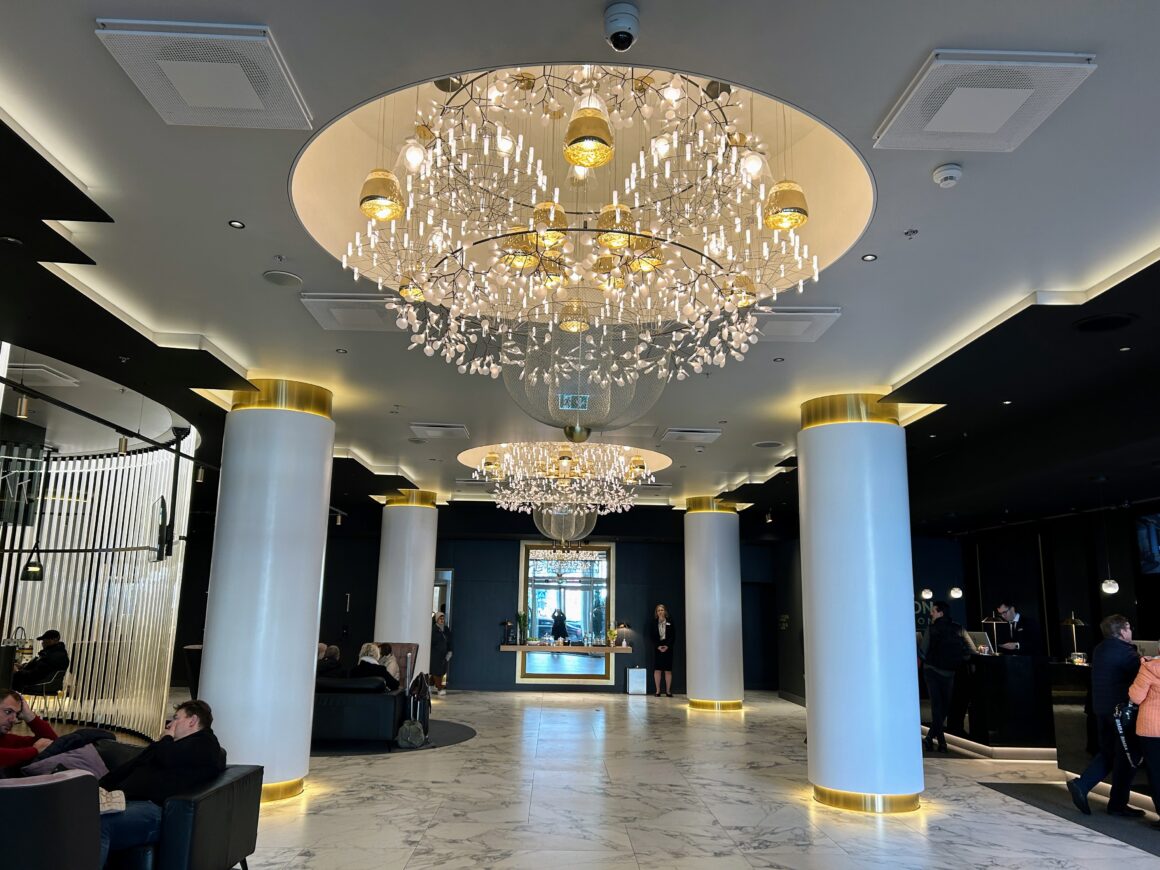 The check-in area feels very 5-star with its dark-hued furniture and stunning chandeliers. The hotel was very busy when we were there so I'd advise booking in advance.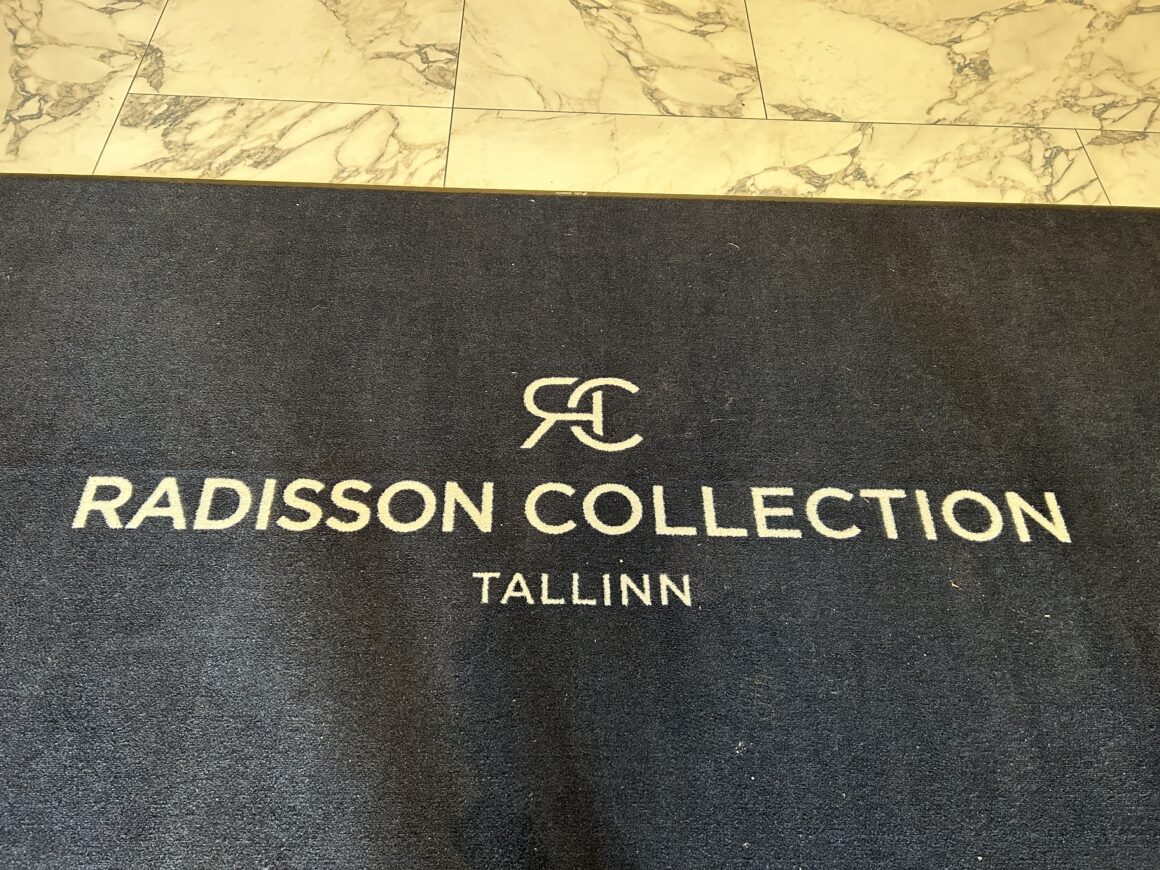 Check-in was swift and friendly with our luggage being stored as we had arrived very early in the day, and our rooms were not ready.
It was explained to us about the rooftop bar and the times and location for breakfast as well as telling us about the spa.
If you wanted somewhere to work or needed a computer there was a decent size work area with a couple of computers just by reception.
Radisson Collection hotel Tallinn room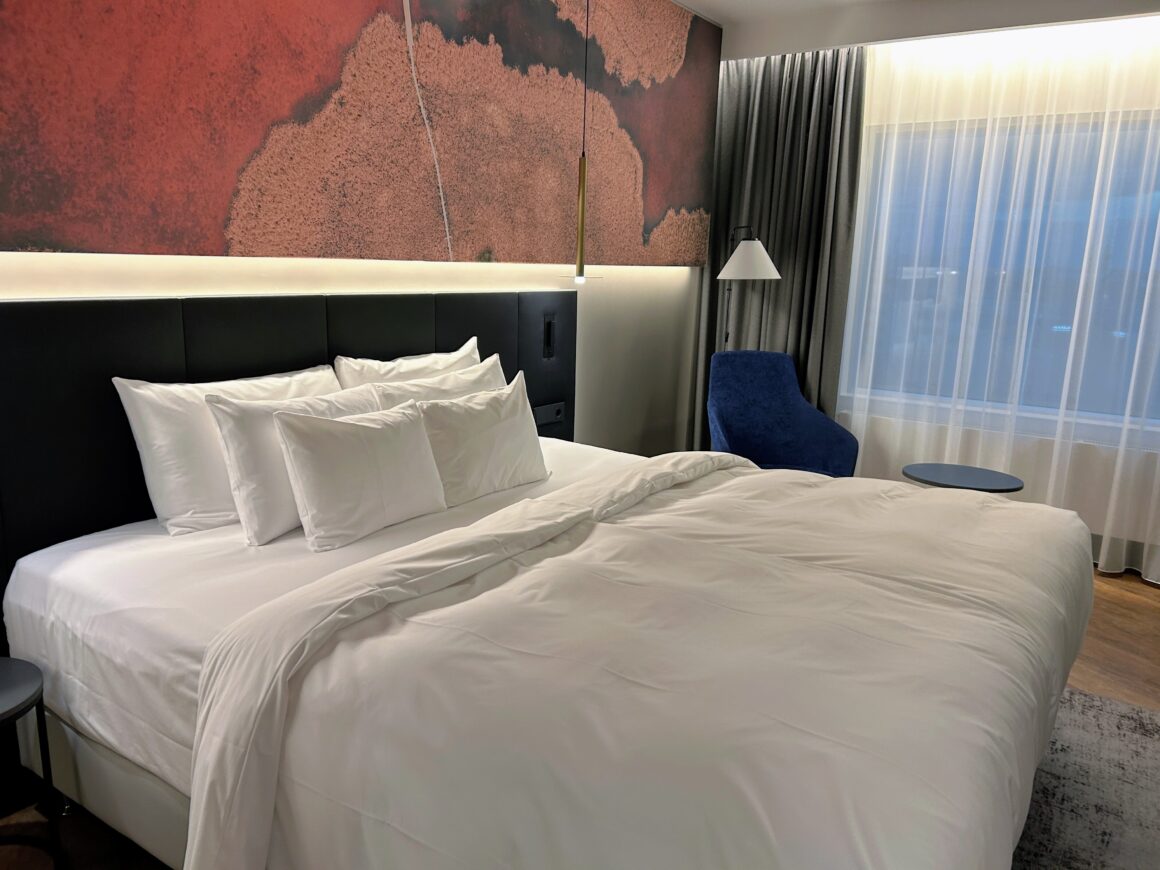 My room had a lovely view of the old town in the distance, which was lovely to open the curtains to the next morning. I believe my room type was a Collection Super Old Town view.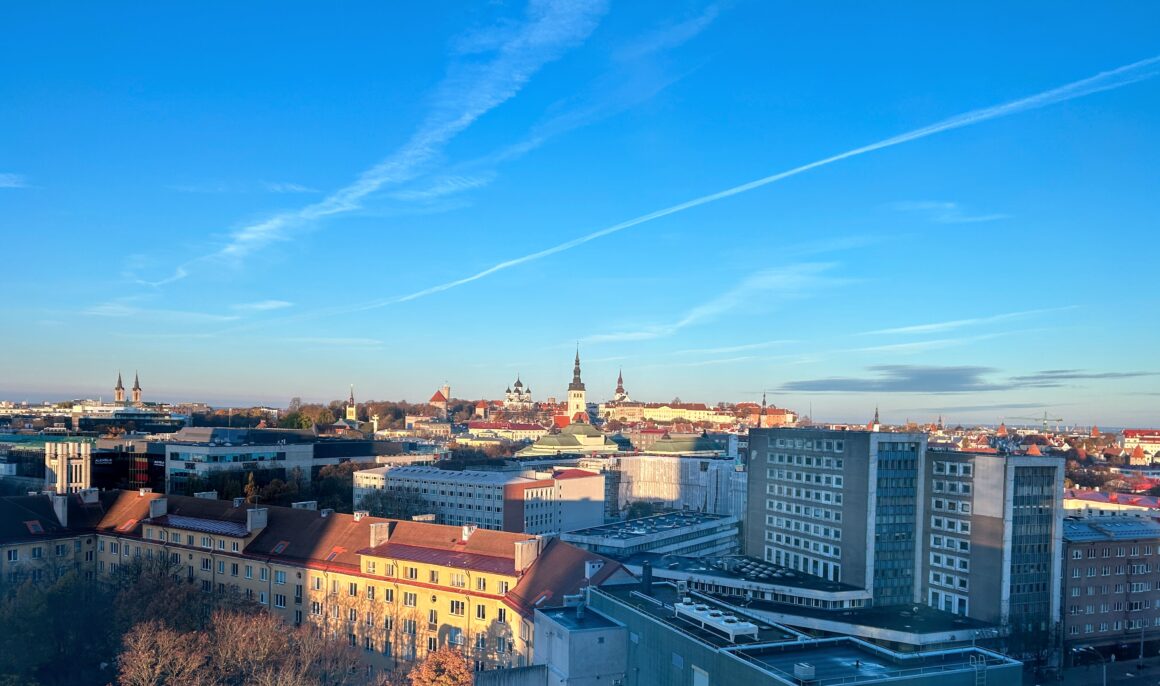 The room was not particularly large, but there are larger rooms available such as the junior suite. It was certainly perfectly adequate for me on this sort of city break and did not feel too small.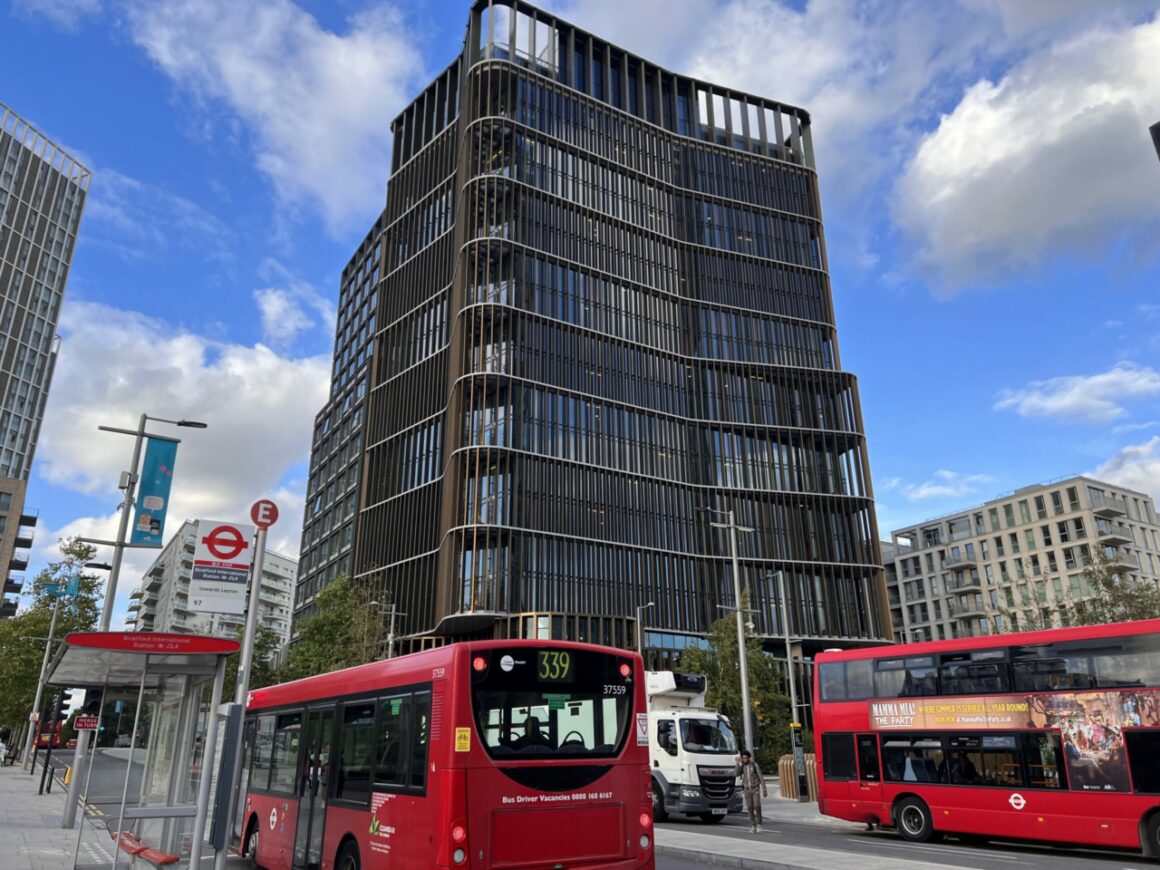 The décor is modern and elegant with a lovely parquet look floor. It was good to see a desk as many hotels seem to be forgoing them now. There was a long bench which was good for unpacking but as it was positioned next to the full-length mirror it was also a good spot to sit and dry my hair.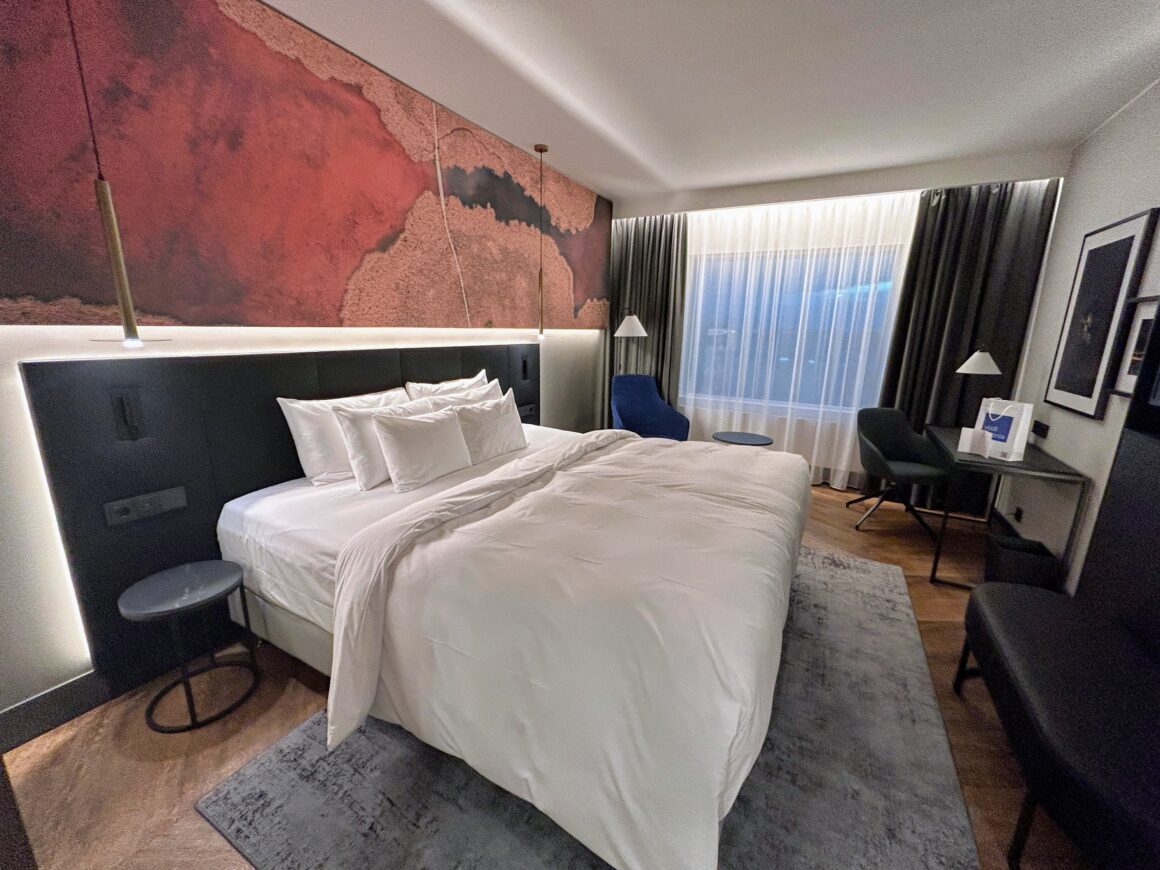 The bed felt sumptuous, with lots of fluffy pillows and high-quality bed linen. As you know, I am super fussy about beds being too hard, but this was the perfect level of softness. It was well up to TLFL's princess standards!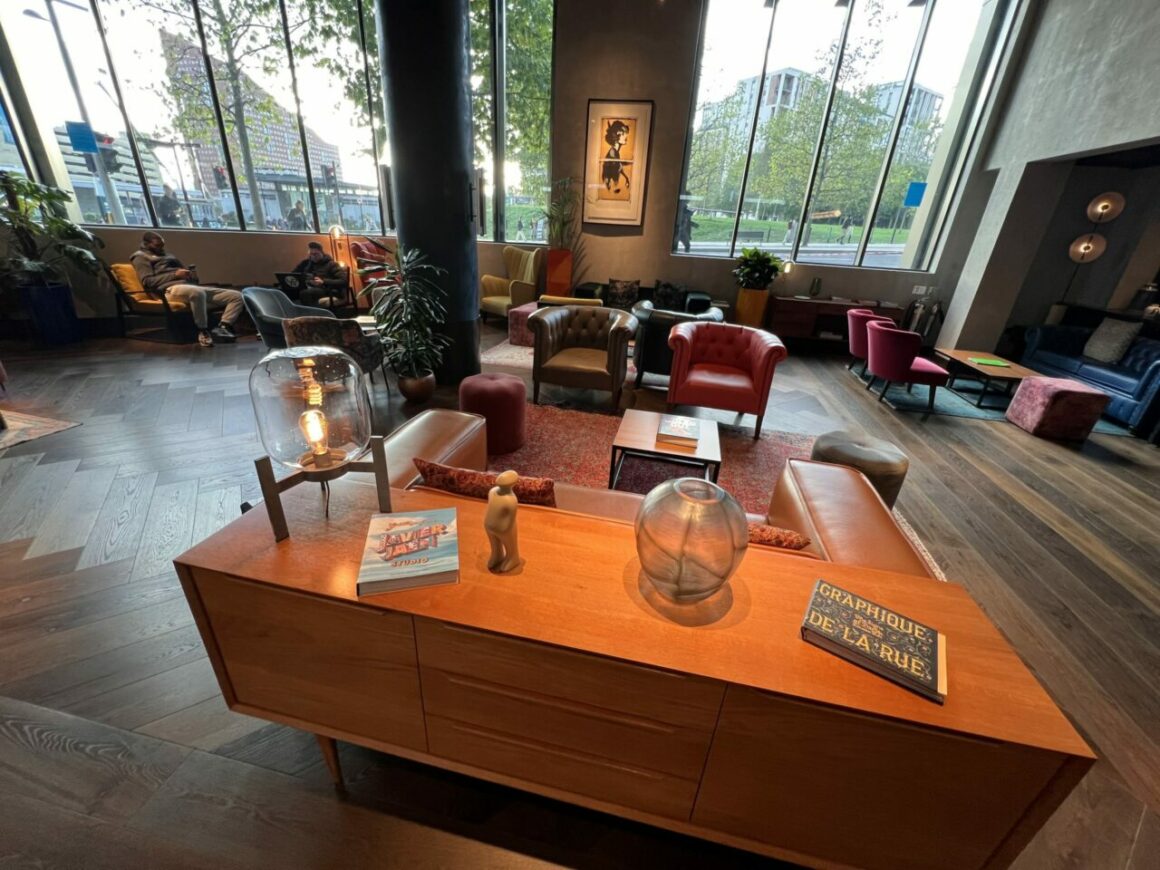 I particularly liked the bathroom with its marble décor that felt luxurious. The shower was spacious and had both a rainshower head and a large size standard nozzle.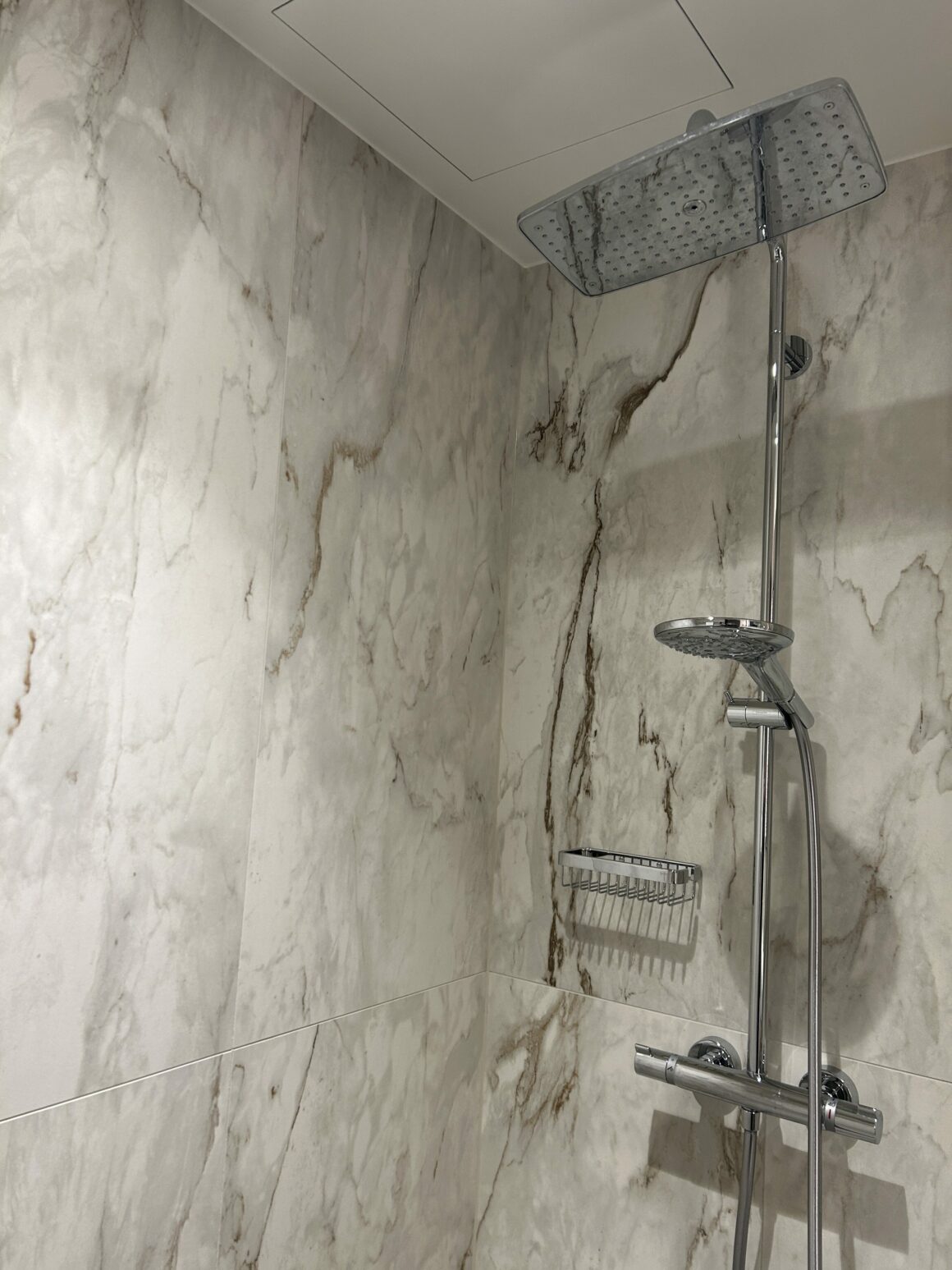 The toiletries were their own brand which you don't often see in hotels now. Each product had a slightly different range of natural extracts, but they all felt high quality. The scent was light and neutral, with slightly warm notes. They were large sizes too so you would be able to use for them for a 2-day stay for two people without needing more which is more environmentally friendly that some of the tiny bottles.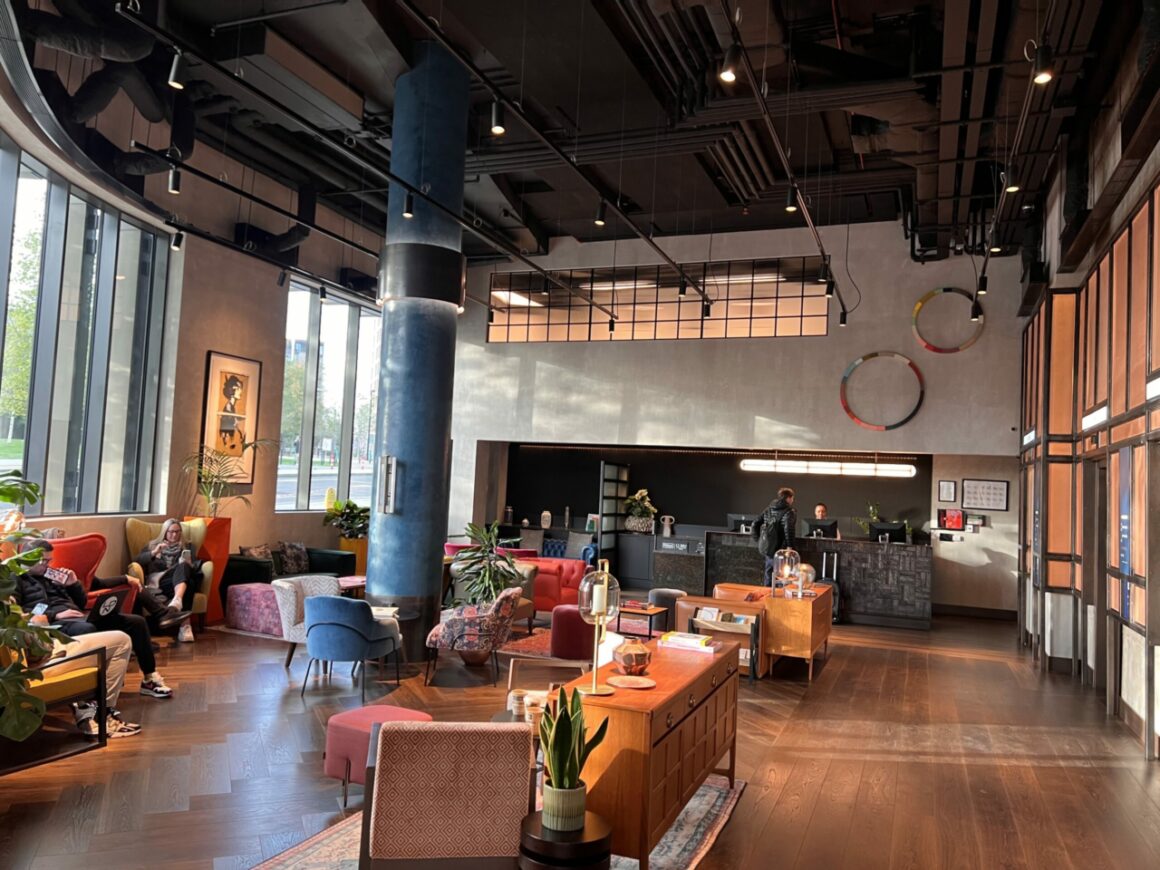 In terms of equipment, there was, of course, an iron and ironing board, a decent modern hairdryer and bathrobes.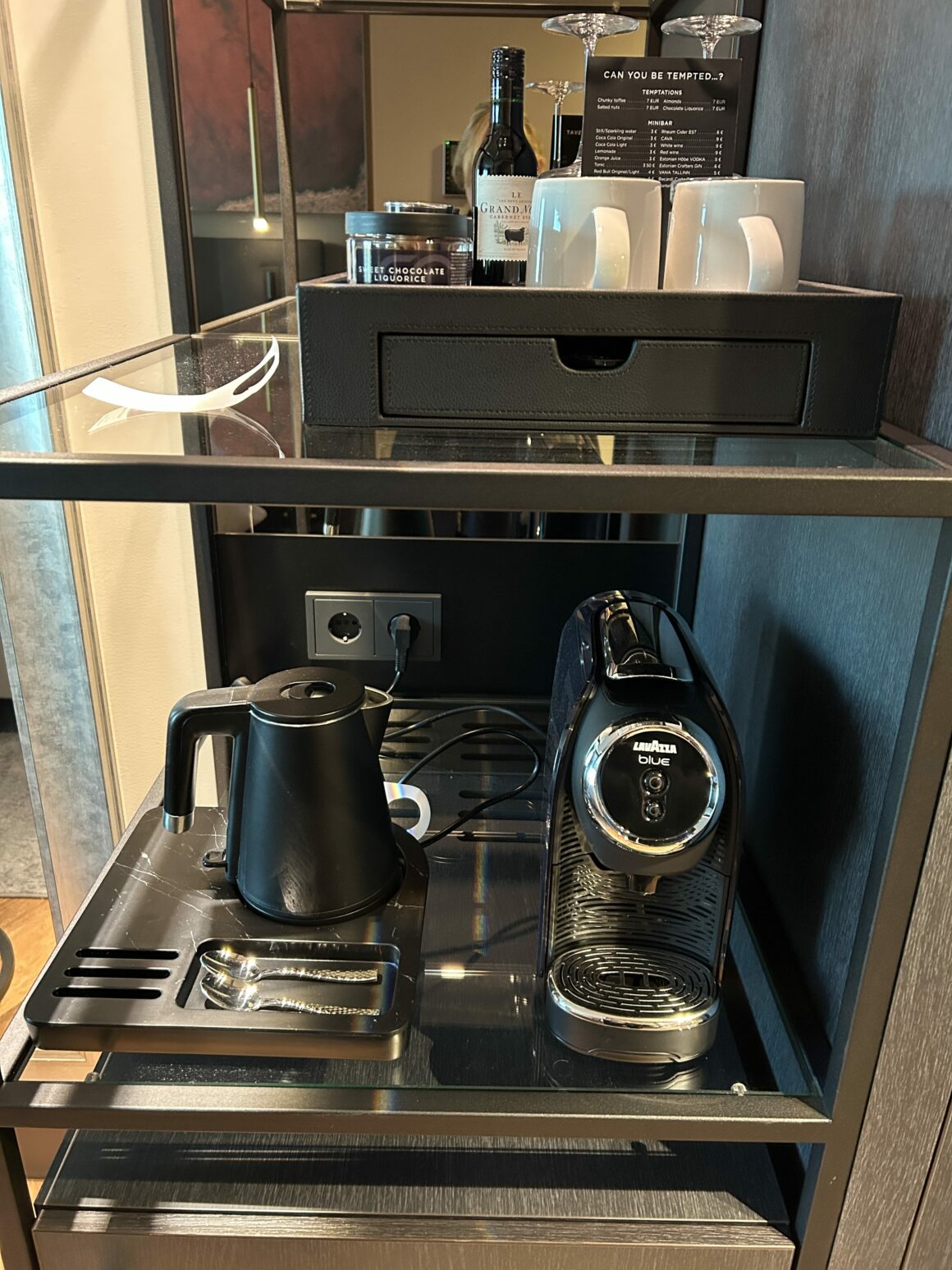 Two bottles of water were provided, and there was a Lavazza espresso maker as well as a kettle. I really hate when you only get a coffee machine, but they give you teabags. It's virtually impossible not to end up with a cup of tea-offee if you use the coffee machine!
Here is an example of the next category up, the premium room. One of the suites even has it own sauna!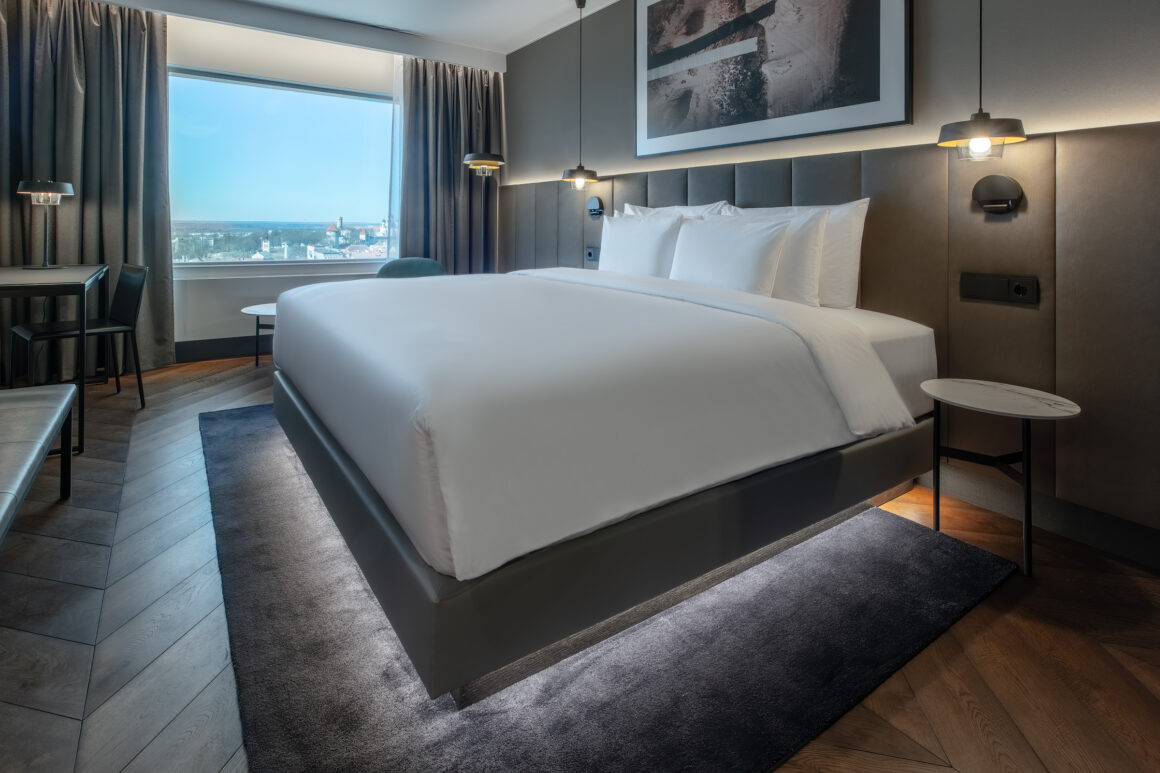 Radisson Collection hotel Tallinn Food and drink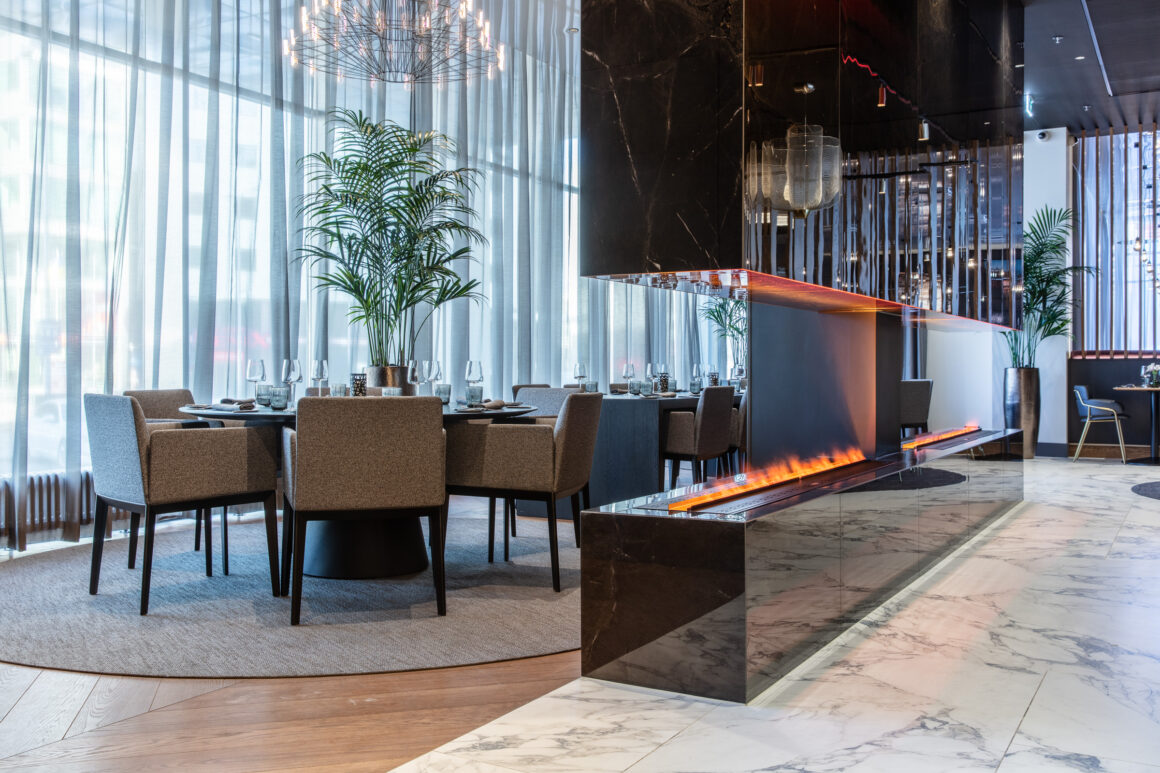 The Radisson Collection Hotel features two restaurants, a rooftop restaurant and bar, ISSEI on the 24th floor, and MEKK on the first floor. ISSEI serves Japanese-Peruvian cuisine and is the first restaurant to offer Nikkei concept cuisine in the Baltics. In the hotel's Estonian restaurant, MEKK modern Estonian-inspired dishes are served.
The hotel has two bars both of which were great. However, if you want to use the rooftop bar ISSEI it's highly advisable to book in advance as we could not get in when we tried, and the lobby bar closes early.
The rooftop bar has fantastic views over the city and features a range of modern cocktails, so it is definitely worth a visit even if you don't stay here.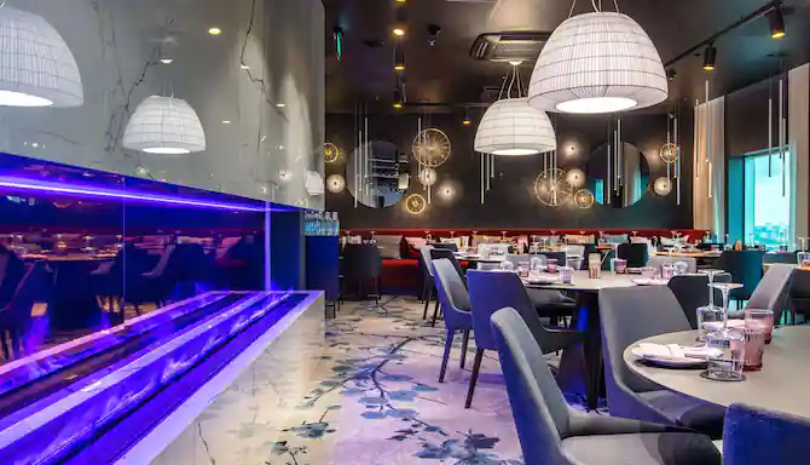 The lobby bar is more relaxed but has a hint of the Finnair lounges about it, having that stylish caged look with dark panels against gold and white bars.
We tried a delightful local sparkling cider served in wine glasses which was non-alcoholic but actually, I could have sworn it tasted alcoholic. (must be losing my touch)
The restaurant is also on the ground floor, but we only tried this for breakfast.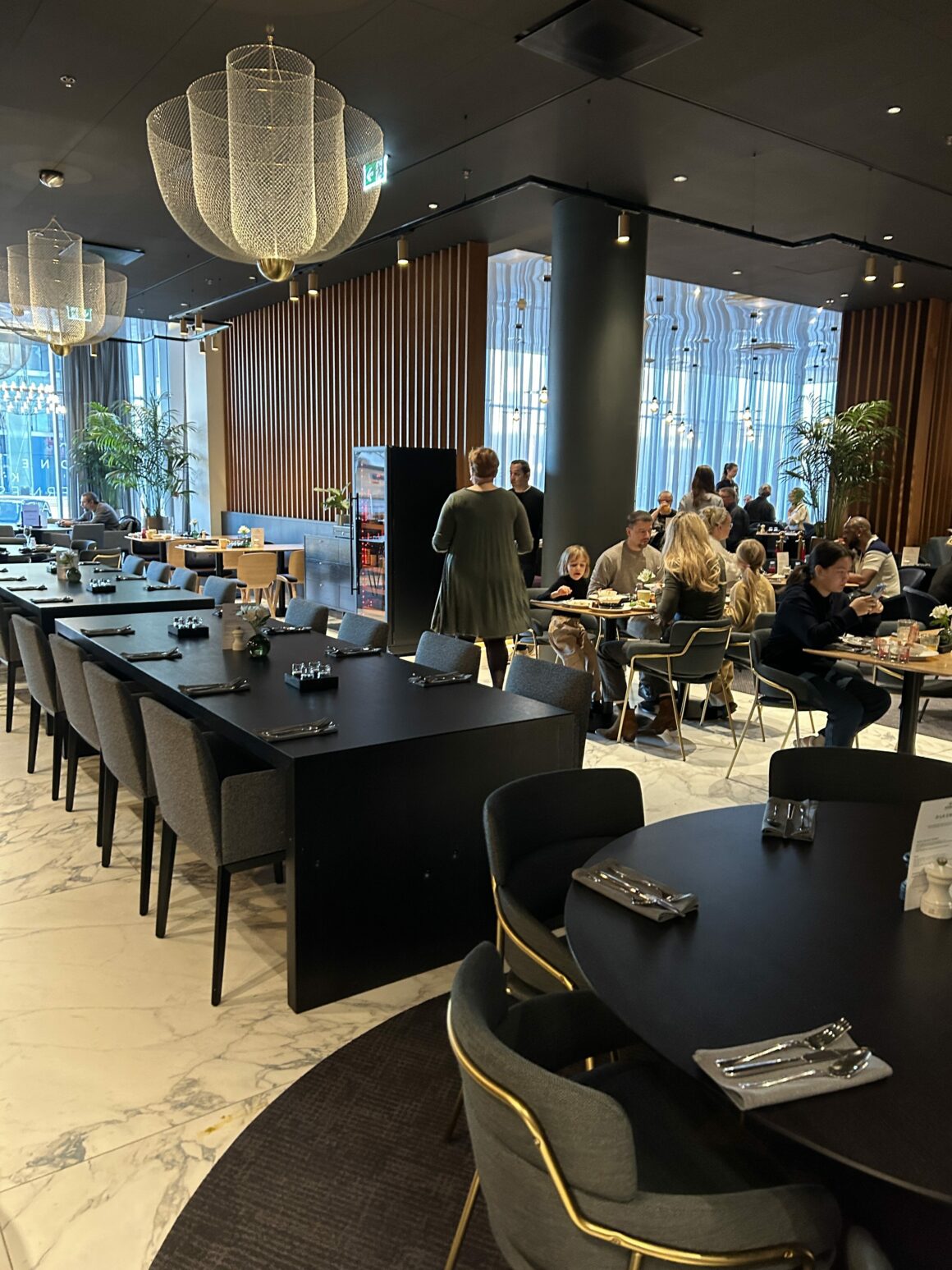 Breakfast was impressive and goes on until 11am at weekends which is great if you enjoy a lie in. There is a full buffet but also a small a la carte section which I thought was impressive for the size of hotel.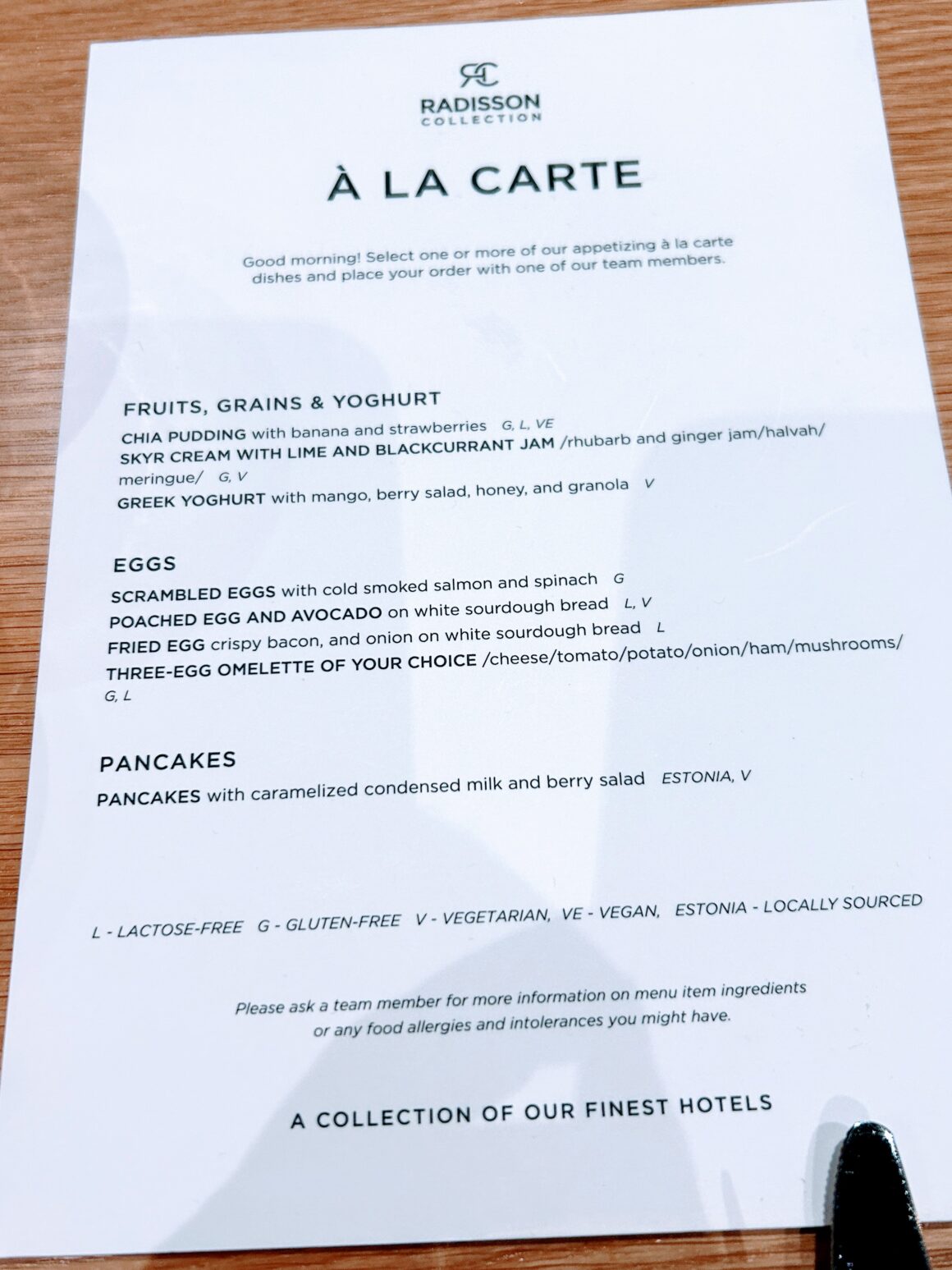 My only complaint was that tea and coffee you had to help yourself and of course, it was from a machine which is never as good as the real thing if you want something more fancy than a basic coffee.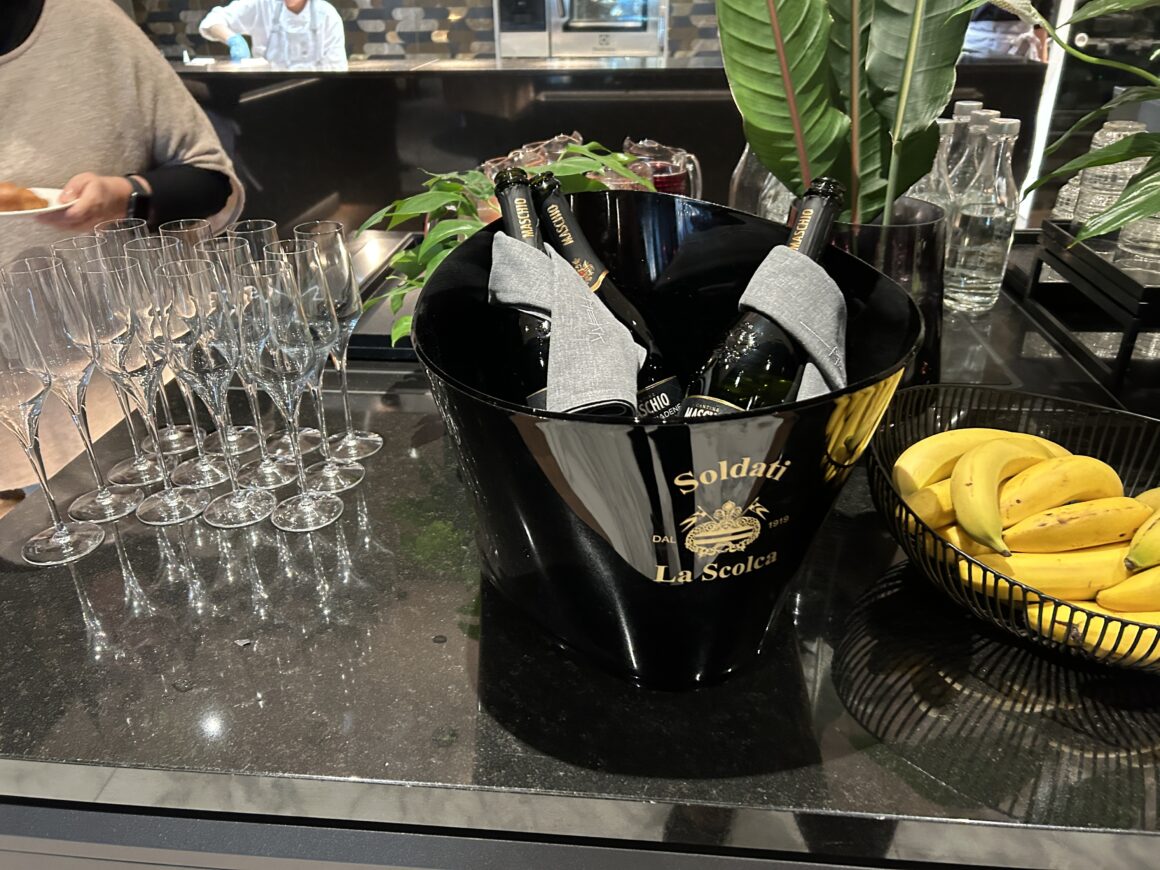 Other than that the spread was very good and even had sparkling wine which was a treat. Who needs coffee when you can have fizz! The orange juice tasted freshly squeezed which is the mark of a good hotel in my book.
The food was laid out very attractively, and I liked that it featured a range of local delicacies as well as more international favourites. There was a full hot selection and in addition some great smoked salmon, salads, pastries, cheese, meats and good quality bread you could slice yourself.
Radisson Collection hotel Tallinn Spa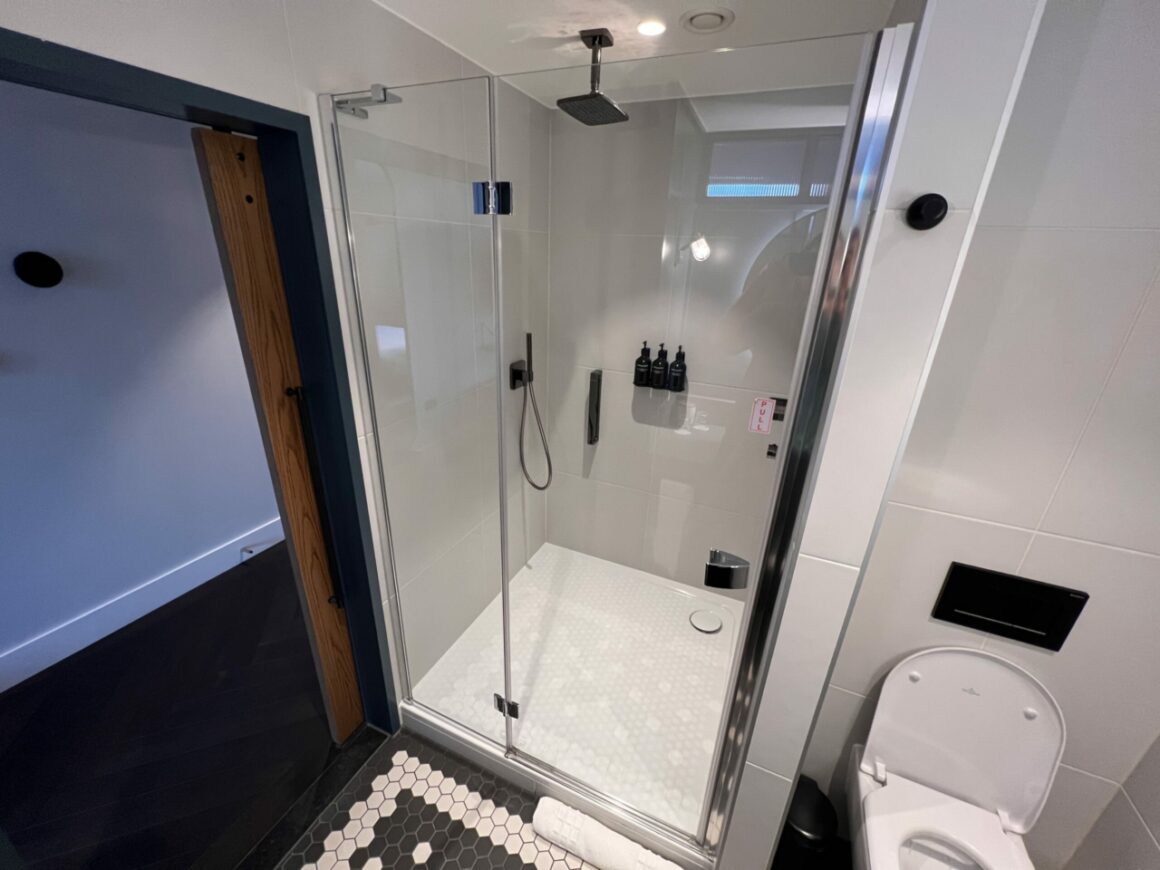 This along with the rooftop bar were the highlights of the hotel for me. A trip to Tallin generally involves a lot of walking, so coming back to relax in the spa at the end of the day is a great way to soothe your weary feet!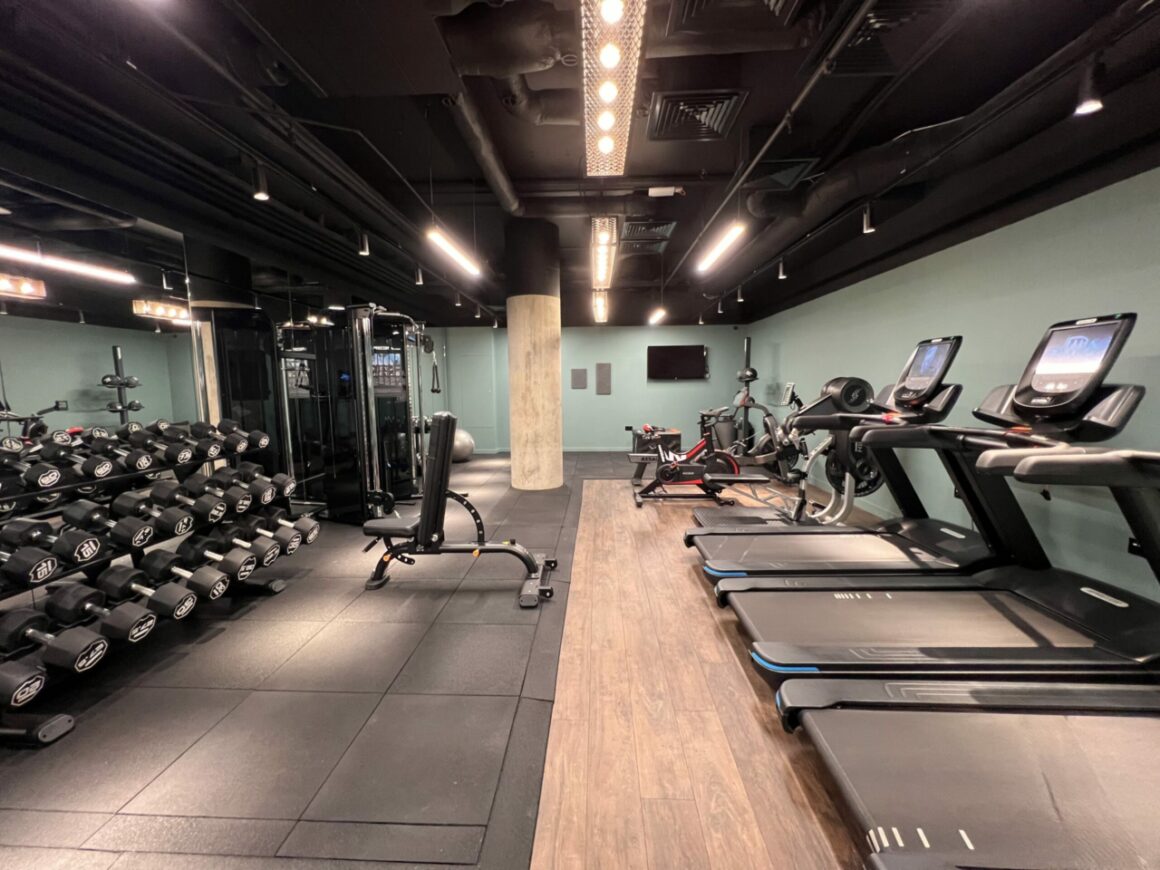 The fourth-floor relaxation area includes a spa with swimming pool, Japanese bath and three saunas – a Finnish sauna, a steam sauna, and a sanarium – in addition to a spacious gym.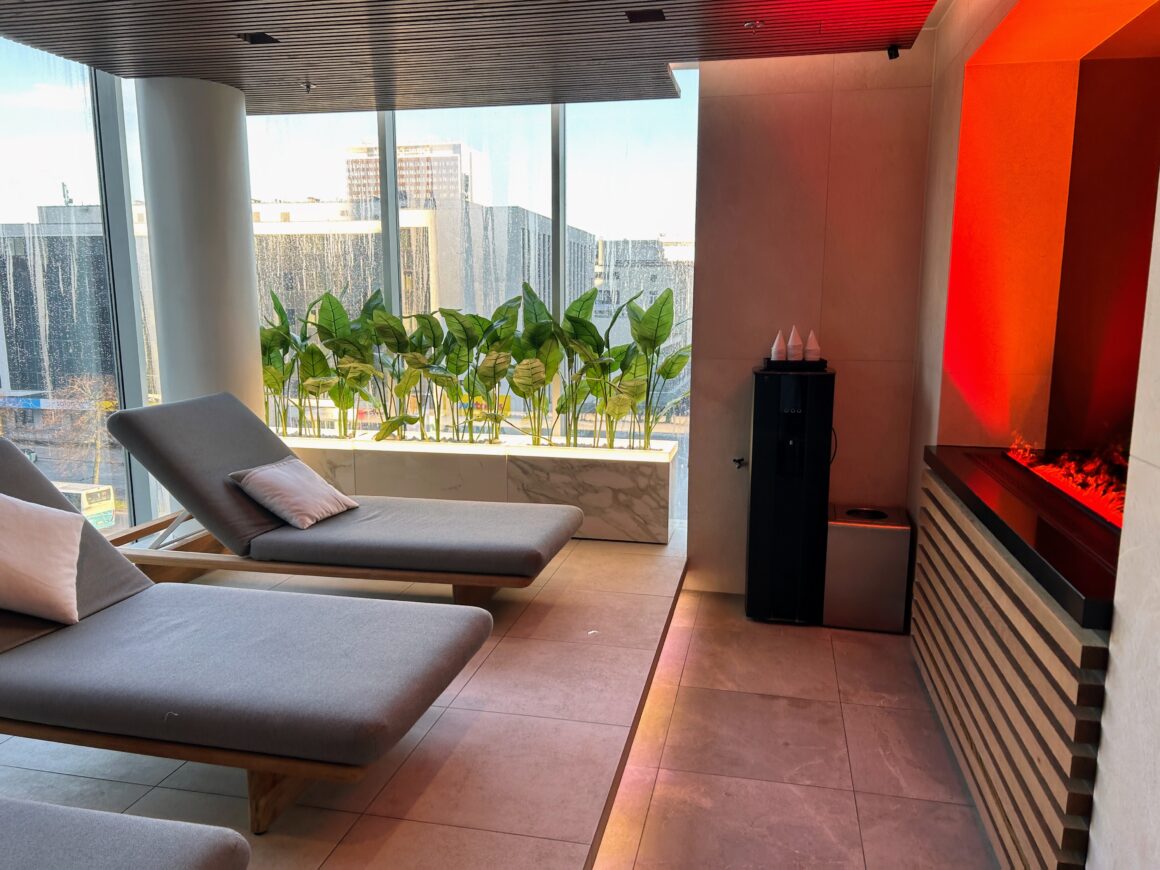 The pool itself is more for relaxation than swimming being quite shallow. It was heated to a lovely 30c (though felt a little warmer if anything) so it was great for lounging by the massage jets at the side.
The Japanese bath was super-hot, far hotter than a normal hot tub and again even though it said 40c it felt a little hotter.
It was good to see a steam room as well as a sauna as in the Nordic countries quite often its just a sauna which I am not a great fan of.
You could then sit and relax in either the sanarium which was just a pleasant temperature rather than hot or in the relaxation lounge with its clever fireplace effect.
Radisson Collection hotel Tallinn Conclusion
I'll admit I don't stay at many Radissons, but if they were all like this, then I would definitely be staying more. The hotel was beautifully designed in exactly my kind of style – modern but elegant. I love a good spa and rooftop bar, so I was well-catered for here. The room was very comfortable and well-equipped too. My only complaint would have been that the Japanese hot tub was too hot for me to relax in but that's my personal preference.
The location is also great for the old town while being away from the main tourist drag.
Rooms start at a very reasonable €116. You can check prices and find more information here.