I recently flew on Finnair's new business class seat which has caused some controversy due to it not reclining. The old Finnair seats are still pretty good as well but it's been a long time since I flew in one of them. Today's review is by reader Alexa. " Alexa, play review.."
Flying the old Finnair business class seat on our Thai adventure
We recently flew from London Heathrow to Bangkok, via Helsinki, on our first Finnair long haul, and indeed our first long haul vacation since 2018 which wasn't to visit friends and family. As a leisure route, the Bangkok aircraft are still sporting the old Zodiac Cirrus seats. Michele recently had the opportunity to try out the new seats on her trip to Singapore, so I thought I would compliment her review with one covering the old seats and my impressions of the food and service. Given Finnair is not expecting to complete the new seat rollout by the end of 2023 there is a chance, especially on winter leisure routes, to end up on this older seat.
A note about Finnair ticket types & the benefits of One World status
I booked Finnair Business Light fares for myself and my partner, from London to Bangkok via Helsinki, in early March when the fares were about £1650 per ticket. We had been planning to start in Stockholm for various reasons, which would have shaved £450 off each ticket, but with our schedules changing and the ever-fluxing Covid Pass requirements from Thailand, we decided to keep it simple and fly from London.
What is a Business Light fare? Good question, because Finnair's rather new tiered business class pricing has some idiosyncrasies and triggered a lot of pre-booking research. The Light ticket looks like a great deal in online comparisons when shopping for a ticket, but is hand-baggage only, with no priority check-in or lounge, both of which can be purchased for a fee. The on-board product is the same across all Business ticket types (Light, Classic, Flex), except for Wi-Fi allowances.
However, as BA Executive Club Silver / One World Sapphire members, we were allowed one checked bag each, lounge access, and priority check-in. Status can help but know before you book and if it suits your needs. The Light ticket clearly didn't suit the needs of a lady with six suitcases embarking at Bangkok, and I felt for the ground staff having to explain that she needed to pay for all six, not two like she was anticipating.
You can check prices with Finnair here.
Finnair business class A350-900 Cabin and Seat
Our LHR-HEL flight suffered a plane swap, so while we were supposed to experience the new seating, at least for the 3 hours to Helsinki, instead we ended up on the A350-900 which took us all the way to Bangkok. I really wanted to offer a back-to back, butt-in-seat comparison, alas it was not to be. I'm going to only cover the HEL-BKK seats and service for this review for purposes of brevity, carpal tunnel integrity, and reader interest. Note: I was in 2H for London-Helsinki and 3H to Bangkok. The photos are interchangeable as the seat was the same, except for the broken movable armrest in 2H.
We were seated in the middle of the cabin – 3D and 3H. Normally we don't do this because my partner likes to sample the wine and spirit list and it's better for all involved if I leave him to it and do my own thing in another part of the cabin, usually next to a window! However, in the general flurry of departure, I forgot to amend the seating, so we were next to each other in the centre of the cabin.
On boarding, the Finnair lightshow was playing and the cabin felt airy, comfortable, and clean, with the Marimekko colours in the pillows/amenity kits giving a pop of colour against the Finnair grey, which is much lighter than something like a United grey. There is a monitor display against the forward bulkhead of the route or of video from one of the two aircraft cameras.
Apologies for the blurriness, but this photo shows the general layout of the seat, including the console, monitor, footrest, and storage, covered below in more detail. My backpack, containing a small laptop, Kindle, and personal items, easily fit under the footrest in front, which is where I got the most storage and accessibility. The large, soft pillow, matching the amenity kit, was waiting on the seat.
I needn't have worried about seeing my partner on this flight because the divider, at both head and foot height, was more than enough to almost never see him. It took unbuckling the belt and leaning forward to speak to each other. He enjoyed his flight his way, I enjoyed mine my way, and we disembarked ready to take on the heat of Bangkok.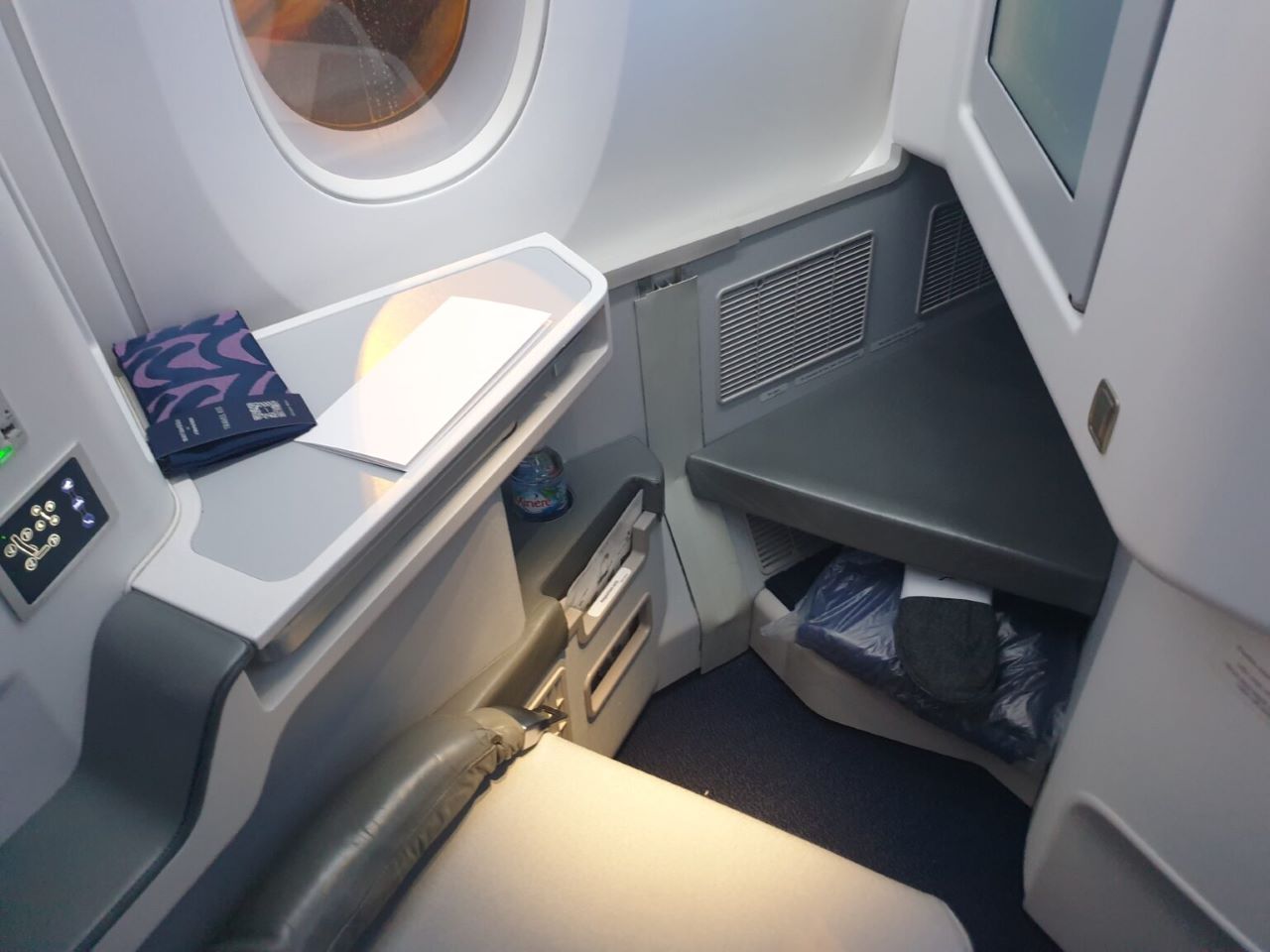 For reference, here is the Bangkok to Helsinki return where I changed our seats to window seats. They are identical to centre seats, and are not staggered – all window seats are offset with the console between you and the window. Also pictured are the duvet, floor slippers, and noise-cancelling headphones.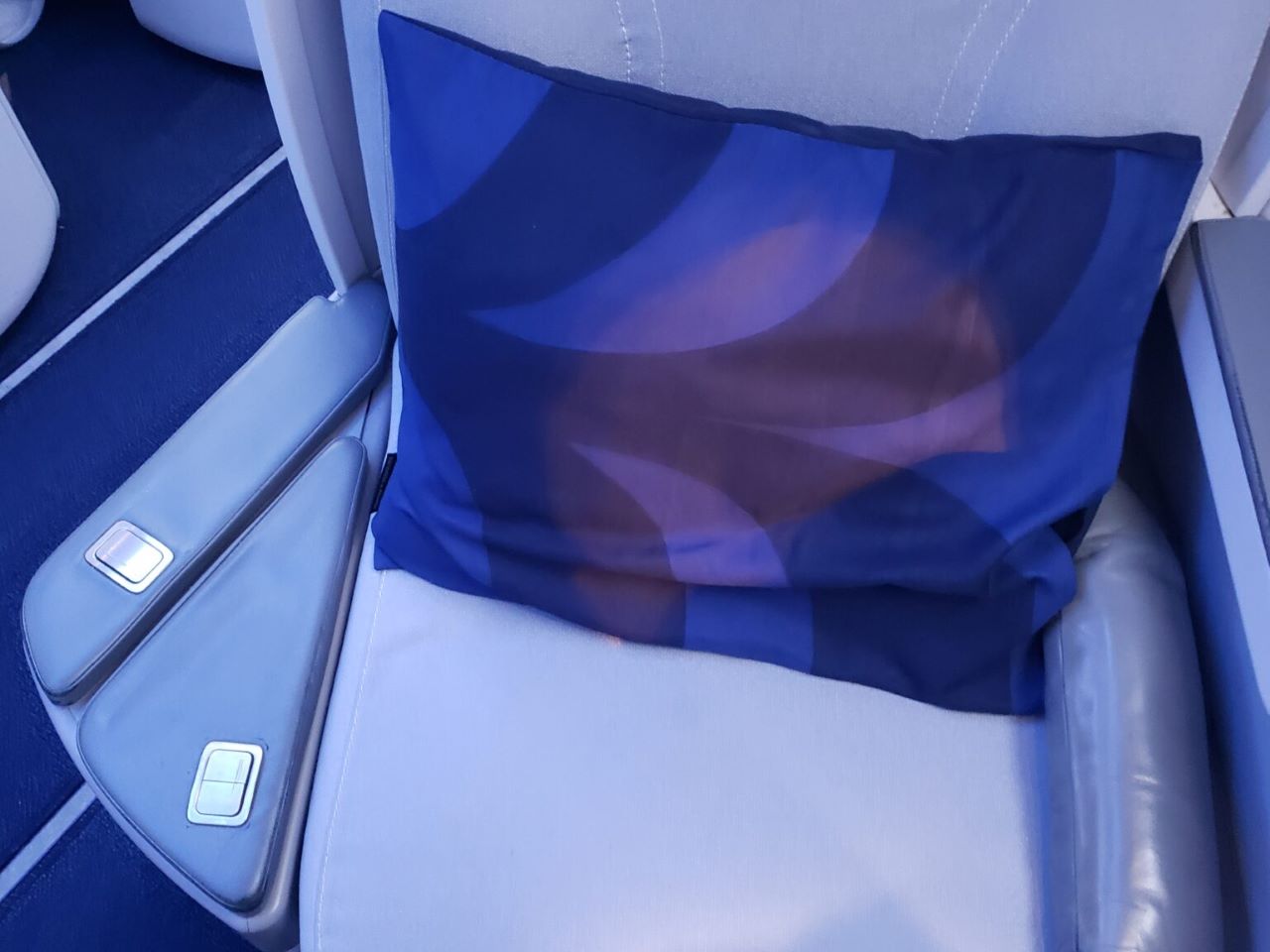 The seat itself has an adjustable armrest which can be raised or lowered by pressing the metal bit that looks like one of those old airline ashtrays. Next to it is a storage compartment, opened in a similar manner. It's a good spot to put a water bottle or other small items. I found this storage compartment somewhat odd – it's too deep to store eyeglasses, although it suits a water bottle well. It's also much smaller than the padded bit suggests, meaning that only small electronics could fit.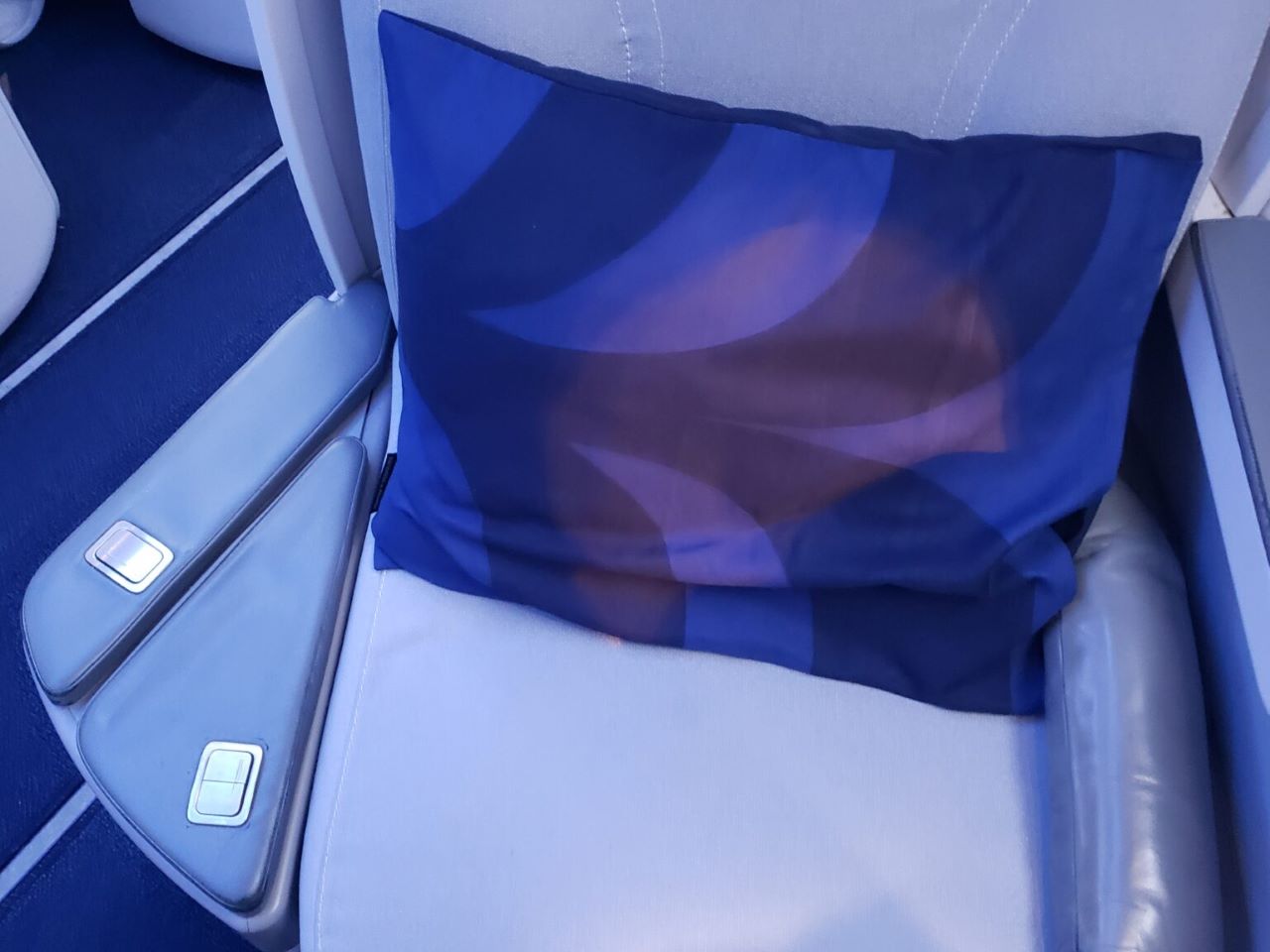 A substantial divider between seats means no chance of accidental footsie. The footwell didn't seem limiting to me, however sliding between the divider and the side of the seat and under the monitor did make me feel rather enclosed. This photo also shows the monitor, which folds out by pressing the silver button. Unlike most of my experience with the old BA Club World monitors, this monitor stayed in place at the desired angle and felt heavy and substantial.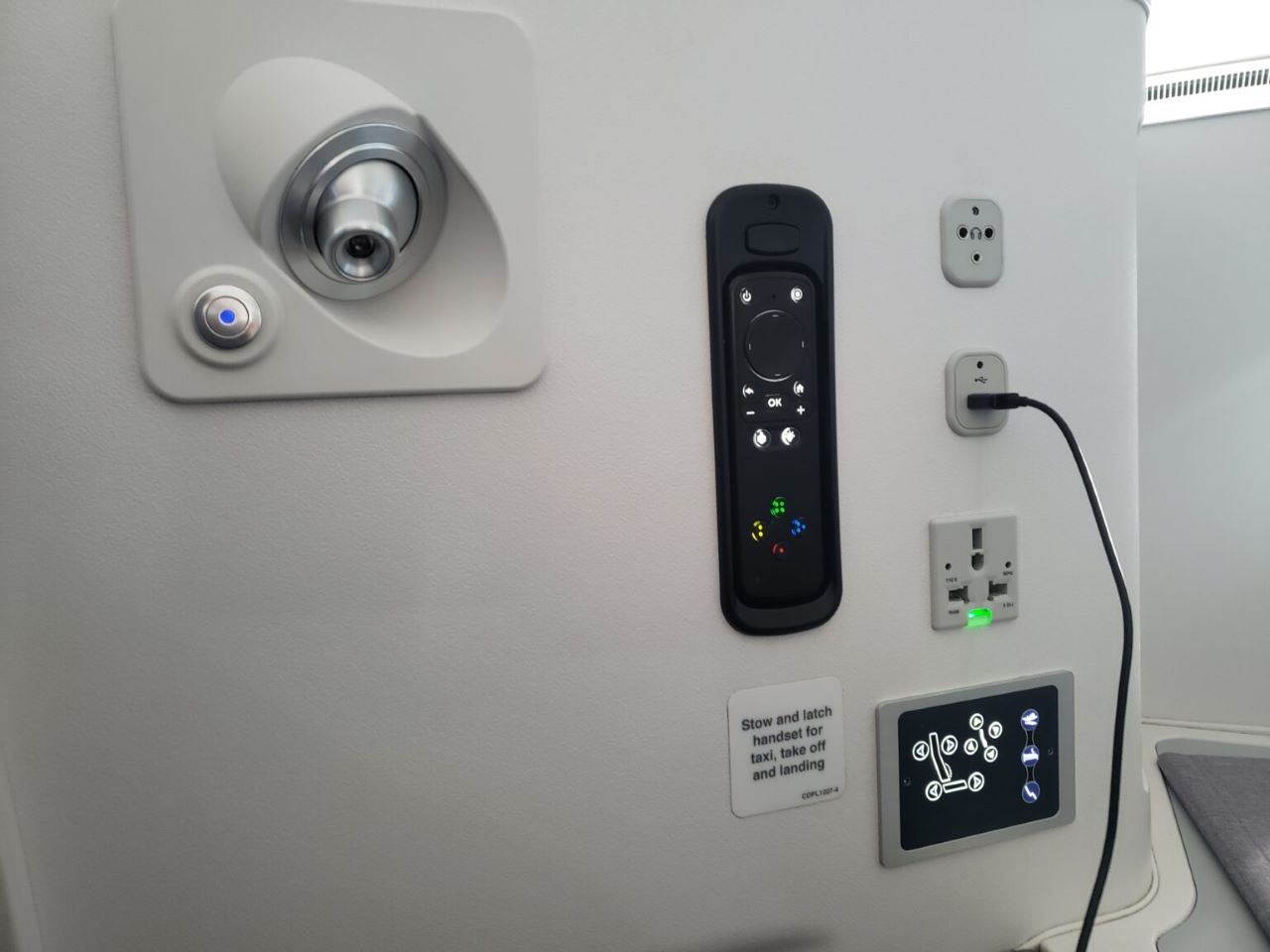 The side of the seat contained a decent reading light, the control handset, headphone plug, USB plug, and another plug. The USB charger wasn't particularly fast, but it did the job to charge my phone while I slept.
The seat controls allow you to move the seat into a variety of positions, from fully flat to fully upright for takeoff, and what I like to call "Barcalounger" or a halfway in-between point of recline + legs supported, to watch tv. I found the seat responsive and easy to use, and I didn't need to use the handset. There was plenty of space to move about, however, getting up to use the washroom required resetting the seat almost to upright. Drink enough water or other liquid on a plane and that gets old fast!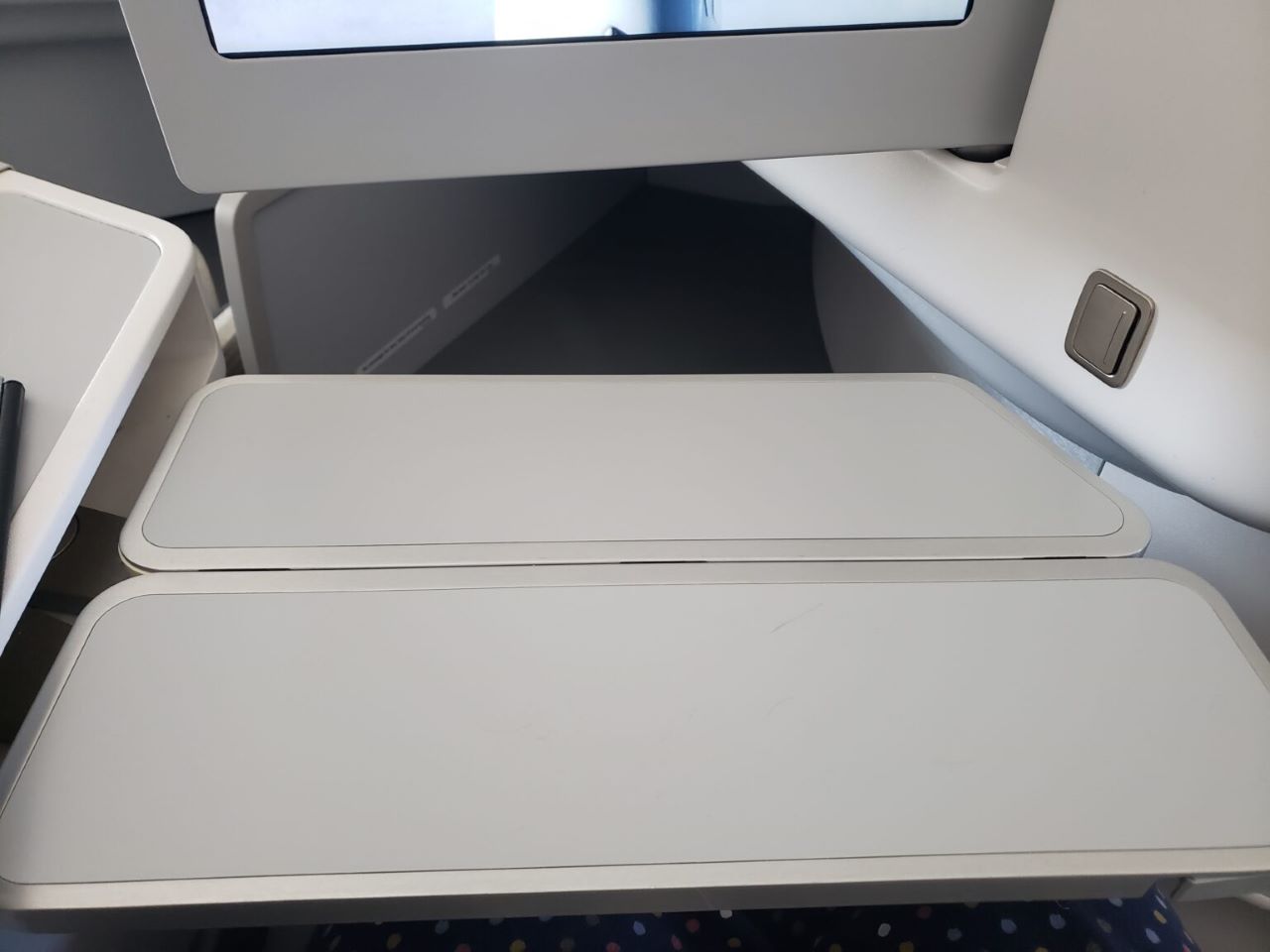 The tray table could be found tucked into the centre console and could be folded in half or moved about. While I appreciated the foldability, the rotation around an internal point in the console meant that I found it awkward. While it was nice it could fold in half, how it rotated into the centre console and could rotate out was at an awkward angle.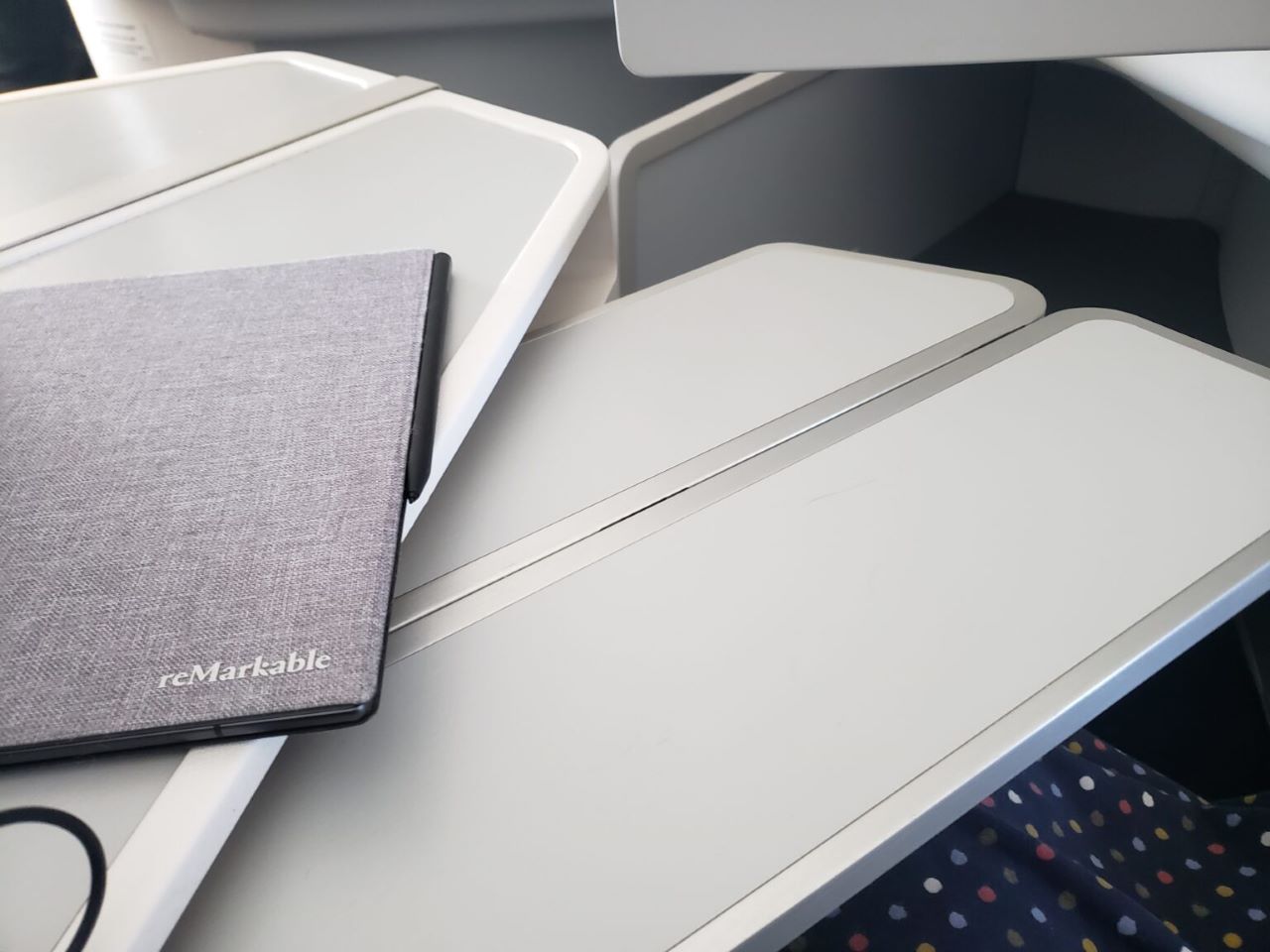 It also wasn't possible to push it forward, it only rotated around that internal point. This isn't a major issue, but personal preference meant it did start to annoy me by the end of the flight.
Finnair business class A350-900 Entertainment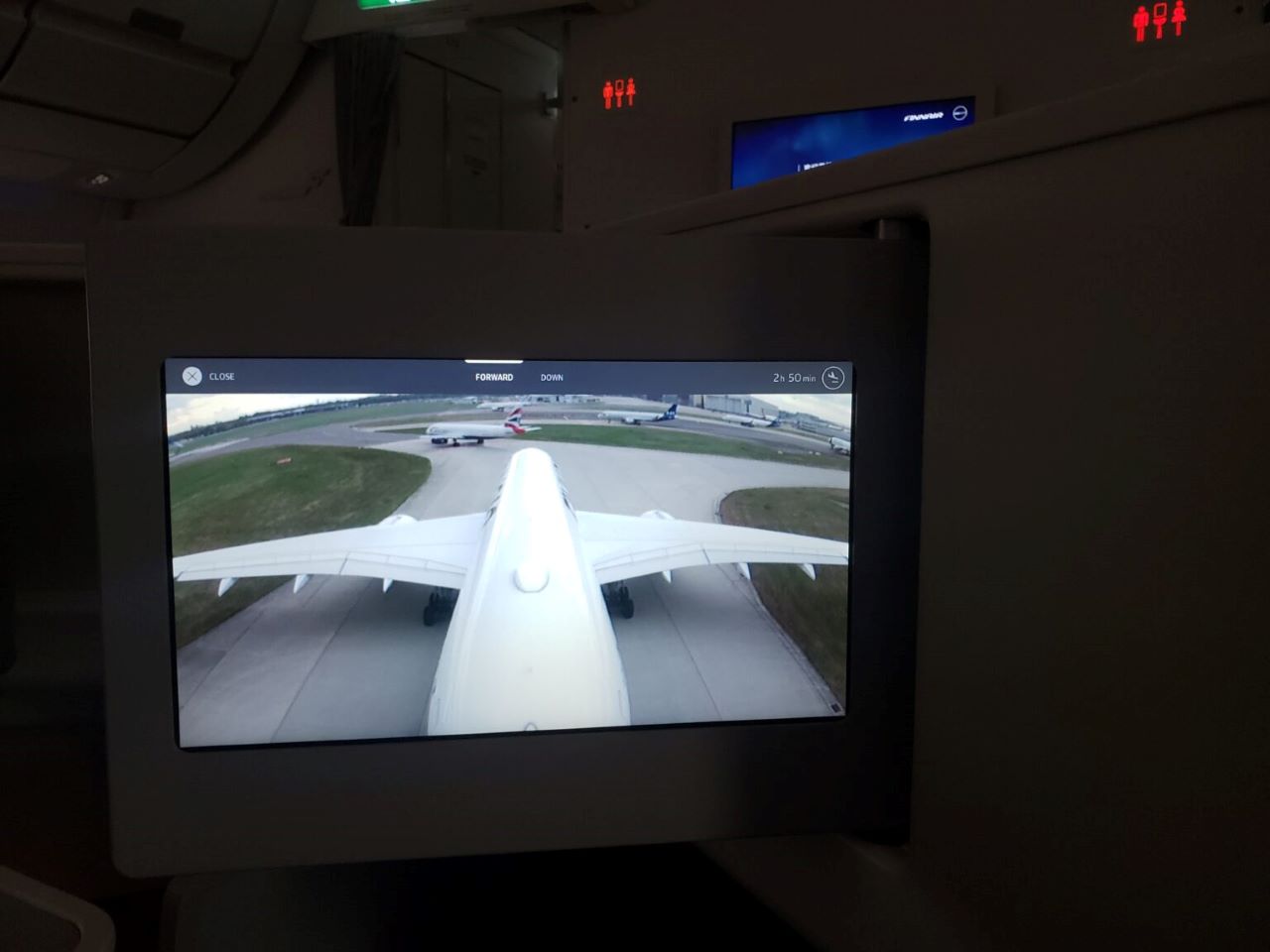 The 12.1 inch touchscreen was solid, responsive, and easy to use. I especially appreciated the forward and below plane camera views, in addition to the route maps with the different views of the plane's progress towards our destination.
The TV and movie selection was decent; not the level of vast selection as seen on Qatar, but also not the poor quality, limited selection as loaded on SAS. A good choice of new releases in a few languages, with some older but popular movies and one classic. TV selection was moderate and I prefer to watch whole seasons, but five episodes of Arrested Development were better than nothing.
Comfort in various positions
With the late flight time I was more than ready to skip dinner and a movie and get right to sleeping. It was past 1 am Helsinki time before the seatbelt sign was turned off, and after connecting from Heathrow I was tired. I got out the light, but comfortable, duvet and the large Marimekko-dressed pillow, fiddled with the seat controls until I found a decent sleeping position of Mostly Flat, and slapped on an eyeshade. So, I was all set, right?
Well, sort of.
As a side sleeper the seats work fine, though I found they work better if you are sleeping facing the console section. At about 5'8 I wasn't in any danger of going through the footwell, but the overhang of the screen did give a feeling of being enclosed. Perhaps not coffinlike, but certainly limiting of easily being able to turn over. Laying flat wasn't a bad position either though getting to flat from the side was a bit of a manoeuvre.
What made the seat a little more uncomfortable was where my hip rested against a movable part of the seat, which would cause some pressure pain and wake me up enough to have to shift to get more comfortable. A mattress topper of some sort would go a long way to smoothing out the lumps and bumps of the seat and complement the comfortable bedding. The pillow and duvet were very comfortable and soft, however, and I think with one more component to the bedding set up, even if on request, it would make it much better.
Ultimately I did end up "sleeping" – the type of sleep where you check the time and can't imagine how five hours passed without actually sleeping as you felt awake the whole time. I did feel somewhat refreshed, and with 4 and a half hours to go, decided to watch a movie. An FA saw me awake and came by to ask (quietly!) if I would like something to drink. I requested a blueberry juice, reset my seat to Barcalounger and watched Liz Taylor and Paul Newman sizzle in Cat on a Hot Tin Roof.
Finnair business class A350-900 Food and Service
Efficient, professional service with a smile
Our on-board service was very similar to Michele's, and in fact was almost identical across our two flights, which is a sign that service training and delivery can be expected to be somewhat consistent even if food and amenities may have been missed loading. Across all four of our flights the FAs were very professional without seeming cold. The long haul flights were mostly senior crew, but they delivered a cheerful, proactive service that I have found to be missing on other carriers in the last two or three years. This included engaging with a young baby and toddler in the business cabin on the return flight. The FAs were helpful to the mother flying solo when needed, but that did not preclude taking care of the rest of the full business cabin.
All FAs were very proactive in service, especially in clearing finished trays and overall it felt efficient but not rushed or cold. They were also proactive in prompting for drinks – "are you sure you wouldn't like some wine with your dinner? Or something else?" which also came across genuine and delivered with a smile. Where excess champagne was open, FAs did come around the cabin about 45 minutes before landing offering one last tipple.
Small plates and missed snacks
Setting aside the contentious issue of "should a business class meal be served on one tray?", Finnair's meal delivery of a "tray and a half" felt like a good compromise to the "cafeteria" approach of everything piled onto one tray and the more extensive multi-plate extravaganzas of pre-pandemic times. Considering our very late departure times, it worked, although the thought of eating a heavy meal of beef at 1 am was not that appealing. For fans of Nordic airlines, it struck me as very similar to the pre-pandemic SAS business class approach.
I also enjoyed the new food concept of two small sides and a larger main. The food amount looks small in the dishes, almost amuse bouche level, however, I found it rather filling and more than enough, especially as I had eaten a bit in the lounge before departure. Same with the dessert – the cheesecake was really about a bite or two, but I found it to be enough at the time. I could see this amount of food may not work for someone who didn't have time to stop in the lounge or otherwise is a big eater.
My one complaint was a lack of mid-flight nibble station. I couldn't find it on the flight to Bangkok, although on the return a selection of crisps, chocolate, and soft candies were left in a basket (and replenished) on the business bulkhead on both sides. That was a nice touch, however in cabins as quiet as the A359, chip bags rustling at 2:30 am were certainly louder and more noticeable than they may have been on another aircraft. I like potato chips, but I do wish there was a quieter alternative.
Finnair also seems to have stopped their cinnamon bun and coffee service, which was disappointing as I really like cinnamon buns, but they are still available in the lounge (and tasty!). Finally, given the rather tiny food portions, it would be nice to see some more substantial mid-flight food offerings, perhaps small sandwiches, or fruit cups, in the future.
Lounging around
Let's talk lounges, which were especially important given the flight timings. We mixed and matched across the One World alliance, through our Sapphire status and holding a business ticket on an alliance partner. The Light component didn't matter at partner desks, and we were waved through with a smile.
Cathay Pacific Lounge – London Heathrow T3
On departure we went straight to the Cathay Pacific lounge in Heathrow T3, arguably one of the two best in the entire airport. The lounge had great views of the runway, and I enjoyed same hot dim sum in the restaurant area, although there were three chefs on hand if I wanted to pick a different hot dish. The bartender, who kept our champagne flowing, remarked that the lounge was very quiet compared to the pre-pandemic era which is not surprising given the lack of Cathay flights at the time. Overall the lounge was quiet, clean, had a good food and drink offering and various seating arrangements.
Finnair Business Lounge – Helsinki
I won't go in to too much detail here as Michele did a great job capturing the lounge in her earlier post. We only had 45 minutes between our arrival and departure to Bangkok, but on our return we spent 7 hours here. It was about as enjoyable as a public space can get, and we took advantage of the well-stocked, easy-to-book showers to get refreshed. The food selection was decent enough, and with enough empty areas we were able to camp in a corner and get a little extra sleep.
JAL Sakura Lounge – Bangkok Suvarnabhumi
Finnair uses the Miracle Lounge in Bangkok, which is also a Priority Pass lounge. We opted to shuffle over to the JAL Sakura Lounge, which accepts OneWorld Sapphire and Emerald passengers with an alliance business ticket. JAL has an evening flight to Tokyo which departed close to the same time as ours, which meant the lounge opened with about 3 hours before our flight departed. I had read rave reviews for this lounge before departure and was hoping it lived up to its reputation.
We were not disappointed. Ok, we were for perhaps 15 minutes as we arrived before the lounge was opened, but for the hour and a half we spent there it was very relaxing. Hot, served buffet, cold poured drinks, and some darn good internet speeds made the time fly by. The lounge was very quiet, though it was starting to fill up by the time we left.
Would I fly long-haul again with Finnair?
Finnair delivered an enjoyable long-haul business class on both flights, which made a very long flight seem to fly by. It sounds cliché to call it "an oasis of calm", but after the madness of getting out of Heathrow and Bangkok, the whole experience felt relaxed and professional and more than met my expectations for what a business class product should be (clean, on time, professional, and up to date soft product and entertainment).
While there are a few lacking areas, such as the confusing ticket pricing, tiny amenities kit, potentially limited food amounts, and the lack of a mattress pad, these aren't major deal breakers and I would be happy to book a Finnair flight again even on these seats. While I have yet to trial the new seat, if the service is similar but with an even better seat, Finnair may yet become our one-stop preferred airline going both east and west.
You can check prices and book with Finnair here.
Like our Finnair business class A350-900 review? You can read more flight reviews here.