Today's article is by Debbie who has previously contributed a review of her BA Gatwick flight to TLFL. It's worth noting that I had several cancellations on one of my BA Holidays trips which proved very tricky to resolve due to many of the available flights with the same airlines not being allowed since they were not codeshares, unlike the ones I'd booked. This has resulted in an overnight stay both ways which is fine for me but does add extra expense at my own cost since it is several months away. However, being GGL I did find the GGL line extremely helpful in sorting out the revised flights.
Read on until the end when I will give my opinion on what Debbie can expect.
If you would like to enter our reader review competition, you can find all the details here.
The cancellation
We are frequent travellers and this year we have already experienced several cancellations from BA, one particularly noteworthy one occurring over our wedding anniversary in February. On this occasion, I booked a BA holiday for our family of 5 adults. It was booked six months ago and our destination of choice was Tenerife, and it so happened that it was also my birthday during this holiday. We were all looking forward to the trip, especially the grown-up children who were travelling courtesy of bank of Mum and Dad:
I suppose it was fairly inevitable, given all of the publicity, that I found myself checking my email constantly in the seven days before our departure date. I had booked this holiday far in advance, way before the issues with BA arose and I was therefore trapped and apprehensive. Just over 24 hours before our planned departure I received an email simply telling me that my outbound flight to Tenerife was cancelled. For context it was 8pm. No explanation was on the email. Reading further, I discovered that BA had re-booked us onto another flight. This new booking was not from the original airport, LGW, but LHR. Not on the same day, but one day later. Not in the same cabin, Club Europe, but Euro Traveller, and finally to add the final cherry on top of the very bitter-tasting cake, not returning back to LHR but to LGW.
I searched for some explanation or compensation assessment. I think that this was the most disturbing part of the whole experience. Both my husband and I are Silver cardholders and it felt as though BA simply did not care. I found nothing except the telephone number for the BA duty office which I called immediately. Then as I have experienced before, I was directed to send an email. This email is important. What you write will dictate the timeliness of the response back. I find that I write my best words when infuriated, so I composed and quickly sent an email mentioning that this was the second time BA had cancelled our flights in five months, the first being on our anniversary and the second being for my birthday. I wondered if they would like me to book a Christmas trip so that could be cancelled too. I finished my message with the comment that they would contact me quickly if they had any conscience.
The Revised Holiday
I knew ( obviously) that I would be entitled to a full refund and the standard EU compensation, but speaking with our family, we all decided that we still wanted to try to get away since work commitments would not allow a rescheduled holiday for the rest of the year. After an hour, I received a call back from the BA duty office. I generally find that it is important to say immediately what you want from them, rather than listening to rambling standard apologies. This I did and opened with the comment that we were 5 adults, willing to travel anywhere as long as we left on our original dates.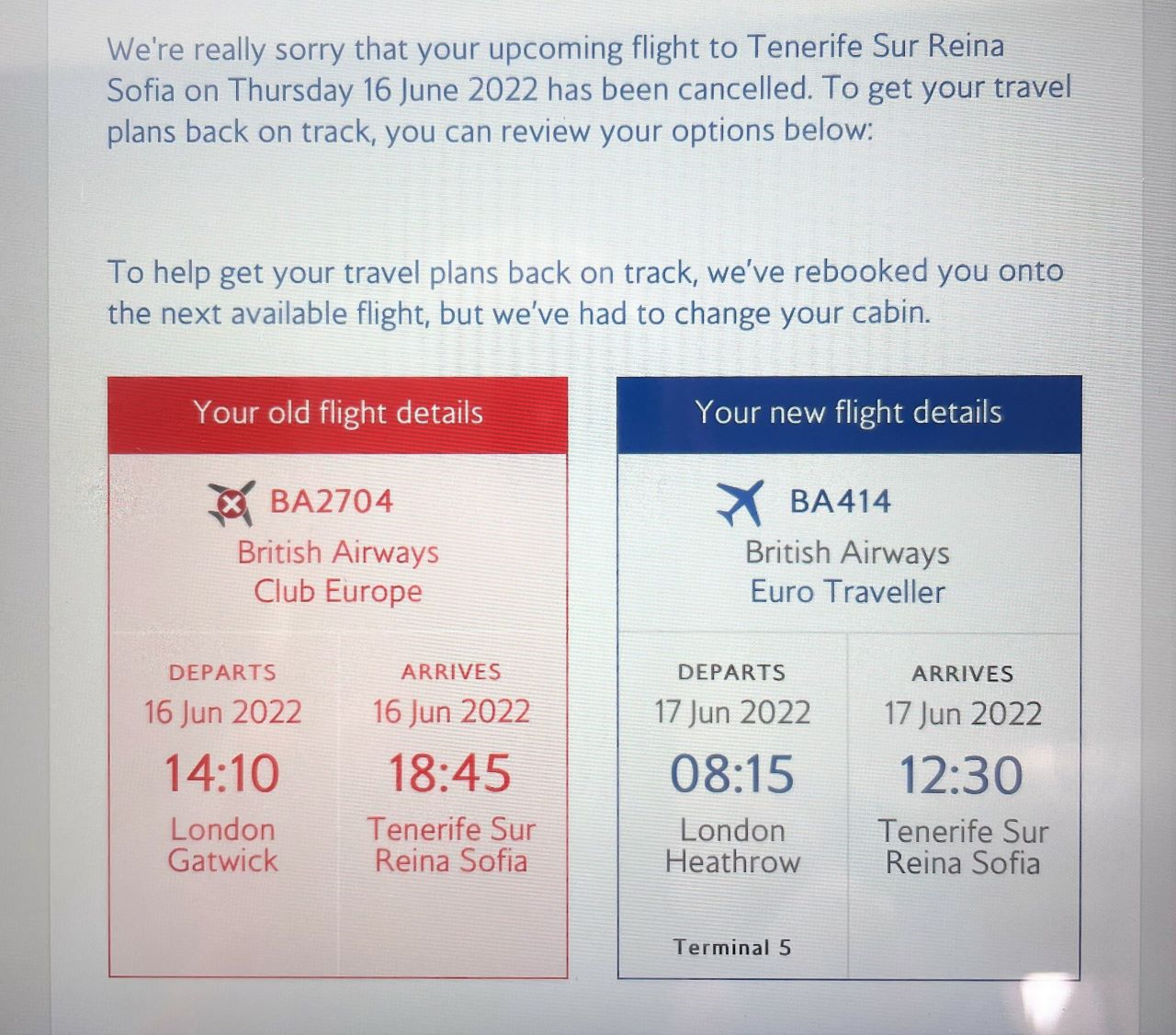 I then spent 3 hours with the duty officer checking and researching holidays and flights. This was so stressful because I only had seconds to make up my mind about each hotel that was offered since the availability was so scarce. In the end, at 0100 in the morning, we settled on flights and a holiday in Crete.
This was not a happy solution however as I was told the new holiday would cost a significant amount of money extra. Some adjustments were made in terms of him using as much discretion as he legitimately had to discount the holiday, but it still came in £3000 extra. We spoke at length about firstly incidental costs incurred by us – car parking – and I was assured that I could claim this back – as well as the very interesting fact that when a customer is bumped travel classes to economy, it is BA's policy to only discuss and offer compensation after the flight has happened….
I resolved however to pursue the extra costs post-holiday.
The Finale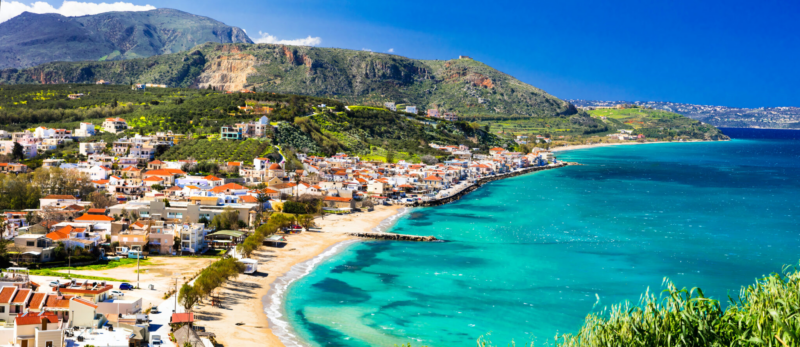 We travelled to Crete and had a very good family holiday. I know that we were fortunate to be able to afford the extra cost. I was very stressed though and it took me a couple of days to relax. Six days after I received the cancellation notice and submitted my compensation claim, I received confirmation that I would be paid €2000 compensation (there is a legal requirement to pay this within 14 days) However, there would be no reimbursement for our parking despite being reassured by the duty office that I would not be out of pocket. Additionally, they refused to help with the extra cost of the new holiday, saying that I had been charged "correctly ". So I am now, having completed much research on this, preparing a case for the small claims court. I believe that BA has to change its approach to reasonable costs incurred from its actions and if I have to challenge this legally then I will.
I also received an email from BA's Global Engagement Team stating that I would be contacted at some point to discuss my case. No call to date. Finally, checking my account post-holiday BA has also failed to credit me with any of tier points for the trip. More follow-up work for me then.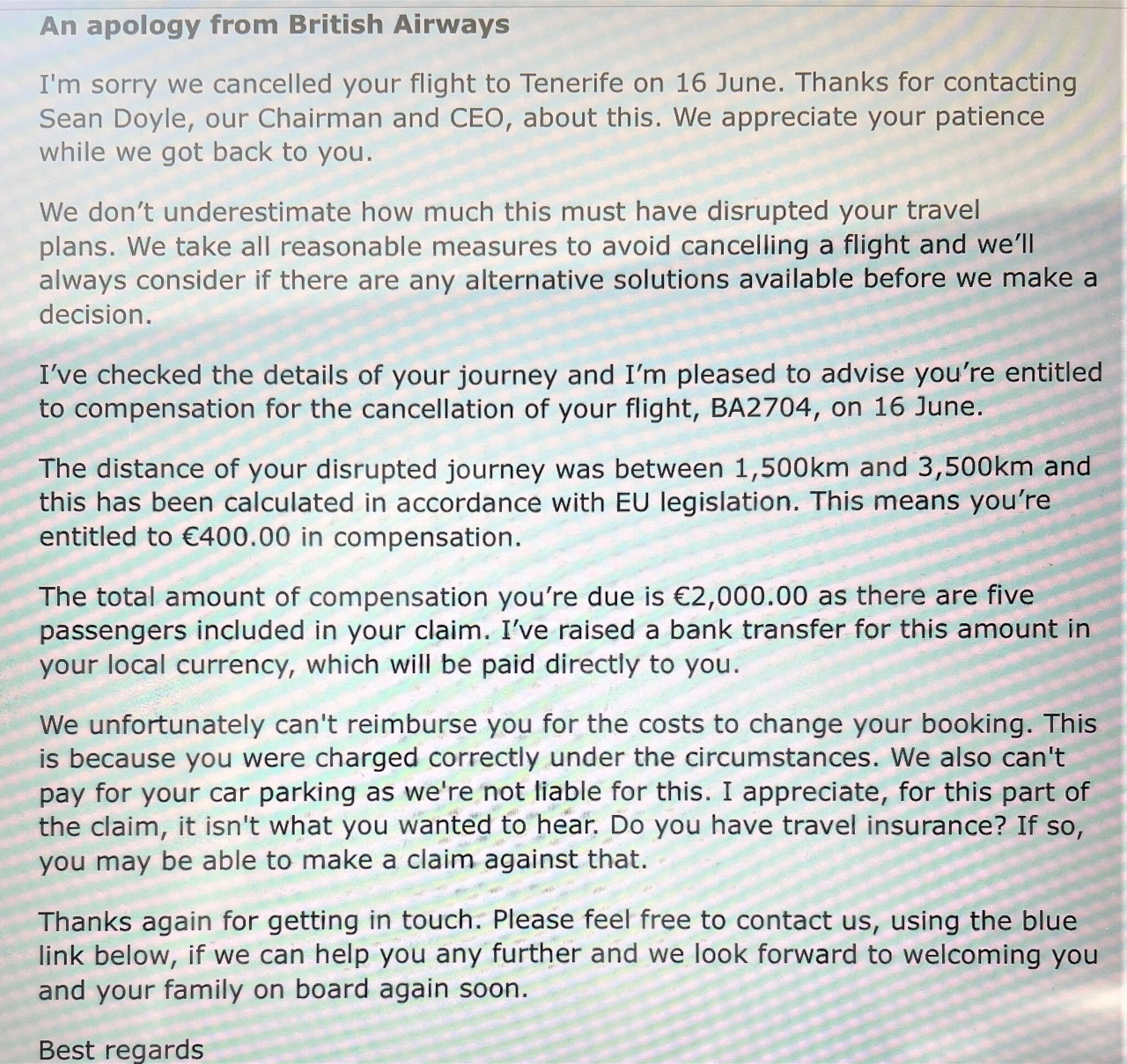 I will also add one observation that I made when checking in at LHR. A couple next to us were being told that their flight was over booked and they were not being allowed on. Despite the fact, as they pointed out, they had booked and paid for the flights two years ago and were travelling business. The reason ? They had failed to check in online, leaving it until they were at the airport. I felt incredibly sorry for them and I was disgusted at the way they were spoken to by the manager dealing with them. A cautionary tale indeed for the unprepared traveller. (Michele – I know of someone else this happened to who turned up two hours before as well. With flights currently extremely full, always check-in online as soon as you can when it opens).
This is not the end of my story by any means. I will try my hardest to reclaim my outstanding costs and tell my story so that others benefit. I hope my story assists any other reader who finds themselves at the mercy of BA and their cancellations.
Michele's opinion
Debbie has obviously had two bad experiences and two special occasions spoilt by cancellations. This is a tricky case as there are a few grey areas where legally you are not entitled to anything but some airline may make a goodwill gesture. The European law EU261 still applies in the UK for flight cancellations and delays.
EU261 applies:
to passengers departing from a UK airport; and
to passengers departing from an airport located in a country other than the UK to an airport situated in:

the UK if the operating air carrier of the flight concerned is either an EU/EEA carrier or a UK air carrier; or
the EU/EEA if the operating air carrier of the flight concerned is a UK air carrier.
You can get advice on the CAA's official website here.
Let's look at the specifics:
If BA Holidays cancel your flight resulting in you not being able to get you to your destination, they have to offer you a full refund if they can't offer you an acceptable alternative flight. They should offer you the next available flight or you can ask to travel on a later one if that is more convenient. If there is no flight on the date you need, you can ask to be rerouted via other airports on a connecting flight or an alternative airline. However, if you want business class to a holiday destination, then there may be slim pickings as many flights will be with budget airlines. You could also ask for an alternative destination but they don't have to do that unless it's within your booking terms and conditions.
If your flight was cancelled less than 14 days prior to departure you may be able to claim a set amount of compensation based on the timings of the alternative flight. (see CAA link above for details).
If it involves an overnight stay before your new flight your flight was cancelled at the airport and you live near the airport, the airline have a "duty of care" but they can simply tell you to go home and come back for the next flight if you are nearby. In other circumstances such as you were on a connecting flight or on your way back, they would need to pay for a hotel.
If you decide you don't want the alternative flights as it's not acceptable or a refund we begin to get into a grey area. If you choose a holiday to a different destination, then there is nothing legally that says BA has to pay the extra cost. Obviously last minute this could be quite substantial.
If you are stranded abroad at the end of the holiday due to a cancellation, they must fly you back as soon as possible even on another airline if necessary and pay for expenses incurred under duty of care such as a hotel or food etc until the flight. BA has a set of airlines that they have agreements with so they will usually want to book you on one of those. If this is impossible, you are entitled to ask for another airline if there is no reasonable alternative.
If you are downgraded there is a chance that on the day you could get upgraded again (or the flight is cancelled) which is why they don't offer compensation in advance. Technically you don't have any legal grounds to refuse a downgrade but BA and many other airlines may move you to an alternative flight in the right class if you ask. This could mean a long wait if flights are already full as is the case at the moment. If you do get downgraded you are entitled to 30-75% of the cost of the segment downgraded's cost. This depends on the distance of the flight.
In terms of getting hold of the BA Holidays Duty Office – to get their attention the most important thing is the timing of the flight. So put something in the email title such as urgent – departing 1 July at 9am flight cancelled, alternative unacceptable. Or something relevant. I had to contact them to change a flight a few hours before due illness and I got a phonecall within around 25 minutes from sending the email. They don't need the full story, just the bare details of why you need to speak to them urgently and any booking reference as they will usually phone you back pretty quickly if it is urgent. If you have a suggestion on how to resolve it you could include that to save time.
Additional costs – this is another grey area as things known as subsequent costs such as car parking are not covered and you would be expected to claim on your travel insurance. You can usually claim things like taxis or public transport to get home (or to the original airport) if they are unable to book you to your original airport. Hotels are also a bit tricky. If you had to travel a day early then you may be able to claim back the cost of the hotel in the destination. Getting a hotel at the airport the night before because the flight is earlier in the day, will probably not be covered. There is no harm in trying to claim, but don't be surprised if they refer you to travel insurance.
This is why it is important to have travel insurance as the airline would expect you to claim from them for many of the subsequent costs relating to a cancellation.
Have you had a last minute cancellation and tried to claim expenses? Let us know how you got on in the comments below.