A review of British Airways A350: Club Suite vs World Traveller. This is the return journey from the outbound flight I wrote about here. My friend Steven was flying the same route but in World Traveller a few days before me, so I thought it would be interesting to also take a look at how his journey was on the same trip.
Check-in
I arrived about 2 hours 55 minutes before departure expecting check-in to be open but they were still in the process of setting up. There was a huge queue for economy (World Traveller) and initially a smallish queue for Club (business class). The Club queue grew rapidly and the queue management was shambolic. As it 3was not totally clear which side of the sign Club was there were two queues. Instead of closing off the initial small queue, they left both open which led to lots of people trying to skip the large line that had formed behind me and join the queue that was in the wrong place. This definitely needs some common sense from the BA member of staff to stop arguments breaking out.
Masks were still required at the time I travelled but typically the mandate was revoked not long after I returned!
There was only one Club desk open and the person behind me was complaining to the staff. However, it moved quite quickly and I only waited around 10 minutes which I thought was reasonable. The check-in agent was friendly enough using the average US check-in agent as the starting point! She explained that I had lounge access to the Club.
I have TSA Pre-check as I have Global Entry. This is well worth the time and money just for Pre-check as it lasts for 5 years and means you also get through immigration in a couple of minutes usually. There was no queue and it is great not having to take anything out of your bag or take your shoes off.
The Lounge
There is also a Centurion Lounge which you can visit if you have a Platinum Card. You do have to go over to the D gates which is a bit of a trek so allow plenty of time to get back to the gate.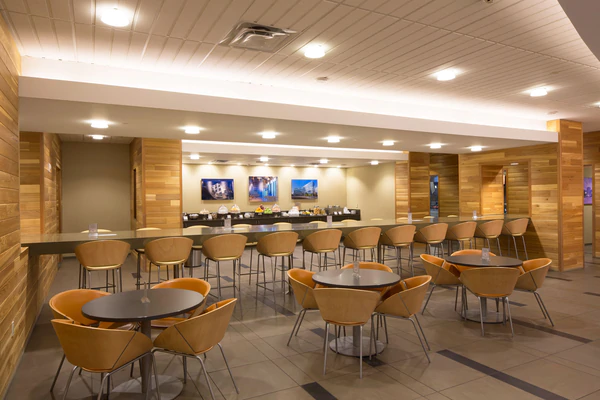 I couldn't be bothered since I didn't really want to eat anything and just wanted to work. BA use The Club LAS which is across from Gate E2 next to BA's boarding gate. Virgin also use the lounge and their flight was delayed meaning it was pretty busy when I was there. There are two parts – the bar which has some high bar stool seating and the buffet and then a further area that has more comfortable seating. Staff came round regularly to clear plates away.
The food had some help yourself snacks and drinks but the main buffet was staffed behind a cordon.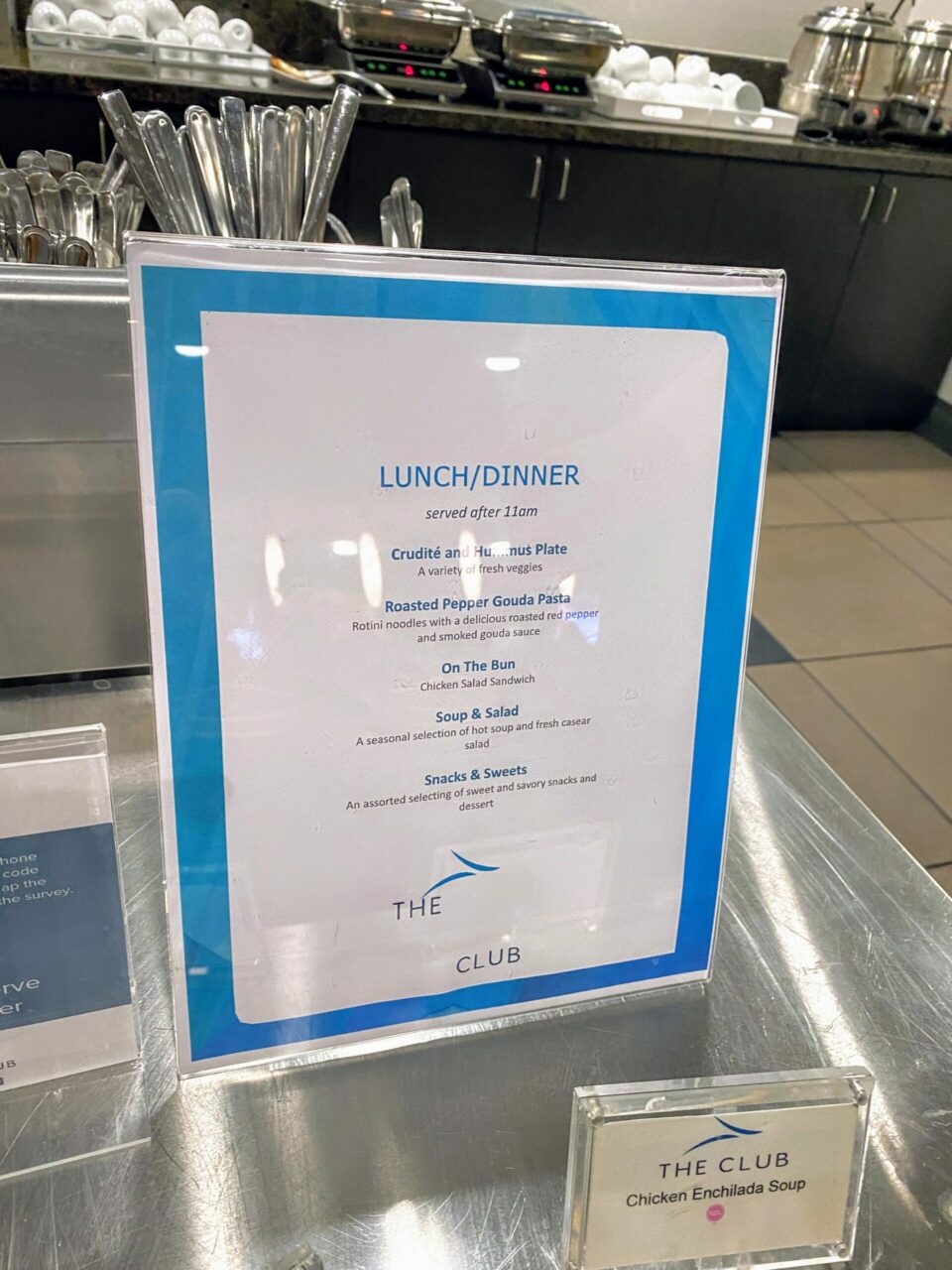 The bar has a decent selection of free drinks and they usually can do a decent margarita. I had some red wine, a Merlot that was drinkable.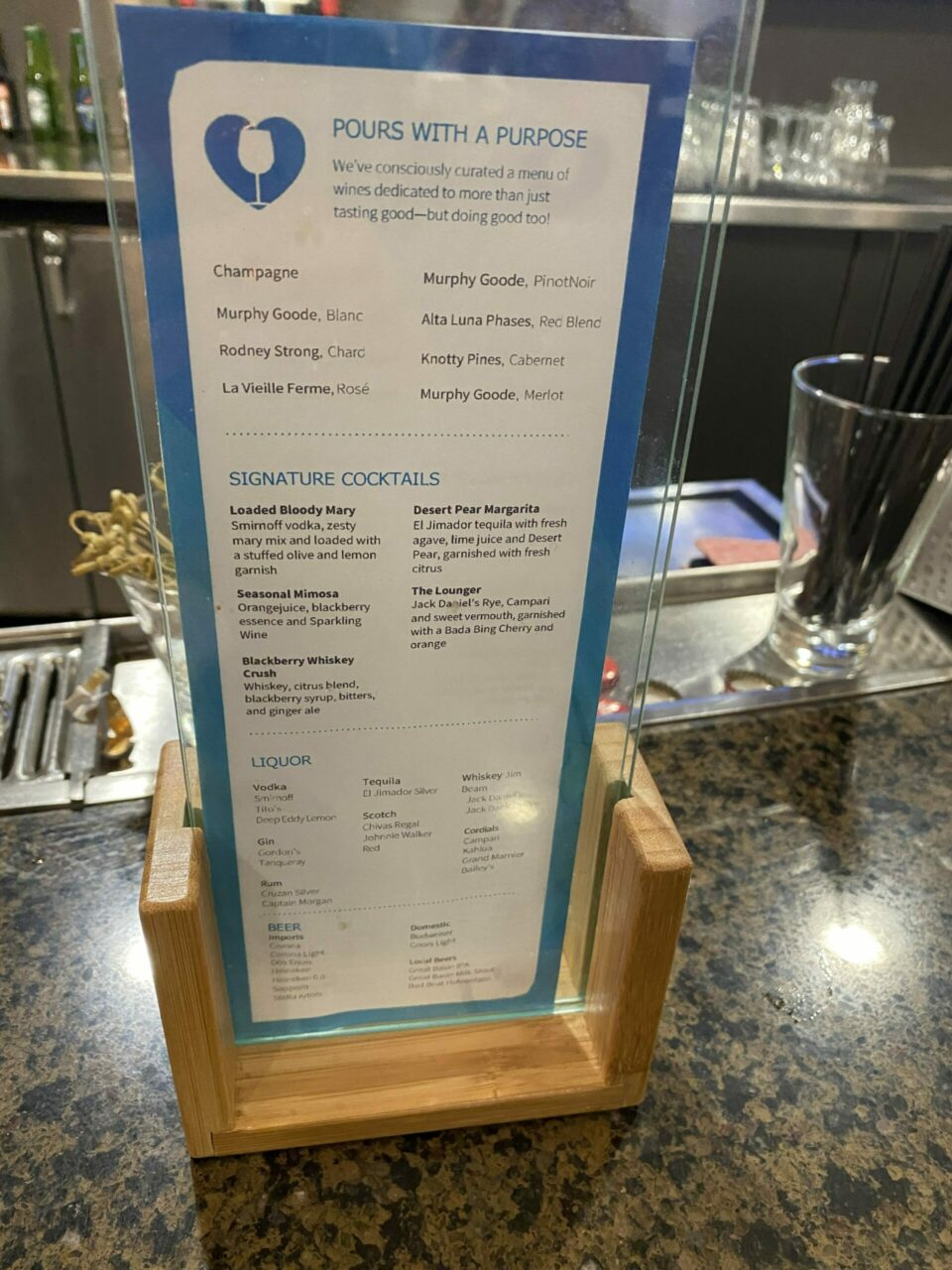 Boarding
The flight was delayed due to the late running of the aircraft inbound and we started boarding around 40 minutes later than we should have done. There was a scrum of people around the gate but I managed to get past and board in group 1 without too much difficulty.
The boarding was rather rushed as they obviously wanted to get away, so I felt sorry for the crew trying to deliver welcome drinks around everyone still boarding. Again the crew seemed friendly enough.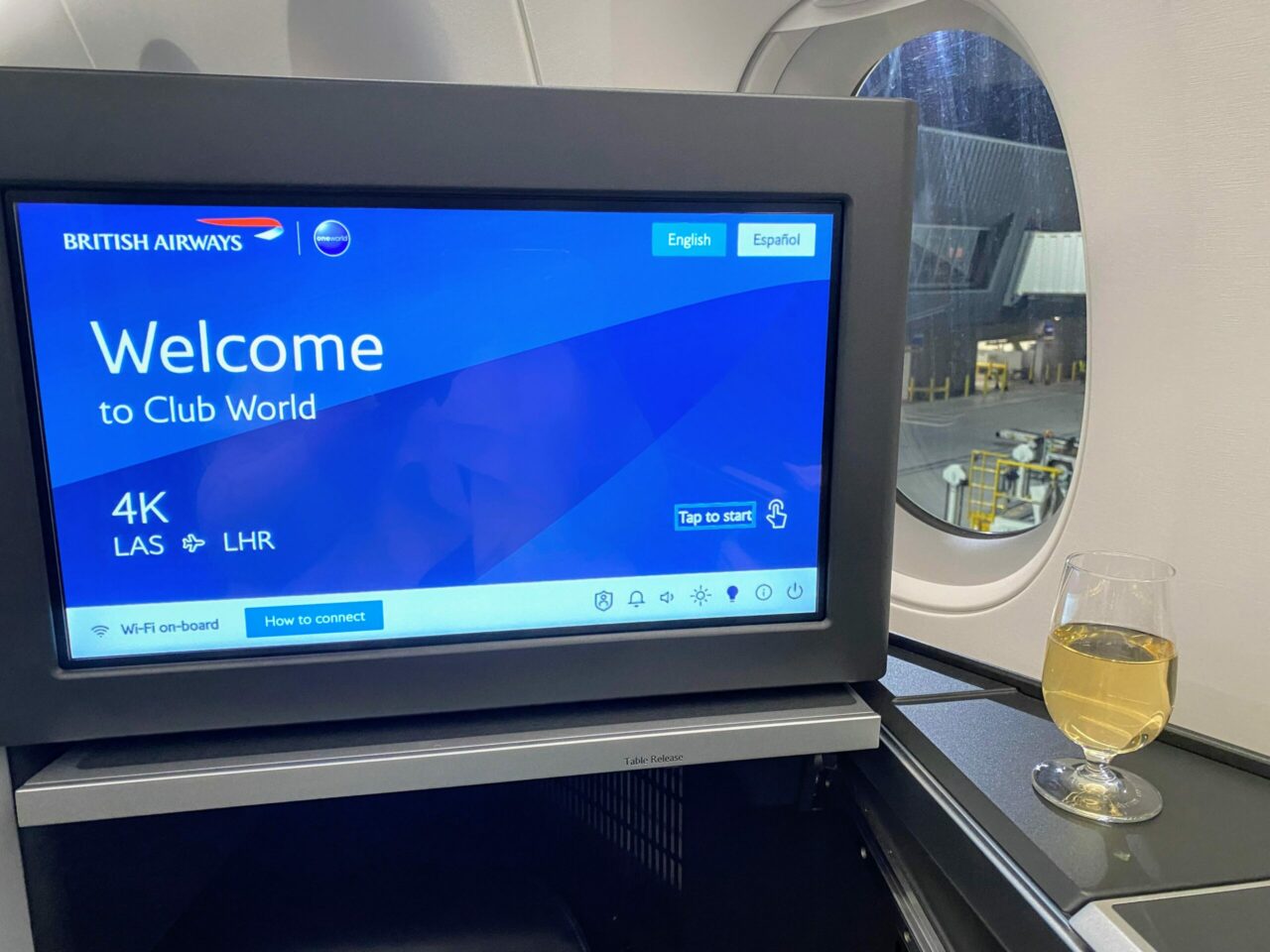 I enjoyed having a glass of champagne before take 0ff and it was nice that the CSM came and gave me a GGL welcome as these happen rarely nowadays. (Not surprising if they are short of crew). The usual White Stuff amenity bag was also handed out before take-off.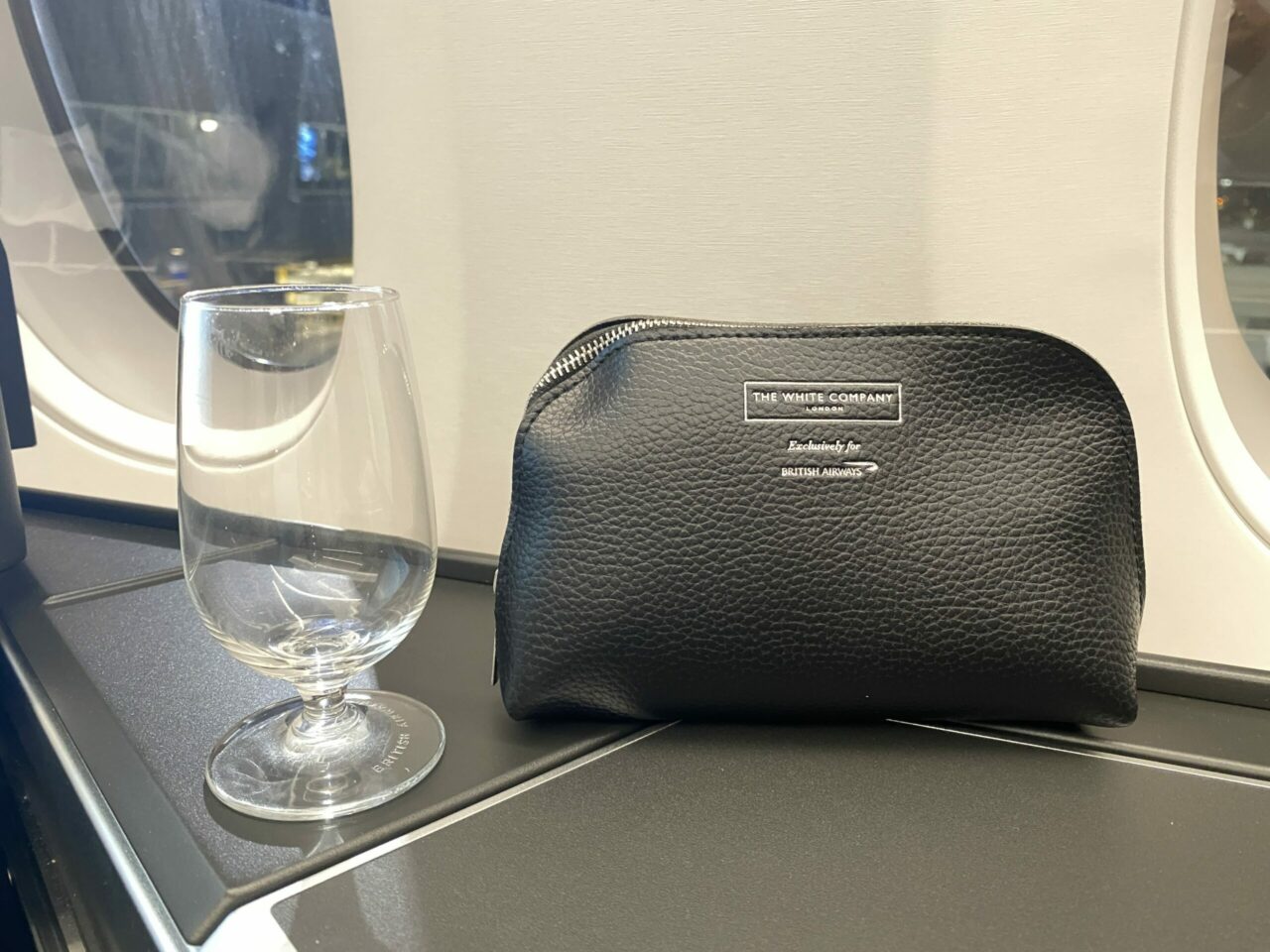 British Airways A350: Club Suite Seat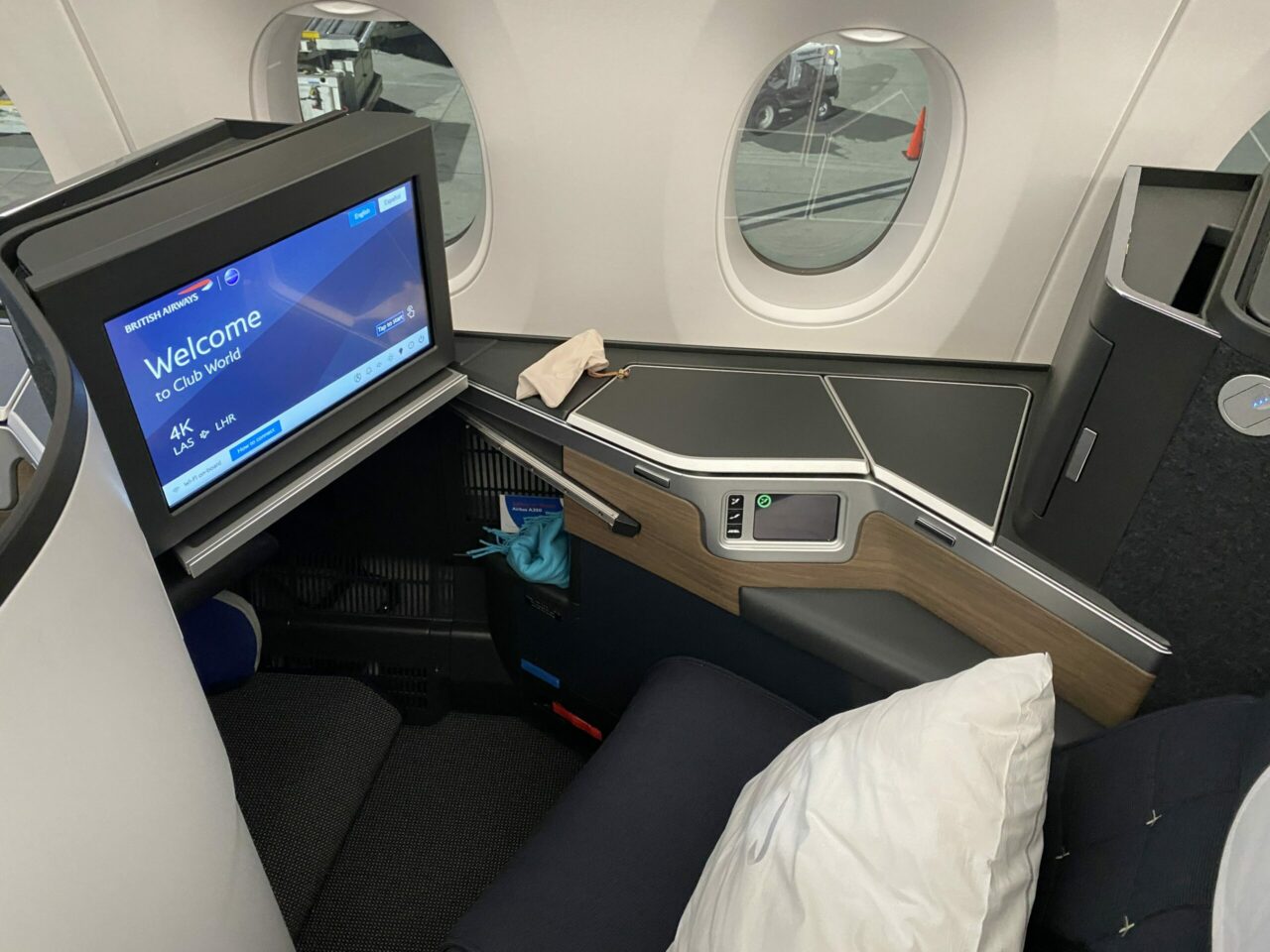 I won't go into too much detail as I have covered this in previous articles. This was pretty much a brand new aircraft but I had some issues with my seat which apparently was happening elsewhere onboard. The leg rest would go up to about halfway and then collapse which was irritating. Fortunately, it worked correctly in flatbed mode. Everything else worked well.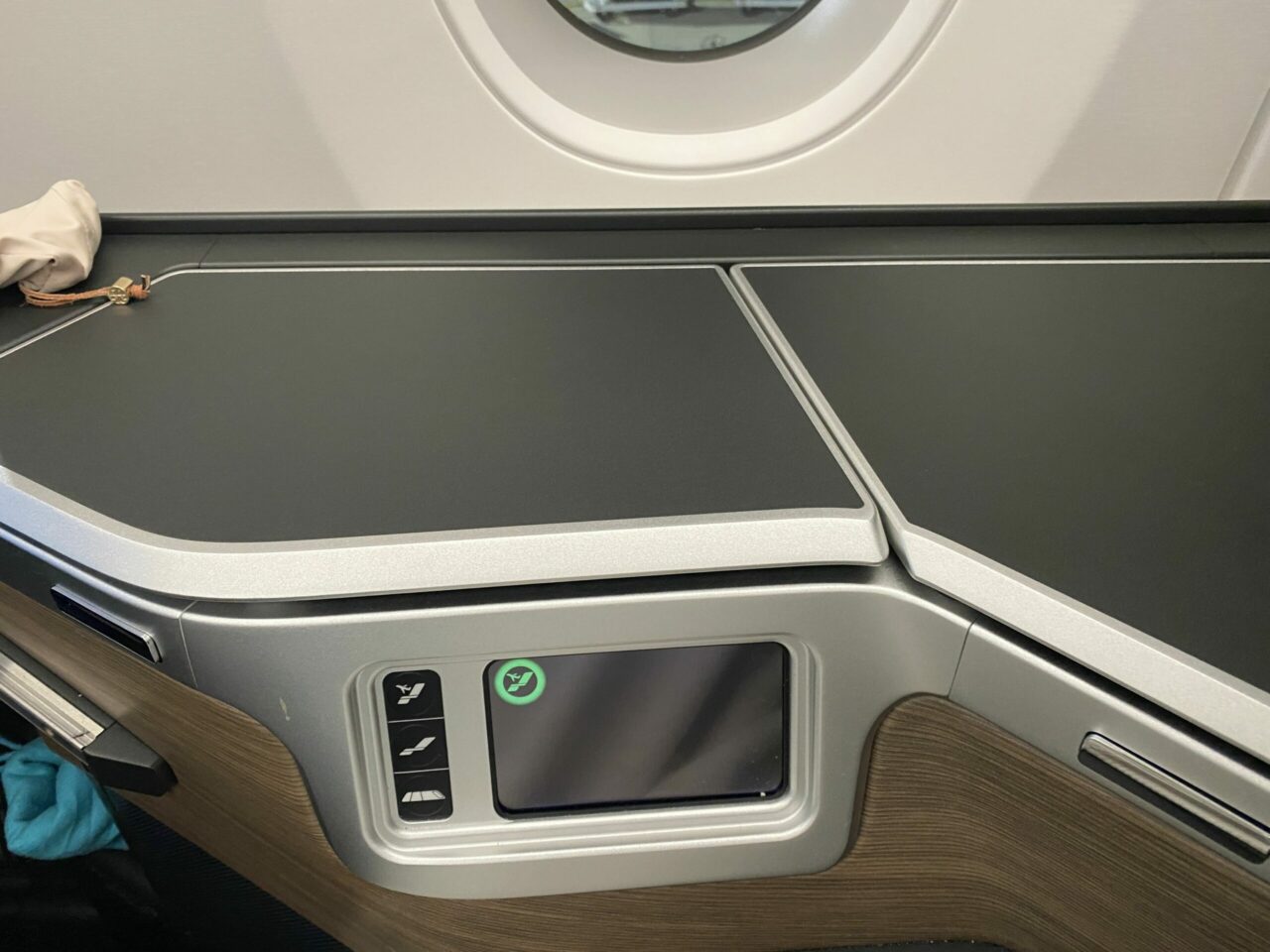 I was in 4K which was about the optimal seat for me on a night flight. Close enough to the front that you don't have to wait forever to get served but not so close that the galley disturbs you with noise.

The Club cabin was pretty much full as far as I could see.
British Airways A350: Club Suite Food and drink
There was the usual round of drinks before dinner. This time I asked for a strong Aviation Gin and tonic as I find they normally make them very weak. This one was definitely strong as ordered!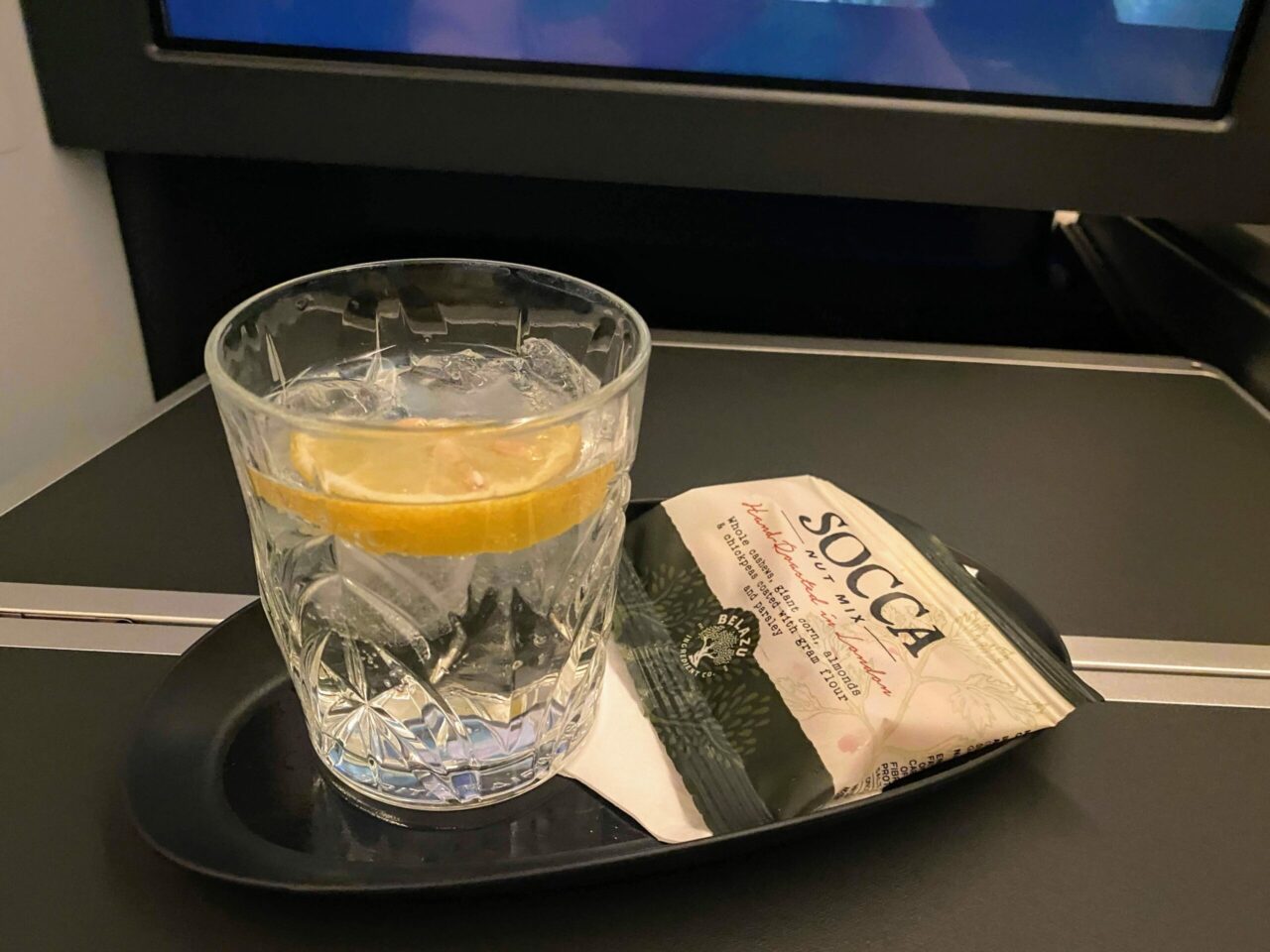 Here is the drinks list: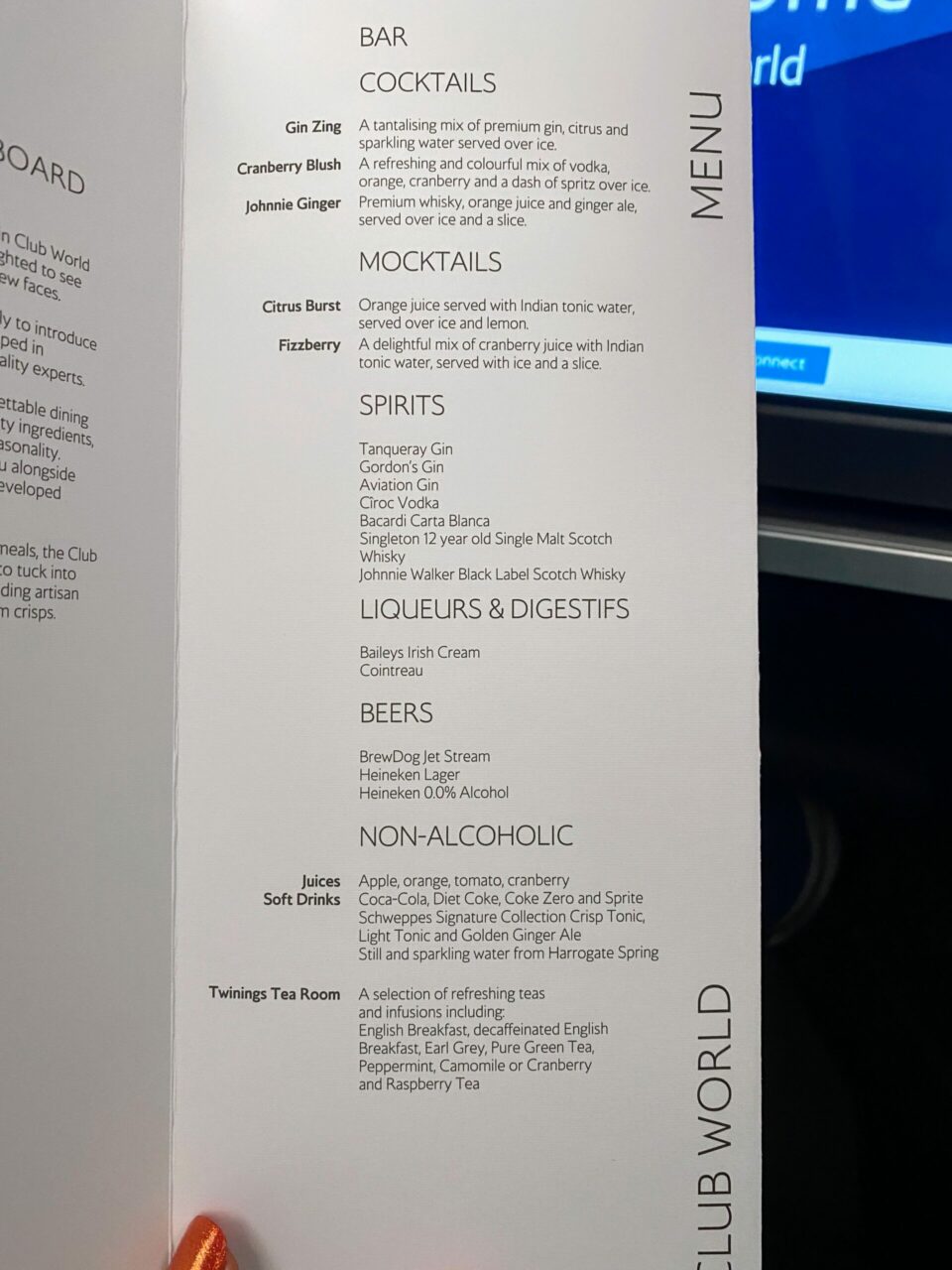 The menu looked pretty much the same as when I flew back in December from Vegas which was a bit disappointing. I generally don't risk having beef on a plane as it's usually a bit overcooked for my liking and I had the Goan cod before (which is very nice) so I thought I'd try the risotto. As normal it was all served at the same time on one tray.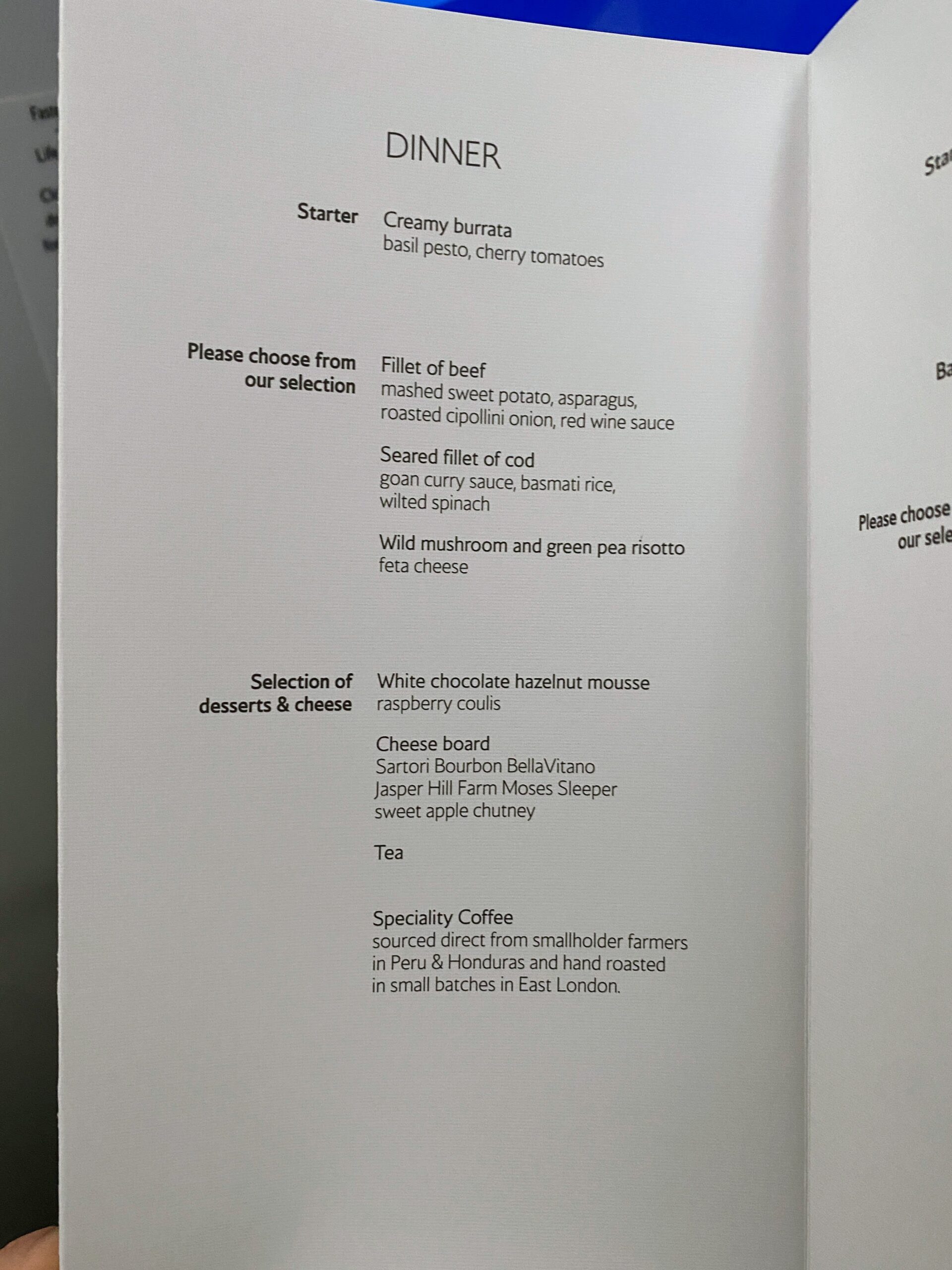 I should have stuck with the cod…I chose the pot luck cabernet sauvignon which so far has always been drinkable if nothing else.
The starter was a huge improvement on the outbound and feels like a "proper" starter from pre-Covid apart from being in a small dish. The burrata was soft and creamy and the pesto stopped it from being bland. I also enjoyed the bread which was in a whirl shape and had herbs in.
Unfortunately, the risotto was something of a disaster. Claggy, lumpy and bland, I couldn't taste the mushrooms and the peas were so overcooked they also tasted of nothing. The tomato and the feta on top were OK but other than that it was pretty bad. If I had been in a restaurant (or cafe) I would have sent it back.
Fortunately, things took a turn for the better with the dessert which was delicious with a lovely raspberry flavour. I don't really like hazelnuts but it mainly tasted of white chocolate and raspberry which was fine by me. It had a nice tartness to it from the fruit which stopped it being sickly sweet.
The cheese also made a welcome change from cheddar!
Again there were no top-ups and the next offer of a drink (or rather would I like anything else) came when they cleared the tray away. I had a glass of port for a change since they no longer offer cognac. It's only a ruby port but I quite like it.
Breakfast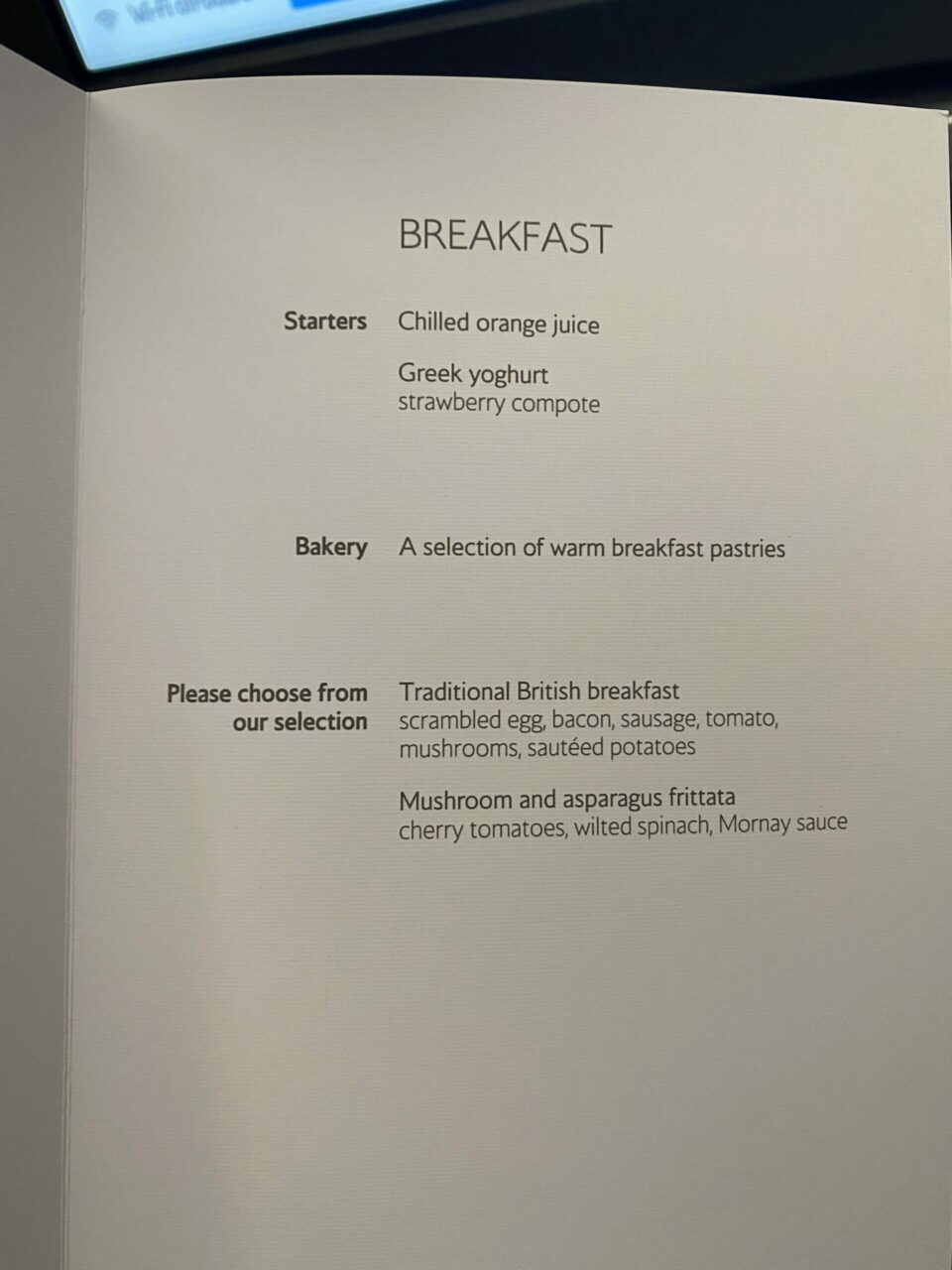 The breakfast menu I think is perfectly acceptable for this length of flight. Although I didn't have any of the hot items, from past experience and those that have sampled it recently, it's pretty decent. I just went for the yoghurt parfait and some pastries which I enjoyed. I do think it's a shame they did away with the breakfast cards. It can't cost much to produce them and surely it saves the crew walking backwards and forwards taking orders in the morning?
I also really miss the breakfast "energiser" drinks which were basically a smoothie. Again it was something that marked BA out from the crowd. It is good to see they still do speciality teas so I could have an earl grey though.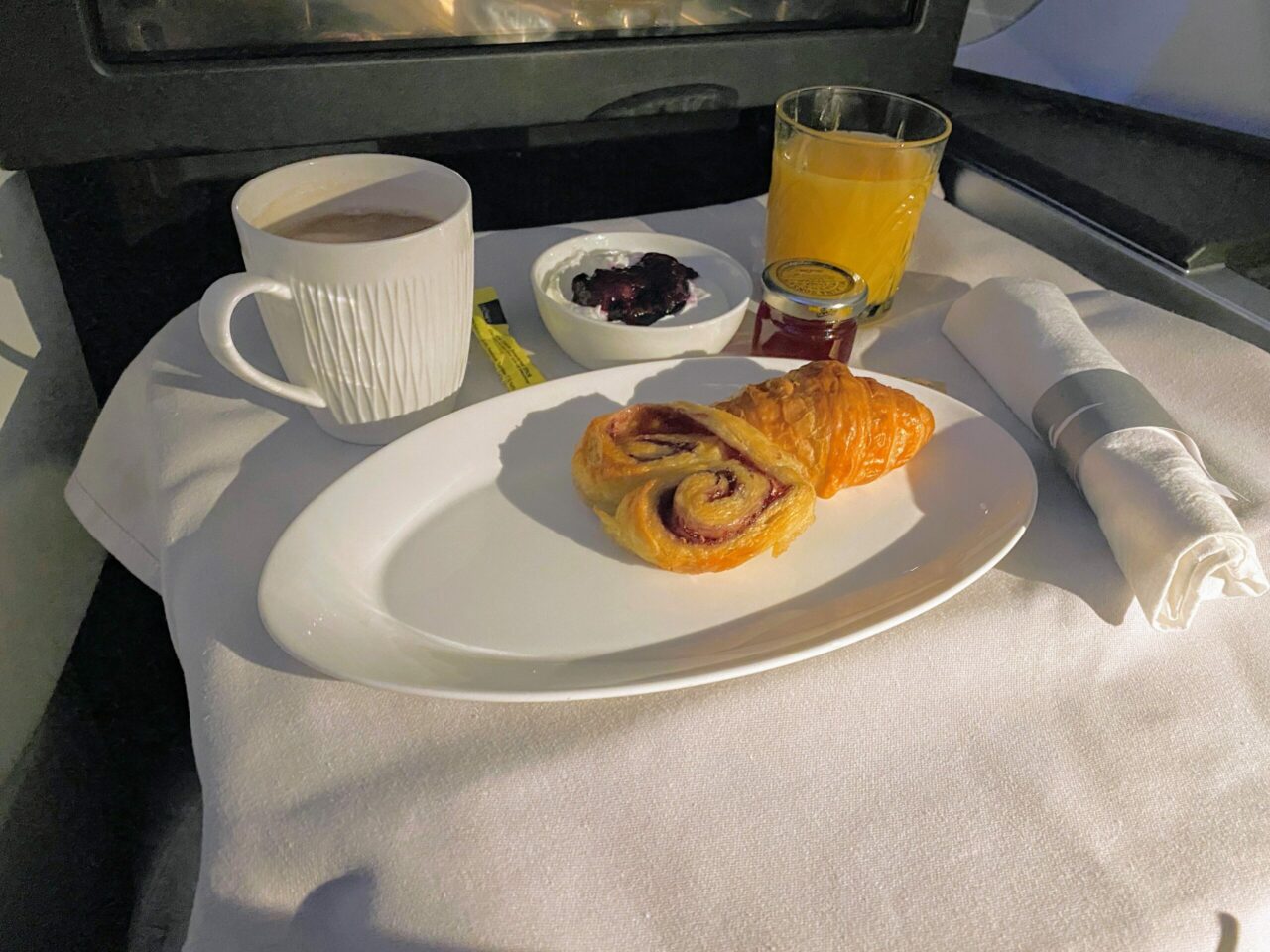 British Airways A350: Club Suite Entertainment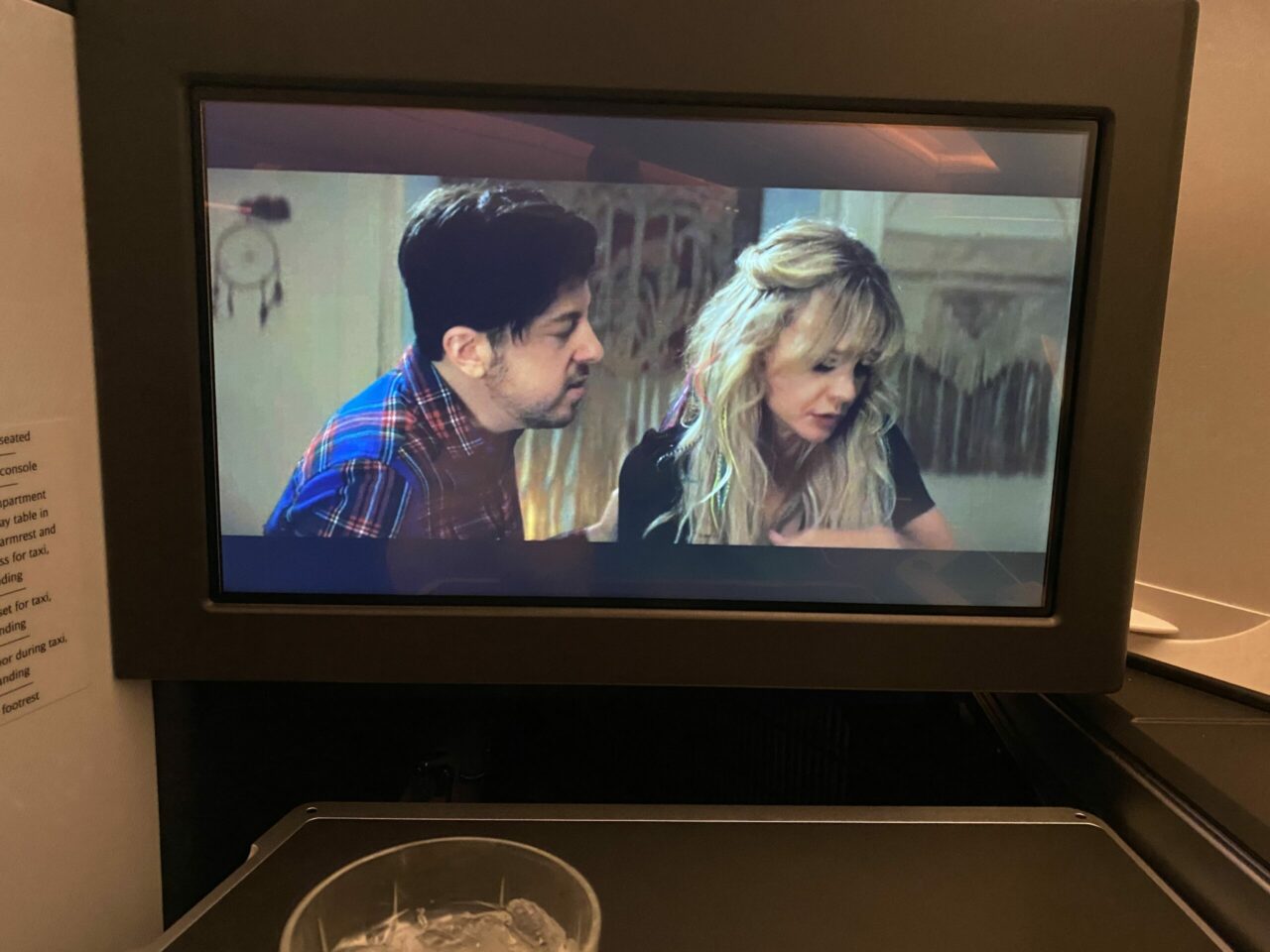 The screen definition and size were great and there was plenty to choose from recent films to classics. The Wi-fi was working although there were some periods of around 30 minutes or more where it wasn't working.
On arrival at Heathrow there were no issues, apart from the announcements on the train being wrong which confused a lot of people who got off again thinking it was going to C gates when it was for arrivals! There was no queue at immigration and my luggage arrived (hurray!) reasonably quickly.
British Airways A350 World Traveller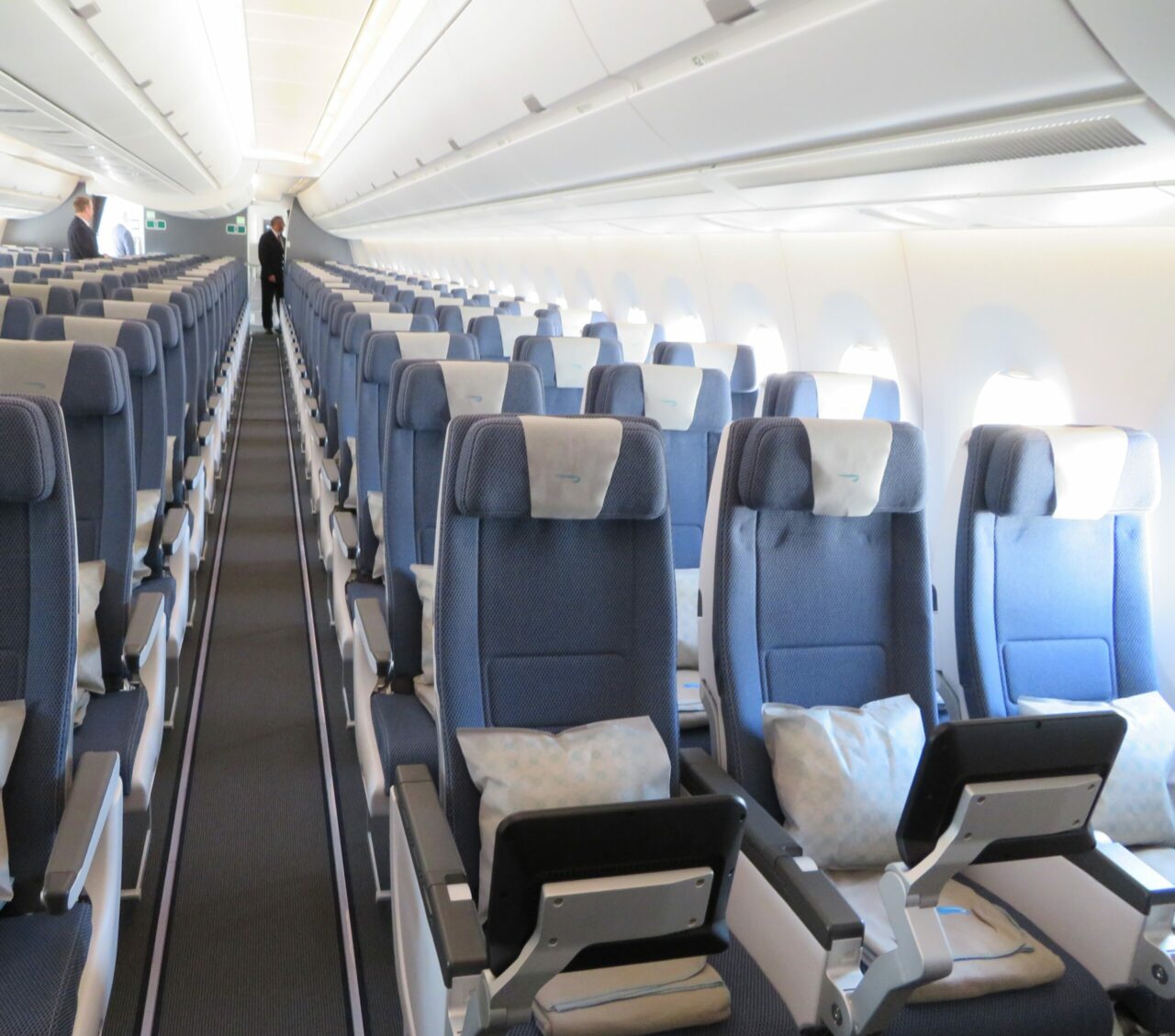 Steven says of his trip in economy,
Looking back at my flight, the aircraft was an A350 with a super fresh cabin, and I had an exit row. So I found the seat to be comfortable and even though the row was full, the provided pillow was soft and fitted against the window, so I had plenty of room.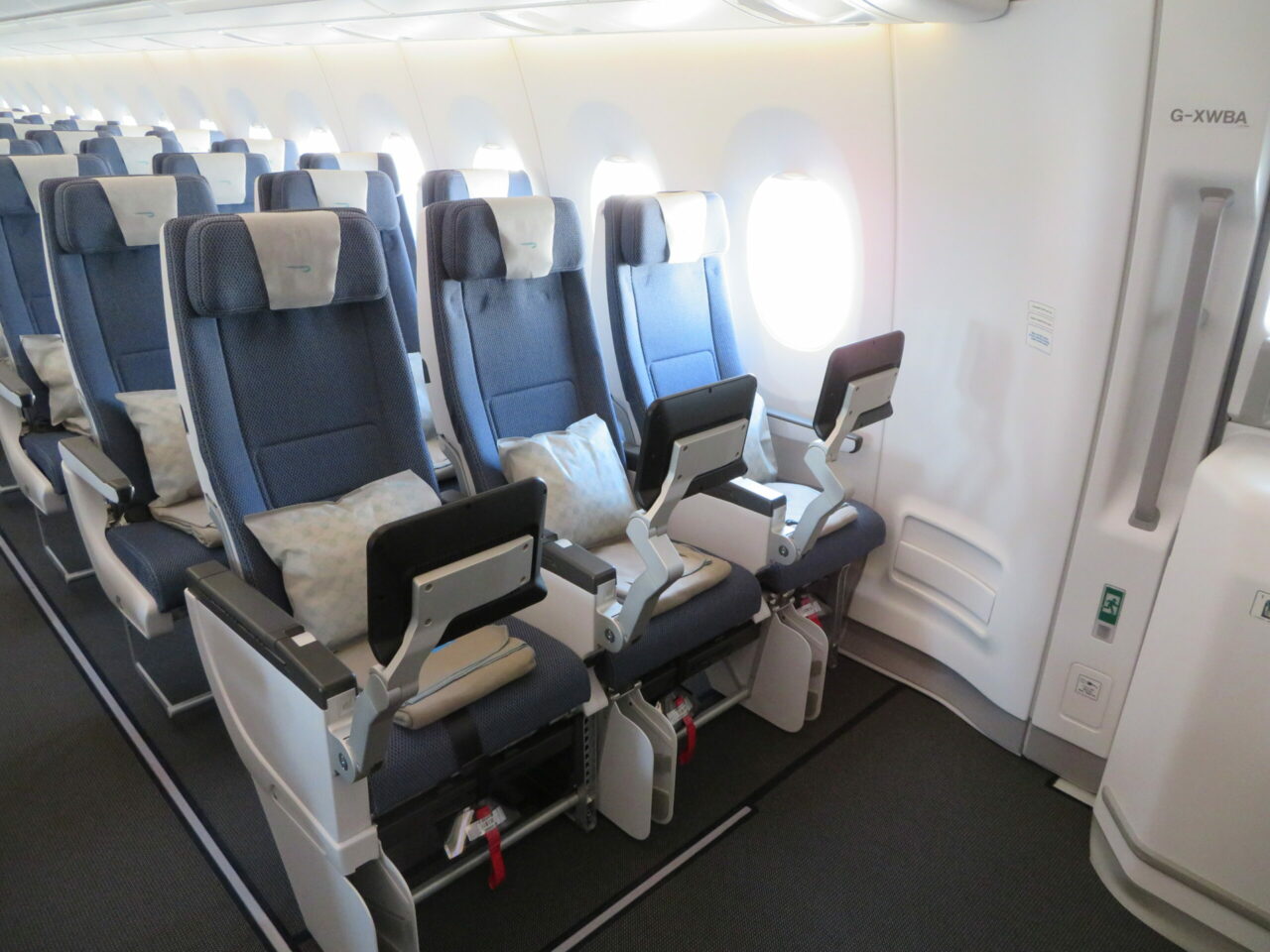 On boarding with group 1, I was one of a very few in the WT Economy cabin, and the crew member was very chatty. We shared stories of different destinations and she said she had worked for Tui previously but much preferred BA. She remembered I mentioned I enjoyed a Whisky and when it came to drinks I got two miniatures of JW Red, everyone else only got one.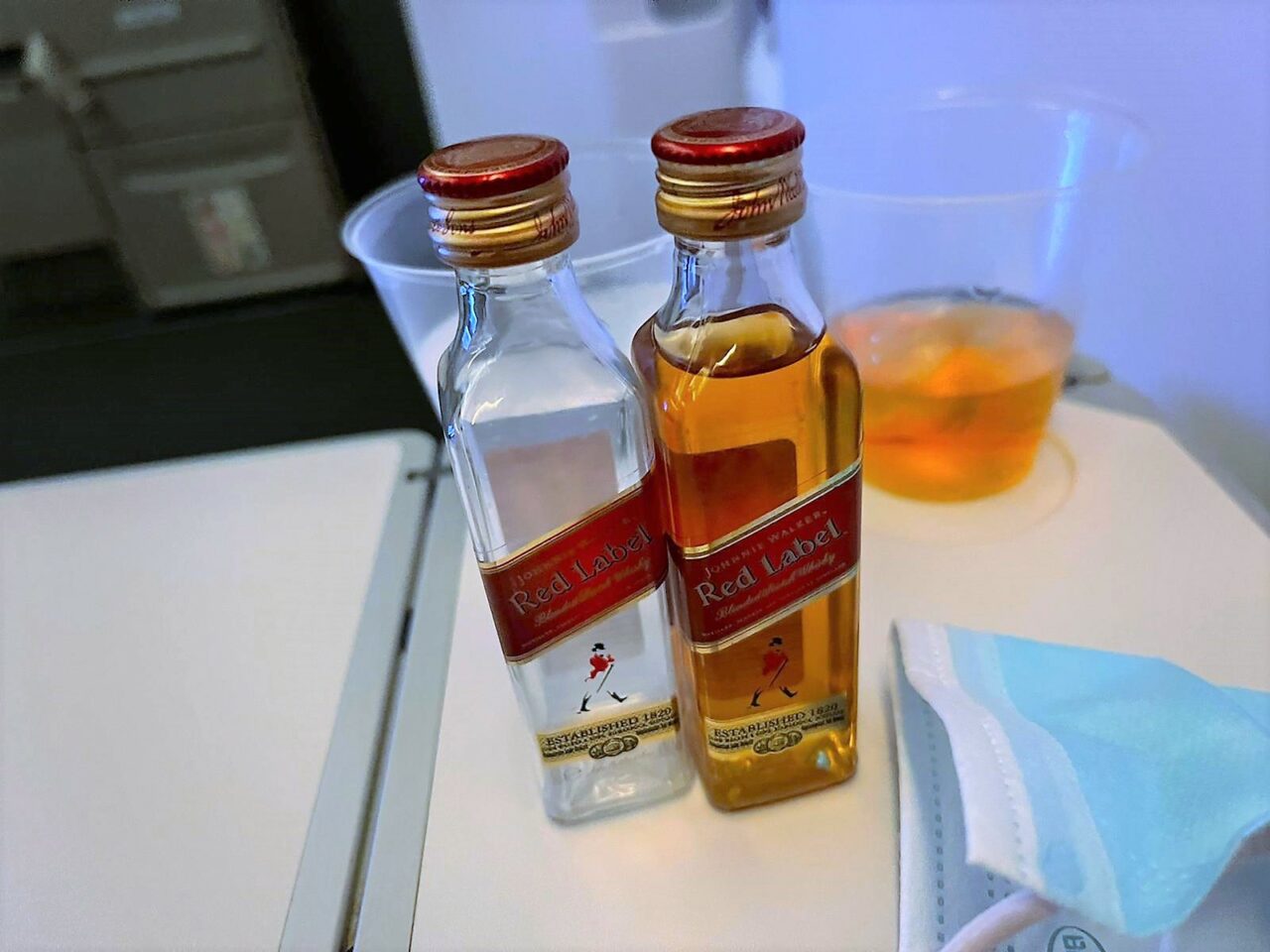 I was also offered Red wine with dinner, the meal was very tasty, lightly spiced, the potato was a touch "Instant Mash", but a very decent meal, and yummy mozzarella and tomato salad to start and a lovely rich choc pud.
I'm sure I could have asked for more drinks, but I felt sleepy and had the best sleep I've ever had in Economy.
It was also nice to get the small bottle of water which I kept for landing as it always helps my ears adjust to take little sips.
The breakfast was fine, it was cold, with a turkey ham croissant, not great, but perfectly fine. A nice yogurt, soft moist muffin, and more water. I was also served coffee in a tiny paper cup which wasn't ideal.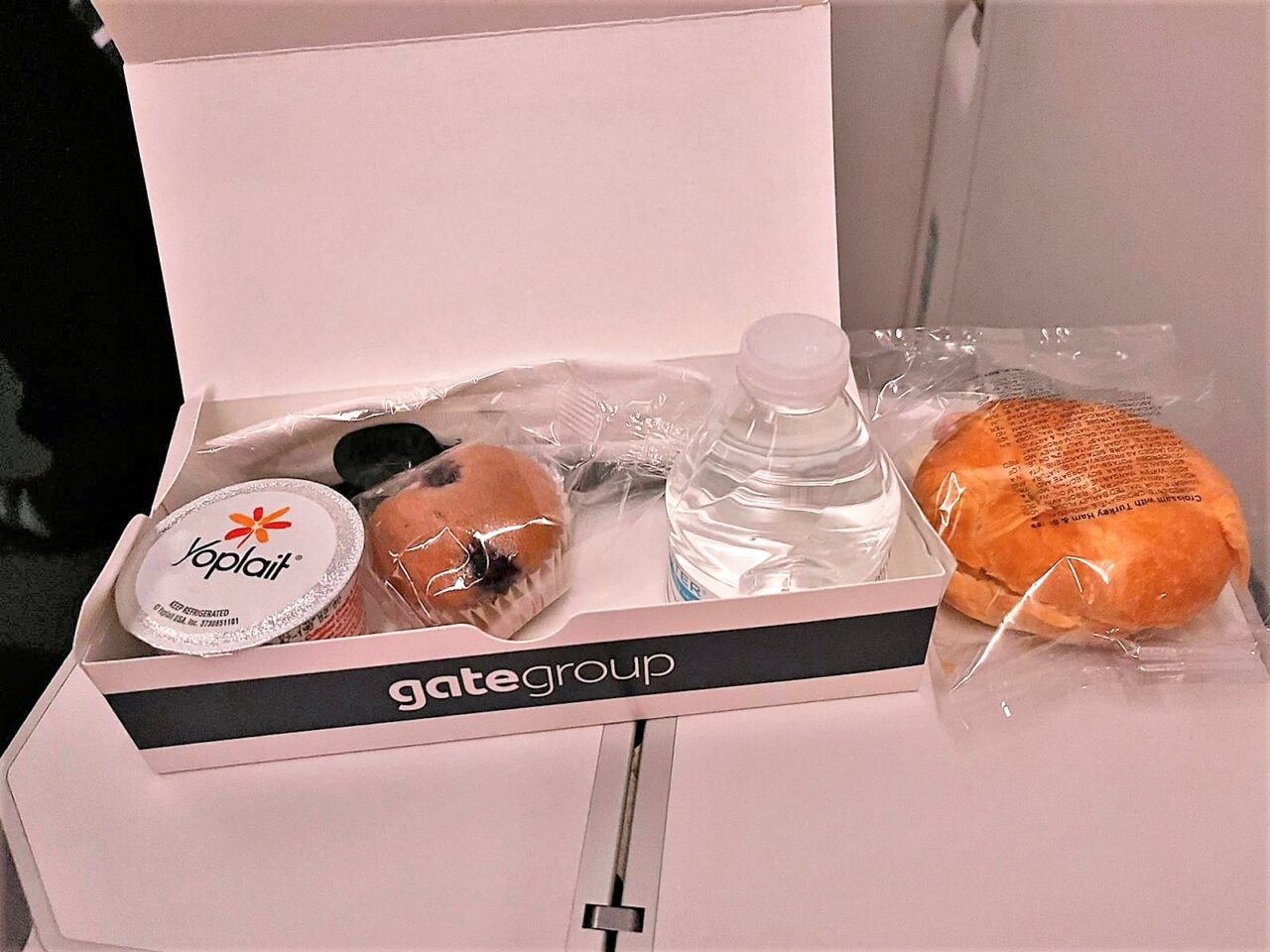 The crew who served were very pleasant, there was lots of running around suggesting they were under some pressure. There was no visit from a senior cabin crew for a Gold welcome. However, I did sleep for quite a while so I don't really feel it's fair to complain with it being a night flight.
All in all a solid experience on a lovely plane, and I paid £300 round trip, so I easily got my money's worth!
British Airways A350: Club Suite vs World Traveller Conclusion
I also got a cheap deal as this was an Avios booking with a Lloyds upgrade voucher that had originally been booked for about two years ago. Given what I paid, I can't really complain. The Club Suite was comfortable (apart from the leg rest issue) and with the big pillow and quilt, it's great for sleeping. However, the food and amount of time that crew have to serve you when it's busy is an issue. This time the rest of the meal was actually pretty good, but my main course was not enjoyable.
The main issue again is that if you want more than one glass of wine during the meal you would have to press the call button or try and grab someone walking past which I am reluctant to do when they are busy still serving people food. Pre-covid I used to enjoy having one wine with my starter and trying another with my main course.
Obviously, once the meal is over you can walk up to the galley or the Club Kitchen to get a drink as I wouldn't expect to be routinely served at this point.
I think it is really interesting when you compare the food and drinks. The amount that they get in economy and the number of drinks (even excepting Steven's double whisky serving) is pretty much on par with Club for the first meal service. In economy obviously, you get a quarter bottle of wine rather than just a glass. And spirit measures are doubles rather than the single that seems to normally be poured in the galley. So you could say if anything they get more drinks!
Although Steve didn't get bread or cheese like you used to in economy, bread, cheese and crackers came back into economy this month. Whereas Club is not scheduled to change back to pre-covid until October currently. I would have actually rather had Steven's chicken than my risotto if I am honest!
So at the moment, you are definitely paying the money for the seat (which is indeed worth paying for in my opinion) rather than for the soft product which is way behind what it used to be for many reasons.
Like our review of British Airways A350: Club Suite vs World Traveller Las Vegas to London? You can read more flight reviews here.