First class from £1912
The fare is available from Paris to New York with plenty of availability up to at least the end of the year. Although there are no limits on what days you can fly, it's not available every day so you may need to be a bit flexible to find a date that works. You connect back through Heathrow to pick up a BA or AA first class flight in most itineraries.
First class on BA is almost back to pre-Covid normal with some more improvements due by 1 August to bring it back to Pre-Covid standards. The main difference at the moment is the menu choices are limited.
Here are the rules:
Book by: 60 days advance purchase. Book by 30 June.
Minimum stay: 24 hours plus a Saturday night
Maximum stay: 12 months
Transfers: 2 in each direction
Stopovers: No
Refundable: No (but check with airlines book with confidence)
Changeable: check with airlines book with confidence
You can also fly on American Airlines but their first class is nothing much to write home about apart from the chair that swivels. Food and drink is pretty much the same as their business class but it is a very small cabin. You can read about it here.
You can book direct with British Airways here or find the cheapest online travel agent price with Skyscanner.
HT: Loyalty Lobby
Manchester improvements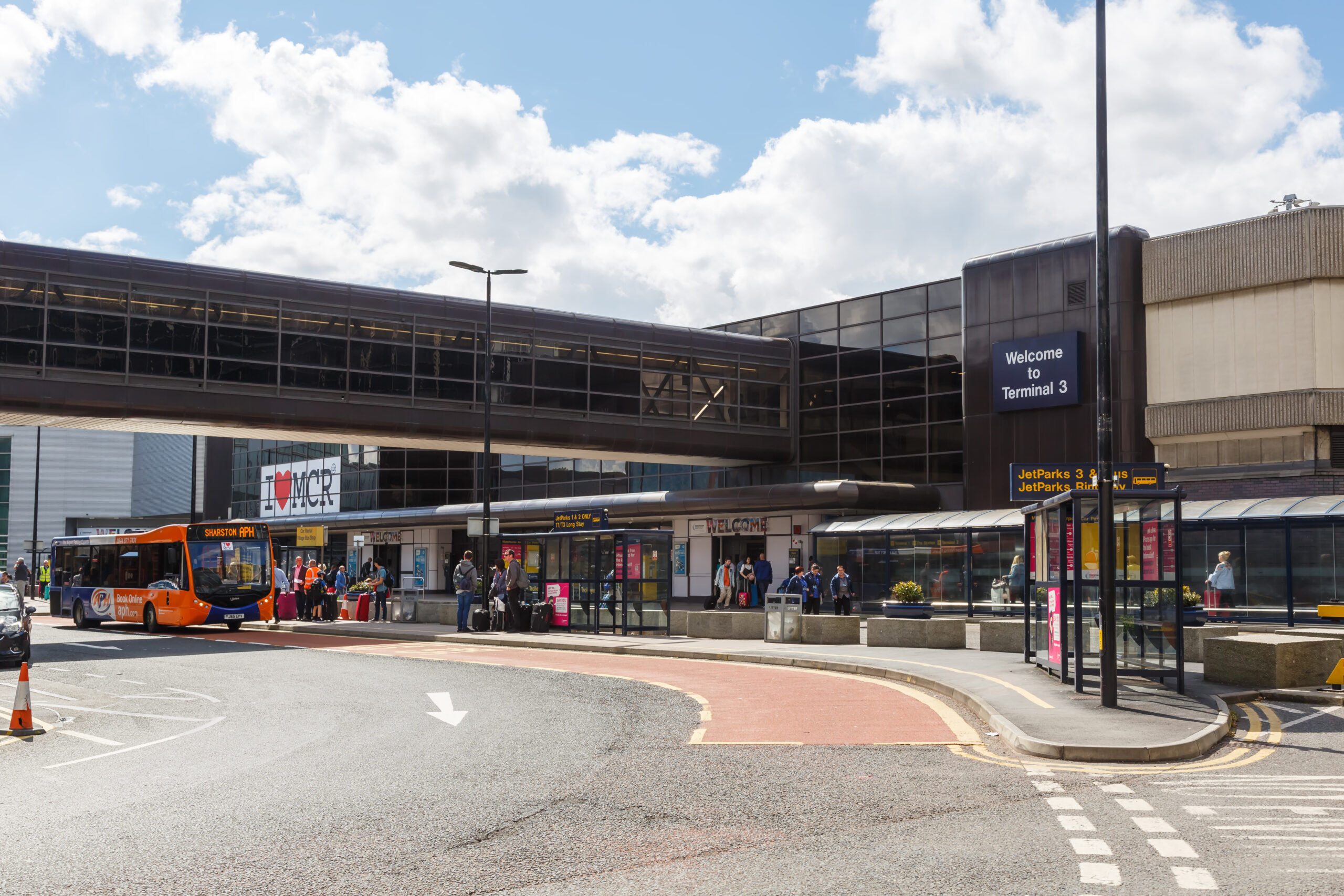 Manchester has been hitting the headlines over the last few months due to the horrendous queues for security. This was down to a lack of security personnel, although if you ask most frequent flyers, Manchester was consistently one of their most hated airports before Covid. This was almost all down to security there who are known for being extremely officious and secondary checking almost every bag for a variety of weird and wonderful reasons. You can read their official security rules here.
The good news is that generally, things have vastly improved and with fast track you probably will have very little wait. The only time there seems to be a large queue is first thing in the morning as people are turning up before the check-in open many hours before their flight, creating large queues.
Despite some rather misleading media reports, fast track is still open. They just have not been selling access to it. Those with business class tickets or status can still access fast track.
They have already recruited 60 more staff and by the end of May an additional 200 will have joined which hopefully should be the end of the major issues.
Manchester said in a statement,
"At the same time, the airport is also asking passengers not to arrive earlier than this (3 hours) because it can lead to extra queues, and check-in and security facilities may not be open."

The statement added: "While the airport is still experiencing longer queues at times, these are happening less frequently and they are being cleared relatively quickly."

Interim Managing Director Ian Costigan said: "We want to make sure that customers get away on their travels, so everyone at Manchester Airport is focused on bringing in the extra resources we need to continue operating our full flight schedule.

"While the majority of people will get through security in less than 30 minutes, customers need to allow time for check-in and the possibility that security queues may be longer at peak times."
Shocking discovery at Heathrow T3 lounge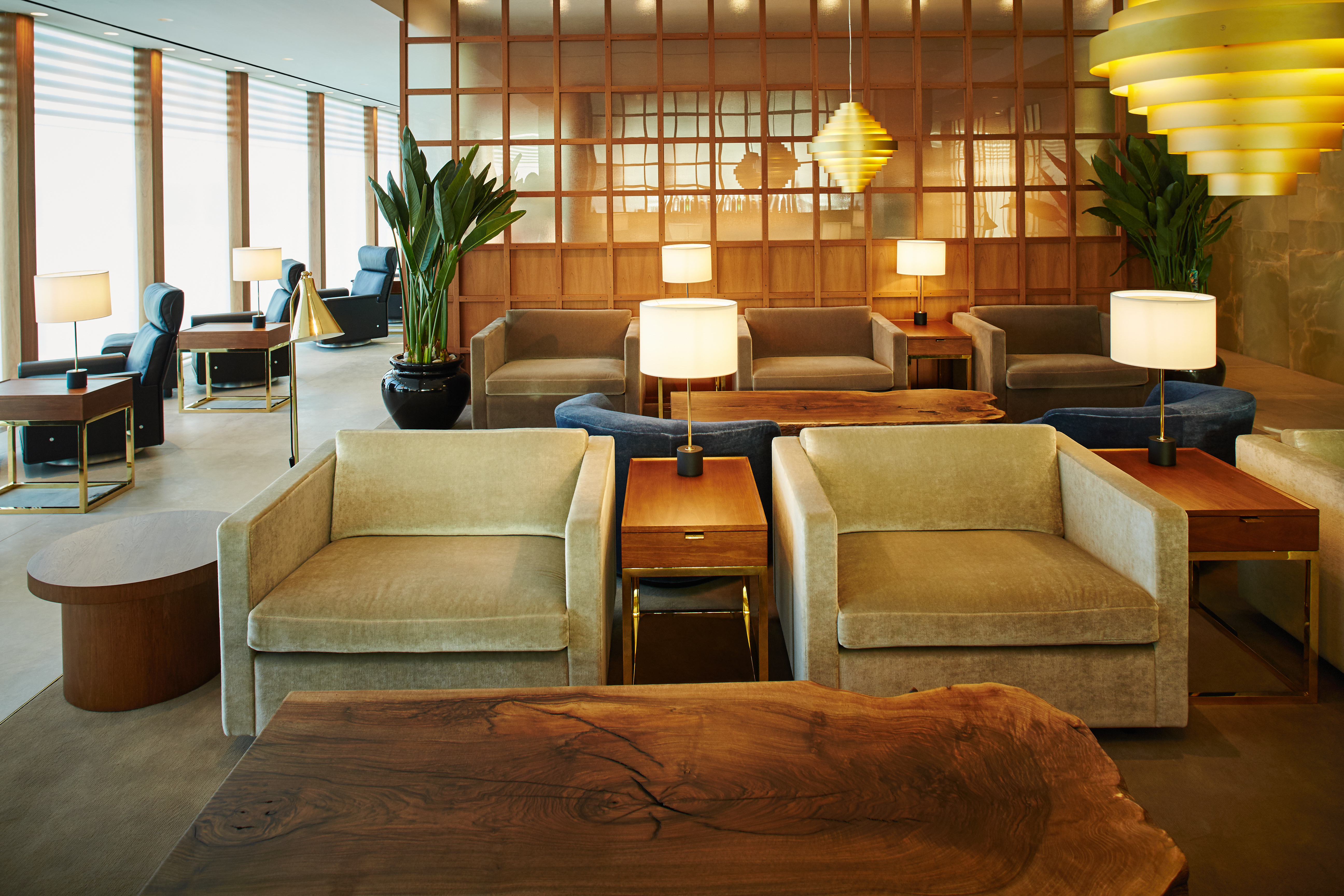 There are still a number of people that are not aware of the rules regarding lounge access when you are flying business class with oneworld so I thought it was worth reiterating them. Heathrow T3 currently has three oneworld lounges that are open (usually there would be American Airlines too). These are Cathay Pacific (business and first sections), Qantas and British Airways.
It doesn't matter which oneworld airline you are flying on, you can access any oneworld lounge if you are flying business or first or have the appropriate status. There is nothing to stop you from doing a lounge crawl either. If you have an American Express Platinum card you could even pop into the Centurion lounge as well! If you are not sure which lounge to visit, this pre-Covid article will give you a good idea.
I thought it was worth looking at what my favourite lounge has to offer at T3 currently. Ben, my friend and regular contributor (thanks Ben!) was there recently and took some photos.
The lounge is pretty much as before Covid except for one thing. However, I am afraid readers I have grave news. Please make sure you are sitting down before reading the next paragraph.
There are no more AESOP toiletries in the washroom! Instead, they have been replaced by UK brand Bamford. Now before you vow never to visit the Cathay lounge again, I can assure you that Bamford toiletries are just as good in my opinion and adore the smell of them. However, I don't think the smell is quite as refreshing as the Aesop one.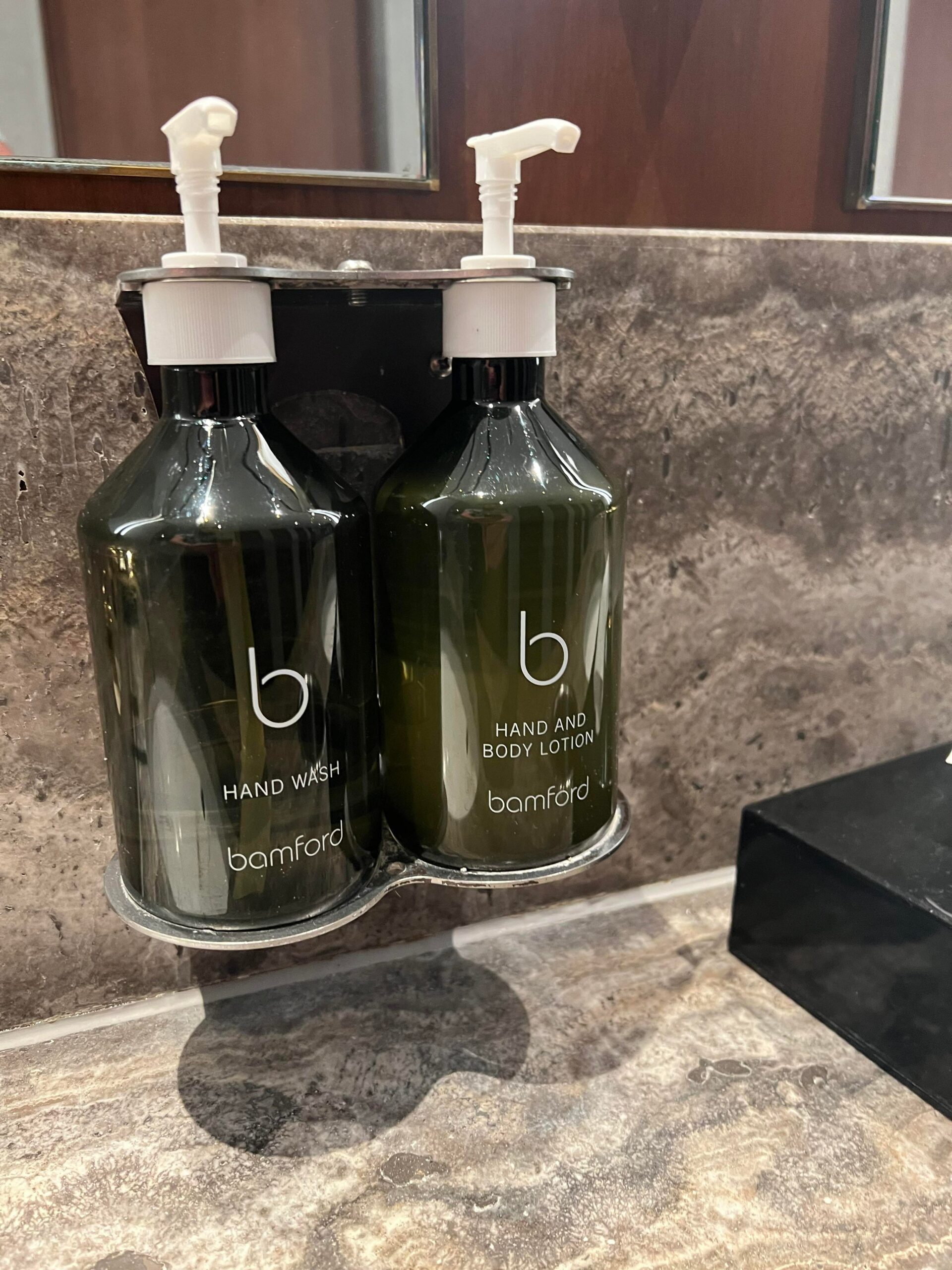 The First class lounge menu was pretty much the same as pre-Covid and still has the old favourites of the Dan Dan Noodles and Dim Sum basket which are both available in the business class lounge too.
Here is the breakfast menu: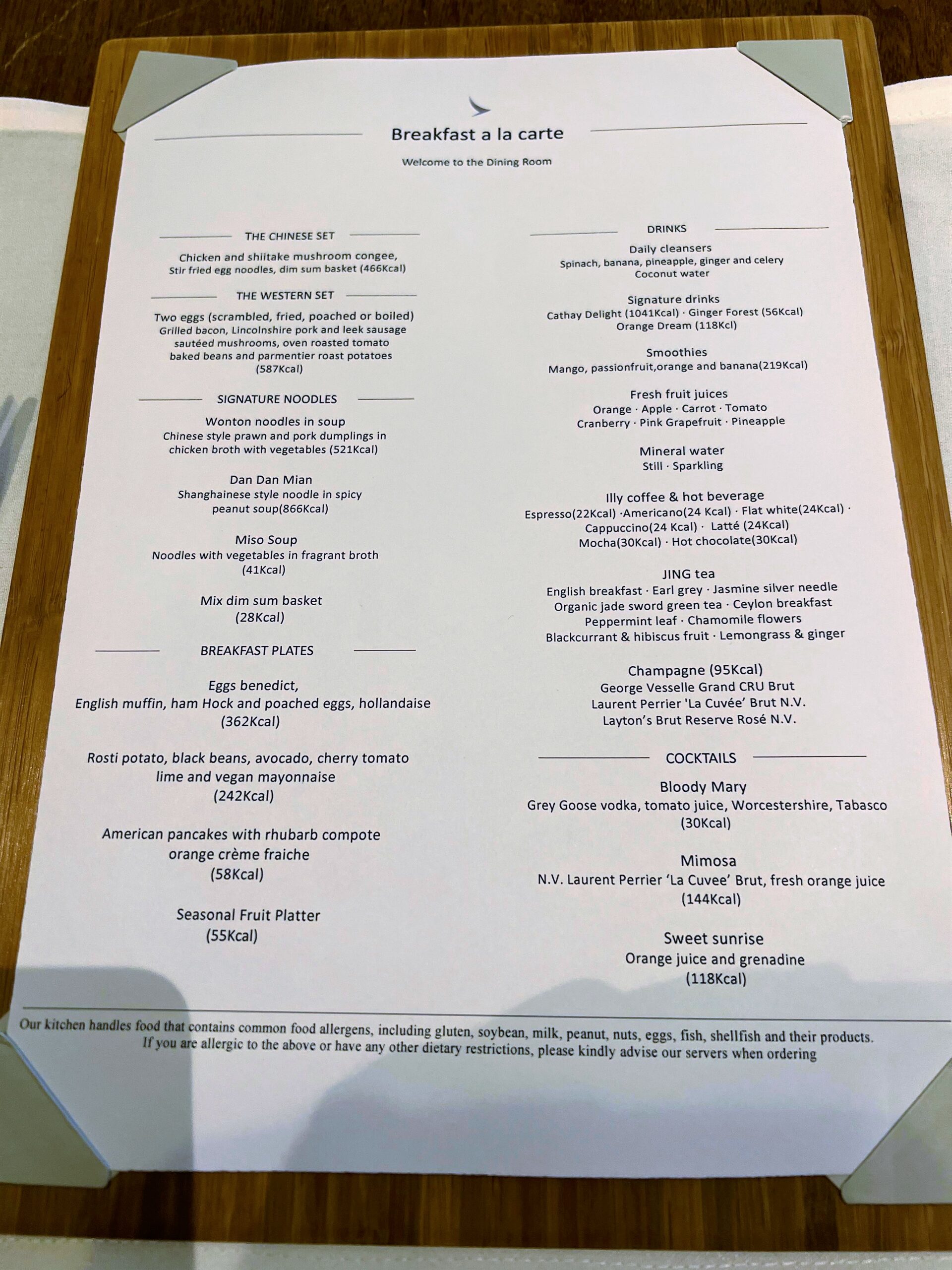 This is the Western Breakfast: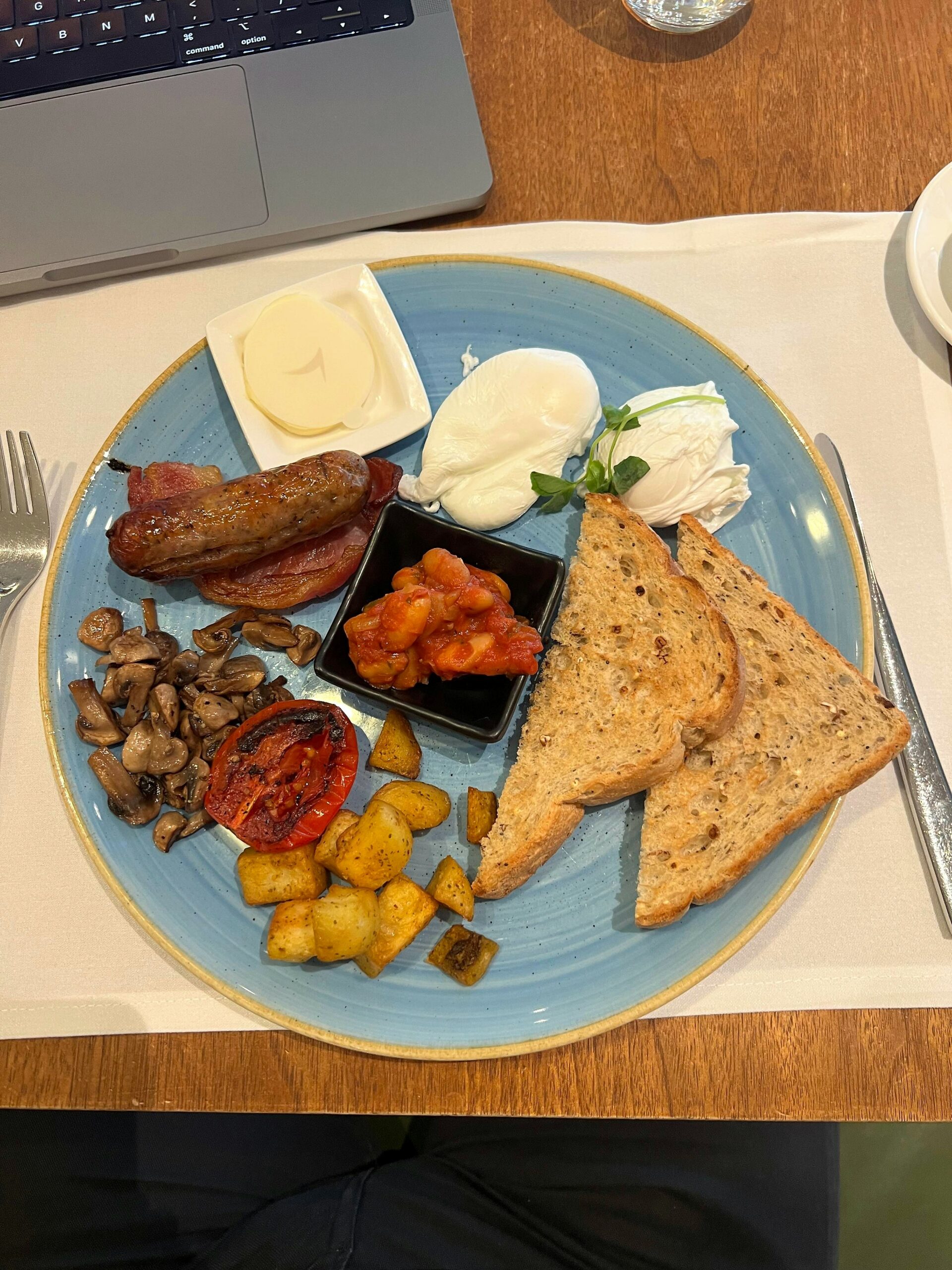 And here is the lunch menu: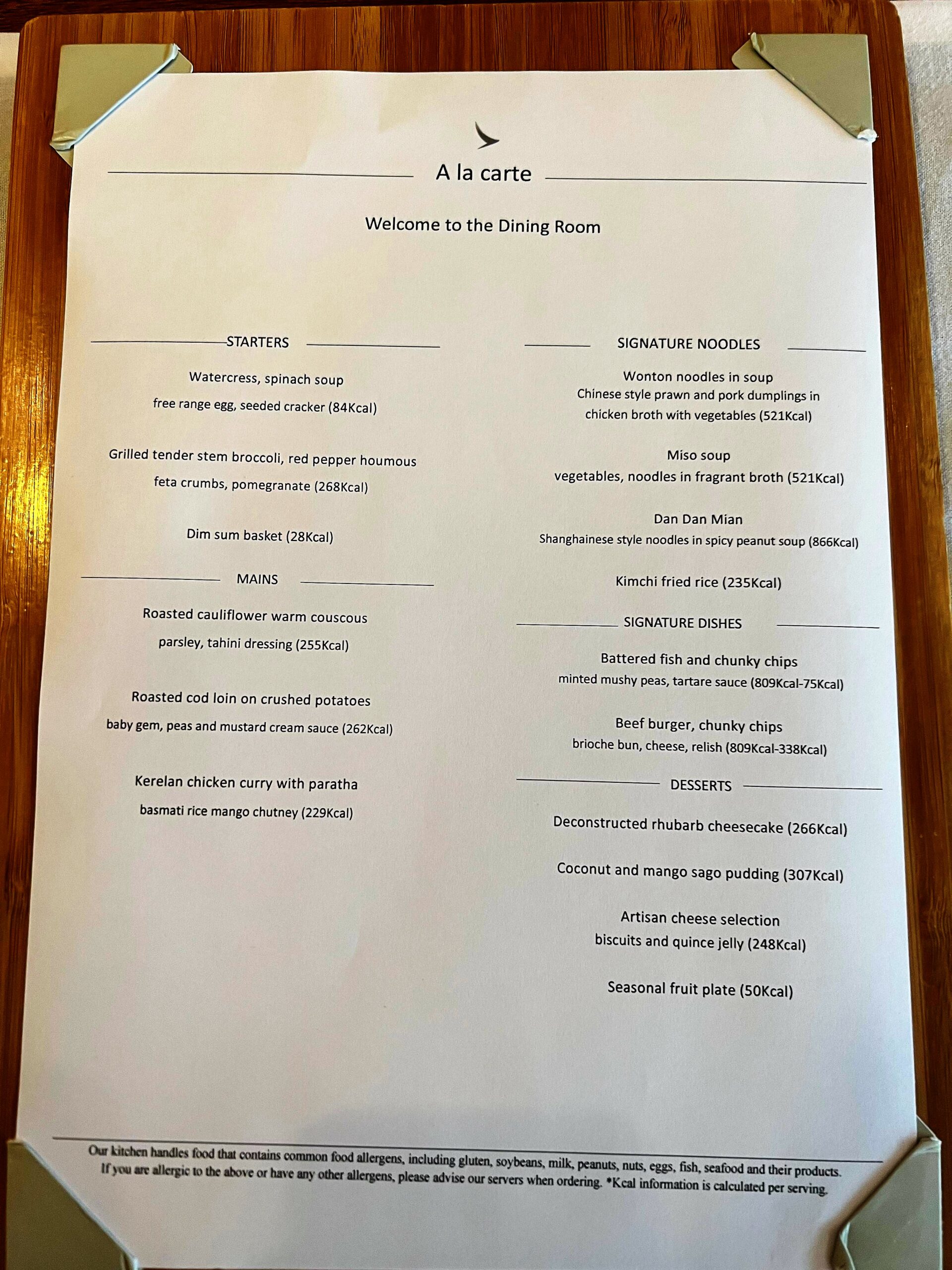 How can Miso soup be 500 calories?? I thought it was healthy!
There are drinks you can help yourself to in the lounge: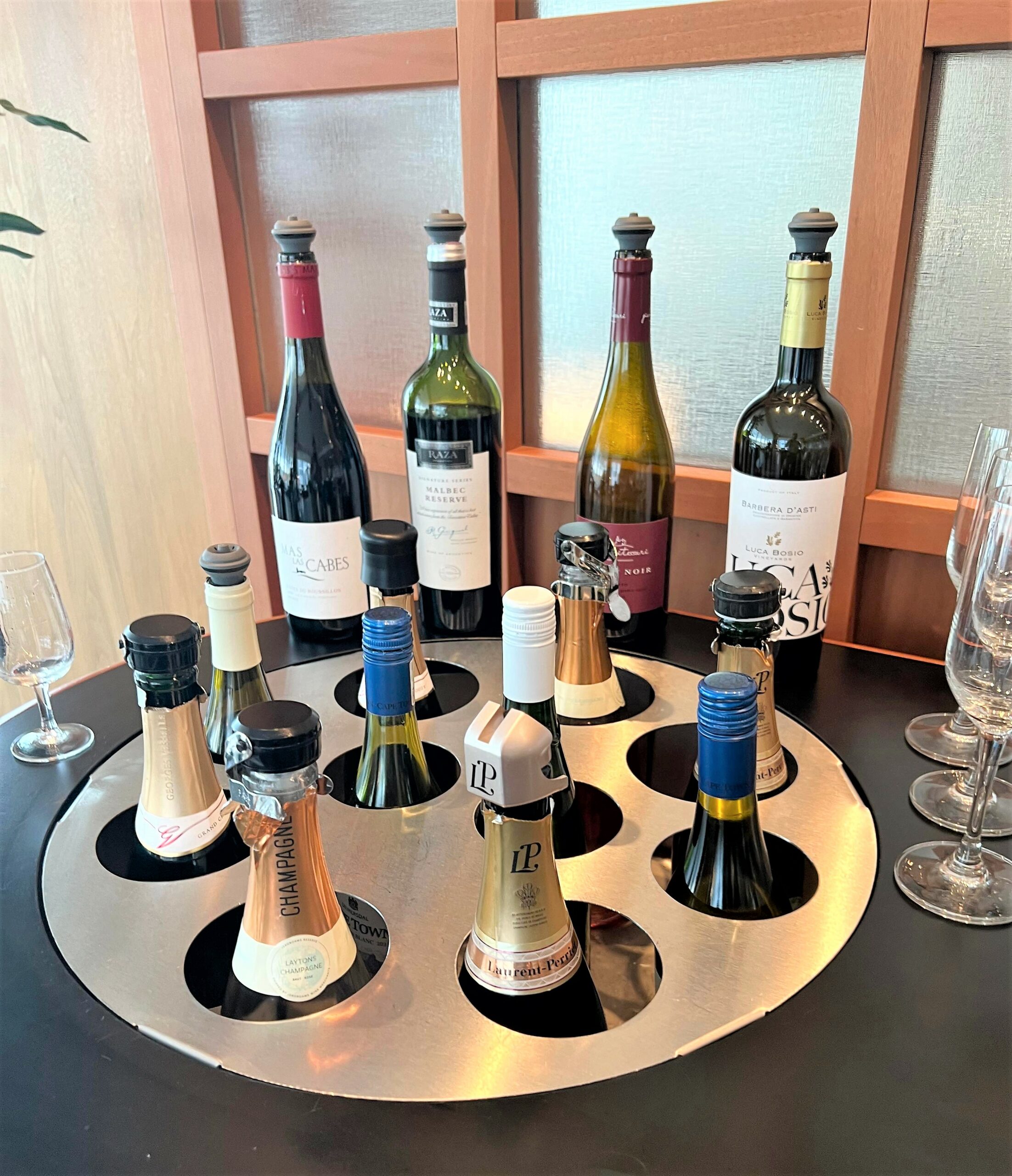 The two champagnes out were the Laytons Rose and the Laurent Perrier La Cuvée.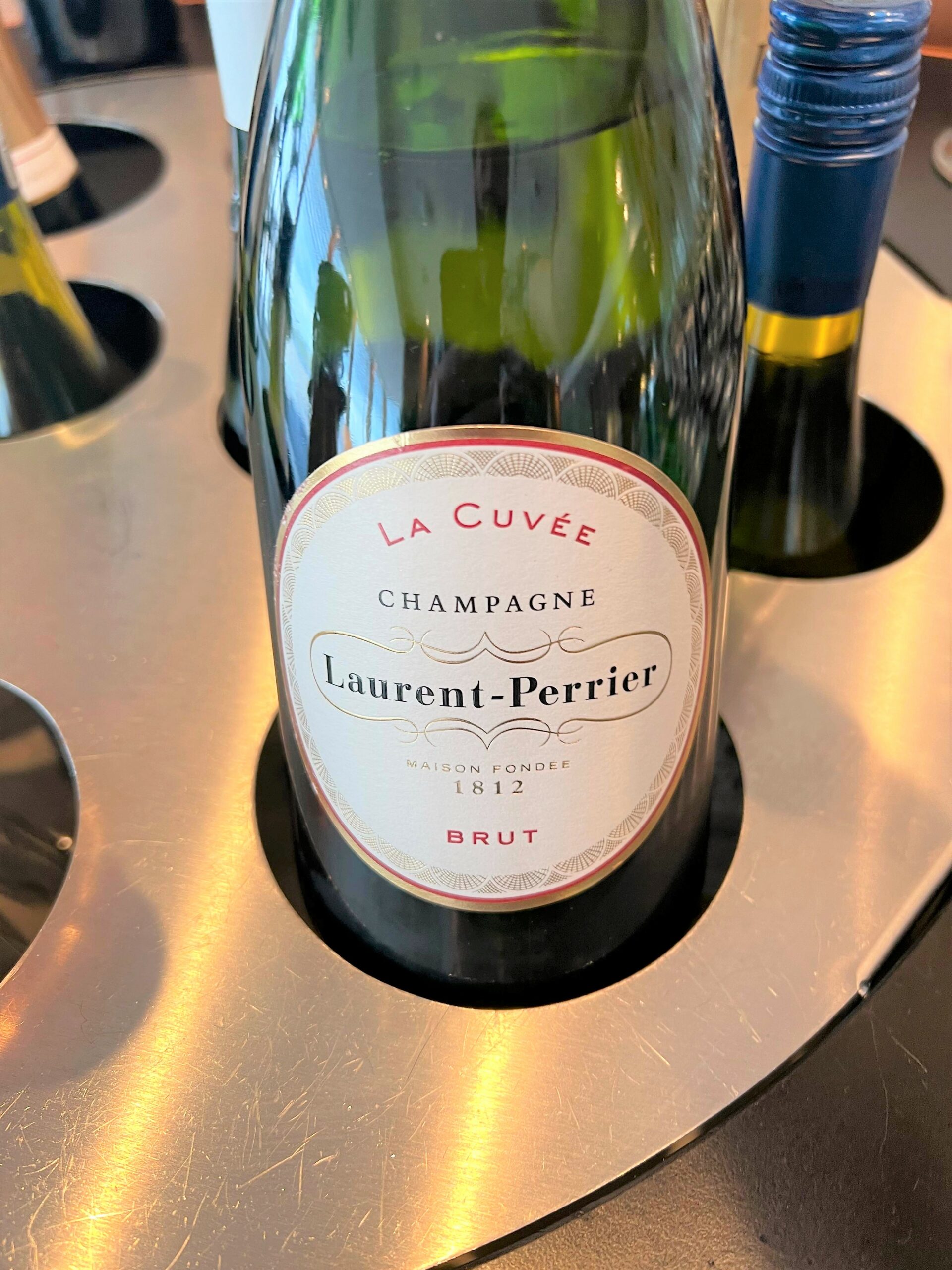 Here is the full drinks list: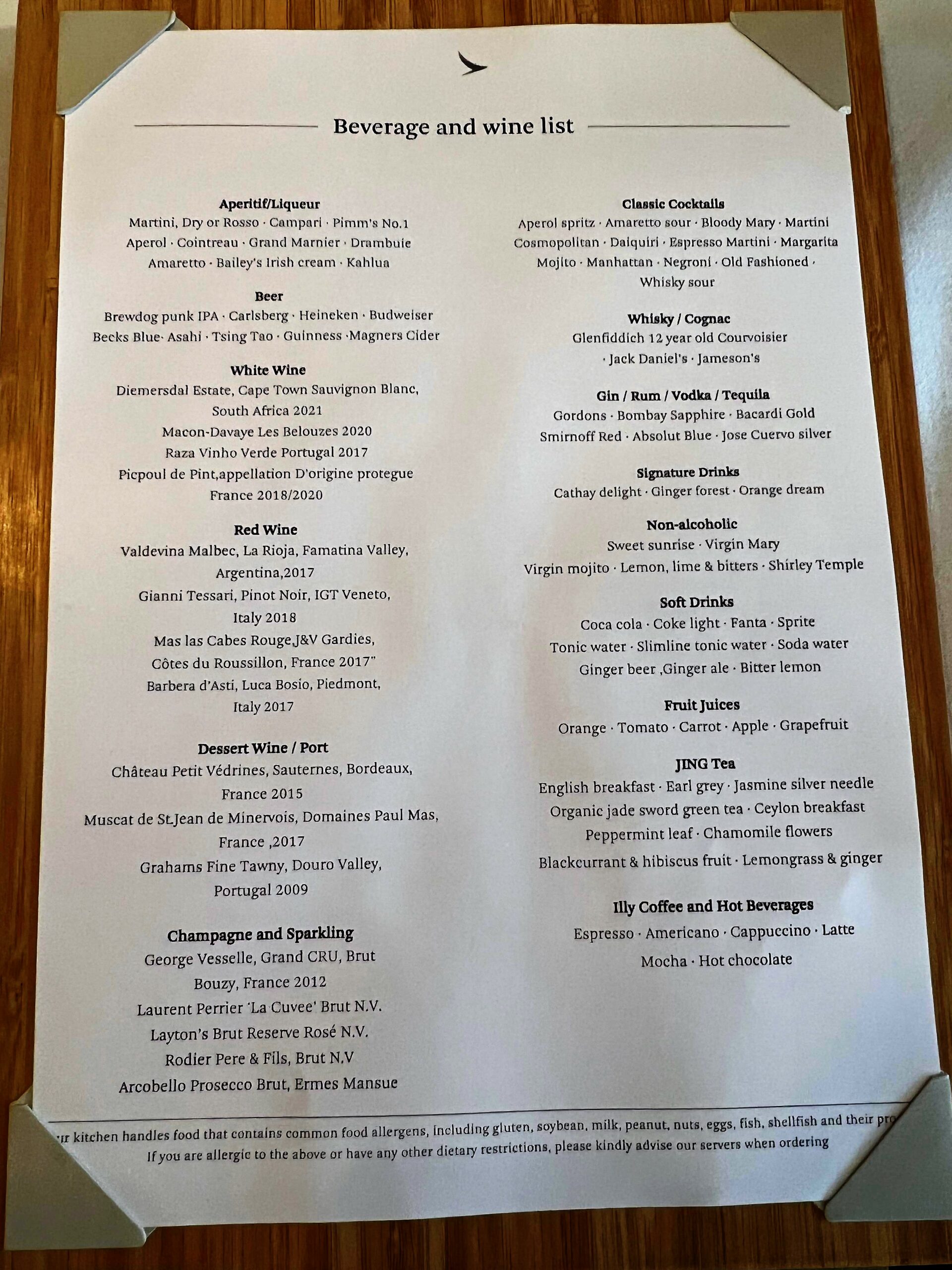 The Qantas lounge is worth a visit for the gin bar if that's your sort of thing. The food is a buffet and a few dishes to order. The salt and pepper squid is their signature dish designed by Australia's famous Rockpool restaurant.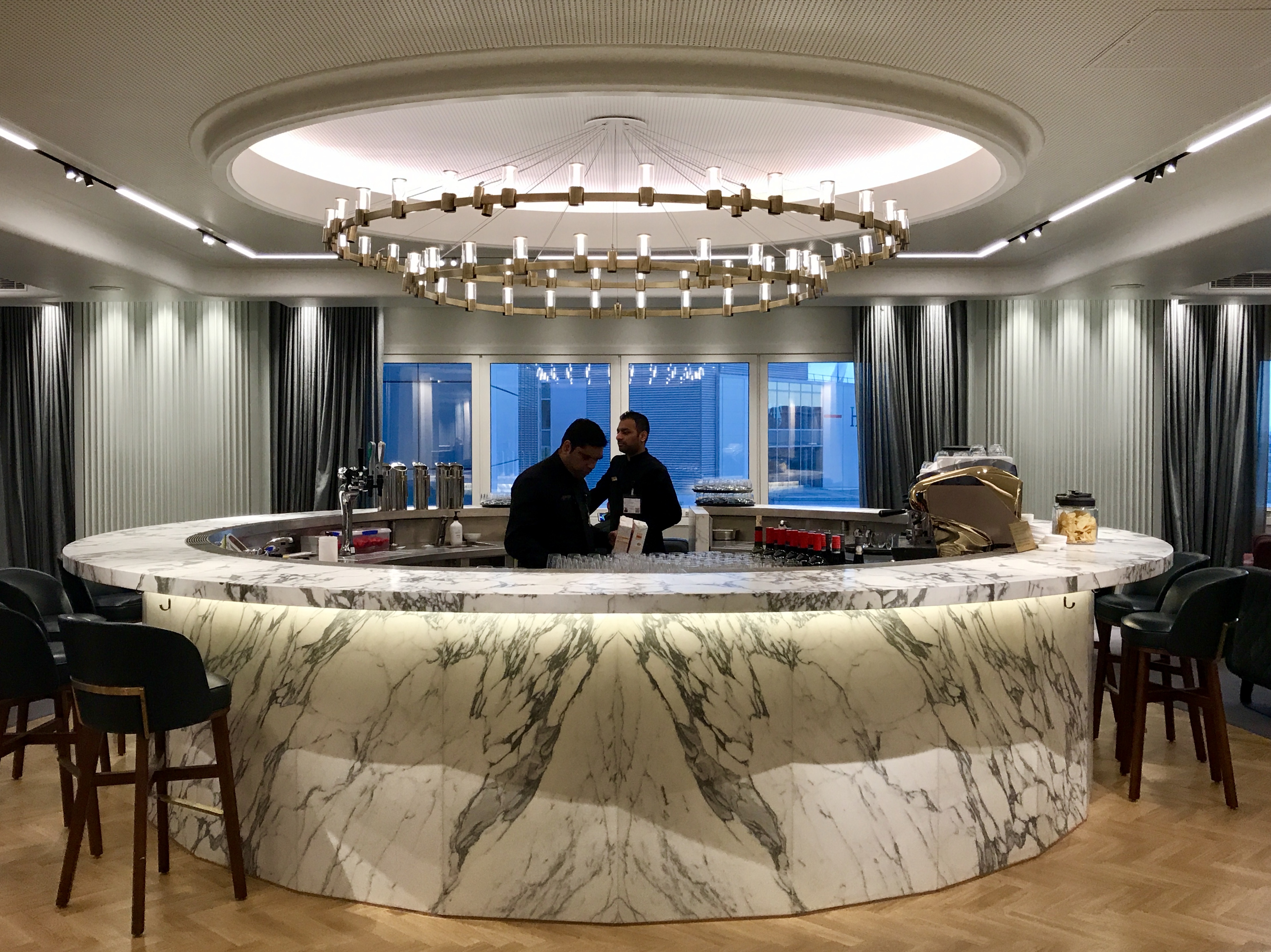 Here is the menu: