Qatar Airways market their short-haul flights as a first class rather than business class, although really it is business class onboard. The good news is that you get first class tier points, so a short return flight from Doha to Dubai can net you 120 tier points as it's 60 each way for first class. So it's definitely worth considering flying via Doha for the extra tier points if you need them to other places in the Middle East.
In this review, I will look at both directions of the flights. These flights were flown in late 2022. I also look at the frequent flyer lounges for Qatar in Doha and the Ahlan business lounge in Dubai.
Booking
This was part of a bargain fare from Oslo to Dubai for around £1150. The current price is around £1300 with Qatar which is still not bad for the 400 tier points you'd get if you credit to BA. You can check availability and prices on qatarairways.com here. However, they net a much rate of Avios than flying on BA.
These fares are light fares which means that unless you have status, you can't book a seat or use the lounges. You can pay for both, though. If you have status, then you can still select a seat and use the frequent flyer lounges.
Doha to Dubai A330
Lounge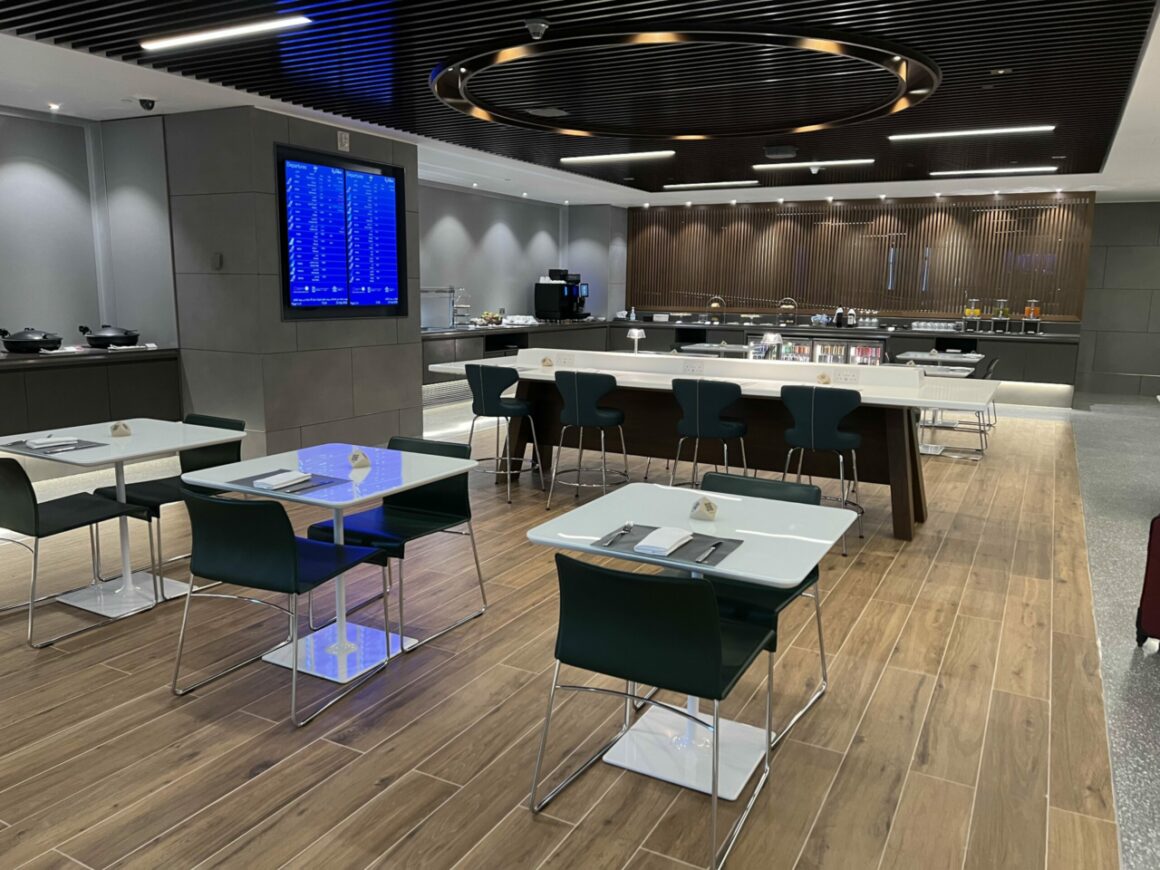 As it was a light fare I could not use the Al Safwa First class lounge, but if you had a non-light fare you could use the lounge. You can read about the Al Safwa Lounge in this review.
I did try on the day and was refused. I followed up with Qatar and they confirmed it was correct. They said
The Business Lite fare ticket does not include lounge access. As Dubai is only 2 cabins – Business and Economy – due to cabin ineligibility the ticket was issued in First Class cabin with Business Fare. While booking the itinerary, the website will show the sectors and the benefits.
As I have status with British Airways, I could use the Platinum lounge which is for those with BA Gold/OWE Emerald. I thought the lounge was almost as good as Al Mourjan, although it can get busy. However, this should improve when the new North lounges open.
The lounge has a bar which serves champagne and a full range of alcoholic drinks. The restaurant is self-service and you can order via your mobile as well. If you have silver status, you can use the Gold lounge.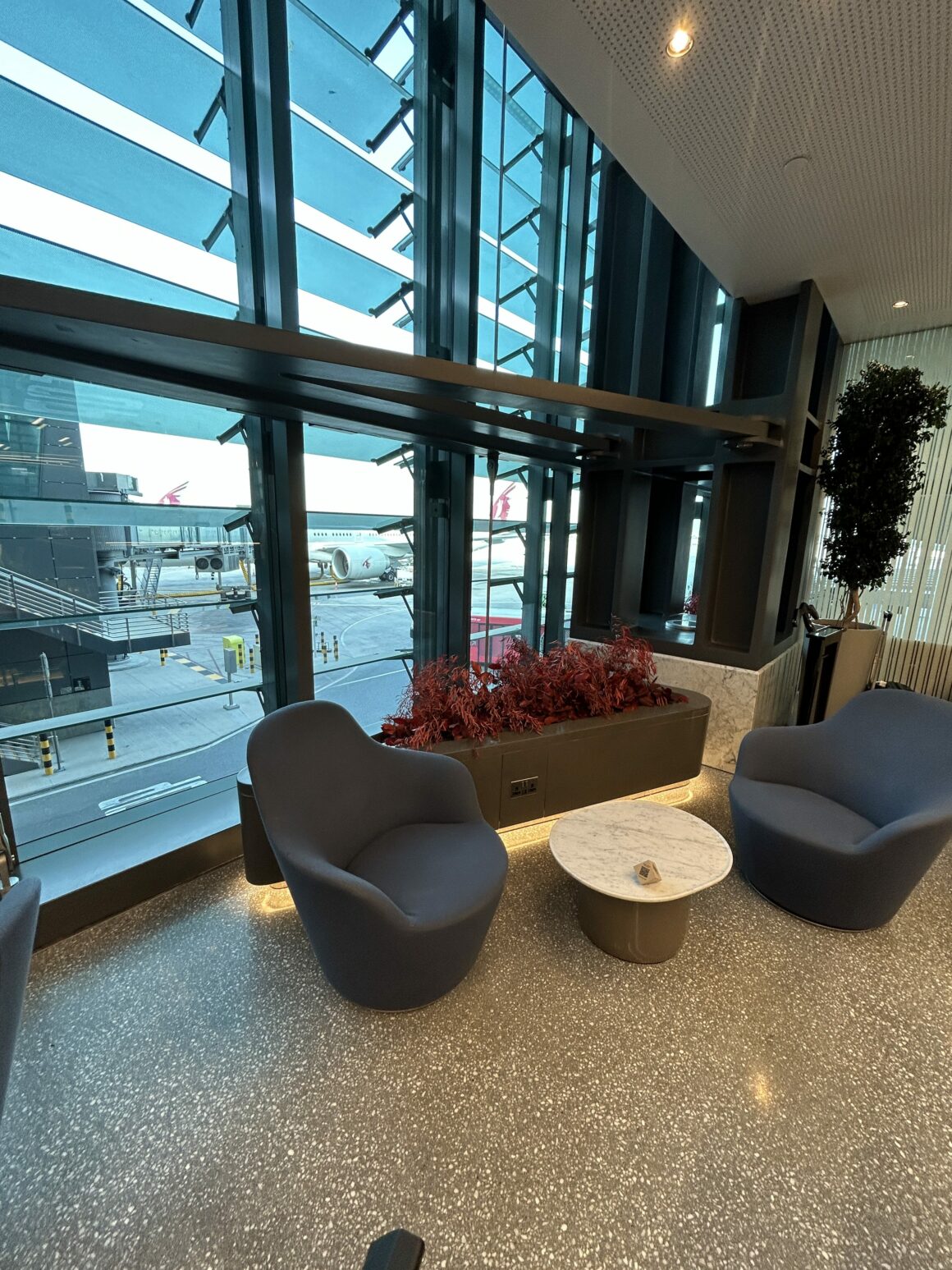 You can read my review of the lounges here.
Flight – Seats and food/drink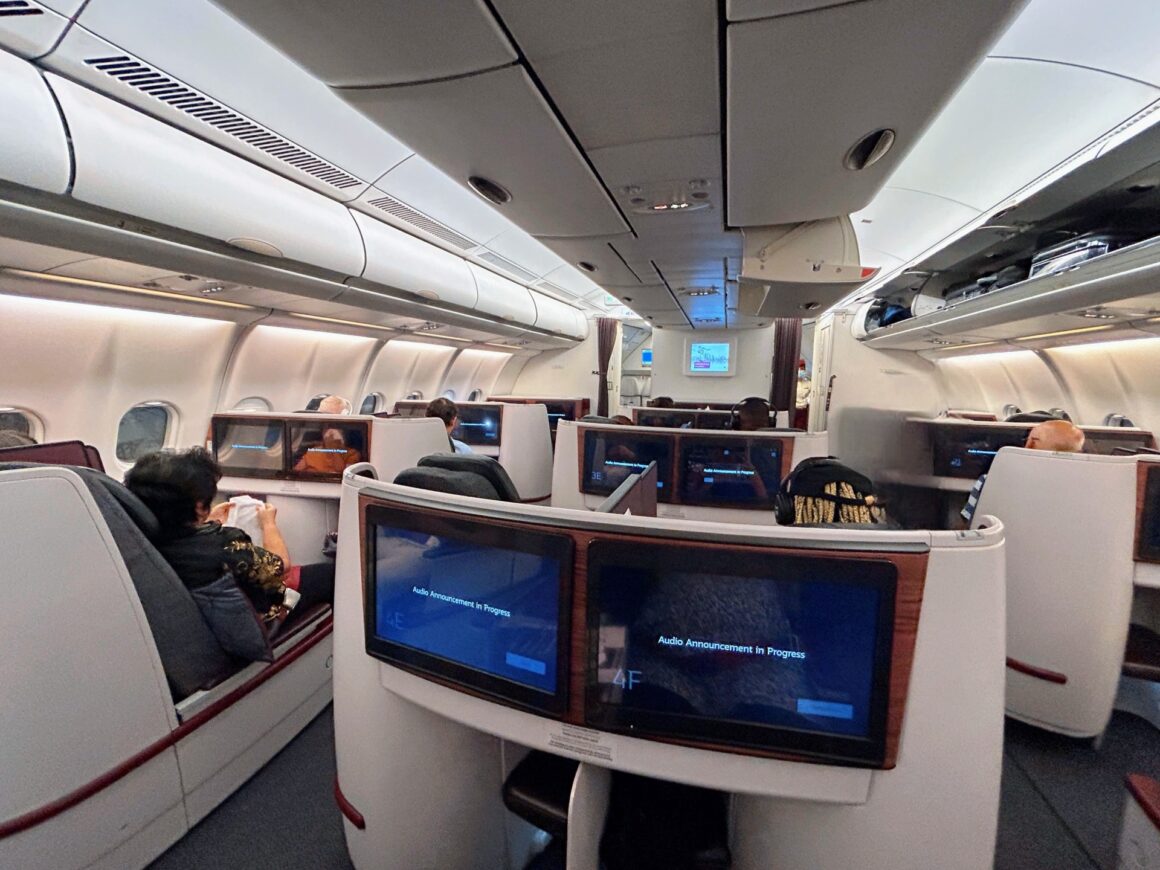 This flight was on an A330 which I would generally avoid for long haul on Qatar unless it was a day flight. This is because the seats are in a 2-2-2 configuration and quite narrow, particularly in the foot well.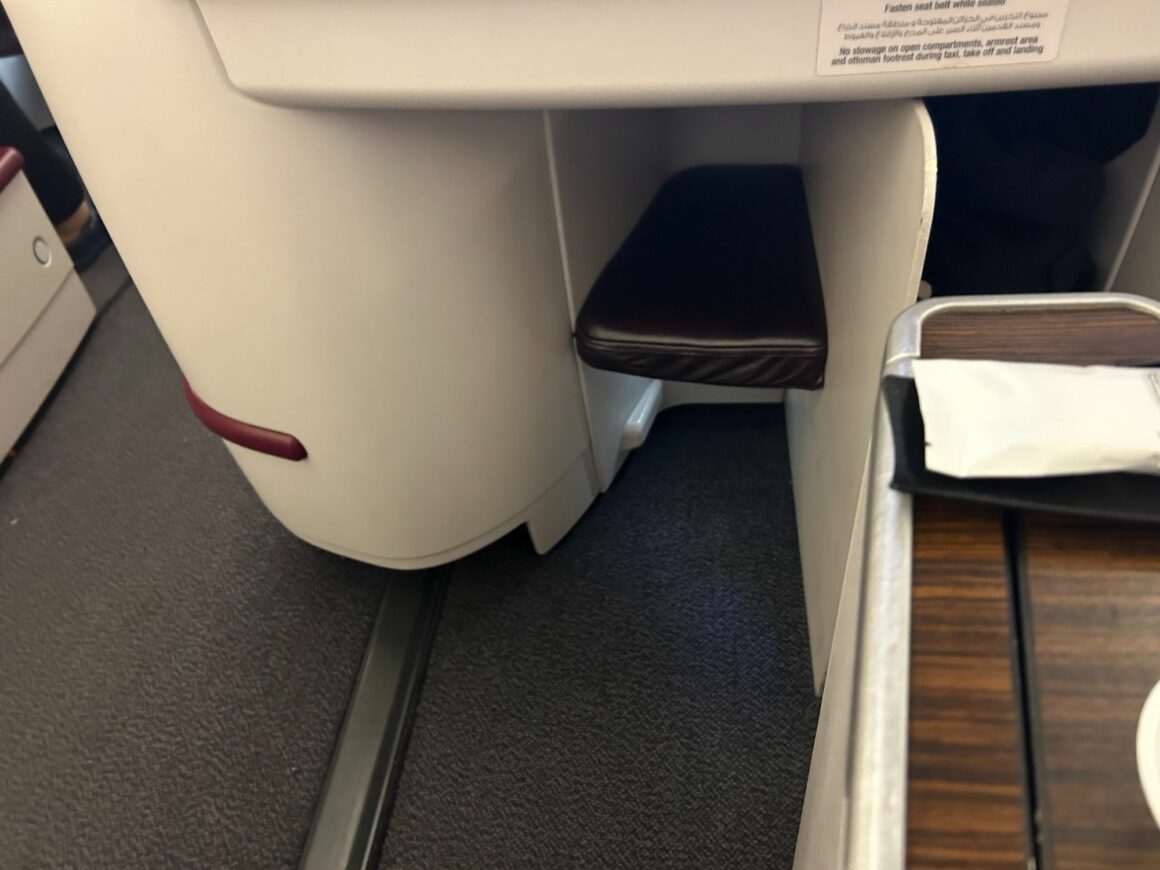 However, for a short flight, they were fantastic!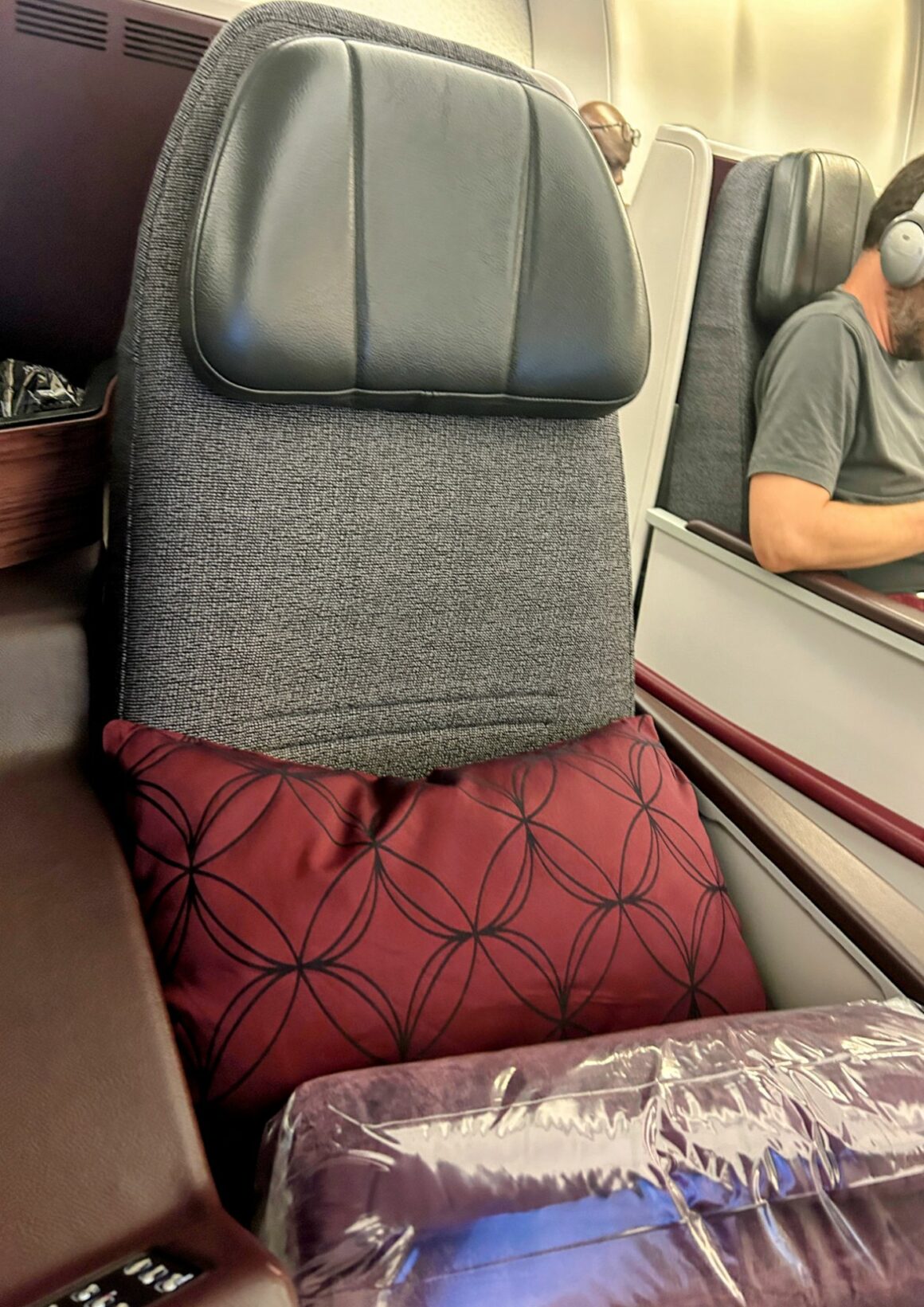 There were five rows of First/business class and I was in 4F. I chose the middle for easier aisle access, although there was enough room that you could get out providing someone was not fully reclined.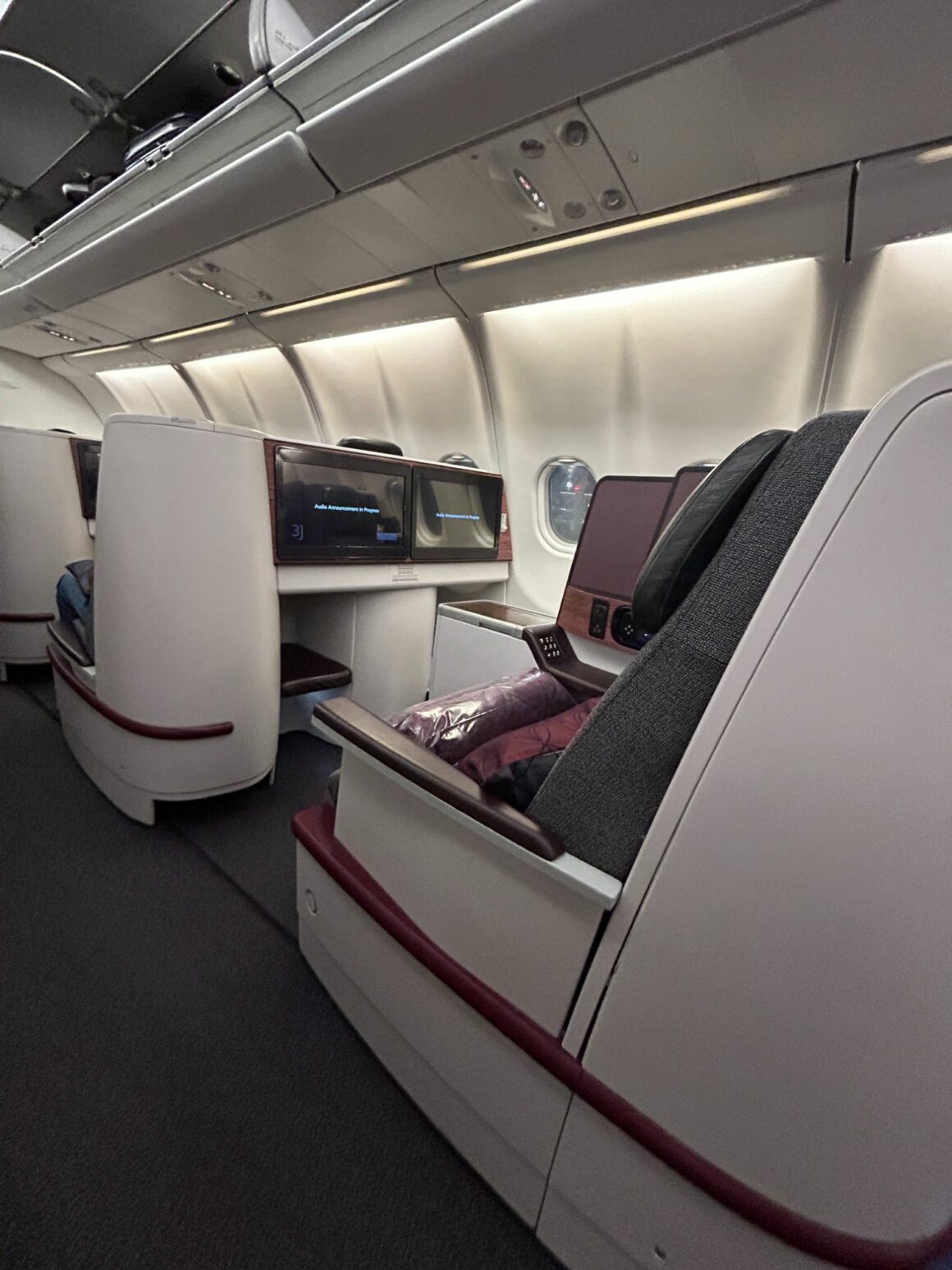 Even for such a short flight you still had a quilt and cushion/pillow. There were no amenity kits though. You could adjust your seat in a number of ways including a separate leg rest which made it a very comfortable short haul flight!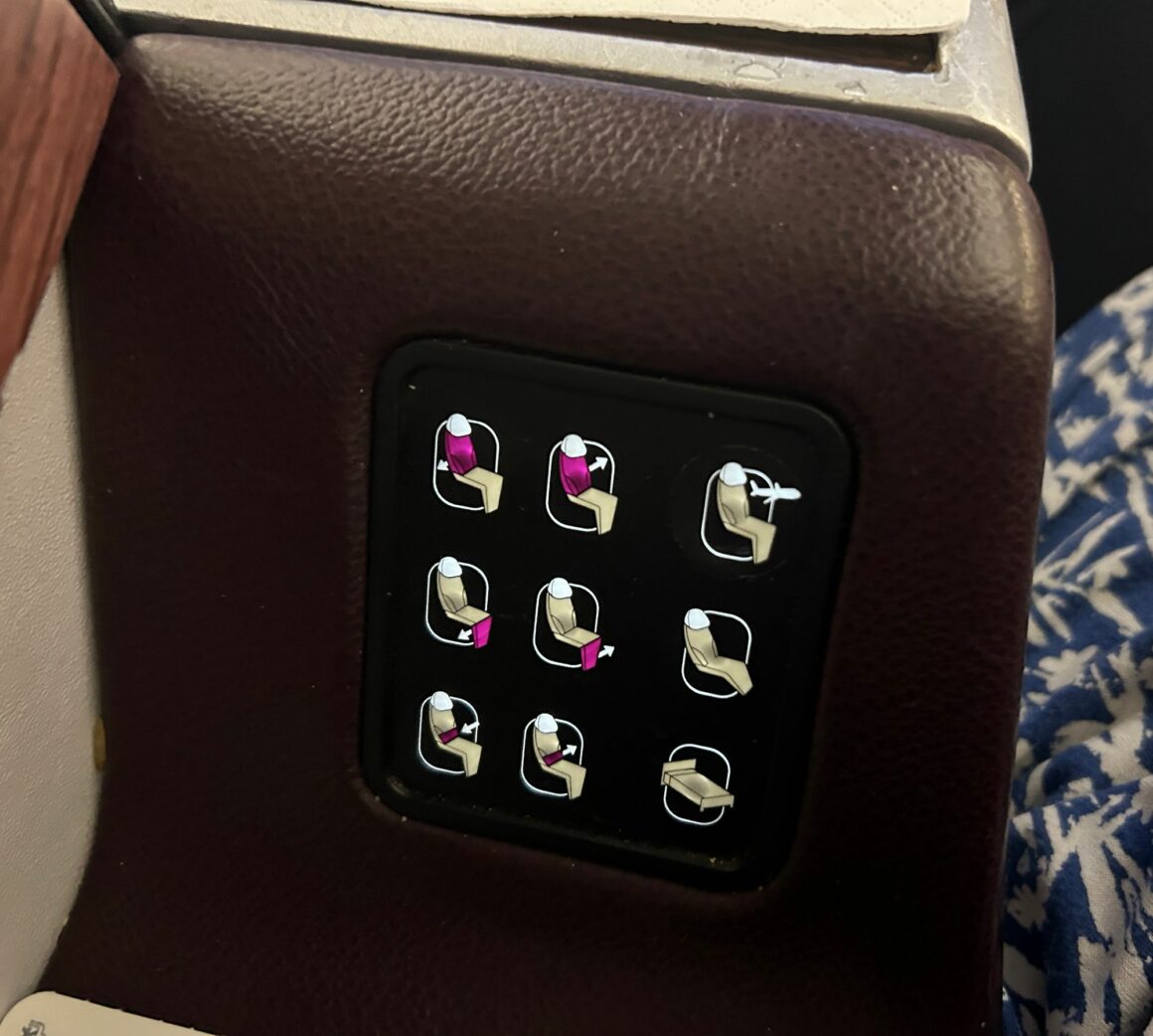 The service started with traditional Arabic coffee and dates. Then a welcome drink was offered with the Diptyque towels (see return for picture). I went for the lemon mint drink which is very refreshing and slightly tart but still sweet.
The menu only had two choices for this hour-long flight which was fair enough. Both sounded pretty good to me.
They did not have the normal wine list that you get on long haul, but they did have a full selection with 2 whites, 2 reds and champagne plus spirits.
I found the platter very tasty and perfect for this length of flight as you didn't have to rush your meal. The food came out crisp and light as if it was freshly cooked rather than reheated.
I went for the Karak chai to drink, which if you have never tried it, I highly recommend if you like chai latte. It's pretty similar in terms of being a spiced milky tea drink. It was also impressive to see cappuccino and espresso on short haul.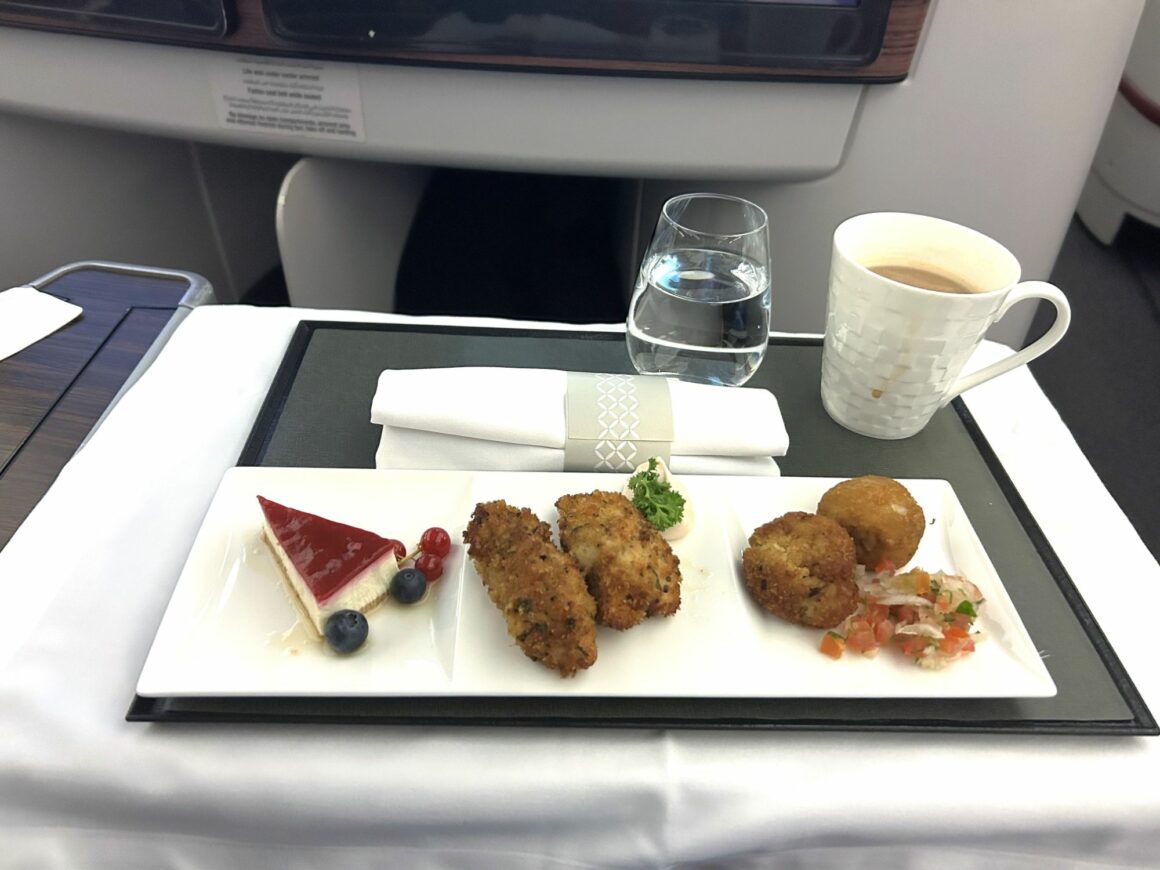 There was a full range of inflight entertainment and noise cancelling headphones were provided.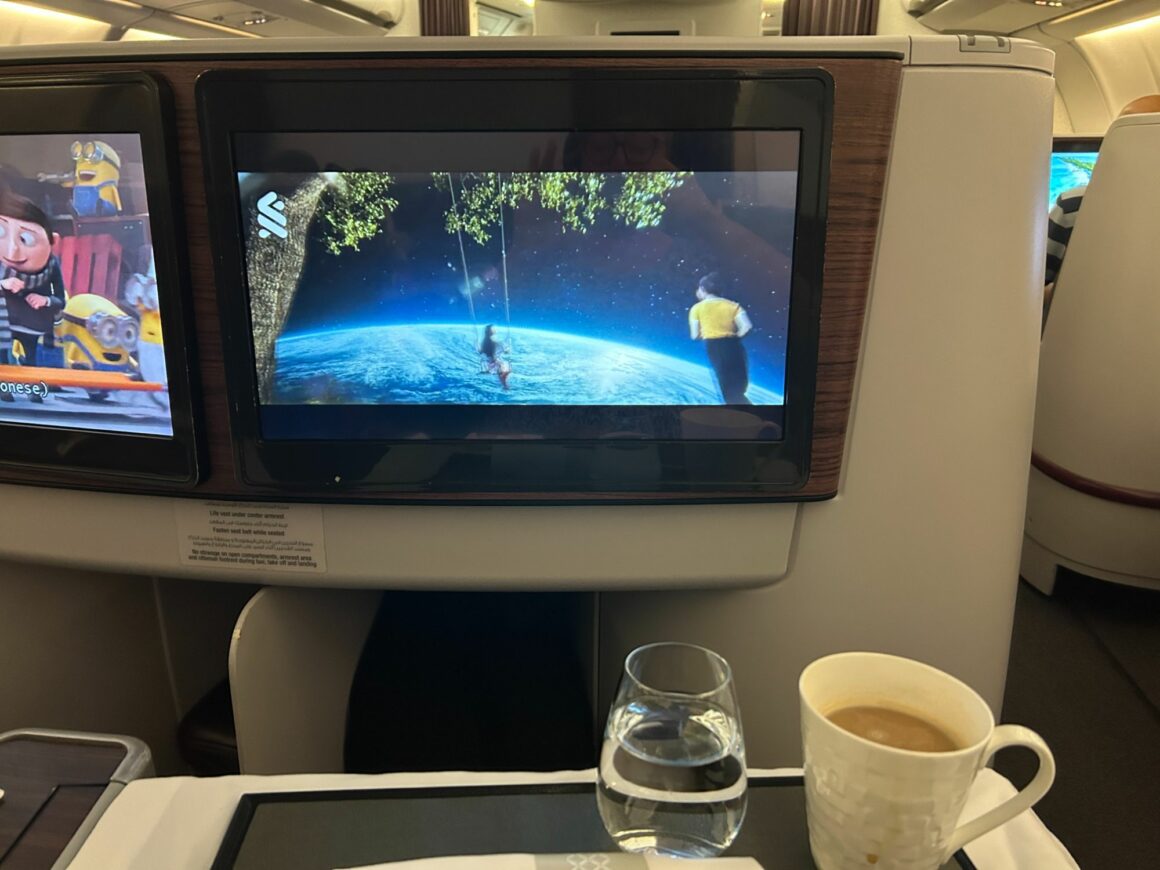 The screens were large and had good definition. The controls had a handset with a separate screen which I find a bit slower to respond, but useful for having the map on a separate device.
Dubai to Doha B787
Ahlan lounge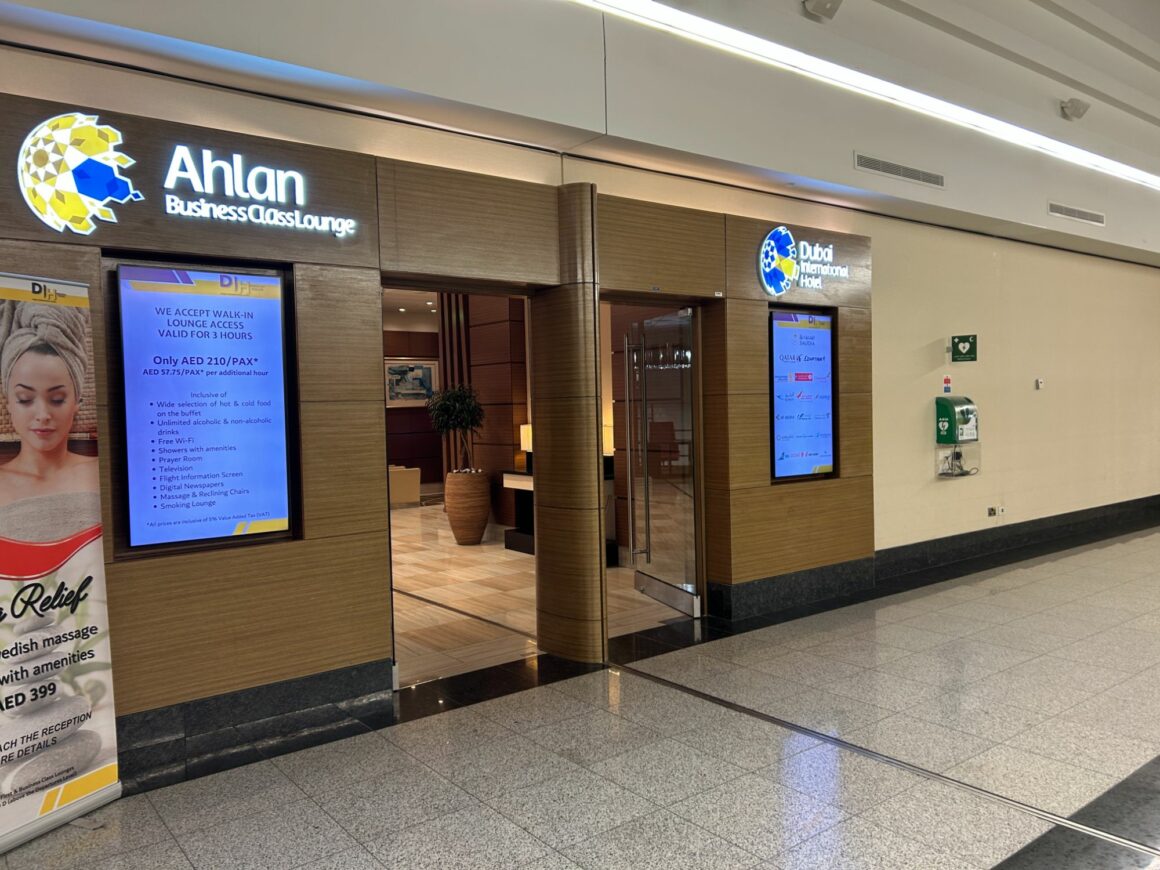 This is one of my favourite lounges in Dubai, so I was pleased to see I was able to access it on a lite ticket with Qatar through my status.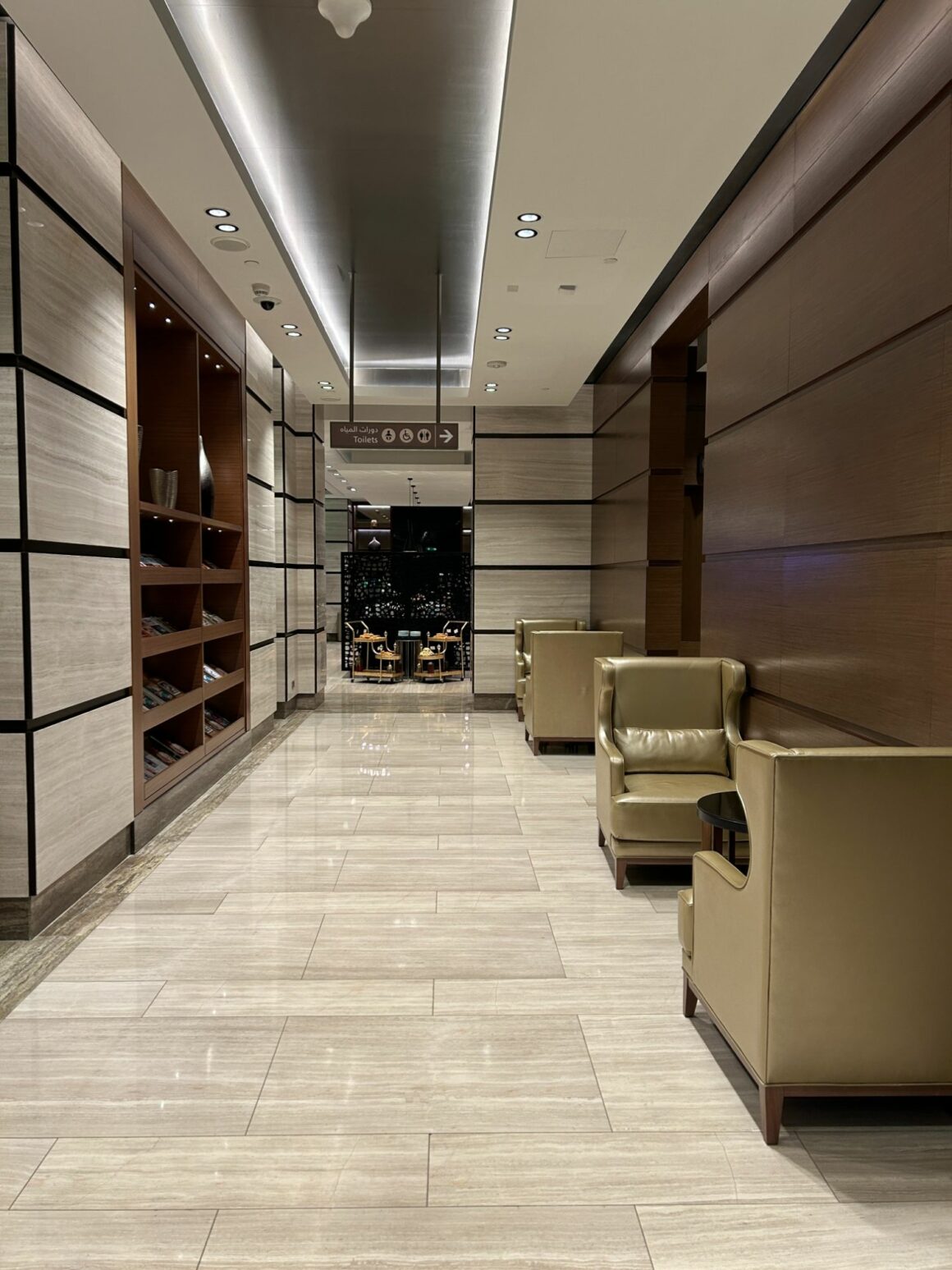 The lounge felt relaxed and quiet when I was there. It was no problem getting somewhere comfortable to sit. There are also massage chairs and showers if you want to relax or freshen up. You can buy lounge access here too. There is a buffet and a full menu as well.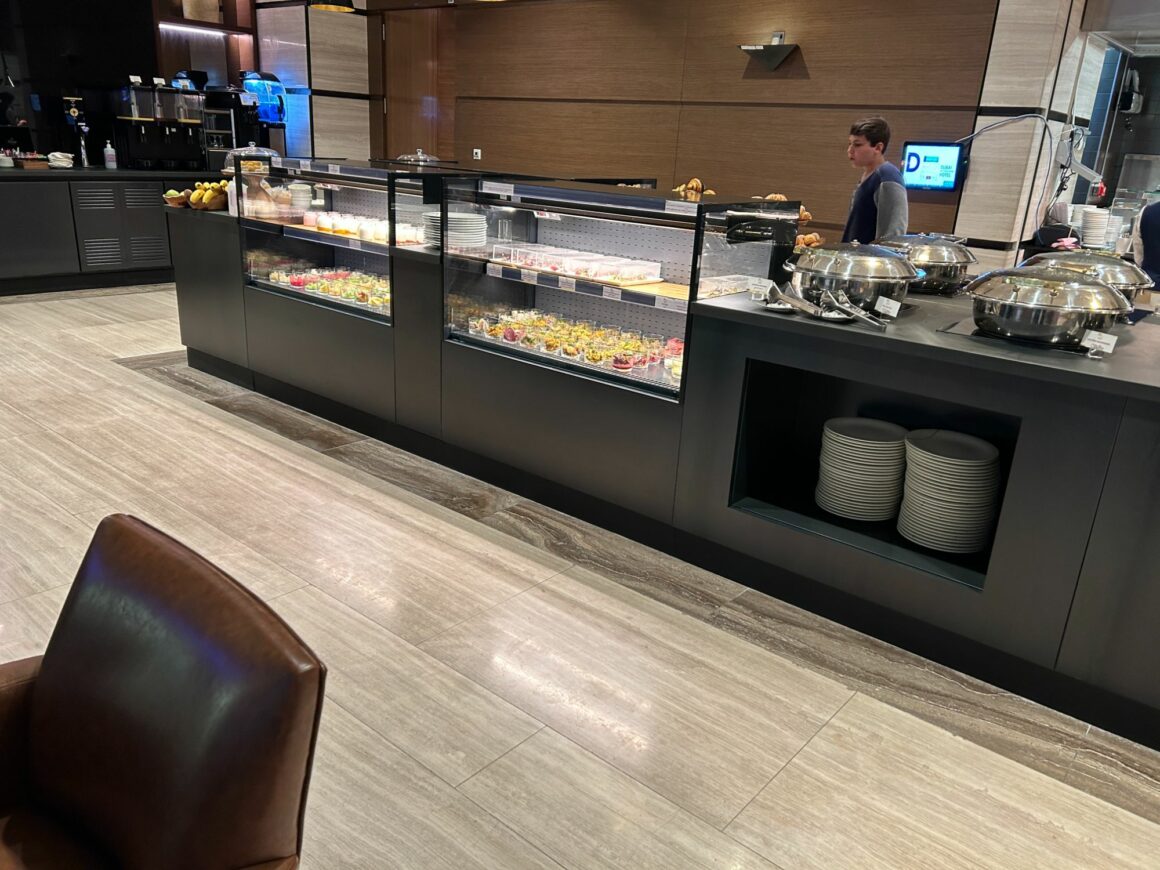 I liked the attractive supply of baklava on ornate gold trolleys.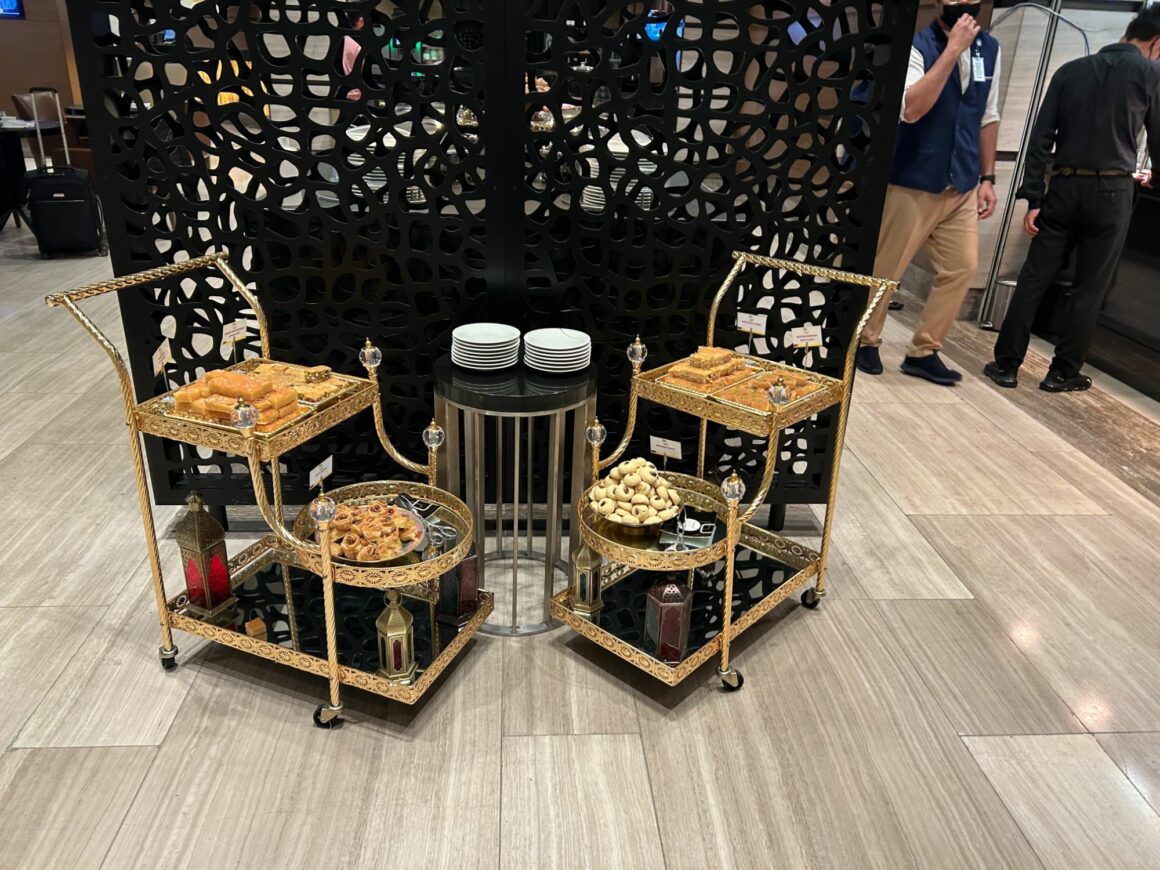 Here is the menu:
I thought the food menu was very impressive, and there was a good choice of drinks, if a little bit dull in their brand selections.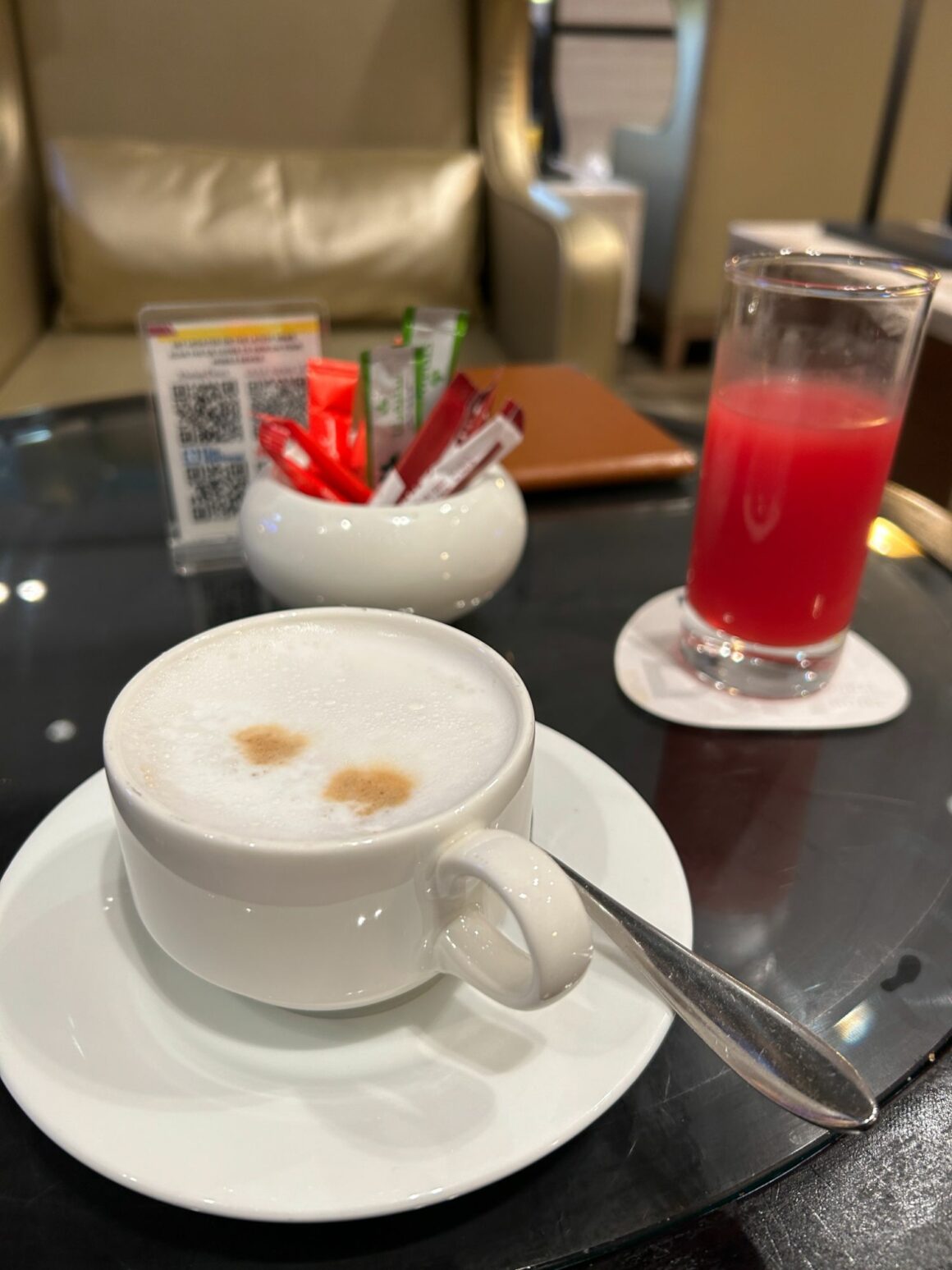 I was planning to eat on the plane, so I just had a watermelon juice and a cappuccino.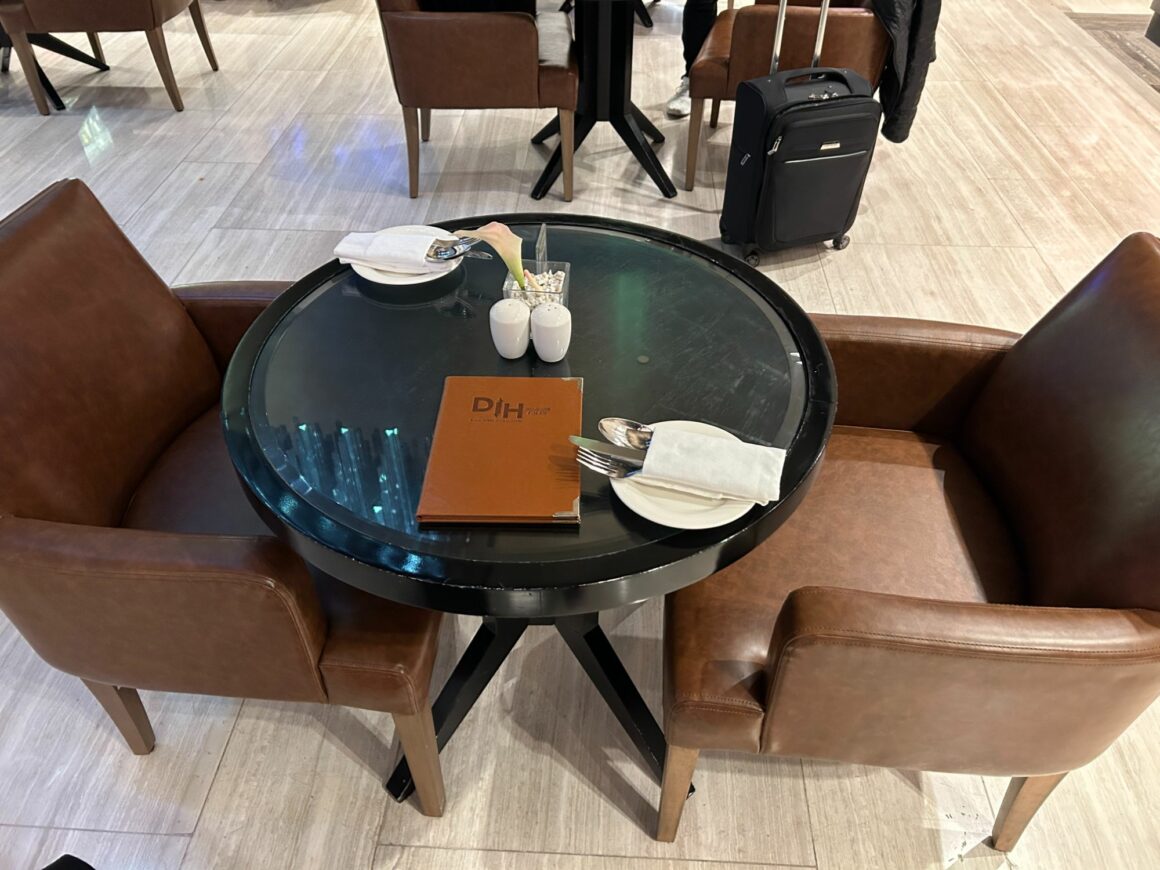 Flight – cabin and food/drink
This flight was on the older B787, which does not have suites, but I actually find these seats more comfortable, although a lot less private. They are arranged in a 1-2-1 configuration.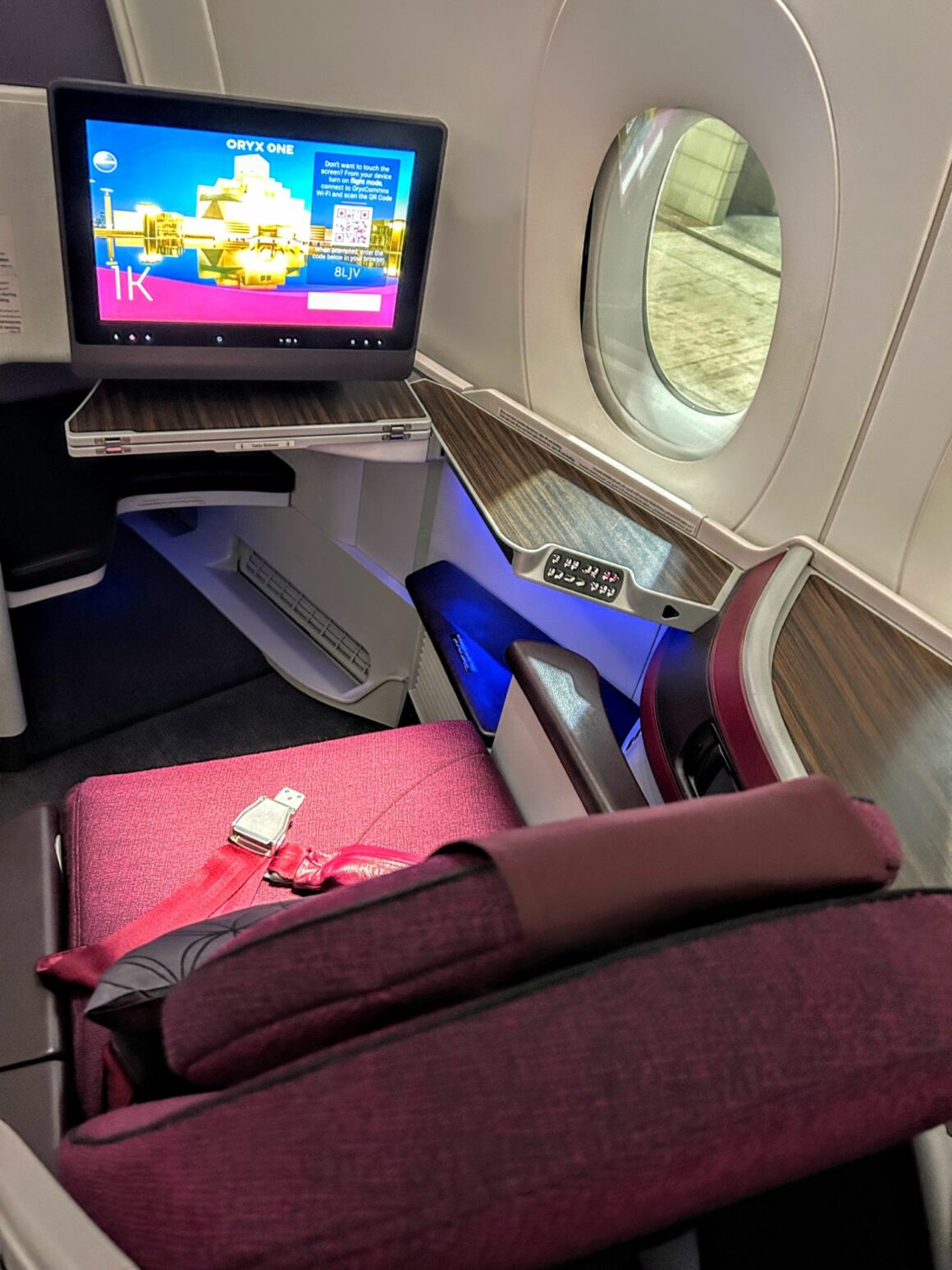 Again the service started with Arabic coffee and dates followed by whatever welcome drink you wanted. Being early morning, I went for the lemon-mint drink. This was accompanied by the Diptyque refreshing towel, which I adore the scent of. The crew member serving me was very friendly and attentive. offering to help me lift my bag into the overhead bin.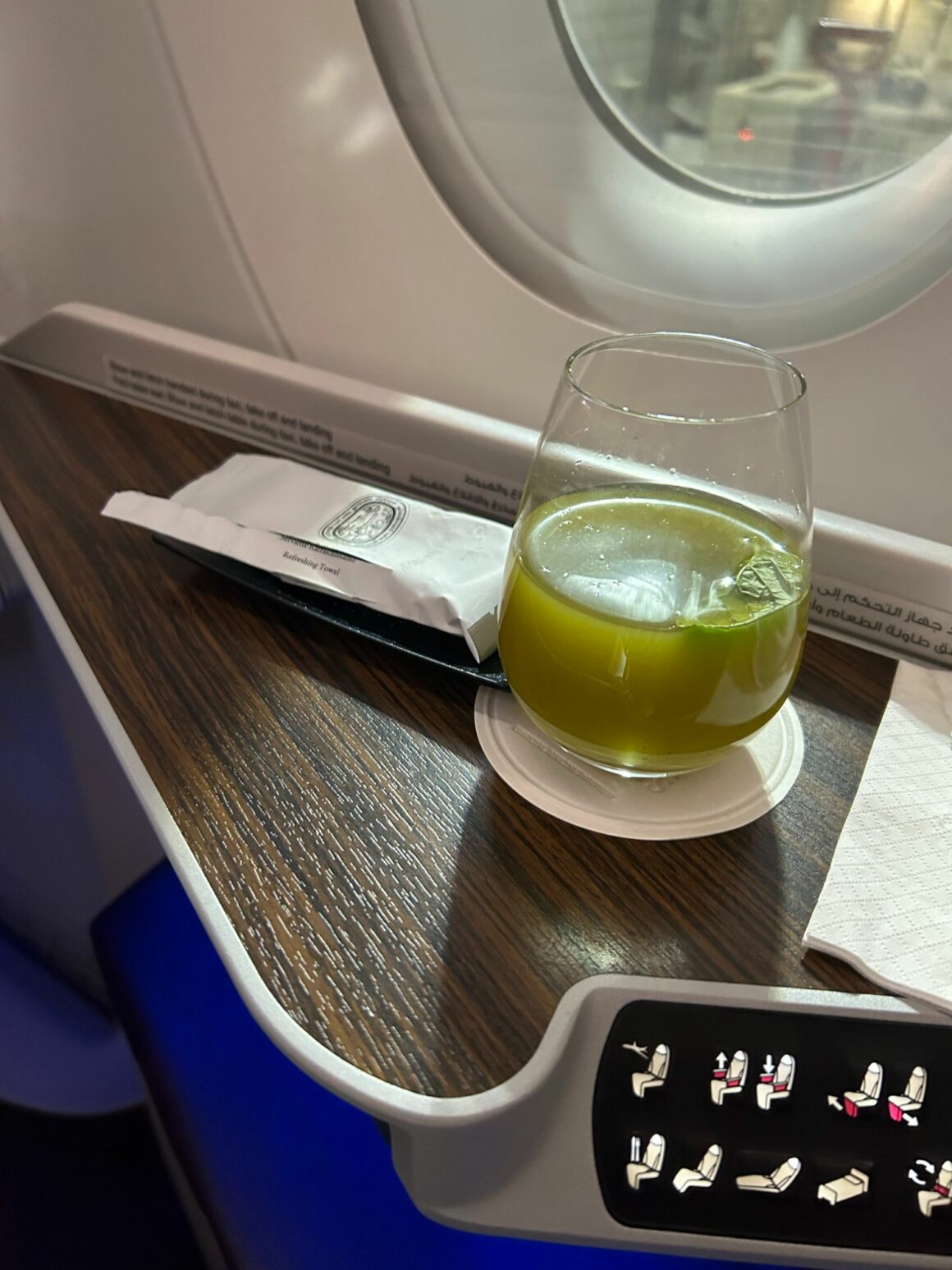 The seat went fully flat, and each element could be adjusted individually, as it should be! This is my favourite of the Qatar seats (along with the A380 and A350 which are very similar) in terms of comfort.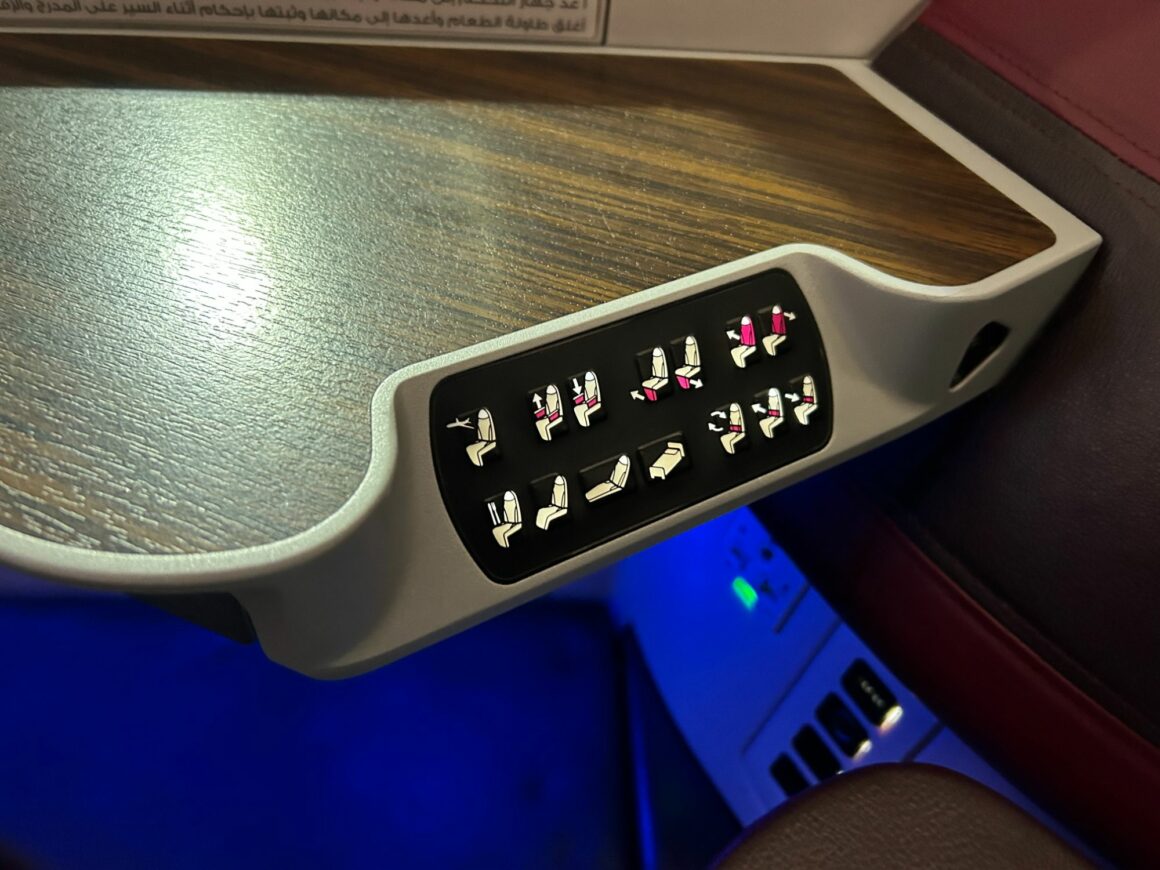 They also have lots of storage with a side bin big enough to store a small bag, and under the armrest, there is room for headphones (noise-cancelling ones supplied) and a bottle of water. There is a second storage place for a bottle of water by the magazine rack.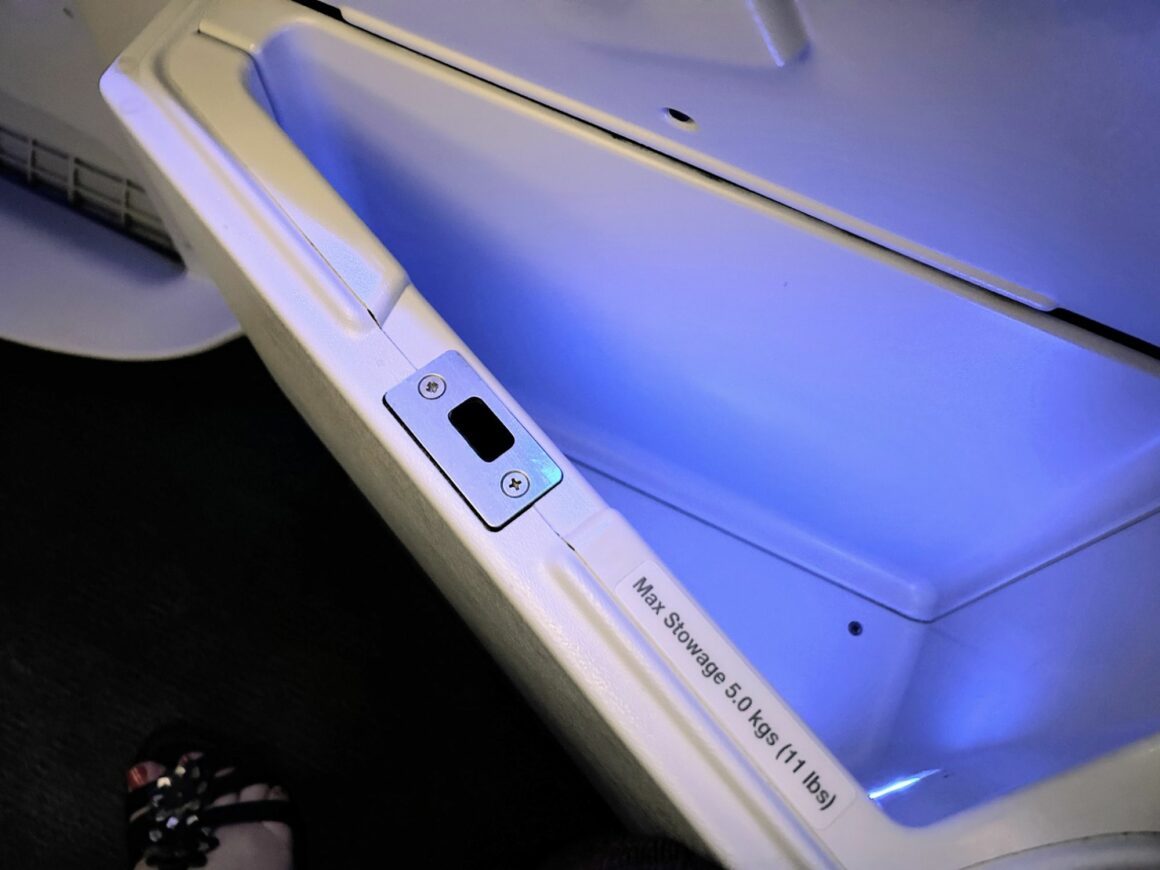 The foot well is much larger on the B787 than the A330.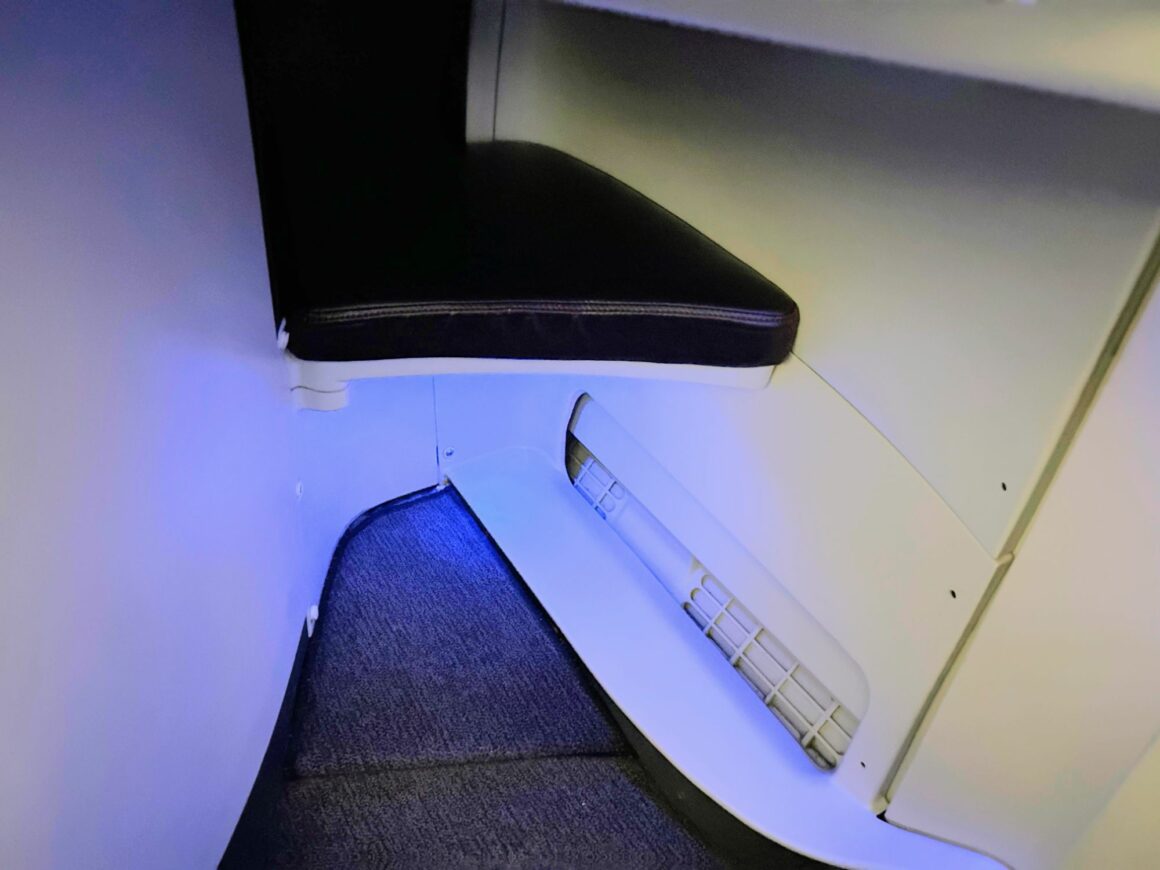 Again there was a full selection of inflight entertainment with a really large screen with high definition.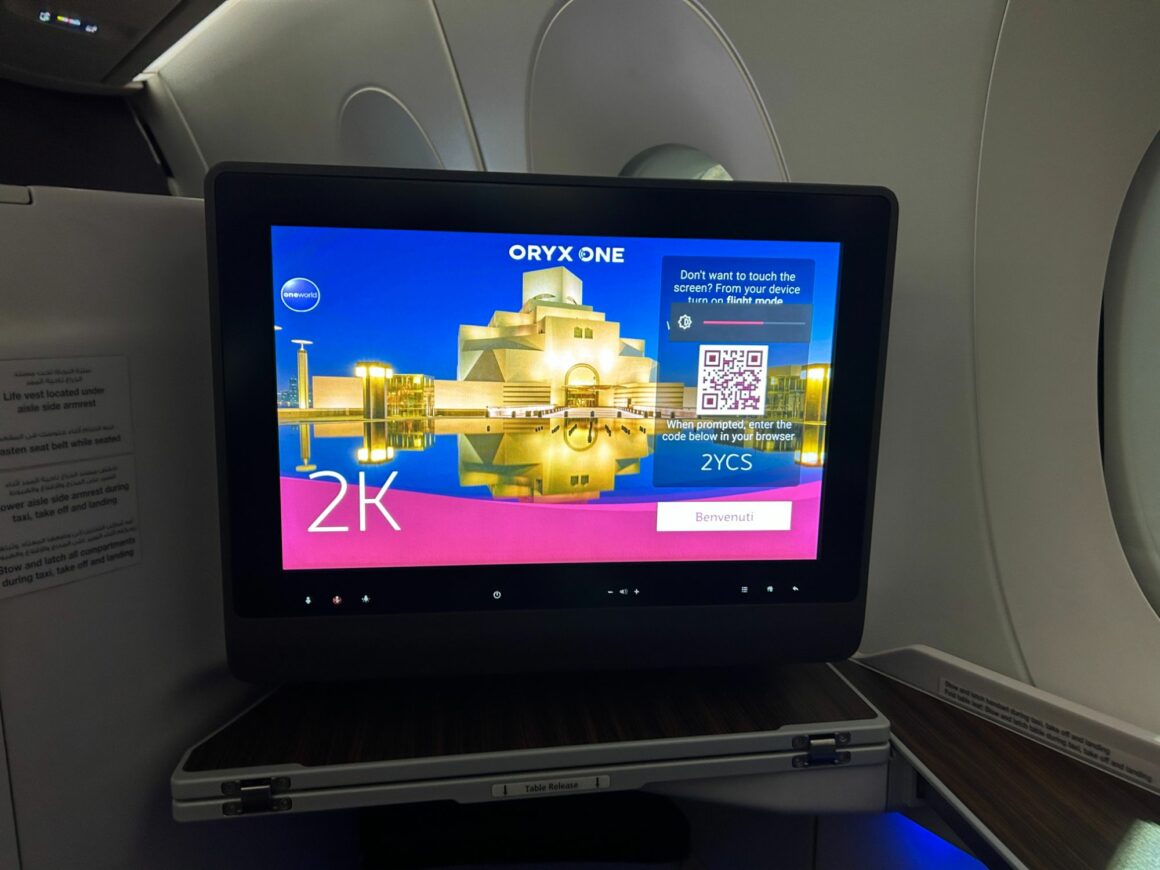 You can even use your mobile to control the entertainment so you don't need to touch anything. If you didn't want to, you could also use the touchscreen remote supplied. For charging, there was a USB and multi-country socket.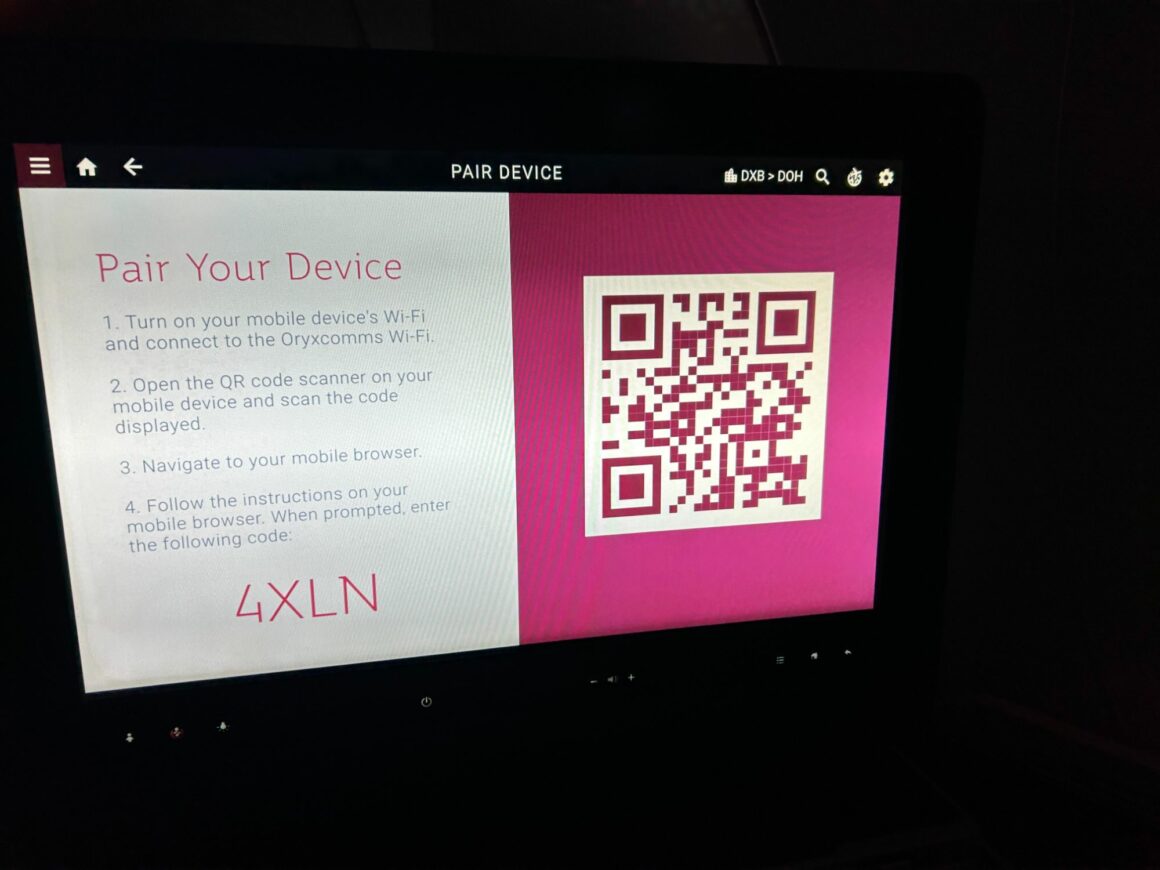 The menu was similar to the outbound flight with a choice of platters, one being vegetarian.
Again the drinks were more limited than on long haul: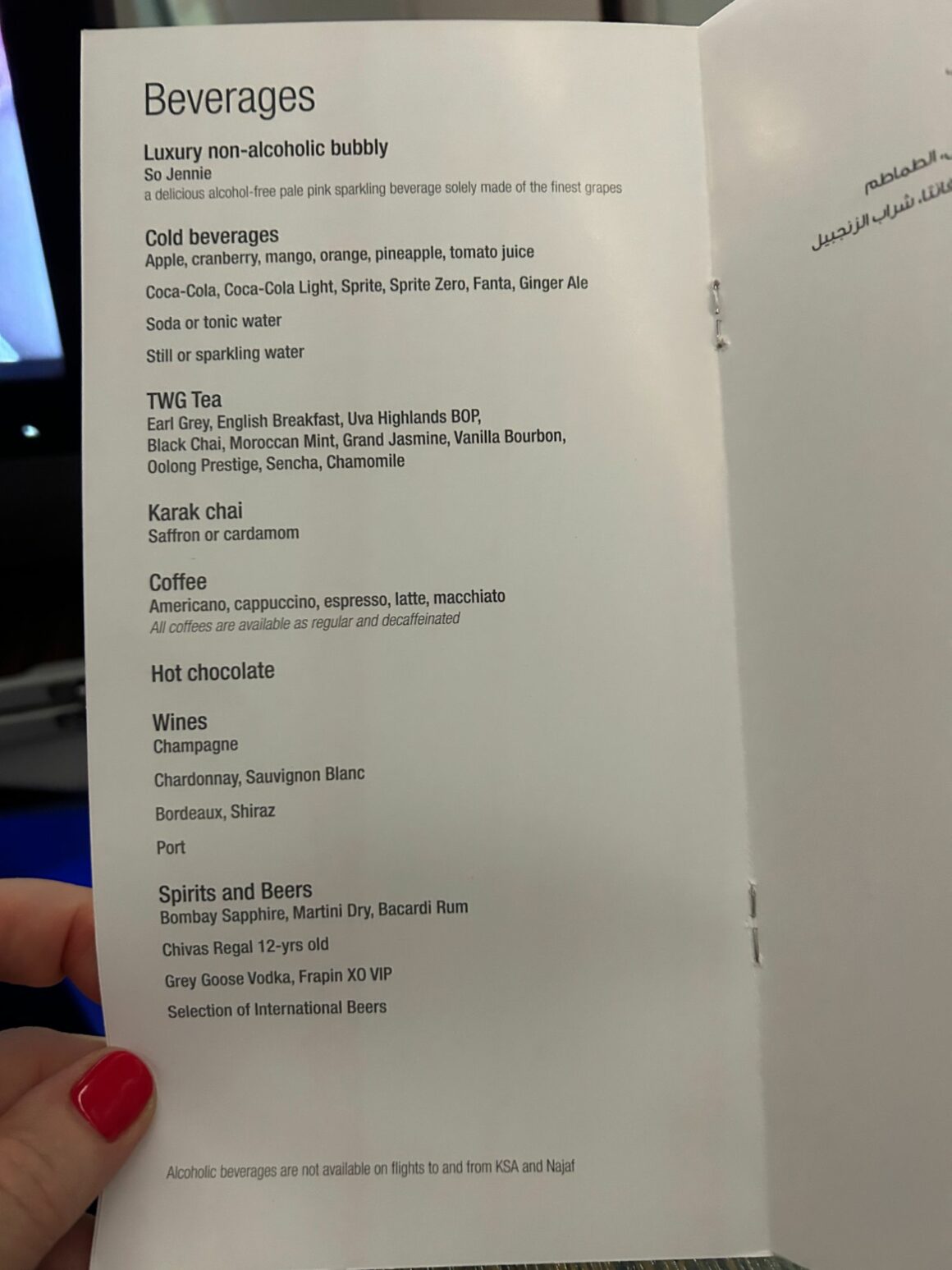 The breakfast platter was tasty, although it would be small for those that like a hearty breakfast! I enjoyed a mango juice with my platter and my usual Karak Chai in cardamom.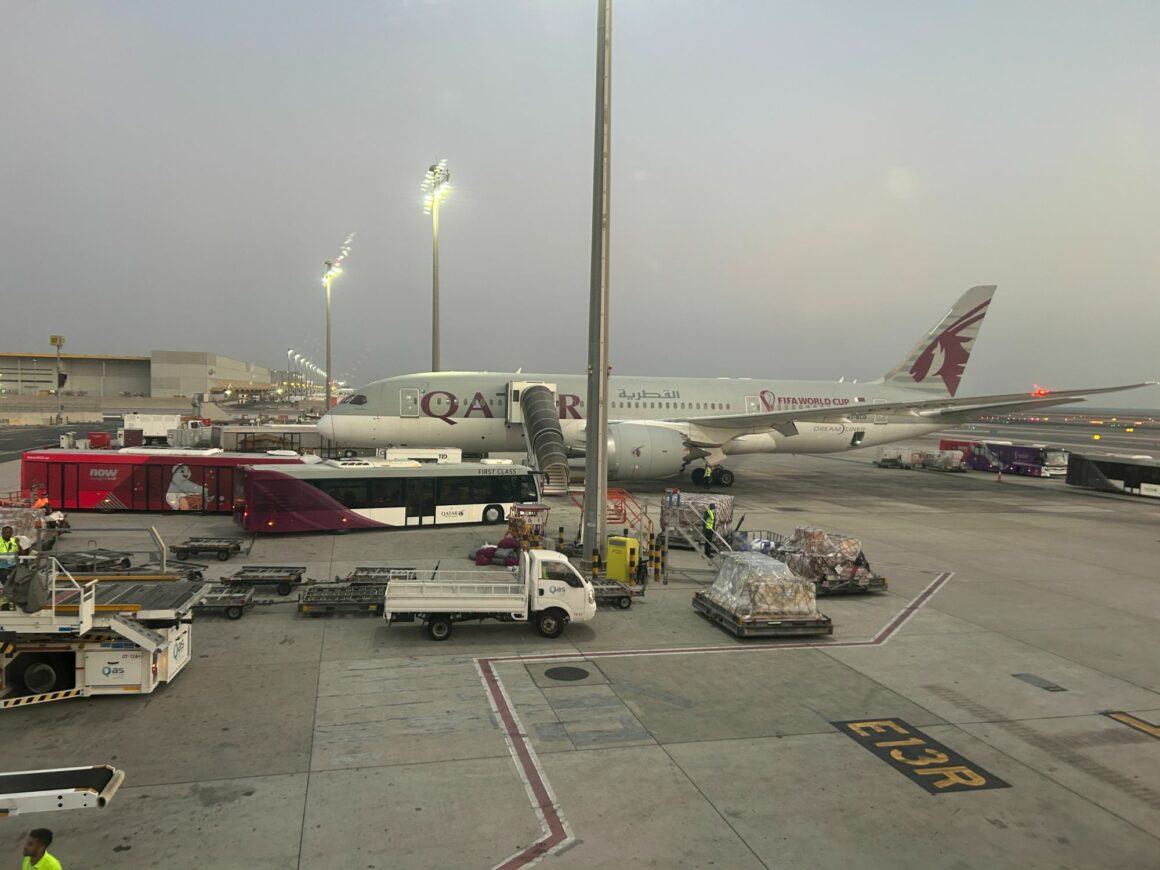 On arrival, we did have a bus gate which, as regular readers know, I really dislike. This seems to be a regular situation at Doha, but now the extension of the north of the terminal is open, hopefully this will reduce. However, they do know how to do bus gates properly with a separate first class bus with seats for everyone.
Conclusion
For these very short flights, I was more than happy with both the lounges and the service on board. Qatar Airways has a shortage of aircraft which means they can often use long haul aircraft on short haul or sometimes do when loads necessitate it. However, they do have a number of short haul aircraft on order, which will likely change the shorter flights back to single aisle aircraft eventually. But you would still get a similar service on board. The first of the airline's B737 MAX aircraft arrived a couple of weeks ago with a number still to be delivered.