The Sea Breeze Beach House hotel was the second hotel on my Barbados trip and to be honest I was not sure what to expect. I don't generally go for all-inclusive but in the Caribbean where things can be expensive, sometimes it is a good deal. To put it into context the price for all-inclusive here was not much more than bed and breakfast at The Colony Club. So for me, it means I know the majority of my food and drink will be covered and I can still go out for dinner some of the time too.
Location
If you prefer to get out and about with lots of restaurants and nightlife close by, this is a great location. It is close to Oistins where they have the weekly fish fry and also to "The Gap" as it's known, where there is a stretch of bars and restaurants to suit all tastes along the waterside. However, the hotel itself is down a quiet side street and is very peaceful.
The hotel is around 15 minutes from the airport and around 20 minutes to Bridgetown, so it's perfect if you want to do some tours or boat trips from there.
Check-in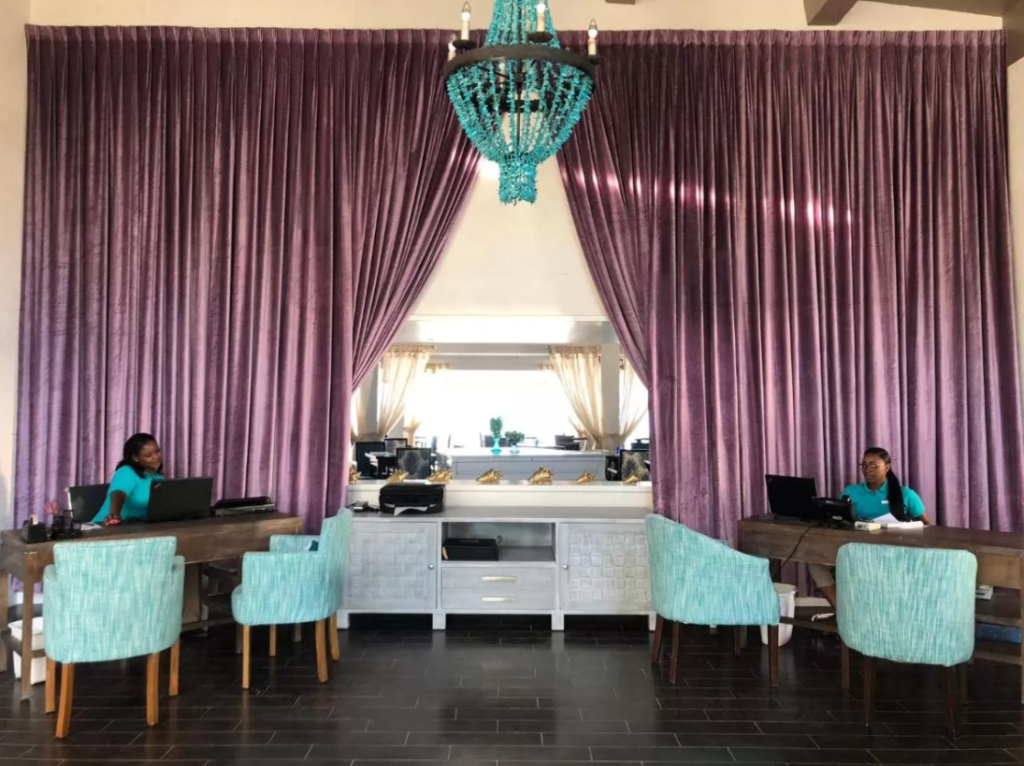 There was some confusion on check-in as I had already done my quarantine at The Crane, but the hotel assumed that I had arrived from the airport and had placed me in the quarantine section (see below). I also was about an hour early for check-in. This meant I waited around 45 minutes while we got the paperwork from The Crane (if you use their testing service make sure you ask for a copy of the results) and changed my room.
I was offered a drink of my choice and I went for a fruit punch (really recommend these if you want something non-alcoholic to give your liver a short break!). The staff were very friendly while I was waiting and my luggage was taken care of and sent to the room.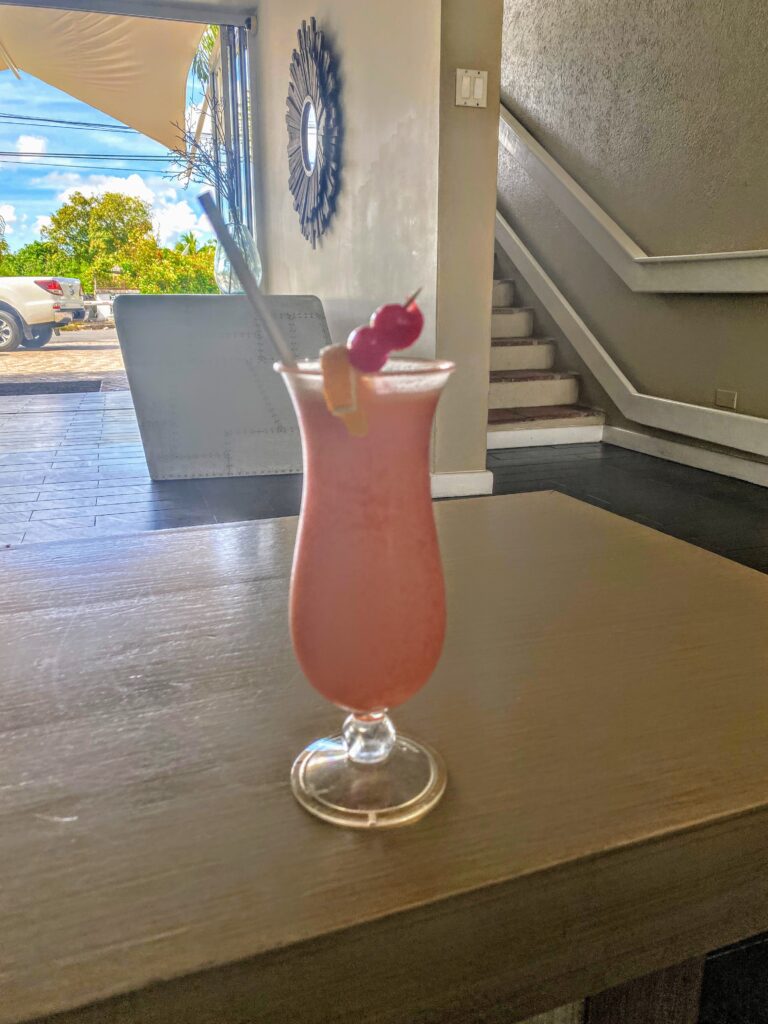 I was told about what was operating and how housekeeping worked. Like many hotels, housekeeping is only done every 3 days unless you request it. I prefer it if they say "would you like daily housekeeping?", rather than presenting it as a fait accompli that you have to actively request it when you need it. You can also request extra towels and amenities at any time. I did not bother with housekeeping on this visit, although in hindsight I would and did at every other hotel. It did feel a bit of a #covid excuse given that every guest had two COVID tests before they were allowed in my section and they are not allowed in your room when you are there.
Quarantine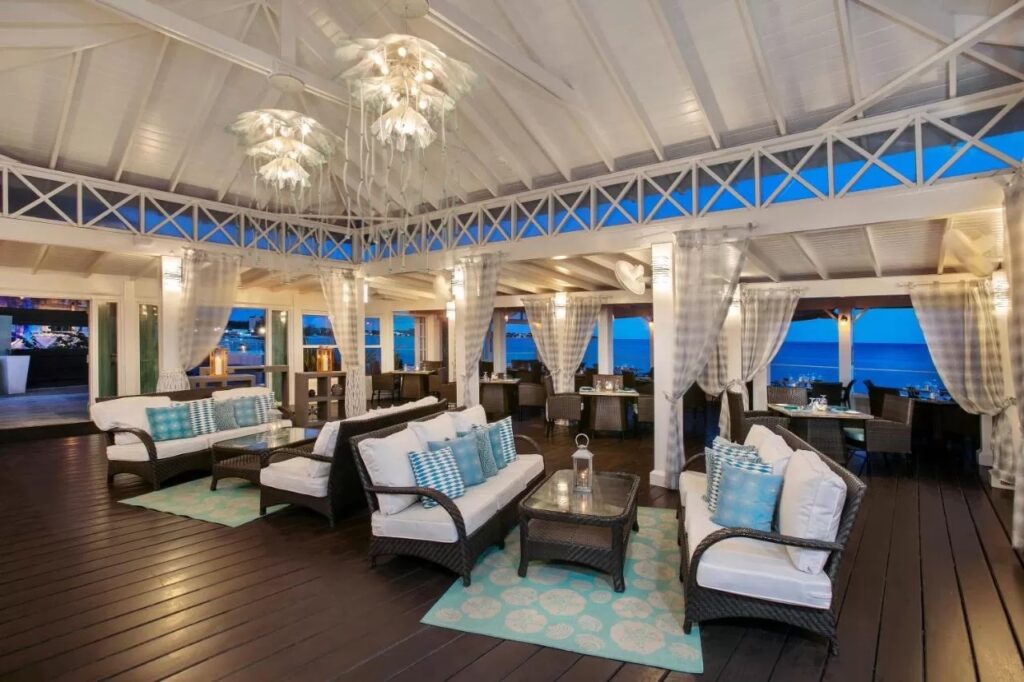 This would have been one of my recommended hotels for quarantine, but sadly they recently changed what you are allowed to access. I find it very strange when other hotels still appear to give access to a pool. (such as The Crane). The Sea Breeze had cordoned off an entire block of the hotel with the pool and restaurant which was more secure than the pool at the Crane that you had to walk through a lot of hotel areas to get to it!
At Sea Breeze, you can only now access the Aqua Terra restaurant and bar. For me, I would quarantine elsewhere and then move to Sea Breeze, even though it is only around 36 hours if all goes to plan.
You can find the latest information about the Sea Breeze quarantine here.
Sea Breeze Beach House hotel Rooms
There are two main types of room – classic and luxury. The classic rooms are all pretty much the same but with different views and bed configurations. Here is a typical classic room:
The other category is luxury which has a variety of oceanfront rooms from Junior Suite to Three-Bedroom Suites. The decor is the same in all of them. I had a Luxury Oceanfront Junior Suite. With Luxury category rooms you get:
Daily pre-stocked mini-bar (not daily at the moment but you can request extra supplies)
Daily in-room canapé selection (not available at the moment due COVID)
Specialty Coffee/Espresso maker
Nightly Turn-Down service (not available at the moment due COVID)
Complimentary beach bag
Personalized Concierge service
Premium bed linens
Extra treats with the minibar
I must admit before I came on this trip, my thoughts on the Caribbean were that most hotels were rather outdated and overpriced. But having been to Barbados I was pleasantly surprised by a lot of the rooms. The Sea Breeze was definitely my pick in terms of value for money. My room was modern, super clean, and very well equipped.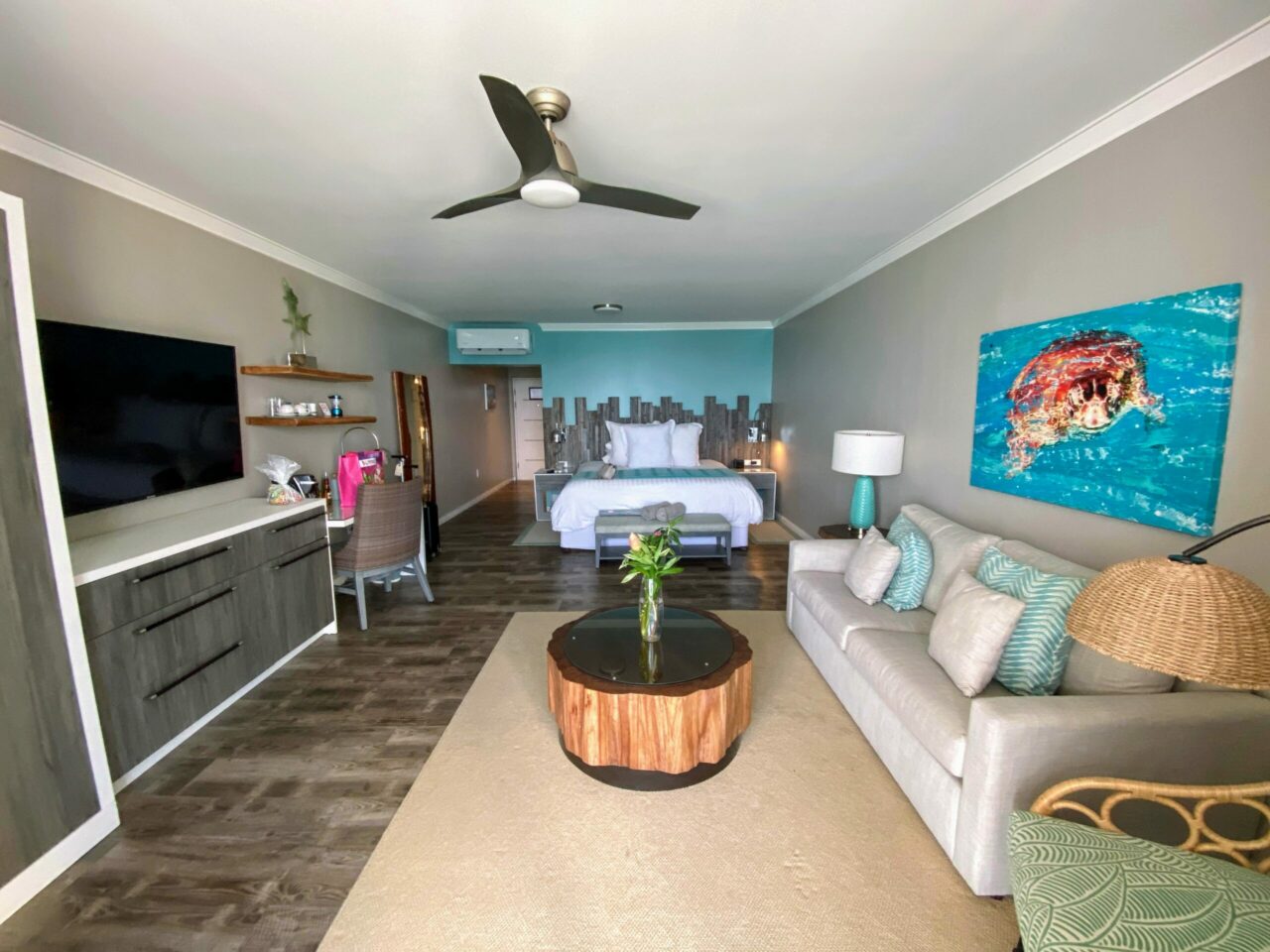 One thing that was the same in every hotel room, no matter how expensive it was, is that you only get air conditioning in a single unit in the bedroom. There is no central air-con which was the same in every hotel. This can make the bathroom very, very warm!
The bed was the second most comfortable of the trip after the Fairmont. You could tell they were higher quality linens as they felt very fine and soft. I particularly liked the varied size of multiple soft pillows. It was a struggle to get out of bed most mornings as it was so comfortable! The Fairmont had the edge for me as the pillows were higher quality and the bed a little softer. These pillows were great but felt a bit synthetic.
I really liked the decor which felt very in tune with the beach and I particularly loved the turtle painting! (sadly it would not fit in my suitcase ????)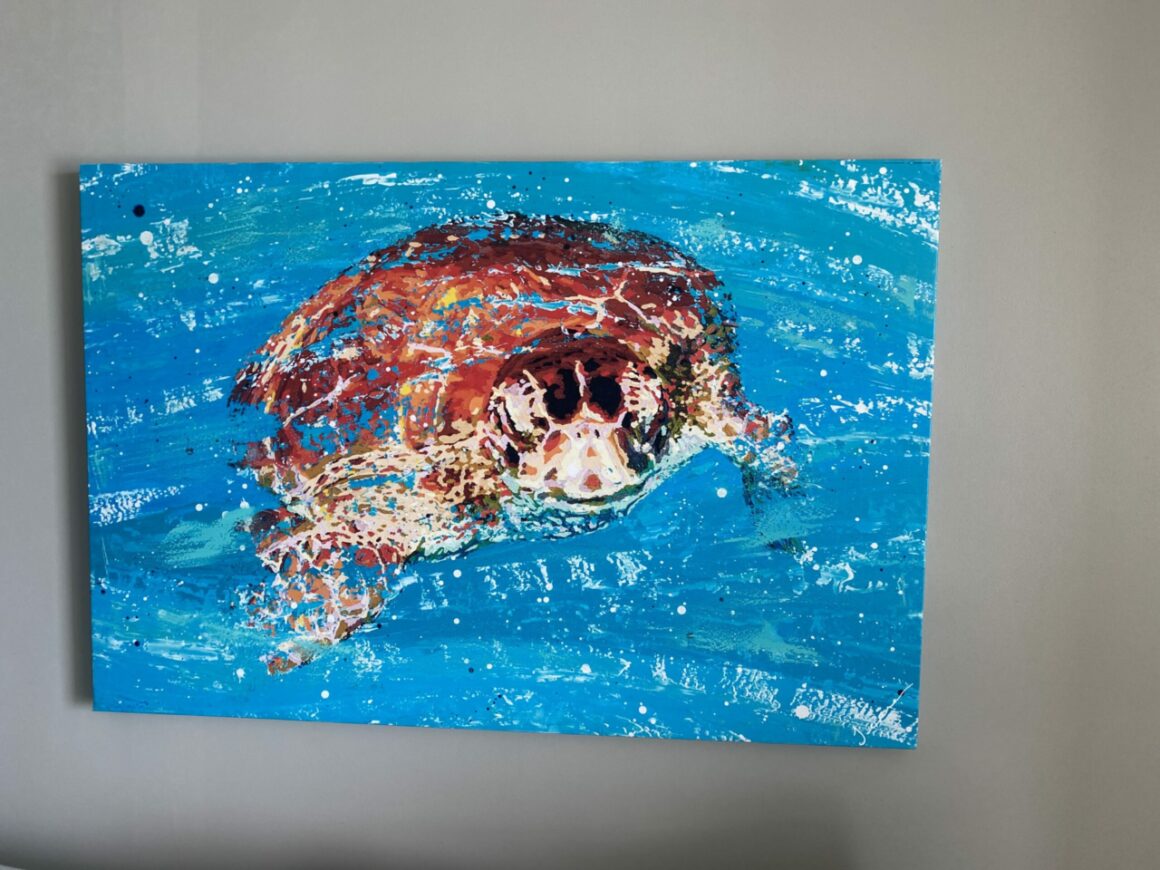 The room has pretty much everything you want from a good quality coffee maker: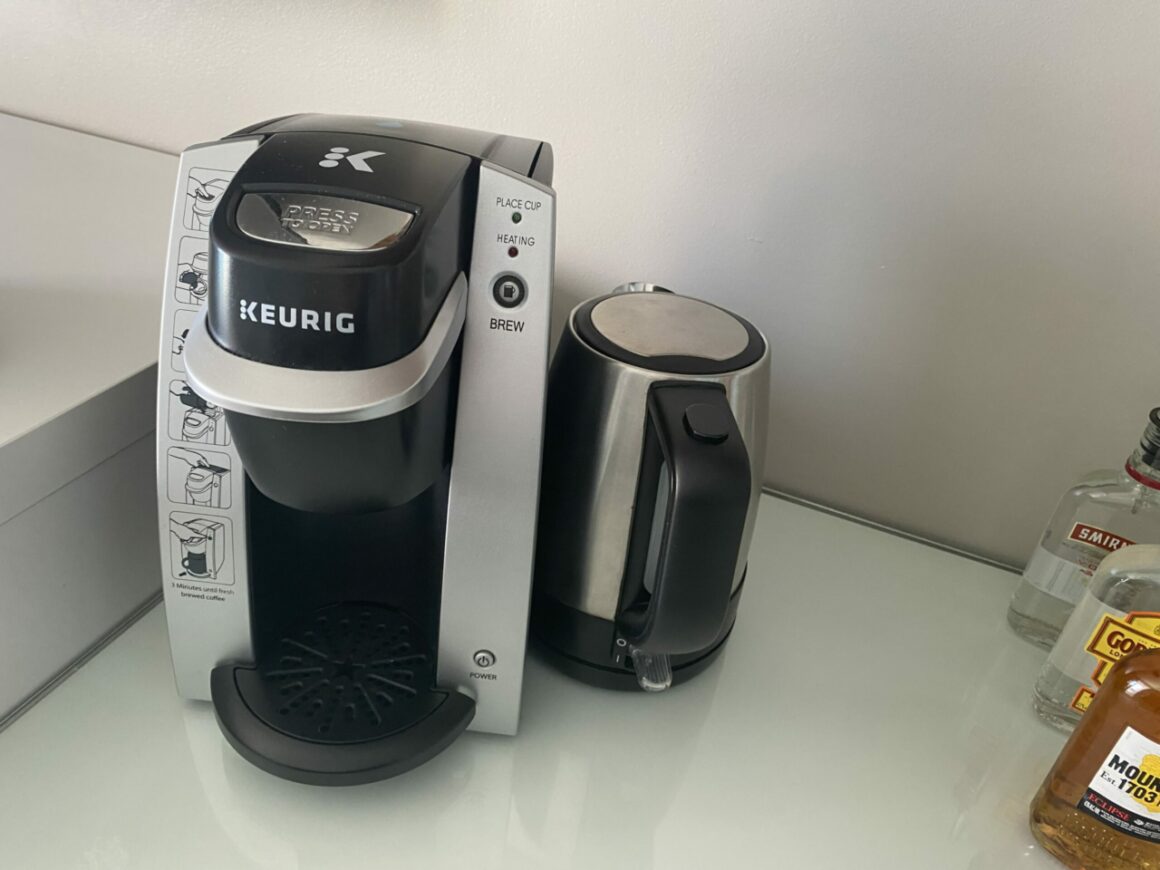 To a very well-stocked mini-bar with quarter bottles and plenty of local snacks.
There was a large TV with plenty of US channels and Netflix.
I would have liked a bathroom with a bath as well as a shower but I can't complain about the size of the bathroom. It was huge!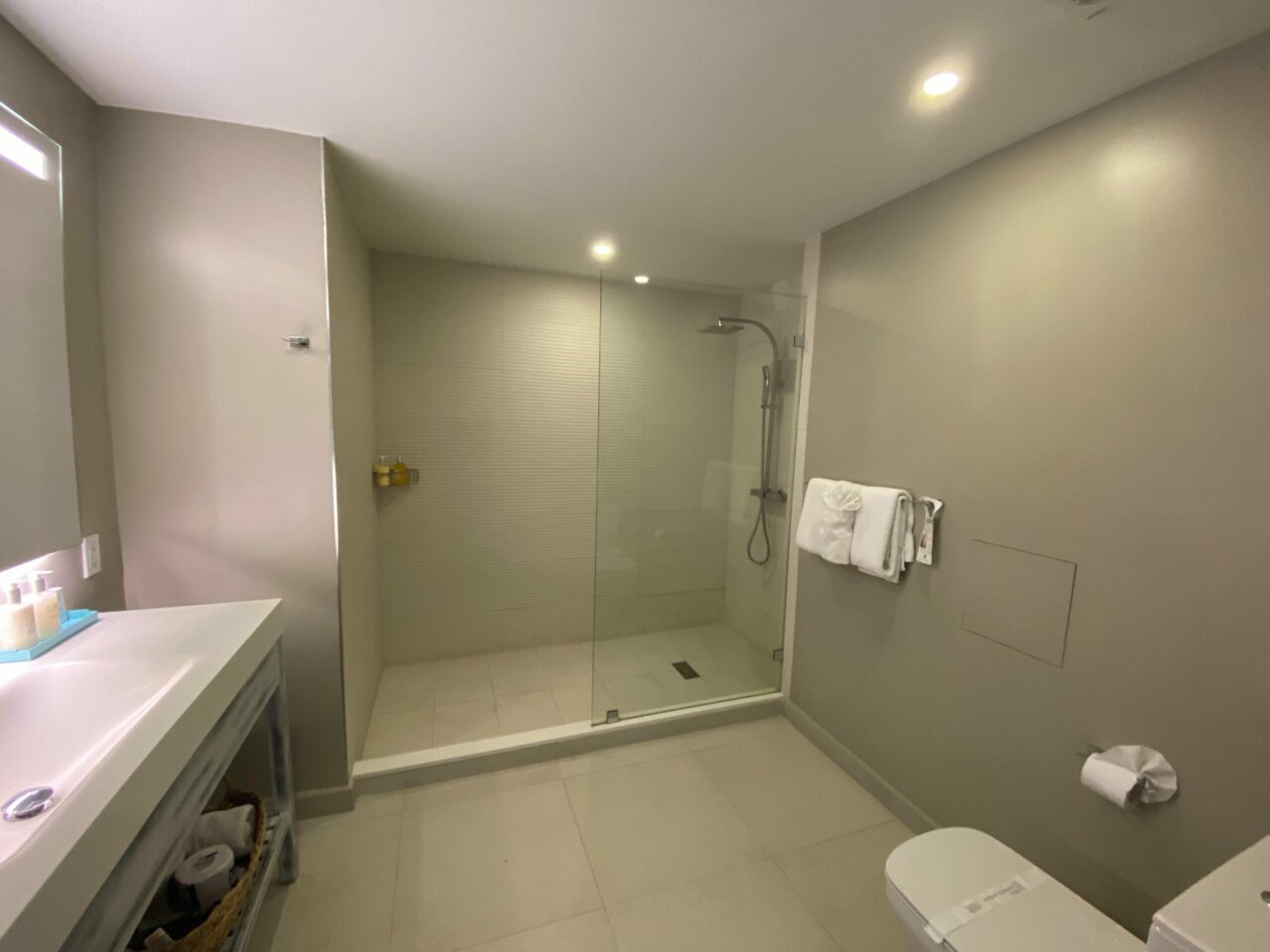 The toiletries in the Luxury rooms were Gilchrist & Soames. They were in large containers which while more environmentally friendly, did not seem very COVID friendly. After saying they wouldn't clean the rooms due to COVID, they expect you to use the same bottle of toiletries as the previous guest? Very odd. That was the only criticism really apart from the lack of a magnifying mirror.
The shower had decent pressure and there was plenty of room to store your own toiletries. Fresh towels were delivered to my room on the morning of my third night without being requested.
One of the things I loved most about the room was the view and the balcony. At night I could still hear the sound of the waves in my room which was amazing. The balcony had two comfortable chairs with a footstool to chill out on. Sitting here with a coffee first thing in the morning was a fantastic start to my day!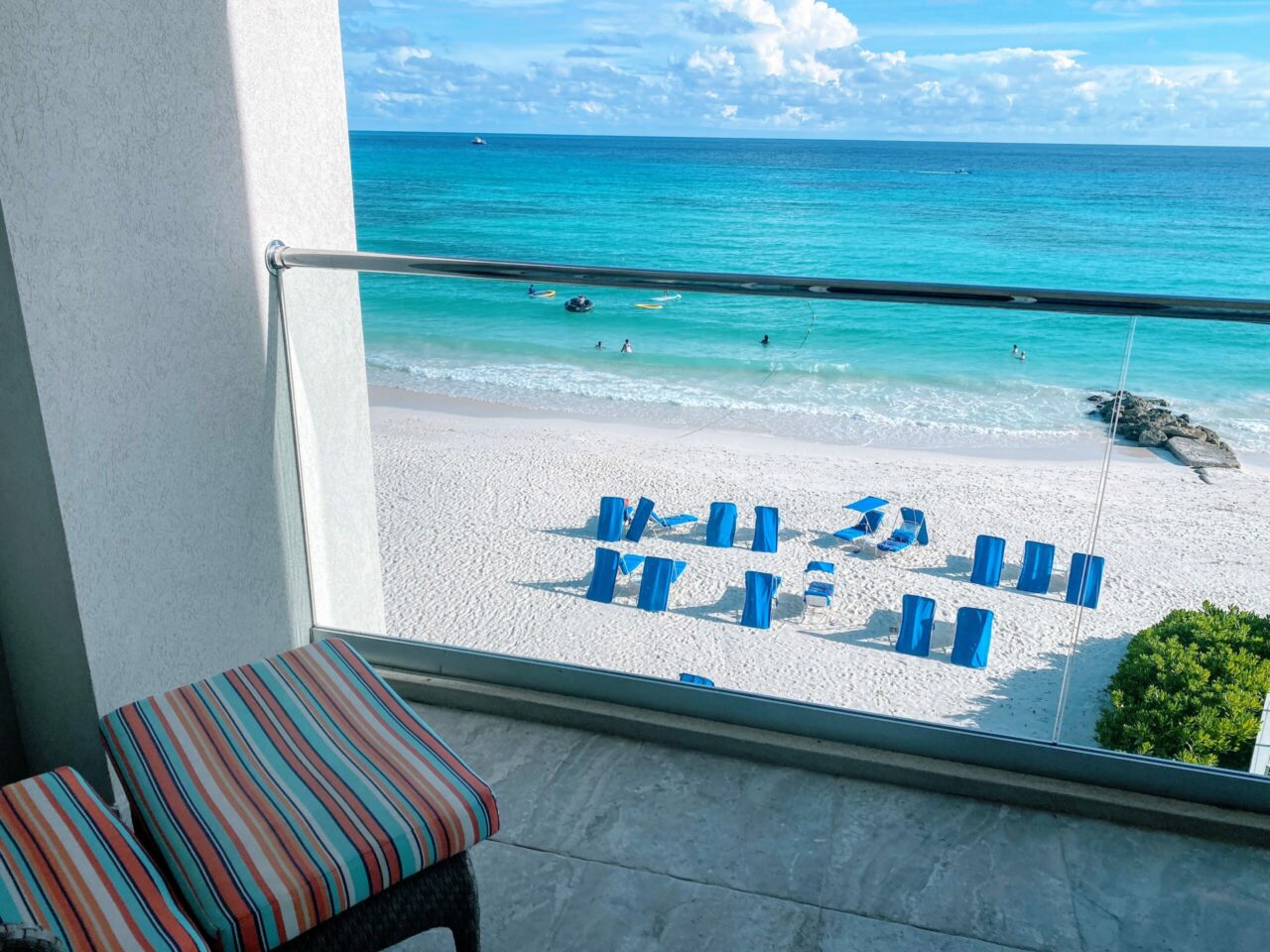 View of resort from the balcony: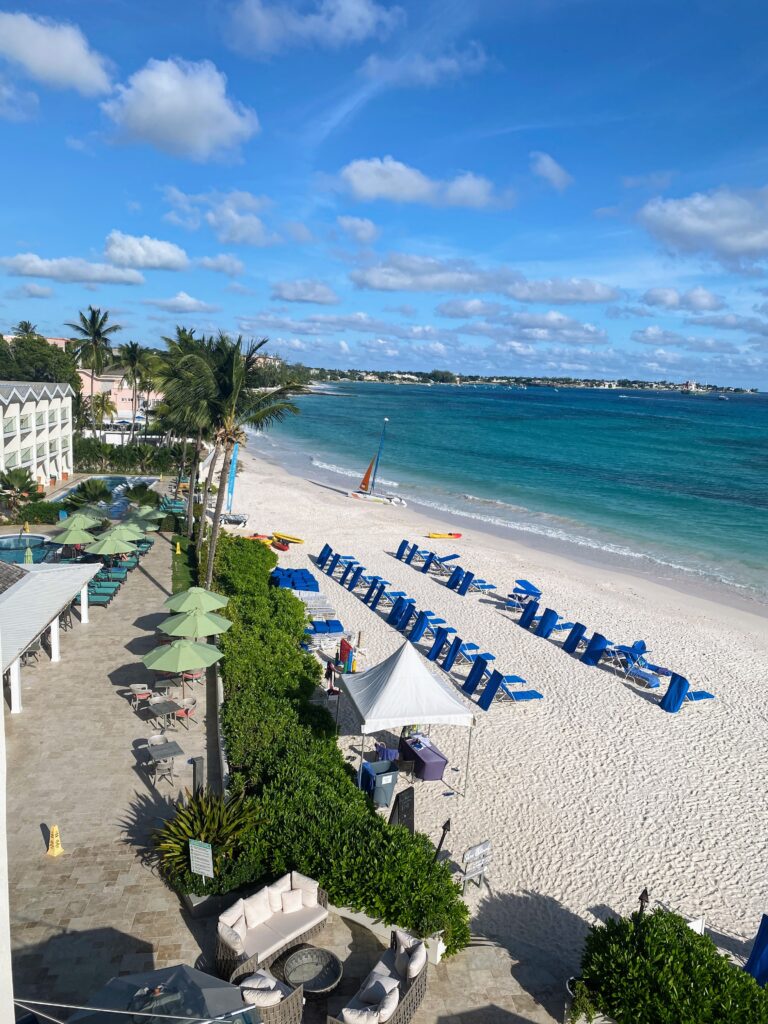 Sea Breeze Beach House hotel Food and drink
At the moment there is a reduced service due to COVID so not everything is as normal.
The places open were the Flying Fish (pool bar and cafe), the Cerulean – fine dining for evening, the Rum Shop, and the Mahogany Lounge. Normally the Aqua restaurant would also be available but that is for quarantine guests.
The Mahogany lounge was the all-day dining restaurant where at the moment they serve lunch and dinner.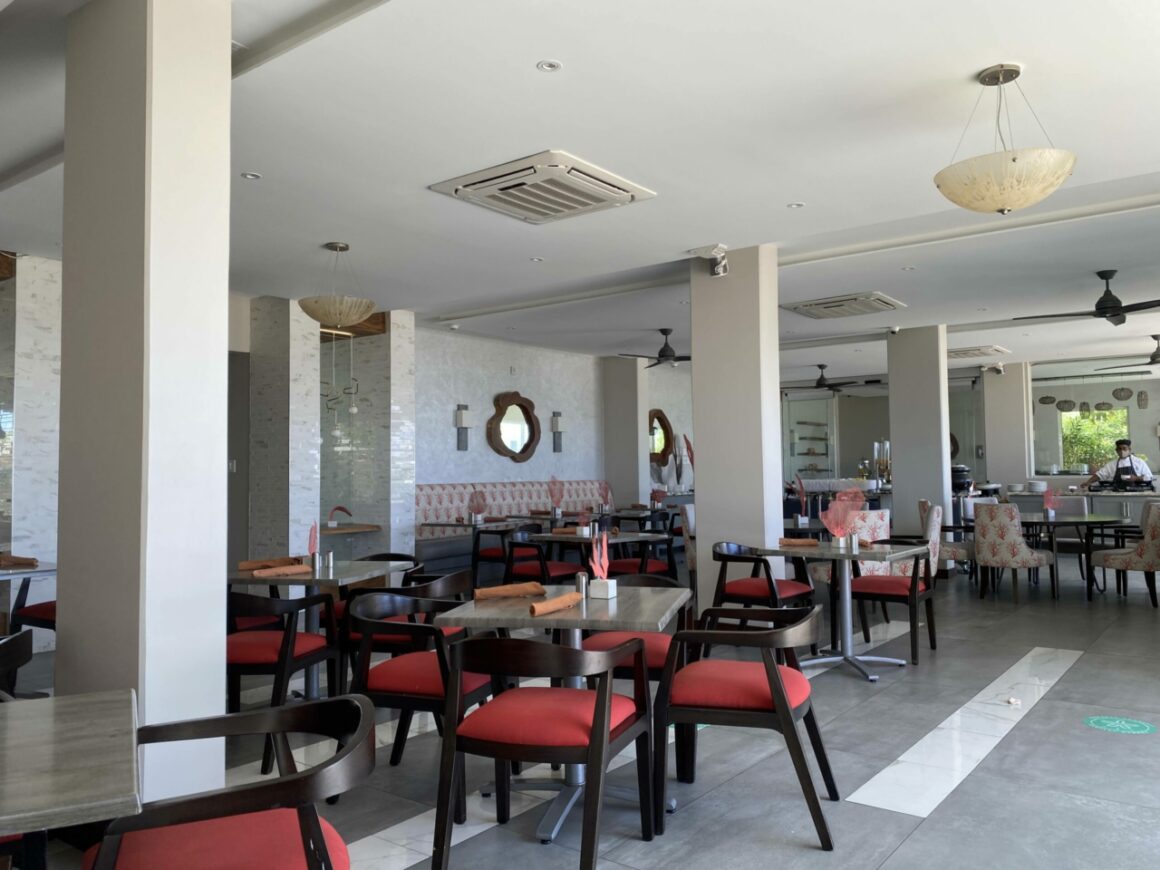 Outside there is a bar with some comfy seats and tables for outdoor dining.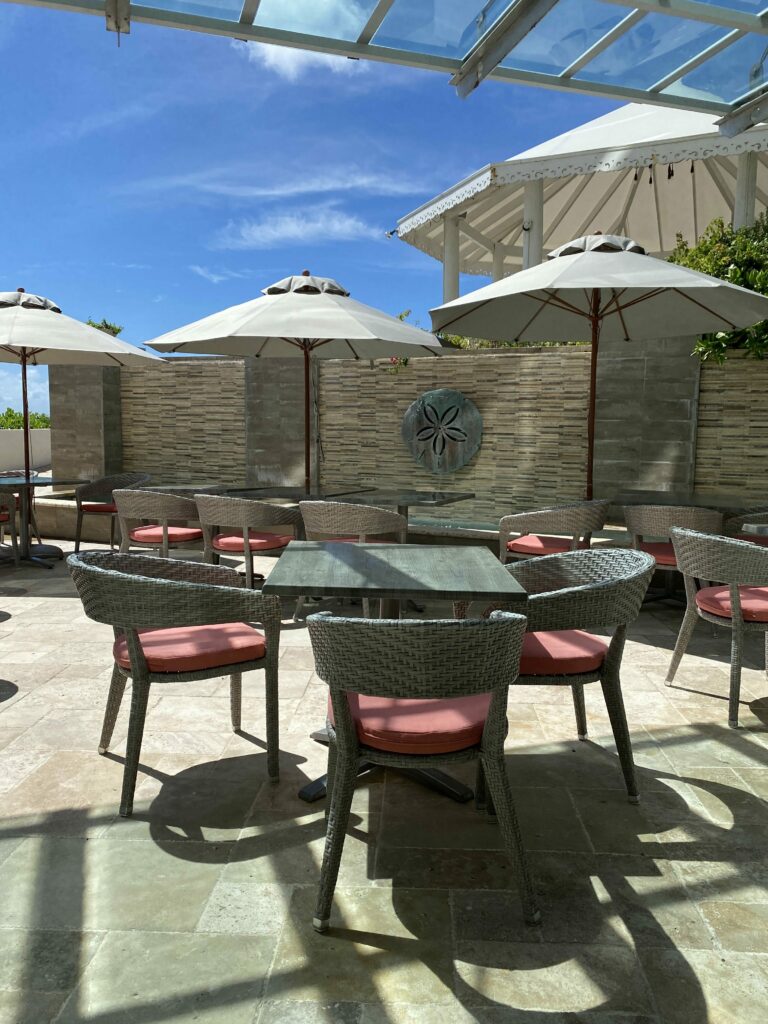 Breakfast was the only down point for me. It was still a buffet style but juice, coffee, tea, and toast pastries were brought to your table. The service was pretty slow and sometimes things were forgotten. The staff were friendly in all the restaurants, but this was definitely one of the slower hotels for service.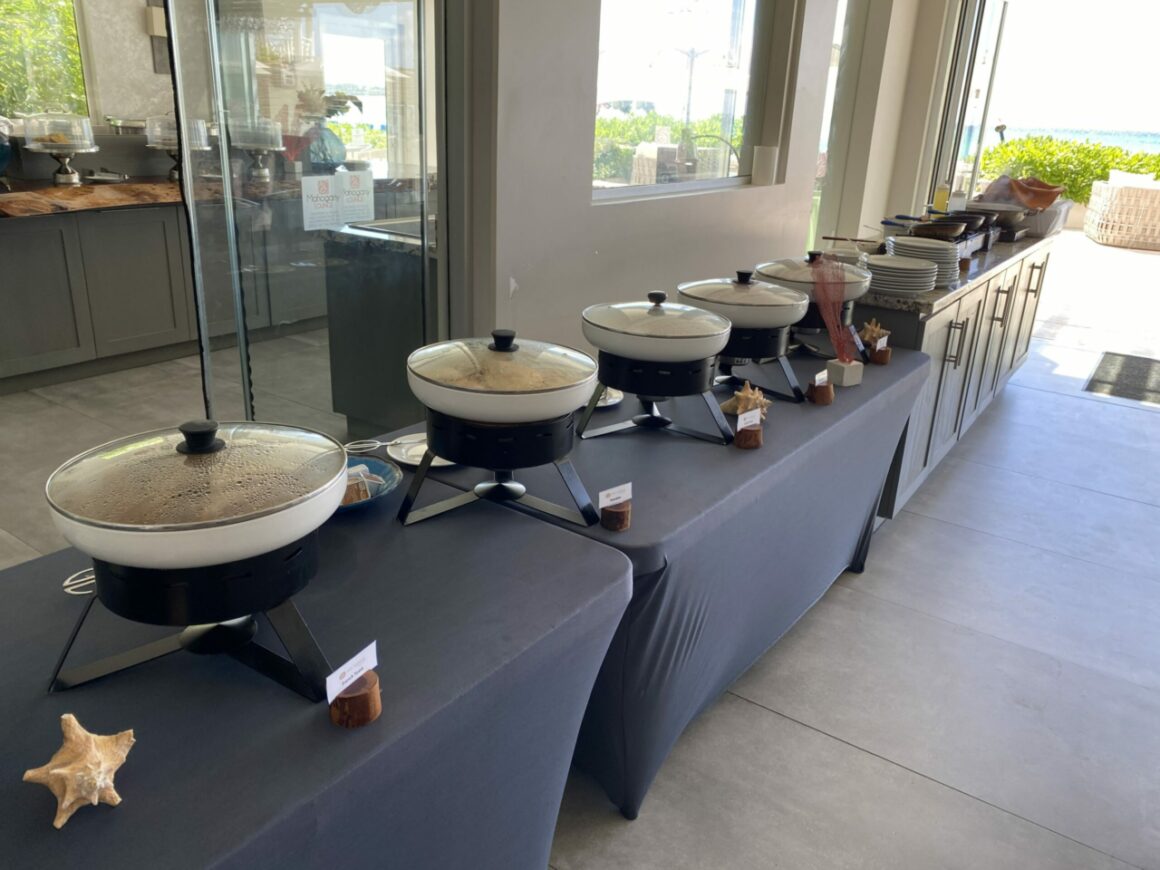 The breakfast buffet was fine if you like a cooked breakfast, otherwise, it was very repetitive. The only non-cooked stuff was a small fruit selection, a small amount of pot yogurts and cereals plus the toast and pastries.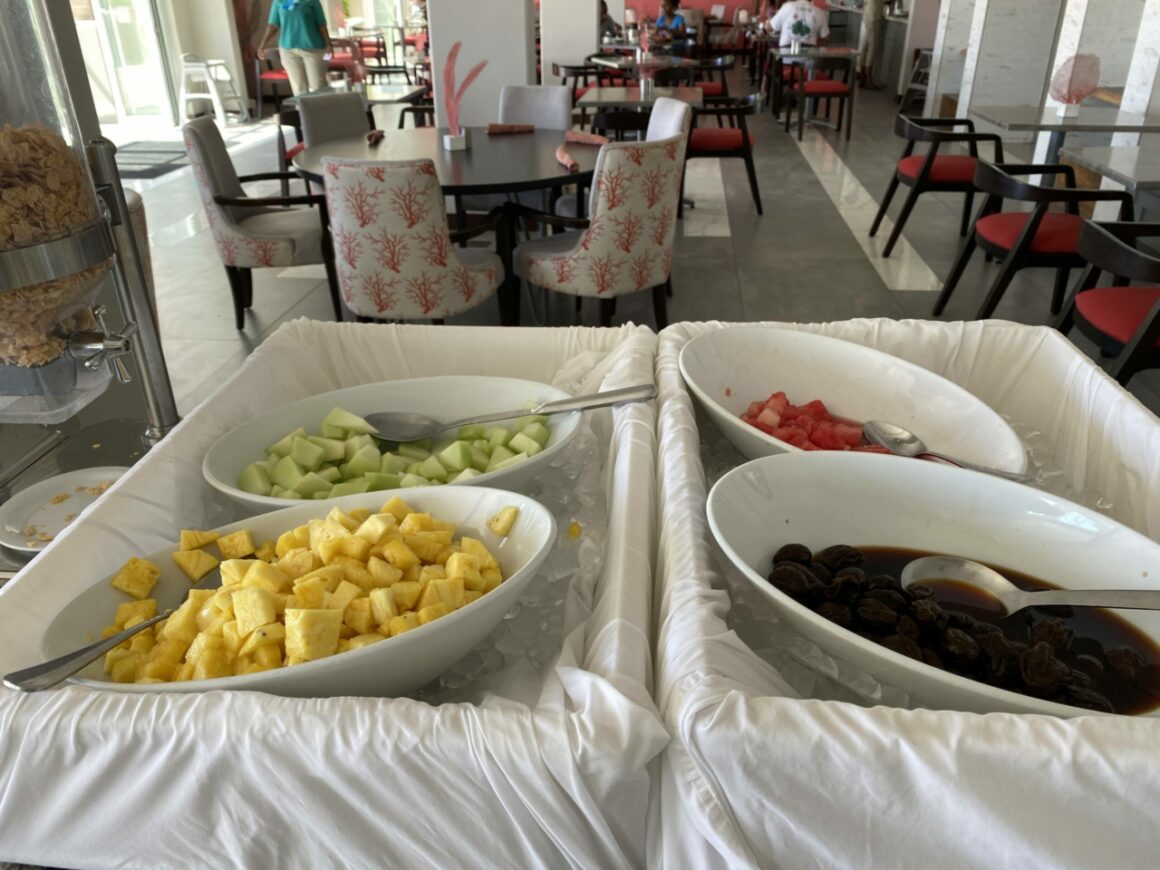 There was a varied selection of cooked options which did change every day and you could have eggs cooked to order by the friendly staff. You have to be clear with them how much you want or you will end up with a huge portion (see below). You take a plate and then the staff serve you what you would like from the buffet.
Here is one of my breakfasts: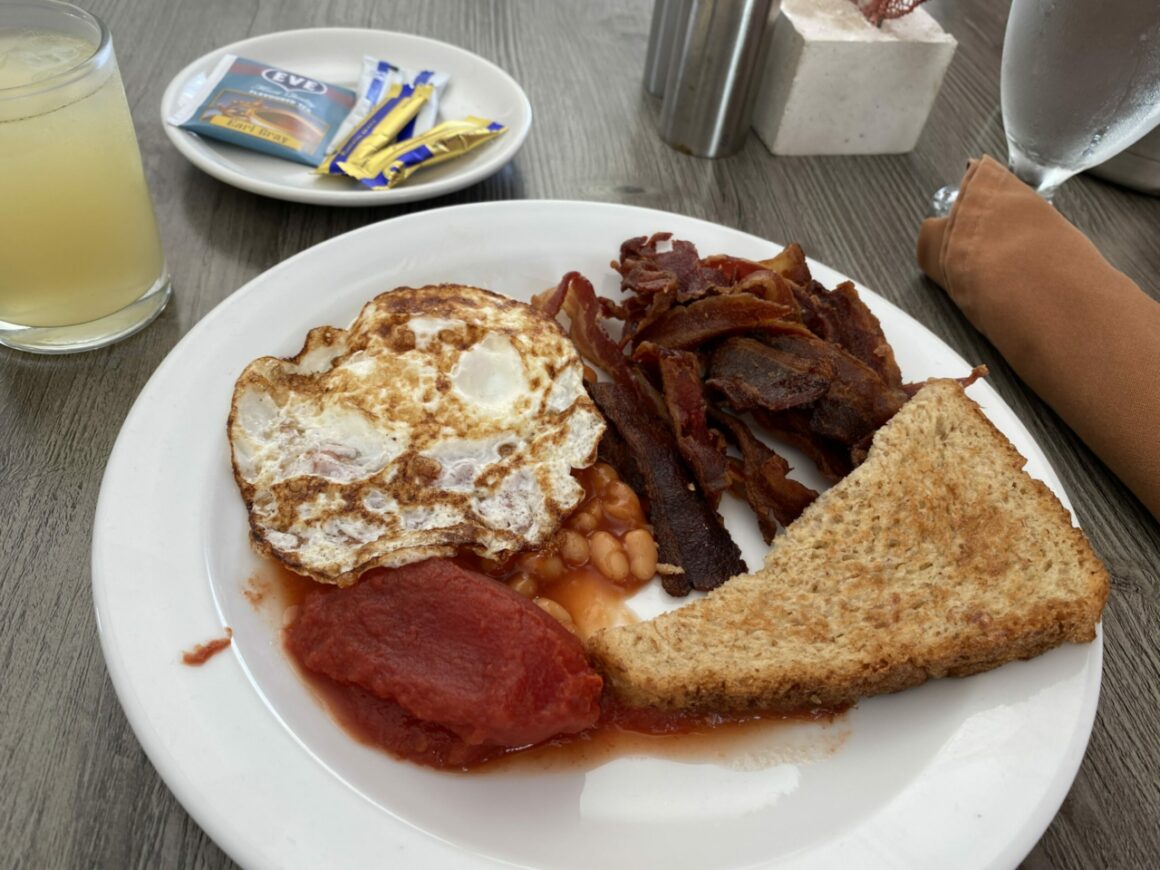 Lunch was also a buffet but vary varied with local dishes, salads, fish, pizza, or burgers/hot dogs. The salads were lovely and fresh.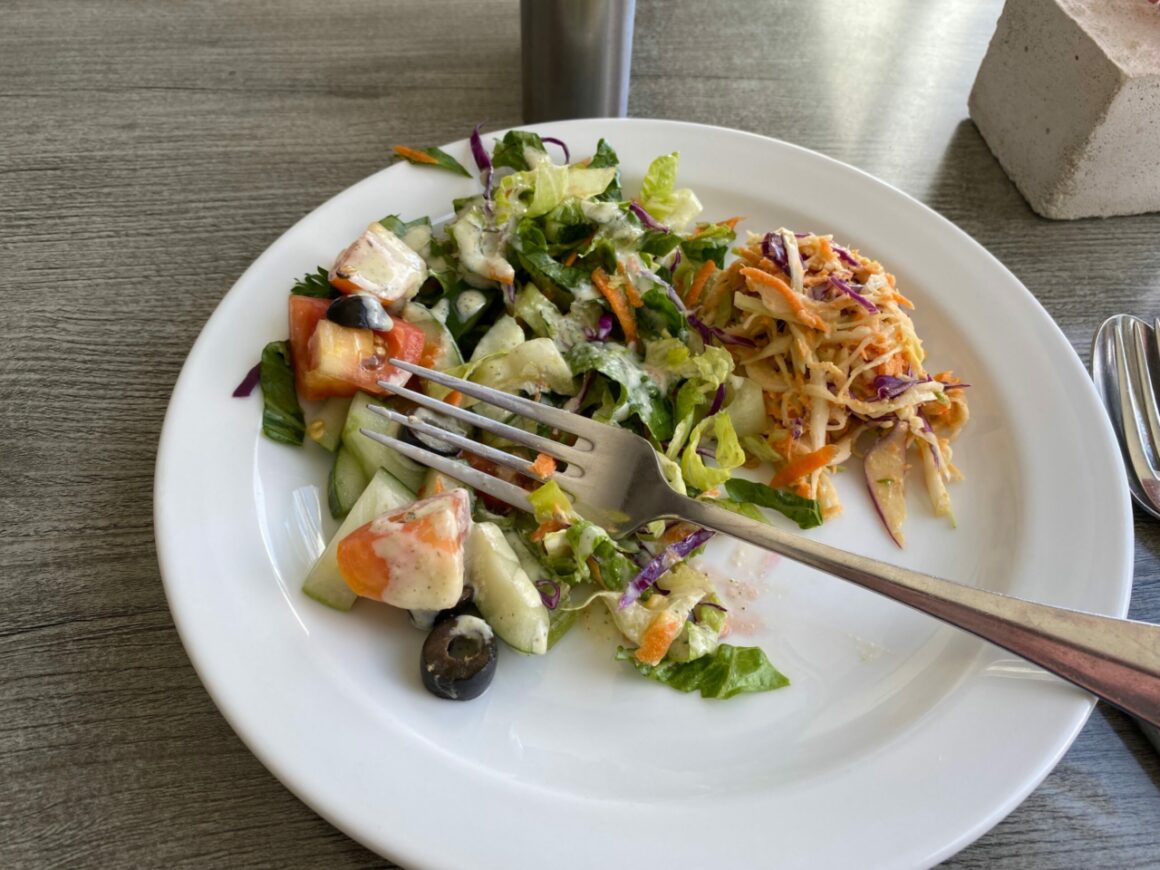 Afternoon tea was available from The Flyish Fish but I never needed it.
The staff in the fine dining restaurant were very friendly. I was chatting to one of them about my trip to the Mount Gay Rum factory the next evening and they were insistent that they made sure I got some food kept for me in case I needed it when I came back. Again the service was sometimes very slow, but only for the drinks (same at lunchtime).
I thought the Cerulean restaurant looked very nice and not like an all-inclusive.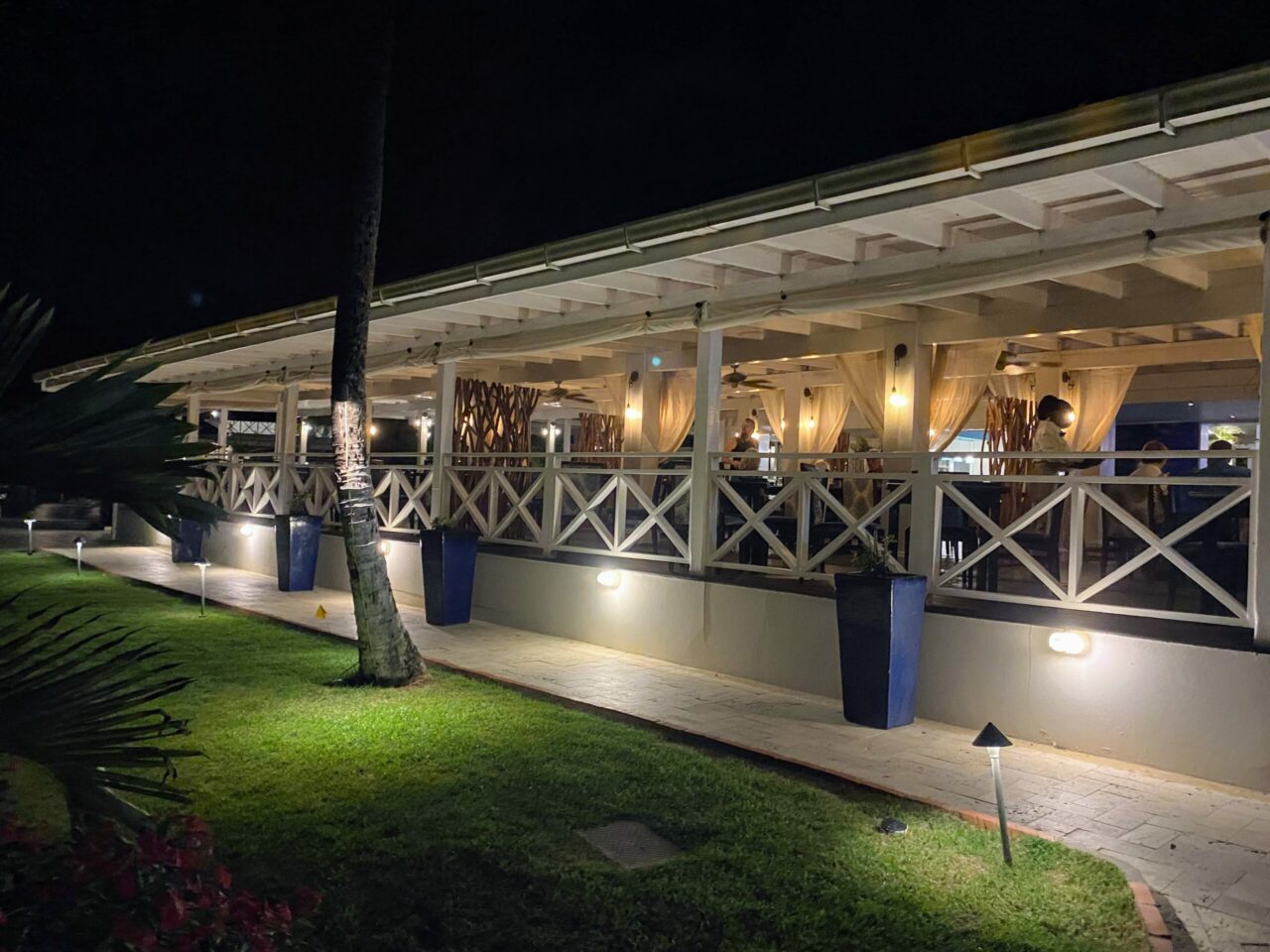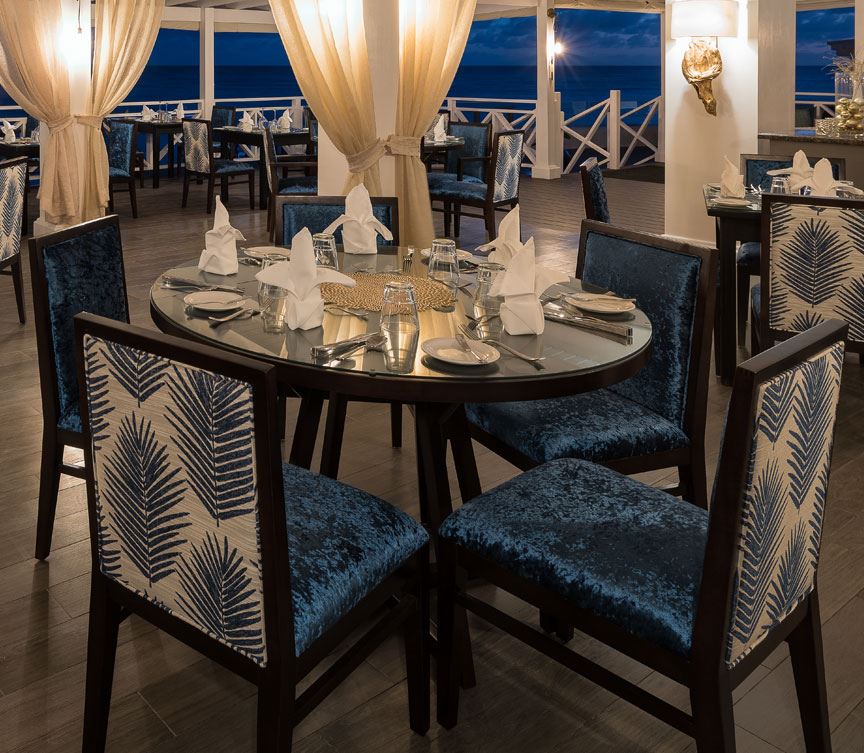 The menus were also pretty impressive for all-inclusive. For me, the food was on a par with the paid dinners I had elsewhere. You were meant to make a reservation and they only did 2 sittings at 6.30 or 8.30 which I thought was a little pointless – surely with the a la carte options it would be better to spread people out?
The menus were available by QR code:
On some days, a selection of sushi was also available.
Here was my dinner from the above menu:
It was all well presented and delicious. Portions were generous for the main courses.
One evening they did a BBQ which I enjoyed as there was lots of choice with steak, ribs, fish, and chicken. The mini jacket potatoes were also particularly good!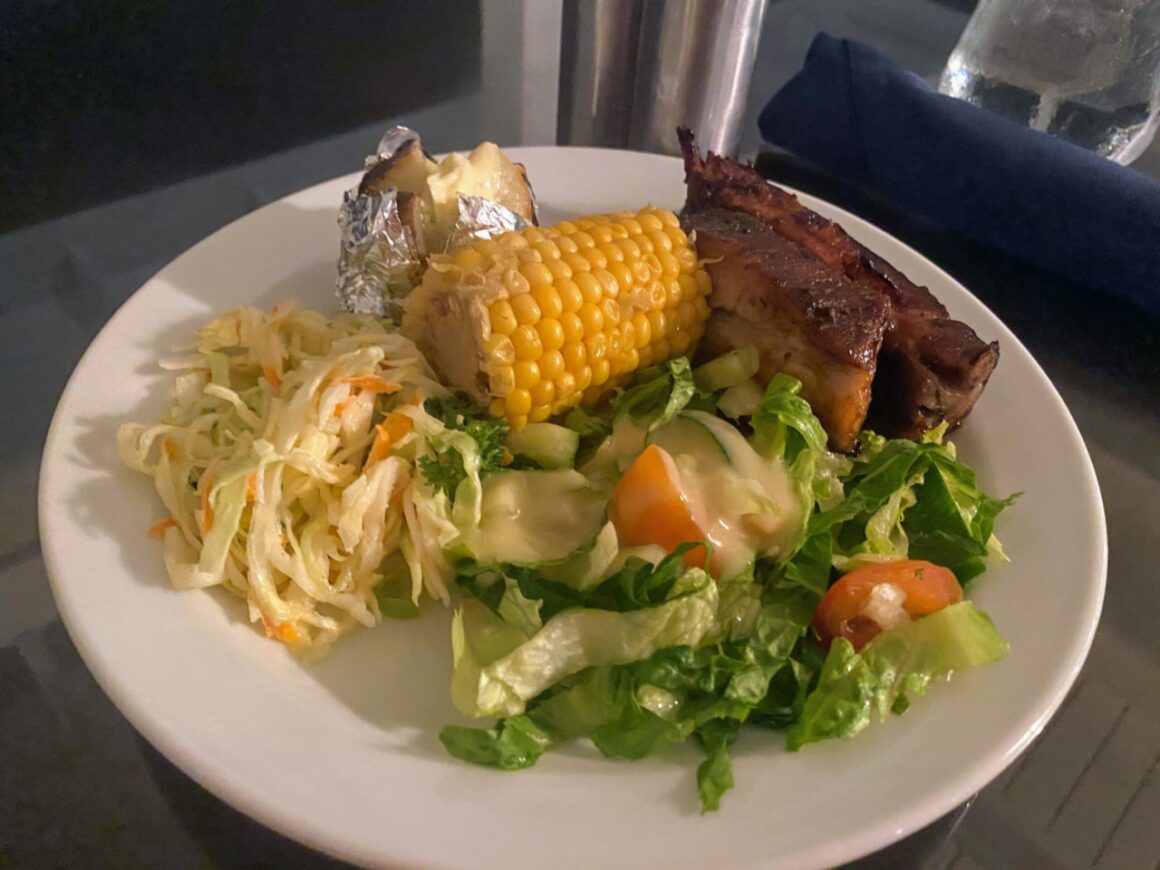 The drinks were all very good here with the barmen willing to make most cocktails for you. All the spirits were well-known brands rather than being cheap local versions (apart from rum of course!) which were good. The wine was perfectly drinkable with a choice of 2 red, 2 white, and a rose. They even had a decent brandy and the portions were generous!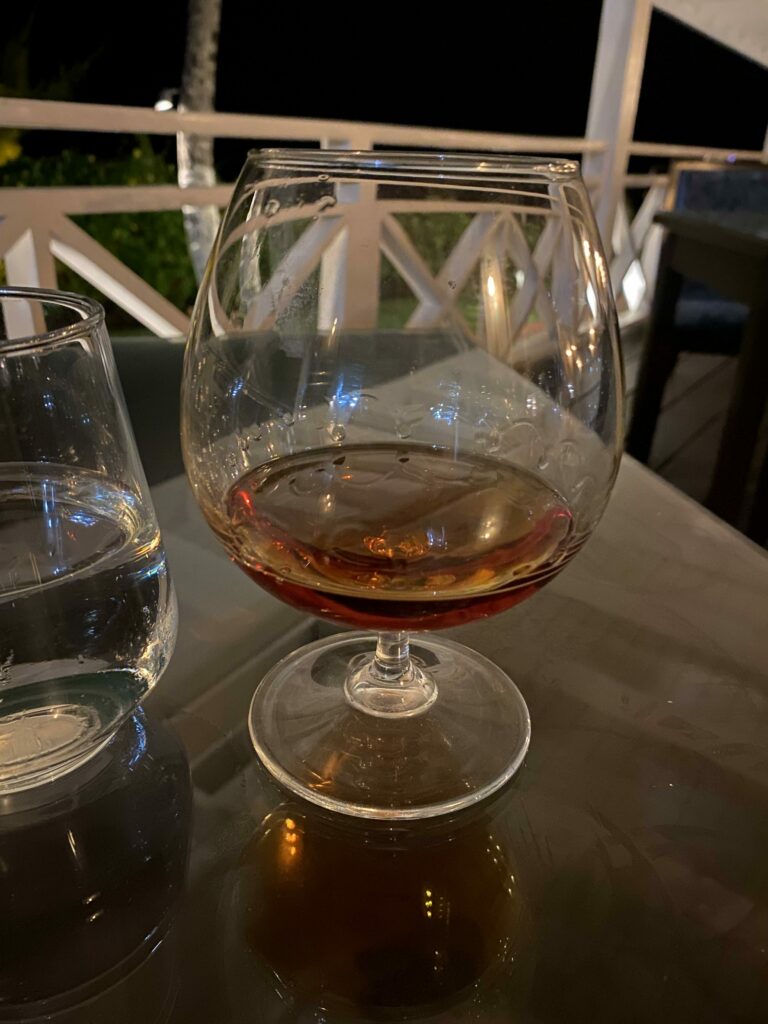 At the pool and beach, the service was surprise, surprise – slow – if you were waiting to have drinks brought to you. I didn't really care though as it was about a 15-second walk from my lounger to get a drink! On the beach, they brought round glasses of iced water quite regularly.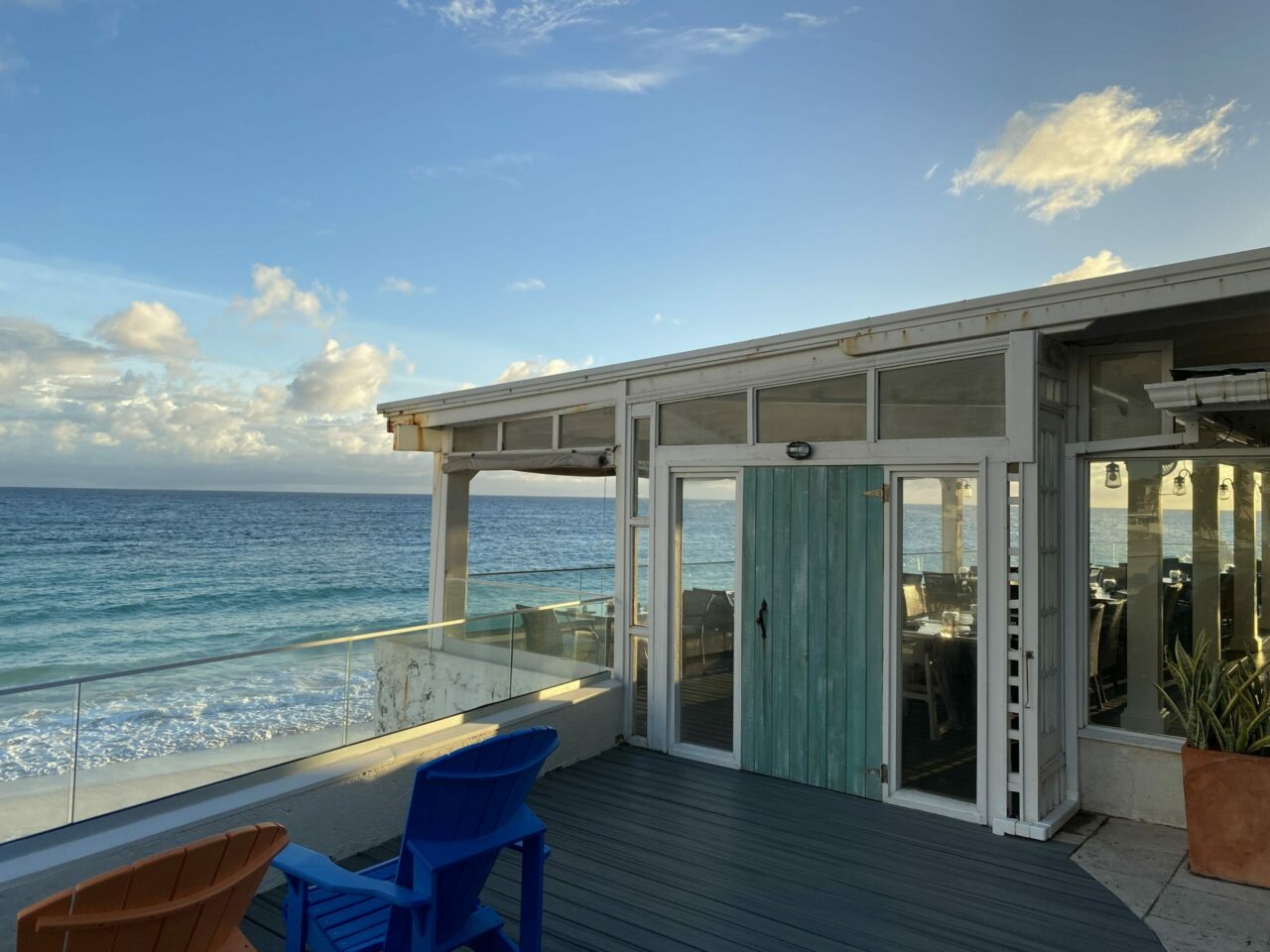 The one thing I could criticize was that there was nowhere to really relax that was quiet in the evenings. Most nights they had some sort of entertainment (which I really wish they wouldn't in hotels as it's all the same most of the time – bland pop lounge music or karaoke). The karaoke night was particularly irritating since I had gone for the late dinner and was subjected to a string of songs being murdered by guests while I tried to eat! This is the issue with a small site and everything being outdoors. Fortunately, the music did not go on late. Even with no music, most of the comfortable bar areas for sitting were closed apart from at the Cerulean.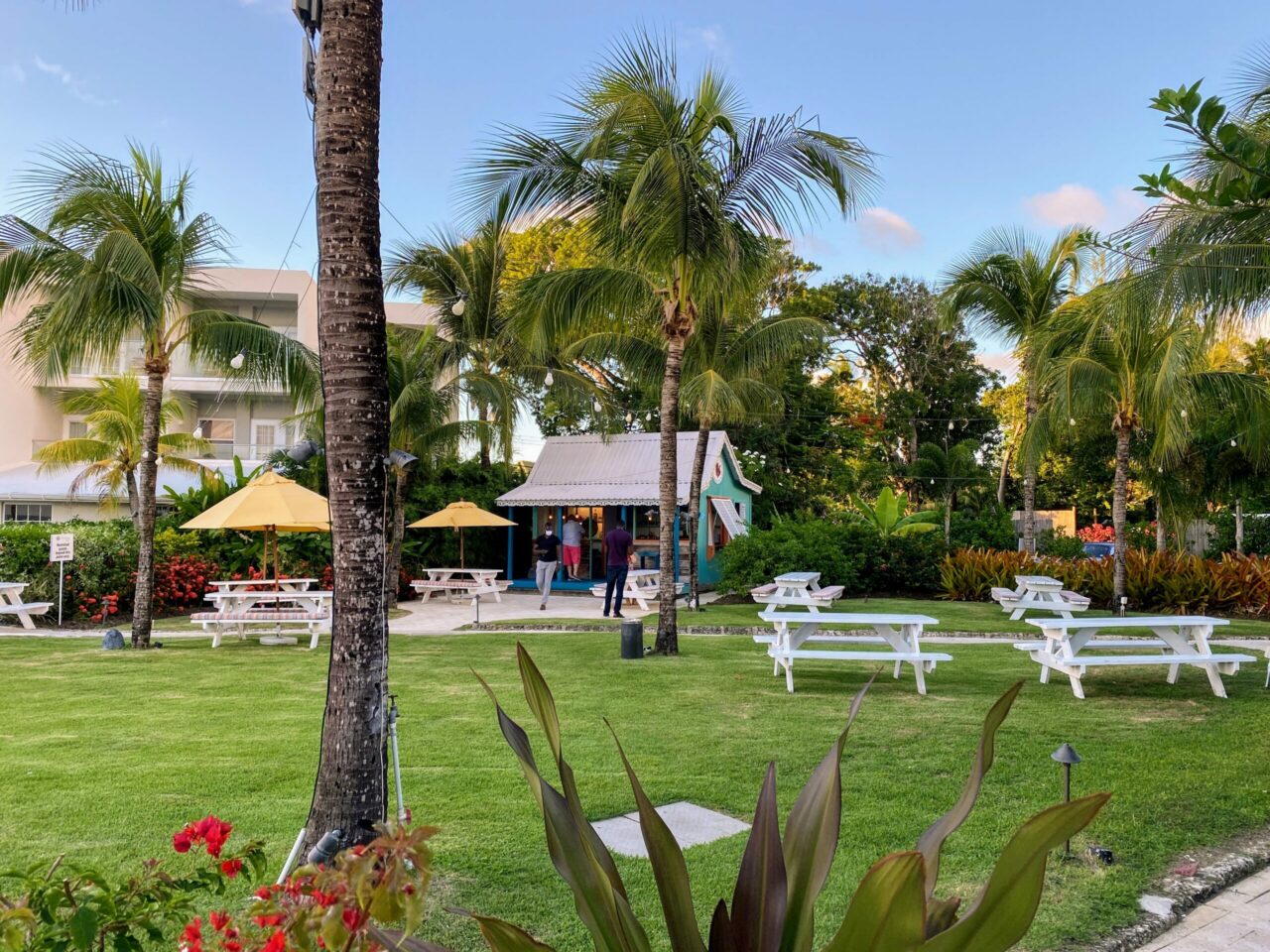 In normal times there would be a number of places to sit in the evening but currently, there is a small area within the Cerulean or the Rum shop which has picnic bench seating. It's a shame because there are some really nice seating areas by the Mahogany lounge but the bar is not open in the evening and the Aqua bar is for quarantine guests. Hopefully, as they get more guests they will begin to open more up.
Beach and pools at Sea Breeze Beach House hotel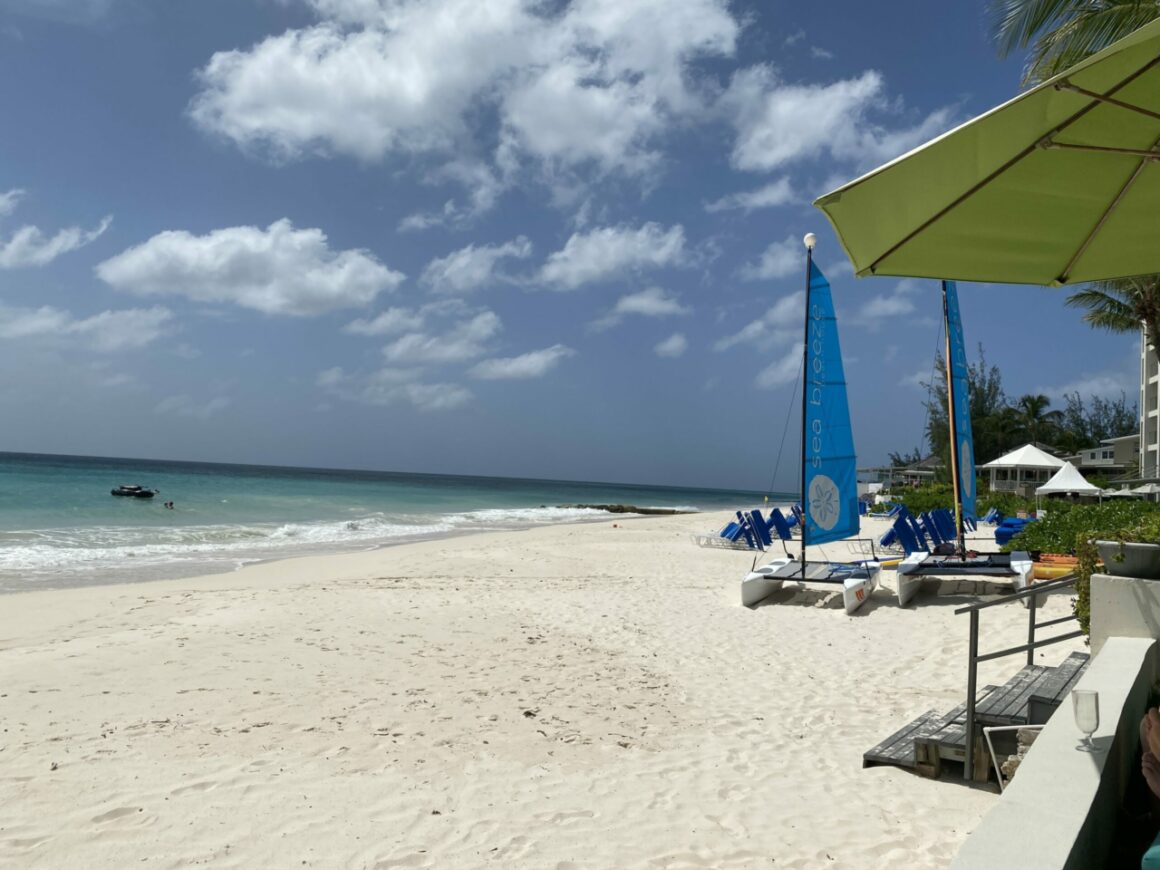 This was a highlight for me. If you want a beach with slightly more waves for some body surfing, for example, this is the beach for you. Although rougher than the West Coast it was still swimmable. I loved the beautiful white sand with a pink tinge.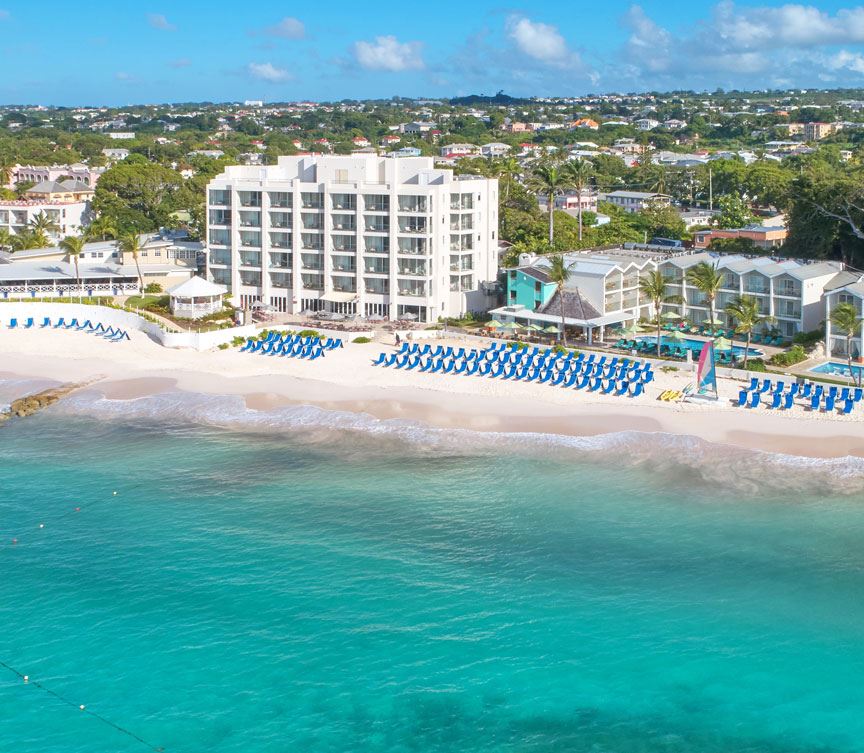 Unlike a few of the West Coast hotels, there is plenty of sand here and there was never a fight for the sun loungers. They could have done with some more parasols around the place although the beach chairs had a shade that partially covered you. All the loungers had great padded cushions and were very comfortable – unlike Waves that gave you a bare chair with no cushion due to COVID!
They also have two floating mesh loungers in the sea as well as a proper floating sundeck.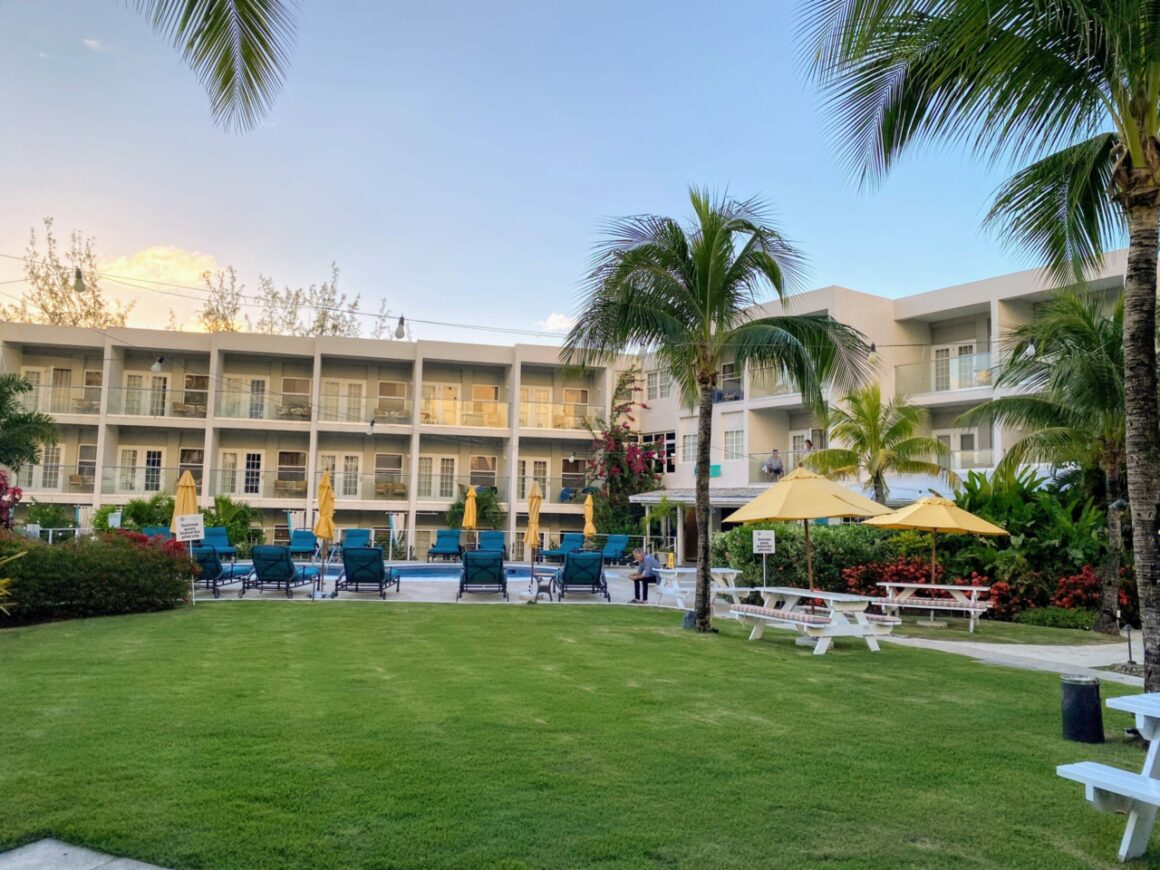 I really enjoyed my time by the pool and beach here. There were three pools. One which was available for quarantine guests only, though I am guessing everyone can now access it, the main pool by the Flying Fish and the adult pool (normally the lap pool) with submerged loungers. They were all the perfect temperature for lazing around. There is an adults-only jacuzzi too.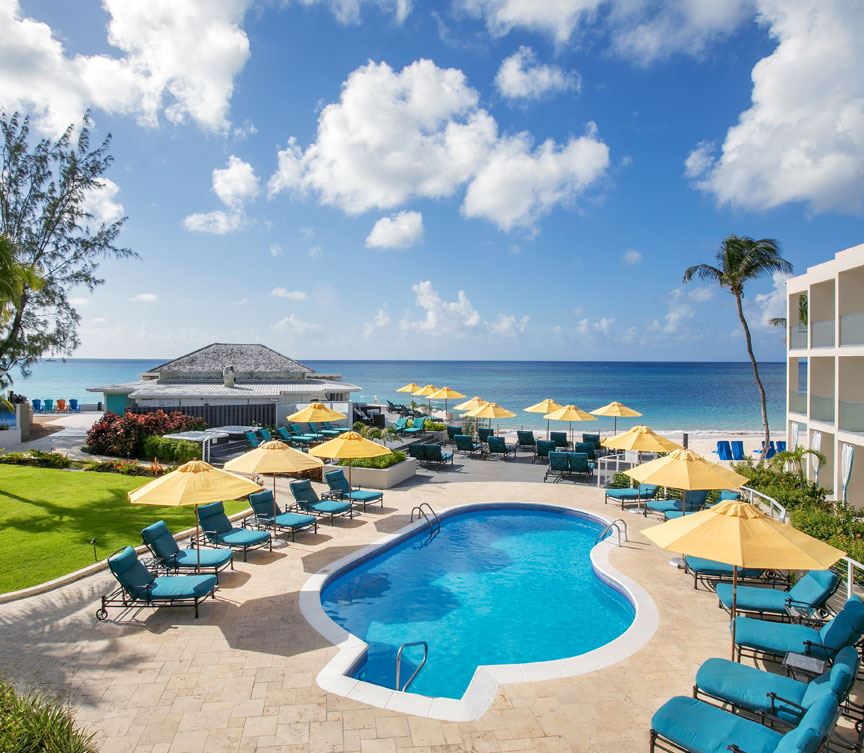 A lot of the time I had the lap pool to myself: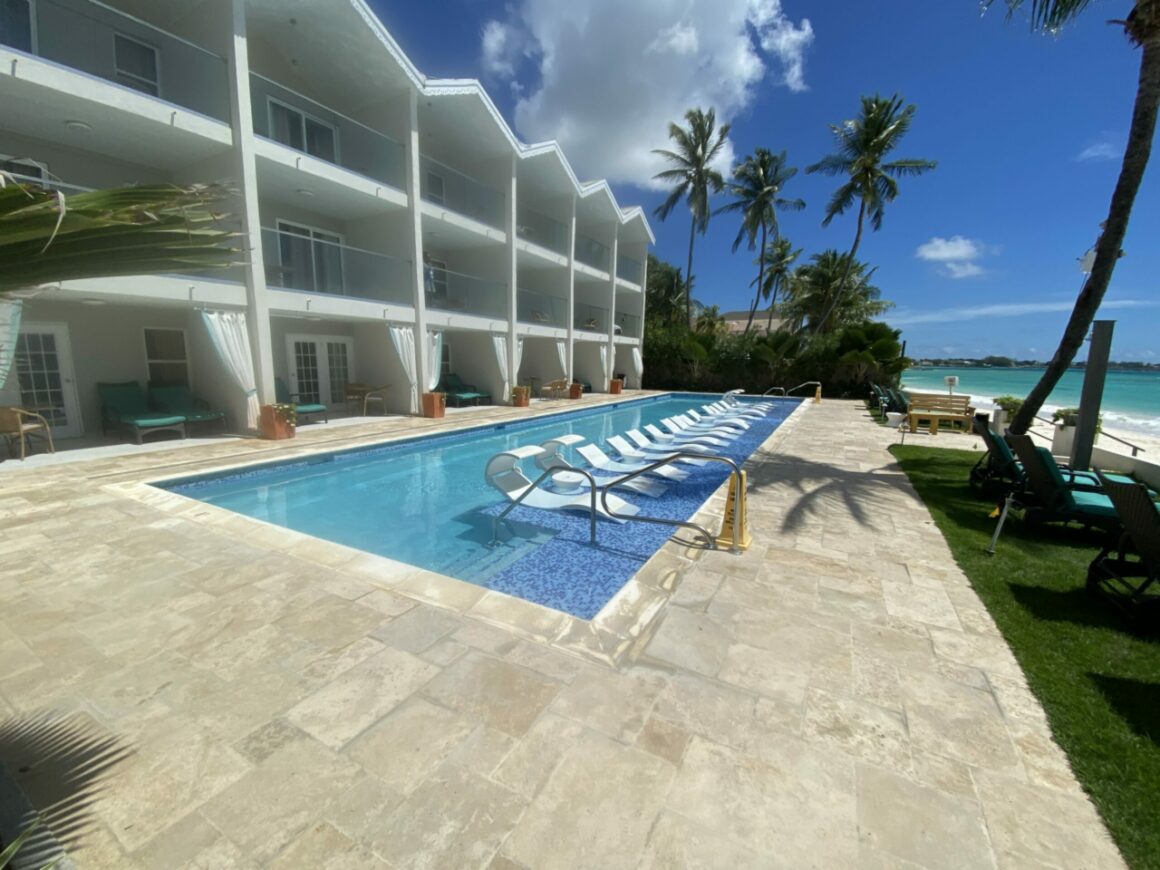 The Flying fish pool was also pretty empty most of the time although at weekends it got busy with local staycationers.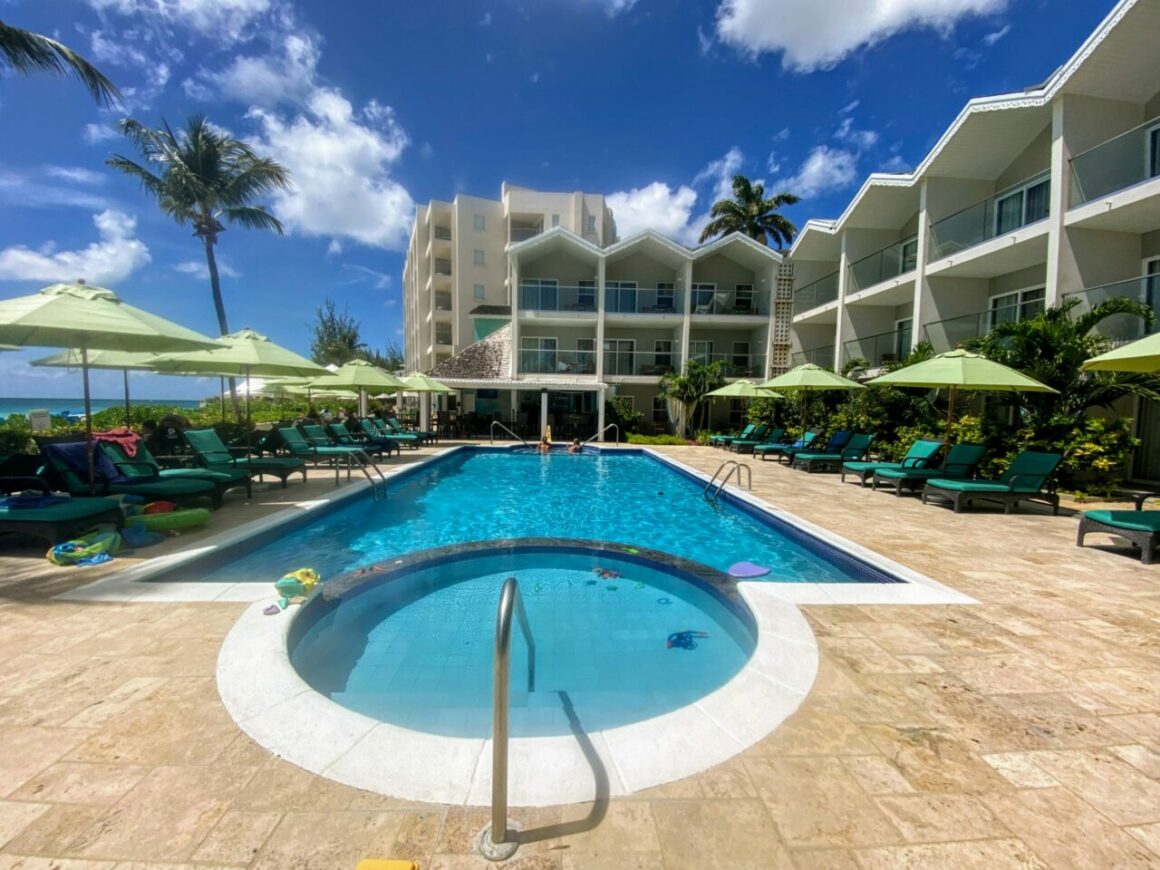 Sea Breeze Beach House hotel Facilities and activities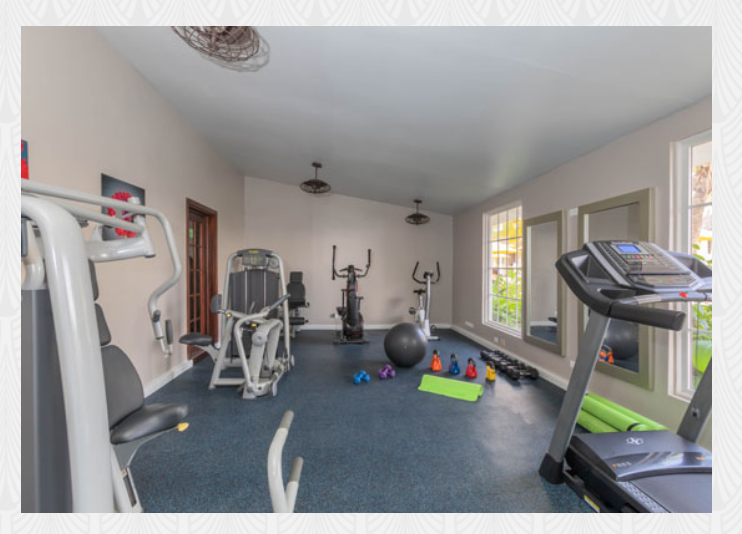 There are plenty of activities and facilities included free:
Fitness Center
Non-Motorised Watersports
Teen's Club
Kid's Club
Free In-Room & Resort Wi-Fi
Game Room and Hospitality Suite
Wine tasting
Rum tasting
Bingo
Aqua aerobics
Morning run and stretch
Art class
Beach fit
Mixology session
Not all of these are running at the moment.
There is also an airport shuttle and in-room spa services for a fee.
Offers
If you fancy a last-minute break and find some cheap flights, they have an offer for the rest of 2020 for up to 55% OFF 2020 stays! If you book any suite from the Luxury Collection you get an Unlimited Golf package per adult per stay. A 5 night minimum stay is required for direct bookings
You can access the offer page here.
Conclusion
I really enjoyed my stay at Sea Breeze Beach House and thought I got a lot of value for money with the standard of food and drinks. Overall the staff were friendly, if rather slow in the restaurants. The room was one of the most modern I stayed in, very comfortable and it had all the facilities I could have wanted. The hotel has a lovely feel to it with being spread out alongside a large stretch of beach. The gardens, pools, and Caribbean feel to the buildings make it a very pretty hotel. It also feels quite boutique as the rooms are spread over three buildings but the site is quite compact.
This was definitely far superior to the other all-inclusive hotel I stayed in which was Waves. If I wanted another all-inclusive stay I would definitely stay here again and hopefully more of the facilities will be open by then.
You can find the latest prices and more information on SeaBreeze hotel here.
If you want to read more about my Caribbean trip:
Planning a trip – entry requirements, arrival and quarantine/2nd test
Fairmont Royal Pavillion review