A last-minute redemption sees me flying to Hong Kong via Kuala Lumpur on Malaysia Airlines (MH) First Class. This is a review of Malaysia Airlines' new first class product only found on their newest Airbus A350 aircraft. Whilst I have flown MH before in Business Class intra-asia this will be my first time on their A350 and in first class….
Here we go!
Check-In
Malaysia use terminal 4 at London Heathrow and whilst that isn't a massive issue, there are a few niggles….
It's not as easy to get to as T5 via Heathrow Express etc.
It's showing its age.
A large amount of building work around and on the terminal kind of spoils the look!
But I made my way over on the bus from the Sofitel around 6:00am (a note to TFL – the 490 bus driver from T5 at 6:15am needs driving lessons!)
On entry to T4 I made my way to the Malaysia counters in Zone D and the dedicated First Class check-in, also available to OneWorld Emeralds.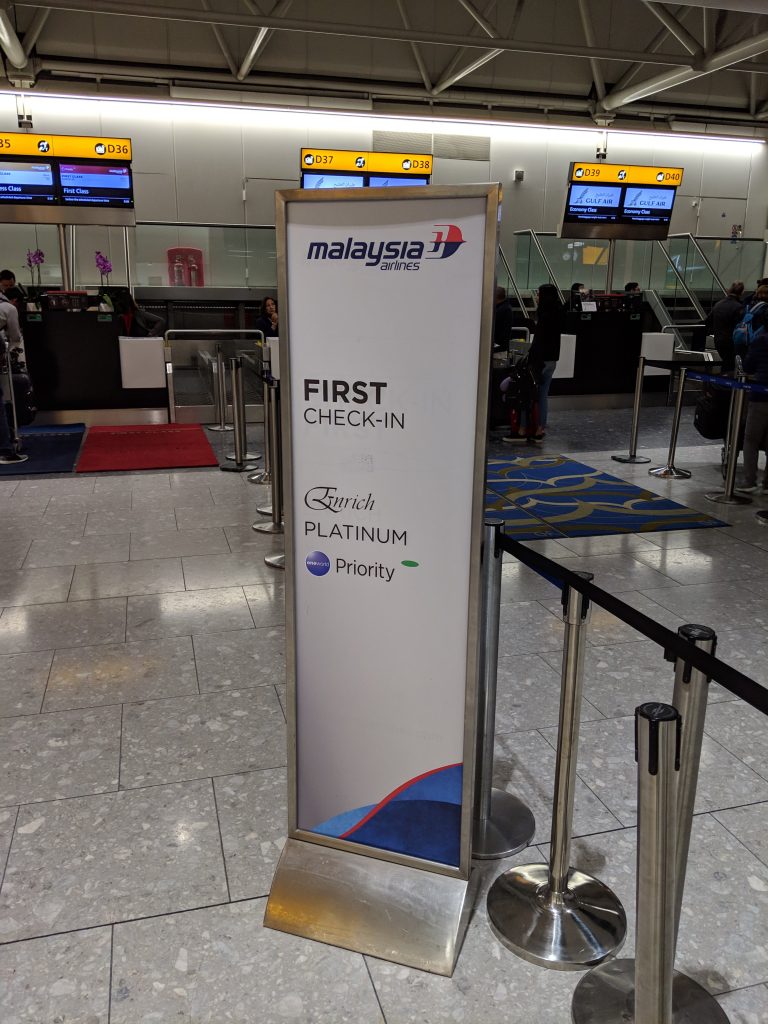 Check in was smooth and painless so before long I had my boarding passes all the way to Hong Kong. T4 fast track was fairly empty and within 5 minutes from check-in I was at the lounge.
The Malaysia Airlines Golden Lounge Terminal 4 London Heathrow
I was greeted at the lounge whilst the receptionist was still booting up her computer, so I left my boarding pass with her. She kindly escorted me into the dedicated First Class/OWE section of the lounge and I made myself comfortable.
Let's have a quick look round the first class section –
Whilst it is no Concorde Room, the staff were lovely and welcoming plus the views of the apron and runways were amazing! I asked for a Bloody Mary spicy and it was promptly delivered to my seat with a glass of water. Now whilst it wasn't spicy, or frankly decent at all, it was quickly rectified with a smile. I think in the whole time I was in the lounge a maximum of 6 people came in so service remained polished.
There was also an at-seat menu to order from –
I ordered the Mee Goreng and it was fabulous! I loved the plate, the flavour, the spice. It really was very good.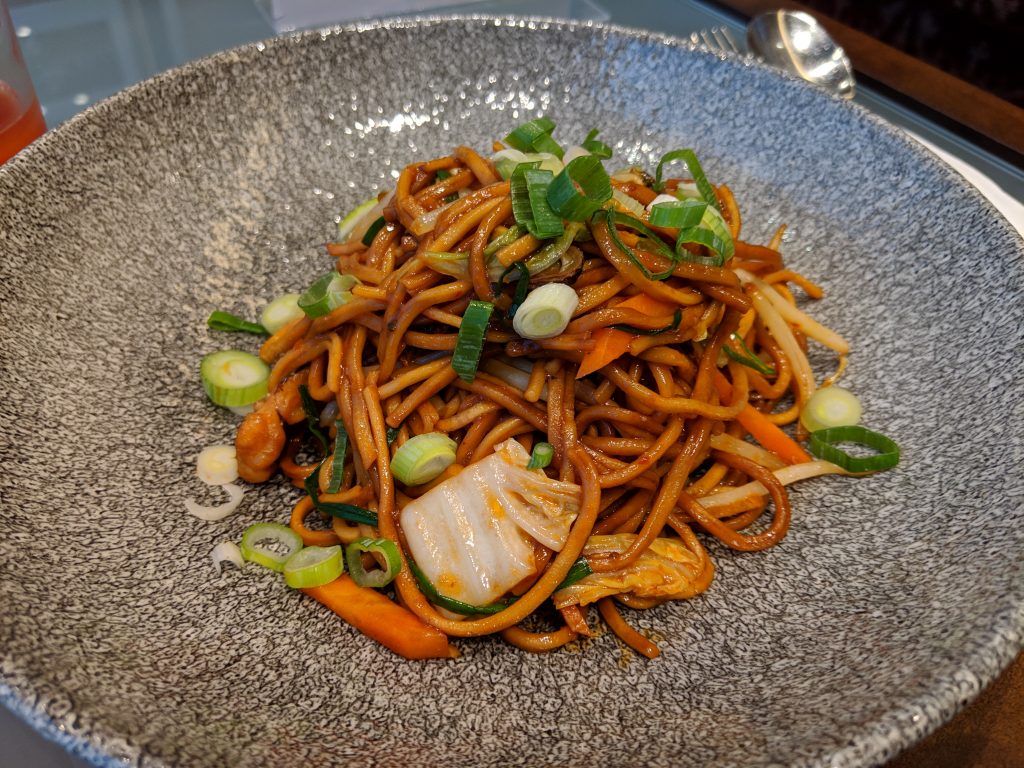 There was also a well stocked buffet to help yourself –
Time flies when you're having fun, and before I knew it it was 9:35 and I headed down to Gate 6 for boarding.
It was a standard affair – no groups like BA, just called in order of class and status, so First and OWE first followed by business and OWS and then the economy cabin. The A350 had two jet bridges attached, and down the front one I went to my seat.
The Seat
The Malaysia Airlines Airbus A350 has 4 seats in first class in a 1-2-1 configuration. Each suite is very private and has a closeable door similar to that of the Qatar Q-Suites. There is a huge amount of storage next to you too although to the detriment of your personal space.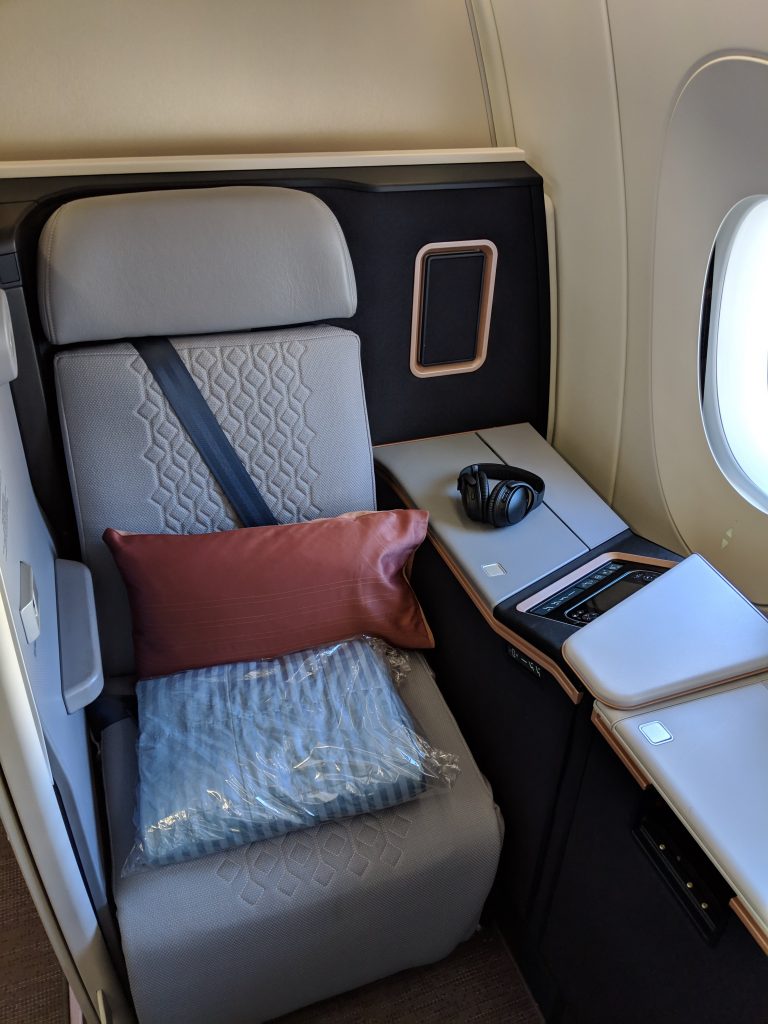 Whilst the suite is not cramped by any means – it could do with being wider, so much so that the regional A330 I connected onto was as wide.
There was a large storage bin directly next to the seat – easily big enough for my laptop, then came the seat and IFE controls. These were very intuitive and responsive unlike others! The TV screen was large with good definition and the entire suite was padded – a nice touch I thought. The second compartment down housed the table, and the third was a HUGE empty space, easily big enough for a small roll on. Or the bedding when you are done resting.
Here is the seat setup for sleeping –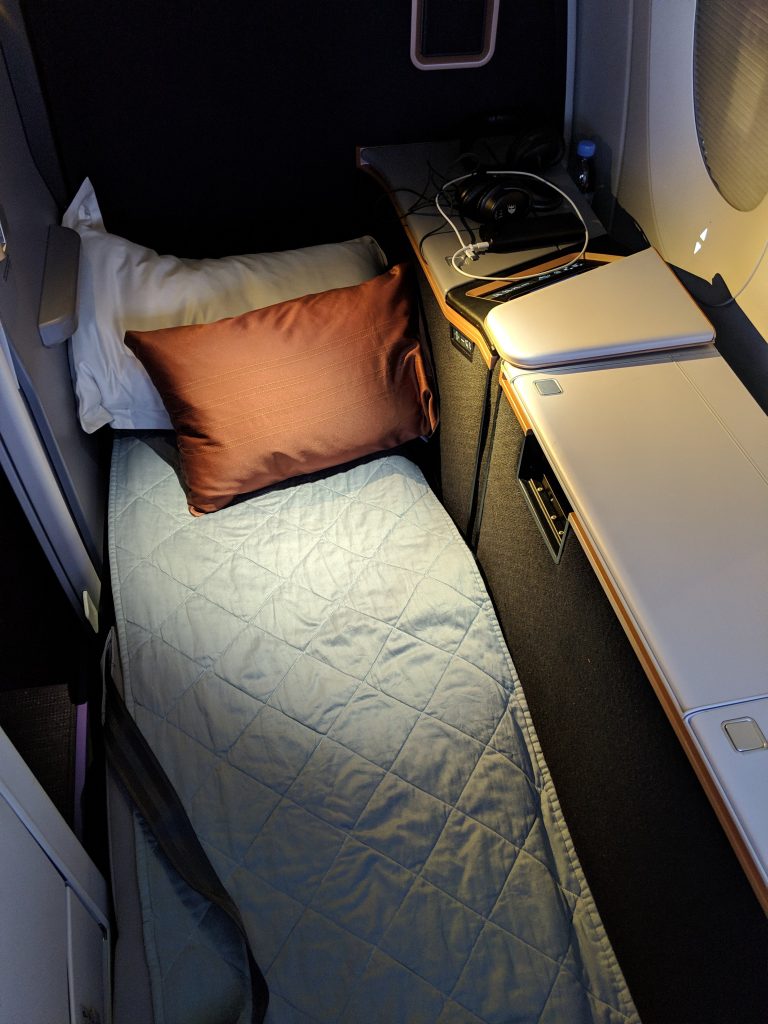 Well, I guess you all want my views on the suite. It's small – not uncomfortably so, but as much that you notice it when you sit down. Having that said – I slept very well in it, and it's very comfortable in both bed and lounge mode. The seat appears to be more of an air cushion than foam so when sat upright it can seem "odd" but it's bliss to relax in! Also credit to Malaysia – individual air vents in F! I hate a hot cabin and wish more airlines would give me the control. Air vents are only found above the 2 window seats.
Once in my suite and settled, around came the CSM with the pyjamas and amenity kit.
I love how the PJs and slippers came in their own bag and the quality was amazing – they were also very comfortable for lounging and sleeping in. The amenity kit was small but has some nice products in.
A 25ml bottle of Cerruti 1881 aftershave (a strong scent, not unpleasant, however)
A selection of Patoy toiletries including lip balm and moisturizer.
A cute little golden MH keychain
And a handy dental kit
Next, it was time to get the party started with some fizz and lovely prawn amuse bouche, whilst the flute wasn't to my taste it was at least glass. (take note American Airlines!) The fizz was not the "real" stuff however and was instead a £15 bottle of "De Venoge". A hot towel of good quality was also brought over – sadly it was only lukewarm.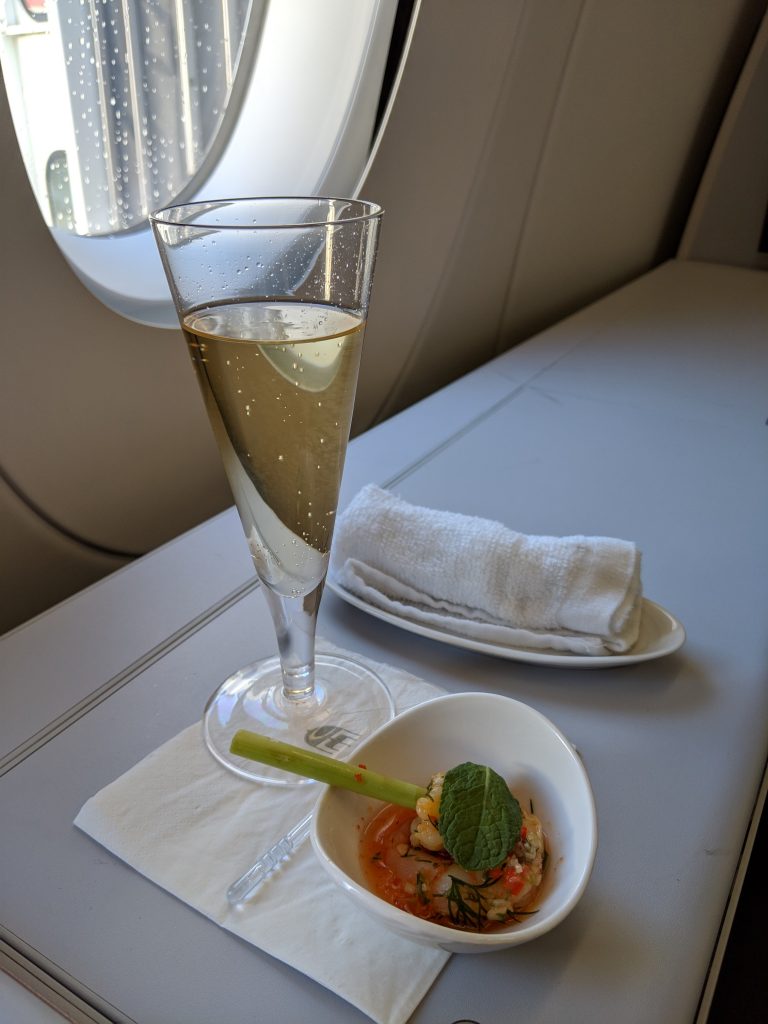 Next came some decent Bose Headphones –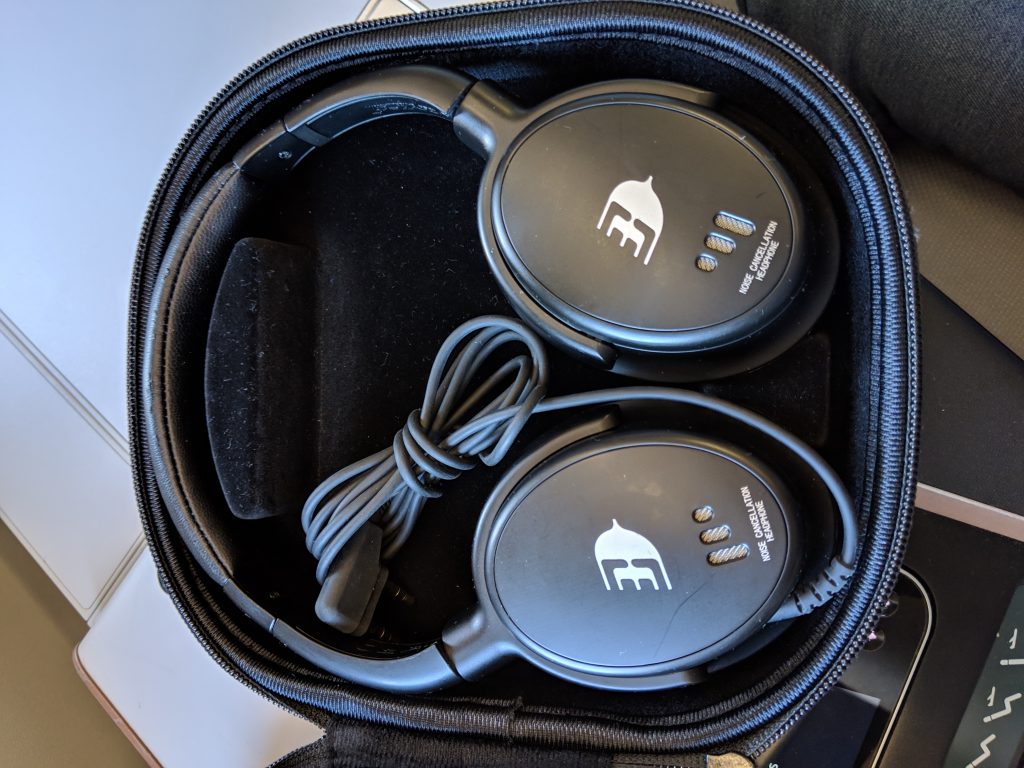 The Food
And finally the best bit – menus!
Also, note MH in first class have a nice online "book the chef" site. The full menu for that can be found here
I had pre-ordered the lobster, but also fancied some of the in-flight menu.
We powered out of Heathrow and I was treated to a great avgeeks dream shot of T5!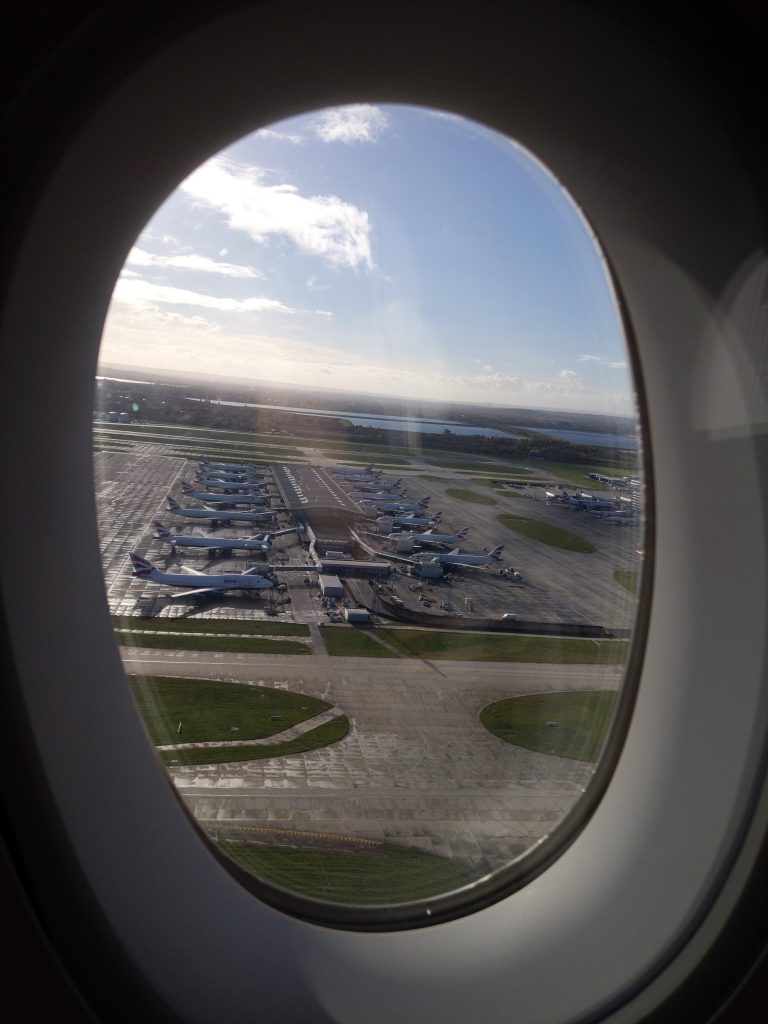 Anyway back to the show on board!
I hadn't tried Comtes de Tattinger before but as a big champagne fan it was a must (no I didn't have five bottles of it!)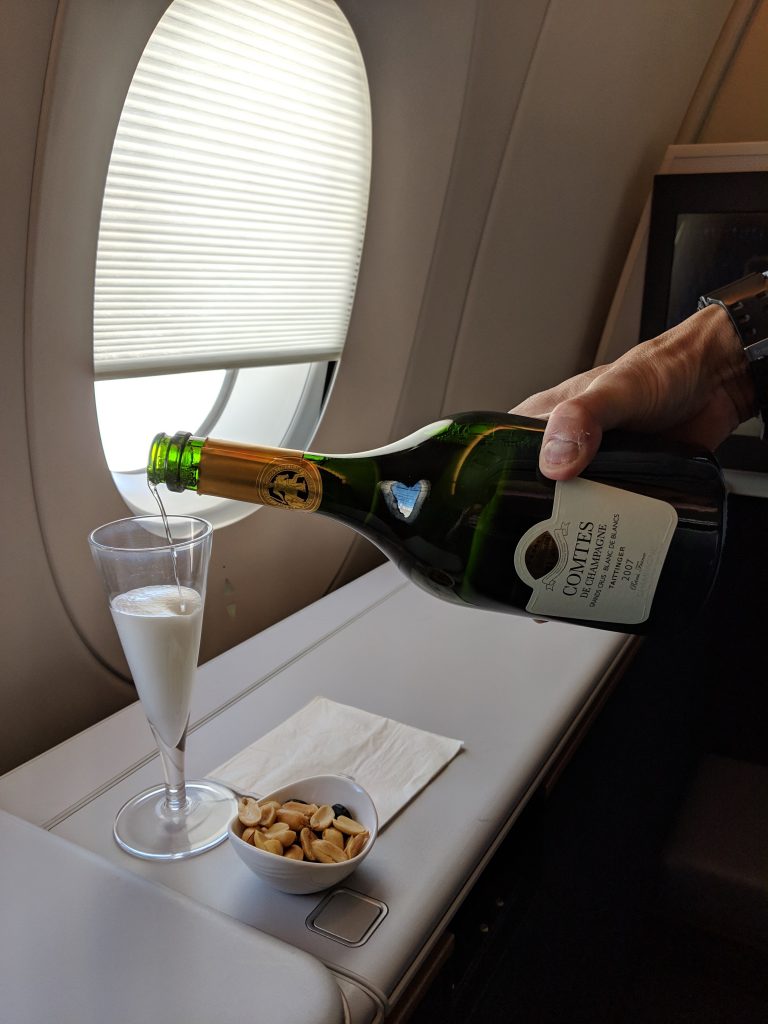 It was poured at your seat and some warm nuts were brought alongside it.
Next up came the wrong…..only joking! (see Paul's Qatar review here) I ordered the following –
Mixed Satay to start
Followed by the caviar (well this is first class!)
Then the lobster I pre-ordered
Lastly the curry.
Guess what? They had it all, and more to spare.
Here is a gallery of the meals –
Let's get that picture out the way…. look at the lobster if you didn't see. It was VERY overcooked. Such a shame. The crew suspected it may happen based on being pre-cooked but she said they can't deviate from instructions. The veg and mash were decent however as was the portion size!
As I mentioned, and most of you likely know – I love a few glasses of fizz. Comtes was sublime – better dare I say than LPGS served on BA. It's not quite Krug levels on Cathay Pacific but a very quaffable beverage none the less!
Another thing I love is satay, so I was very much looking forward to having it again. Many many plates later I thought I best try the rest of the meal – 20+ sticks – yum!
The bread basket had a very decent offering, but I didn't want to fill myself up after a satay challenge. Onto the caviar – amazing presentation and selection plus the portion size was also very decent. Top marks Malaysia Airlines!
After the failed lobster I was looking forward to the beef – it didn't disappoint and was cooked and spiced well.
So a very poor lobster dish, but the rest was outstanding. Service was also good, prompt and always with a smile.
Entertainment and Connectivity
I'm not a massive IFE fan, usually preferring my phone to the movie choice, but I had a lot of time to kill!
The choice was reasonable, BA levels of different films I would say. The screen was big and clear. It sat static at the end of the suite, but was easily viewable even when in bed mode. Also, the controller was very intuitive and responsive unlike some I have used before.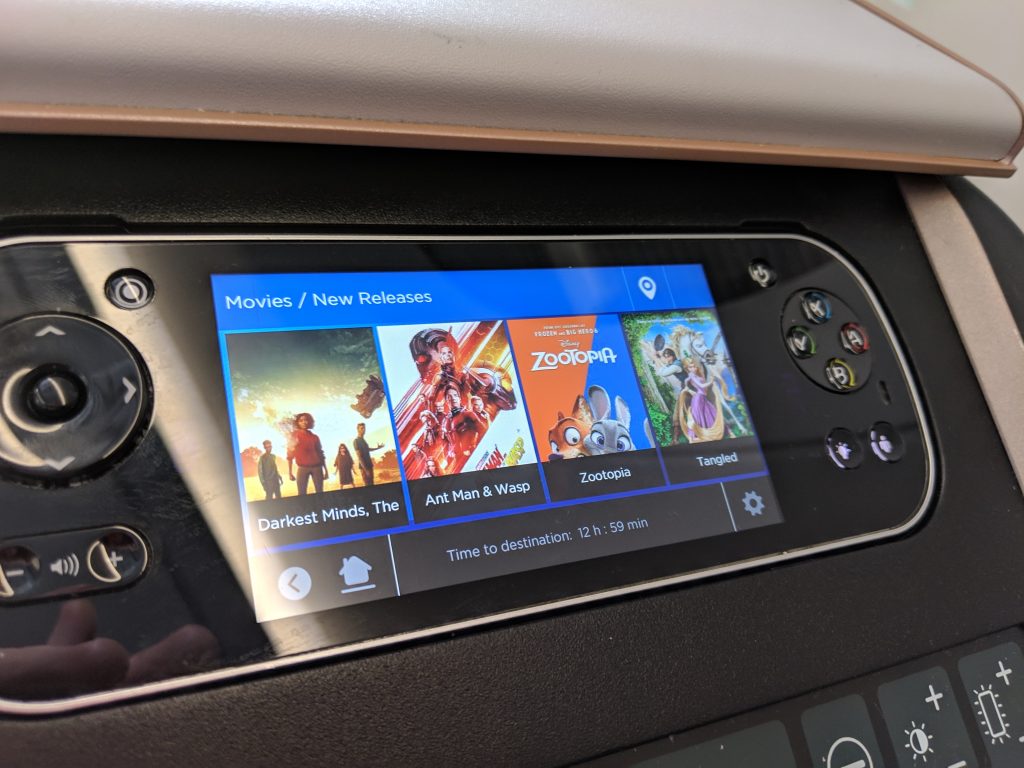 This A350 was fitted with MHConnect, Malaysia Airlines' onboard WiFi system. It worked for the entire flight without dropping once (except when I ran out of data!) and was a doddle to setup and purchase.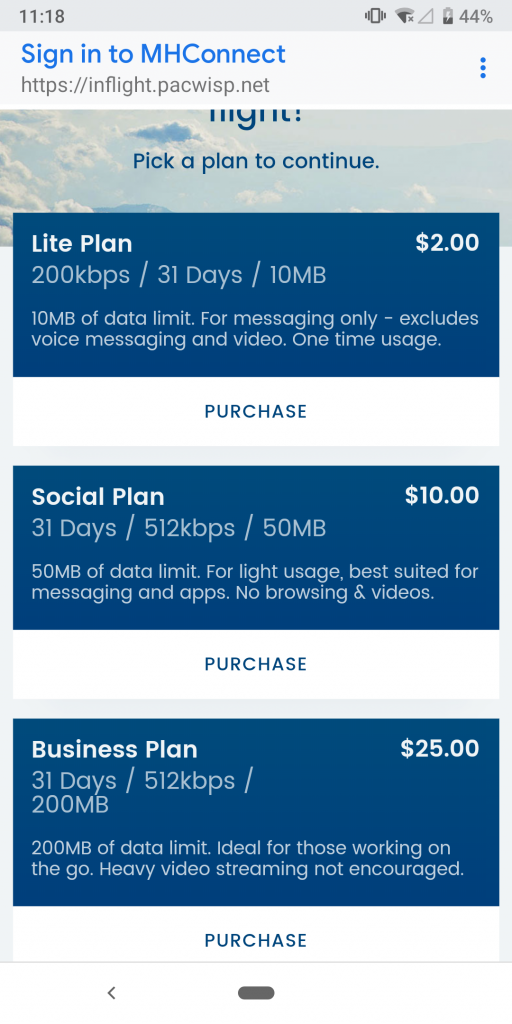 200mb should last you the whole flight if you don't spam all your contacts with pics like I was doing – oops! Speed was also more than adequate but I wouldn't recommend streaming on a metered connection.
The rest of the flight and service, oh and seat belts!
The A350 is a wonderful piece of engineering, so smooth and quiet. But the silence was broken constantly on both my flight out and the one back to London too. Why?
"Ladies and Gentlemen please return to your seats and fasten your seat belts. We are experiencing turbulence and at this point hot beverages will not be served."
At least 20 times! And yes there was some chop, but 90% of the time it was seconds of nothing. It was like the pilot hit the button every time the plane hit a tiny bump. Worse though was the fact it was then left on for ages. Those of you that have flown American Airlines know this feeling, and to be honest most people ignore it so god knows why they do it? MH was worse. Out of the 12 hour flight I would estimate the belt sign on for well over 50% of it. Again, no one took a bit of notice.
Another oddity, was when I went to use the toilets most of the time they had be forcibly locked shut from the outside and the mechanism covered by a tissue to seemingly discourage you from using them? This was on both first class toilets all the time, yet the FA was happy to remove it and unlock the toilets each time? Why did they do it? Very odd!
The service was consistent and always welcoming. On most Asian carriers they prefer you to use the call button so I was happy to do so. The fizz was free-flowing and the flight was over before I knew it!
I watched Ready Player One, and The Meg on the IFE (don't judge me please) and in between that, eating, chatting on WhatsApp and relaxing to music the flight sailed by.
I must add – if you have a choice, don't take this early departure! It lands at 7am local time but your body is getting ready for sleep! I had a 3-hour connection to Hong Kong to catch up on sleep thankfully.
I had a small breakfast plate before landing which was well presented, and the pastries were warm and fresh –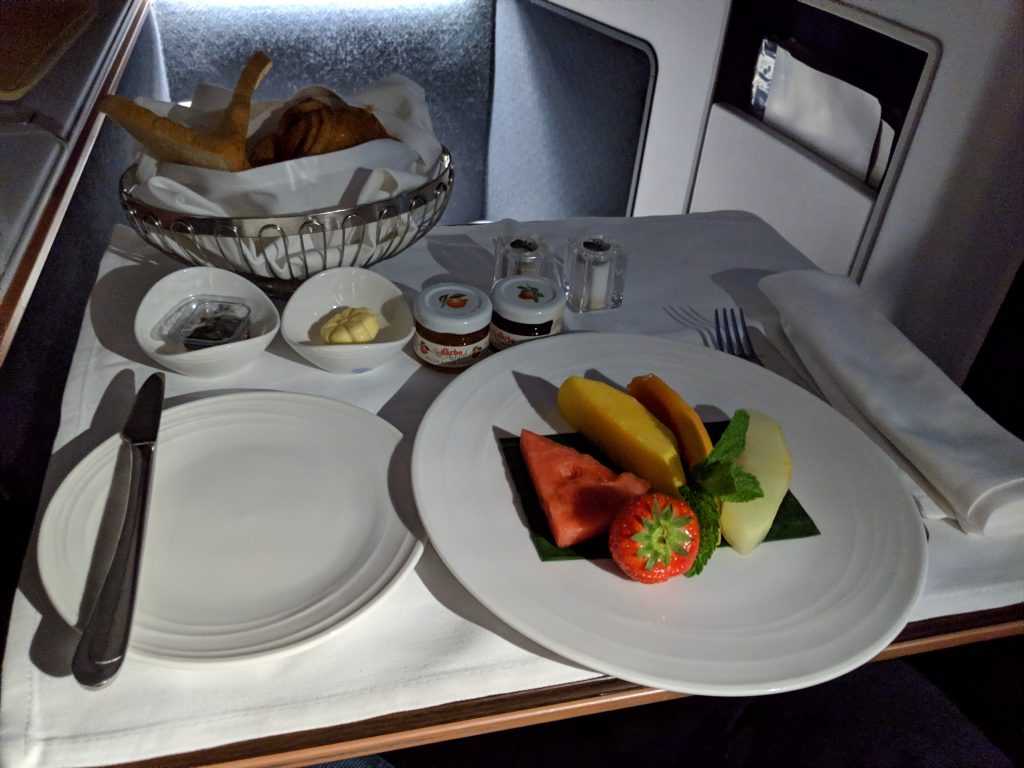 Upon landing and arriving at the gate I was met on the jetbridge by a member of MH staff to escort me through the terminal and into the Golden Lounge. A nice touch – thank you MH!
The Verdict?
It was a very pleasant flight. But nothing amazing anywhere. The highlights? Caviar and Comtes. Oh, and a few sticks of Satay!
The suite is private but could have been better designed. The WiFi should be unlimited for the top price in my opinion. The bedding was ok – nothing like Qatar Business Class stuff.
Put it this way – I wanted to be in Hong Kong and this flight was available. Cathay wasn't available.
Had I wanted to be in Kuala Lumpur and both were available? I would choose Cathay. Always. No contest.
If I am going that way again and had the choice between MH and BA? Hard decision!
I can choose from a 787/A380 or 777 on BA. BA is not as private, but it has more space for sure. The BA service would likely be hit or miss, but I wouldn't have to listen to seat belts announcements constantly! The food? Well, I have flown BA in First back from Kuala Lumpur and the food was exceptional so a hard one to call there.
Sorry, I'm going to call it a draw. If BA had caviar and a more consistent service it would be them each time on the Dreamliner. I also prefer the Concorde Room to any of the lounges in T3/4/5.
I booked the flights using BA Multi-partner awards. You can read the guide to Multi Partner redemptions here.
Thanks for reading and comments welcome!