In early December, before the current restrictions came into force, I went to London to look at a couple of Hilton properties that are focussing on providing work spaces. I will look at this specifically in a separate article. In the meantime, I thought I would review the Conrad from a stay perspective.
One of the few good things about the pandemic is that there are some remarkable bargains to be had in many city hotels. Country hotels and the very top hotels in London are holding their prices though. The other good thing about visiting London when we are allowed is that there are currently virtually no international tourists. This means everything will be quieter and less crowded. I have visited several times during the pandemic and the majority of shops and restaurants were open when it was allowed. Many restaurants and bars have also added or adapted outside space, so if we get good weather, London can be a great place for outdoor dining.
Booking
You may have read about our new partnership with Debonair which gives extra perks such as free hotel credit and upgrades. Most major hotel chains have these special schemes that you can only book through agents. Hilton's scheme is called Impressario. Debonair have recently become members of Impressario and hope to be able to offer the full range of perks soon. In the meantime, please do feel free to submit a booking request as we may be able to get the same perks anyway.
I booked with a Hilton Impressario agent and got a fantastic deal. Normally the base rate at the Conrad is around £230 a night. The deal was for 3 nights for the price of 2 and with $100 credit, an upgrade, early check-in and late checkout. This meant that for £240 per night I could get the Duplex suite, which looked really nice. I was also hopeful I may get an upgrade to a one bedroom suite. The rate was also cancellable until the last minute which was handy since I did have to move my dates at the last minute.
Location
The location of the hotel is handy for Westminster and easily accessible to the rest of London with the St James' Park on the District and Circle line tube just across the road. There are also plenty of casual dining places nearby if you don't fancy using the hotel.
Check-in

As usual, the hotel had emailed to ask what time I was checking in. I arrived before standard check-in at around 12.30pm and the room was already ready. The staff were extremely friendly and helpful on reception throughout my stay and always said hello as I was passing. This is another advantage I have found of staying when it's quieter. It allows hotels to offer a more personal touch.
I was given a double upgrade to a Deluxe One bedroom suite. This may have been due to the agent requesting it or due to the fact that I was entitled to an upgrade from my Hilton Diamond status as well as from the Impressario rate. I was escorted to my room and told about how the hotel was currently operating with the Covid situation.
I had some lovely welcome gifts on the table of fruit, chocolates and macarons.
Room

The room was large with a corridor leading to the bedroom and lounge areas. Given the current circumstances, it was great to have a proper dining table as I was allowed to have my free breakfast on room service. In the lounge was a smart TV where you could access the menus for room service. There was also a Nespresso machine and a kettle for making tea. If you were doing a long stay, this would be a great room to have.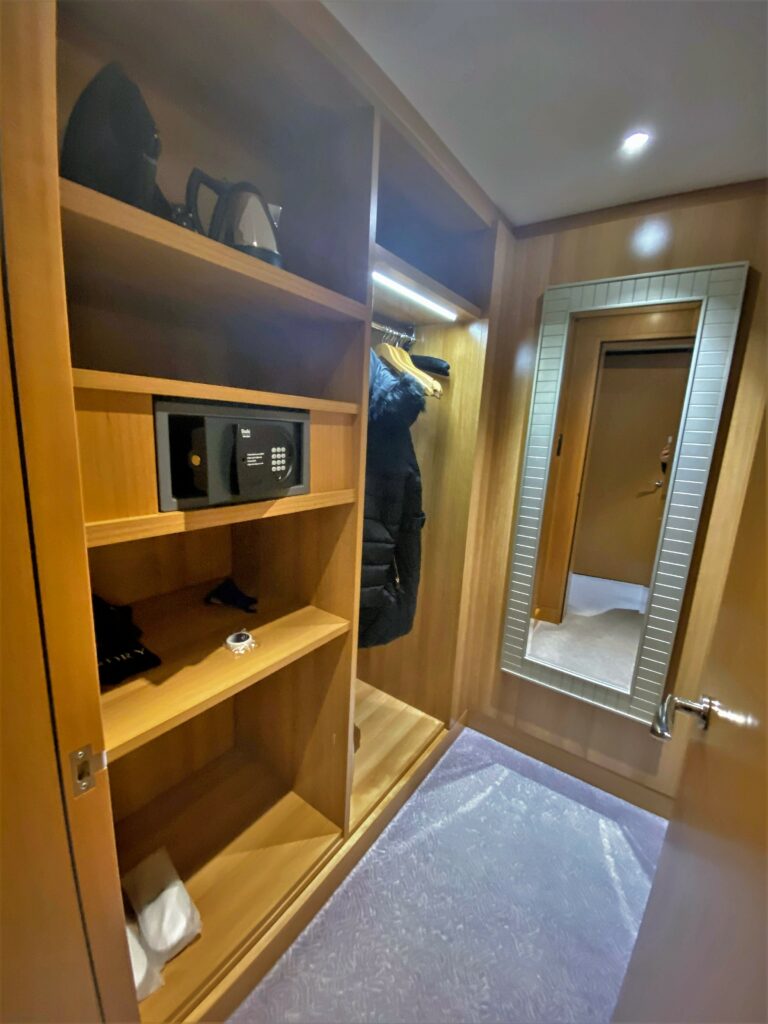 As you entered the bedroom area there was a large walk in closet with safe, ironing board, iron, bathrobes and slippers.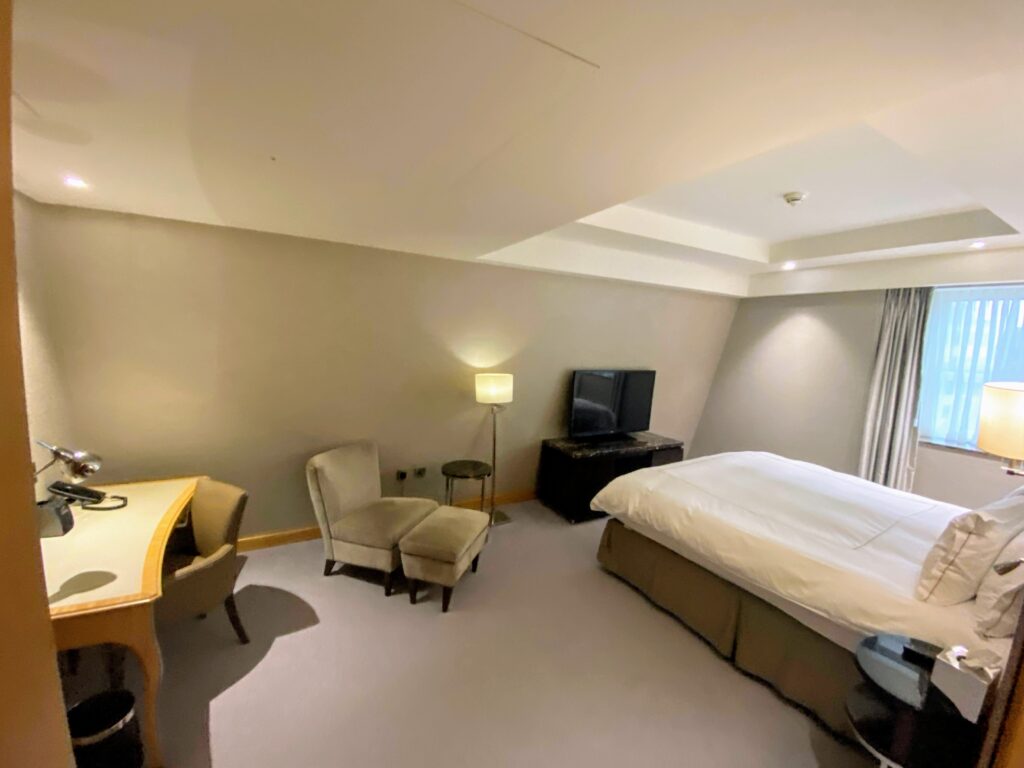 The bedroom was large with another TV and a separate desk if you didn't want to work in the living area. This was one of my few complaints, the desk had a glass top which made it difficult to use mouse on – and most of the available work surfaces in the room were all the same. Apparently, you can request a mouse mat.
By the desk was a media hub where you can hook up your laptop or device to the TV. There was also a Bluetooth iHome clock radio, which seemed a bit odd given how far it was from the bed.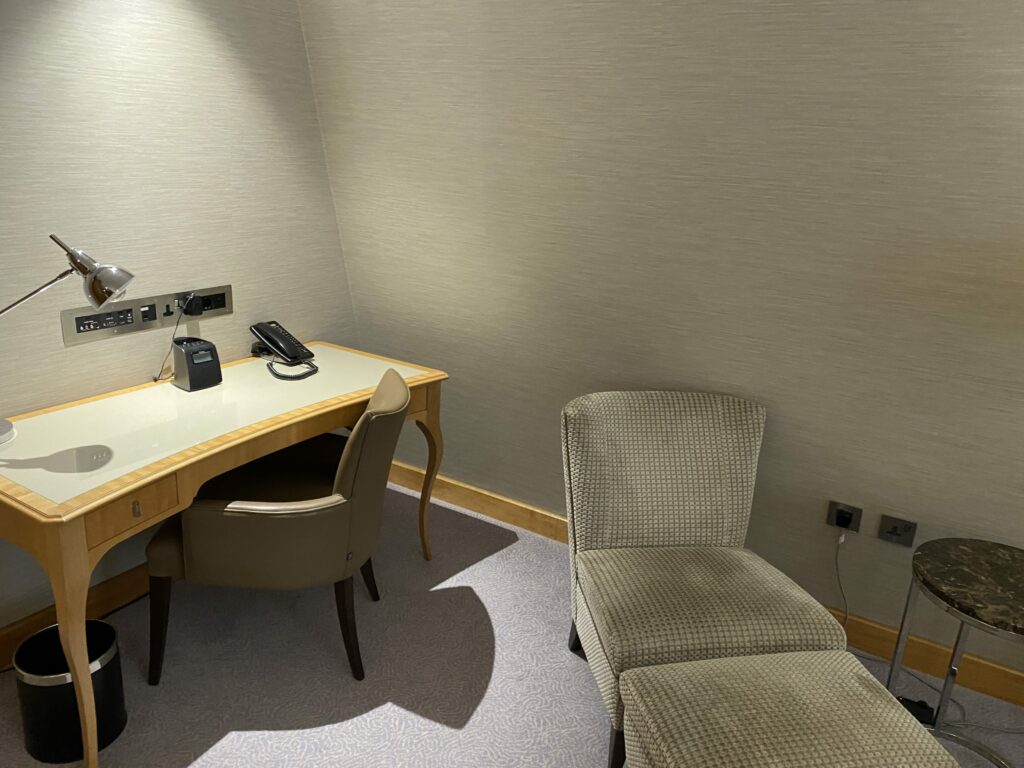 As you would expect from Conrad, the bed was very comfortable with high-quality linens and the room was super quiet. Turndown was available daily with water placed by the bed but I didn't seem to get it every night.
Bathroom

As with the other rooms, the bathroom was great. There was a large separate bath, shower, and a dual vanity sink area with plenty of storage space. Toiletries were the standard Conrad Shanghai Tang Mandarin which I really like with its tangy fragrance. The tubes were a good size and there were extra amenities such as mouth wash and a loofah as well as the standard shower gel, shampoo etc. Next to the sink was a lit magnifying mirror.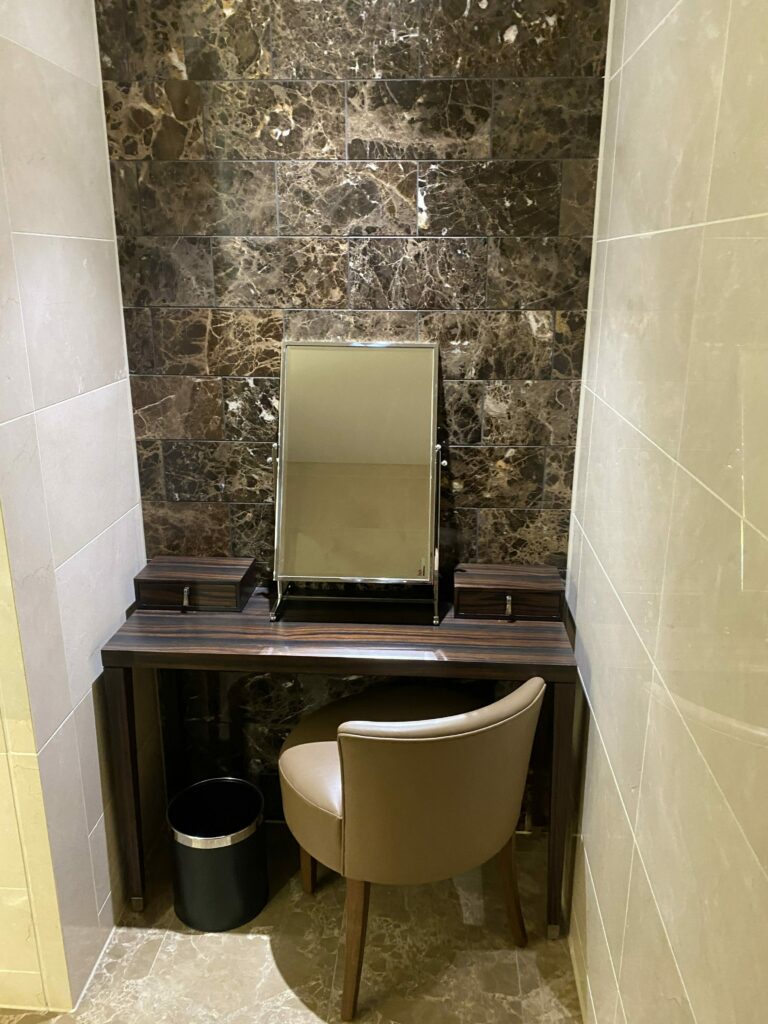 I also really liked the fact that there was a proper sit-down vanity area with a plug nearby for using a hairdryer. Having somewhere with a plug close to a mirror where you can sit down is something that far too many hotels do badly! It was also good to have the little drawers if you wanted to store things at the table.
The Executive lounge
Most hotels seem to have closed their lounges and some offer a fairly paltry compensation for this in the bar. The Conrad has tackled this extremely well after initially having an offering in the Blue Boar bar that was a little more hit and miss.
Most of the suites come with lounge access but I would have been entitled to use it anyway due to my Diamond status with Hilton Honors. The Executive lounge is a lovely space but was only open for self-serve soft drinks during my visit. For the evening drinks and canapes, they are now serving them in Emmeline's lounge which is quite well hidden next to Emmeline's bar on the ground floor. One night they also served them in the Blue Boar restaurant as they were using the lounge for a private event.
I found the staff generally good, but there was one waiter, Lee who excelled. He was happy for me to sit in the bar area and keep popping out to top me up as I was trying to work and needed a higher table than they had in the lounge.
There was a choice of sparkling wine (which was a rather nice Prosecco), spirits or beer plus soft drinks. The drinks were available 5.30-7.30pm and they were happy to top up. At the weekend the service was a little slow at times due to the number of people in the lounge.
I was offered a selection of canapes which you could request more of after the initial serving. The quality was high and the portion was fairly generous. I thought they were well presented too. When the canapes were brought to your table, the server gave you an explanation of what each one was. I thought the menu choices were innovative with canapes such as ravioli, smoked salmon with caviar, samosas and charcuterie.
Overall, I actually enjoyed this more than the usual self-serve scenario. It's often quite a scrum when it first starts, so this felt more civilised and upmarket.
Food and drink
During my stay, the Blue Boar restaurant was closed except for breakfast but you could eat from a fairly extensive menu in the Blue Boar bar. Well, you had to if you wanted a drink since we were in the "scotch egg" era of tier 2 drinking rules! (apparently, that's not coming back thank god!)
I ate in the bar a couple of nights and the food was pretty good. My only complaint was that the bar was not well stocked with spirits which may have been to do with the recent refurbishment. We asked for basics such as Baileys or Amaretto which they did not have. Here is the room service menu which is pretty much identical to the bar menu apart from the late night dining part. You could access it all via your phone if you wished by scanning a QR code.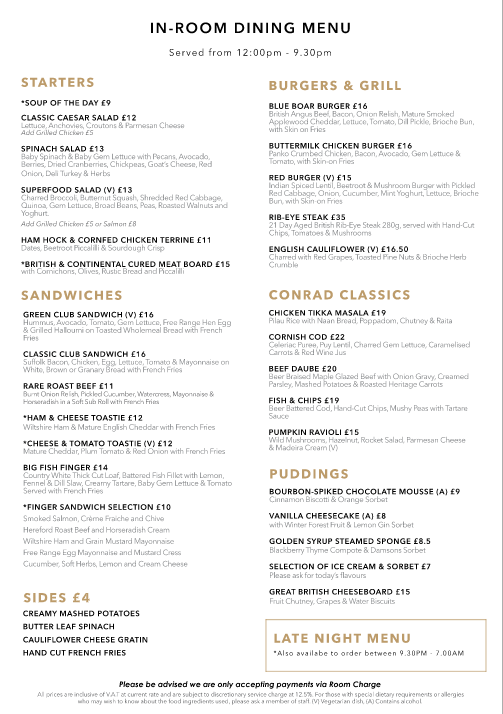 Hopefully when they reopen this will be fixed. However, I really recommend the vanilla cheesecake – it was very decadent and delicious! While prices are not cheap, I of course had the $100 hotel credit to go towards the meals.
For breakfast, you could either have it on room service or in the Blue Boar. I tried both. Room service I just ordered by phone and it was pretty quick at under 30 minutes both times.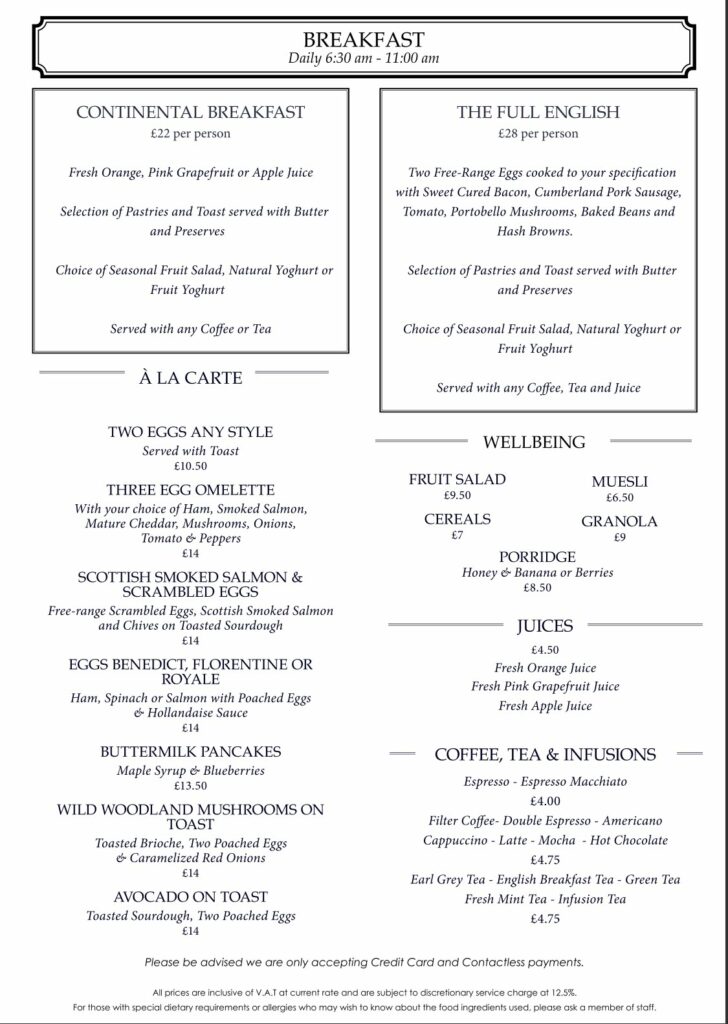 The room rate came with a complimentary breakfast, although I would have got it anyway from my Diamond status. There was a great choice and you could choose anything on the menu.
I tried a few different things including the mushrooms on brioche which was very tasty, and the avocado on toast (I know, I always order that!)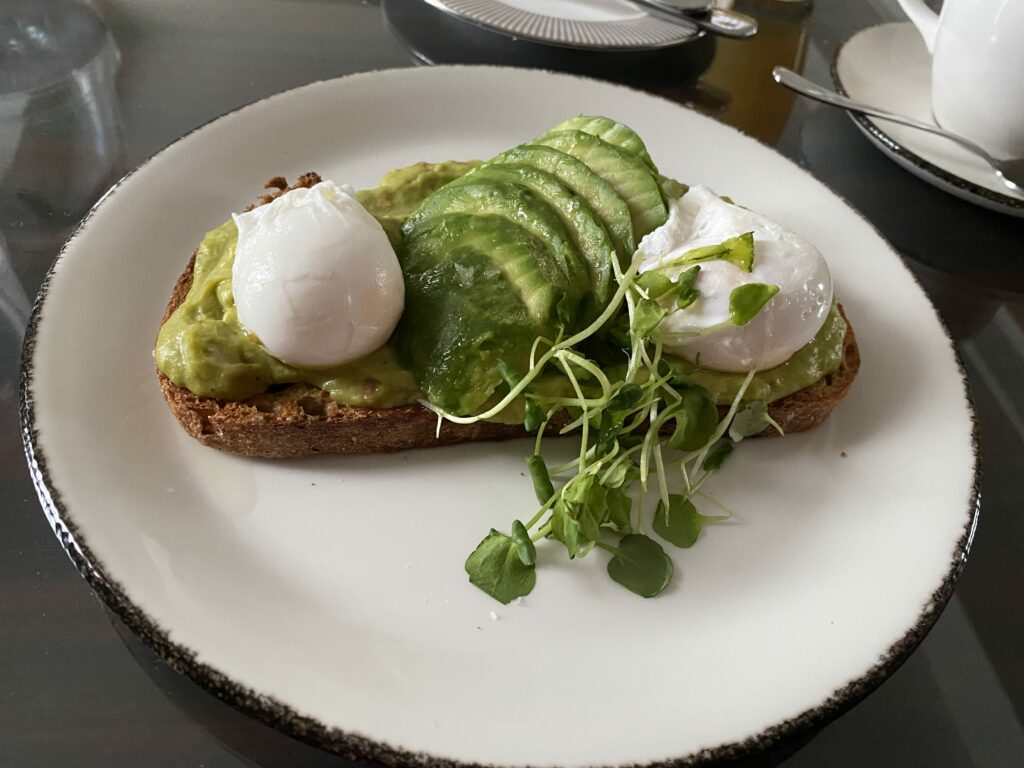 When in London…..
I thought that since it sounds like outdoor dining could be returning in a few weeks, I would mention a few places that I visited while in London.
Hélène Darroze at the Connaught
This is one of the best value lunches in London for Michelin star dining. There is only indoor dining at this restaurant.
You can usually get a 3 course meal with lots of extras such as bread with an amazing spicy butter, amuse bouche, canapes, and chocolates for £65 a head during the week. There is a choice of main course – mine was venison wellington which was stunning. The restaurant currently holds 3 Michelin stars.
Galvin Bistrot & Bar
If you enjoy classic French food, this is a fantastic option that is reasonably priced for its city location. It was also the warmest and most comfortable outdoor dining I found, even in December. I was joining my lovely friend Patrick Hoy, a fellow frequent traveller and TV presenter. You can read or watch my interview with him here.
Dalloway Terrace
This is a well-known and popular terrace, so if you fancy going make sure you book well in advance. It has a magical feeling to it, but it was a little chilly if you get seated on the edge rather than directly under a heater. Their mini fondue for one or two was great and very filling!
Conclusion
I was impressed with this stay. I did have a couple of issues during the stay and was very impressed with how they resolved them. One thing I accept is that there will always be issues when you travel – no system or human being is infallible. What matters is how they fix them. On both occasions, they were quick to react. For the more serious issue, I had the duty manager call me within a few minutes of reporting it to the front desk and I was offered a credit against my room.
I loved having such a large room since I was there for four nights and I thought that bathroom was also very well thought out.
This stay definitely demonstrates the benefit of using specialist agents. Not only did I get a great offer of 3 nights for the price of 2, but I also got all the extra benefits of Hilton Impressario such as the hotel credit. With these sort of rates, you also get all your Hilton Honors benefits and points too which is definitely a plus versus booking with other travel agents.
You can find out what rates are available through Debonair here.