If you are looking for somewhere to stay closer to nature but still close to Helsinki, The Barö Hotel is a good option.
I stayed at the Barö as the first part of a recent press trip to Finland. Because I run a Europe travel blog, I often find myself researching and staying in European cities and going on day trips from the city. This particular stay opened up my eyes to a more relaxing type of travel, staying out of the city centre, which I will definitely be trying to do more of.
Location
The Barö is conveniently located just a 1 hour and 13 minute drive from Helsinki airport and 1 hour and 4 minute drive from Helsinki city centre. Additionally, Turku airport is less than a 2 hour drive away. I travelled from Heathrow with Finnair. You can read my review of Finnair's business class here.
Nestled in the beautiful Barösund region of Inkoo, The Barö is perfectly situated for those seeking to explore the stunning Finnish wilderness without having to venture too far from Helsinki. The area has been a popular tourist destination for many years, with locals and visitors alike heading to the region to enjoy its natural beauty and peaceful surroundings. In fact, even famous Finnish artists have been known to spend their summers in Barösund as far back as the 13th century.
The Barö: An Overview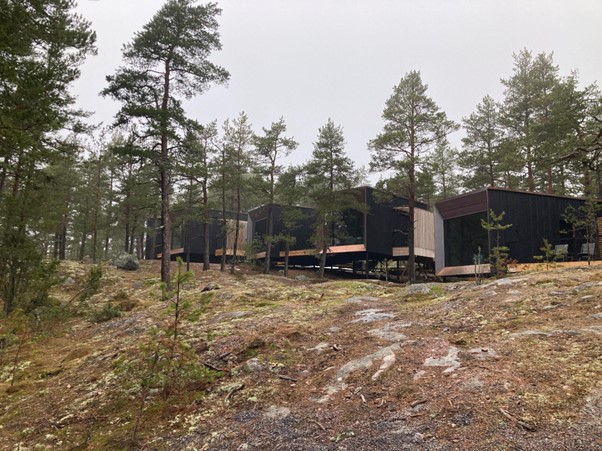 The Barö is a newly built hotel designed to minimize its impact on the local environment. From the outset, the developers prioritized ecological sustainability and took great care not to damage the surrounding forest and natural landscape. The result is a stunning hotel that seamlessly blends into its surroundings while providing a warm and personalized experience.
The hotel's accommodation buildings are constructed from Finnish heartwood logs, which are only felled from locations within 100 kilometres of the sawmill, ensuring minimal environmental impact.
The Barö is committed to using renewable energy sources and relies on 100% wind power. In 2023, the hotel will also install solar cells to produce a significant portion of the energy used.
The Barö has been recognized for its commitment to sustainability and inclusivity with several awards, including the Sustainable Travel Finland Label, Green Key, and We Speak Gay certifications.
Check-In
It was low season when we visited The Barö, so the hotel was quite empty – although this made our stay extra special. The check-in area is located in the restaurant, which adds to the family feel of The Barö.
We were personally guided to our rooms to ensure we found them and knew how everything worked. The check-in process was seamless, and all the details were emailed before check-in. We were given a card with the times of all the activities that had been pre-booked as well as when private sauna and jacuzzi time had been booked.
The Rooms
The 18 rooms at The Barö are separate lodges built sustainably into the rockface. There are many room types available which I will detail below. Some share a terrace with another room, while others have a private terrace. A wooden walkway connects the lodges together.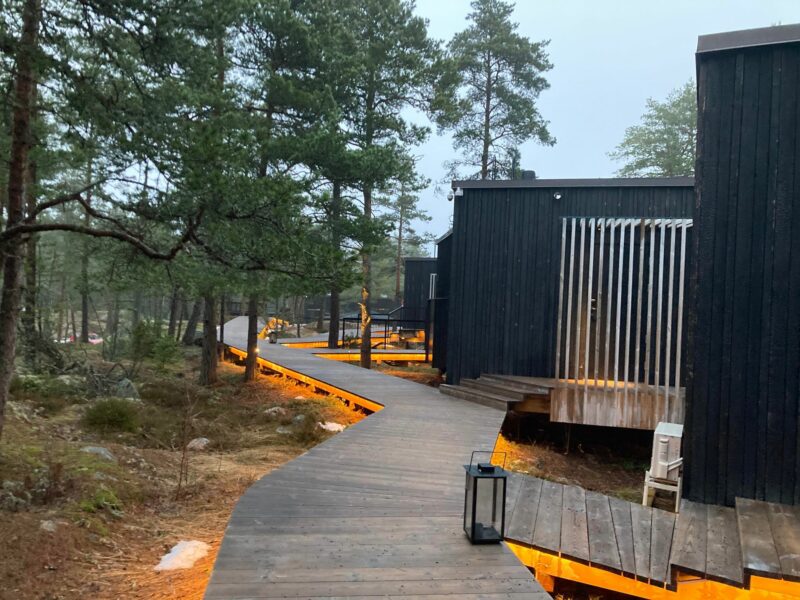 There are a variety of room types to choose from. I stayed in one of the Hycklesund rooms, which was perfect for my stay.
Hycklesund Rooms
Even though I arrived in the dark, my initial impressions of the room were very positive. My room was situated nearer the restaurant which was handy. It was also a much shorter walk away from the sauna than most rooms. Even though the room has a shared terrace, it still feels very private. The rooms are quiet and have stunning views.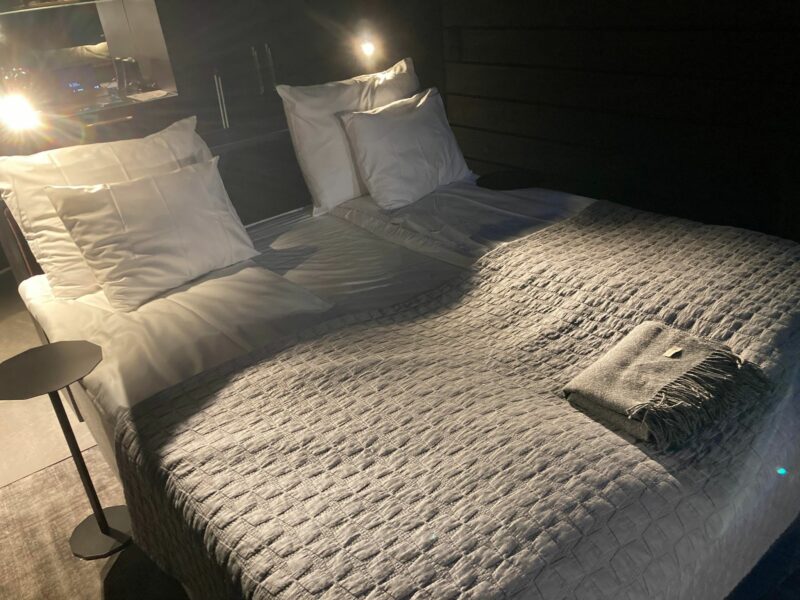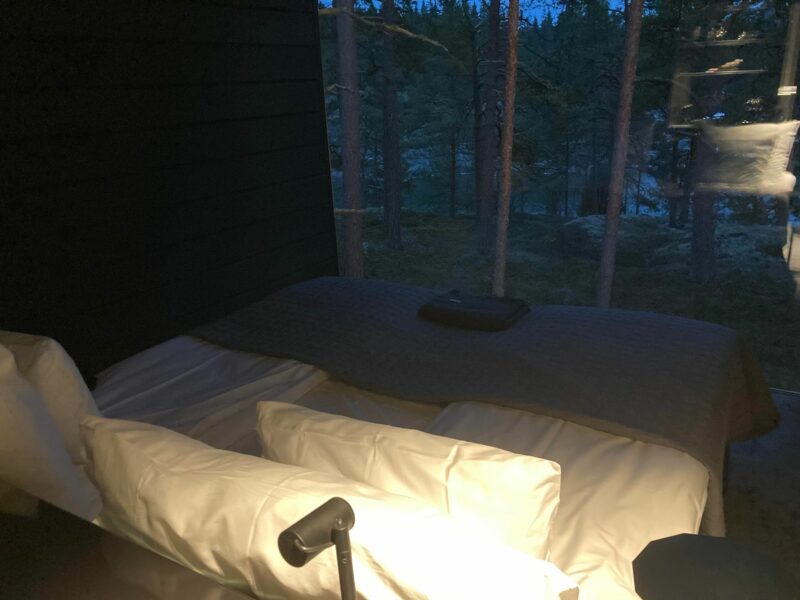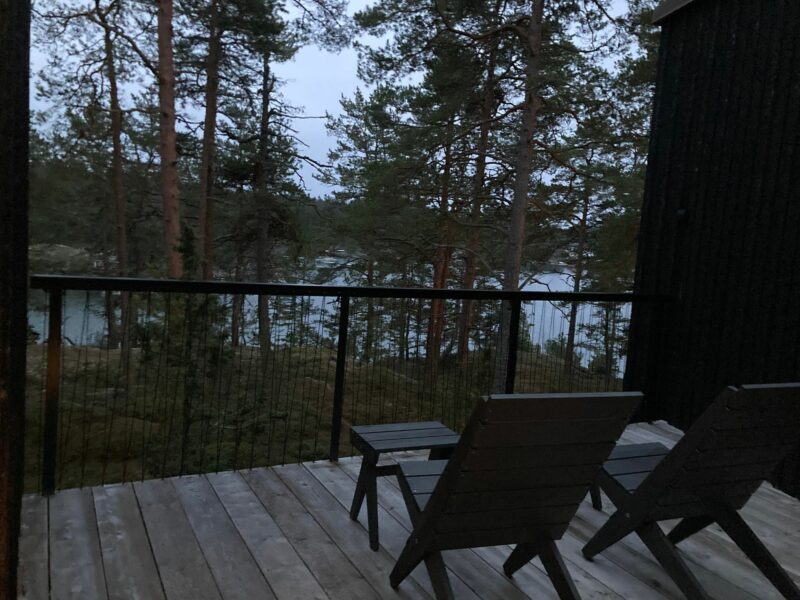 The room had a well-equipped bathroom with some lovely-smelling toiletries. I had no issues, but others in the group had issues with hot water at some times of day.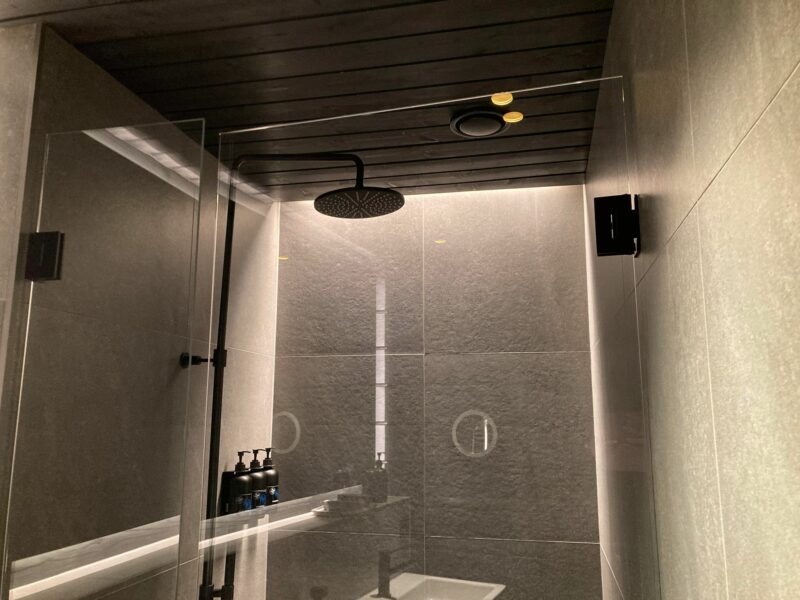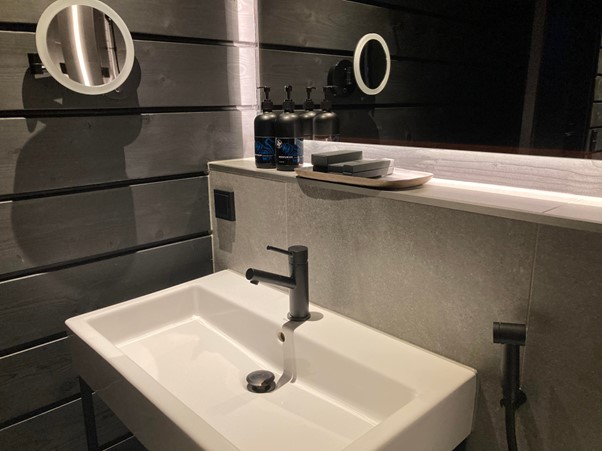 The room also had a mini-bar with prices displayed on a tablet and other hotel information. There were lots of cup options, including traditional Finnish coffee mugs. The wine in the image below was also part of the minibar and not complimentary.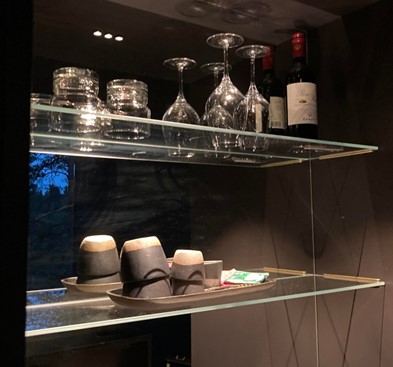 The Barösund
If you're looking for the ultimate luxury experience during your stay at The Barö look no further than The Barösund suite! This exclusive suite is the epitome of extravagance and comfort, offering you a truly unique and indulgent stay.
The Barö, the Barösund suite offers not one but two luxurious rooms for you to enjoy, both connected by a private terrace in the middle. The room features a plush king-size bed with a private terrace and a living room with a fireplace. The Barösund suite also boasts a private sauna and jacuzzi outside, where you can relax and unwind in complete privacy.
The Bergvalla
This room option is similar to the Hycklesund but also has a fireplace in front of the bed. This would be very useful to warm up after a day of exploring. Bergvalla rooms also have a private terrace.
The Barölandet Mini Suite
The spectacular Barölandet mini-suite features a bedroom with a king-size bed, a living room and a spacious terrace which showcases breathtaking views of the majestic valley.
The Barölandet
The Barölandet is a double room featuring a plush king-size bed and an expansive terrace. The Barölandet is also available to book as a twin room. If you're travelling in a group or with family, book The Barölandet Twin room and enjoy a seamless connection between the rooms, facilitated by the shared terrace.
Facilities and Services at The Baro
As well as being in a stunning location, The Barö has a sunset terrace, sauna and jacuzzi for hotel guests. A range of tours and activities can also be arranged.
Sunset Terrace, Jacuzzi and Sauna
Spending time at the sunset terrace is one of the highlights of a stay at The Barö. The terrace is set right next to the lake. The sauna was one of the best I have experienced. It had a nice changing area with towels and a mini-fridge where you can purchase drinks.
Inside the sauna, we had stunning views of the lake from a huge panoramic window. The jacuzzi is also set overlooking the lake. Sitting in the sauna with a glass of wine is the perfect place to unwind after a day exploring Finnish nature.
If you dare, there's also a platform where you can swim in the lake.
You can also book the sauna and jacuzzi for a private visit.
Massages
If you're looking to relax and unwind during your stay at The Barö, the hotel offers massage services upon request. During my visit, I opted for a 30-minute back massage that used suction cups, which left me feeling completely relaxed and rejuvenated.
Outdoor Space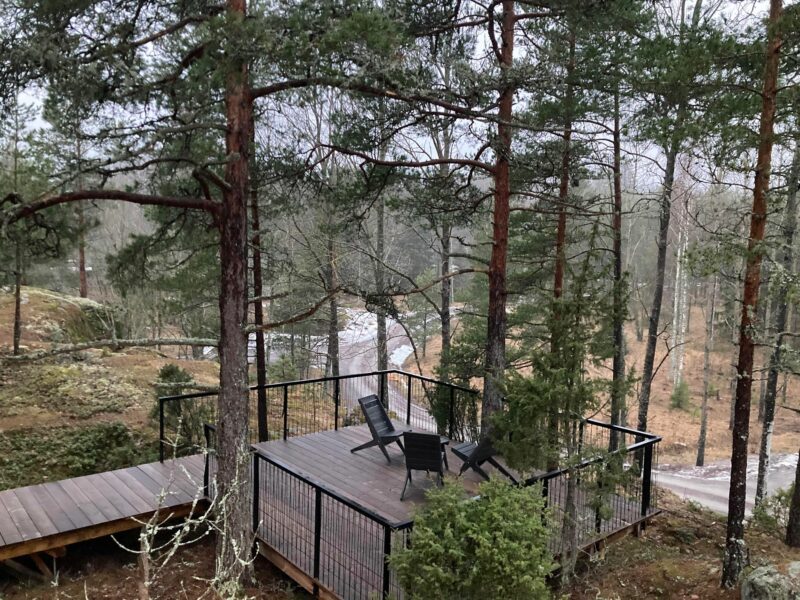 Hiking and Exploring the Nearby Forests
Hiking is one of the very best activities in the area. Our group went on a guided hike through the forest and along the lake. With a focus on meditation and appreciating the local nature.
We were shown the local berries and herbs, and different species of birds were pointed out to us. We followed the deer tracks and learnt all about the local wildlife. Midway through the hike, we stopped to lie on yoga mats on the forest floor, where we had time to fully experience and appreciate nature.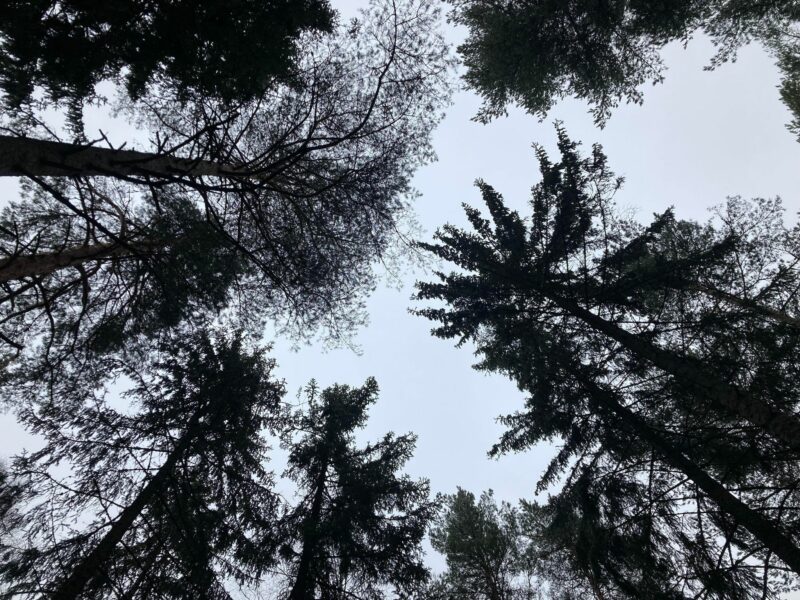 The hotel can arrange many other activities through local companies, including:
Hunting
Fishing
Electric Bikes
Mushroom and Berry Picking
Yoga
Fishing
Hunting
Horse Riding
Golf
Picnics
Riding
Food and Drink
The Baro Has one restaurant on-site, The Berg serves 3 meals a day, and they were ALL amazing!
I was impressed by their dedication to sustainability and supporting local businesses. The restaurant was a highlight of my stay, offering delicious meals made with ingredients sourced from nearby farms and responsible operators. It was refreshing to see a hotel committed to positively impacting the environment while still delivering an outstanding dining experience.
A range of dietary requirements can be catered for. I'm a pescetarian, but mainly fish was served anyway. One night, the veal was substituted for tofu, and my breakfast was without pork.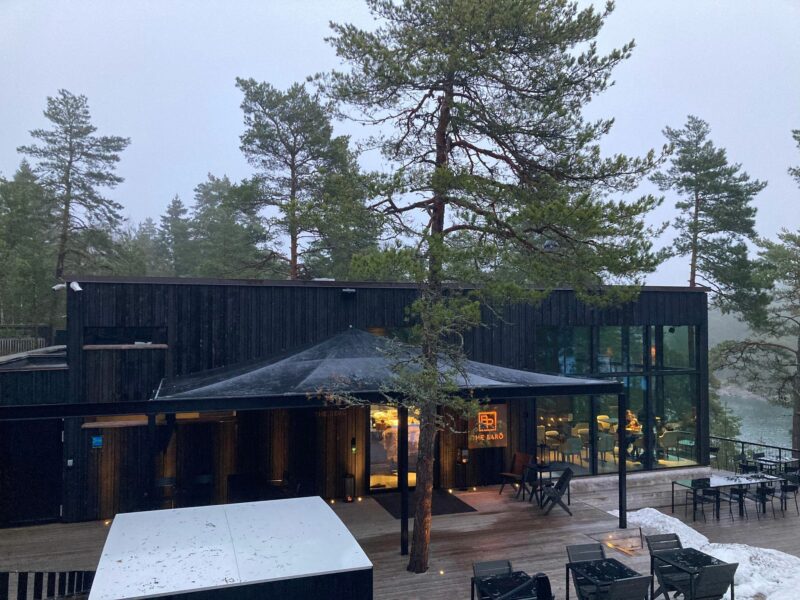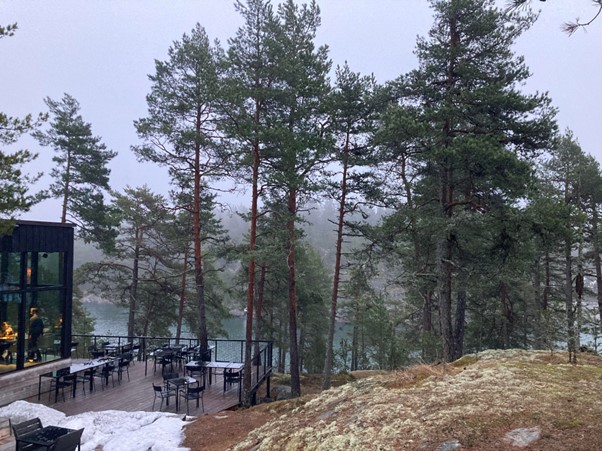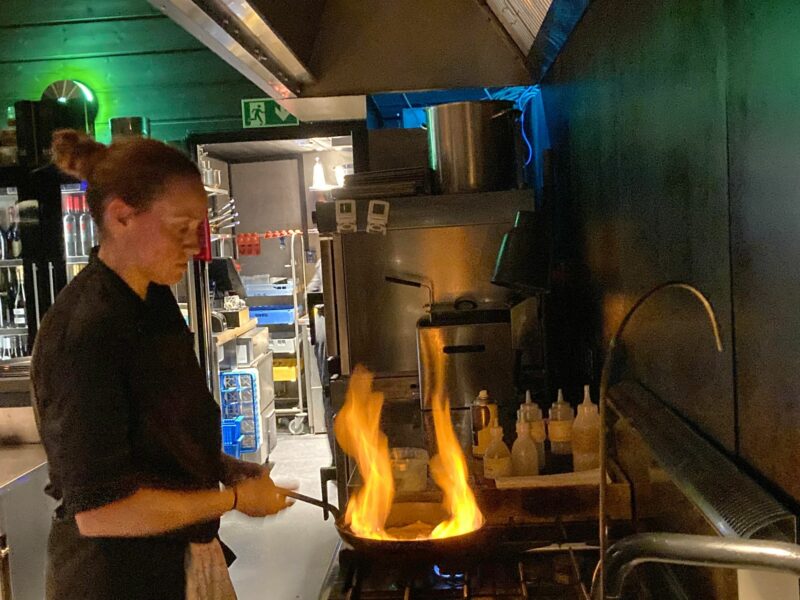 Breakfast
At The Baro, breakfast is a real treat that comes in a wooden box, complete with everything you could want for a delicious and satisfying meal. Alternatively, if you prefer to enjoy breakfast in the comfort of your own room, the hotel can accommodate that as well.
The breakfast menu features a range of mouth-watering options, including the hotel's own smoked salmon, freshly baked bread, seasonal fruits and berries, locally raised pork, and fresh produce sourced from nearby farms.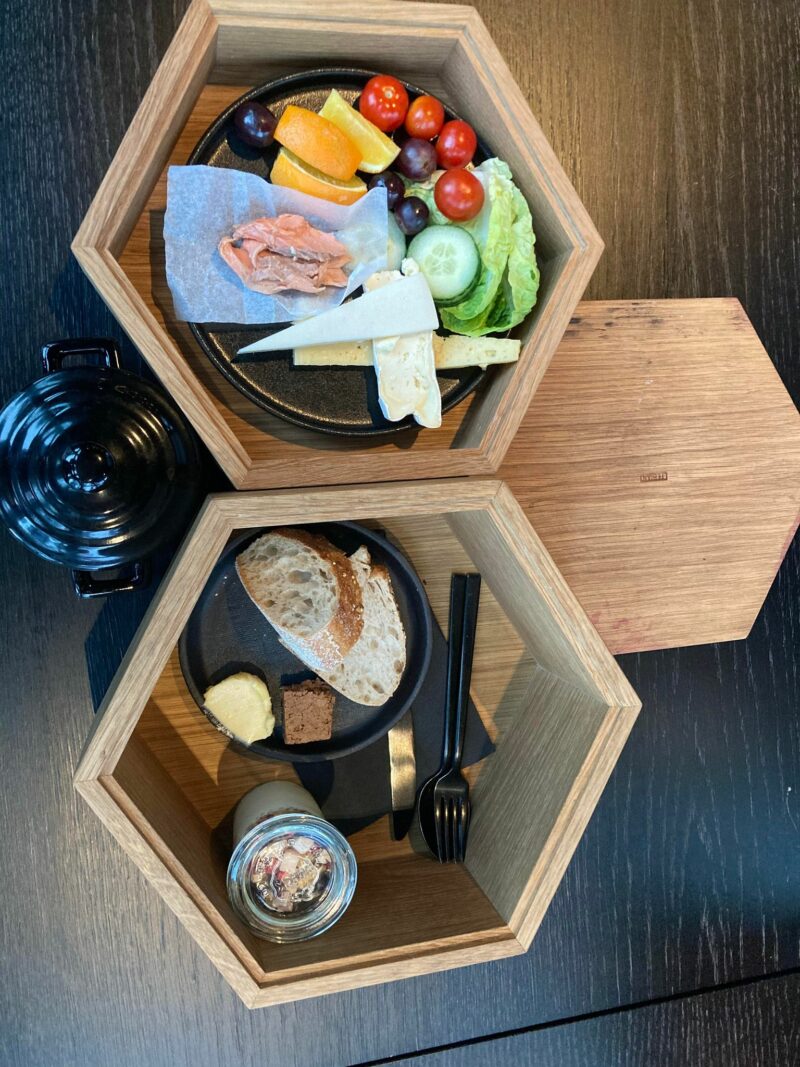 Delicious coffee was also available as self-service as well as a range of juices which changed daily.
Brunch
I did not have brunch during my stay. Brunch is only served at weekends. It includes appetisers, a warm main course, and dessert.
Lunch and Dinner
Lunch is a 3-course menu and very filling! Dinner is a 4-course menu, but you can have up to 7 courses for an extra cost. Here's an example of one of the night's menus.

A selection of some of the best dishes:
The extensive wine list featured wines from France, Italy and Spain. The cocktails were also delicious.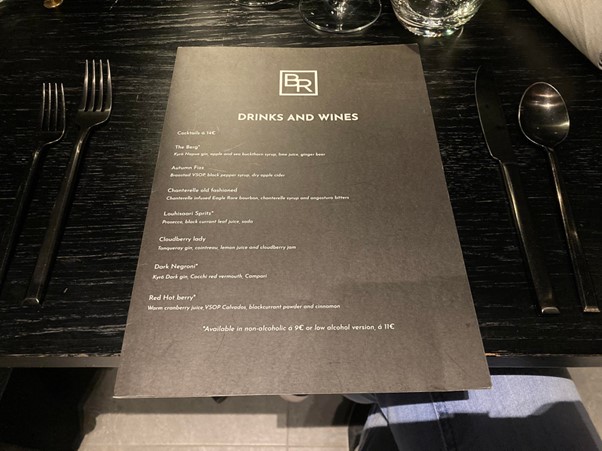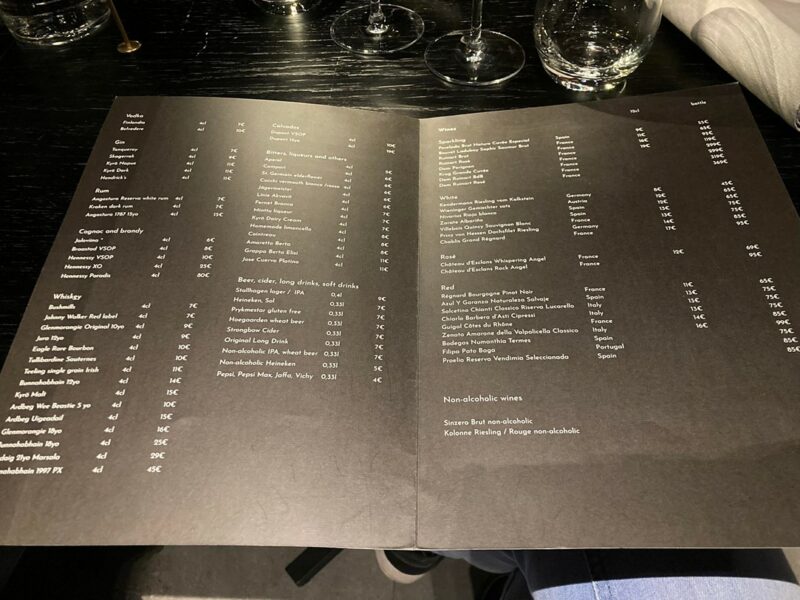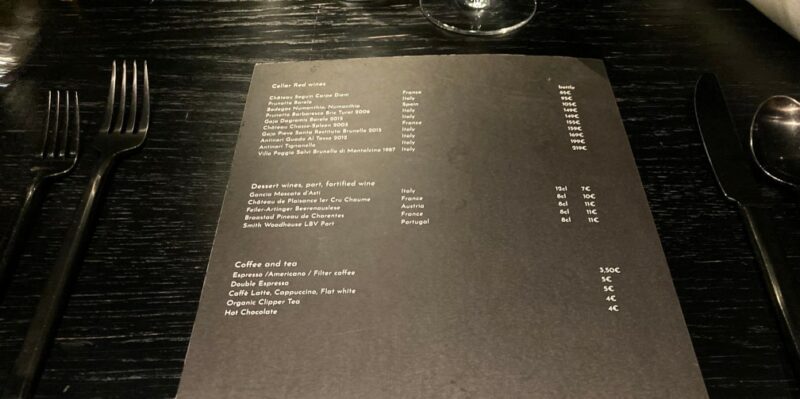 For an extra special dining experience, the hotel puts on their regular chefs' table events, which include a 7-course surprise menu. On Wednesdays and Thursdays, there are visiting chefs' table events. All events feature fresh and seasonal cuisine. There are also chefs' table wine dinners represented by importers of Antinori and Gustav Lorenzi and top Finnish sommeliers.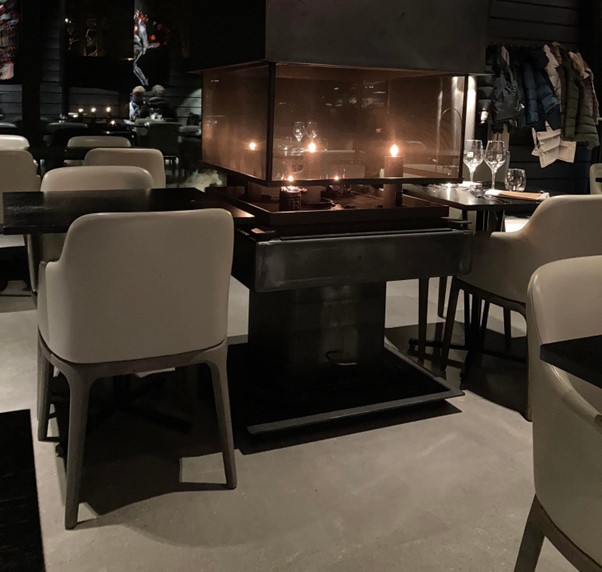 Room service is also available from 5:00 pm-7:00 pm.
Booking a Stay at The Baro
The Baro is available to book direct (view the website here). You can also book via a huge range of booking engines such as Booking.com and Hotels.com. Rooms start at €238.
Final Thoughts
I loved my stay at The Barö overall. I have never really stayed anywhere quite like this before. It would be a good place to get time off busy schedules or explore areas nearby Helsinki while staying closer to nature.
Like our The Baro archipelago hotel review? You can read more hotel reviews here. If you're also looking to stay near Helsinki Airport, The Clarion Hotel is one of the top 10 nearest hotels to Helsinki Airport that provides a comfortable and convenient stay for both leisure and business travelers.