If you haven't read Part 1 of Helsinki & beyond yet, you can read it here.
Helsinki has a stunning location located nearby ample national parks and amazing wildlife. You can visit traditional towns and cultural heritage centres and participate in plenty of activities in the nearby national parks. As well as exploring the city, there are several amazing day trips from Helsinki to choose from. You could also extend your trip and spend a few nights.
I recently visited the areas surrounding Helsinki as part of a recent trip organised by Visit Finland.
How to Get to Helsinki
Helsinki is the perfect destination for a break. Helsinki-Vantaa Airport is the main international airport serving the city. The airport is located about 20km north of the city centre and is well-connected to the city by public transport, taxis, and rental cars.
London to Helsinki
There are several direct flights from London each week with a flight duration of just under 3 hours. These flights are mostly operated by Finnair. I tried out Finnair's business class from Heathrow on the way to Helsinki, and it was a fantastic experience. A return flight from London Heathrow to Helsinki starts at £167 in Economy Class and £547 in Business Class.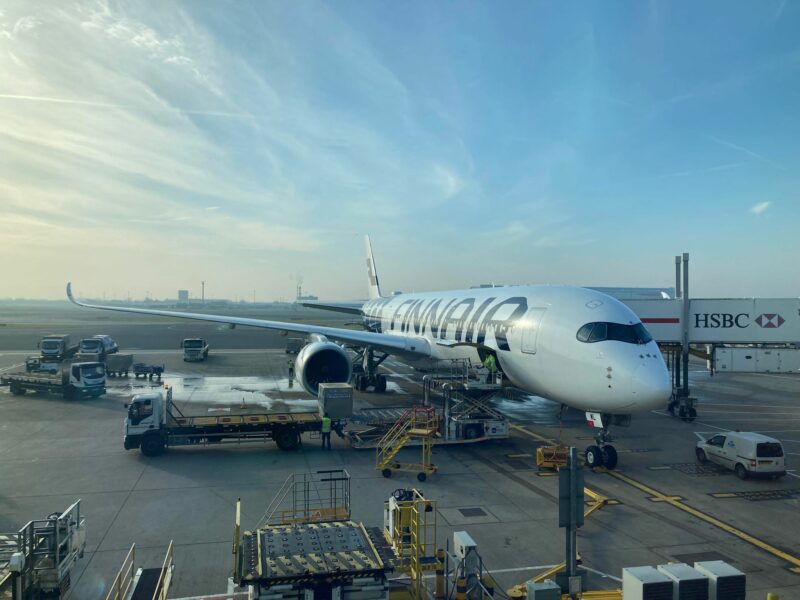 The Weather in Helsinki and the Surrounding Areas
I visited Finland in February. During that time, it was much warmer than usual. I had prepared for much colder weather. The only time it snowed was on my return flight date – which you can read about here. February is the coldest month in Finland, with temperatures of -1°C to -10°C. However, it was more like 6°C for my visit. However, it still gets quite warm in the summer, with temperatures of 11°C to 21°C.
Visiting Nuuksio National Park from Helsinki
We spent a day exploring the areas around Nuuksio National Park and Espoo.
Nuuksio Reindeer Park
Distance from Helsinki: 38.5km
Visiting Nuuksio Reindeer Park was one of the highlights of my trip. If you're visiting Finland with kids, this is the perfect day trip! As a group of adults, we still really enjoyed the experience.
The park houses a variety of white and brown reindeer. You will have a chance to feed the reindeer and see them enjoy the national park.
The Nuuksio Reindeer Park also has a traditional Kota-Finnish hut where you can get warm and drink coffee with a classic Finnish cinnamon bun.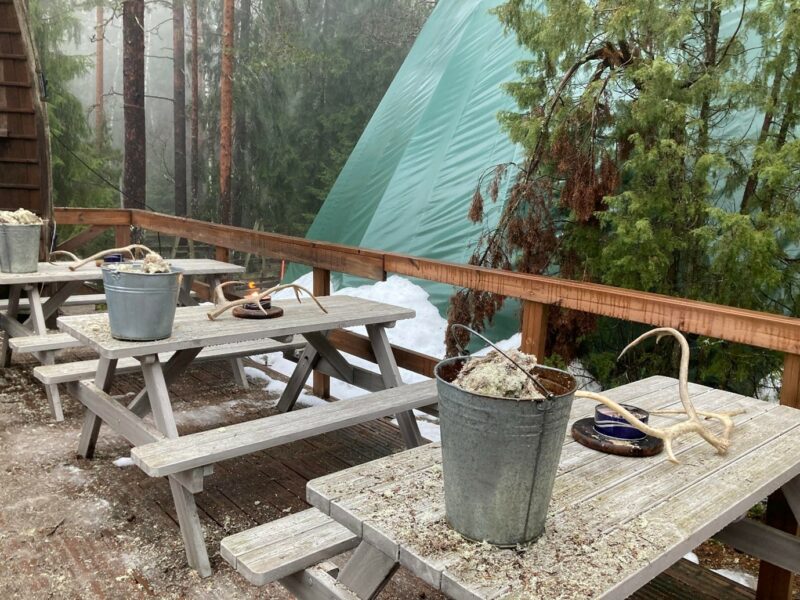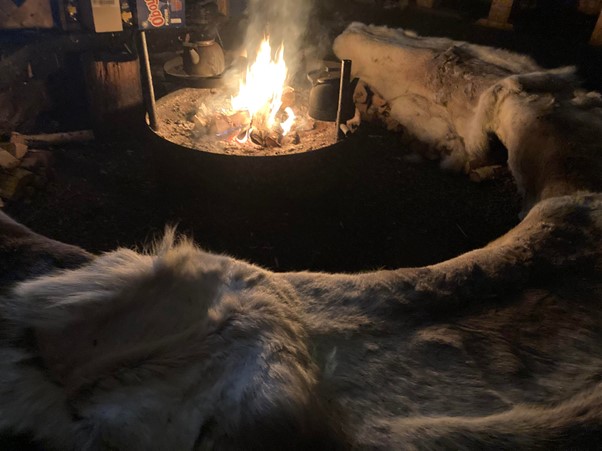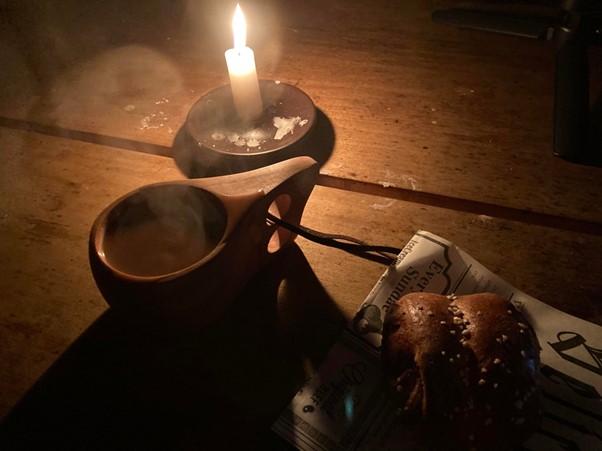 Another unique attraction at the park is Amethyst digging.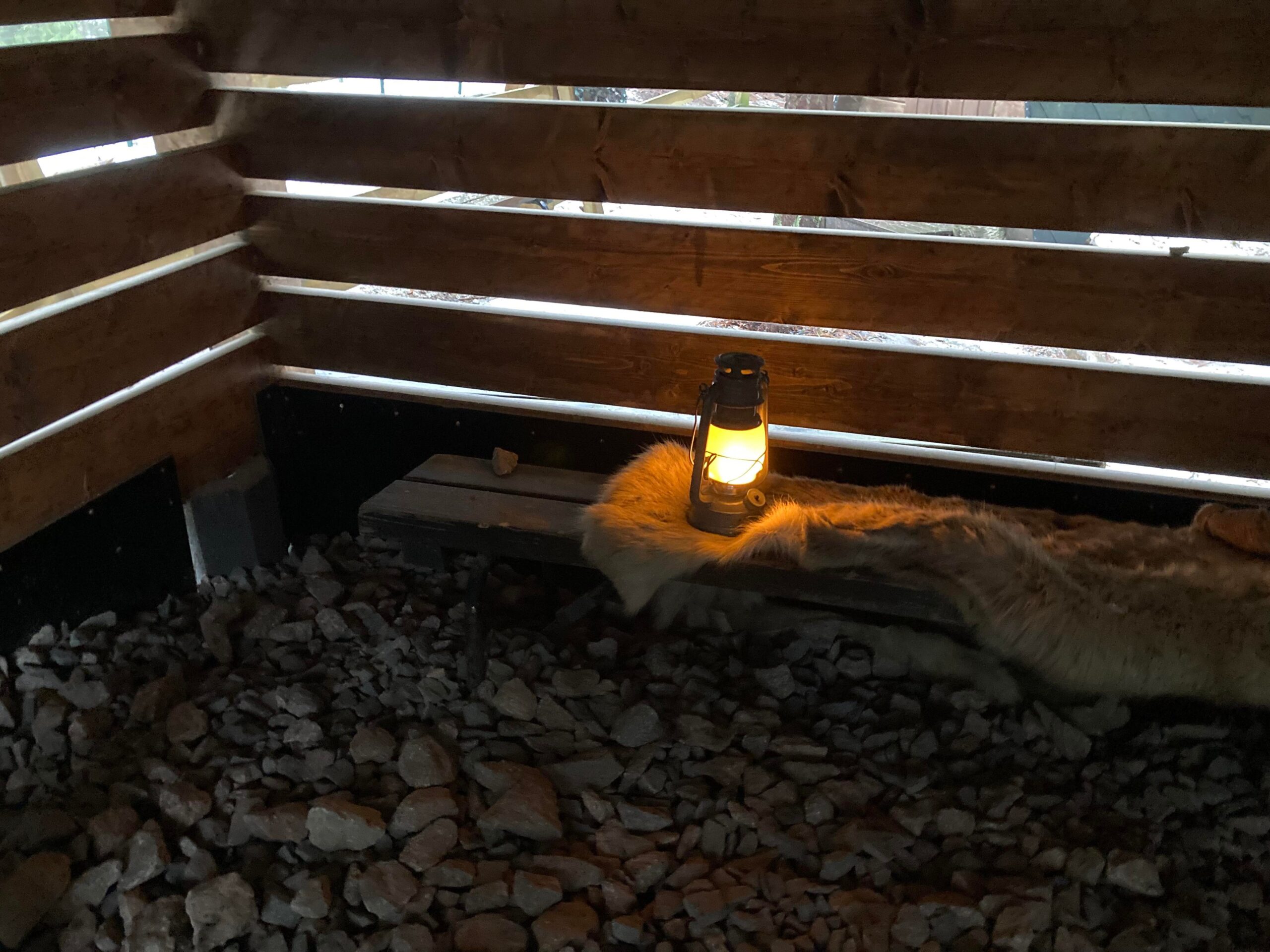 Staying the Night at Nuuksio Reindeer Parl: The Ecological Eco-Huts
If you want to make your visit a side trip rather than a day trip, Nuuksio reindeer has a unique accommodation option. The park has some igloo huts where you can stay the night in the national park and even see reindeer out of your window. Huts sleep two people and have a double bed and little extras like a mini-fridge and a bucket of lichen to feed the reindeer.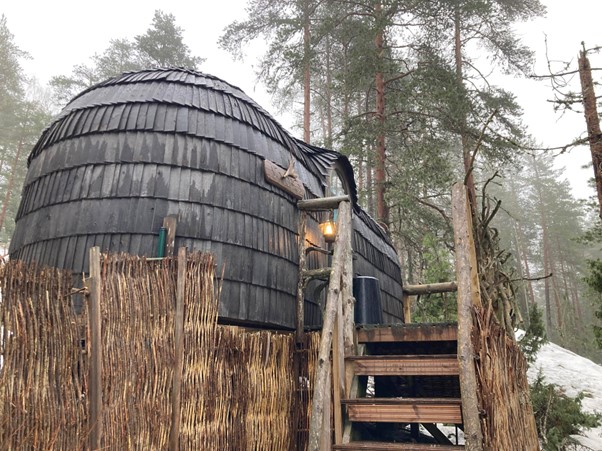 You can read more about Nuuksio Reindeer park and the accommodation options here.
The Finnish Nature Centre Haltia
Distance from Helsinki: 37.7km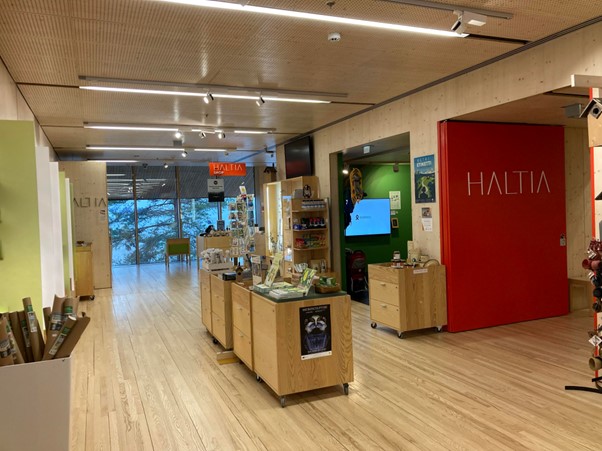 The Finnish Nature Centre is well worth a visit if you're in the area. Through various ever-changing exhibitions, you can learn about Finland's landscapes and the surrounding Nuuksio National park. It's very near Nuuksio Reindeer Park, so combining the two would be good.
The Finnish Nature Centre is also an excellent place for lunch. We visited Restaurant Haltia, which serves a buffet-style lunch with several traditional Finnish dishes.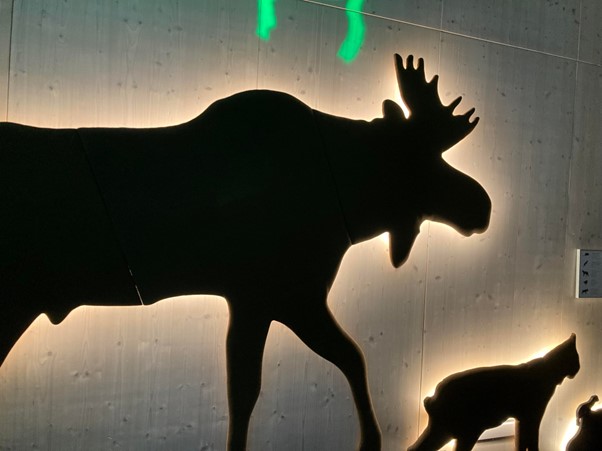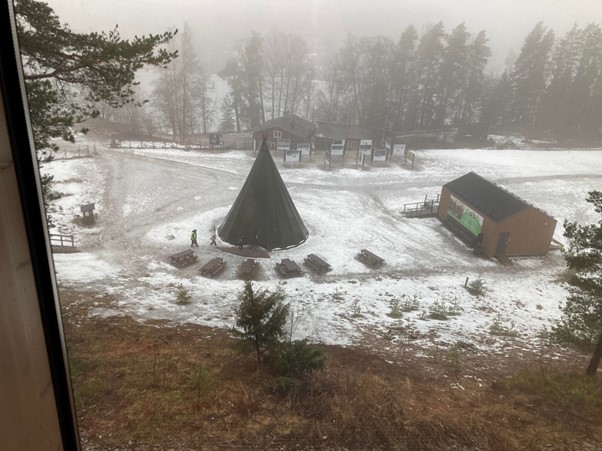 The shop also sells a range of equipment to start a forest adventure. Below is some of the kit that was available to hire.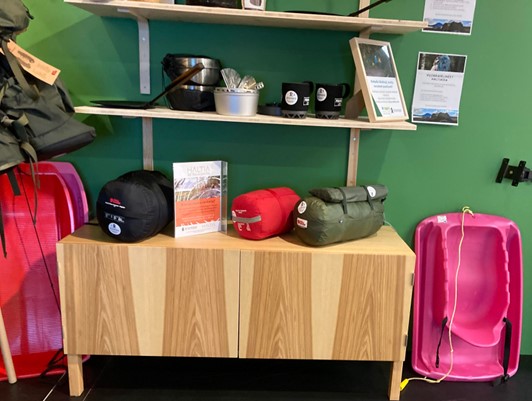 Nuuksio Forests
Finland has an unspoilt natural environment which is fantastic to explore. Many tours from Helsinki offer unique experiences around Nuuksio National park and the surrounding forests. If you choose to stay overnight, many accommodation providers also provide a range of activities. Here are just some of the forest activities you could opt for.
Hiking

Mushroom and Berry Picking

Skiing

Fatbiking

climbing

Herb Foraging

Survival Skills
Staying in Haltia: The Haltia Lake Lodge
Within walking distance of Haltia, the lake lodge is another great accommodation choice.
The Hotel
The lodge has two accommodation options, the hotel and the lodges. The hotel is located above the restaurant and has a minimalistic yet traditional feel. You can drink your morning coffee out of traditional Finnish cups while admiring the views of Nuuksio National Park from your window.
Lodges
The lodges are a bit further from the hotel, amongst the forest. Inside, there's a double bed and a lovely balcony.
You can read more about Haltia lake lodge and facilities here.
How to Get to Nuuksio National Park from Helsinki
Driving – 39 minutes
Bus – Buses run from Hki Linja-Autoasema (line 280) in Helsinki to Haltia (In Nuuksio National Park). You will need to change buses in Lommila, Espoo, to line 245. If you are lucky with transfer times, you could make the whole journey in 48 minutes.
Train – Trains only run to Espoo (21 minutes), but you can jump onto the 245 bus from there.
Visiting Inkoo from Helsinki
Inkoo is a unique place to visit. You can stroll through the streets, visit local shops and cafes, and admire the picturesque houses. Start your day by exploring the traditional buildings in the town centre, including a lovely church (another place I was recommended to visit).
If you're interested in going on a beach day trip, Inkoo has several beautiful beaches, such as Sandviken Beach, where you can enjoy swimming, sunbathing, and picnicking. Inkoo is also a good destination to start a boat trip to the nearby Archipelago National Park. You can take a boat tour of the park and see the stunning landscape and wildlife, such as seals and sea birds.
How to Get to Inkoo from Helsinki
Driving – 46 minutes
Bus – It's pretty hard to reach Inkoo from Helsinki, especially if you're staying overnight at a hotel just out of Inkoo. Buses run every 4 hours from Hki linja-autoasema, Helsinki to Bergkulla th L, Inkoo
Visiting the Barösundintie Area and Inkoo
The Barösundintie Area is best visited for an overnight stay. We stayed at The Baro (full review coming soon), where we went on a guided forest walk. A guided forest walk is also a great activity to do in other forests surrounding Helsinki.
There are a variety of walks on offer, from mushroom picking to herb foraging. We went on a hike with a focus on mindfulness. It was very relaxing, and we learned lots about the forest environment and how important it is to the people of Finland.
Every 10 minutes or so, we stopped to admire nature, whether it was lying on the forest floor on a yoga mat and taking in every detail or a guided meditation session; the hike was very peaceful.
The Baro Hotel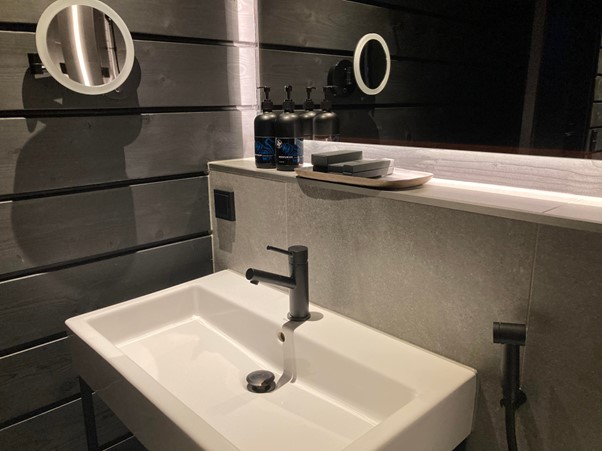 For me, staying at The Baro was very special. The hotel is very sustainable and uses only local food and 100% renewable energy sources. The views from the rooms to the lake below are wonderful, and the front wall of the lodges is a huge glass window.
The restaurant serves 4-7 course meals for dinner, a luxury breakfast box, and a 3-course dinner.
If you choose, there is a range of activities, including the forest walk I went on.
There is a sauna and jacuzzi overlooking the lake, and if you're brave enough, you could have a swim! Massages are also available.
Staying at The Baro felt like a long, long way away from the bustling city of Helsinki, and it's definitely somewhere I would return to. My full review of The Baro will be coming soon.
Other Side Trips and Day Trips You Could do From Helsinki
Ekenäs Old Town
Ekenäs is a peaceful and scenic destination that offers a perfect break from the bustle of Helsinki. Ekenäs has a beautiful, well-preserved Old Town with cobbled streets and colourful wooden houses. You can stroll through the streets, visit local shops and cafes, and admire the picturesque houses. Ekenäs also has a beautiful waterfront with a long promenade and admire the marina.
Distance from Helsinki:
How to Get There:
Driving: 1 hour, 14 minutes
Bus: A direct bus runs from Helsinki to Ekenas, but it does take 1 hour, 41 minutes. You can catch the bus from Lapinrinne.
Train: The train takes 1 hour, 18 minutes with a change in Espoo.
Tallinn, Estonia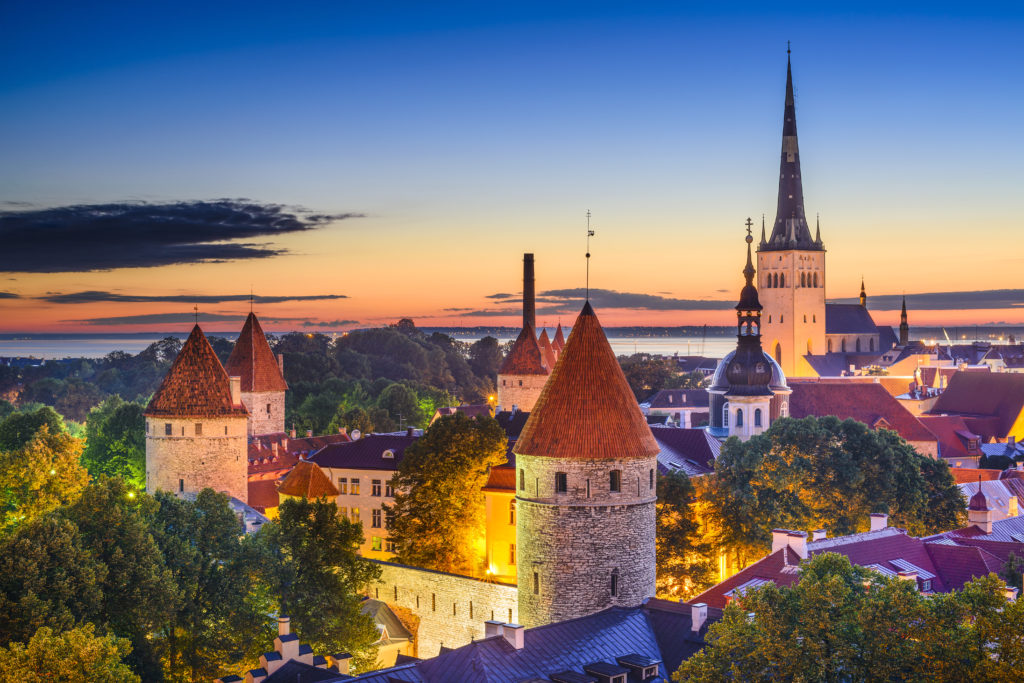 Exploring Tallinn, Estonia's capital, is also possible on a day trip from Helsinki. There are lots of things to do on a day trip. Tallinn's Old Town is a UNESCO World Heritage site and a must-visit. The medieval architecture, cobblestone streets, and quaint cafes make it a very appealing destination.
Estonian cuisine uniquely blends Scandinavian, Russian, and German influences. Try some local dishes, like black bread, smoked fish, and sauerkraut.
Tallinn is also a good stop on a multi-centre trip before or after Helsinki. You can read the TLFL Radisson Hotel Tallinn review here.
You can read all about Tallin in part three.
How to Get to Tallinn from Helsinki
Flights: Finnair runs regular flights between Tallinn and Helsinki. You can read the TLFL flight review here.
Ferry: The Regular ferries run between the two cities, which take two hours.
Fiskars Village
During my trip to Finland, lots of people recommended visiting Fiskars Village. This charming village is known for its traditional ironworks, which date back to 1630. The village has a vibrant arts and crafts scene, with many galleries, boutiques, and workshops to explore.
You could also visit the Fiskars Museum, which showcases the history of the ironworks and the village. The village is also surrounded by beautiful nature, with many hiking trails and scenic spots to discover, such as the Fiskars Waterfall.
Getting to Fiskars from Helsinki:
Driving and Taxis: Fiskars village is 1 hour, 15 minutes drive away from Helsinki.
Train: The train from Helsinki travels as far as Karjaa. It would then be a 16-minute taxi ride to Fiskars village.
Final Words
I really enjoyed exploring the areas around Helsinki. What I saw was so different to Helsinki; it was a lovely break to get out into the forest for a bit. It really does have a calming effect.
Have you explored the areas surrounding Helsinki? Where do you recommend?