The Edition Tampa by Marriott hotel review was part of the press trip with Virgin Atlantic to launch their new Tampa route as well as their fantastic new A330 Upper Class Suite that you can read about here.
Why stay in Tampa?
Most people that fly into Tampa on the west coast of Florida, simply head off to places like Busch Gardens or the Gulf coast resorts of Clearwater and St Petersburg. However, Tampa is worth visiting by itself and now has its first five-star hotel with the Edition that opened in 2022.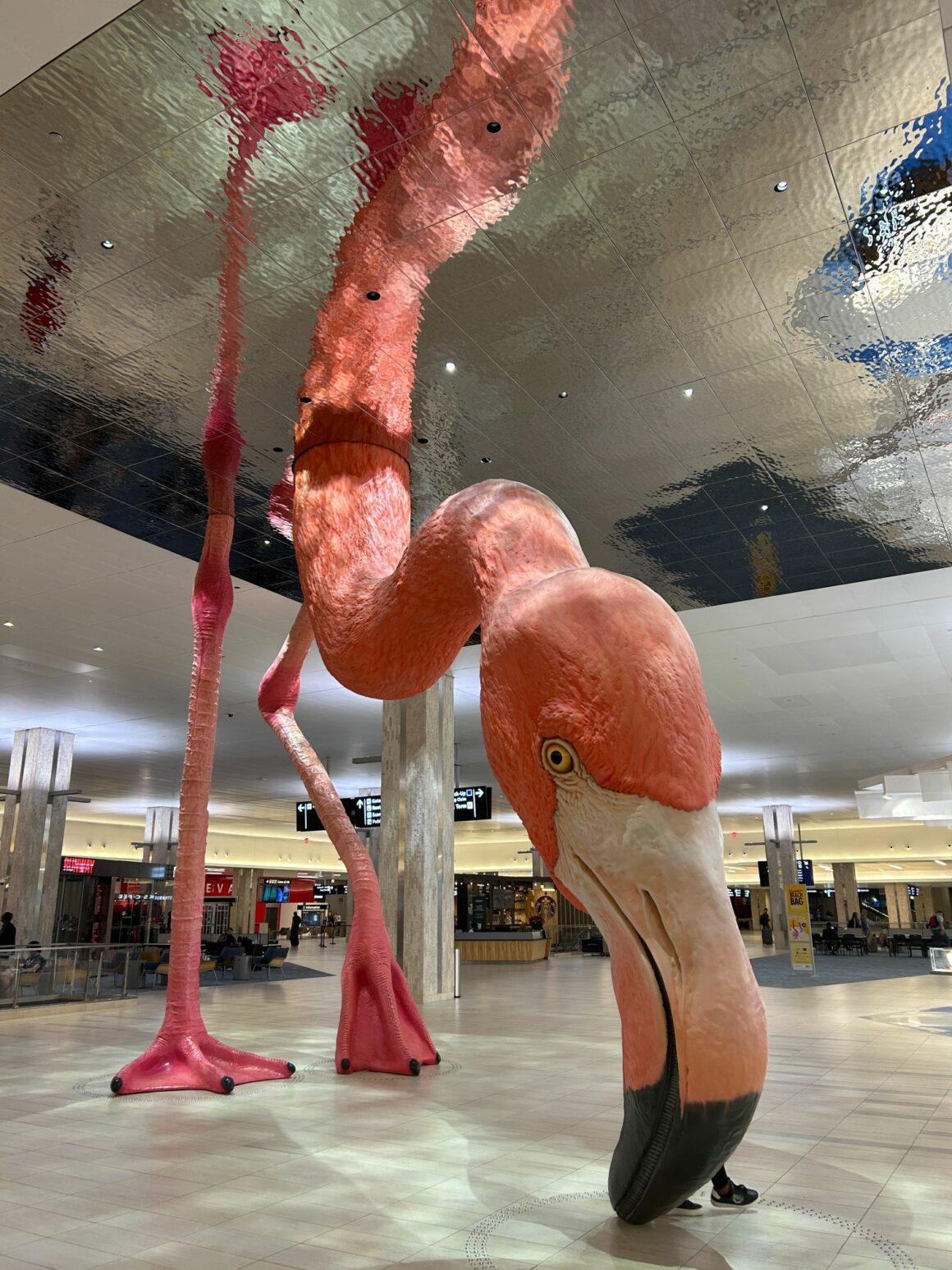 Tampa can make a great base for exploring with places like Clearwater and St Petersburg, perfect for day trips. The city itself has a beautiful historic district, Ybor city, with a lively nightlife scene. Ybor City was founded by cigar manufacturers in the late 1800s. Today, the area is home to many restaurants, bars, shops, and several cultural institutions, such as the Ybor City Museum State Park and the Italian Club. You can also spot the free-roaming chickens in the streets! I recommend a tour with Max of Ybor City Historic Walking Tours, who was very entertaining.
Another attraction is the Tampa Riverwalk, which runs along the Hillsborough River for 2.6 miles. The Riverwalk features restaurants, bars, and shops, as well as several parks and public art installations. It's a great place to take a walk, jog, or bike ride while enjoying the scenic views of the river.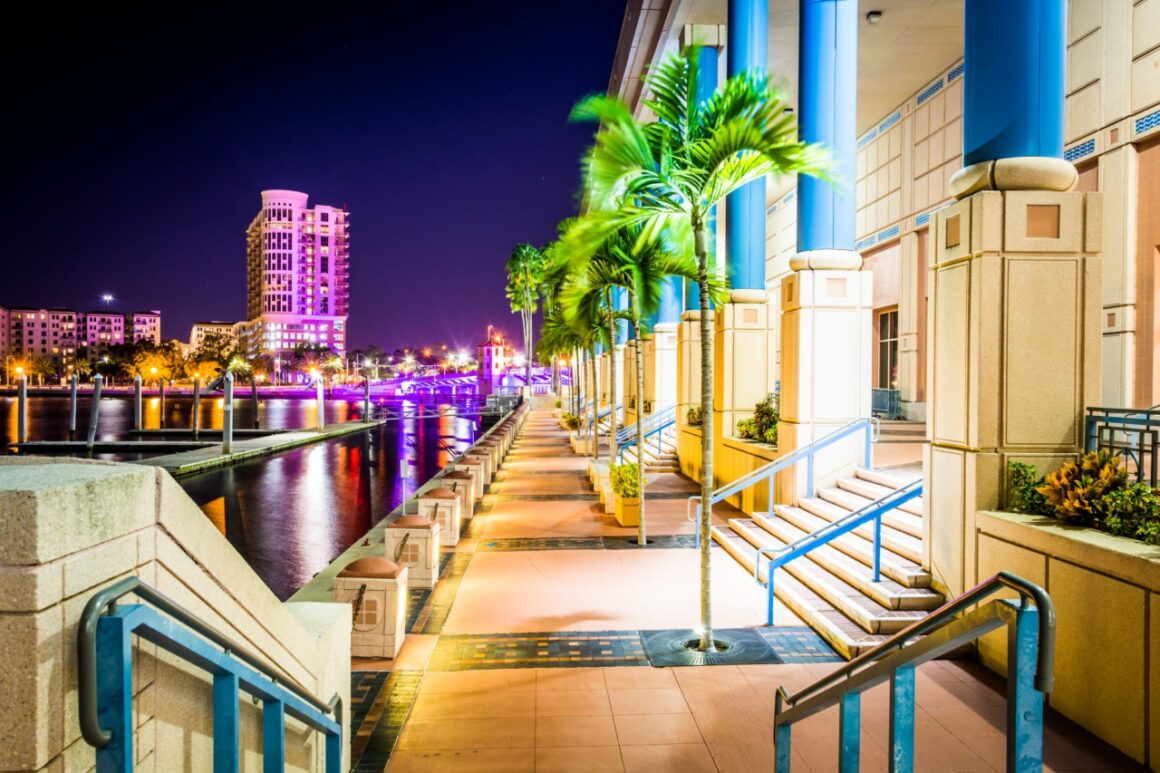 You can also do a river tour either by kayak or paddle board, where you can spot the local manatees in the water if you are lucky.
Location
The hotel is in the heart of the city centre along Water Street, close to the Riverwalk and cruise terminal. There are plenty of shops restaurants and bars nearby that you can walk to. It is around 5-10 minutes by car from historic Ybor City.
The hotel
I won't comment on the check-in process since we were a large group so it was not the normal process. The hotel is part of Marriott's EDITION group of hotels that all have a very distinctive look designed by Ian Schrager and Marriott International. Each one is designed to be a luxury boutique experience with individual touches at each location.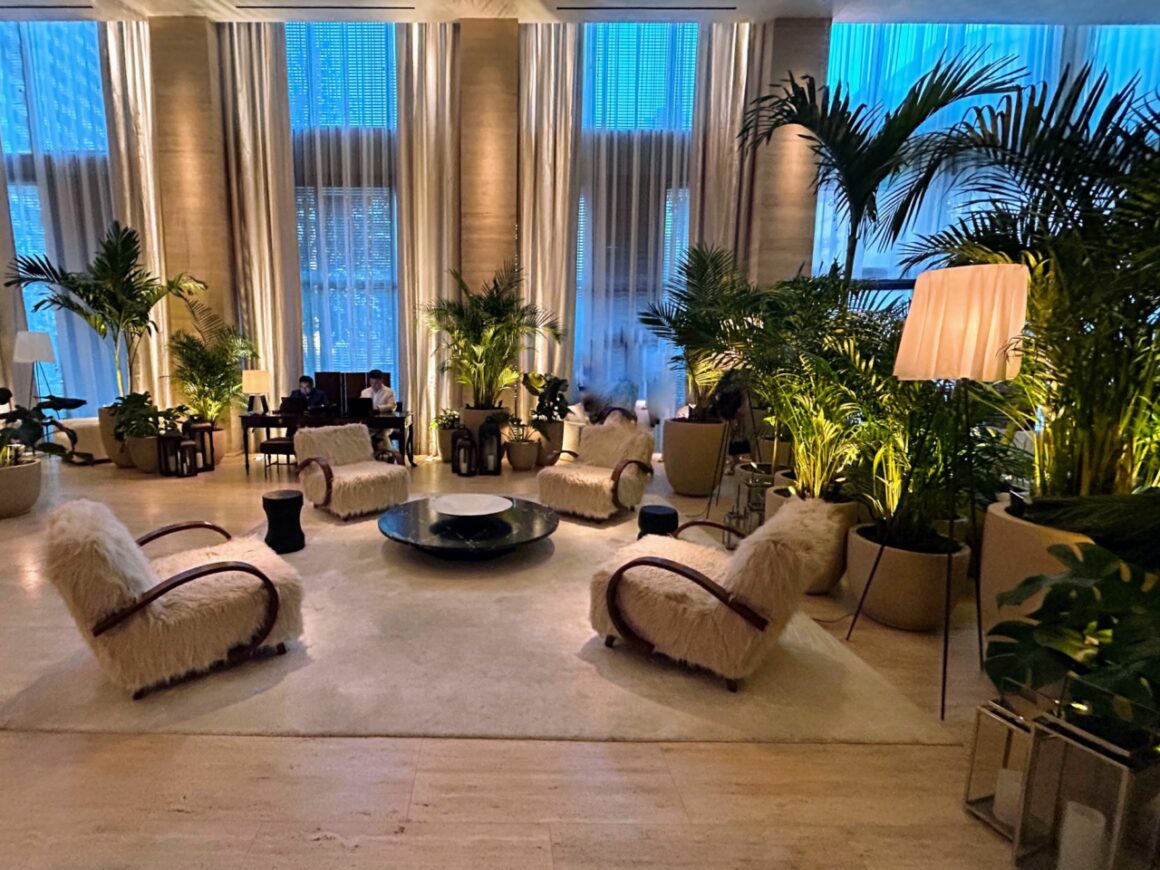 As you walk in the lobby does really have the "Wow" factor with a tropical feeling with white furnishings and a veritable jungle of tropical plants. As is usual for EDITIONs there is also a lively lobby bar amongst the foliage!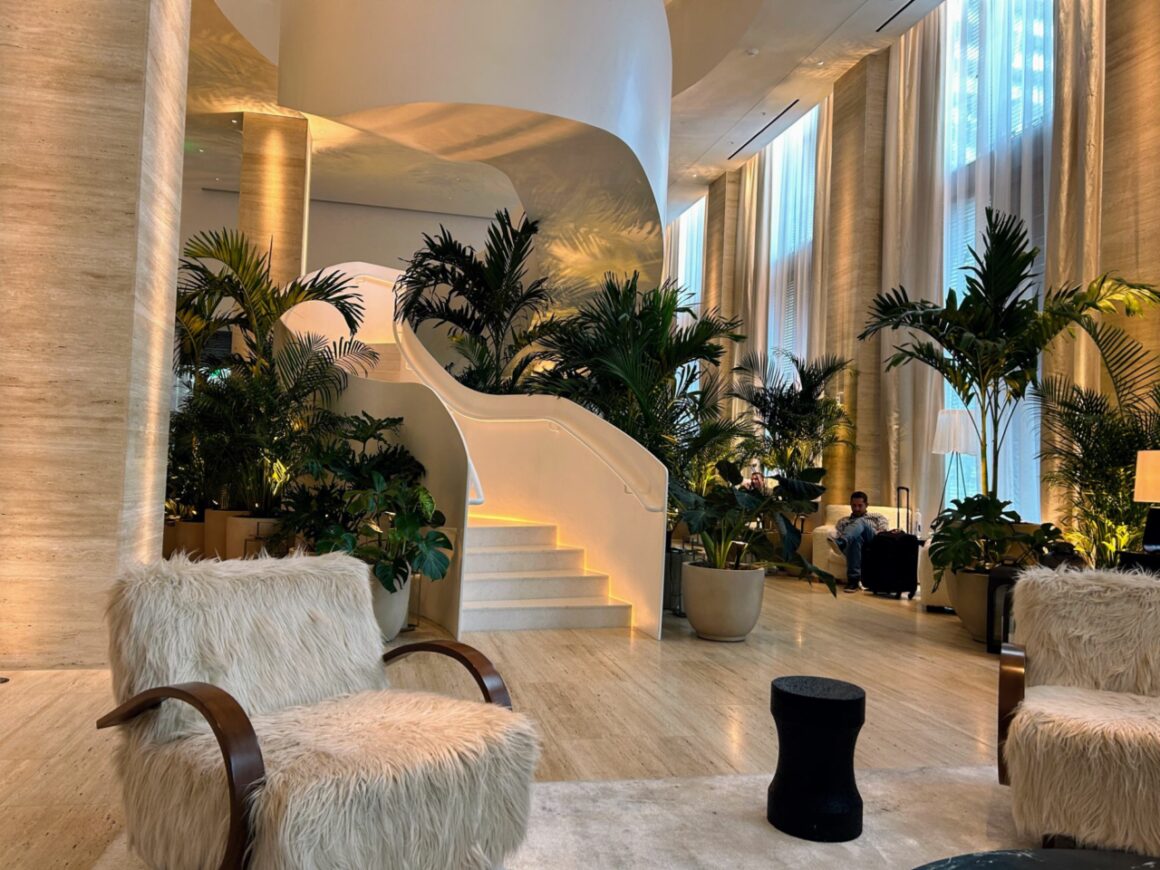 There was also a grand staircase up to the first floor restaurant for those that want to make an entrance!
The rooms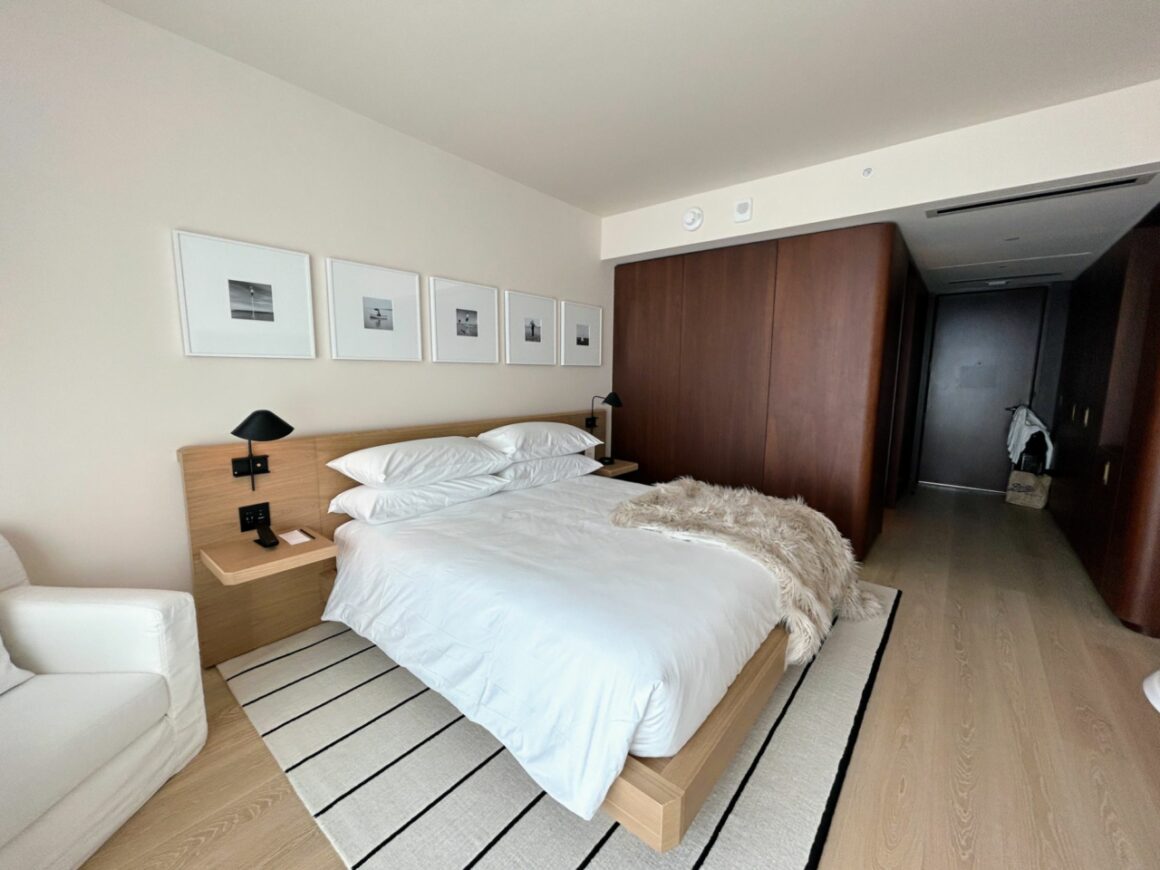 I had a King room on a high floor which felt very spacious as well as light and airy. The style was very typical of EDITION hotels with light wood and white/cream furnishings. As usual, there was a fur throw on the bed which is something of a signature for the hotels. It looks stylish but is a little pointless in a hot climate unless you turn the air con up to the maximum!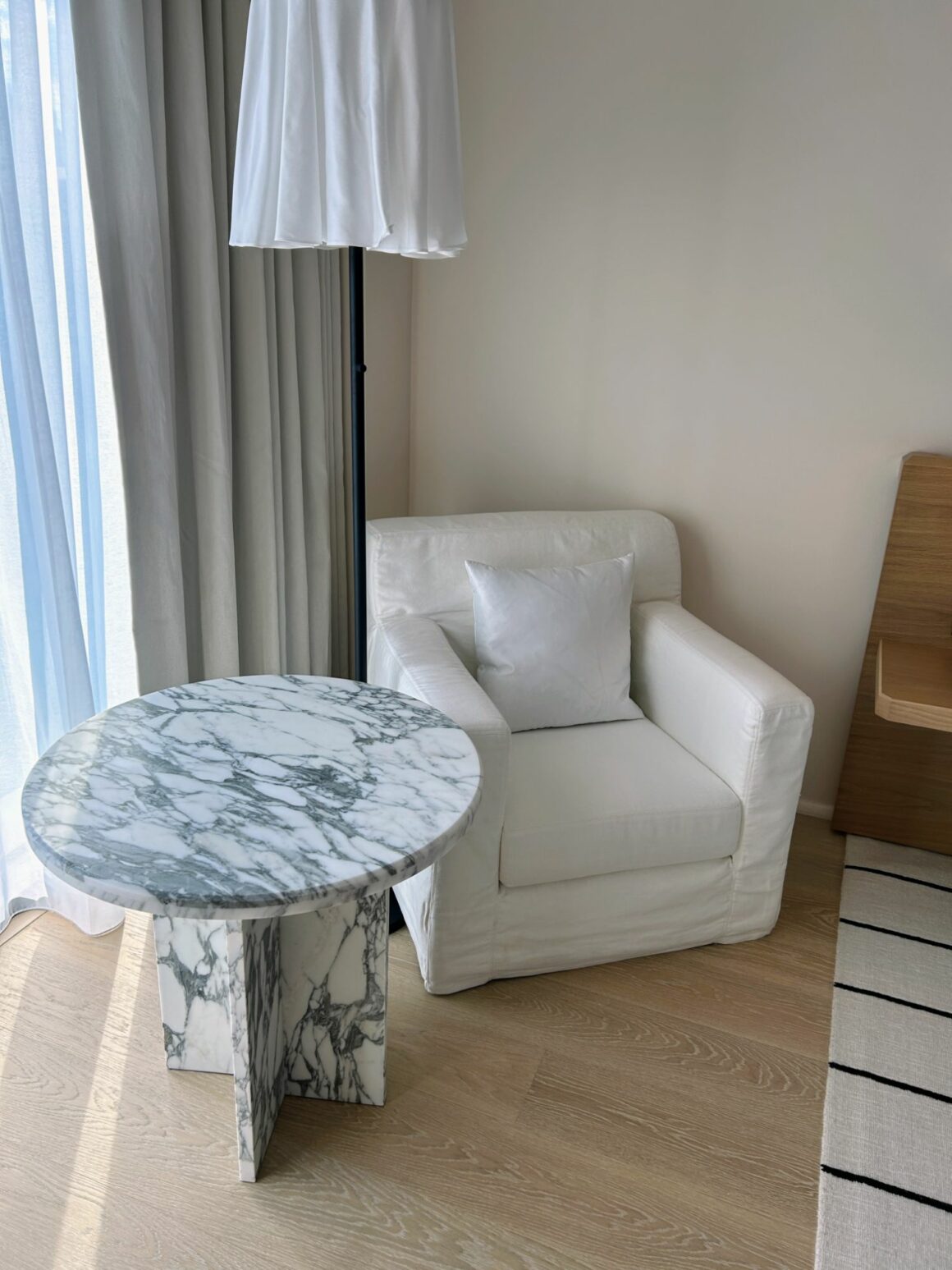 As well as a large comfortable bed with high-quality white linens, there was an armchair with a decent size table which was useful for room service if you did not want to eat at the desk.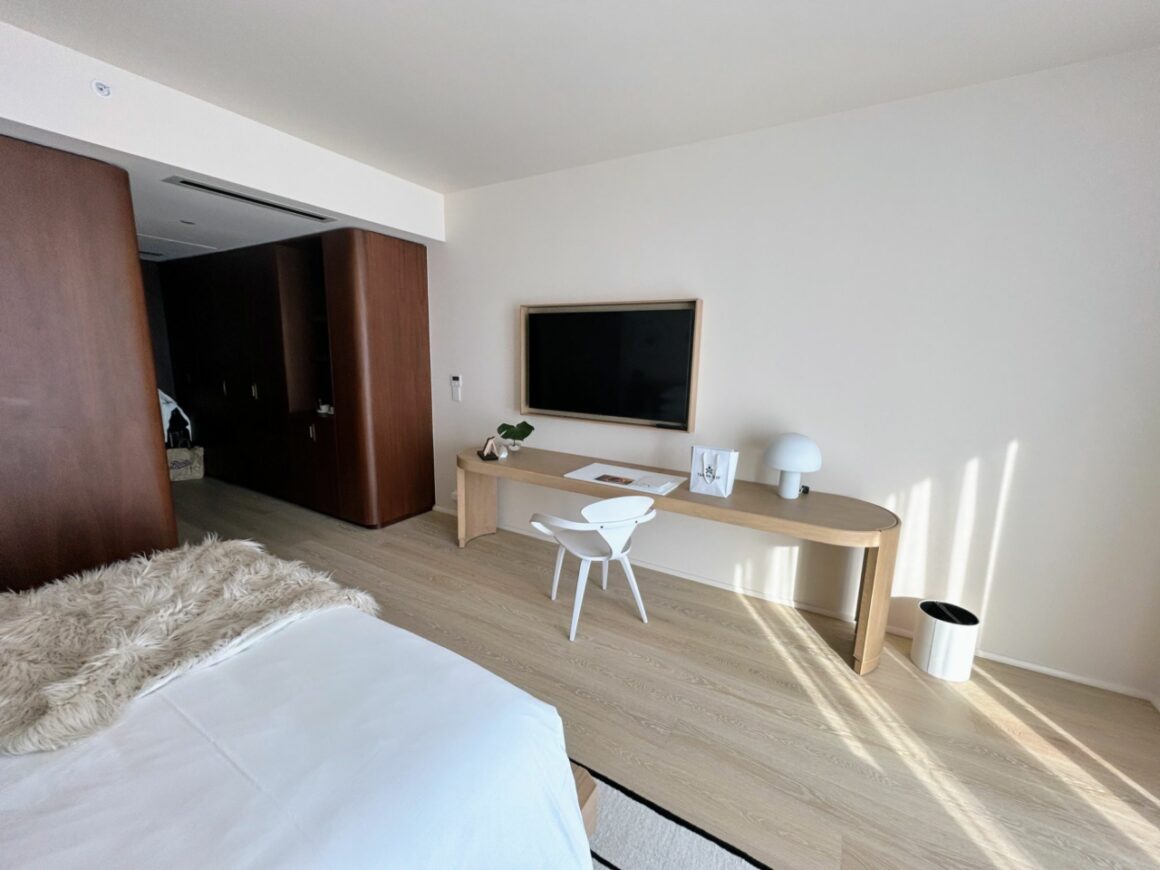 The desk was very large, so perfect for working although I found the chair quite uncomfortable to sit on for any length of time since it had no padding. The room was quite, and the air conditioning worked well. There was the usual coffee machine but no kettle and a mini bar in the fridge. I liked the design of the crystal glasswear.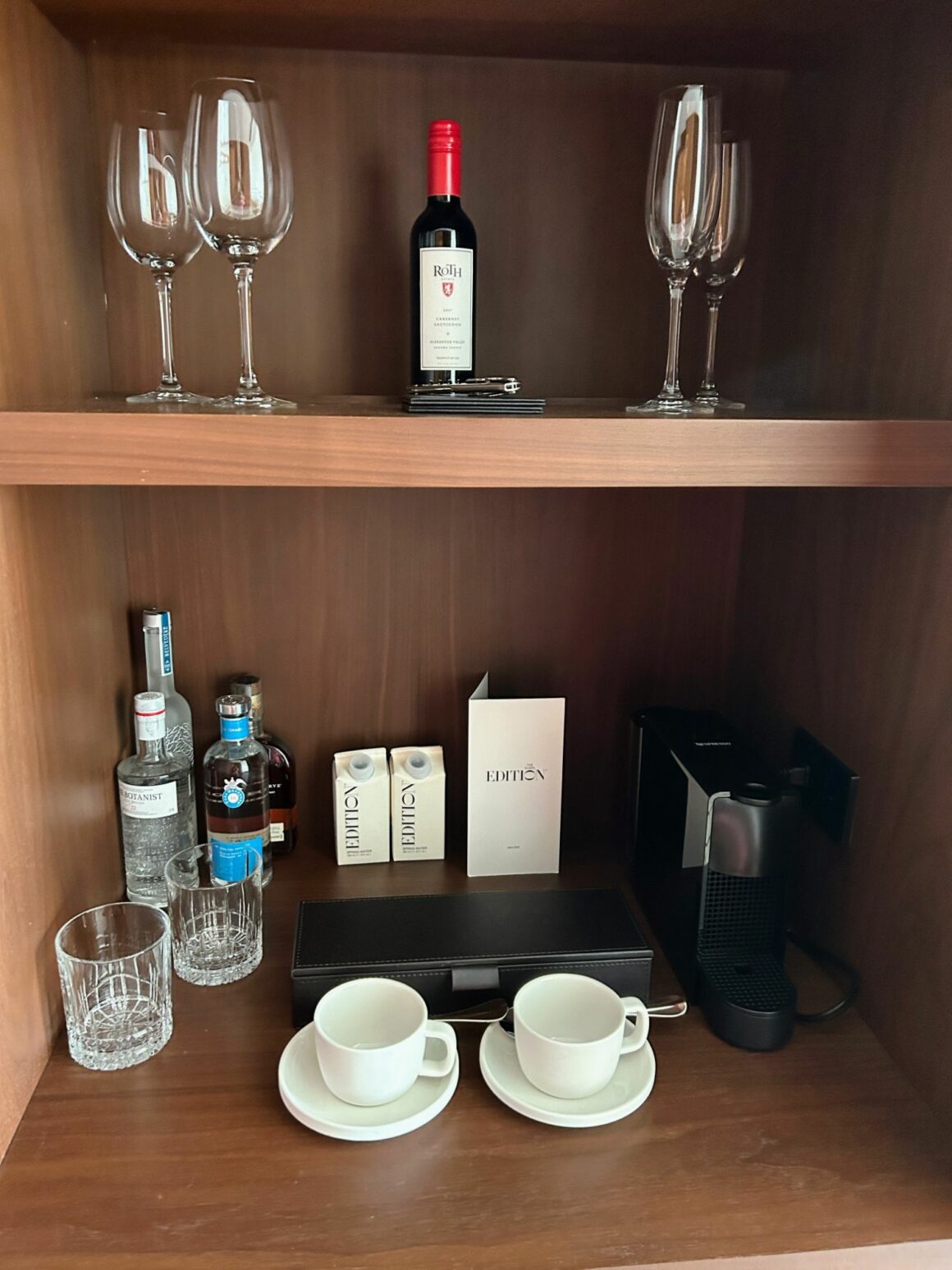 The bathroom felt very luxurious with its long marble counter and marble walls. Even a confirmed over-packer with a penchant for beauty products couldn't use even half the vanity top in his bathroom!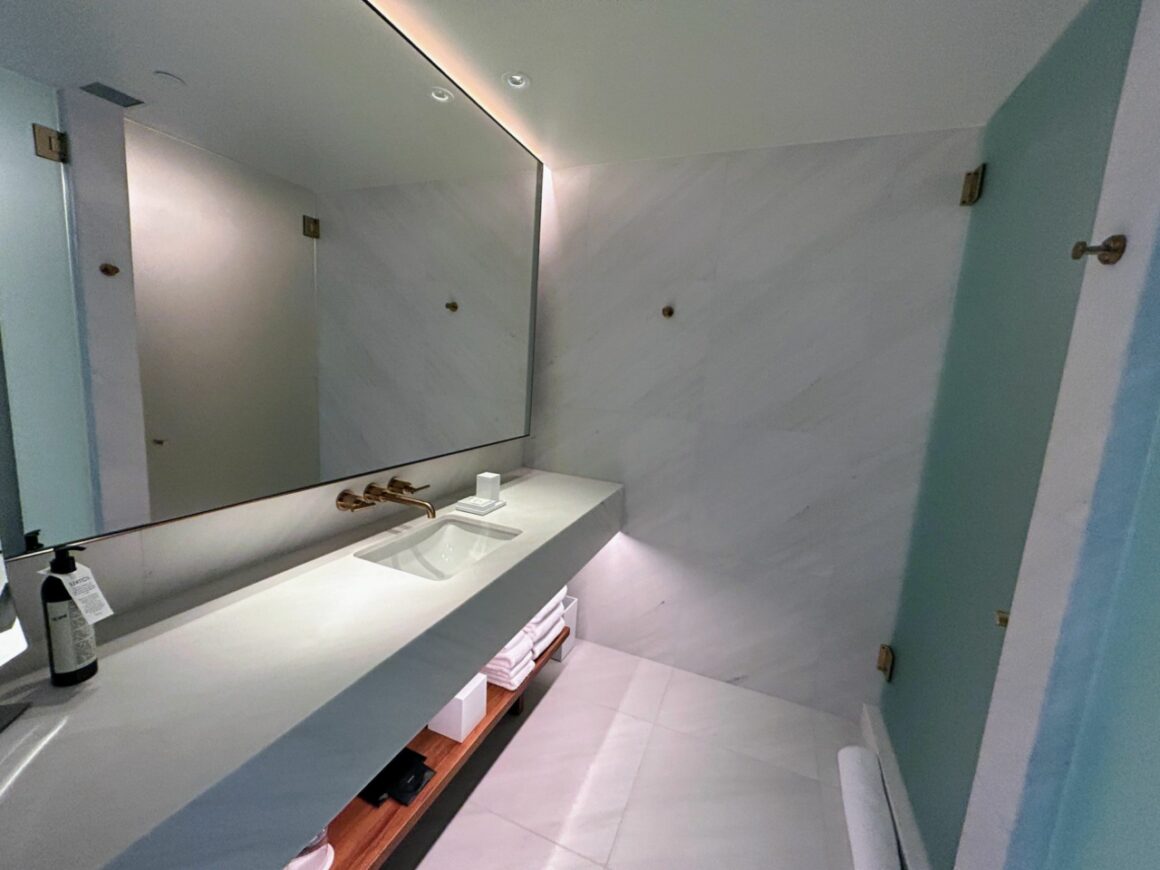 There was a separate shower with raindrop shower head and a separate large toilet.
Beautifully soft bathrobes were supplied which one journalist described as being as soft as a baby penguin!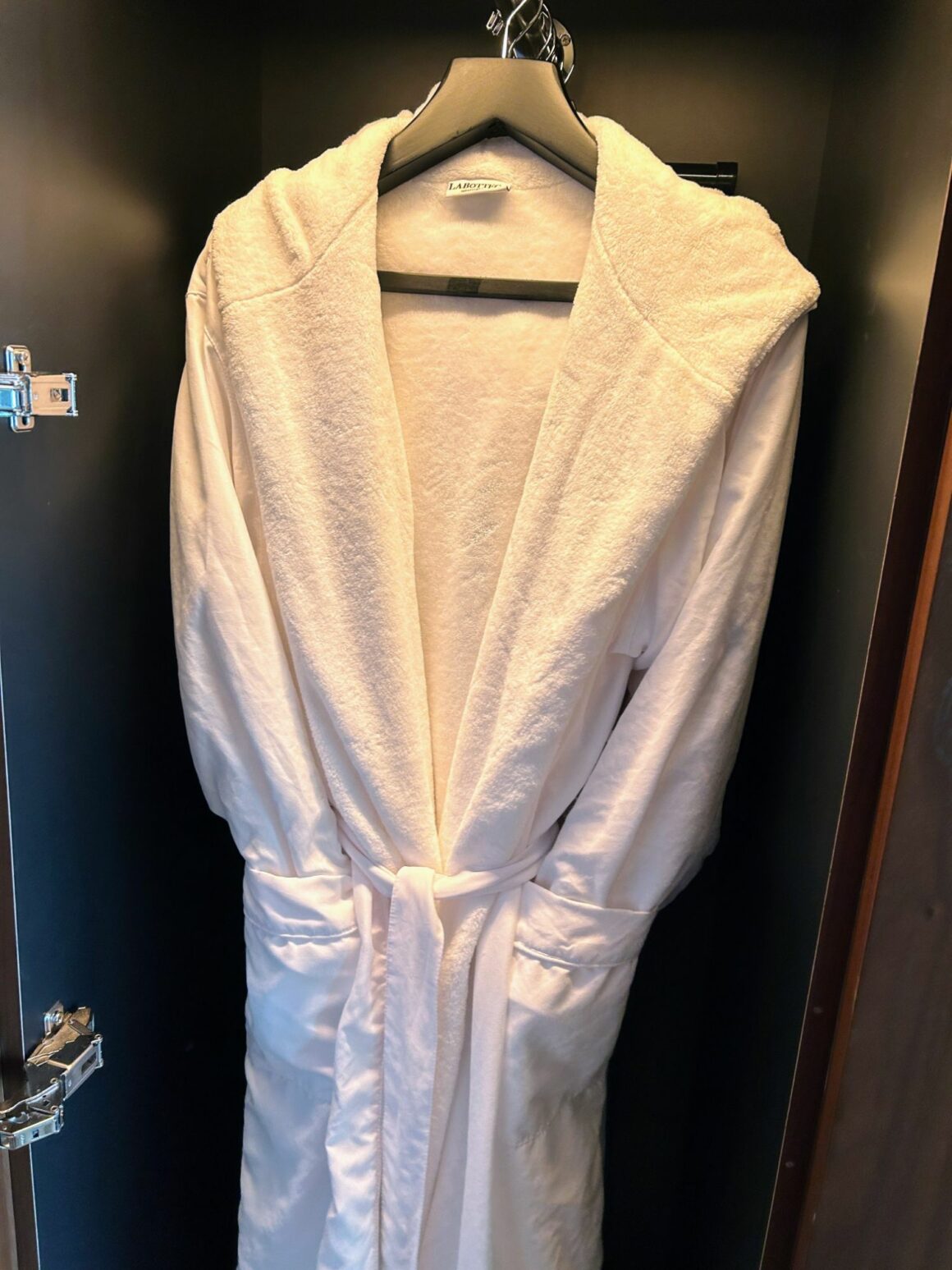 Toiletries were the standard LeLabo for EDITION hotels in large-size fixed containers. I was pleased to see that the body lotion was not fixed as often I like to have it next to the bed as hand cream or for a nighttime pampering session while winding down. (They deter you from stealing it with a $69 charge for taking it!).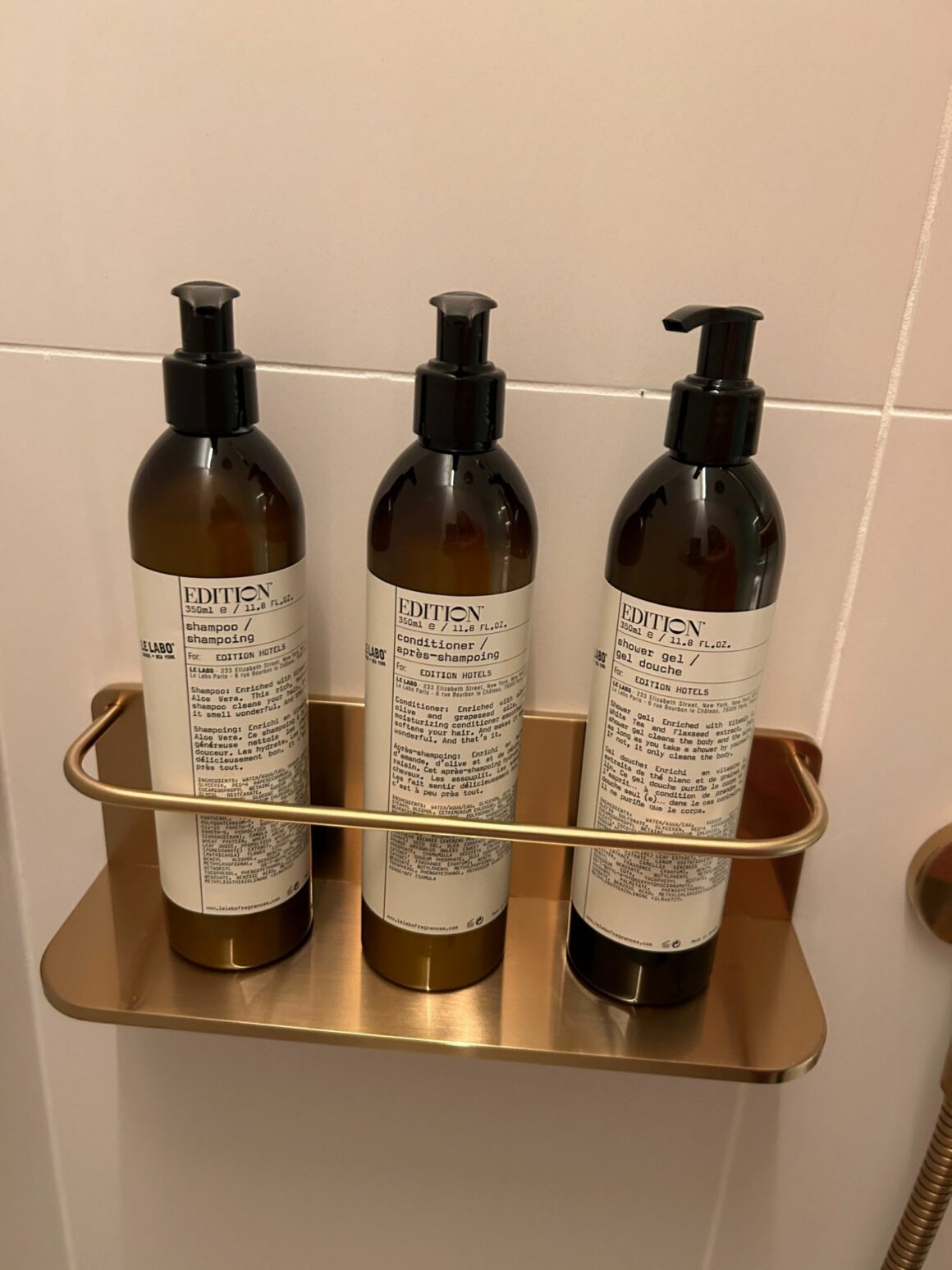 I really like the LeLabo products, which are high quality and have the refreshing scent of tea, which is nicely neutral.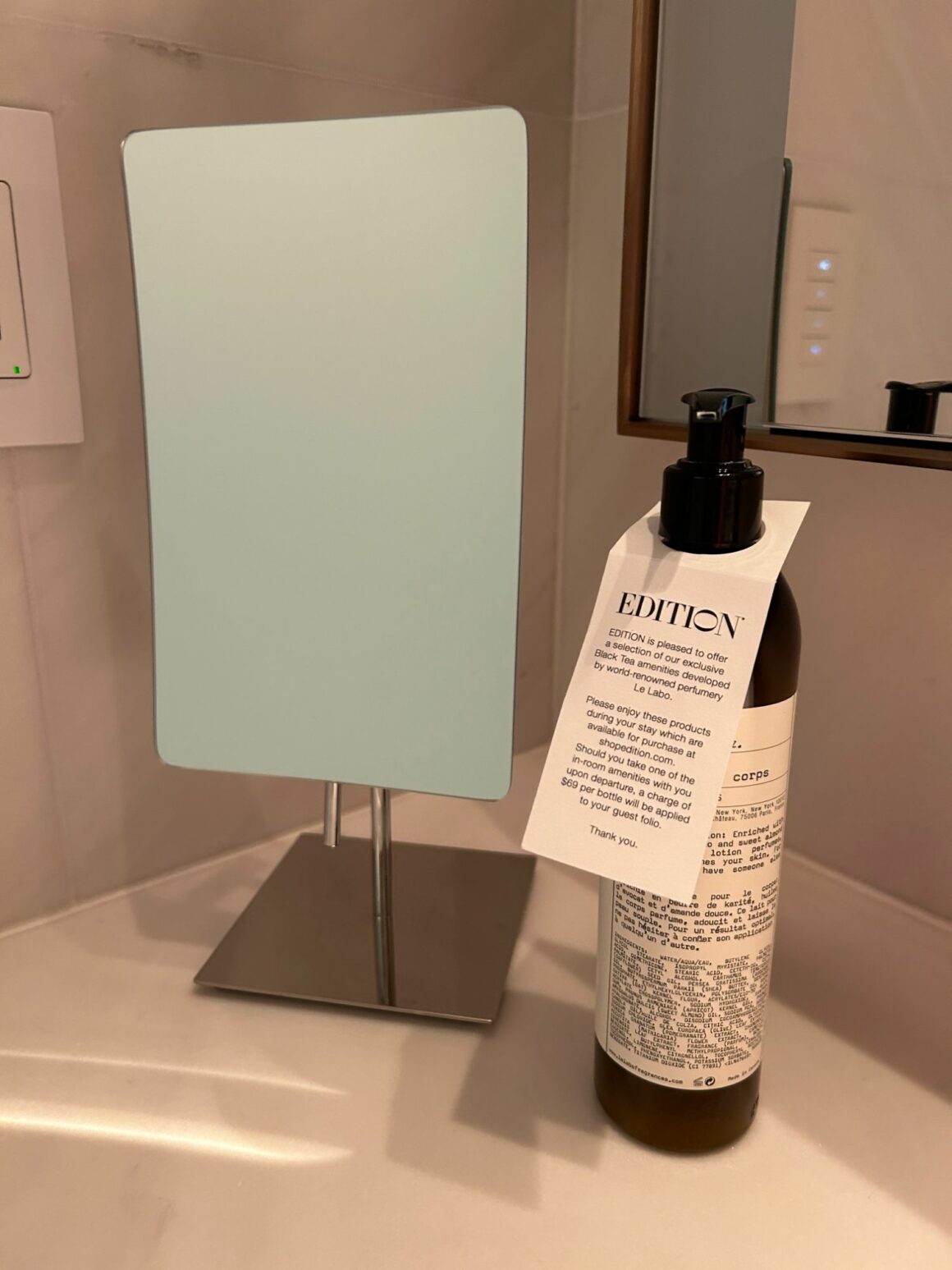 There were also some vanity kit essentials and hand bar soap. I do wish hotels would switch to liquid soap as I'm sure it is more environmentally friendly than having a big bar of soap for two nights (although some hotels do participate in recycling programs for the soap).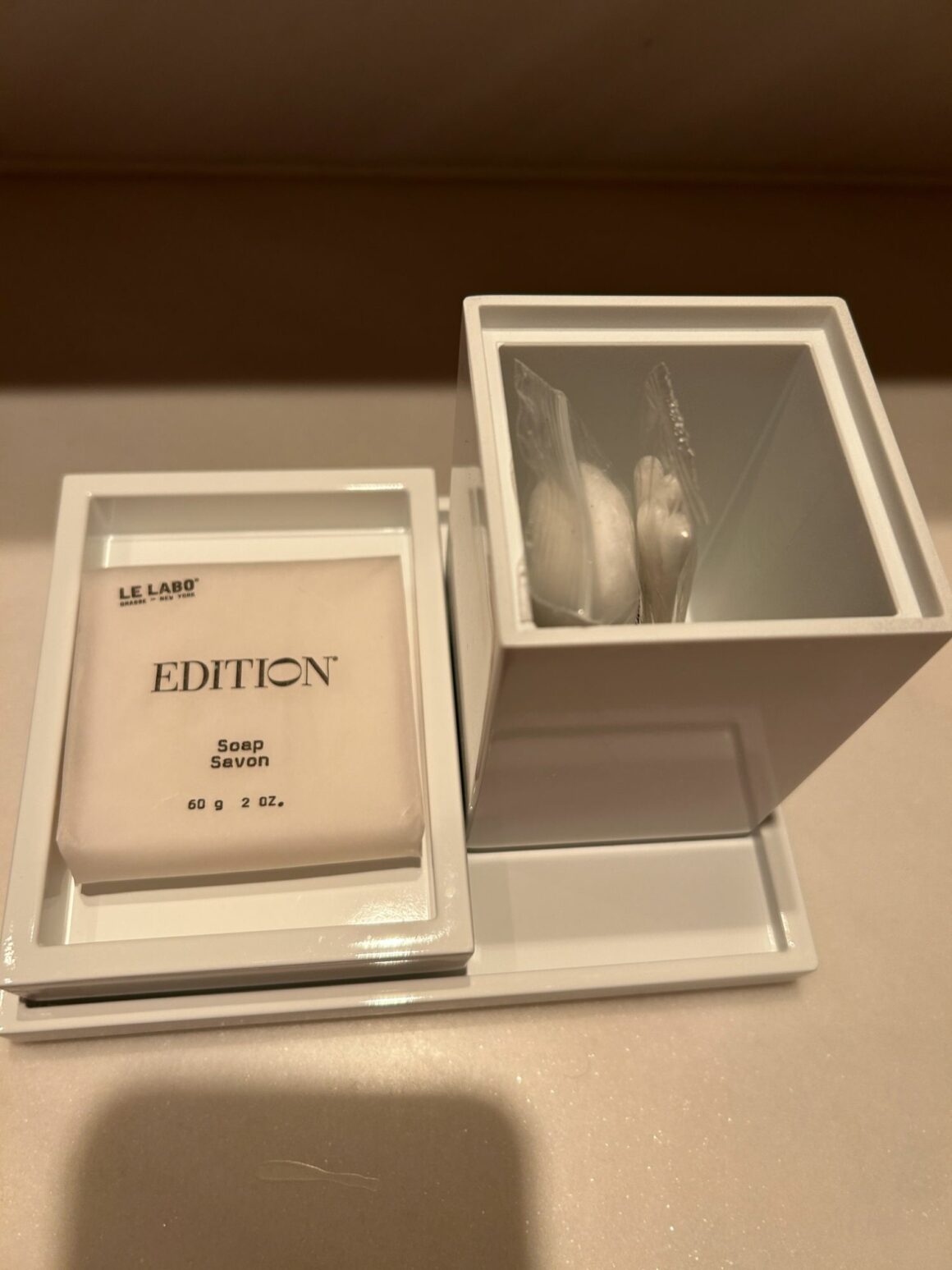 I like the look of the garden rooms which come with a private terrace:
Or the King Suite with dual aspects views of the river.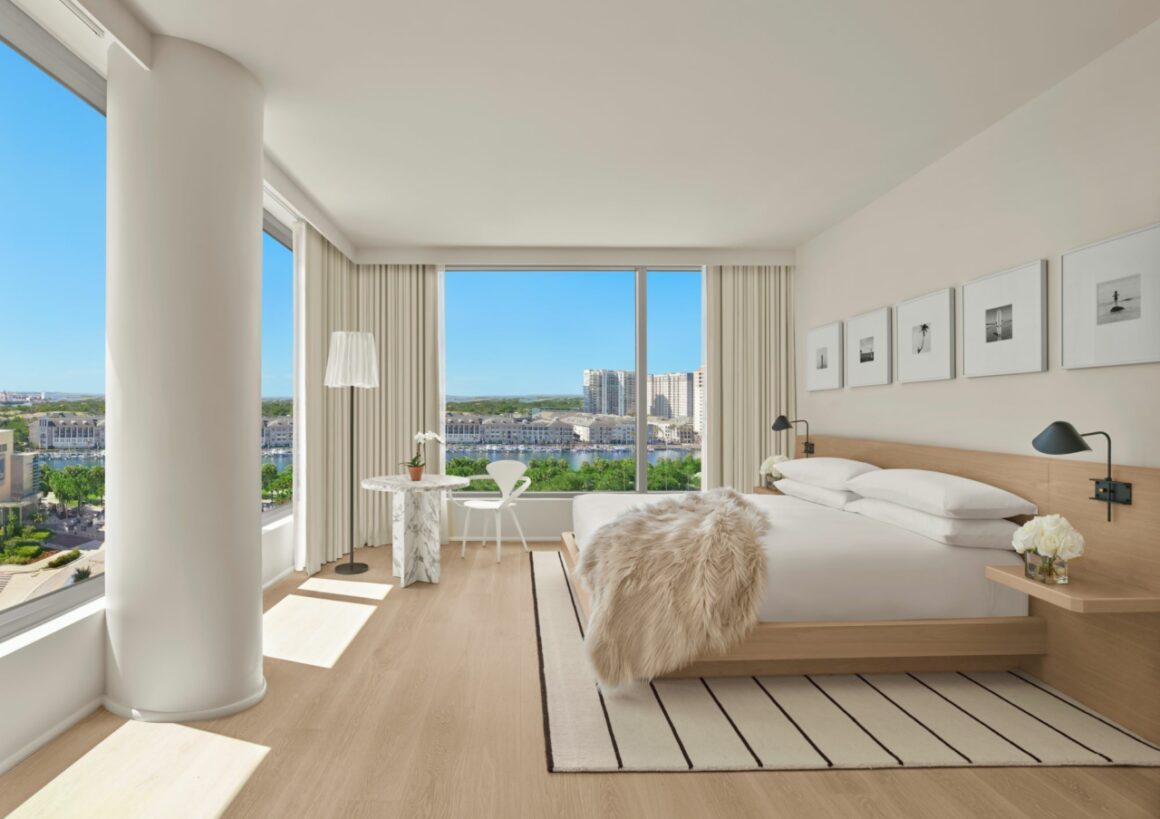 Food and drink
As usual, there is a multitude of dining options and bars, all incredibly stylishly decorated (and full of equally stylishly clad people).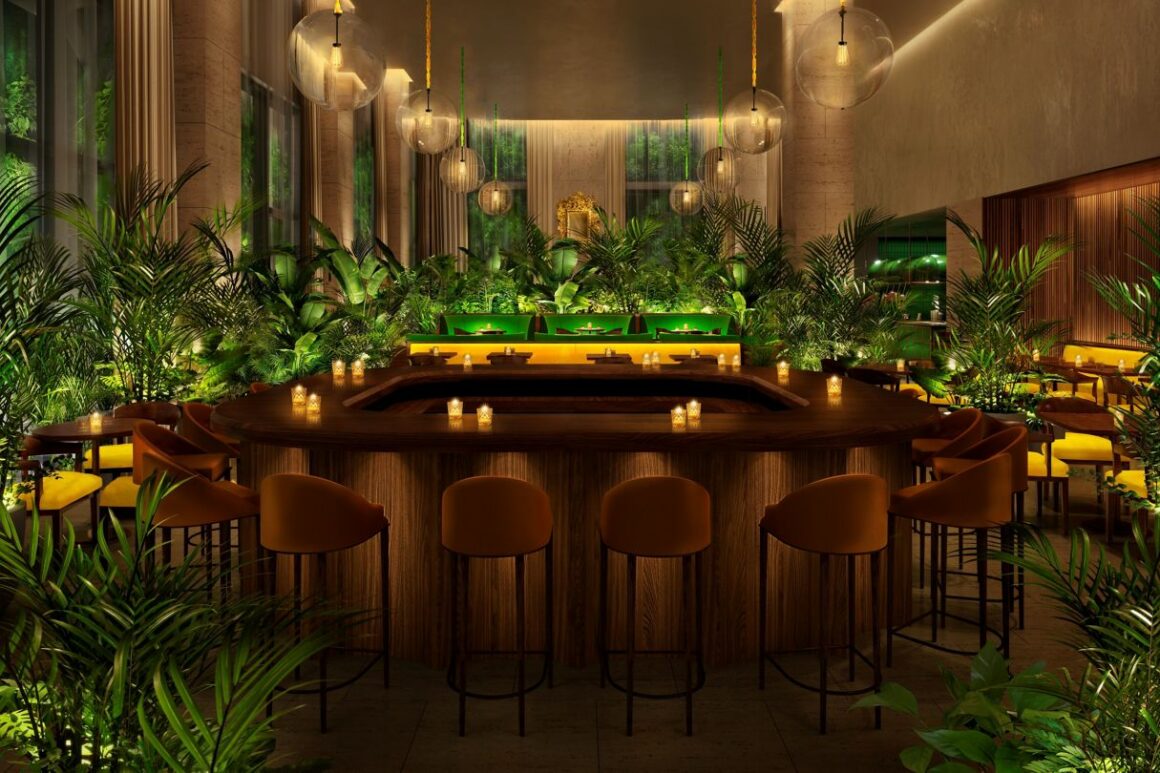 Lilac is a Mediterranean restaurant developed in collaboration with Michelin-starred chef John Fraser. It features tableside preparation, personalized wine pairings and dishes focused on local Tampa-area produce.
Market at EDITION is the all-day dining Italian restaurant on the ground floor which serves breakfast. Being a large group we were given a separate breakfast at the rooftop bar. I ordered room service one morning to sample the normal food and it arrived quickly and was pretty good apart from the hollandaise on the eggs benedict which was a little thin.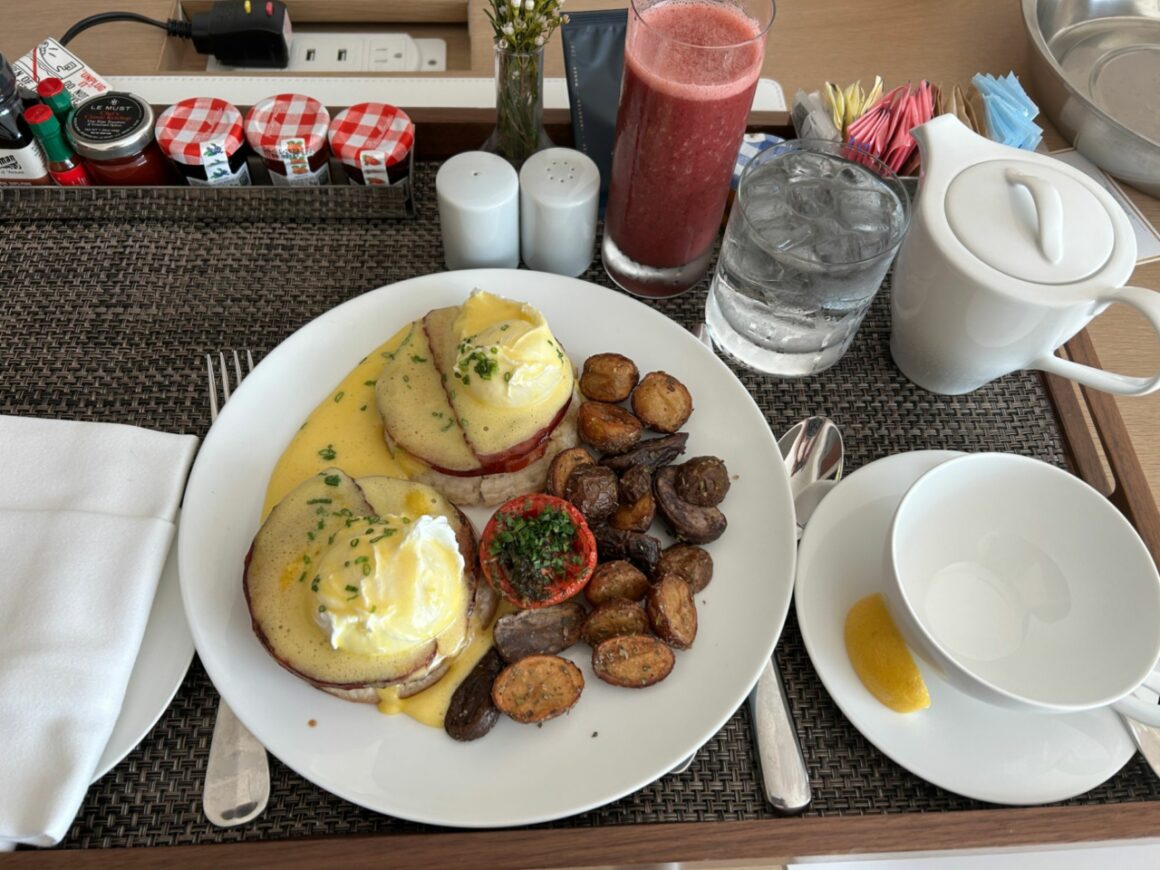 Azure at EDITION is a rooftop Greek-inspired restaurant and was created by Michelin-starred chef, John Fraser.
The Punch Room, the first in North America, (there is one in London that I enjoyed visiting when I stayed at London EDITION) boasts a menu of over ten speciality punches – all dedicated to the flavours of the Caribbean and West Indies.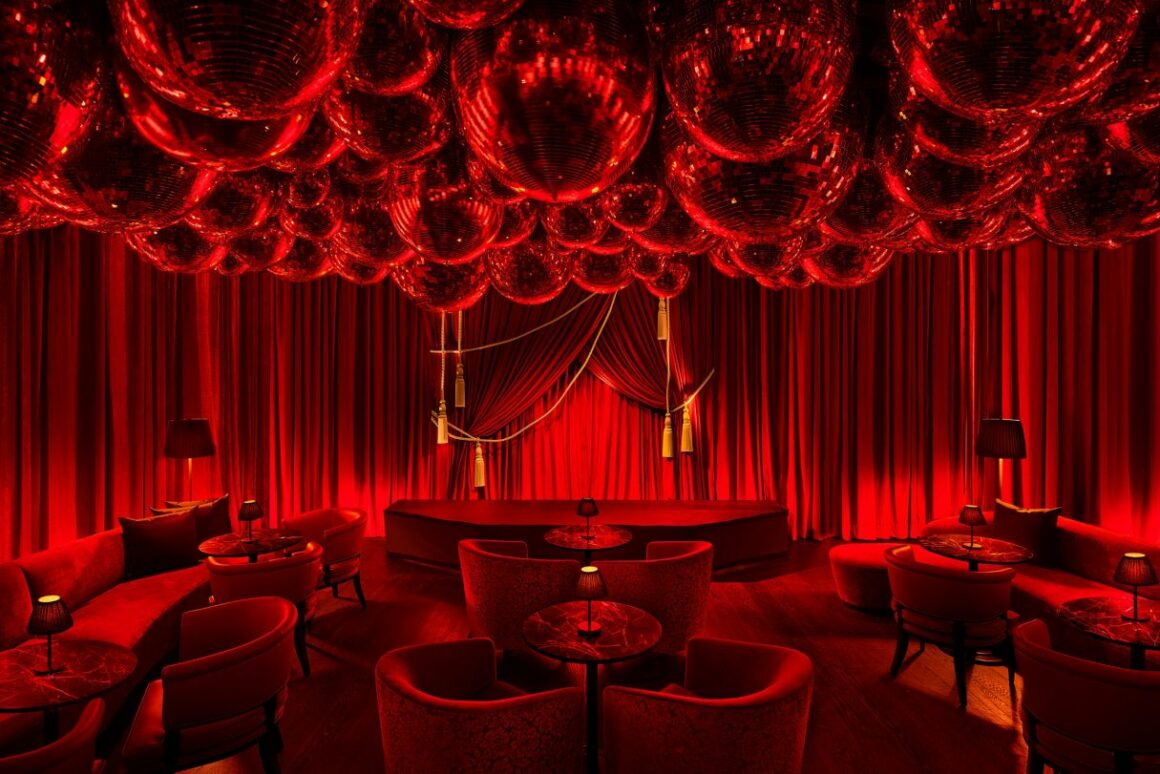 Arts Club is an opulent nighttime venue with tableside cocktail service, light bites, and curated entertainment.
Pool and facilities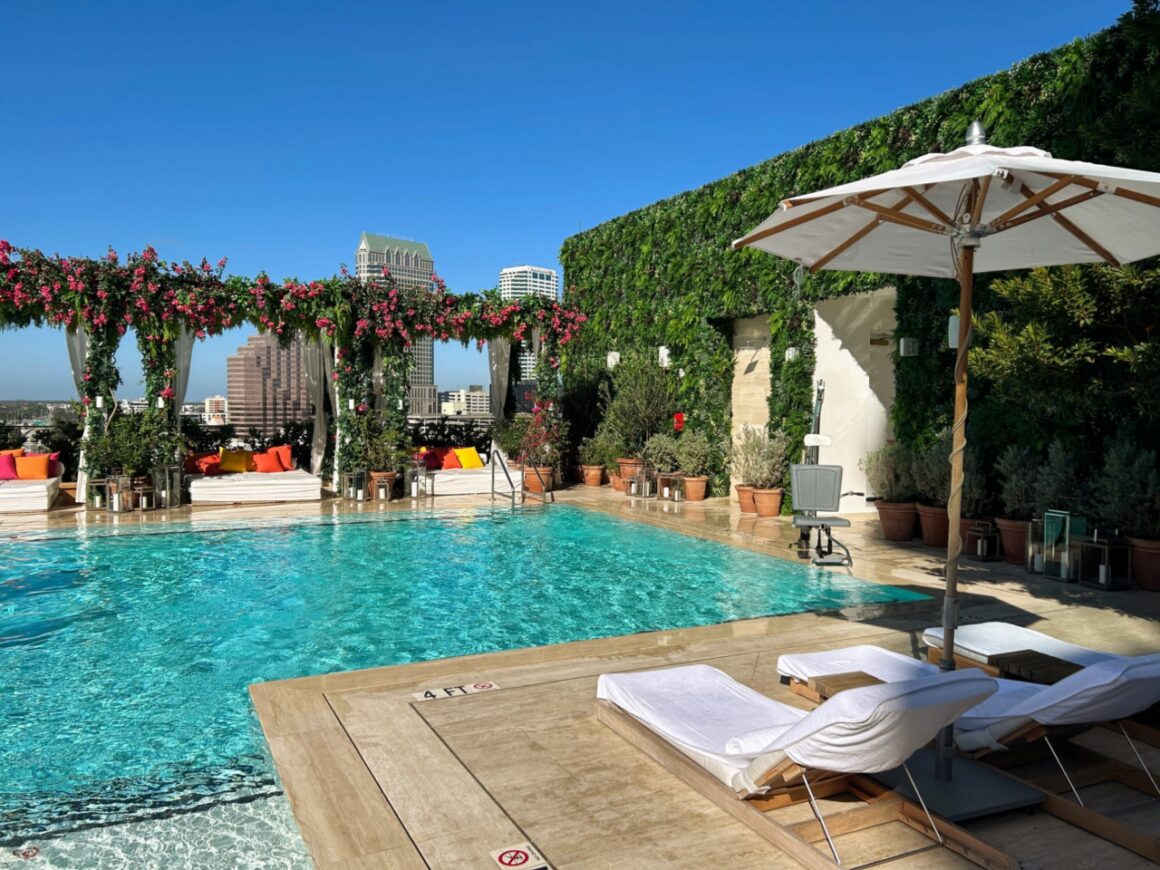 The highlight of the hotel for me was the beautiful rooftop pool, although I could have done with the loungers not being pretty much at floor level. There is no dignified way to get off those! The pool area is only open to residents so don't be surprised if you are questioned on your way in. It really did feel like a private oasis and was lovely for an early morning swim in the sunshine.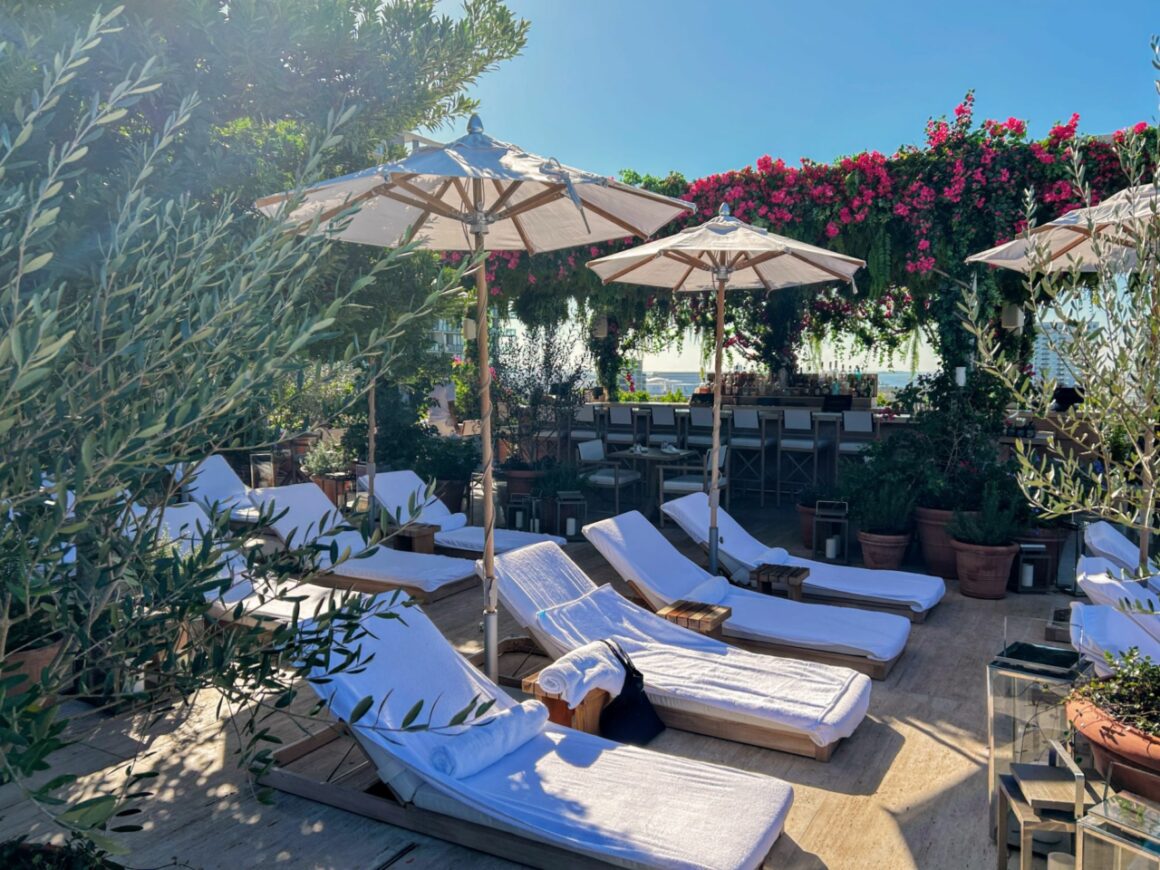 Spa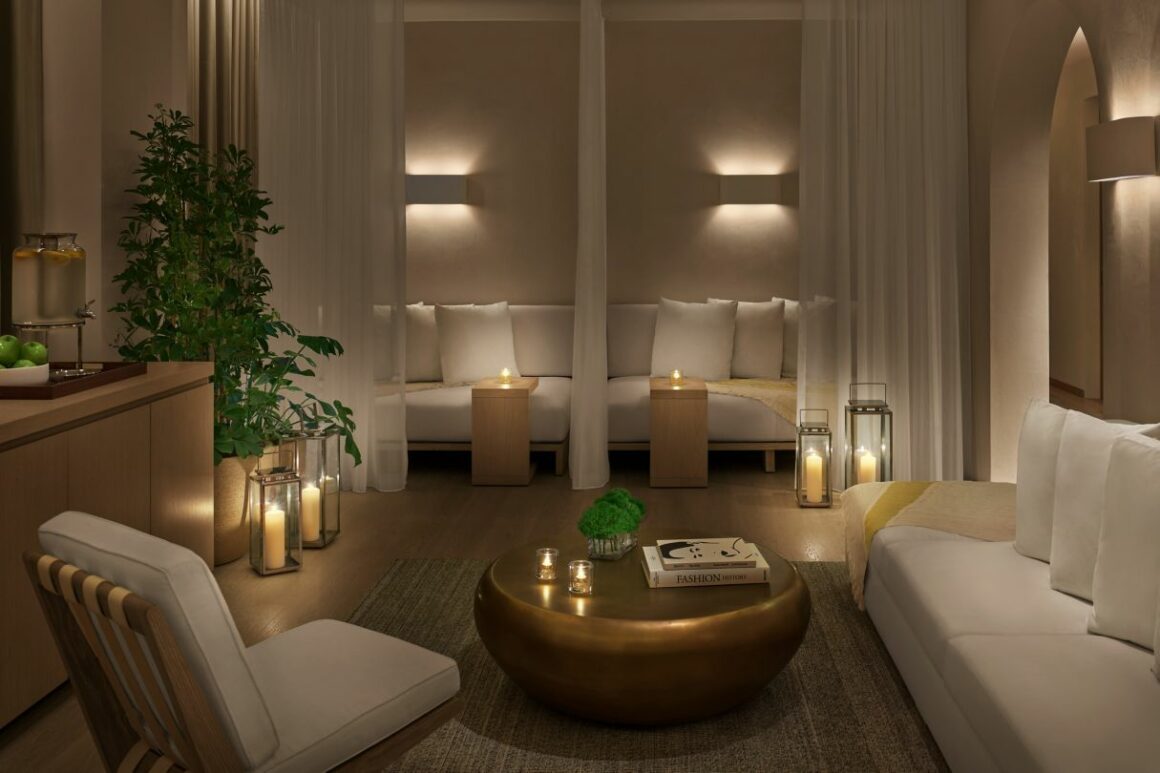 The spa is more about treatments than facilities, but it offers a number of wellness treatments as well as the usual facials and massages with extras such as cupping and CBD available to add on.
Gym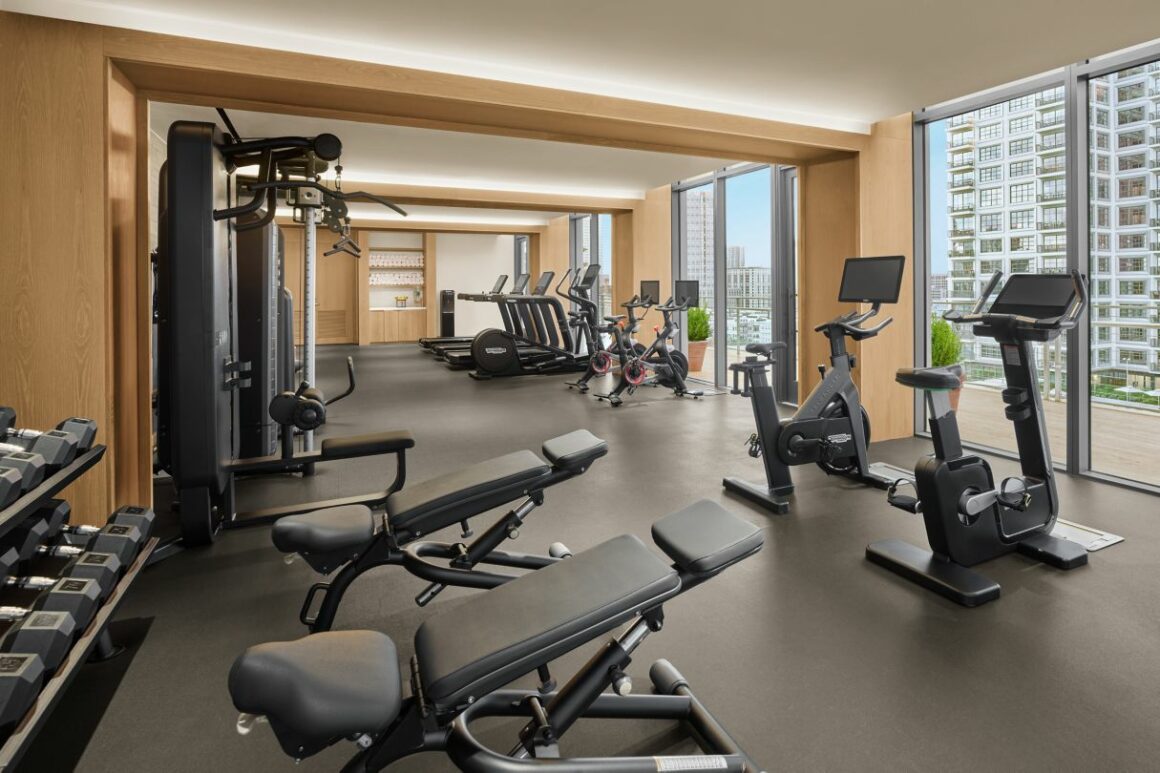 The well-equipped gym has all the latest equipment including Peloton Bikes and the hotel also offers fitness classes.
Conclusion
When I visited, it had only been open a few weeks, and the service was still a little shaky at times, but it is a stunning hotel to stay in. My issue was dealt with, but it did take longer than I'd expect. However, I am sure this will have improved with time and experience.
With its gorgeous rooftop pool, generous size rooms and handy location, it's a lovely place to stay but also worth a visit if you decide to stay elsewhere but fancy a cocktail or special meal.
You can check prices and availability here.
It is also worth checking with our partner GTC if you plan to book an EDITION hotel, as not only will you still earn Marriott points but you will receive free extra perks such as:
Hotel credit value at $100 USD
Complimentary or continental breakfast daily, for 2
Early check in/late check out, based on availability
Priority complimentary room upgrade, based on availability
Virgin Atlantic fly year-round with a daily service to Tampa currently complementing the airline's up to four daily flights to Orlando and double daily flights to Miami.
Like our The Edition Tampa by Marriott hotel review? You can read more hotel reviews here.