I stayed at the Renaissance Hotel the night before an early flight to Helsinki after travelling from Cornwall. The hotel seems to have changed lots since the last review in 2018.
Location
The Renaissance Heathrow is located on Bath Road, just a short drive away from Heathrow Terminal 3 and not far from Terminal 2. It's situated alongside the Radisson, Hyatt Palace and the Sheraton Heathrow. If you can't stay within the terminal, the Renaissance is a good option, especially if you want to build up your Marriott status or retain it.
How to Get to The Renaissance from Heathrow Airport
There's a Hotel Hoppa for £6 each way which regularly stops at the hotel. You can view the timetable below. This is how I chose to reach Heathrow. You can also get a taxi from the rank outside terminal 3 for around £11.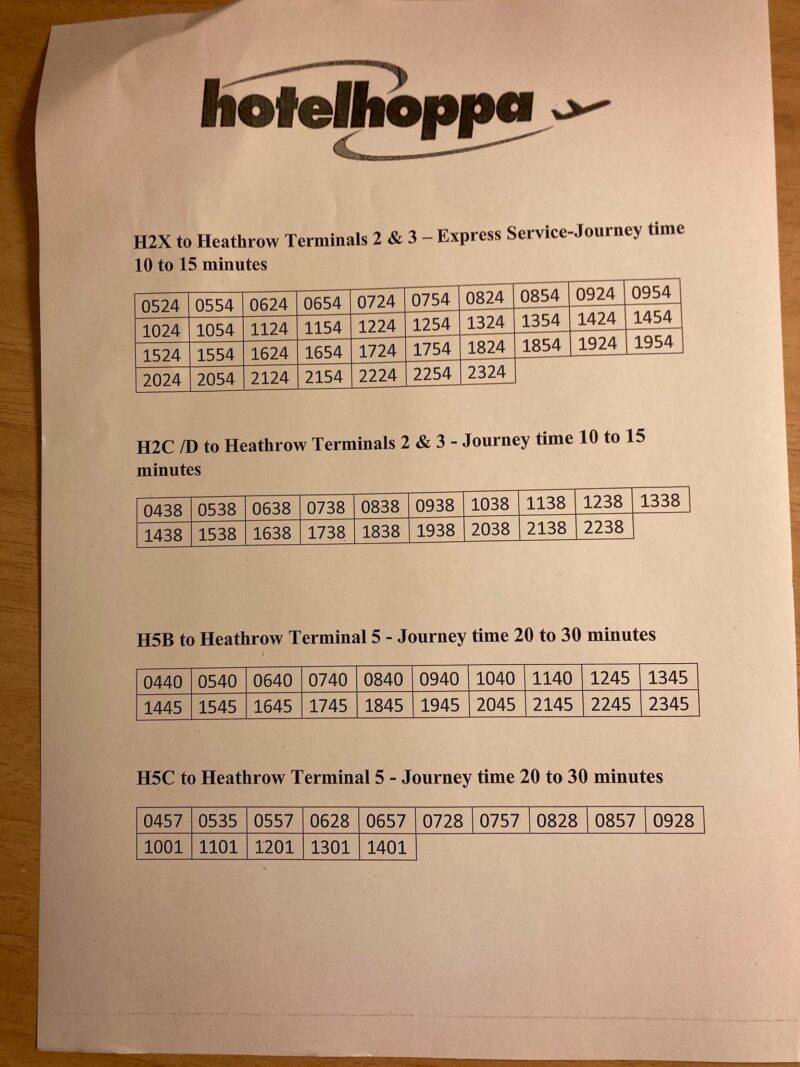 Michele recommends catching the local bus:
"Unless you have a lot of luggage you are much better off getting the bus from the hotel as it's cheap and only made one stop before the airport to T3. Even in the evening, there seemed to be a bus every few minutes as you can get 4 different buses to the airport."
Check-in
I arrived at the hotel at 5:45 pm. It was extremely busy, with around 30 people queuing long to check-in.
Luckily, with Platinum Elite Marriott Status, you can go to a separate check-in desk (it's times like this that it's really needed!). There was still a queue, but it took less than 1/4 of the time it would have.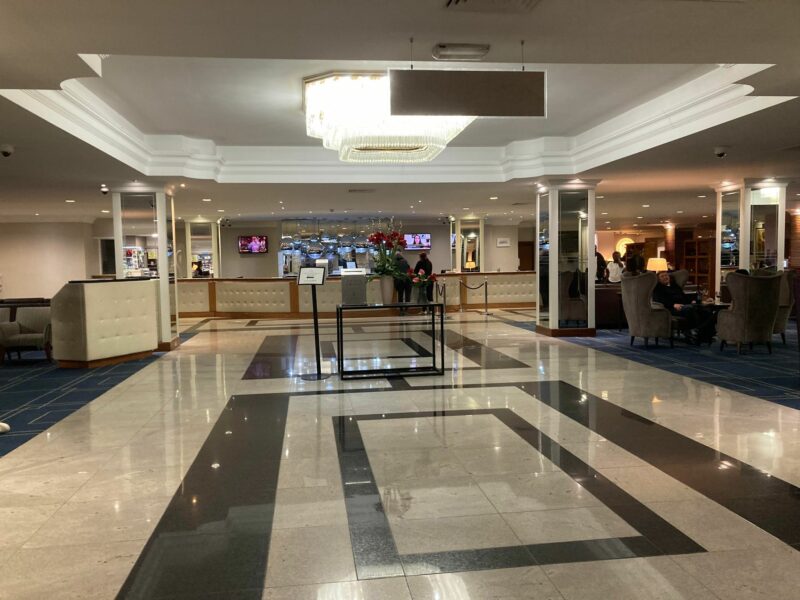 Check-in took a while. The receptionist spent a while confirming the booking as it was booked with points. At last, I was given the room key and told I could use the executive lounge.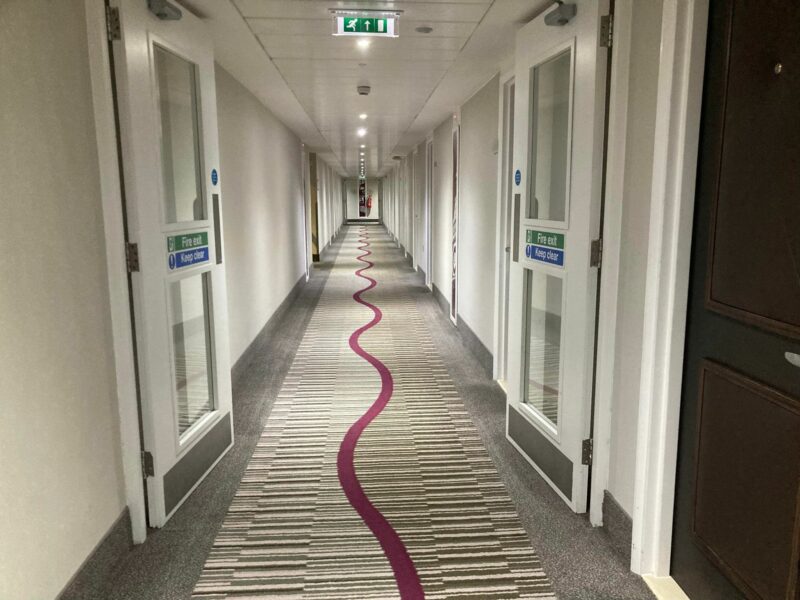 It was very difficult to find my room. I was not a fan of the corridors. The corridors are connected around the hotel in a rectangular shape, and I went round and round! This would not be good if you had just arrived after a long flight.
The Room
I was given an upgrade (due to Marriott Status) to the Superior Executive Lounge access room. I was asked whether I would like a room with runway views. I confirmed this as I thought this would be of interest to TLFL readers. It was dark for most of my stay, so I did not have amazing views.
I also had to wake up early the following day. However, if you love plane spotting, make sure you ask for a runway view room when you check-in. The issue with being on the runway side was the noise. The rooms are far from soundproof, so you would have to weigh that up when deciding if you want a runway-view room.
I am sure the other side of the hotel would be much quieter. I was unaware of how near the hotel is to the runway. When I landed back at Heathrow, I had a clear view of the hotel once we slowed down!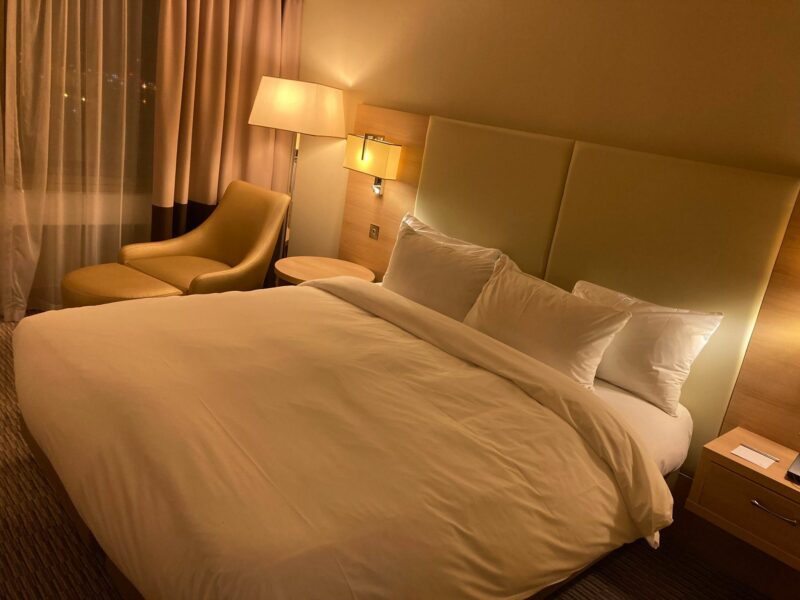 The room was just the right size for a one-night stay. It was not overly spacious but had everything needed for an airport hotel. The bed was very comfortable, and there was a good choice of pillows.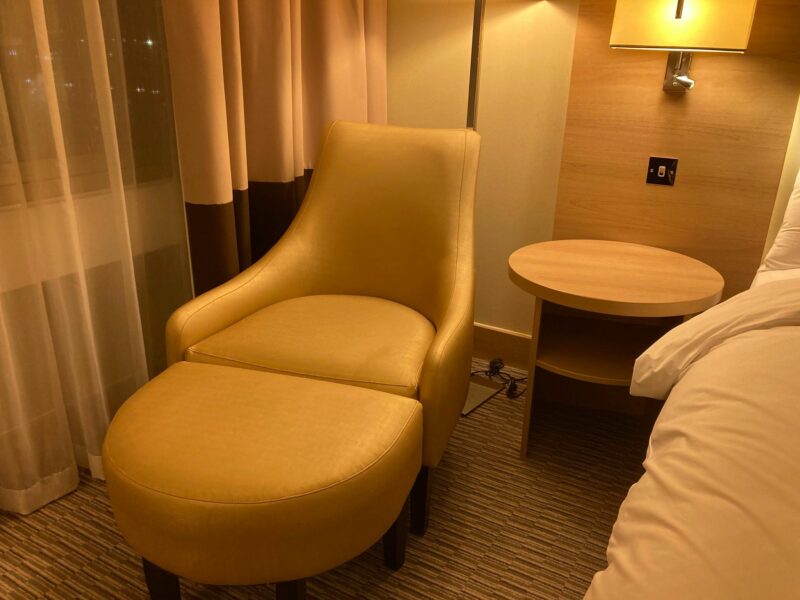 There was a chair with a leg rest that was very comfortable – although I did not have much chance to relax on it!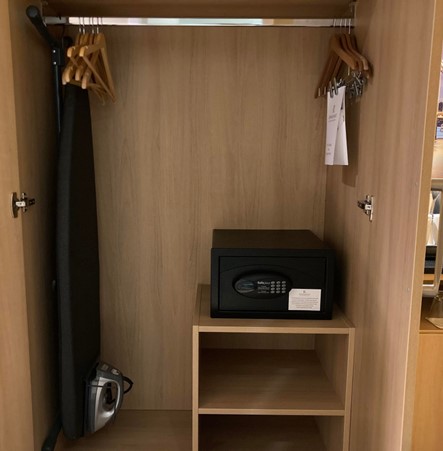 The wardrobe also featured everything you could need, with space to hang up clothes, a safe and an ironing board.
I was impressed with the tea and coffee-making facilities. A range of coffees and teas were available, and they knew the needs of people catching flights. The water and takeaway coffee cups came in handy.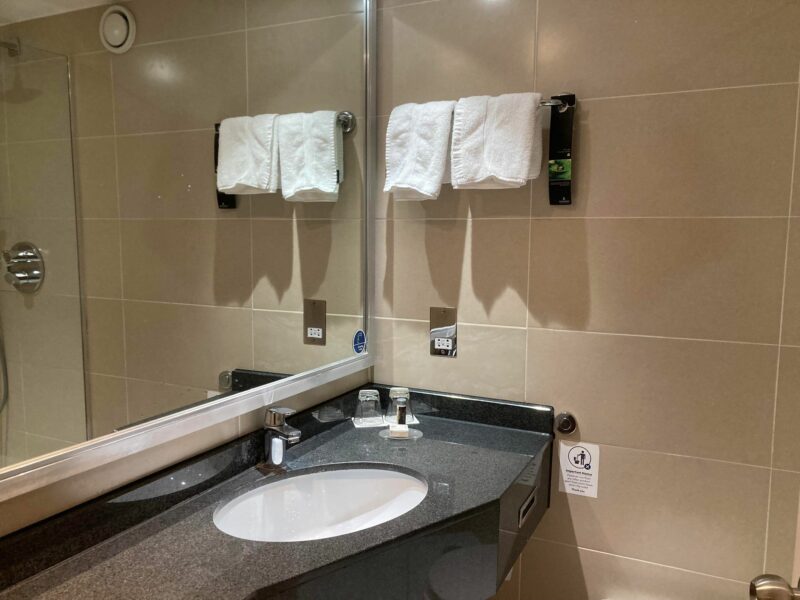 The bathroom also had everything you could need, and the shower pressure was very good too. I was a big fan of the toiletries provided!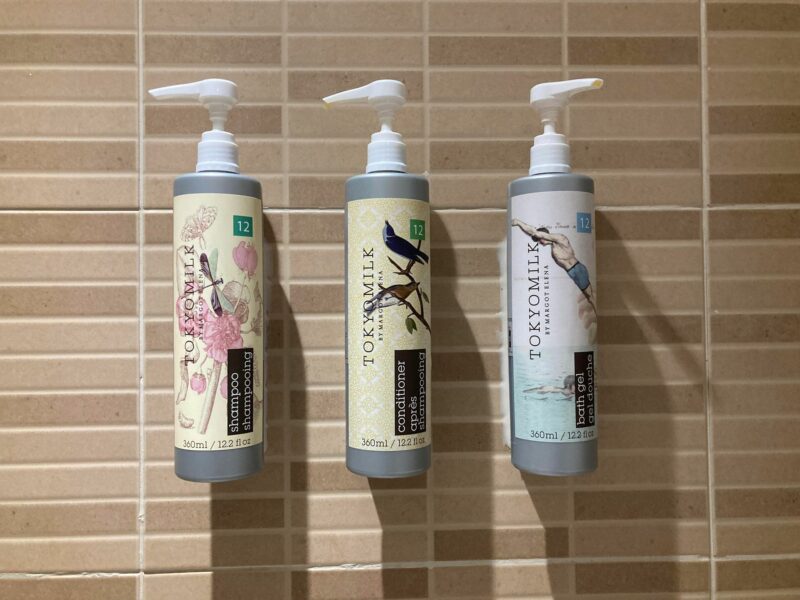 Other room options include Queen, twin and Superior. You can also opt for the executive runway suite:
Breakfast
Breakfast is served at the Market Garden from 6:00 am-10:30 am. Due to my early flight, I did not opt for breakfast this time.
Dinner
The Renaissance has two dining options:
The Market Garden
The Market Garden specialises in seasonal European dining. I did not notice the market garden when choosing where to eat. You can read about the Market Garden in the 2018 review.
Bar Eleven
Bar Eleven has traditional English food, lovely cocktails and a large selection of beers and wines.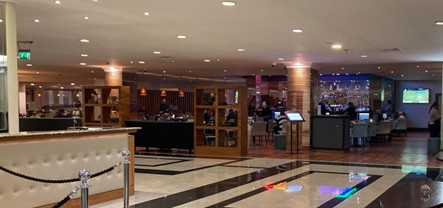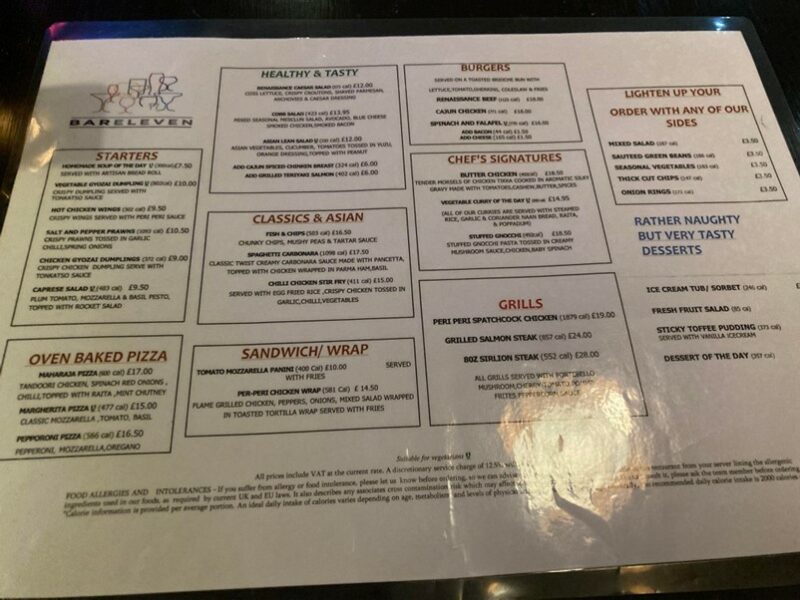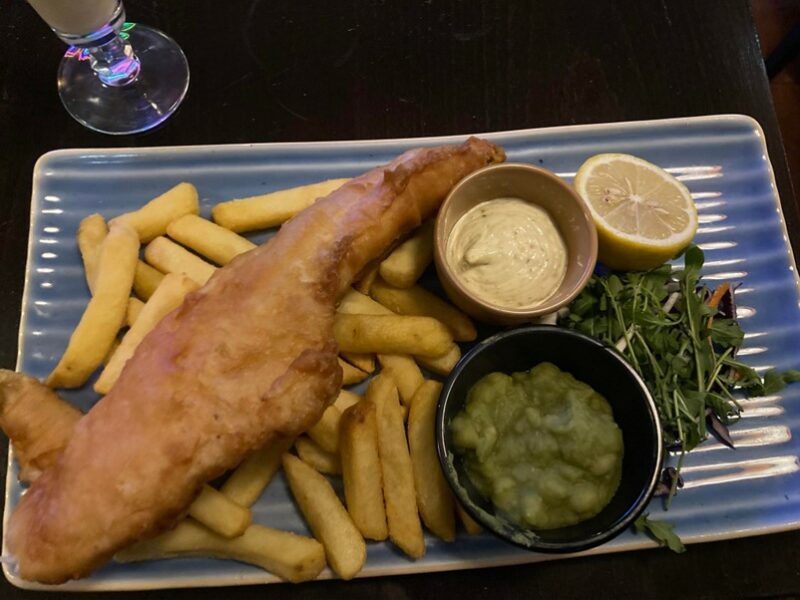 I opted for the fish and chips.

And a Pina Colada!
I was impressed with the service and highly recommend dining at Bar Eleven.
You can dine from 11:00 am – 12:00 am.
Cafe Cha
Cafe Cha is great if you need a quick coffee. It's open daily from 5 am to 9.30 pm.
The Executive Lounge
The Executive Lounge is a great benefit if you've upgraded your room or hold Marriott Status
To access the executive lounge, you must hold one of the following:
Platinum Elite
Titanium Elite
Ambassador Elite Marriott Bonvoy
Executive Runway View Room
Executive Runway Suite
Access for one guest staying in the same room will also be granted. You can view the terms and conditions here.
I was impressed with the lounge overall. Snacks and non-alcoholic drinks are served most of the day, and in the late afternoon/evening, canopies and wine are available.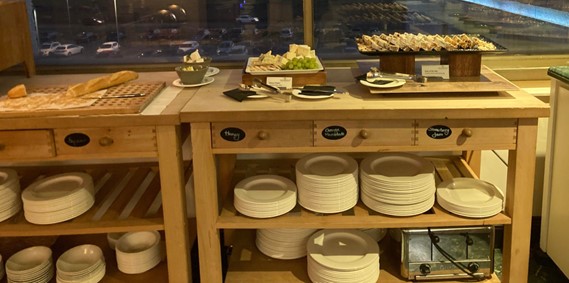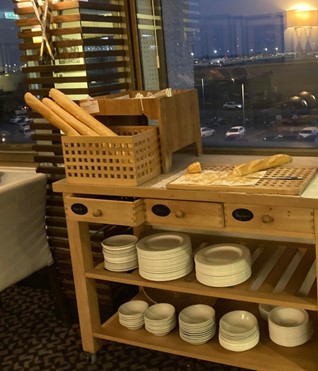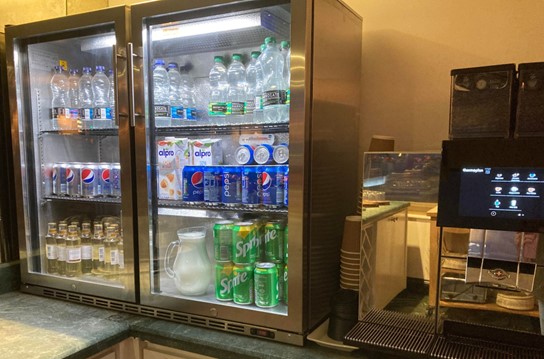 You can enter the executive lounge with your room key. Nobody was at the desk when I entered, but I was asked whether I would like wine/canopies very quickly after selecting some snacks.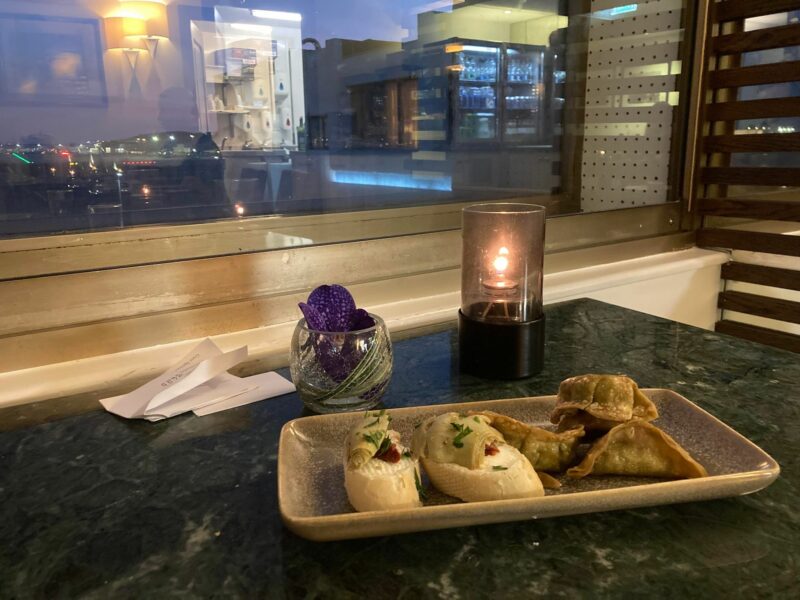 Other Facilities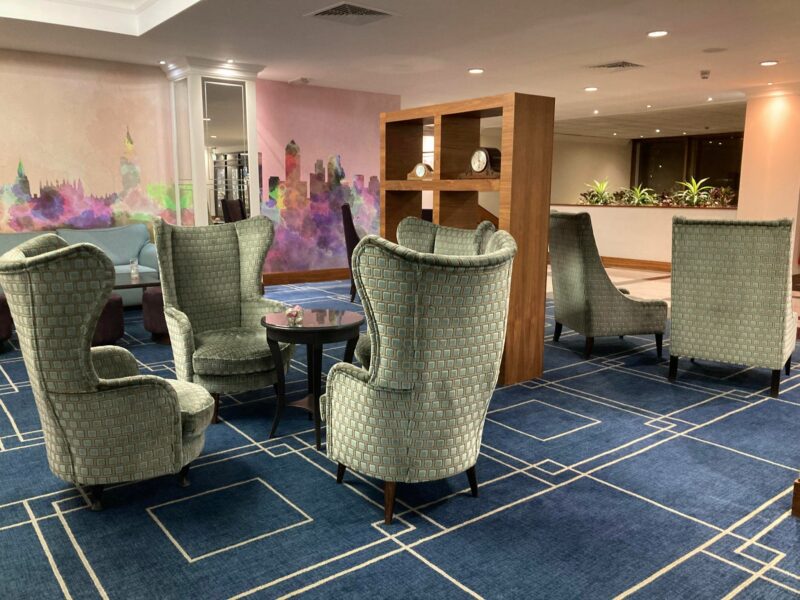 A shop on site also sells various London souvenirs and essential toiletries.
Getting Back to The Airport
I caught the early morning Hoppa shuttle. It ended up taking about 20 minutes. If you needed to get to terminal 2 it would take just 10 minutes, but the driver waited around before starting the journey to Terminal 3. There is also the option to get the Hoppa to Terminal 5 if you need to. The bus parks right outside the hotel and very close to the Terminal 3 Departures area.
Getting Your Stay for Less
Rooms at Renaissance London Heathrow start at £89 a night and can increase dramatically during peak season.
You can start saving money immediately by joining Marriott Bonvoy and unlocking member rates. The main rewards begin when you have stayed ten nights a year and get silver status. Here, you can begin collecting 10% more points and benefit from late check-out.
You really start seeing the benefits once you reach Platinum Elite Status (50 nights), where you get a reward every time you stay (breakfast, points or an amenity), 50% more points per stay, 4 pm late checkout and lounge access.
You can check room rates and availability here.
A reminder of the Marriott Elite Benefits: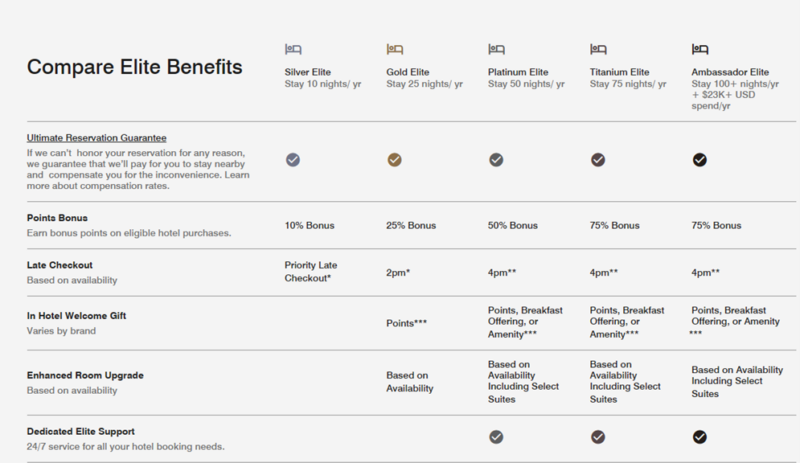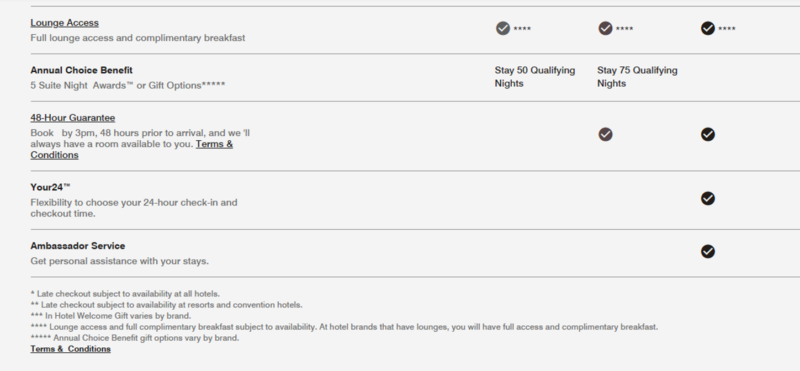 Final Thoughts
The Renaissance Hotel was very convenient for the night before a flight. The hotel had everything I needed for a night's stay. Although there were a few noise issues and considerable check-in queue, I was happy with my stay overall. It would have been good to be within walking distance of terminal 3, but the additional facilities, like the executive lounge, made the travel time worth it.