Both Sylvie and I have been on press trips with Finnair to the Nordic region recently, so I thought we would turn it into a series of articles about visiting Helsinki and where you can easily travel to for a two-centre holiday or a day trip from Helsinki.
In part one, we will look at visiting Helsinki itself. Then we will look at the countryside near Helsinki and finally Tallinn in Estonia.
Helsinki
For six years in a row, Finland has ranked No. 1 as the happiest country in the world, according to the World Happiness Report. So it's about time we all visited to find out why (given the miserable state of the UK at the moment….)
I must admit I had been through Helsinki airport on numerous occasions and never been further than the Helsinki Hilton, once I got there I wished I had visited sooner.
I was pleasantly surprised by the stunning architecture and lively food and drink scene, as well as hotel prices. Although food and drink area bit pricey similar to high London prices, hotels can be found for a very reasonable price which makes it an affordable destination.
You can find all the essential information for Helsinki here.
Getting there – fly on a long haul aircraft
The only direct flight from London Heathrow is with Finnair. Low-cost airlines are available from other London airports.
You can read my reviews of Finnair's business class flights here. If you are lucky, you may get an A350 with their new Airlounge seats even for this short trip. The airline uses the A350 daily over the summer, with it usually being on the last rotation of the day. Even the older seats are still all aisle access flatbed, so you can relax on the 3-hour flight in complete comfort. Prices in economy start from £171 and in business class from £546. When you compare that to the current prices for short-haul travel, they are actually pretty reasonable for the length of journey.
Obviously, you can earn BA tier points on Finnair, and with it being a longer short-haul route you would get 160 tier points return. You can also redeem Avios on Finnair through ba.com
One option if you can't find availability for business class on Avios would be to transfer Amex membership reward points to Finnair and use the miles to upgrade or buy a business class ticket depending on how many points you have.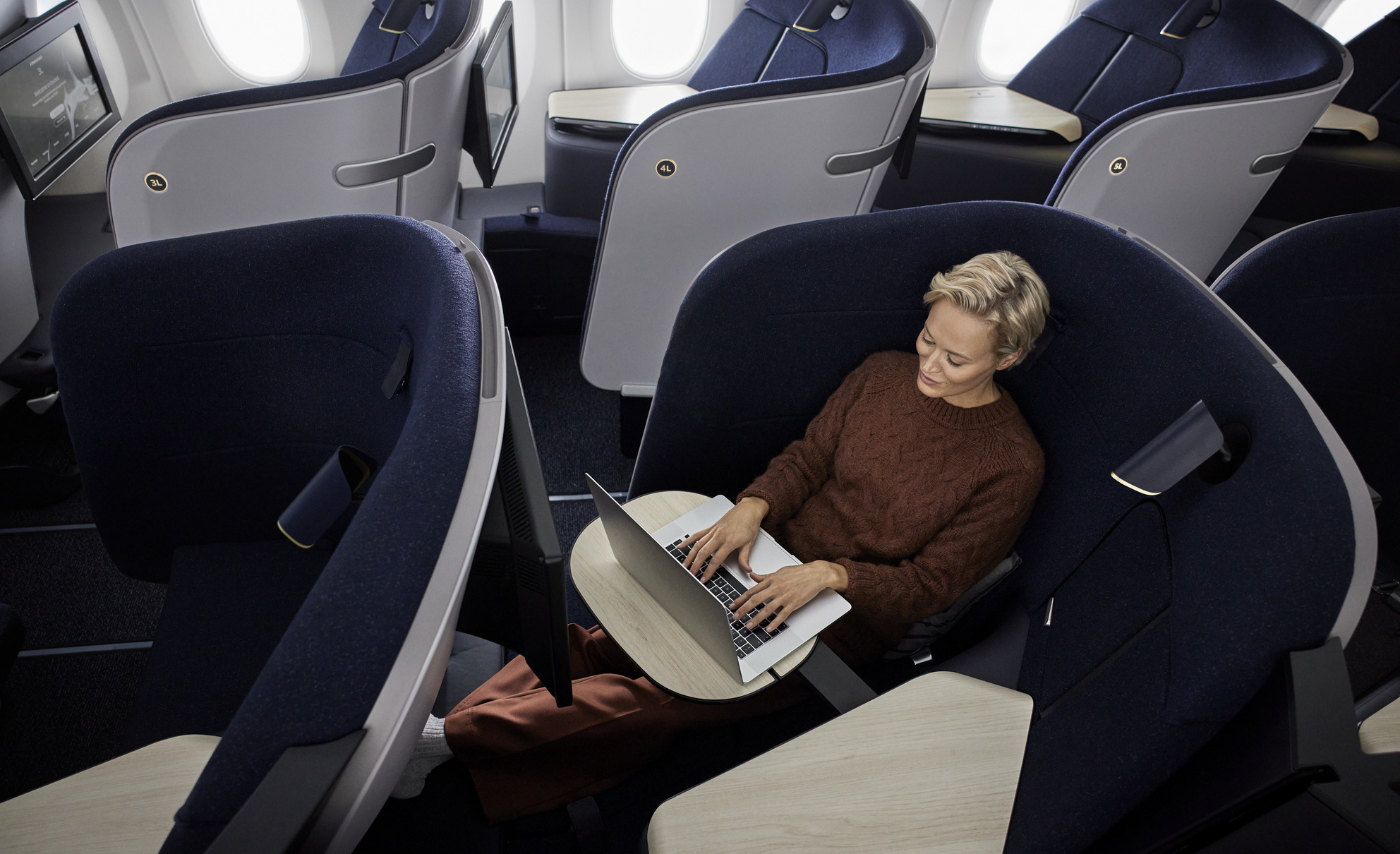 I really like Helsinki as an airport. It is modern with some lovely shops, and the lounges are great. There is a good Finnair business class lounge, and if you have status, the Premium lounge even has a lovely sauna as well as a restaurant with some delicious reindeer burgers on the menu!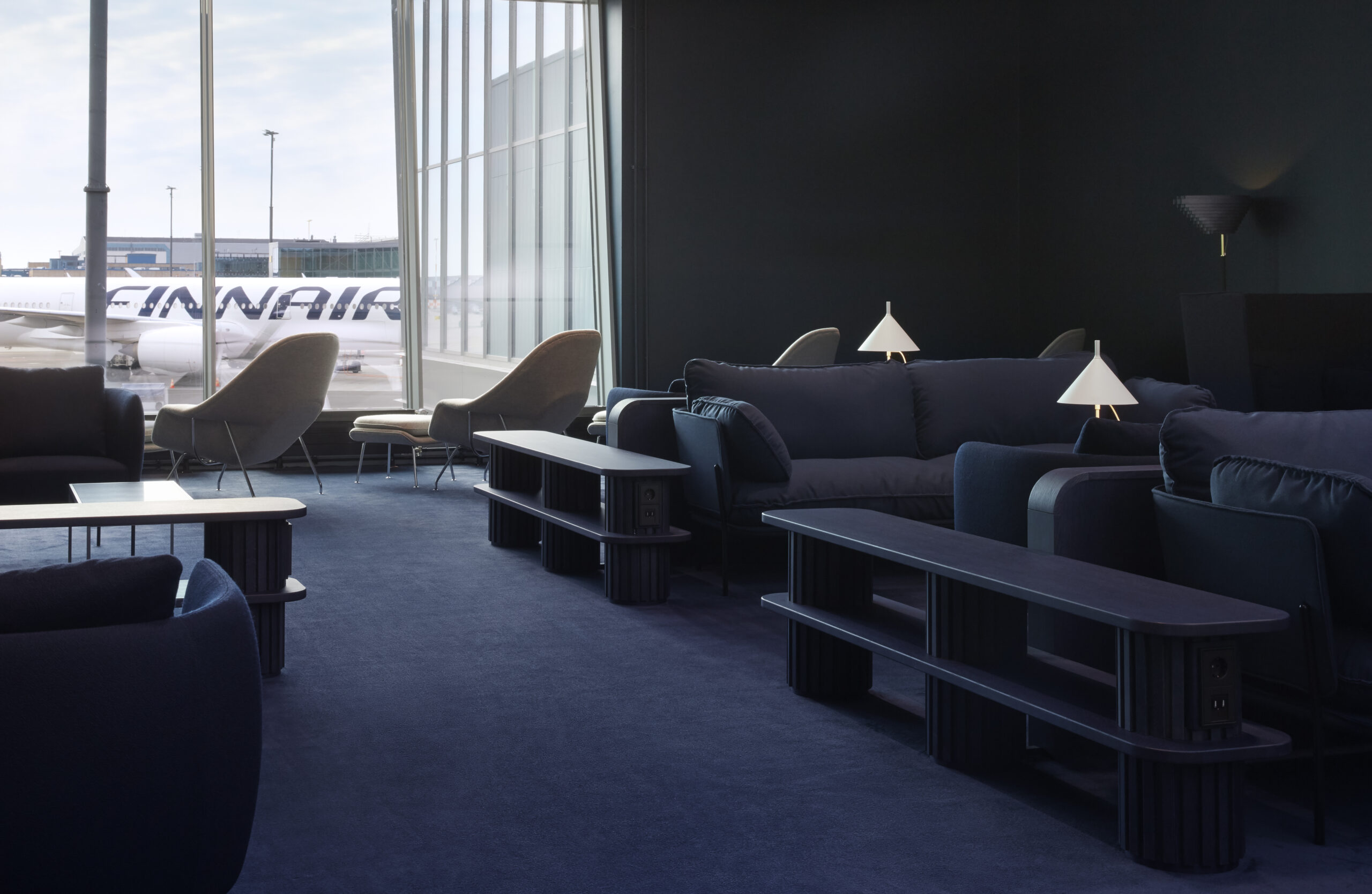 Where to stay
Airport
If you are planning to head onwards to somewhere else and just plan to stay overnight, I have stayed at the Hilton Helsinki airport and found it to be very good. They are usually pretty good at upgrading Gold and Diamond Honors members, and if you are lucky, you will get a room with its very own sauna. The hotel is just a short walk from the terminal.
TLFL writer Sylvie stayed at the Clarion hotel at the airport which you can read about here as well as other options by the airport.
Helsinki centre
In the centre of Helsinki, I stayed at new Scandic Helsinki Hub hotel, which has a lovely location opposite the Old Church Park.
There are some lovely cafes in the area, and the tram stop is just a few minutes around the corner. It is also only 10 minute's walk to the railway station or the metro.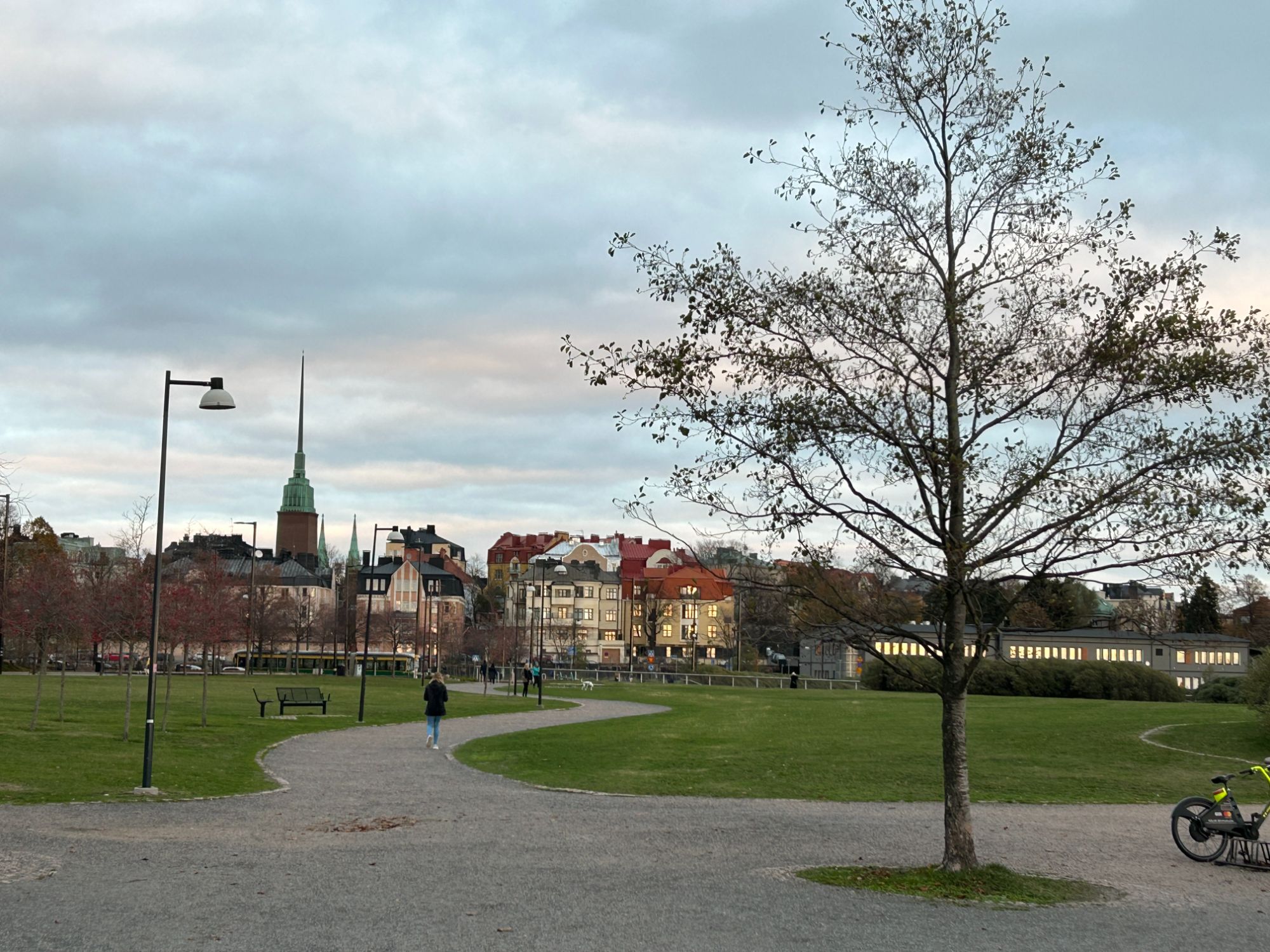 The hotel is housed in an impressive 1920s printing house. Rooms are loft style and very modern. There was an excellent breakfast buffet in the morning with local delicacies as well as more international cooked options. As well as the gym and yoga room, there is, of course, a sauna and cold water bucket showers.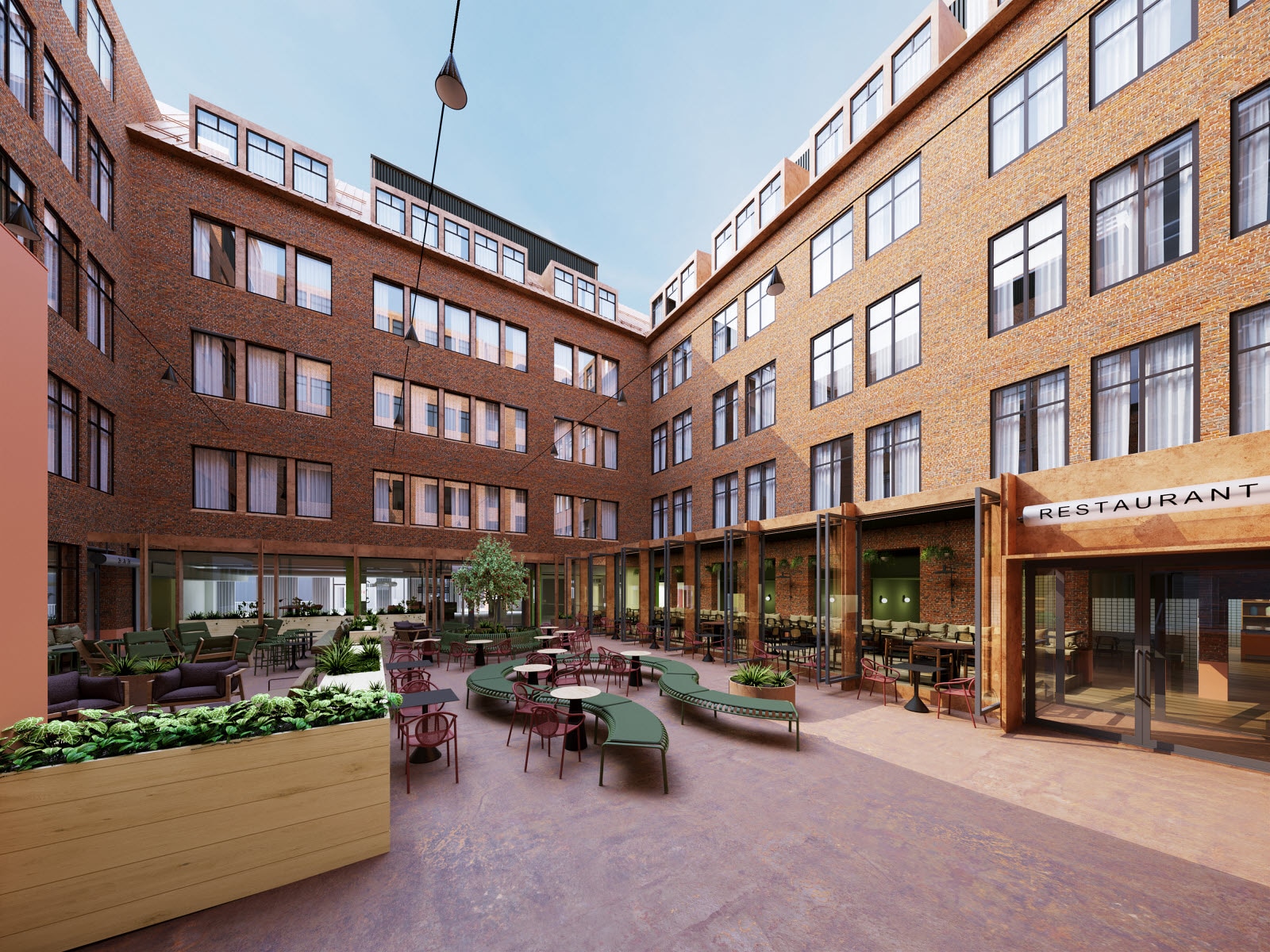 We were there in winter, but in summer, they have a lovely courtyard area to eat or drink.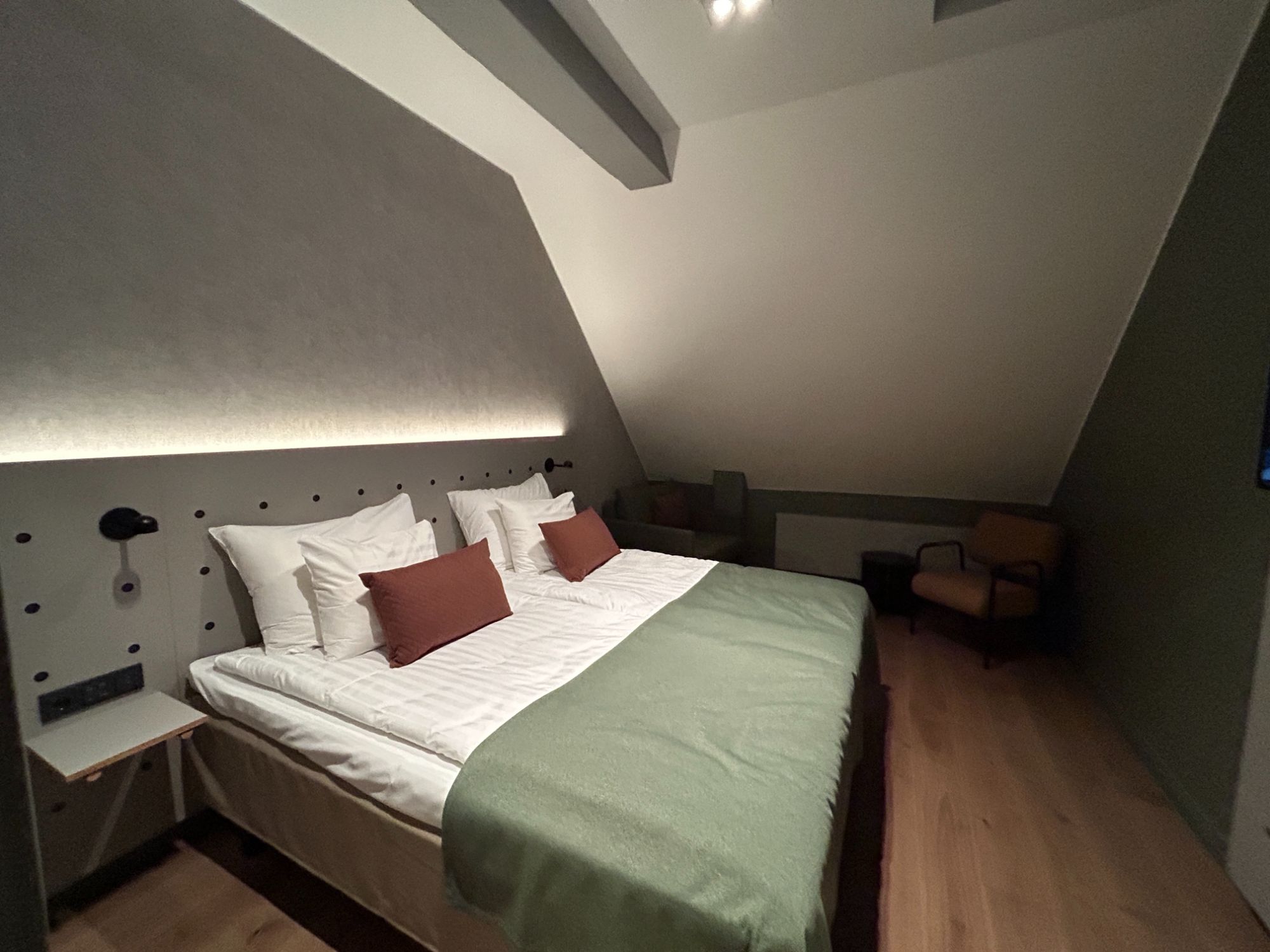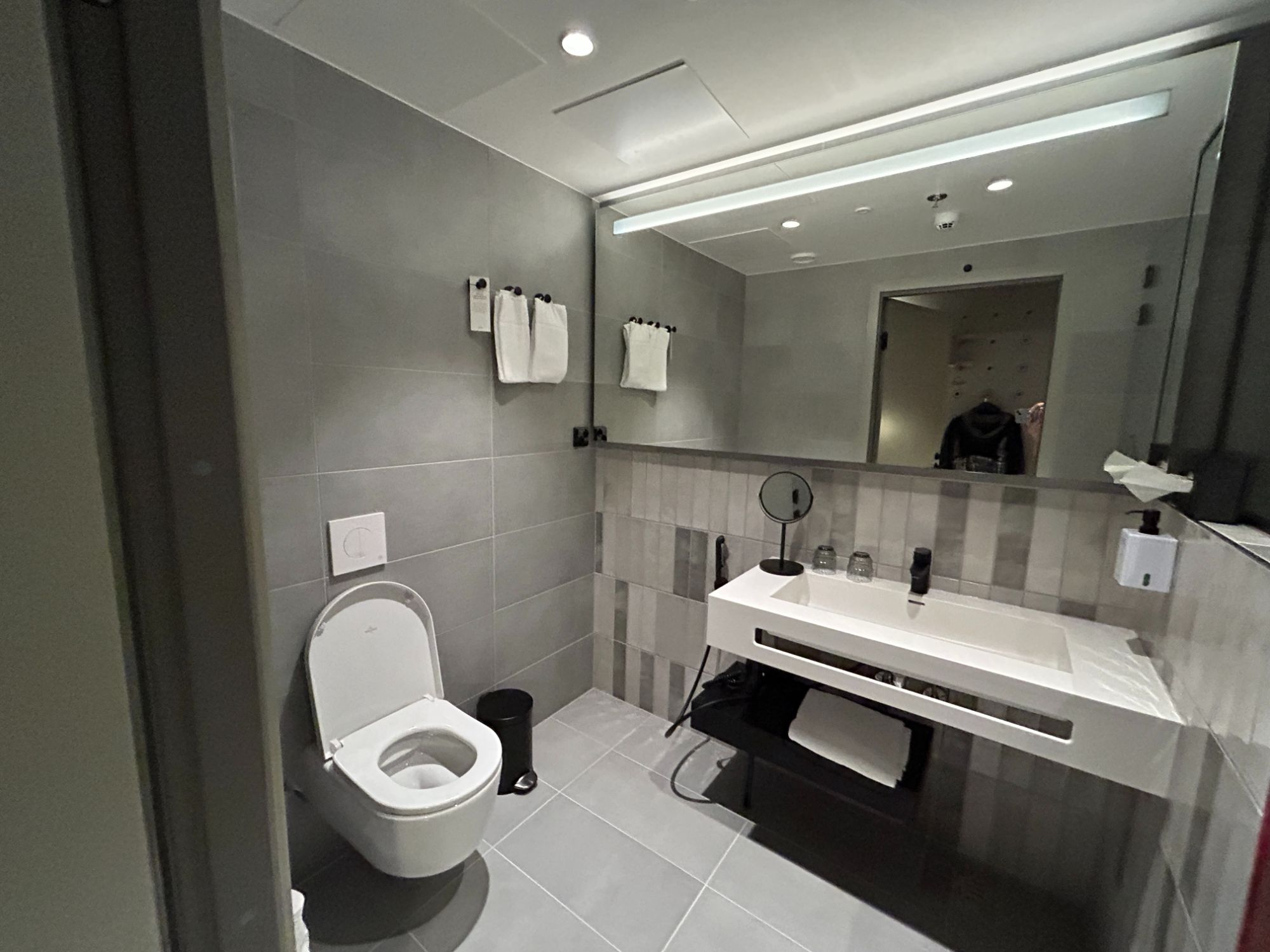 Prices are extremely reasonable, starting from £99 per night!
You can check prices and availability here.
How to get around
You can catch a train from the airport to the city centre very easily. The Helsinki-Vantaa Airport is located approximately 12 miles from the city centre. The modern airport train station is located between terminals T1 and T2 and accessible with luggage on both ends. You can purchase a ticket from the ticket machines or the VR ticket office at the station. Trains leave every 10 minutes, and the journey to the city centre takes about 30 minutes.
Helsinki has an excellent public transport system, and trams are a great way to get around the city. There are 13 tram lines in total, and they cover most of the city's main areas. Trams run from early morning until late at night, and the frequency varies depending on the line.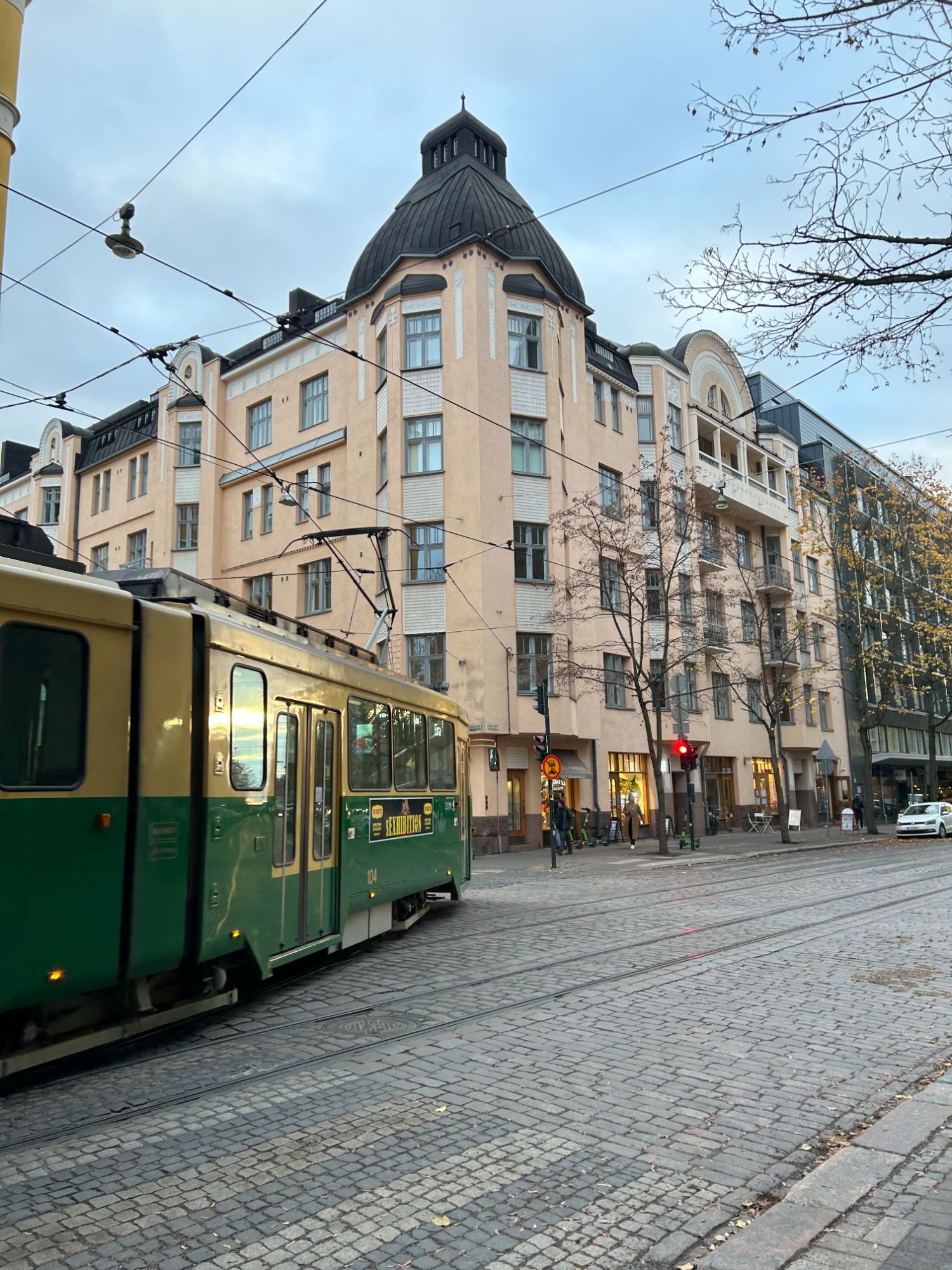 To use the trams, you can purchase a ticket from a ticket machine, a ticket booth or by using the HSL mobile app. If you plan on using public transport frequently during your visit, it might be worth investing in a Helsinki Card. This card includes free public transport and admission to many attractions in the city.
Trams were my favourite way to travel, and I would choose these over a hop on hop off tour personally. I guess since I don't see trams very often there is something fun about travelling by tram. Even if you don't get off, taking a tram line around the city is a great way to get your bearings. It is a relatively small central area so you should be able to cover the main attractions using the tram with lines such as 2 and 3.
Uber is also available, but as you might expect quite pricey!
What to see and do
The main sites are reasonably close together and can be covered with a Helsinki walking tour. Most walking tours should cover the following must-sees: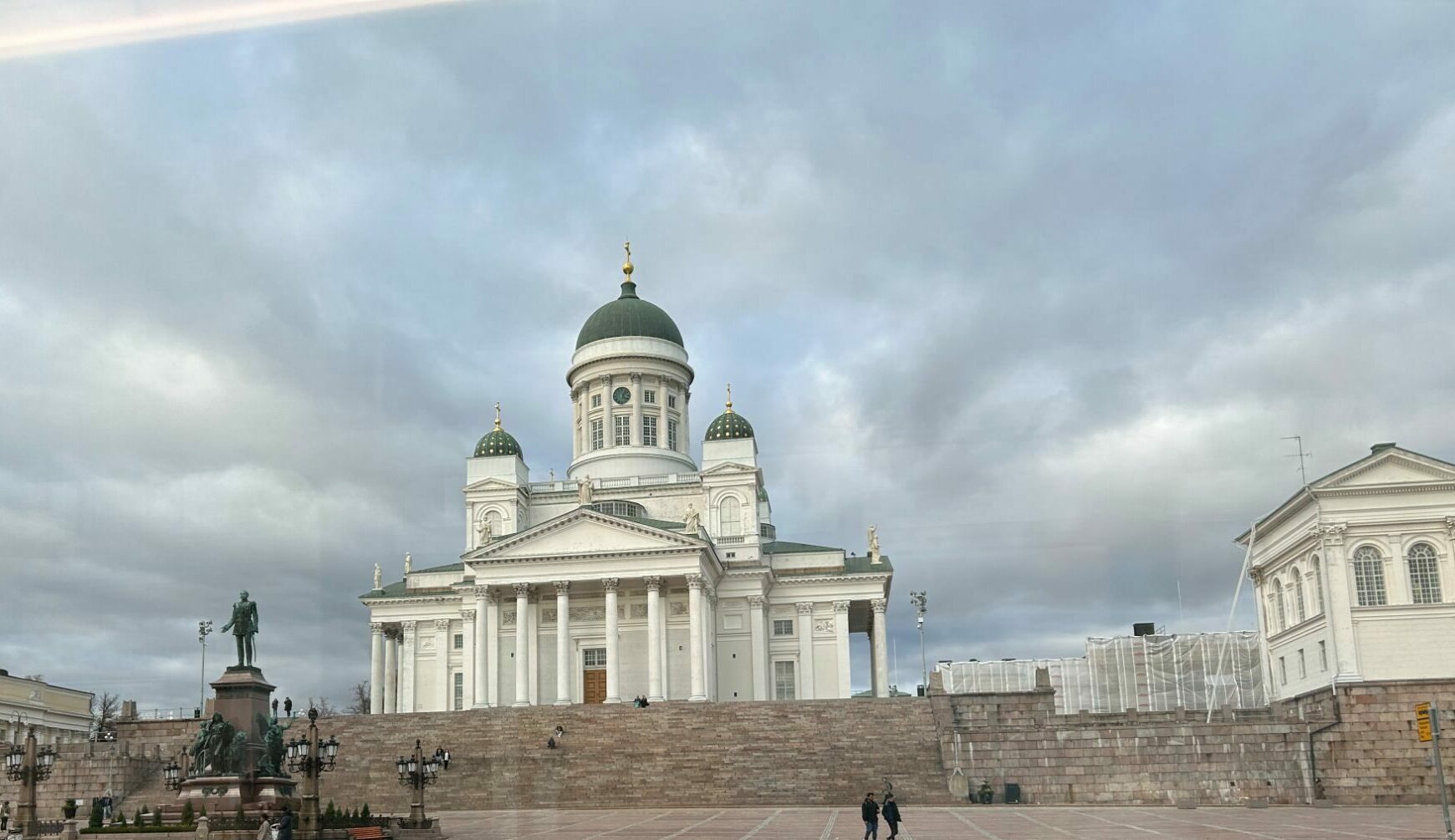 Helsinki Cathedral: Located in Senate Square, this impressive white cathedral is one of the most iconic landmarks in Helsinki. The cathedral is open to visitors, and you can climb to the top for a panoramic view of the city.
Market Square: This bustling outdoor market is a great place to sample Finnish food and drink. You can try traditional dishes like reindeer meatballs and salmon soup or pick up souvenirs and gifts.
Design District: Helsinki is known for its design scene, and the Design District is home to many boutiques, galleries, and museums. If you're interested in Finnish design, this is the place for you. The buildings are also painted in bright colours which makes for some great photos.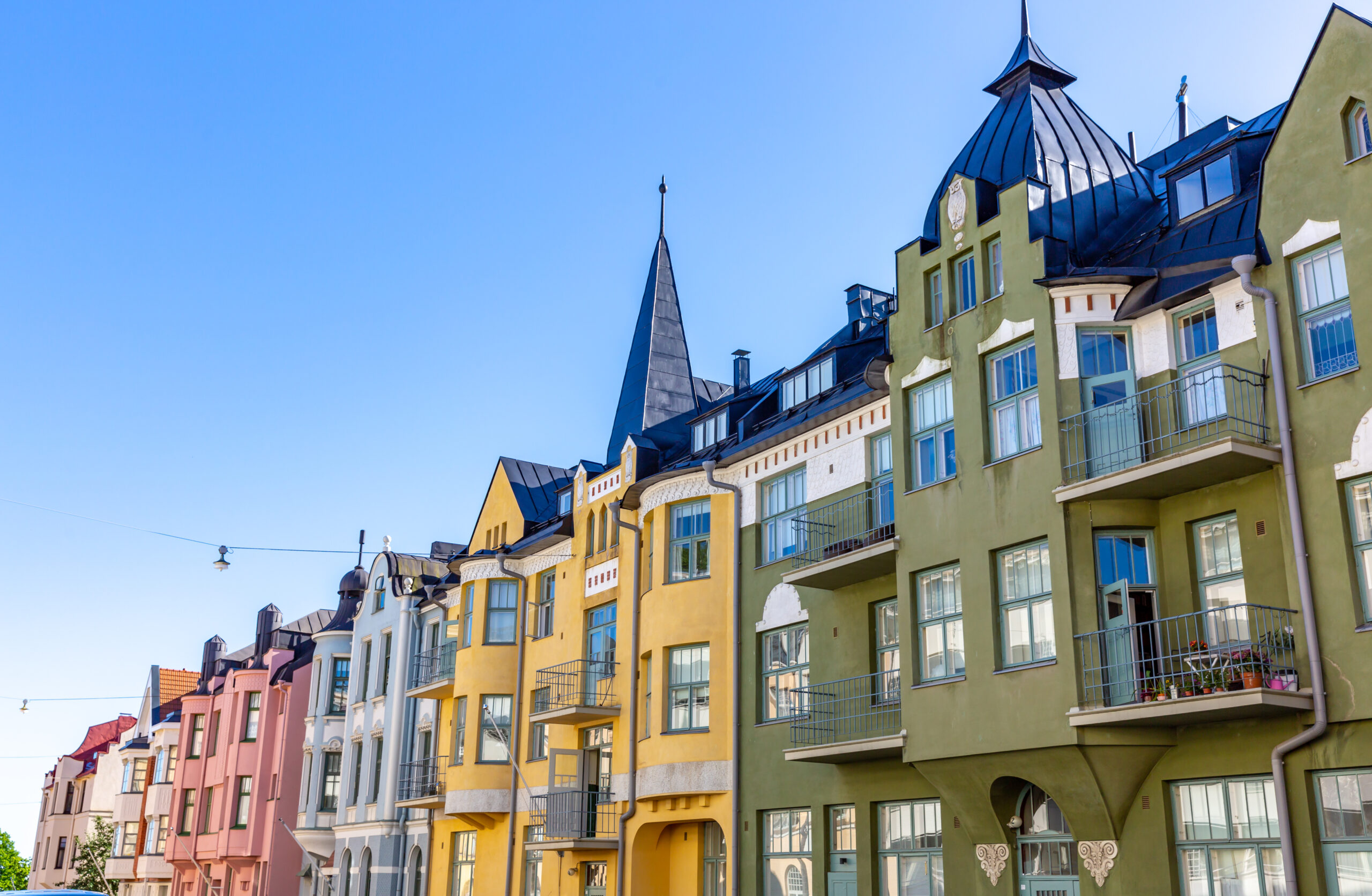 Kiasma: The Museum of Contemporary Art has a collection of over 8,000 works of art and hosts exhibitions and events throughout the year.
Ice Park
In the winter, the Jääpuisto Ice Park is worth visiting and is located in the centre of Helsinki close to the Helsinki Train Station. From December to March, it provides a skating rink where you can hire skates. There is also the Ice Park café to warm up with a hot chocolate.
Christmas market
If you are looking for a new Christmas market destination, Helsinki should definitely be on the list. The oldest and most popular Christmas market in the capital is located in Senate Square. The Helsinki Cathedral, overlooks the scene making for a beautiful setting for the stalls.
There is a traditional St. Lucia procession on 13 December down the steps of the cathedral as well as the market. Over a hundred stalls line the square selling a diverse range of items from handcrafted gifts and Christmas ornaments, to locally grown produce, fish, meat, and prepared foods. Santa Claus makes daily appearances, and an old-fashioned merry-go-round spins in the square's centre, providing free rides for children.
Island hopping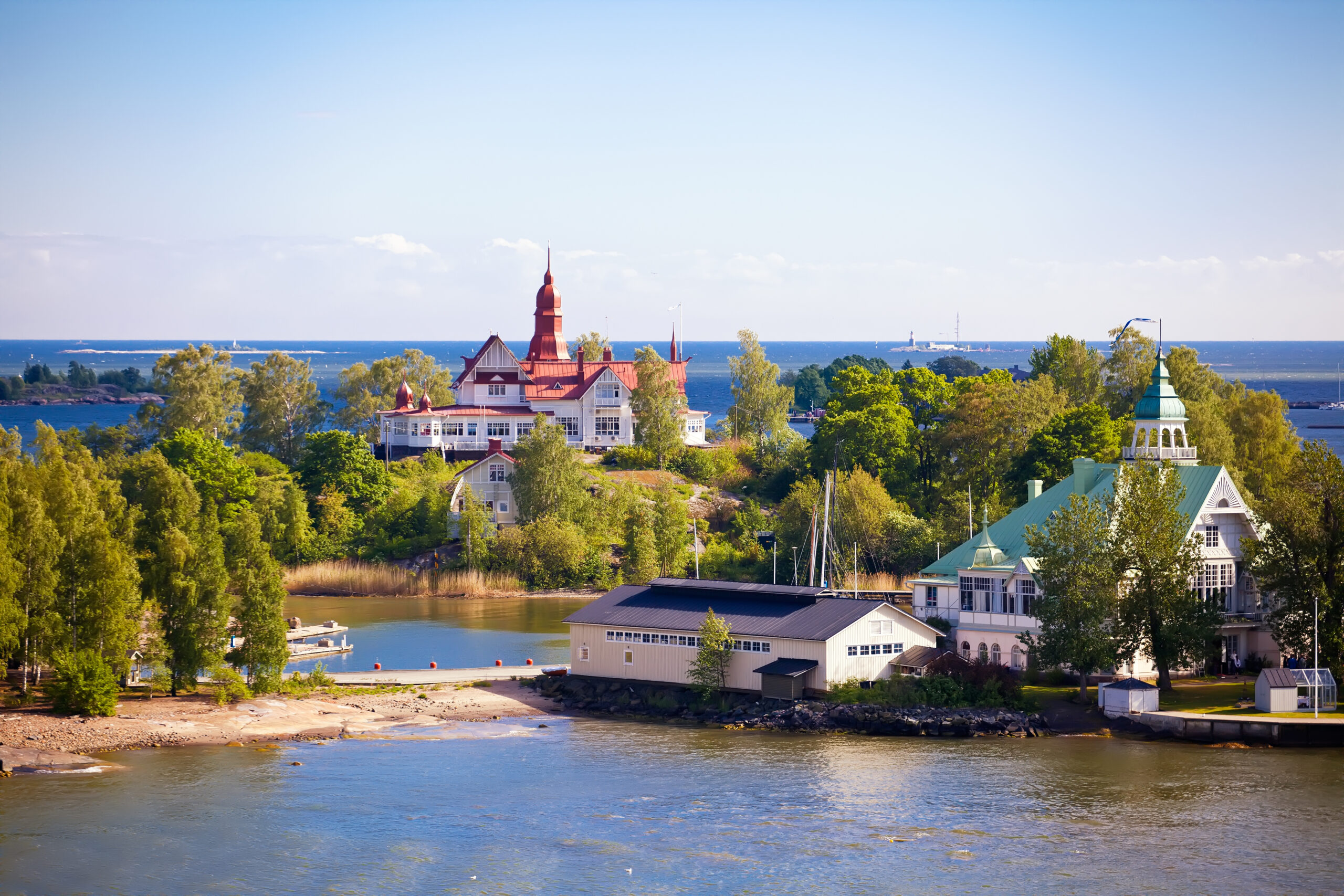 The archipelago of Helsinki consists of around 330 islands, and many can be reached easily by ferry. In the summer you can visit islands with great beaches, cafes and full of nature to explore.
On the island of Suomenlinna close to the city, you can visit a brewery situated in a former jetty barracks. It features beer and cider as well as a restaurant and cafe with a terrace for the summer months. The fortress on the island is a UNESCO world heritage site has been the inspiration for many new beers at Suomenlinna Brewery.
Löyly restaurant, bar and sauna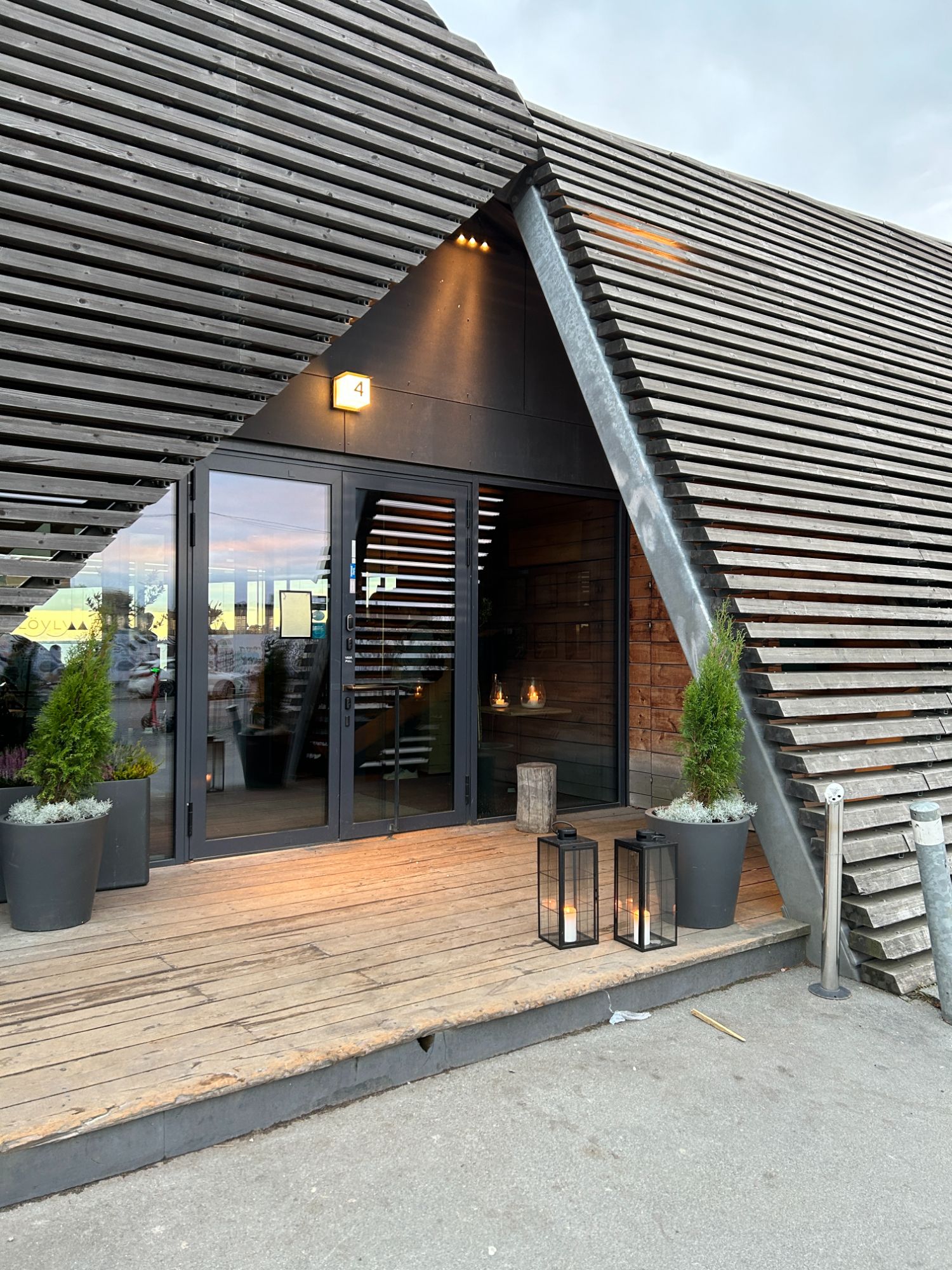 Even if you don't bother with the sauna, I would highly recommend visiting here for a drink or meal to enjoy the seaside location. But make sure you book as it was very busy when we visited.
The Finnish sauna culture is enjoying a revival in Helsinki. The Löyly design sauna opened in spring 2016 on the southern tip of the Helsinki peninsula. In addition to a smoke sauna, traditional sauna and private sauna for groups, you can cool off with steps straight into the sea or chill out in the fireplace lounge with a cold drink. There is a large terrace that stretches out over the sea to enjoy the Finnish food or a cocktail.
Spis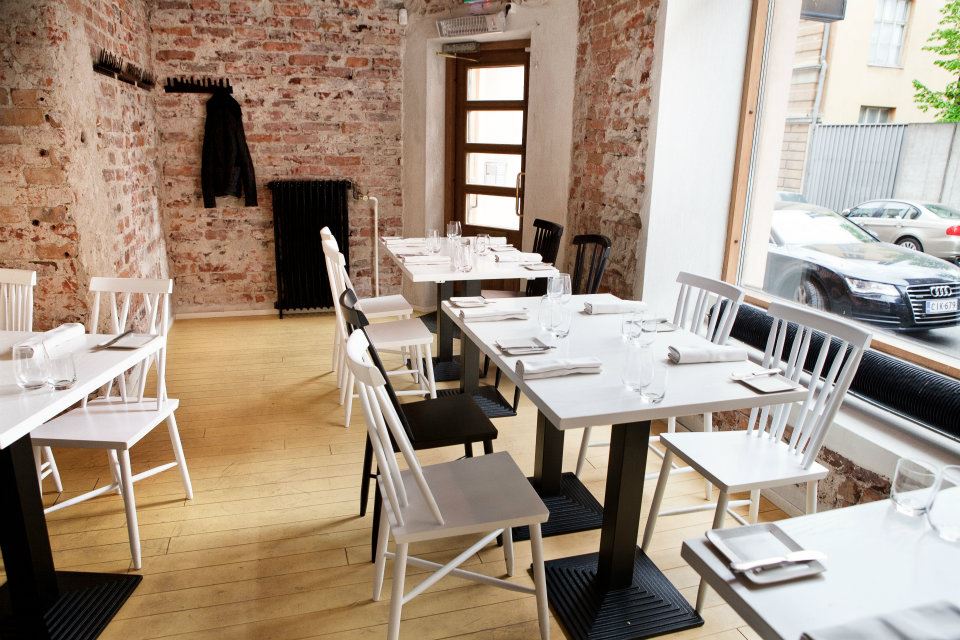 Spis is a small Nordic restaurant that prepares food by using the freshest Nordic ingredients. The menu is based around vegetables, but there is always at least one fish and meat entré as well. Menus are tasting menu style and cost €97 with wine paring available as an extra.
Ekberg Cafe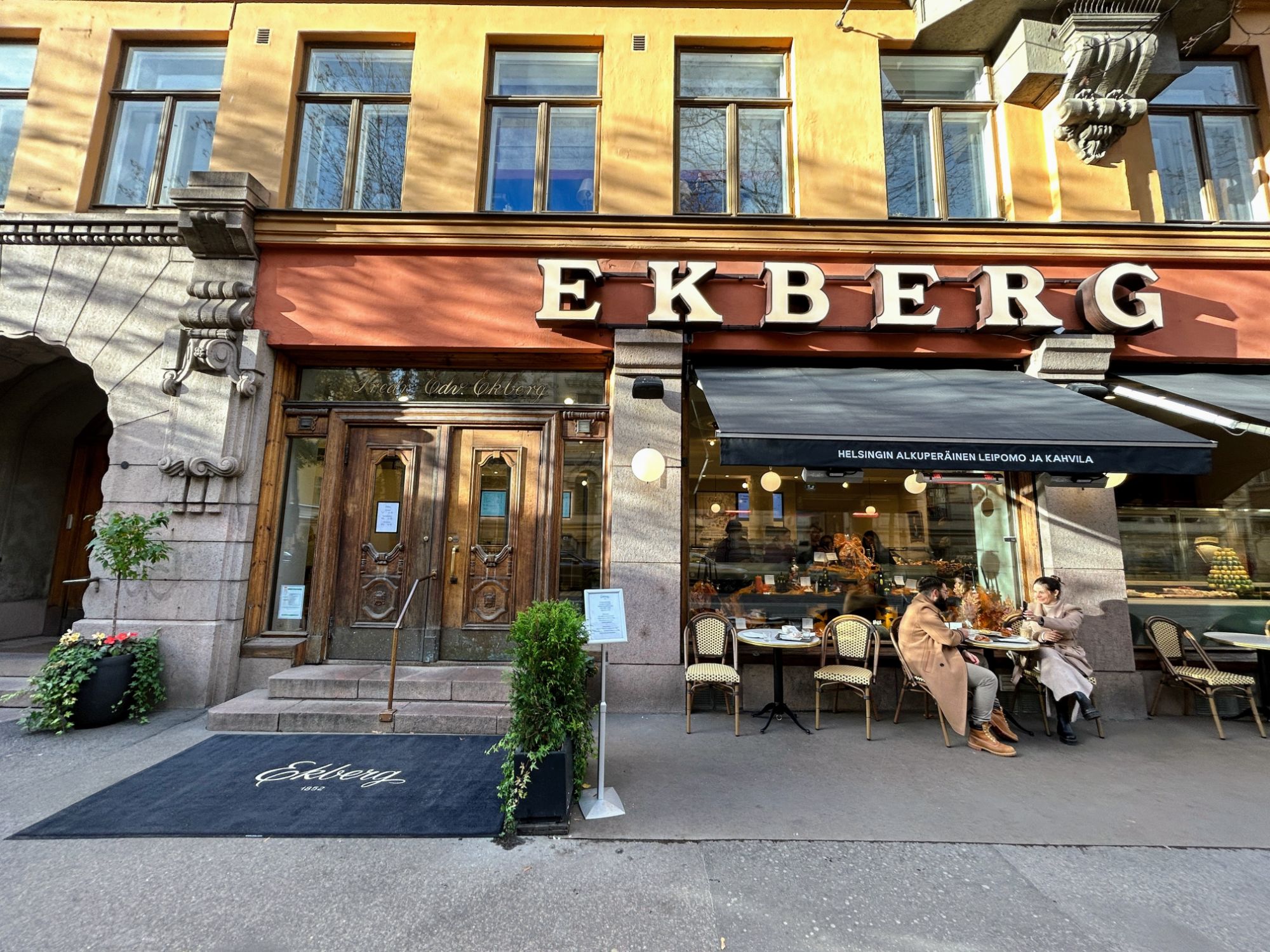 Ekberg is Finland's oldest bakery, patisserie and café, located on the atmospheric Boulevard. This is also just around the corner from the Scandic hotel and has not only a lovely cafe but also a beautiful delicatessen to buy some gifts or snacks. It has a feel of a traditional European Grand Cafe, and in good weather you can sit outside to enjoy some people-watching.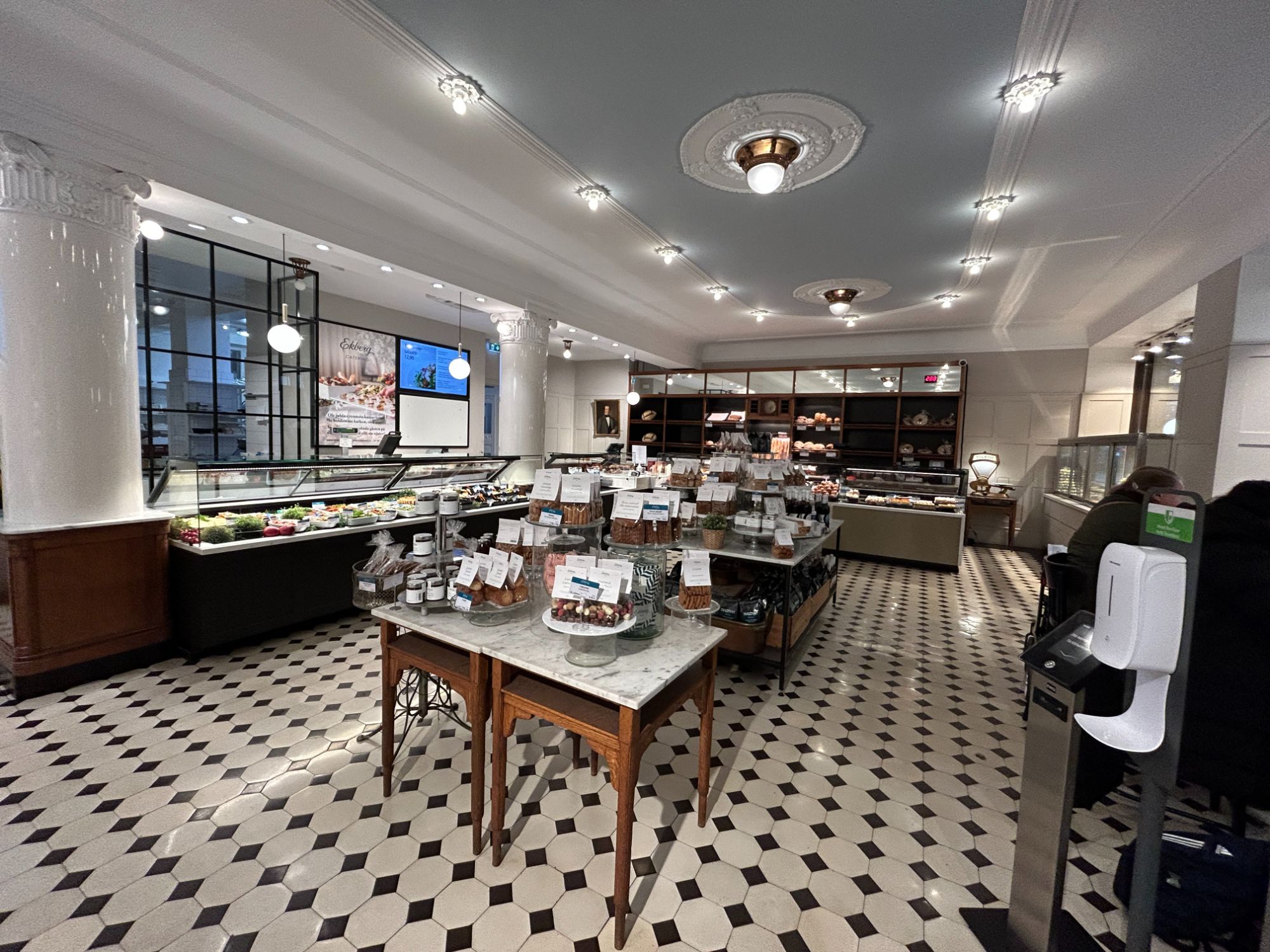 Conclusion
I didn't really know much about Helsinki but I found it a truly beautiful city which was easy to navigate. I was pleasantly surprised by hotel prices since the city has a reputation for being a bit pricey and it was very easy to get around using public transport. It is a fairly small city so it is easy to combine with day trips to the countryside or Tallinn which is a very short flight away (or longer ferry). We will be covering these options in the forthcoming articles.
Have you been to Helsinki? What are your favourite things to do there? Let us know in the comments below.
You can read Part 2 of To Helsinki & beyond – Side Trips and Day Trips: Reindeer, Villages and National Parks here.