You can read part 1 of the series here and part 3 with how to book flights cheaply is here.
Choosing Your Hotel in Florida
Florida hotels and resorts range from luxurious to full of charm and history. Whether you are looking for a beach getaway or a classy stay, there are many places to relax and enjoy your next holiday.
Where to stay for a quiet holiday?
If you want to relax and stay away from the hustle and bustle of Miami or tourist hot spots such as Orlando, there are many options for a relaxing beach holiday. While Miami and certain destinations are great for partying and enjoying luxurious nights out. Some may opt for quiet locations that offer water sports, outdoors activities, and simply want to enjoy the beach. Some locations on here just for that: Marco Island, Anna Maria Island, and Key Largo are perfect for a relaxing holiday.
How to get the best rates at some of the best hotels in Florida?
Of course, Florida is popular year-round, however, if you are looking to not pay exorbitant rates than it is important to pay attention to the events happening in the city or beach town you are looking at. If you head to Miami during Art Basel, Miami Music Week, or any other huge festival hotel rooms can get up to $1000 USD or more per night.
If you want to save money at certain beach vacation hotspots like Key West, go during off-season, from June to November.
Hotel Loyalty Schemes and Travel Websites
Another great way to save is through using your points, booking directly from hotels websites and signing up for their email list (often they offer discounts). Also, many travel sites such as Travelzoo, HotelTonight, and even looking at tourism board sites that sometimes offer discounts.
Miami
The Miami Beach Edition

The Miami Beach Edition is one of the classiest hotels in Miami Beach with marble décor, beachfront rooms, and an exciting nightlife this hotel gives the glamourous vibes that can only be found in Miami.
From relaxing at the spa or beach, to bowling or ice skating at Basement (the club in the basement), you will feel like you never have to leave this luxurious hotel.
How to stay on points: The Miami Edition is a Bonvoy Category 8, which will set you back about 70,000 points on off-season dates. Also, you can book The Edition on American Express' Fine Hotels and Resorts booking platform with points or cash.
You can find more information here.
The Gale, a Curio Collection hotel by Hilton

This is where Michele stayed in February this year. The hotel is available on points through Hilton. The average price is 70,000 points per night. The hotel has a lovely art deco vibe to it and a stunning rooftop pool that was as warm as a bath! There is a lovely terrace area to have breakfast and Hilton Diamond's get a set menu of a cooked breakfast or various fruit and cereal options. In the basement is a great speakeasy type cocktail bar which often has live music.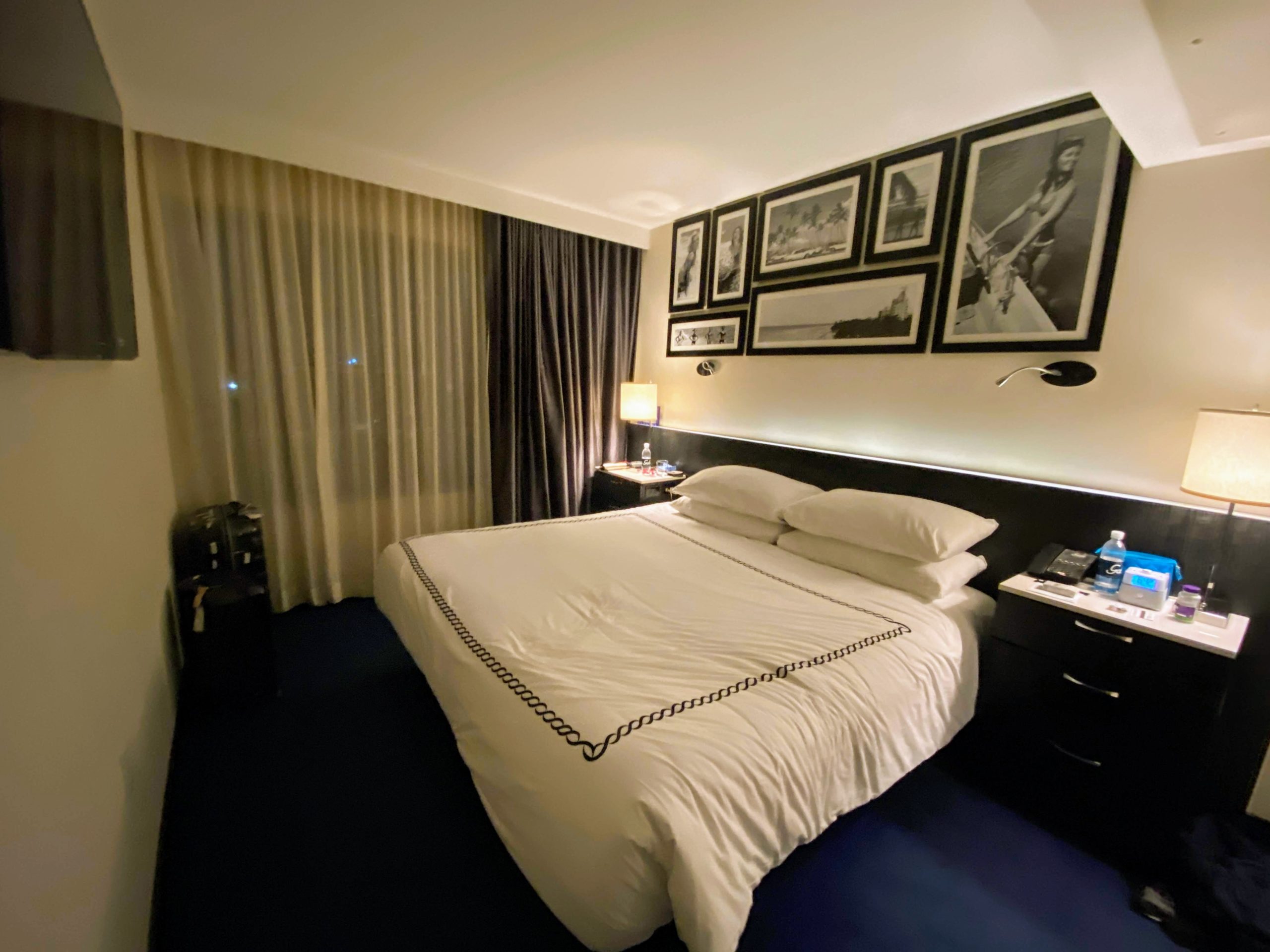 The downside to the hotel is that the rooms are tiny and Michele did not get an upgrade. The room's wardrobe was tiny and you could not hang anything like a dress as it was too short!
On the plus side, the location is fantastic only a block south of the beach. The hotel has its own private beach club with waiter service which was a great bonus.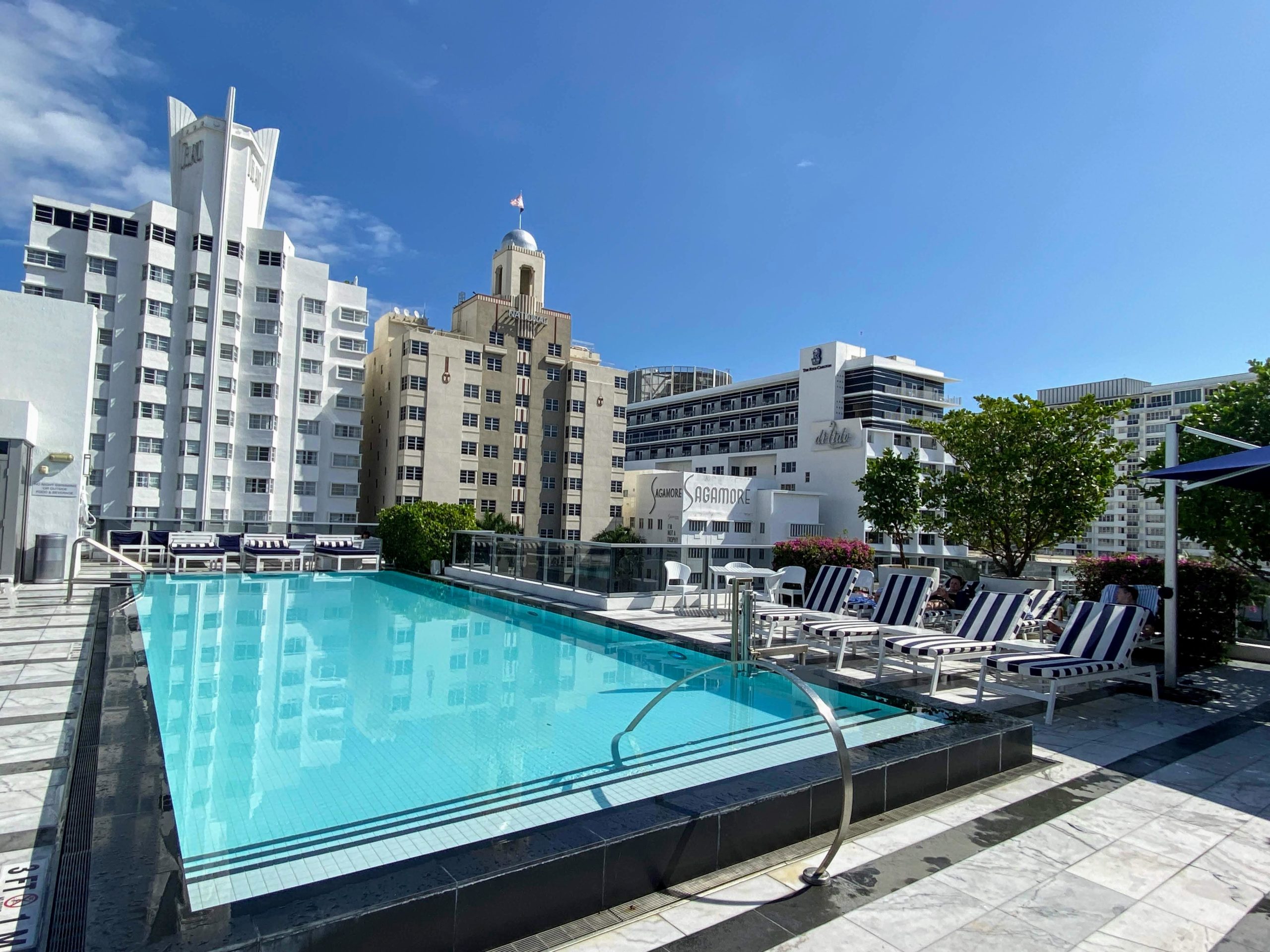 You can find more information about the hotel here.
Circa 39 Miami Beach – Located off Collins Ave. in Mid Beach
Recently our solo traveler Sarah Fay stayed at Circa 39 a Boutique Hotel in Miami Beach after the hotel received buzz in 2020 when they won a Conde Nast Reader's choice award for being a Top Hotel in Miami. This is the perfect spot if you are looking to meet other travelers, relax, and want a bright colorful room that will make you feel like you live in a tropical paradise. While it is not located directly on the oceanfront, they have a section on the beach with beach chairs and umbrellas for guest's convenience and a pool. The service here was impeccable and the manager Alfredo was beyond accommodating. One thing that impressed me was the attention to detail and making sure guests knew about unique spots to visit all over Miami. It is too often you see tourists come to Miami and they never leave South Beach!
Also, if you are looking for places to relax after a long day of exploring or just want to eat at the hotel, Circa 39 Hotel offers a mouthwatering restaurant. Jule's Kitchen has a global-inspired menu and even offers a happy hour on drinks and food. In the morning, they also offer a continental breakfast and coffee/tea for guests. In my opinion, if you are looking for a place to stay that will inspire you to explore Miami and a place to make you feel at home with other travelers on the road- this is the spot for you!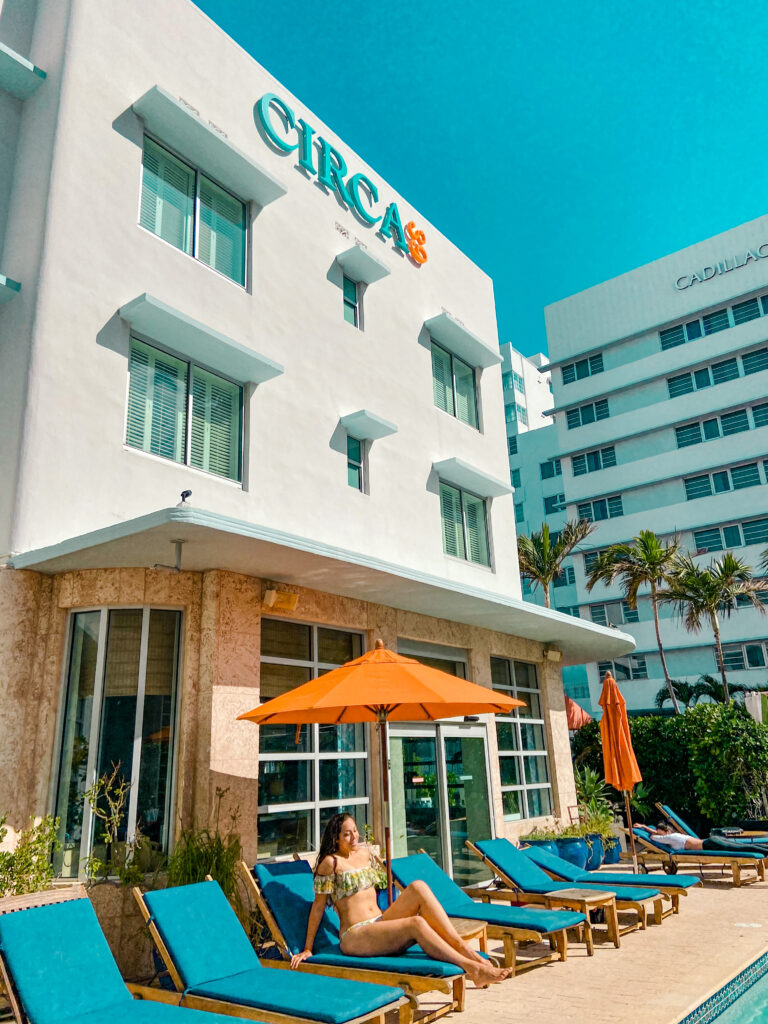 The Florida Keys
Hyatt Centric Key West Resort & Spa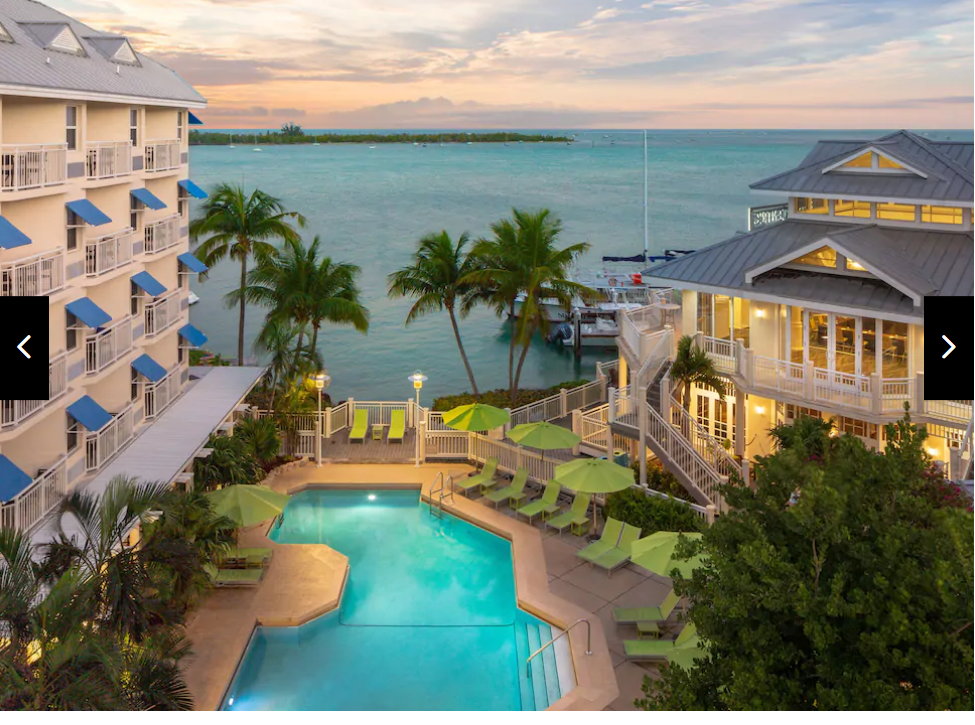 A short walk from the famous Mallory Square is the Hyatt Centric Resort and Spa. This resort offers a beach area, a pool with an overlook of the water, and snorkeling excursions. Whether you want to enjoy some drinks on Duval Street or watch the street performers while shopping at the Mallory Square Market.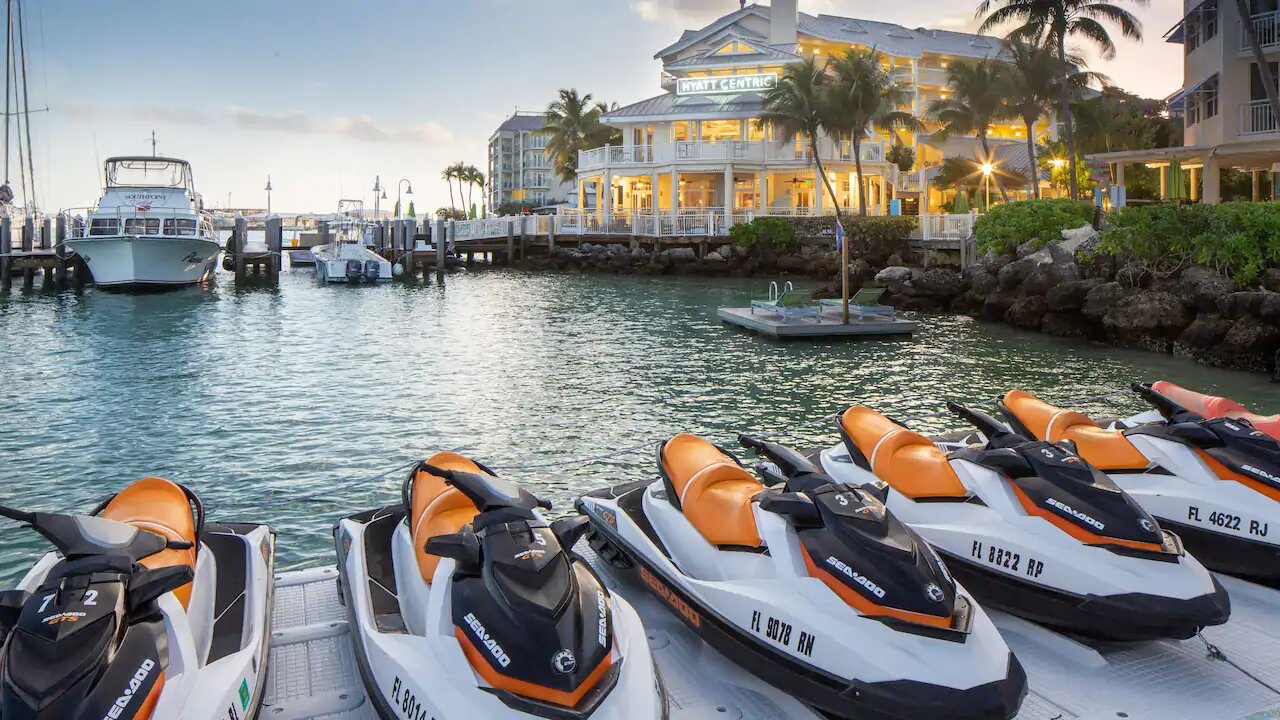 How to stay on points: The Hyatt Centric Key West accepts the use of 25,000 points for a free night, or a combination of about 12,500 points and cash (from $115).
You can find more information here.
Baker's Cay Resort Key Largo, Curio Collection by Hilton
At the beginning of the Keys is Key Largo and also one of the best resorts on the Florida Keys. The beachfront property offers hammocks that will lull you to sleep with the sound of waves in the background.
This resort offers anything you could ask for stunning views of the ocean, an Aveda hair salon, waterfall pools, and water sports that will keep you busy during your stay.
How to stay on points: Baker's Cay offers nights for roughly 60,000 points per night.
You can find more information here.
St. Augustine
Casa Monica Resort and Spa Autograph Collection

The Spanish Revival design of the Casa Monica and most of St. Augustine will make you feel as if you are in Europe. A stay at the Casa Monica almost transports you back in time. The hotel was built in 1888 and the exquisite tapestries as well as historic elements like the chandeliers make this a memorable hotel. It is located in the heart of St. Augustine's Historic District and close to the popular destinations.
How to stay using points: The Casa Monica Resort can be booked using Bonvoy points. The Category 7 hotel starts from 60,000 points per night.
You can find more details here.
The Gulf Coast
Don Cesar St. Pete Beach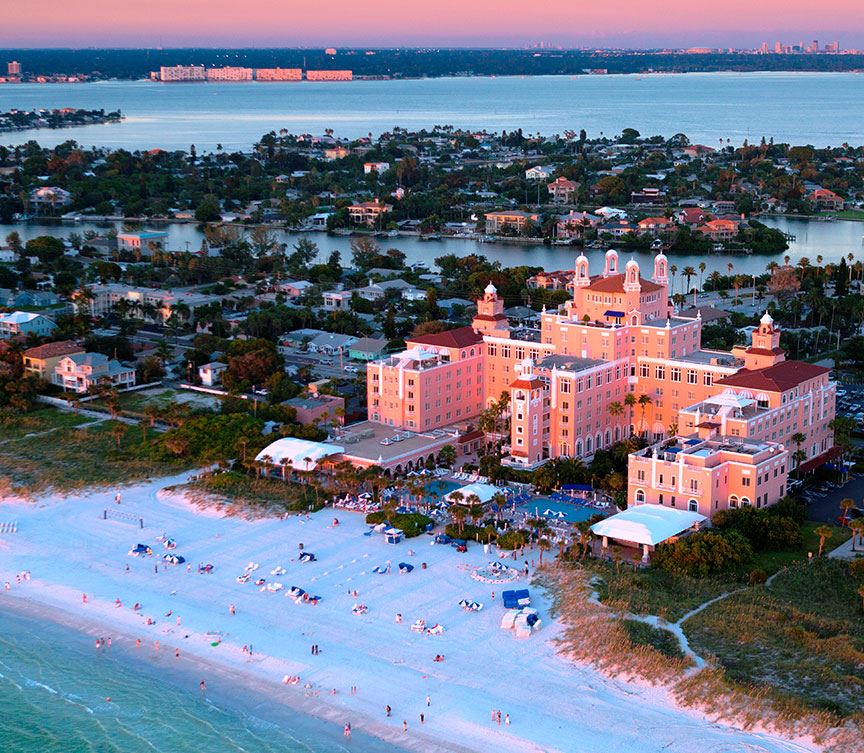 The Don Cesar offers the elegant glamour of Florida, located right on St. Pete Beach. This pink palace is perfect to getaway and just enjoy a relaxing holiday on the white sands and turquoise waters.
This historic landmark hotel has been entertaining guests for nearly a century with two pools, gourmet cuisine, and amazing views.
You can find more details here.
Anna Maria Island
Waterline Marina Resort & Beach Club, Autograph Collection

The Waterline Marina Resort is a boutique hotel with a 50-slip marina and beach club. The island vibes at The Waterline offer a laidback luxury where you can go to relax in their island villa-condos. The extra space to lounge around make this place feel like a home away from home during your beach holiday in Florida.
How to stay using points: Book through Marriott Bonvoy rewards and stay at this Category 7 hotel from 60,000 points.
You can find more details here.
Marco Island
JW Marriott Marco Island

JW Marriot Marco Island may just have the best spa in all of Florida. Not only can you get pampered at this beautiful seaside resort, but you can add some adventure to your itinerary with the hotel's guided jet ski tours and sailing trips. Also, you can take part in a favorite Florida pastime of shelling along the beach.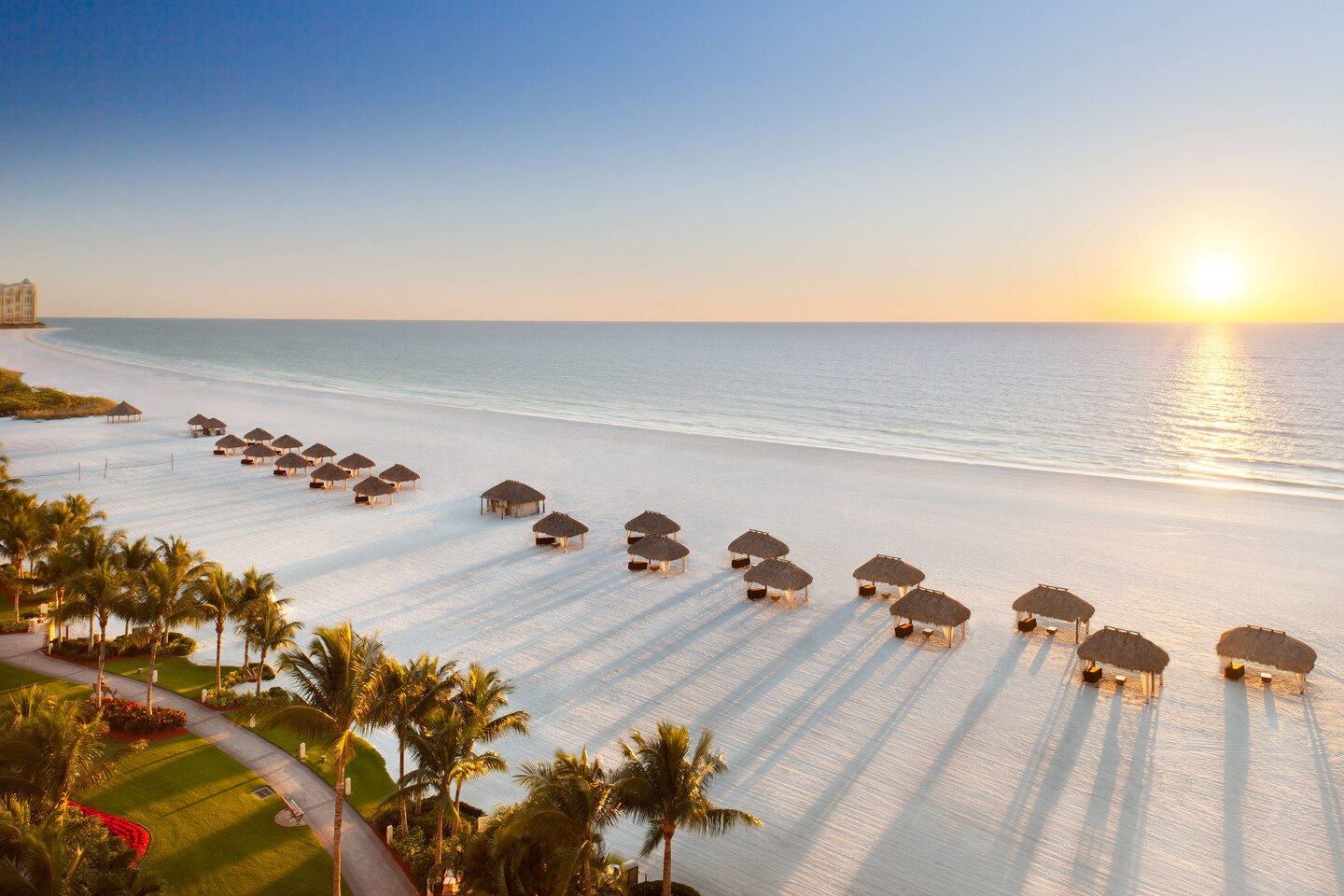 How to stay using points: Book through Marriott's Bonvoy rewards and stay at this Category 6 hotel for around 60,000 points on standard dates (non-holidays, no special events). This property can also be booked with American Express' Fine Hotels & Resorts booker with rewards cash or points.
You can find more details here.
While there are many beautiful places to stay along the 1300 miles of coastline in Florida, there are just a few of the best places to stay in Florida that accept points and rewards.