After writing about my BA night flight last week, My experience with Virgin Atlantic B787 Upper-Class night flight should give a good idea of what to expect on a similar length transatlantic flight from Nassau. This was part of the Virgin press trip to the Bahamas to celebrate the launch of their Bahamas service. You can read my review of the outbound Virgin flight here.
If you fancy the Bahamas, have a read of my Forbes article on what it has to offer.
Check-in
Check-in was a little slow as sadly I ended up at the back of the group trying to check in but actually, there was very little queue when he had arrived. The check-in agent was friendly and told me where the lounge was.
The Lounge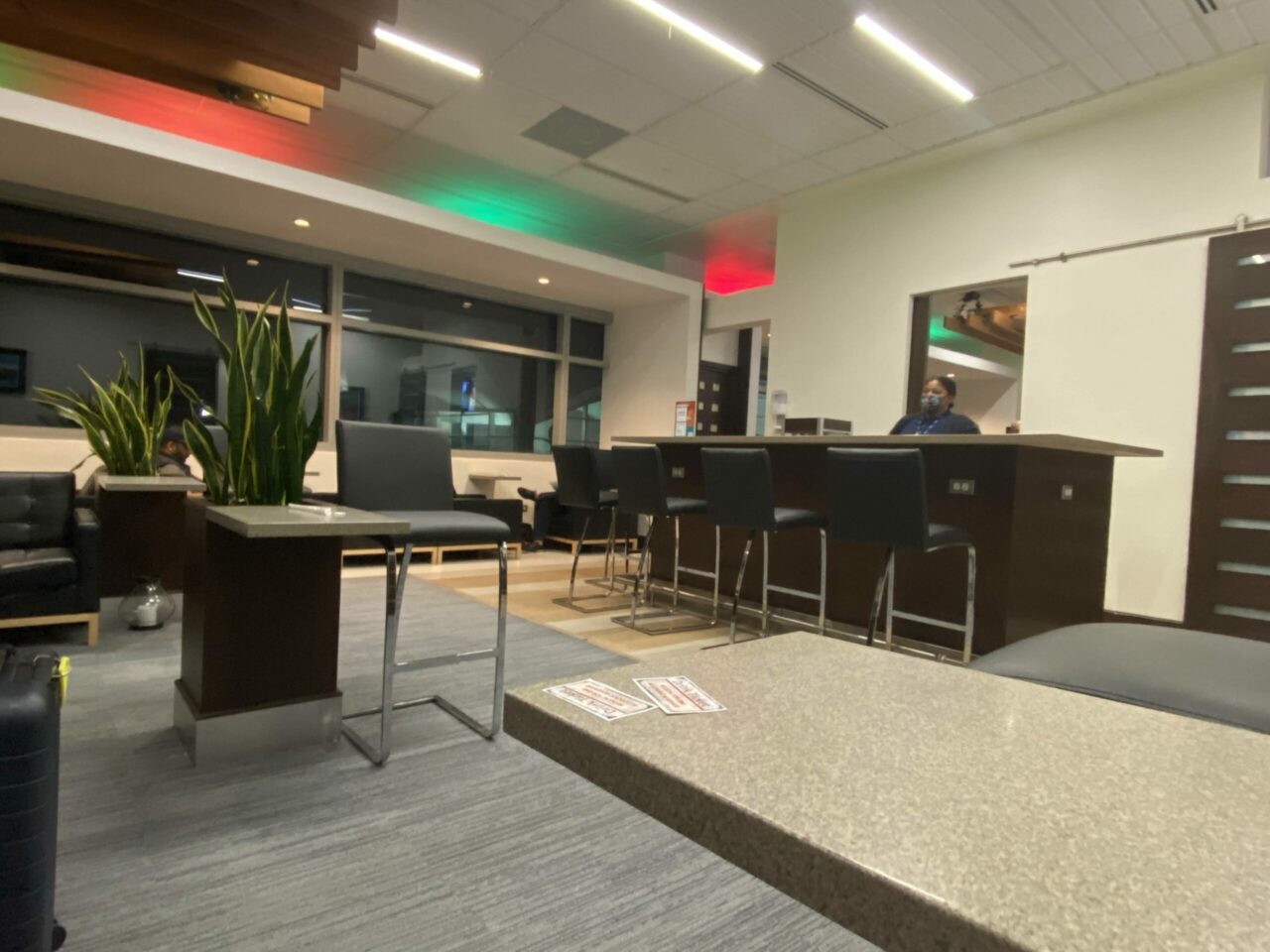 There's not a huge choice of lounges at Nassau airport, in fact, this was the only one that was in our terminal. Virgin Atlantic B787 Upper Class use The Lignum Club At LPIA which is just after security.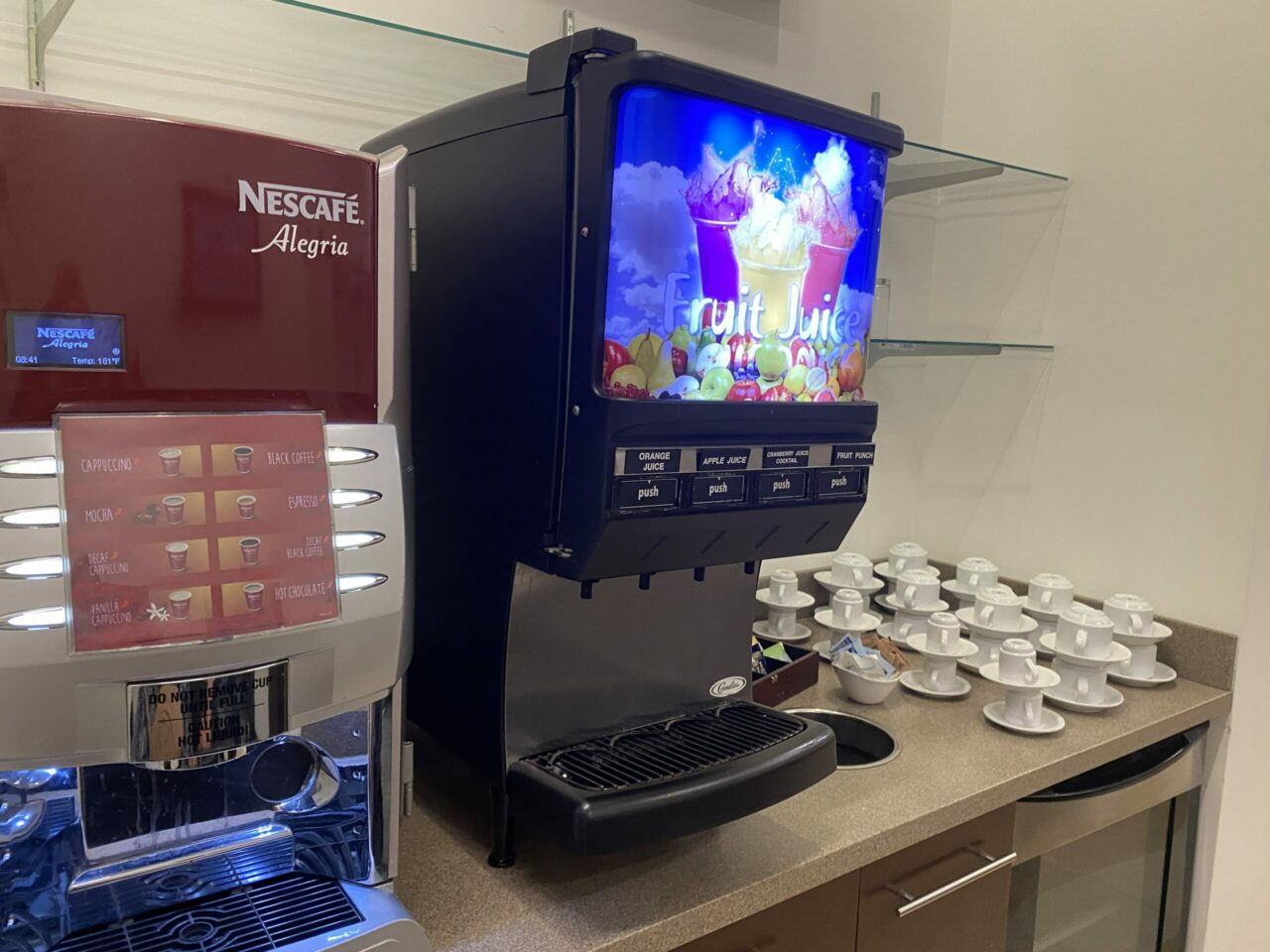 The lounge itself is fairly modern inside if a little bland. There are two halves to the lounge both very similar with high and low seating plus access to the bar on both sides. Unlike many lounges, you are given two drink tokens for alcoholic drinks which are served at the bar. I'm not sure if this was perhaps Covid related. There are soft drinks elsewhere in the lounge for free.
There was also a fairly decent work area which was private in a separate area with comfy chairs and a printer.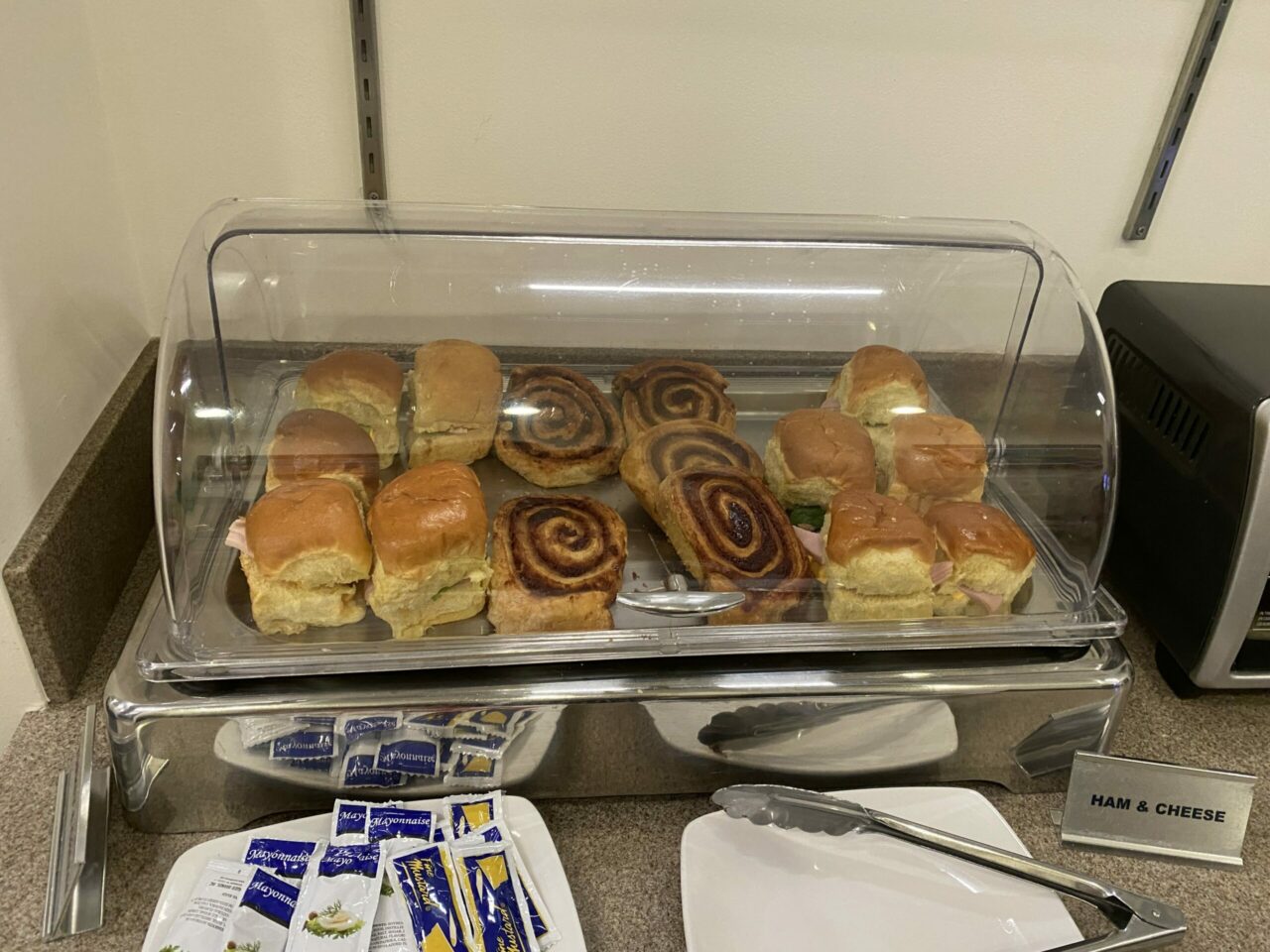 There was some food but this was a fairly small cold selection with sandwiches, cinnamon whirls, pasta salad and a big dish of tuna which was slightly odd. I guess it was to mix into the pasta salad.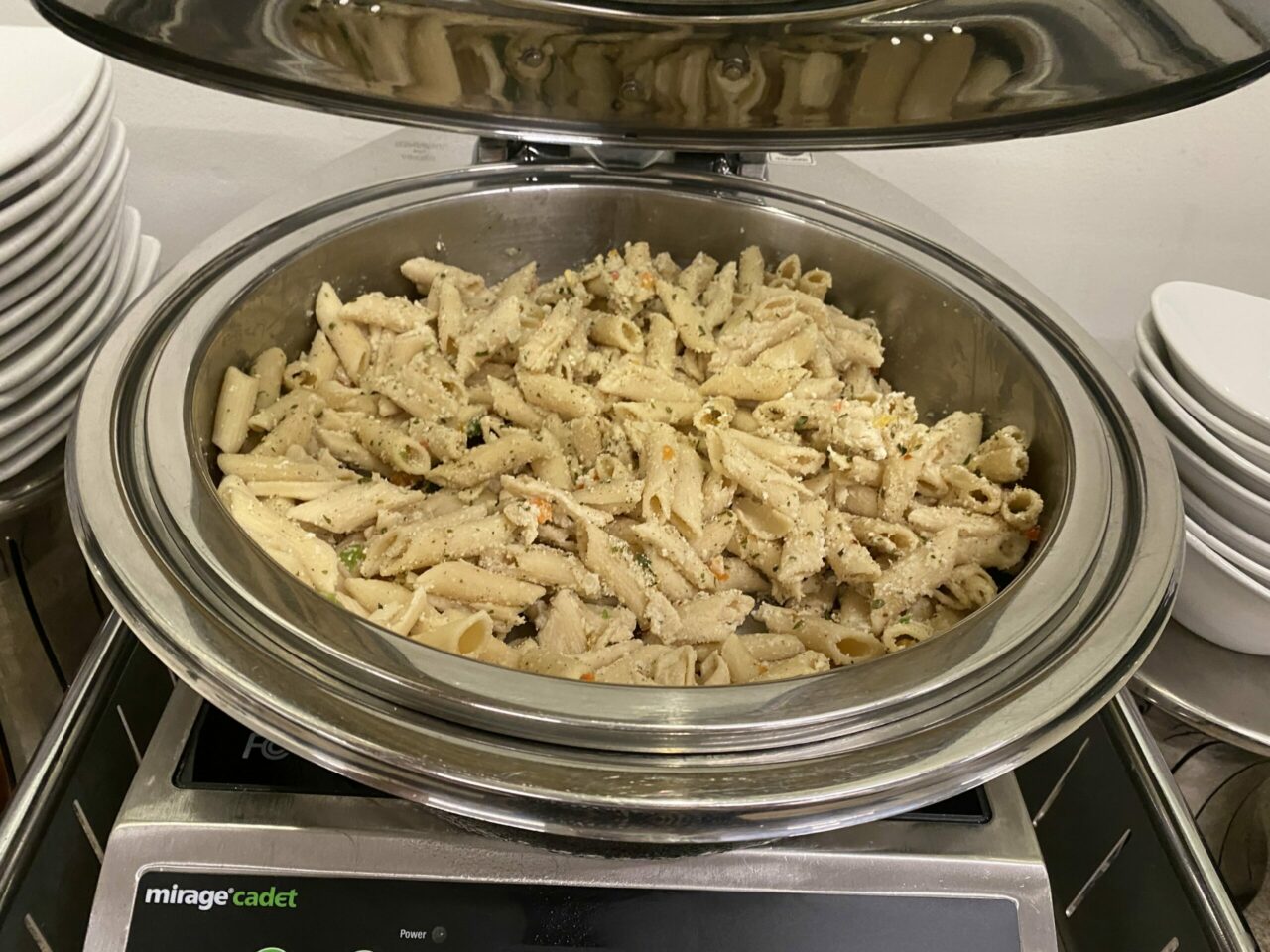 I opted for a glass of chardonnay which was actually quite nice and came in a generous measure.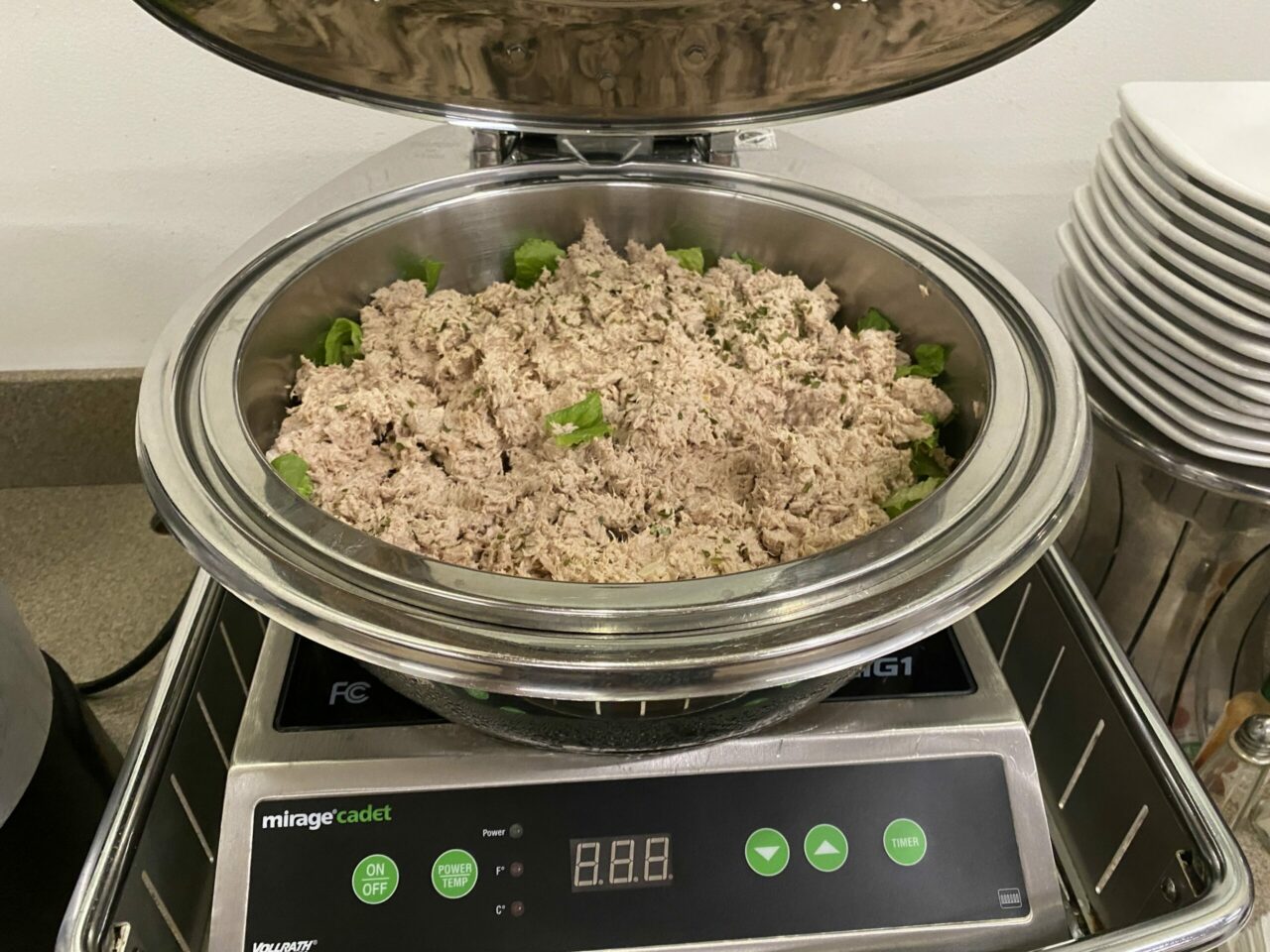 The inbound flight was delayed and being fairly late we had to leave the lounge when it closed before the flight was ready to board.
Boarding
There were not that many people boarding as the flight comes from Jamaica and most people start from there. Being in Upper Class we were called first and it was very straightforward.
At my seat was a washbag the "Goodie bag" with the lovely Ren products and a bottle of water plus the menu. Pyjamas are offered on request. It was the same lovely crew as the way out and despite what must have been a long day for them already, they were still full of fun and friendliness, asking how we enjoyed our trip.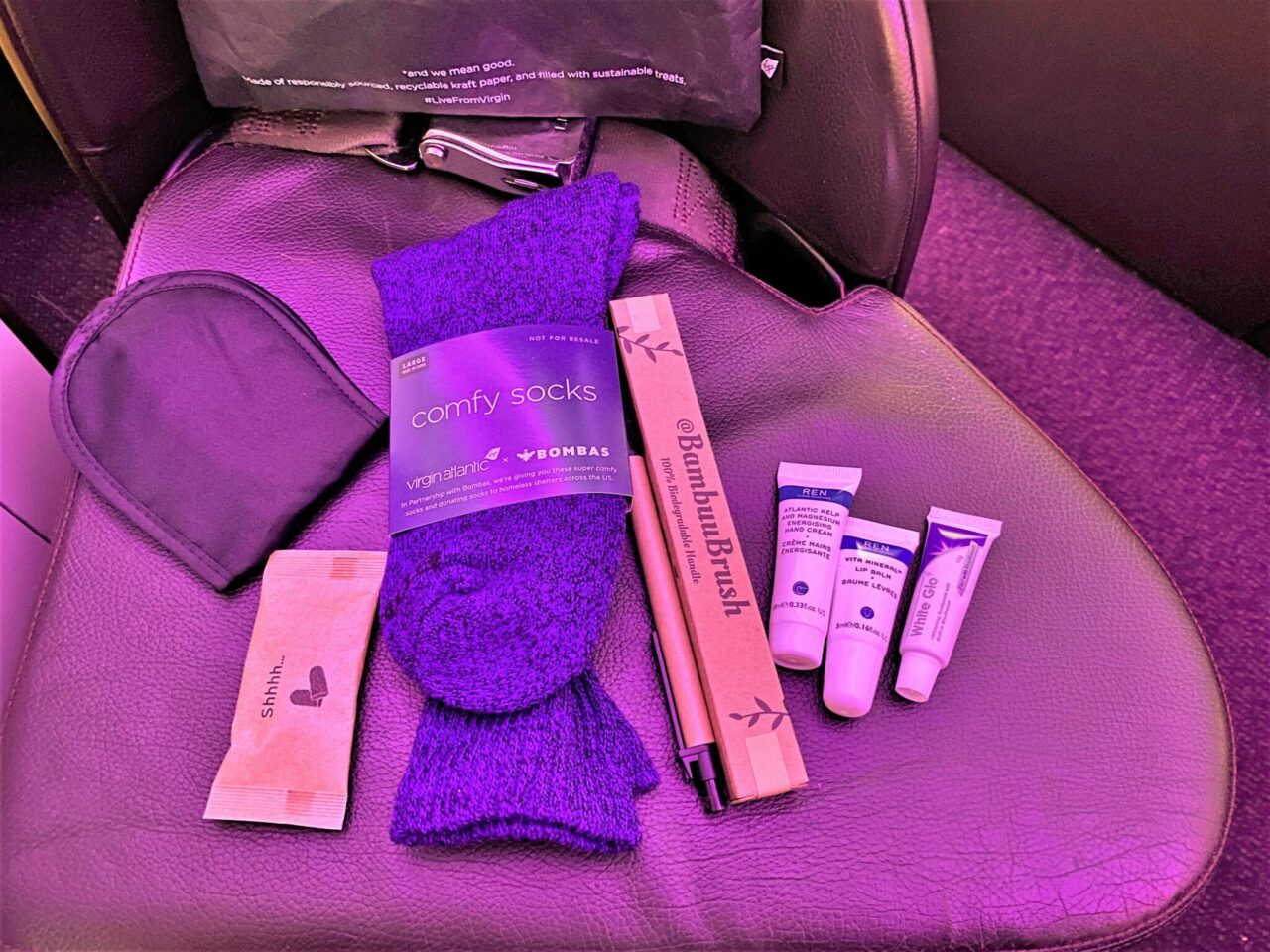 The mood lighting on Virgin is always fun (apologies as it makes the photos have a bit of a hue!). Initially, it was blue and then went to a sunset red.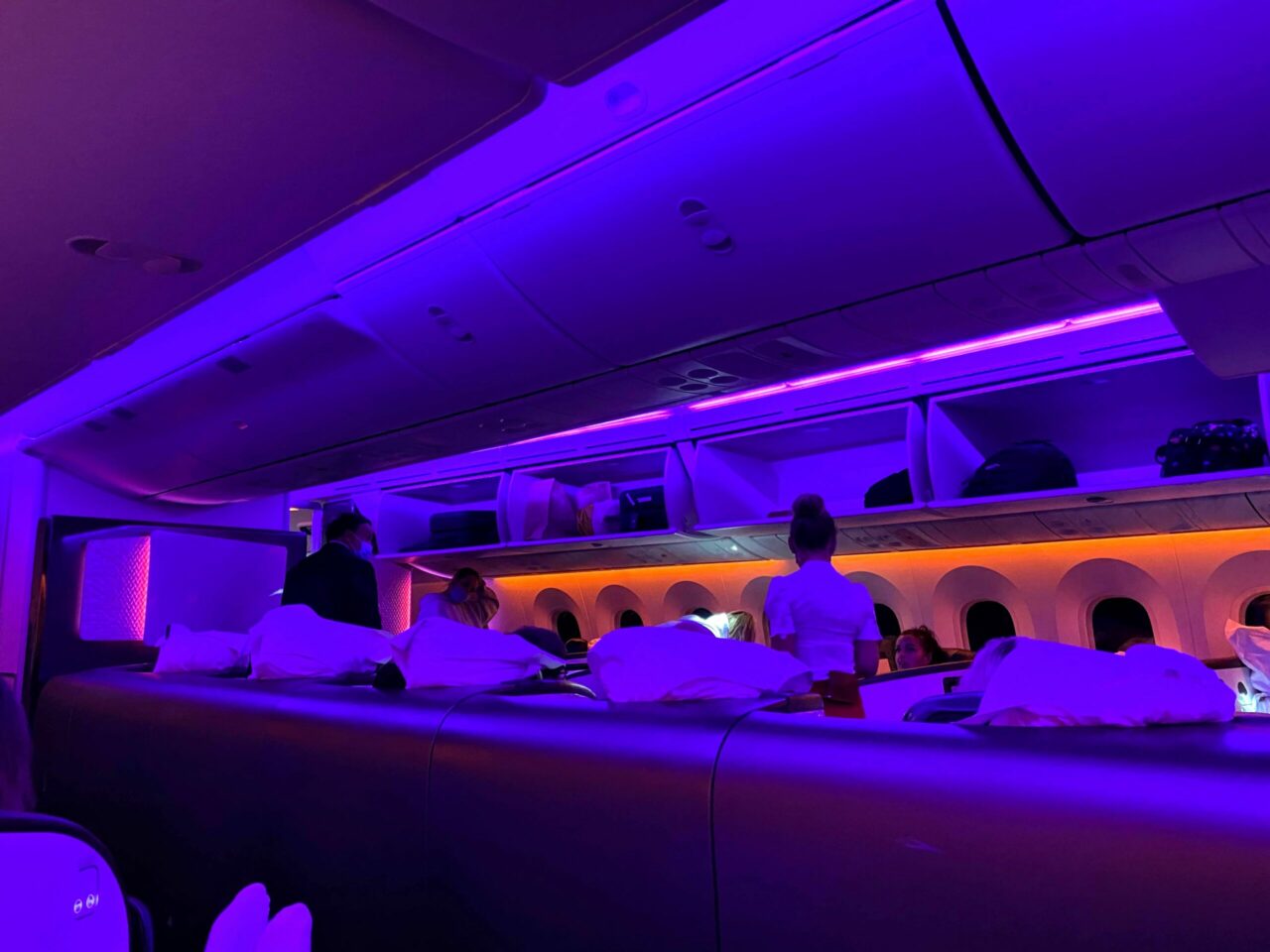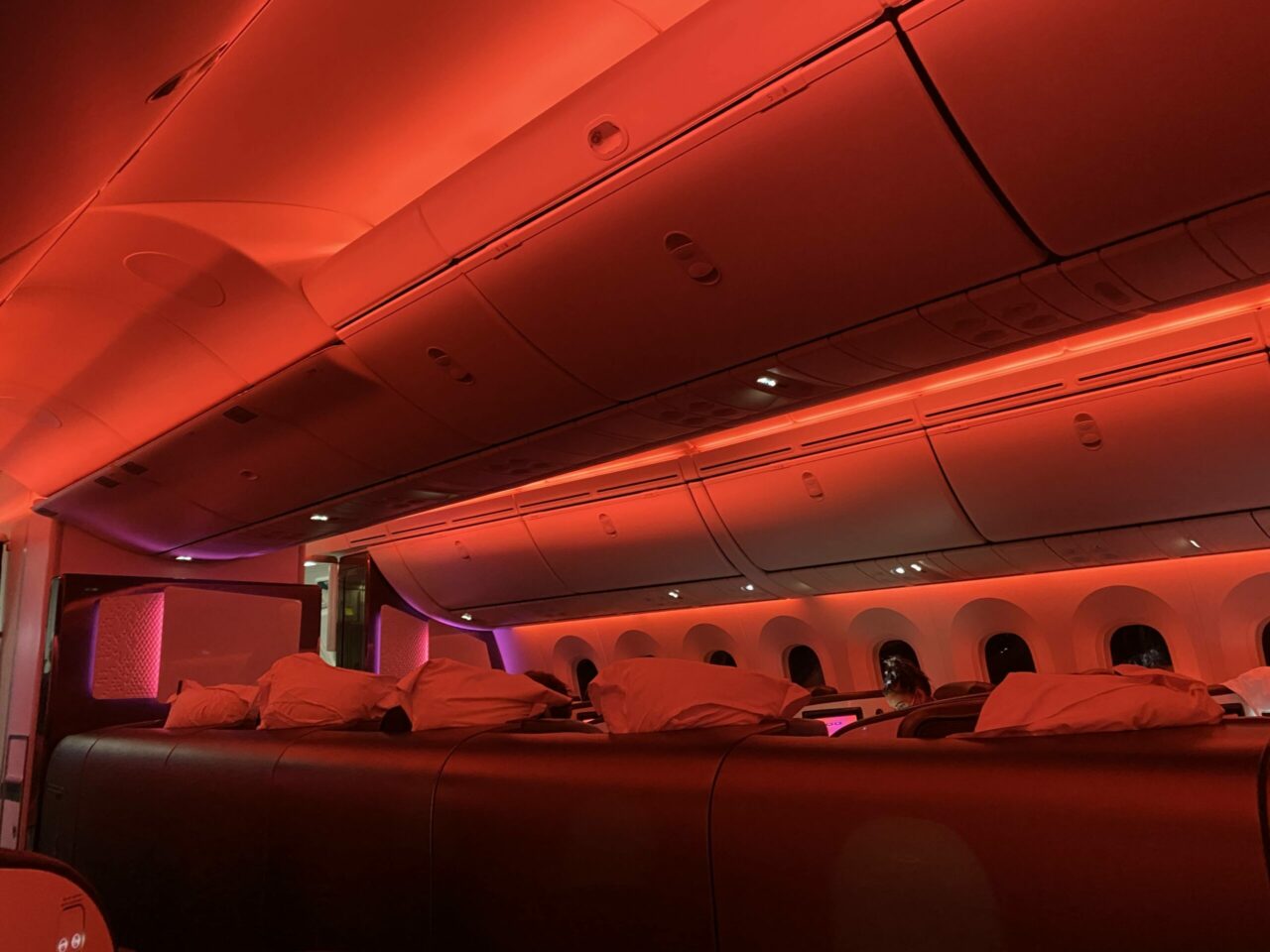 Although it was pretty late by now, I decided to eat. After take-off we were offered a drink which was served with some tasty pretzels. Unlike BA, Virgin long ago stopped servings nuts. Given the number of people with nut allergies where often they ask you not to eat any nuts onboard, this seems a much better idea. I went for the Malbec to drink which was a deep purple colour due to being full-bodied and with rich fruity flavours.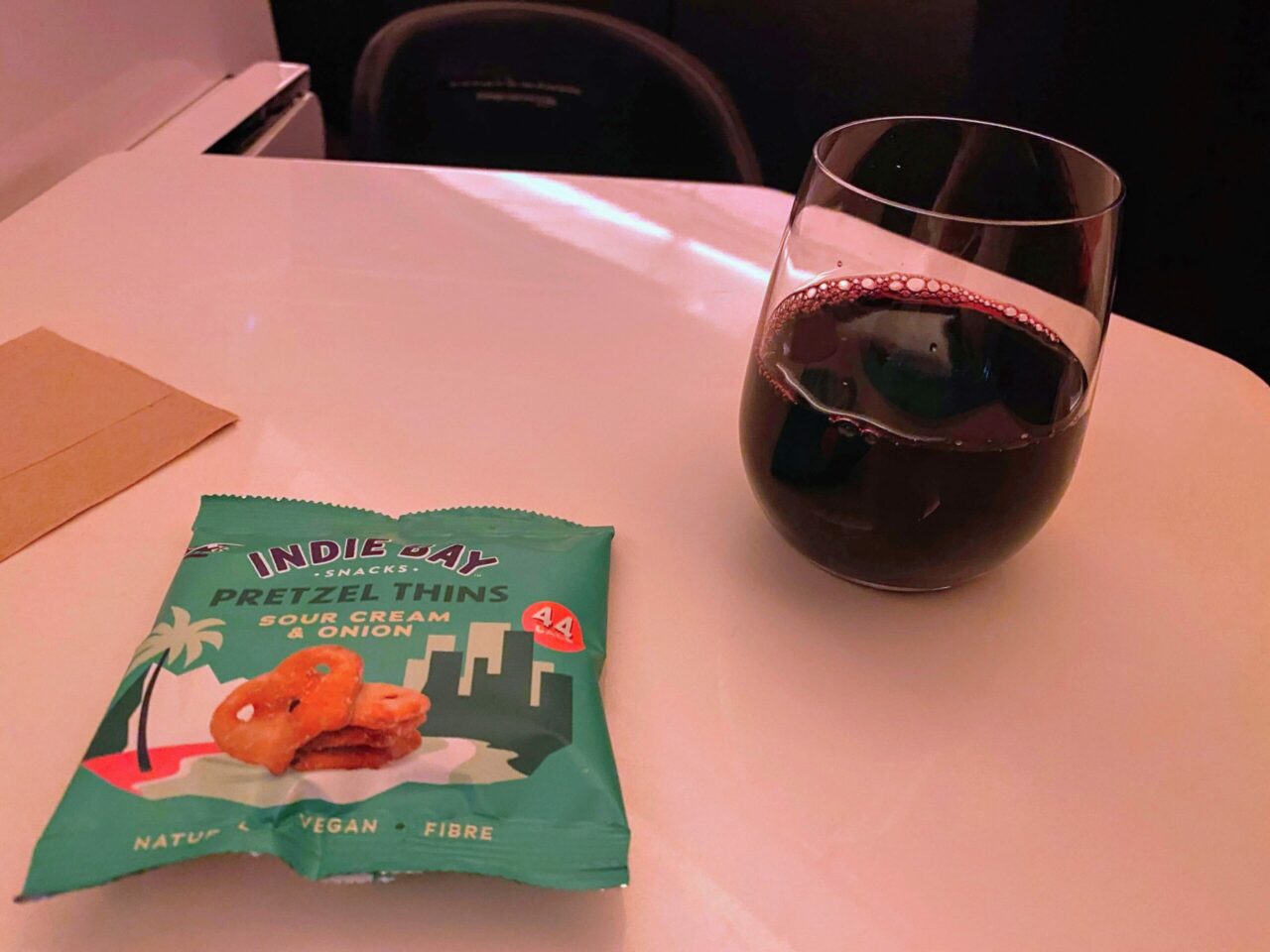 Here is the drinks menu:
The menu offered an express service which I liked the sound of. Unfortunately, I was on the A-side which was served last so it had gone by the time they got to me. I'm guessing because the flight was delayed and everyone wanted to get to sleep quickly, it was more popular than usual.
Here is the dinner menu: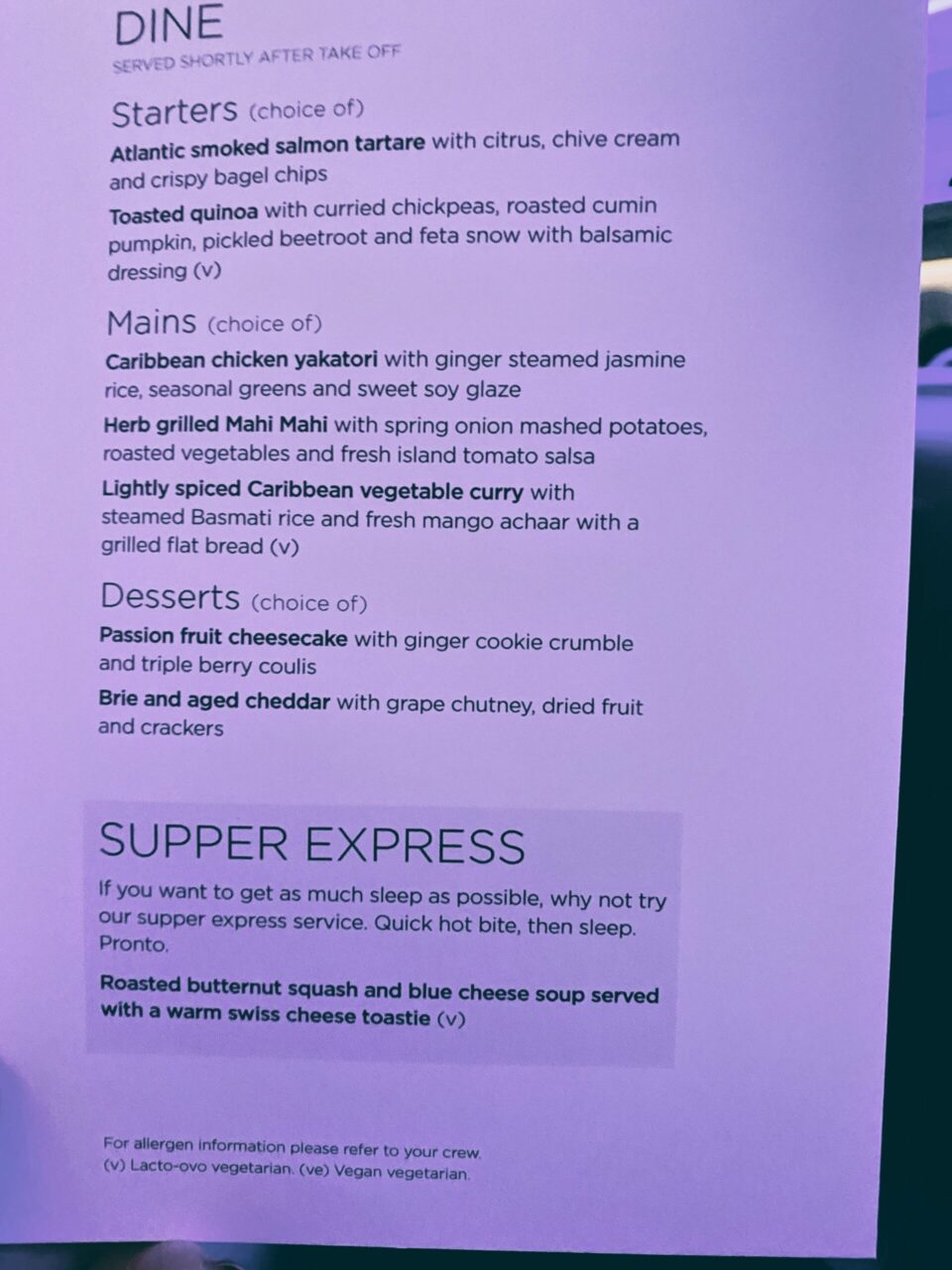 I decided to go for the vegan option for a change. I have previously had the chicken yakitori on Virgin and its very tasty. To start with I went for the salmon tartare.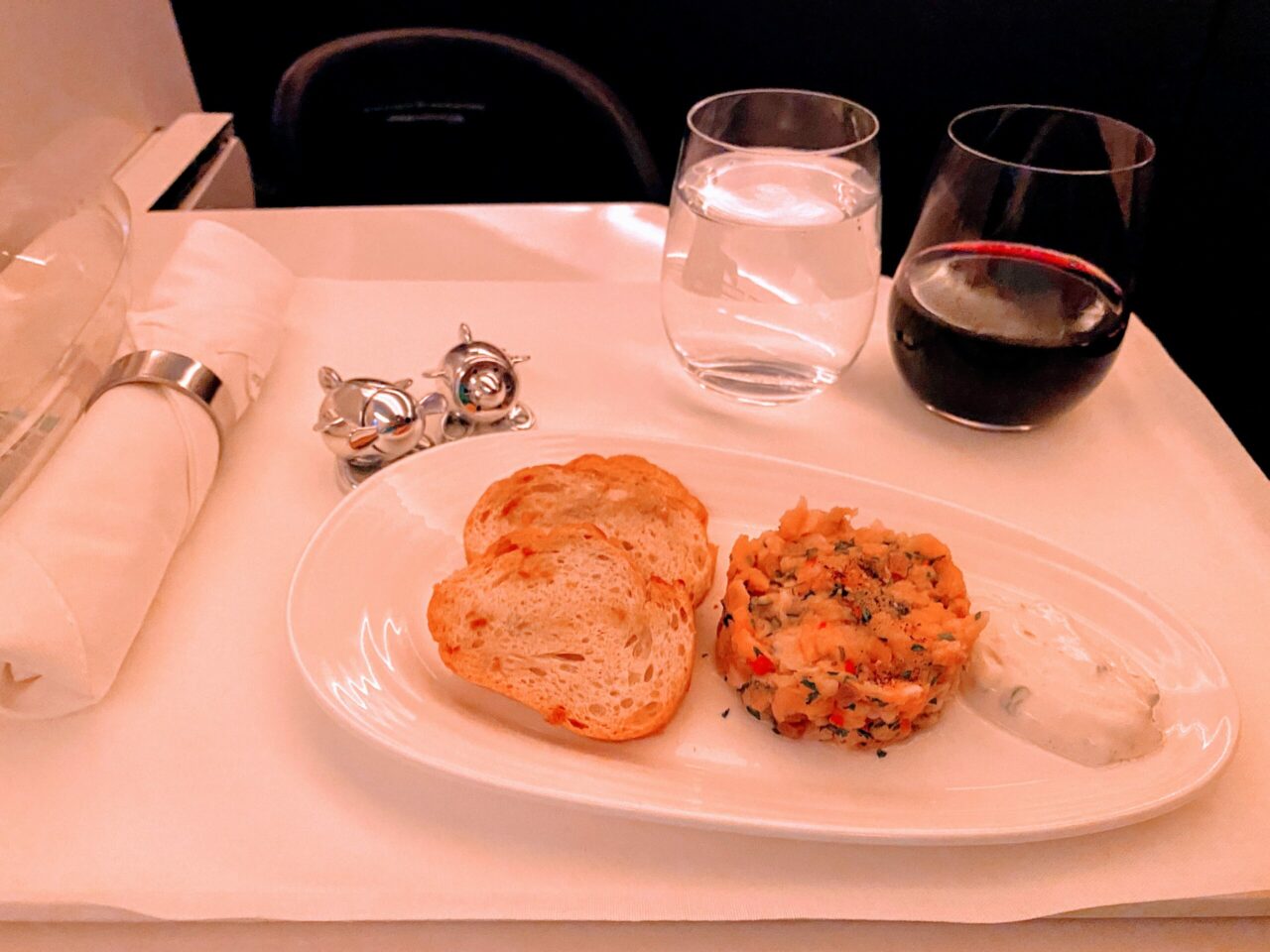 This was really delicious especially with the chive creme fraiche and bagel chips. The citrus element brought a nice hit of freshness against the rich salmon. I'd be quite happy if I received this in a restaurant.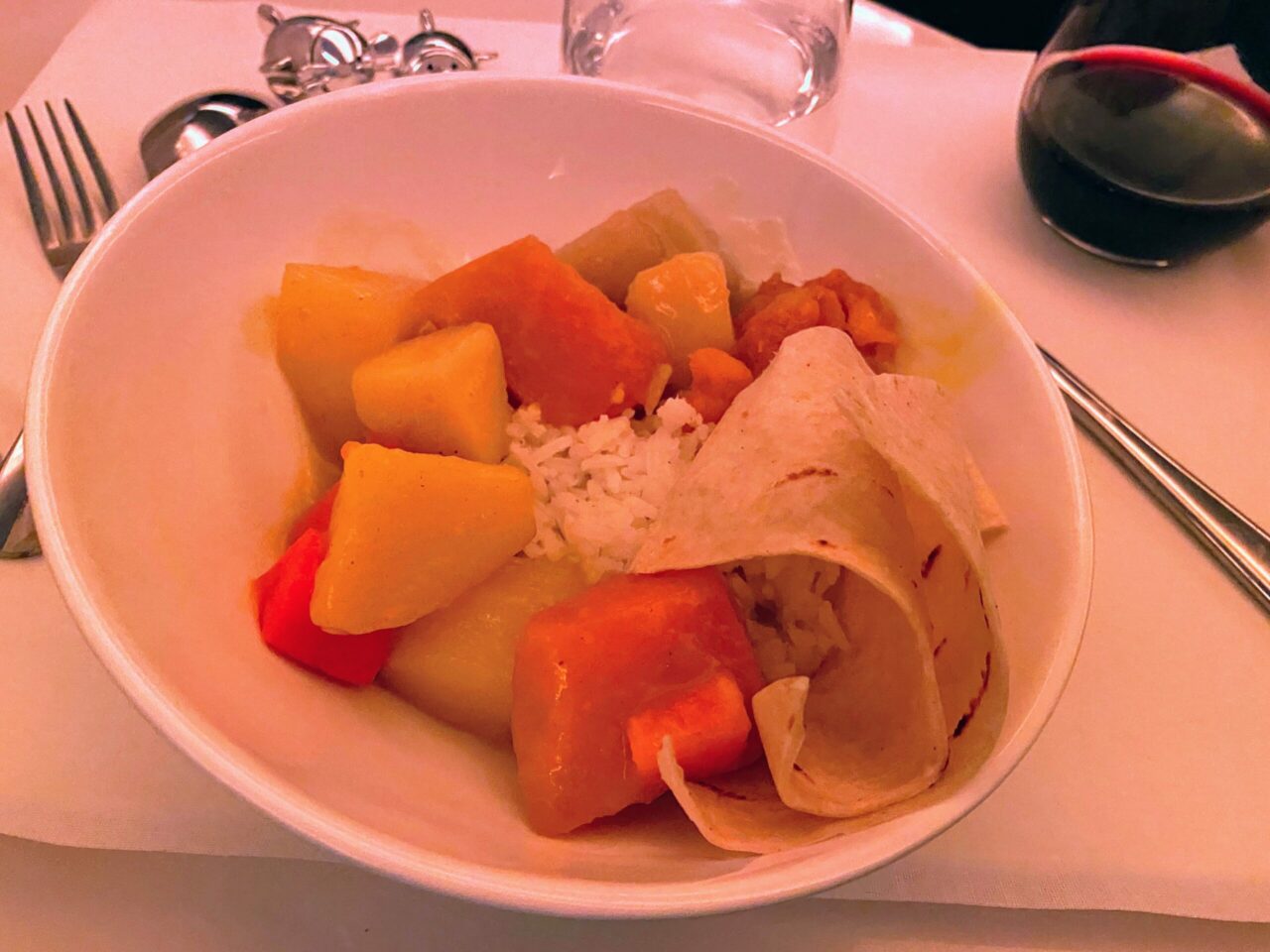 Next came the curry which wasn't particularly pretty to look at but was actually just what I wanted. It was comforting with a sweetness from vegetables and mango pickle. The curry sauce was lightly fragranced with spice and tasty.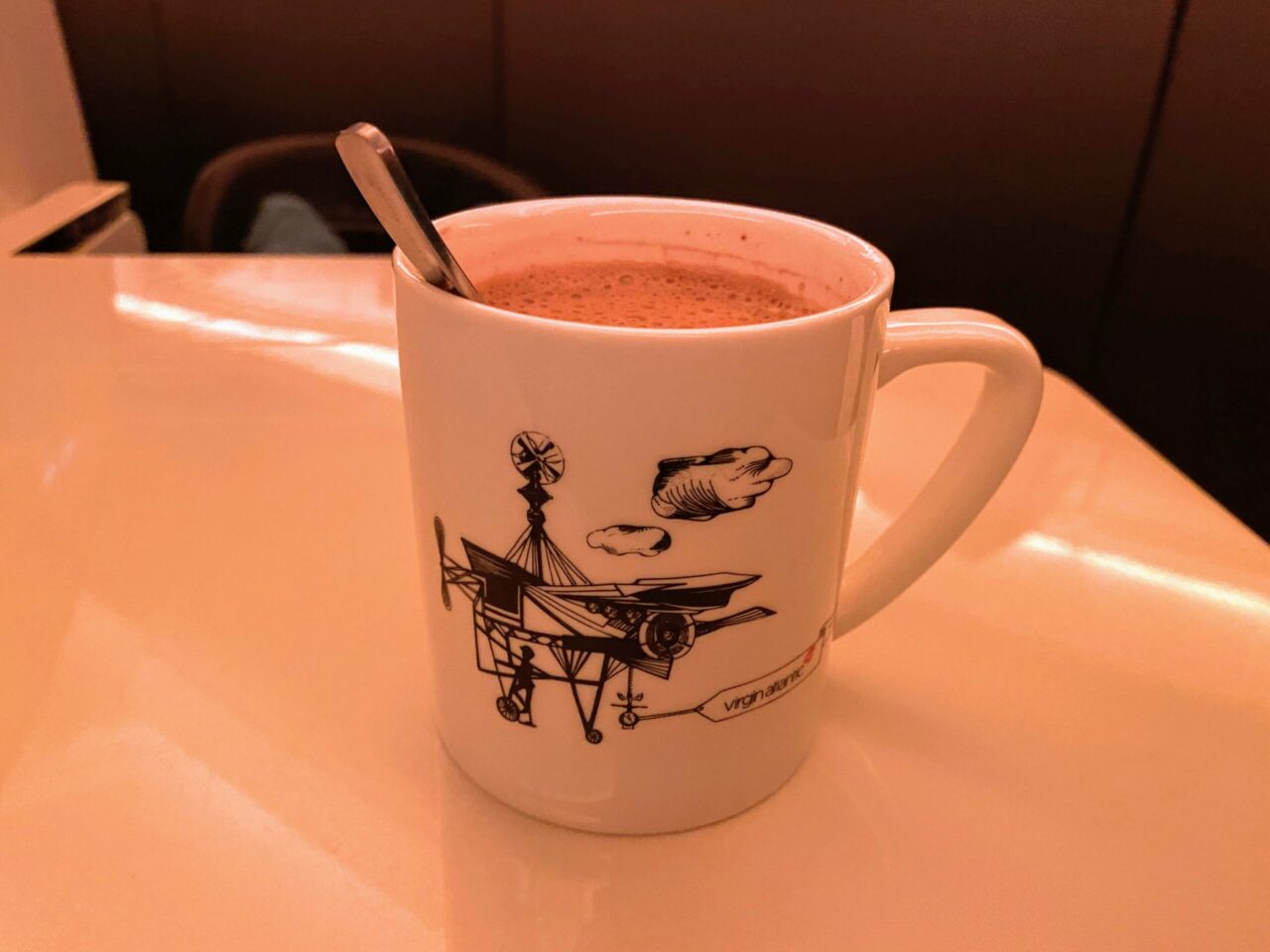 Instead of dessert, I went for a comforting hot chocolate (which I wish BA would bring back) with a shot of Baileys to liven it up! If you haven't tried this and you are a hot chocolate fan I recommend it. Also works well with brandy or bourbon. I love that Virgin Atlantic B787 Upper Class offer a selection of liquer coffees. It's the little extra treats like these that make Virgin so special and keeps me coming back.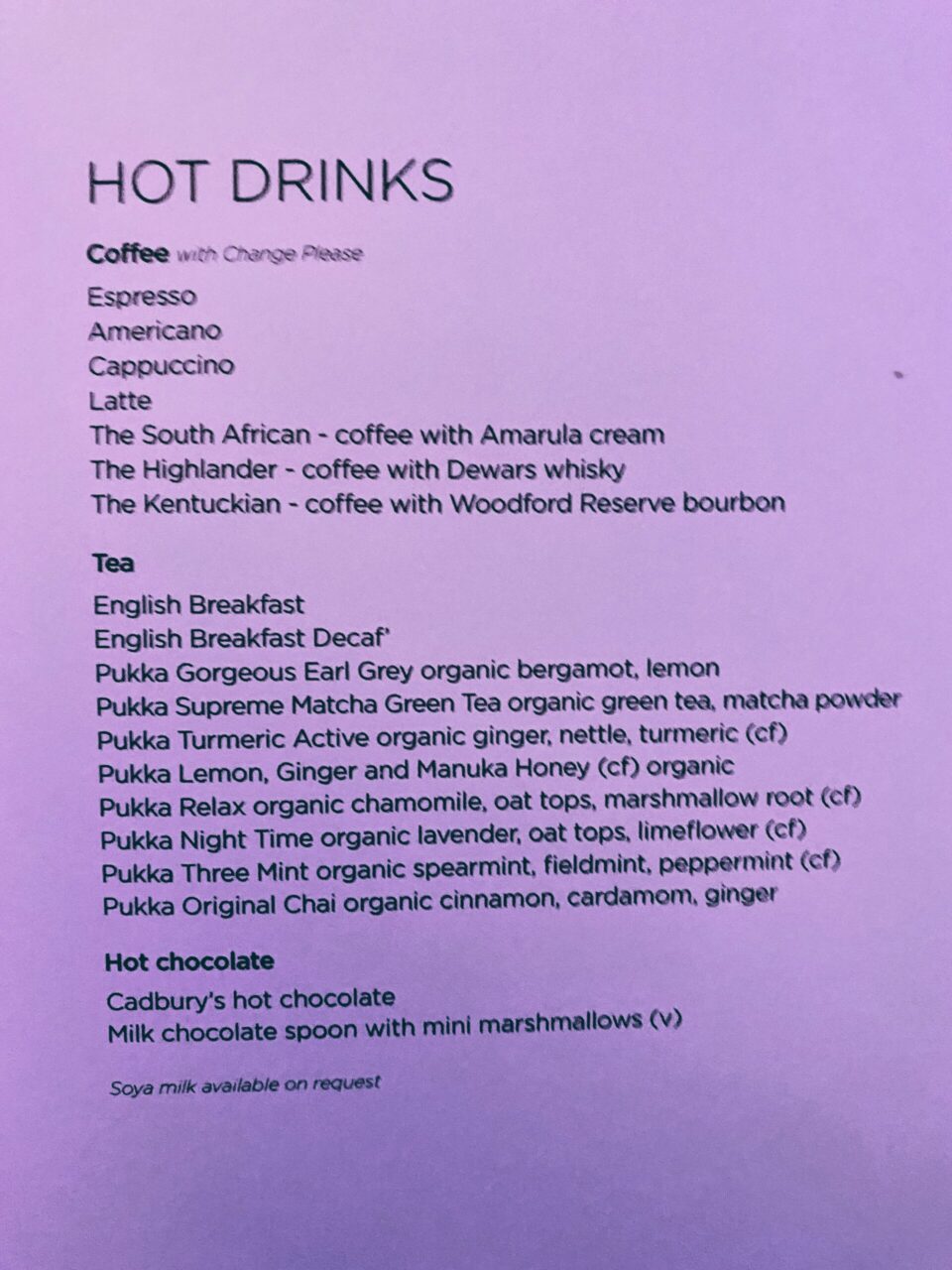 If you got hungry during the night there were snacks laid out on the bar and some soft drinks and snacks in the galley too.
Breakfast
I was slightly sad that the choose your own full English had gone as I loved the spinach but all the options looked really good and I struggled to choose.
Here is the breakfast menu: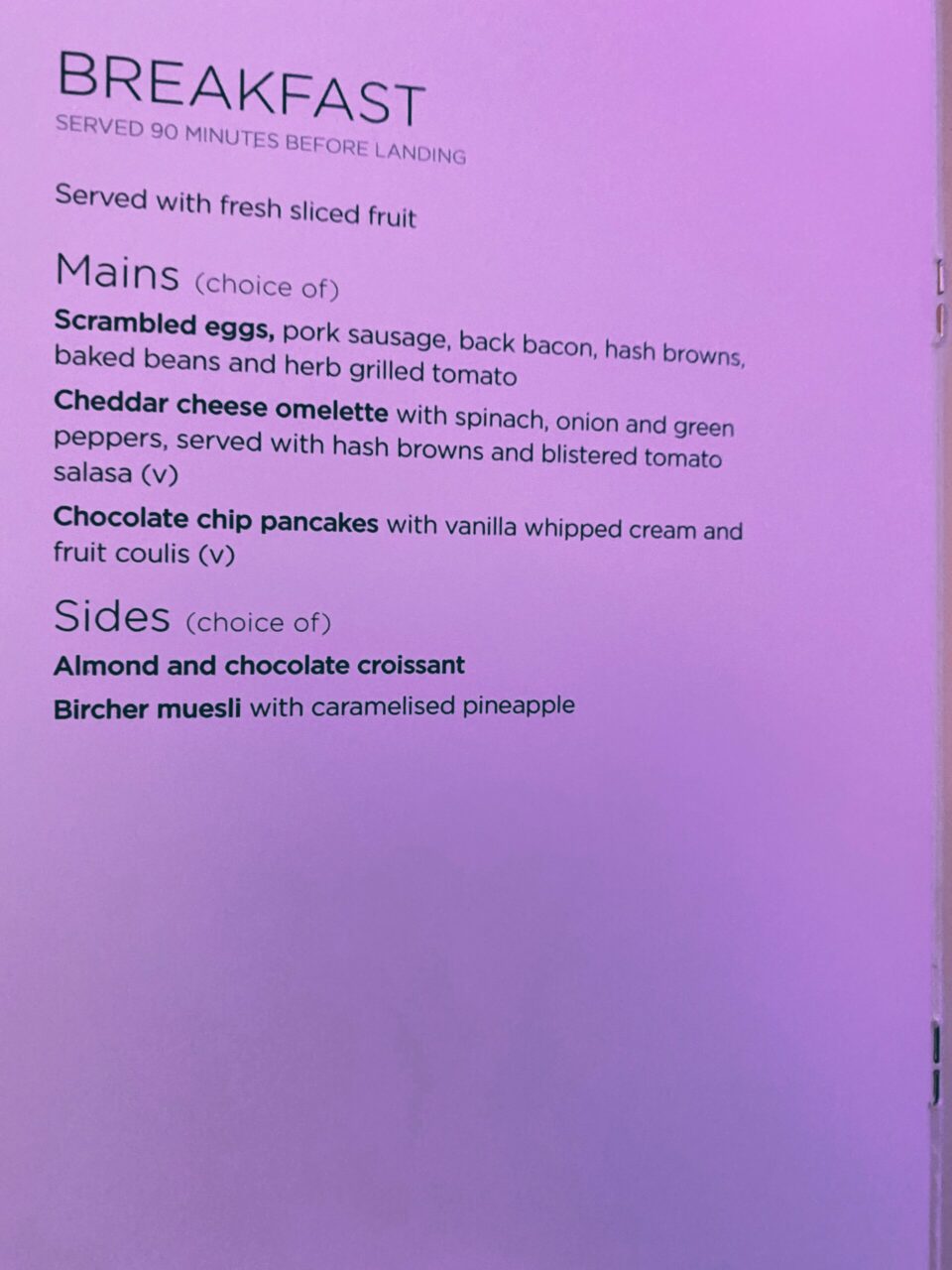 In the end, I went for the bircher muesli and the omelette. The bircher muesli was a perfect consistency and not too sweet even with the caramelised pineapple which I thought was a nice Caribbean touch.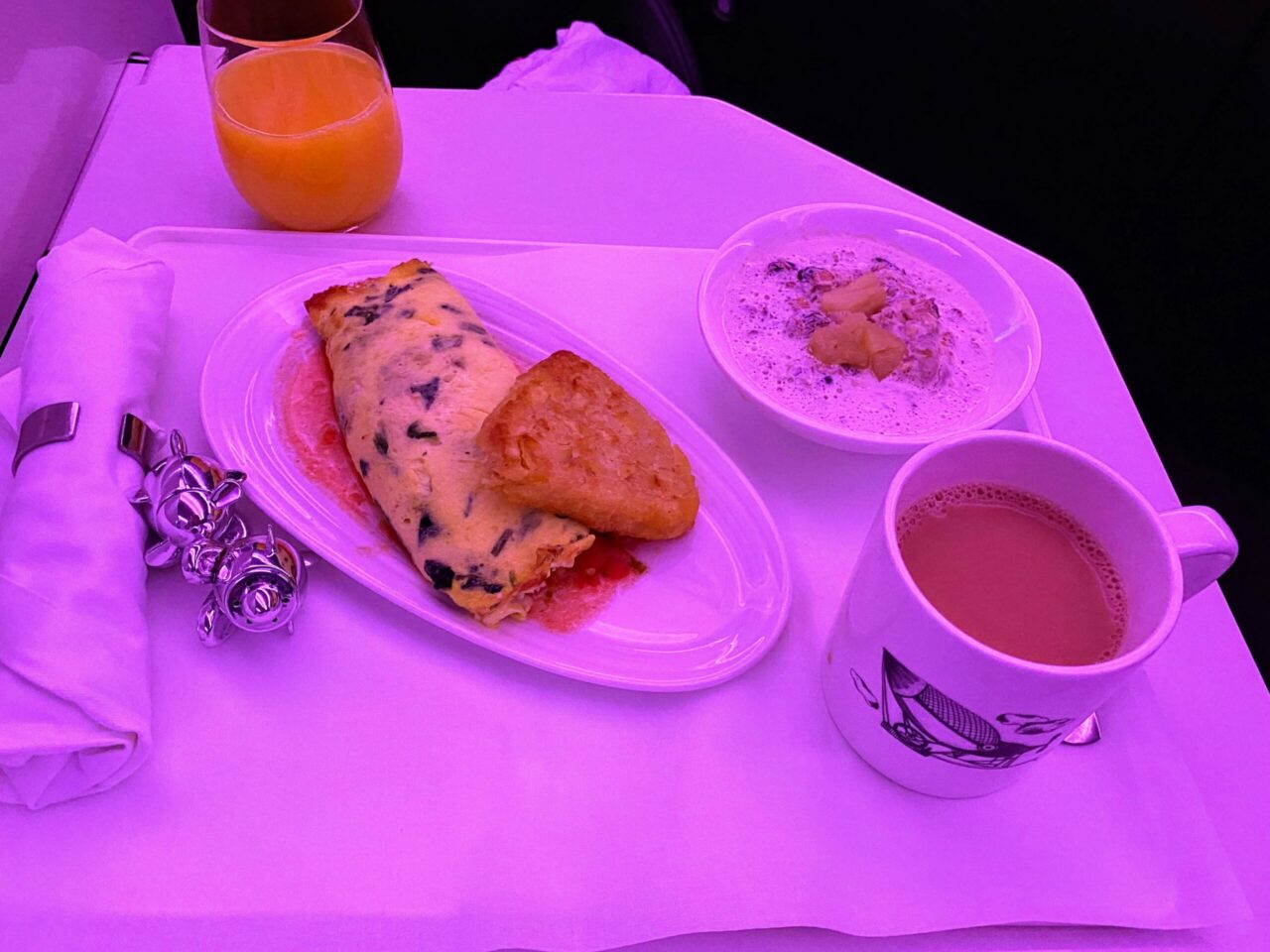 I was a big fan of the omelette especially since it came with a hash brown which I love. The omelette was full of flavour and not too firm. The salsa was also a good addition instead of ketchup. I also had a cup of tea in Virgin's lovely mugs and some fresh tasting orange juice.
The seat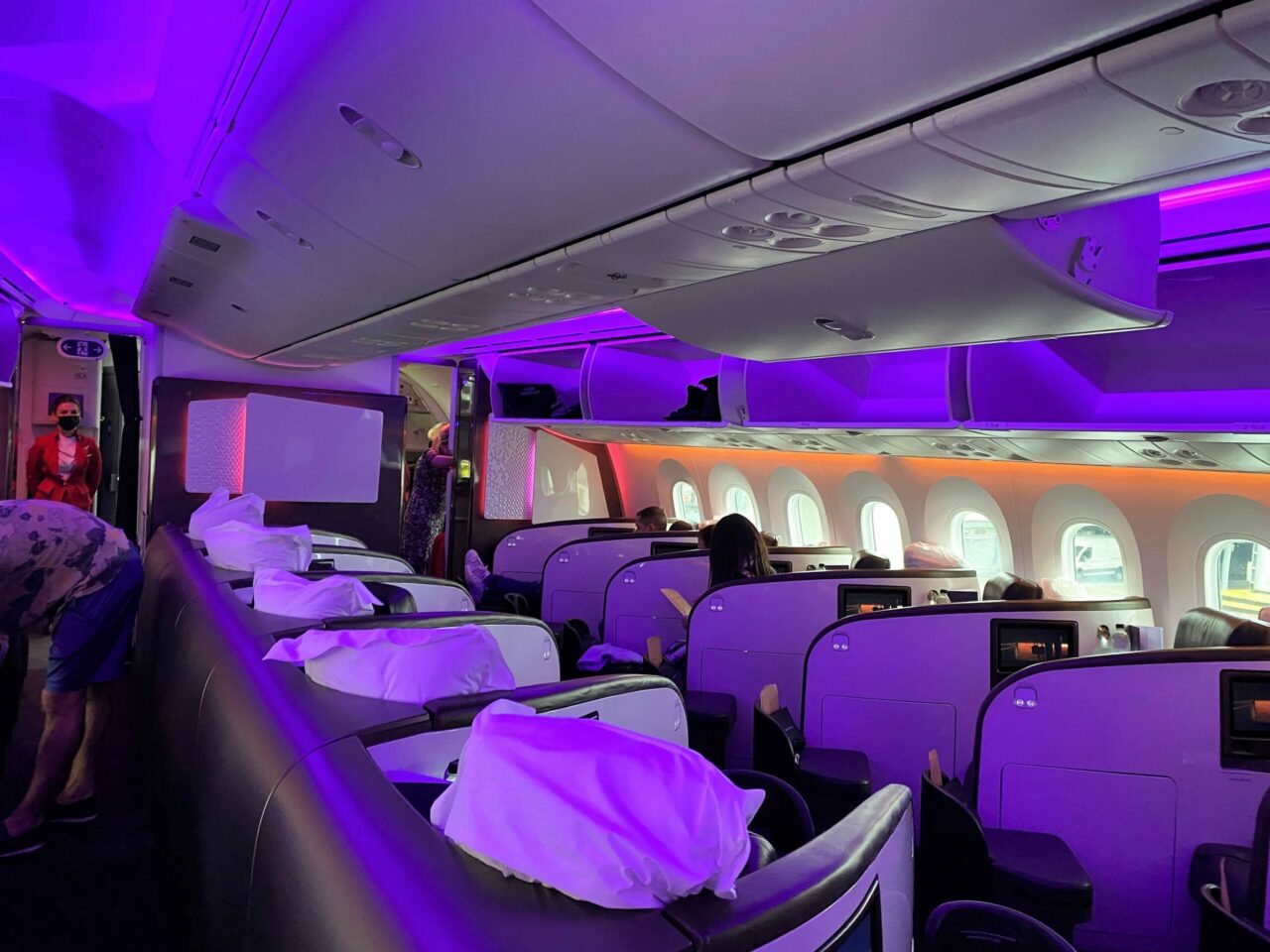 I didn't manage to get any seat photos but it was identical to the seat on the way out bar one negative. I was in 7A on this flight and that has one of the windows missing.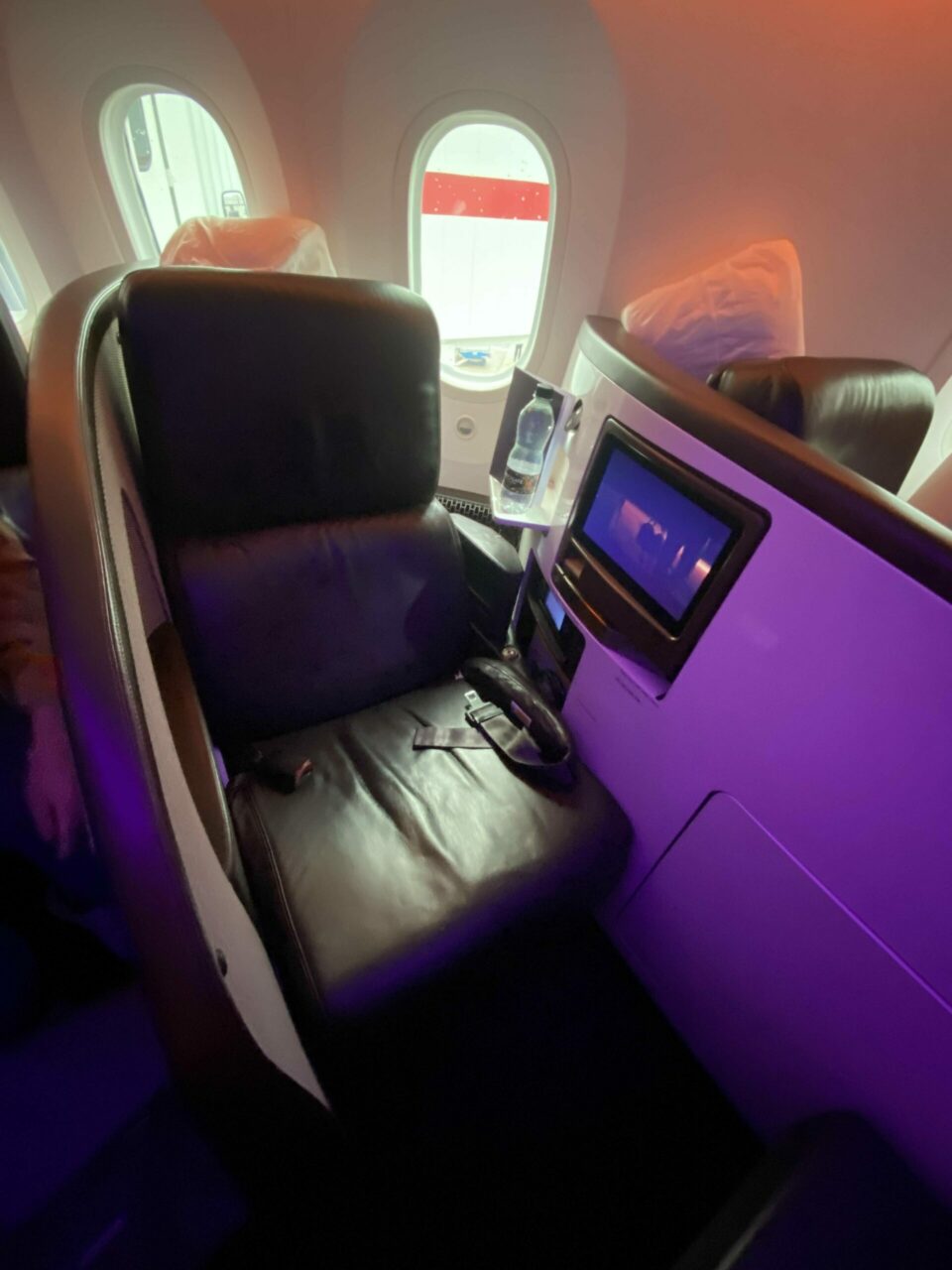 Since it was a night flight it wasn't an issue but maybe worth bearing in mind when you are choosing a seat. These photos are from the way out since it was the same type and I was almost in the same position.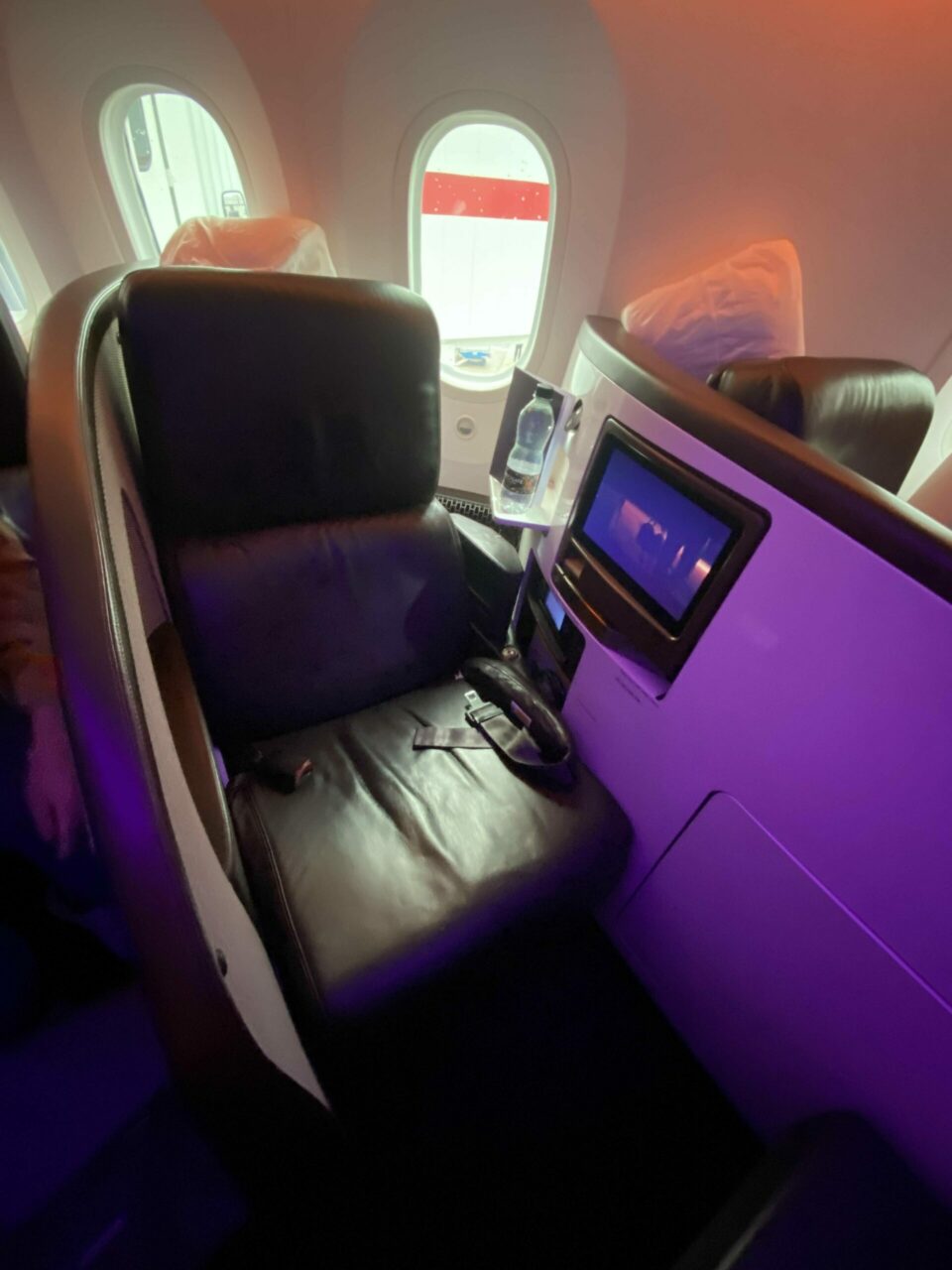 The seat has to be flipped over to sleep and the crew proactively offers to make up your bed which is a lovely touch. The bedding offered includes are really great mattress topper which is deeply padded and makes all the difference. There's a decent size pillow and a light quilt that's not too hot. I find the sleeping area generous with plenty of room for side sleepers and for turning over. There are a couple of places that you can put things you want in handy reach too such as the cocktail shelf.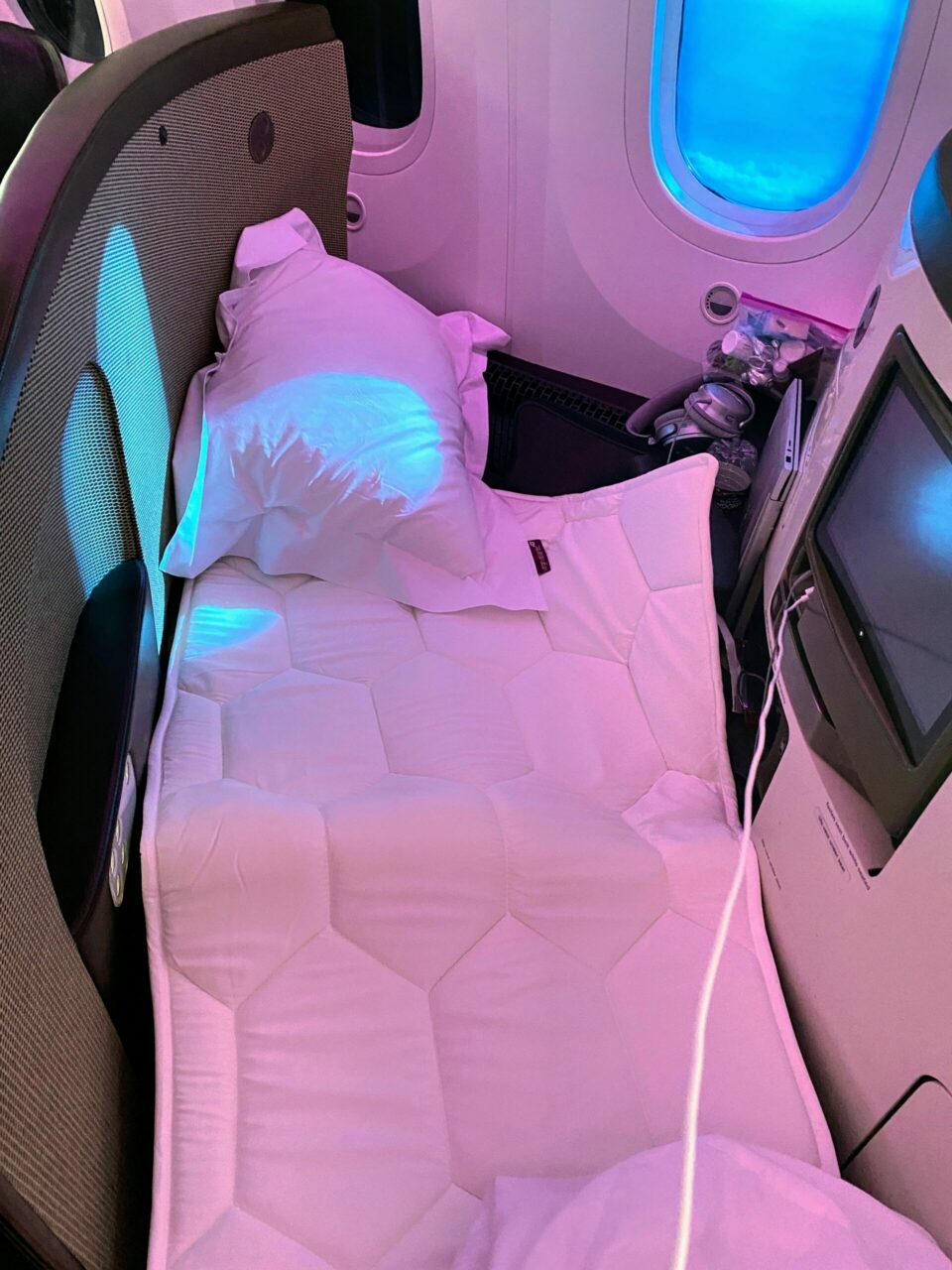 Overall I found the seat gave me a good sleep and the crew offered to put away my bedding in the morning. In the toilets, they have the same Ren toiletries as in the wash bag.
Entertainment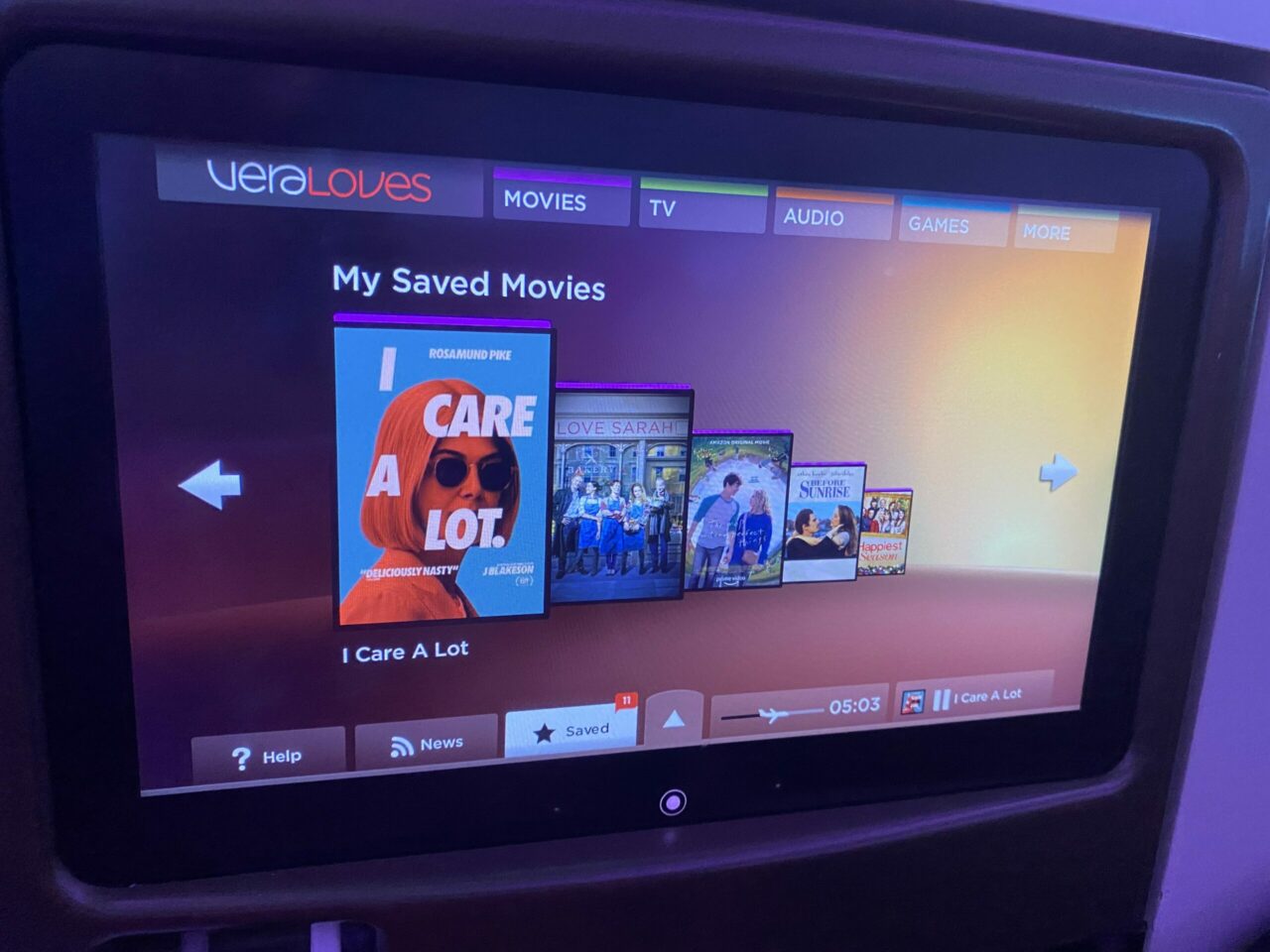 I didn't really watch much but they do have a great selection of films with old and new selections. Screen size and definition is good. It's not as large as some screen but you have to bear in mind that its much closer to your face due its positioning than some either business class products. Noise-cancelling headphones are provided too and a USB charging point under the screen.
On the way out I had struggled with the Wifi but when I woke up I tried the internet and it worked just fine, so I suspect it was simply the number of journalists all separate to use it on the outbound flight! There is also a whole flight package which is decent value as well at £12.99.
Booking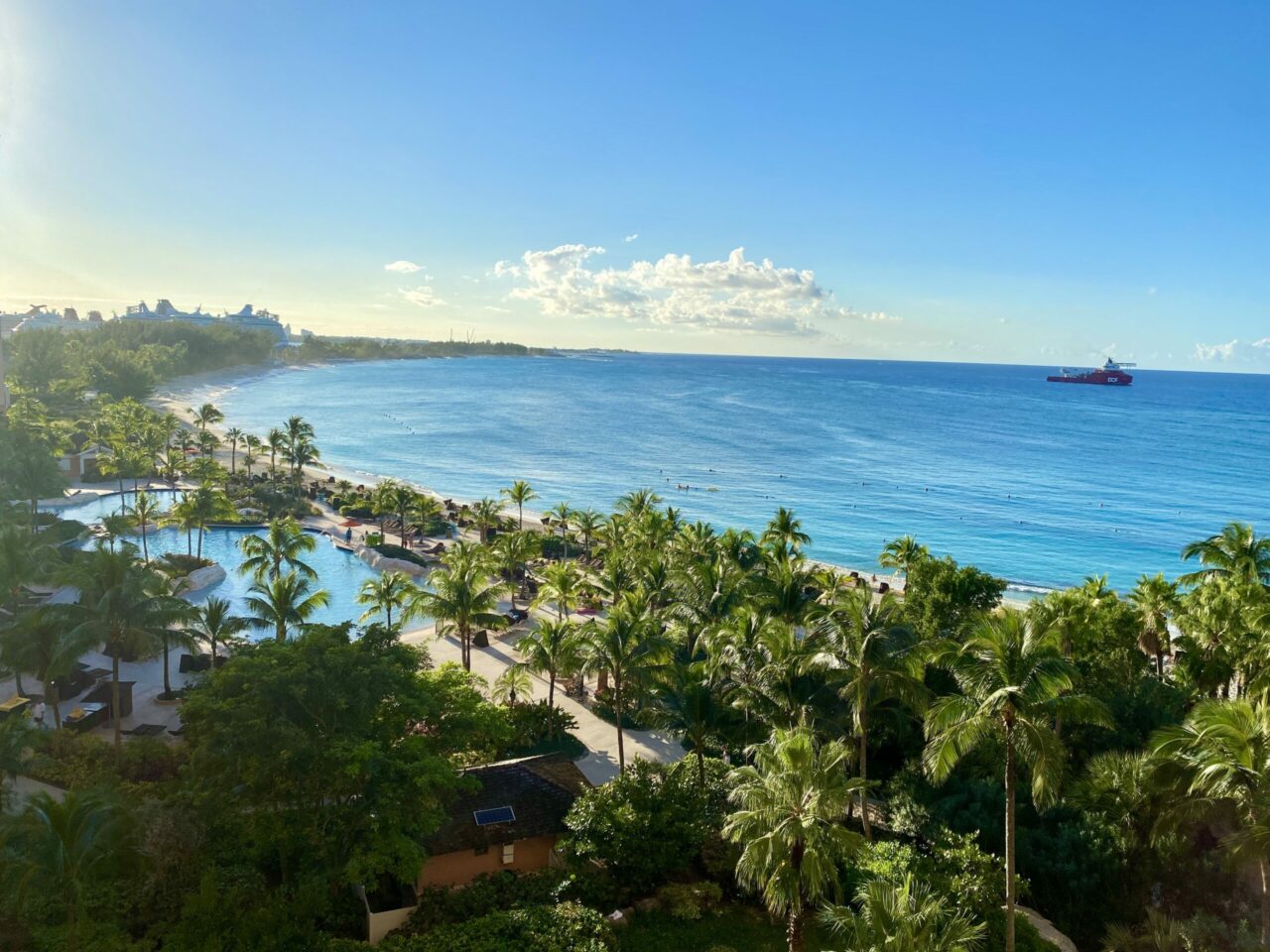 You can book with Virgin Holidays here (see my review of the Cove at Atlantis here) or if you just want flights you can look for prices here while the sale is still on. Prices start from £1430 for one date in August and then £1795 in September. You can book flight only and search for prices here.
Conclusion
Virgin Atlantic B787 Upper Class night flight was a good flight. For me, the most important thing on a night flight is obviously to sleep. The crew were quick with service and breakfast wasn't served too early either. They were super helpful and liked to have a bit of banter as well which I always enjoy.
I had no complaints about the quality or quantity of the food or the drinks available. I personally find the Virgin Atlantic B787 Upper Class seats great for sleeping due to the deep mattress topper and I love that they make the bed up for you.