This is a review of the W Singapore Sentosa Cove hotel. I have been to Singapore many times but only visited Sentosa briefly and was put off a bit by the tankers out at sea which spoilt the feel of the beaches. However, on a recent visit to Singapore I decided that I couldn't be bothered with the hassle of travelling to other countries in Asia and wanted to find somewhere a bit more relaxed than a city hotel. I looked at the Shangri-La near Orchard Road which would normally be my first choice of a more resort-type hotel, but the prices were very high.
Then I started researching Sentosa and realised that actually, it wasn't that far from the areas I would normally visit near Marina Bay. It is around 15 minutes and £11 for a taxi to get to the Marina Bay area. So I decided to stay at the W hotel even though I normally find them a bit too "hip" for me.
I also stayed at the Mandarin Oriental which I will also review but the W was surprisingly much better out of the two.
Location
It's not directly on the sea despite being in Sentosa Cove, but it does border onto the marina there. Sentosa Cove is a fairly new development with plenty of restaurants, a foot massage store, a supermarket and a coffee shop. There is a free bus (I think it is only temporarily free) that stops regularly right outside the hotel that will take you around Sentosa including to the cable car to the mainland and the monorail.
Check-in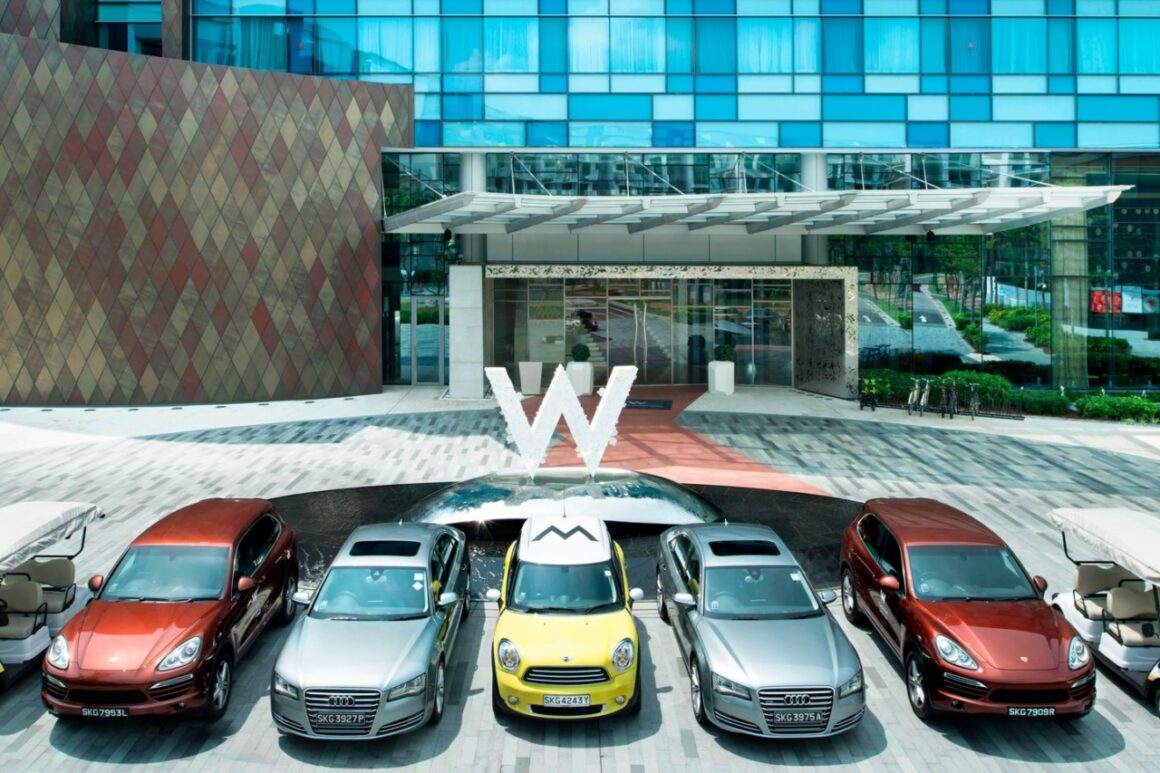 I got a taxi from the mainland (note: most people I know that have a UK mobile could not get the Grab (used to be Uber Asia) app to work in Singapore despite using it elsewhere. However, there is a good taxi app called CDG Zig).
As soon as I arrived in W Singapore Sentosa Cove hotel, the doormen welcomed me and took my luggage from the car. I headed up to the first floor where check-in was and had a short wait. It was a weekend when I arrived so it was busy with locals on staycations. Despite being a Marriott Platinum member there was no upgrade, but I had booked the room that I specifically wanted so that was not an issue.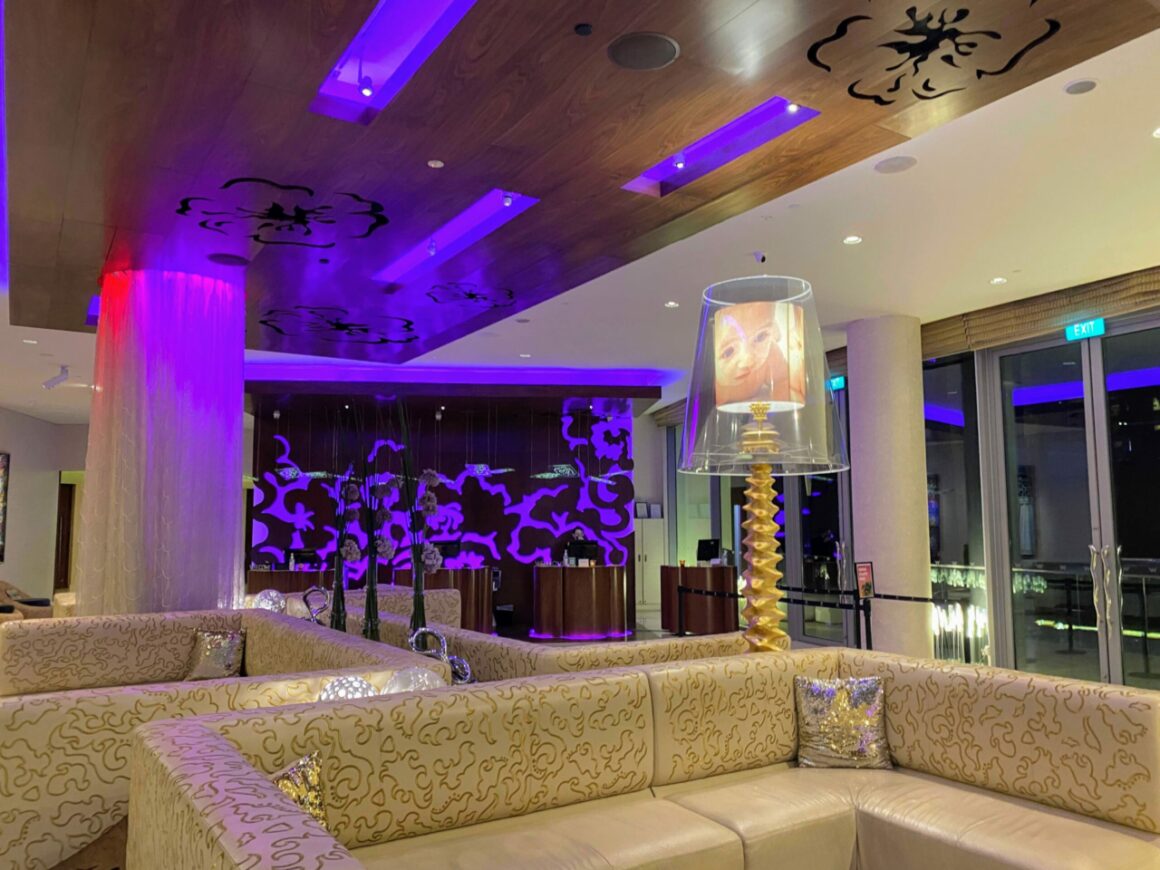 I was welcomed as a Platinum member, and the receptionist went through the benefits. There were free drinks every evening in the bar 5-7pm and free breakfast in the main restaurant.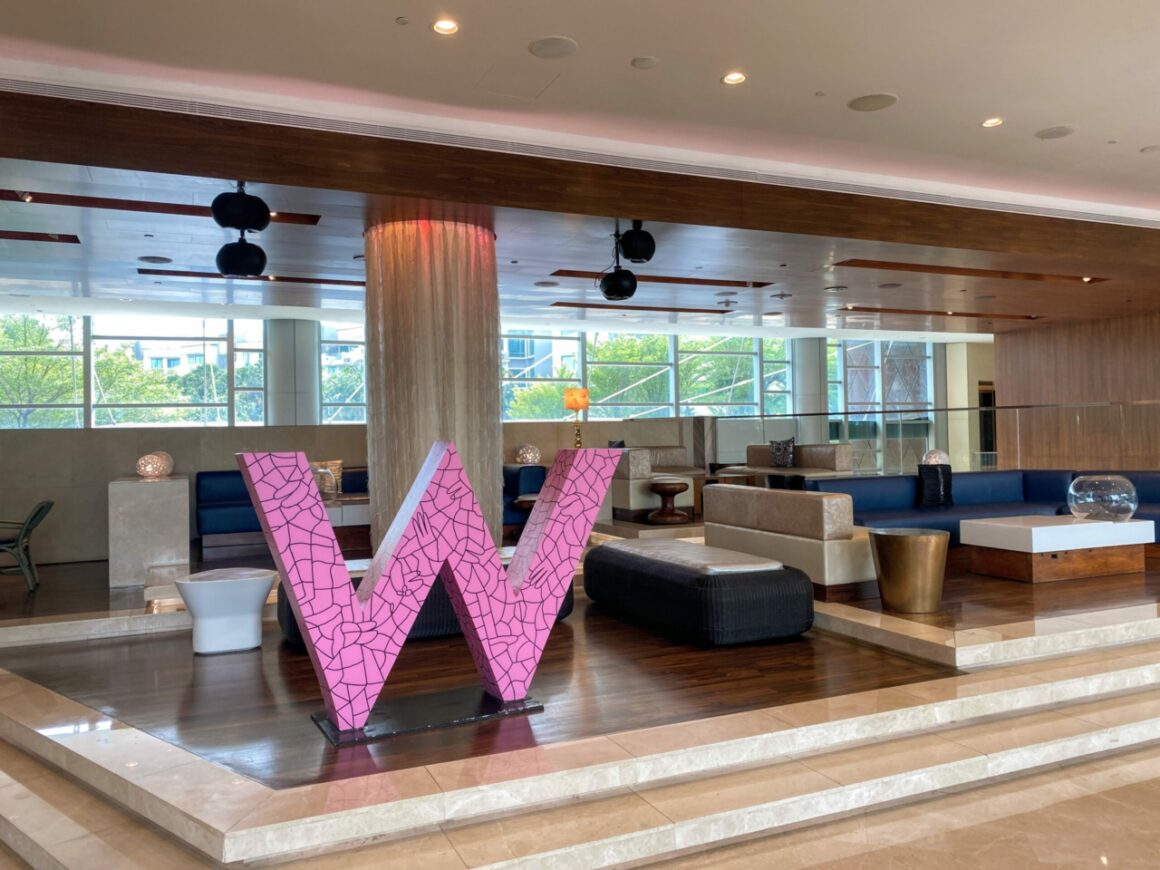 I did struggle to get late check out at the end as it's classed as a resort so you don't get it guaranteed. At first they would only offer 12.30pm which I thought was pretty stingy. I fully expected not to get 4pm but I thought 2pm would have been reasonable allowing them an hour to turn the room round. The hotel wasn't fully booked although the rooms in my category were. I then went to breakfast and shortly afterwards the receptionist appeared with new keys valid until 4pm which was great customer service recovery.
The room
The hallways and even the lifts are all decorated in W Singapore Sentosa Cove hotel's unique exuberant style.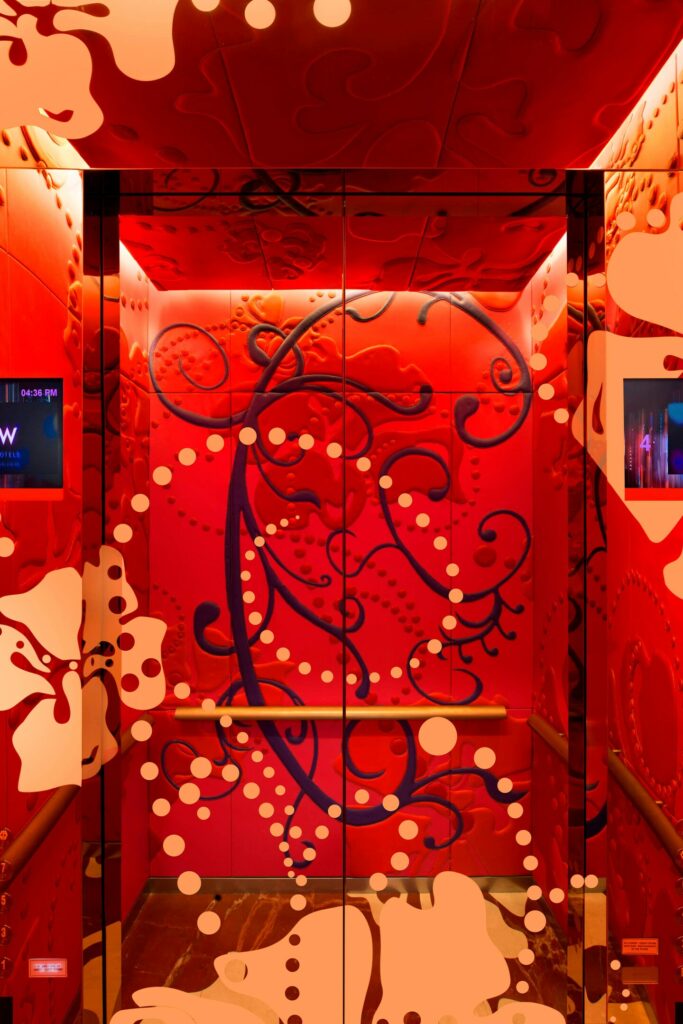 The only bad thing about the room was the distance from reception and the pool. I had chosen a Spectacular King room with Balcony that has a marina view rather than most rooms that overlook the pool. This is the second category up. The entry-level Wonderful rooms do not have a balcony.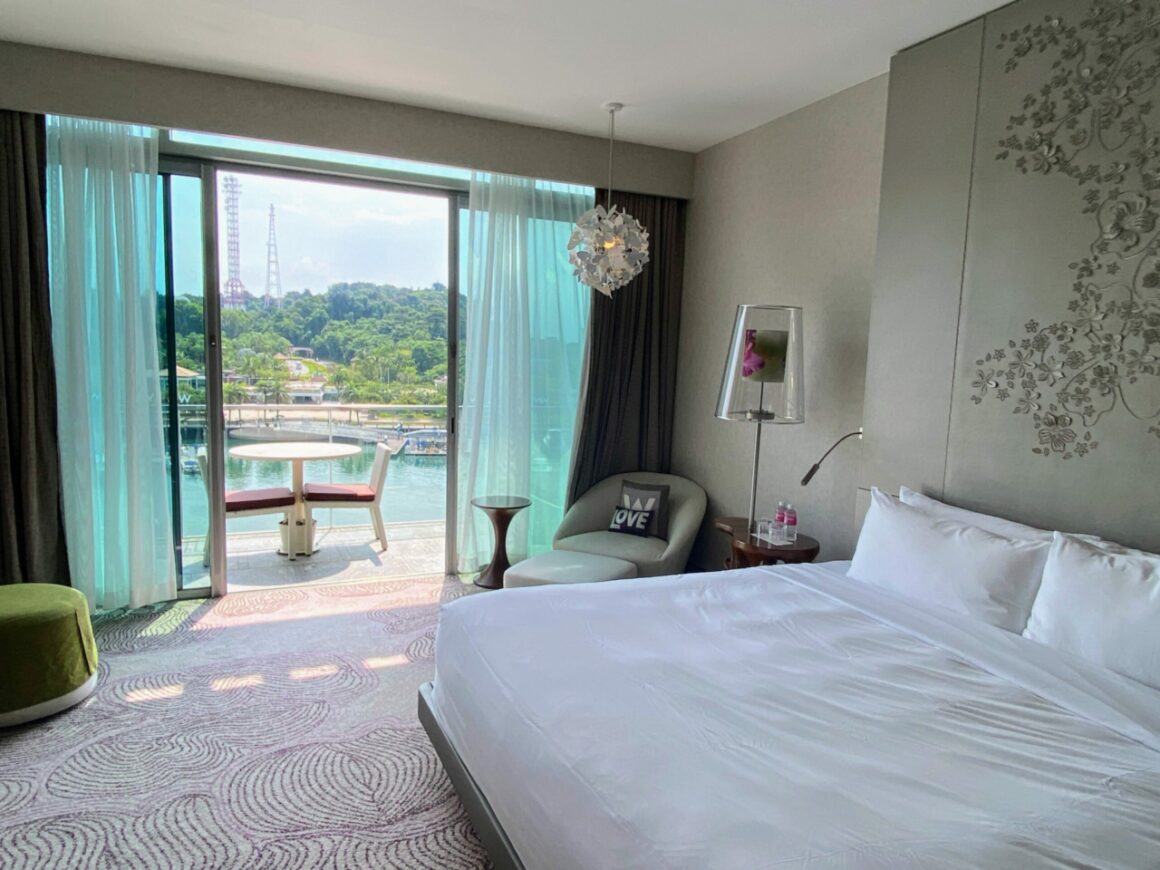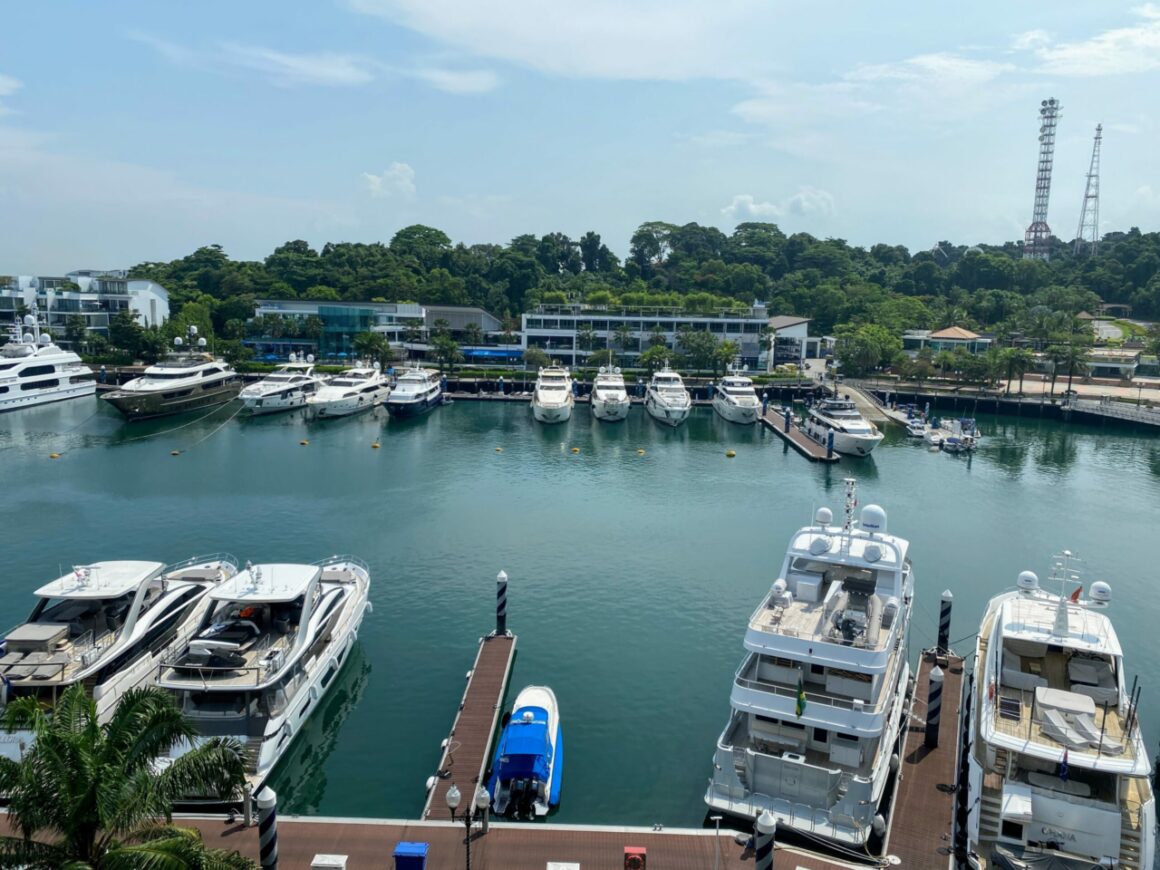 I found the room a very generous size and not too OTT in the W "trendy" style. I rather liked the pink and grey pretty decor and the quirky touches like the flower inner lampshades.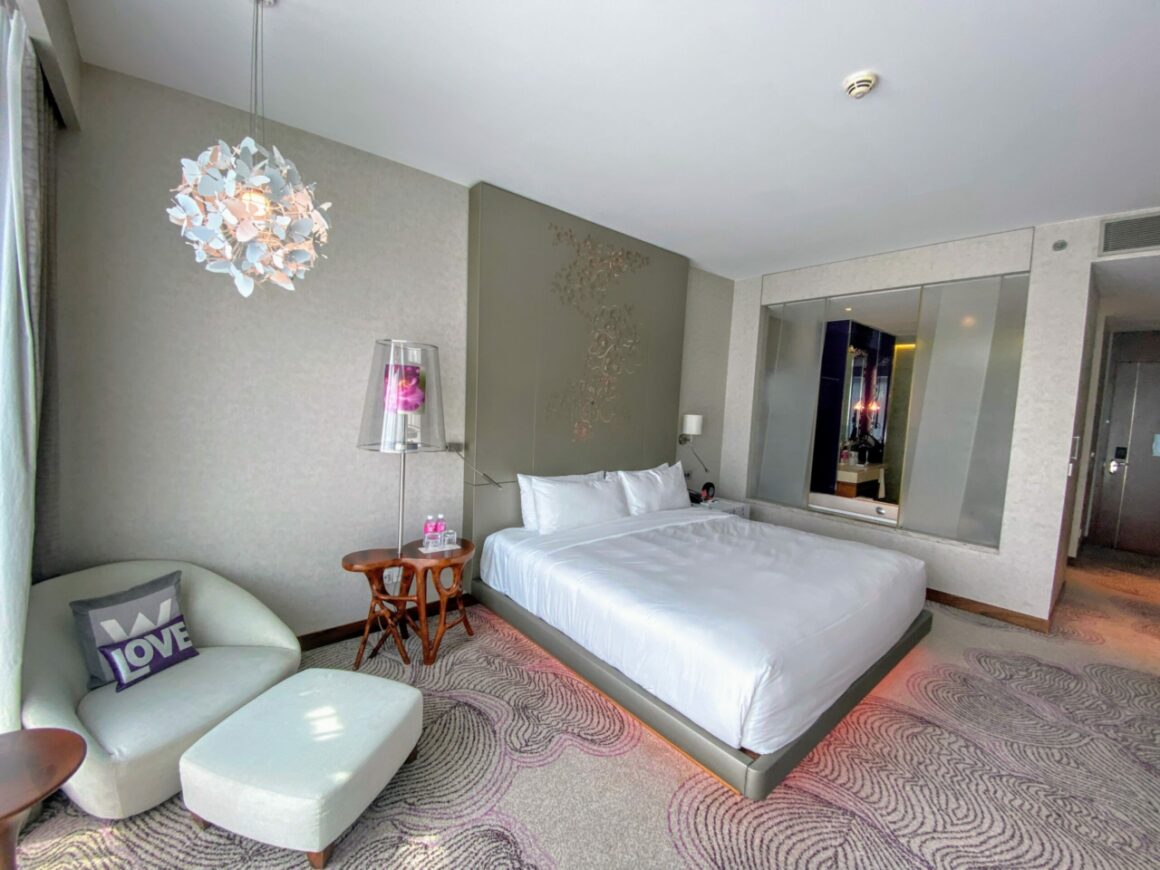 It was very well equipped with more bottled water than anyone could ever need ( six bottles initially), which was just as well as there was a heat wave when I was there and 36c in high humidity. The desk area was large although I did find that the chair was uncomfortable if you sat in it for long periods while working. Various bits of stationary were provided which you don't often see in most hotels. These included a pencil, notes, paper clips, post-it notes, and a pen with a touchscreen tip which may have fallen in my bag!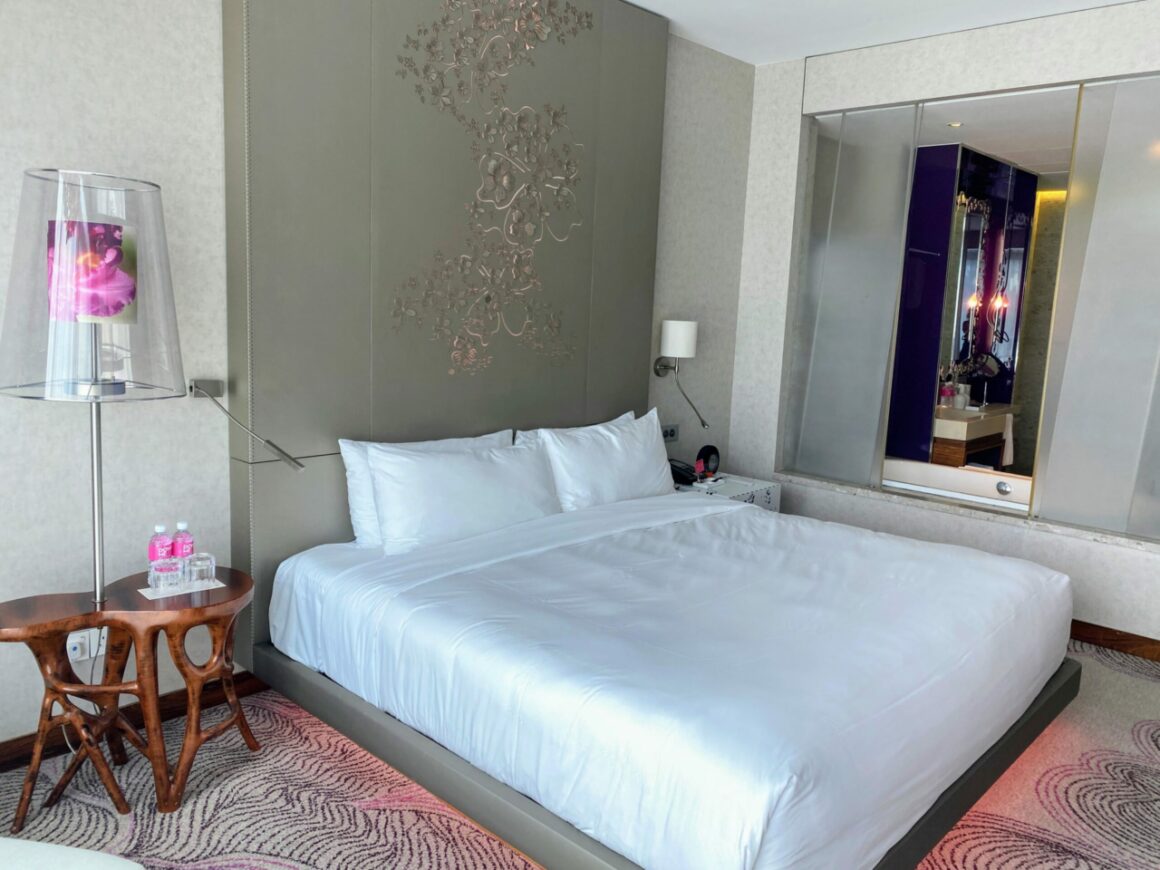 You could control the lights from the bedside with various intriguing options such as hello (orange lights), runway, escape and flirt schemes which all had different brightness and colours which was fun! I loved coming back in the evening and seeing the motif lit up above the bed.
The bed was super comfortable and it was an effort to drag myself out of it. It was also generally very quiet.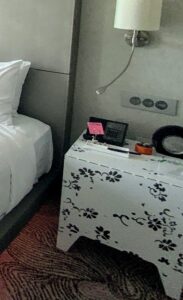 I found the bedside table arrangements a bit odd. One side just has a wooden table but the other side has a metal table with a clock/Bluetooth speaker, an iPhone charger and all the light controls.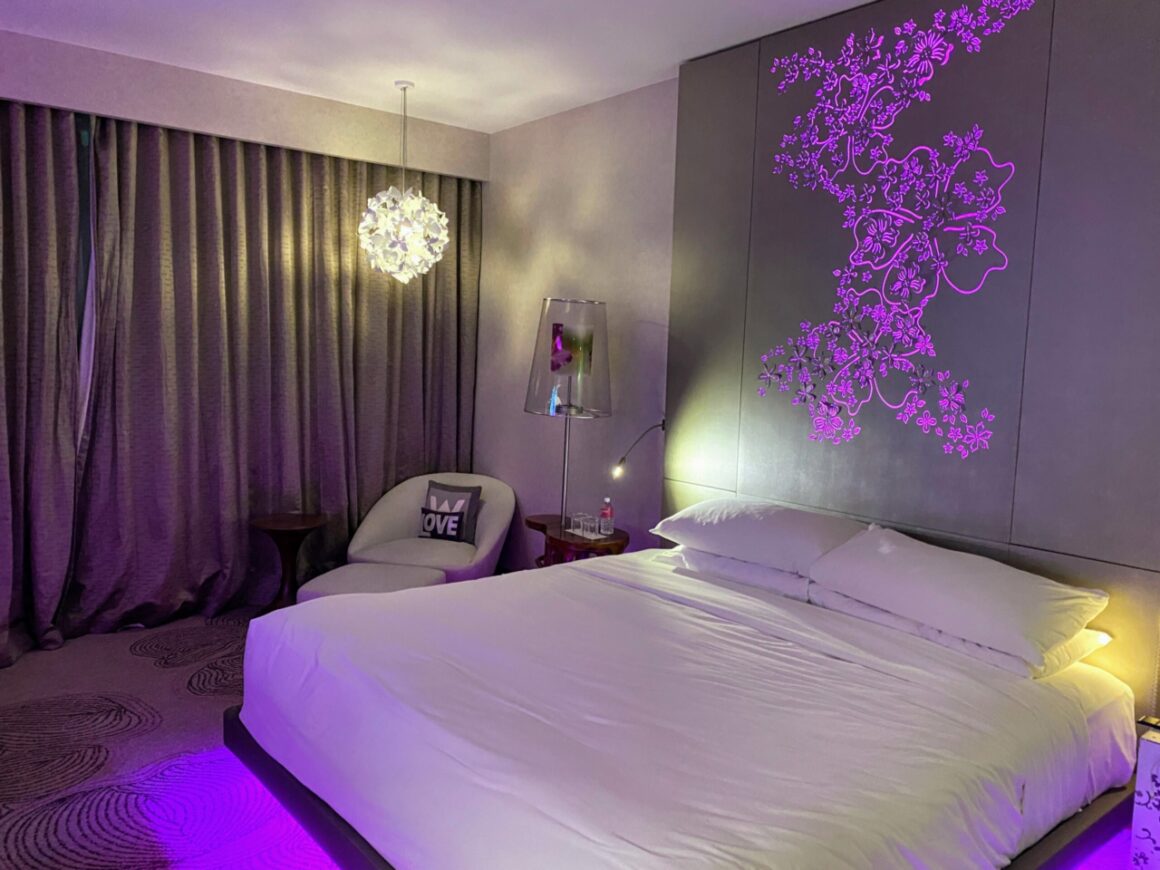 Instead of a Nespresso machine, there was a cafetiere and a kettle. Teas were by TWG, a great brand of tea that's extortionately expensive. As usual for W, there was an extensive mini bar selection, including a fridge. The usual 5-star amenities were included, such as a bathrobe and slippers, iron and ironing board and a safe.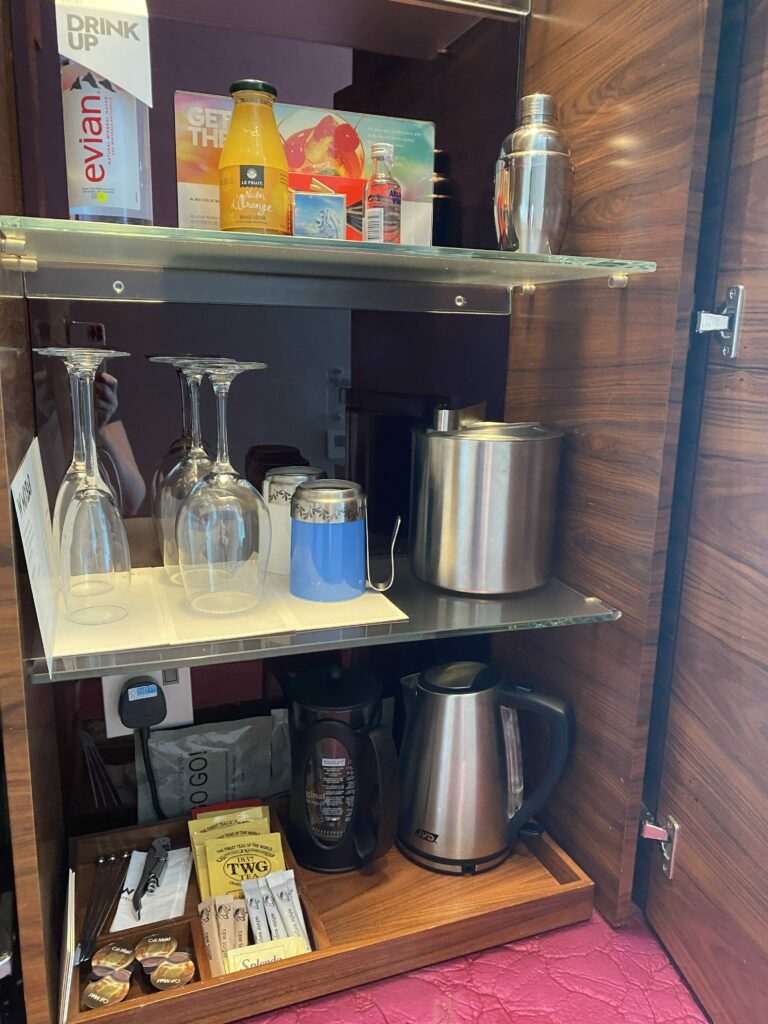 The TV is worthy of mention due to the great speakers that came with it, although I was surprised that the TV didn't have any features for such a modern hotel. Usually I now expect Netflix and screen mirroring. There was an HDMI portal so you could connect your own laptop as well as two multi-country sockets.
For those that like somewhere to do their hair or make-up, there were a couple of choices other than the bathroom. As you enter there is a large mirror with a shelf which had a socket but is a bit dark and right by the door. There was also a full-length mirror by the desk with a stool and again, sockets were nearby.
Bathroom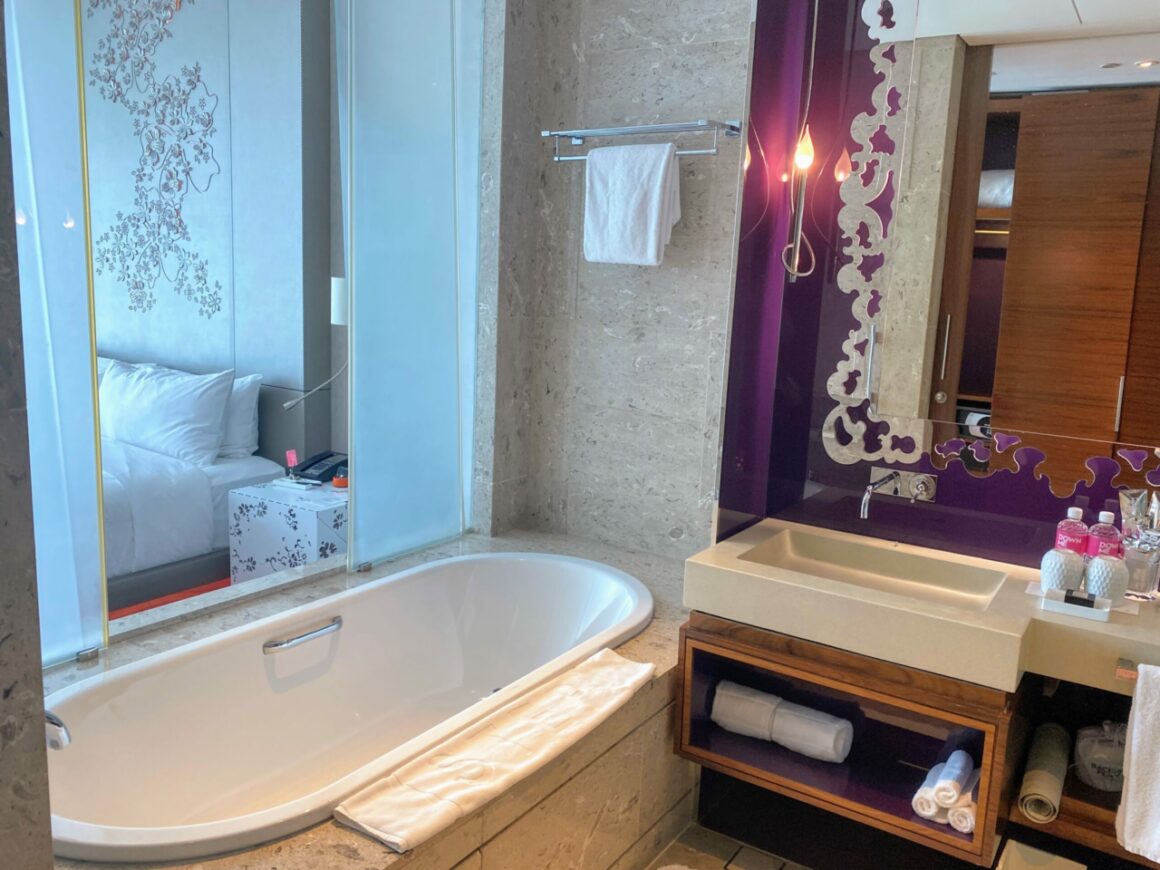 I also loved the bathroom with its huge tub and the generous toiletries.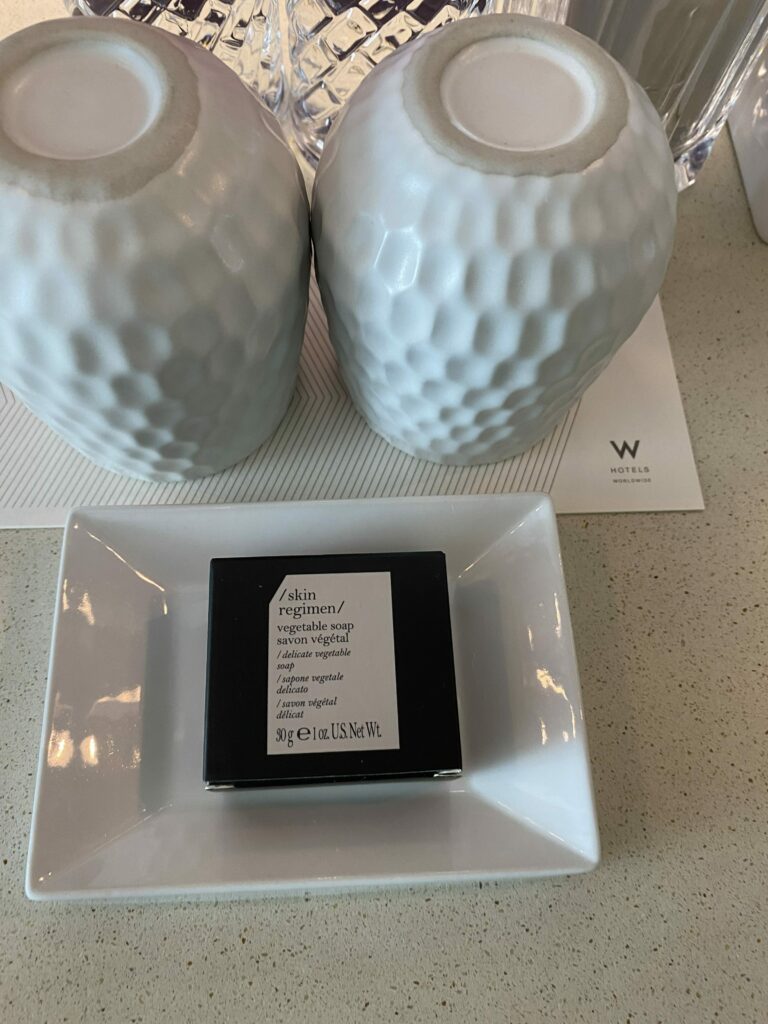 The main toiletries were by Davines in Momo which had a tropical smell from the yellow melon. Davines is W's latest brand and is a sustainable Italian hair care brand. I liked them and thought there were good quality but I do miss the scent of the old Bliss lemon and sage ones.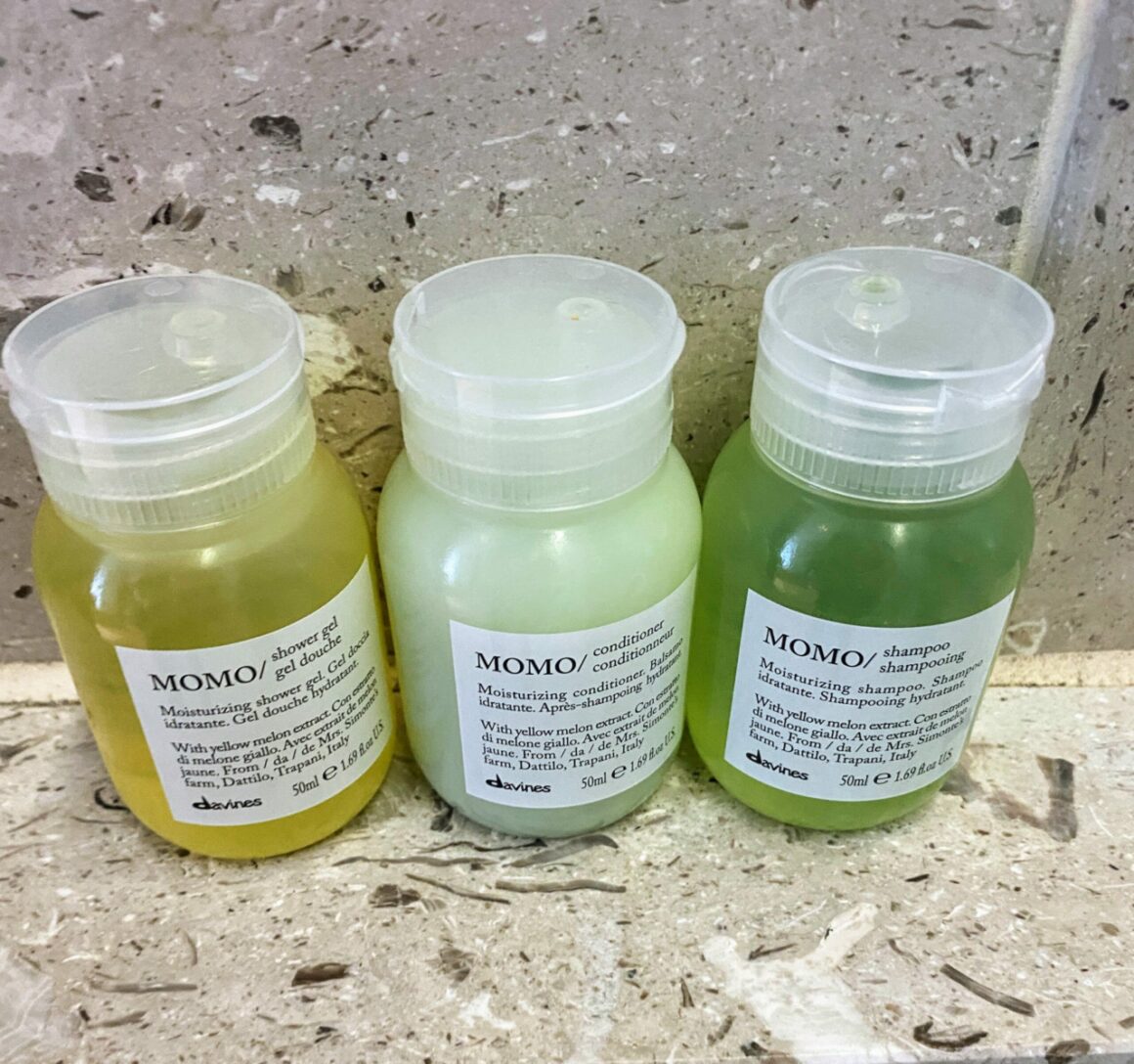 As well as these there were also tubes of ethical brand Skin Regimen skin cleanser and body cream. They had a rather odd smell a bit like an incense stick which I wasn't overly keen on but I did like the products themselves which were as good as something I would buy for myself.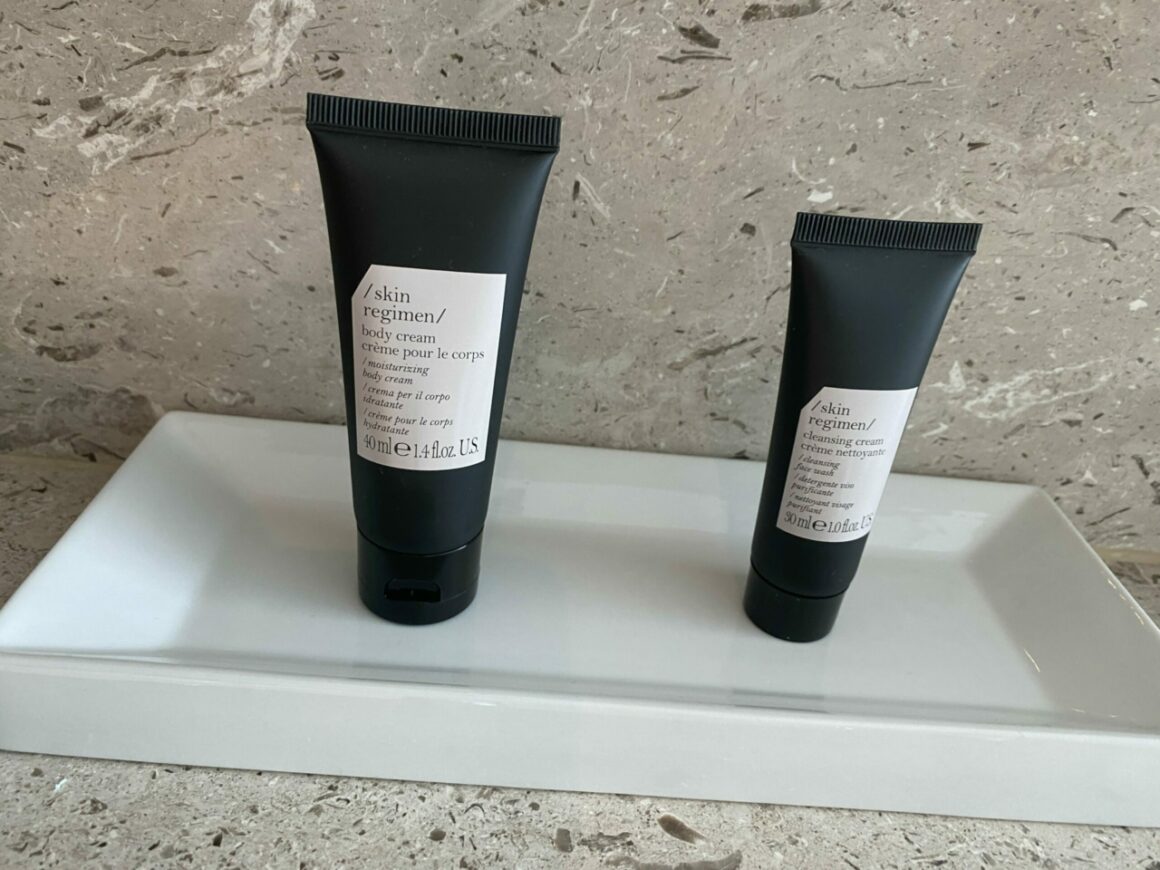 The housekeeping staff were various conceientious about topping toiletries up and as the stay went on, more and more things kept appearing in the bathroom such as a loofah and make up remover wipes. I always love the Asian amenities that far surpass what you get in Europe usually.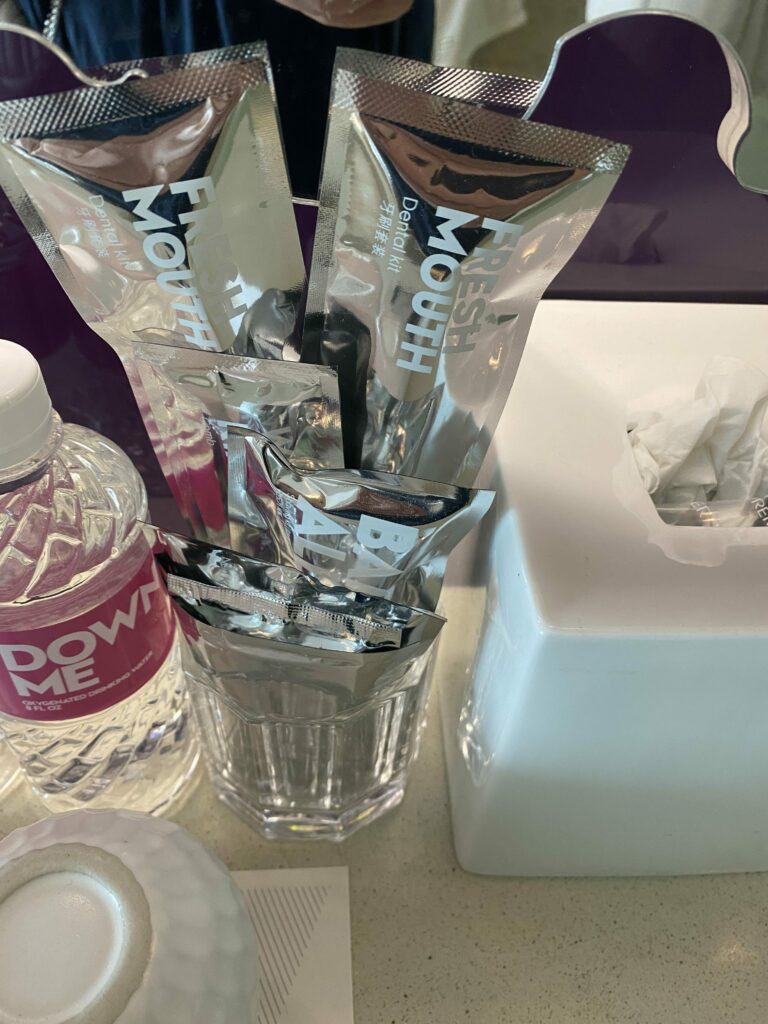 The shower and toilet were both in separate cubicles which was needed since the screen by the bath was only glass but could be opened to allow you to see the room, TV and view from the bath.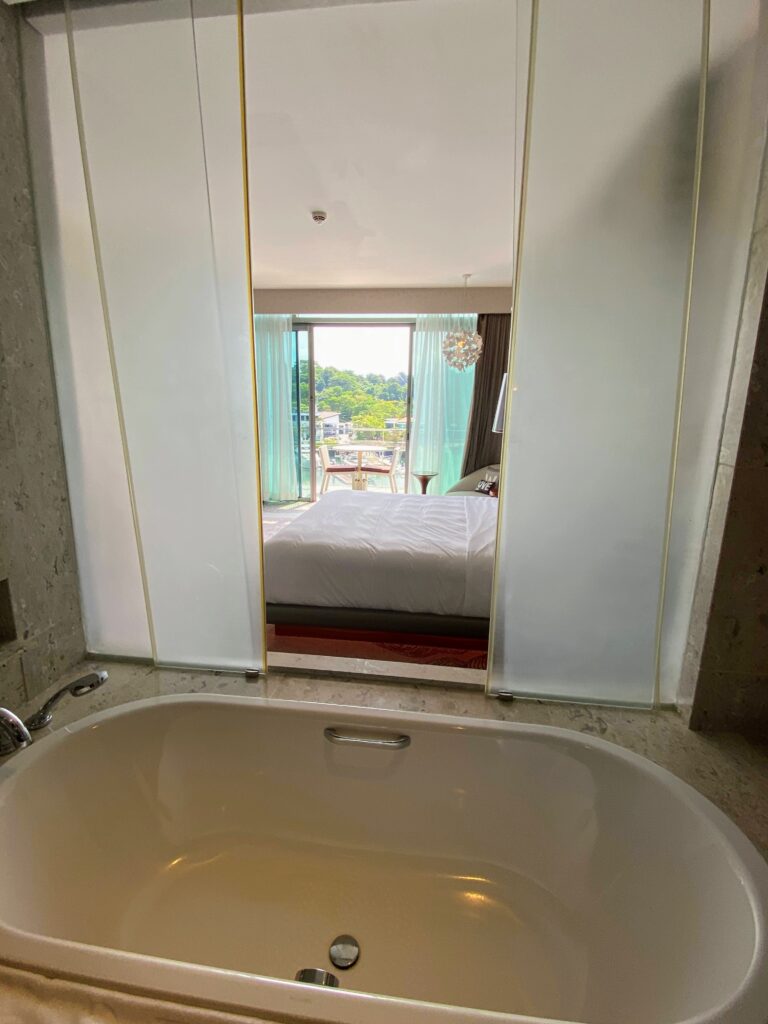 The shower was huge and had a rainfall shower and a normal wall-mounted shower.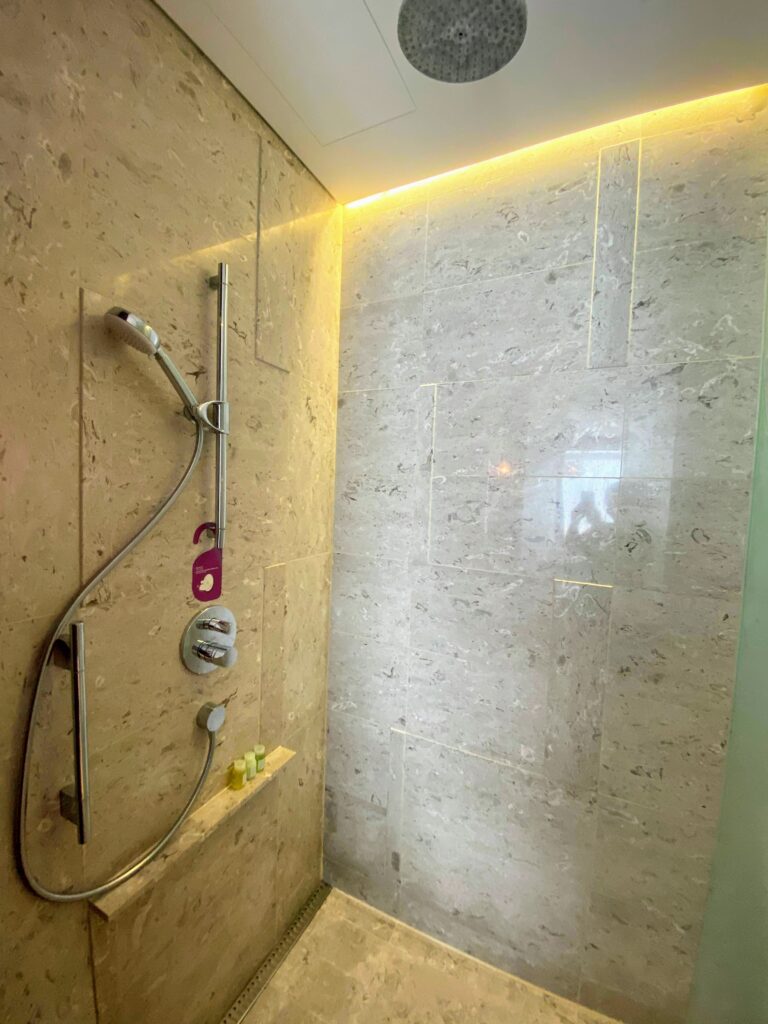 Food and drink
There are two restaurants at the hotel, The Kitchen Table which is the all-day dining restaurant, and the rather glamourous SKIRT which is a grill with steak and seafood. I didn't eat in the hotel except for breakfast and by the pool. Instead, I went to sit by the marina next door at one of the many restaurants there.
Breakfast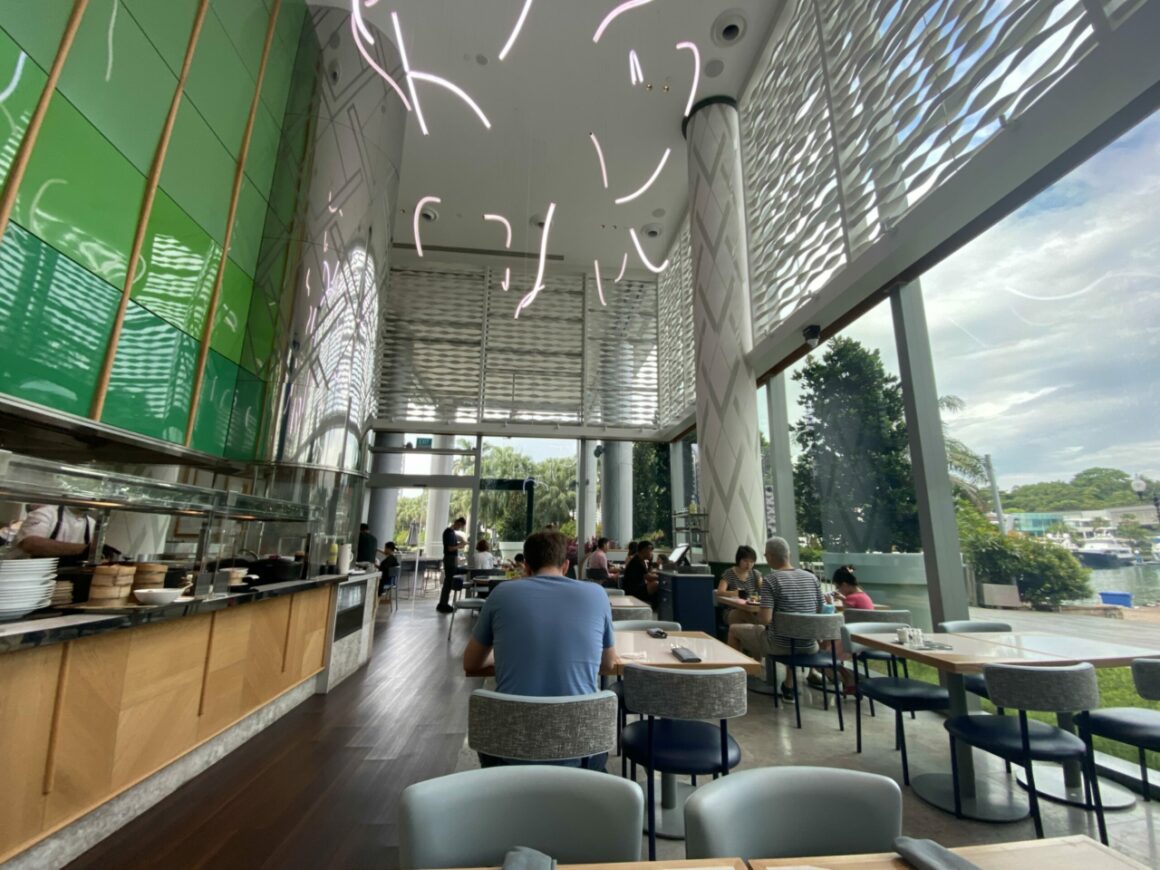 This was definitely a highlight of my stay due to the extensive menu and great service. There is a small buffet selection of cold pre-made dishes that are also on the menu and pastries. You can also help yourself to a wide selection of juices, or the staff will bring it to you.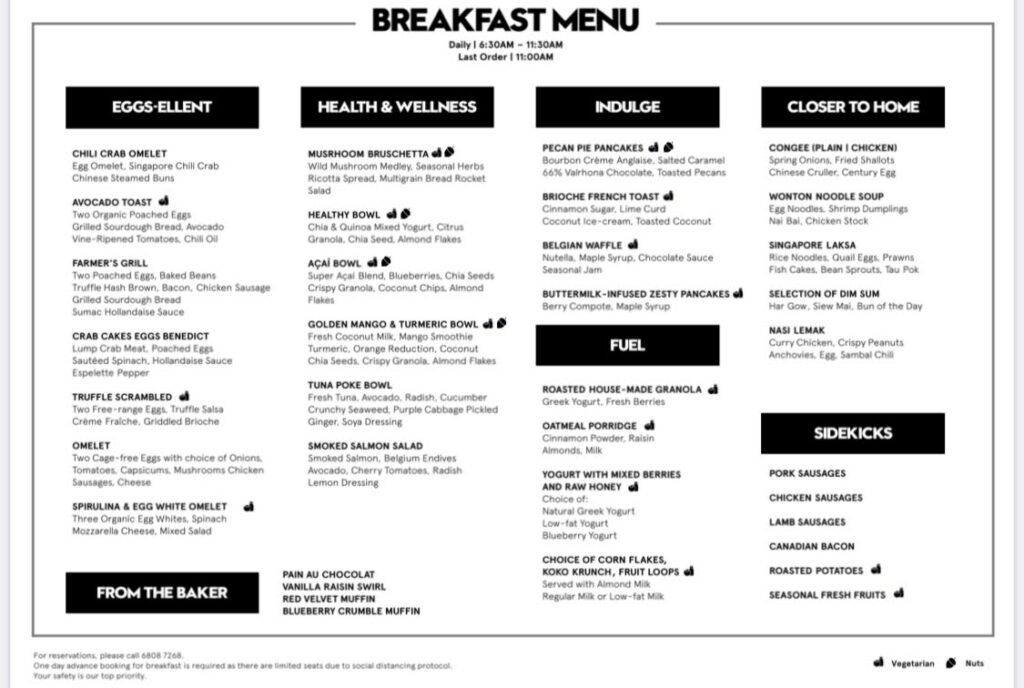 You could eat outdoors on the small patio but most people chose the comfort of the air conditioning!
You could order as much as you wanted which while great was also dangerous. Everything was so delicious it was tempting to keep ordering. My favourite was the chilli crab omelette which was probably the best breakfast dish I have ever eaten with its zingy piquant sauce over a beautifully fluffy omelette. My mouth is watering just writing about it! The vast choice even managed to drag me away from ordering my regular avocado toast!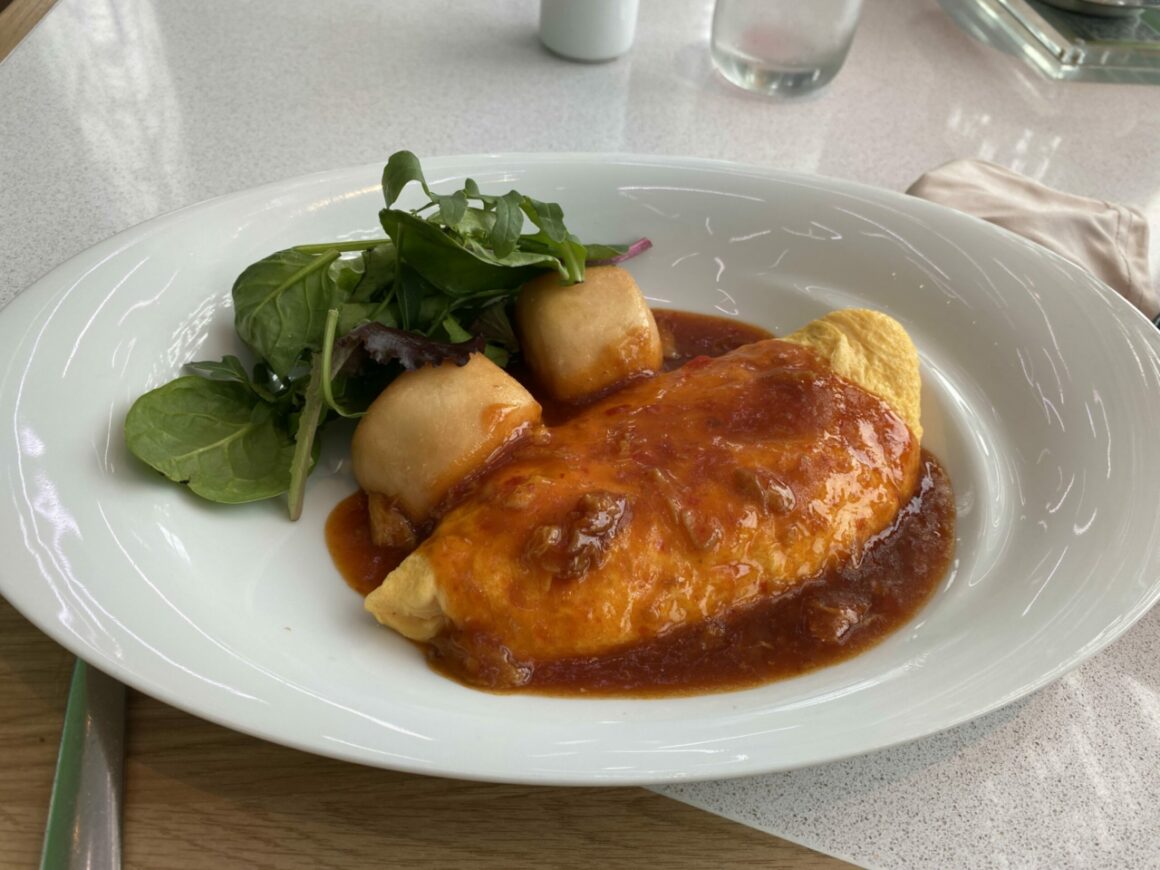 I also loved the dim sum tower and the crab cake eggs benedict.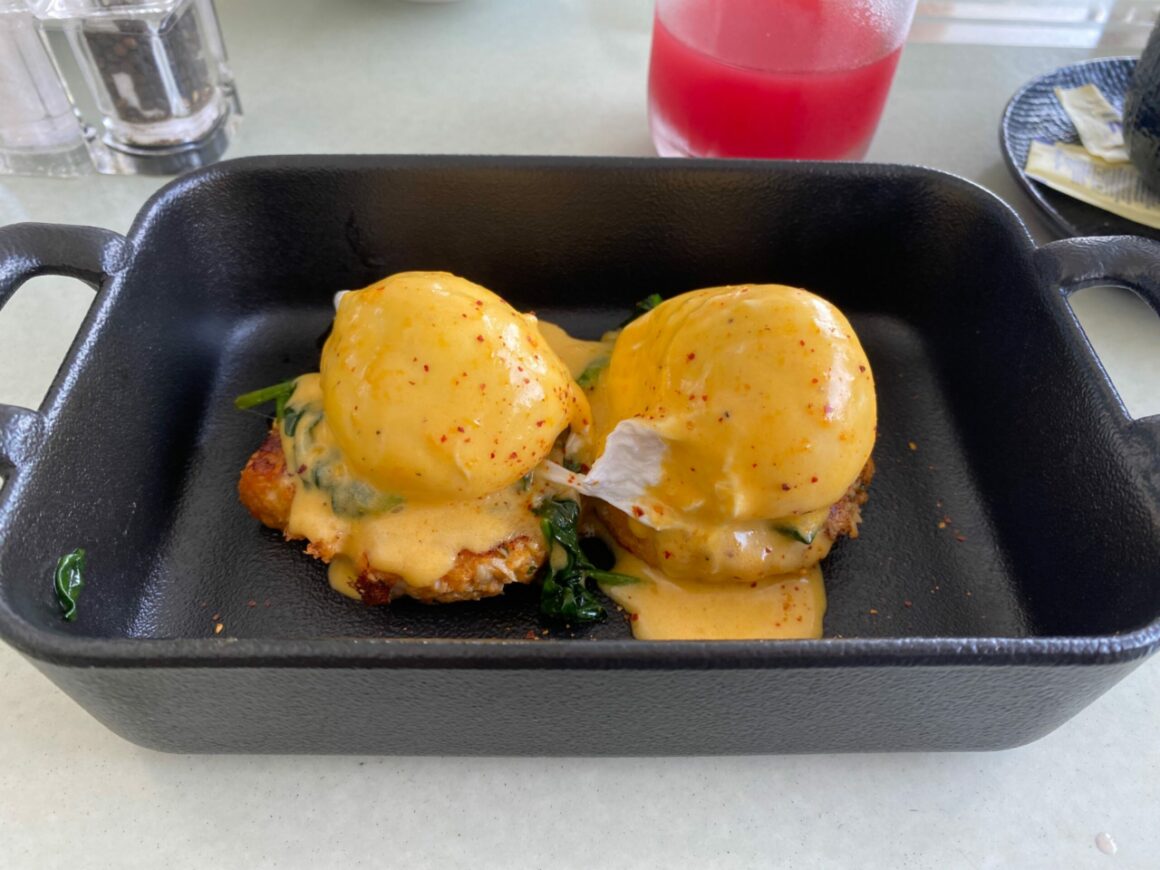 The pecan pie pancakes were oh, so naught but delicious!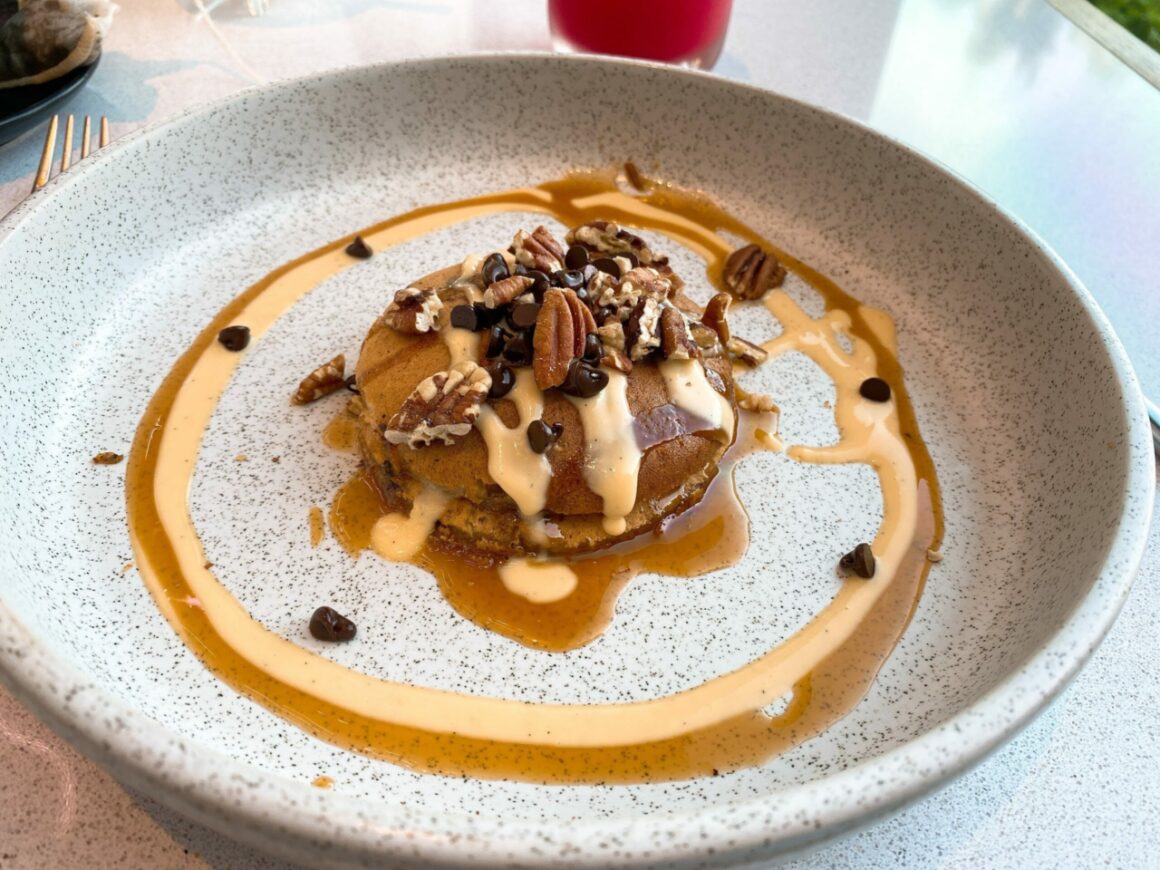 If, unlike me, you are trying to not throw caution to the wind, the healthy options were also good. I particularly liked the mango and turmeric bowl and the smoked salmon salad.
Woo bar – social hour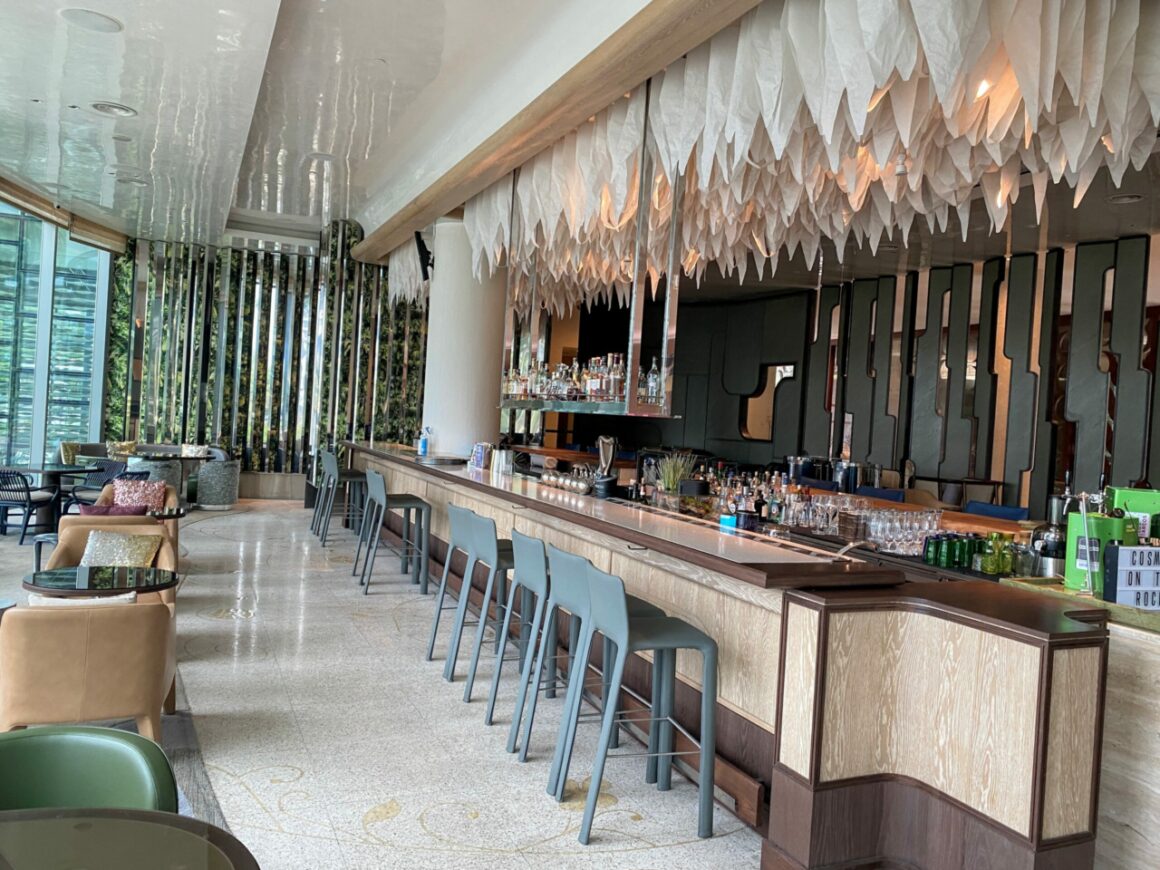 Having two hours of free drinks was an unexpected bonus and I enjoyed sitting in the bar and chatting to the friendly bar staff. You could choose from a list or the cocktail of the day. When I returned the next day they remembered my order which I thought was great service.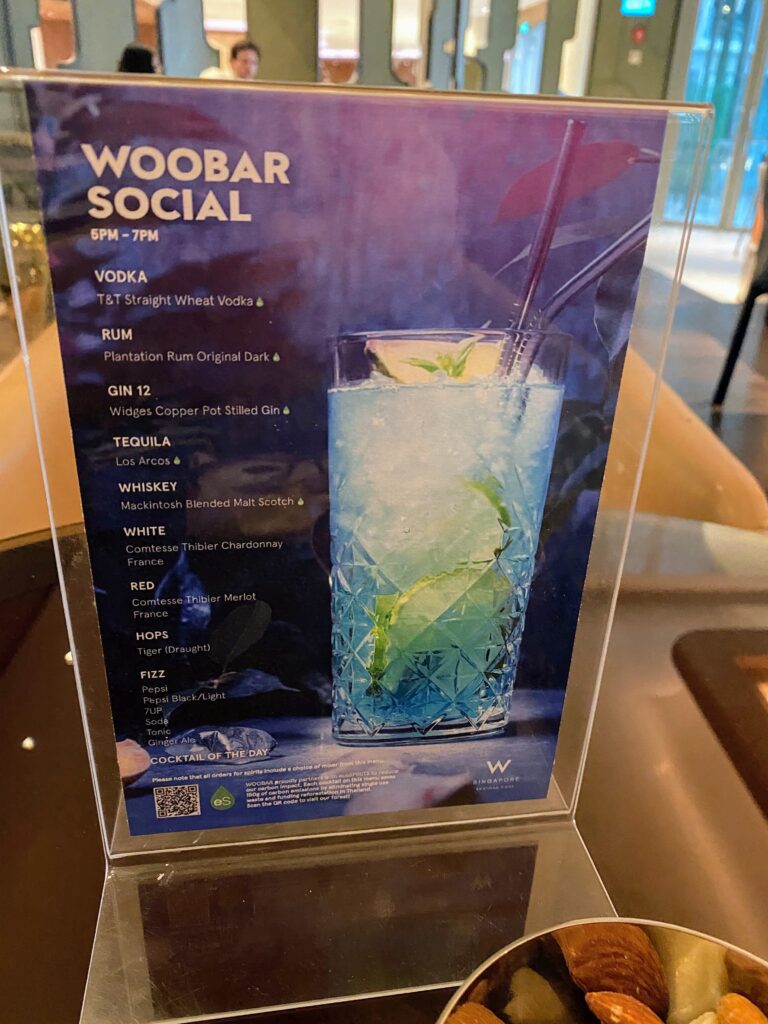 There were no canapes like some other hotels, but you did get some nuts. One night I decided to sample the sushi which is their specialty and it was excellent and a generous portion.
I swapped between the wine and the gin and tonic. Both were very drinkable. Top-ups were readily available most of the time, although if you sit at the bar itself, they are more regular.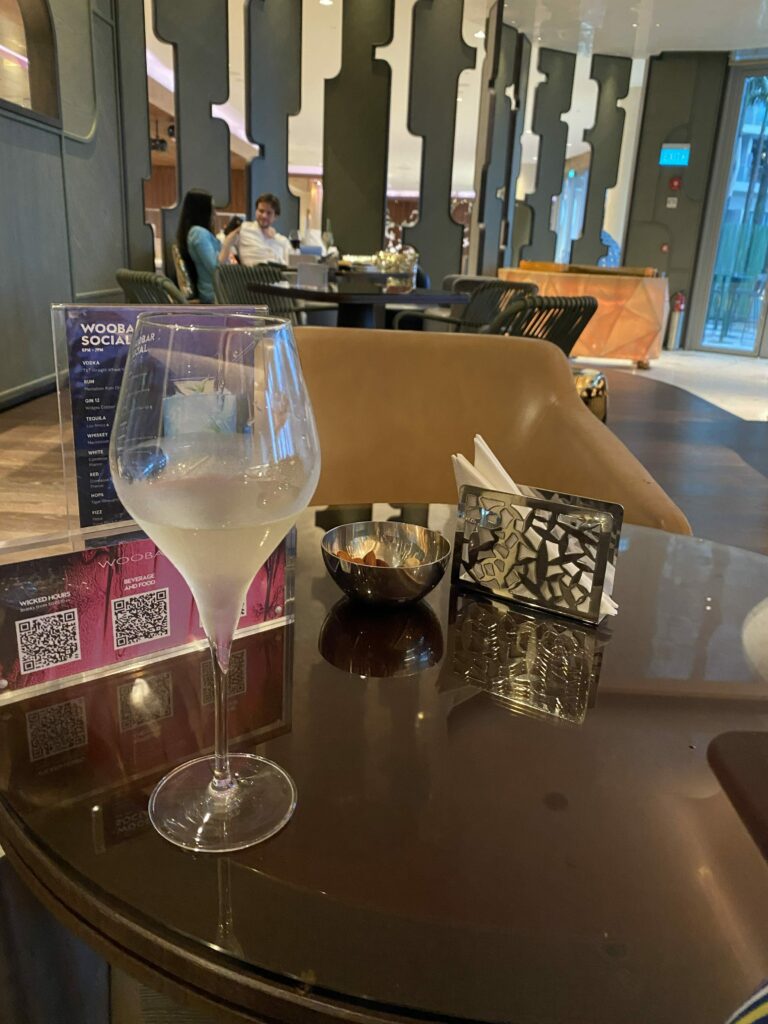 Pool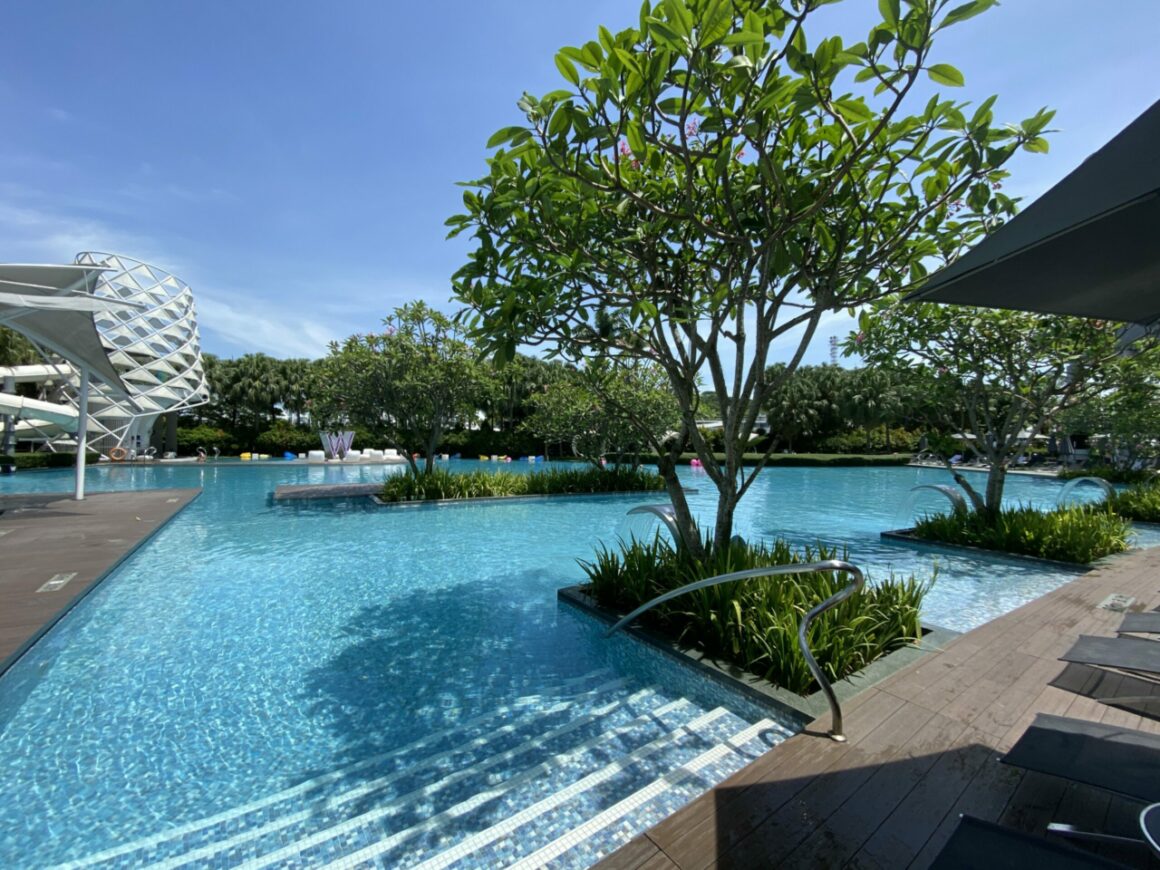 I chose the hotel mainly for its pool as it's the largest outdoor pool in Singapore and it is definitely huge! Even though there were a few children around it was easy to sit somewhere quiet due to its size of it. There is a small separate child pool which is shaded and a waterslide which I only saw used once. I only discovered towards the end of the trip that there was a swim-up bar right at the end as it was so large!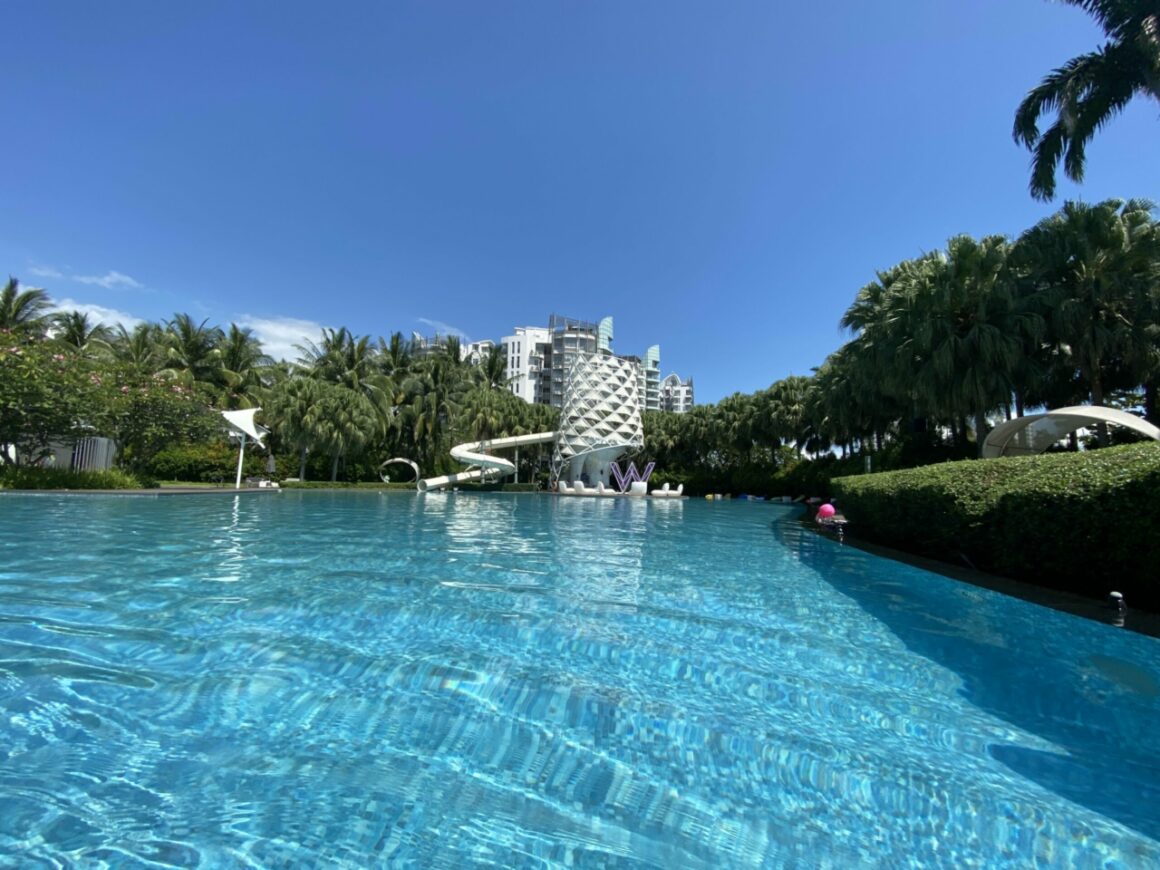 I loved the pool here in W Singapore Sentosa Cove hotel. It has bubble beds around the side which are great for lounging in, and the pool was pleasantly warm – in fact, it probably could have been a bit cooler!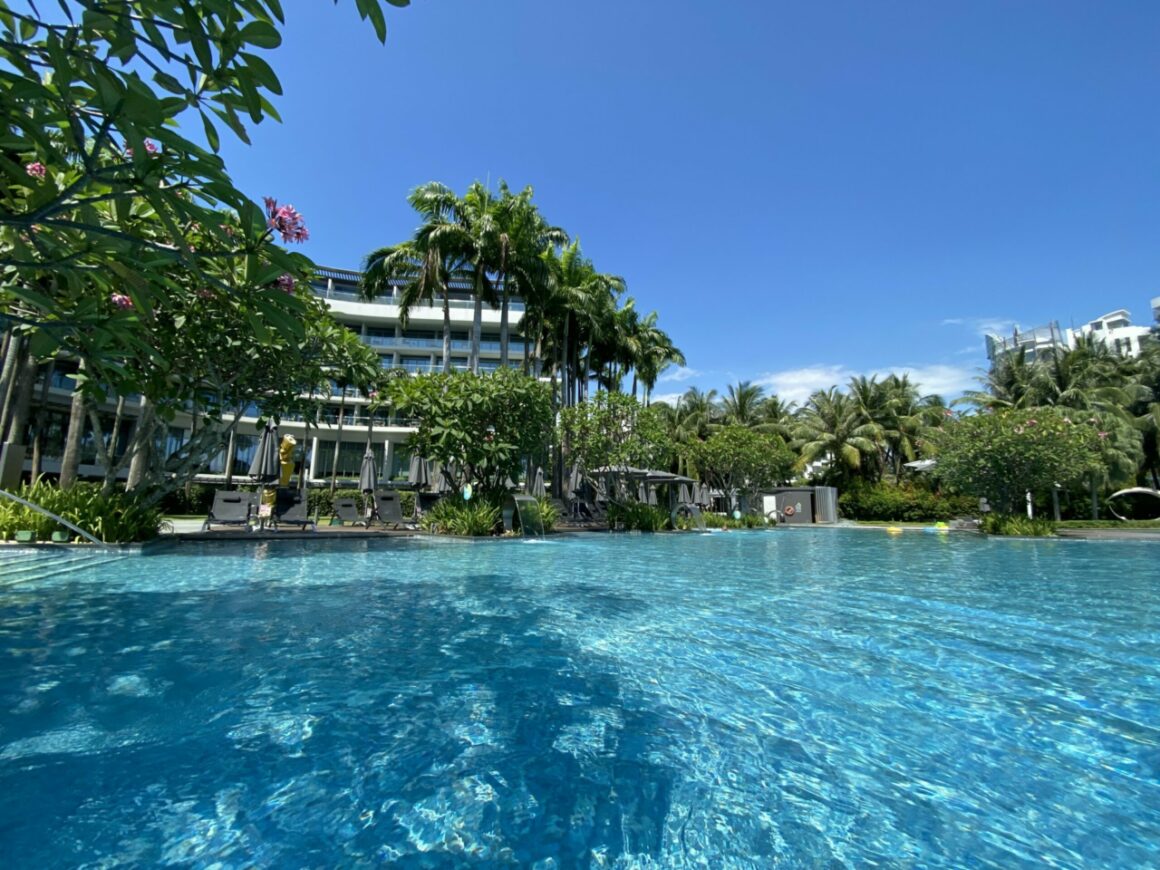 Each lounger had a button to push if you wanted service which I thought was great. My only complaint was that the loungers could have been better.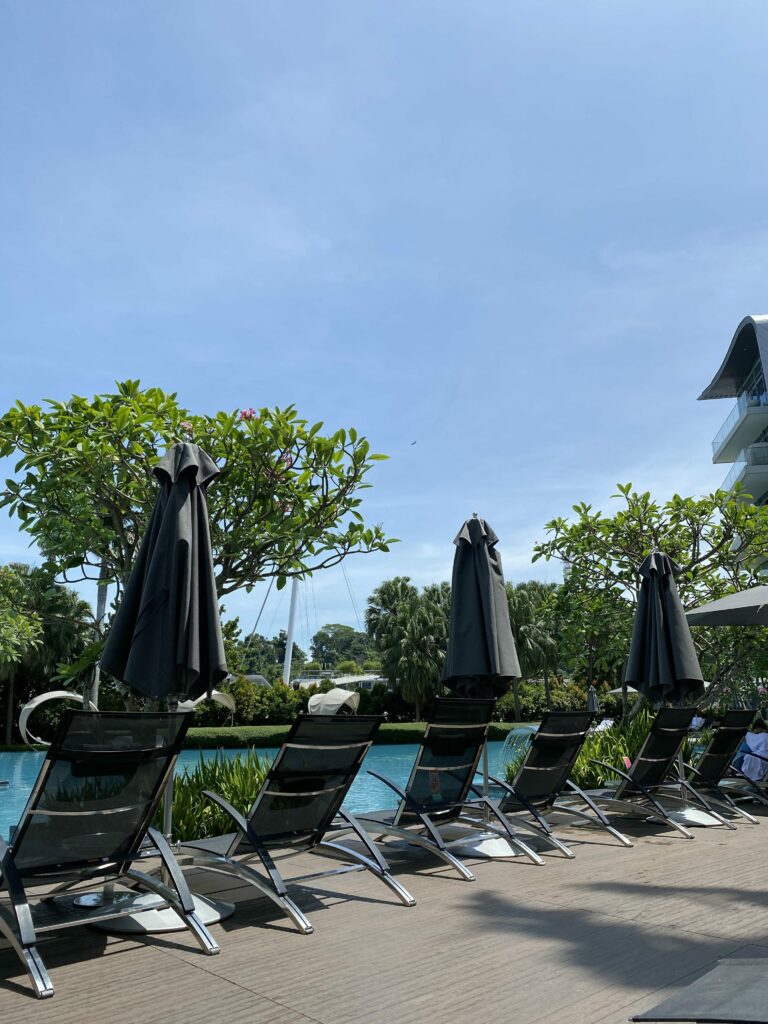 They were the mesh type and so low to the ground it probably would have been easier to roll off into the pool rather than try to get off it! There were other types of beds available such as bean bag chairs and covered day beds.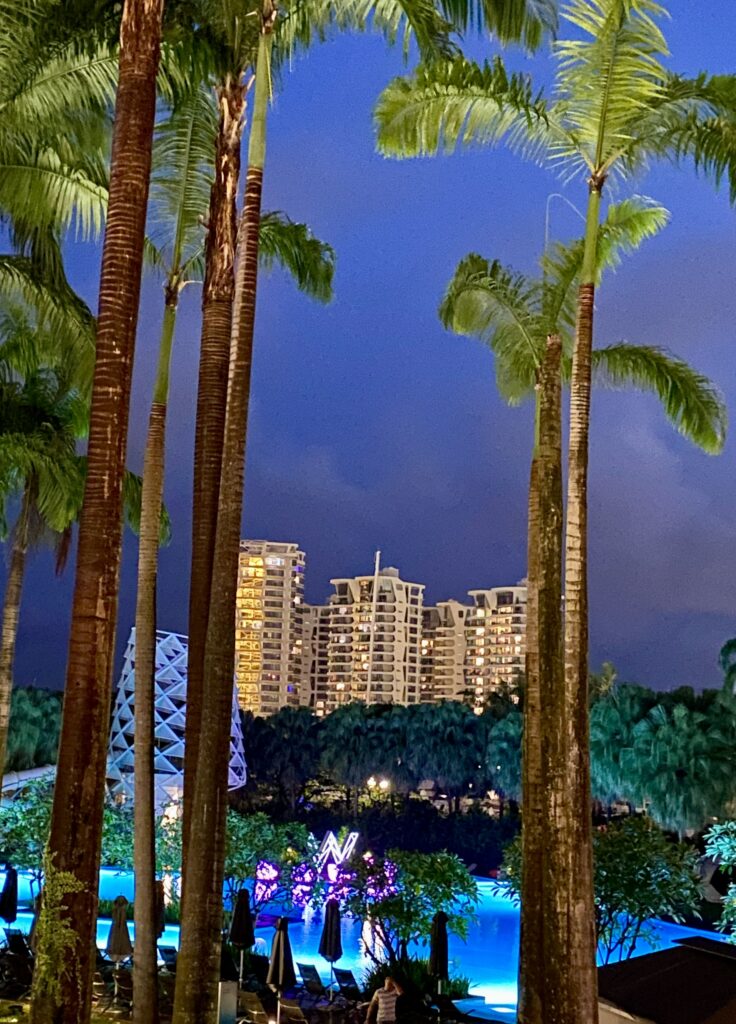 One of the things I love about Asia is that due to the warm temperatures pools are often open for swimming in the evening which is great when you don't need to worry about being burnt. W did a great job here with the lighting of the pool which looked beautiful at night. The pool is actually open 24 hours a day which is great if you come back hot and bothered from a night out and want to refresh yourself before bed.
Fitness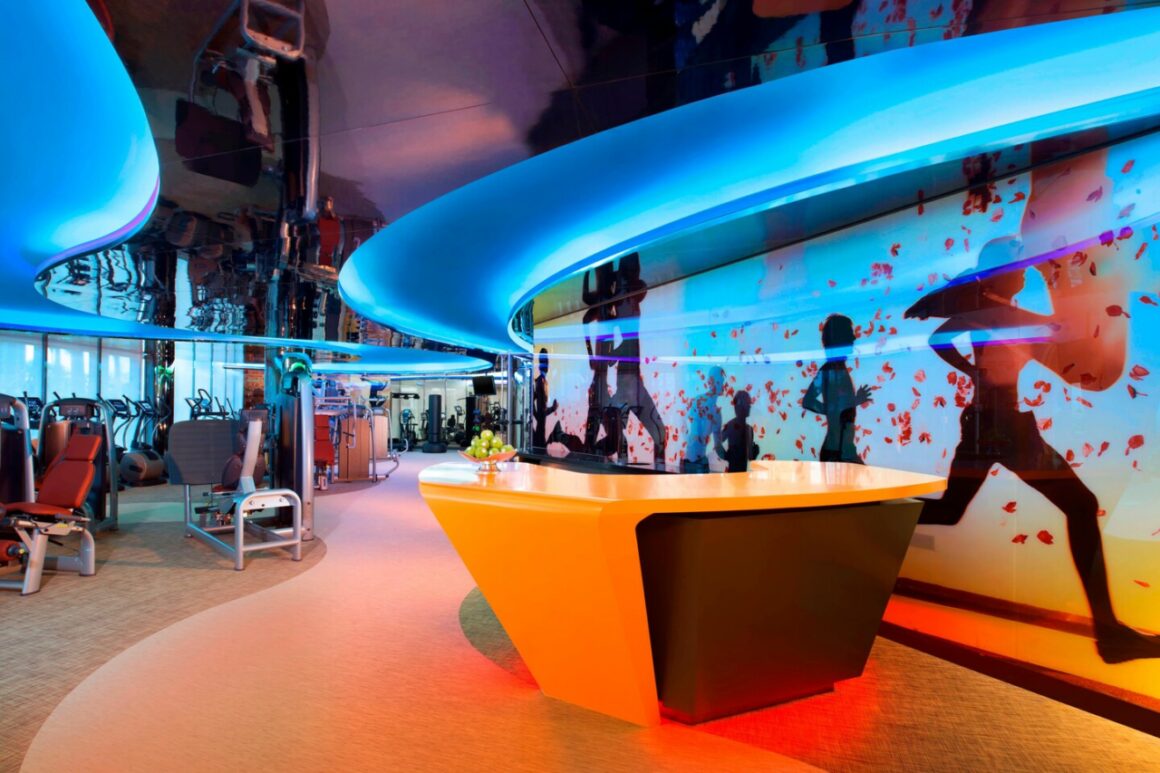 The gym of W Singapore Sentosa Cove hotel is bright and modern with state-of-the-art machines, free weights, and equipment for cardio and strength training. It's accessible 24 hours a day.
Away Spa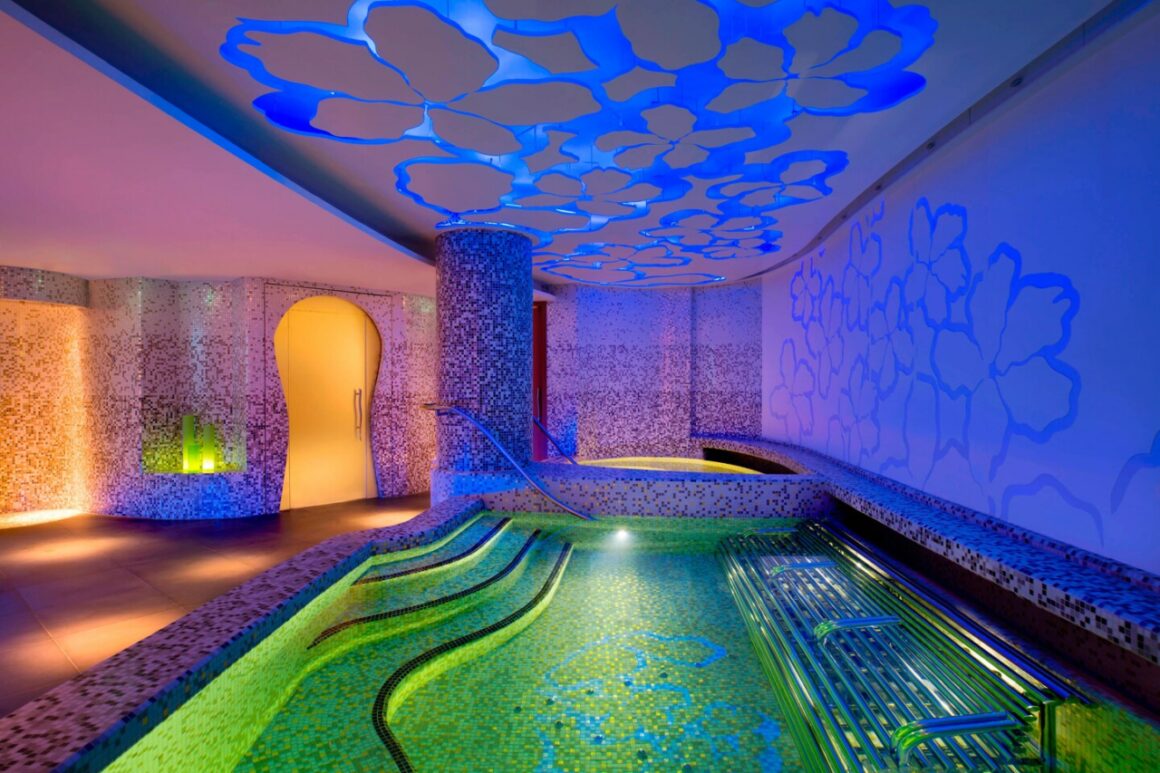 The spa was one of the best in Singapore, but if you are staying I'd advise booking early as the day I wanted a treatment there was only one slot left which didn't suit me. They use ILA spa products but even if you don't want a treatment it's a lovely way to relax with the facilities on a bad weather day. There's a relaxation area, sauna, steam room, vitality pool, herbal bath, and experiential shower.
Booking
I had booked one night on points and the other night on Marriott Luminous. This is their luxury travel agent program where you get extra benefits on the flexible rate and can still earn Bonvoy points and get your status perks. At W you get:
Complimentary daily breakfast for two people per room
Complimentary basic wi-fi daily
Early check-in/late check-out, subject to availability
Complimentary room upgrade, subject to availability at check-in
Local welcome amenity and note
Hotel credit valued at 100USD
You can check prices and book the Marriott Luminous rate with our partners GTC here.
Prices start from £500 or 49,000 points
Or you can book direct with Marriott here.
Conclusion
I went with some reservations as W Singapore Sentosa Cove hotel is not my favourite of the Marriott brands but came away absolutely loving it and wanting to return. I actually enjoyed having a few days there to just relax but still being able to get into the city for a night out, rather than head off to Bintan like I normally would.
The staff were all great – very friendly and efficient and I liked that there were so many facilities in the hotel and so much within walking distance so you didn't need to venture far to have dinner or pick up some drinks for your room.
It's not a cheap hotel but I did feel I got decent value for money with the included drinks and breakfast. The vast pool was also a highlight and perfect for some serious pool lounging to keep cool.
Like our W Singapore Sentosa Cove hotel review? You can read more hotel reviews here.