A few months ago, I visited Shanghai with Roving Reporter shortly after Paul's visit. This article will be a summary of what we did on our trips, as well as a few things from my previous visits.
My previous trips
This was my third visit to Shanghai. The last time I had visited was on a work trip when I still worked for Air Traffic Control as a Safety Manager. On that trip, we were hosted by a certain local airline to give talks to their pilots about flying through UK airspace. That alone was an interesting experience, as it was apparently acceptable to put your jacket down on the desk and have a little nap during our talks!
As locals were hosting us, we saw a different side of the city. We were staying in a hotel near the domestic airport, and we were pretty much the only Westerners there. The hotel was really something else and not in the right way. In the room was a sign warning of 'not go whoring around town!' I can only assume this meant we were meant only to use the in-house hookers who sat in the lobby in the evening!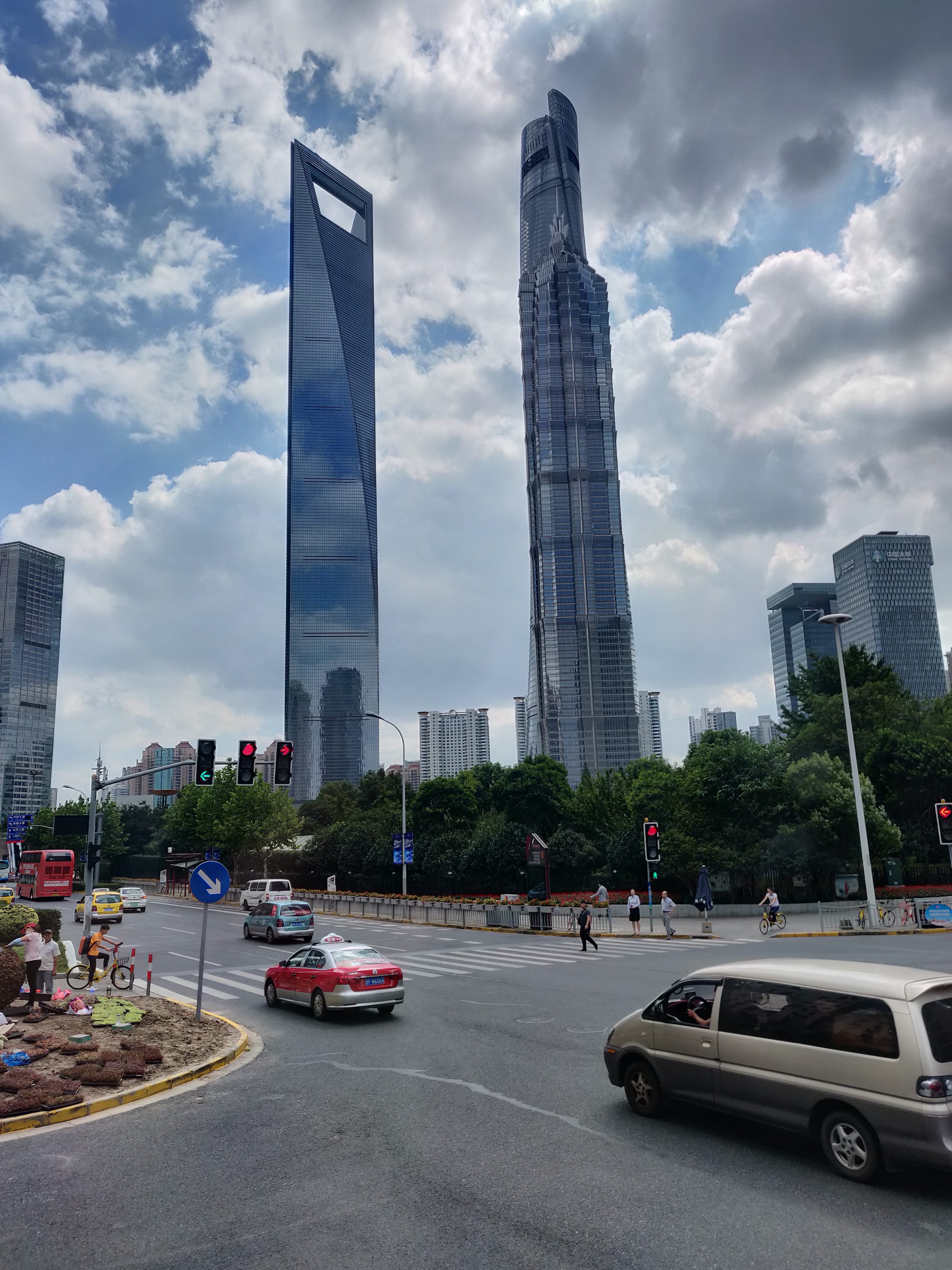 The two guys I was with were both pretty tall and well built. We were in the lift going down to the lobby when the doors opened, and a short Chinese man went to get in. He took one look at us all and stepped back out again. When we got down to the lobby, he emerged from the lift next to us after a few seconds!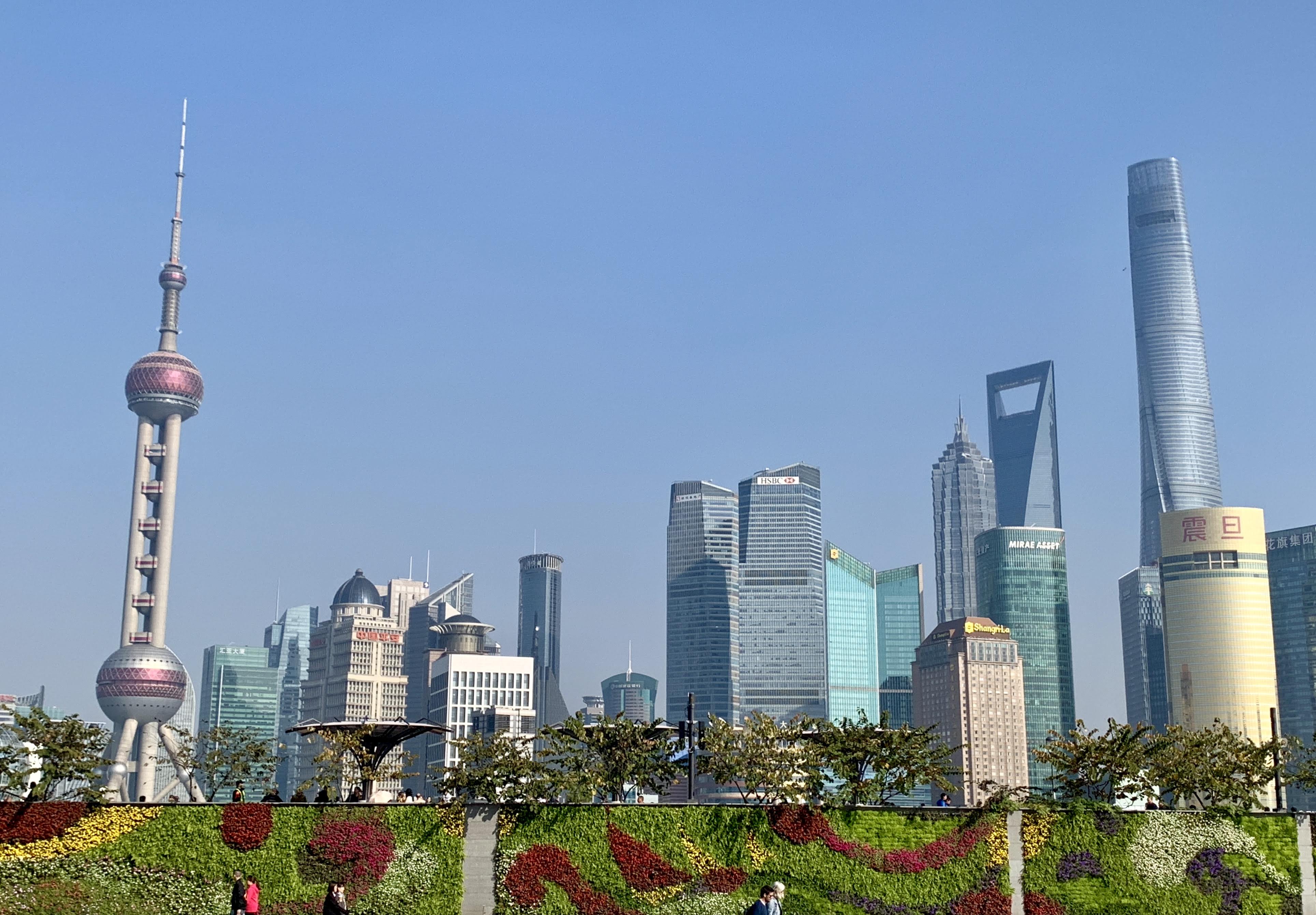 We were given a tour of the city with an official guide. One thing you will learn in Shanghai is that the locals can come across as quite rude. We went to a traditional tea house, and the guide said she would recommend some teas to try for health. She looked at me, then pointed to the tea that was described as 'fighting wrinkles' and, then looked at my two companions and pointed to the tea for obesity! It got worse at lunch, my poor colleague was feeling unwell and wasn't eating much. She looked at him and said "how you so big when you eat so little" Ouch!
How to get there cheaply and our flights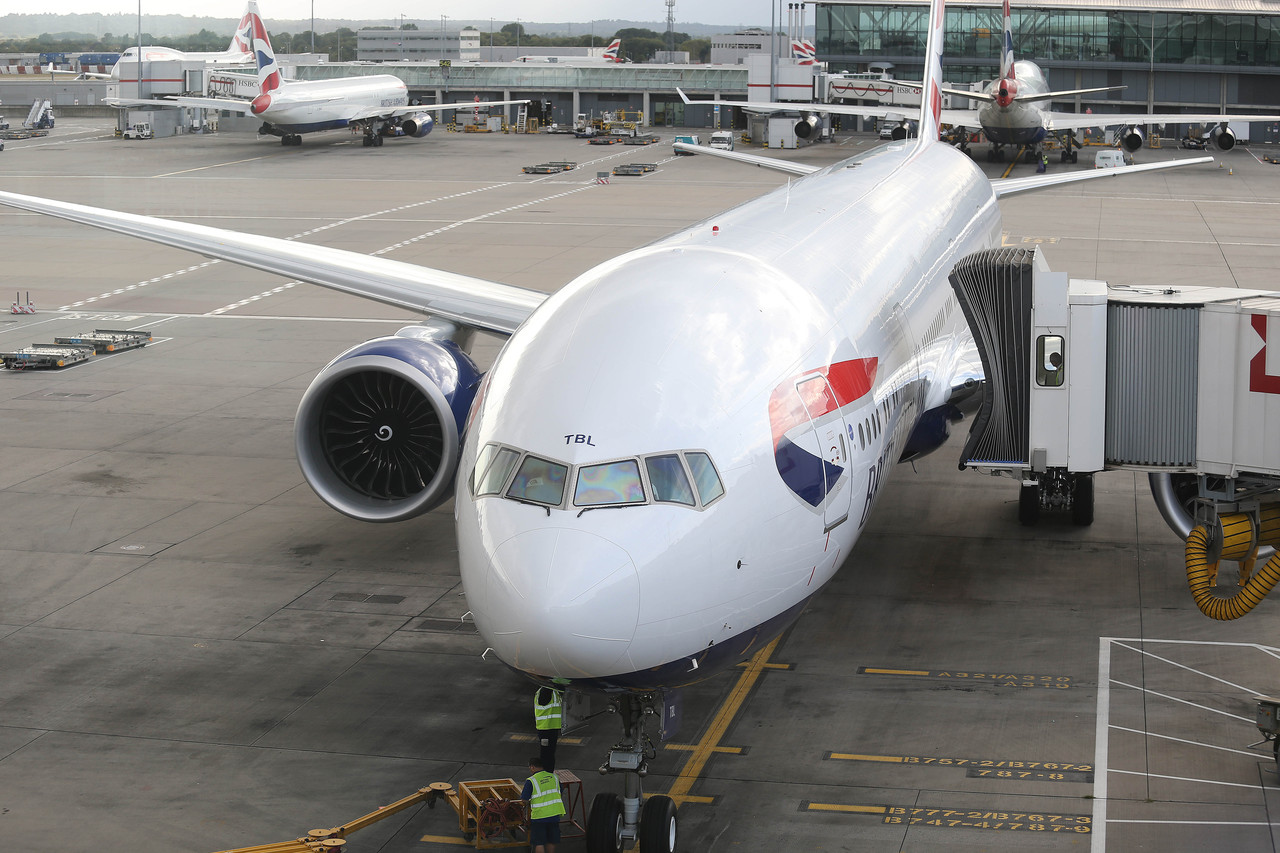 On both trips, we flew British Airways. Paul had bought the fantastic BA companion fare for around £2000 for two people. He used a Gold upgrade voucher to upgrade to First. You can read his flight review here.
I used a British Airways companion voucher to do an open jar in First for 210,000 miles flying to Shangai and then back from Kuala Lumpur. Taxes were about £550 though these have now gone up to around £650. You can read my review here.
I would expect to be able to get a Shanghai fare on ex EU fare for around £1350 most of the time. There is currently a fare on BA from around £1405 from Brussels. You can read more here.
Where to stay
Waldorf Astoria
Paul being a Hilton Diamond member stuck to Hilton and stayed at the Waldorf Astoria on The Bund hotel which he recommends. The hotel is situated on the Bund giving some amazing views from the hotel.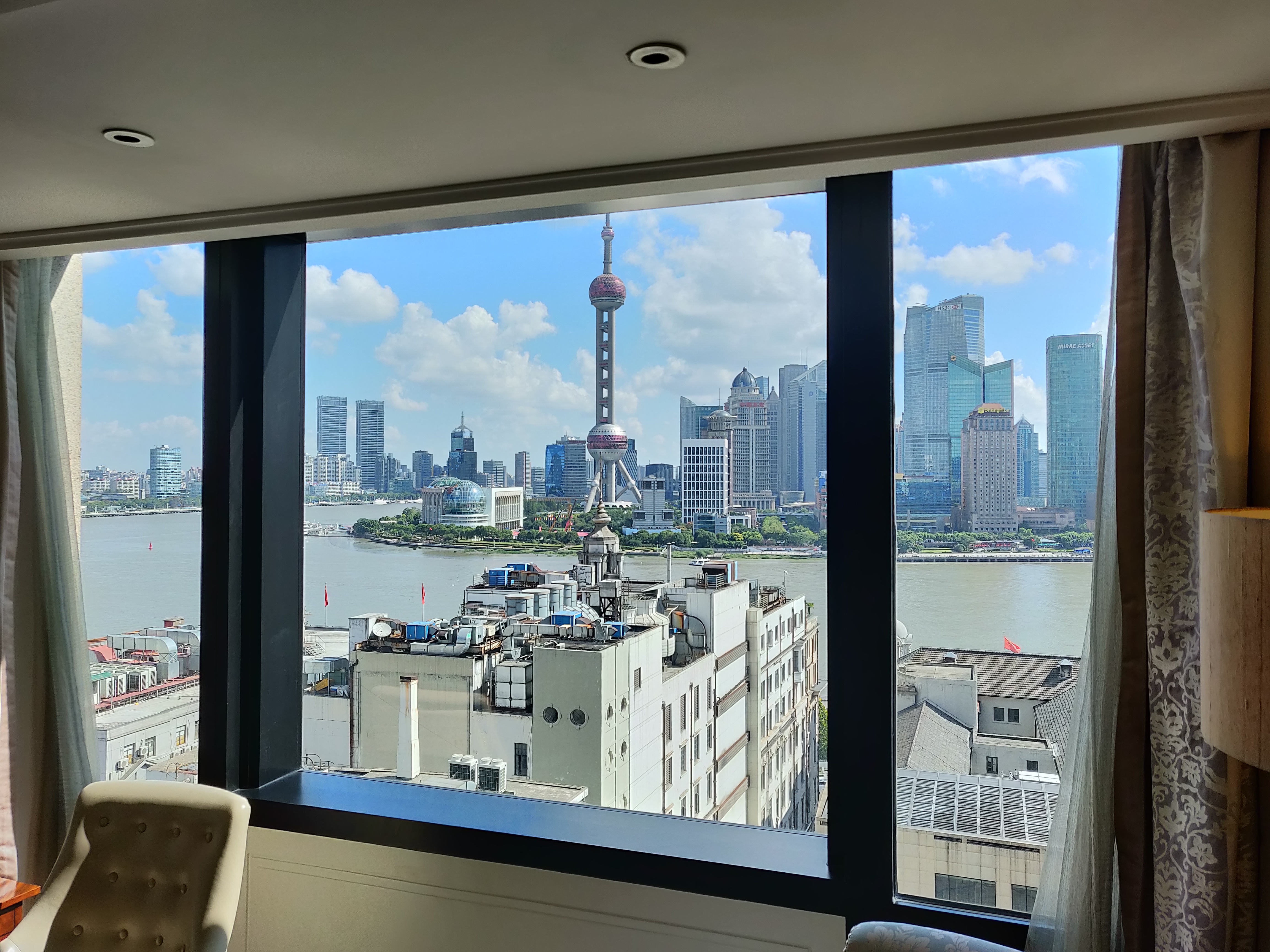 Mandarin Oriental
RR and I decided to use the opportunity to stay somewhere different as there was a great offer on a Club room at the Mandarin Oriental. It was around £800 for three nights in a River View Suite. The hotel was situated in Pudong, but it was around 20 minutes to get to most places by cab, which was very cheap.
The lounge at the hotel was probably one of the best I have been to in terms of the food and drink offerings. It was so good we had dinner there on two of the evenings. They served breakfast, afternoon tea and then evening drinks including champagne and "snacks" which was more than enough for a full meal. There was also a good view of the Pearl Tower from there.
Getting around
The faster and most fun way to get from the airport to the city is the Maglev train, which is the fastest commercial electric train in the world, reaching speeds of 265mph. The train line connects Shanghai Pudong International Airport and Longyang Road Station (in the outskirts of central Pudong), where you can change to the Shanghai Metro to continue to the city centre.
It runs from 06:45 to 21:30, with services every 15 to 20 minutes. A one-way ticket costs ¥50 (US$8), or ¥40 ($6.40) if you show proof of your flight. A round-trip return ticket costs ¥80 ($12.80) and VIP tickets cost double the standard fare. It gets up to 155 mph, and the journey takes 7-8 minutes.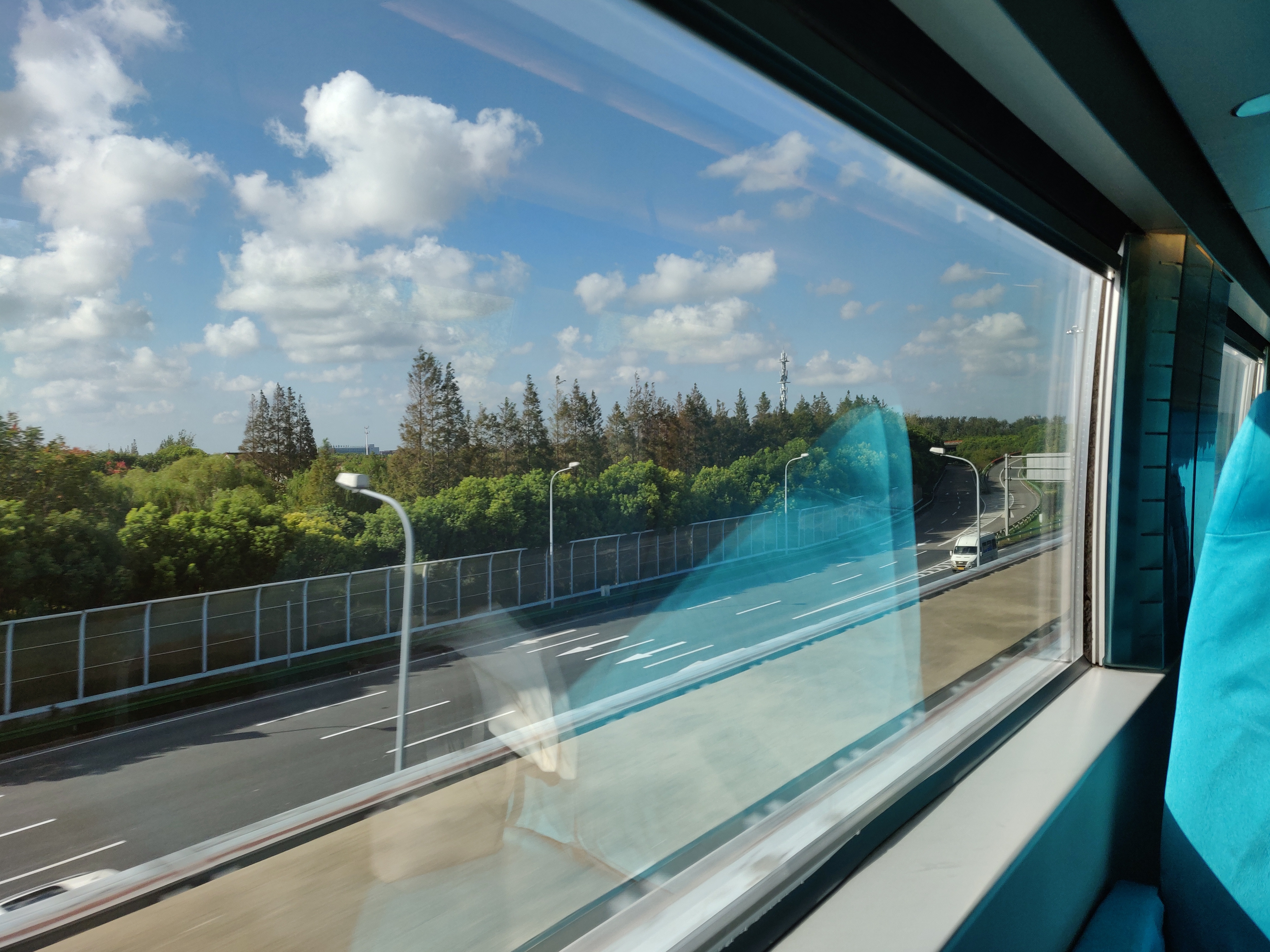 It was sometimes tricky getting a cab when you tried to flag one down when we were out and about. Quite often they would sail past any westerners and pick up a local a few feet past you! The taxis were generally very cheap, but you need to pay cash. They usually spoke no English and can't read English characters. The Trip Advisor app has a useful feature where it will show you the name of the place in Chinese to show to a cab. Your hotel should give you a card with the address in Chinese and can also write down destinations for you as well.
Be careful when walking on the pavements and crossing the road as often people will ride motorbikes on pedestrian areas! The traffic seems crazy, but everyone seems to understand the rules as they weave in and out of the lanes of traffic constantly!
What to do and see
Shanghai is well suited to a short break with 3 or 4 nights being about right. We then went to Hong Kong next using Avios on Cathay before ending up in Langkawi. You can avoid needing a full visa by staying a maximum of 144 hours if you have a UK passport and then leave the country flying to another country but not back to the UK. Hong Kong counts for this purpose.
Both Paul and I used the hop on hop off bus tour to get around the see the city. It wasn't a particularly great tour, but it was much easier than getting cabs around, and it takes you to all the main sites.
Yu Gardens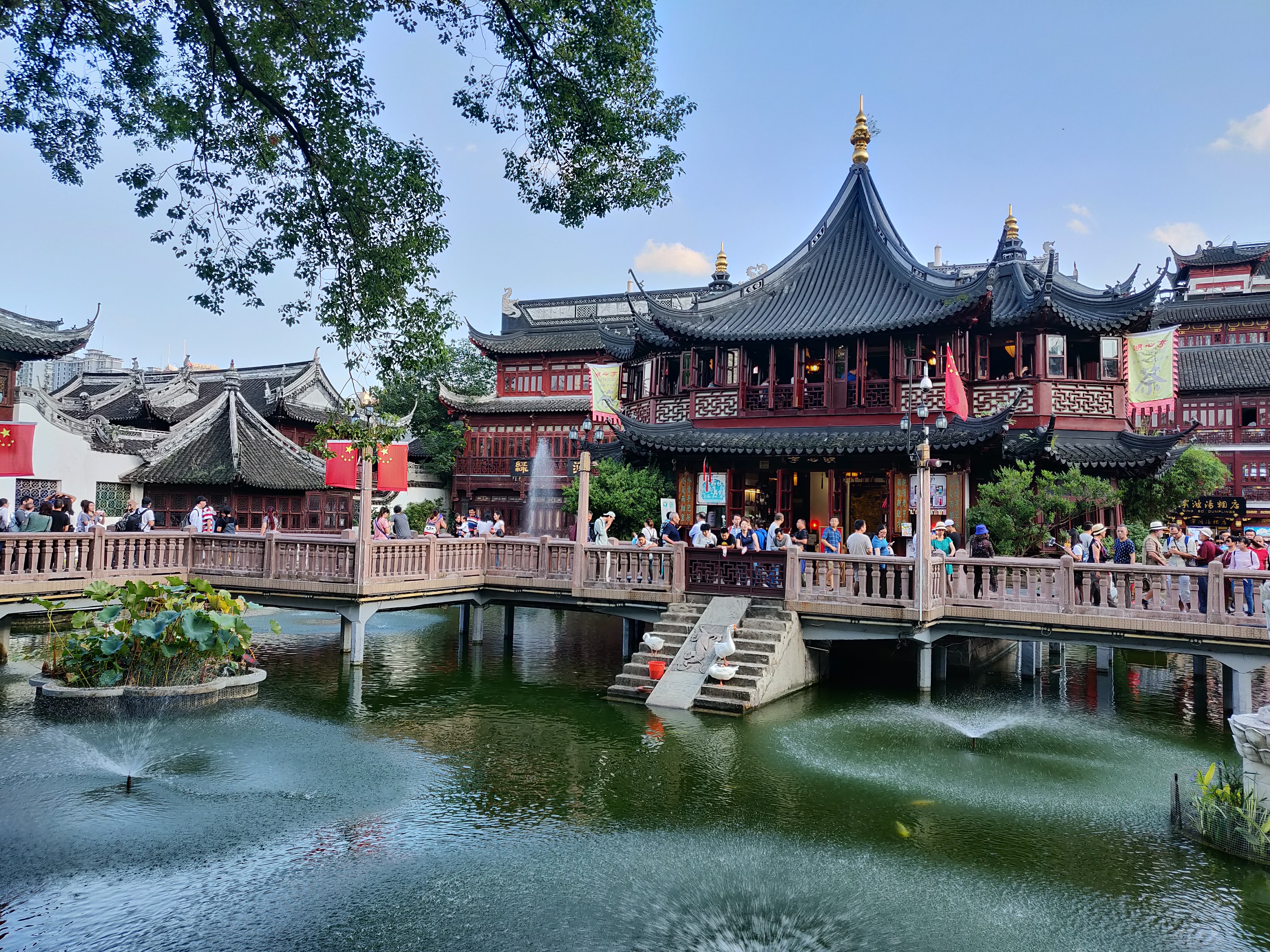 I particularly like the Yu gardens, but they get swamped. I would recommend getting there early to beat the crows. Yu Gardens is located next to the City God Temple in Shanghai's Old Town. Also around this area, there are lots of shops in traditional buildings if you want to pick up a souvenir.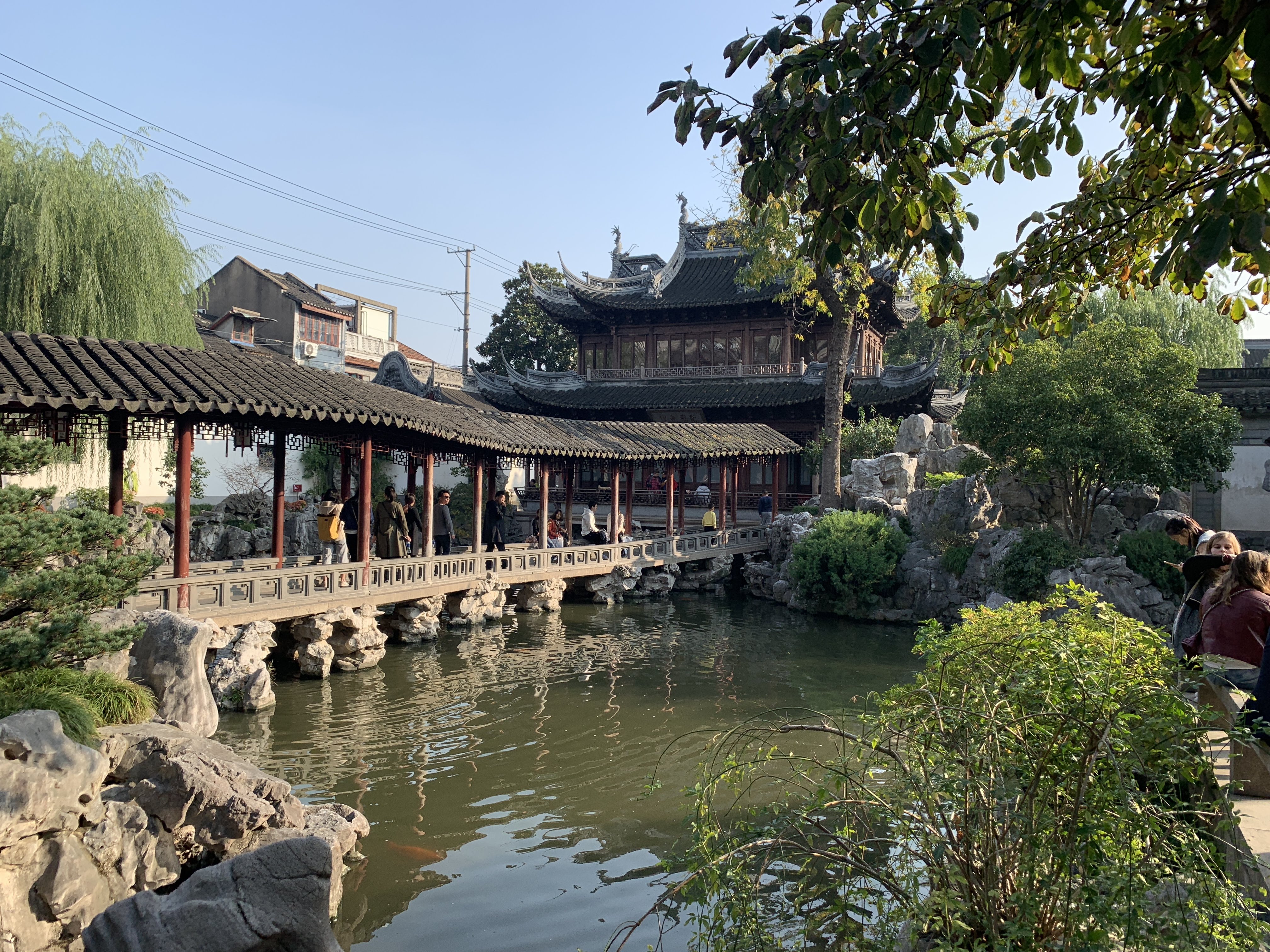 The gardens were created in classical Chinese style.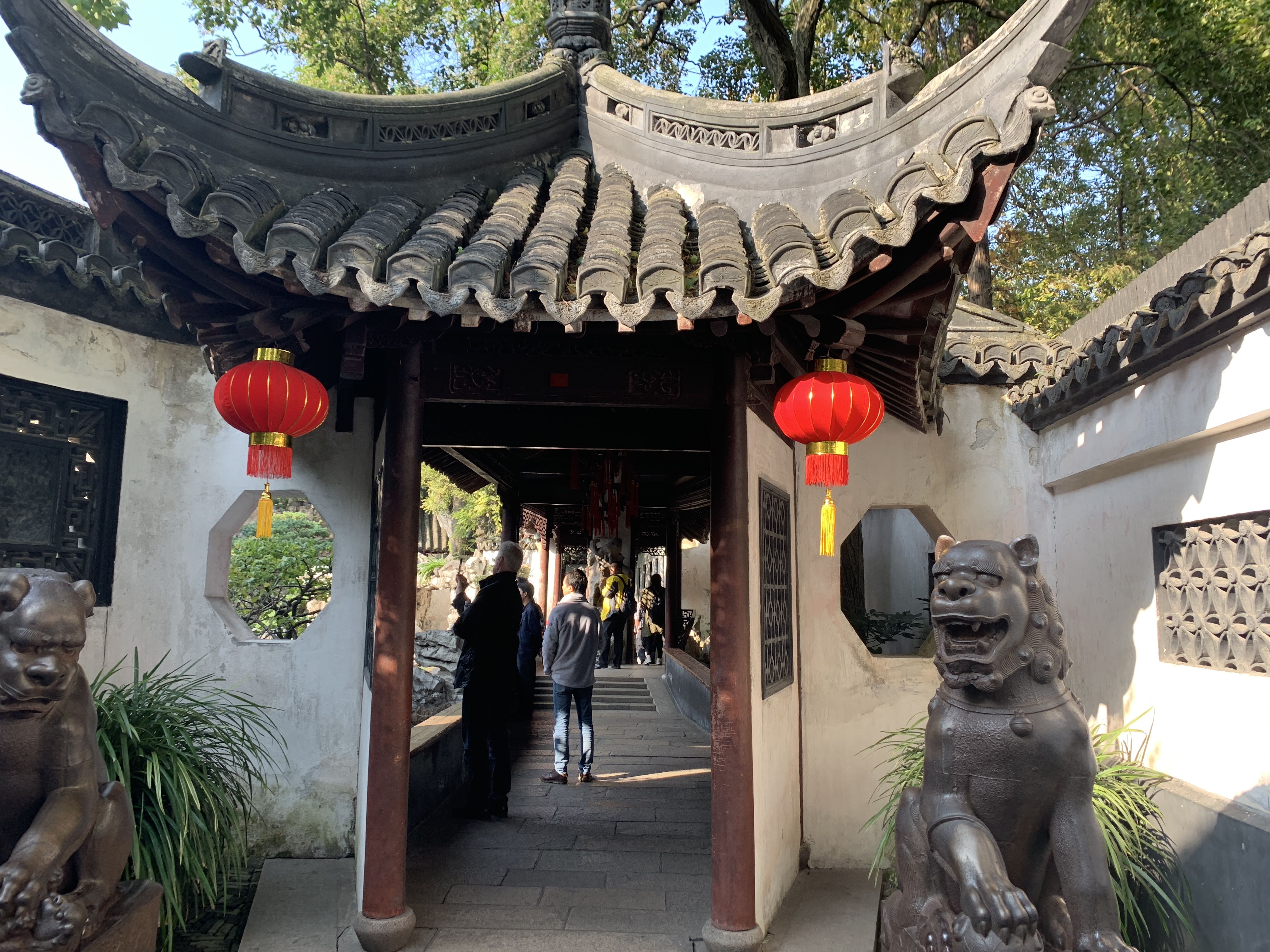 Sky-high views

There are lots of tall buildings in Shanghai that give you a magnificent panorama but we chose to go up the Shanghai Tower. You can buy tickets in advance. The viewing area was well organised, and the views were excellent as you walk all the way around.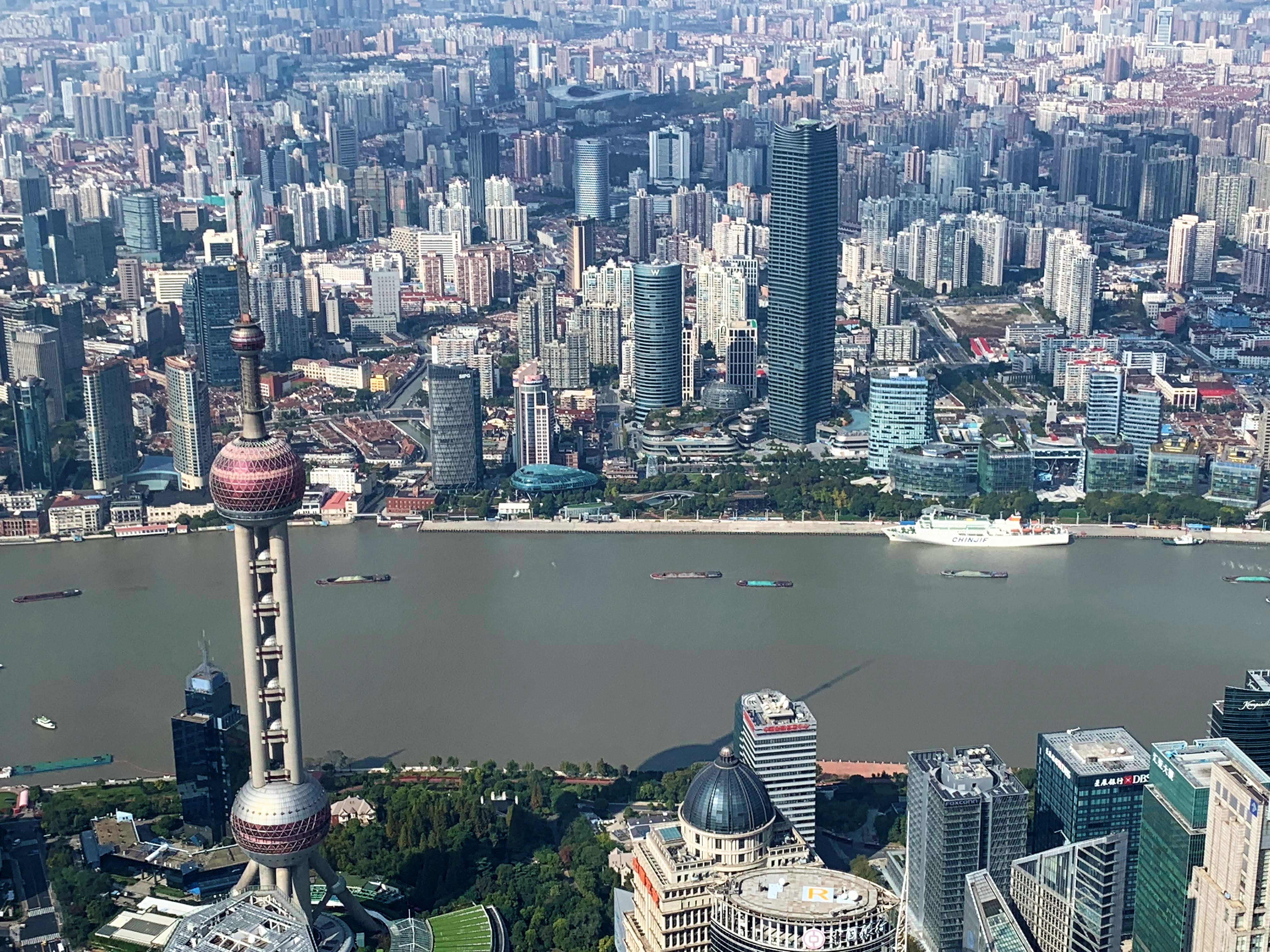 The tower ranks as China's tallest building and second in the world. Three of the lifts can send passengers up to the 546 meters sightseeing deck from street level within one minute, which was a world record holder until recently.
The views at night are equally spectacular.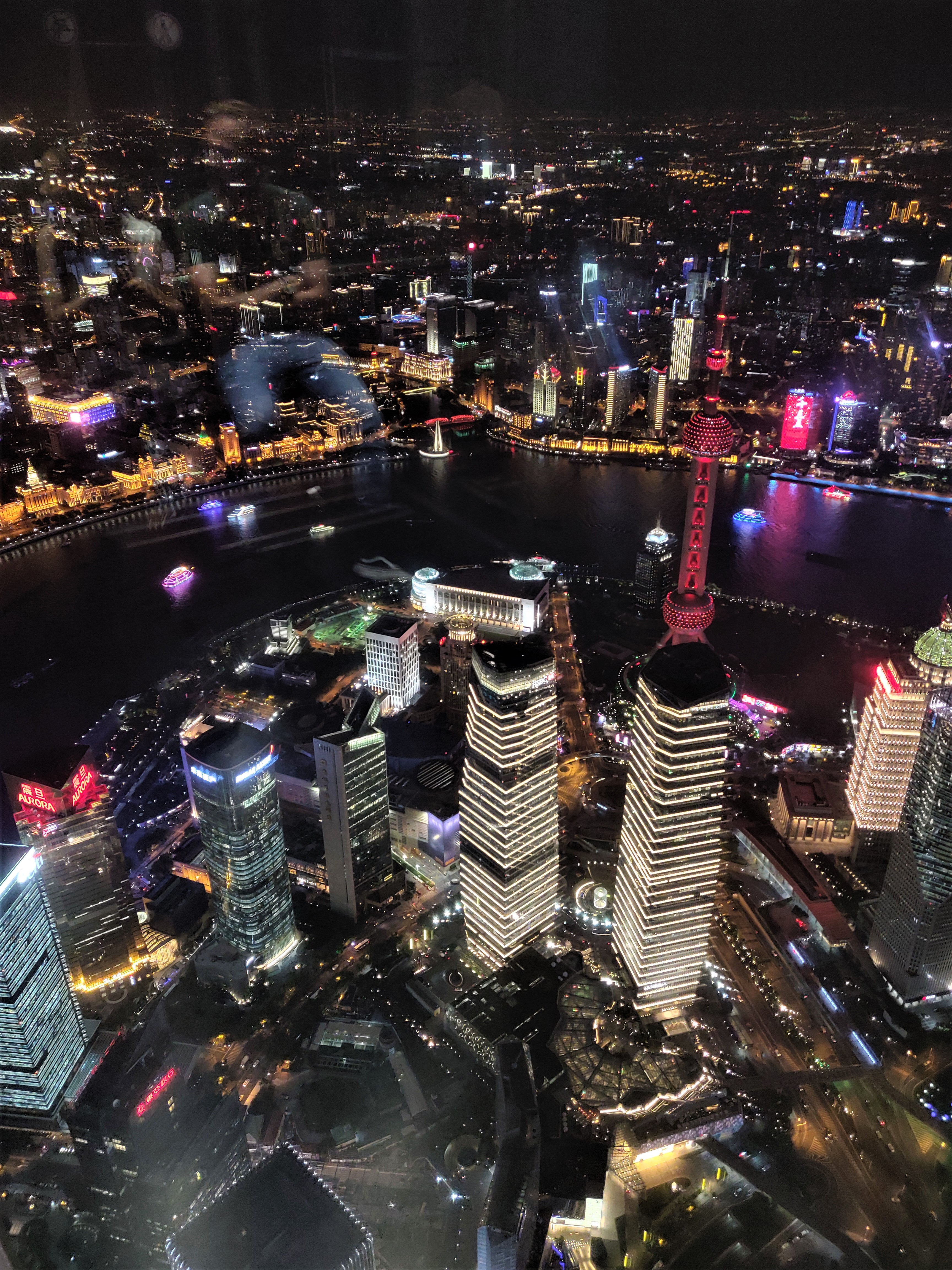 The Bund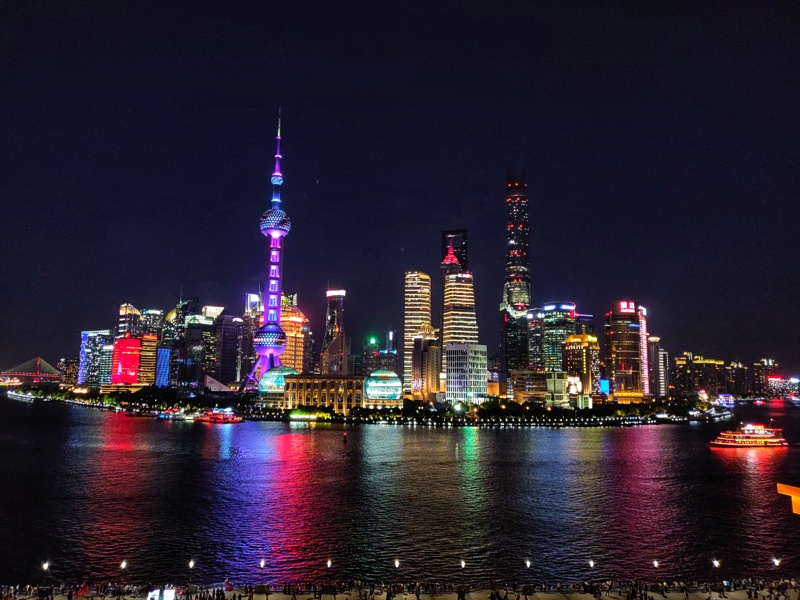 The Bund is a bustling riverside street full of colonial buildings with stunning views across the river. Again it is worth exploring both during the day and night. A lot of hotels, restaurants and bars are situated close to here.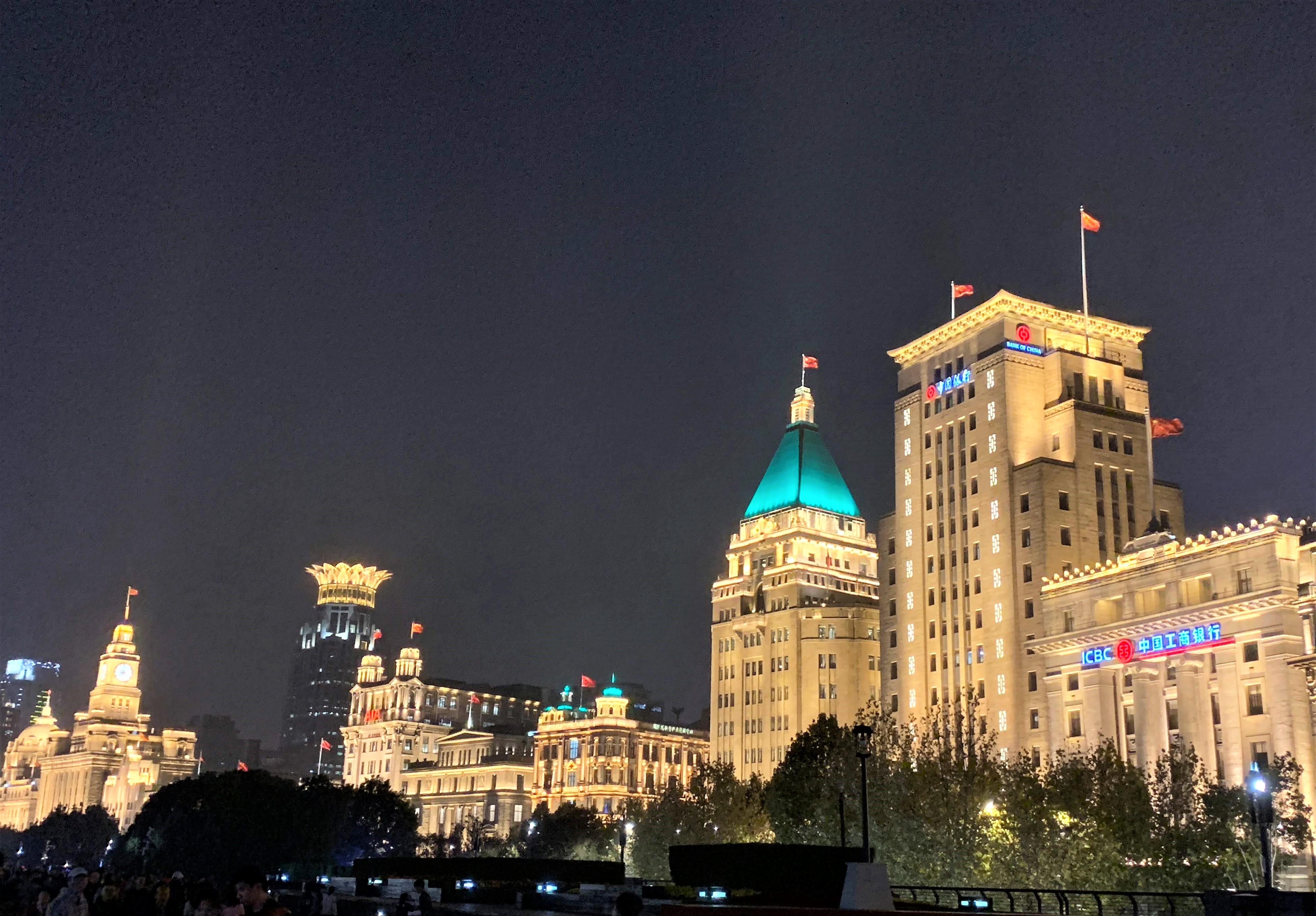 French Concession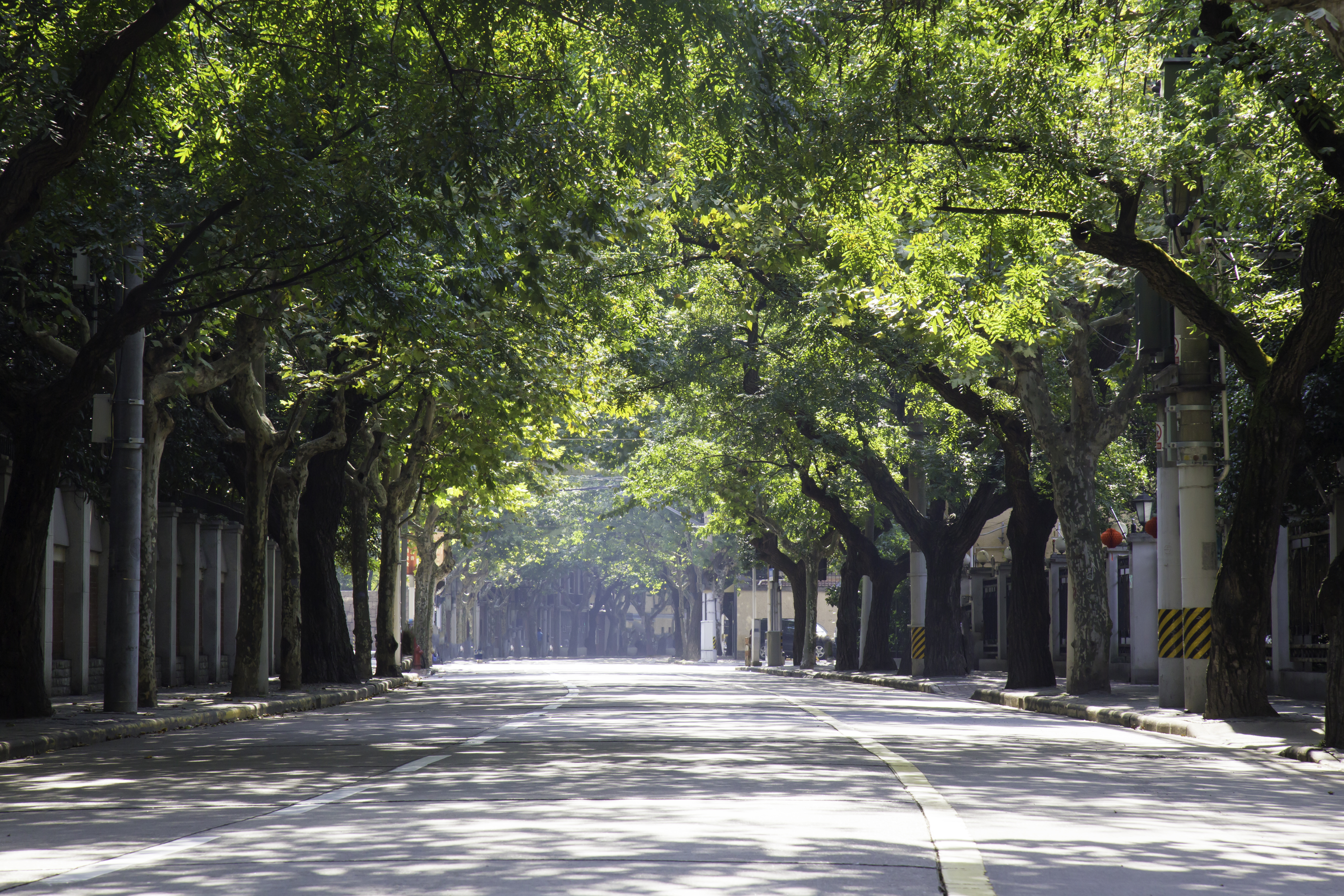 It's hard to call the French Concession an attraction, as it is merely an area that was the home of the French government during Shanghai's colonial days. However, the area is unique due to its architecture and street style. It's the perfect place to take a walk or a bike ride on a beautiful day. Some of the city's best dining and drinking options are here, so it is a good place for a leisurely lunch. We stopped somewhere that felt more like Paris! There are boutique shops to have a nose around too.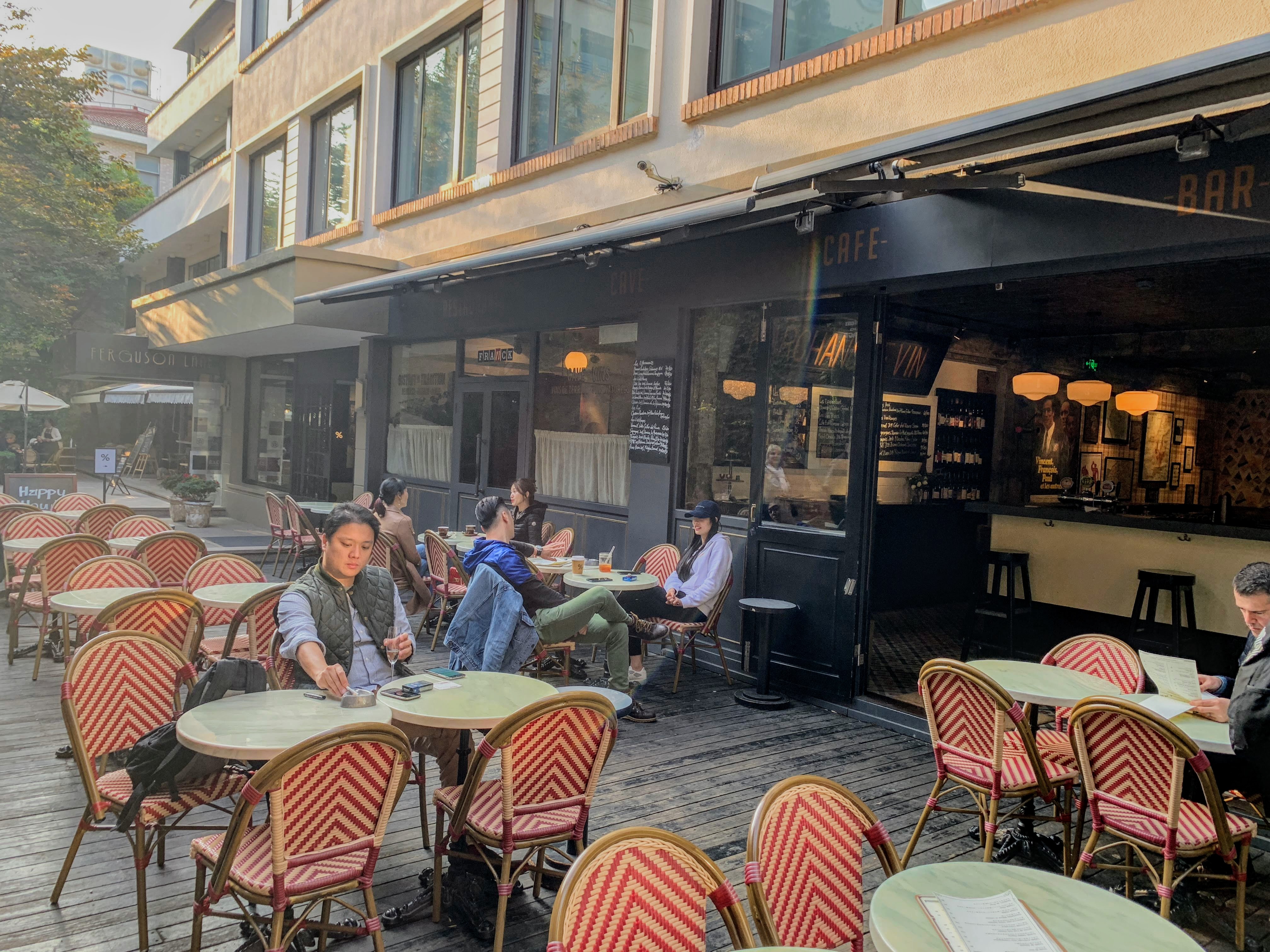 Nanjing Road Pedestrian Street

This is the busy road that leads to the Bund and very touristy. It worth seeing at night even just for all the neon although there are lots of shops and restaurants too.
South Bund Fabric Market
If you want some clothes made up head to the South Bund Fabric Market with a picture of your design. There are three floors of tailors that can make outfits to order. Most stalls specialise in suits, coats or traditional dresses, but you can usually find one to do what you want. As a general rule, avoid the first-floor stalls as the worst tailors are here.
Where to eat and drink
Both Paul and I ended up eating at the same place on our visits. This was The House of Roosevelt restaurant situated on the Bund. There are great views from the dining room. The meal was not as good on our visit as Paul's, probably due to the sizeable public function, they had on. I loved the way they fold the napkins!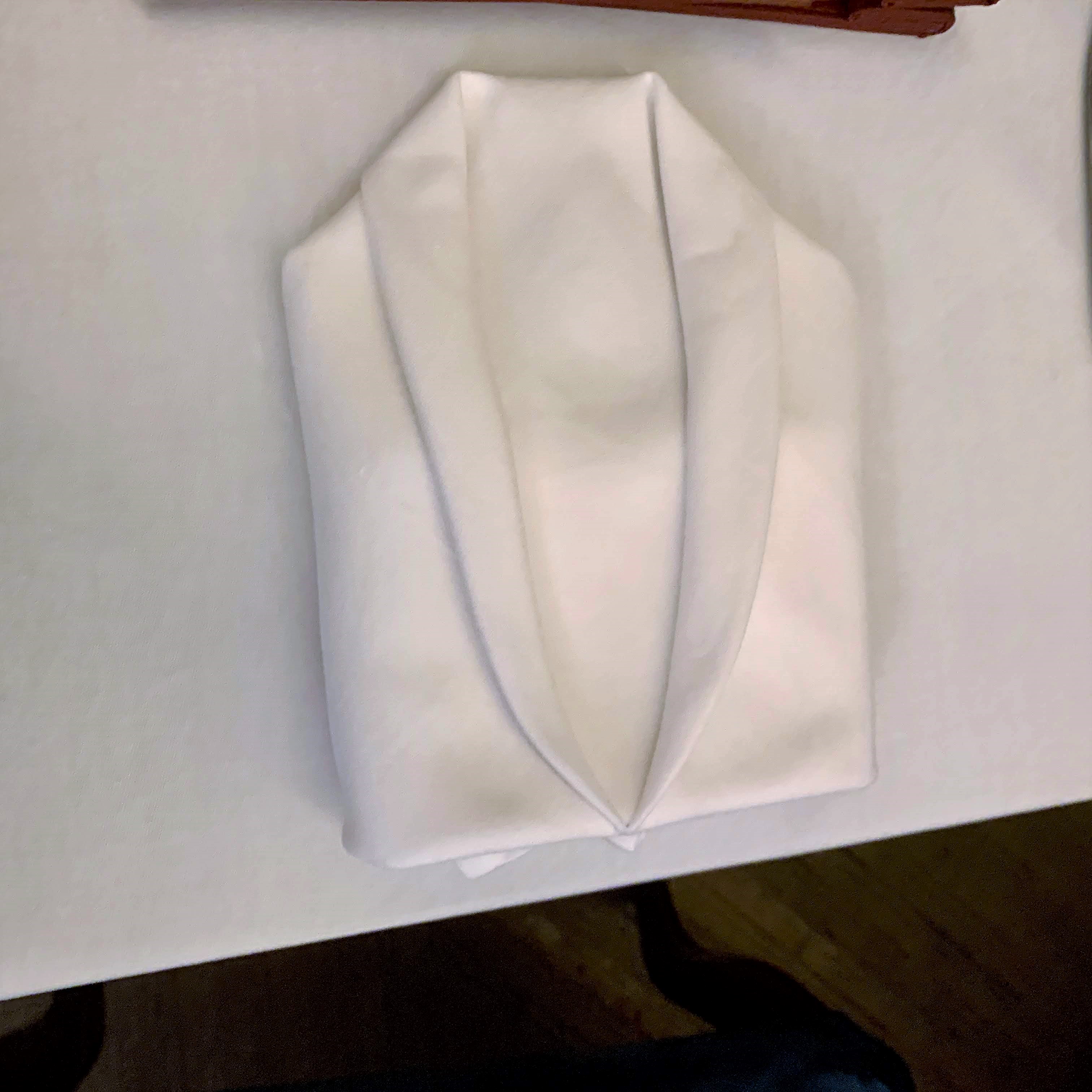 The restaurant feels very formal though the menu less so. It serves traditional French food mainly with indulgent options such as caviar and lobster.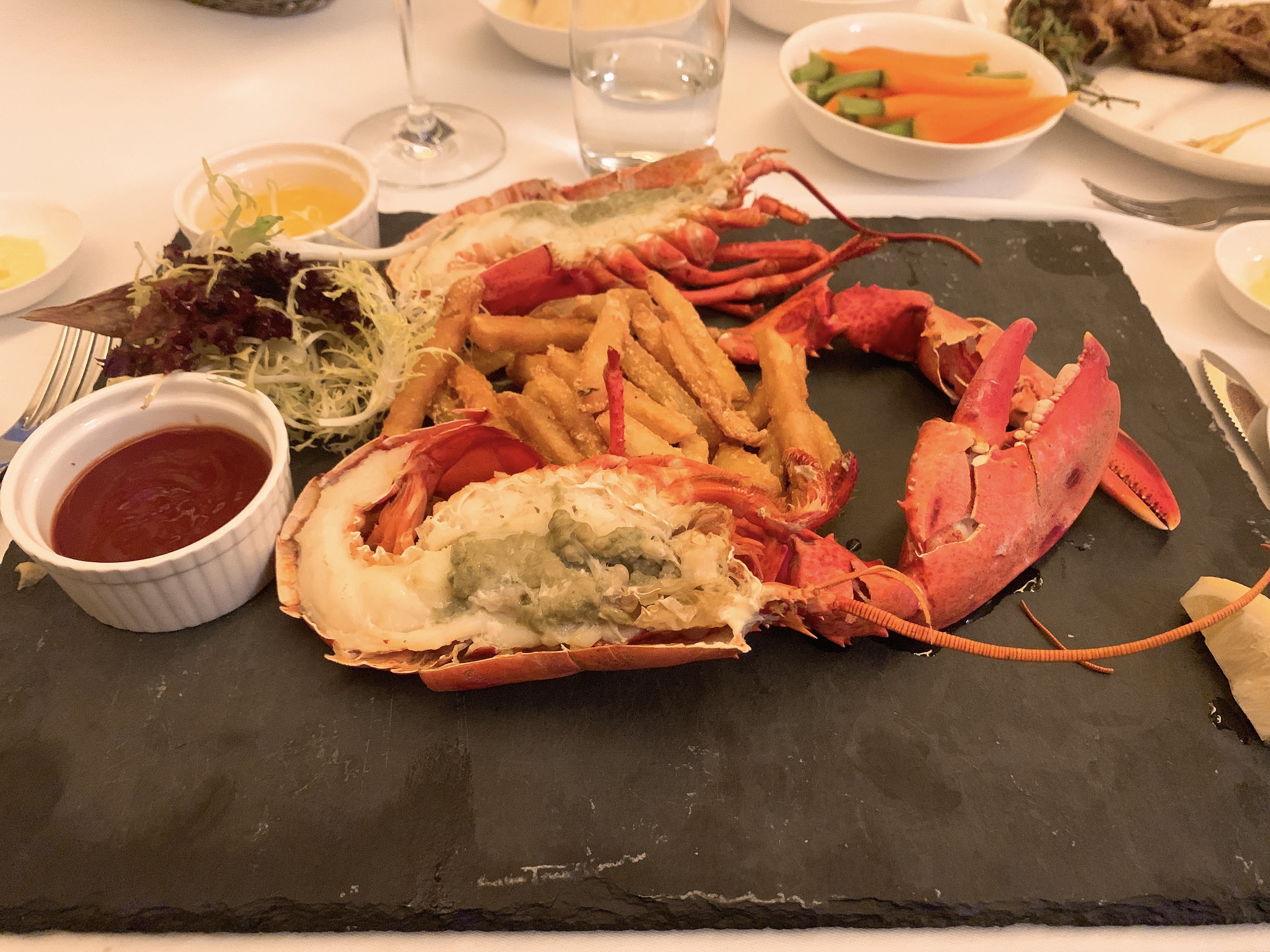 One of the things I love about Shanghai is the fantastic bars. We tried the Penninsula lobby bar twice which was out favourite. There were no views, but it was very atmospheric, the service was excellent and the cocktails delicious.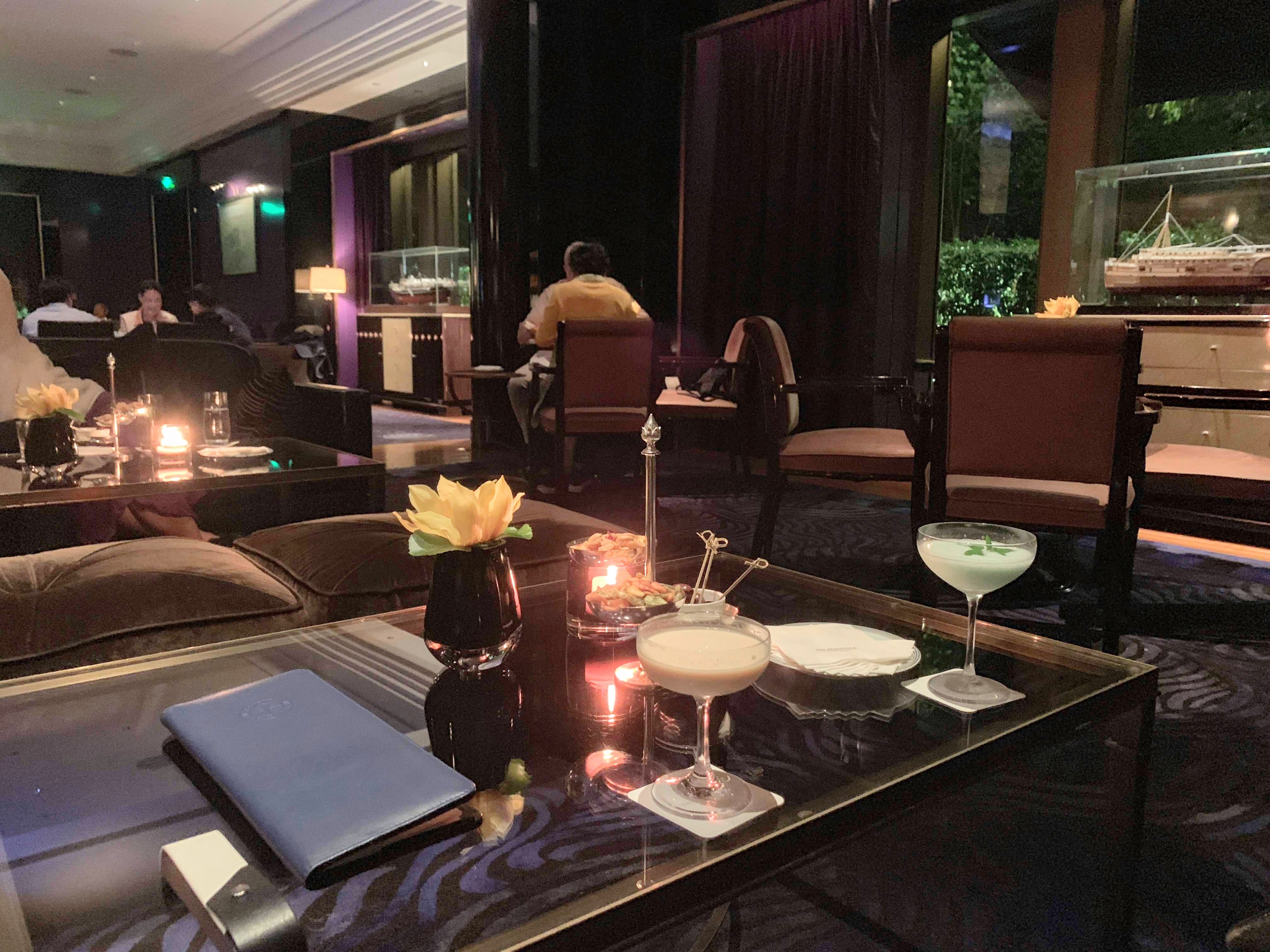 The Bulgari bar had great views and was housed in a beautiful building in a quiet location. You can also eat here.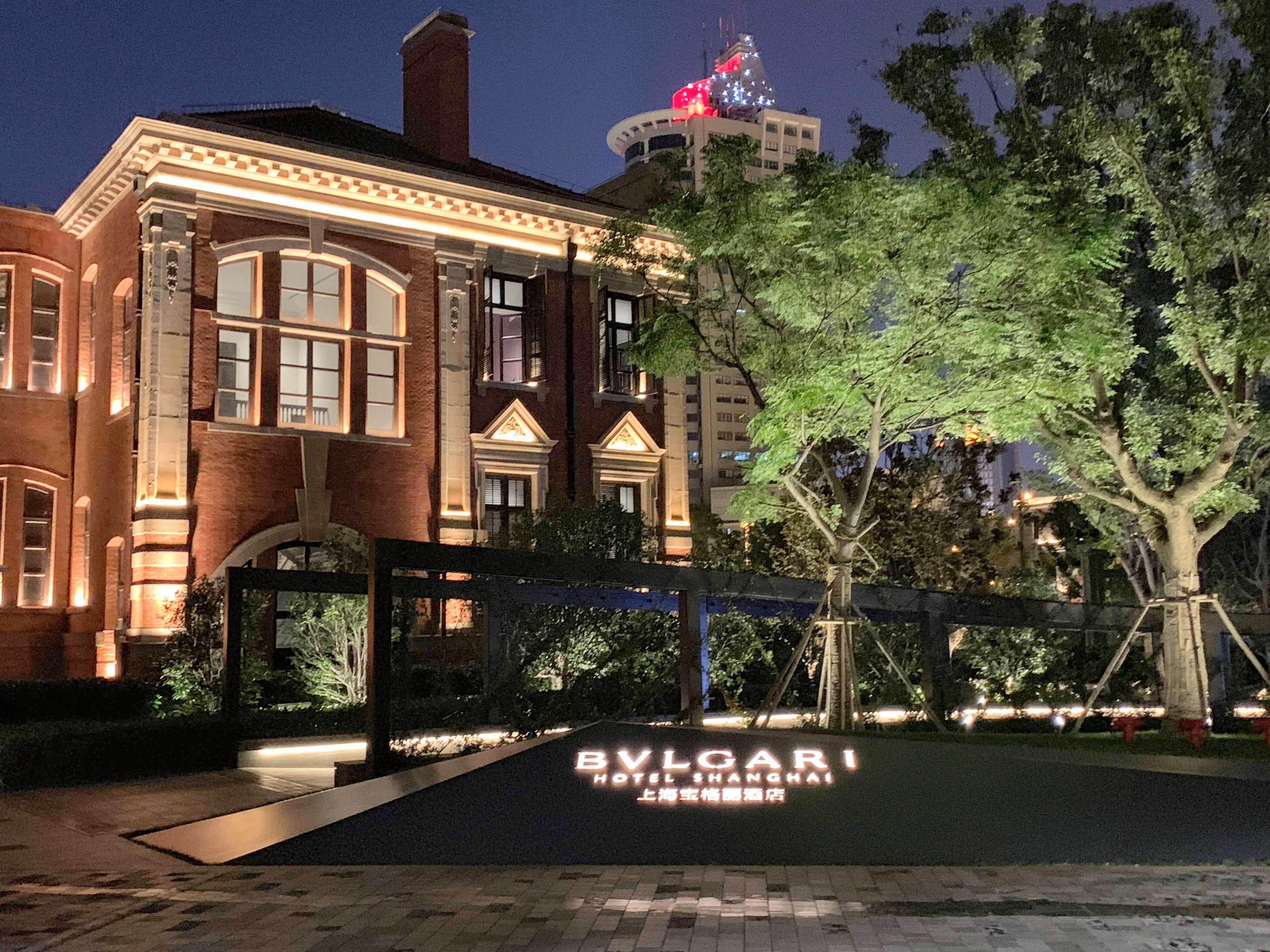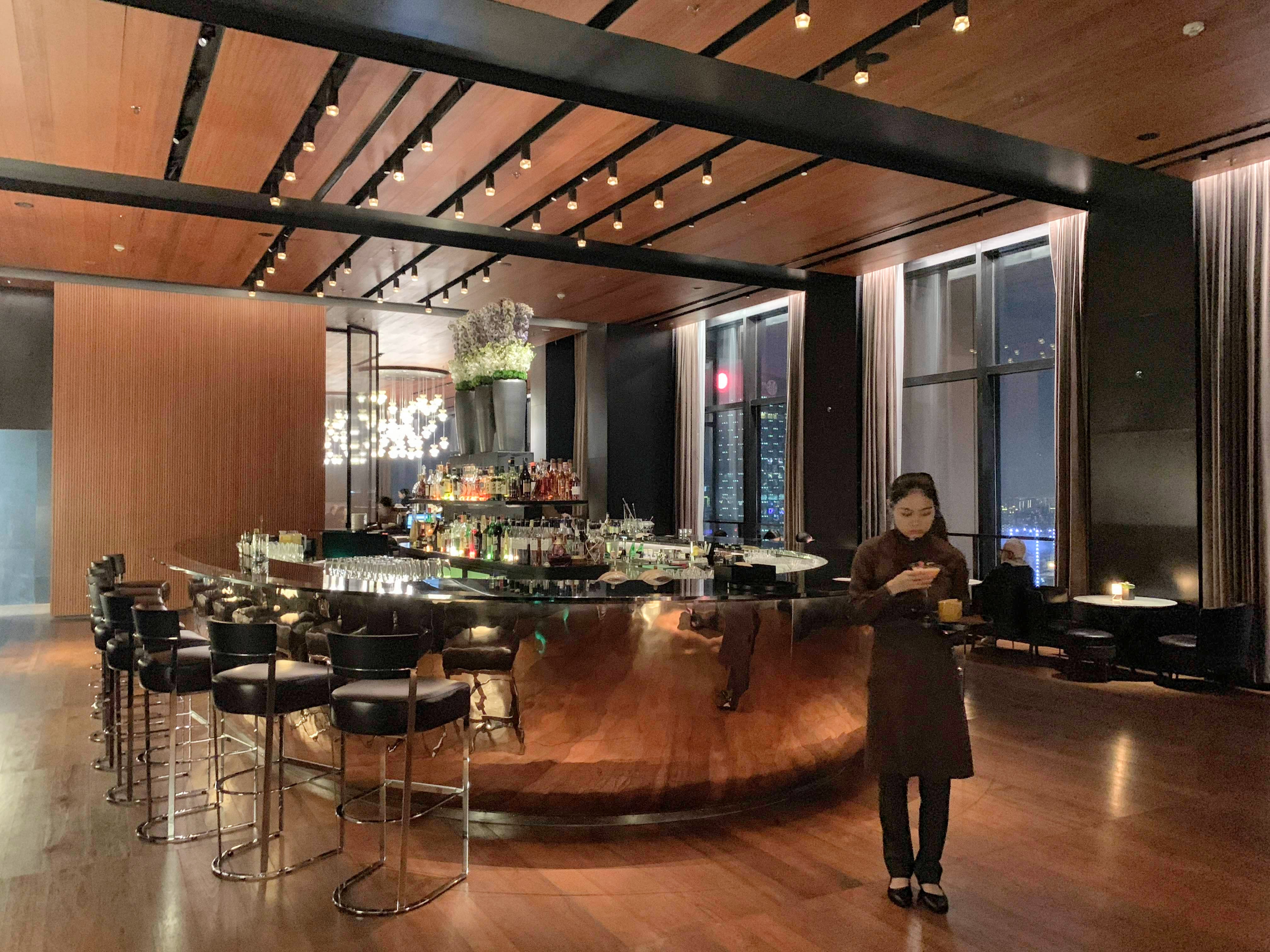 The Ritz Carlton was close to the Mandarin Oriental so we popped in to try that too. This is a rooftop bar with an open-air terrace. It has some great views, but we weren't keen on the inside of the bar which felt very tacky for a Ritz Carlton.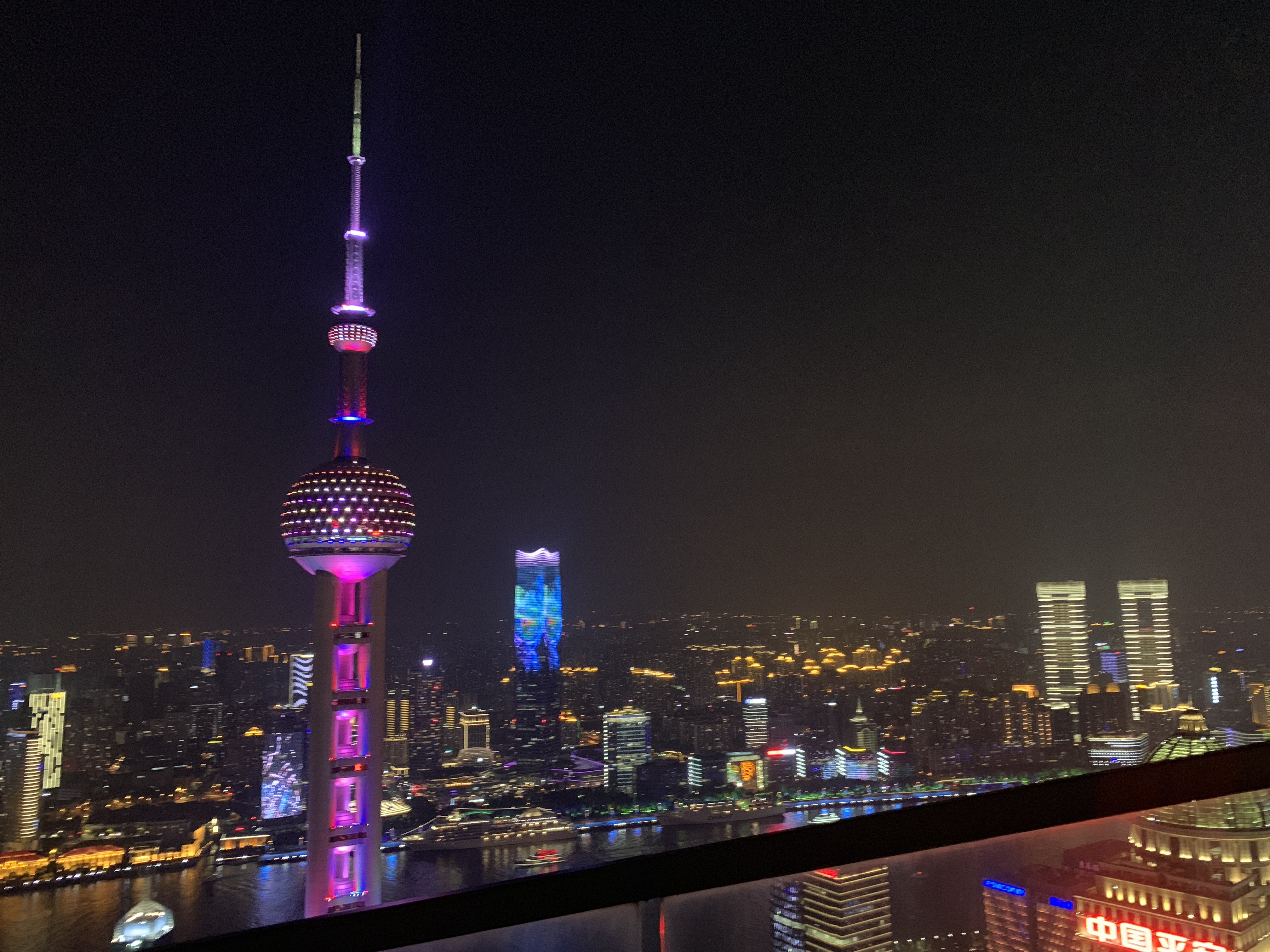 The final one on our list with The Shanghai Edition.
This has two beautiful bars. Downstairs there is the Lobby Bar, but we headed up to the cutely named Canton Disco bar for some great cocktails at the bar.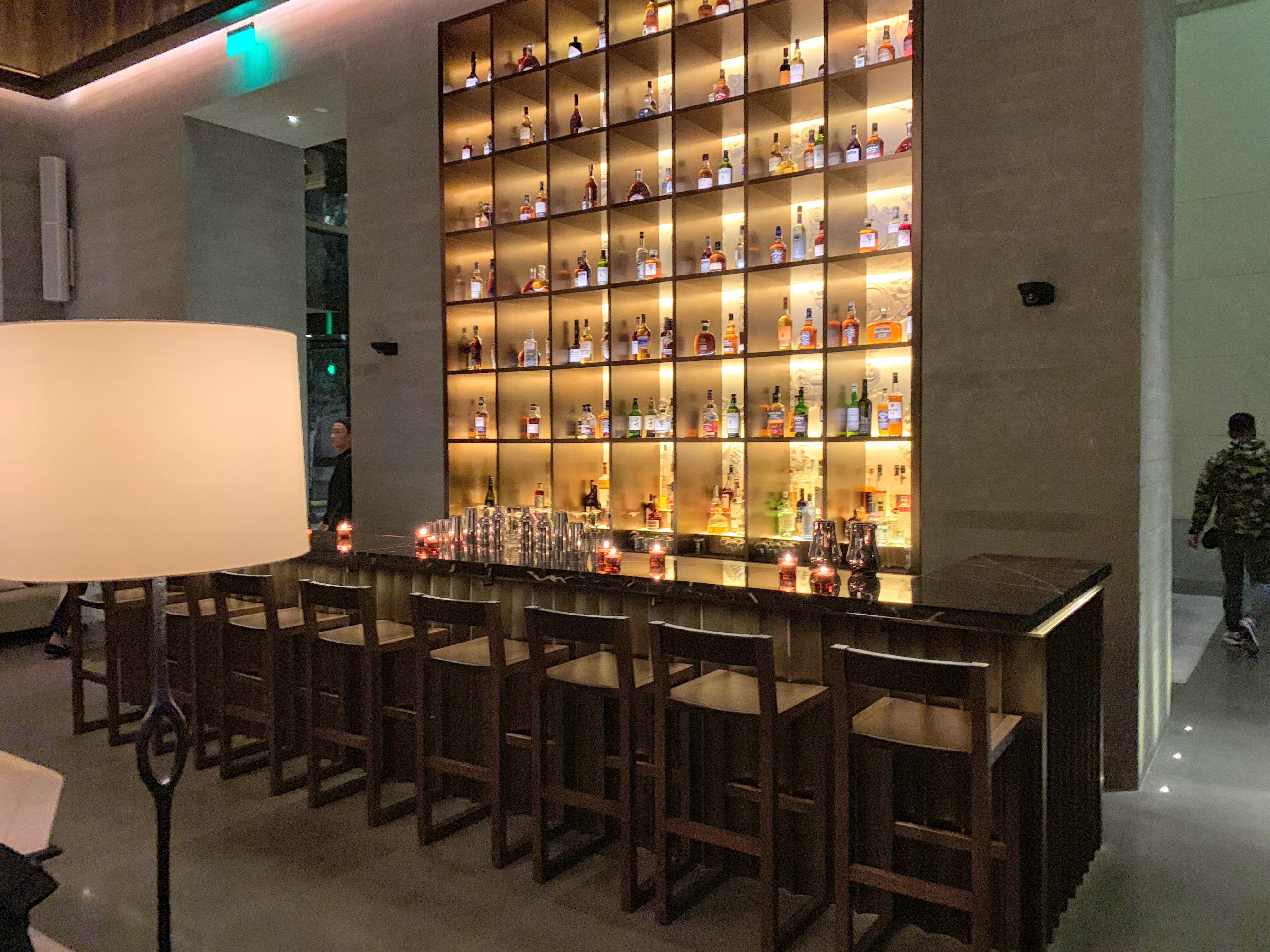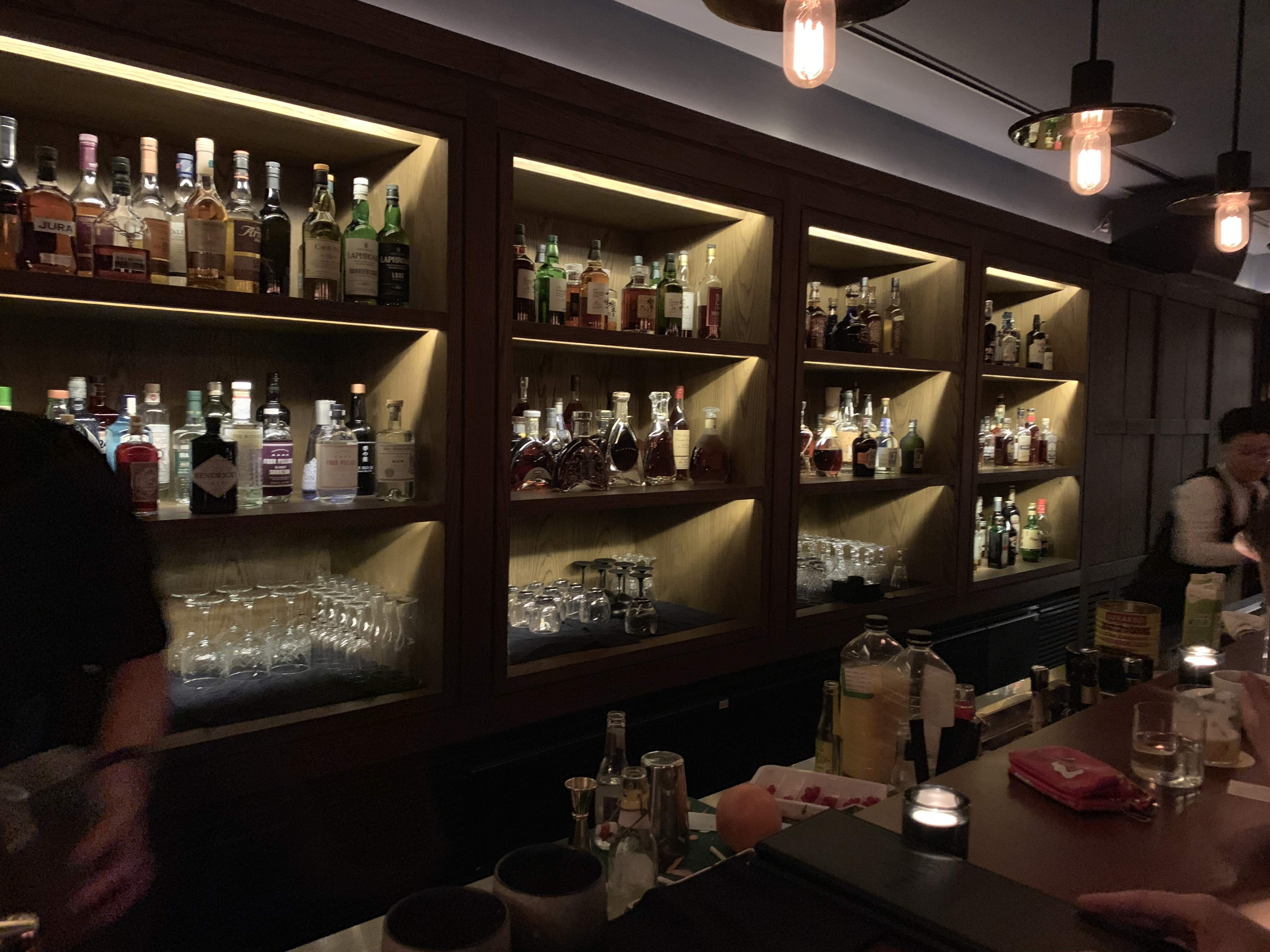 Have you been to Shanghai? What are your top tips? Let us know in the comments below or on social media.