Next in our popular series of articles highlighting the most exciting new hotel openings across the globe in 2022 (you can see our pieces covering the UK here and Europe here), we now present Part 3: the Americas. From California to Costa Rica, we've found some incredible properties for you to pop on your wish list for your next trip across the Atlantic!
Let us know which one tickles your fancy, or if you have one in mind that we missed, in the comments below.
USA
Raffles Boston Back Bay Hotel & Residences, Boston, Massachusetts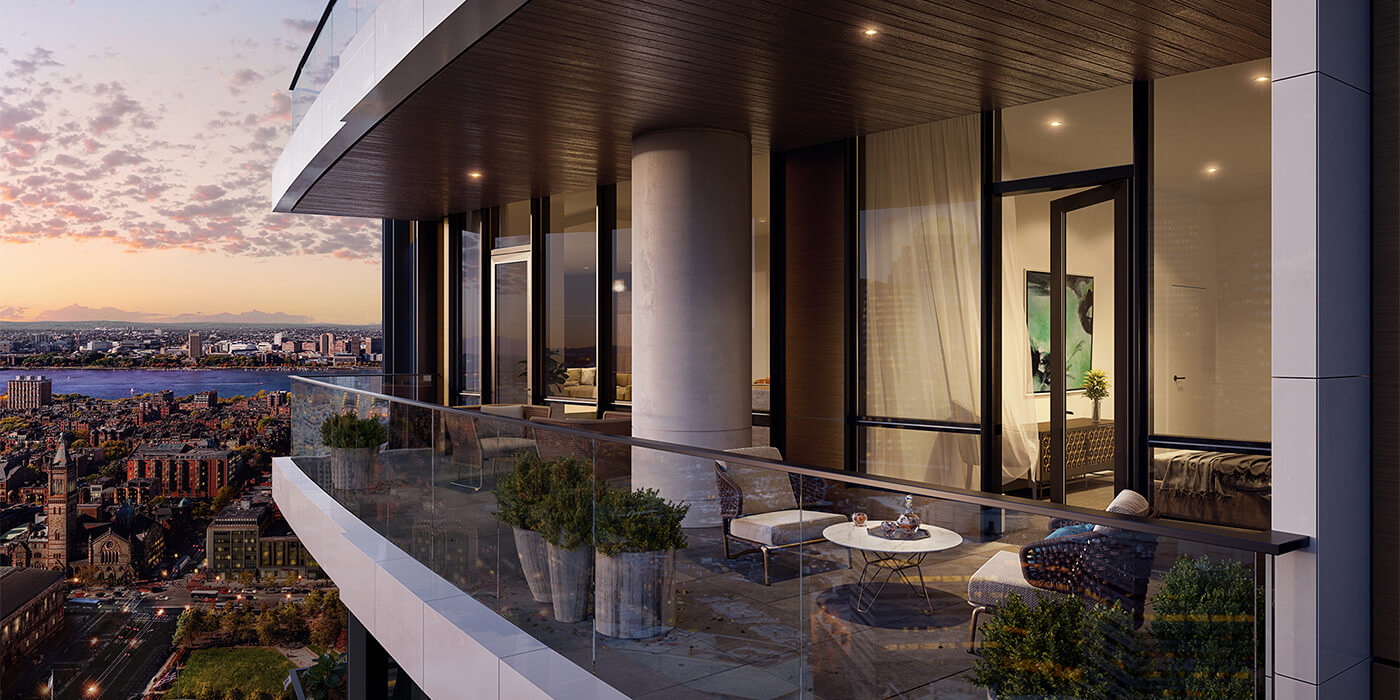 The first Raffles property to be opened in North America, the $400-million development will debut near Boston's Fenway Park at number 40 Trinity Place, complete with 147 guest rooms and 146 branded residences in a 'striking' 35-storey building.
Some of the signature Raffles highlights include the 'Raffles Butler', a state of the art Raffles Spa with a 20-metre indoor pool, and a range of stunning and lively public spaces. Visitors can enjoy six different food and beverage venues, with a rooftop garden terrace and lounge, a three-story sky lobby and expansive meeting and function spaces. A 19th floor ballroom will offer views spanning from the Financial District to Cambridge.
Including a blend of hotel suites, one to three-bedroom homes, and penthouses, the property is located in the heart of Back Bay and right nearby the Boston Back Bay Train Station, Trinity Church, and plenty of high-end shopping at Copley Place. It is also only a short walk away from other Boston sights, such as Fenway Park and Newbury Street, as well as museums, restaurants and nightlife.
We will have to wait until late 2022 for this snazzy hotel to be ready for guests.
Sensei Porcupine Creek, Rancho Mirage (near Palm Springs), California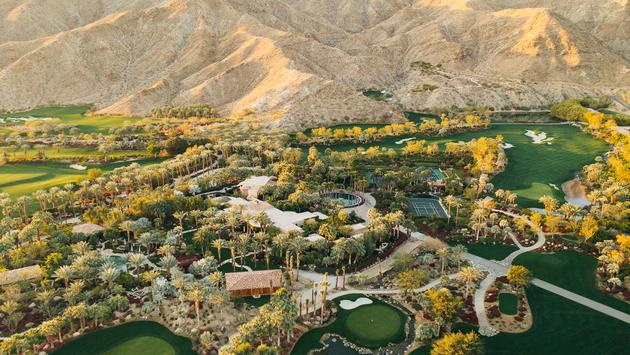 Set on a converted 230-acre private estate, this gorgeous getaway is located right at the foothills of the Santa Rosa Mountains in the Coachella Valley. The second opening for the company will be largely influenced by its original property, the Sensei Lanai located in Hawaii (and operated in partnership with Four Seasons), aiming to provide visitors with 'curated, technologically advanced wellness getaways'.
The property will offer guest rooms in the former estate house, as well as separate private villas. It is expected that there will be 22 guest rooms and suites to start. There will also be a private golf course, tennis courts, and a spa; however, according to the release the main focus of the property will be encouraging guests to immerse themselves in the 'Sensei Way', leaning on the core principles of 'move, nourish and rest'.
Pre-arrival specialists will work one-on-one with guests to create their own personalized itinerary, which can include hiking, golf, tennis, spa treatments, yoga, meditation and nutritional consultations. And (just like its sister property in Hawaii), the food will be provided by none other than famous eatery Nobu.
"It will be the first six-star wellness experience in this market," according to Sensei CEO Kevin Kelly.
Rancho Mirage is around 15 minutes from downtown Palm Springs and has many restaurants and shops in the local vicinity as well as stunning desert scenery.
Sounds good to us!
This one is set to open in early 2022. You can find prices and book here.
Wildflower Farms, Hudson Valley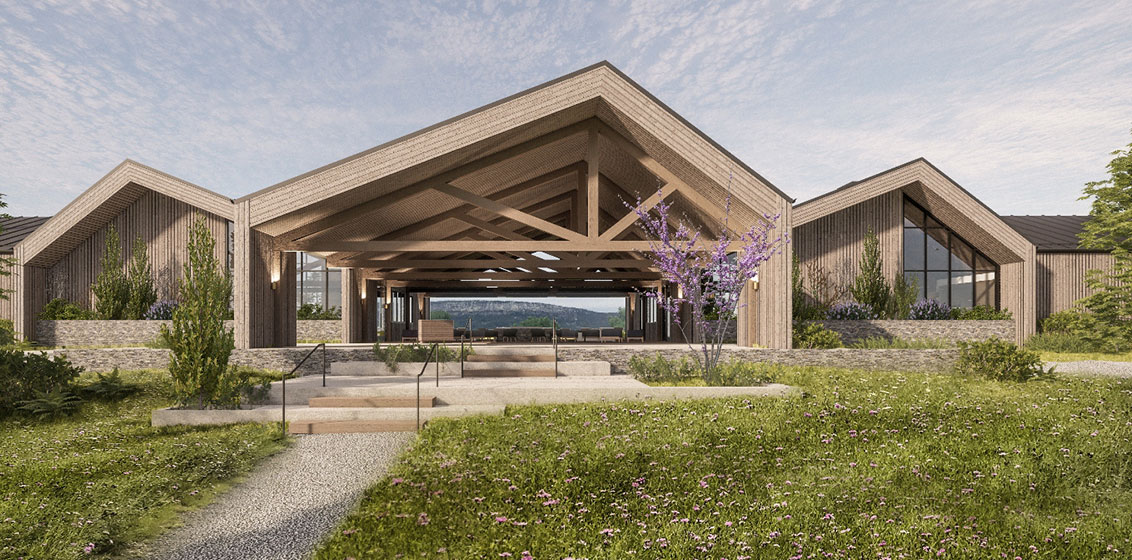 As part of the Auberge Resorts Collection, this modern, nature-inspired luxury retreat is set to open in the beautiful Hudson Valley, just a ninety minute drive from New York City. Set on a sprawling yet secluded 140 acres amongst some of the regions most beautiful scenery, the property will be 'an escape focused on wellness and nature'. Including orchards, heirloom gardens, fields of wildflowers, animals and even its own namesake farm, guests are encouraged to immerse themselves in the expansive grounds and the seasonal activities on offer.
Accommodations will include 65 freestanding bungalows, cottages and suites, outfitted with natural materials and high-end amenities, such as cosy window seats, fireplaces, wood decks, private patios and fire pits.
Featuring tennis courts, an open-air gym (with a movement studio, whatever that is), miles of dedicated hiking trails and a 9,000-square-foot Auberge Spa, there is plenty to keep guests occupied. The spa includes five single treatment rooms, and one couples treatment room, as well as outdoor hot tubs, an indoor saltwater pool and a relaxation area for guests to relax in before and after treatments. For something a bit more thrilling, the property offers access to the nearby Mohonk Preserve; a private reserve offering hiking, biking, rock-climbing and incredible views.
There will also be an on-site destination restaurant featuring a bar, an open kitchen and farm-based seasonal cuisine. Guests can get involved too, with the option of foraging, farming, cooking classes and picnics around the grounds.
Set to open in Autumn, 2022.
The Fifth Avenue Hotel, New York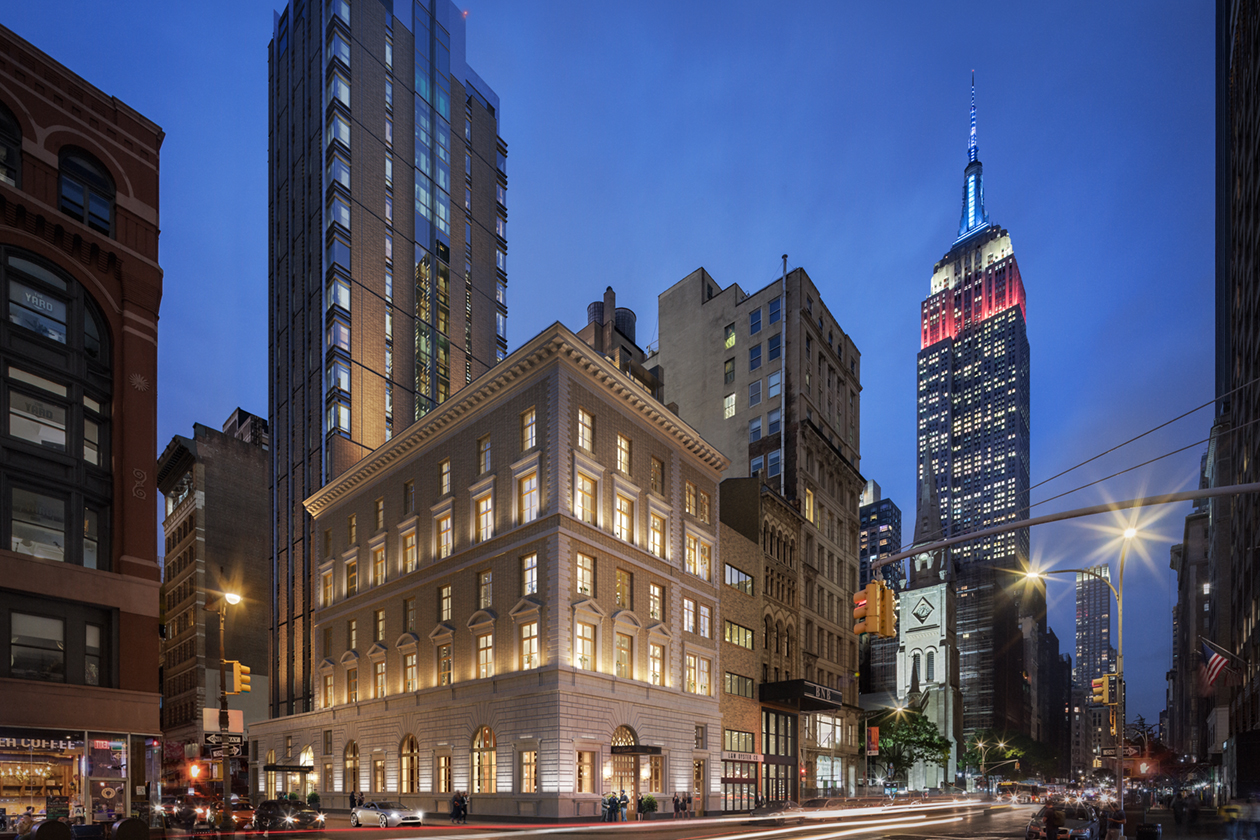 The historic building, which dates back to 1907, was originally a bank. With the interior designed by Martin Brudinski, the property is ideally located and only a short walk from Madison Square Park and the Empire State Building. The property will feature 153 sumptuously decorated rooms, with 129 of those situated in the new addition to the building, and 24 placed within the original structure (called 'The Mansion').
Although some of the cities best restaurants and bars are located just a short walk away, there will also be on-site offerings, including The Fifth Avenue Hotel's Signature Restaurant, The Portrait Bar, The Study, and The Terrace. Two rooftop bars on the 23rd floor will provide guests with views of NoMad and Midtown, and there will also be a wine cellar in the original bank vault and a 5,000-square-foot ballroom with 20-foot-high ceilings and an adjacent outdoor terrace next to the main lobby. There will also be a two-story library and study, an outdoor terrace and a fitness centre with equipment from Technogym, Peloton, and Mirror – truly, something for everyone. Sounds pretty fancy Fifth-Avenue to us.
Expected to open in February, 2022.
Spirit, Utah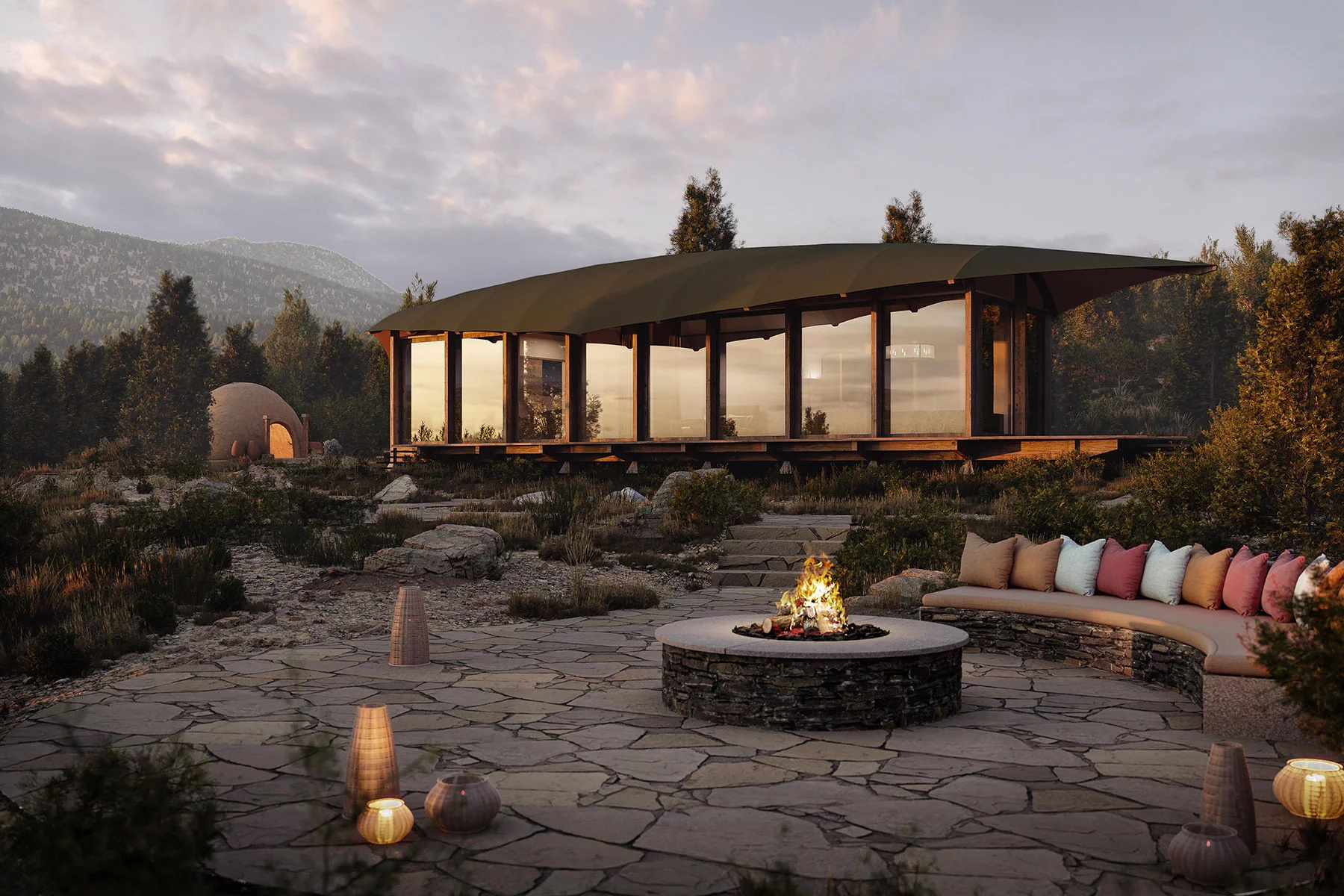 Bordering the stunning Zion National Park, the latest offering from the eco-conscious Zion Spirit Group is designed to encourage a purposeful tourism experience that 'encourages a meaningful relationship with the world around us'.
The property has been carefully designed to reflect and highlight the gorgeous surrounding landscape and offers forty individual suites, ranging from two to five-bedrooms ranging across the 1,100-acre resort. All offer breath-taking views of the famous rock formations of Zion National Park.
Each suite will feature a large separate living area with floor-to-ceiling windows, luxurious bathrooms with soaking tubs, high-end furnishings and even a 'wellness space', which can be used by guests for exercise, meditation or in-suite spa treatments. Each suite also features its own bike station, which houses two electric bikes for guest use. There will also be a communal central lodge, where guests can find a restaurant, observatory, lounge, natural swimming pool, library and even an aquaponic greenhouse on property.
Set to start welcoming guests in Summer, 2022 and be fully open by Spring 2023.
Canada
Hyatt Centric Old Montréal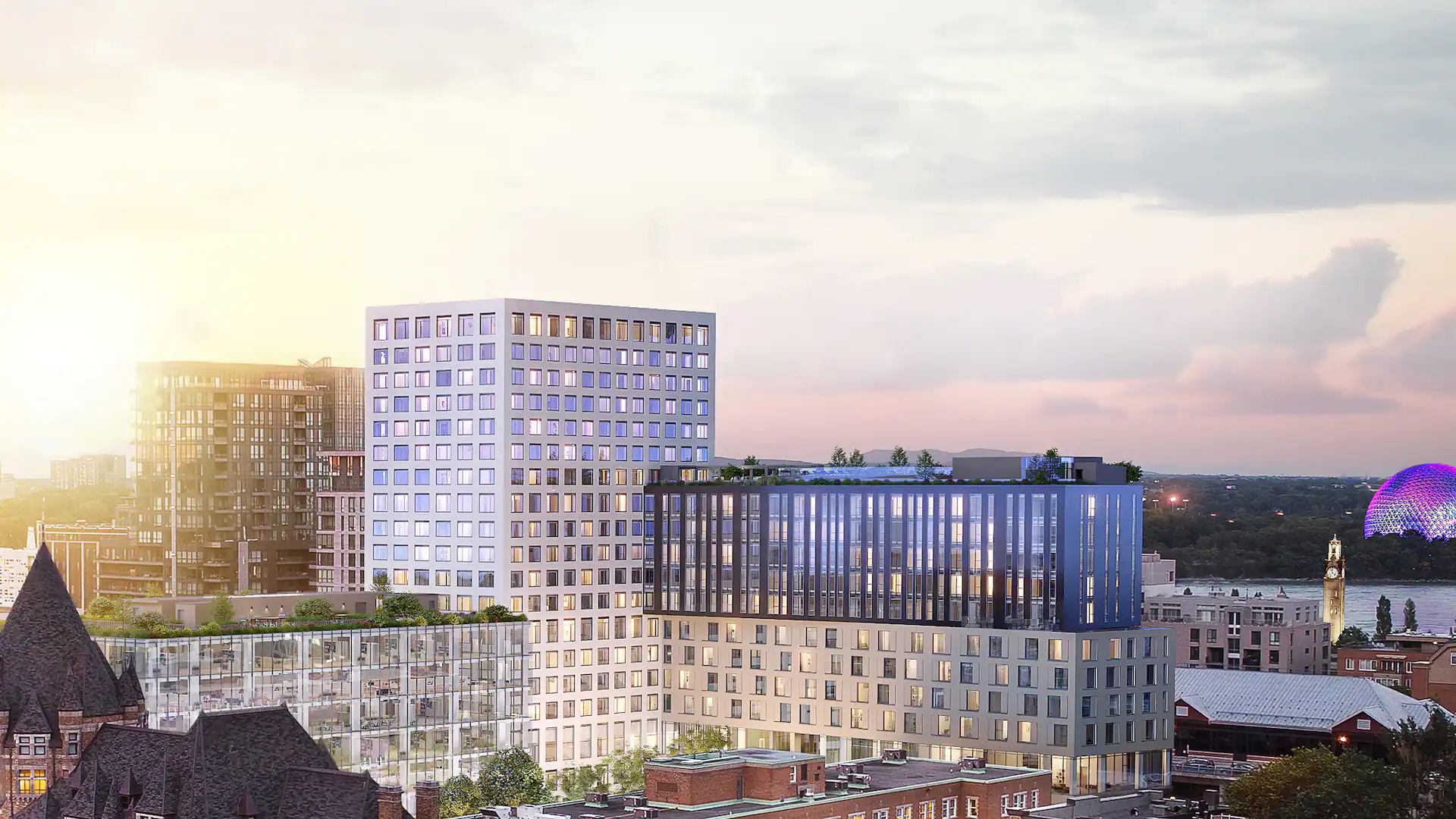 Nestled amongst the stunning streets of Old Montréal, this 177-guest room property will be Canada's first Hyatt Centric property. The brand-new hotel will also feature an on-site restaurant, bar, gym and pool.
Originally a train station, the historic building has been expertly converted and kitted out with a unique Montréal touch. Overlooking the historic Château Viger, the property is centrally located and just steps away from popular tourist sites such as museums, IMAX and the Science Center.
Opening early 2022. You can check rates here.
Mexico
Etéreo, Auberge Resorts Collection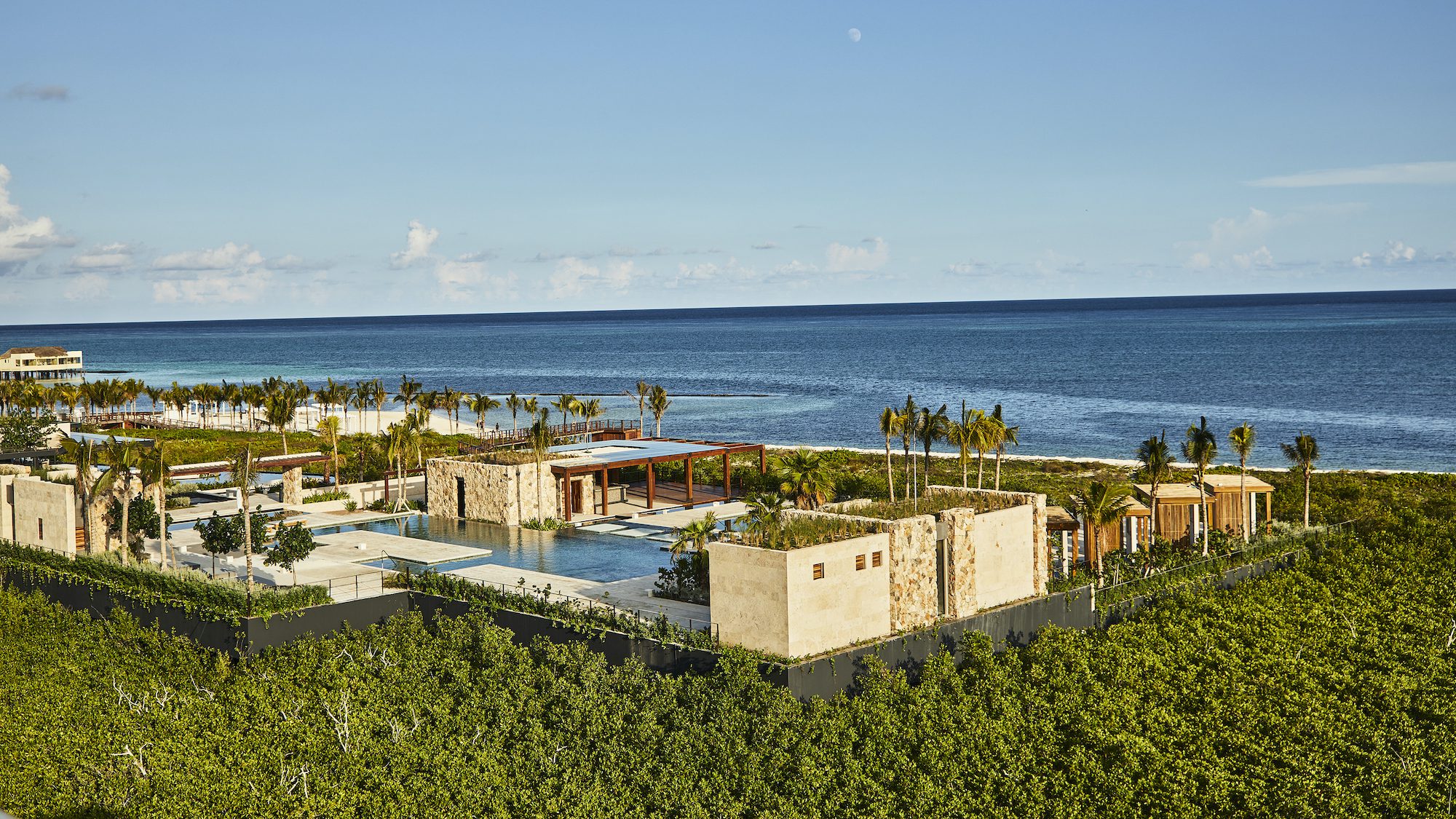 'Etéreo'; meaning ethereal, spiritual and heavenly. According to the properties website, the 'celestial experience that defines Etéreo stems from Mayan philosophies and is landmarked by three pillars — extraordinary cuisine, breath-taking encounters with nature and beaches, and an Auberge Spa that facilitates rejuvenation in every sense of the word'.
We're sold.
Set against a backdrop of works from celebrated Mexican artist Manuel Felguérez, symbology and spirituality permeate every aspect of this stunning property.
Built into a mangrove forest, atop a white sandy beach, the resort is ideally located along a quiet stretch of coast, boasting the region's largest reef only 250 feet from shore. Featuring 75 studios and suites, each room boasts ocean views and private outdoor areas for guests to enjoy. Studio rooms measure a whopping 875 square feet and also provide floor-to-ceiling windows, private plunge pools and bespoke artisan interiors. Suites start at around 1,375 feet and go up to almost 4000 feet, plus they provide guests with an additional butler service. Two and three-bedroom suites also offer private terrace hot tubs. Nice. All rooms are outfitted with furniture, décor and artwork created by local artisans.
It doesn't stop there – on-site restaurants and bars abound, including the Mayan-inspired restaurant Itzam; Che Che, which specializes in Nikkei cuisine that blends Japanese, Peruvian, and Brazilian elements; El Changarro provides service on the sand, featuring the catch of the day; alongside several other light dining and drink options. The Auberge Spa, Sana, features jungle-like flora and fauna to create 'an unparalleled healing space'. Guests can take part in retreats, classes, rituals and a range of indulgent spa experiences, as well as more unique offerings such as 'moonbathing' and ancient Mayan ceremonies.
The hotel also provides guests with the chance to truly immerse themselves into the local history and culture, with a range of on-site pop-up activities, from Mayan fireside blessings and equinox ceremonies to performances by local musicians. Staff can also arrange all manner of Riviera Maya excursions, like cenote safaris, biking adventures and even tours of the local galleries and artisan scene.
Opening early 2022.
Waldorf Astoria Cancun, Mexico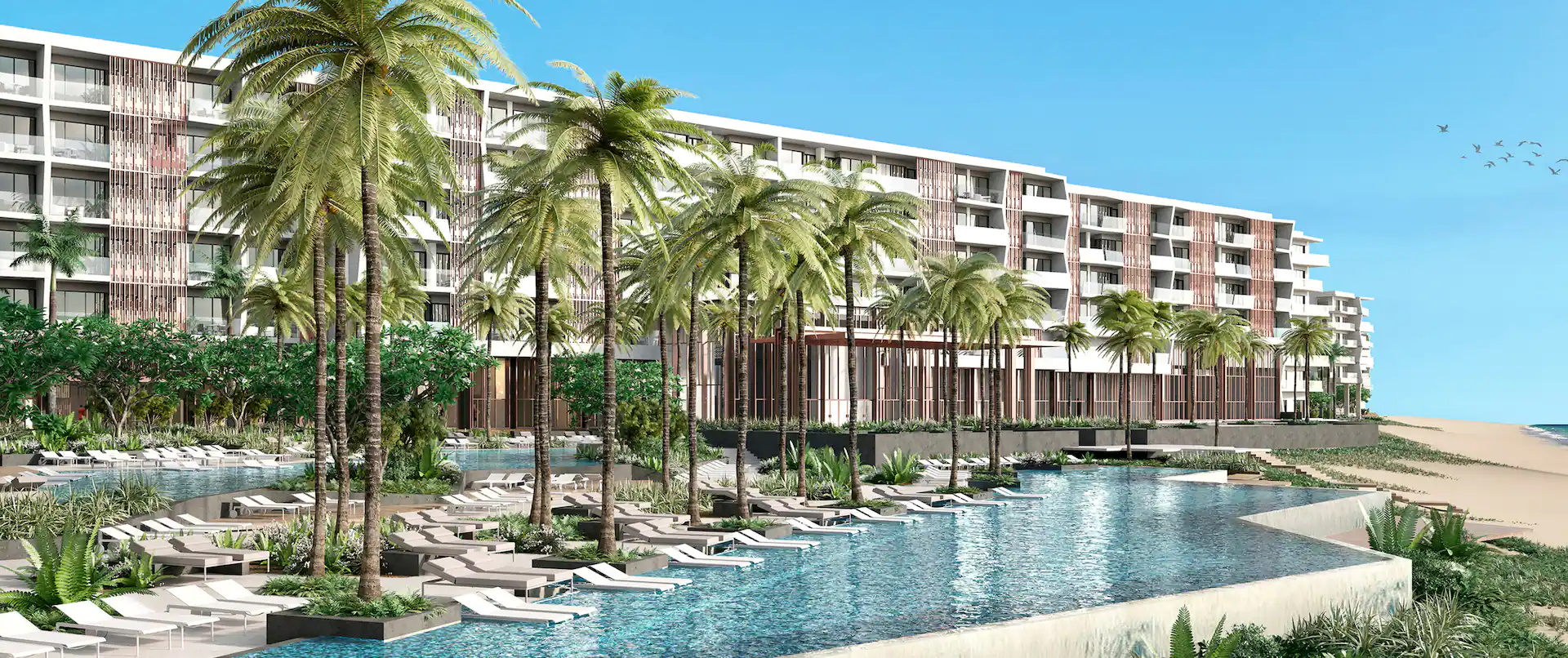 This stunning property already has plenty of excitement for its 2022 opening. Featuring around 173 beautifully decorated rooms and suites, all of which feature private terraces or balconies with views, the hotel will also provide guests with five different restaurant and bars, a range of amenities including two immersion pools, a fitness centre and the Waldorf Astoria Spa. Rooms are airy, modern and designed to reflect the stunning surrounds. It goes without saying that they are fitted out with all the necessary amenities and mod-cons to enjoy a truly luxurious stay.
Dining options will allow guests to experience true Yucatan cuisine, as well as more common options such as the all-day Brasserie, serving both international and Mexican cuisine, a beach bar and grill, a seafood restaurant, and a stylish lounge.
The spa will incorporate traditional wellness experiences using native ingredients and practices, as well as the expected offerings such as massages and beauty treatments. There will also be over 55,000 sq. ft. of event space and meeting rooms. According to the property, the concierge team plans to learn preferences before guests arrive too, ensuring a flawless experience.
Located only ten minutes from Cancún International Airport, guests can explore the local city of Cancun, with it's vibrant nightlife and boutique shopping, or opt to relax on the beach, enjoy the resort or take advantage of the myriad of outdoor activities on offer, including zip-lining, rafting, snorkelling and tours of the nearby caves, cenotes and underground rivers.
Opening May 2022. You can find rates and more information here.
Central America
Botánika Osa Peninsula, Curio Collection by Hilton, Costa Rica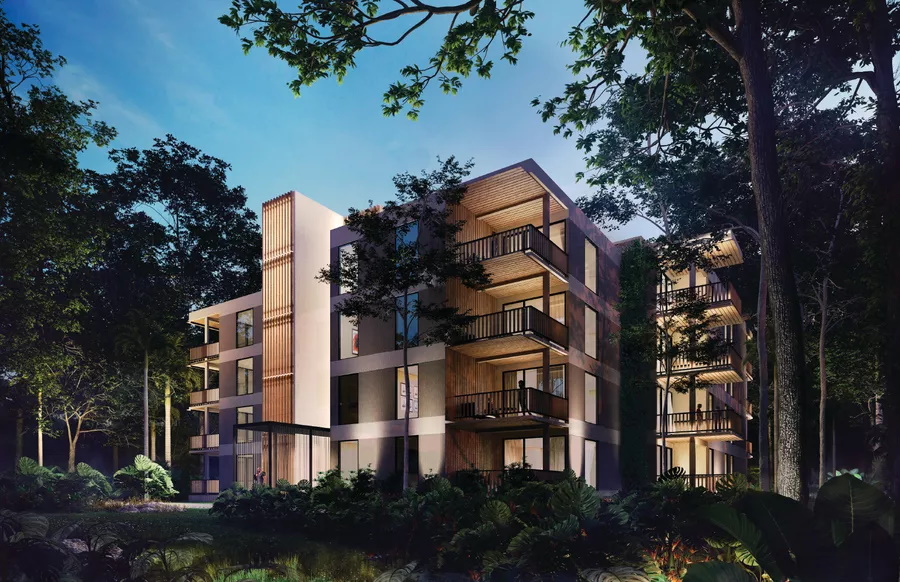 It seems like eco-resorts are all the rage right now, but this one is truly unique. Comprised of 106 'rainforest residences', which include modern studios right through to three-bedroom villas, the airy rooms are outfitted with sustainable bamboo furnishings and floor-to-ceiling windows for unobstructed views of one of the most incredible, 'biologically intense' (according to National Geographic) places on Earth.
Surrounded by lush landscaping, the property also features an orchid garden, nature trails, a natural lagoon-style pool and even a specific garden area designed for hummingbirds. Guests are encouraged to participate in unique 'voluntourism' experiences, such as sea turtle conservation.
There is also a Luxury Spa, offering over 30 types of 'rainforest treatments', state of the art fitness centre, an on-site restaurant and bar serving local produce, and an outdoor terrace area for alfresco dining. Located near pristine beaches, guests can enjoy game fishing, zip lining, rainforest walks, kayaking, biking, surfing, snorkelling and much more, all just a short distance away.
There is also a large events and functions area, as well as a well-equipped business centre with hi-speed Wi-Fi and laptop stations.
Set to open in Spring, 2022. You can find rates and more information here.
Many of these luxury hotels and others can be booked via our specialist luxury travel partners with extra perks such as upgrades, hotel credit, early check-in/late checkout and more.
What do you think? There are definitely quite a few we're adding to our list, and there seems to be an exciting trend towards environmentally friendly eco resorts (that don't skimp on the 'luxury'). Book us in for moon bathing!
Which one was your favourite, and are you planning your next trip to the Americas? Let us know in the comments.