This is the second part of the review by Reader Eugene. If you would like to see your trip report published, please email [email protected]
What seems like a very short 8 nights later and this is the return trip report after our fantastic outbound flight which you can read here. https://www.turningleftforless.com/reader-trip-report-ibiza-on-british-aorways-club-europe/
Entry Requirements from Spain
Currently, to enter the UK as a UK national from Spain which is on the amber list, myself, as a fully vaccinated person needs to complete a PCR test no more than 72 hours before, which the British Government recommends from Spain, or an Antigen Test no more than 48 hours before arrival. I opted for the latter given it is cheaper and more convenient. I pre-ordered my Antigen test from Medicspot using "BA" discount code at a cost of £33.15. Slightly more expensive than some others but the benefit with this one is that I don't have to be monitored doing the test like you do with Qured, which you must perform over a video call. Whilst it's ok, it's a little annoying whilst on holiday and a much longer process.
You pack the test, complete the test yourself, following the instructions, upload your results and you are emailed a fit to fly certificate within two hours. I am pleased to say it went flowingly well with no issues and rightly was accepted by the airline.
Then when I arrive back in the UK I have to do a day 2 PCR test on or before day 2. For this I used Randox and the tests were waiting for us upon our return. I left it late to book these in case there was a policy change, unfortunately, there wasn't. I performed the self-test and popped this in the post and that was that!
My wife who has only had 1 vaccination so far has to do all of the above plus a day 8 PCR which we also ordered from Randox and an optional day 5 Test to Release, which she did. More details on this below.
Obviously, we also had to fill out the wonderful UK Passenger Locator Form, which, to be fair was made a little easier as last time we set up accounts on the gov website so it saved and pre-populated most of our data.
Check in & Security
We arrived and check-in was open. There were only two desks open as they were having issues with the third so whilst they were trying to get that to work, we queued in the Club Europe queue which was almost as long as the main queue by the time we joined it. 20 minutes later we were next and right as we were about to go, they managed to open a third desk but this one was just for VeriFLY customers which I have not seen before. I can't imagine that was very popular but hopefully, they took the load off the Club Europe line. By this time there was an angry customer venting their frustration at the staff as there was only one line for Economy Passengers and it was moving very slowly.
Security was a breeze. They had about 8 lines open with zero queues. We chose our line and immediately went through. No need for Fast Track today! Not that they had one.
SALA VIP Cap des Falco (Lounge)

British Airways doesn't have their own lounge in Ibiza, instead we had access to a partner lounge. Right as you pass through security the lounge is immediately to the right and slightly back on yourself. We of course missed this totally as the signage either wasn't clear or non-existent so we wondered the entire length of the terminal before googling where it was.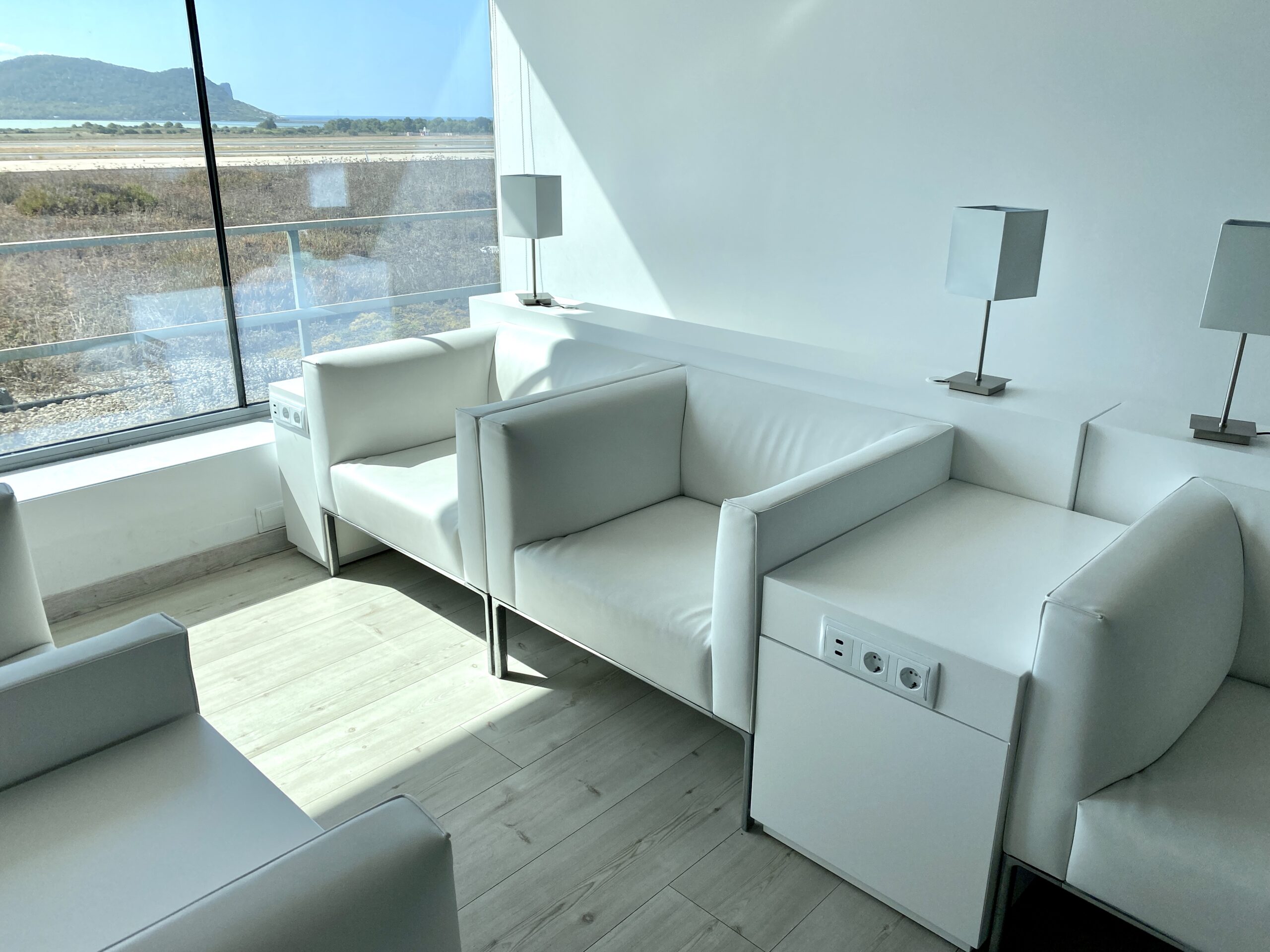 A 5 minute walk back through the terminal and we were in. Nice looking reception and the lounge was deserted.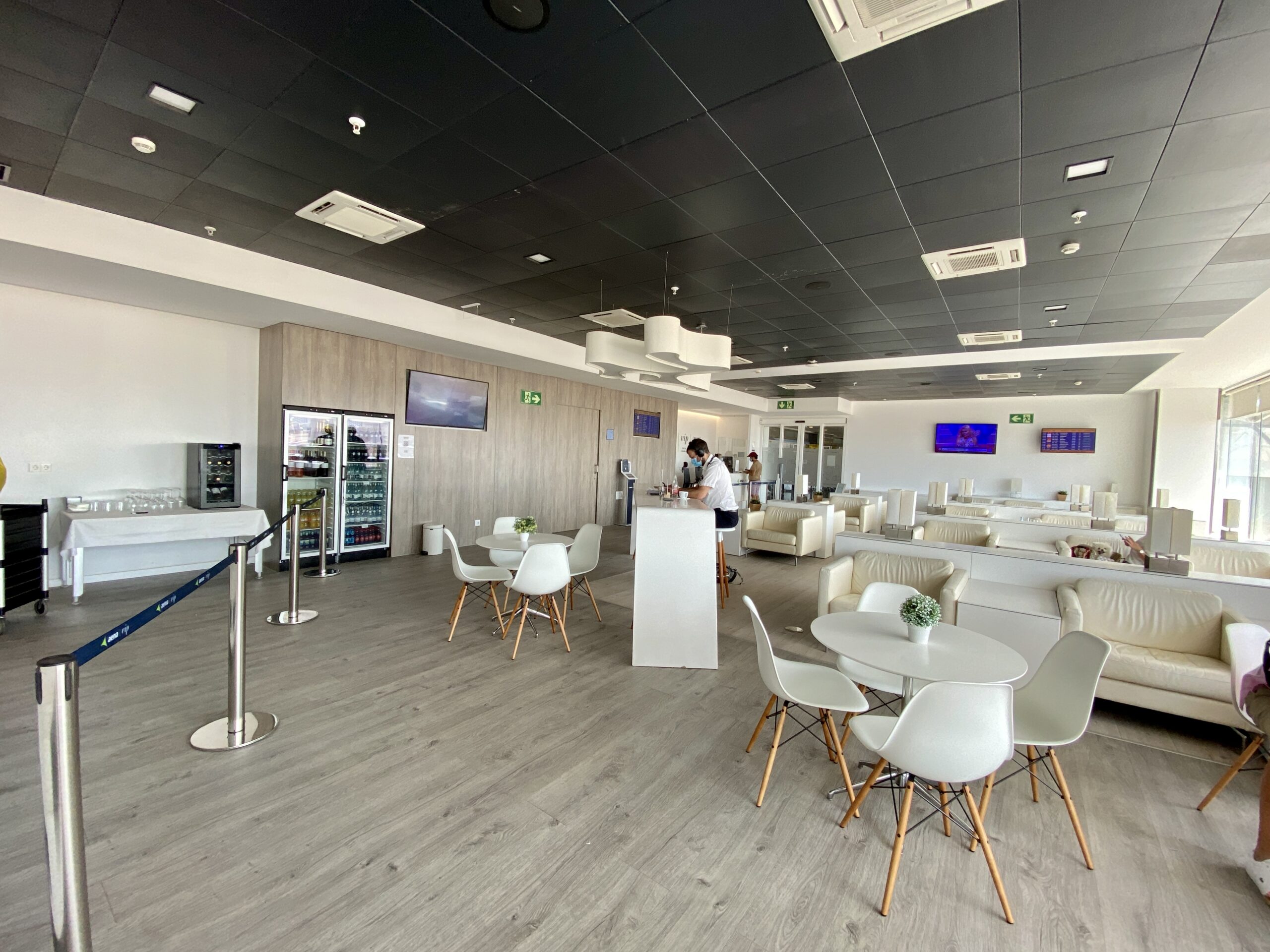 We found some comfy seats right next to the big glass windows which overlooked the runway (dream for aviation geeks like myself). Most seats had a built-in table next to it and power sockets.
There was a good selection of drinks and snacks but it was service only, you couldn't help yourself to anything other than a single fridge of drinks. All hot drinks were made to order. Outside of the laid-out food they also made toasties to order, which looked nice. The lounge has their own toilets too, unlike Rome lounge which you have to leave to use the loo.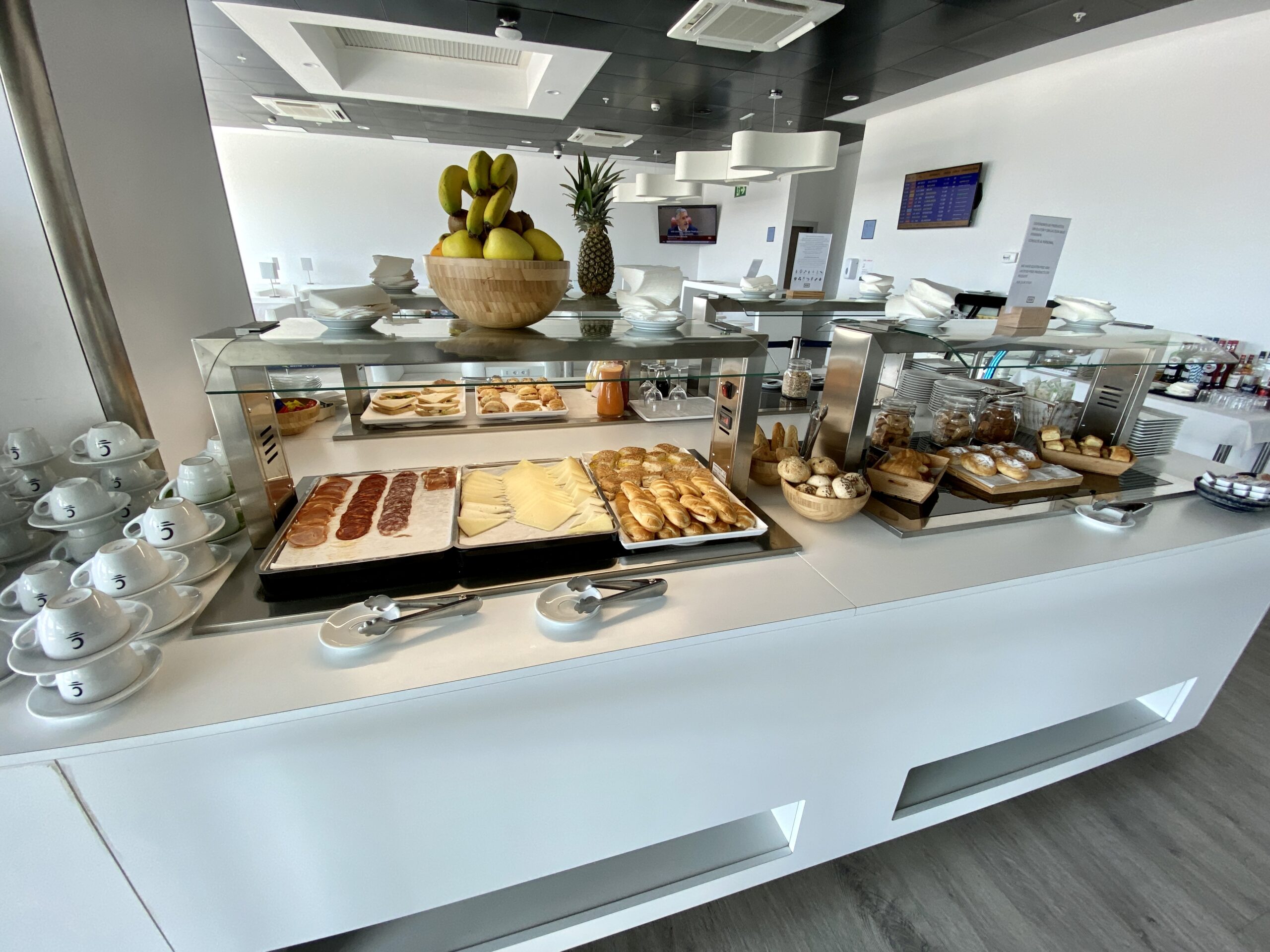 The wifi was fast and the service was quick and friendly, so overall I was impressed with this considering it was a partner lounge which can be very hit and miss.
Boarding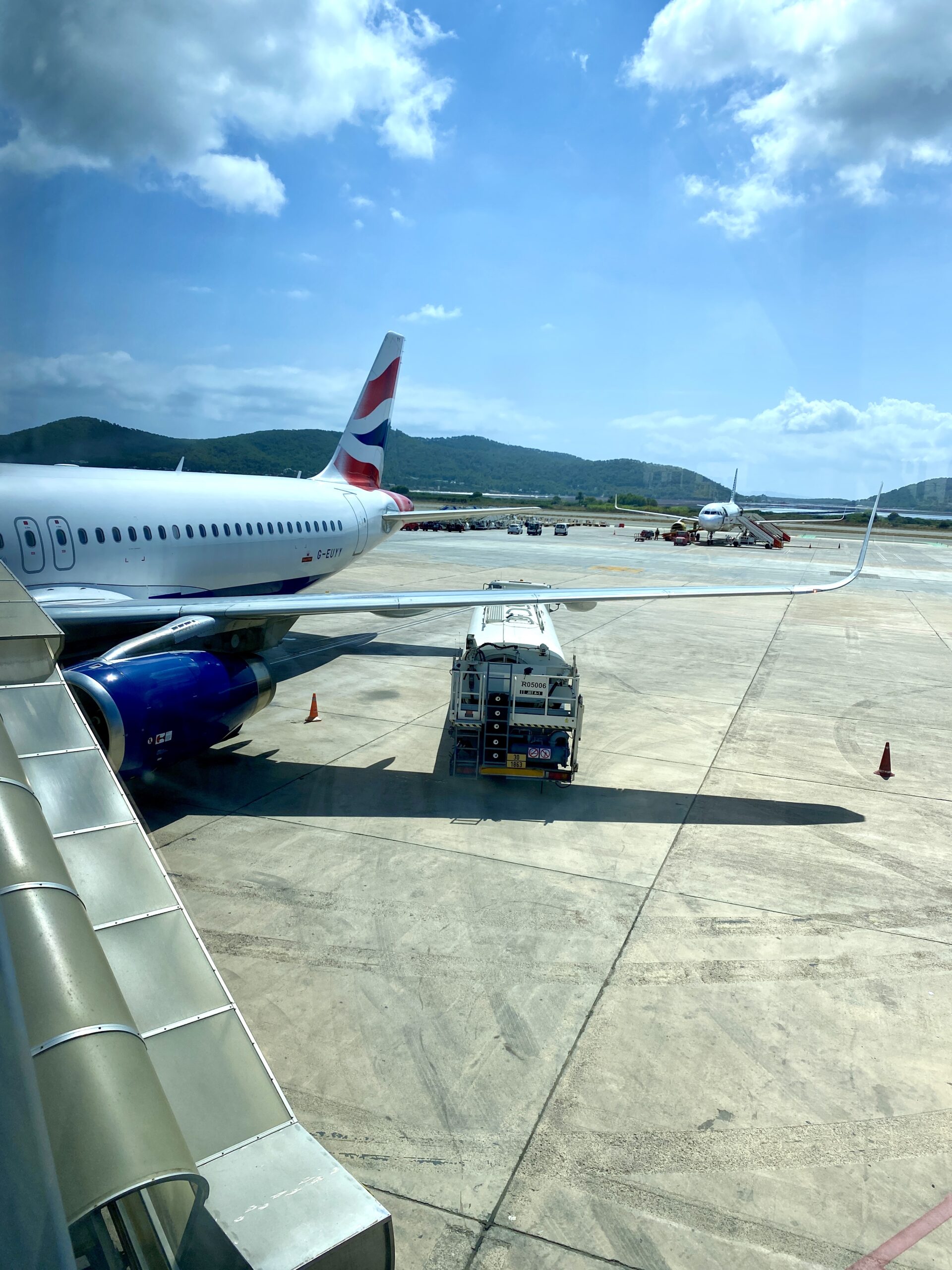 As mentioned, the lounge was next to security/gate 1 and sure enough our gate popped up as boarding and it was gate 14, just about as far away as it could possibly get. Off we went again for a little walk through the entire length of the terminal. I say it like I'm complaining, I'm not, I quite like getting my steps in pre-flight. So much so we almost missed a flight before but that's another story!
Before you get to the gate you have to pass through security for your exit stamp and when we got to the gate, as with the outbound flight, there was no queue. We were straight through and boarded the A320 G-EUYY.
Flight
We both sat and immediately spotted how many crumbs were all over both of our seats. We found it ironic that 10 minutes later once everyone was on board, they announced that we can relax knowing that the whole plane has been cleaned and sanitised prior to us getting on board. Maybe in 2014 when the aircraft was brand new, but this plane had been barely touched since the morning flight, that was for sure. In Covid times this really doesn't give you great confidence.
We pushed back on time and were airborne nice and quickly. Few minutes into the flight the crew started drinks service with the same two white wine options and again I went for the Burgundy white.
Food choice for this flight was the new Chicken and Leek Pie, Sweet Potato and Rice, which is a cold dish and our choice which was Ricotta Mezzaluna with Pea Panna.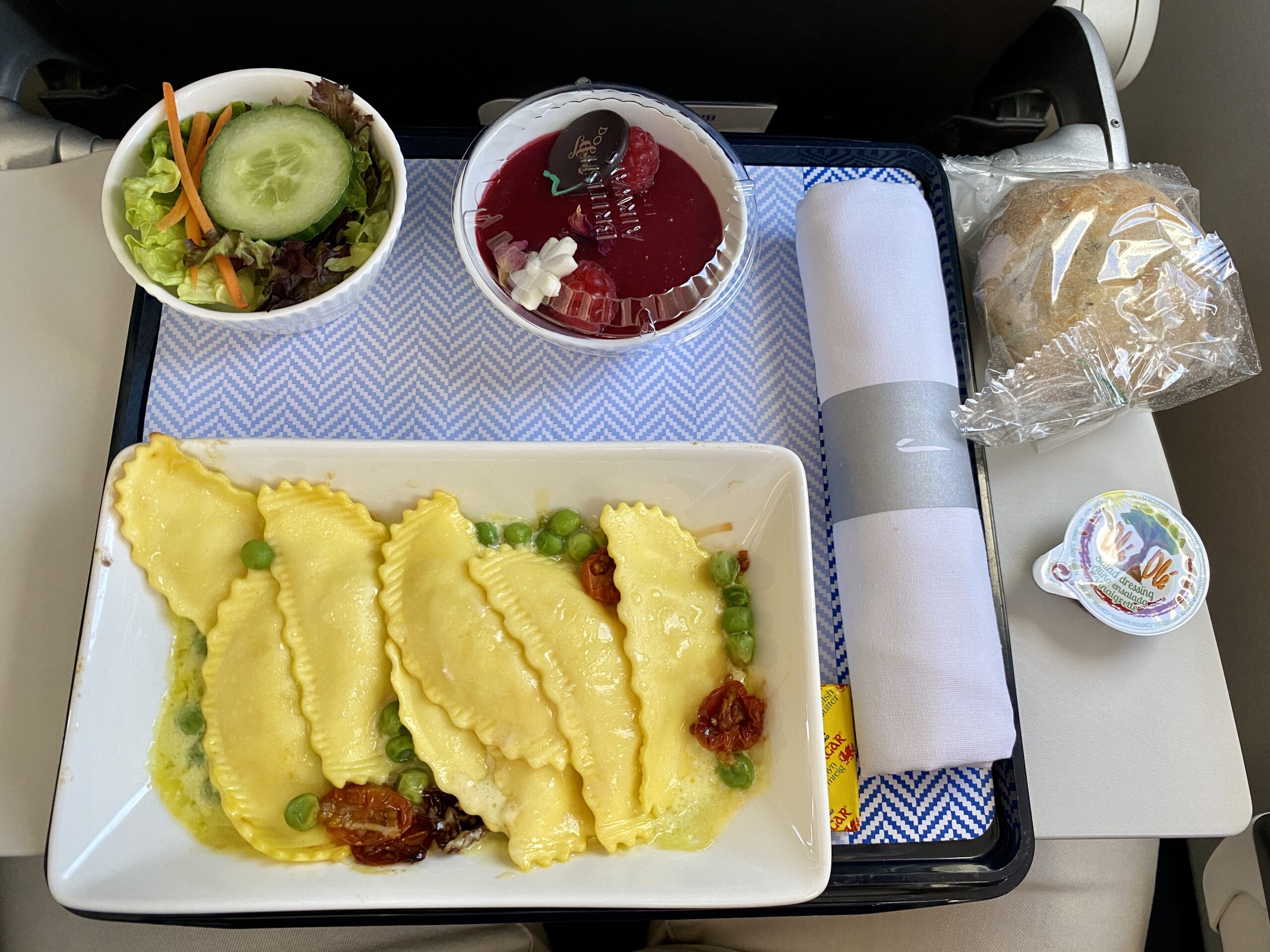 Mine was tasty although my wives was overcooked leaving almost no sauce. The bowl of salad leaves is as you'd expect and the dessert wasn't as nice as the famous chocolate mousse, but I ate it all, of course!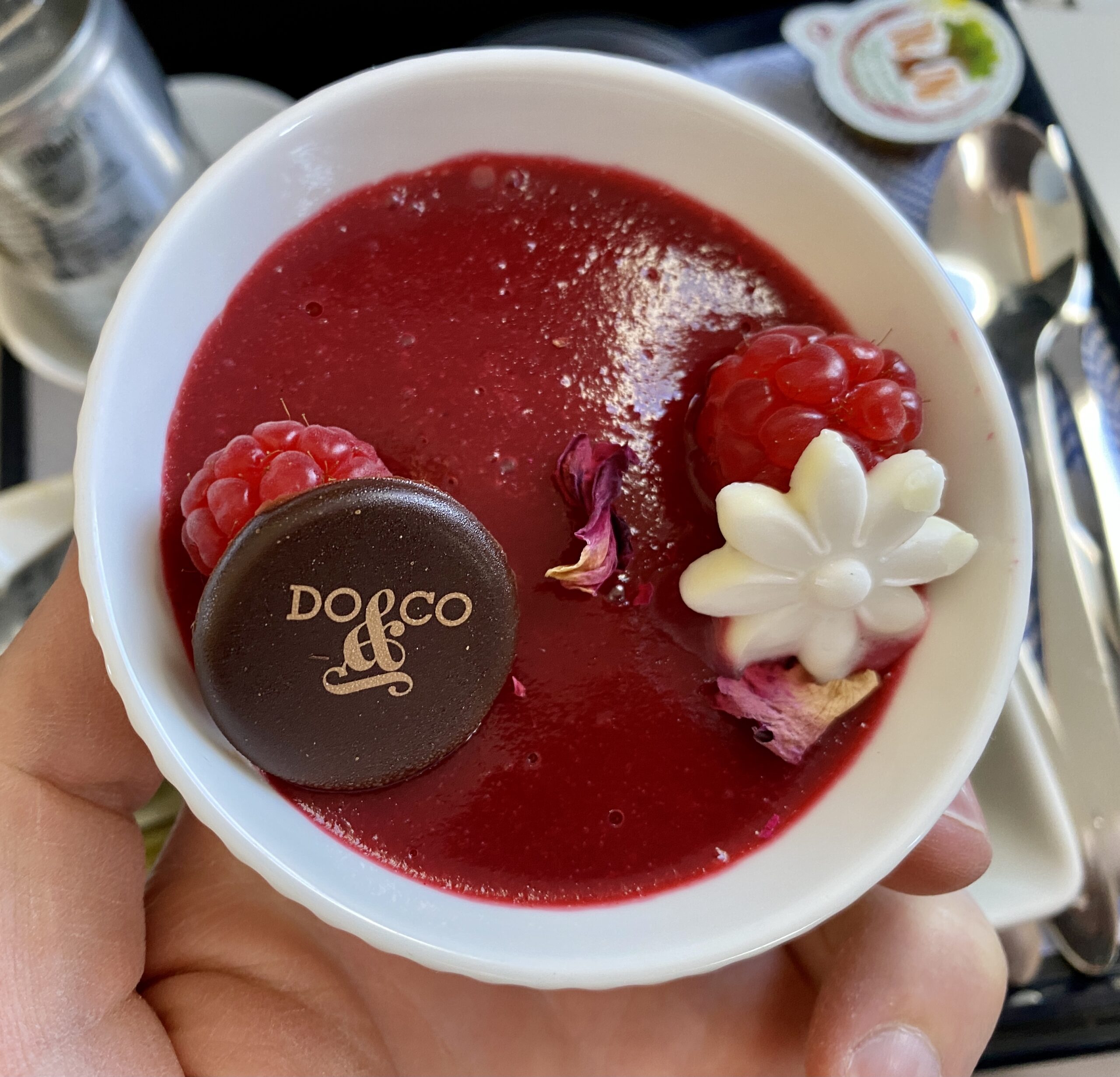 I have to say, I do think BA have stepped up their food game for short haul business class. Compared to some of the dishes I have been served in the past, there appears to be some consistently good dishes coming out. The crew in general were good but weren't the type of crew to chat too much like the outbound crew. They were there to do a job and they got it done, so no complaints here.
We landed slightly ahead of schedule and again a really uneventful flight but in a good way. It was smooth flying conditions, we landed early and the food and service was good. Nothing to complain about from our perspective.
Arrival

BA are still disembarking passengers by row number but thankfully we were in row 2 which is the first to be called. We were off the plane and on our way to passport control, which was about a 5 minute walk. I had heard of more horror stories about long queues, and they were right. When we got to passport control the whole room was packed and the queue for us was all the way back to the entrance of control. I thought we were in for a long wait but to my surprise we were in and out in 10 minutes. I hear the long wait was for passengers with children who can't use the e gates and given it was the last week of summer holidays this probably compounded the issue. It was a very long queue indeed!
Upon leaving we were approached by someone with an iPad to ask us specific questions about our reasons for travelling and specifically how much we had spent. I questioned why she was doing this and she said they want to know how much money is leaving the country. By 'they' I can only assume it was a government-approved survey.
Once we got to the luggage hall, we had a 15-minute wait and our bags arrived and off we went!
Conclusion
Another solid flight albeit not as polished and smooth as the outbound flight. It was still very enjoyable and overall, over both flights, we both have very little to complain about. Writing this does highlight how many hoops we have to jump through to return to the UK, which has a greater rate of infection than most European countries, who aren't making people do day 2 and day 8 tests. Very much looking forward to the traffic light system review in a couple of weeks time where I hope they finally make it easier and cheaper to travel.
Track and Test Visit
As mentioned before, my wife has only had 1 vaccination so she is not classed as fully vaccinated. Coming from an Amber country this means she had to isolate for 10 days with day 1 being classed as the day after you arrive. We landed on a Friday afternoon and at 10am on the Saturday morning we had a knock at the door from Track and Trace asking to see my wife with her ID within the next 5 minutes. I explained that she had just got out of the shower and could he wait and he said he could wait 5 minutes otherwise he would have to report she wasn't here.
He waited a few minutes and she showed her ID and he was on his way. It's worth noting that he was polite, friendly and wasn't intimidating at all. We have heard of this happening but not from anyone we're directly linked to so wasn't sure whether checks were actually happening or not. I can confirm they do exist!
She then had a follow-up call the next day confirming she was at home and isolating but no calls after that. When we came back from Portugal in June which was Amber at the time, we were both called every single day for 8 days. I'm guessing with 80% of the British population now fully vaccinated there aren't too many people that require a visit making it easier to visit those that require it.
Test to Release
From reading a Turning Left for Less article we learnt that Collinson's offer a 3 hour Rapid PCR test but only for pre departures. It's the same price on their website as the Test to Release tests but when you select this option it doesn't let you choose the Rapid testing site which is at a different location to the standard, slower PCR tests.
You can't call Collinson so we started a webchat on their website and the assistant confirmed we can book the rapid 3 hour PCR test for Test to Release so that's what we did.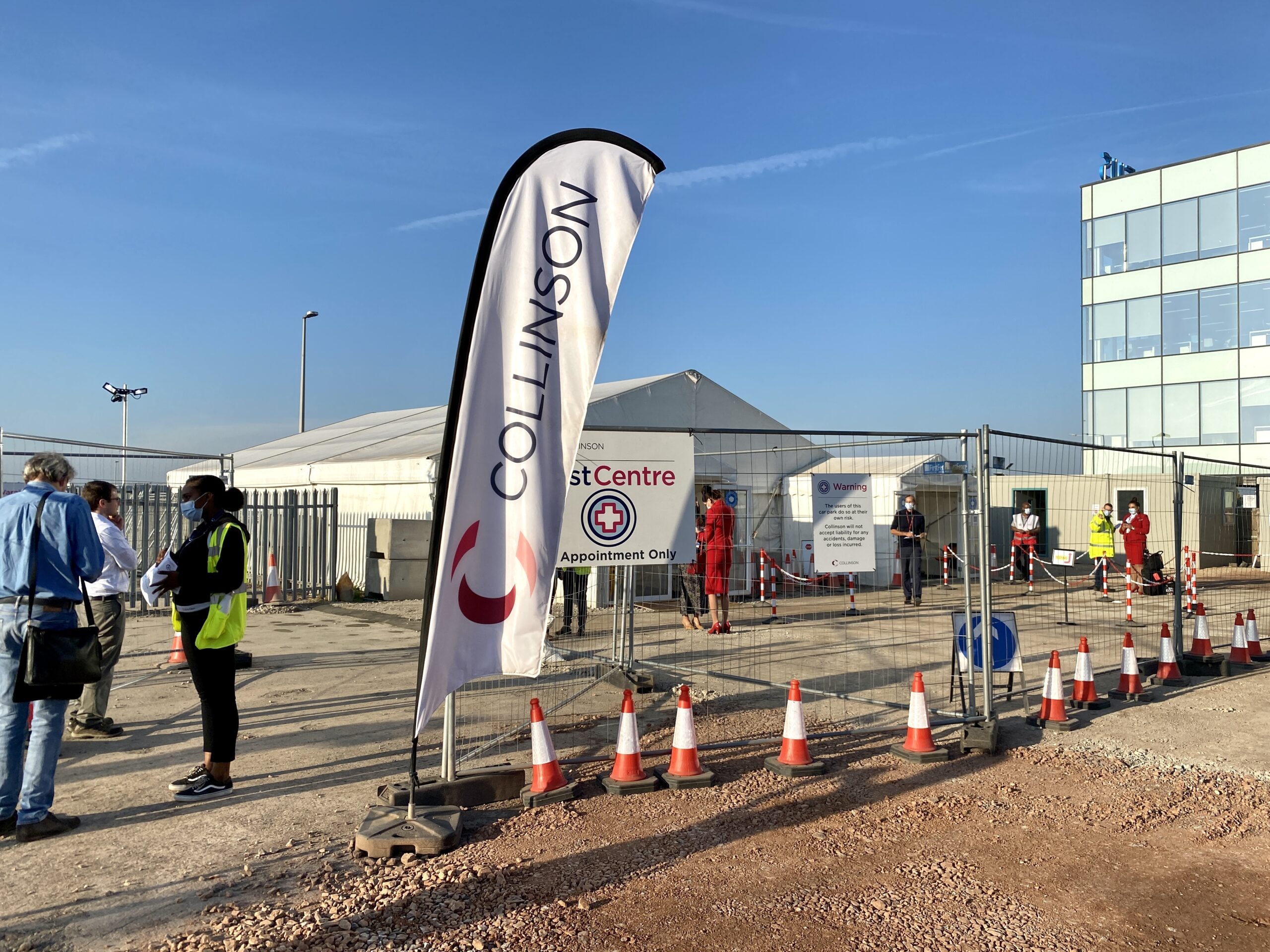 When we got to the test centre it was nice and easy to find just off the perimeter road at Heathrow. We were waved into a parking space and told where to go for the test. Lots of staff outside who were guiding customers and crew where to go. The building is basically a pop up marquee but looks smart and is well laid out. There seemed to be more Virgin pilots and cabin crew than actual customers so I guess they have an agreement with them. Lots of the signage was Virgin branded and they even had staff outside directing their crew where to go.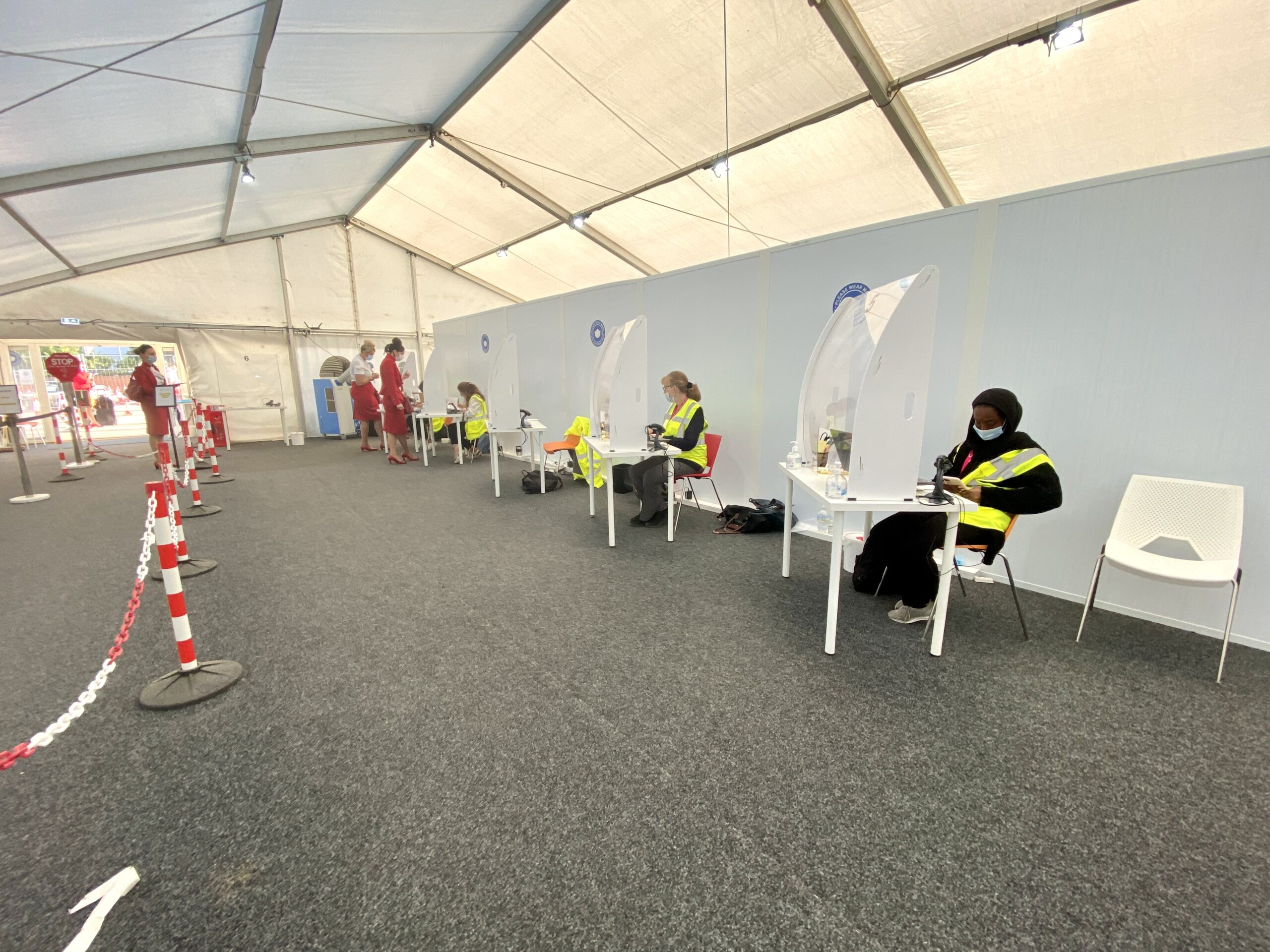 Once you walk in and show ID at one of the counters, they give you barcode stickers specific to you to take to the person who is going to perform the test. Once the test was taken, they realised it was a normal PCR and not a rapid one so thankfully that was picked up. They had to get another set of barcode stickers and perform another test and by the time this was done it was 8:10am. We drove home which is only 30 minutes away and at 10:20am, just over two hours later, my wife received the negative test result which means she was free to leave quarantine, at 10.20am on day 5. Really happy with the setup and obviously the result so early on in the day. Especially as the usual price of £95 was reduced to just £76 using code BA20OFF. I think Amex offer money off Collinson too.