I am off to New York today to experience Virgin Atlantic's A350. As you may remember Paul was not overly impressed, so you can see what my impression is shortly! Don't forget to follow along today on social media as I check out the Clubhouse and the new Upper Class Suite.
The flight is at 12.30 pm, but since I live over an hour from the airport and wanted to get there nice and early to experience the Clubhouse to the fullest, I thought I would use the chance to check out the Aerotel at T3.
Booking and how to get it for less
Prices are based on the number of hours you are there with a minimum of 6 hours. This could prove handy if you have a long time between connecting flights on an ex EU maybe. It also means if you are literally there for 8 or 9 hours just to sleep, you only pay for the time there which is a great idea. I had booked a longer stay which worked out at £102.48 for 19 hours for a double plus room. This was after a 30% discount had been applied. Until 31 Dec 2019 there is an opening special where you save 30%* when you book a minimum of 12 hours stay. Use promo code LHRAER30.
You can book direct with Aerotel to use the discount code, but it is also available through online travel agents such as Agoda where you can earn Avios.
Location
The Aerotel is actually inside Heathrow's Terminal 3 arrivals, but landside. It is not that easy to find as I only spotted one signpost in the distance as you come out of arrivals or from public transport. You need to head to the right of the terminal towards the Virgin/Delta lounge and then carry on past the lifts. The entrance to the hotel is by the Emirates chauffeur drive desk and car hire desks.
Check-in
The reception area looked quite luxurious and modern. The check-in agent was welcoming, but since he spoke softly and Engish was clearly not his first language I found him a little difficult to understand. I had to hand over my passport or provide booking details to check-in, something I have not experienced in a UK hotel before.
There are only two floors of hotels and I was allocated one on the first floor. No explanation of hotel facilities was given (it wouldn't have taken long as there is pretty much only one!). He did point me to the lift but given the tiny size of reception, I think most people would find it OK!
The room
The whole hotel reminds of the Bloc hotel at Gatwick, but a better and a little bigger. Make no mistake the rooms are tiny! There are three categories of room Solo Plus, Double Plus and family. I had the Double Plus. My room was a fair walk from the lifts (there are also stairs), but the corridors looked like those of a 5 star hotel.
When I first entered the room it was one of those that plunge you into utter darkness as too late you realise that the lights only operate if you put the keycard in the slot. The slot was right by the door, but given the small size of the room, it didn't take long to locate! Once in the room it felt very small and did not look much like the photo on the website.
Here is what it looked like in reality:
Spot the differences! There was definitely no table and chairs to be seen, and it seemed mysteriously smaller than the photo too. Here is the room from another angle: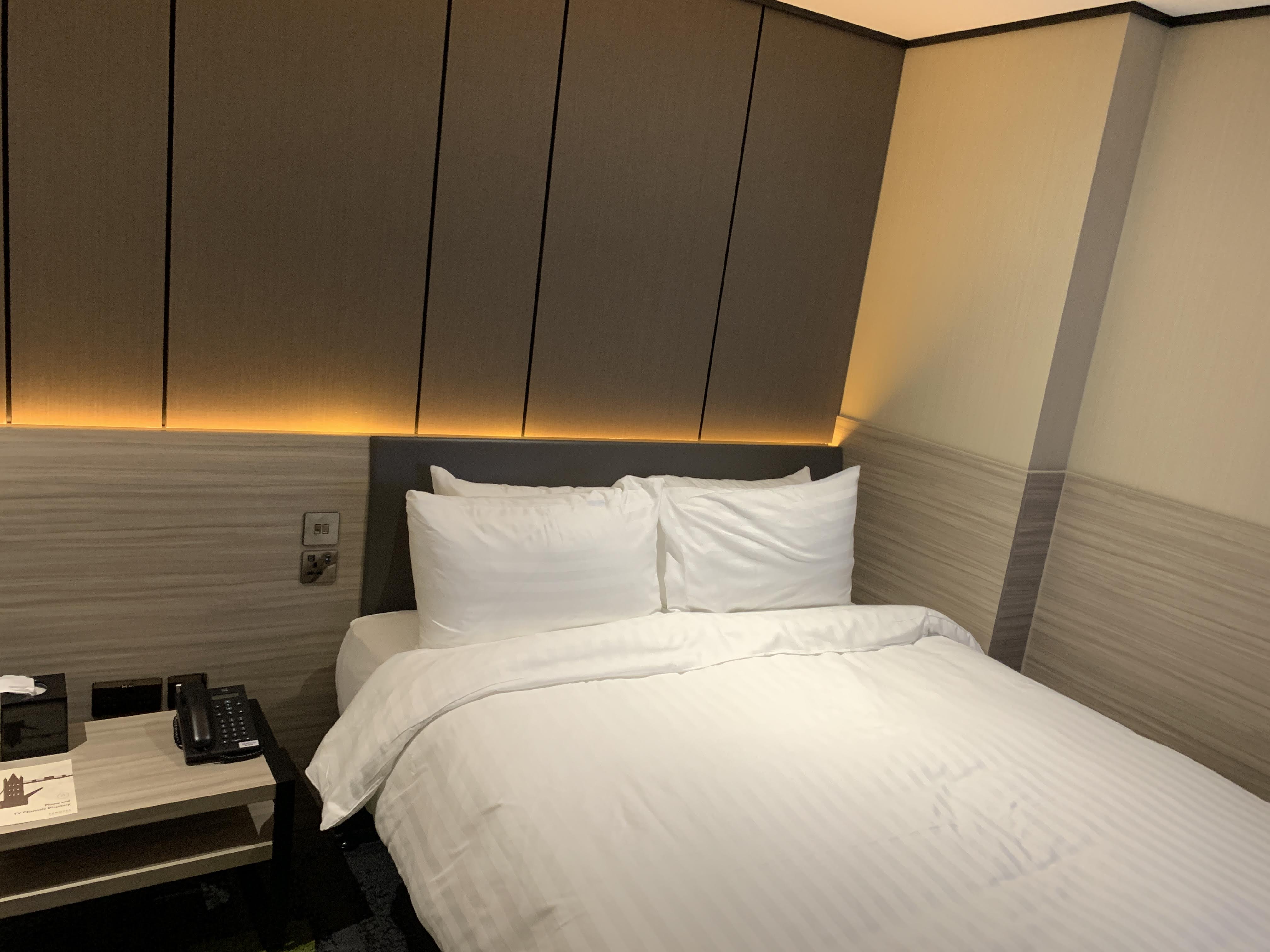 It was definitely what I would call cosy! There was not a lot in the room a few hangars, a kettle with tea and coffee and a TV. It was a nice touch that they had Twinings sleep tea as one of the options. I would have liked some bottled water. I think given that you get this at Bloc, it would have been good, especially if people are getting off a long flight.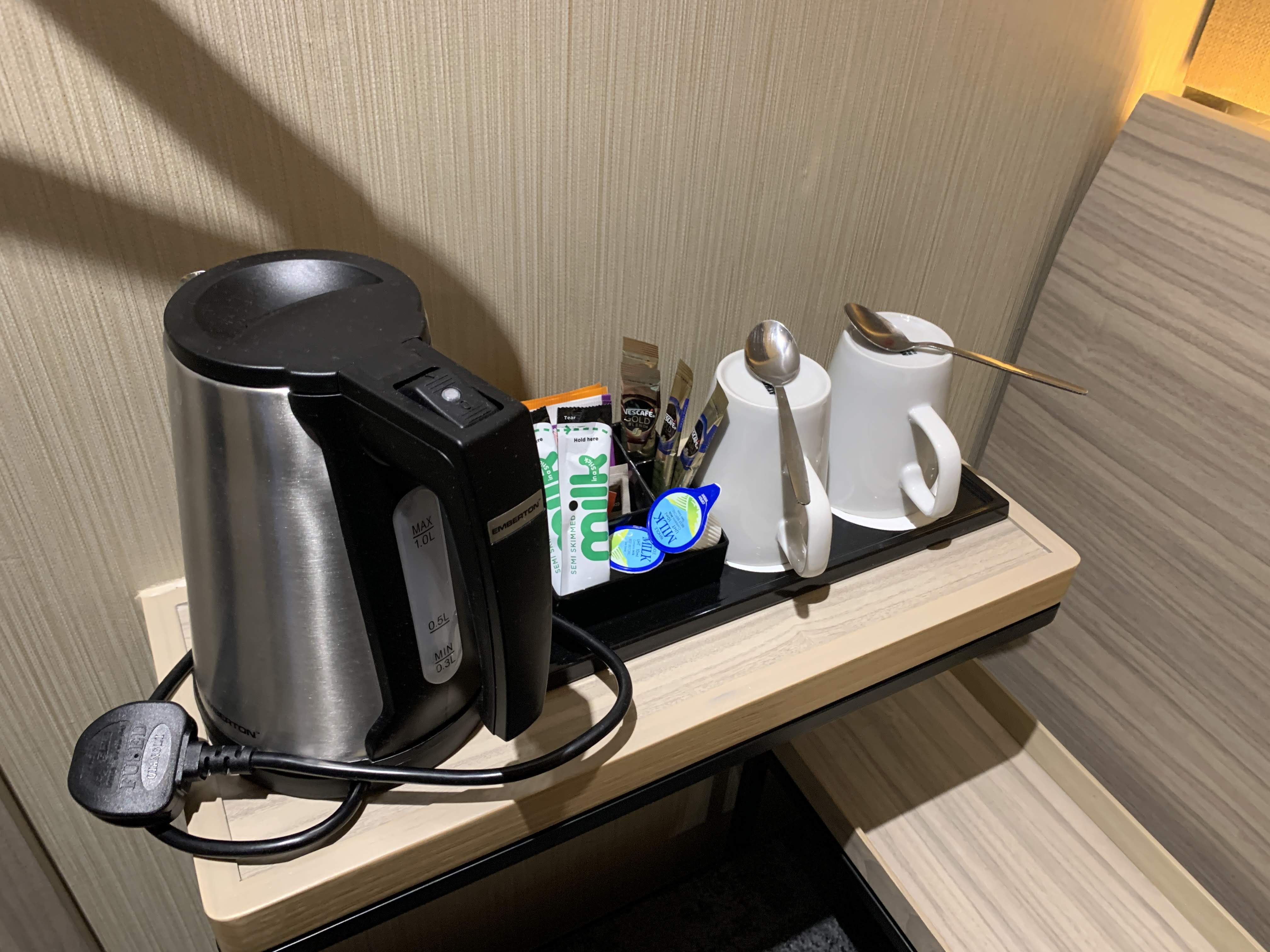 I couldn't find the TV remote in the room so I was treated to an Aerotel advert on repeat whilst I searched for it, and then phoned reception to ask for one. To their credit, there were incredibly quick and someone produced one in about 3 minutes flat!
There was no wardrobe, but there were at least 3 hooks with hangars which were enough for me to hang up my clothes for the next day. There was no iron and I could not see any mention that you could request one anywhere. This would be annoying if you had a meeting the next day.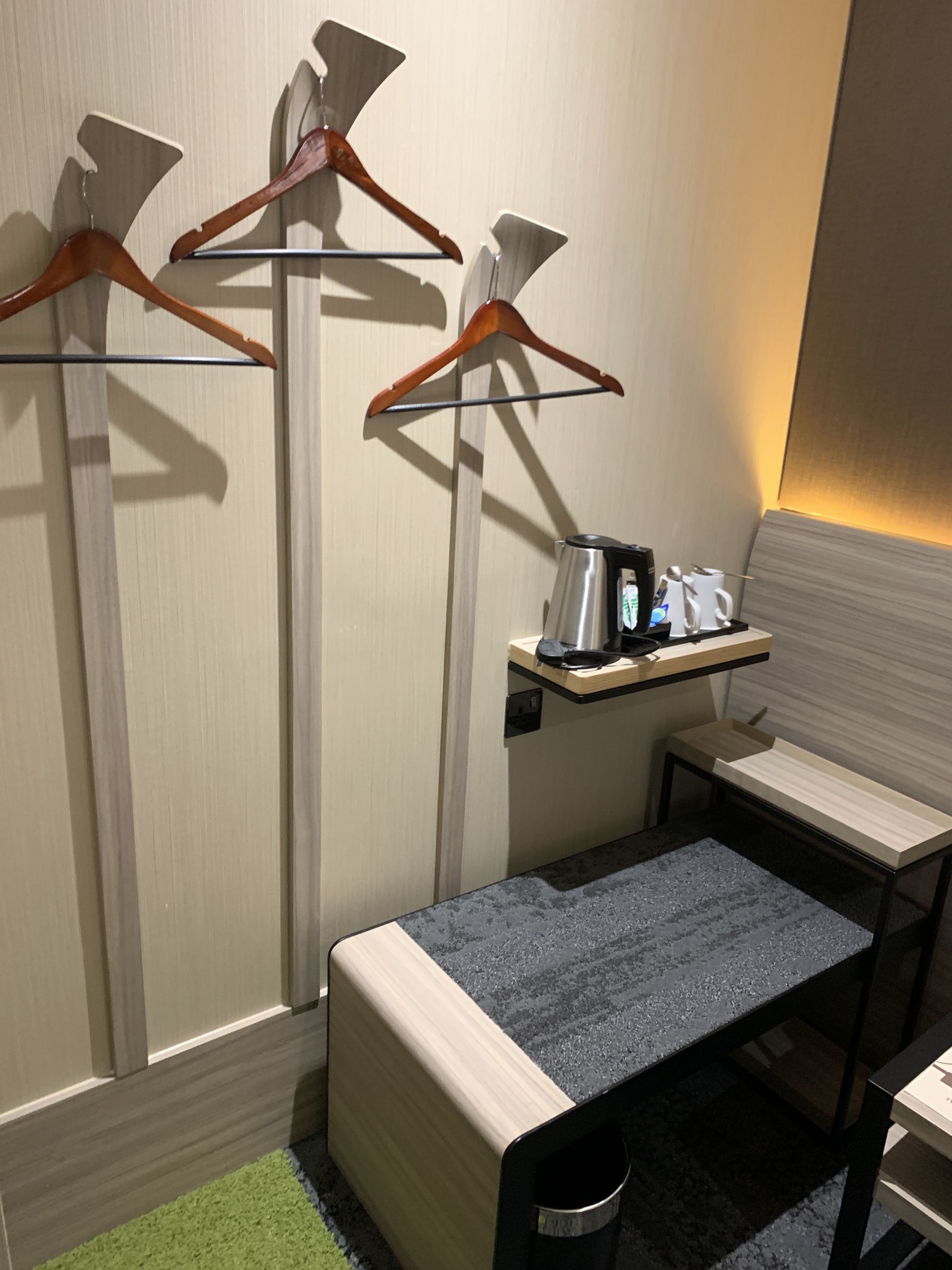 Next to the bed, there were plenty of charging points which is one of my must-haves for airport hotels. There were 3 sockets and 2 USBs. The issue being if you were sharing a bed the person who got the wall side would not have their phone within reach. There was Wi-Fi in the room that you did not need a password to use but I found it a little slow. I did get 3-4 bars of 4G on my phone in my room though.
The bed had two soft and two hard pillows allegedly, but they all felt equal to me. The pillows felt like cheap overstuffed foam ones to me, and definitely not up to the standard of the HGI T2 ones. The bed linens themselves felt good quality and the bed was reasonably soft and comfortable. In terms of noise, I didn't hear much apart from strange quite loud lift type music now and again. I never did discover where it was coming from and I found it very irritating and unnecessary.
Bathroom

The bathroom again was pretty small, but so much better than Bloc's wet room – which lives up to the name as everything in it gets wet. There were large size pump toiletries by Urban Skincare Co. This is an Australian company that produce natural, cruelty-free products designed to combat urban living, so probably good after a grubby long haul flight! By the sink, there was hand wash, body lotion and a couple of toothbrushes. In the shower, there was only body wash and shampoo which was disappointing. I had not brought any conditioner with me as I assumed this was a staple product that all hotels supply. So I now had the choice of not wash my hair or wash it and look like a scarecrow! 🙁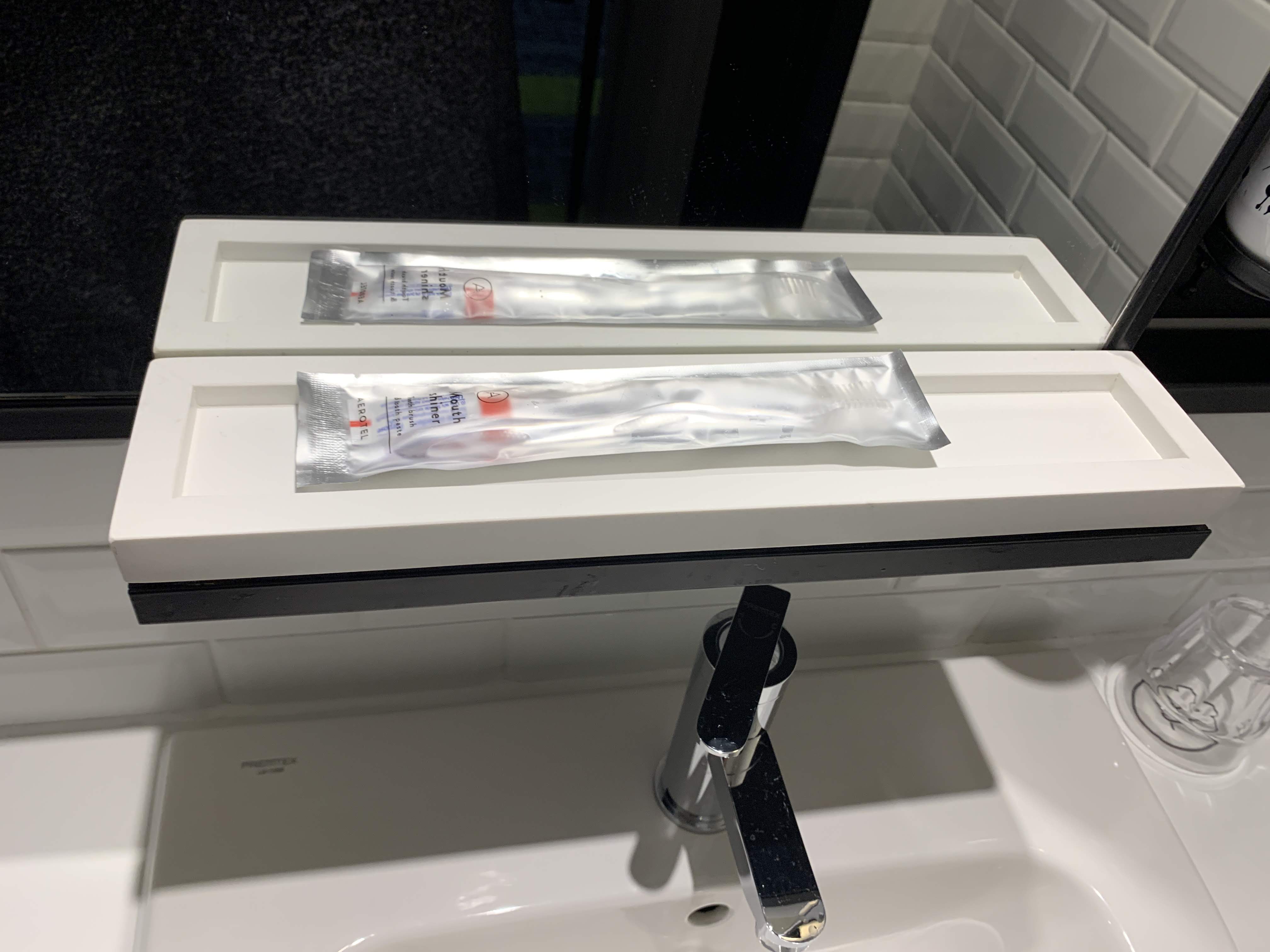 The shower was large and had a fairly powerful rain head plus the towels were high quality and fluffy.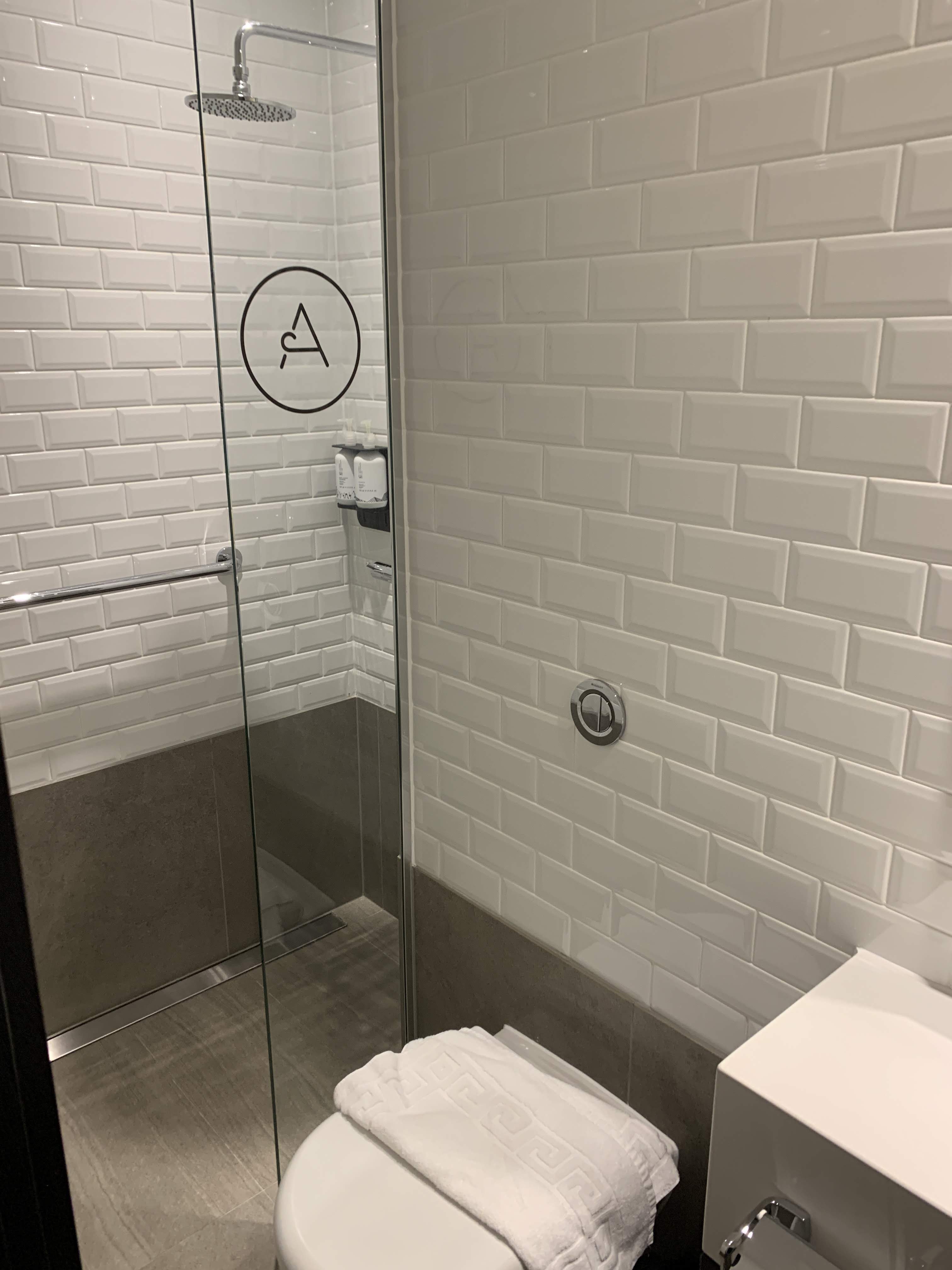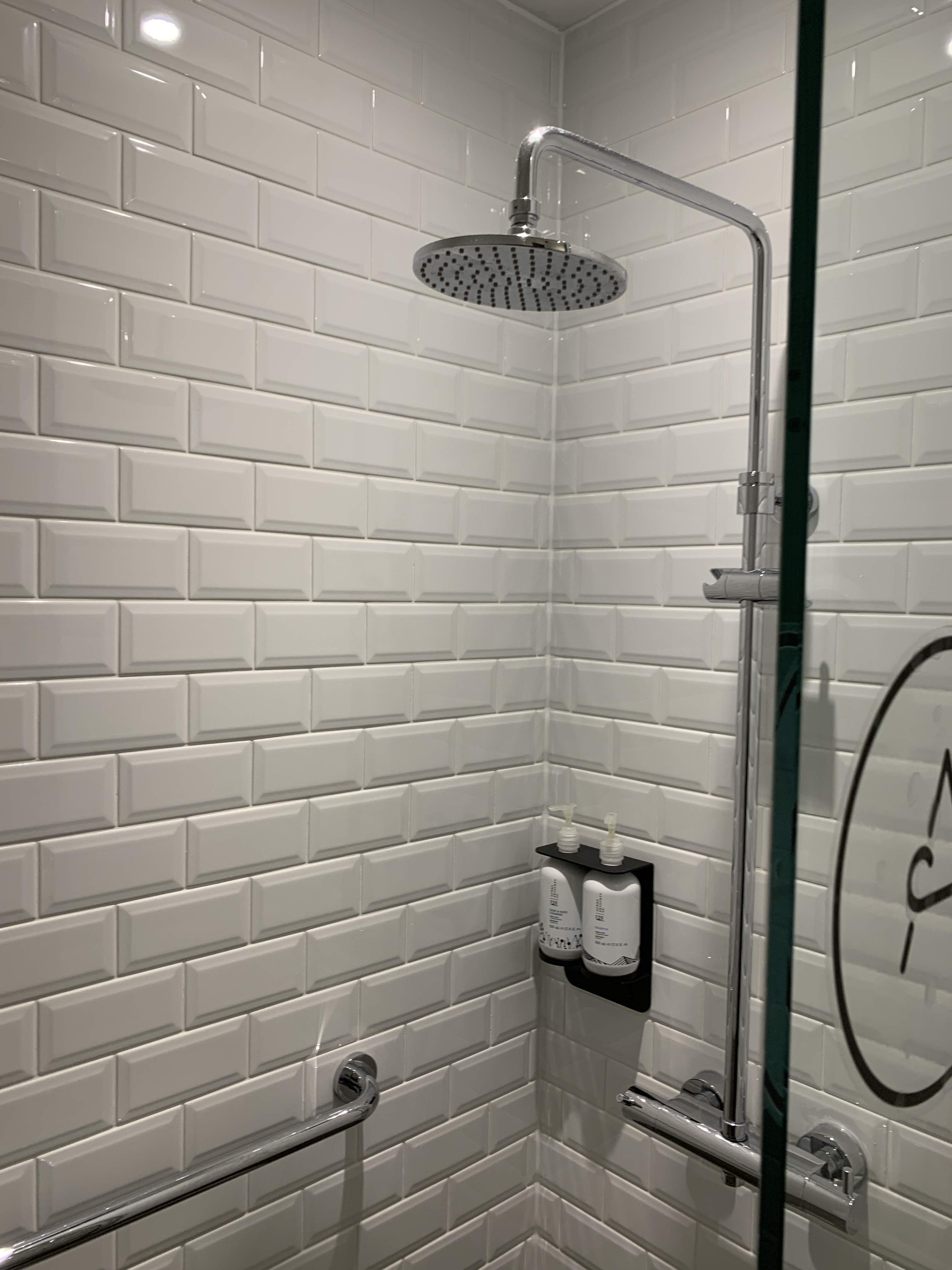 The hairdryer looked at first glance like one of the 1970s one that feel like someone just breathing gently on you. Luckily it was an updated version that even had a digital display and was actually powerful enough to do something.
Facilities
Well, to put it succinctly there aren't really any apart from The Library which is like a lounge/restaurant/shop. They have a selection of newspapers and magazines, a departures board and a TV.
You can buy soft drinks, sandwiches and snacks from a display or order from the menu of meals which are good value. There was also a bean to cup coffee machine.
Here is the menu:
I went for the chicken tikka masala: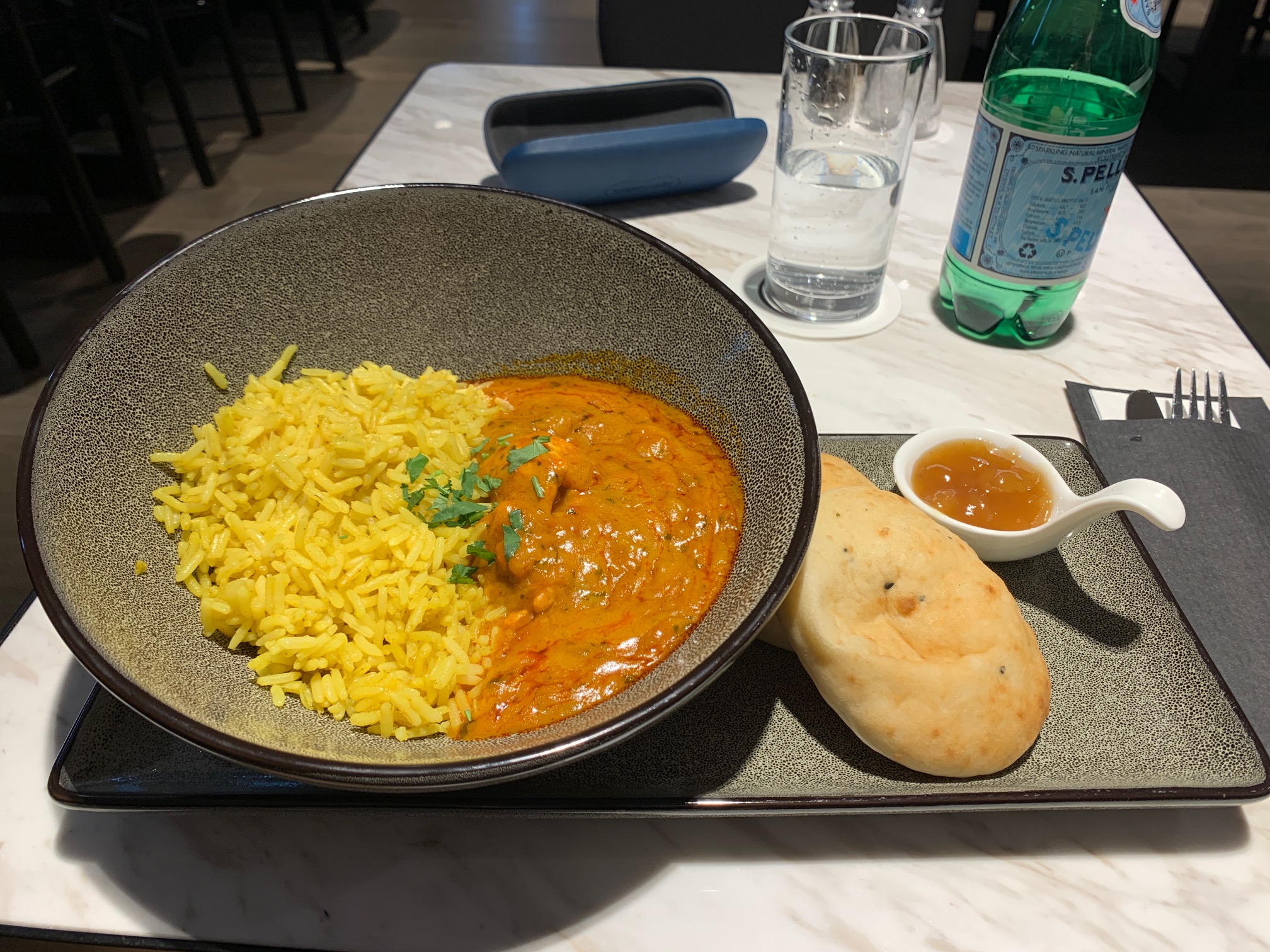 The chicken curry arrived suspiciously quickly, so I suspect a microwave may be involved despite there being a guy wearing chef's whites in the lounge. It actually tasted OK with the rice being light and fluffy but it did have a hint of ready meal about it. The lounge was deserted and I was outnumbered by the staff 4-1 at one point. This did not make it particuarly relaxing. If I stayed again I would probably just pop into the terminal as there are a few places landside to eat like Giraffe.
Conclusion
With the hotel having 30% off and being able to book for the actual number of hours you want, it is reasonable value for money. If you are flying from T3 and want the least hassle for an early morning flight, then this is an option worth considering. You couldn't really get much closer! I did feel a little cheated with the reality versus the photos on the website for the room. It is definitely very small indeed.
There are virtually no facilities here which may suit some people if you just want to sleep and get to the airport early. If you want a drink to start your holiday off, there is nowhere in the hotel to do so and no room service.
Personally I would much rather stay at the Hilton Garden Inn T2 which is usually cheaper if you book in advance and much more of a real hotel. At T2 the Plaza Premium arrivals lounge is open late so you can use that as the hotel lounge for free drinks when staying at the HGI. At T3 it closes at 2pm, so it's only useful if you are arriving early from a flight. You can read my review here.